Adventurous Kate contains affiliate links. If you make a purchase through these links, I will earn a commission at no extra cost to you. Thanks!
The famous streets of Paris are some of the best places to explore in the City of Light! Whether this is your first trip to Paris or your tenth, whether you shoot with a high-end camera or just your phone, you are going to love these streets.
I've been visiting Paris since I was 16 — as a solo traveler, with friends, with family, with colleagues, with partners. Since then, I've returned to Paris countless times — solo, with family, with friends, with partners.
But no matter how many times I visit Paris, it always bowls me over with its elegance. The tall, gray stone buildings with wrought iron balconies. The red-canopied cafes where Parisians sit outside 12 months a year. The brightly painted doors and spindly churches and winding, curving streets.
Paris has such a specific identity, and it's one of the most photogenic places in the world.
And I want you to enjoy Paris as much as I do.
So I hope you enjoy this collection of the most famous streets in Paris to help you plan your trip. Whether you want to wander these streets or take unforgettable photos, each of these streets has something special to offer.
I hope you enjoy this piece, with contributions and photos by several of my colleagues.
Read More:
Where to Stay in Paris: Best Neighborhoods and Accommodation
The Ultimate Solo Female Travel Guide to Paris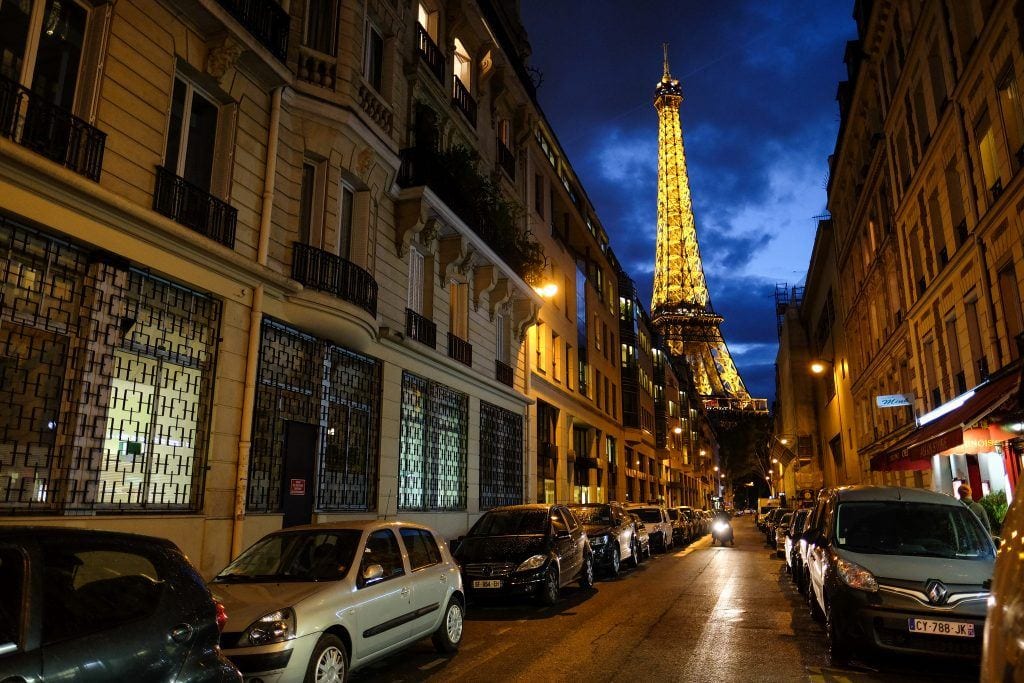 Map of the Famous Streets of Paris
Paris is a large and diverse city, and you can see that the streets can be found all over the city. You don't need to go far to find a glorious Parisian street!
Paris is comprised of 20 arrondissements, or neighborhoods, which start with the 1st arrondissement in the center and spiral outward from there. We've noted where each of the arrondissements is in the descriptions of the famous streets.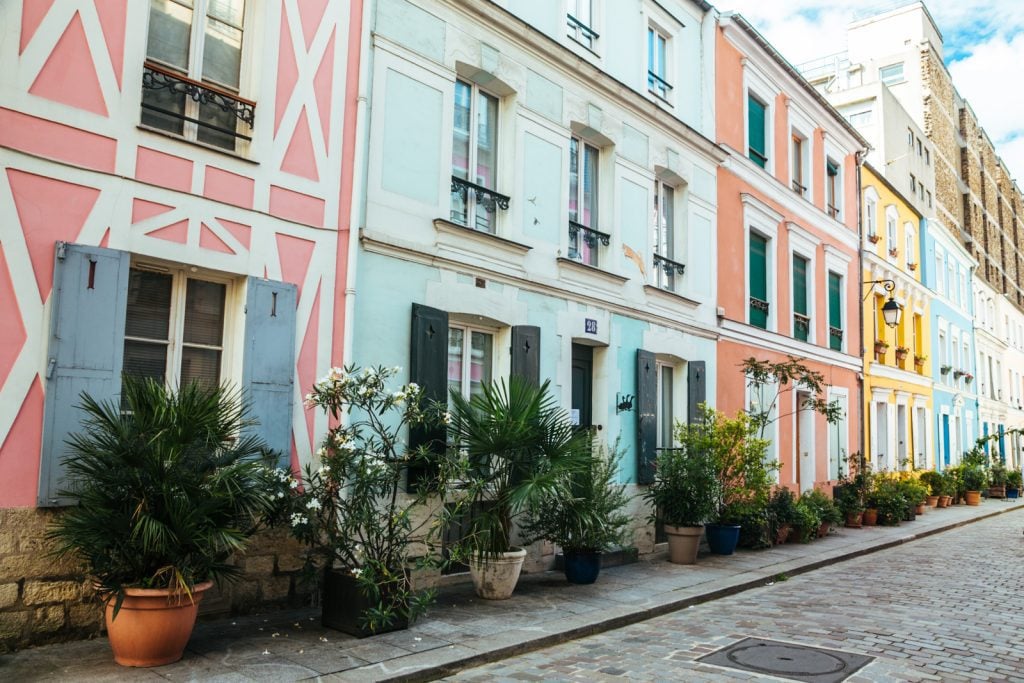 Rue Crémieux
Submitted by Lindsay Buckley from Frugal Frolicker
Rue Crémieux is one of the most insta-famous spots in Paris, thanks to the colorful homes that line this narrow cobblestone block. This multi-colored pedestrian street makes for the perfect photo backdrop.
Instagram aside, Rue Crémieux is a joy to frolic, with or without a camera in hand. There are potted plants outside nearly every door and painted wooden shutters on most windows. It's unlike any other street in Paris, and by no means a hidden gem anymore.
In fact, it's gotten to a point where residents have called to install gates and ban visitors on nights and weekends due to crowds. There's even an account called @clubcremieux that calls out tourist antics on this street (think yoga poses in doorways, music videos being filmed, and dance parties).
If you visit Rue Crémieux, please do so respectfully and remember that people actually live here. Would you want to hear constant noise or have strangers staging photoshoots right on your doorstep?
Aim to visit during the day on weekdays to minimize disturbance to the residents and avoid the insta-crowds.
What to do near Rue Crémieux: Continue your colorful walking tour by crossing the Seine and strolling through the Jardin des Plantes (an expansive botanical garden), and carrying on a bit further down the Seine to the Musée de la Sculpture en Plein Air (a quirky sculpture garden). Both are within a 15-minute walk of Rue Crémieux.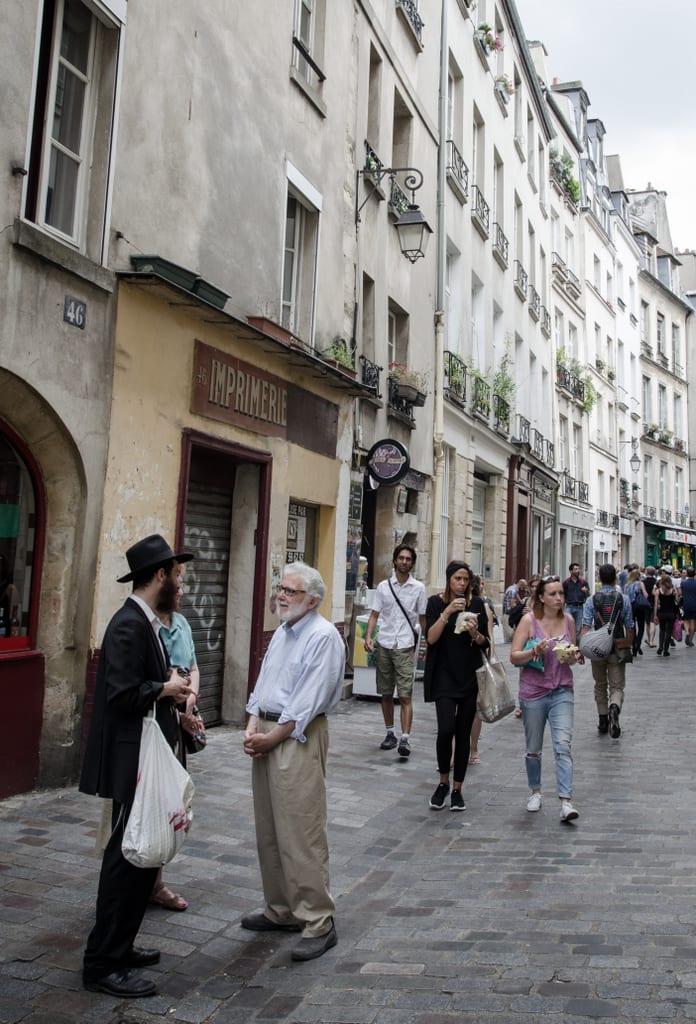 Rue des Rosiers
Submitted by Daisy from Beyond My Border
Rue des Rosiers, located in le Marais, translates directly as "Street of the Rosebushes." Located in the 4th arrondissement of Paris, this narrow, cozy street is characterized by cobblestoned pavements and beige brick Parisian buildings. The road sits at the center of the Jewish Quarter and is unofficially known as the "Pletzel," which means "Little Place" in Yiddish.
Rue des Rosiers is vibrant. Crowded with cafes, restaurants, and friendly little shops, the street is always filled with chatter, laughter, and long lines before L'As du Falafel — known as one of the best falafels in the city. L'As du Falafel is a staple of Paris. Their Falafel Special is wrapped in a piece of pita bread, with fried falafels, fresh salads, hummus, and spicy sauce stuffed to the brim.
What to do near Rue des Rosiers: On Sundays, when half the city is asleep, grab a falafel and follow Rue des Rosiers toward the northwest. End the afternoon with another cafe on Rue Vieille du Temple. You can never have too much coffee (or food) in Paris!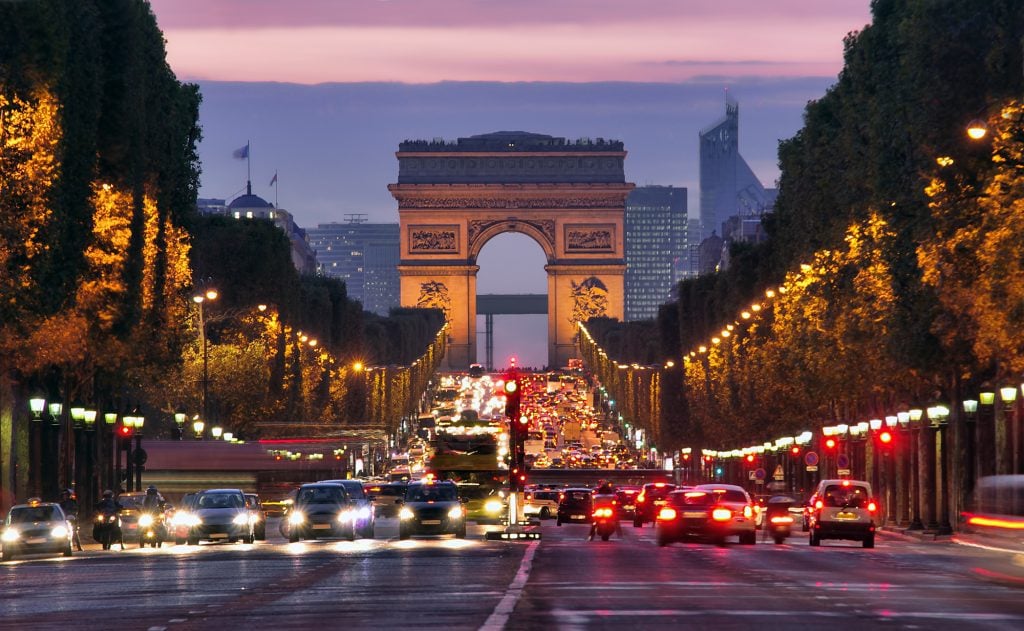 Avenue des Champs-Elysées
Submitted by Lavinia from Continent Hop
Located in Paris's 8th arrondissement is the Avenue des Champs-Elysées, one of Paris's most famous and most visited streets. It's also one of the most famous streets in the world!
On the western of the street lies the Arc de Triomphe, a renowned monument in Paris by Place Charles de Gaulle, while the eastern end of the street is the Place De La Concorde.
One of the reasons why the famous Parisian street is popular is because there are quite a few things visitors can do here. There are museums, parks and lots of shopping options.
The Jardin des Champs-Elysées, the park that contains the Grand Palais, is located near the east side of the avenue, while the Petit Palais, an art museum that houses the City of Paris Museum of Fine Arts, is also located nearby and hosts various exhibitions throughout the year.
What to do near Avenue des Champs-Élysées: For those that love sweet treats, Ladurée, the world-famous macaron bakery, has a shop on the street, and makes a lovely break in between shopping at Parisian boutiques.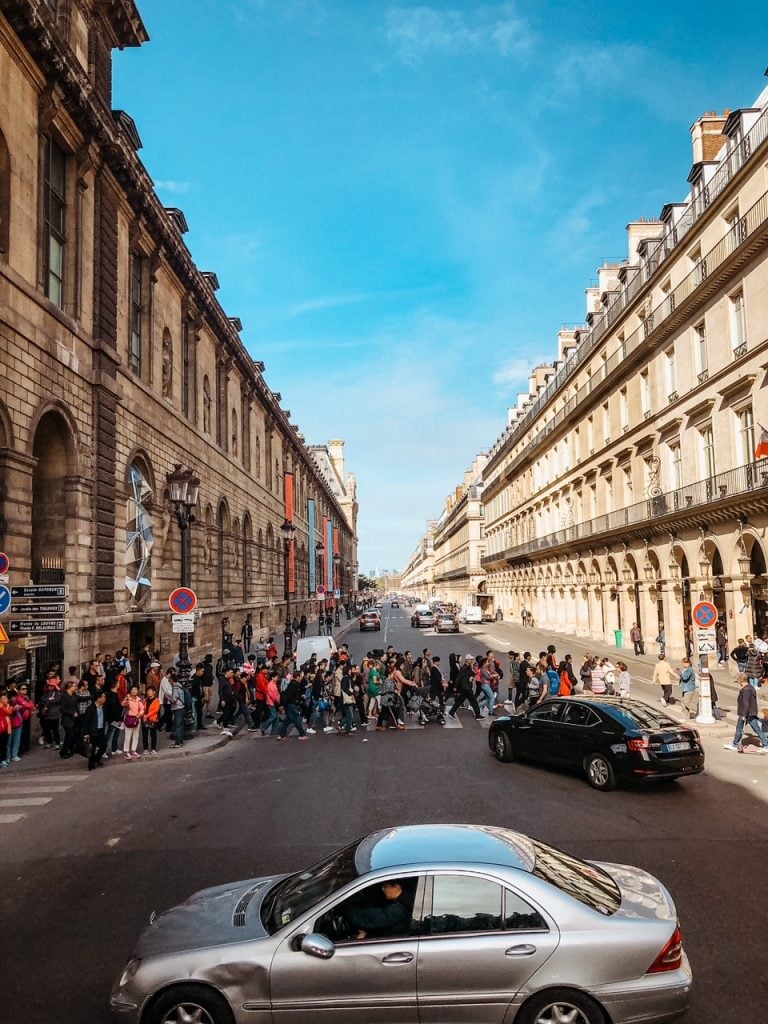 Rue de Rivoli
Submitted by Mayuri from ToSomePlaceNew
The Rue de Rivoli is one of the most well-known streets in Paris, and a must-add to any Paris itinerary. The street stretches through most of the 1st and 4th arrondissements which make up the center of the Right Bank.
There are a variety of things to do on this stretch of the street, and it is lined with many popular tourist attractions like the Louvre Museum. The museum is one of the biggest art museums in all of Europe and it houses over 35,000 pieces of art, including the Mona Lisa.
If you keep moving through this square and into the streets of the 8th arrondissement, you'll be walking on the Champs-Élysées, another very famous street in the city of Paris.
Leaving the popular spots aside, the vast length of this street can be overwhelming to wander aimlessly. But at every turn, there are beautiful buildings and views to explore!
What to do near Rue de Rivoli: The Jardin des Tuileries is a great place to relax and take a break from all of the hustle and bustle. This garden is located right next to the Louvre Museum and it's definitely worth a stroll.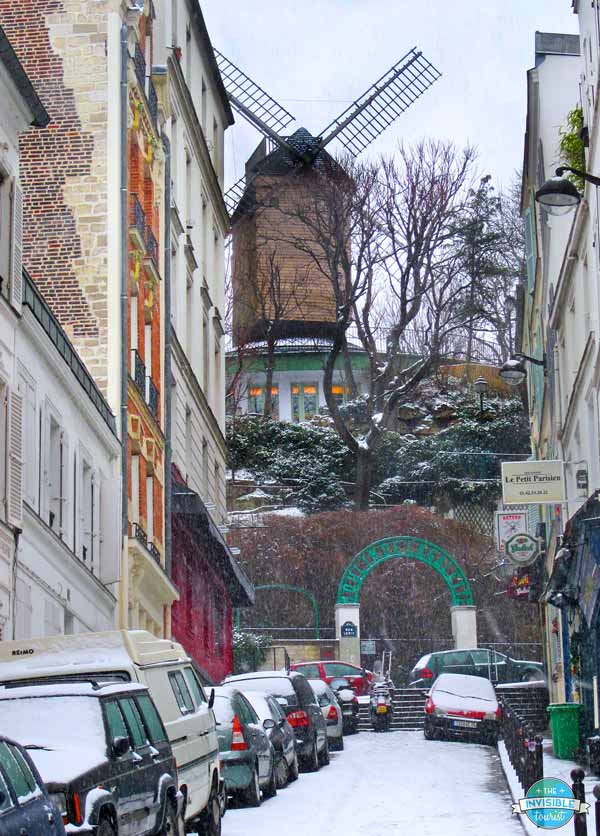 Rue Lepic
Submitted by Alyse from The Invisible Tourist
While at first glance Rue Lepic in Montmartre, the 18th arrondissement, may seem like an ordinary Parisian street, its hidden history is especially intriguing for art lovers and a must to add to a 4 day Paris itinerary.
In the late 19th century, Montmartre became a hub for some of the world's most famous artists, with many working Rue Lepic's surrounding streets. Van Gogh and his brother lived in an apartment in number 54 Rue Lepic and names such as Picasso, Monet, Degas and Dali drew inspiration for their works from this area.
Undoubtedly, Rue Lepic's crown jewel is the old-world windmill at its peak. Dating back to the 17th century, Moulin de la Galette is one of the only two remaining mills in Paris and is best seen during the winter months when its surrounding trees are bare.
What to do near Rue Lepic: Fans of the 2001 movie Amélie can even dine in the cafe where Amélie worked, Café des 2 Moulins! It's a real place!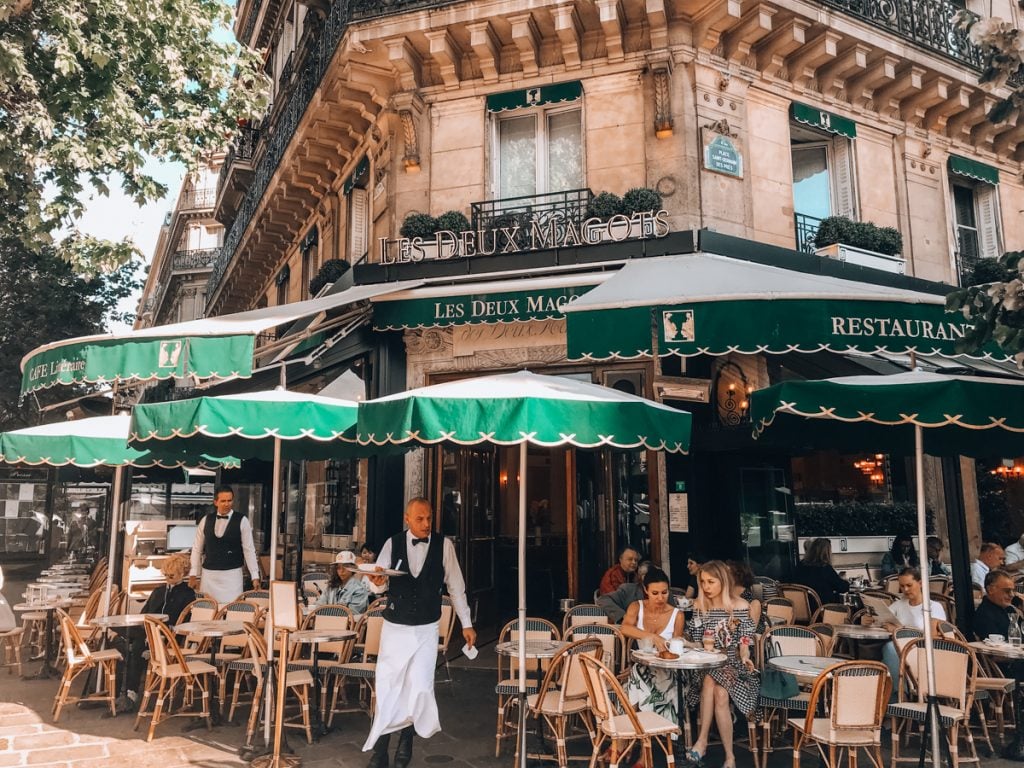 Boulevard Saint-Germain
Submitted by Kat Weiss Butler from World Wide Honeymoon
One of the most famous streets in Paris is Boulevard Saint-Germain. This large street begins in the Latin Quarter in the 5th arrondissement and stretches all the way to the Pont de la Concorde in the 7th arrondissement.
However, it is well known for passing through the iconic Saint-Germain-des-Prés quarter in the 6th arrondissement. This iconic boulevard in Paris runs along some of the most iconic cafes, including Les Deux Magots, Brasserie Lipp, and Cafe de Flore.
All of these cafes are well-known as famous haunts of iconic writers, painters, and philosophers including Hemingway, Simone de Beauvoir, Sartre, and Picasso.
If you would like to eat and drink where the Lost Generation once frolicked, then Boulevard Saint-Germain is a must-visit place!
What to do near Boulevard Saint-Germain: On your trip to Paris, be sure to have breakfast at Les Deux Magots. While the food is delicious, the ancient hot chocolate is easily one of the best in Paris. This thick and creamy concoction combined with sitting along the boulevard watching the world go by is the stuff of dreams.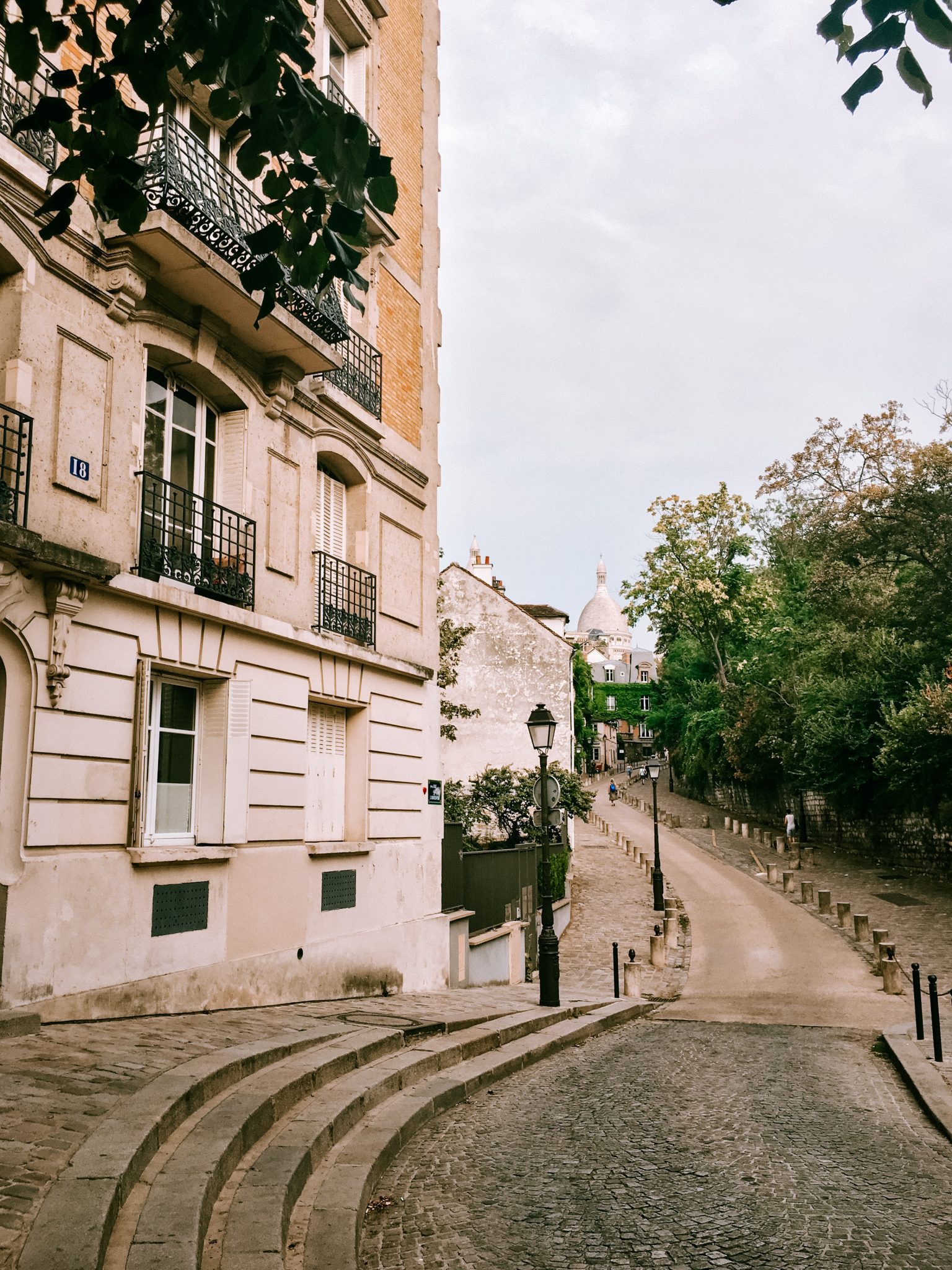 Rue de l'Abreuvoir
Submitted by Shannon from Traveling Teacher Girl
Rue de l'Abreuvoir is a beautiful street located in the 18th arrondissement of Paris. It is one of the most iconic streets in the neighborhood of Montmartre, featured in many TV shows and movies such as Emily in Paris and Amélie.
Rue de l'Abreuvoir is a winding street that can be strolled through in just a few minutes. While strolling, be sure to grab a photo at the Statue of Dalida. It is rumored to be good luck to touch the statue.
What to do near Rue de l'Abreuvoir: While visiting Rue de l'Abreuvoir, be sure to stop by La Maison Rose. La Maison Rose is an iconic cafe located at the top of the Rue de l'Abreuvoir, and is one of the most photographed locations in Montmartre. In addition to being a beautiful photo spot, La Maison Rose is a cafe that has been open for over 100 years. They offer lunch, dinner, and weekend brunch.
Another nearby restaurant option is Un Zèbre à Montmartre, which offers affordable lunch and dinner options and a great wine menu.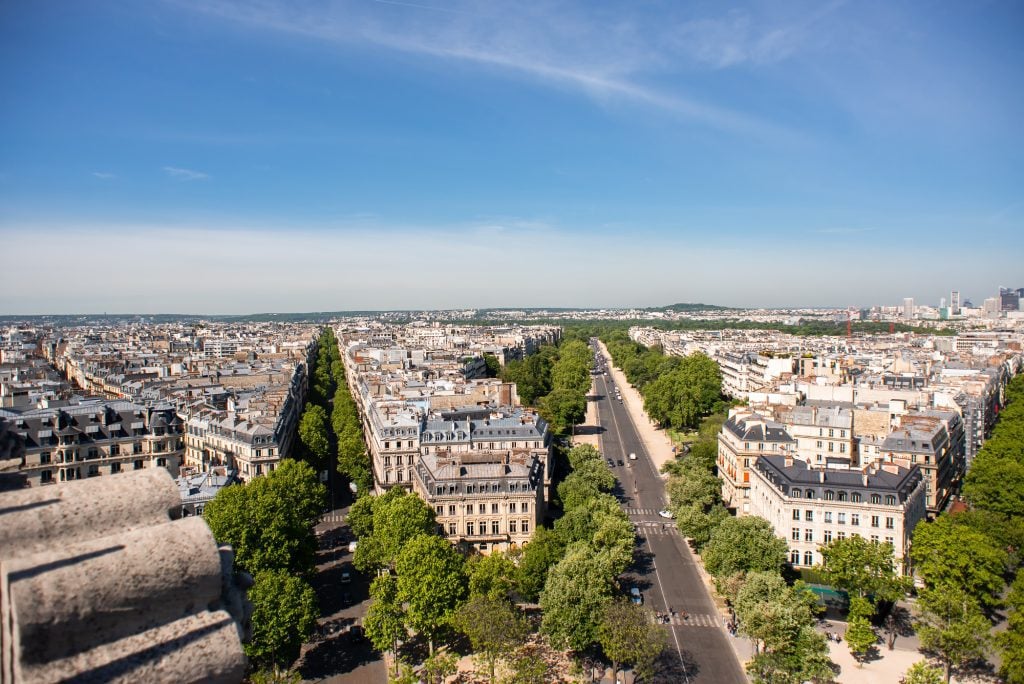 Avenue Victor Hugo
Submitted by Christine from Live Love Run Travel
Avenue Victor Hugo, named for the esteemed Parisian writer, is located in the 16th Arrondissement of Paris. This famous Paris street starts at the Arc de Triomphe before running across much of the 16th Arrondissement.
There are many Airbnb options in the area with some of the best views of the Eiffel Tower, but at a more affordable price. There are also several beautiful hotels along the street including Meliá Paris Champs Elysées and Hôtel Royal Elysées.
While the Arc de Triomphe is one of the best things to do along Avenue Victor Hugo, it also makes for a great area to stay in for your trip to Paris.
In addition to the hotels and Arc de Triomphe, staying along Avenue Victor Hugo gives you plenty of options for food and places you near several metro and bus stations to get around town.
What to do near Avenue Victor Hugo: Depending on which part of Avenue Victor Hugo you visit, you may also be within walking distance to Trocadero and the Eiffel Tower.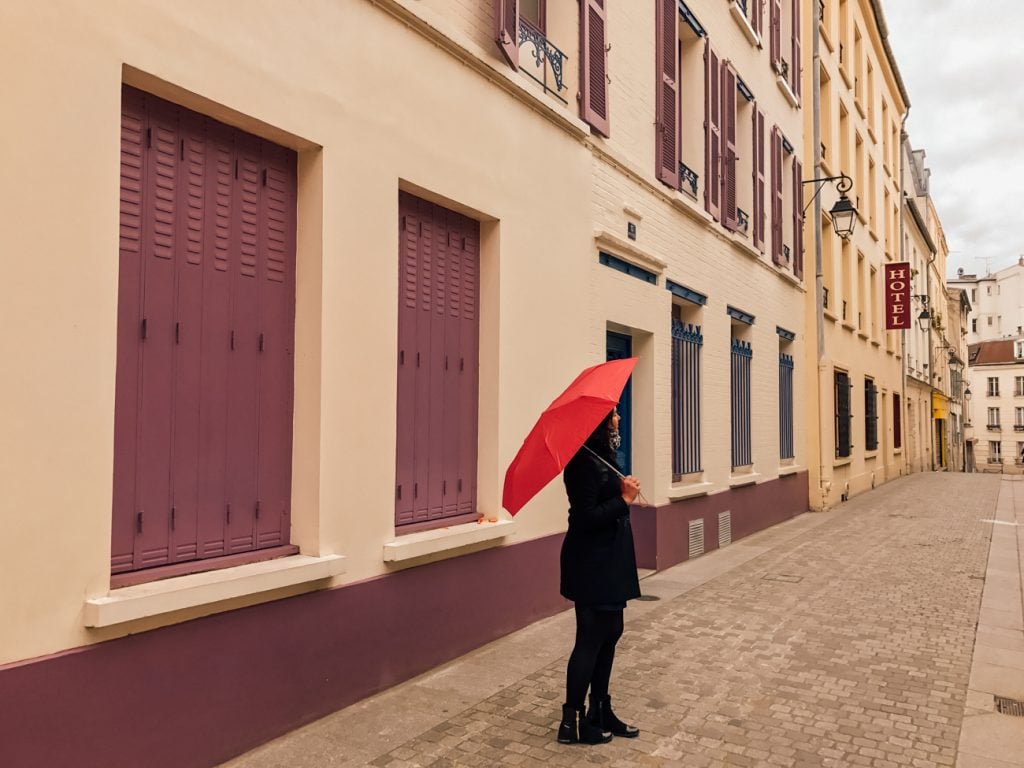 Rue de la Butte aux Cailles & Rue Paulin Méry
Submitted by Alexandra from Tenerife Is
Rue de la Butte aux Cailles and Rue Paulin Méry are charming streets with a unique vibe in the 13th arrondissement of Paris.
Butte aux Cailles is one of those places in Paris that manages to retain its rustic soul. There are no skyscrapers, modernist buildings, or broad avenues here; instead, there are charming little houses and cobblestone streets.
Often overlooked by tourists, Rue de la Butte aux Cailles and the offbeat neighborhood of the same name are ideal for walking. This street takes its name from the hill known as Butte-aux-Cailles. Locals say it was inhabited by quail in the past, when the whole area was covered with vineyards.
Walk down Rue de la Butte aux Cailles and the nearby Rue Paulin Méry, and you'll be transported to village-style Paris. If you come here during the day, you can enjoy the quiet streets and colorful buildings. In the evening, it's lively and animated.
Today, this street is popular among Parisian youth. Rue de la Butte aux Cailles has a large concentration of bars and restaurants.
What to do near Rue de la Butte aux Cailles & Rue Paulin Méry: Try the authentic pastries at La Boulangerie L'Artisan and have an aperitif at La Taverne de la Butte, a great bar with a relaxed atmosphere. As you stroll down la Butte aux Cailles, be sure to turn off into the small adjacent streets: they are full of original Parisian street art.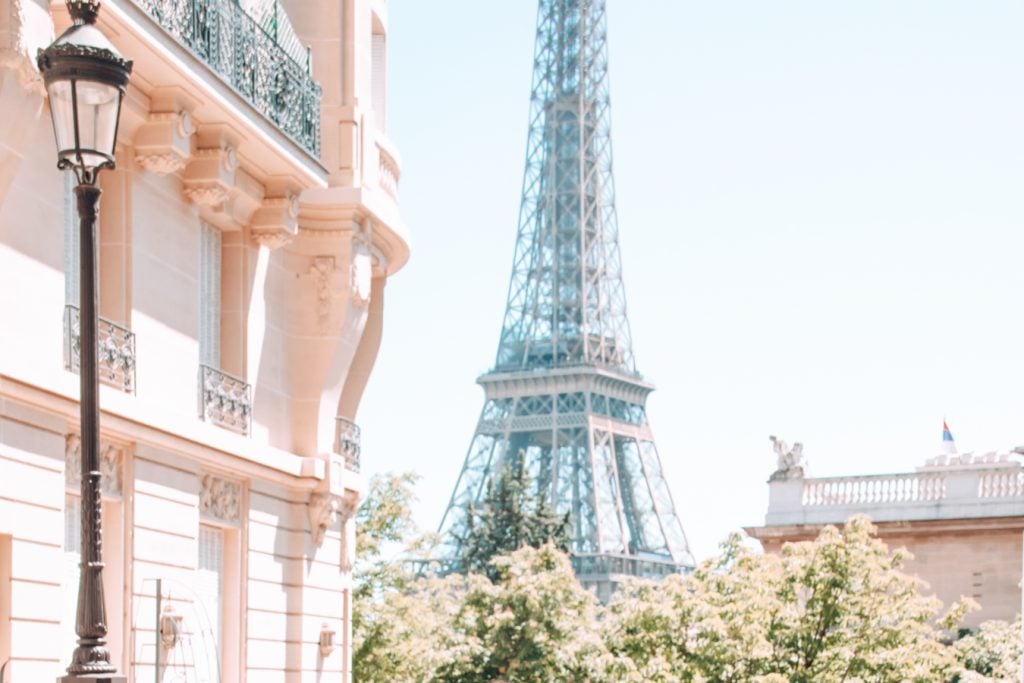 Avenue de Camoëns
Submitted by Dymphe from DymAbroad
One of the most famous streets of Paris is Avenue de Camoëns. You can find this street in the 16th arrondissement of the city. This small street is very special because of the view.
From the street, you can get a beautiful view of the Eiffel Tower, which also makes this one of the most Instagrammable places in Paris. Also, you can see beautiful buildings here with great architecture.
The street ends at one end with a large staircase. When you go down this staircase, you'll end up at Rue Benjamin-Franklin. At this staircase, you can also see a monument that honors the Portuguese poet Luis Vaz de Camões.
What to do near Avenue de Camoëns: Close to the street, you'll find the Trocadéro Gardens. This is a beautiful place from which to view the Eiffel Tower. Here you can also have a drink with an Eiffel Tower view at the outdoor terrace of Café de l'Homme.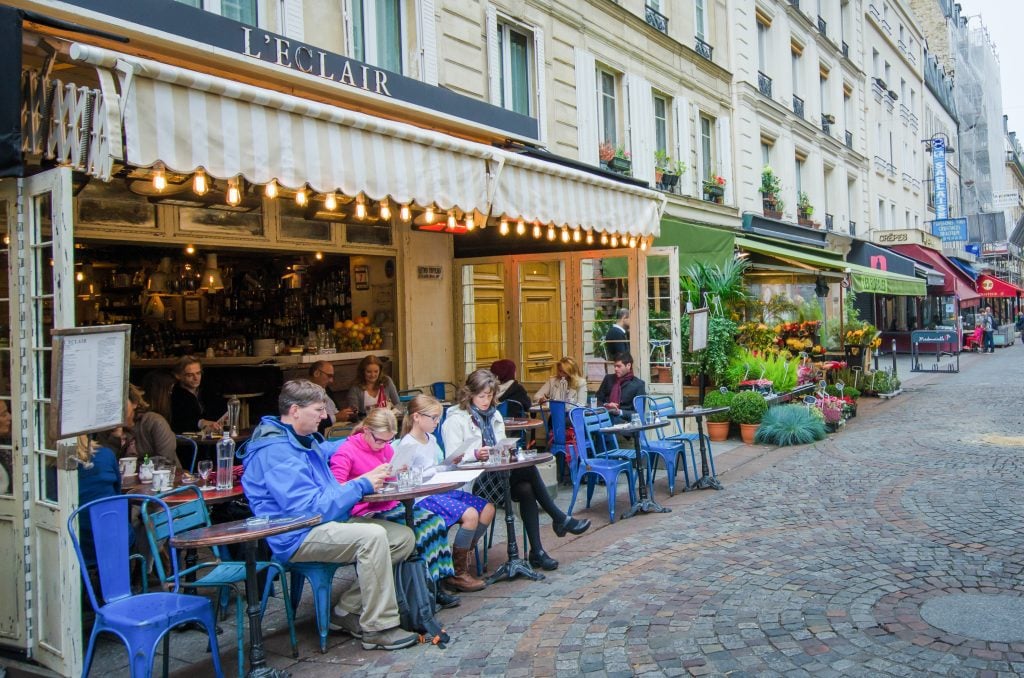 Rue Cler
Submitted by Keri of Bon Voyage With Kids
One of the most famous and picturesque streets in Paris is Rue Cler. Located in the 7th Arrondissement, this is one of the most beloved streets in Paris because of its markets, boulangeries, and cafes.
This is where to go when you want to live and shop like the Parisians. From chocolatiers, florists, cheese and fish mongers, butcher shops, and more, you can pick up some specialties to cook in your rental, or you can grab a baguette and some French cheese and wine to enjoy a picnic at nearby Champs de Mars, next to the Eiffel Tower.
But it is also a wonderful place to enjoy an outdoor cafe and just enjoy the joie de vivre.
What to do near Rue Cler: Visit on a Sunday morning! While many shops and grocery stores are closed on Sundays in Paris, Rue Cler is open Sunday mornings, making it not only delightful but also convenient when you decide to plan an impromptu Sunday picnic.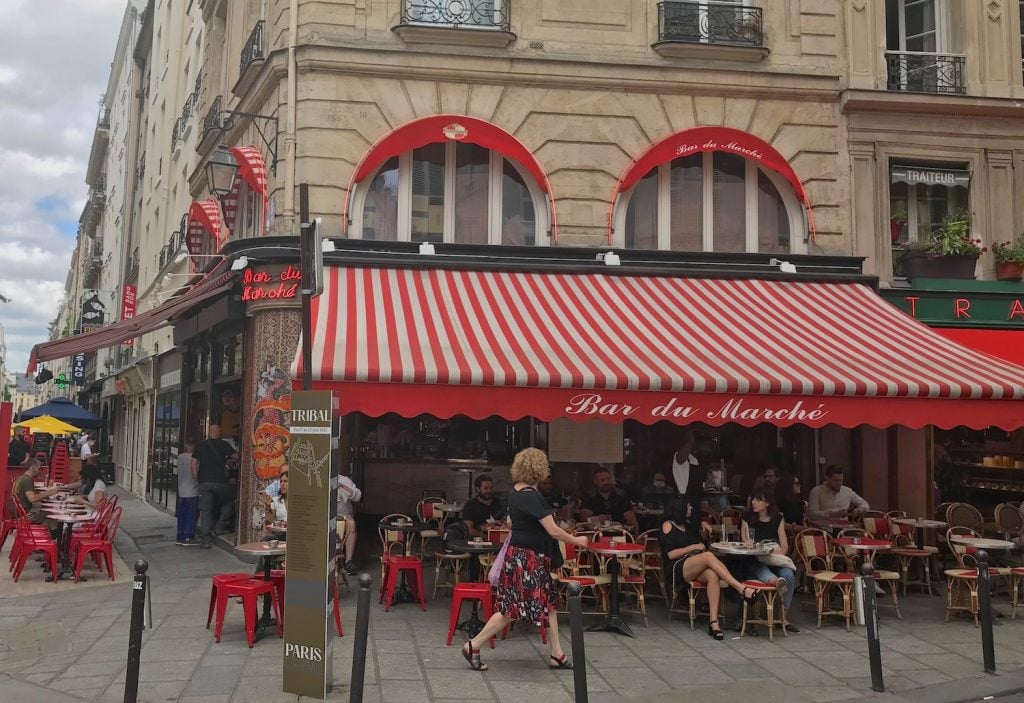 Rue de Buci
Submitted by Leyla of Offbeat France
The Rue de Buci, in Saint-Germain-des-Prés in the 6th arrondissement, is one of those Parisian streets you can't decide whether to love or hate. You can do both.
This tiny street (less than 200 meters long) was named for Simon de Buci, first president of the Paris Parliament in 1341, an appointed chamber of nobles. Over time, it would also be known as the rue de Bussy (not to be confused with the lascivious Count Bussy-Rabutin of the same name). You can still see the faded remains of the old name on some of its walls.
More recently, the street was bombed during World War I, without too much damage, and during World War II, women took to the street here to demonstrate against the German occupation.
The rue de Buci has had many incarnations, and this most recent one may not necessarily be its best. Gone are the daily market, the street stalls with their flower stands and cheese counters, and the flat-heeled women bargaining in their woollen coats, their "cabas," or shopping bags, under an arm.
These once-quaint reminders of a bygone Paris have given way to the more lucrative "eat and run" trade, with plenty of cafés and eateries and bars crowding out the older shops. Yes, you will still find places to browse and shop, but these are becoming increasingly upmarket and the "popular" feel of the street is fading.
During the day, the (mostly pedestrian) rue de Buci comes dangerously close to being an overpriced, overcrowded tourist magnet — but not quite. The many foreign-language conversations will be interrupted by a local boy weaving around on his bicycle, or punctuated by laughing students taking a break from class. The "old" rue de Buci, filled with poets and artists, is still there; it's just a bit harder to find.
In the evening, local residents from this young, stylish neighborhood crowd the terraces. It's still very busy, but the feel of the street begins to change, its attractiveness growing as the sun fades.
What to do near Rue de Buci: Love it or not, the rue de Buci is an experience more than a destination. Stroll down it slowly, look into every window, and don't miss the flowers cascading down onto the awnings of the (relatively pricey) Maison Sauvage – it may look terribly French but you'll find more avocado toast than escargots bourguignonne on the menu. A great place to combine Sunday Brunch and people-watching!
Given its history, a visitor shouldn't get too comfortable with making snap judgments about the rue de Buci. It will undoubtedly change again, its next metamorphosis just around the corner, a decade or two away.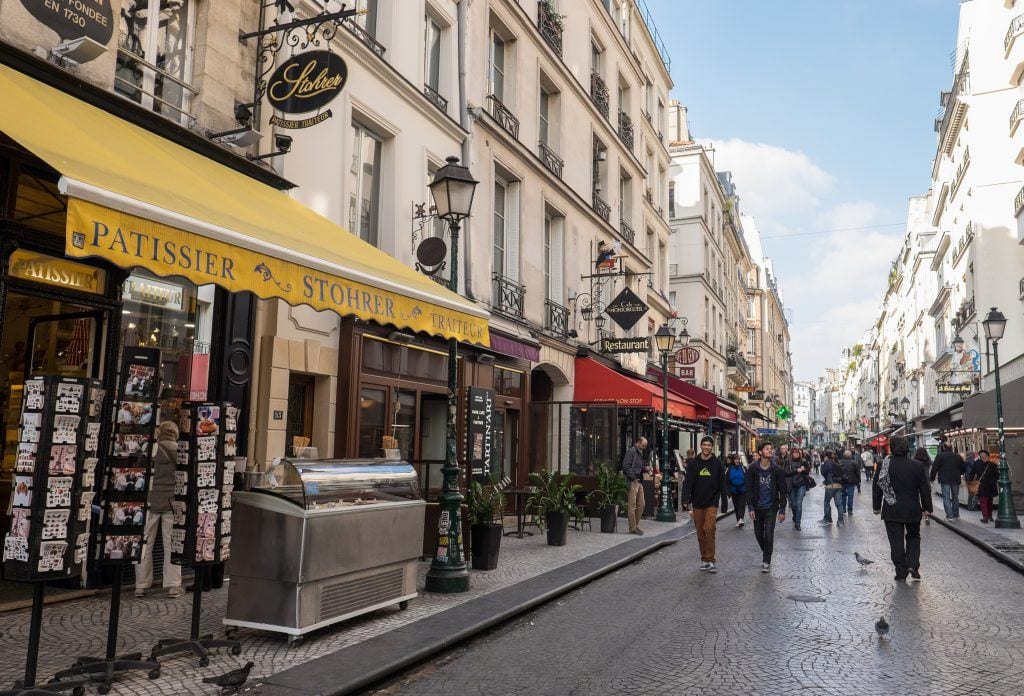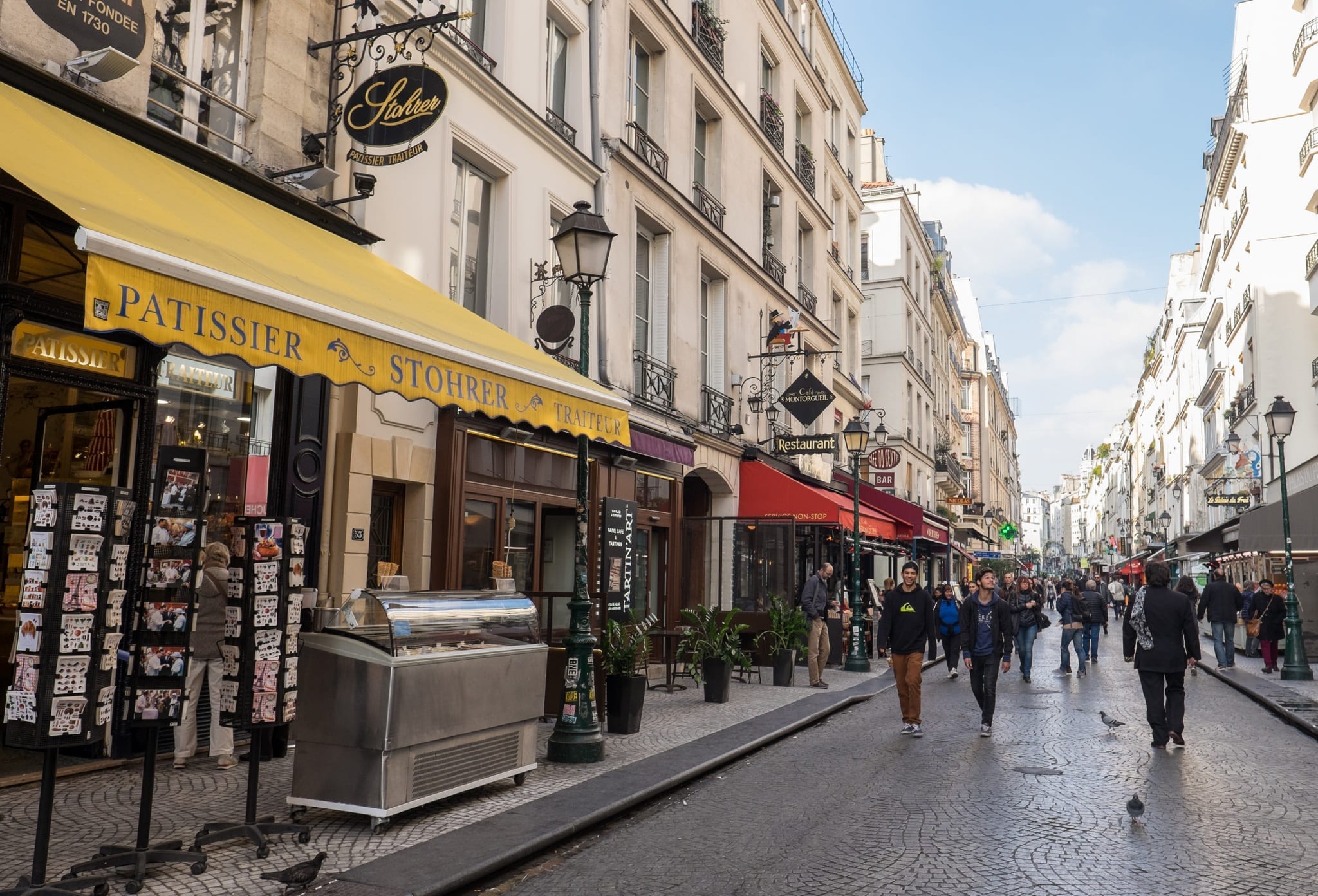 Rue Montorgueil
Submitted by Gabriel of Chef Travel Guide
Imagine that there was one street where you could taste the best culinary delights from across the entirety of France. Well, there is, and it stretches from the 2nd arrondissement to the 1st. This walking street is lined with shops and restaurants giving it a village-like feel that is reminiscent of the days when the nearby Les Halles was a bustling local market.
You can shop your way down the street picking up some delicious treats as you go. Grab a baguette from Boulangerie Blouet, followed by some rare raw milk cheeses at La Ferette.
Next, make a stop at Stohrer for a Rhum Baba or a Saint Honoré at the oldest bakery in Paris.
You're not done with dessert yet! Pick out a box of bonbons or truffles at Charles Chocolatier to treat yourself or a loved one who appreciates fine cacao.
What to do near Rue Montorgueil: Once you've finished your shopping, stop in at Le Compas for apero and sip a Kir Royal while watching the droves of people pass by on this famous street in Paris.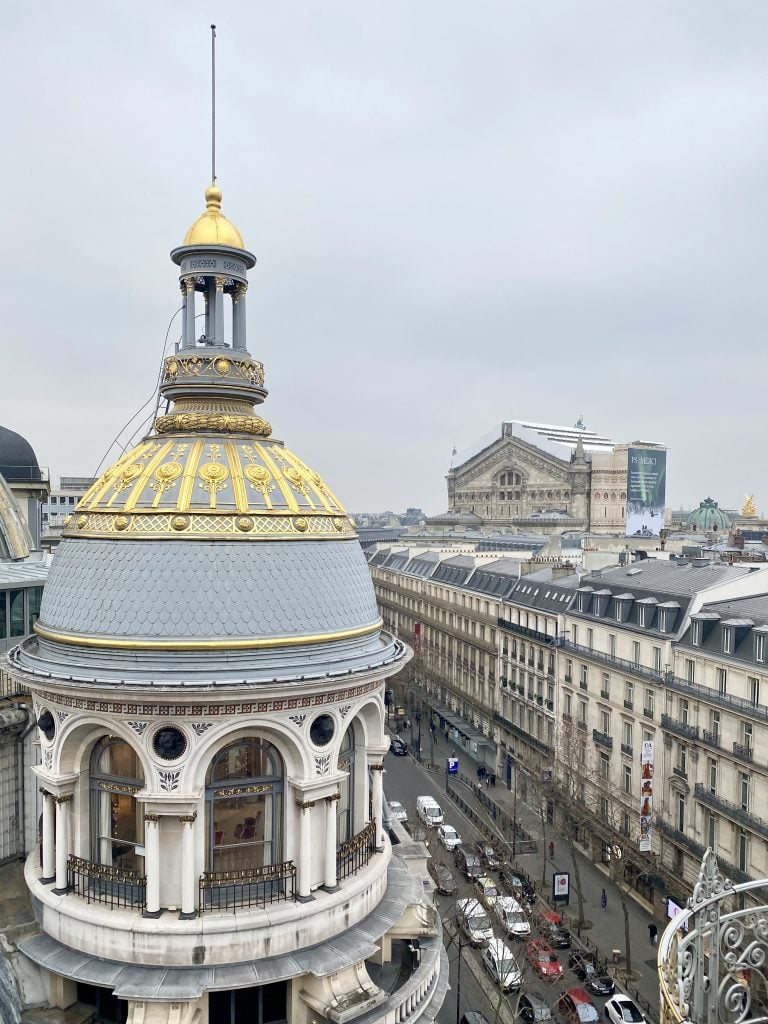 Boulevard Haussmann
Submitted by Martha from May Cause Wanderlust
Boulevard Haussmann is one of many wide, tree-lined boulevards that were built during the massive urban redesign of Paris, at the request of Napoleon III in the 19th Century. However, this one is distinguished by taking the name of the architect of this ambitious project, Georges-Eugène Haussmann.
It runs between the 8th and 9th arrondissements, and like many of the other Haussmann-designed boulevards, it is lined with grand mansion buildings that have come to epitomize this period of Paris's history.
But there's an extra reason to visit this particular boulevard: in the middle of its length are some of the most elegant and iconic department stores in Paris. Exploring this street and these attractive art nouveau-style stores is a great thing to do, especially if you're in Paris in winter, when you might prefer a place to warm up from the chilly weather.
What to do near Boulevard Haussmann: Galeries Lafayette is famous for its impressive atrium, topped with an ornate stained-glass dome; and the Printemps buildings are recognisable due to their delicate blue and gold domed turrets. Both stores are filled with stylish, luxury goods, and offer a choice of restaurants and rooftop terraces with views across Paris.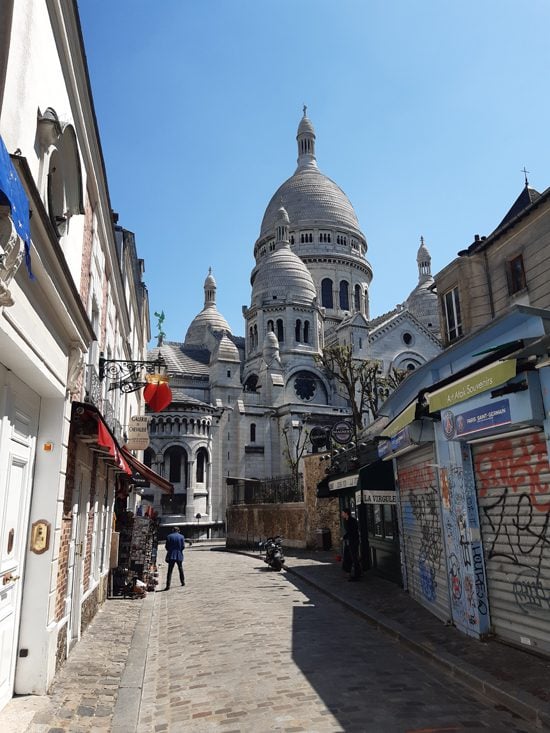 Rue Saint-Rustique
Submitted by Elisa from World in Paris
You will love Rue Saint-Rustique, located in Montmartre in the 18th Arrondissement. This relatively short cobbled street, without walkways, is the oldest in Montmartre, and it is also the highest point in the neighborhood (129m).
Rue Saint-Rustique bears the name of one of the companions of St. Denis, tortured by the Romans like the saint patron of Paris.
Bordered by Rue du Mont Saint-Cenis in the east and Rue des Saules in the west, Rue Saint-Rustique does not have beautiful architecture or cute shops but an incredible view of the Sacre-Coeur Basilica. Despite being in the most touristy part of Montmartre, it is not as busy as the neighbor rue Norvins or rue du Mont Saint-Cenis.
What to do near Rue Saint-Rustique: The lovely Musée de Montmartre is not far from rue Saint-Rustique. This small museum is dedicated to the neighborhood's history, and it has a pretty garden. The famous café Le Consulat has one of its facades on Rue Saint-Rustique, but the entrance is through Rue des Saules.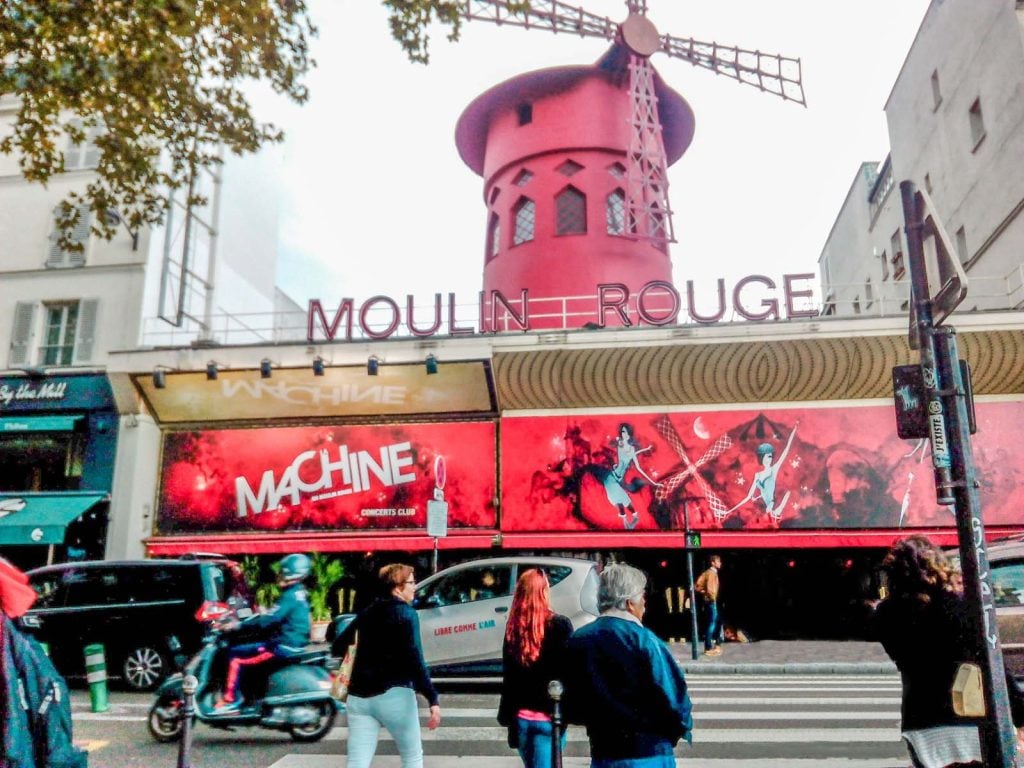 Boulevard de Clichy
Submitted by Vicki Franz of Vicki Viaja
Boulevard de Clichy is a place in Paris jam-packed with entertainment, art, and attractions. The street clearly has its own particular vibe and is located in one of the most captivating districts of Paris, Montmartre.
Although initially under a different name, the 9th and 18th arrondissements street has existed since the late 19th century. Since then, Boulevard de Clichy has been home to various artists and famous personalities, such as Pablo Picasso. The Boulevard truly seems to inspire the creativity of its visitors. Vincent Van Gogh even painted it in one of his artworks.
On the other hand, with various sex stores and the erotic museum, the surrounding Pigalle neighborhood leads to a somewhat sinful vibe. The most famous building on Boulevard de Clichy is the Moulin Rouge. The structure with the red mill on its roof is considered one of, if not the, most renowned établissement for dance events worldwide.
What to do near Boulevard de Clichy: For many sipping a glass of champagne in the Moulin Rouge is an absolute must-do. But if you visit Paris on a budget, you might rather want to enjoy the free activities on this street.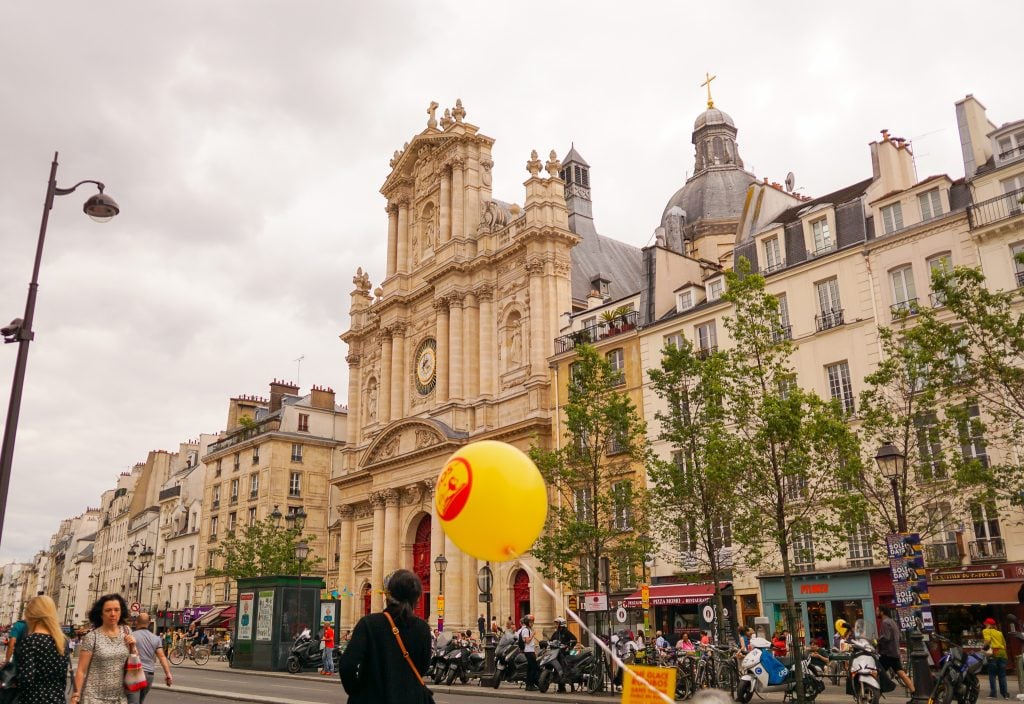 Rue Saint-Antoine
Submitted by Nadine of Le Long Weekend
One of the oldest roads in Paris, rue Saint-Antoine runs from Place de la Bastille, down to the Saint-Paul metro station in the 4th arrondissement. Situated in the heart of the medieval Le Marais district, it's here you'll find some of the best shopping Paris has to offer, beautifully manicured gardens, and both traditional and trendy restaurants.
Walk the length of the road, starting with a visit to the fascinating underground crypt below the Temple du Marais, and ending with a peek inside the baroque Saint-Paul Saint-Louis church to get a glimpse of the famous masterpiece by Eugène Delacroix.
Continue down the pedestrianized section of the road to the junction of Rue de Fourcy, where you'll find the intriguing Maison Européenne de la Photographie museum with its ever-changing exhibitions.
What to do near Rue Sant-Antoine: If you're visiting Paris with kids, don't miss a visit to the beautiful Place des Vosges (accessed via the Rue de Birague) where there's a playground and plenty of benches for a picnic lunch.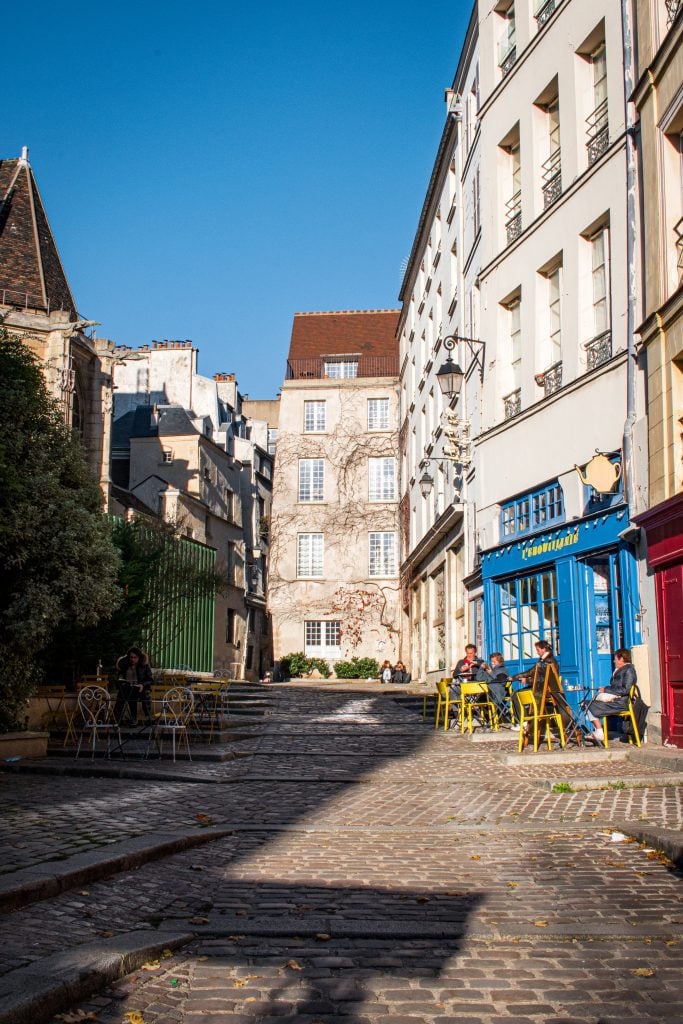 Rue des Barres
submitted by Renee from Dream Plan Experience
Tucked away from the busy Paris streets in the 4th arrondissement is Rue des Barres. This street appears on one of the earliest detailed maps of Paris from 1550. Stroll this short and narrow cobblestone street where you'll come across some of the city's most ancient buildings.
In 1250, Hotel des Barres was built next to the church, Église Saint-Gervais-et-Saint-Protais. This church has stood here since the 7th century with the current one being built over a 150-year period ending in 1650. Next to it was the former home of the nuns, rebuilt in 1514 in a half-timber style as well as a house that dates back to 1624.
What to do near Rue des Barres: This pedestrian passageway links the Marais to the Seine. Walk down the shallow wide steps to Café Louis Philippe and Chez Julien — two of the city's best restaurants, each with lovely terraces. Rues des Barres ends at Pont Louis-Philippe, the bridge that links to a hidden gem in Paris, Île Saint-Louis.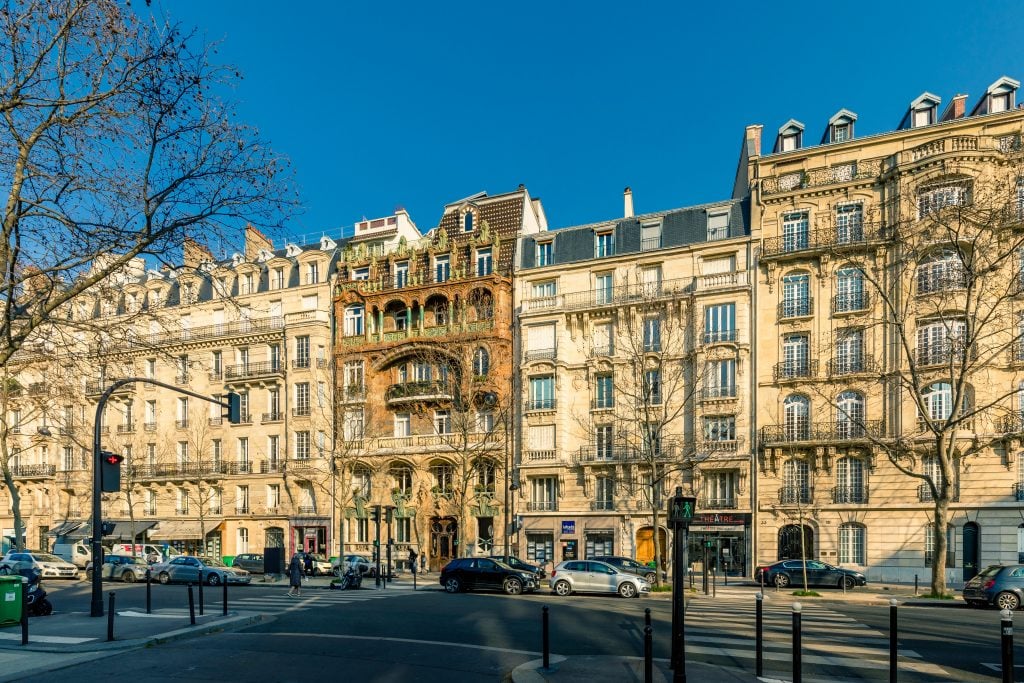 Avenue Rapp
Submitted by Moumita & Sankha from Chasing the Long Road
Avenue Rapp, located in the 7th arrondissement, is one the most famous streets of Paris. The star attraction of this street is the Lavirotte Building, an icon of Parisian Art Nouveau architecture.
Designed by renowned French architect Jules Lavirotte, it was built at the turn of the 20th century. A beautifully decorated façade is bound to make you stop for a while and marvel at the intricate architectural details of this building while passing by 29 Avenue Rapp.
What to do near Avenue Rapp: Don't miss the hidden gem called Square Rapp, located between 33 and 35 Avenue Rapp. Be prepared to be amazed by one of the best views of the imposing Eiffel Tower from here.
Look out for a small garden at the end of the square with a beautiful fountain and ornate iron grill gates. Jules Lavirotte lived in one of the surrounding apartments of this secret square. The Eiffel Tower is just about a 10-minute walk from here.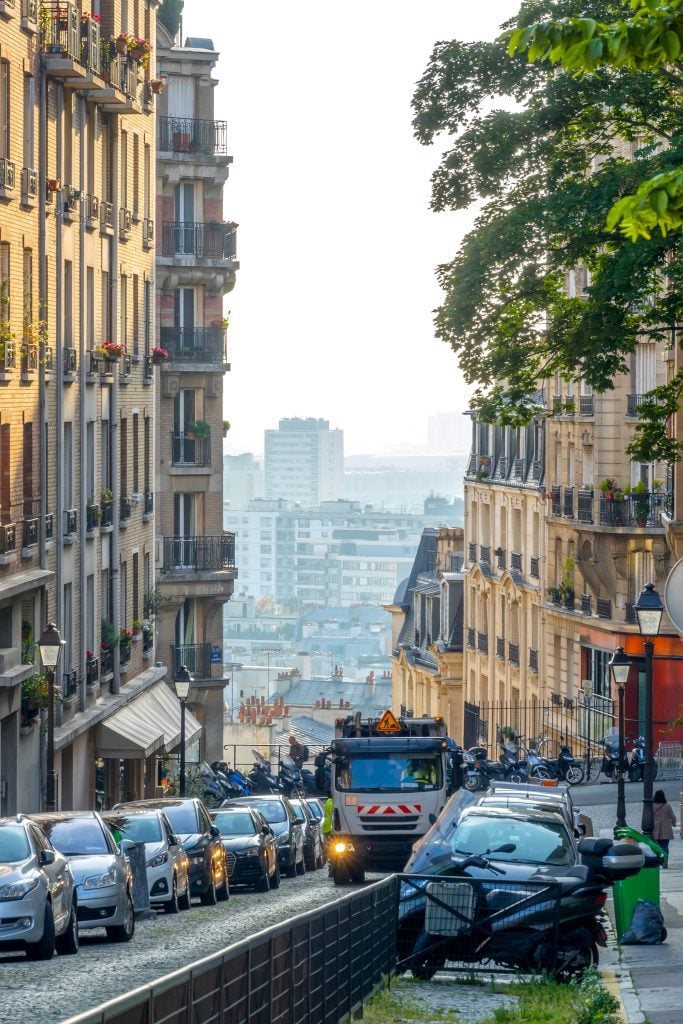 Rue Lamarck
Submitted by Kat from France Voyager
Rue Lamarck, located in Montmartre, the 18th arrondissement of Paris, is iconic. Rue Lamarck is named after Jean-Baptiste de Lamarck, a French scientist known for his theory of inheritance of acquired traits. The street has even evolved over time, as it began in 1867 with periods of expansion in 1881 and 1893.
Now, this lovely street in the Montmartre neighborhood is especially famous as it passes by the Sacré-Coeur. The steps of this church offer some of the most jaw-droppingly beautiful views of the Paris skyline! Also, this domed cathedral, built in the Romano-Byzantine style, features the Mosaic of Christ in Glory inside.
For a gem of a street in Paris that passes through the amazing Montmartre neighborhood, a stroll along Rue Lamarck is essential. And wandering along here will lead you to Sacré-Coeur, a must on any Paris bucket list!
What to do near Rue Lamarck: Aside from Sacré-Coeur, Rue Lamarck also leads to many other nearby places to visit in the Montmartre neighborhood such as the Musée de Montmartre, a lovely museum that discusses the history of Montmartre and is next to the Montmartre Vineyard, and the Cimetière de Saint-Vincent, a cemetery with more views of the neighborhood.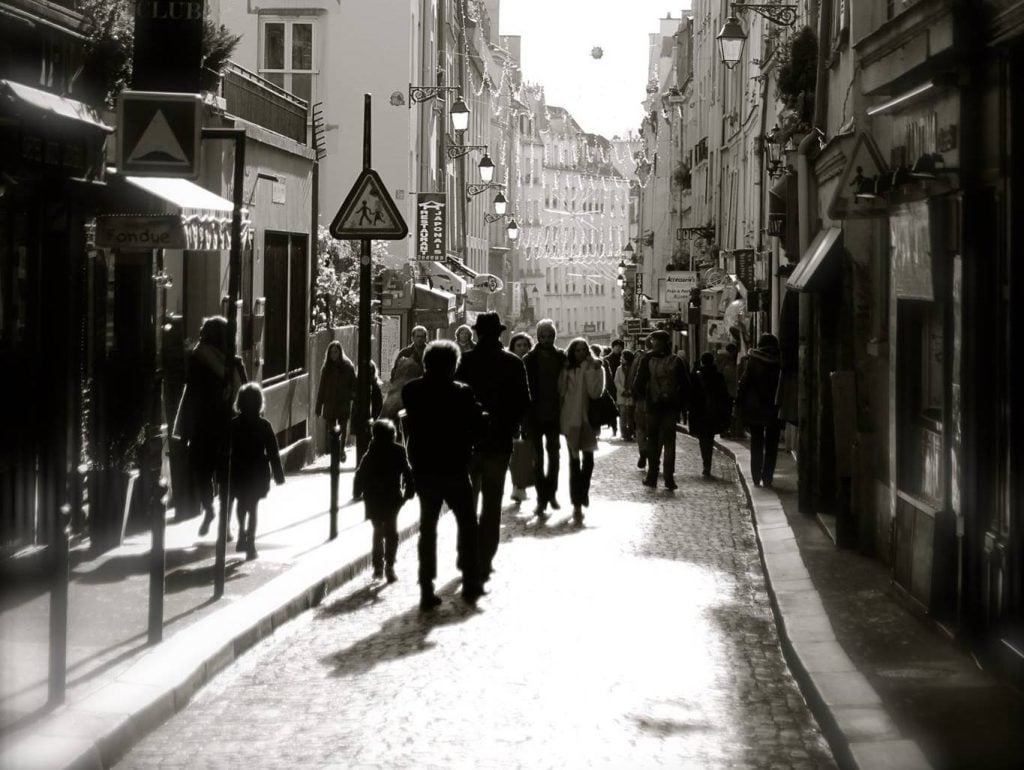 Rue Mouffetard
Submitted by Hannah from Hannah Henderson Lifestyle Travel
Rue Mouffetard is located in the 5th arrondissement of Paris, known as the Latin Quarter. It has long been a haunt for writers, artists and flaneurs; and anyone in search of the true heart of the city of love.
Rue Mouffetard is one of the oldest streets in Paris. Once a Roman road, you can find the 1st century Arena of Lutèce nearby. This grand old dame of a street isn't a Haussmann-era boulevard, but a winding and narrow street with buckets of character.
At the top you have the convivial Place de la Contrescarpe, lined with cafés and restaurants that buzz all day long. At the southern end, Rue Mouffetard opens out to the church and square Saint-Médard where regular markets take place.
What to do near Rue Mouffetard: The beautiful Pantheon sits to the north of Rue Mouffetard, a mere kilometer from the Seine and Notre Dame. The Pantheon is worth visiting for Foucault's pendulum (a device used to demonstrate the rotation of the earth), and for the crypt beneath, the final resting place of some of France's most famous residents.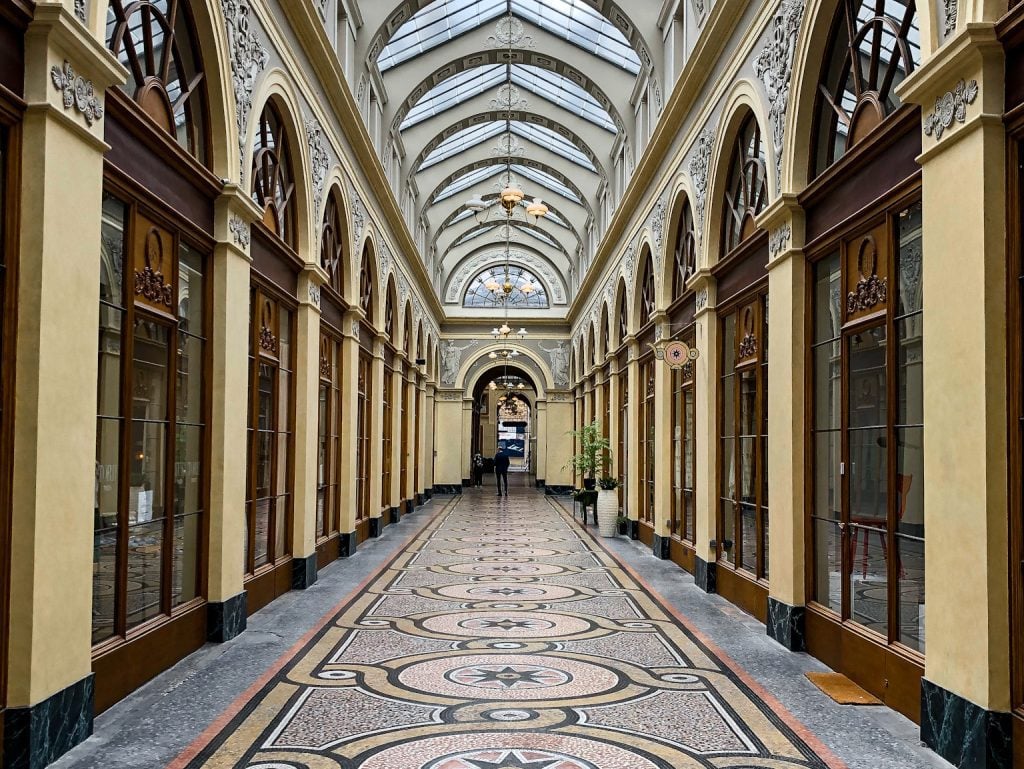 Passages Couverts
Submitted by Sarah Vanheel from CosmopoliClan
There's no question that Paris is the crème de la crème when it comes to shopping destinations. But did you know that in addition to the glamorous shopping streets and iconic department stores, the French capital is home to a set of lesser known shopping streets?
The covered passages of Paris were the 19th-century version of shopping malls. These glamorous places to see and be seen were characterized by their glass roofs, iron frames and mosaic or marble floors. The majority of the 20-ish remaining hidden passages can be found in the 2nd and 9th arrondissements. Entering one of these passageways with their retro look feels like stepping back in time.
What to do near Passages Couverts: Each hidden passage has something different to offer. Passage Verdeau is known for its antique shops, Passage des Panoramas houses the Théâtre des Variétés and Passage Jouffroy the Grévin wax museum.
The most upscale passages are Galerie Vivienne and Galerie Véro-Dodat. These chic Parisian shopping streets house elegant fashion boutiques, enchanting bookshops, captivating art galleries, exquisite home decor boutiques and much more. Both are located in the direct vicinity of the Palais-Royal and the Louvre.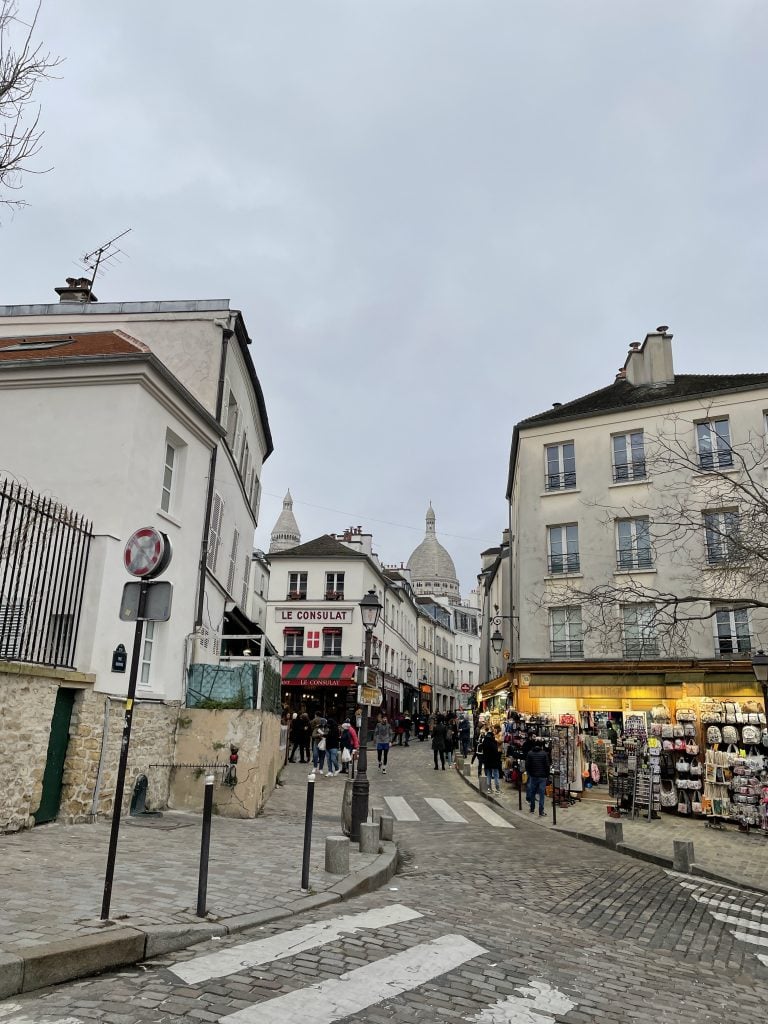 Rue Norvins
Submitted by Esther from Dreams in Paris
Tucked away in the artistic neighborhood of Montmartre in the 18th arrondissement, Rue Norvins is one of the pretty streets in Paris. With a cobblestoned road, chic cafes, souvenir shops, and epic views, Rue Norvins is a true definition of what a Parisian street should be.
The street offers stunning views of the Sacré-Coeur and houses the famous Le Consulat restaurant that has become a favorite among photographers and Instagrammers.
But before it rose to fame as one of the most Instagrammable spots in Paris, it had long been a favorite among famous artists like Picasso, Monet, Sisley, and Van Gogh who frequently came to grab a meal and ponder the beauty of the neighborhood.
Besides taking photos at Le Consulat, the café also serves delicious meals from French classics like escargots to crowd favorites like crème brûlée if you're down for dessert.
What to do near Rue Norvins: If grabbing a meal at the cute cafes on this street is not your gem, then you can browse Galerie D'art located just opposite Le Consulat to pick up a souvenir or, better yet, take a stroll along the entire street. Each spot offers an opportunity to enjoy what Montmartre has to offer.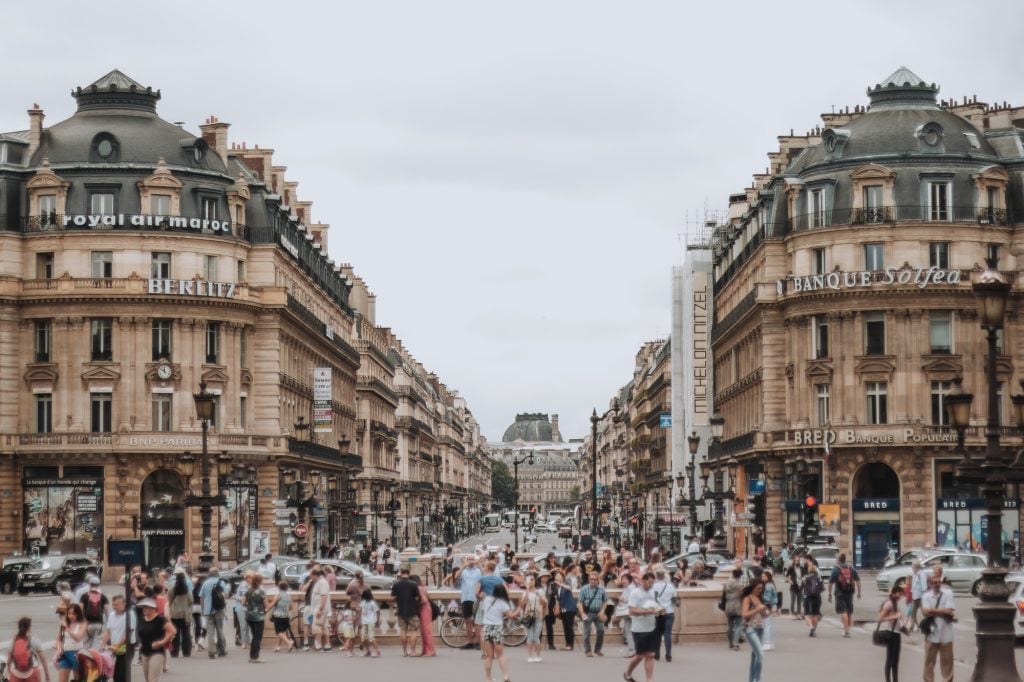 Avenue de l'Opera
Submitted by Gabi from Under Flowery Sky
Avenue de l'Opéra stretches through the 1st and 2nd arrondissement connecting the Opera Palace and Tuileries Garden near the Louvre Museum. Avenue de l'Opéra starts not far from Montmartre with an enticing view of the Opera Garnier.
It's a busy and popular Parisian street, and it's easy to capture the soul of Paris from here. Besides visiting the splendid Opéra Garnier, it's an opportunity to know Paris, there are many lovely cafes to enjoy on this street.
What to do near Avenue de l'Opéra: Take a tour of the Opéra Garnier, inspiration for Phantom of the Opera.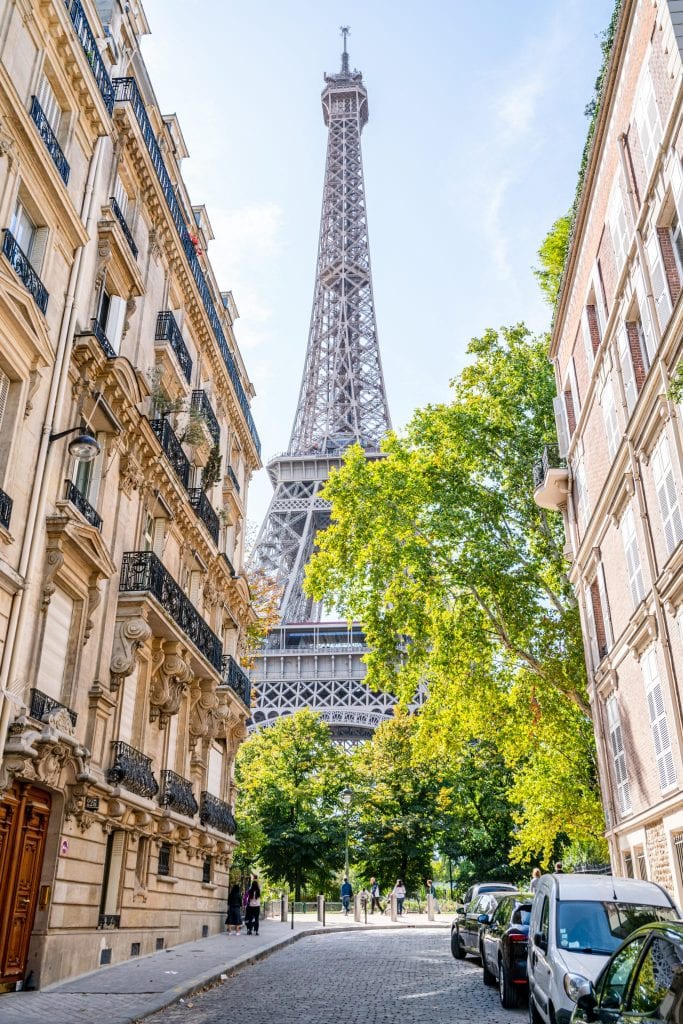 Rue de l'Université
Submitted by Kate from Our Escape Clause
Nestled into Paris' 7th arrondissement, Rue de l'Université is most famous for the sublime view of the Eiffel Tower that you can find at the western end of the street. In this quiet corner, classic Parisian residential homes — think lots of limestone and wrought iron — lead to a view of the Eiffel Tower Gardens and the tower itself.
While Rue de l'Université is quite long, to enjoy its iconic view, use your GPS to navigate to 223 Rue de l'Université. From this viewpoint, the Eiffel Tower Carousel, Trocadero Gardens, and of course the Eiffel Tower, all lie within a 15-minute walk or less.
After soaking up the view and snapping plenty of photos, you'll also find yourself within easy reach of many of the other must-see attractions on any Paris itinerary!
What to do near Rue de l'Université: Turn around and head away from the tower and you can find 29 Avenue Rapp — one of Paris' most (in)famous Art Deco buildings — in less than a 10-minute walk.
Keep walking down Rue de l'Université instead of turning onto Avenue Rapp, and you'll find yourself at Invalides in about 20 minutes. From there, the Pont Alexander III is just a short stroll to the Seine away!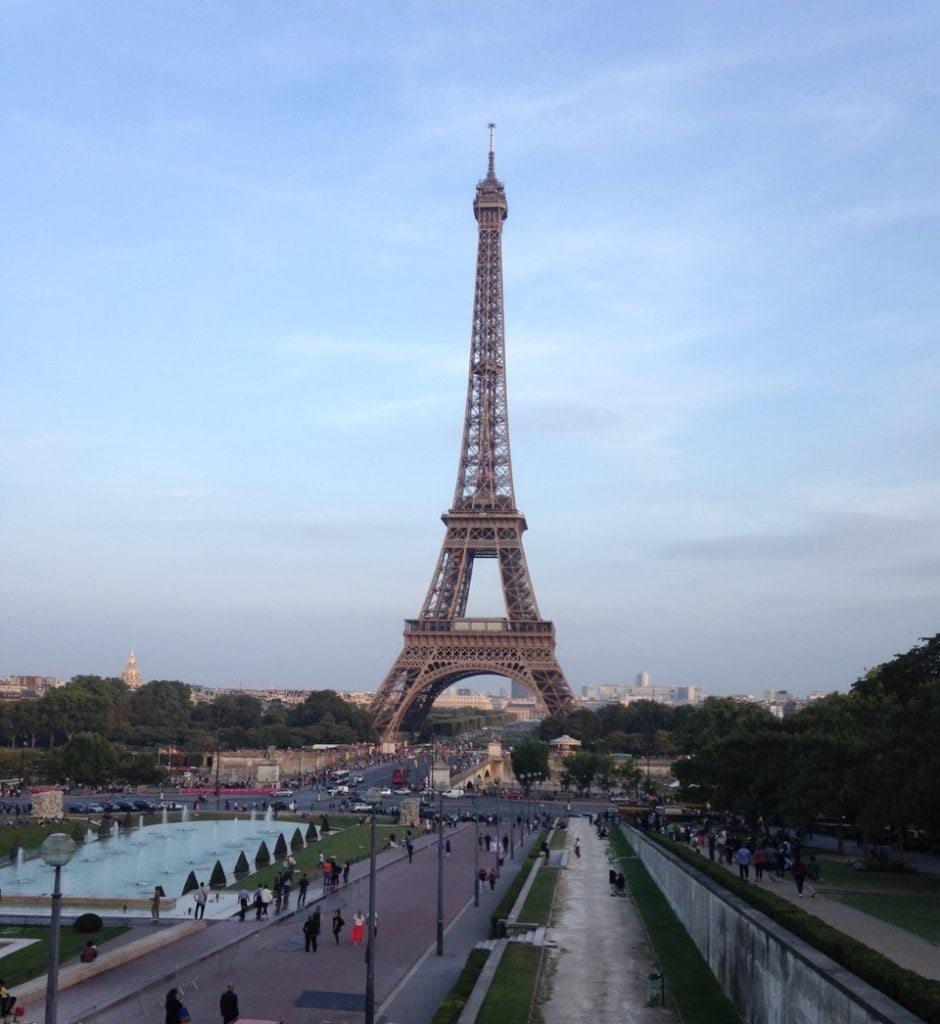 Avenue Albert 1er de Monaco
Submitted by Lisa of Waves and Cobblestones
Avenue Albert 1er de Monaco is nestled within the 16th arrondissement of Paris, a stone's throw from the Eiffel Tower. It is one of three pedestrian boulevards, all named for royalty, that frame the Jardins du Trocadéro. This petite 150-meter street ends at the Palais de Chaillot, a grand building which houses several fine museums.
Avenue Albert 1er de Monaco is bordered on one side by an elevated walking path dotted with benches, and by a lush green lawn on the other. Take your pick — either is a great place to relax and take in the million-dollar sights.
And it would be remiss not to mention that this avenue is one of the best places for viewing the Eiffel Tower, one of the most iconic Parisian attractions!
What to do near Avenue Albert 1er de Monaco: From this vantage point you'll enjoy an up-close view of the magnificent Fontaine du Jardin du Trocadéro, with its 20 water cannons shooting arcs of water high into the sky.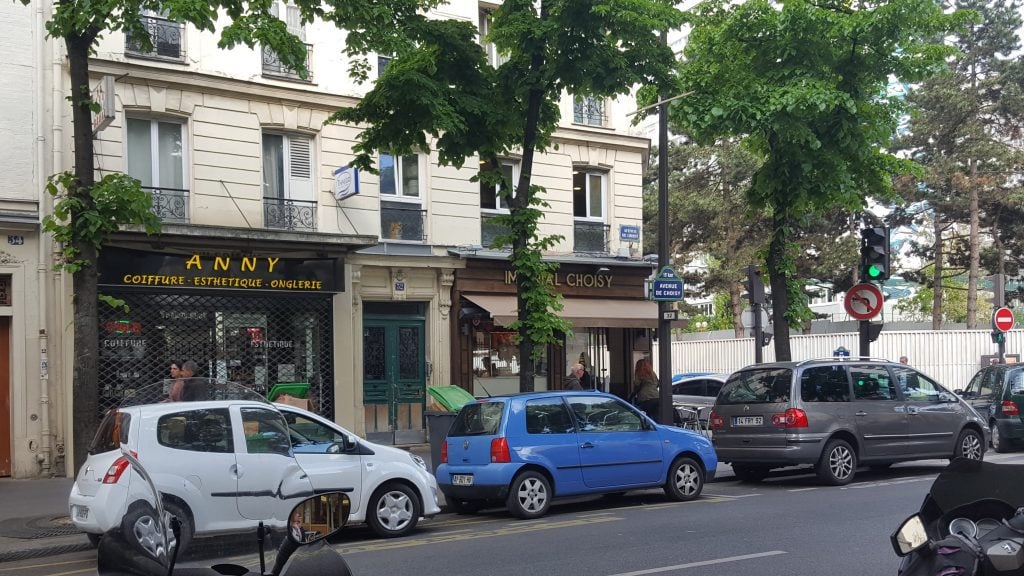 Avenue de Choisy
Submitted by Don of The Money Saving Daddy
Avenue de Choisy is located in the 13th arrondissement of Paris and is home to the city's Chinatown. This street is popular for its eclectic restaurants, markets, and shops. Many of the businesses on the avenue are owned by Chinese and Asian immigrants, and the street has a lively and vibrant atmosphere.
Visitors can find all sorts of Asian products and cuisine on Avenue de Choisy, and the street is a great jumping-off point to explore Paris's Chinatown.
Along this street offers many different types of Chinese food. From Cantonese dim sum to Peking duck, there's something sure to please everyone's taste buds. So be sure to put Chinatown on your list of must-try restaurants when in Paris!
What to do near Avenue de Choisy: Be sure to visit the restaurant Tricotin, with numerous excellent, dishes to try but we will always order their roasted duck rice. Delicious Asian cuisine that tastes like home cooking.
Rue de la Paix
Submitted by Nesrine from Kevmrc
Located in the 2nd arrondissement of Paris, Rue de la Paix is the link between the Opéra Garnier and the Tuileries, through the iconic Place Vendôme. This street is known to be very expensive, but it doesn't cost anything to visit it as a tourist. And it is so pretty that it would be a shame not to do it!
The Rue de la Paix is indeed luxuriously decorated with jewelry and fancy fashion stores including Cartier, Chopard, and Repetto, as well as great palaces like the Ritz. The prices are sky-high, but you'll love window-shopping and dreaming in front of the incredible jewels of the Place Vendôme stores.
What to do near Rue de la Paix: Strolling in this street is the occasion to take beautiful shots on one of the most Instagrammable places of Paris, especially on the Place Vendôme. You can also taste French cuisine for not too much money at La Petite Régalade or Le Petit Vendôme on this same street.
Quai de Montebello 5th Arrondissement
Submitted by Asha Bhatia from Home Travel Guide
Quai de Montebello is one of the riverside quays along the seine with unbeatable views on the iconic Cathedral Notre-Dame de Paris. Lounging by the banks of the Seine, a UNESCO World Heritage Site, is a quintessential Parisian activity.
From Quai de Montebello you have easy access to many pedestrian-friendly areas, such as Ile de la Cité, Ile Saint-Louis, Saint-Michel quarter and much more, making it an easy place to pop in around your sightseeing.
What to do near Quai Montebello: Pick yourself a book to read in one of the side booksellers' stalls called bouquinistes. There you will find a huge choice of bestsellers, singular books, and other unique souvenirs.
Alternatively, opt for a picnic by the river Seine and watch the riverboats pass by while listening to the distant music. You will find many people sitting down, hanging out while having a glass of wine or reading a book.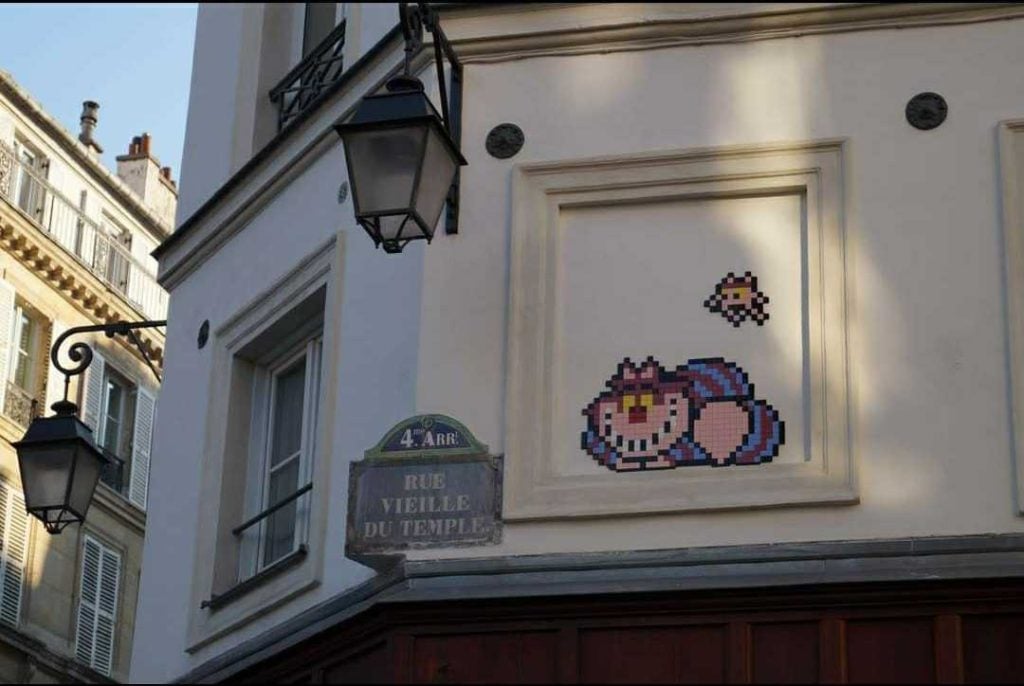 Rue Vieille du Temple
Submitted by Mary from Bucket List Places
Rue Vieille du Temple runs right through the middle of the hip Marais district. Located in the 3rd and 4th arrondissements, the street and its marvels are not far from the Gare de Bercy, where you'll arrive if you take a bus to Paris from Lille or a night train from Italy.
Rue Vieille du Temple is known for its excellent shopping, with a more hip vibe than some of the more famous shopping streets. You'll find brand names alongside boutiques and quirky shops like Vintage Paris.
The street is lined with 17th-century mansions, each boasting gorgeous architecture and gardens, but the neighborhood's creative street art is a bit more modern. Between the mansions, poke into restaurants, pastry shops, and chocolate shops to taste Le Marais for yourself.
What to do near Rue Vieille du Temple: One of the best hidden gems on Rue Vieille du Temple is La Belle Hortense, a hybrid wine bar and bookshop. Enjoy a glass in the small bar's romantic and literary atmosphere to round out a fabulous day traversing one of Paris's best streets.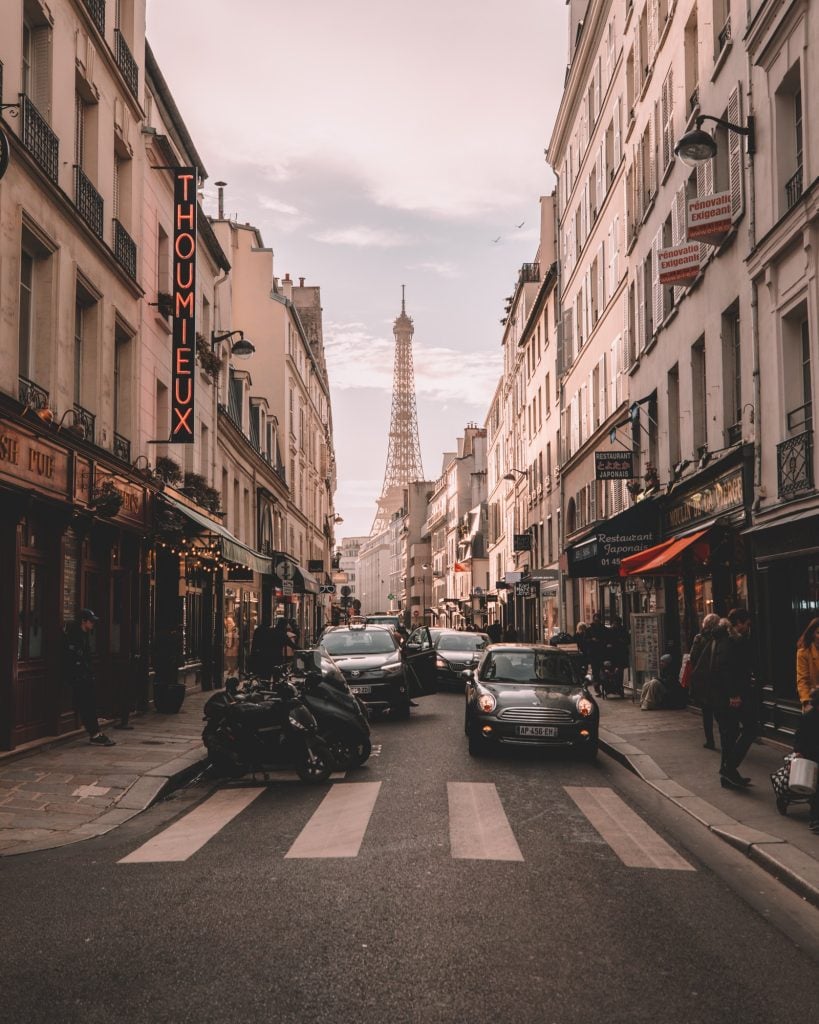 Rue Saint-Dominique
Submitted by Rai of A Rai of Light
Rue Saint-Dominique, located in the heart of the 7th arrondissement, is one of the most popular streets in Paris. And with good reason.
Its location between the Champs de Mars and Esplanade des Invalides provides easy access to the multitude of trendy French designer stores, upmarket boutiques, and specialty stores found along this 1.5-mile stretch of road. In recent years, this trendy street has become one of the top shopping districts in the city and is full of life and activity no matter the time of the day.
There is also no shortage of charming cafés, boulangeries, patisseries, and restaurants along this vibrant street and you'll certainly be spoilt for choice when deciding where to eat.
What to do near Rue Saint-Dominique: An interesting place worth visiting nearby is Musée du Quai Branly, the only Parisian museum that is dedicated to the native arts. Named after the Dominican monastery, Rue Saint-Dominique is one of the most photographed streets of Paris, providing striking views of the Eiffel Tower and should not be missed.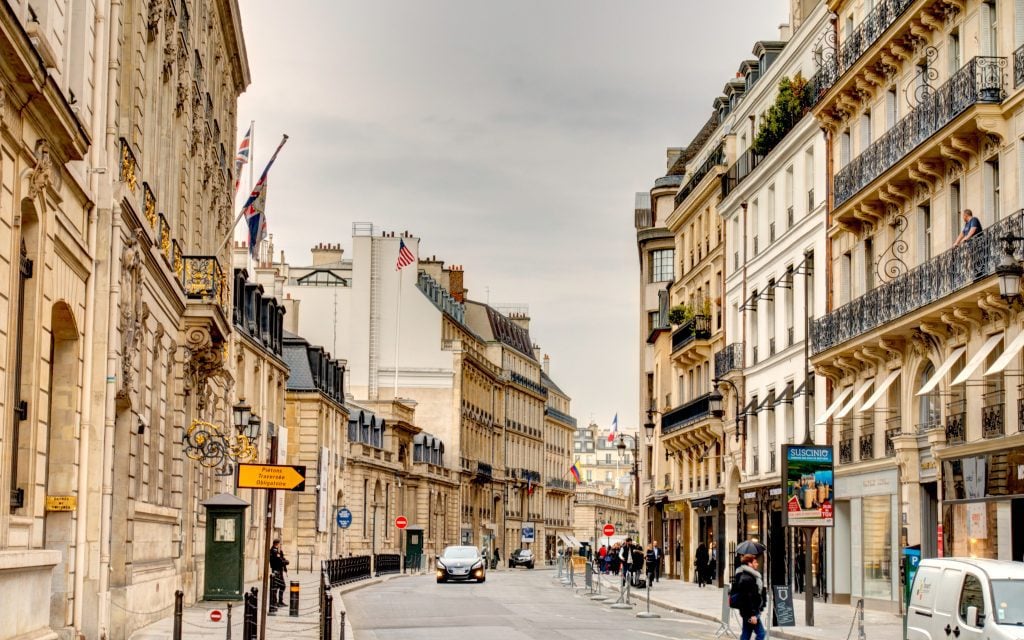 Rue St. Honoré
Submitted by Noel from Travel Photo Discovery
One of the most famous streets of Paris worth exploring is Rue St. Honoré, located in the 1st arrondissement of the city. A gorgeous boulevard lined with classical French architecture, it's filled with upscale boutique stores, museums, churches and close to the Jardin des Tuileries. The street is named after the church of Saint Honoré and was created in during the middle ages.
Famous designer brands line the Rue St. Honore to include fashion brands like Christian Louboutin, Miu Miu, Louis Vuitton, Guerlain, Moynat, and Goutal Paris. This chic street epitomizes where the classic and old world elegance mixes with contemporary fashion and luxury brands that Paris is known for.
It is fun to explore, window-shop, and enjoy the vibe of this classical Parisian street.
What to do near Rue St. Honoré: While walking down the boulevard and the historic center of Paris, you'll pass notable landmarks like the Palais Royale, the Oratoire du Louvre Protestant church, the Notre-Dame de L'Assomption de Paris, and the Louvre is just a few blocks away.
More on Paris: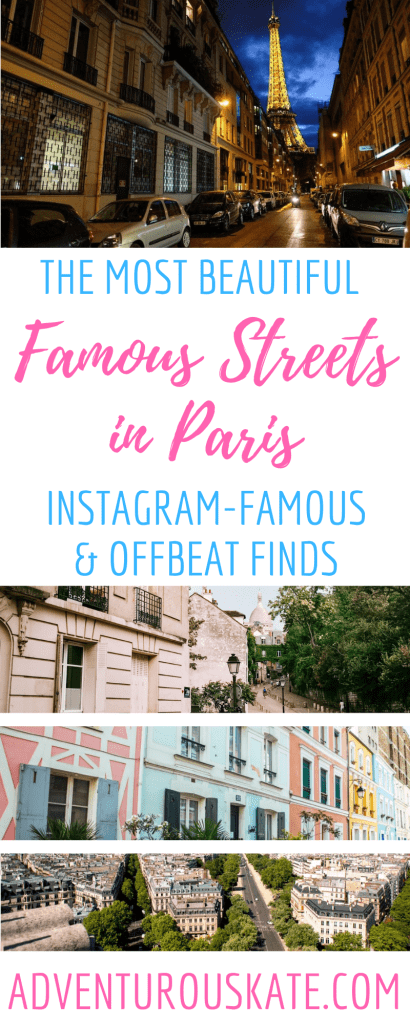 Have you been to Paris? What are your favorite streets?