Adventurous Kate contains affiliate links. If you make a purchase through these links, I will earn a commission at no extra cost to you. Thanks!
What's the best area to stay in Paris? We're here to help! You've planned your trip and booked your flight to France, but there's one question left: where to stay in Paris, France? Where are the best neighborhoods in Paris, for that matter?
For most people, going to Paris is the trip of a lifetime — so it's all the more important to carefully choose the right area.
Paris was the first city I ever fell in love with, and after 22 years, it's still my favorite city in the world. On my first visit, I skipped away from my school group to climb the towers of Notre-Dame; these days, I'm more likely to escape for a plate of oysters and glass of champagne in the Saint-Germain neighborhood.
I've now visited Paris more than a dozen times and usually stay in two or three different places on each visit. At this point, I've gotten to know lots of different neighborhoods, I've learned the benefits of staying in different places, and I know the kinds of experiences that make a trip to Paris special.
In short, when it comes to the best places to stay in Paris, especially for first-time visitors, you've got plenty of options!
This post is divided into sections. I've listed the best neighborhoods to stay in Paris, along with the best hotels at each price point in each neighborhood. There are also a few sections on hotels that I've especially enjoyed on my own trips.
Here we go — let's see the best area to stay in Paris!
Where to Stay in Paris, France
Everyone wants to know where to stay in Paris, but I think most people like being in a quintessential Paris neighborhood — a place where you can buy fresh baguettes and marvel at the wrought-iron balconies. There is a lot of diversity in Paris, but most visitors like to stay somewhere that looks like the Paris of their dreams!
Paris is divided into 20 arrondissements (neighborhoods) and they are numbered in a spiral, the center surrounding Ile de la Cité, the island in the Seine home to Notre-Dame.
Neighborhoods with lower numbers are closer to the center; the 12th-20th arrondissements are the outer edge. Parisians refer to the neighborhoods by their number.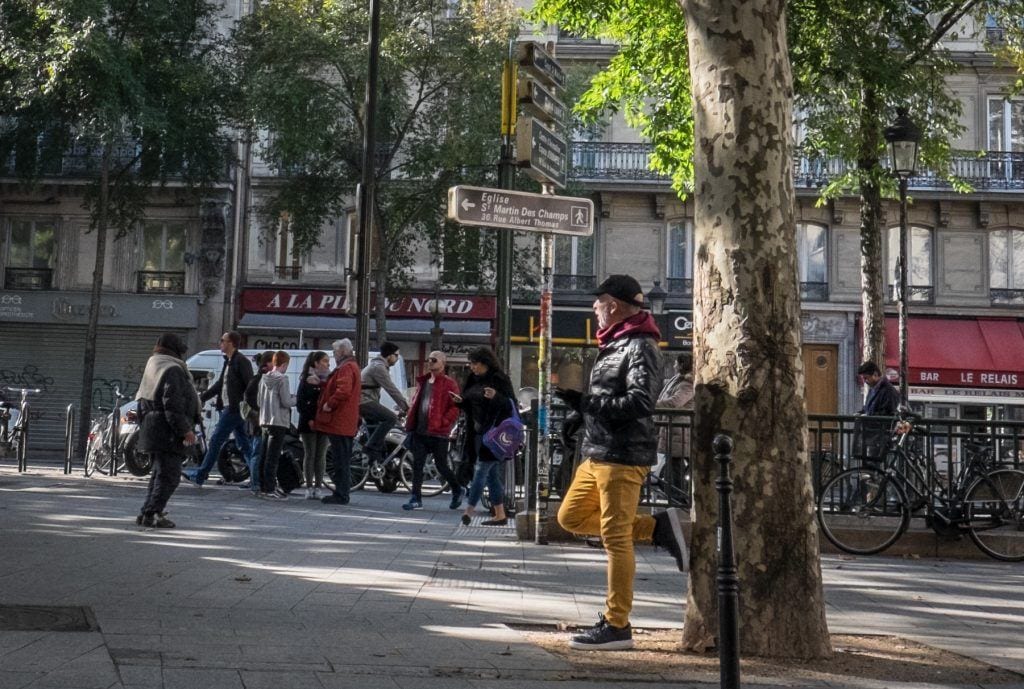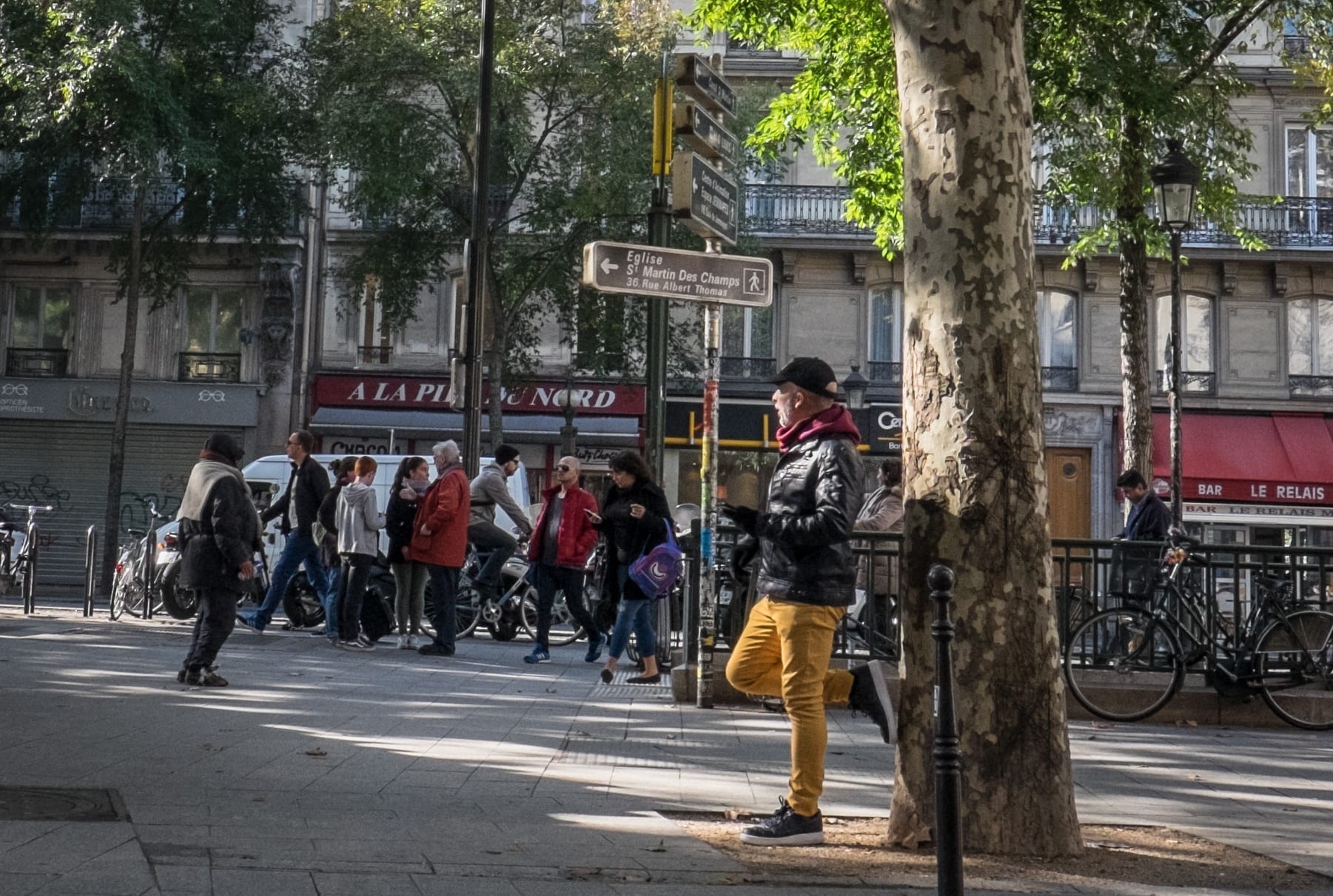 Best Neighborhoods in Paris
If I were choosing the best neighborhoods in Paris, at the top of my list would be the Marais and St. Germain, followed by the nicer part of Montmartre. Whether it's your first time in Paris or your tenth, you'll love them.
I think the Marais (also known as Le Marais) is the best neighborhood in Paris overall because it has so much to offer — it's a creative, colorful neighborhood filled with interesting boutiques, beautiful parks, and some of the quirkiest architecture in the city (hello, Beaubourg).
The Marais is also home to my all-time favorite crepe restaurant in Paris, Breizh Cafe, and the best cheap meal in Paris: the falafel at L'As du Falafel, which is best eaten as a picnic in the Places des Vosges. When you stay in the Marais, you have easy access to art, shopping, and several metro lines that can take you all over the city.
I think St. Germain is another one of the best places to stay in Paris because it has retained its Left Bank artistic culture over time. This is the neighborhood where Sartre, Hemingway, and Dali used to hang out, along with the Lost Generation immortalized in The Sun Also Rises.
You can sit in one of those famous St. Germain cafes by day, or check out the galleries and bookstores (including my favorite, Shakespeare and Company) that line the streets. When you stay in St. Germain, you have easy access to the Jardin Luxembourg, the Musée d'Orsay, Notre-Dame, and plenty of other metro lines.
Montmartre is wrapped up in mystique, but it definitely has its highs and lows. Parts of Montmartre make you think it's the most beautiful Paris neighborhood — where the white buildings line curvy steep streets. Then you get the seedy parts of Montmartre: the sex shops and aggressive touts who try to part you with your money. But if you're able to concentrate on the good parts, it's without a doubt one of the best places to stay in Paris.
Staying in Montmartre gives you easy access to the Sacre-Coeur (go up to the very top at sunset!), the cheesy but wonderful Moulin Rouge! show, and plenty of beautiful cafes and boutiques.
READ MORE: Ultimate Guide to Solo Female Travel in Paris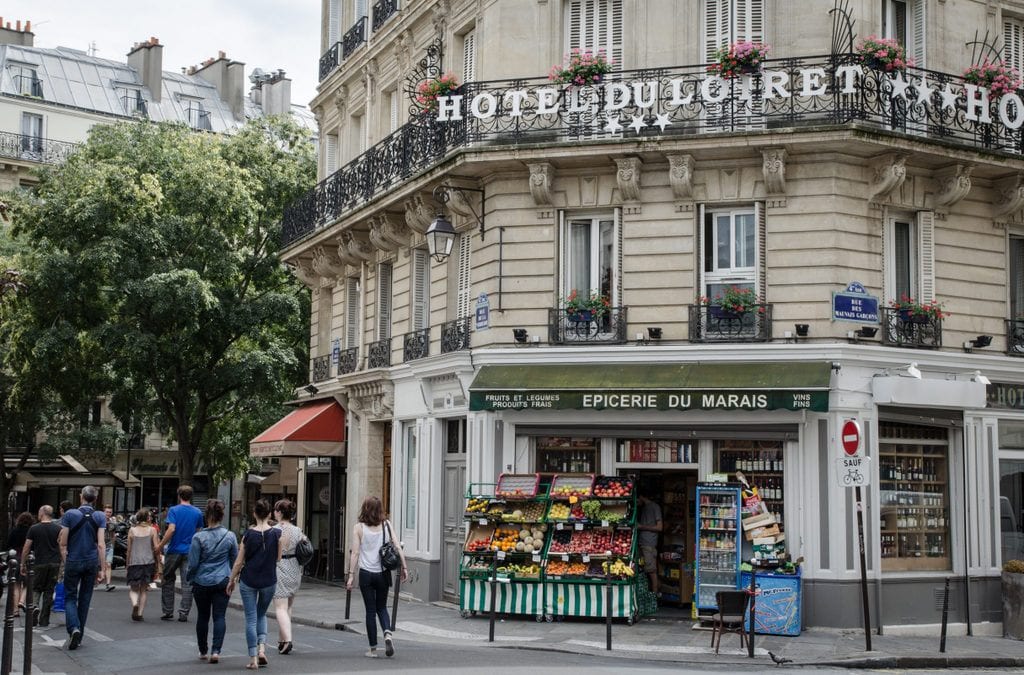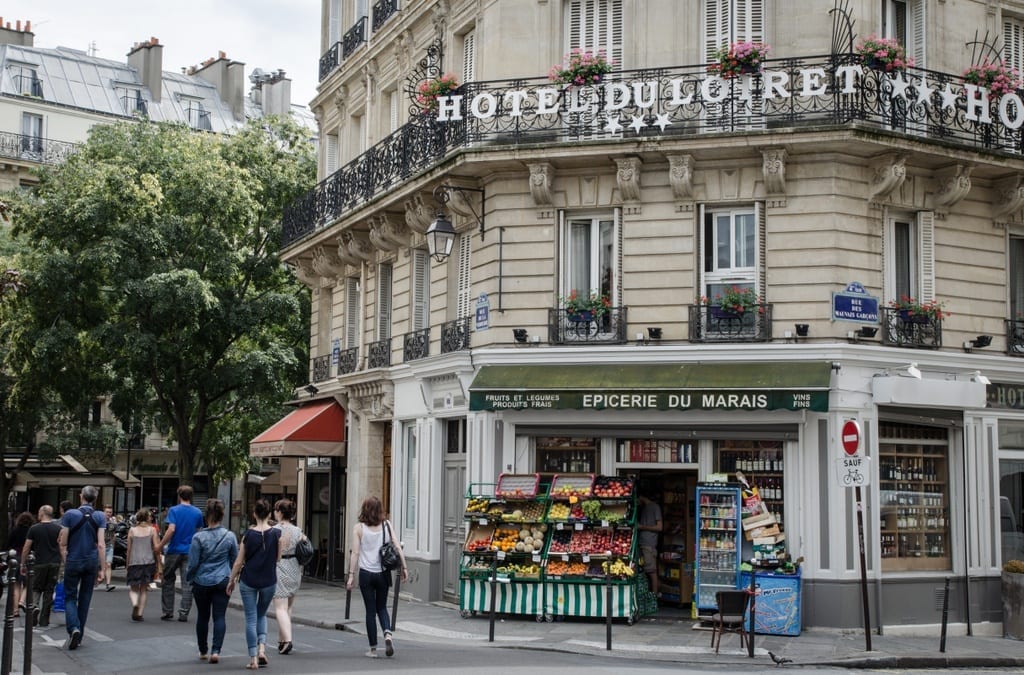 The Marais
The Marais (3rd and 4th arrondissement), in my opinion, is easily the best neighborhood in Paris. It's central with lots of metro lines. It's got several attractions, like the Centre Pompidou and the Hotel de Ville. There are lots of wonderful restaurants and cafes, the architecture is magnificent, and the shopping is superb.
In fact, I think the Marais is the best shopping neighborhood in the city — there are tons of independently owned boutiques as well as luxury shops and wonderful markets. Just be prepared to pay for the privilege! You can't afford a boutique in le Marais by charging bargain prices!
The Marais was historically home to marginalized communities in Paris, including the LGBTQ community and the Jewish community, and as a result it's got a nice cultural mix to this day.
The Marais is also home to the top-rated cheese experience in Paris, where you go into a cellar with a cheese expert and eat tons of interesting cheeses and drink fabulous wines!
Top-Rated Hotels in the Marais
Find deals on hotels in the Marais here.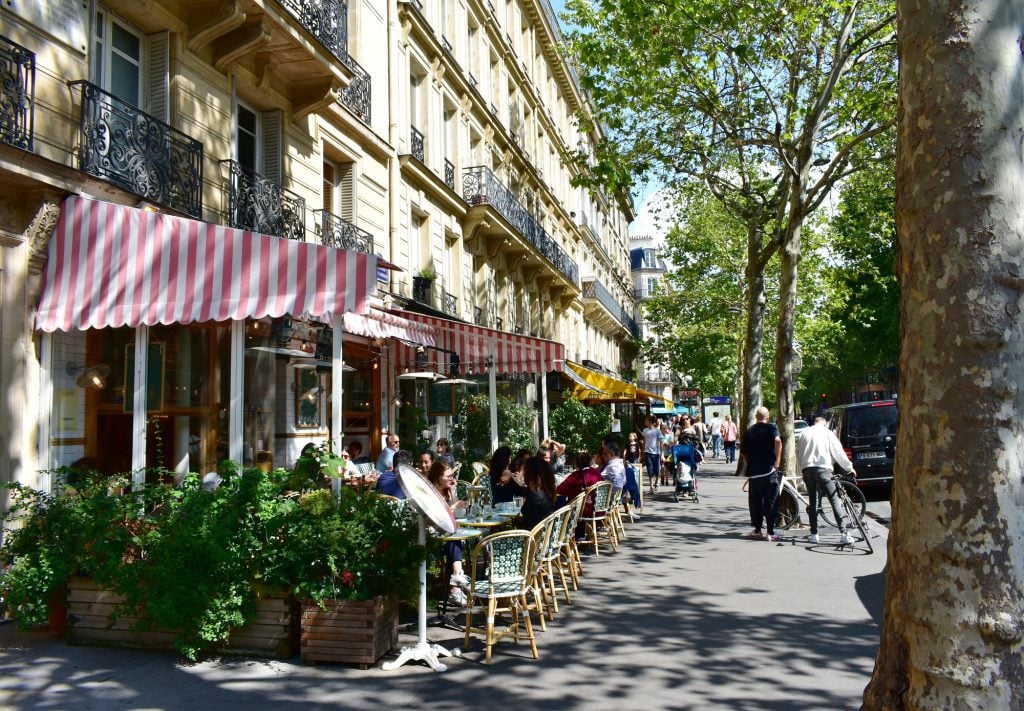 St. Germain
If you're looking for Left Bank Paris, the neighborhood of Hemingway and Camus and Sartre, St. Germain-des-Près (6th arrondissement), or just St. Germain, is a nice option and my other favorite neighborhood in which to stay. While it definitely has its share of tourists, you'll find wonderful (and longtime famous) cafes, interesting little shops, and streets full of life.
St. Germain (full name: St. Germain-des-Pres) is well-located in Paris. The Jardin du Luxembourg is nearby, and it's close to Notre Dame and the Musée d'Orsay as well. But what makes this neighborhood special is that it feels small and close-knit, like you're a bit removed from the hustle and bustle of Paris. If you're looking for where to stay in Paris, you can't go wrong here.
One other thing: lots of travelers want to stay in the Latin Quarter of Paris. I'm not a fan of this neighborhood — it has gone from a quirky student neighborhood to a tourist zone filled with mediocre restaurants no Parisian would patronize. I recommend actually staying in St. Germain instead. It's right next door and has the bohemian vibe you crave.
St. Germain is home to some wonderful bakeries — a great place to learn how to make croissants or French desserts.
Top-Rated Hotels in St. Germain
Find deals on hotels in St. Germain here.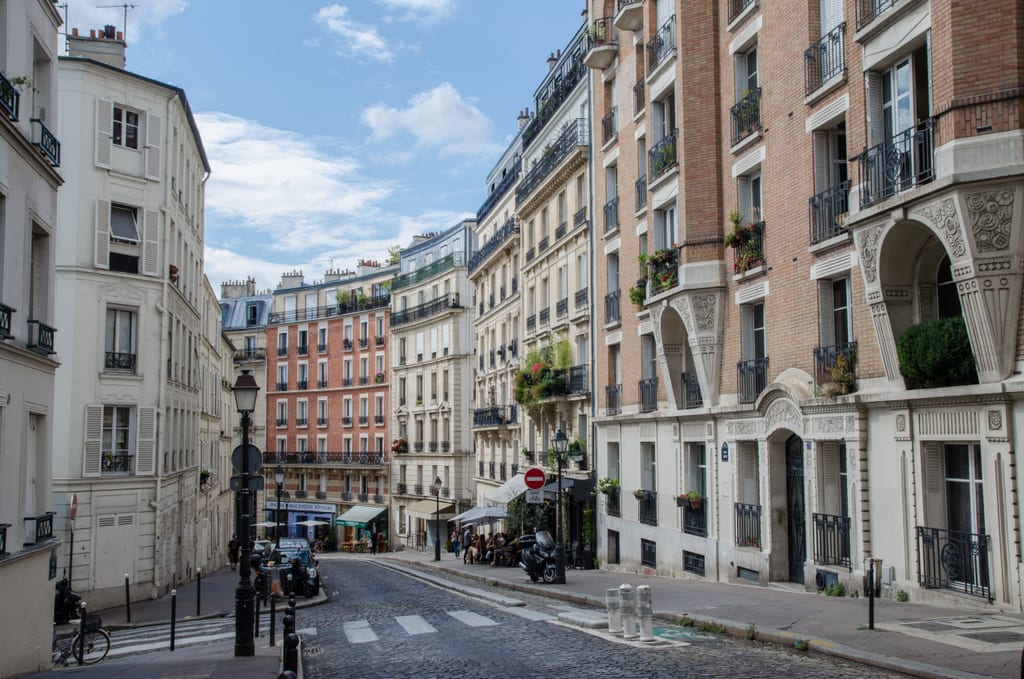 Montmartre
If you love Moulin Rouge! and Amélie, Montmartre (18th arrondissement*) is your dream neighborhood. It's one of the places in Paris that feels like a movie set. However, there's a reason why I gave it an asterisk. Montmartre can be wonderful, but you need to do a little extra research to make sure you're in the good part.
While much of Montmartre is the village-like urban neighborhood frequented by Amélie Poulin, some parts are seedy, especially around the Pigalle area. Rue Lepic (pictured above) and its side streets are lovely; Boulevard Clichy near Pigalle and further east is full of sex shops. Perhaps not one of the best places to stay in Paris if you have small kids.
The best way to know if you're in a good part of Montmartre? Google Streetview is my go-to tool. Take a look at the neighborhood, especially the blocks surrounding the hotel, before you book your accommodation. The good news is that Montmartre hotels tend to be a bit cheaper than other areas of Paris, and it's one of the best neighborhoods in Paris when it comes to value for money.
If you're looking for a rollicking, fun-filled food tour with more than just French food, be sure to check out the NO DIET CLUB Montmartre night food tour!
Top-Rated Hotels in Montmartre
Find deals on hotels in Montmartre here.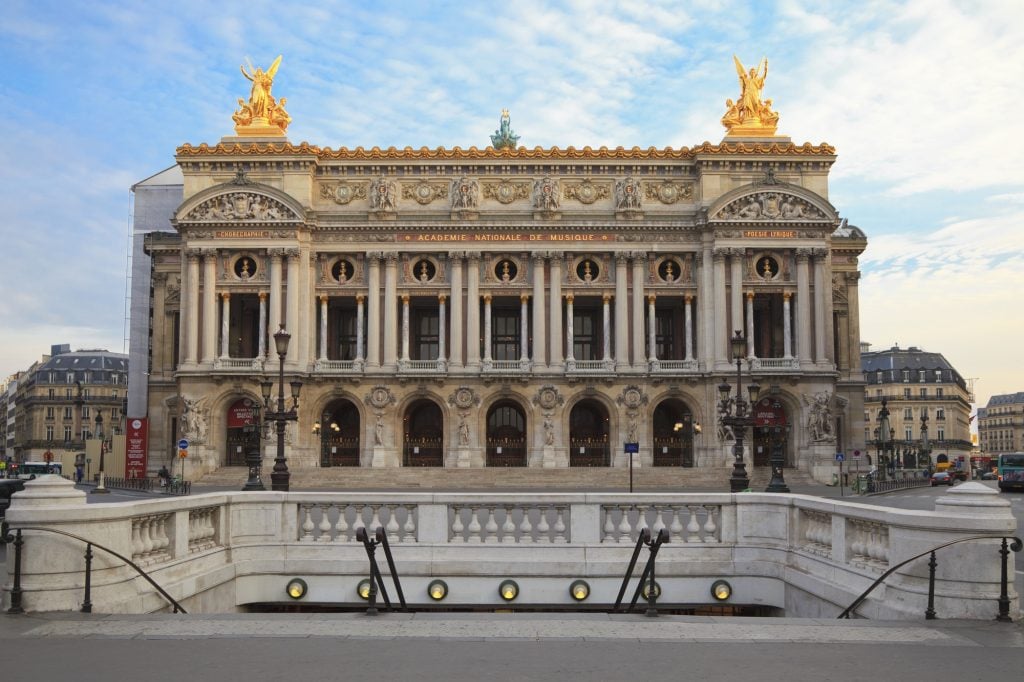 Opéra and the 9th Arrondissement
The 9th arrondissement won't be on a lot of lists of where to stay in Paris — while it has the Opéra, it isn't big on attractions. And while it's very Parisian, it's not as famously charming as other neighborhoods. I didn't give it a second thought until I stayed at my friend's apartment in the 9th and saw what a great base it made for exploring Paris.
The 9th is a residential zone with the Galeries-Lafayette department store on one end (perfect views of the Eiffel Tower at sunset) and the edge of Montmartre on the other end. As a result, there aren't a ton of tourists swarming the streets here (a rarity in central Paris!).
So what IS here? There are lots of restaurants, bars and cafes (including one of my favorites, Boullion Chartier), and there's lots of life without a single establishment pandering to tourists. It's the best arrondissement for going incognito for a bit.
And if you're looking for something delicious, you can learn how to make fancy-looking French pastries like financiers and cannelés.
Top-Rated Hotels in Opéra
Find deals on hotels in Opéra and the 9th here.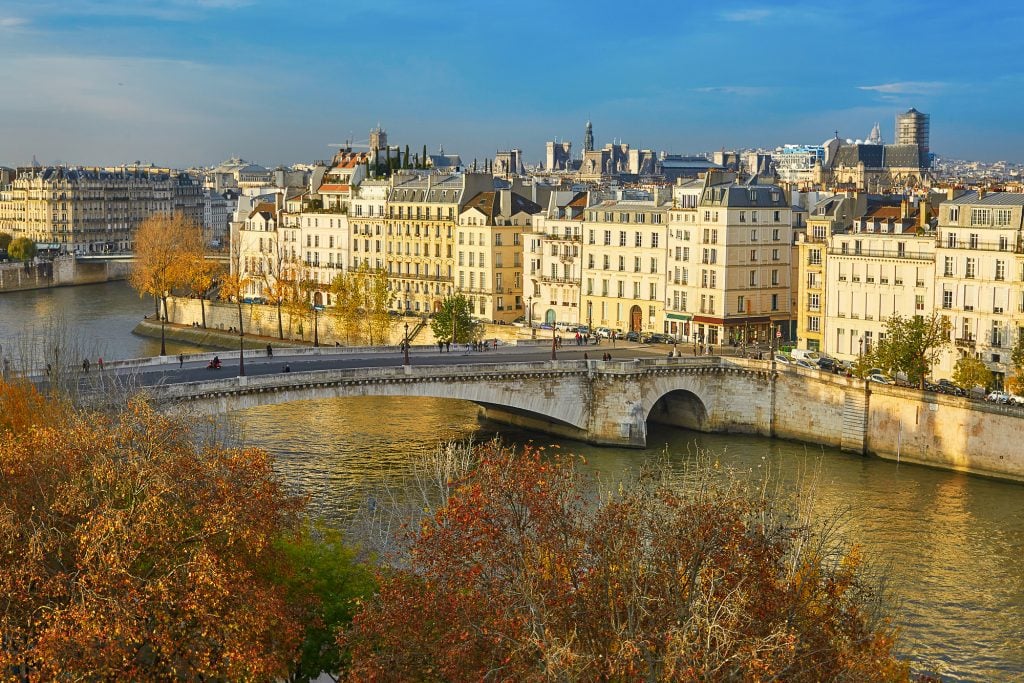 Île Saint-Louis
If you want to be in the dead center of the city, yet a place that doesn't feel like Parisian Disneyland, Île Saint-Louis is one of the best places to stay in Paris. It has a wonderful feel — almost like its own small town.
Even though it's next door to Île de la Cité and the massive crowds of tourists visiting Notre-Dame, Île Saint-Louis is almost a world away. It's like the world suddenly goes quiet as soon as you cross the bridge.
The restaurants are nice and you shouldn't miss Berthillon, home of Paris's most famous ice cream. The black current ice cream is fabulous and one of my favorites. The boutiques aren't bad, either.
Île Saint-Louis is home to L'Etiquette wine bar, a great place for drinks and the starting point for this top-rated wine tour of Paris, including a visit to a living vineyard within Paris!
Where to Stay on Île Saint-Louis
Find deals on hotels in Île Saint-Louis here.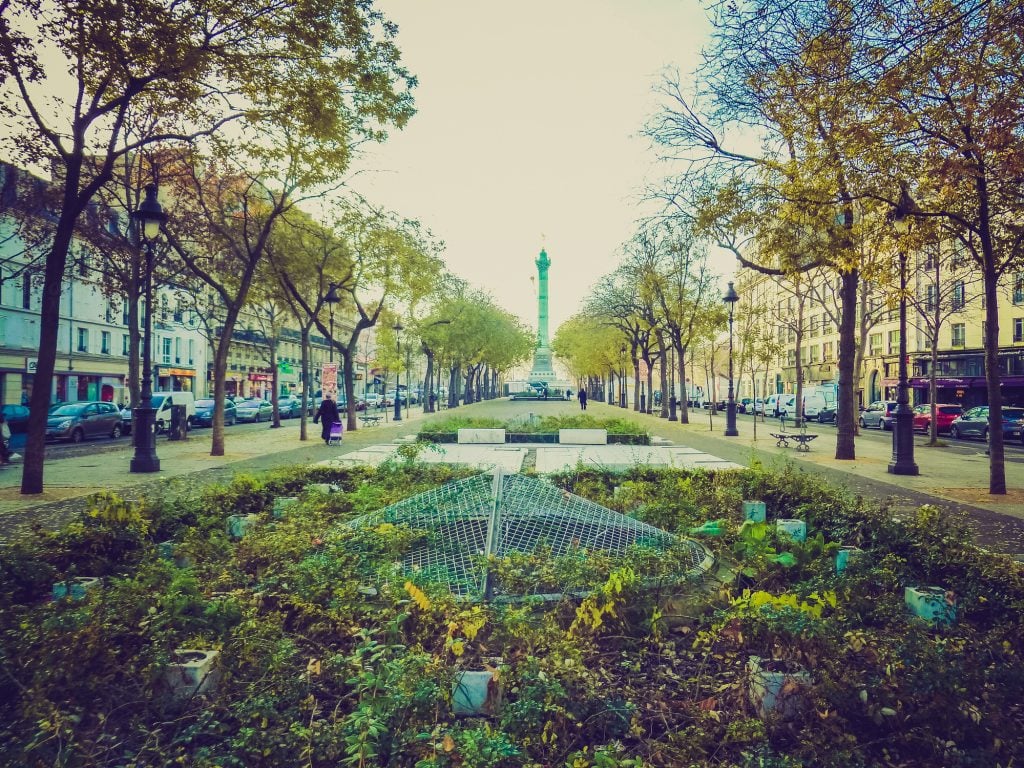 Bastille and 12th Arrondissement
Place de la Bastille is no longer home to the famous prison — remember, it was razed during the French Revolution — and today is a great neighborhood located just east of the Marais and a world away. As soon as you pass the Bastille and cross into the 12th, prices drop a bit, but the cool factor remains.
You're around the corner from Gare de Lyon train station — convenient for people traveling onward southeast by rail — and have easy access to vibrant, pumping nightlife. It's the best area to stay in Paris for people who want a bit of party, but also go home and sleep at the end of the night.
Technically when you head westward of the Bastille, you're in the 12th, stretching out all the way to Bois de Vincennes. It's a large arrondissement here, so make sure you're conveniently located near a Metro station.
And one of the best market tours in Paris is located here: the Aligre market foodie tour, a farmers' market beloved by Parisians and the perfect place to get to know Paris on a personal level.
Where to Stay in Bastille and 12th Arrondissement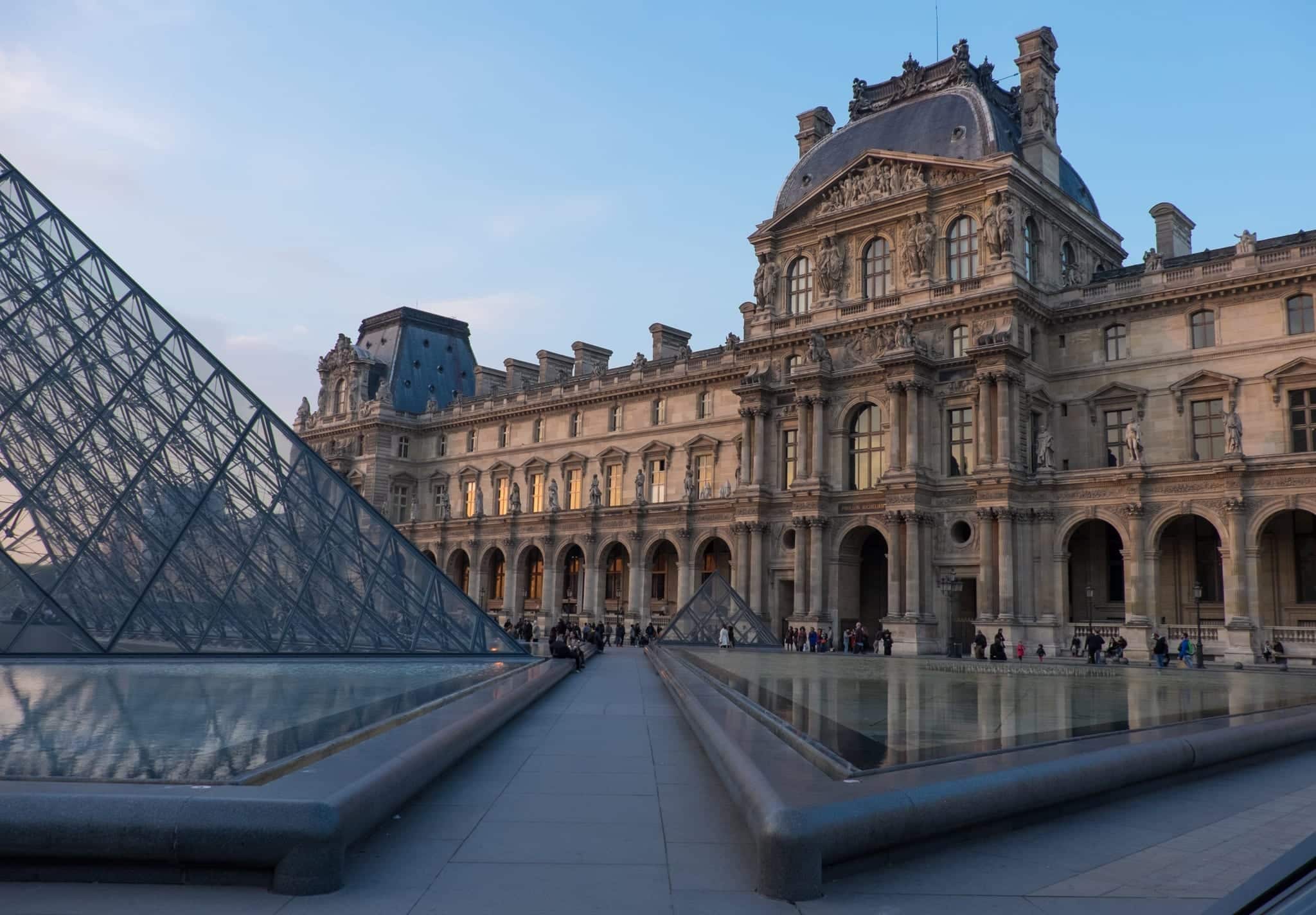 Louvre/Les Halles (1st Arrondissement)
Finally, if you want to be incredibly central and walking distance from most of the major sites, consider the center of the city: the 1st arrondissement. You'll have easy access to many of Paris's main attractions: the Louvre, the Jardin des Tuileries, Place Vendôme, Notre-Dame, and almost every major transportation line. A lot of people consider it one of the best neighborhoods in Paris for that reason, but I think it's a little too commercial and lacking in character.
Keep in mind that being central comes with a price: Paris hotels tend to be most expensive in the first arrondissement. A lot of people who don't know where to stay in Paris book their accommodation here because they assume it will be easier to get to the sights. But don't forget about the metro. It's cheap, it's easy, it goes everywhere.
One of my top recommendations is to branch away from the biggest sites and see what's available a bit of a longer walk away. One of my favorite spots is Rue Montorgueuil, a fantastic food street split between the 1st and 2nd arrondissement. I once stayed by there and now it's a place I need to visit whenever I'm in Paris.
And if you're visiting Paris with kids, Les Halles is home to a family-friendly food tour filled with things kids will be thrilled to eat.
Where to Stay Near the Louvre/Les Halles
Find deals on hotels near the Louvre and the 1st here.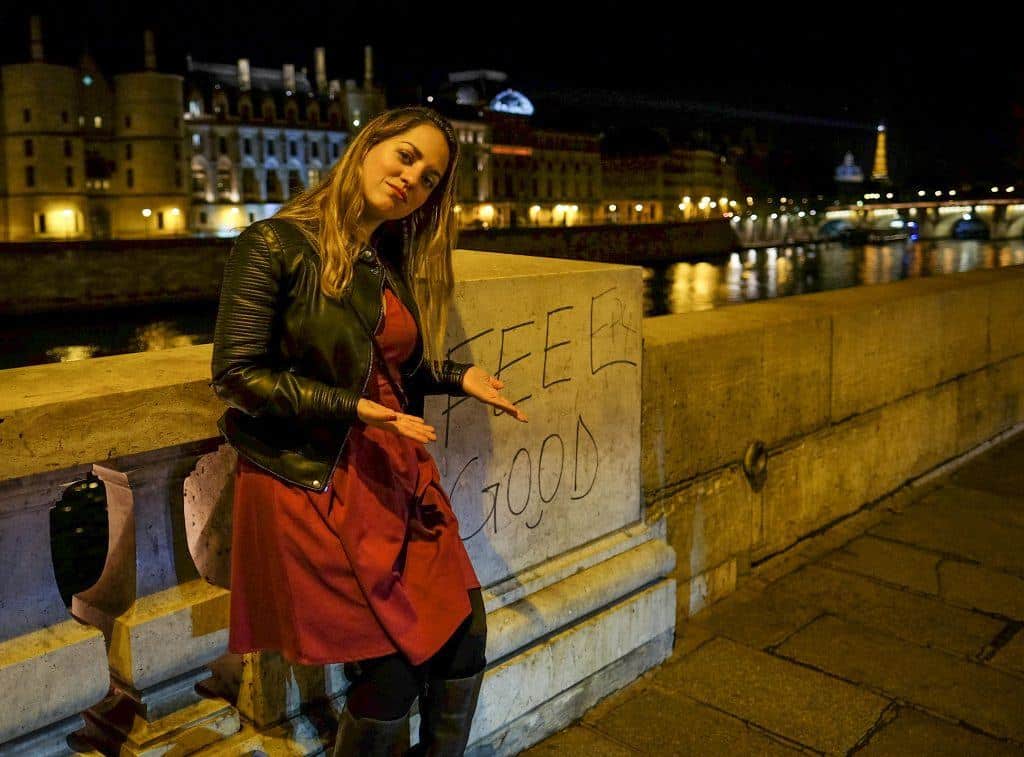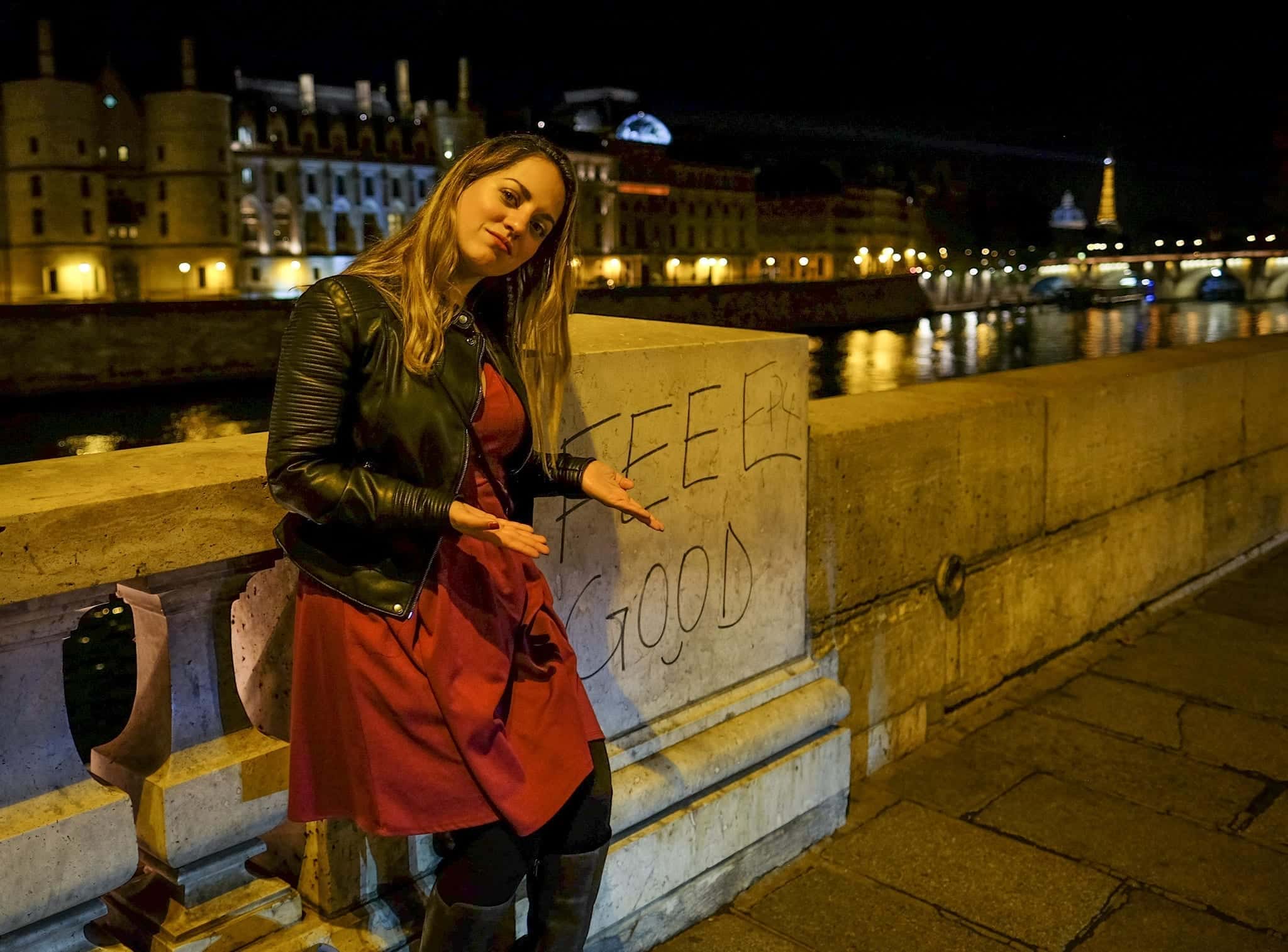 Where NOT to Stay in Paris
Don't stay outside the main 20 arrondissements. You'll be far from the center and while many of Paris's surrounding suburbs are lovely and perfectly safe, some of them are the most dangerous areas in Paris. Whenever you hear about riots and violence in Paris, it's usually in these rough suburbs.
Don't plan your stay around being close to a certain attraction. Paris's metro is easy and efficient enough to navigate your way anywhere — you don't need to stay within walking distance from the Louvre in order to visit the Louvre.
"Near the Eiffel Tower" actually isn't my favorite. The neighborhoods near the Eiffel Tower and the Arc de Triomphe, in the 7th arrondissement, are upscale residential areas. They're fine, but they're expensive and a bit boring, in my opinion. Besides, you can see the tower from all over the city.
"Near the Champs-Elysees" is worse. A lot of people (including the Four Seasons) think this is one of the best places to stay in Paris, but I disagree strongly. Definitely go to the Champs-Elysees at least once, but it's filled with shops you can find anywhere and it's absolutely swarming with tourists. It's Paris's Times Square. There are better places to stay in Paris.
Don't stay in a hotel near the airport. Unless it's for one night only and your flight leaves at 6:00 AM the next day. Paris's two airports, Charles de Gaulle and Orly, are both far outside the city.
I've stayed in a few luxury hotels in Paris and my favorite is Hotel Villa d'Estrées. I relaxed the moment I stepped into this hotel room. It was elegant, streamlined, and old-fashioned but not cliche. The main room had striped wallpaper; the bathroom had a beautiful vanity and the windows had a view over St. Germain.
While Paris hotels are usually known for being cramped and tiny, my room at the Villa d'Estrées was spacious and actually had room for a couch.
And the location? Magnifique. St. Germain, a 30-second (!) walk from the St. Michel metro station and just steps from the shops and galleries of St. Germain, making it one of the best places to stay in Paris. Even though an Irish pub is next door, you don't hear the noise of it at all.
More Top-Rated Luxury Hotels in Paris:
Best Mid-range Hotel in Paris: Hotel Georgette
If you're looking for a great mid-range hotel in Paris, where you get a lot of value for less money than a luxury property, Hotel Georgette is a fabulous option. Hotel Georgette is fun, colorful, and very queer-friendly. Each room is decorated in a signature style, making the place you stay part of the Paris experience.
Hotel Georgette has just 19 rooms, making it feel like a cozy establishment rather than a large, nameless hotel. The property has an honesty bar, communal area, breakfast, and a concierge service.
But perhaps one of the best things about Hotel Georgette is its location — in the heart of the Marais, just around the corner from the Centre Pompidou. Not only do you have easy access to fabulous modern art, the Seine, and my favorite crepe restaurant on the planet (Breizh Cafe), it's also a great place to access to cheaper Paris activities, like getting a falafel at L'as du Falafel and having a picnic with it in Place des Vosges.
More Top-Rated Mid-range Hotels in Paris
Finding a budget hotel in Paris can be tough — it's a very expensive city, and rooms here are tiny (and the elevators even tinier). Finding a place where you can enjoy Paris on a budget and be in a room larger than a closet can be challenging at times.
Luckily, there's the Best Western Le Montmartre St. Pierre — an excellent budget hotel where you can be based in a charming part of Paris while still saving money. Inside you'll have small but not minuscule rooms, decorated with damask window panes and outfitted with fluffy windows. Out the windows you'll have views of Montmartre rooftops.
Montmartre has a long history of being a working-class neighborhood, and though it's gentrified today, you can still find hotels here for a fraction of what you'd pay for a similar property in neighborhoods like Les Halles and the Marais. It's the best area to stay in Paris for Amélie and Moulin Rouge fans, too. Enjoy Montmartre — and live as the locals do!
More Top-Rated Budget Hotels in Paris
As hostels continue to innovate and turn into modern budget getaways for travelers of all ages, exceptional properties are popping up all over Europe. That said, unlike Lisbon or Berlin, Paris doesn't have any game-changing hostels.
However, there is one nice Paris hostel that I do recommend: St. Christopher's Hostel on the canal. It's a relatively new hostel, built in 2008, and it's airy and vibrant with impeccably clean dorms, large bathrooms, key card security, and a wild bar downstairs to meet fellow travelers.
St. Christopher's is part of the Europe's Famous Hostels chain, and I've found all their hostels to be well maintained with a great social environment.
The location on Canal St. Martin is offbeat and fairly out of the way, but there are plenty of nice cafes, a grocery store, some Vietnamese restaurants, and three metro stops within a ten-minute walk. What you lack in a central location you make up for in funky character. It's one of the best areas to stay in Paris to avoid the tourist crowds.
More Top-Rated Paris Hostels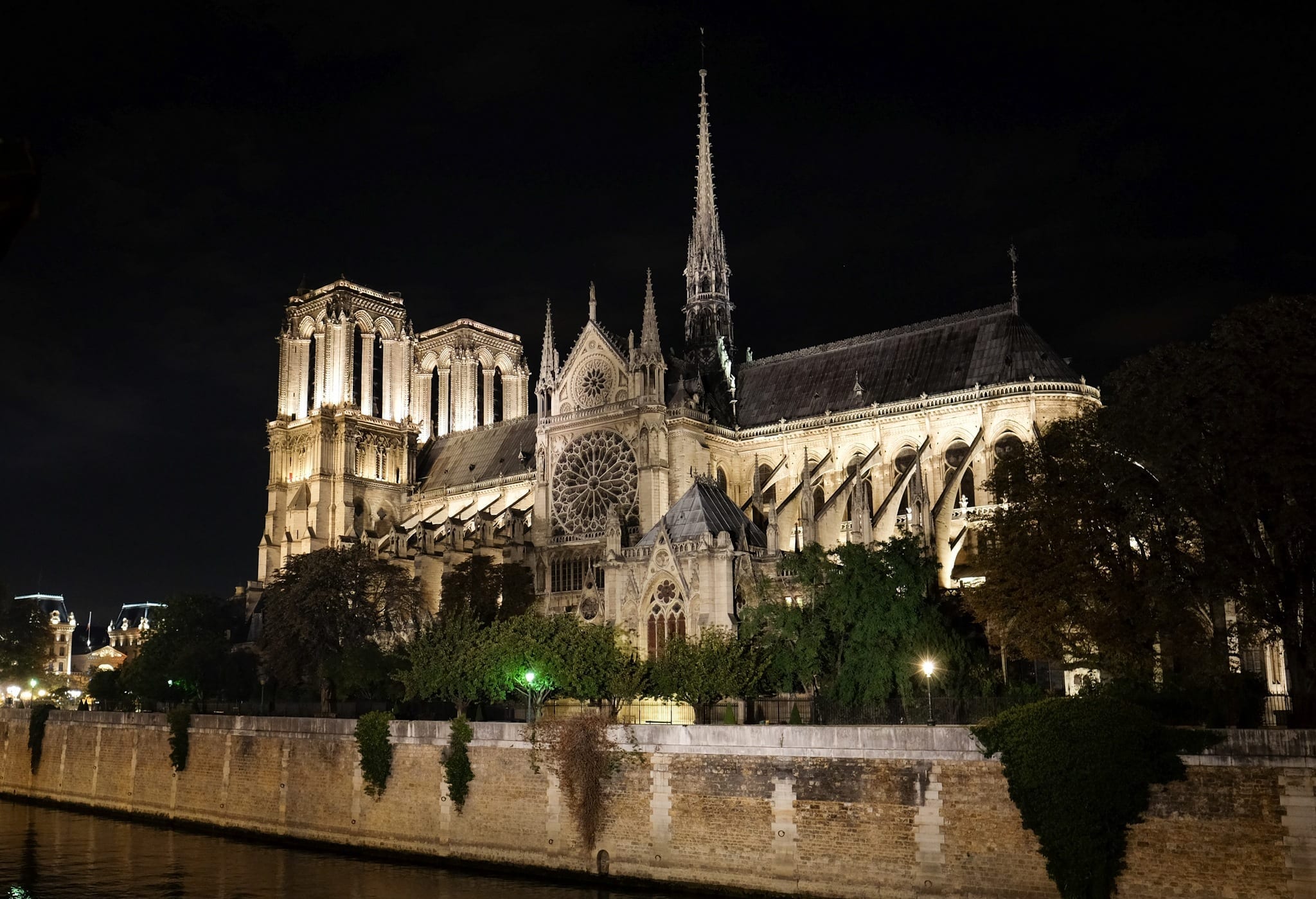 Travel Insurance for Paris
A lot of people think travel insurance is an unnecessary expense — I couldn't disagree more. Travel insurance is vital. It's saved me hundreds of dollars and for one of my friends, who slipped and broke his back while traveling, his travel insurance saved him hundreds of thousands of dollars. Another friend, who broke her foot while traveling, got her insurance to get her a business class flight home to keep her foot up.
If you get pickpocketed on the metro, travel insurance will refund you what you lost.
If you slip on the stairs at Notre Dame Cathedral and break your ankle, travel insurance will refund your medical costs and will get you home for free.
If you get appendicitis while in Paris, travel insurance will cover your medical costs.
If an immediate family member dies while you're halfway across the world, travel insurance will help you get home immediately.
These are unpleasant things to think about, but it's so important to be prepared for the worst.
Take a look at World Nomads Travel Insurance for trips to Paris. They're a great fit for almost every traveler. Take a look at their policies before you buy to make sure they're right for you.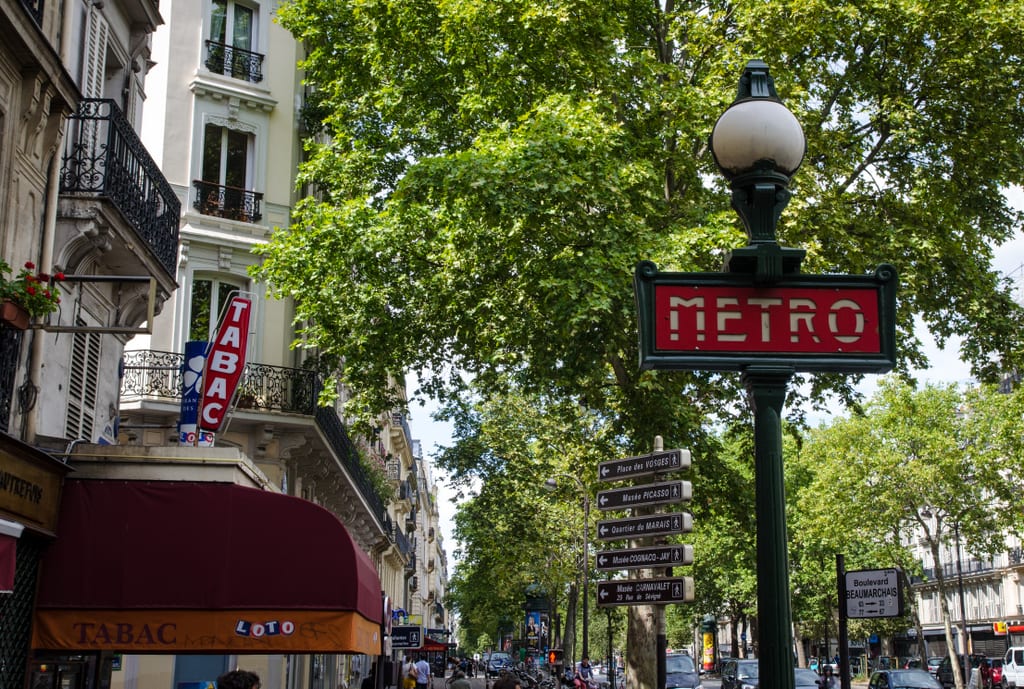 My #1 Paris Accommodation Travel Tip
Make sure your accommodation is within a short walk of a metro stop, or, ideally, a few metro stops on a few different lines. You'll be riding the metro a lot, so being close will make your time in Paris so much easier. It almost doesn't matter where to stay in Paris when you can get around so quickly on the metro!
In the past, I've stayed in places that were a long walk (around 12 minutes) from the metro in areas that weren't well traversed. This made me uncomfortable walking home alone at night, and while I stuck it out at the time, I wouldn't stay that far away again.
Any trip to Paris should be the trip of a lifetime. I hope this guide brings you close to finding the best area in Paris for YOU personally. It's time to make your Paris dream come true.
Are you ready? Let's book your place to stay in Paris!
More on Paris:
Have you been to Paris? Where's your favorite place to stay?