Adventurous Kate contains affiliate links. If you make a purchase through these links, I will earn a commission at no extra cost to you. Thanks!
Floating in the Dead Sea was one of the experiences I looked forward to the most in Jordan. It's one of those unique travel experiences that can only be had in this tiny part of the Middle East and should be included in your Jordan bucket list (along with the Lost City of Petra, of course).
The Dead Sea is truly fascinating! Here are all the reasons why I loved it so much and how you can too.
Visiting the Dead Sea, Jordan
The Dead Sea lies on the border between Israel and Jordan and is named such because no life can survive in it.
It's a big source of pride for Jordanians and seemed like every time fish was served in a restaurant, a Jordanian would point to it and joke, "From the Dead Sea." Soon, I was beating them to the punchline, and they laughed and laughed.
Because of the high salt content — caused by the Dead Sea being 430 meters below sea level, which causes it to evaporate faster than usual — you can't snorkel or dive in the Dead Sea (plus, there's no marine life to be seen), nor should you submerge your head underwater.
But you can float!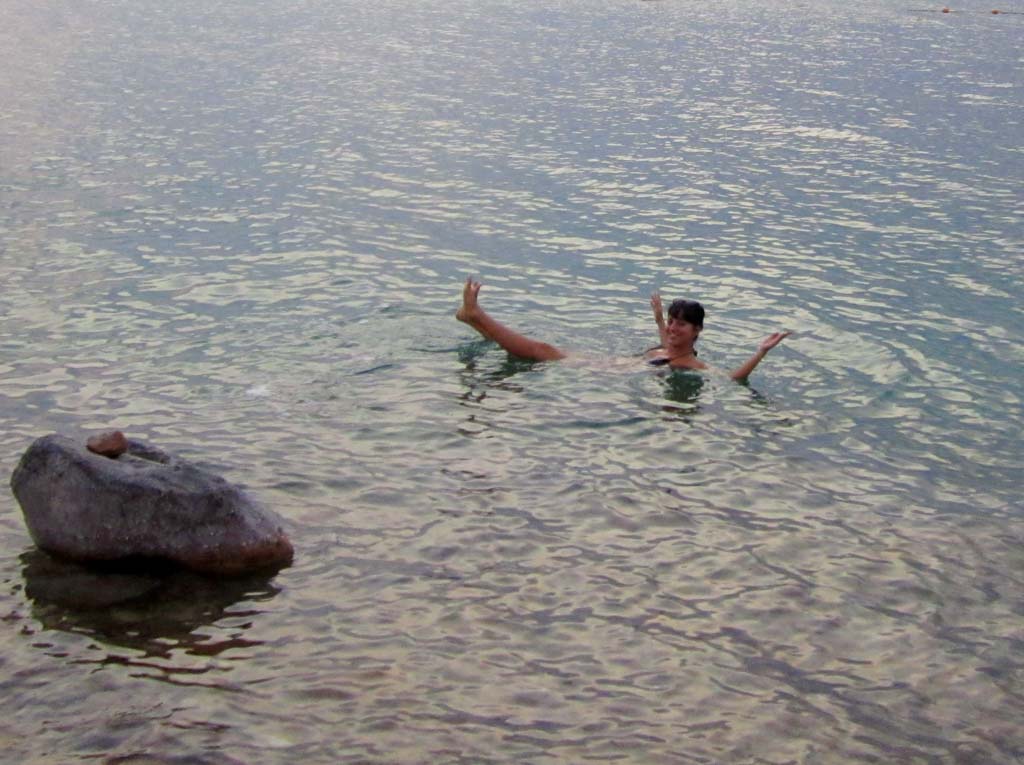 Floating in the Dead Sea
Floating in the Dead Sea could not be easier to do. The high salt content allows you to float without any effort whatsoever. I've even seen people read newspapers while floating in the Dead Sea!
You can float in so many ways. Float on your back, float on your belly (but be prepared to do a hell of a back-bend to keep your head above water — and don't get any of that salty, salty water in your mouth!!), even float while standing up.
The Dead Sea will accommodate all kinds of floating. After floating in the dead sea, it's time for the best part: GETTING MUDDY!
---
Read More!
Ultimate Guide to Visiting Petra: The Treasury, Monastery & More!
---
The magical effects of the Dead Sea mud
The mineral-rich Dead Sea mud is world renowned for its healing properties.
Supposedly, it can cure hundreds of mysterious skin ailments. Head to Sephora or any high-end beauty store and you'll find dozens of skincare products with Dead Sea minerals.
I put it to the test. I went out to the bucket of mud and slathered it on thick all over my body. This is not offensive, I swear!
And yes, I was actually putting it to the test! I've had eczema all my life, and though it's under control now, it flares up when I switch climates quickly (which, as you can imagine, happens frequently these days).
When I was in Jordan, it was flaring up underneath my chin. The mud hurt my eczema-afflicted skin a bit, but I left it on for the recommended 20 minutes before heading back into the Dead Sea to wash it off.
I'm glad I did — because over the next few days, the eczema dried up and flicked right off, new soft skin underneath.
I need to get more of this mud!
The Dead Sea is a popular destination for luxury spa vacations, and I could see myself taking a week to fully relax here. Imagine how good you'd look after a week of Dead Sea mud wraps!
The only thing? Be careful of the rocks. I gashed open the bottom of my left foot on a salt-encrusted rock, though I didn't realize how severe it was until the lifeguard pointed out that I was leaving a trail of blood behind me.
Thankfully, he patched me up and determined I didn't need stitches.
Tips for visiting the Dead Sea
If you have open wounds on your body or you've just shaved your legs, be careful – floating in the Dead Sea will sting due to the high salt content! Also, be gentle when entering the water and don't splash around as your eyes (and everyone else's) will burn if you get water in them.
Also, it's best to keep your favorite bathing suit at home and wear a dark-colored one instead as the salt can cause the color to fade.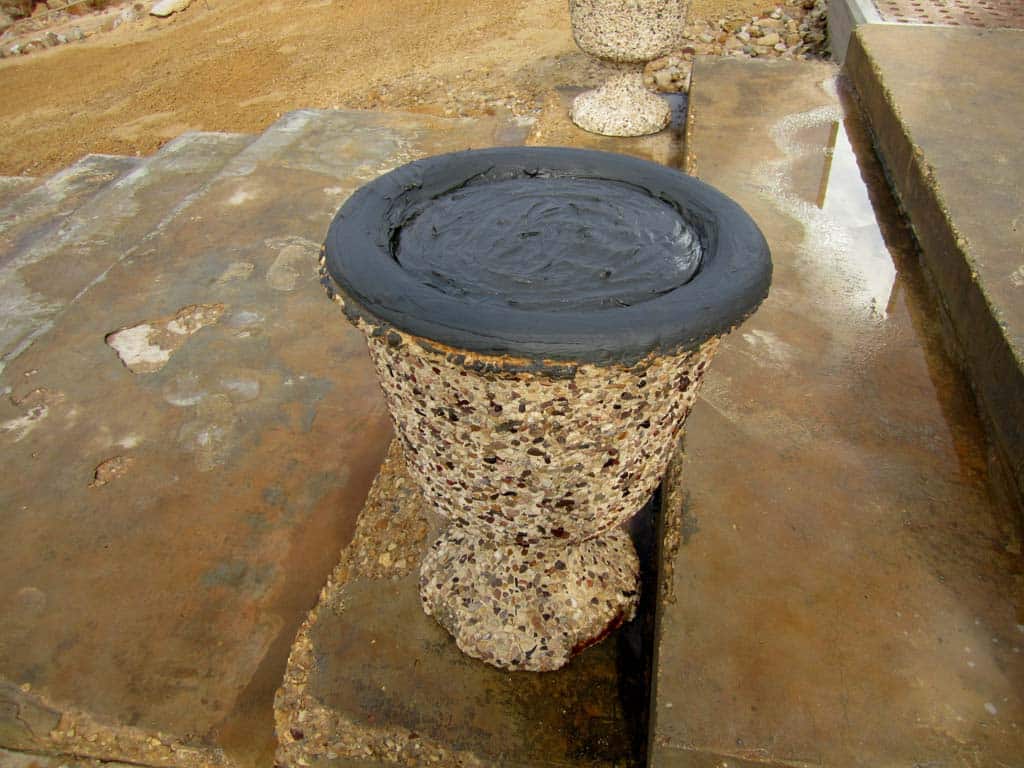 How to get to the Dead Sea in Jordan
The Dead Sea can be found just an hour's drive from the capital city, Amman, making it an ideal destination for a day trip. The cost for a private taxi ride to the Dead Sea is around 20 Jordanian dinars ($28).
How to Get to the Dead Sea by Bus
If you're traveling on a budget, the most cost-effective way to get from Amman to the Dead Sea is to hop on a Jett bus. This bus leaves from 7th Circle bus station in Amman and costs 7 Jordanian dinars ($10) each way.
How to get to the Dead Sea by Organized Tour
The easiest way to plan your trip to the Dead Sea is to join an organized tour from Amman. A full-day tour, like this one, includes return transportation, access to a beachfront resort including their facilities as well as delicious lunch.
How much does it cost to enter the Dead Sea
If you're staying at one of the resorts alongside the Dead Sea, you can access their beach for free.
But if you're visiting the Dead Sea on a day trip, you'll have to either pay for a day pass to use the resorts facilities (40-50 Jordanian dinars) or alternatively you can access a public beach and pay a lower fee.
The most popular of all the Dead Sea beaches is Amman Beach which costs 20 Jordanian dinars ($28) to access. Here you'll find a well-maintained beach with showers and ablution facilities.
You could also visit one of the other nearby public beaches. Whilst their facilities aren't as great as Amman Beach, the entry fee is much lower.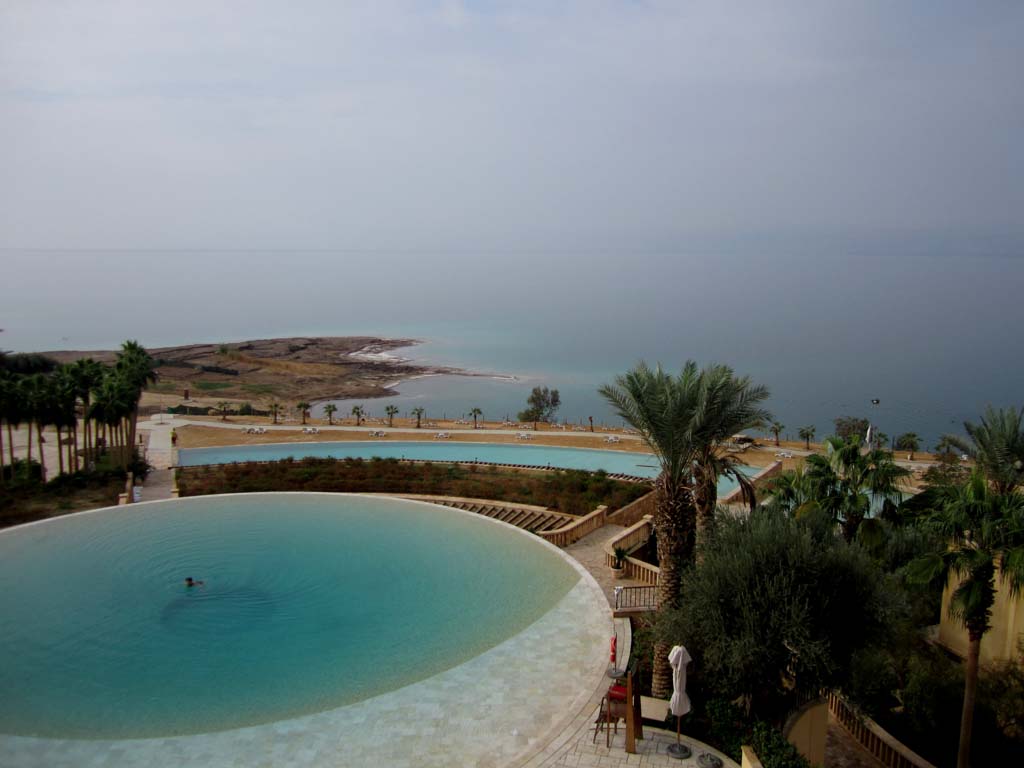 Where to stay near the Dead Sea
If time is on your side, why not extend your stay and check into one of the many resorts near the Dead Sea.
If you're looking for a luxurious place to stay, I highly recommend the Kempinski Hotel Ishtar Dead Sea. This 5* resort is fitted with large, modern rooms all with an elegant yet simplistic design. Boasting oceanfront views and a picturesque infinity pool, the Kempinski Resort is hard to beat.
If you're looking for a mid-range place to stay, the Holiday Inn Resort offers the perfect location with its own private beach. It's set in a lush garden with a gorgeous outdoor pool and the rooms are tastefully decorated.
Jordan tours for solo travelers
If you're not quite sure if you're ready to travel Jordan completely solo, another option is joining a group tour! G Adventures is a company I use and recommend. Their tours are very solo-friendly, they keep their groups small, they're sustainability-minded, and they have several tour options in Jordan.
Here are some of them:
Want to learn more about the Dead Sea? I made a video about it — while covered in mud, of course!
Many thanks to the Jordan Tourism Board for hosting me in Jordan. All opinions, as always, are my own.
---
Do you have any questions or comments about visiting the Dead Sea in Jordan? Drop me a message in the comments section below!
If you're looking for more Jordan travel information, these posts may help plan your trip.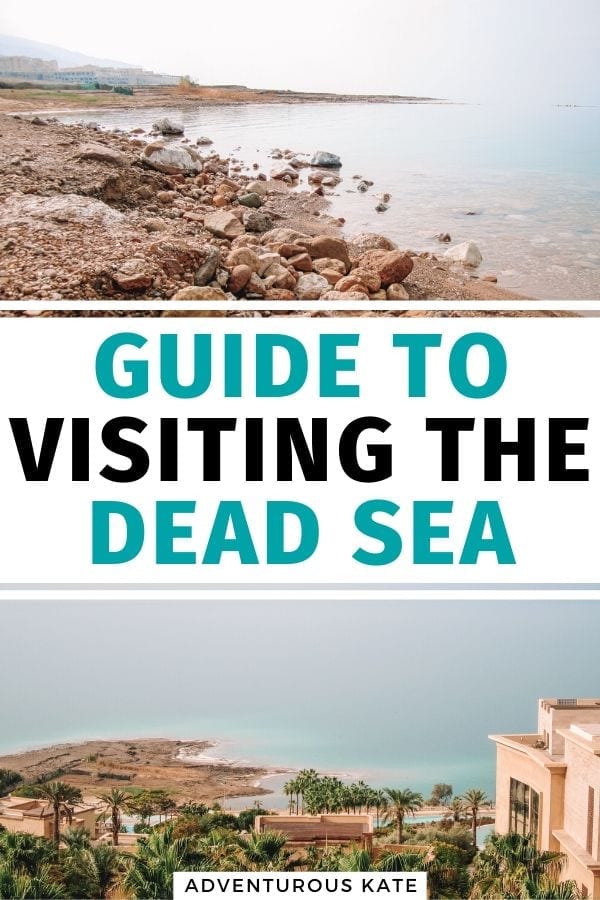 Get email updates from Kate
Never miss a post. Unsubscribe anytime!