Adventurous Kate contains affiliate links. If you make a purchase through these links, I will earn a commission at no extra cost to you. Thanks!
Long before I got to Jordan, I knew I'd be impressed by the Lost City of Petra. Everything about this ancient city fascinated me, from the history, the architecture, and of course the iconic sights of the Treasury and the Monastery.
In 2007, Petra was officially named one of the New Seven Wonders of The World and while I'm often a bit skeptical of awards like those, after visiting Petra, there's no question that Petra belongs on the list! Petra has since become one of the most sought-after cultural sights in the Middle East and in my opinion, it's a bucket-list-worthy destination.
Before I went to visit Petra for the first time, I figured that the Treasury was the star of the show — that you'd walk through the Siq, see the iconic rose-pink building carved into the rock, and well, that would be it. Indiana Jones and the Last Crusade made it seem that way.
Was I EVER wrong! The Treasury is just one small part of a gorgeous landscape filled with architectural treasures. I rode a donkey. I gaped at the Monastery. I had tea in a cave with a family. I even left Petra with new Jordanian friends.
I want you to have as good a time in Petra — and Jordan — as I did. Here's everything you need to know before you visit Petra, along with some of my fondest memories.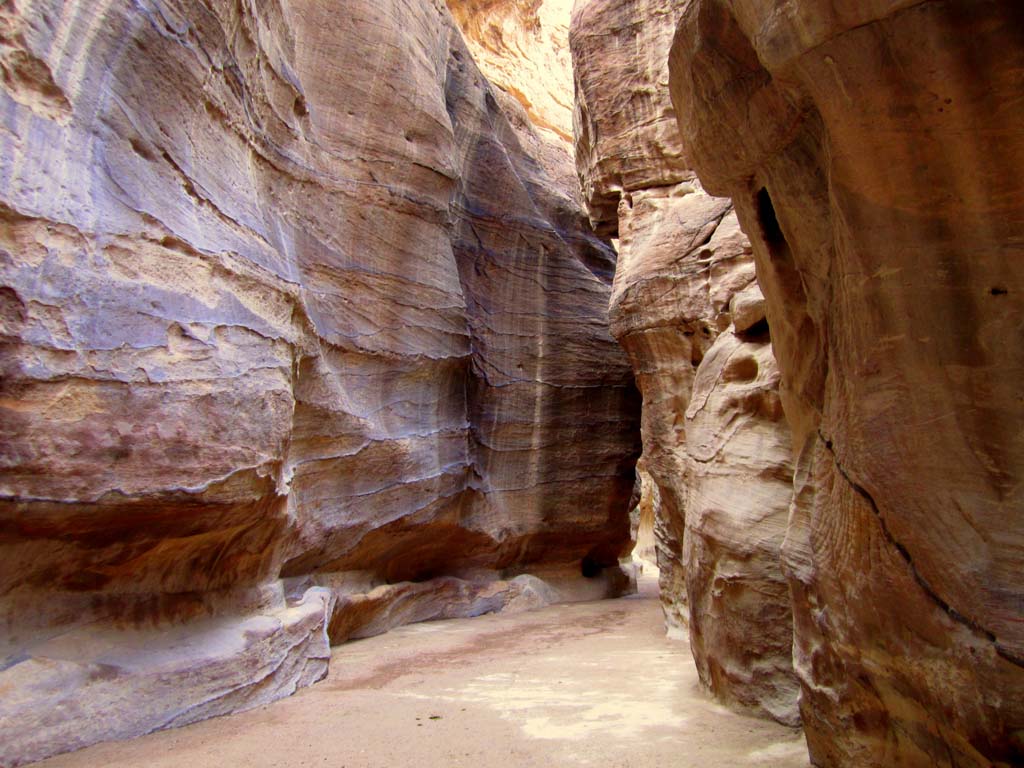 Visit Petra: The Treasury and Monastery
The Treasury is Petra's most famous icon. Pictures don't do it justice!
To get to the Treasury, you need to make your way through the Siq, a long, narrow chamber lined with towering cliffs inside Petra.
The winding path through Petra's Siq is 1.2 km long and will take you around 20 minutes if you gun it — longer if you stop to enjoy it and take pictures. The views are breathtaking and it's the perfect introduction to the beauty of Petra.
You'll be walking through the Siq for what seems like forever, twisting and turning and wondering if you'll ever make it out.
And then, after another nondescript corner, suddenly it's there. And in its full glory: The Treasury!
Here's the video.
As many magical moments as there were in Petra, and all over Jordan, seeing the Treasury appear in that peachy light for the first time gave me goosebumps. It's one of the best reveals I've seen around the world.
The crazy thing is that the Treasury is just a small, small part of all that Petra has to offer. So don't stop here. Keep going!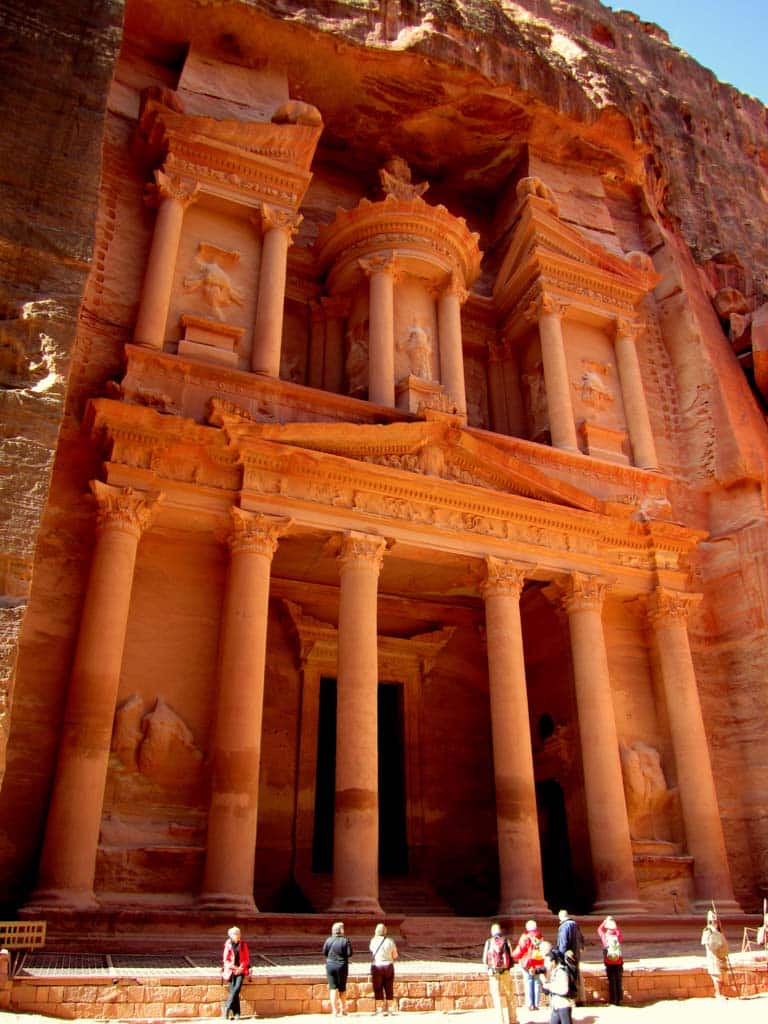 The Monastery
No visit to Petra is complete without setting your sights on the largest monument in the Lost City, the Monastery.
With over 800 stairs to climb, it's a bit of a hike to get to it, but so worth it. The Monastery is just as impressive as Petra's most famous building, the Treasury and its remote location keeps the crowds away. The views at the top are unforgettable, too.
One way to get to the Monastery is walking — and it's a pretty long but doable hike. Alternatively, you can take the "easier" way, as I did.
Taking a Donkey to the Monastery in Petra
I decided to take a donkey up to the Monastery instead. I had never ridden a donkey before — figured the novelty factor paid off for my laziness.
My guide, Ibrahim, told me that taking a donkey uphill and walking down is easier and the best choice overall. Since I will take that man's advice on just about anything related to Jordan, I agreed.
And the statement that is reiterated to me again and again on my travels proved true once again:
Just because it's easier, it doesn't mean it's easy.
Holy crap, riding a donkey up stairs is HARD! You're jostled all over the place and you'll fall off if you don't hunch over and hold on tightly.
Here's the video.
It's terrifying — for some reason, the donkey insists on walking on the very edge of the stairs, and if you fall off, you'll plunge to a serious neck injury, if not your death.
"He's going to step off the edge!" I kept shrieking to my guide, Haldoun.
"It's okay, the donkey knows the way!" he would reply, in between telling me stories about his American girlfriend. ("She moves so fast, Basma! I know her one day and she wants to kiss me!")
I was giving Haldoun relationship advice while trying not to fall off, and biting my lip to keep from laughing.
It was the furthest thing from graceful, and probably the least attractive I've ever looked. But I couldn't stop laughing!
All I can say is that if you decide to visit Petra and ride a donkey to the Monastery, you better know what you're getting into! It should cost you about 5 Jordanian dinars ($7.50) if you get a good bargain.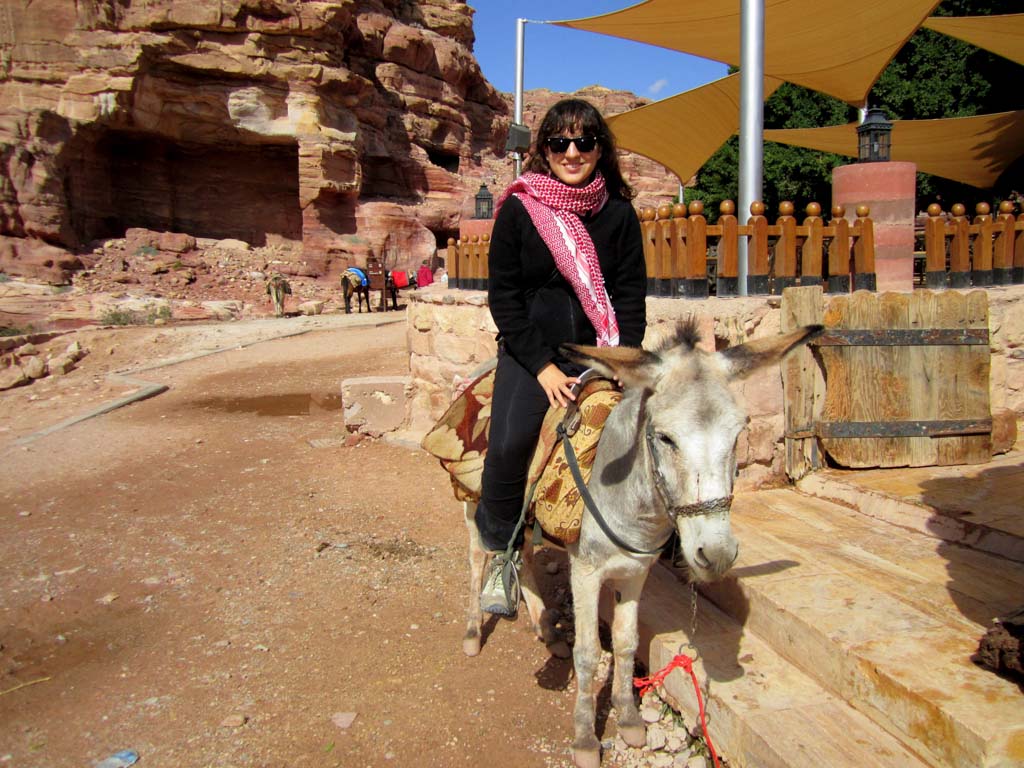 Visit Petra by Night
Every Monday, Wednesday, and Thursday between 8:30 and 10:30 PM, Petra hosts a unique evening experience that's not to be missed.
You walk through the Siq once again, this time in near-darkness, and visit the famed Treasury while it's illuminated by candlelight. There's soft music playing in the background and tea is served to all visitors. It's beautiful to photograph and the peaceful atmosphere gives you another way to connect intimately to this land.
Petra by Night tickets can be purchased from the visitors center for 17 Jordanian dinars ($22). These tickets are unlimited so no prior reservation is required but you need to have first purchased the day pass to experience Petra by Night.
Under normal circumstances, Petra by Night is one of the most magical things to do in Jordan, but it didn't exactly happen that way for me.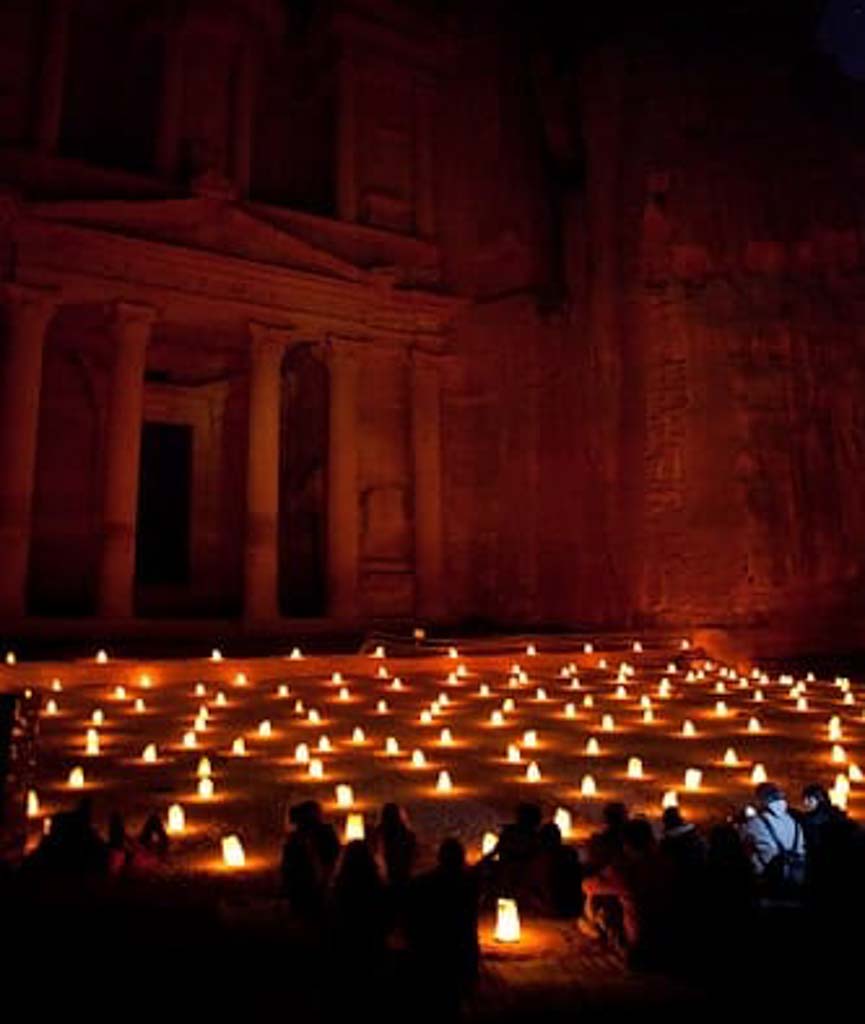 My Petra by Night disaster
I had planned on visiting Petra during the day, as well as the evening. The weather had been good all week, but it began to rain lightly as we arrived in the ancient city.
My guide, Ibrahim, grabbed me a scarf and said that despite the rain, Petra by Night would in all likelihood still happen.
Ibrahim dropped me off with a group of young backpackers ("All of you, take care of my daughter!" he called out as he walked away. "Thanks, Dad — see you in a bit!" I returned) and we made our way to the Siq.
It was a lengthy, dark journey to the Treasury. You walk through the winding Siq, feeling like you're at the bottom of a canyon, and it will probably take you around 30 minutes to reach the Treasury, as it's a bit more of a challenge in low light.
When visiting Petra by Night, this path is covered with lanterns: candles inside paper bags. It was easy to find our way through the Siq with these lights to guide us, and I chatted with the backpackers, who, like many tourists, were visiting Jordan in conjunction with an Egypt trip.
It was still raining lightly, not quite enough for an umbrella, so I simply bundled my scarf around my head and kept walking.
And there it was: the Treasury. Only as we walked in, it began to rain much harder.
What had started out as mildly annoying had become irksome — I was getting soaked through my jacket and freezing cold. My umbrella was up, but most people didn't pack these, and they were huddling together along the edge of the rocks.
At that point, sh*t got real. Thunder rang out and it began downpouring as lightning flickered overhead.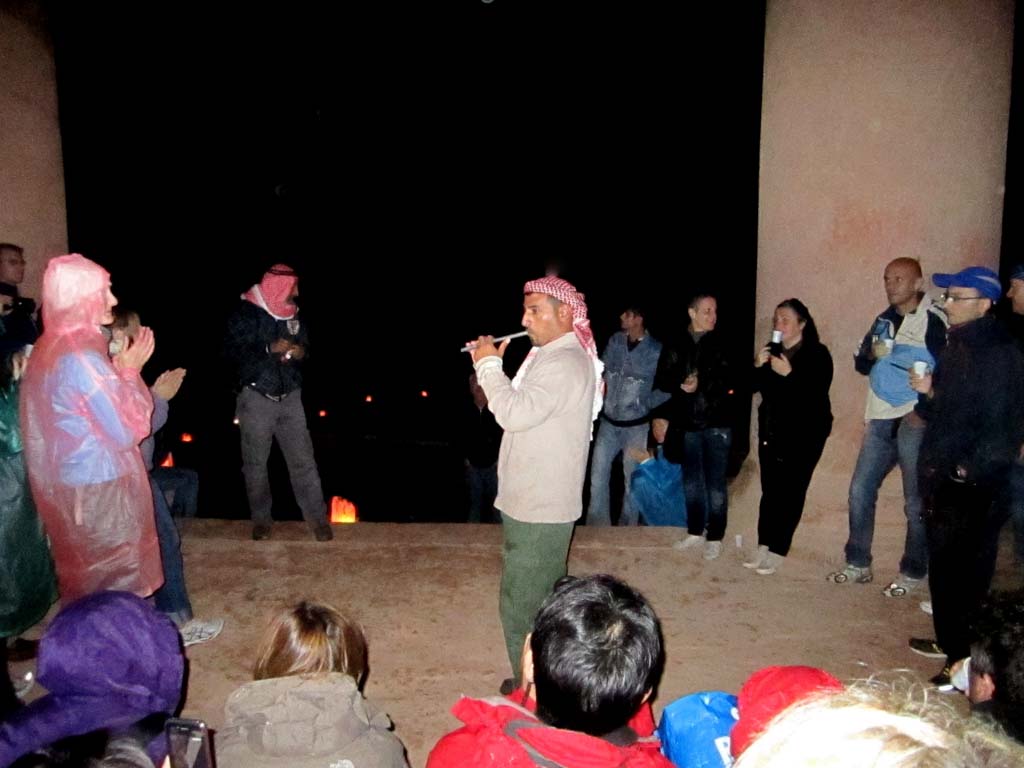 How on Earth were we supposed to get back?!
At any rate, the locals didn't seem panicked. They went on with the music show and served us tea, which I downed in a gulp.
I knew that if there were an emergency, they could drive in trucks if they needed to. Perhaps they'd do that with us.
Nope. We were released and told that we could walk back.
The only problem? The Siq had flooded.
Picture this scene: what was once a narrow but mostly dry canyon had now, essentially, become a furiously flowing ankle-deep river. The lanterns were long gone and with no shielding from the rain and water, the entire region has gone pitch black.
And we had to walk back through 1.5 kilometers of THAT.
I stupidly hadn't brought my flashlight, so I used my phone to navigate the pathway through the Siq, jumping around the deeper parts of the river. (A smarter decision: wearing waterproof hiking boots.) I splashed around and ducked the sheets of water, trying to keep myself from tripping on hidden rocks.
The Siq is in danger of flooding whenever it rains. And I was terrified that I wouldn't be able to find my way out — or worse, that I would end up trapped inside as the river rose higher and higher.
And then, after countless twists and turns and yelps and impromptu waterfalls, I burst out of the Siq. From here on, I knew I'd be safe.
I returned to our meeting point soaked to the bone. I didn't have to say a word. Rami, my driver, took one look at me and began giggling.
"Yes, I thought it would rain," Ibrahim said. "It rains in winter."
"Then why did you let me go in there?!" I admonished him, smacking him on the arm.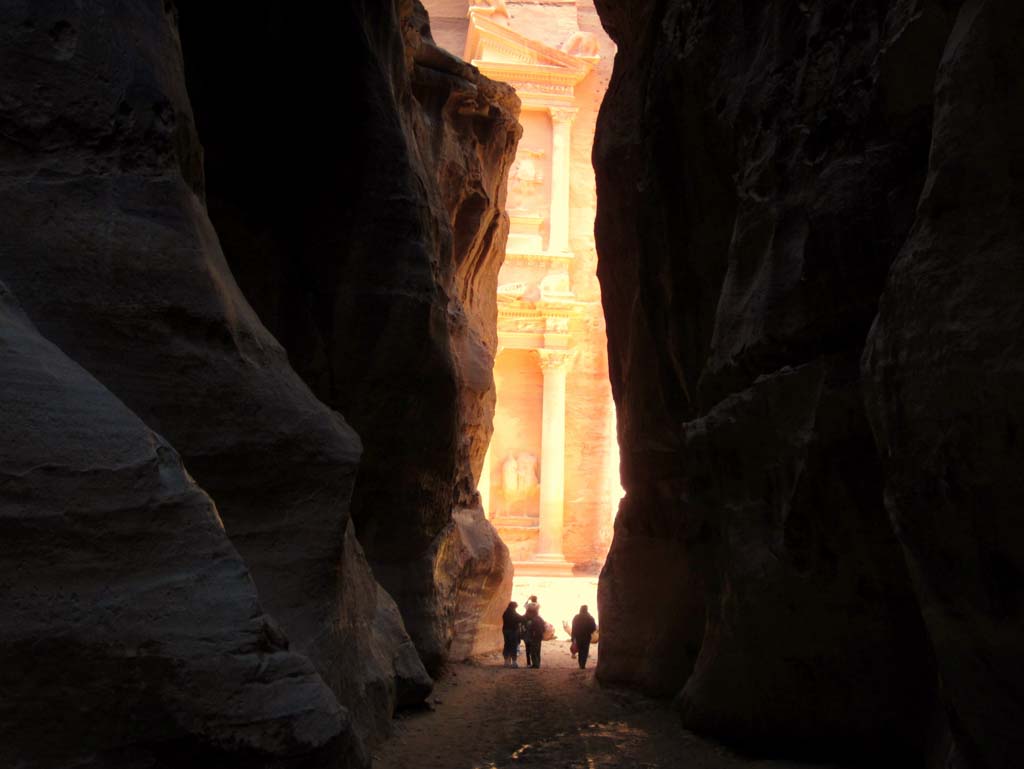 Visiting Petra by Night… in the rain
If you are planning to visit Petra by Night — and particularly if you're planning on visiting during the colder months (I went in November), please pay CLOSE attention to the weather. Wear waterproof boots and bring a flashlight, no matter what.
Where is Petra and how to get there
Petra is located just outside the town of Wadi Musa in Jordan. It's one of the top destinations in the country, if not THE most touristed spot in Jordan, and Petra is easy to access either via public transportation or on an organized tour from Amman.
How to Get to Petra by Bus
If you're coming from the capital city, Amman, there are daily buses that travel to Petra. The bus departs from Abdali Station in Amman and takes roughly 3 hours. You can book these tickets through JETT.
How to Get to Petra by Organized Tour
Personally, I recommend staying in Petra overnight and taking at least one full day to explore. If your time is limited, I recommend taking a one-day tour from Amman. It's a long day — 12 hours — but this gives you six full hours to explore Petra on your own.
You can also choose to combine this with a Petra by Night experience or pair your visit to Petra with the picturesque Wadi Rum.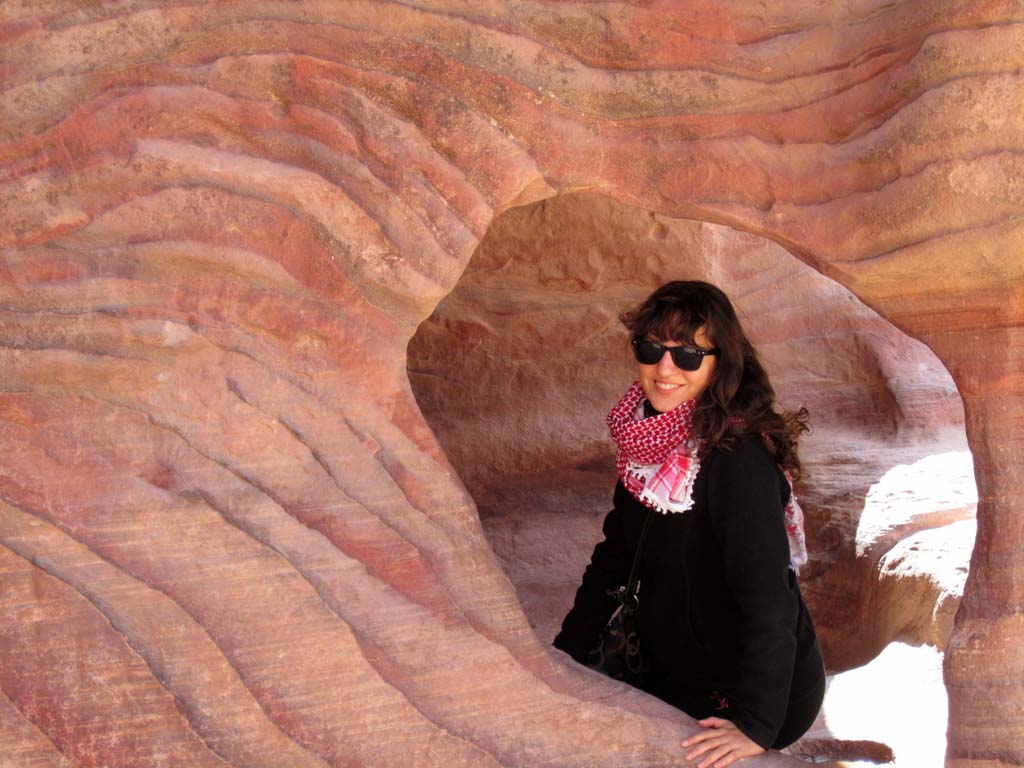 Best time to visit Petra
The best time to visit Petra is during spring (March through May) and fall (September through November). The weather at this time provides perfect conditions for exploring the area as it's not too hot, not too cold, and not too busy.
Peak season in Jordan is during the summer months — June through August — and this is when Petra is at its most crowded. I recommend avoiding this time if you can; if you can't (I hear you, teachers!), I recommend visiting earlier in June rather than July or August.
Personally, I visited Petra in November and spent most of my days in yoga pants and a fleece jacket, though it did get warm enough in the afternoon to wear a long-sleeved cardigan on top of a tank top.
Try to get to Petra early in the day so that you miss the crowds that will flock here later. This will be so much better for your photos.
The Petra Visitor Center is open from 6:00 AM daily and closes at 6:00 PM in the summer and 4:00 PM in the winter.
---
READ MORE:
Jordan: The Perfect Introduction to The Middle East
---
Petra Entrance fee
A ticket for one day access to visit Petra costs 50 Jordanian dinars ($70) and these can be purchased at the Visitors Center. Yes, I know that's very expensive. Trust me, visiting Petra is a once-in-a-lifetime experience — this ticket is worth every cent!
If you're wanting to spend more time exploring Petra, the fee is slightly higher: 55 Jordanian dinars ($77) for two days or 60 Jordanian dinars ($85) for three days. Children under the age of 12 get in for free.
If you're visiting Petra for the day from outside the country — like Egypt or Israel — and not spending the night in Jordan, the entry fee is 90 Jordanian dinars ($125).
What to Wear to Petra
There's no official dress code when visiting Petra. But, to respect the local culture, it's best to cover up a little bit more.
You'll be having an active day in Petra, doing a lot of hiking, climbing, and possibly donkey-riding. I recommend wearing your preferred hiking or workout gear — long pants or cropped pants or skirts that go beneath your knee, and a top that covers your cleavage. Layers are best, especially in spring and fall when temperatures can change a lot.
Since I first wrote this post in 2011, Instagram has changed what people wear when they travel. If you're looking to rock an elaborate gown as you pose in front of the Treasury, please be respectful of the people who live here and wear something that covers your knees and cleavage.
Here's a guide of what I wore when traveling through Jordan and it should help when planning your trip to Petra.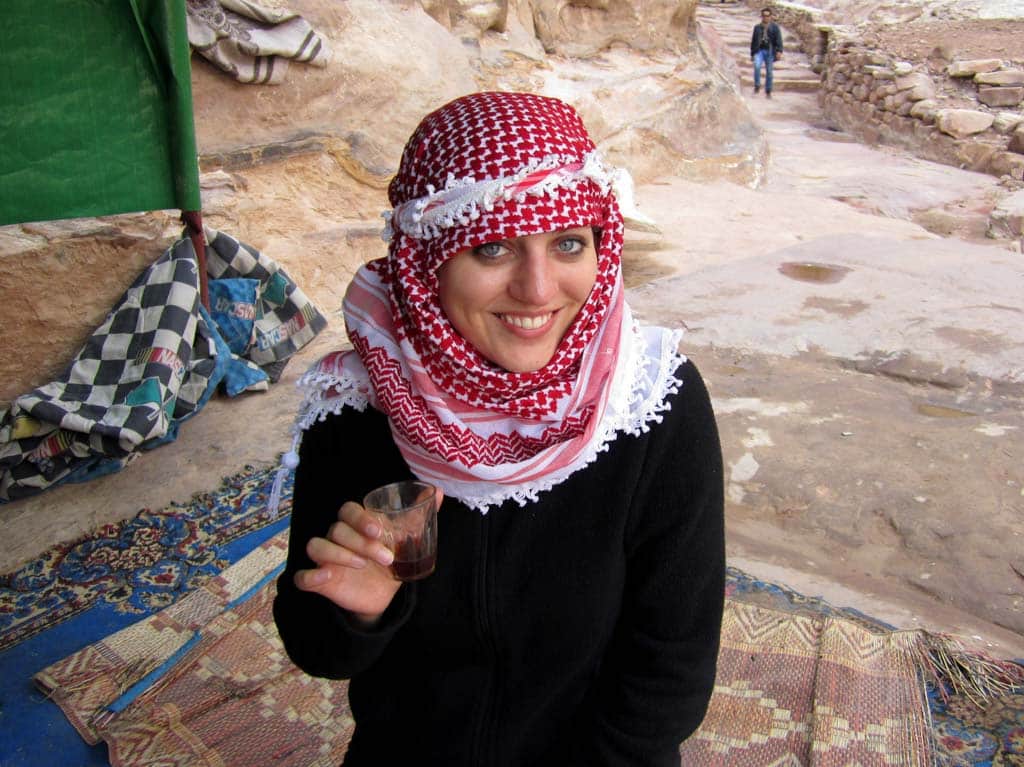 Where to Stay in Petra, Jordan
If you're visiting Petra, it's best to base yourself in the small town of Wadi Musa. There are a range of accommodation options to suit every budget.
If you're looking for a luxurious stay, the Petra Marriott Hotel is the perfect place to come home to after a long day out exploring the Lost City. The hotel is equipped with a stunning pool overlooking the valley in the distance, and the views from the rooms are equally as impressive!
If you're looking for a mid-range place to stay in Petra, I recommend staying at the Town Season Hotel. It's beautifully designed with elegant furnishings that will impress any traveler looking for a comfortable stay. They also offer a shuttle from the hotel to the Lost City of Petra which is an added bonus.
If you're looking for a budget place to stay in Petra, I recommend Moon House. Here, you'll feel true Jordanian hospitality! The hosts will go out of their way to ensure you have a memorable stay in Petra, offering helpful tips and assisting with transportation. The rooms are large, clean and comfortable and all you need if you're traveling on a budget.
Jordan tours for solo travelers
If you're not quite sure if you're ready to travel Jordan completely solo, another option is joining a group tour! G Adventures is a company I use and recommend. Their tours are very solo-friendly, they keep their groups small, they're sustainability-minded, and they have several tour options in Jordan.
Here are some of them:
Is Petra Worth Visiting?
Absolutely. Petra was one of the biggest highlights of my trip to Jordan, and I found myself thoroughly enchanted the whole day. Visiting Petra was so much more than I thought it would be.
Practical information for visiting Petra
The entrance fee to Petra is 50 Jordanian dinars ($70) for adults and kids under 12 enter for free. If you're traveling from outside Jordan, entry is 90 Jordanian dinars ($125).
Operating hours are from 6:00 AM-6:00 PM in summer and 6:00 AM-4:00 PM in winter.
The best time to visit Petra is during the spring or fall when it's not too hot. Try to get to the Lost City eary in the day to avoid the crowds.
Many thanks to the Jordan Tourism Board for hosting me in Jordan. All opinions, as always, are my own.
---
Do you have any questions or comments about visiting Petra? Drop me a message in the comments section below!
If you're looking for more Jordan travel information, these posts may help plan your trip.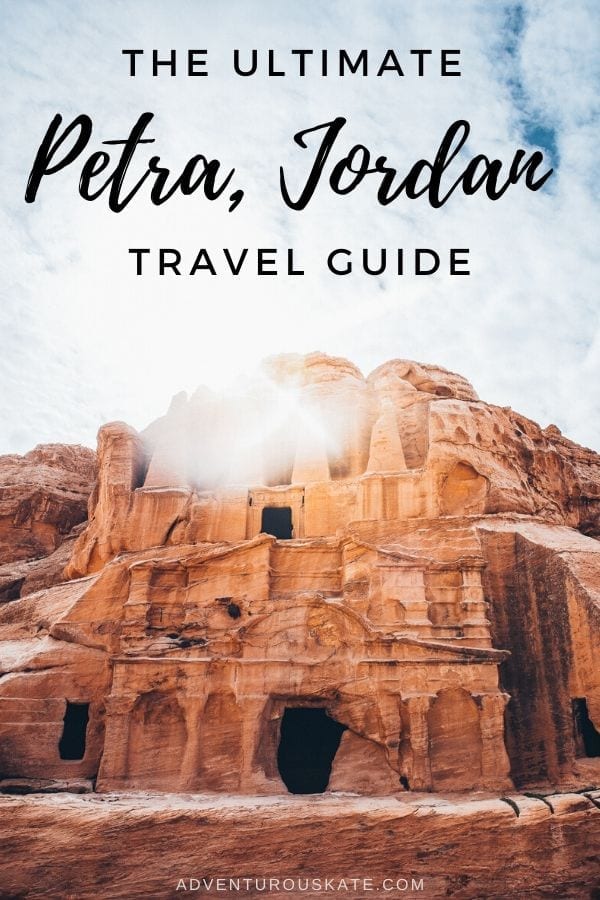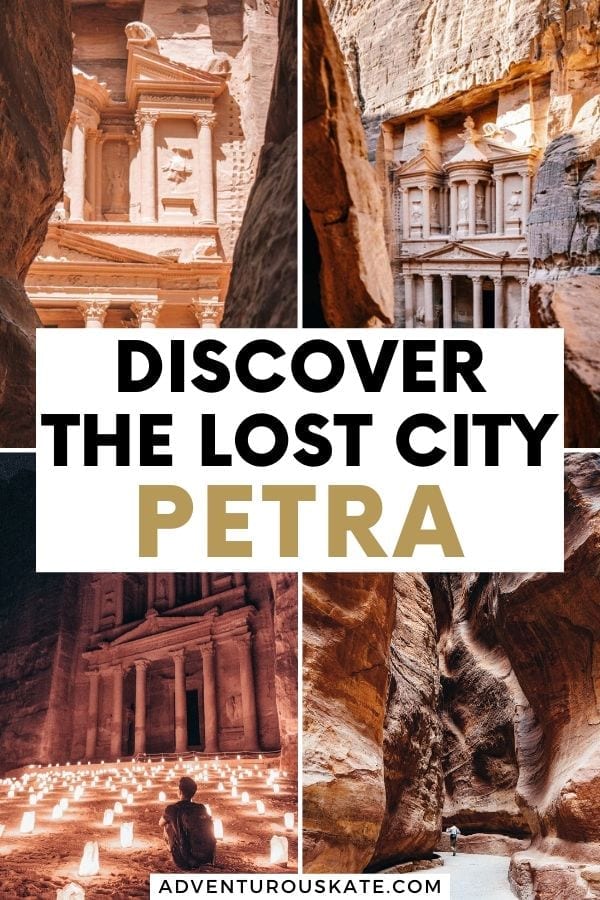 Get email updates from Kate
Never miss a post. Unsubscribe anytime!