Adventurous Kate contains affiliate links. If you make a purchase through these links, I will earn a commission at no extra cost to you. Thanks!
Of all the activities I wanted to experience in Iceland, one stood at the top of the list: glacier hiking.  I've wanted to do this for years, but I've never visited a destination with a glacier!  After researching tour companies in Iceland, I found Arctic Adventures' Blue Ice Tour, which included an ice-climbing session as well.  Even better.
Two hours after setting off from Reykjavik, we arrived at Sólheimajökull Glacier, on the island's south coast.
One thing to keep in mind: glacier hiking can be extremely dangerous.  Glaciers are very active, moving and creaking all the time, and if you step onto a weak area, you could fall through and drown.  Our guide, Dori, talked us through the dangers, taught us how to walk in crampons (hint: don't do anything you'd do on skis, like walk up hills sideways), and led us on top of the ash-filled glacier.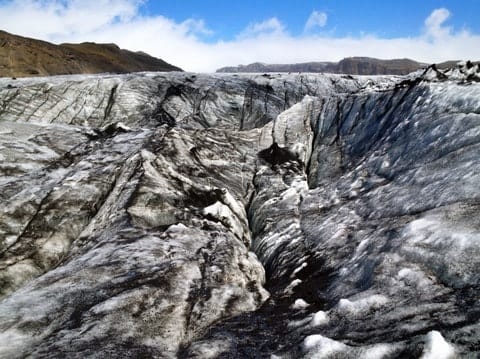 The glacier isn't bright white, but a sea of swirling gray and black from past volcanic eruptions.  Some of this was from the infamous Eyjafjallajökull eruption in 2010 that shut down air travel across the Atlantic for a week; some of the ash dates back as far as 1918!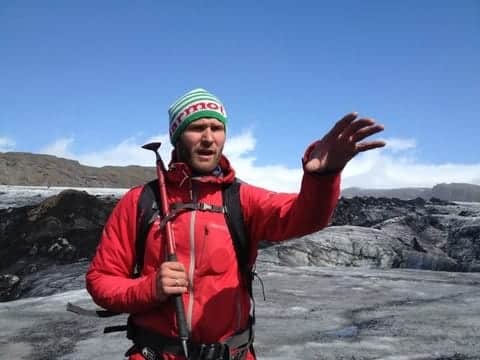 As we explored the glacier, Dori pointed out how moulins, or sinkholes are formed — a rock gets caught, water begins to flow around it, and before long, the water is pouring into a deep hole.  As he explained this, I looked over at a nearby tour group.  There was a crowd of about 25 of them, and they shuffled along slowly as their guide yelled to be heard.  Compare that to our Arctic Adventures group — there were just six of us, all of us chatting with Dori and covering more ground than the other group.
Dori seemed to know everything about glaciers, including where to find both the deep blue ice, and the stunningly clear ice.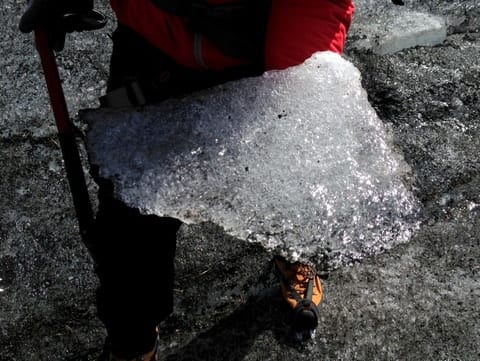 The only thing I didn't like?  Dori pointing out how much further the glacier extended in the year 2000.  It was devastating.  "Here in Iceland, climate change is real," he said with a grimace.
We spent about an hour exploring the glacier and learning about the glacier.
Next up?  Climbing a wall of ice!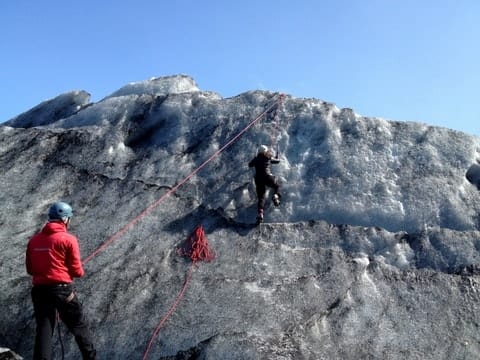 If you're been a longtime reader, you may remember that I hated rock climbing in Railay, Thailand.  It was probably 50% because I wasn't good at it and 50% because I hated the feeling of it — the tight shoes, the difficulty of finding footing, the uncertainty.  Either way, I failed miserably.
But ice climbing?  That was different.  Dori was holding the line at the bottom, and I held a pickaxe in each hand, throwing them widely at the wall — HARD — and pulling my body upwards, kicking my toes straight into the wall for traction.  I kind of felt like a villain in a Bond movie set in the Himalayas!
I didn't think I'd actually get to the top, but before I knew it, Dori was yelling, "Two more steps!"  I clanged the top with my pickaxe and got cheers from my group.  Success!
And to celebrate — a refreshing sip from the astoundingly cold glacial river.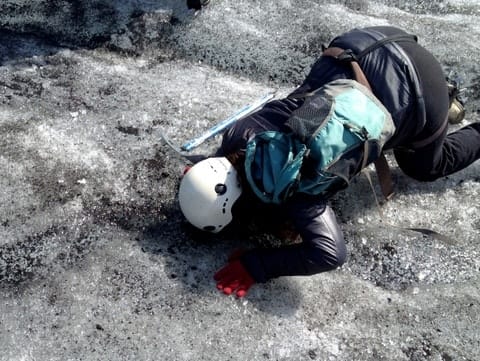 No, I didn't get ash in my mouth.
One reason why I was initially drawn to Arctic Adventures is because they have a reputation for having great, super-knowledgeable, adventure-loving tour guides.  Dori went above and beyond — cheering us as we climbed the ice wall, telling us story after story about hidden people and trolls (much more on that later!), even translating my feature in Frettabladid newspaper from Icelandic to English for me!
We were abuzz as we jumped into the van and headed to the best possible stop on our way back — Skogafoss Waterfall!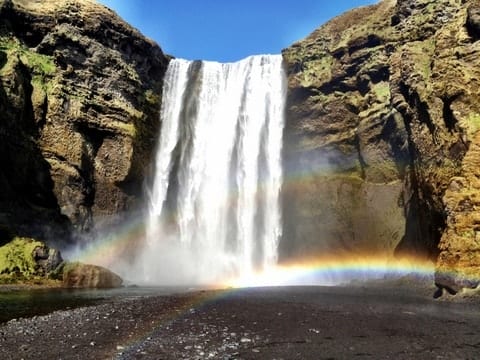 I had been thinking of booking a tour of Iceland's south shore, but considering that this waterfall is the piece de resistance of the south shore, I figured it was like getting two tours for one!  A perfect end to our day.
I didn't think the glacier climbing was that fatigue-inducing — yet on the way back, all six of us fell fast asleep in the van!  Dori must have expected this, because he turned up the relaxing Icelandic lounge music and let us snooze away.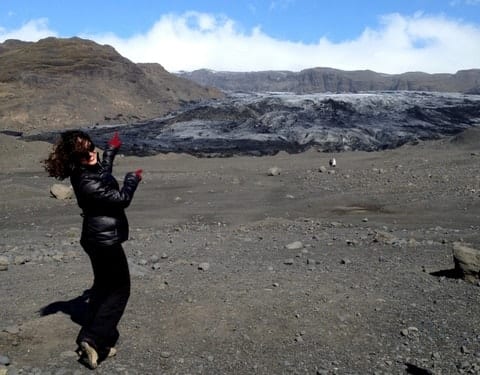 Glacier hiking was a blast, and I would have stayed up there for hours longer.  Look out — this is something I'm going to be doing much more of around the world!
More on Iceland:
My Favorite Places in Iceland:
---
Many thanks to Arctic Adventures and the Iceland Tourist Board
for hosting me on the Blue Ice Glacier Hiking Tour.  For an activity like this, be sure to stay warm with Patagonia clothing, thick socks, and hiking boots.  All opinions, as always, are my own.
Get email updates from Kate
Never miss a post. Unsubscribe anytime!