Adventurous Kate contains affiliate links. If you make a purchase through these links, I will earn a commission at no extra cost to you. Thanks!
If you're a girl who hasn't traveled alone before, you might have no idea where to begin!  That's okay — there are so many options for you.
The ideal first solo trip for female travelers is easy, fun, and low-stress.  Give yourself some structure, but don't plan out every minute of every day.  You don't know what kind of solo traveler you are until you get out and do it, so plan for anything!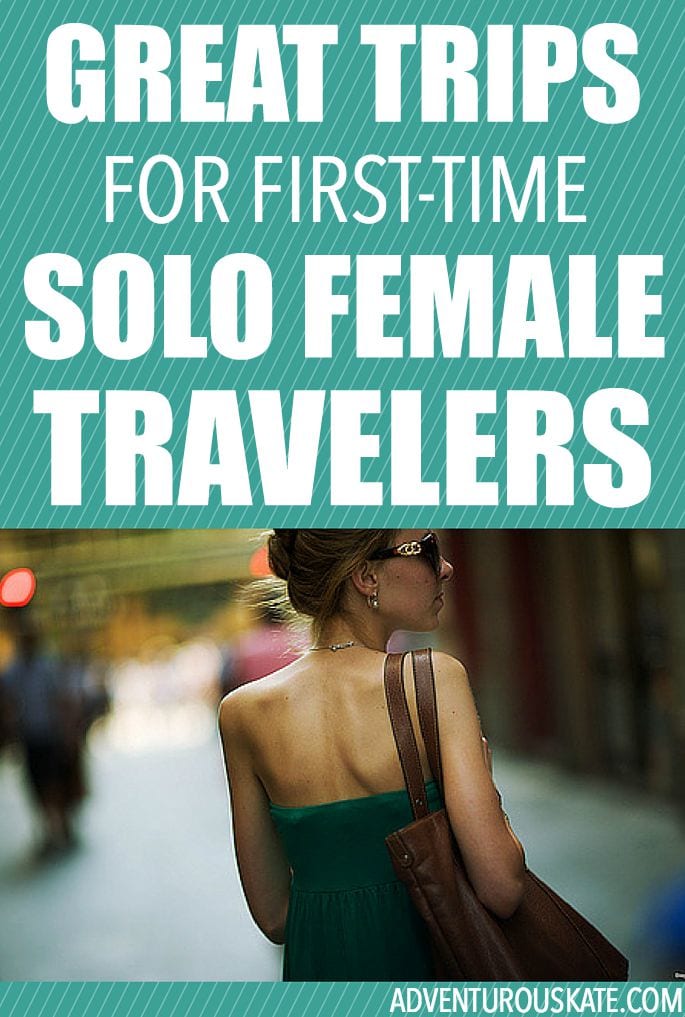 For your very first solo trip, choose a popular destination with good travel infrastructure.  Once you master your first trip — and you will master it! — feel free to move on to more challenging destinations.
Here are three kinds of trips that are perfect for first-time solo female travelers.
Group Outdoor Adventure
Image: fank209
Perfect for: high-energy girls who like the outdoors, love meeting new people, and live for adrenaline rushes!

If you think that spending lots of money just to lie on a beach somewhere is, well, a bit of a waste, then an active vacation is for you!  Joining a group is often the only way to do epic treks like the Inca Trail, and it's one of the easiest ways to travel solo.
There's nothing like the feeling of diving into a waterfall in the heart of the rainforest, or sandboarding at lightning speed, carving through dunes in the desert.  Plus, the pictures will be fantastic.
Best of all, when you travel with a group, it's easy to meet people who love the outdoors as much as you do!  You'll have new friends within an hour, so you won't have to worry about spending all your time alone.  Just make sure you find a program that gives you time to explore on your own as well!
Suggestions: Try hiking the Inca Trail in Peru, arriving at Machu Picchu by sunrise.  Hike, zipline and surf your way through Costa Rica.  On New Zealand's South Island, climb glaciers and bungee jump into rivers!
Sexy City Break
Image: Stephan Geyer
Perfect for: girls who love urban excitement: shopping, museums, restaurants and dancing till dawn!

You've always wanted to visit Barcelona.  Or Berlin.  Or Chicago.  Why wait for someone to share your interest when you could go on your own?
When you travel to a city on your own, every decision is left up to you.  Spend your days exploring every neighborhood, go see quirky local bands, dine on local specialties, shop until you drop.  Change your plans on a whim.  Or just sit back in a cafe and try to pass as a local!
Want to meet friends?  Consider meeting up with the local Couchsurfing community.  Most cities' Couchsurfing communities plan frequent events and get-togethers!  I met up with Couchsurfers nearly every day in Buenos Aires, and it was, by far, the best thing I did on that trip.
Suggestions: Anywhere in Europe! Paris, Rome, and Amsterdam were made for a trip like this. Buenos Aires is a spectacular introduction to South America.  Stateside, why not try San Francisco or Miami?
Skill-Learning Solo Sojourn
Image: San Diego Shooter
Perfect for: girls who want to return from their trip with some brag-worthy skills to show off to their friends!
If you're a midwesterner who's always dreamed of surfing, why not take the plunge and learn?  From Bali to Panama and beyond, surf camps around the world are perfect for solo travelers!
And it doesn't have to be a physical activity.  You could learn an artistic skill, a culinary skill, or even volunteer.  Sign up for a course, preferably early in your trip.  This way, you'll meet friends from the course and get to know the surrounding area so you can explore on your own afterward!
This kind of trip rocks for solo female travelers because you get to choose an activity that interests you and you alone, without catering to the needs of your travel companion.
Suggestions: Learn to cook in Tuscany or Chiang Mai, Thailand.  Get your PADI diving certification in Roatan, Honduras, or the Great Barrier Reef in Australia.  And you can learn flamenco dancing in the heart of northeastern Spain or tango in its birthplace, Buenos Aires!
This first solo trip will give you confidence like you've never known before.  For your next solo trip, the sky's the limit!
Did you enjoy this post?  Subscribe to my RSS feed! I'm traveling Southeast Asia alone from October 2010 through May 2011 and will be sharing my adventures and solo travel tips along the way!
Get email updates from Kate
Never miss a post. Unsubscribe anytime!