Adventurous Kate contains affiliate links. If you make a purchase through these links, I will earn a commission at no extra cost to you. Thanks!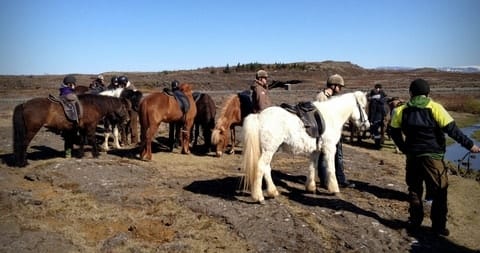 Do I look like the kind of girl who would strap on a pair of leather boots, muck out a stall, and hop on a stallion, riding around a ranch all day?
Not really.  I would wear the boots.  That's it.
But after learning about Icelandic horses, I thought going horseback riding would be a nice activity to try.  Icelandic horses have been carefully bred for thousands of years into a style that you don't see anywhere else in the world.  They're pretty much the Robin Williams of horses: short, furry, and full of boundless energy.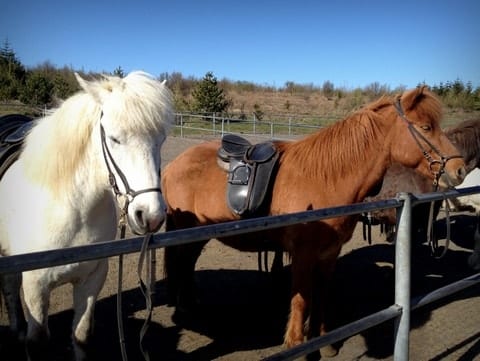 Iceland also takes a lot of steps to protect them.  You can't expose Icelandic horses to pathogens from any other horses.  Forget bringing any leather riding gear into the country, and any non-leather gear that you do bring from outside Iceland must be sanitized in boiling water.  (A few people in my group didn't quite get this.  "But it's only Denmark!" "It doesn't matter!")
After getting in touch with one of the most popular horseback riding companies in Iceland, Ishetar Riding Tours, I was invited on their half-day Lava Tour — a short ride through lava fields outside Reykjavik.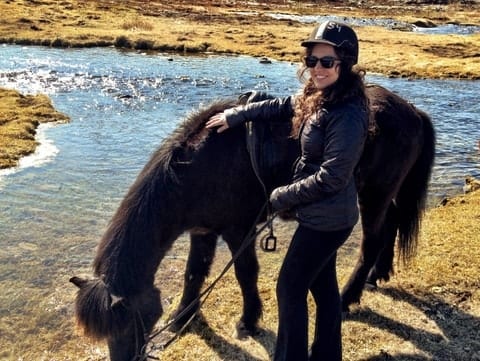 Like most Iceland tours, Ishestar picked me up at my hostel.  Upon arrival, as a beginner, they paired me with a gentle horse named Skeggi.  The instructors encouraged me to get to know Skeggi, stroke him, and talk to him gently for a few minutes before hopping on top of him (which I did about as gracefully as Tobias Funke hiding from the blind).
Horseback riding really takes teamwork between you and the horse, and we had to establish trust before riding out into the countryside.
And we were off — riding through the lava fields, enjoying the volcanic scenery of Iceland.  Skeggi stayed steady and I was able to nudge him along as I wanted, picking up into a faster gait whenever I felt like it.
Halfway through, we stopped to give the horses a break, and I led Skeggi around — or, rather, he led me — as he chomped on grass and drank water.  Bright blue streams, snow-covered mountains, and petrified lava in every direction — this was the Iceland I was growing to love.  I hopped back on Skeggi and rode him back to the stable.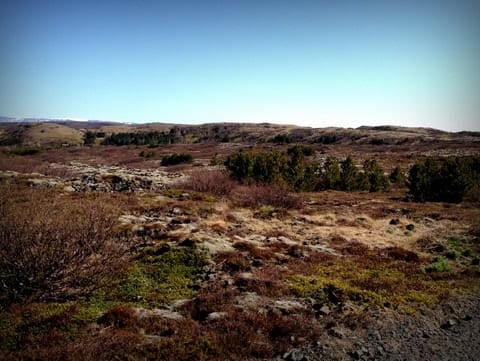 The half-day tour was short — we probably spent about 45 minutes riding in each direction.  If you're a hardcore rider, the half day tour probably won't be enough for you; if you'd just like a taste of riding, as I did, this is a good choice for you.
The other nice thing is that you can pair Ishestar horseback riding with another tour or activity — hiking, snorkeling, the Blue Lagoon — and they'll take you straight there afterward.  I was just booked onto the one tour, but I liked having enough time to do another activity in the afternoon.
And so I said goodbye to my sweet horse Skeggi, my lovely companion for this activity — and kept up the hope that perhaps there's a bit of cowgirl inside me after all.
More on Iceland:
My Favorite Places in Iceland:
---
Many thanks to Ishestar Riding Tours and the Iceland Tourist Board for hosting me on their Lava Tour.  All opinions, as always, are my own.
Get email updates from Kate
Never miss a post. Unsubscribe anytime!