Adventurous Kate contains affiliate links. If you make a purchase through these links, I will earn a commission at no extra cost to you. Thanks!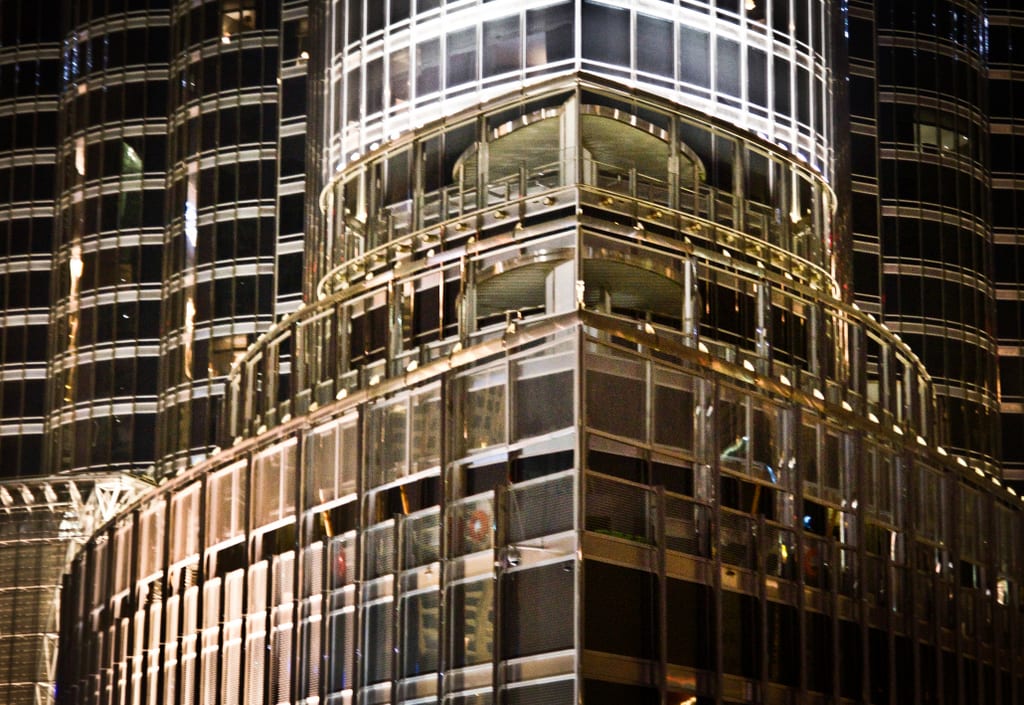 As soon as I realized I would be in Dubai for my 29th birthday, I knew I would have to plan a fun celebration. Believe it or not, this is only the second birthday that I would be spending abroad — the first was my 17th birthday in Ireland!
Luckily, Dubai is a city that lends itself to celebration. This is the kind of destination that you could, theoretically, do on the cheap — but it is so much better if you have some money to spend.
A few months back, I resolved to focus more on high-value budget travel…with occasional exceptions. While I travel the world on the cheap, I fully believe in saving up and splashing out for special occasions: birthdays, anniversaries, honeymoons, other occasions worth marking with a celebration
So when it came time to celebrate the final birthday of my twenties, I spent it in a few of Dubai's finest establishments:
Dinner at Blue Jade
Blue Jade, the glorious pan-Asian restaurant at the Ritz-Carlton by Dubai Marina, is a new restaurant, opening this past spring, and they've been expanding their reach from hotel guests to the public. When the Ritz's PR team invited me for a complimentary dinner, I accepted — and decided to make it my birthday dinner.
And WHAT a dinner it was. I can't remember the last time I had a meal that impressed me this much. Both the food and the service at Blue Jade were absolutely impeccable.
Some of my favorite items on the menu: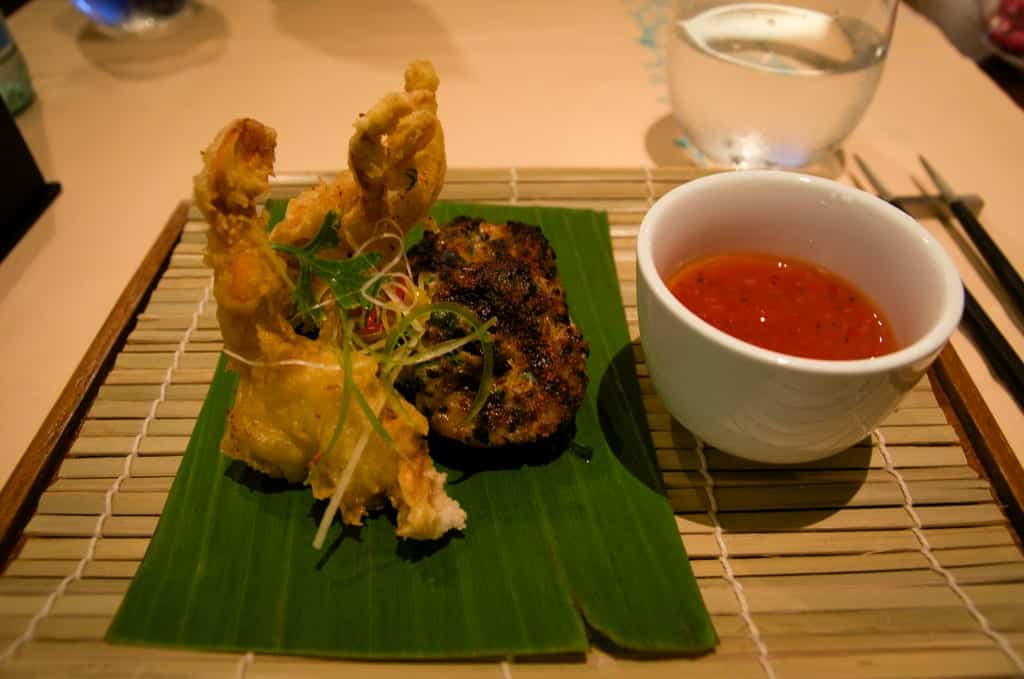 Duo of crab: softshell crab and a crab cake, Singapore-style. THAT CRAB CAKE ROCKED MY WORLD — it was astoundingly good.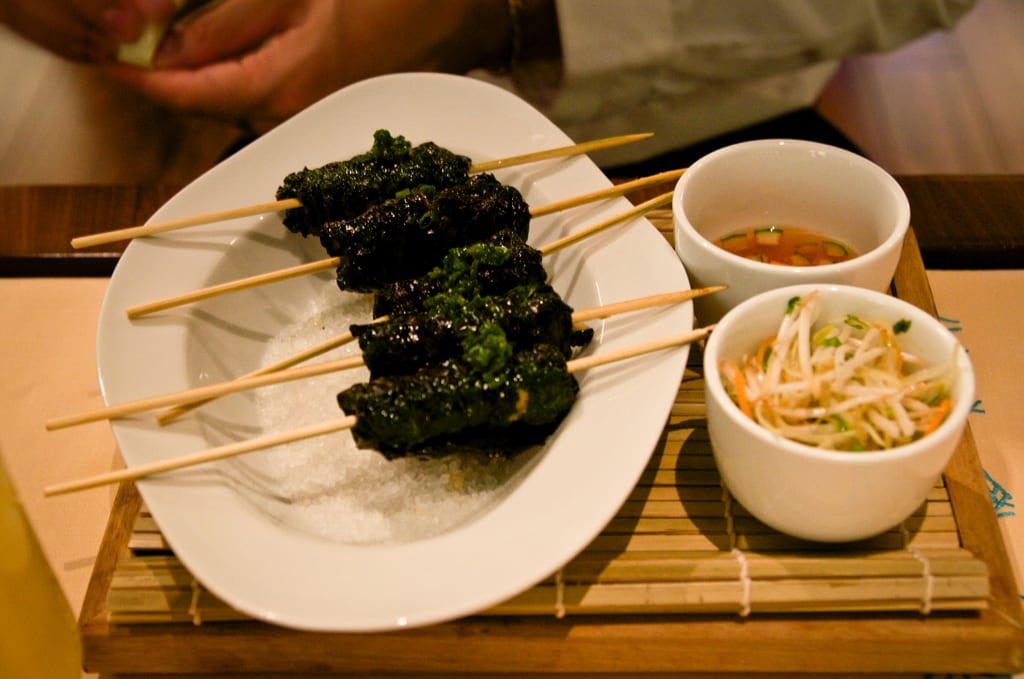 Duck sausage on skewers. I've never had duck sausage before in my life, but this is absolutely outstanding. I decided it was my favorite item of all. Highly recommended.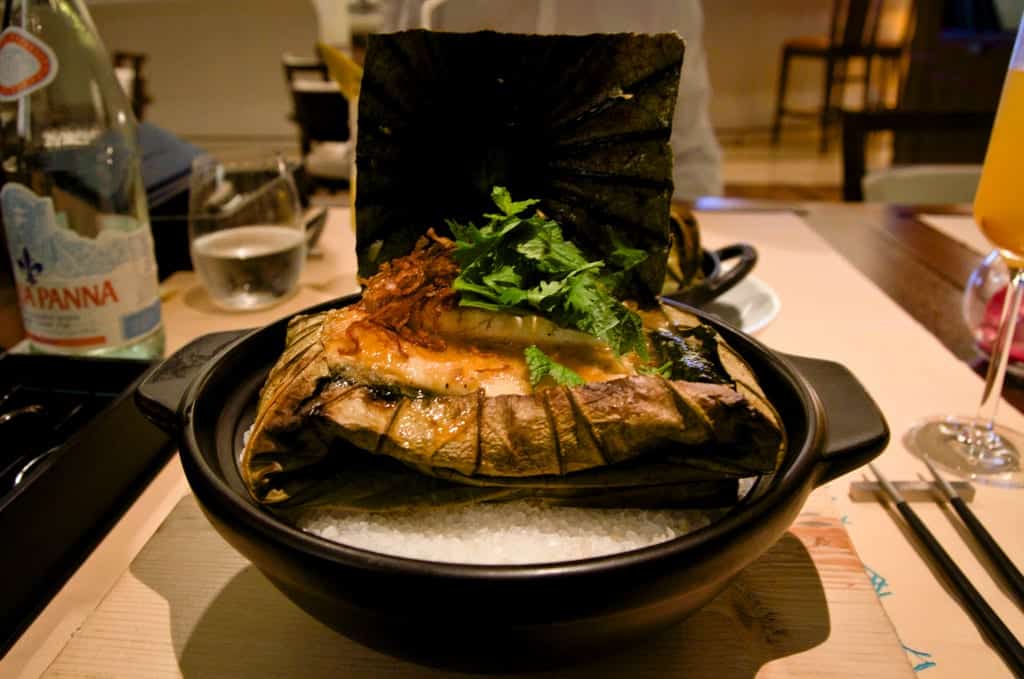 Blue Jade's signature dish: ginger lotus seabass. I've never tasted flavors like this before — it's honestly a fantastic meal.
Another nice thing about Dubai? You'll find plenty of alcohol-free mocktails on menus along with regular cocktails. As much as I liked my sparkling sake cocktail at Blue Jade, the passion fruit iced tea mocktail (with a teabag garnish!) was even better.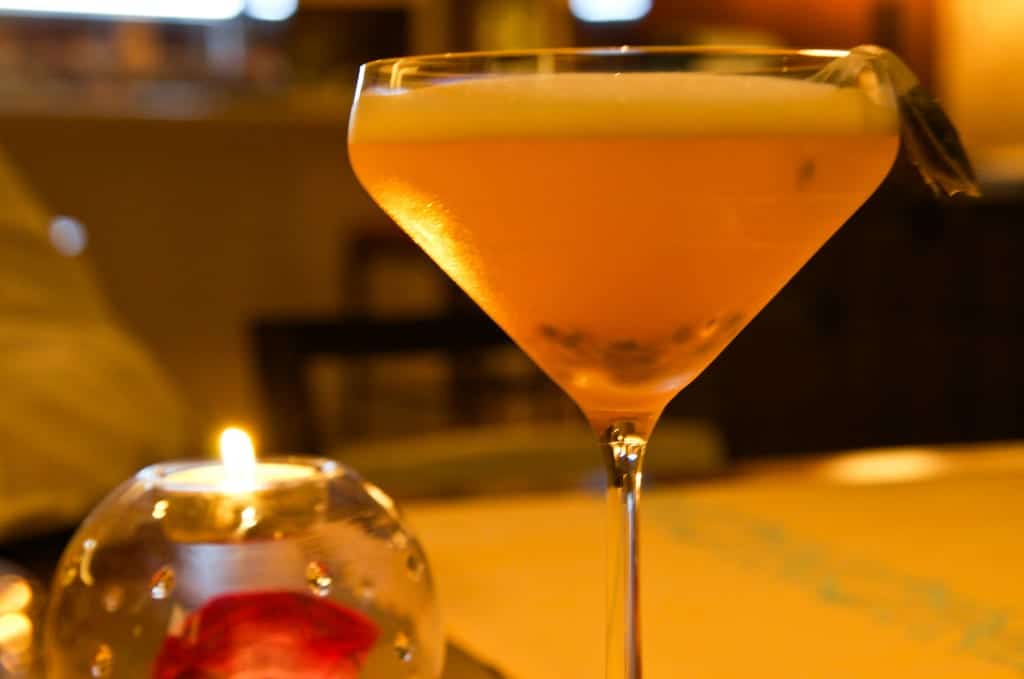 I finished with a ginger creme brulee with green tea ice cream.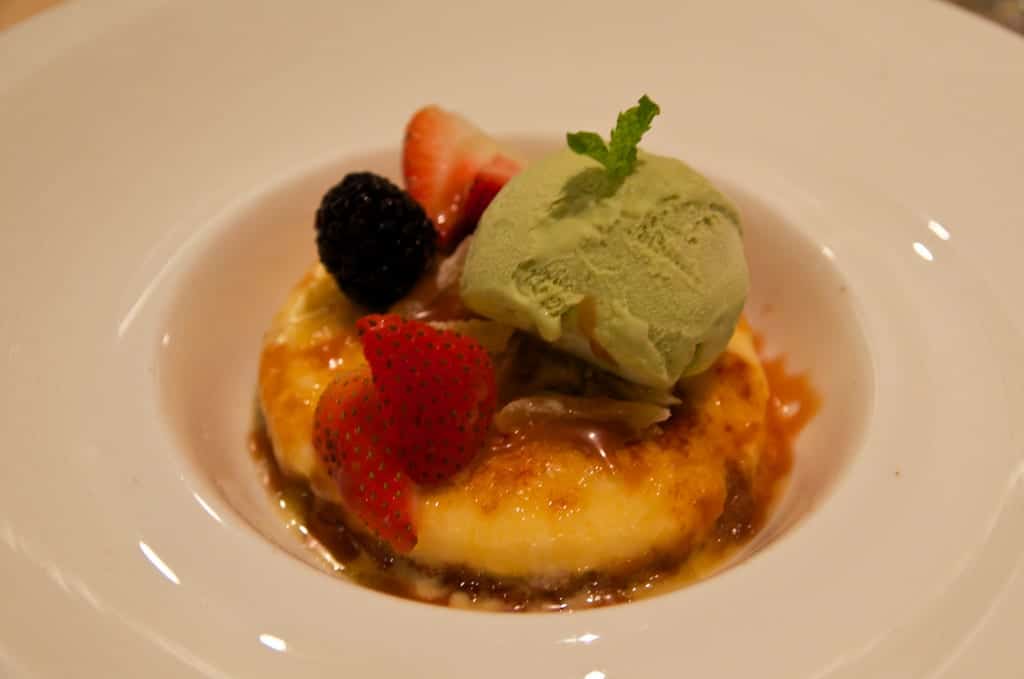 And fortune cookies, delivered in the cutest way possible.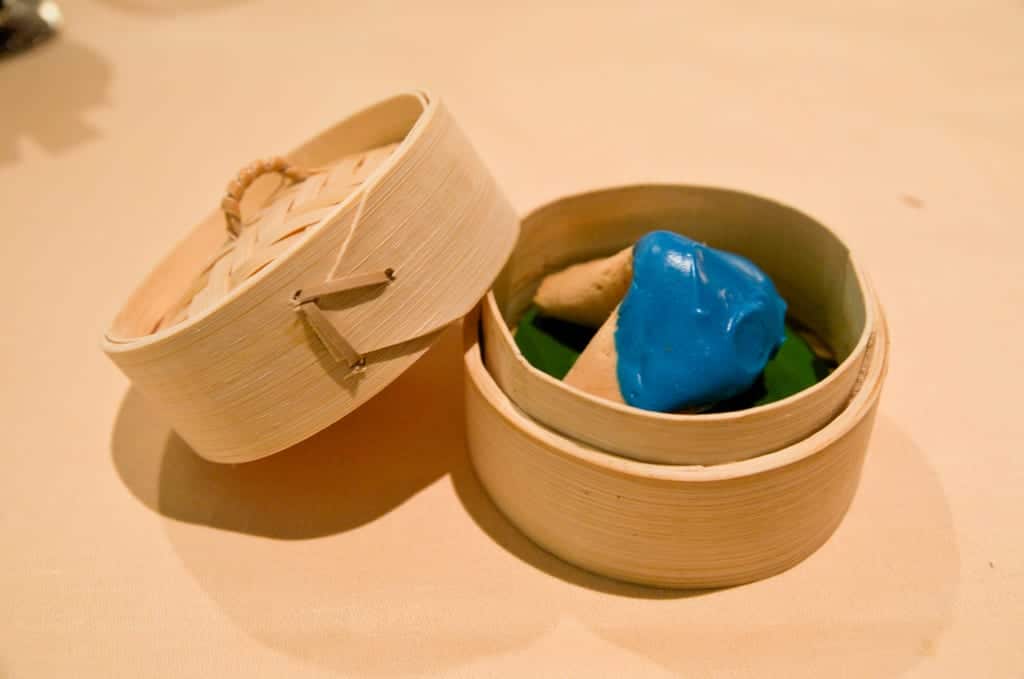 Even the tea was sensational. It was a simple blend of green and jasmine teas — but I couldn't stop drinking it. I need that tea in my house.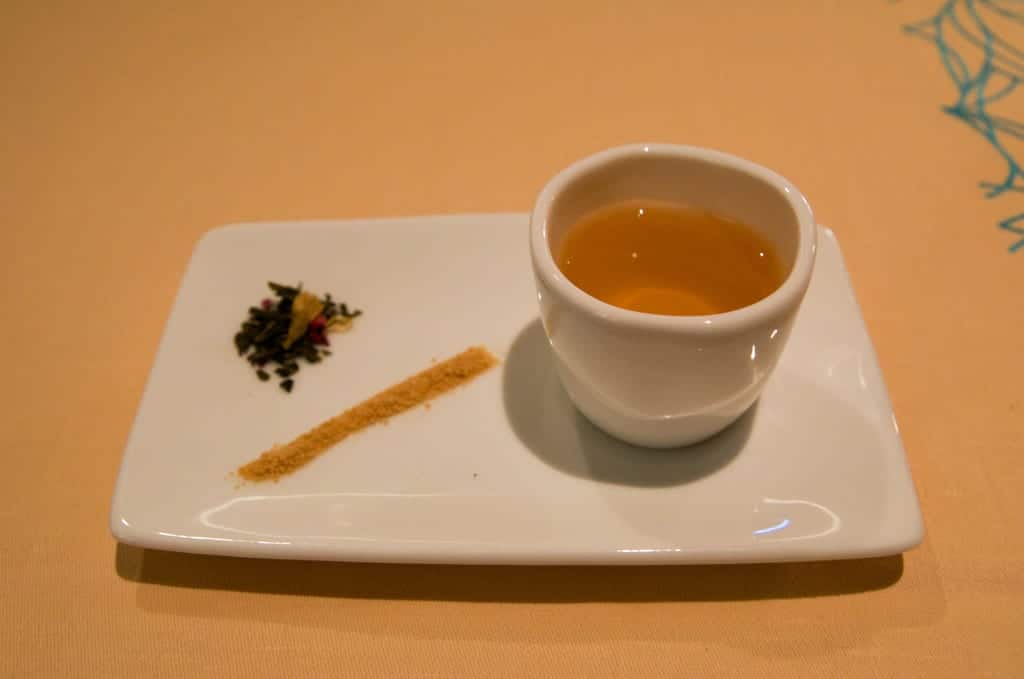 After the meal, I got to meet chef Ta Van Huong and raved about how much I enjoyed my meal. A native of northern Vietnam — not to mention the quietest chef I've ever met — he's brought some of his family recipes to the restaurant. The ginger lotus seabass is a recipe of his grandmother's.
---
READ MORE:
Visiting the Burj al Arab: The World's Most Luxurious Hotel
---
Next time I come to Dubai, I would love to come back to Blue Jade and see the latest that Ta Van Huong has come up with. This is a chef to watch.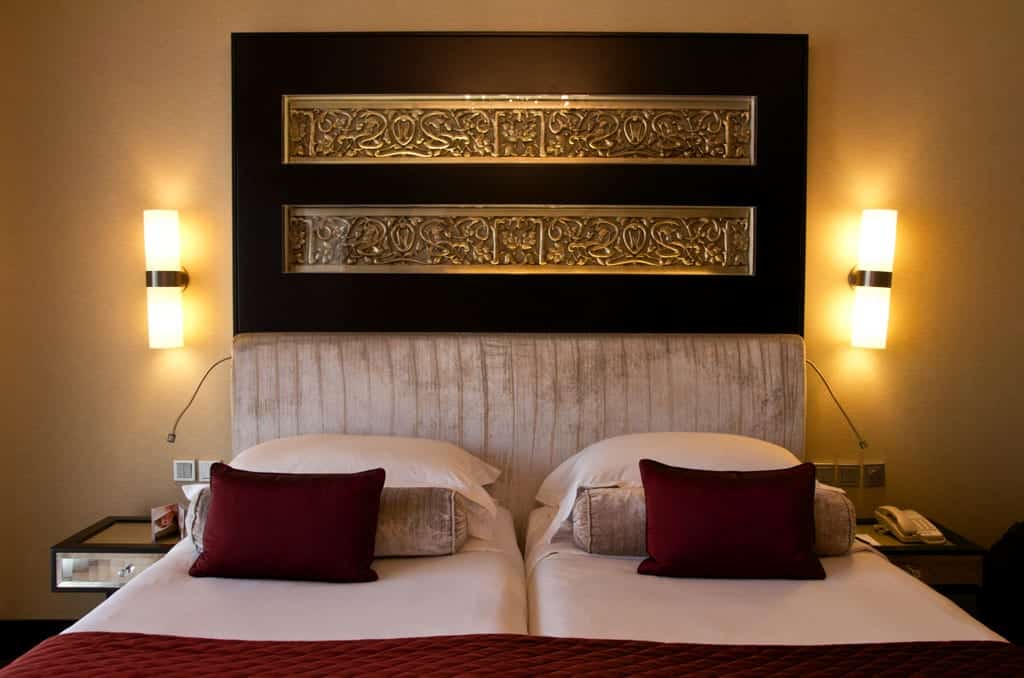 Stay at the Kempinski Mall of the Emirates
When I traveled to Jordan almost two years ago, I stayed at the Kempinski Ishtar on the Dead Sea and it was one of my favorite hotels to date. So when Kempinski themselves contacted me looking to advertise on this site, I took a look at their properties and suggested that instead of a traditional ad for cash, we swap a bit of editorial coverage for a stay at their Dubai property: the Kempinski Mall of the Emirates.
Now — my timing was unfortunately a bit off, which I did not realize at the time of booking. The hotel was under construction, many of the public areas were closed, I had to enter and exit via the basement parking garage, and the lobby and breakfast restaurant were moved to conference rooms. Not ideal, and it took away from the atmosphere, but I was upgraded to a bigger suite.
My suite:
This living room was spacious and perfect for working, and it was nice to have the space beyond just a bedroom.
The bathroom was huge, too, with a deep bathtub, huge shower, and very cushy bathrobes:
And I LOVE calling the front desk and having them answer, "Yes, Ms. McCulley?" It's just a little thing, but it's something that makes me so happy.
The Mall of the Emirates is a good central location. Dubai is absolutely covered with shopping malls, but the Mall of the Emirates is one of the biggest and best. They're also home to Ski Dubai, the indoor skiing theme park! The Kempinski even has some ski chalets.
Also, if you happen to be a native New Englander with a permanent Dunkin Donuts craving in the morning, there is one in this mall!
Cocktails on Top of the World's Tallest Building
When Mario celebrated his 40th birthday in December, he wanted to go to the top of the Eiffel Tower. "From now on," he told me, "whenever I see the Eiffel Tower, I'll be able to say to myself, 'That's where I was on my 40th birthday.'"
I loved his idea. And being in Dubai, there was only one place that could hold a candle to the Eiffel Tower: the Burj Khalifa, currently the world's tallest building.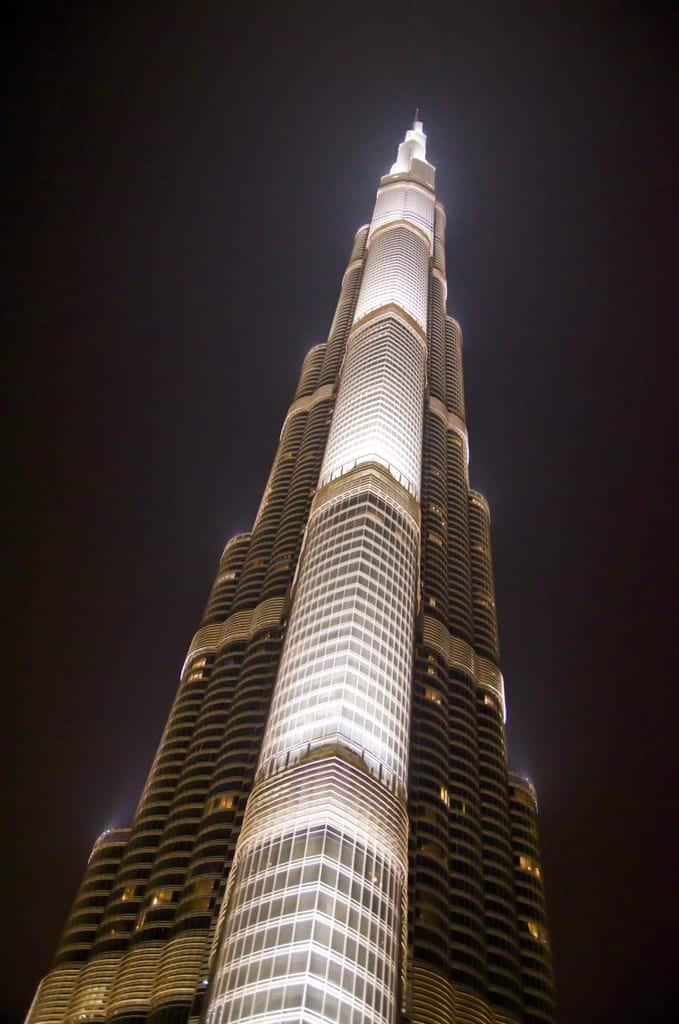 We had originally planned to visit the tower's At the Top observation deck during the day, when our friend and Dubai host, Simon, suggested we skip that and go for cocktails at night instead. Going to the observation deck would have cost us 125 AED ($34) each; going for cocktails would cost us a 200 AED ($54) minimum spend and, well, include cocktails!
Easy decision. We made our reservation for 10:30 that night. A cab sped us to the Burj Khalifa, brilliantly illuminated in the evening, and an elevator that seemed to move at the speed of a bullet whisked us to the 123rd floor.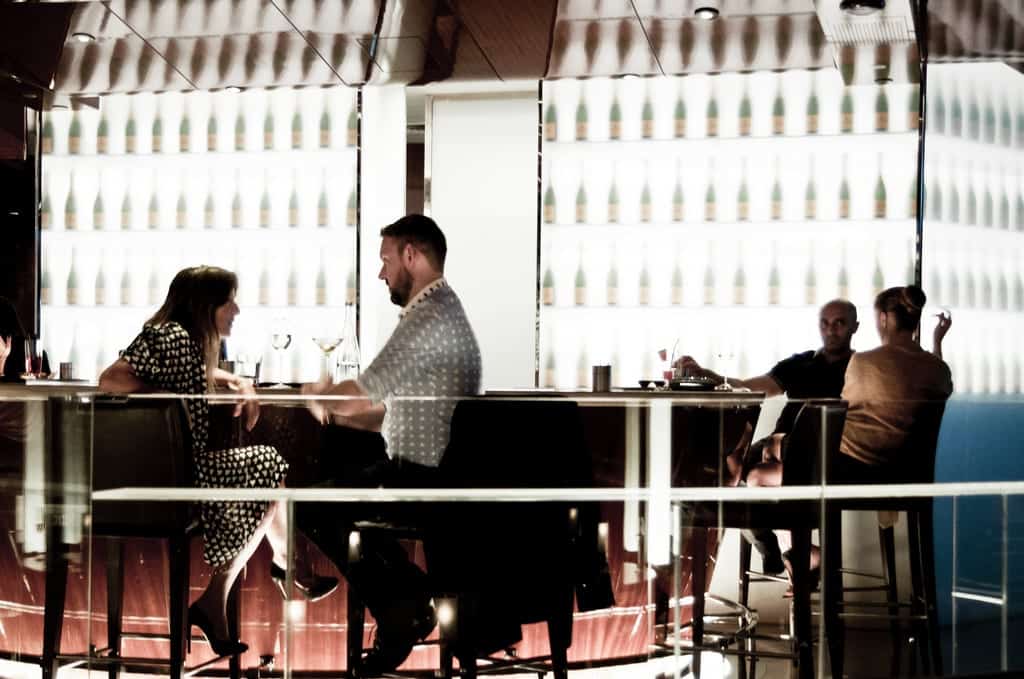 At.mosphere is recognized by the Guinness Book of World Records as the highest restaurant in the world from ground level (441.3 meters, on the 122nd floor).
Cocktails here are definitely not cheap — two drinks ran us about 180 AED ($49) — but they are beautifully made with ingredients like camel milk, gold leaf, and raspberries macerated in balsamic vinegar.
And how often can you say that you ate 24K gold while gazing at the view from the world's tallest building? (Just make sure you go soon. Someone's going to build a taller building any day now.)
After finishing our cocktails, we finished with a walk around the grounds and the dancing fountains.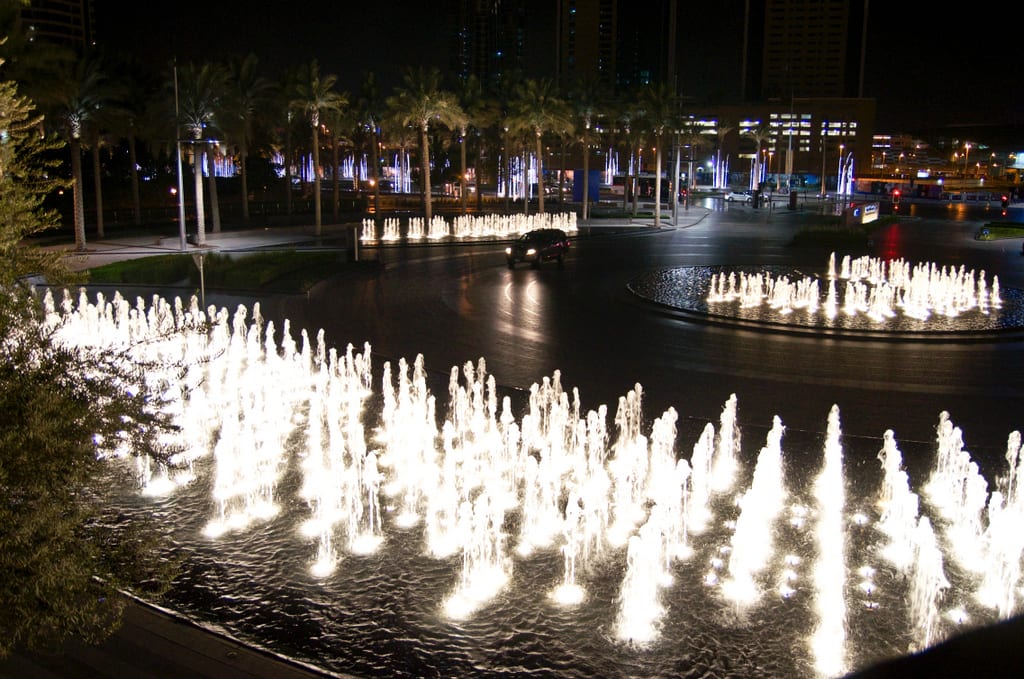 The Takeaway
Dubai is a fantastic place to celebrate a special occasion in style. If you've got an upcoming birthday or anniversary or other major occasion, this is a great city to visit for a short getaway. In lots of ways, Dubai reminded me of Las Vegas, and like Vegas, the perfect length of a visit is around four days or so. I'd recommend making a Dubai getaway part of a longer trip, as it's well connected to Asia, Africa or the Middle East.
In lots of ways, this birthday celebration epitomized the later, more mature end of my 20s. (Especially when you compare it to my 22nd birthday, which I spent wearing a pink "Birthday Princess" crown, taking pictures with random dudes in uniform and doing test tube shots at Sissy K's in Faneuil Hall. If you've been there…you know.)
It's amazing how much my life has changed since then — now working for myself, traveling as much as I have always dreamed of, and engaged to a wonderful man. Life is pretty good — and having this at age 29 is definitely worth celebrating.
Essential Info: There are two Ritz-Carltons in Dubai. Blue Jade is at the Ritz-Carlton Dubai Marina, not the one in downtown Dubai. Make sure you take a cab to the right one! You can find the menu and prices here.

Rooms at the Kempinski Mall of the Emirates start at 900 AED ($245) per night.

At.mosphere at the Burj Khalifa requires reservations. Men are required to spend a minimum of 200 AED ($54); there is no spending minimum for women. You can find the menu and prices here. The entrance to At.mosphere is a bit tough to find — go through the Armani Hotel.

Alternatively, visiting the At The Top observation deck at the Burj Khalifa starts at 125 AED ($34) for adults, 95 AED ($26) for children for visits scheduled in advance; walk-in visits cost 400 AED ($109) for all.
Many thanks to Blue Jade at the Ritz-Carlton Dubai for the complimentary dinner, and to the Kempinski Mall of the Emirates for the complimentary two-night stay. We visited At.mosphere at the Burj Khalifa at our own expense. All opinions, as always, are my own.
Get email updates from Kate
Never miss a post. Unsubscribe anytime!