Adventurous Kate contains affiliate links. If you make a purchase through these links, I will earn a commission at no extra cost to you. Thanks!
I'm not a girl who dreams about hotels. I have some friends who work in the luxury hotel industry and they wax poetic about hotels they dream of visiting someday — hotels with plunge pools overlooking mountains, glass-bottomed overwater bungalows, and 50,000 thread count sheets.
Me? I get their fascination, but hotels aren't my thing, and they don't dominate my travel wishlist…
Except for one.
The Burj al Arab in Dubai. I had to visit the Burj al Arab — and when I went to Dubai, I finally got to visit.
And I'm going to show you how you can, too.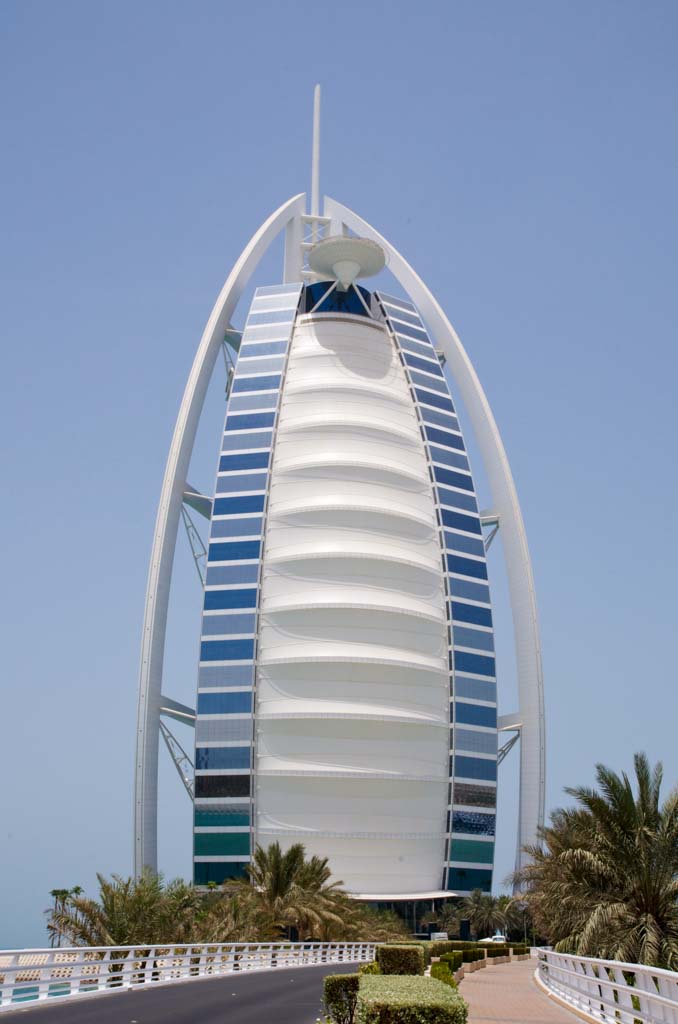 The Burj al Arab, Jumeirah
The Burj al Arab is one of Dubai's most famous landmarks, its sailboat-shaped silhouette emerging from the sea. It's one of the most elegant properties in a city known for modern marvels of engineering.
The hotel, which opened in 1999, declared itself the world's first seven-star hotel — even though that rating technically doesn't exist. Why not make up a rating? It's excellent PR! The Burj al Arab is over-the-top in every way possible.
From the first time I saw a picture of the Burj al Arab, I dreamed of visiting it. But it was WAY out of my price range.
Maybe I could just drop in and gawk at the interior, like I did so many times in Las Vegas and Macau. Would that work? Unfortunately, no again.
The Burj Al Arab is open to hotel guests exclusively — and there's security at the front gate. If your name isn't on their list, they won't let you in.
The hotel may be open to hotel guests only — but I found out there IS an exception.
You can make a reservation for afternoon tea — and that puts your name on the list for security! In fact, this works for meals at any of their restaurants. I visited the Burj Al Arab for afternoon tea and absolutely LOVED it!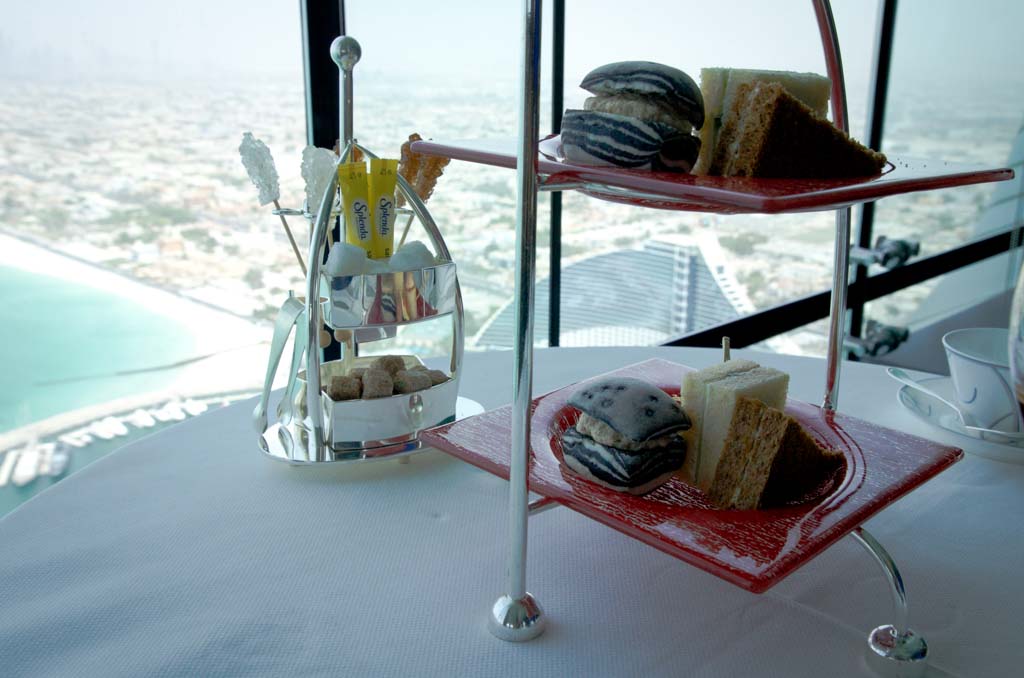 Afternoon Tea at the Burj al Arab
The Burj Al Arab offers a Sky Tea afternoon tea — an experience on the 27th floor overlooking the coastline.
The Burj's PR team generously invited me to experience their Sky Tea afternoon tea in the Skyview Bar on the 27th floor, overlooking the coastline with a view of the Burj Khalifa in the far distance.
I started my tea with something I had never tried before: sparkling date juice.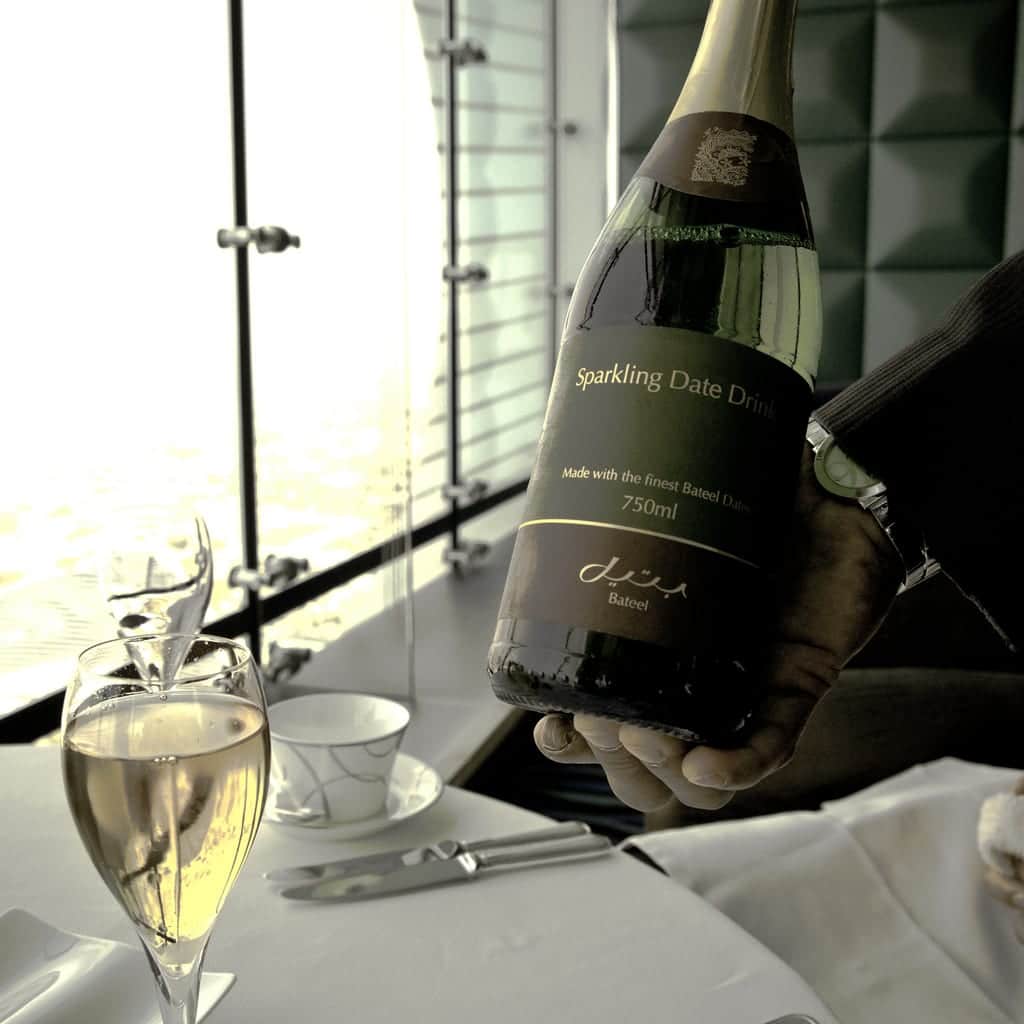 "You won't believe where this is made," our waiter told me.
"No idea. Lebanon?"
"France," he said with a grin.
"No way."
"Yes, they make it there. The dates are from the Middle East, though."
After the sparkling date juice, they brought a pot of tea and a cappuccino and I was treated to the following courses: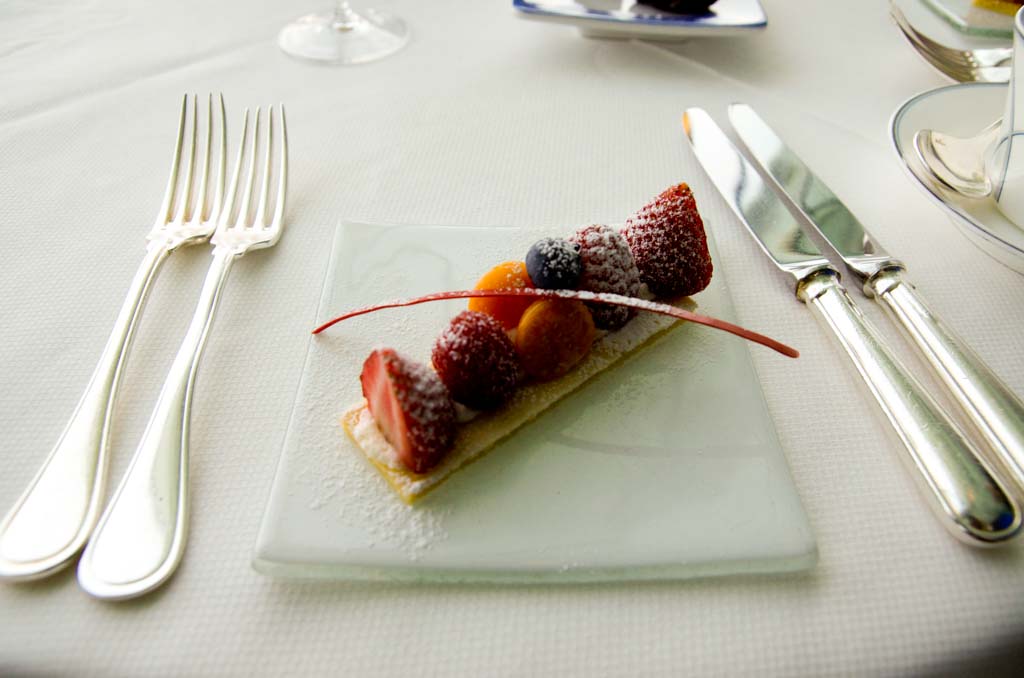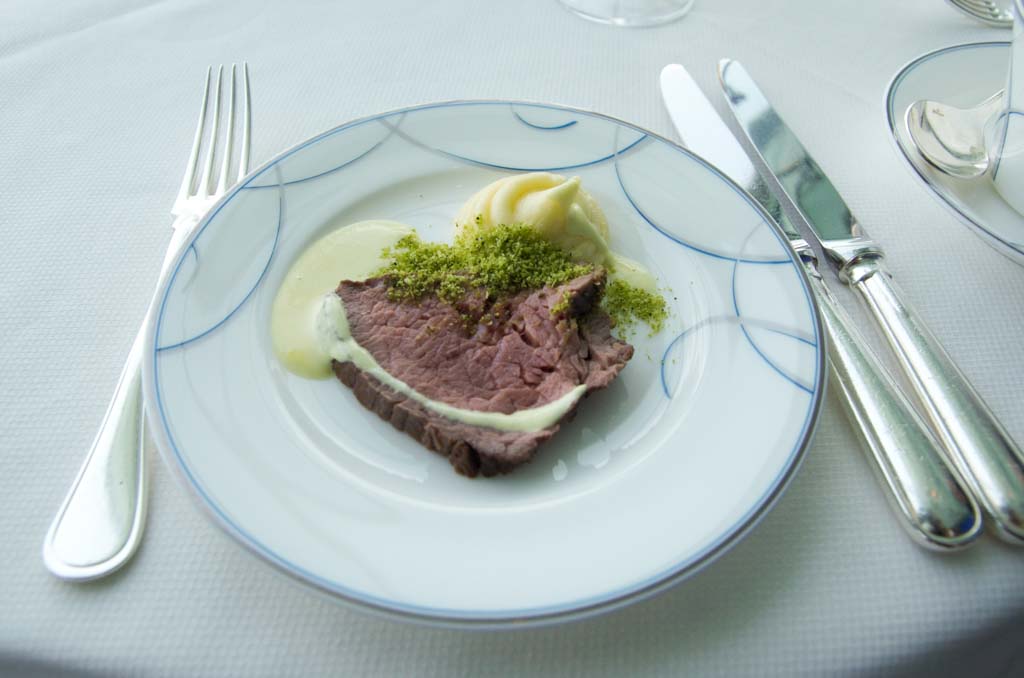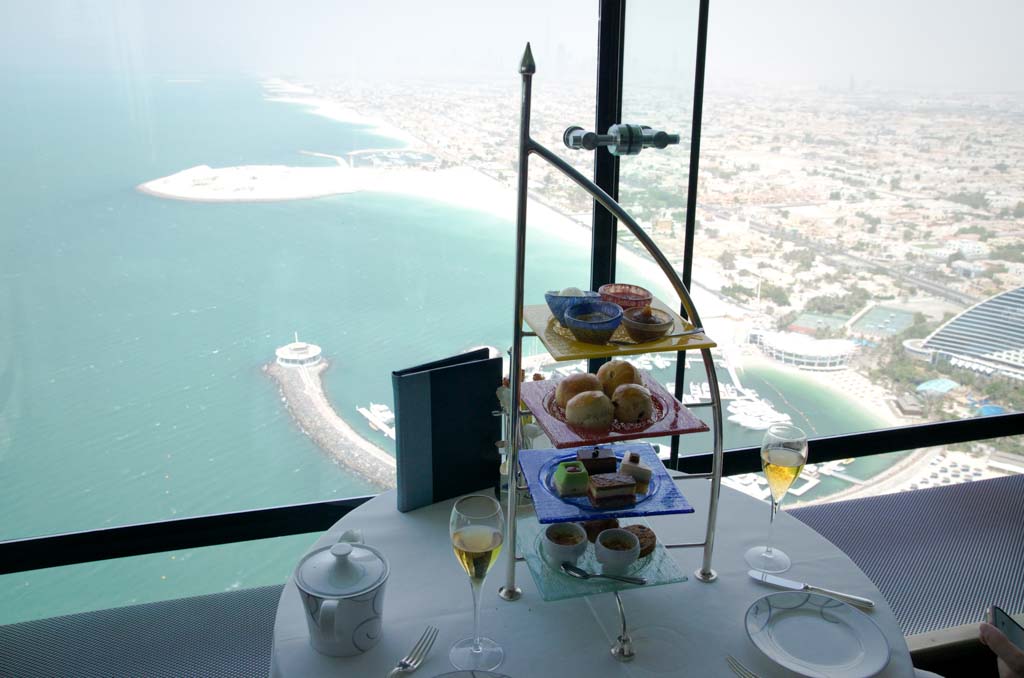 We started with a mini berry tart, then moved on to the chef's carvery of roast beef, and were finally served a tray with sandwiches and desserts shaped like the Burj Al Arab itself!
The offerings were creative and delicious. That zebra-looking bread is actually made of squid ink and pureed apples! Incredible. (And there are free refills on the sandwiches, so to speak.)
And then it was time for a tower of desserts — in ANOTHER tray shaped like the Burj al Arab itself!
Starting from top to bottom, I began with the absolute best scones and clotted cream I've ever had (and having lived a year and a half in the UK, that is a HUGE deal).
Next was a selection of cakes.
The best item on the Burj al Arab afternoon tea menu was the sweetest dish of all: camel milk creme brûlée.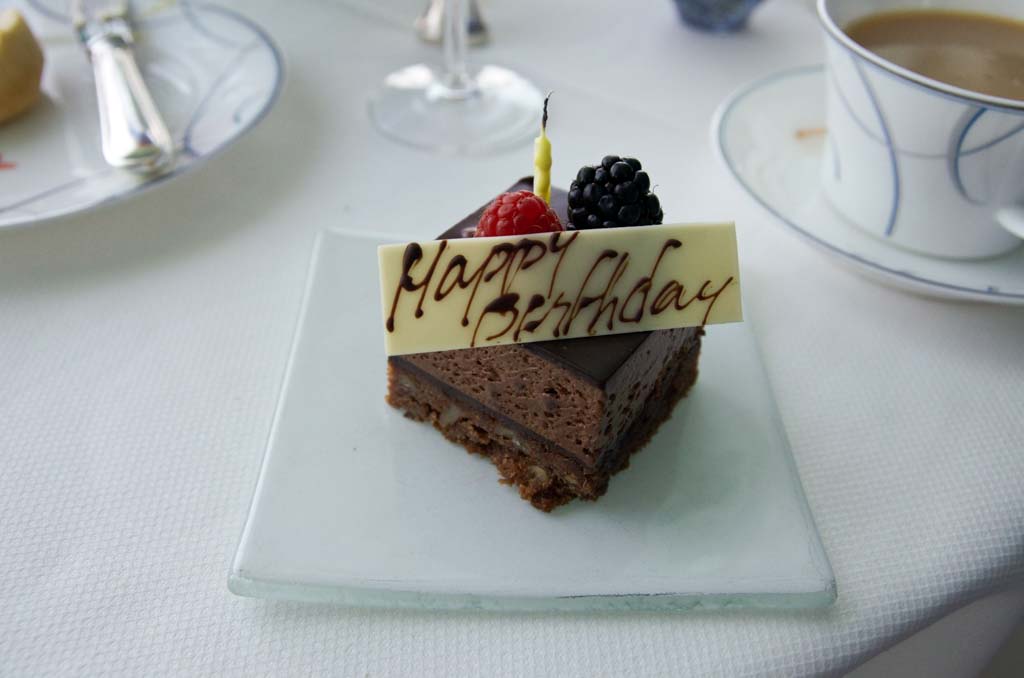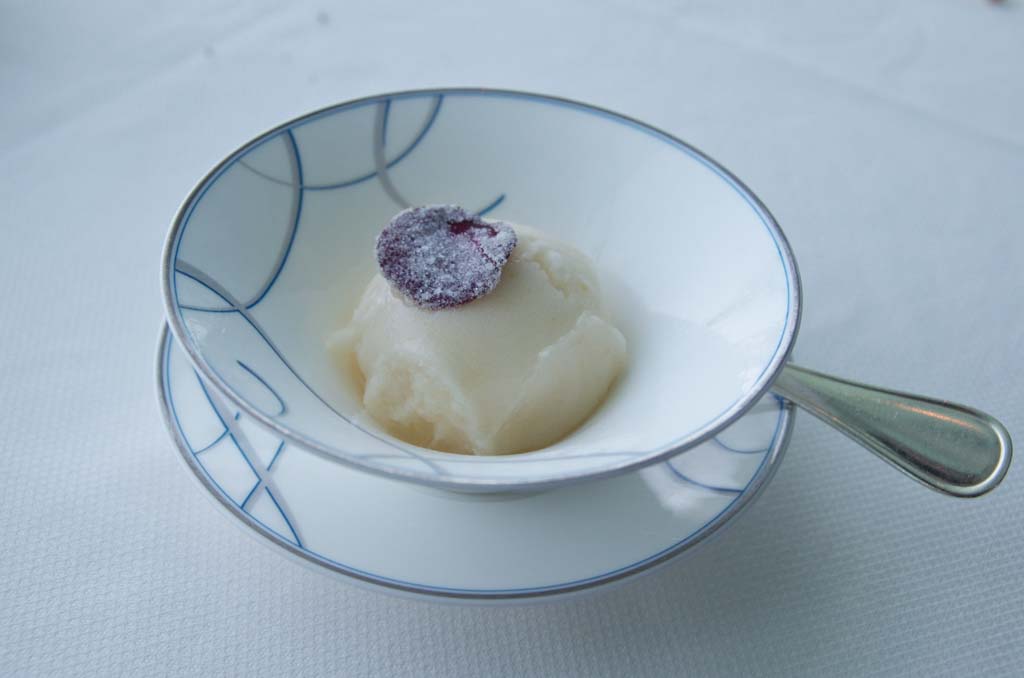 By that point, though, I had eaten so much that I was struggling to get through my final delicious bites.
A surprise came out — a birthday cake! I had celebrated my 29th birthday the day before, and it was a sweet way to add to the occasion.
And finally, the palate-cleansing dish that almost made me burst — lychee and rose sorbet.
I was DONE. Stuffed, sated, and absolutely full of sugar.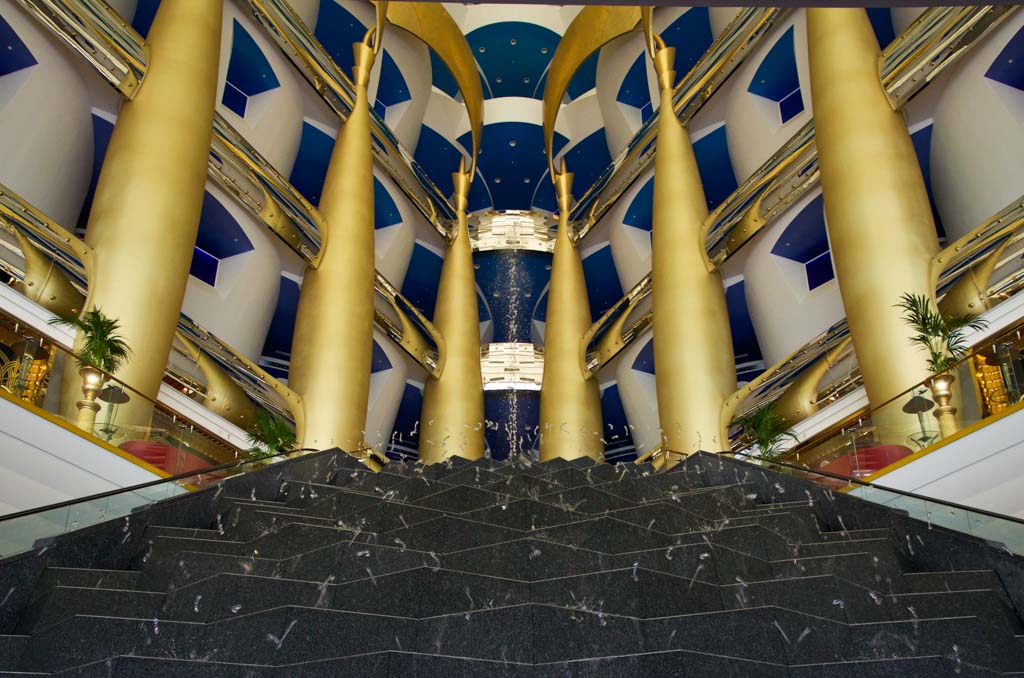 Burj al Arab Tour
Is it possible to tour the Burj Al Arab? Somewhat. When you visit the Burj al Arab for afternoon tea, or a meal at any of their other restaurants, you're greeted with a view from the lobby, and there are some places that are open to visit.
The Burj al Arab entrance and lobby impressed me right off the bat with enormous gold pillars and dancing fountains.
I was able to see a bit beyond that due to my travel industry connections. The PR team for the Burj Al Arab invited me on a tour of some of their best suites.
I almost didn't want to leave the lobby! How cool of a lobby is that? The honeycomb-style grid is very rare in hotels, and here it was! An amazing design element. The Burj al Arab is all about breathtaking grandeur.
Inside Burj al Arab's Second Most Fanciest Suite
In 2012, CNN named the Burj al Arab's Royal Suite the 12th most expensive hotel suite in the world with a nightly rate of around $18,716. That is quite a chunk of change!
The Royal Suite was actually booked during my visit, despite it being the lowest point of low season (Ramadan plus the middle of the summer). Instead, I went to see one of their #2 suites.
It starts with a grand foyer and merges into multiple sitting rooms with many bars, adjoined to offices complete with Mac desktops.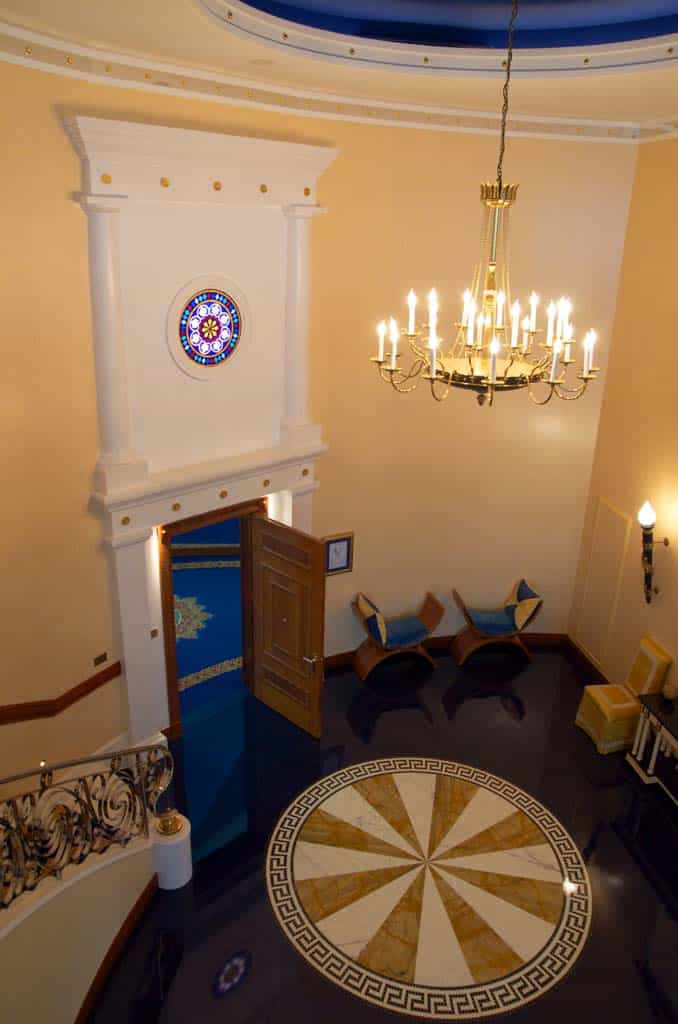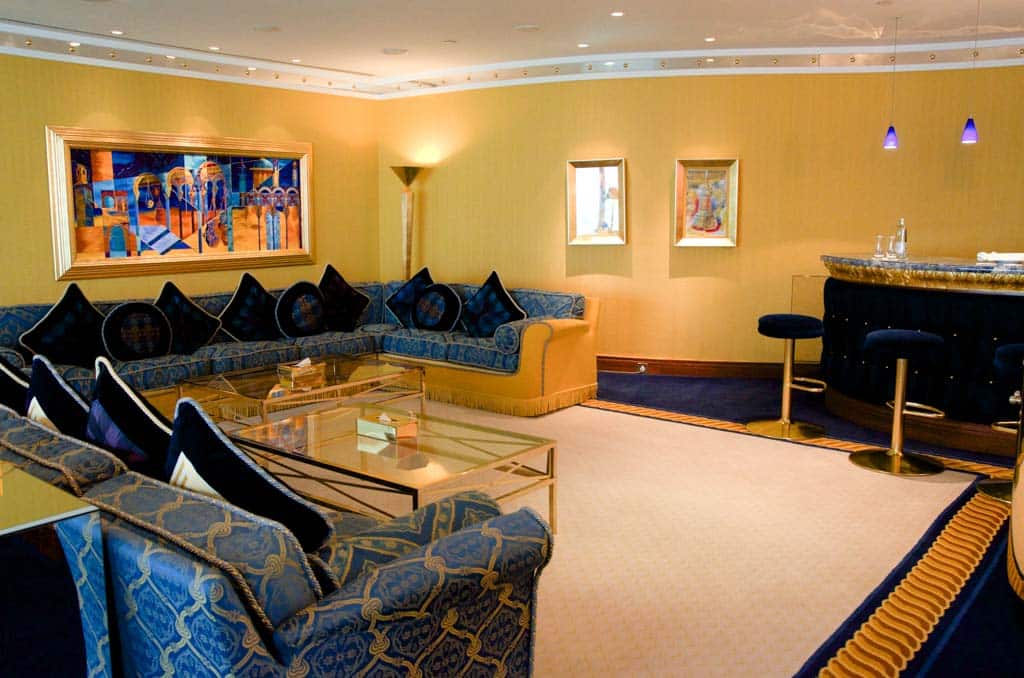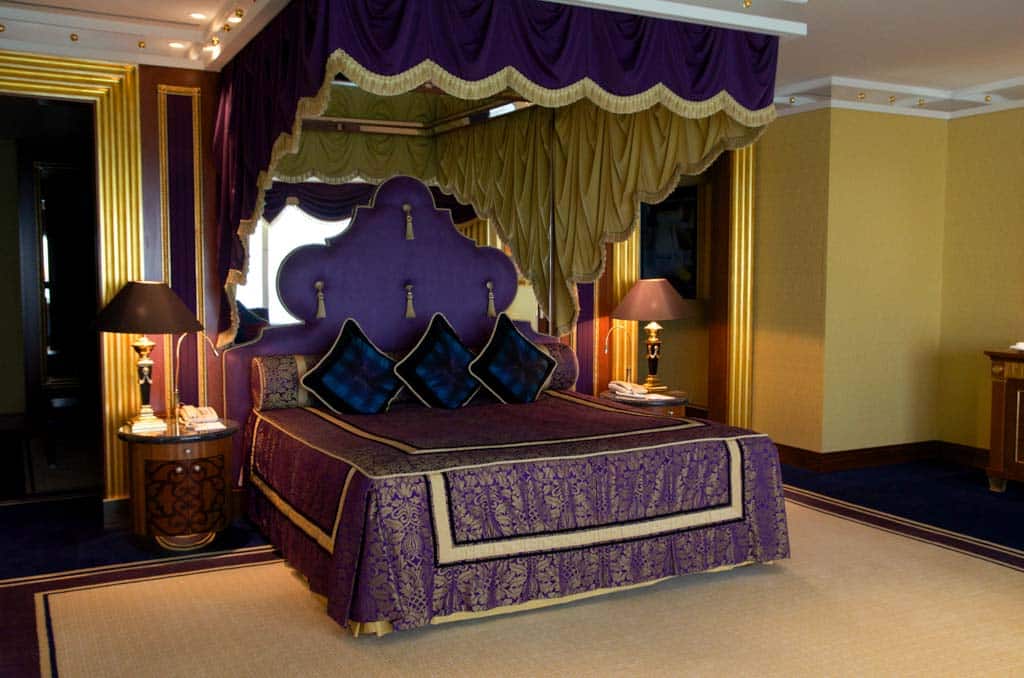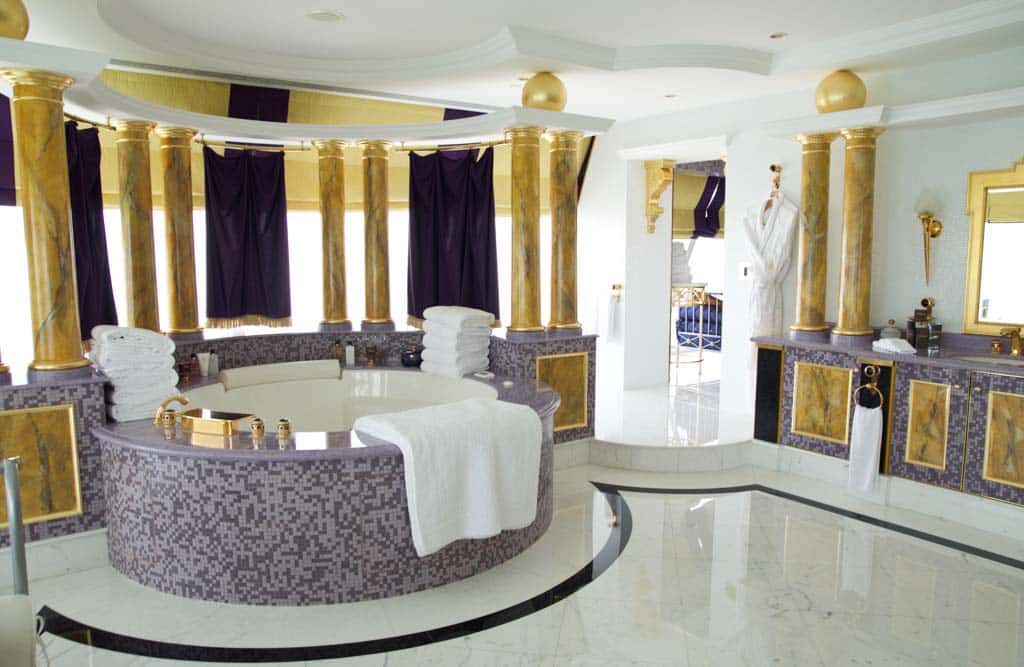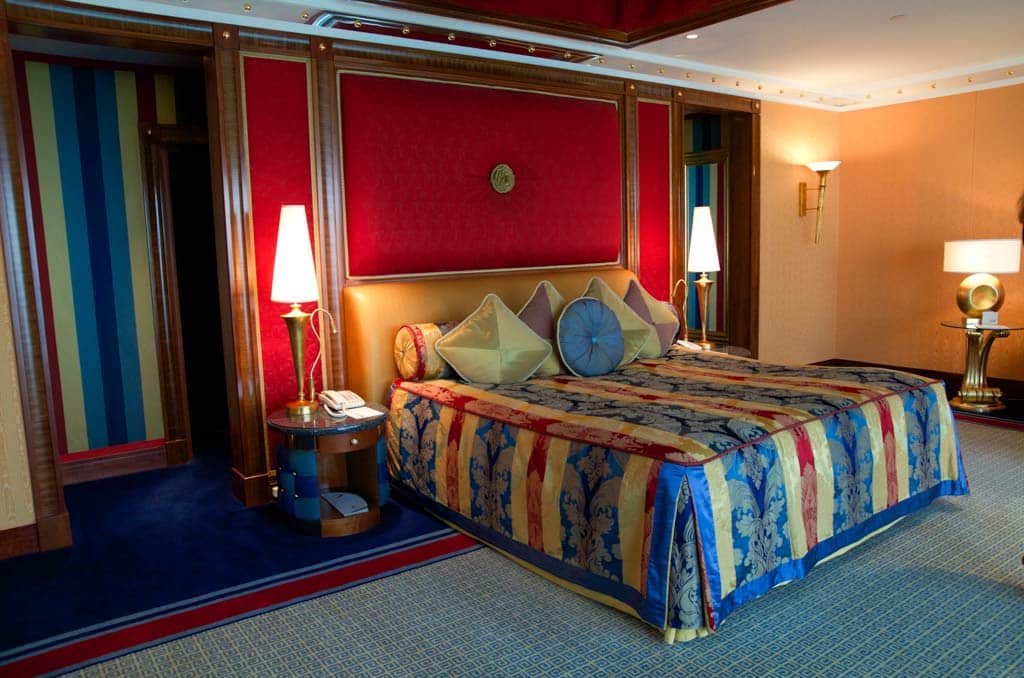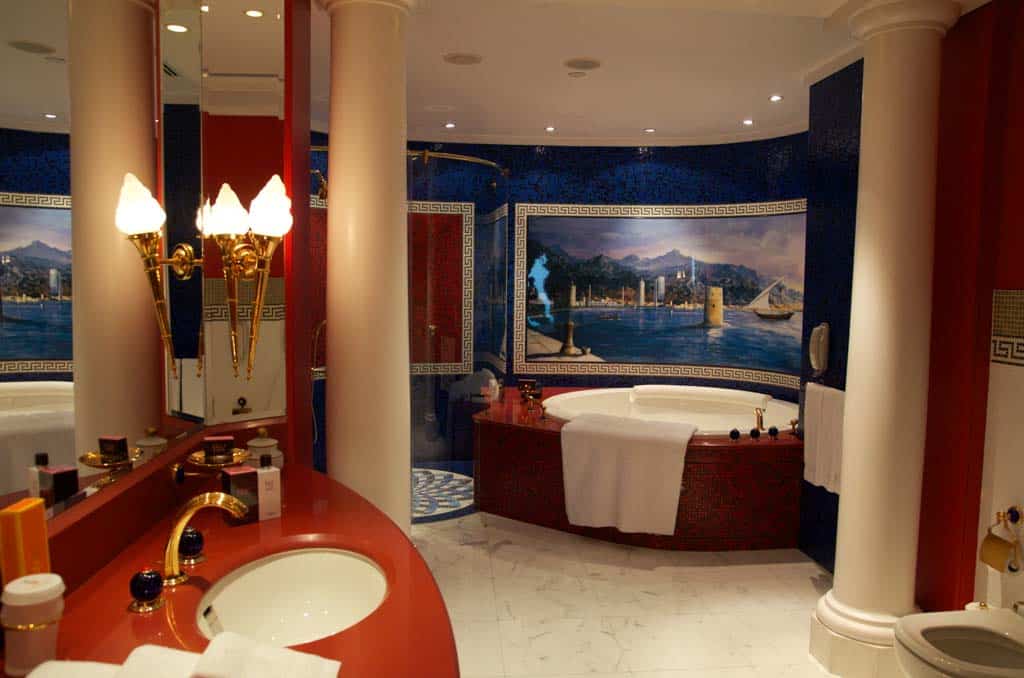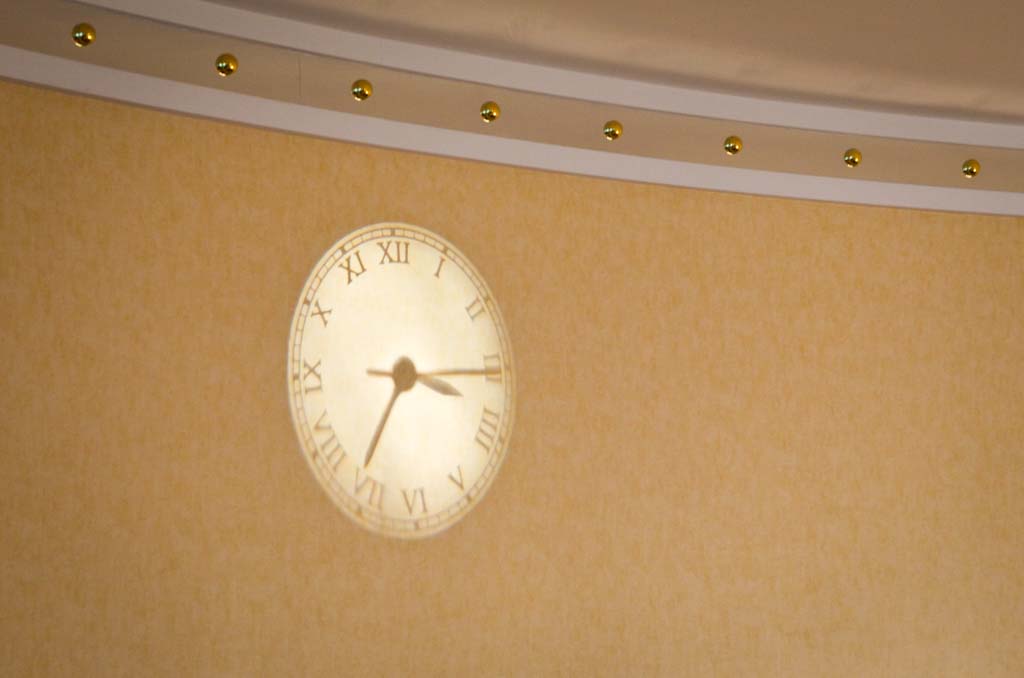 Burj al Arab Rooms
I was surprised to see that there was so much color in the suites of the Burj Al Arab! I was expecting something a bit more muted, but this turned up the volume to 11!
The suite has two ensuite bedrooms and the master bedroom was spectacular! I can't tell you how hard it was not to jump on that purple canopied bed. It looks like something Samantha the American Girl doll would have had.
The master bathroom was equally as impressive as the rest of the suite. How much would you love for this to be your bathroom?! Look at the size of that tub!
I'm hoping I can do "purple mosaic and gold" as a theme for a future bathroom renovation.
The guest bedroom isn't too shabby either. It kind of gives me Superman vibes — the type of place he would stay if he had a ton of money.
The guest bathroom there was particularly memorable. How would you like a mosaic on your bathroom wall?
I remarked that I really liked the shadow clock that was projected onto the wall. Turns out these clocks were such popular items that the Burj al Arab began selling them to their guests!
Would you like to have one of those clocks on YOUR wall?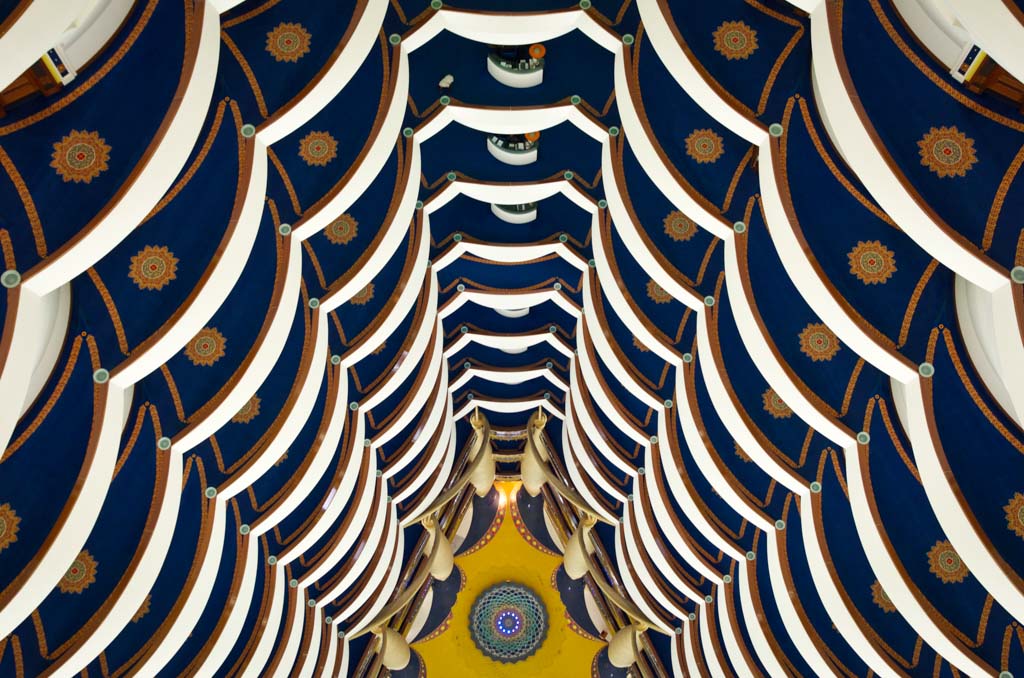 Best Photo to Take in the Burj al Arab
After leaving the suite, I went to the spa floor, where you'll be able to take the best picture of the hotel. This should be one of your priorities.
To get here, take the elevator to the spa floor and walk around the perimeter to the lobby. Stand next to the white piano and you'll be in a perfect position.
The result is the photo above.
One reader remarked to me that the Burj al Arab would be more toward the taste of Eastern tourists with its penchant for gold-dripped anything. Well, I'm a Leo — in my opinion, you can't have too much gold!
But it's true that gold does tend to reflect the design aesthetic of the up-and-coming billionaire regions of the world like China, India, and Russia. Years ago, the Burj al Arab catered foremost to wealthy American tourists, we were told. In time, however, their customer base has shifted toward wealthy Russians and Chinese.
You don't get a lot of presidents or royalty staying here — it tends to be the super-rich rather than the super-powerful.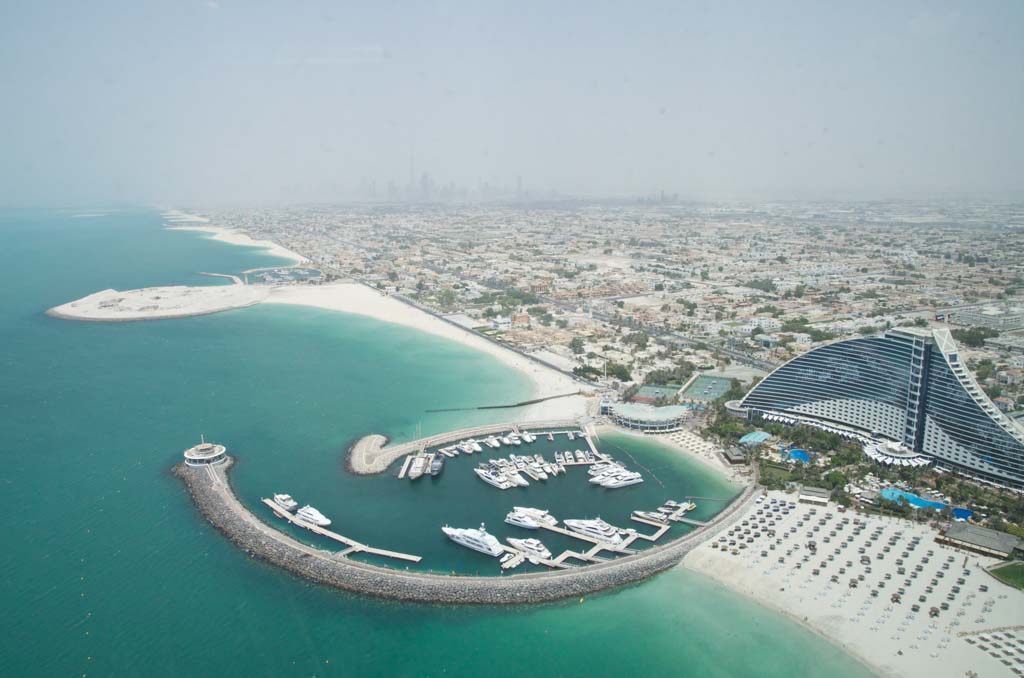 Where to Book Afternoon Tea at the Burj al Arab
There are two seatings for Afternoon Tea daily. The first is at 1 PM and the second is at 4 PM. The Sky Tea costs 635 Dirham ($173) for adults and 315 Dirham ($85) for children under the age of 11.
You can easily make your reservation for afternoon tea here. That will give you the all-important name on the list that will get you into the hotel itself!
(2023 Update: The above mentioned afternoon tea is no longer available but this one is similar.)
Is the Afternoon Tea pricey? Yes. But I think it is absolutely worth it to experience one of the world's most luxurious hotels with unmatched views of Dubai. Personally, this was my favorite thing that I did in Dubai.
Want to do more? There are a variety of other options available which allow you to experience the Burj al Arab. These include spending the day at their pool (2023 update: no longer available), having dinner at their stunning aquarium restaurant (2023 update: I no longer see this available but you can still have dinner at the Burj Al Arab), or enjoying sunset drinks at the SkyView Bar (2023 update: not currently offered). You can also do a 90 minute tour inside the Burj al Arab.
You can get more ideas for fun Dubai activities here.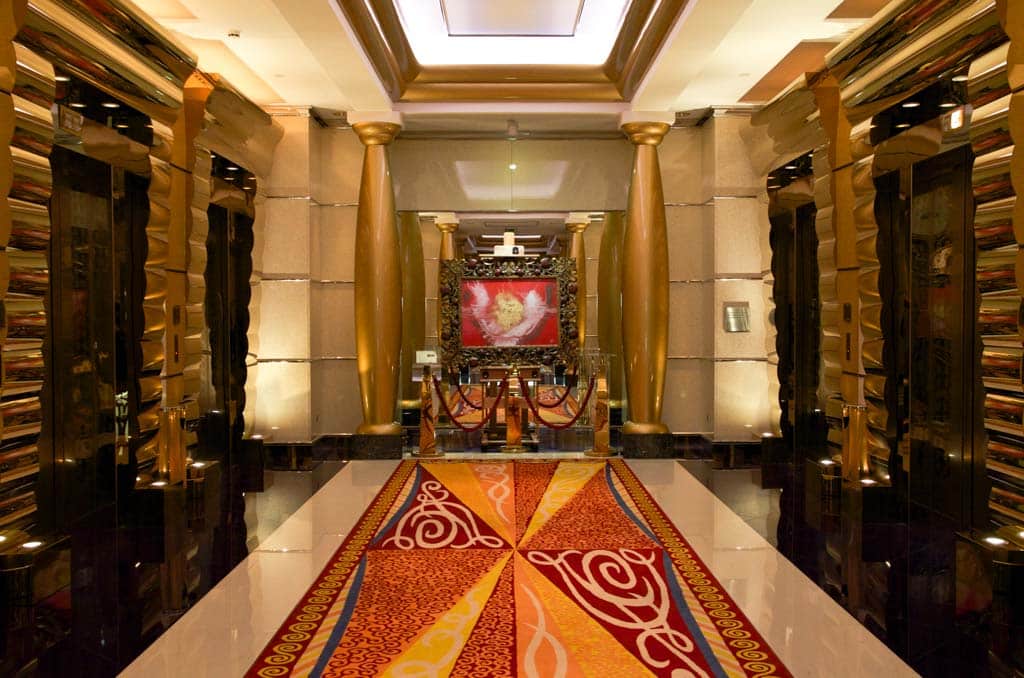 Is the Burj al Arab Worth It?
I am never going to be able to afford to stay at the Burj al Arab in Dubai. But I am so glad that I actually got to visit that place, that I actually got to see that lobby and take those pictures and experience the hotel that I've dreamed of visiting for so long.
And as a full-time blogger who has lately been feeling more of the pitfalls than the joys, being able to achieve a decade-long goal was the ultimate redeeming experience.
If it's your dream to visit Burj al Arab and you aren't secretly married to a Saudi prince or Russian czarina, afternoon tea is your best bet. It's not a budget activity but every moment of it was absolute delicious pleasure.
Considering the food that you get, the views, and the Burj al Arab experience, I consider it much better value than afternoon tea at the fanciest hotels in London, for example.
Does that make it worth it to you? Then absolutely go and indulge yourself at this fabulous hotel.
Essential Information
The Burj al Arab is a private resort, and it's closed to non-guests. However, you can visit if you have a dining reservation at one of the restaurants. Afternoon tea is the cheapest way to visit the Burj al Arab.
Sky Tea is the only one served in the SkyView Lounge. Keep in mind that alcohol is not served during Ramadan.
Where to Stay in Dubai
The Burj al Arab is undoubtedly the best place to stay in Dubai – a girl can only dream! But unfortunately, this is out of budget for many travelers.
If you're looking for a luxurious place to stay, I highly recommend the Kempinski Hotel Mall of the Emirates. The hotel is exquisite! The Kempinski takes luxury to the next level with its stylish furnishings and tastefully decorated rooms. Location-wise, it doesn't get any better than this.
If you're looking for a mid-range place to stay, Rove Downtown offers a luxurious stay at an affordable price. The rooms have a simplistic design with large windows offering gorgeous views of the city. There's also an outdoor pool which is the perfect place to relax after a long day out.
If you're looking for a budget place to stay in Dubai, I recommend Backpacker Dubai. This hostel is ideally located near all the top attractions and the rooms are spotlessly clean and comfortable. You're guaranteed to meet other tourists here and it's a great option for solo travelers.
READ MORE:
How to Celebrate a Special Occasion in Dubai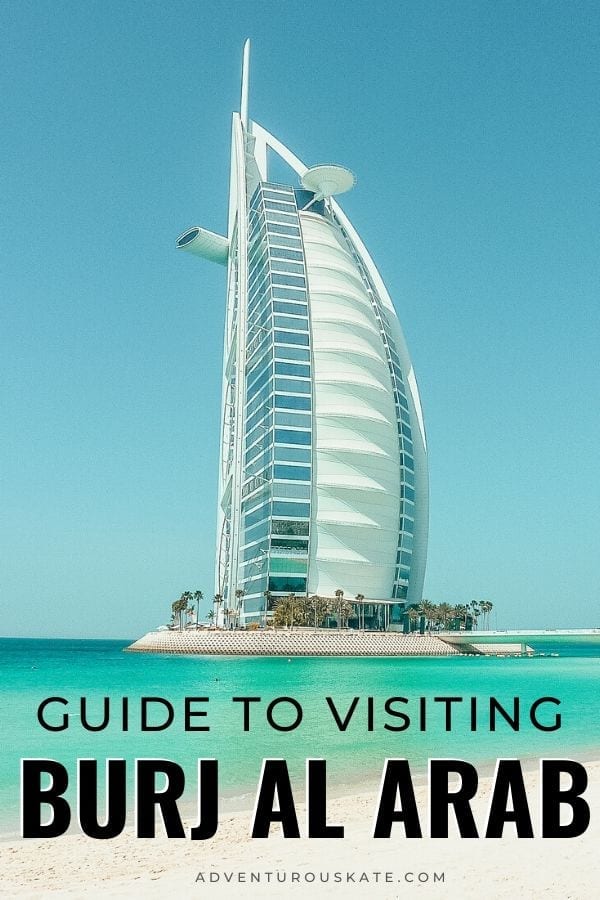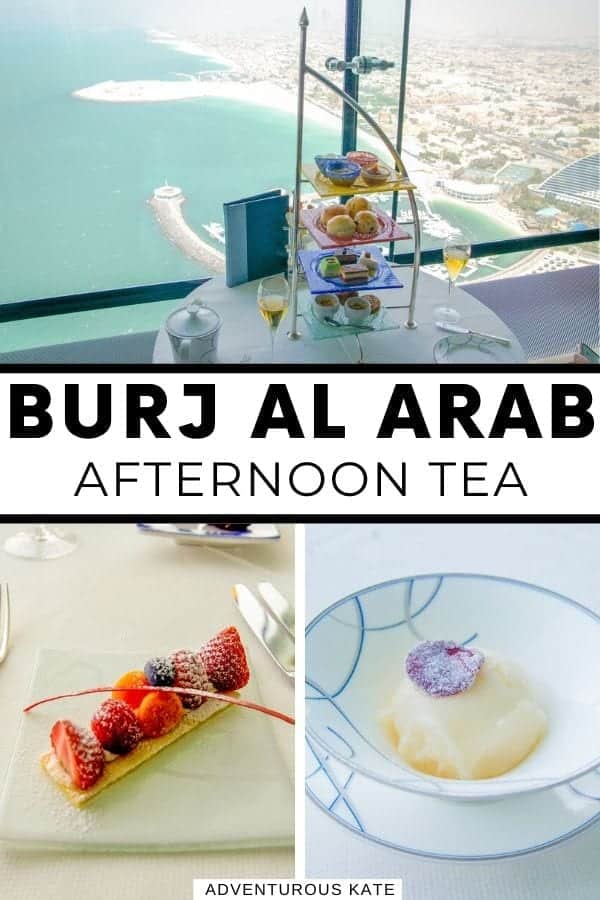 Many thanks to the Burj al Arab for inviting me for a complimentary tour and Sky Tea. Special thanks to Izabela for taking the time to show us around and indulging my desire to take crazy pictures. All opinions, as always, are my own.
---