Adventurous Kate contains affiliate links. If you make a purchase through these links, I will earn a commission at no extra cost to you. Thanks!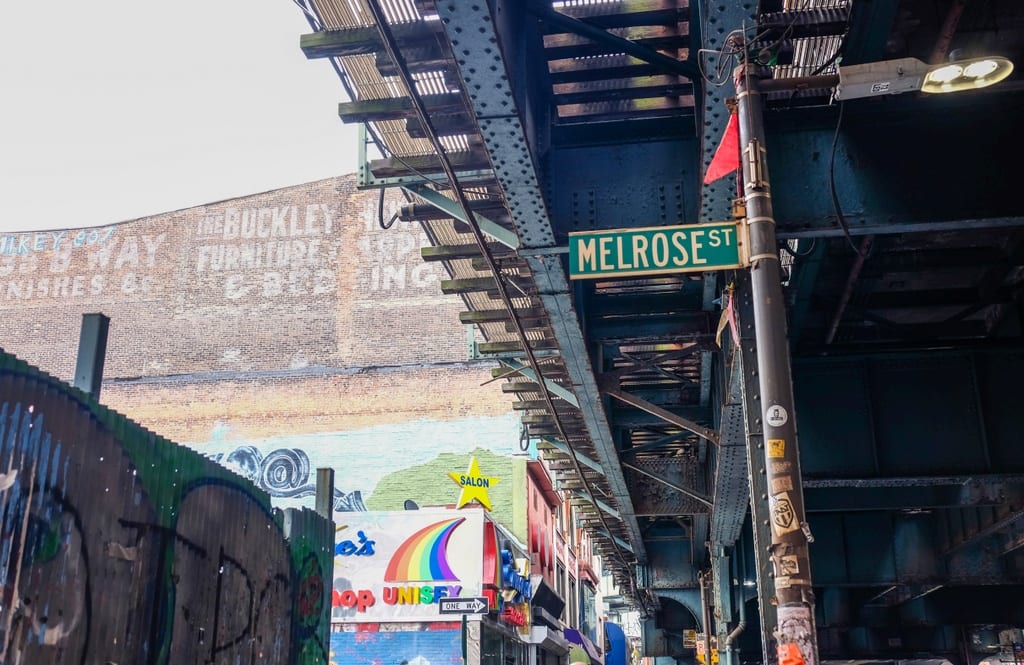 What makes Bushwick so weird?
It's the brightly painted warehouses that you can't tell are functional or abandoned.
It's galleries that double as yoga studios and coffeeshops that double as life drawing classes.
It's strange parties in abandoned furniture stores where people wear crazy costumes.
It's being hit on by guys who always end their catcalls with "God bless you."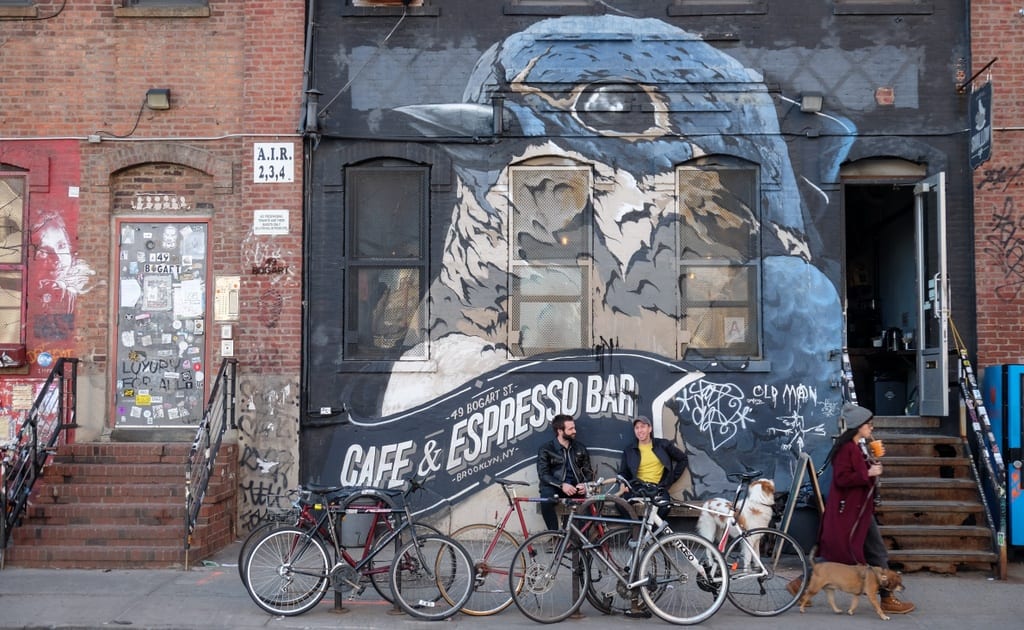 A Brooklyn Unlike Brooklyn
Of all the neighborhoods I've visited in Brooklyn (not all of them, not by a long shot, but a great many), Bushwick stands out as being the least like the others. Rather than brownstones or high-rises, this is an industrial-looking neighborhood of warehouses, many of them covered with bright paint. Everything is spread out.
Bushwick is one of the largest Latino neighborhoods in Brooklyn with sizable populations from Puerto Rico and the Dominican Republic. Bushwick was a rough neighborhood for a long time — a blackout in 1977 led to mass riots and you can still see some damage to this day. The neighborhood began to turn a corner in the mid-2000s, when the city began pouring much-needed financial resources into the neighborhood.
Then came the Williamsburg factor.
In the early 2000s, Williamsburg, Brooklyn, went from being a no-go zone to the hipster artist enclave of New York City. Over the past decade, however, Williamsburg has gone from hip to yuppie and has become one of the most desirable (and thus expensive) neighborhoods in New York City.
Read More: The Best Time to Visit New York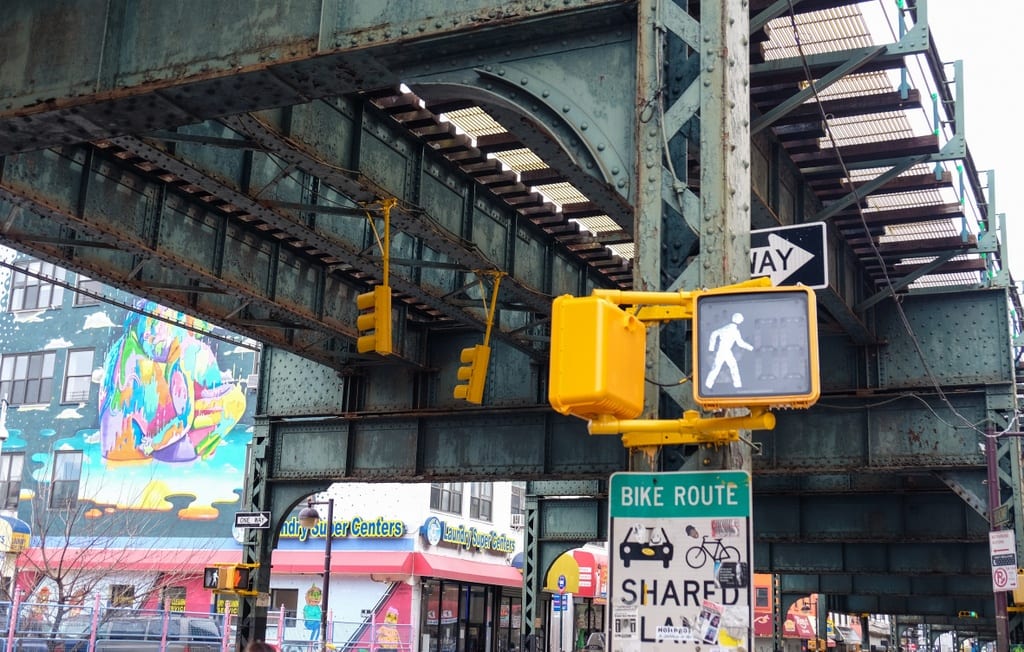 Many low-income Williamsburg residents, including artists, were pushed out as a result, and many of them moved immediately southeast — to Bushwick. Now Bushwick's longtime residents are dealing with an influx of gentrification. I don't think Bushwick will ever be on the same level as Williamsburg, but you see a troubling number of luxury buildings popping up.
How is gentrification affect longtime residents? Both positively and negatively, as it always does. Bushwick's crime rate is lower than it's been in decades, yes, and those who own property are seeing their values go up. But most people are trapped in a neighborhood progressively growing more expensive by the day.
I strongly considered living in Bushwick at one point; after spending a few days there, I declared it a little too "out there" for me and decided to live elsewhere and visit often. (For the record, I think you get much more value for money in Hamilton Heights, where I live now, plus the rents are cheaper.)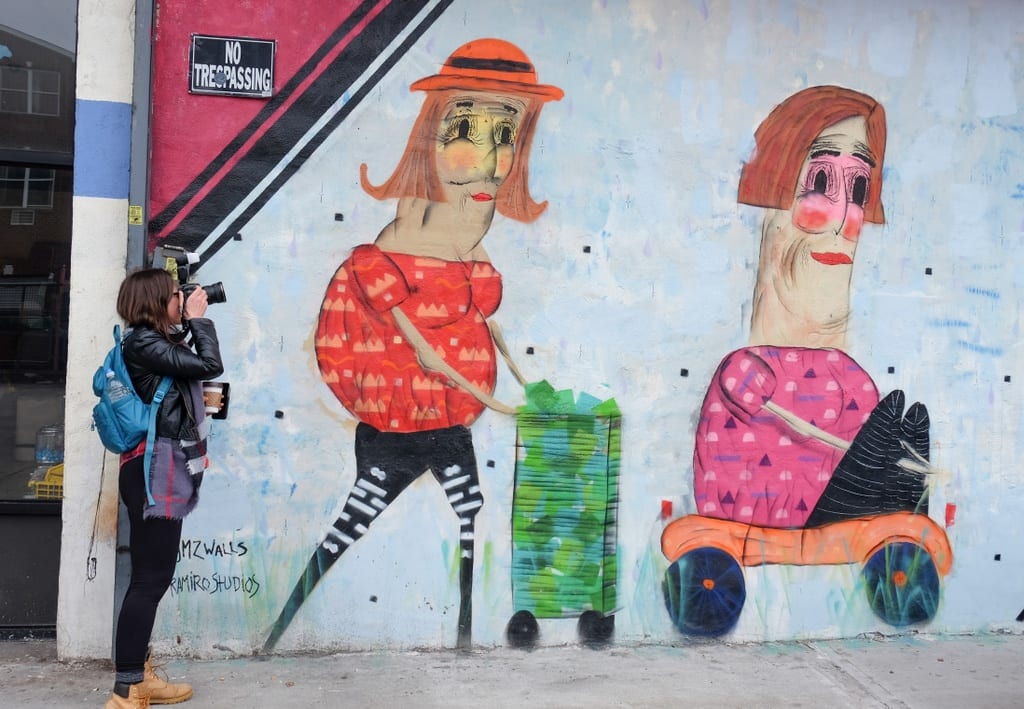 Touring Bushwick
Bushwick is the only place in New York that I recommend visiting with a guide or someone who knows the neighborhood well. Not because it's dangerous — far from it — but because so much of it is hidden in plain sight.
Take this, for example: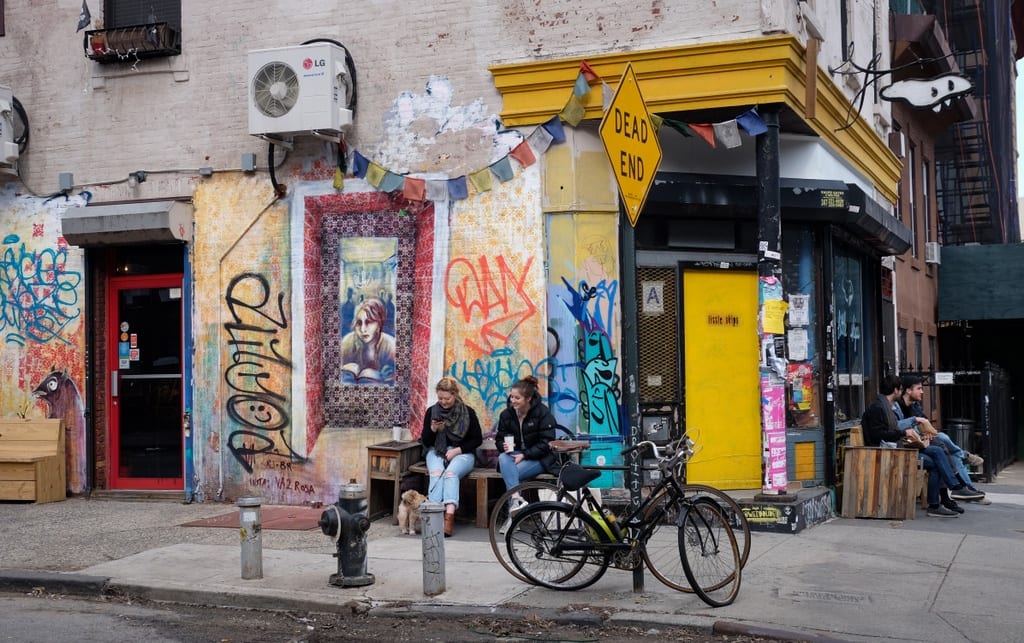 That's my favorite coffeeshop in the neighborhood, Little Skips. Aside from a few bright bursts of paint, you'd have no idea there was anything there, let alone a cool coffeeshop. And that's one of the more obvious ones!
Lots of places in Bushwick are like that — you pass right by without knowing what's inside, and they don't advertise it. In that way, the neighborhood reminds me of Melbourne, Australia.
For that reason, it's great to go with a guide. And I received a chance to do so on a Bushwick Beer, Bites & Art #Instawalk, a tour created by my good friend Jessie.
Now, Jessie is not just a girl who does tours — she is a certified New York City tour guide. With Jessie, you get a professional tour and a real insider's look to Bushwick, as she's lived here for years.
Jessie invited me, along with two of our blogger friends, on a complimentary tour through the neighborhood.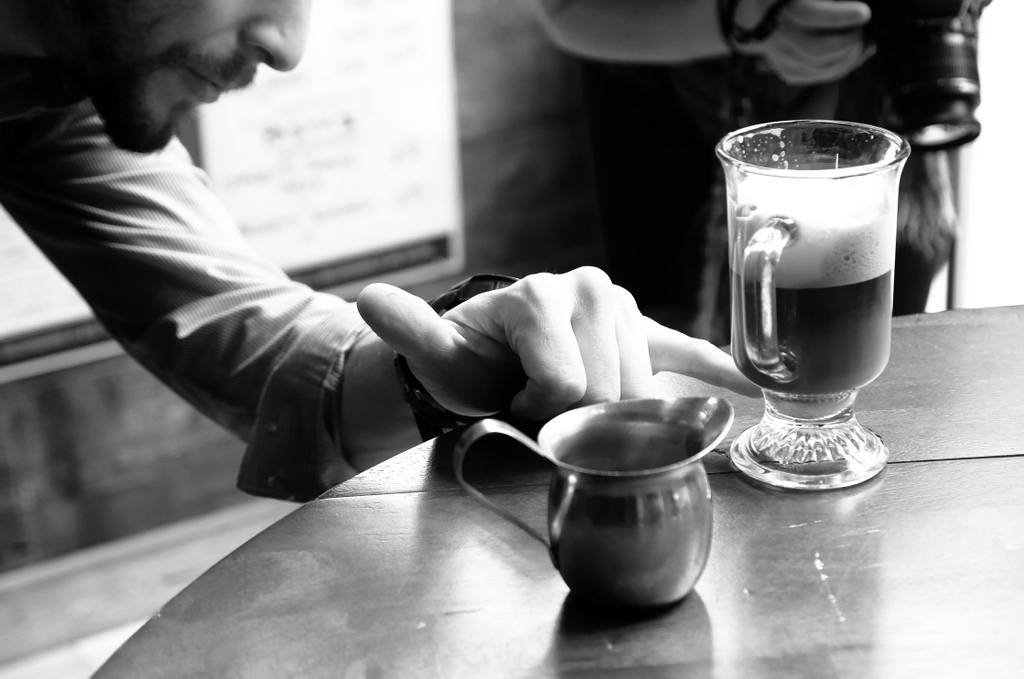 Cappuccino Demonstration
Our first stop was at a cafe called Italo, where we had a cappuccino- and mocha-making demonstration. It's a warm and homey cafe and I recommend stopping in! (2018 update: sadly, Italo has closed. I hope you enjoy the photos anyway.)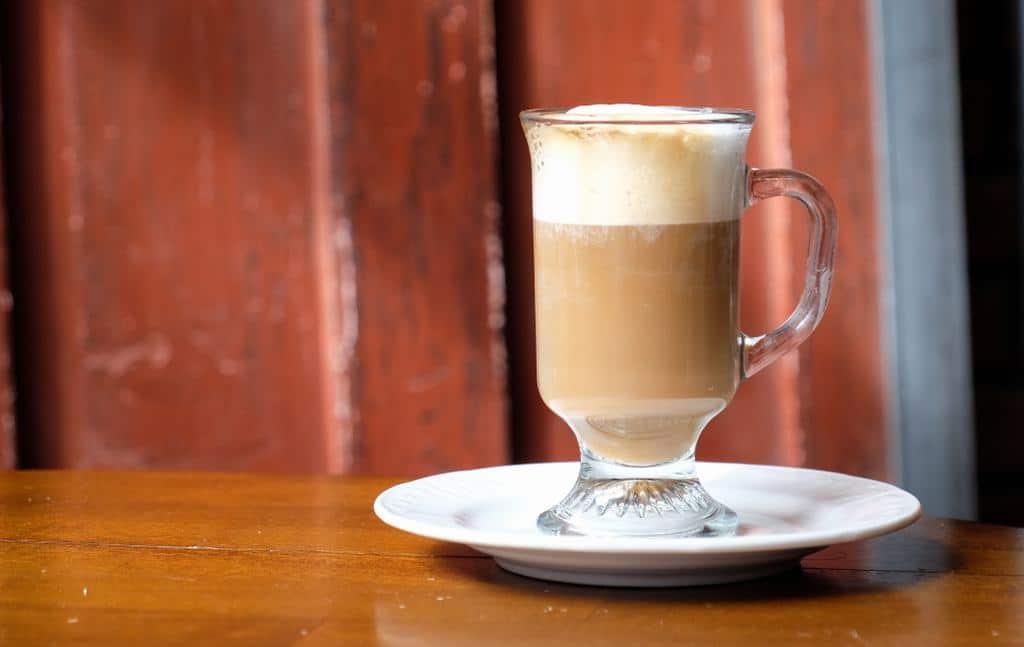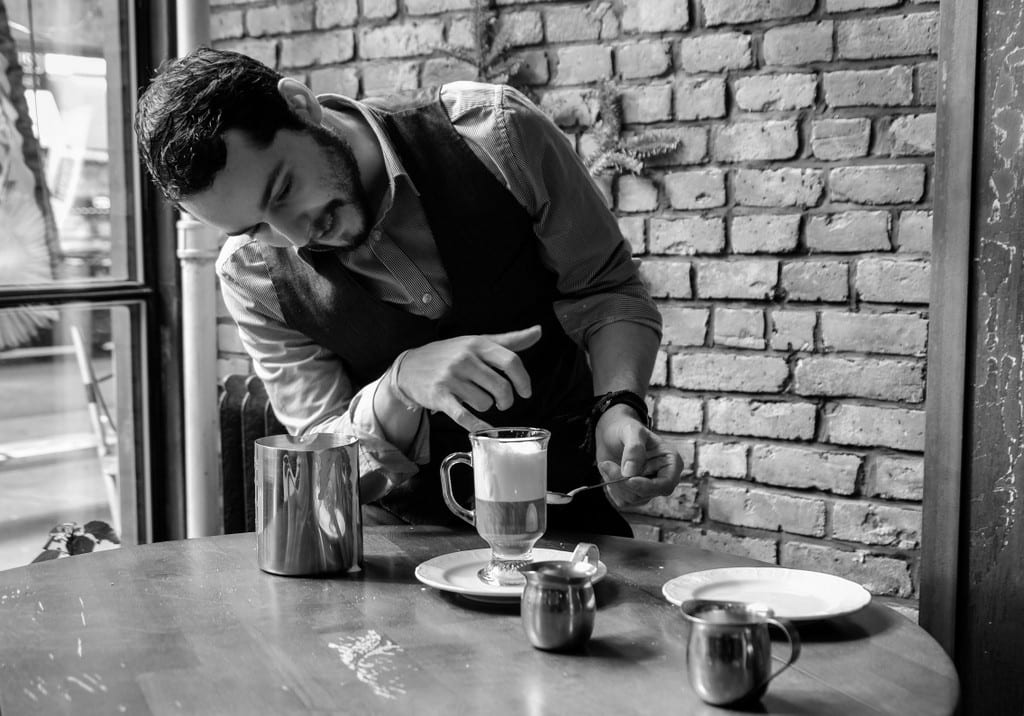 (I love these pictures so much! Thank you, Brooklyn hipsters, for dressing vintage-y and making it look like these are pictures from decades ago!)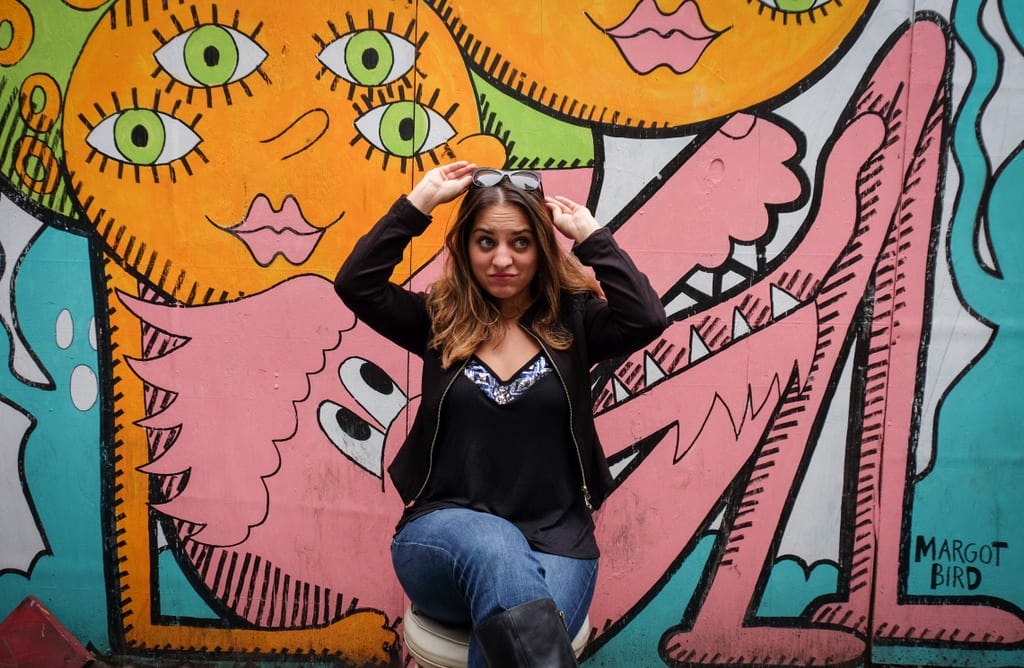 Street Art Galore
The street art is everywhere in Bushwick. Here are some of my favorite pieces: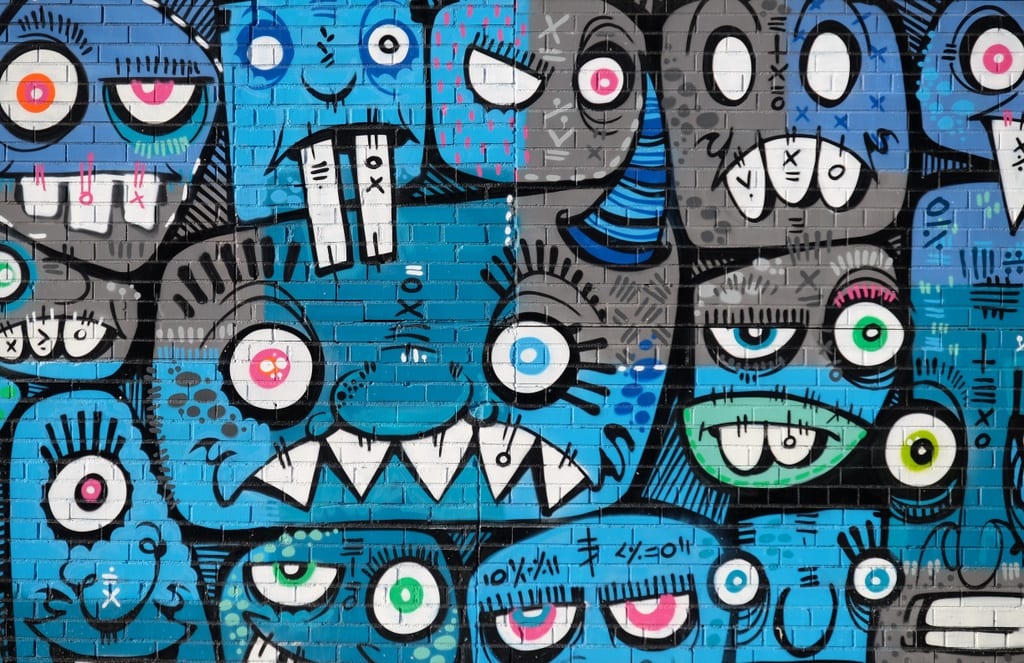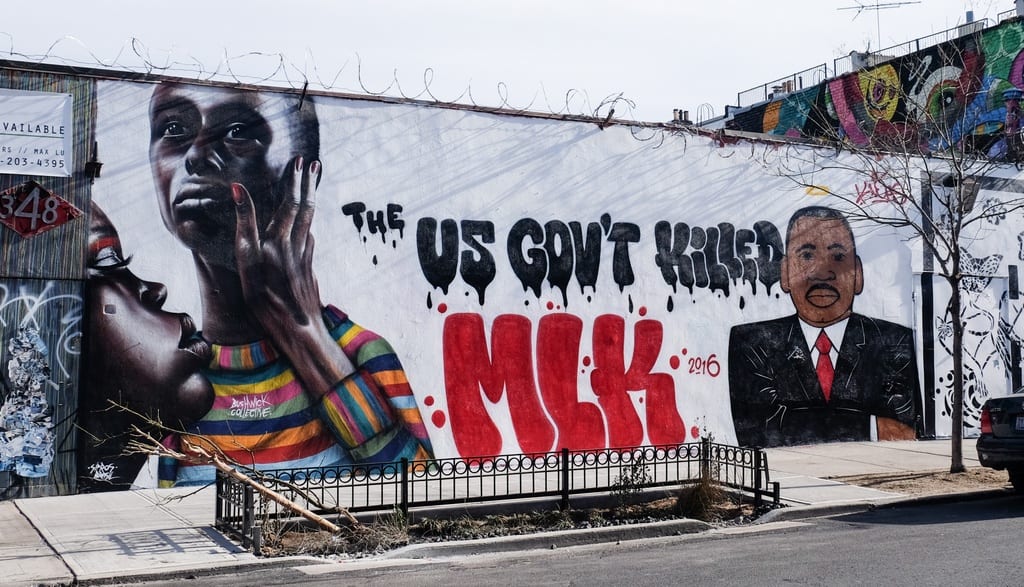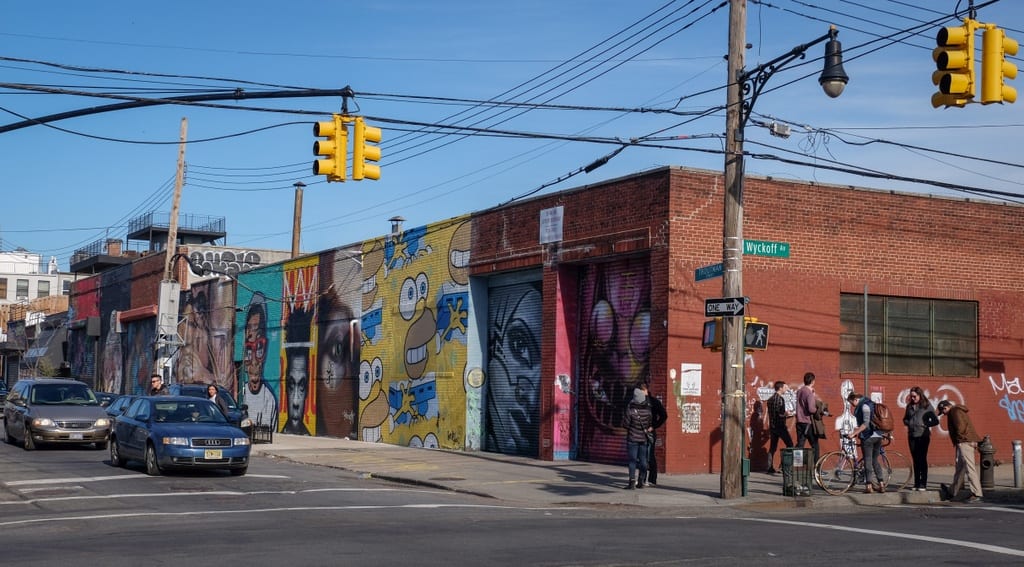 This is just the briefest of tastes. There is SO MUCH.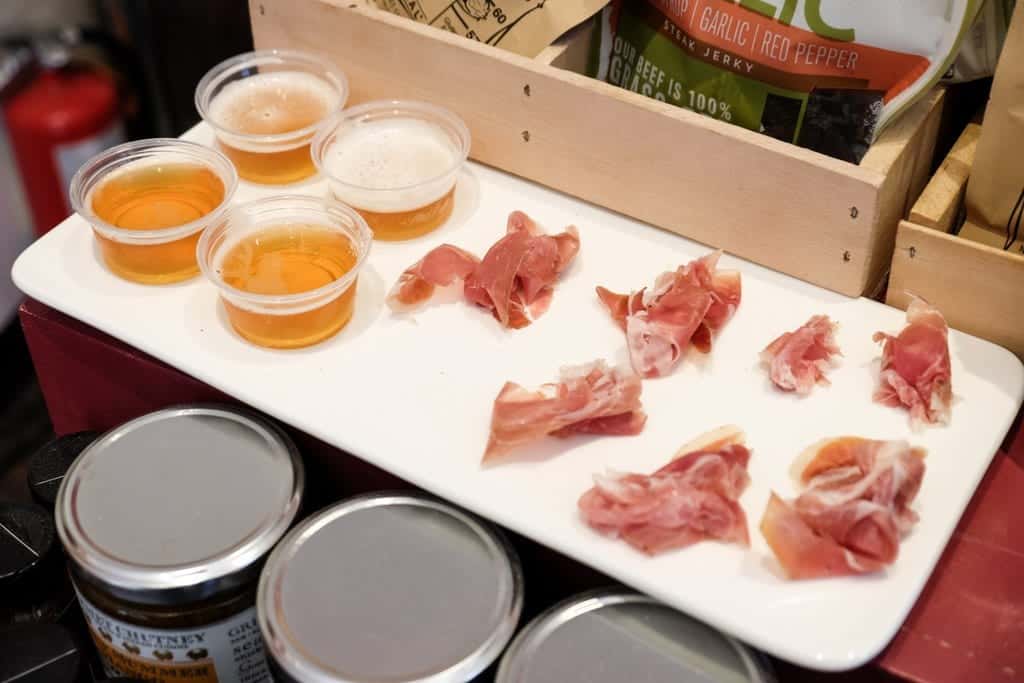 Beer and Meat Tasting
One of the highlights was stopping at Hops and Hocks, an adorable specialty store featuring food products from all over Brooklyn and the region. Yes, they have artisanal mayonnaise.
Here Jessie arranged for us to have a beer and meat tasting. And it was out of this world! They actually had a beer flavored like Samoa (Caramel DeLite) Girl Scout Cookies! And some chorizo-like Croatian meat that blew my mind.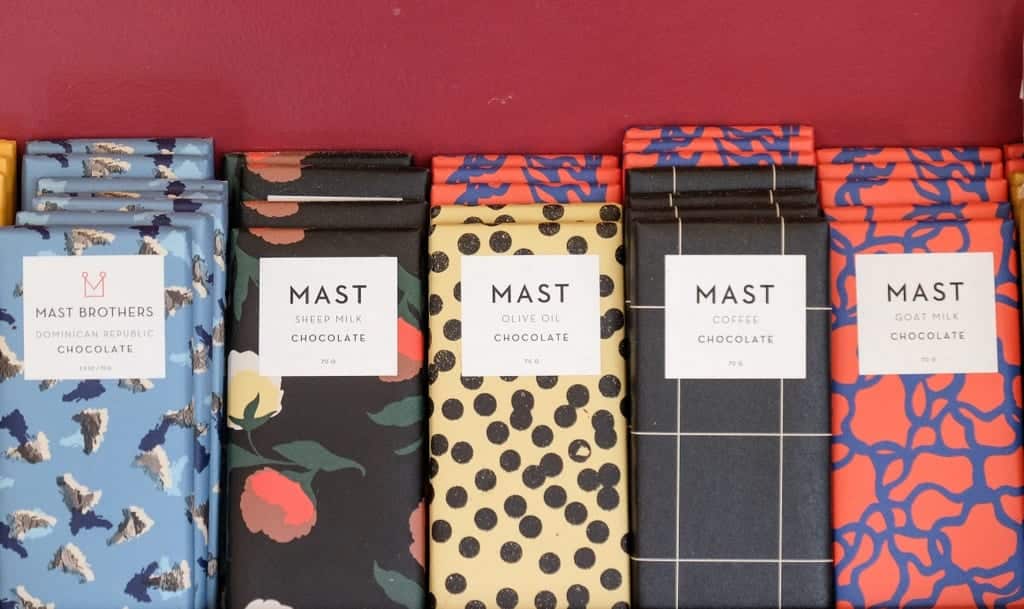 SCANDALOUS CHOCOLATE! (If you've got time, read up on the Mast Brothers' chocolate scandal. It's juicy as hell. This is a good starting point.)
Odds and Ends
Here are some of my other favorite photos from the day: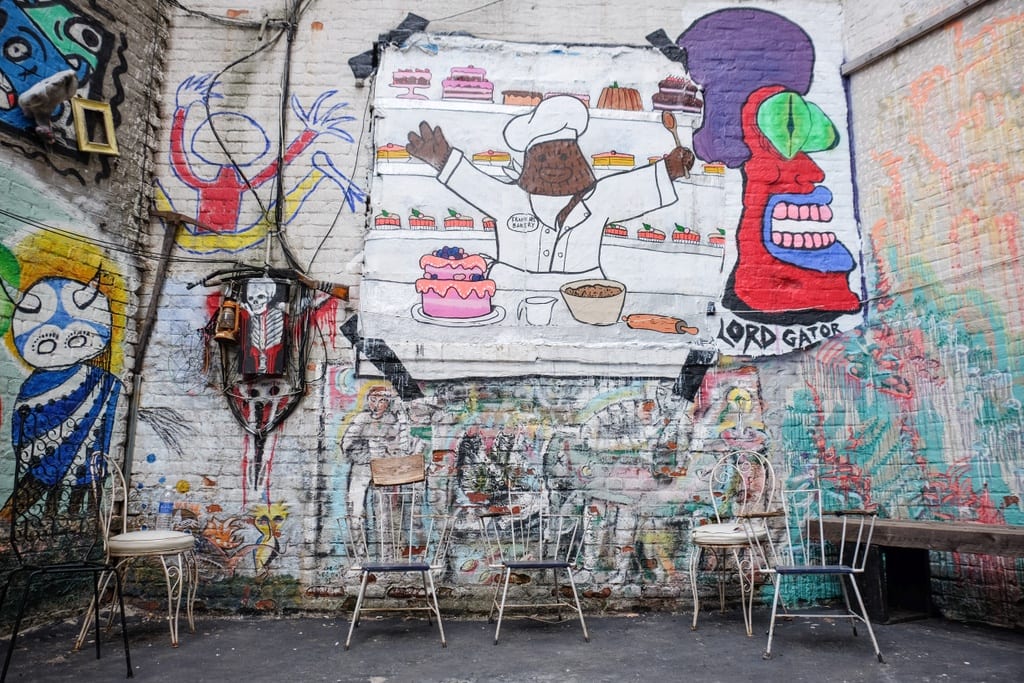 This is one of the creepier courtyards I've ever seen.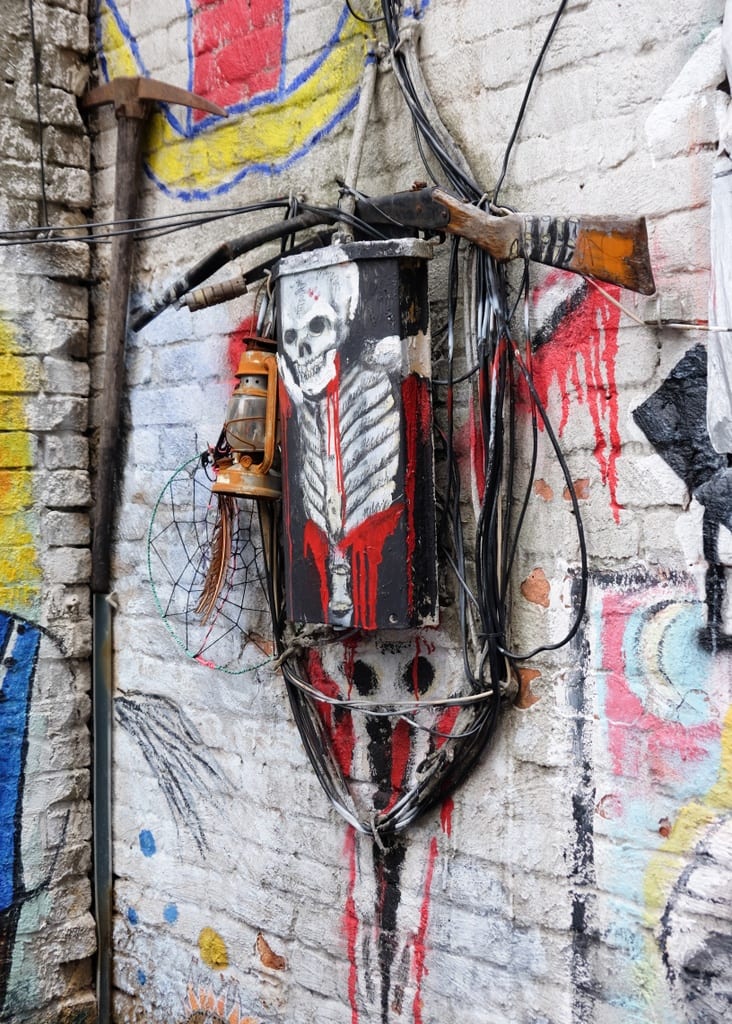 Creepiest of all — that skeleton!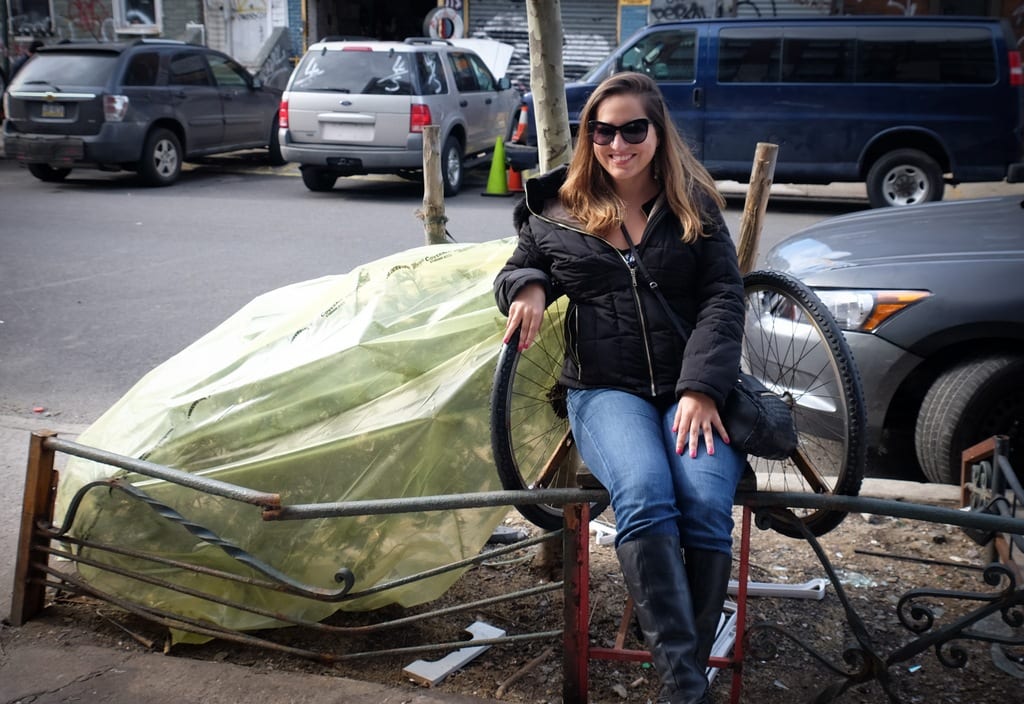 Pure Bushwick: sitting in a bicycle chair next to a thrown-out Christmas tree. In February.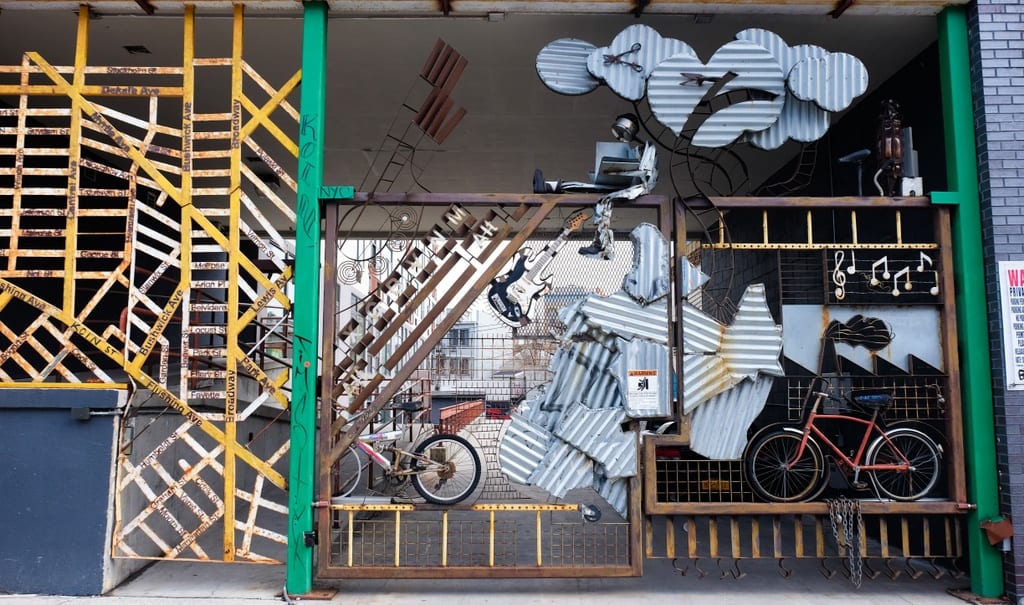 Welcome home! This is an artists' enclave, unsurprisingly.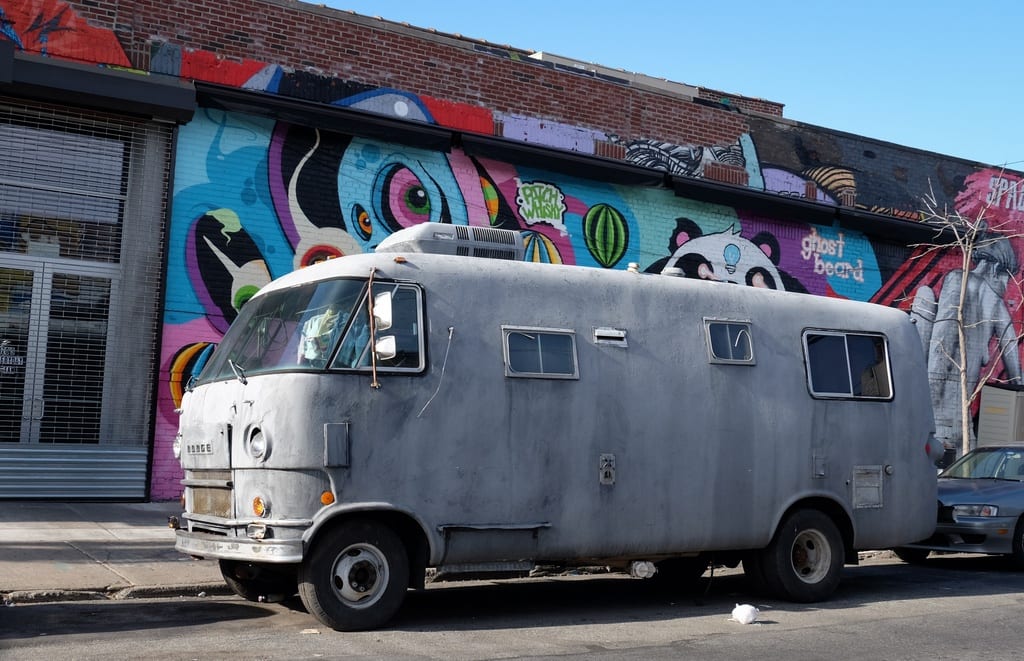 All this van needs is a FREE CANDY sign…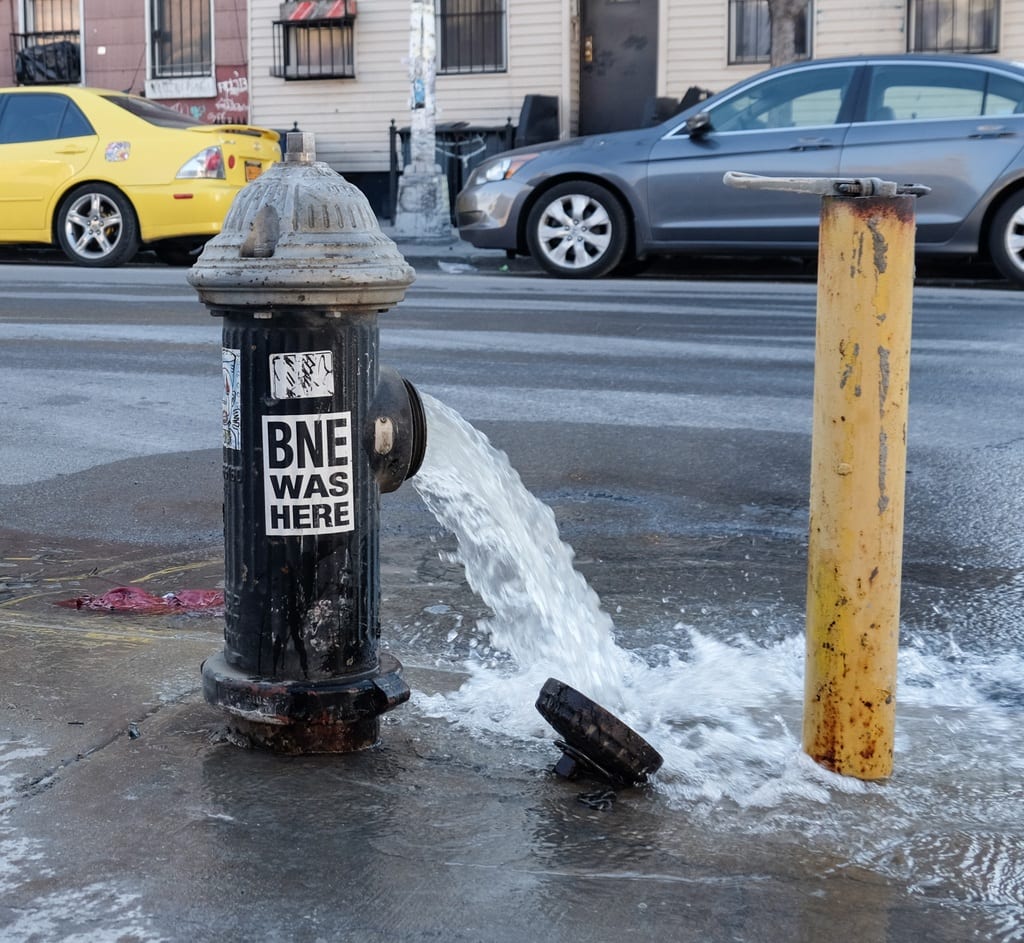 Cool water on a chilly day.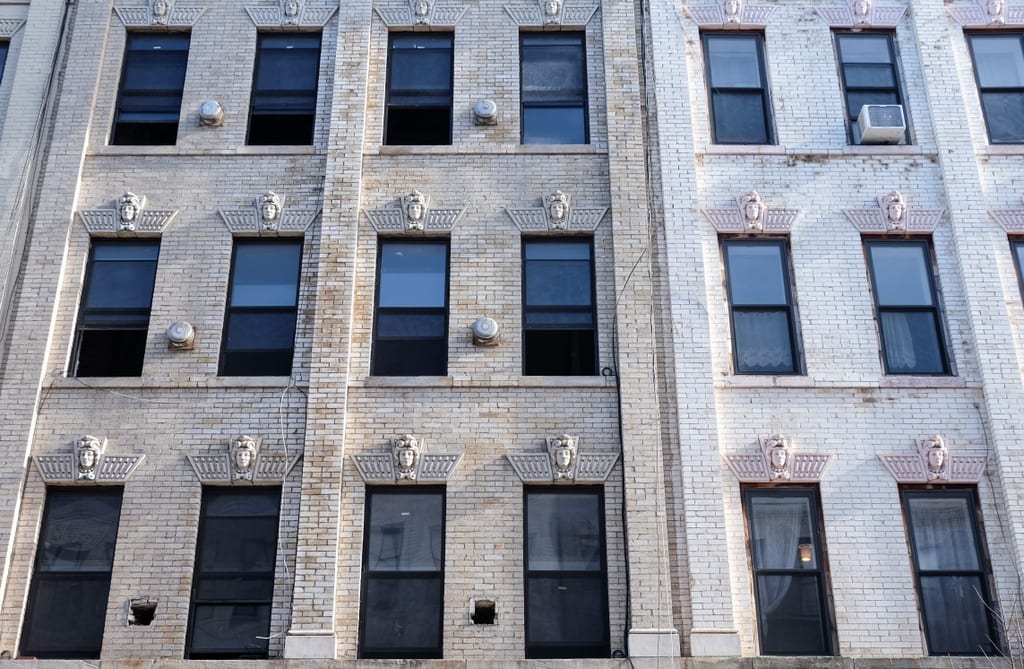 I love how these heads are illuminated.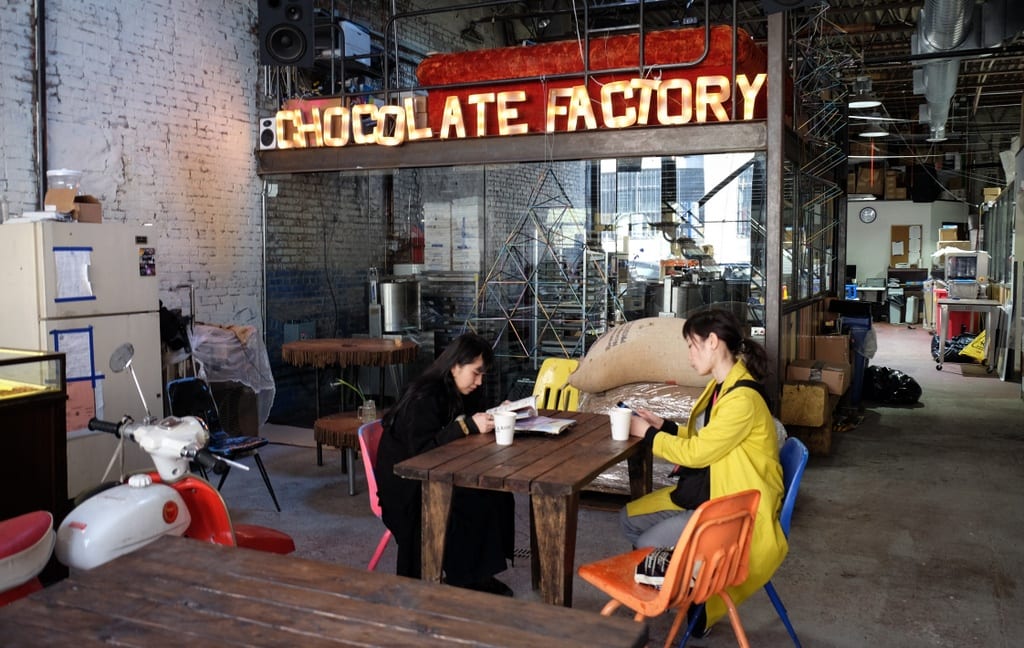 Chocolate Factory? YES, PLEASE!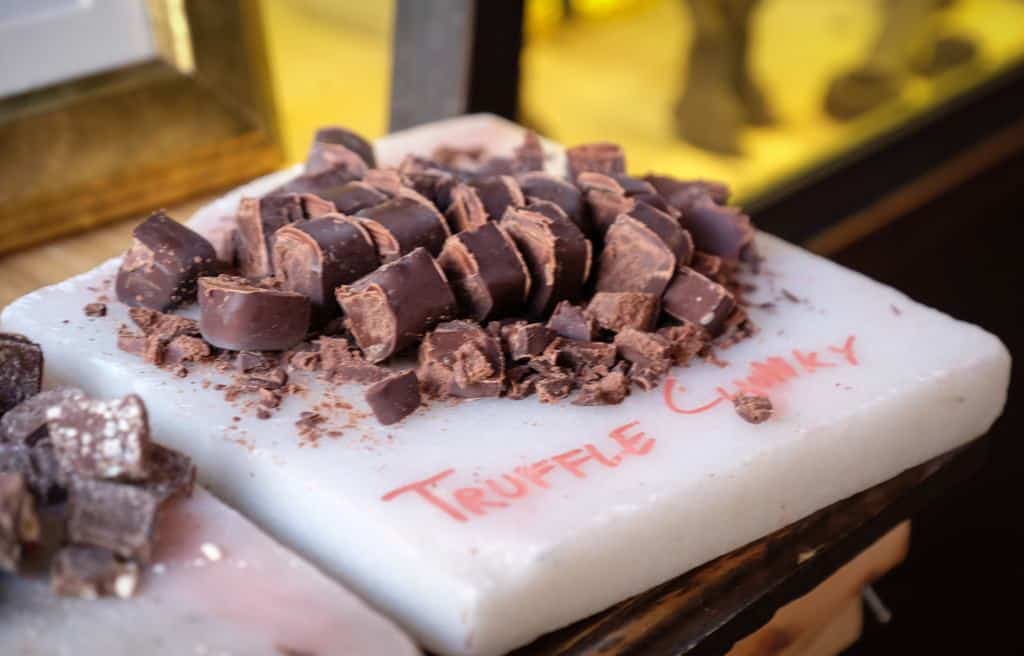 We were just there to gorge on the free samples. And I might have bought a teeny-tiny chocolate bar for five dollars, but maaaaaan. That salty chocolate was TASTY.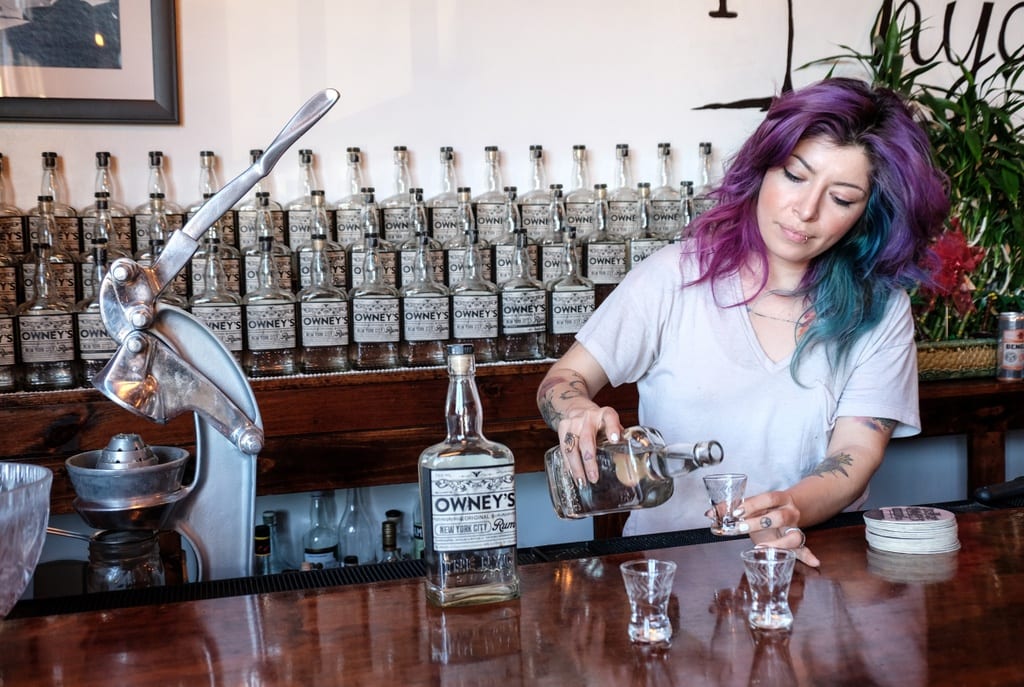 We ended up at a rum distillery. (How amazing does this bartender look?)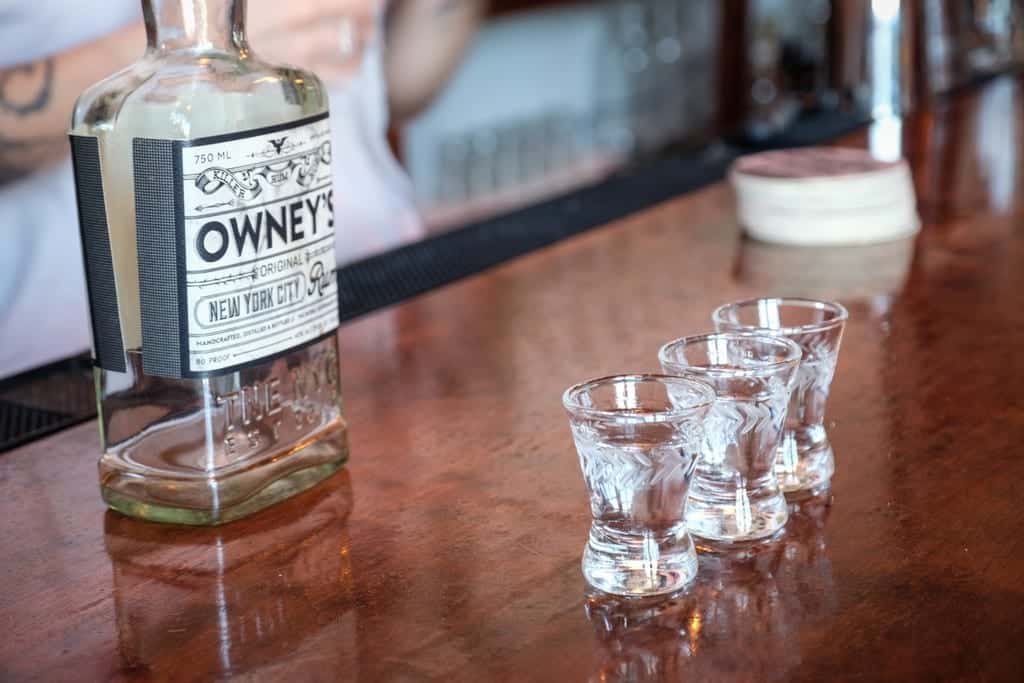 Cheers to a day very well spent.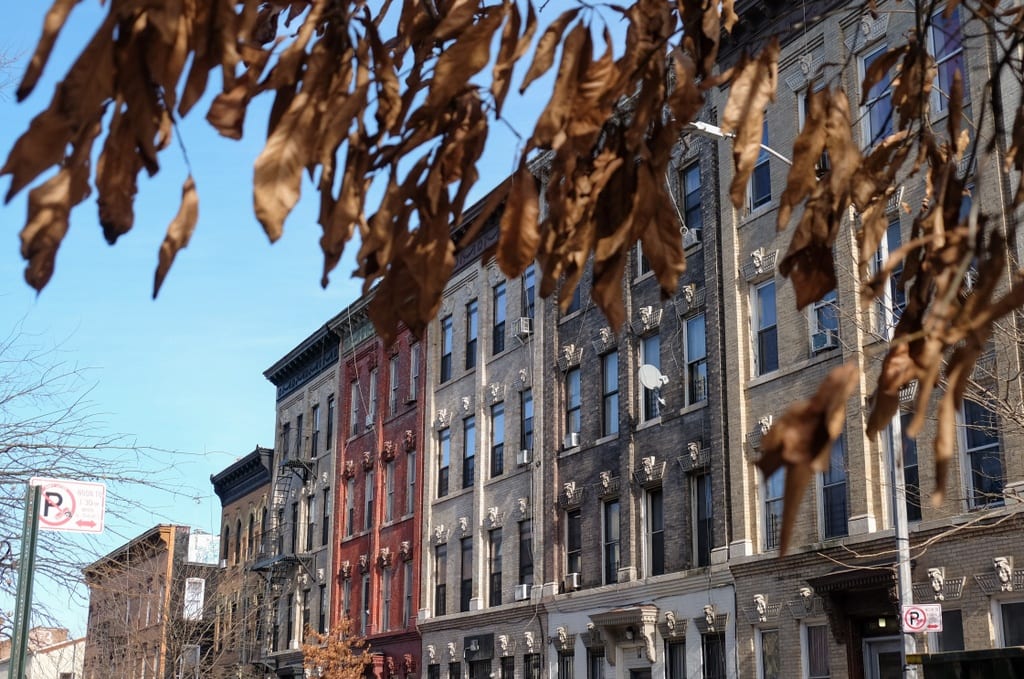 The Takeaway
This was one of the best days that I've had in New York City so far! I'm totally serious. I loved this tour, I loved the neighborhood, and I loved the camaraderie.
Bushwick is such a cool and different place, and spending time there makes me feel like I know New York on a more intimate level. If you're visiting New York, I recommend getting beyond the quintessential sights that everyone visits. Bushwick is a way to do that.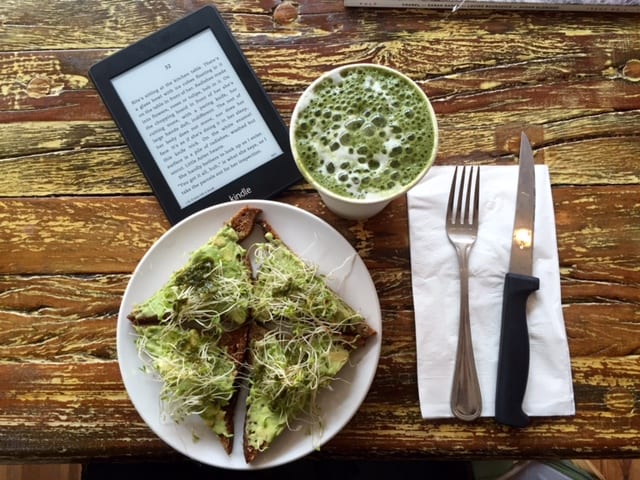 A Final Note — My Favorite Bushwick Eats
If you do this tour, extend your time in Bushwick long enough to have a meal! These are all places that I discovered when spending a week here last fall.
If you're up for coffee and a sandwich, the aforementioned Little Skips is my favorite coffeeshop in Bushwick and one of my favorites in New York. Another great option is Dillinger's, where they do a lovely matcha latte and avocado toast, pictured above. (These are both located close to where the tour starts, so you may want to go beforehand.)
Roberta's is one of the iconic pizzerias of New York City — and definitely one of the hippest. Ask for the Bee Sting, which comes topped with honey and soppressata. (It's always available, even if they tell you they're only serving off the menu that night.)
983 (Bushwick's Living Room) is a warm, cozy place with truly excellent down-home comfort food. I got the chicken under a brick, on my server's recommendation, and it was SO flavorful!
One restaurant I have on my list to try soon is the Arrogant Swine, which specializes in Eastern North Carolina-style barbecue.
---
READ NEXT:
---
Essential Info: I visited Bushwick on the Bushwick Beer, Bites, & Art #Instawalk tour with NYC Tours and Photo Safaris.

The tour takes 3.5 hours and costs $65 per person, which I think is a very fair price for a great tour in New York City.

In the tour, you'll visit local Bushwick businesses, do tastings, see a lot of street art, hear about history, and learn tips for getting great photos on your smartphone or regular camera. Your Instagram will be set for weeks!

Note: our tour was slightly altered from the itinerary. Speak to Jessie personally if you want to do this tour exactly as we did.

Jessie can also customize a tour to your preferences. If you like this tour but don't eat meat, or drink alcohol, she can create a tour featuring what you like personally. She even customized a tour for someone who wanted to photograph interesting textures!

See the calendar and book now here.

Looking to stay longer? You can find the best rates on hotels in Bushwick here.
Many thanks to Jessie and NYC Tours & Photo Safaris for hosting me on a complimentary tour. All opinions, as always, are my own.
What's the weirdest place you've ever visited?
Get email updates from Kate
Never miss a post. Unsubscribe anytime!