Adventurous Kate contains affiliate links. If you make a purchase through these links, I will earn a commission at no extra cost to you. Thanks!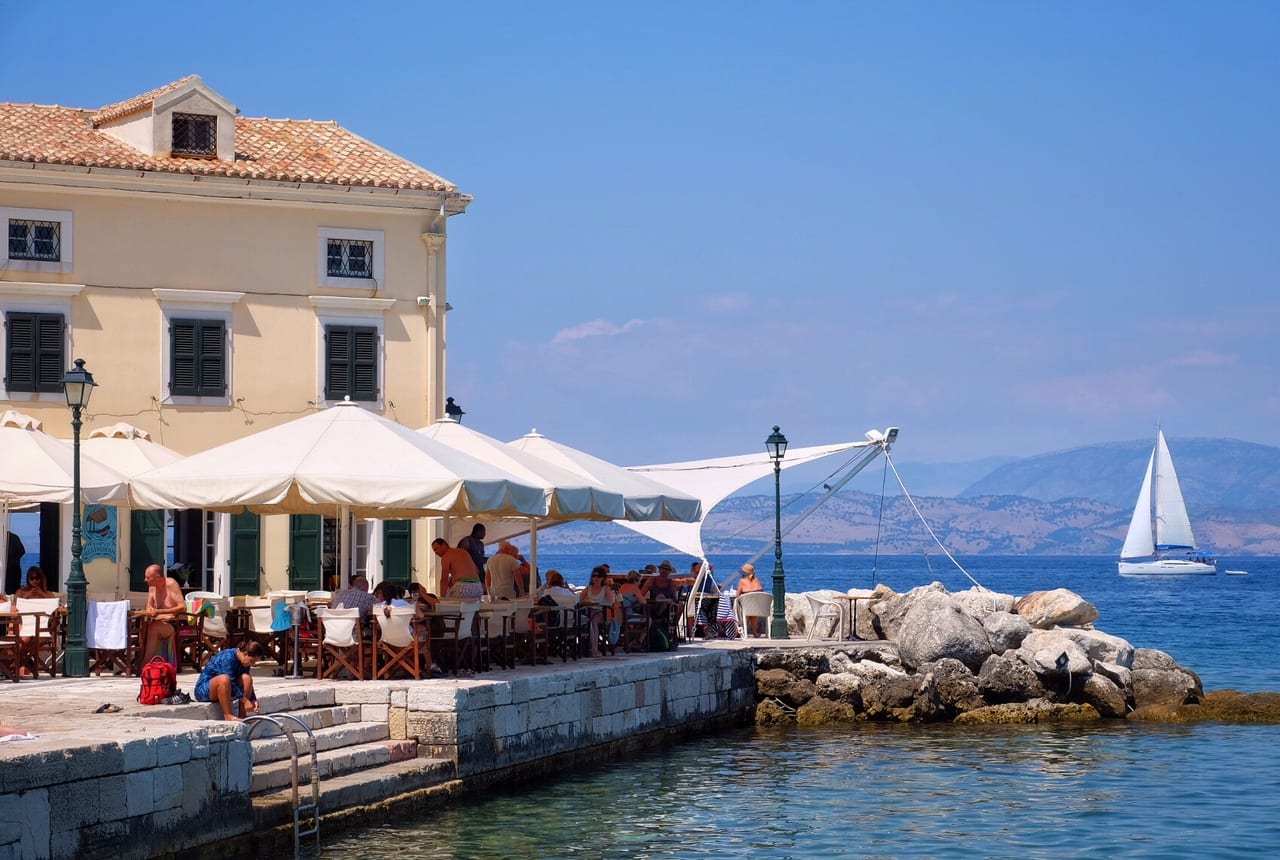 After spending time in Greece this summer, I've constantly been slammed by questions from travelers with one eye on their vacations and another on Greece's financial crisis.
Is it safe to travel to Greece right now?
My short answer: ABSOLUTELY. Neither I nor several of my friends traveling in Greece this summer had a single problem with traveling in Greece right now. I'm going to break down how this will affect your trip.
What is going on in Greece right now?
If you're not familiar with the Greek financial crisis, there are two ultimate guides that I recommend people read.
This first is 11 Things to Know About the Greek Financial Crisis from Vox, which breaks down everything so simply.
The second is Greece's Debt Crisis Explained from the New York Times, which contains the latest developments.
Go read through those two — they sum it up succinctly and far better than I could.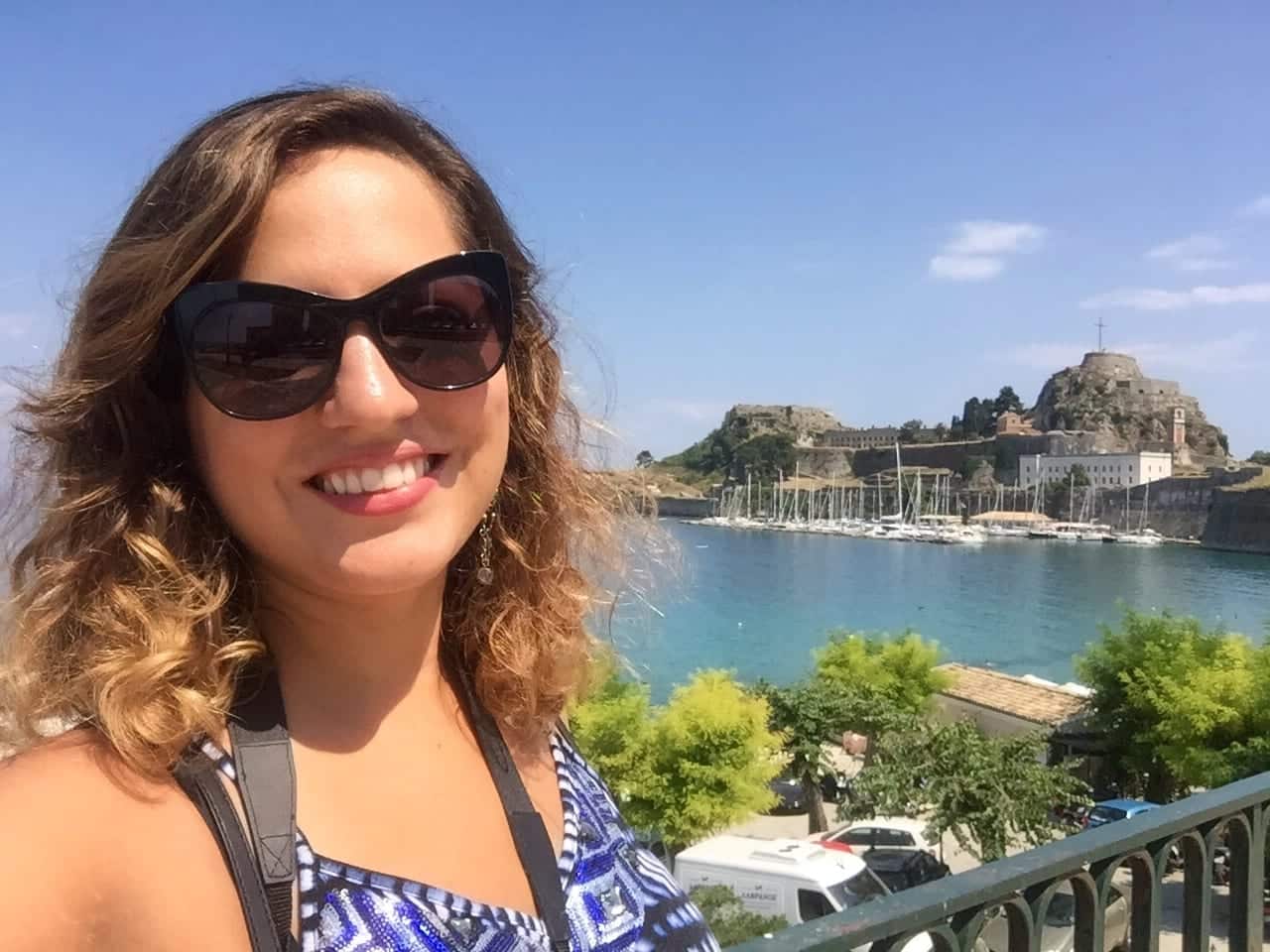 My Personal Experiences in Greece
In June and July, I visited the Greek islands of Santorini and Corfu. In both of those destinations, if you weren't reading the news, and didn't speak to any locals about it, you would have no idea there were even any problems.
ATMs? They were all flush with cash.
Credit cards? All working fine.
Widespread panic? Riots? Parades? People crying in the streets? Frightened tourists running to book the next plane out of there? NO. Not whatsoever.
Obviously, the experience of a traveler is not the experience of a Greek person. That's obvious, and I know you know that already, but I have to put that sentence in there because at least one person will post a rant in the comments if I don't. This blog has always been for travelers looking for help in their travels, not Greeks looking for financial advice.
Times are very difficult for Greeks, and they will be for a long time. A Greek friend of a friend was actually stocking up on iPads so he could sell them for cash once things get worse. It's going to be awhile before they're out of the dark.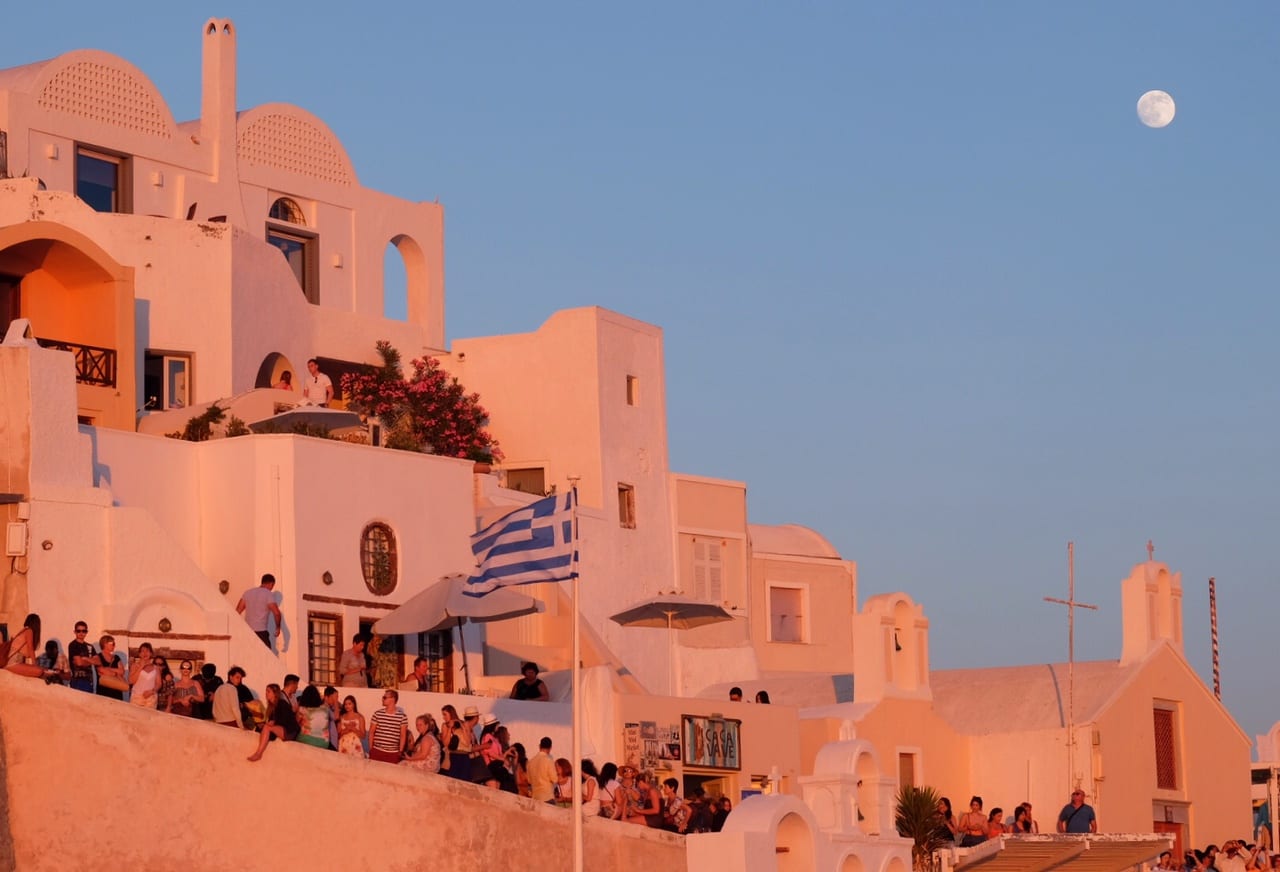 But doesn't Greece deserve to be punished for their actions?
Every time I post about the Greek financial crisis, somebody says something along these lines and it pisses me off.
Yes, a lot of people in Greece have made a lot of bad decisions that resulted in an economic meltdown. A lot of those people were from the Syriza political party.
But as someone who lived through two terms of George W. Bush, please don't punish an entire nation for the mistakes of shitty politicians and their cronies.
When you make a decision to cancel your trip to punish Greece, do you know who you end up hurting the most? The family that owns a restaurant on a popular island. That tour guide at a set of ruins who worries about his hours being slashed and eventually having to find a new career in an economic meltdown. Taxi drivers in tourist hotspots. Guesthouse owners and gift shop owners all over the country.
These are the people you hurt when you choose to cancel your trip to Greece. Please don't do that.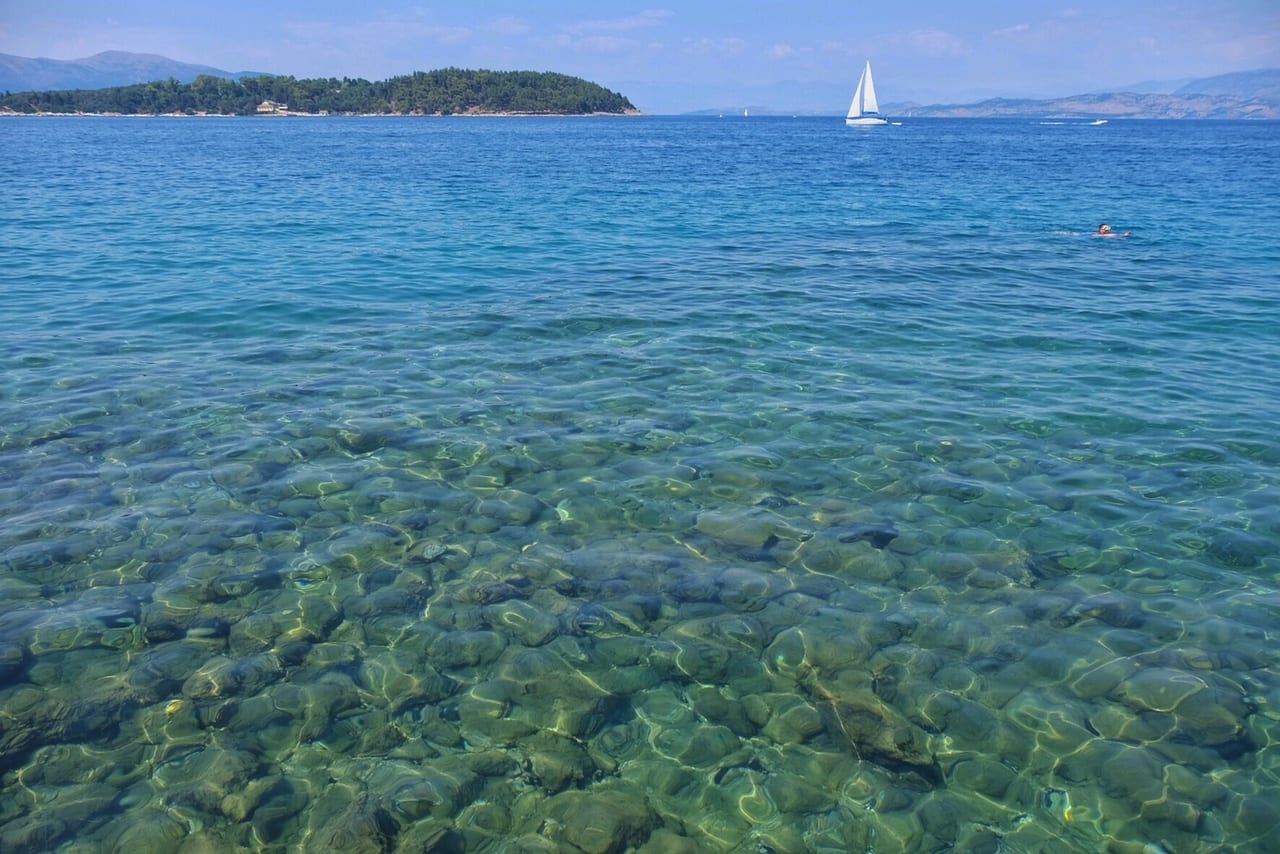 How should you prepare for a safe trip to Greece right now?
Stay up to date on the news. Read about what's currently going on and you'll be alert to major events taking place in Greece that could affect your travels, as well as any strikes or protests you should avoid.
Know that foreigners aren't held to cash withdrawal restrictions. People with Greek banks accounts (Greeks and many people who reside in Greece) are limited to 60 euros per cash withdrawal. People with foreign or international bank accounts (i.e. all visitors) are not held to these restrictions.
Stay on the (relatively) beaten path. If your travel style is to go where tourists never go, it's not the time to do this in Greece. Tourist areas will remain priorities for the Greeks, especially when it comes to keeping ATMs stocked with cash.
Carry lots of backup cash. You probably won't need to do this if you're visiting a popular tourist destination, but just in case you can't get any ATMs to work, carry extra cash with you. Lock it up in your room, ideally with a portable safe. This is how and why I use mine.
Feel free to use your credit cards. They are working fine.
Don't worry about Greece losing the Euro. On July 13, plans were announced that will keep Greece in the Eurozone. And even if they lost the Euro, it would take quite some time to put the drachma or another currency into action.
Know that prices haven't changed yet, but that could change in the future. So far, this has not affected any prices — but do keep in mind that for Americans, the exchange rate to the euro is the best it's been in more than a decade
A few months down the line, if Greece starts losing major tourism, you may see some rates slashed in hotels, or big international tour companies may reduce prices on their Greece trips, but don't expect things to change with flights, restaurants, or on-the-ground expenses.
Know that any of this could potentially change at any time. Just be aware and follow the news.
Stock up on travel insurance. You should always use travel insurance, as they will help you out if you get yourself sick, injured, or into some kind of jam. I use and recommend World Nomads.
Remember that the American media is in the business of scare-mongering. News is a business. They try to scare people as much as possible to get their 24-hour news channels viewed. Take their ominous warnings with a grain of salt, and follow international coverage with the BBC and Al Jazeera.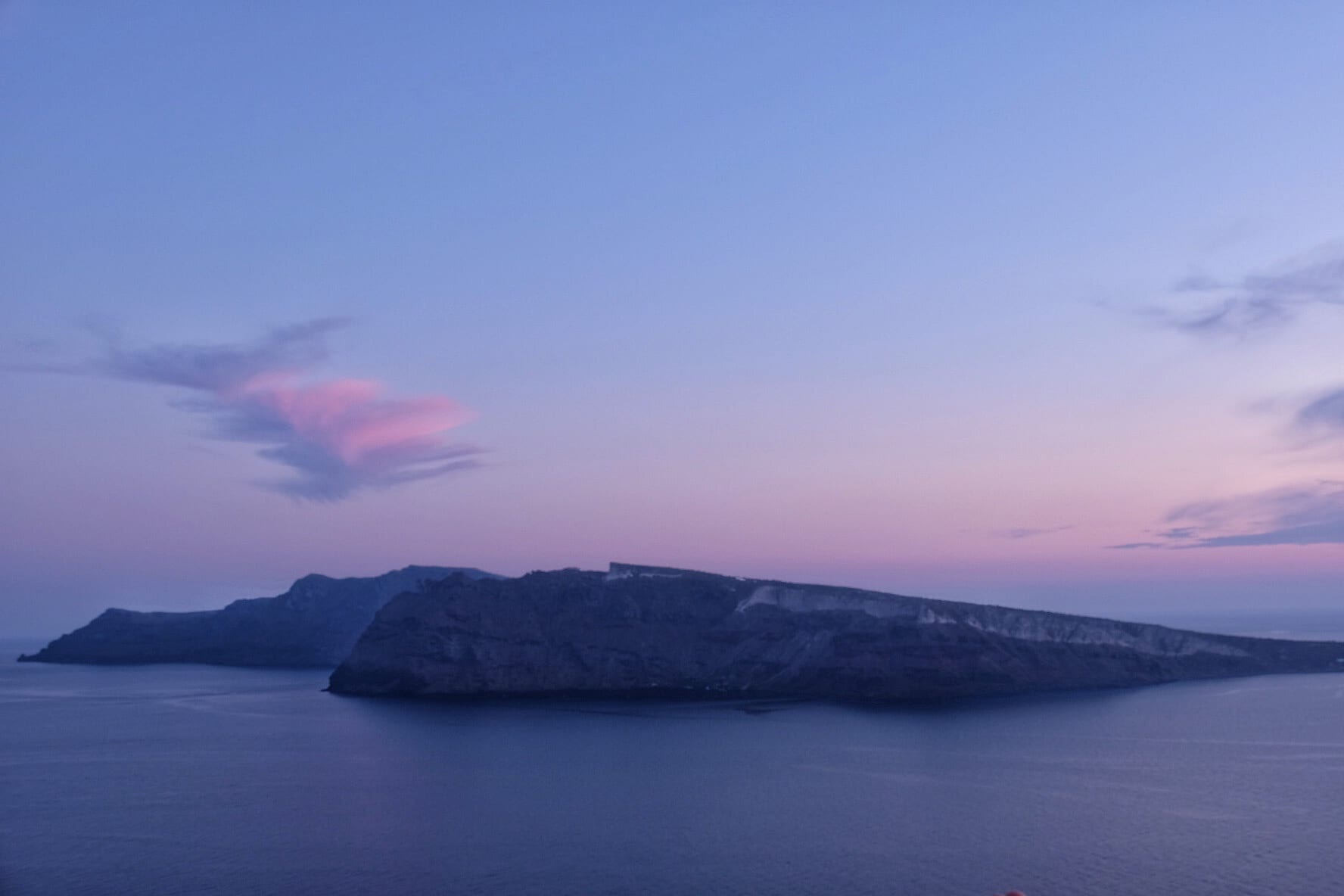 So where in Greece should you go?
Ah, yes, let's talk about something much more fun — the best places to go in Greece!
I'm not the best person to ask where to go in Greece, as I've only been to Santorini and Corfu, the latter quite briefly. But here are some destinations I'd love to visit, along with excellent guides!
Zakynthos — The beaches on this gorgeous island in the Ionian Sea look incredible, making it a fabulous getaway for fun in the sun. For more, see An Incredible Weekend Trip to Zakynthos on Pause the Moment.
Meteora — These monasteries topped with cliffs have to be one of the most spectacular sights in Greece. And I love the role they played in World War Z! For more, see Visiting Meteora: A Photographer's Paradise on Finding the Universe.
Mykonos — Mykonos has long been one of the most popular tourist destinations in Greece, famous for its beautiful beaches as much as its party scene. For more, see Causing Mayhem on Mykonos on Alex in Wanderland.
Lesvos — So far east it's almost in Turkey, Lesvos is a mountainous island filled with pretty villages and medieval fortresses. For more, see Your Road Trip Guide to Lesvos on Candice Does the World.
Ios — Ios is known as the big backpacker party island, but even if that's not your scene, you can enjoy a lot of rural beauty. For more, see The Greek Islands: Ios on A Dangerous Business.
Syros — One of the lesser-known islands in the Cyclades, yet still with plenty of treasures to enjoy, Syros is quiet island living at its best. For more, see A Month on the Island of Syros, Greece: Ermoupoli, Finikas and a Lot of Blue on Legal Nomads.
Athens — Athens gets quite a divided reaction — plenty of people For more, see Athens: A Reinvented, Trendy City Beyond Its Ancient and Troubled Past on Borders of Adventure.
The Takeaway
Greece is open for business, and it's safe to visit. In fact, visiting Greece is the single best thing you could do to help the many Greeks who rely on tourism for their livelihoods.
I've spent time in Bangkok during the protests of 2010 and 2013, I've flown to Mexico at the height of swine flu in 2009, and now I've been to Greece during the economic crisis of 2015. All have been remarkably normal. Don't believe everything you see on TV.
PIN IT!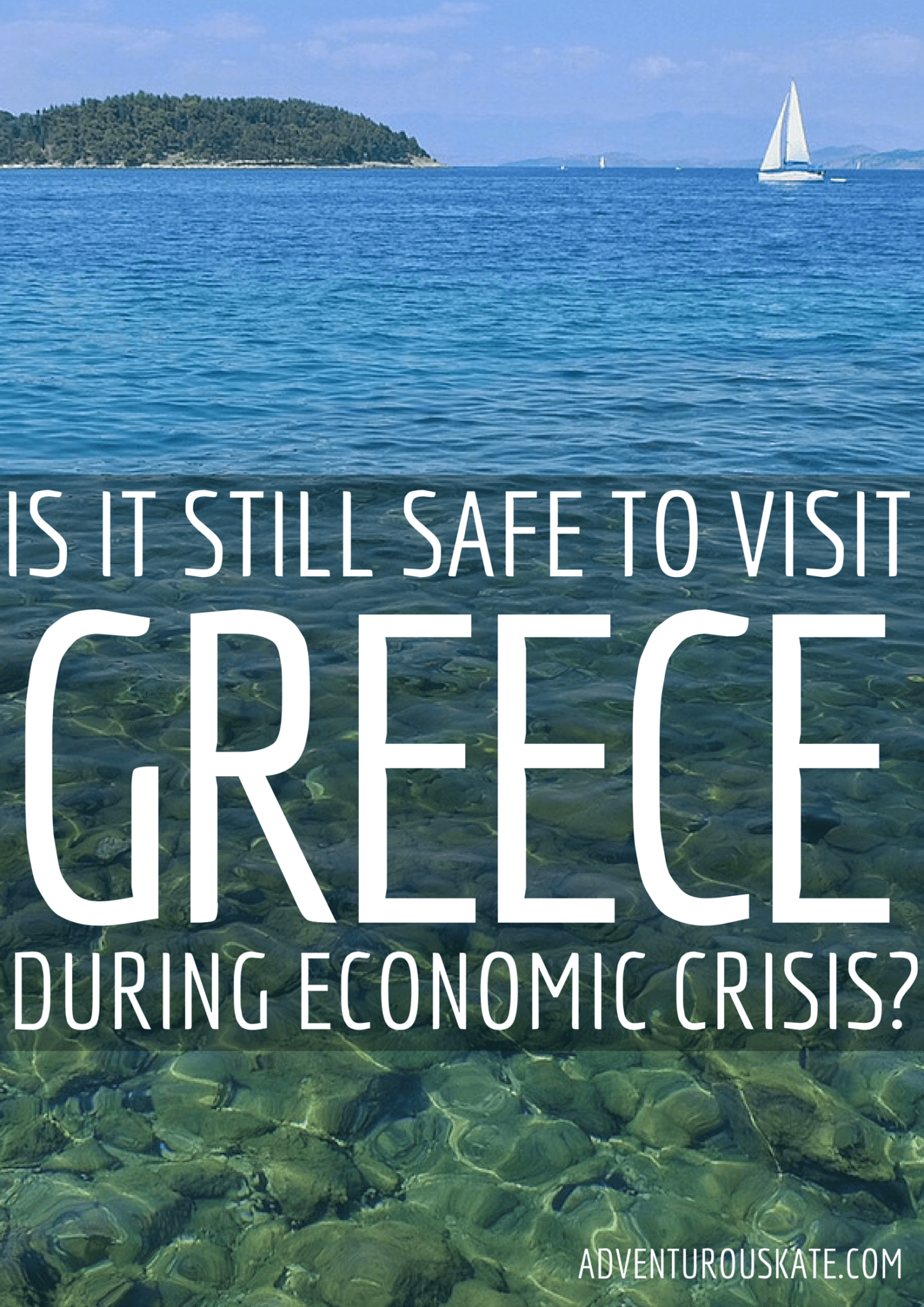 Get email updates from Kate
Never miss a post. Unsubscribe anytime!