Adventurous Kate contains affiliate links. If you make a purchase through these links, I will earn a commission at no extra cost to you. Thanks!
I can now say that I've stayed in the world's hippest hostel — Kex Hostel in Reykjavik.  I've spent hundreds of nights in hostels around the world, but none of them have looked as cool as this one.
Kex has SERIOUS STYLE — far more than any other hostel I've ever seen.  Every square inch of this hostel is decorated — oh, and it's got a gastropub, a boxing gym, a library, even a barbershop!
A hipster barbershop straight out of the 1940s!  (I honestly don't know if it's just for decor, or if people actually get their hair cut here!)
Reykjavik is a small enough city that you can walk to most points of interests within 20 minutes, and Kex is pretty central — a two-minute walk from cafes and stores and an eight-minute walk from the epicenter of downtown Reykjavik.  Any tour you book will be happy to pick you up outside.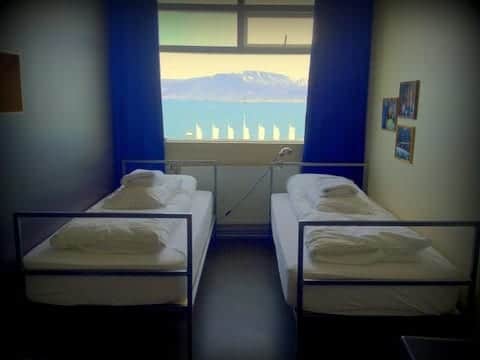 For the first two nights, I was booked into a private double room: two twin beds with puffy pillows and big, fat comforters.  The bathrooms were shared.
The next three nights were spent in a six-bed dorm, and while dorms aren't segregated, mine happened to be all-female.  The lockers are tall and skinny — not quite big enough for a backpack, but definitely big enough for my valuables (and I consider my tall leather boots valuables, even though I got them for $40 at Marshalls!).
Like everything else in Iceland, Kex is more expensive than hostels of similar quality in mainland Europe.  Prices range from 3200-5100 ISK ($25-40) for dorm rooms to 20,100 ISK ($157.89) for a private double with bath.
One nice thing that Kex does is serve as a travel agency.  They can tell you what tours are worth doing and make the bookings for you.  And while that's great, it's not so great when the person at the front desk is chatting away to a new guest about different kinds of tours they could do and you're silently seething, waiting in line to quickly replace your key card.  I love that they share their knowledge; I do wish that they were more efficient about their front desk.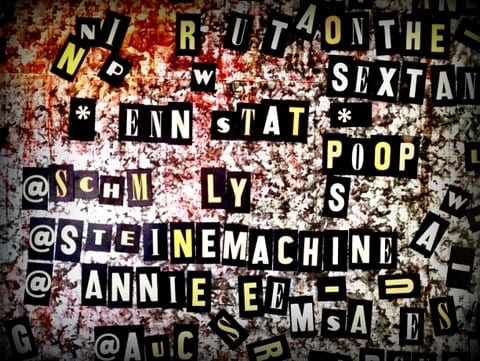 Kex is the best hostel I've ever seen, hands down, when it comes to style.  But when I think of my favorite hostels of all time, I think of places that are open and friendly and foster a sense of community.  Maybe it's the Scandinavian attitude, but Kex just doesn't have that.  There aren't happy hours or group dinners or board games to play, and I didn't see people sitting around and striking up friendships.
Then again — you might not be looking for community on your trip to Iceland.  If you're simply looking for an excellent hostel in Reykjavik, you've found it at Kex.
After all, at what other hostel can you get roasted bone marrow for dinner?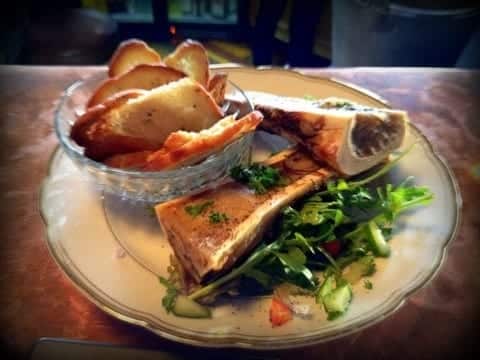 This hostel is something to behold.
More on Iceland:
My Favorite Places in Iceland:
Many thanks to Kex Hostel for the complimentary stay.  All opinions, as always, are my own.
Get email updates from Kate
Never miss a post. Unsubscribe anytime!