Adventurous Kate contains affiliate links. If you make a purchase through these links, I will earn a commission at no extra cost to you. Thanks!
When you think about visiting Norway, what comes to mind first?
Fjords. It's always fjords. They are the symbol of the country and one of the reasons why many people consider Norway the most naturally beautiful country in Europe.
I couldn't go to Norway for the first time without visiting any fjords, which is why I chose to visit Bergen rather than Oslo: not only is Bergen a beautiful and perfectly sized city, but it's the gateway to the fjords.
Several fjord cruises leave direct from Bergen, but I had my eye on something more special: the Norway in a Nutshell tour, which I've wanted to do for years. I've been recommended it by tons of people, including several readers, and it has tons of positive reviews. After contacting Visit Norway, they offered to host me on the tour as their guest.
The Norway in a Nutshell round-trip tour from Bergen includes three activities: the old-fashioned Flåm railway, a cruise through Aurlandsfjord and the UNESCO World Heritage-listed Nærøyfjord, and a bus ride down 14 hairpin turns, plus trains to and from Bergen in each direction.
The Bergen area is known for its temperamental weather, and I lucked out with bright blue skies on my first day and a half. But by the time I hopped on my fjord cruise, the last few bits of blue sky were disappearing, turning into a rolling overcast sky.
But as you can see in these photos, that didn't really matter. They didn't need blue sky to be showstoppers.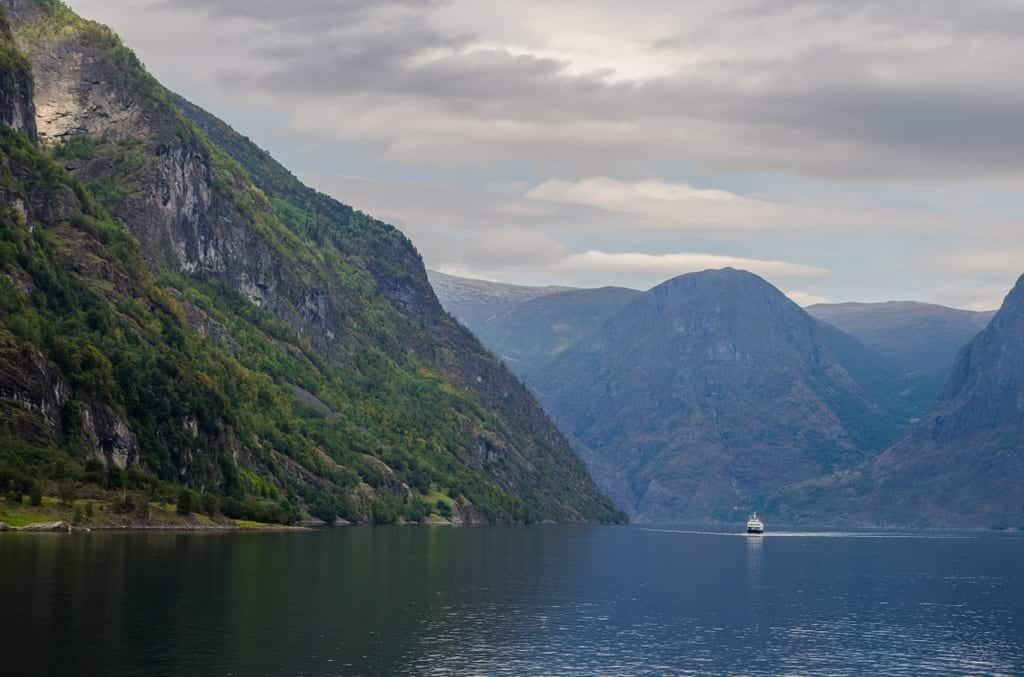 The first view of the fjords, with the tiniest bit of blue sky remaining.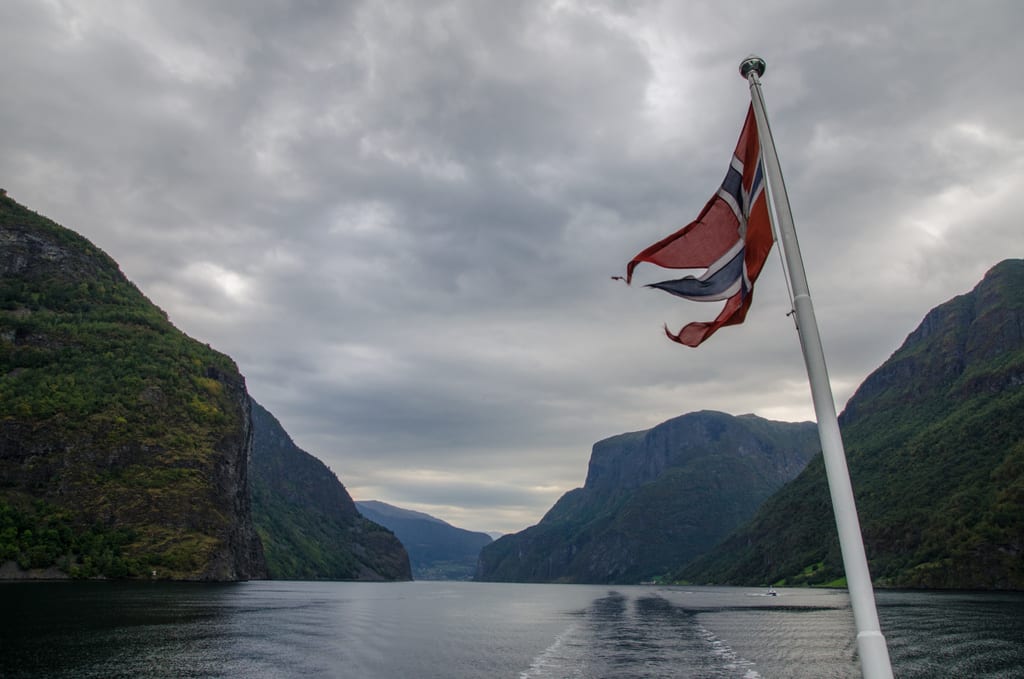 Up and away!
The mountains are gargantuan. Seeing this little speedboat gives you an idea of how big they are.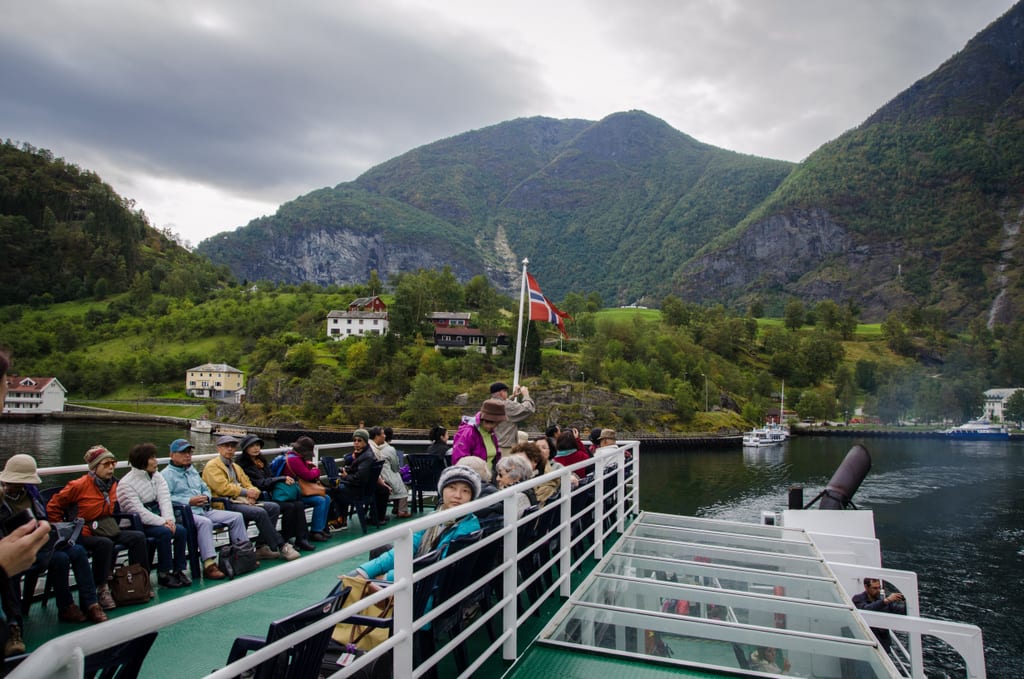 The boat had both outdoor and indoor areas — very useful, as even in September, the temperature dropped to teeth-chattering levels. I wish I had worn a heavier coat.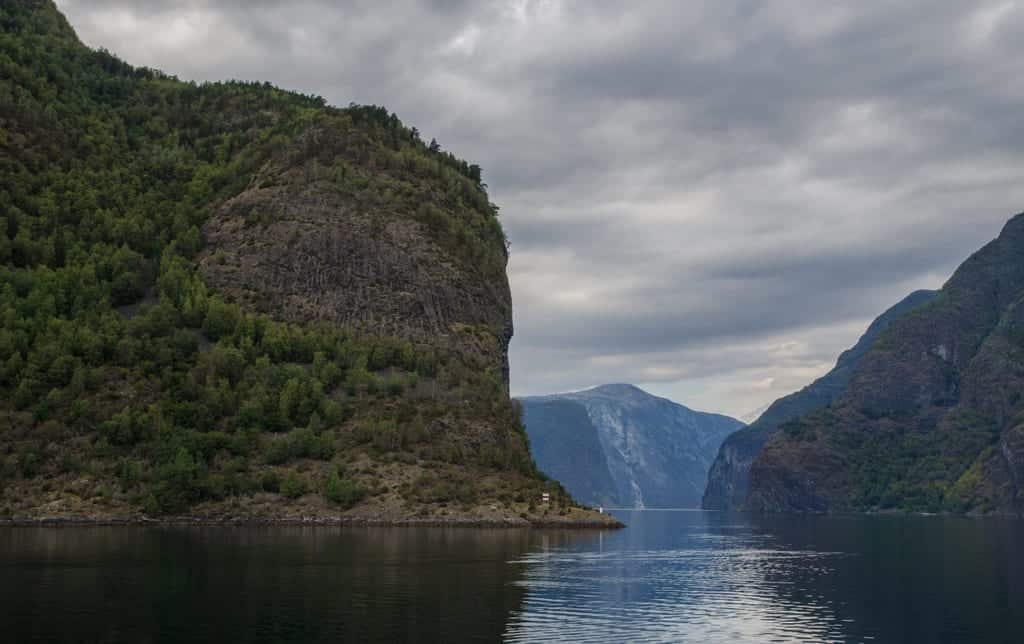 Every time you turn a corner, more layers appear in the background. It reminded me a lot of Halong Bay.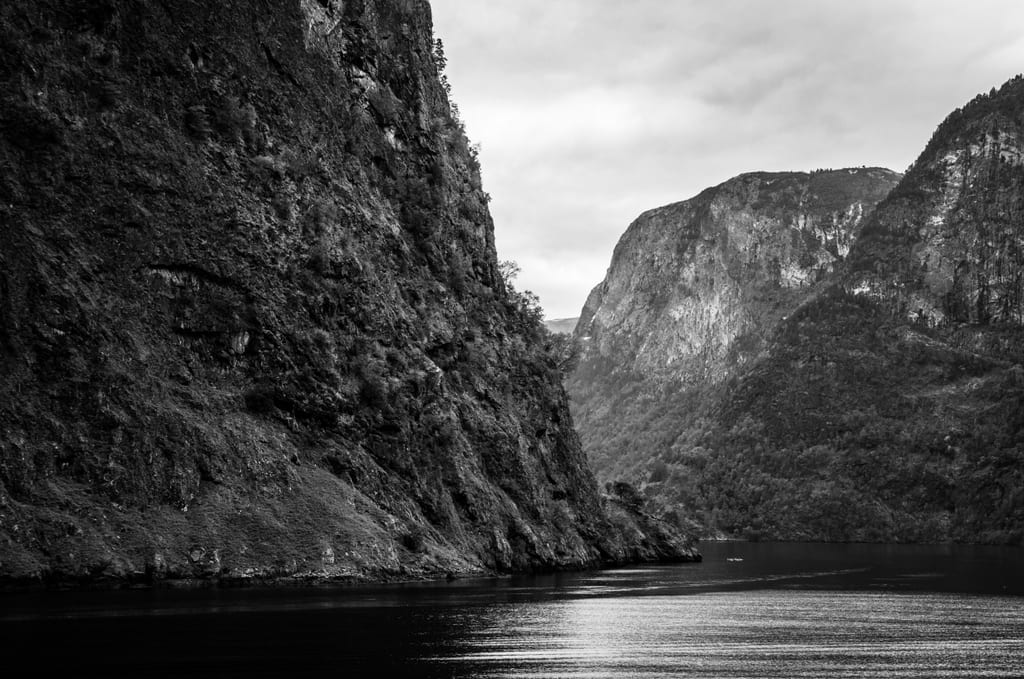 They're definitely suited to black and white.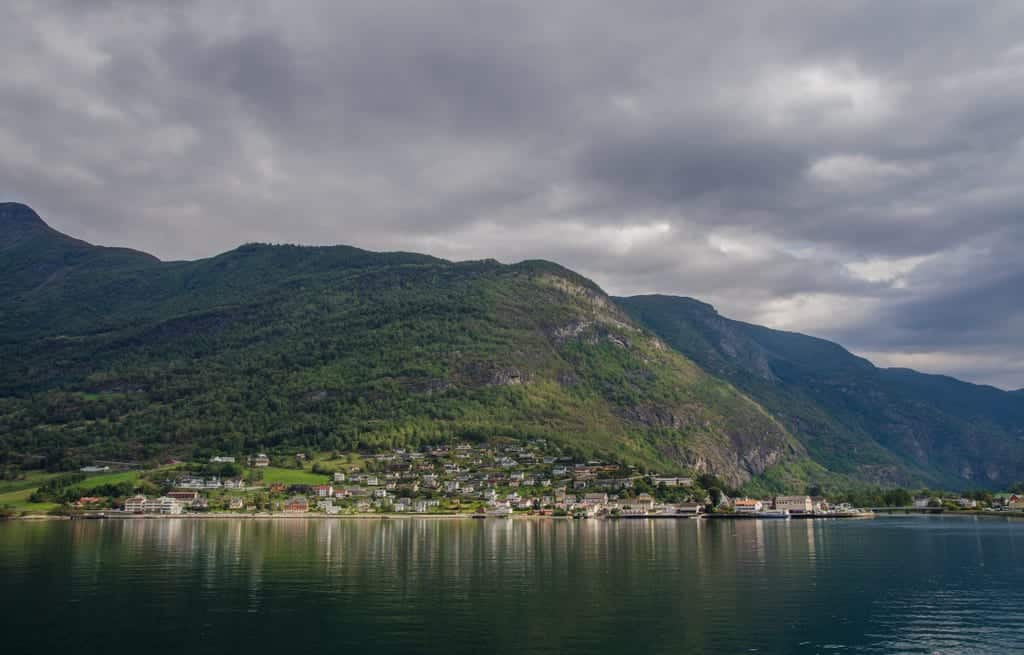 Tiny villages line the fjords. This is Aurland — one of the largest ones, with a population of 1,715!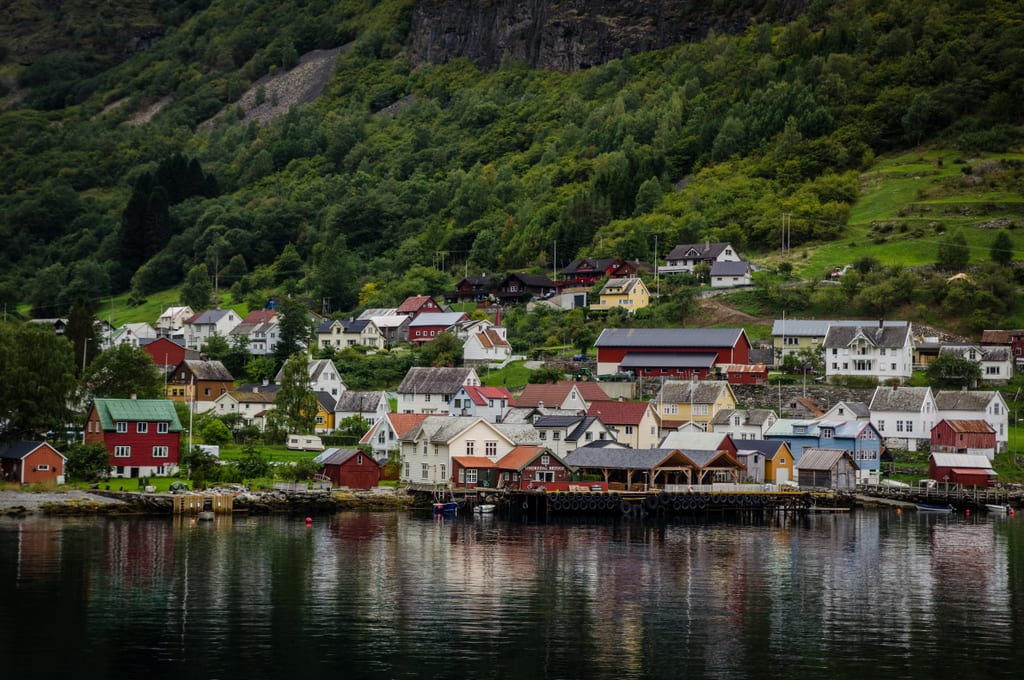 The further you go, the smaller the villages get.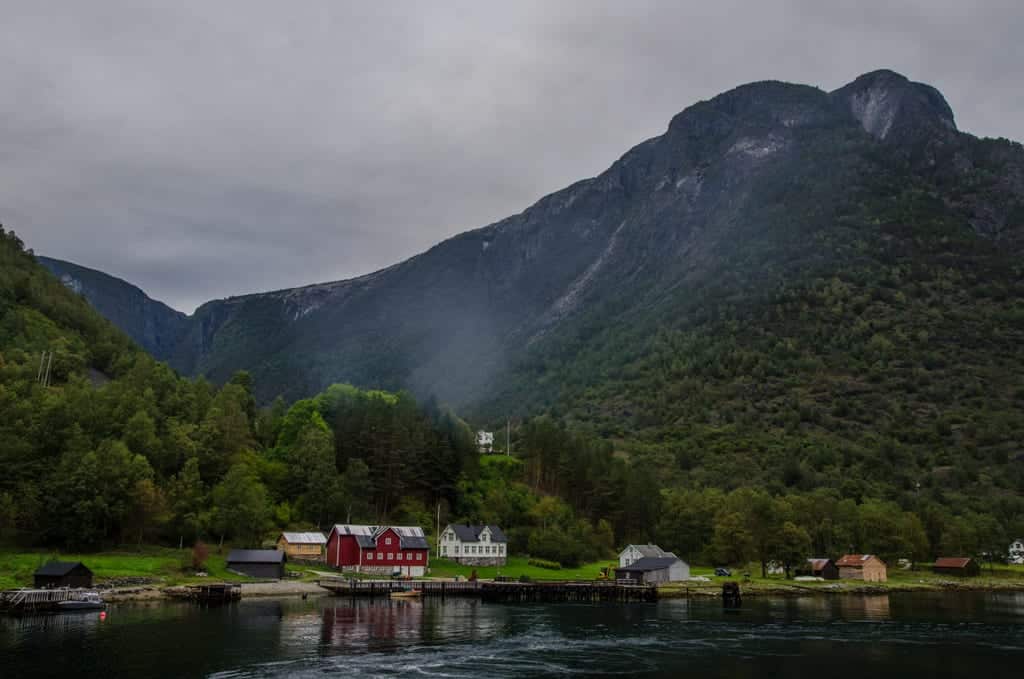 And even smaller!
(Some teenage boys got on at this one, each of them lugging large backpacks. I can't imagine what they were doing in a town this small! Maybe hiking and camping?)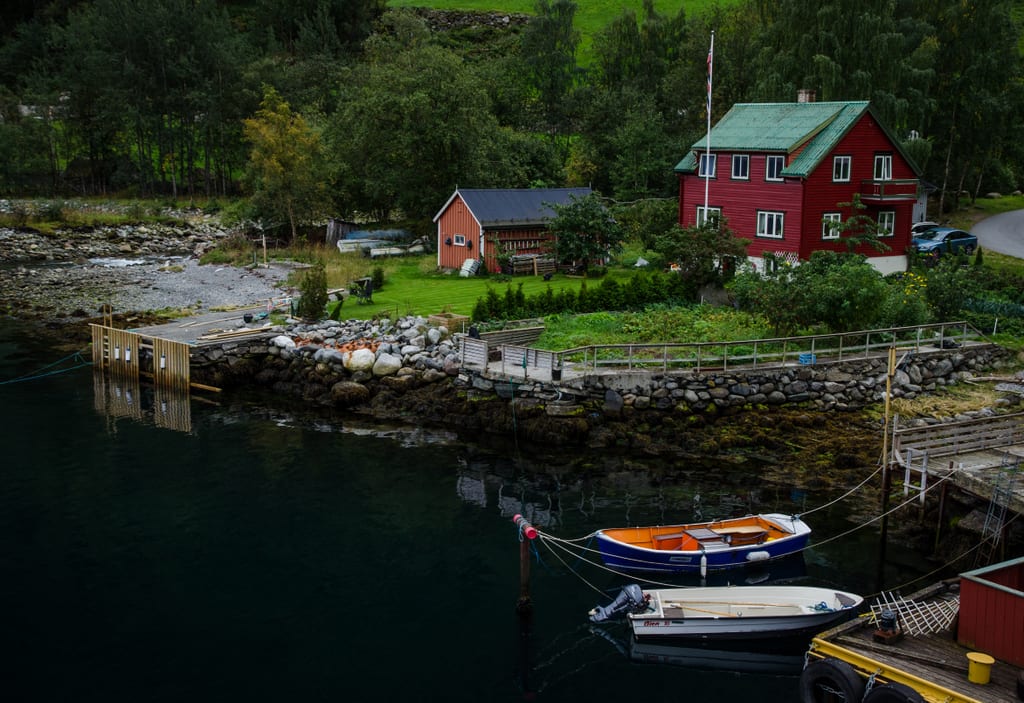 This town seems like a perfect place for a digital detox.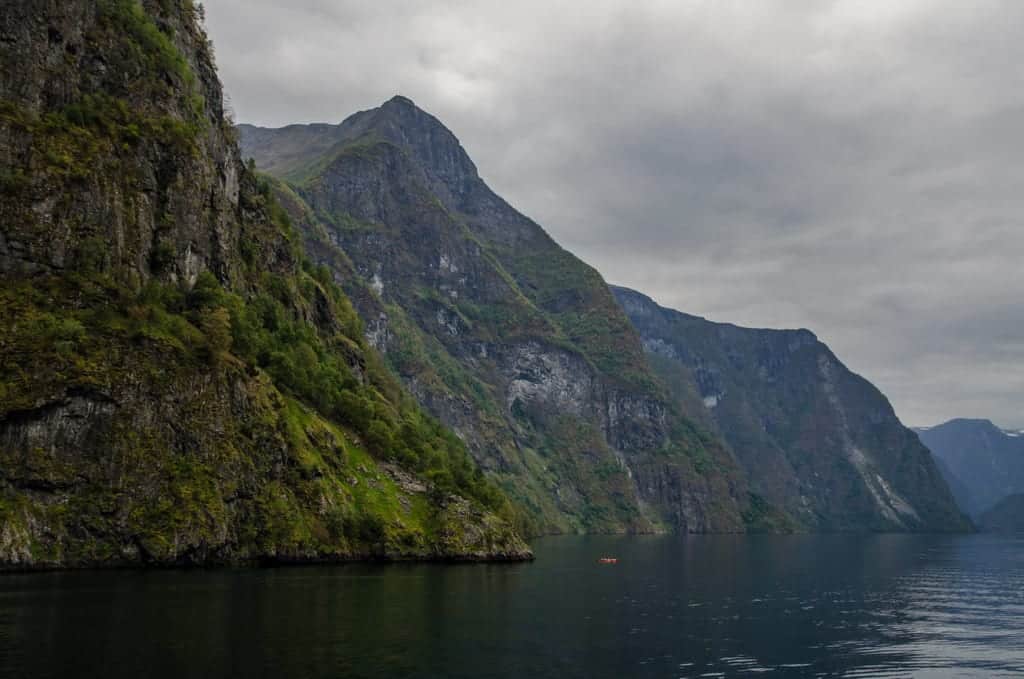 The occasional kayak zooms along the placid water, keeping well out of the cruise's way.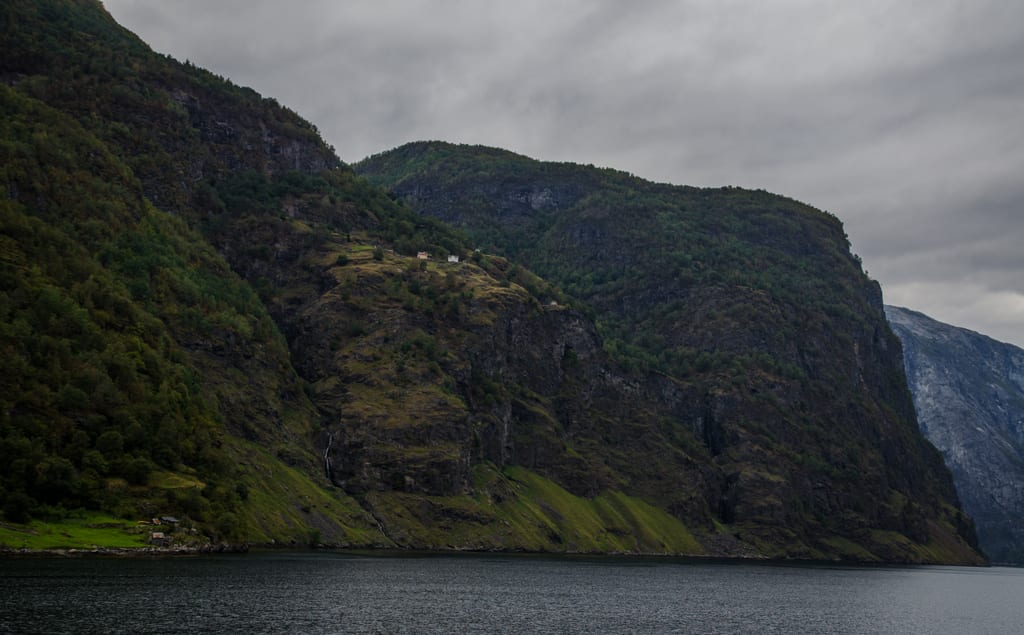 Could you imagine living in one of those houses atop that cliff? (And could you imagine getting an invite to a cocktail party there?)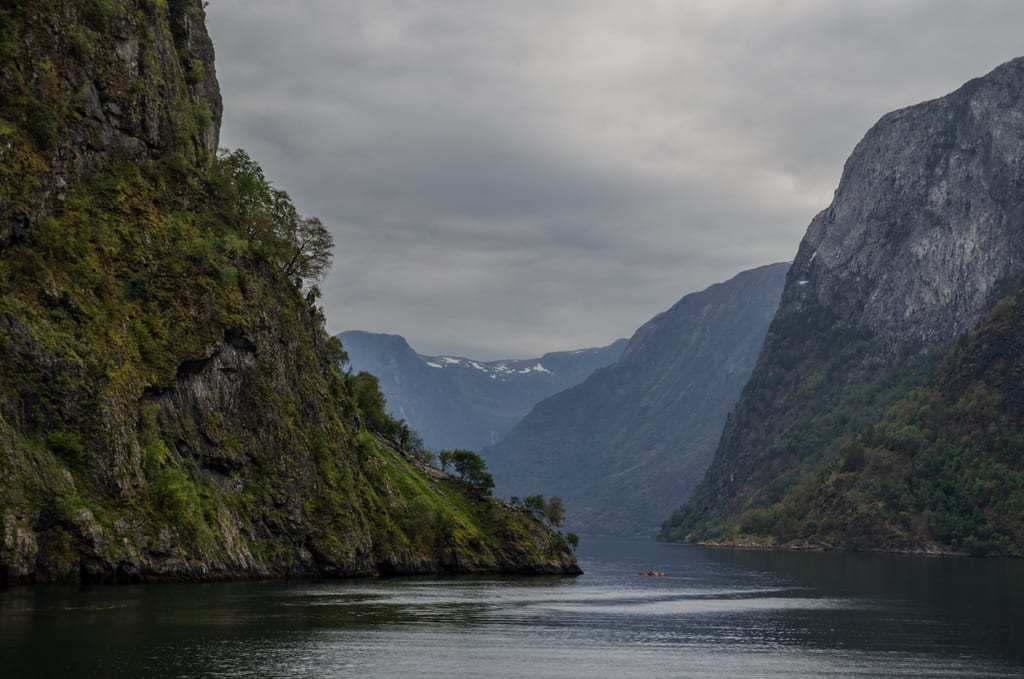 Even in September, you'll find snowy mountains in the Nærøyfjord.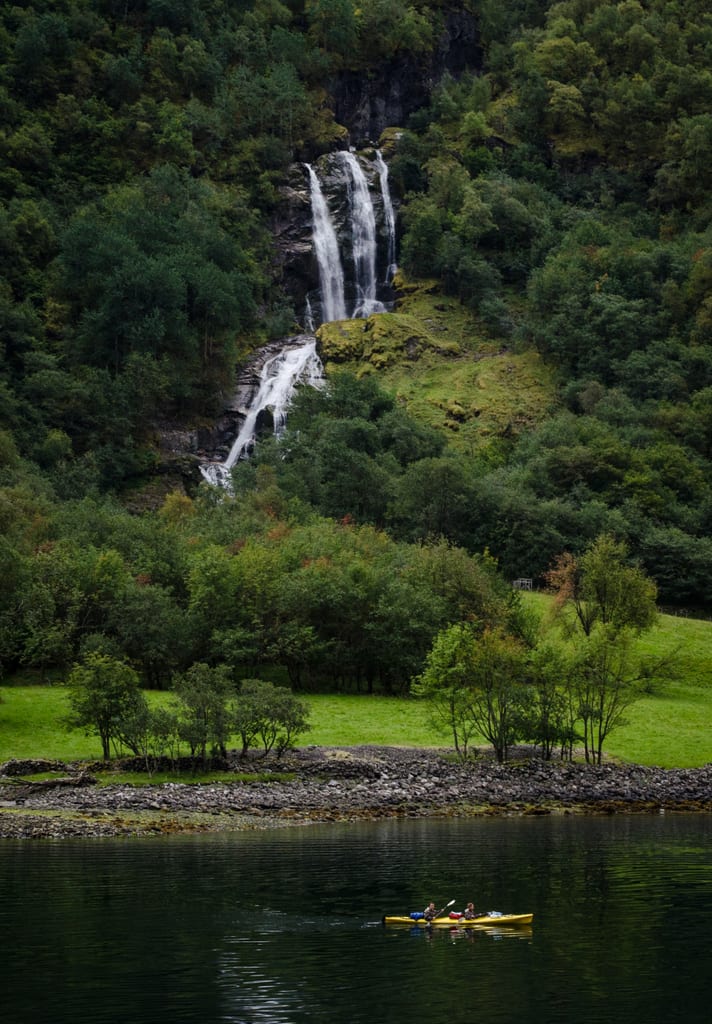 On one of the final turns near Gudvangen, some adventurers paddled by kayak as a waterfall roared in the background.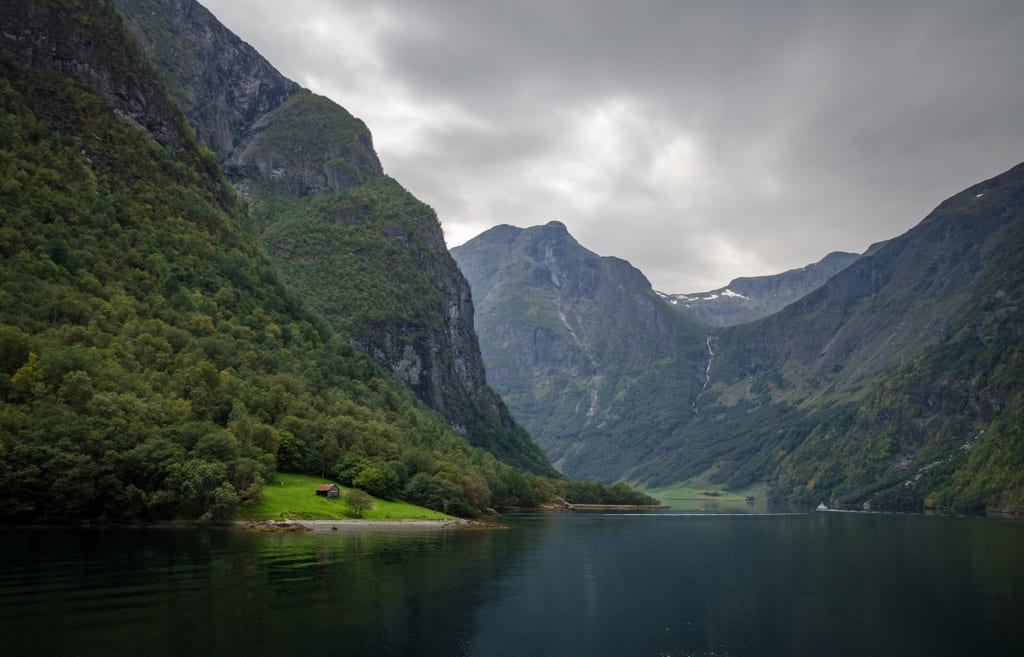 What do you think that little cabin is? After my time in Finland, my first thought was sauna!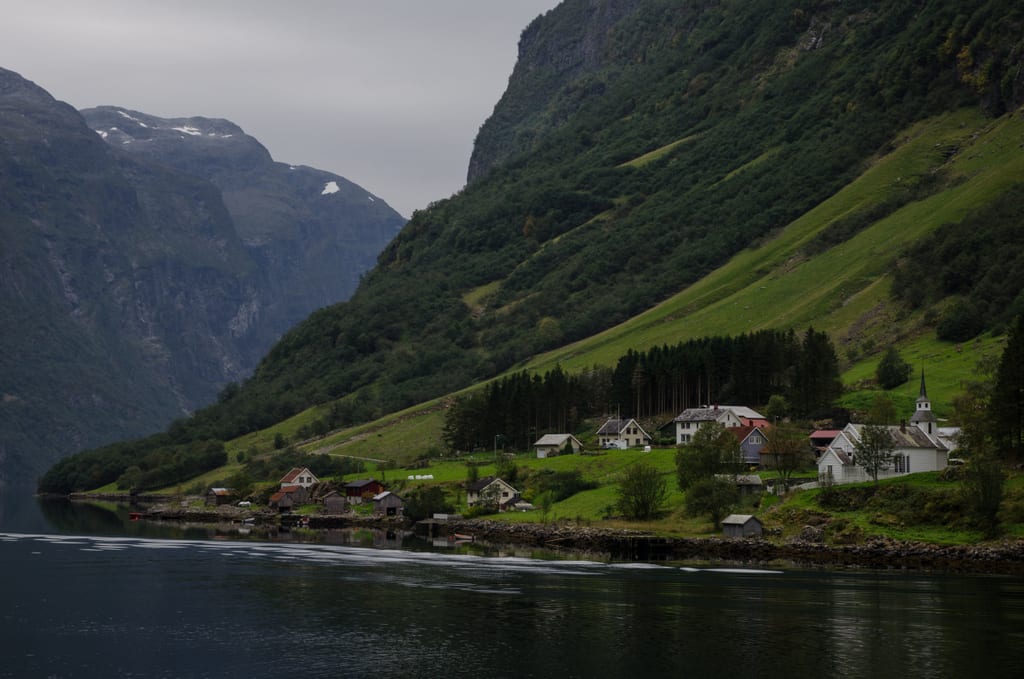 The final turn before landing in Gudvangen.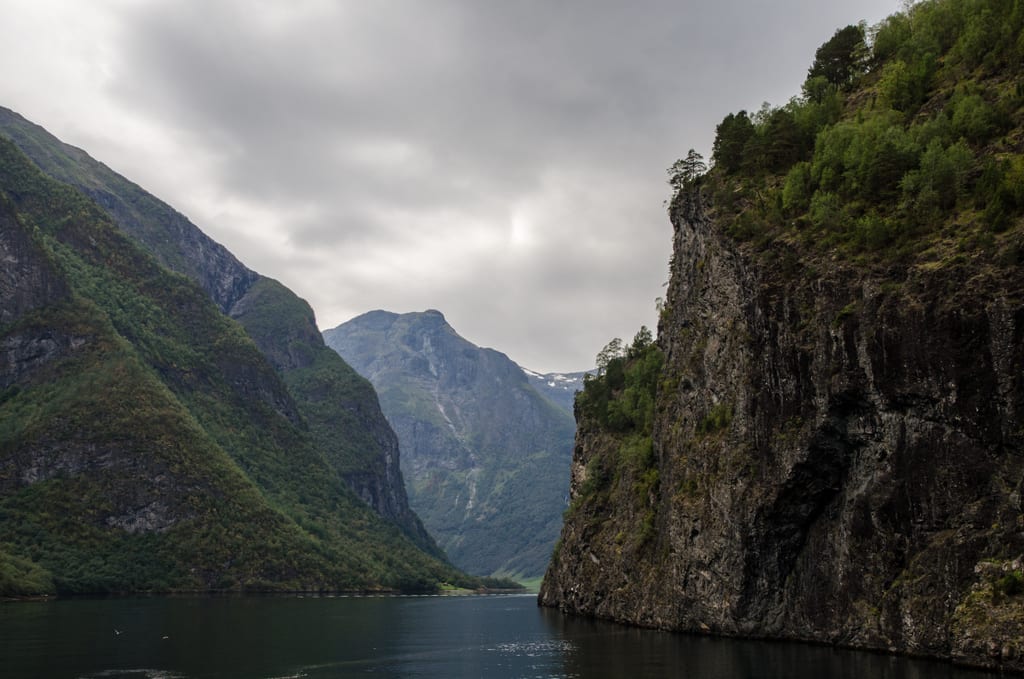 Was my fjord cruise everything I hoped it would be? You bet. It was the highlight of my time in Norway. It goes to show that even without the sun shining, Norway's fjords are astoundingly beautiful.
---
Read more from this trip:
---

Essential Info: The Norway in a Nutshell tour includes a train ride on the Flåm Railway, this cruise from Flåm to Gudvangen through the Aurlandsfjord and the UNESCO World Heritage-listed Nærøyfjord, and a bus ride down 14 hairpin turns in the countryside, plus train transportation from your departure point.

The tour runs from Bergen, Voss, or Oslo, though it's closest to Voss and Bergen and runs year-round from those cities. The tour costs 1145 NOK ($178 USD) from Bergen, 775 NOK ($120 USD) from Voss, 1550 NOK ($241) as a one-way trip from Oslo to Bergen or vice versa (keep in mind that you'll need to carry your bags throughout), and 2100 NOK ($326) from Oslo.

While these prices are steep, keep in mind that Norway is the most expensive country in Europe. I think this tour is excellent value for money, especially if you're on a short trip to Bergen and want to maximize your time.

No matter what time of year it is, bring a jacket. I was very cold in just a blazer and cardigan, even in early September.

I stayed at the Thon Hotel Bristol, where low-season rates start at about $170 USD. Find deals on hotels in Bergen here.

Don't visit Norway without travel insurance. It could save you if you get ill, injured, or lose your luggage. I use and recommend World Nomads for trips to Norway.
Many thanks to Visit Norway for hosting me in Norway. All opinions, as always, are my own.
Do you dream of visiting Norway someday? Or have you already been?
Get email updates from Kate
Never miss a post. Unsubscribe anytime!