Adventurous Kate contains affiliate links. If you make a purchase through these links, I will earn a commission at no extra cost to you. Thanks!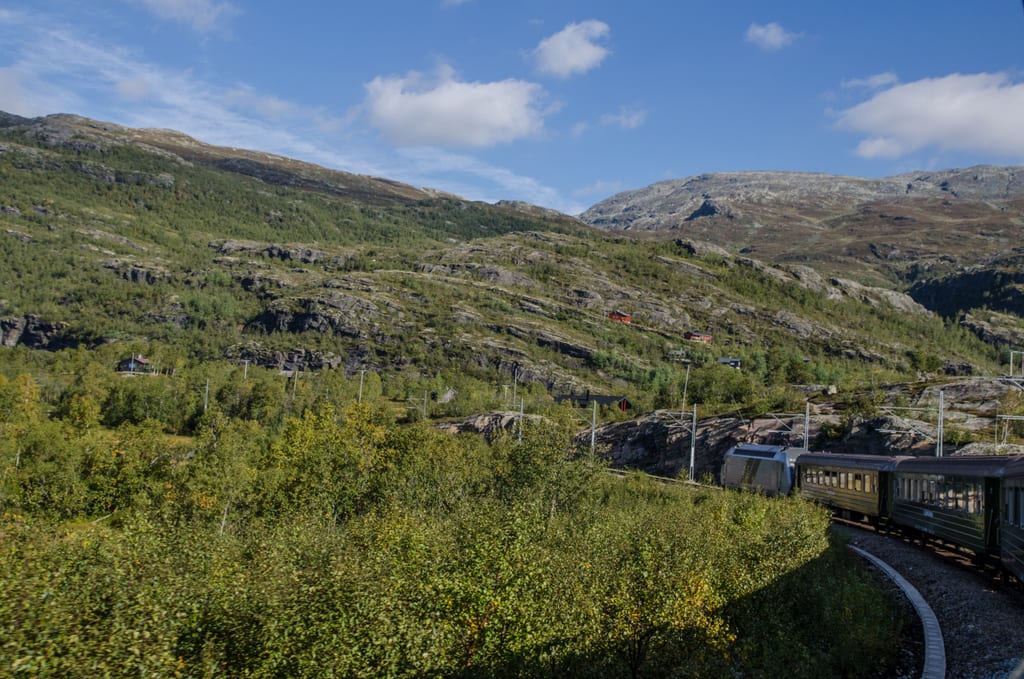 Norway's Flåm Railway, or Flamsbana, is often cited as one of the world's most beautiful train journeys. Beginning in the sea-level fjord hamlet of Flåm and extending to the town of Myrdal, 863 meters above sea level, the train glides through grassy mountains with waterfalls spurting out from every direction.
Is it the most beautiful train journey? Well, I've been on lots of beautiful train rides. Geneva to Milan was gorgeous. So was Lucerne to Meiringen.
But the Flåm Railway is definitely up there as well. The weather was utterly spectacular (a contrast to the gray skies that rolled in on my fjord cruise a few hours later) and the September sunshine illuminated the mountains beautifully.
I experienced the Flåm Railway as part of the famed Norway in a Nutshell Tour from Bergen. One advantage on this railway is that you can actually open the windows and lean out with your camera. Because of that, you don't have to worry about reflections or dirty windows and you can just capture the scenery. Take a look and see for yourself.
The old-fashioned wooden train is like something out of black and white movie. I could picture Humphrey Bogart sitting in one of these seats, smoking a cigarette and reading a newspaper.
Then again, Humphrey Bogart probably never had a flatscreen map with GPS.
Tip: get a seat on the left side with a window that rolls down.
Twenty minutes past Myrdal, the train stops at spectacular Kjosfossen Waterfall. There's a little platform built just for the train passengers.
Suddenly mystical new age music began playing, the kind of music you'd associate with elves and fairies, and a woman in a red dress appeared, whirling in the mist. It was like a scene from another world.
And then it was back on the train for more views.
After an hour, we arrived in the tiny waterfront village of Flåm with enough time to get lunch and stroll around before hopping on a cruise through the fjords.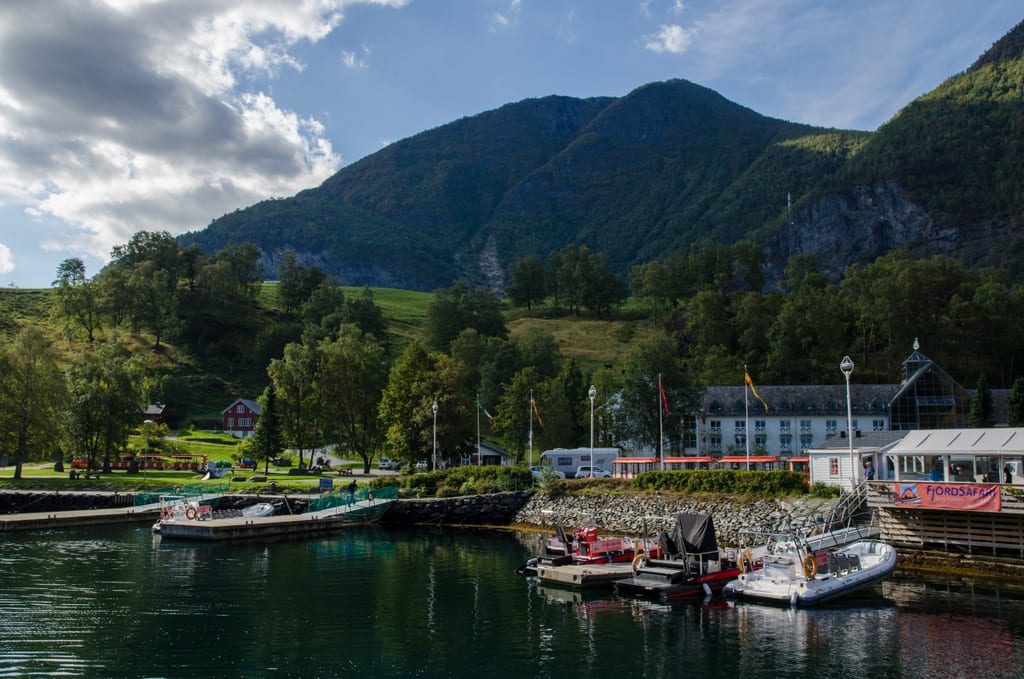 As far as train journeys go, the Flåm Railway was one of my favorites. If you're a train junkie, make this trip a priority! And even if you're not, if you're spending time in Bergen, that's a good enough reason as any to come on board.
---
See more from this trip:
---
Essential Info: You can experience the Flåm Railway in two ways — on its own or as part of the Norway in a Nutshell tour. The journey takes one hour in each direction.

You can book the Flåm Railway on its own through Visit Flåm. Round-trip tickets cost 400 NOK ($61 USD).

The Norway in a Nutshell tour includes a train ride on the Flåm Railway, a cruise from Flåm to Gudvangen through the Aurlandsfjord and the UNESCO World Heritage-listed Nærøyfjord, and a bus ride down 14 hairpin turns in the countryside, plus train transportation from your departure point.

The tour runs from Bergen, Voss, or Oslo, though it's closest to Voss and Bergen and runs year-round from those cities. The tour costs 1145 NOK ($178 USD) from Bergen, 775 NOK ($120 USD) from Voss, 1550 NOK ($241) as a one-way trip from Oslo to Bergen or vice versa (keep in mind that you'll need to carry your bags throughout), and 2100 NOK ($326) from Oslo.

I stayed at the Thon Hotel Bristol, where low-season rates start at about $170 USD. Find deals on hotels in Bergen here.

Don't visit Norway without travel insurance. It could save you if you get ill, injured, or lose your luggage. I use and recommend World Nomads for trips to Norway.
Many thanks to Visit Norway for hosting me in Norway. All opinions, as always, are my own.
Where was your most beautiful train journey?
Get email updates from Kate
Never miss a post. Unsubscribe anytime!