Adventurous Kate contains affiliate links. If you make a purchase through these links, I will earn a commission at no extra cost to you. Thanks!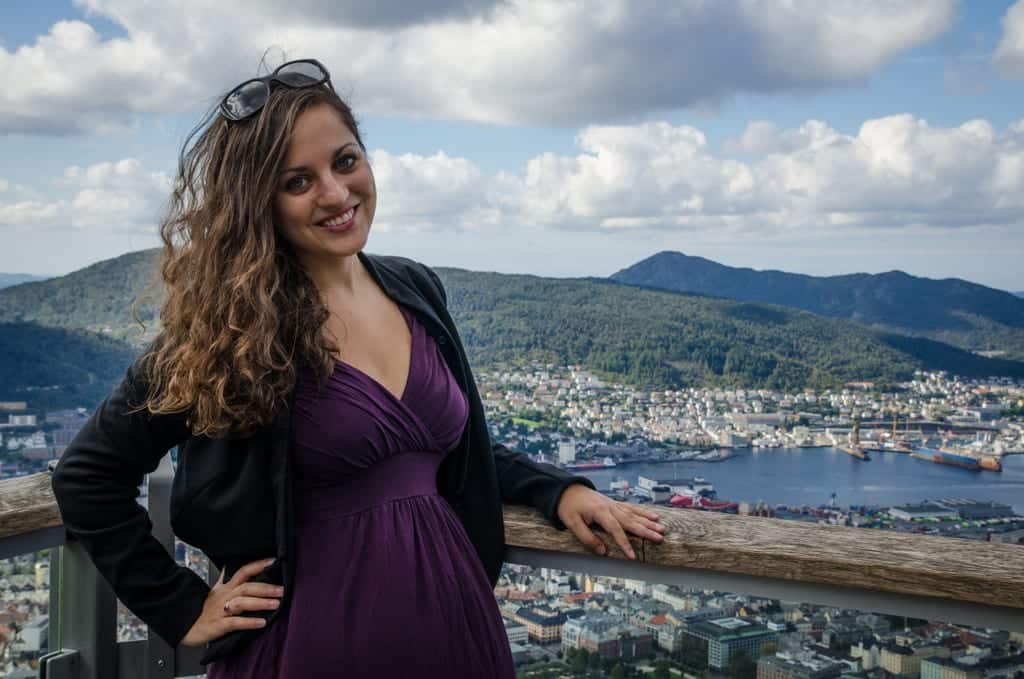 Norway. One of the most beautiful countries in the world. One of the most expensive countries in the world. A unique and cold and clear and precise destination — yet one that until recently had been out of my price range.
But I finally had an opportunity. Norwegian Air is now flying to New York, and at this time, I've found it to be the cheapest way to get across the Atlantic. I booked myself two one-way flights: London to Bergen for about $75 (not including luggage) and Bergen to New York three days later for about $350 (not including luggage).
A three-day trip to Bergen would be the perfect opportunity to get a taste of what Norway had to offer.
Once I had booked my flights, I reached out to Visit Norway and they offered to host me in Bergen for a few days, providing me with accommodation, a Norway in a Nutshell day tour, and a Bergen city press pass.
It turns out that three days is the ideal amount of time to visit Bergen. Being a small city, you can cover its main attractions on foot and still have time left over, yet not so much time that you get bored. I spent my first day sightseeing, my second day on a self-guided Norway in a Nutshell tour, and my third day relaxing and exploring on foot before jumping on the bus to the airport.
A Beautiful Waterfront City
Bergen's old town is built right on the water and on the edge of mountains. In my opinion, it's one of the world's most beautifully situated cities (along with Cape Town and Sydney!).
One of my greatest pleasures in traveling is simply wandering and getting a feel for the place. (Though if you'd rather learn more from a guide, there are plenty of city walking tours.) Here's what you might see on a walk through Bergen.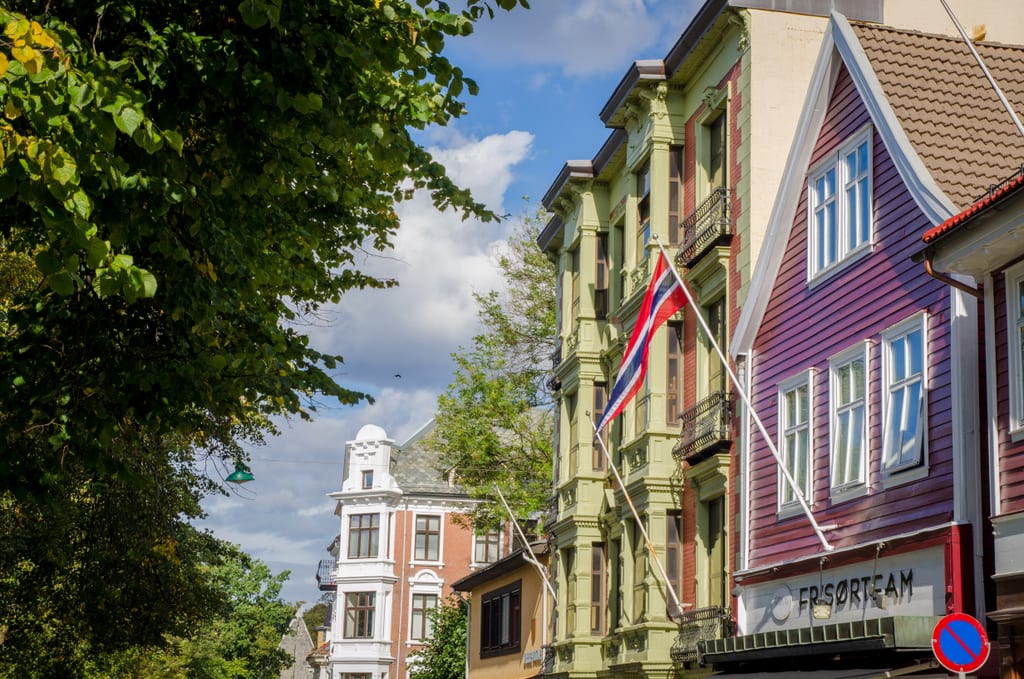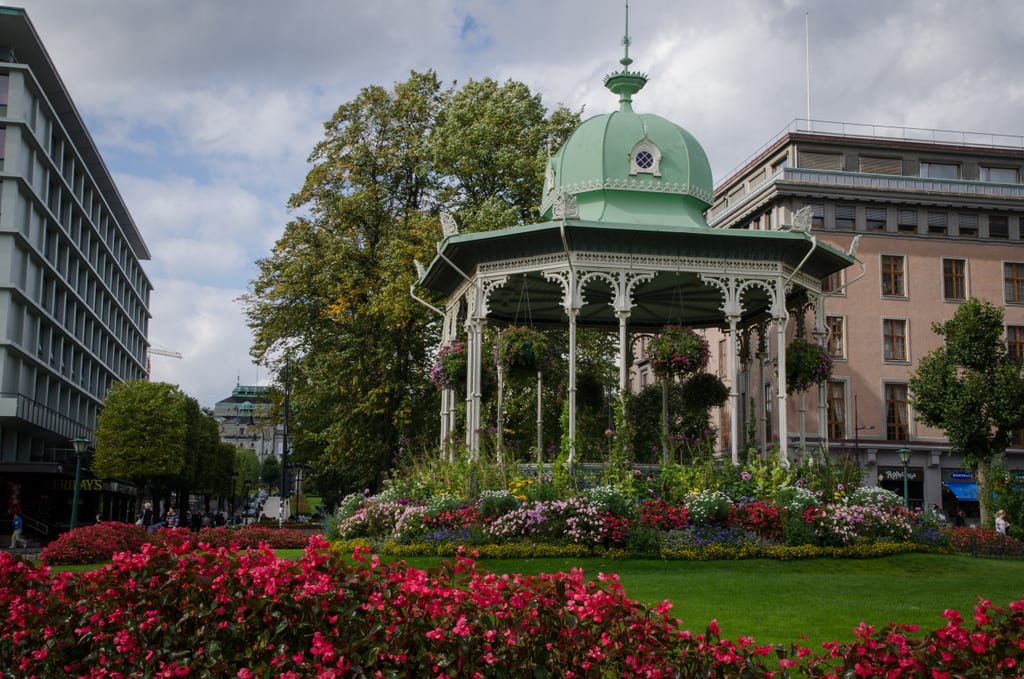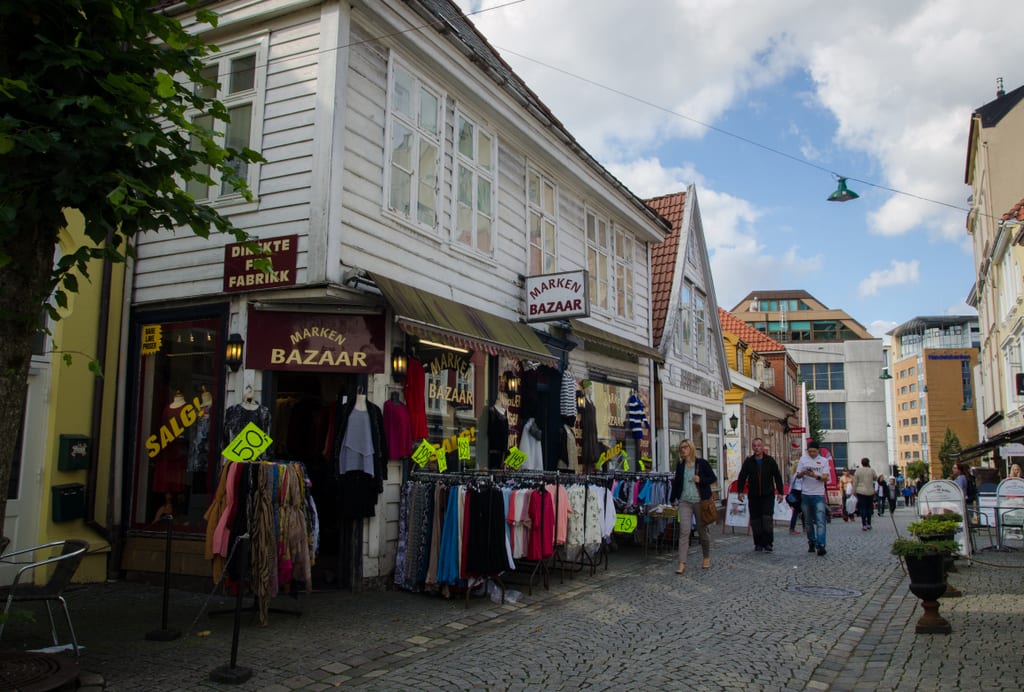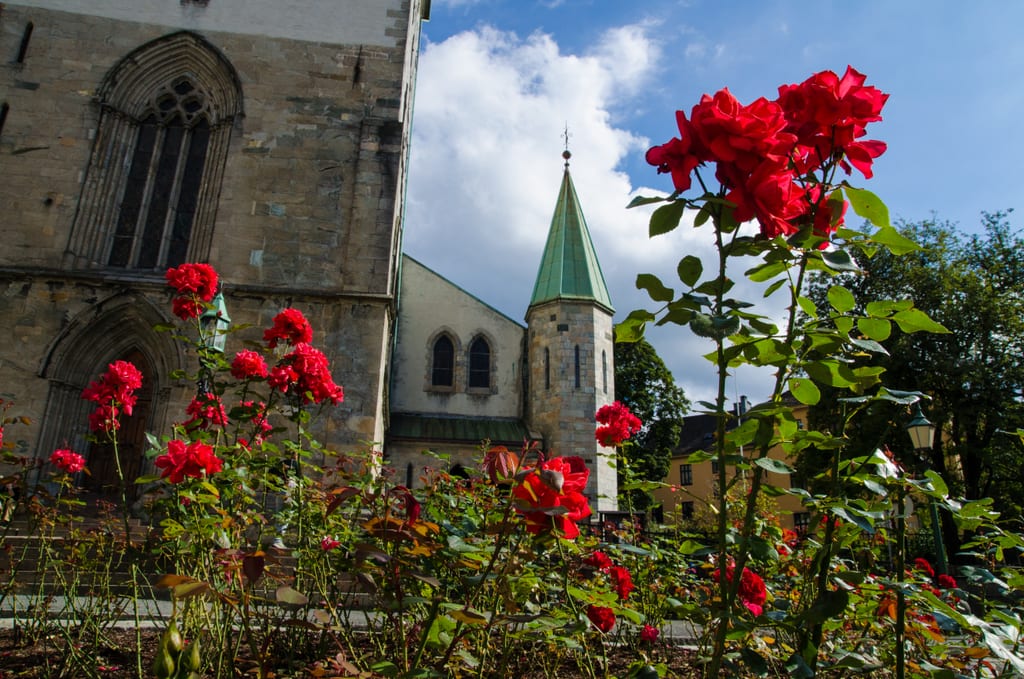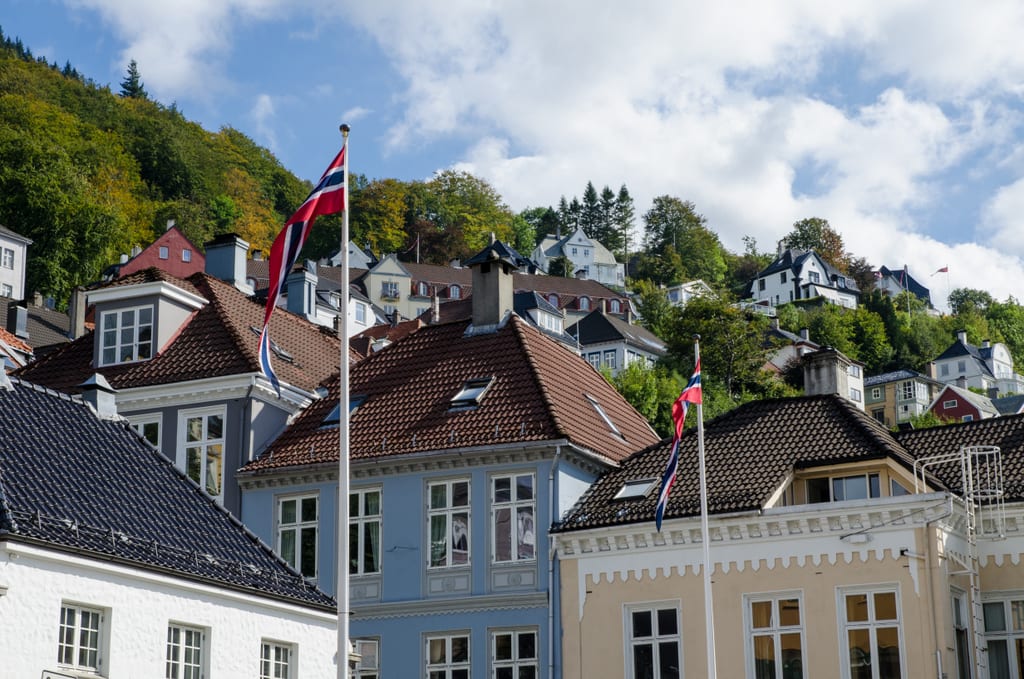 Wandering Bergen made my heart swell with happiness. It made me realize how much I adore the Nordic countries — their beauty, their design, their architecture, their colors.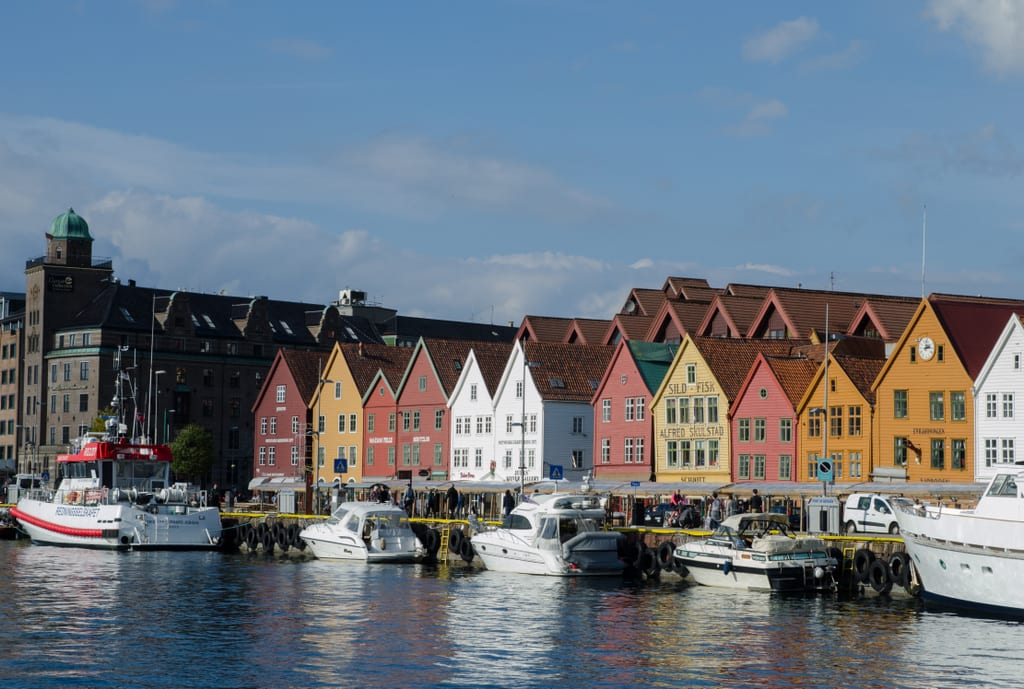 Things to Do in Bergen
Bergen's most famous site is the Bryggen — its World Heritage-listed Hanseatic wharf, whose brightly painted wooden buildings have been standing for hundreds of years.
The Bryggen is a beautiful place to explore. Try to see it from the inside, too.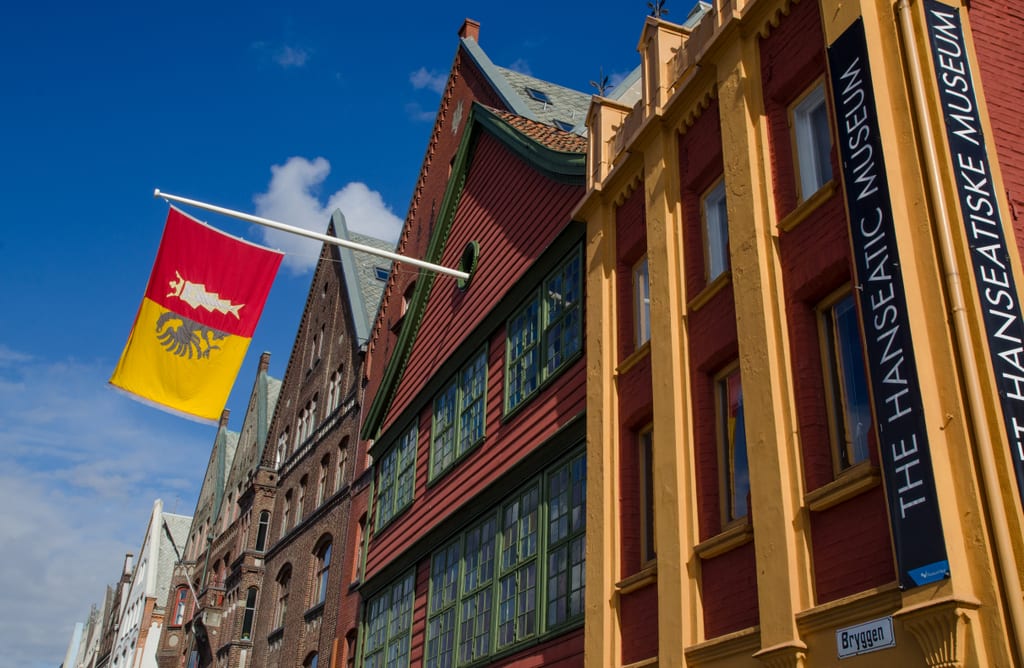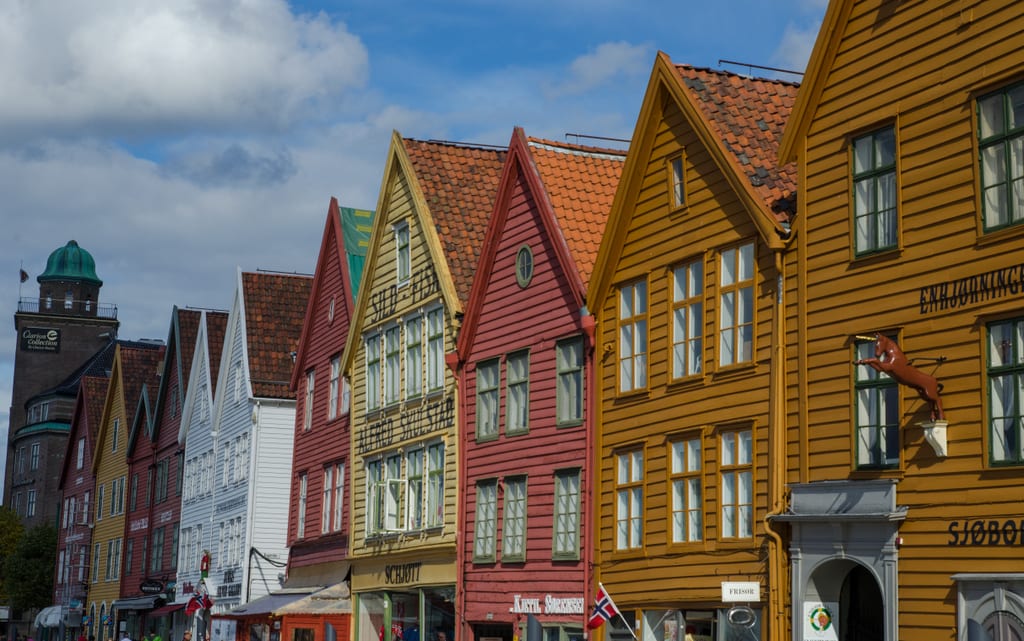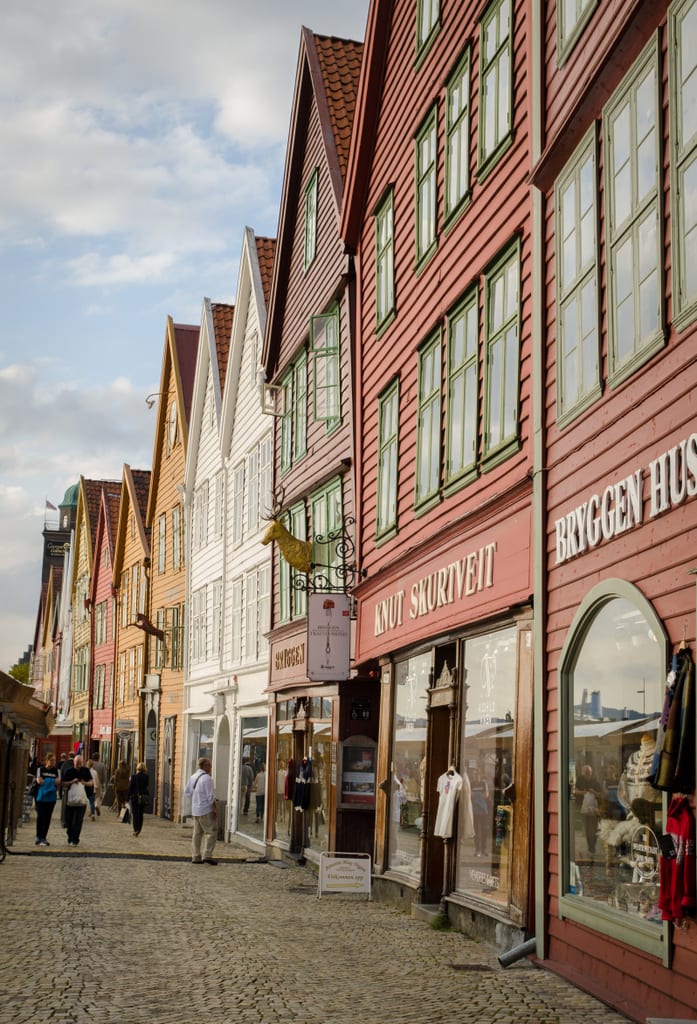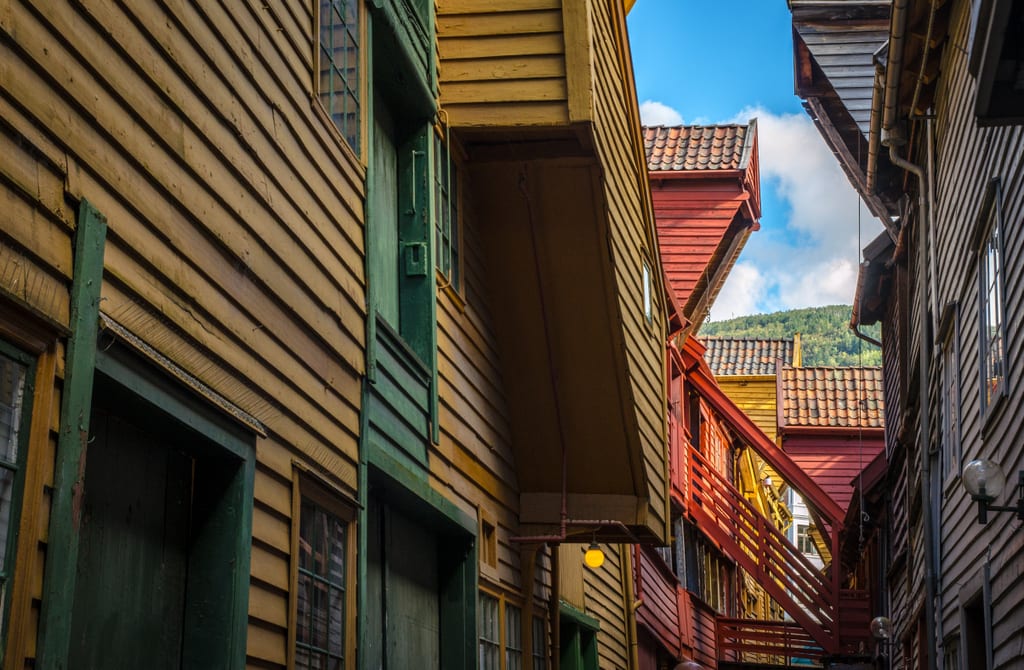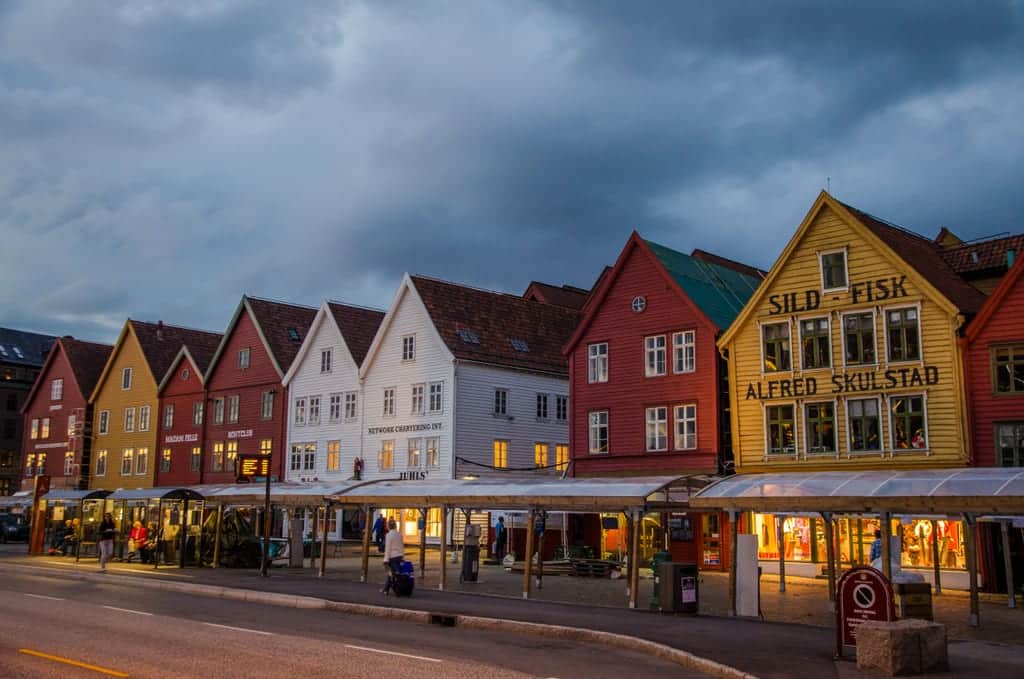 Catch it at different times of day if you can. The light is beautiful.
The Fish Market is located right by the Bryggen and is a nice place to window-shop or grab a bite to eat. They sell far more than just fish! Just keep in mind that this is one of the biggest tourist attractions in town and thus extremely overpriced, even by Norwegian standards.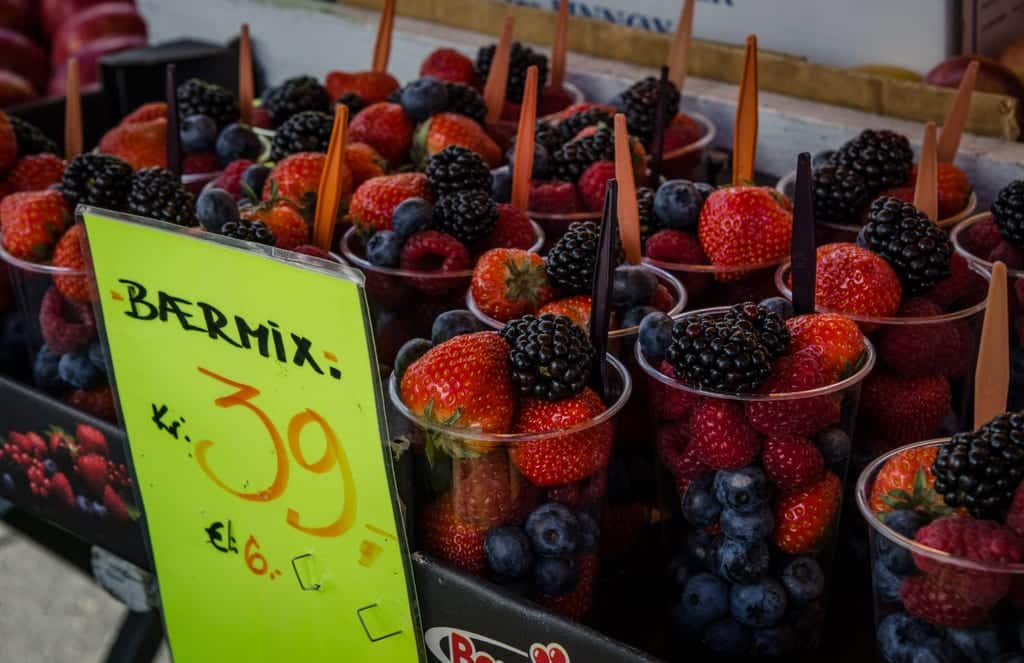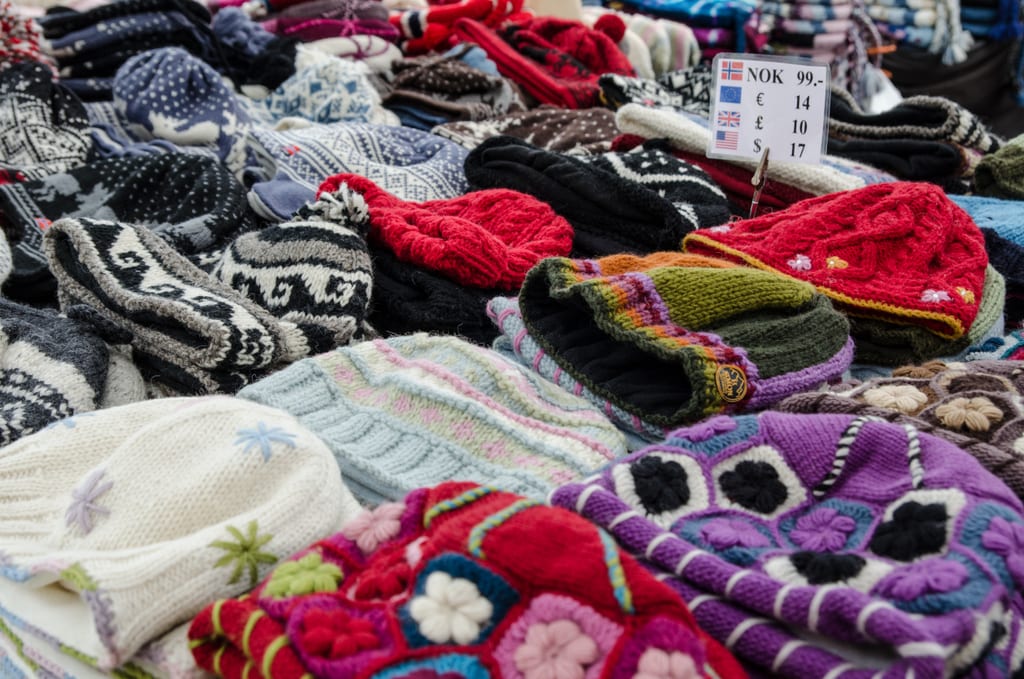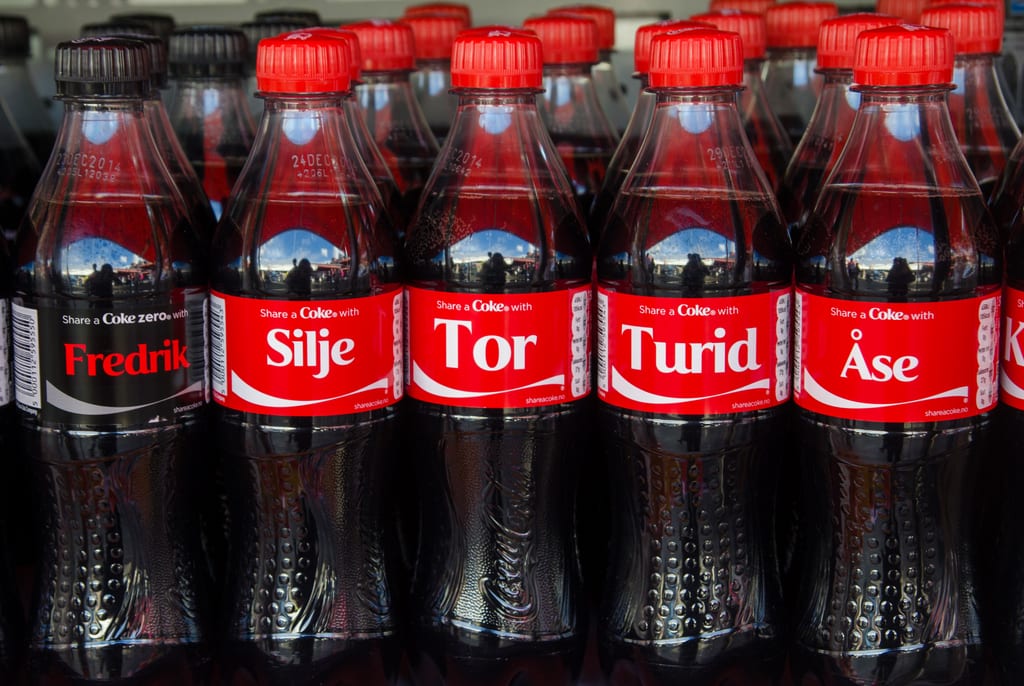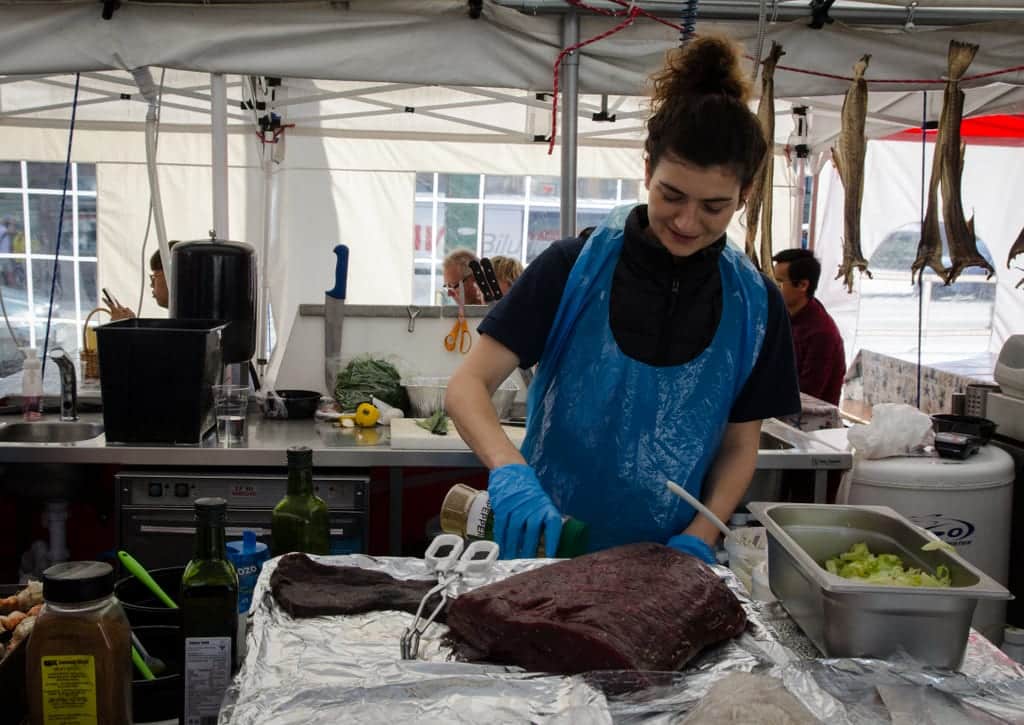 Whale steak, anyone?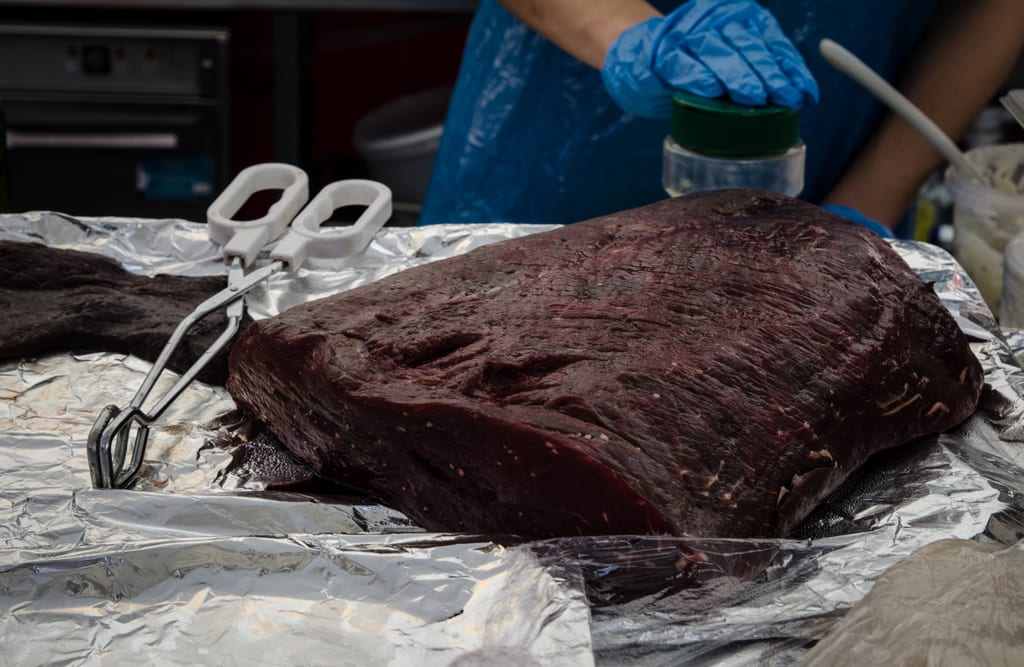 I didn't partake this time around, though I did try whale in Iceland a few years ago.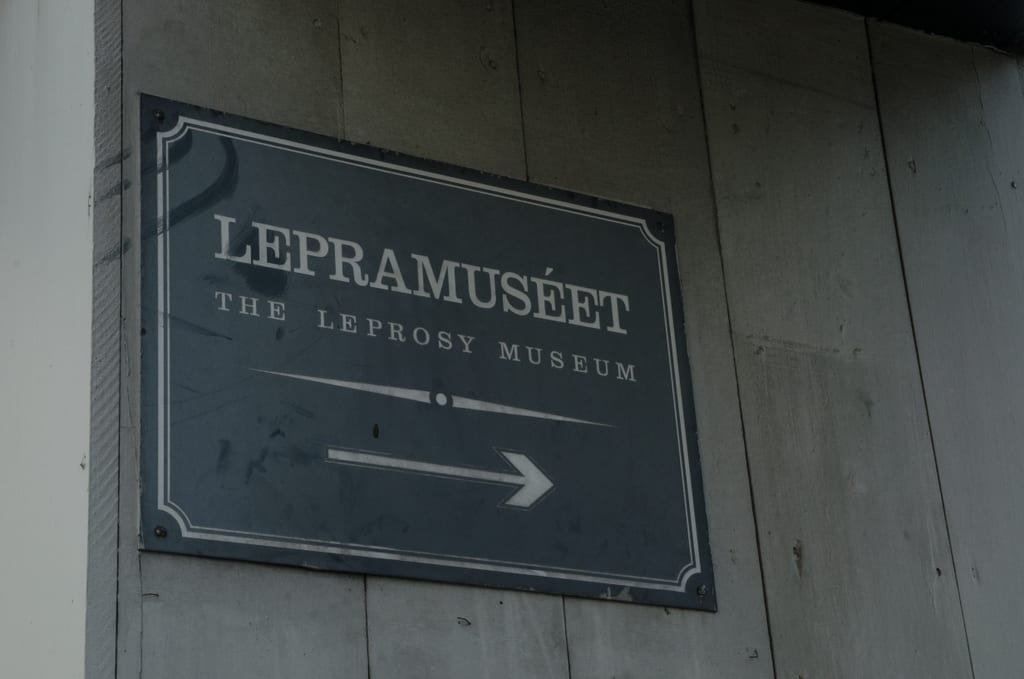 I was extremely disappointed that the Leprosy Museum was closed — it's only open from May through August.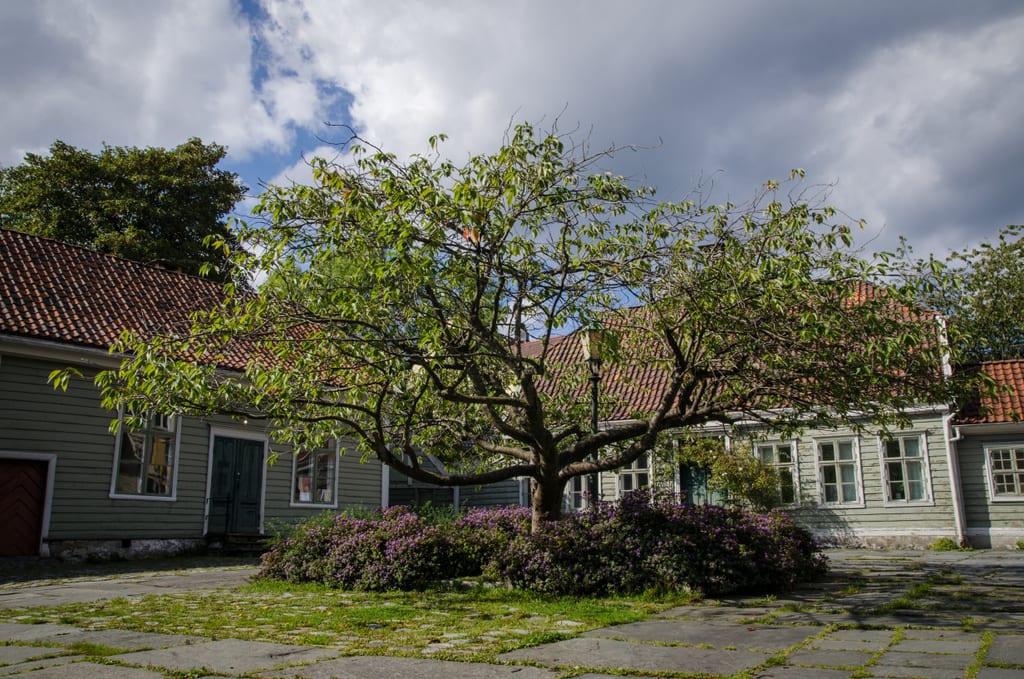 But I did discover its pretty courtyard.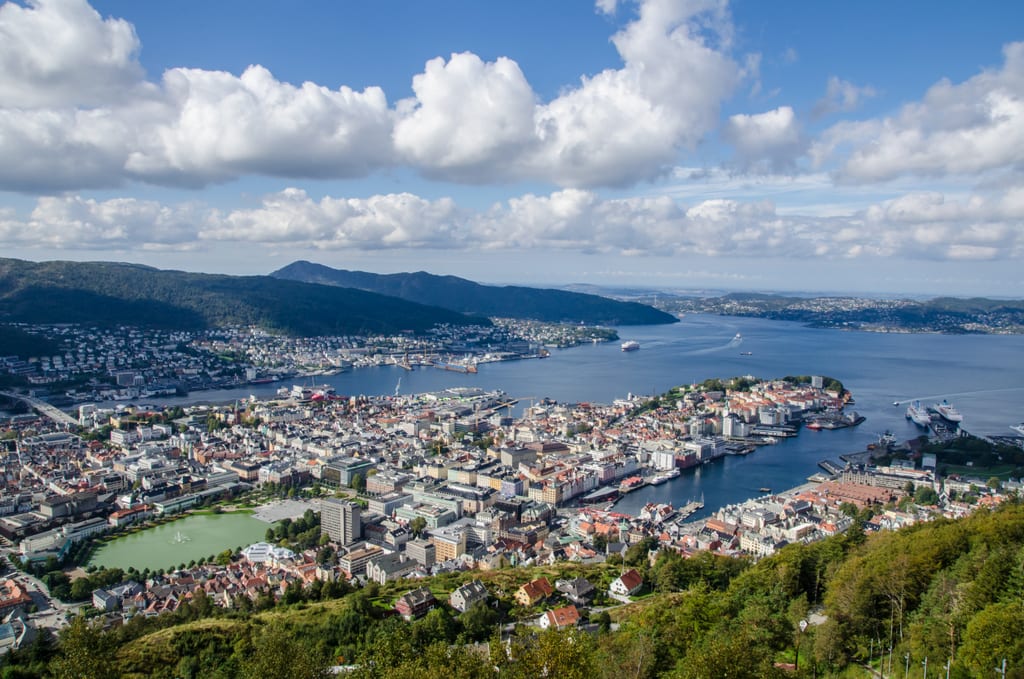 There are two options to view Bergen from above: the Fløibanen Funicular and the Mount Ulriken Cable Car.
The Fløibanen Funicular is located in the center of town and a short journey to the top. The view is pictured above.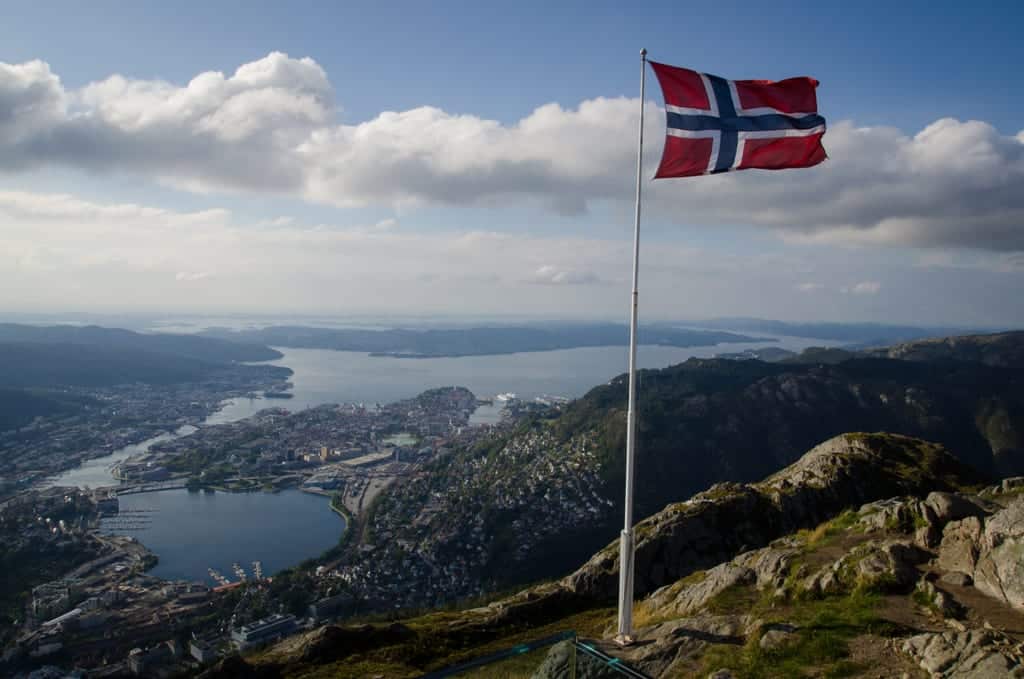 The cable car is about a 20-minute drive outside of town, and the ticket includes a ride from near the Fish Market. I went in the afternoon, and as you can see, it was the worst time for light. Go early in the day for better photos. The light was perfect in the other direction, though!
Want more of a workout? Consider hiking up Mount Floyen. You can join a guided hike or rent a bike to explore on your own.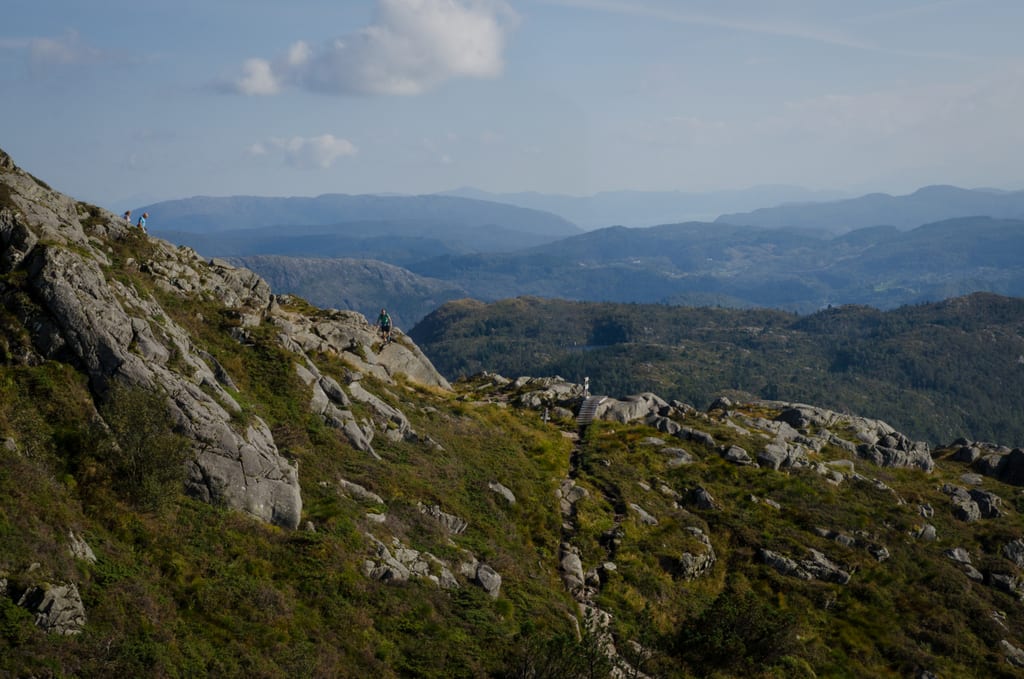 Between the two of them, I preferred the Fløibanen Funicular. Even though it didn't go as high, I thought the view was prettier and being right in the center of town, it was less of a journey to get there.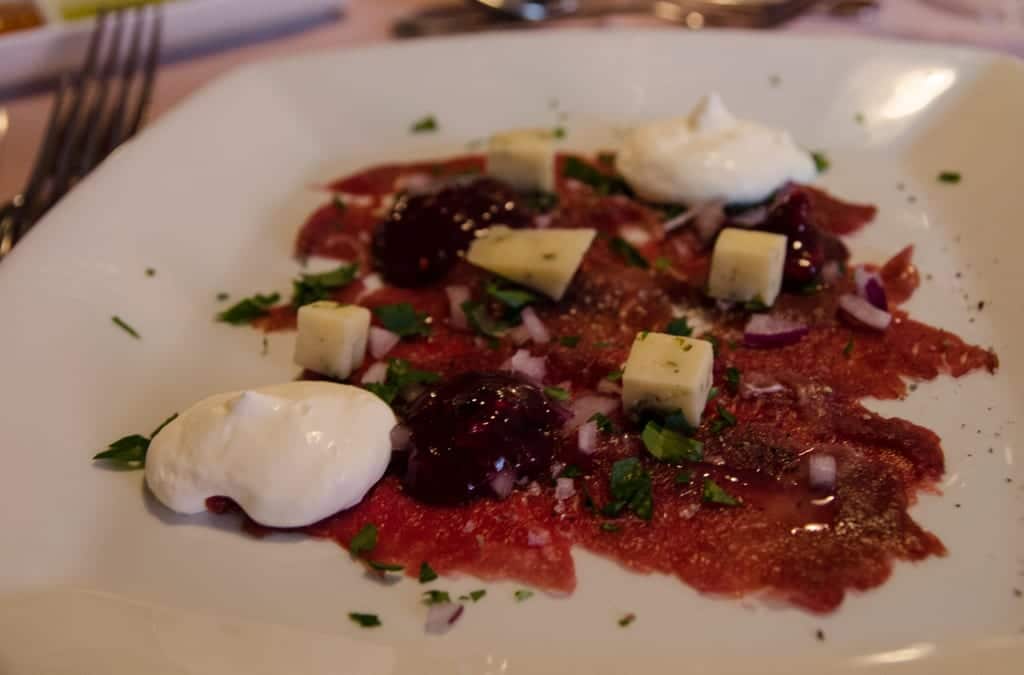 Finally, I allowed myself one splurge — a four-course dinner with wine pairings at To Kokker, a restaurant literally inside the Bryggen. The place feels like a time capsule, with low ceilings and slanted wooden floors.
If you ever head far north, you have to try reindeer. It's my favorite exotic meat — rich yet lean and extremely tender. At To Kokker, the best course was an absurdly soft reindeer steak in a berry and brown cheese sauce. Also on the menu: elk carpaccio, mussels and turbot, and panna cotta.
Still, though, I'm not sure I would recommend it unless you're really into food. It's pricey at 395/595 NOK ($60/91 USD), though I had a 50% press discount) and though it was delicious, it wasn't quite the rhapsody I expected. I'd rather spend big bucks on a meal in France, Italy, or Spain.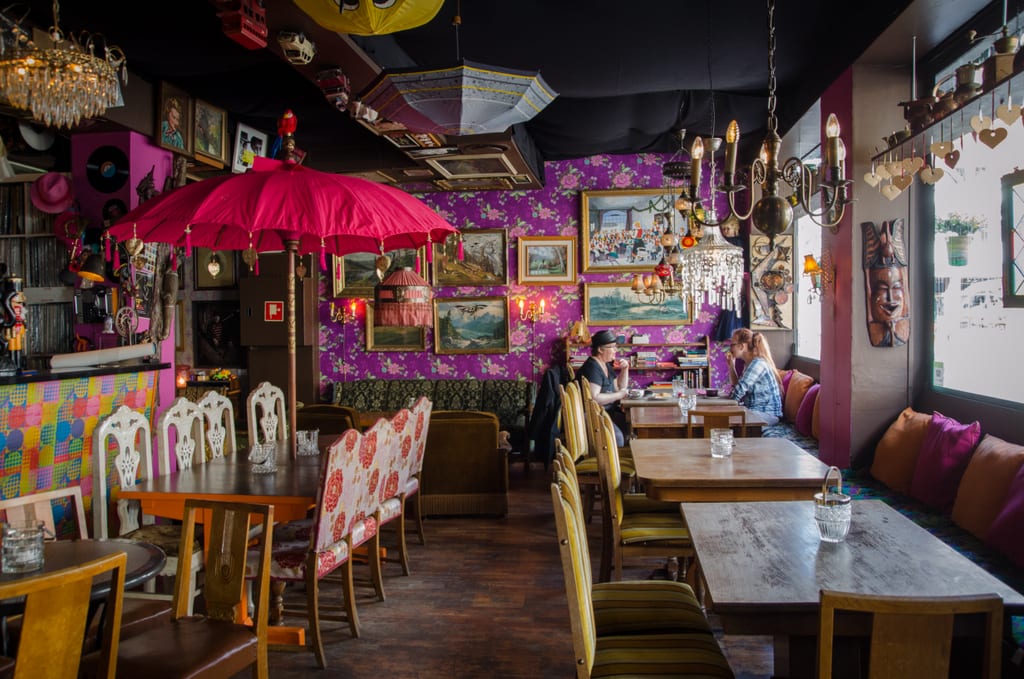 Cafe-Hopping
One of my priorities when traveling is to get in some cafe time. Taking a break with a coffee is my favorite way to decompress in between rounds of sightseeing. Popping into Starbucks will get the job done, but I'd rather find an independent cafe if possible.
When I walked past Bar Barista, I had to go in. I mean, look at it!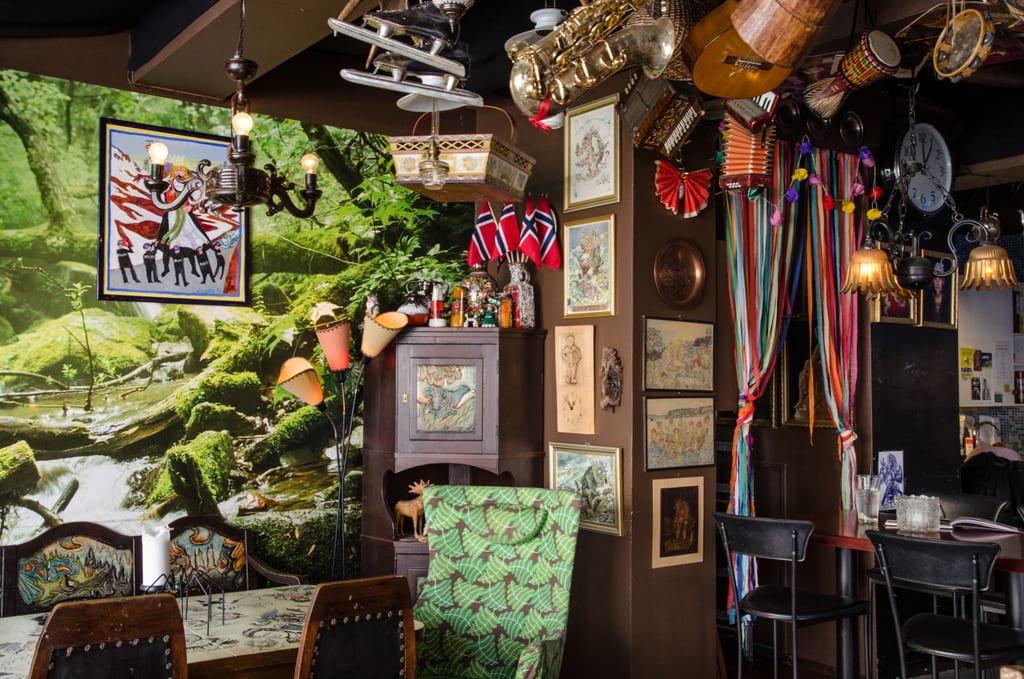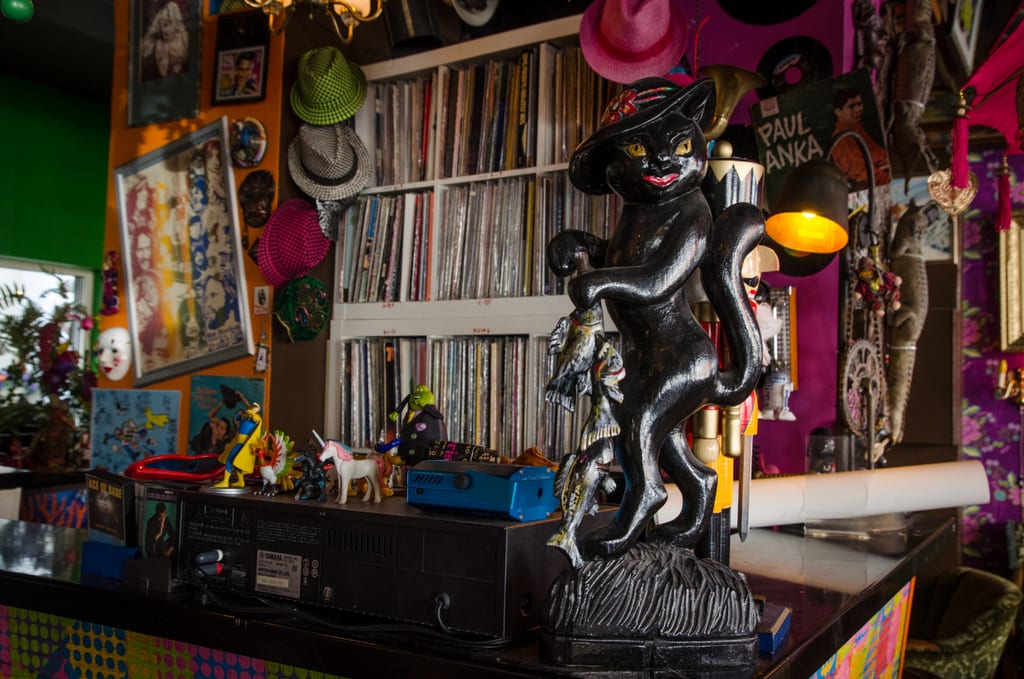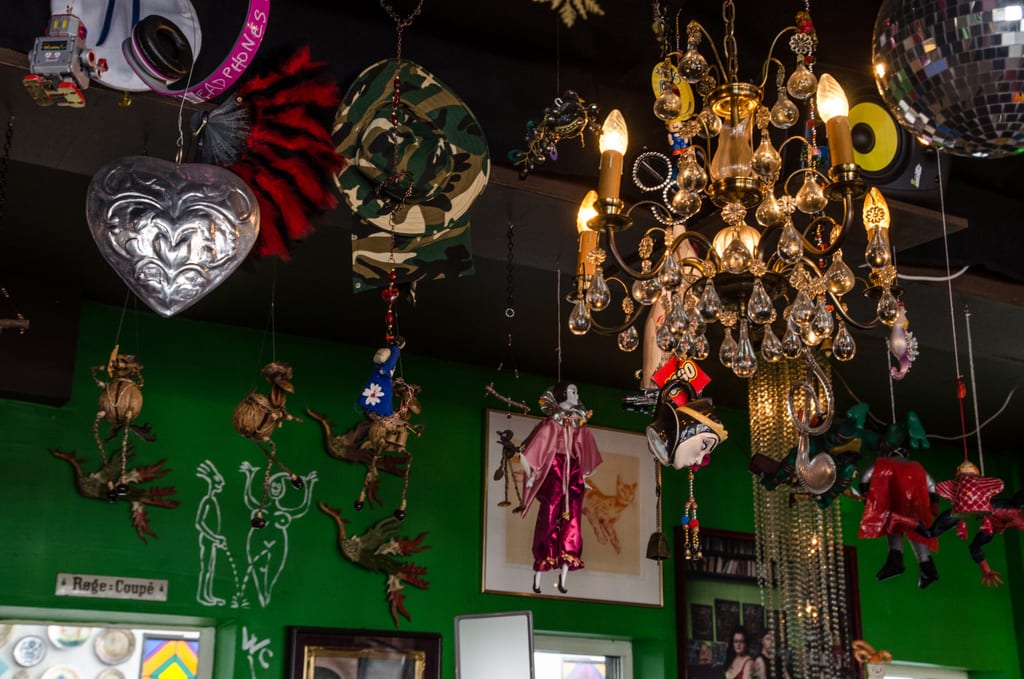 Despite the lack of wifi, it was a cool spot to take a break. Nice soundtrack, too — the owner is passionate about vinyl records.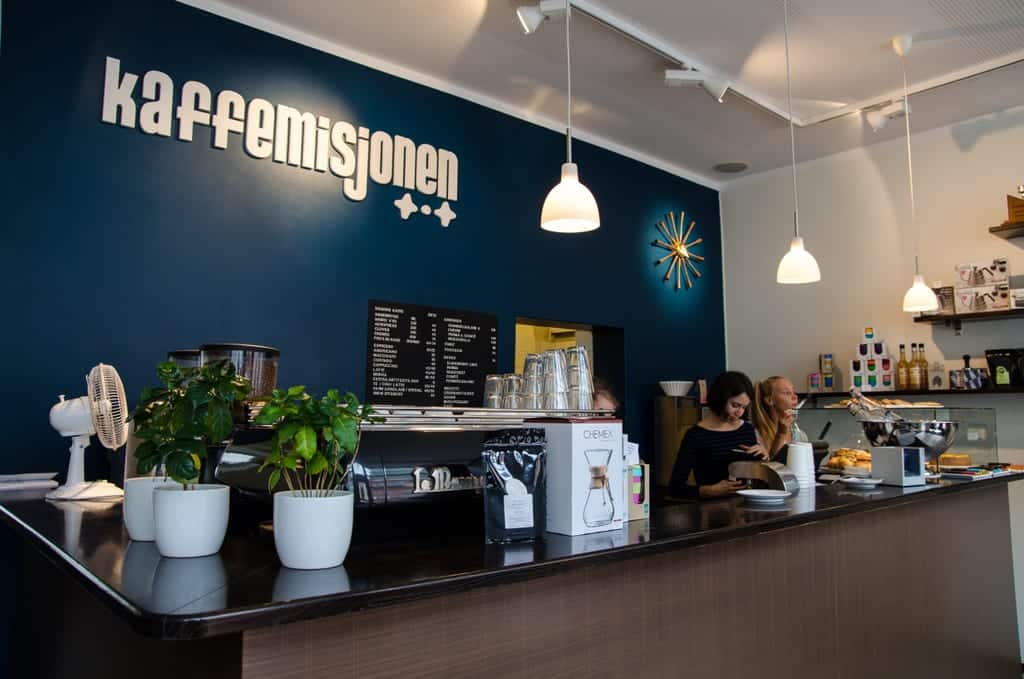 Another cafe I loved was the very Nordic Kaffemisjonen. They served one of the best lattes I've ever had. With a side of wifi.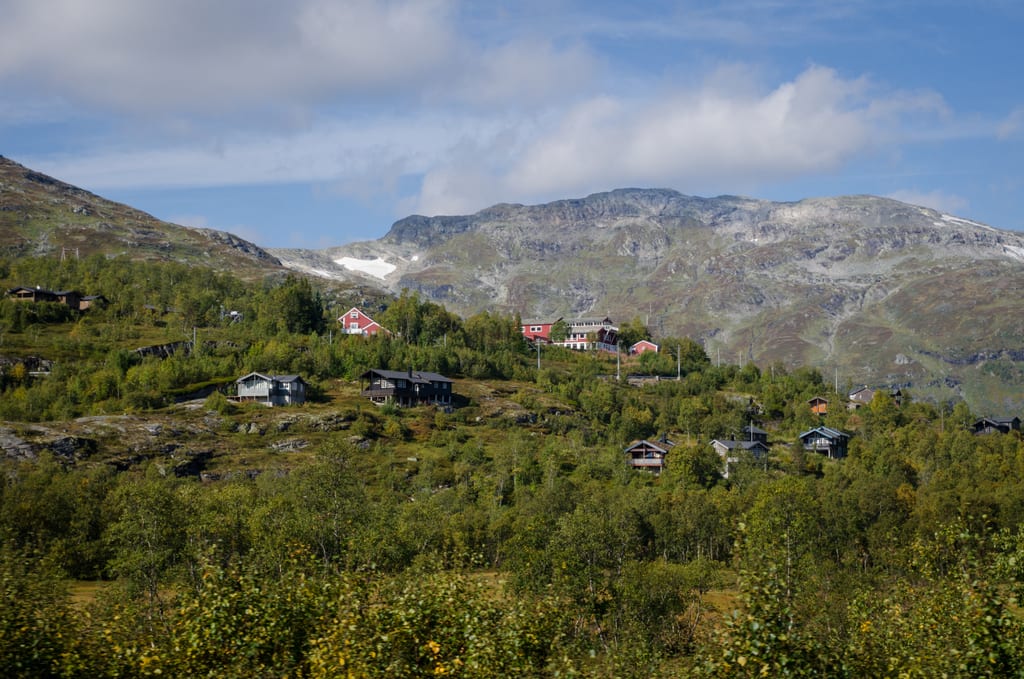 Norway in a Nutshell
I spent a full day on the Norway in a Nutshell tour, taking in the most beautiful landscapes in western Norway's fjords by train, boat, and bus. If you're in Norway for a limited time, this is the absolute best way to get a taste of the country's dramatic landscapes in a single day.
---
More from Norway in a Nutshell:
---
You can see my fjord cruise photos here; above is a photo from the Flåm Railway.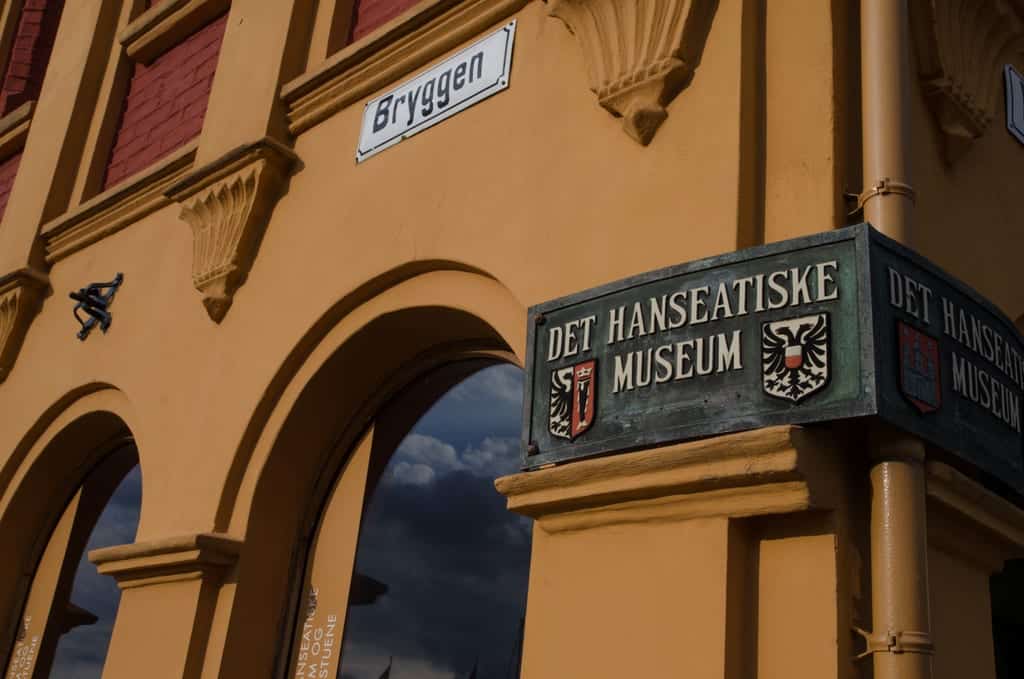 How much does it cost to travel to Norway?
Two years ago, I was in Stockholm and aghast at how expensive everything was. As I chomped away on my $18 margherita pizza, two older couples at a nearby table were laughing, eating, and ordering bottle after bottle of wine.
"They're from Norway," the waiter told me. "They come here because it's so cheap."
?!?!?!!!?!!
That, right there, gives you an idea of just how expensive Norway is.
Here are some of the costs I paid:
One-way ticket on the Flybus (Bergen Airport to Bergen city, about 20 minutes): 90 NOK, or $14 USD
Raspberry smoothie at a cafe: 66 NOK, or $10 USD
Cup of berries at the market: 39 NOK, or $6 USD
Four-course meal with wine pairings at To Kokker: 595 NOK, or $91 USD
Bottle of water at the train station: 27 NOK, or $4 USD
Reindeer burger and cappuccino at a casual restaurant in Flåm: 192 NOK, or $29 USD
Toilet at the train station: 10 NOK, or $1.50 USD
Two cheeseburgers and a small fries at McDonald's (no judgment!): 49 NOK, or $7.50 USD
Double latte at a cafe: 49 NOK, or $7.50 USD
Hot dog and water at a convenience store: 52 NOK, or $8 USD
I found Norway to be the most expensive place I've been in Europe, even more expensive than Switzerland, Sweden, Iceland, and Finland. That said, I found it to be worth it — for a short weekend trip in a city as beautiful as Bergen, anyway!
I stayed at the Thon Hotel Bristol, a beautiful mid-range city center hotel that I loved. With low-season rates starting at about $170 per night and high-season rates much higher, it would have been out of my price range if I hadn't been hosted (then again, most nice city center hotels are out of my price range); however, if it's in your price range, I highly recommend it.
The cheapest city center accommodation in Bergen's city center I could find is at the Bergen YMCA, where dorms start at about $30 USD; Marken Gjesthus is a more upmarket hostel with dorms from around $40 USD and doubles from around $110 USD.
Bergan has an excellent selection of rentals on Airbnb. See all Bergen's Airbnb rentals here.
A three-day trip to Norway will do considerably less damage to your wallet than a two-week trip. With all there is to do in Bergen, I couldn't think of a better destination to try Norway out for the first time.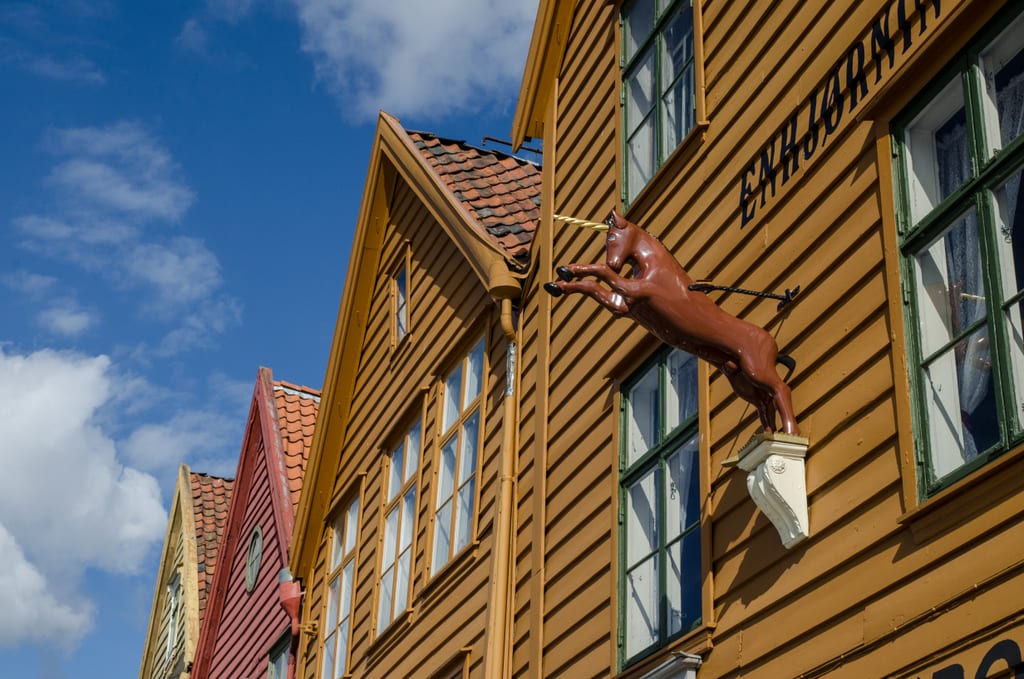 Bergen: The Takeaway
Bergen is one of my new favorite cities of Europe, and if I fly Norwegian Air again, I see myself working in another stopover here in the future! Three days was the perfect amount of time to explore it.
If you're in Europe — or even in New York, if you don't mind a seven-hour flight and six-hour time difference — I recommend that you consider Bergen for a long weekend trip. I hope you love it as much as I did.
---
READ NEXT: Copenhagen in Photos
---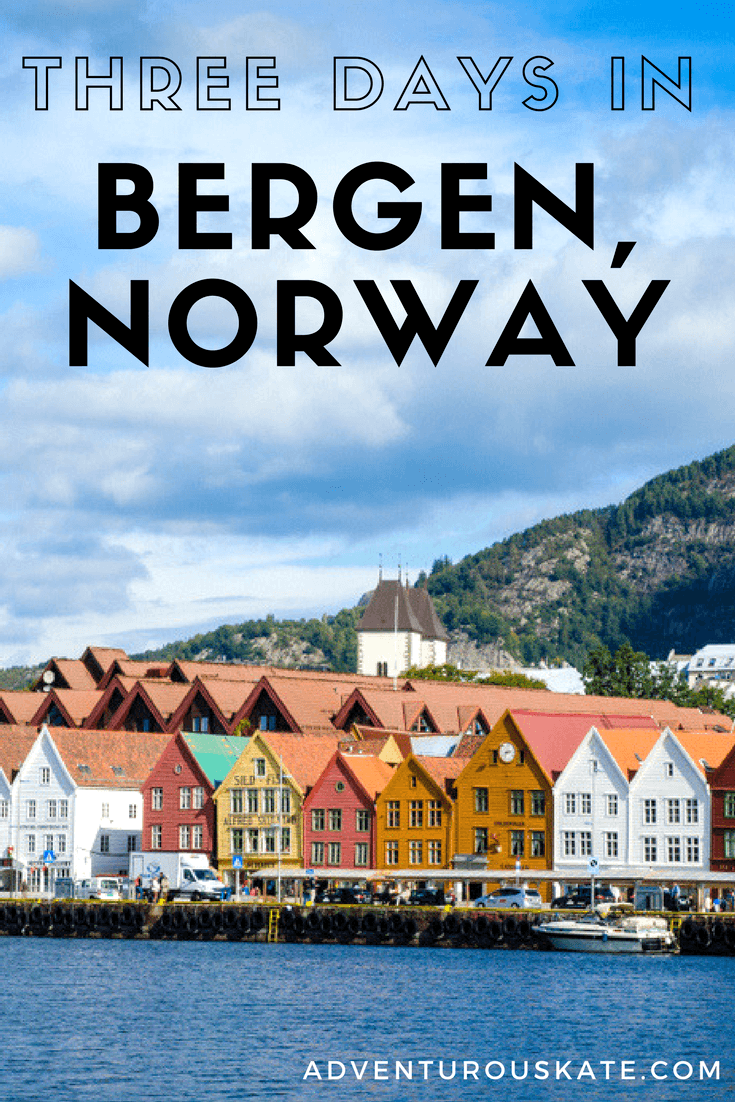 Essential Info: If you're interested in doing lots of sightseeing in Bergen, consider the Bergen Card, which includes free or discounted admission to many sites in town. The card costs 260/200 NOK ($40/$30.50 USD) for 48/24 hours for adults and 100/75 NOK ($15/$11.50 USD) for 48/24 hours for children. I recommend adding up the costs of the places you want to visit and seeing if it's cheaper with a card.

I highly recommend traveling with a digital guidebook on my own. I use Lonely Planet guides and recommend Lonely Planet Norway — you can buy just the Bergen chapter if you'd like!

The Bryggen and the Fish Market are free to visit.

The Leprosy Museum is open from May through August only. Admission is 70 NOK ($11 USD) for adults, 35 NOK ($5 USD) for students, and free for children.

The Fløibanen Funicular costs 85/43 NOK ($13/$6.50 USD) round-trip/one-way for adults and 43/22 NOK ($6.50/$3 USD) round-trip/one-way for kids. You can also walk up a paved path for free.

The Mount Ulriken Cable Car costs 150/90 NOK ($23/$14 USD) round-trip/one-way for adults and 80/50 NOK ($12/8 USD) round-trip/one-way for kids. You can also hike up for free, but keep in mind that this is a mountain you're climbing. The ticket includes a transfer from the city center, near the Fish Market.

Prix fixe menus at To Kokker start at 395/595 NOK ($60/91 USD) for a four-course meal without/with wine pairings.

The Norway in a Nutshell tour includes a train ride on the Flåm Railway, a cruise from Flåm to Gudvangen through the Aurlandsfjord and the UNESCO World Heritage-listed Nærøyfjord, and a bus ride down 14 hairpin turns in the countryside, plus train transportation from your departure point.

The tour runs from Bergen, Voss, or Oslo, though it's closest to Voss and Bergen and runs year-round from those cities. The tour costs 1145 NOK ($178 USD) from Bergen, 775 NOK ($120 USD) from Voss, 1550 NOK ($241) as a one-way trip from Oslo to Bergen or vice versa (keep in mind that you'll need to carry your bags throughout), and 2100 NOK ($326) from Oslo.

I stayed at the Thon Hotel Bristol, where low-season rates start at about $170 USD. Find deals on hotels in Bergen here. See all Bergen's Airbnb rentals here.

Don't visit Norway without travel insurance. It could save you if you get ill, injured, or lose your luggage. I use and recommend World Nomads for trips to Norway.
Many thanks to Visit Norway for hosting me in Norway. All opinions, as always, are my own.
Have you been to Norway? Is Bergen your kind of city?