Adventurous Kate contains affiliate links. If you make a purchase through these links, I will earn a commission at no extra cost to you. Thanks!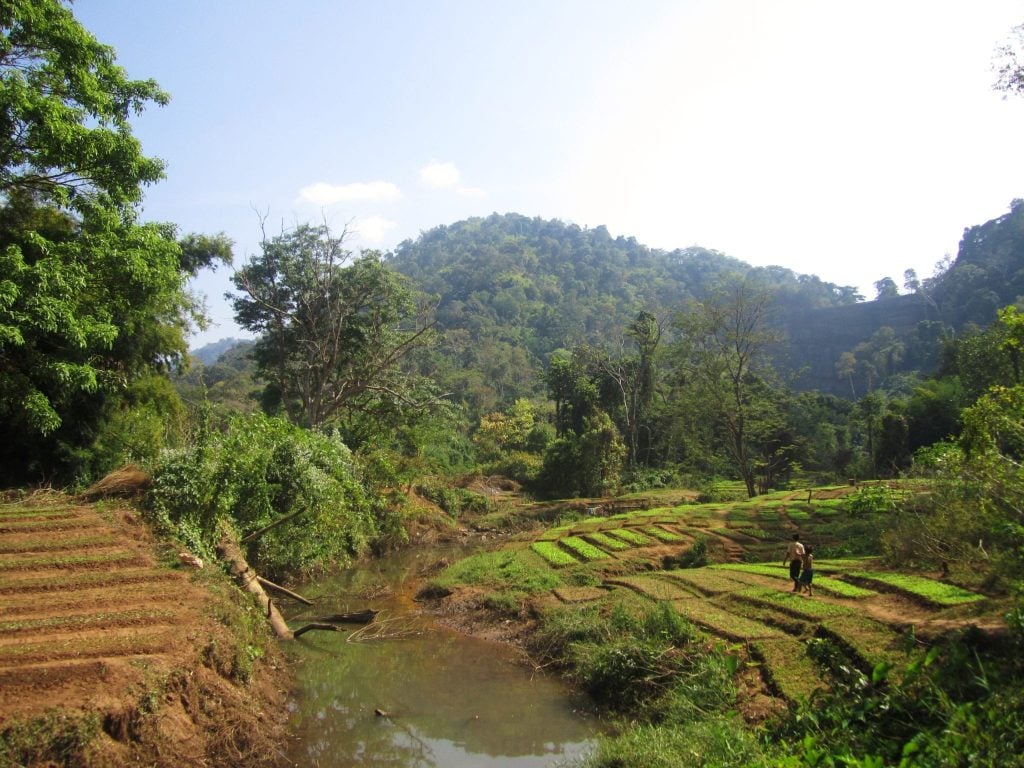 I'm at a tiny gas station in the Bolaven Plateau of Southern Laos, trying to explain to the woman how much of the magenta liquid I need.  I point to my nearly-empty fuel gauge; she hands me the hose to hold while she cranks the manual pump.
And then I have to figure out how much I owe her.  Neither of us speaks more than two words of the other's language, and nodding and smiling doesn't get you far when dealing with numbers.
I pull out my iPhone and pull up the calculator app.  Many vendors in Southeast Asia carry calculators to show prices to tourists, but there's no way this woman sees many tourists.  I keep typing numbers; she shakes her head.
I hand her the iPhone.  She hesitantly presses a button and her face lights up as the screen fills with the numbers she chose.
Here I am, in remote Laos, teaching a local woman how to use an iPhone.  Our lives couldn't be more different, yet here we were, together, marveling over the handiwork of Steve Jobs.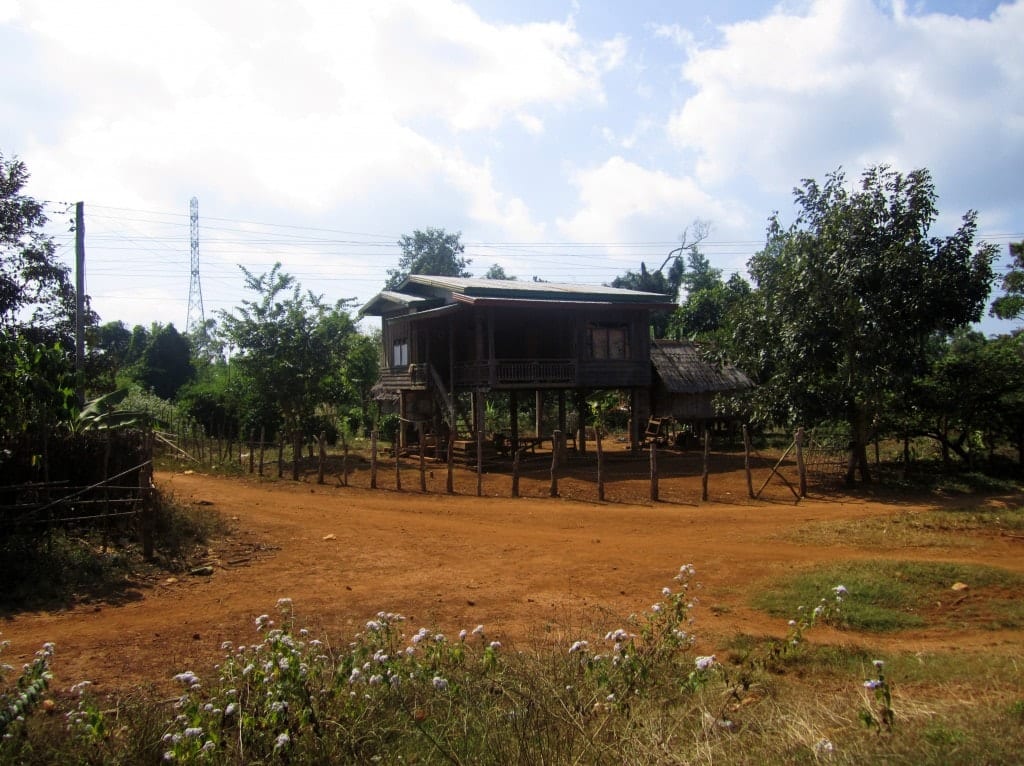 Most backpackers who visit Laos take the well-trod route from Vientiane to Vang Vieng to Luang Prabang, then promptly leave the country.  While I definitely plan on taking that route at some point, there was a region I wanted to visit more: Southern Laos.
Southern Laos has far fewer tourists than the north, and feels far off the beaten path. Running through this region is the Bolaven Plateau, home to coffee plantations, waterfalls, homes on stilts, and some of the friendliest kids you'll ever meet.
To get to Southern Laos from Bangkok, I took an overnight train to Ubon Ratchathani in Isan, Thailand's northeastern region.  From Ubon, it was a two-hour bus ride and border crossing to Pakse, the largest city in Southern Laos.
In Pakse, I rented a motorbike and planned a two-day ride through the Bolaven Plateau.  From the moment I hopped on that bike, I felt amazing – cruising down the dirt paths, bouncing through the occasional pothole, my long hair flying wild behind me.
And yes, I was covered in a fine paste of red dirt and sunscreen, and the occasional bug hit me in the face, but I didn't care – there's nothing like the feeling of riding through mostly untraveled territory.  I noticed fewer than five foreigners in two days, and I was the only solo woman.
Everywhere I rode, children would wave and yell, "Hello!"  I drove past a group of schoolchildren and they started jumping around and pointing in excitement.  I felt like a celebrity!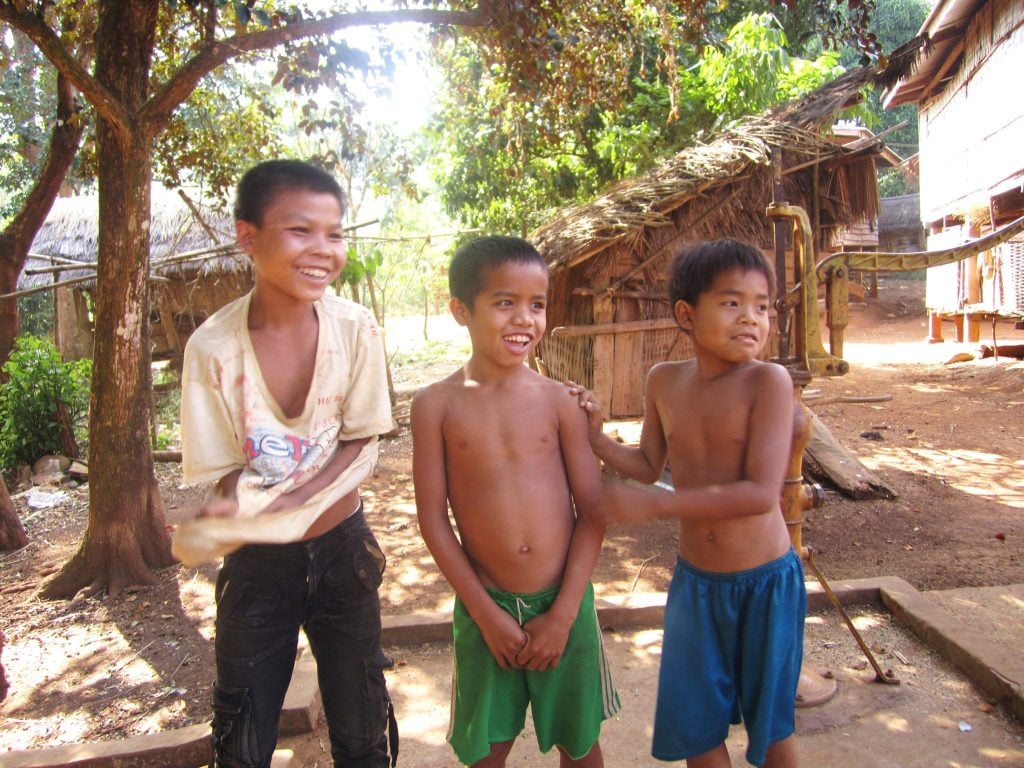 Not far from Tat Lo, these adorable little boys took me on a hike around their village!
You can ride from Pakse to Tat Lo in about two and a half hours, but it's worth it if you go slower, explore the region, and stop along the way. Take the whole day, then spend the night in Tat Lo and come back to Pakse the next day.  It's a perfect itinerary.
Tat Lo is one of the more famous waterfalls in Southern Laos, and a tiny town has sprung up around it.  Most people arrive by bus, which is why I saw few other foreigners on the road.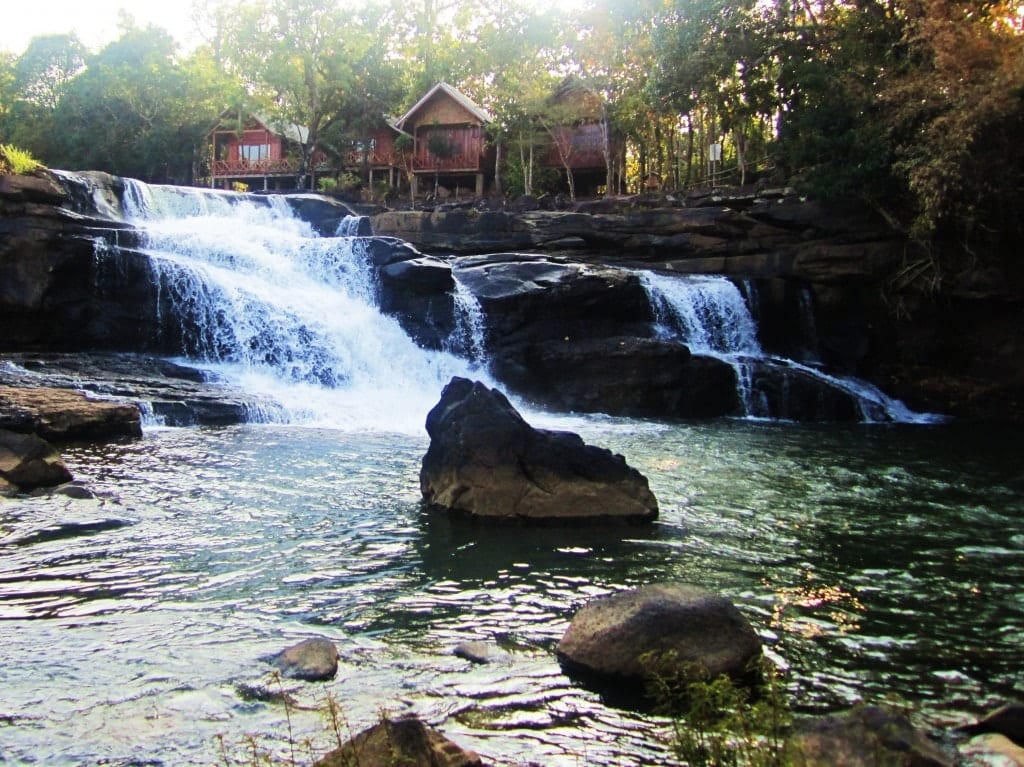 Another reason to make this journey?  It's cheap.  A restaurant meal seldom costs more than $1, a large Beerlao costs around $0.80, and my bungalow with a balcony and view of the river cost $4.
Personally, I think Tat Lo has a lot of potential to become a major backpacking destination.  Once they get WiFi and put in some Western toilets, that is!  Between the beautiful location and the burgeoning scene, it's only a matter of time before it becomes more developed and the backpacker buses arrive.
Translation: as I said about Koh Lanta, as I said about Railay, GO NOW.  Go to Tat Lo now, go by motorbike, and see it for the peaceful hamlet that it is.  Don't wait until the road is filled with hundreds of falang like in Pai.  Can you imagine?!
It's not too late to enjoy solitude on a road that sees so few foreign visitors.  Go, go now, and enjoy a truly magical place while you can.
Get email updates from Kate
Never miss a post. Unsubscribe anytime!