Adventurous Kate contains affiliate links. If you make a purchase through these links, I will earn a commission at no extra cost to you. Thanks!
Seaside Florida is one of the most remarkable places I've visited in the Sunshine State, and one that I won't be forgetting anytime soon. From the retro mid-century pastel homes to the soft sand and verdant waves of the Emerald Coast, this oceanside favorite is the cat's pajamas (or should I say the dog's swimsuit?).
Seaside is a tiny town on the Florida panhandle, about an hour from Panama City and encircled by forest. I had no idea it even existed until meeting a lady in Mississippi who recommended it, telling me it was wonderful. She sighed so deeply and emphatically that I knew I had to check the place out for itself.
After leaving Route 98, I drove through several miles of dense forest before emerging into a street straight out of a 1960s sitcom from the 1950s. Large houses held court on each side of the street, hues of pink or blue or yellow with white trim and geometric designs, each hemmed in by white picket fences.
"This is nice," I murmured.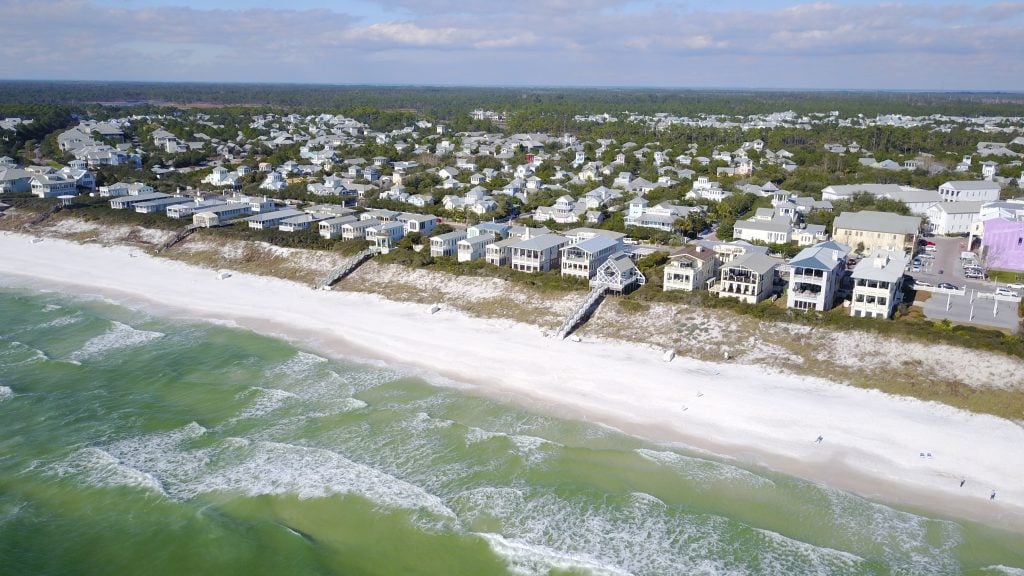 Bike paths emerged along the beach. Groups of teenagers, older couples, and young families whizzed by on old-fashioned bicycles. At this point, restaurants began to pop up now and again, along with Airstream trailer food trucks. The houses were now smaller, brighter, compact little marvels of design. Wispy clouds streaked the periwinkle sky.
"This is…really nice," I said, dumbfounded.
Seaside's perfect pastel bungalows stunned me; they were almost too good to be true. The beaches were brilliant, as soft as sugar edging against bright turquoise Gulf of Mexico; the location was isolated, surrounded by pine forests on all sides.
I loved my time in the town of Seaside, and I especially love sharing it with other people. Are you thinking of visiting? You should! I'll take you on a journey through this sun-drenched town that is sure to be a lovely trip you'll never forget.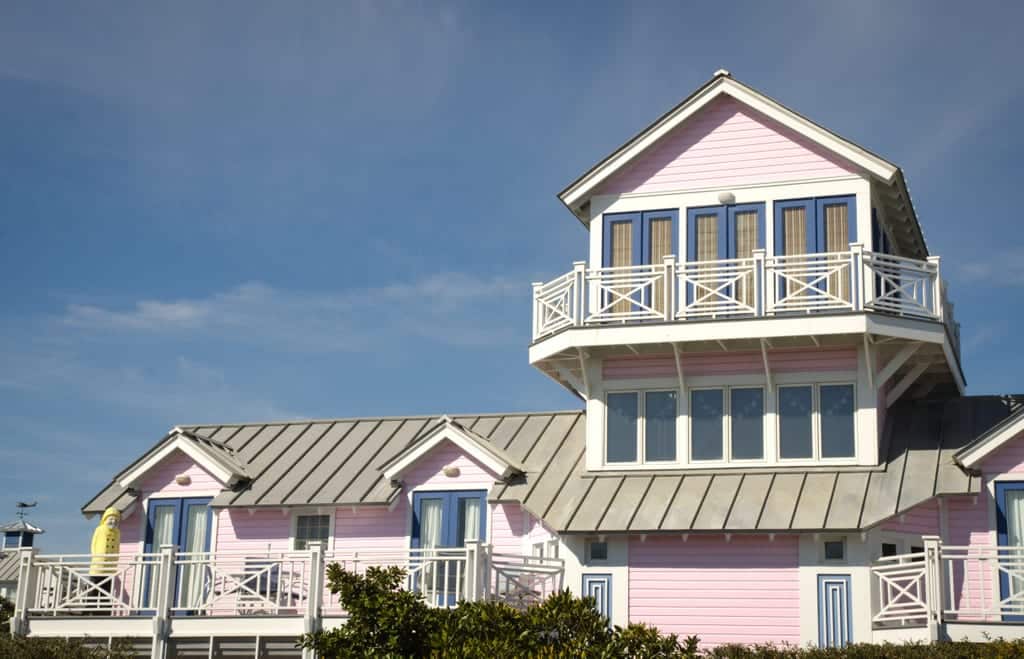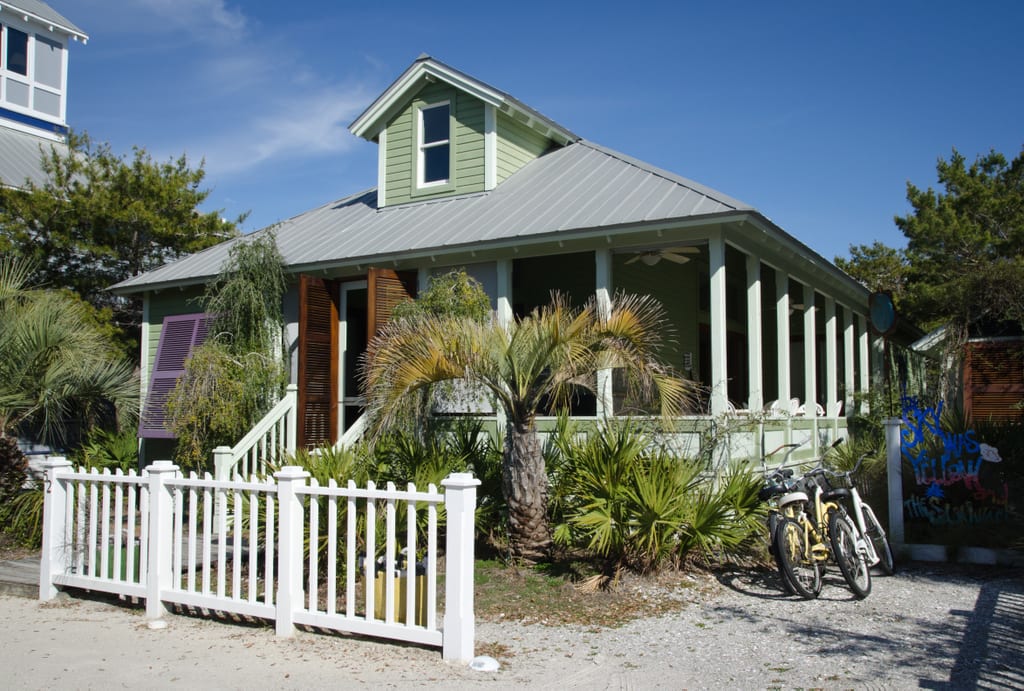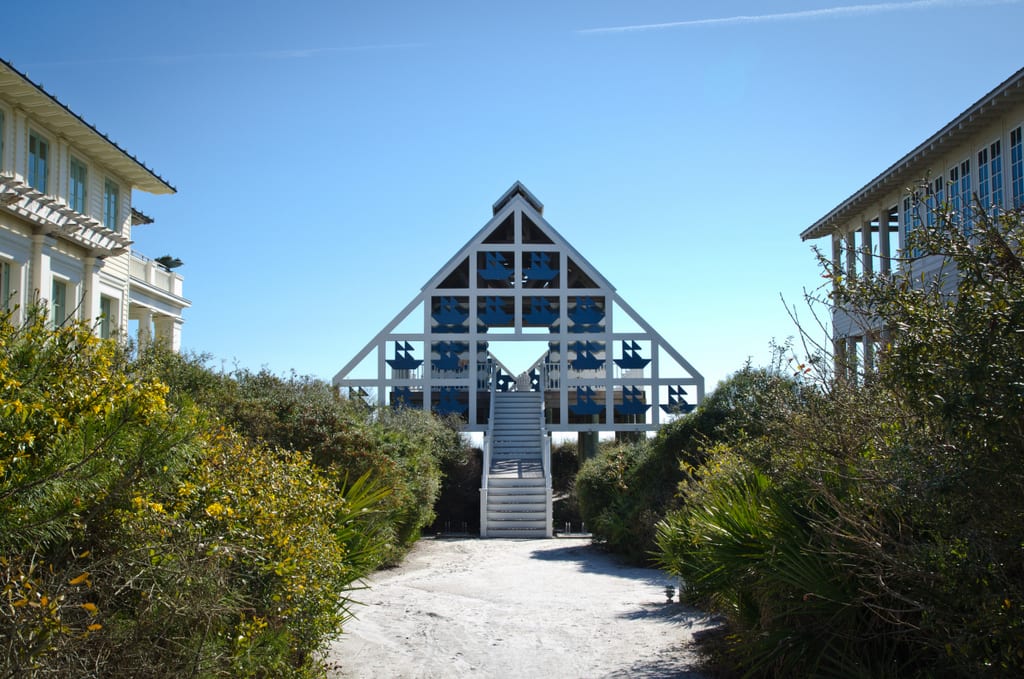 History of Seaside and Its Cultural Significance
Seaside Florida, an unincorporated community in Walton Country on the Florida panhandle, was originally a plot of private land bought by J.S. Smolian in 1946 as a private retreat for his family.
In 1976, Smolian deeded the land to his grandson Robert Davis, who decided to open Seaside to the world. In 1981, Davis, his wife, and a team of architects began the process of creating a master-planned community centered around its architecture.
This is how the movement of New Urbanism became a reality, focusing on user-friendly livable spaces in regard to its urban planning implementations. This includes factors such as short walking distances between houses and establishments. In short, Seaside has many of the benefits of living in a city, like walkable neighborhoods, while still being a small coastal town.
At times this pristinely planned town seems more like a movie prop than an actual town. It felt oddly familiar, and when I realized that this was actually Seahaven, the too-good-to-be-true in The Truman Show, suddenly everything made sense. Of course The Truman Show was filmed here! Nowhere else in the US would come close.
Today the homes of Seaside are a mishmash of Modern, Victorian, Neoclassical and Deconstructive architecture blending together beautifully — and there are strict ordinances permitting which styles of houses can be built.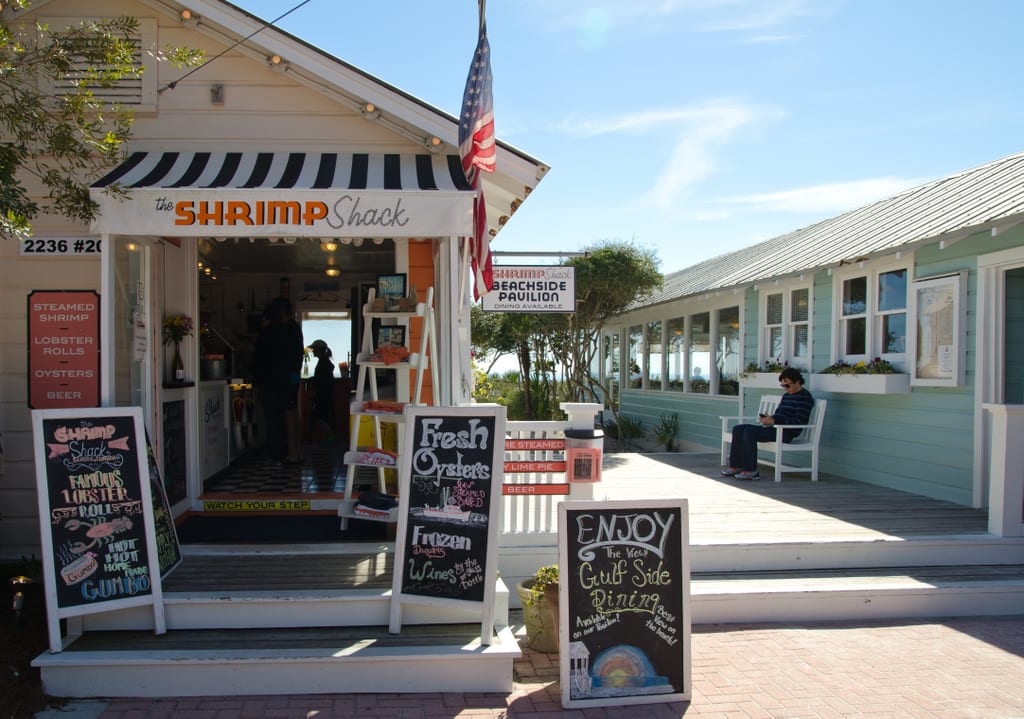 Best Things to Do in Seaside, Florida
Seaside is made to tap into the carefree energy of childhood's long and epic summers. Ice cream cones, pleasant bike rides, and beaming smiles along the coastal shores — this town lives on sculpting magical memories for visiting folks.
If you're feeling stumped on where to begin in this peaceful town, take a look at a few activity options to get you started on your journey: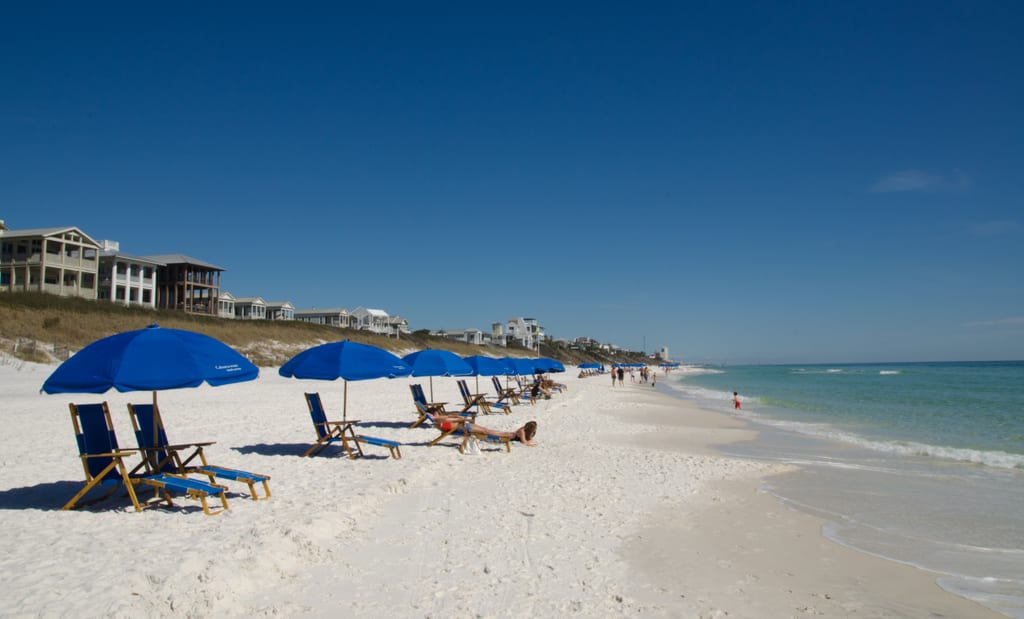 Visit One of the Beautiful Beaches
One thing is for sure — the white sands of the Seaside seashores are one of this area's biggest draws. There is a mosaic of beaches to explore in the town and its surroundings, all with their own unique charm that warms visitors' cheeks and hearts. 
One of these is the sunny disposition of Seaside Beach or nearby Seagrove Beach. These beaches are incredibly soft and it's easy for your feet to gently sink in. The waves are a clear, bright turquoise. Like a sandy structure that ties this whole community together, these beaches in South Walton will give you a great day, guaranteed! 
To gain access to these aquamarine waters, you'll either have to be a resident, stay the night at a Seaside accommodation, or make reservations and pay a fee. From building sandcastles to settling down with a good book to pass the time in a sunny daze, this place has an activity for all types of beachgoers.
Explore the Art Galleries and Nearby Attractions
Another of the top things to do in Seaside is exploring the vibrant art scene in this remarkable place. Whether you visit the chic stylings of the Red Bird Gallery in Ruskin Park or travel a few minutes to the sparkling splendors of Fusion Art Glass Gallery, you're in for a treat.
Once you've had your fill of the artsy sightseeing in the galleries, you can make your way to the abundance of quaint shops in the surroundings. These are some of the best places to buy souvenirs in Seaside.
If you love to dabble in book hunting, plan a visit to Sundog Books. This establishment has been in the area for over 30 years and will deliver you your next great vacation read.
The Seaside Amphitheater, another nearby attraction in the heart of Seaside, is a wonderful stop if you're looking to listen to some live music. This is where most of the top cultural events take place in Seaside, from outdoor concerts to live theatre.
Don't miss Stories by the Sea, a storytelling performance for kids of all ages on Tuesdays and Thursdays. It's also a great spot to throw down a picnic blanket and laze the day away. 
Visit Modica Market
A collection of tasty nibbles is tucked away in the central square. One particularly worth visiting is Modica Market, a gourmet shop with great food to please any tastebud. Many locals stop by here for their morning coffee and some light bites.
With various lunch and draft specials throughout the week, you'll be able to experience a variety of dishes on your visit to Seaside.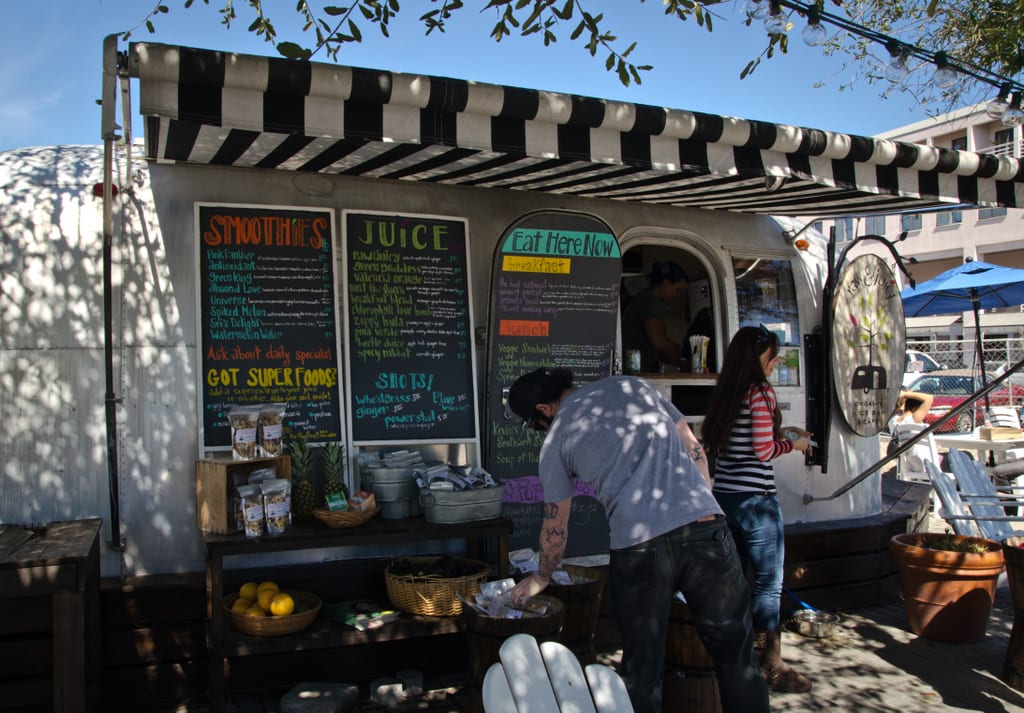 Eat at a Food Truck
Why have regular food trucks when you could have shiny Airstream trailers instead? A favorite local pastime that brings a vintage edge to an average sunny day, the food trucks operating out of old-school Airstream trailers are the ultimate delicious experience. 
You'll be able to find these containers of delectable cuisines parked along Highway 30A — just follow the delicious smells. There are plenty of choices, from green juices to hot dogs to Florida's favorite dessert, key lime pie.
Don't miss the frozen custard at Frost Bites or a classic grilled cheese sandwich at The Melt Down.
Visit the Seaside Farmers Market
If you're looking for a fun activity on a Saturday morning, this weekly farmers market is an excellent way to try and purchase locally made items.
This free event takes place in the Seaside Amphitheater and offers an abundance of various goodies, such as baked goods and organic eggs, to take home with you. Get your fixings for your next breakfast here — and don't forget Florida oranges.
Take a Trip to Grayton Beach State Park
While this park might be technically located in the Santa Rosa Beach area, Grayton Beach State Park is the perfect place to connect with nature while visiting Seaside Florida. Whether you're looking to delve into some wildlife watching or are excited to travel through these wondrous plains on a bike, you'll have an ample supply of outdoor activities to choose from. 
If you're looking for a unique experience, be sure to add seeing the coastal dune lakes to your itinerary. A coastal dune lake is a shallow and irregularly shaped lake that shares an intermittent connection with saltwater and freshwater. These lakes are only found in select countries across the globe, many of them in Walton County. With three of these lake types situated in the park, you'll be able to enjoy this rare natural wonder. 
Another amazing activity to embark on is traveling through one of the four trails available in the park. This is where you'll trek through a coastal forest and enjoy some stunning views of the surrounding seaside areas.
Grab a Drink and Relax
What better way to toast the day away in style than with a cocktail in hand while enjoying an ocean view from a rooftop bar? This beach town has an array of hopping hubs to visit and enjoy a drink (or three) while the sun sets over the tranquil waters of Seaside.
One of these rooftop bars by the beach is Bud & Alley's Roof Deck Bar, where fun meets alcohol-infused, libations. Order the Bee's Knees, made with champagne and a hint of lavender, to get your buzz on.
Near this bar, you'll find one of the historical staples of this small town. The Seaside Post Office is sure to be one of the most delightful postal buildings you'll ever lay eyes on. Since its construction in 1985, the whitewashed building has been a treasure of this community.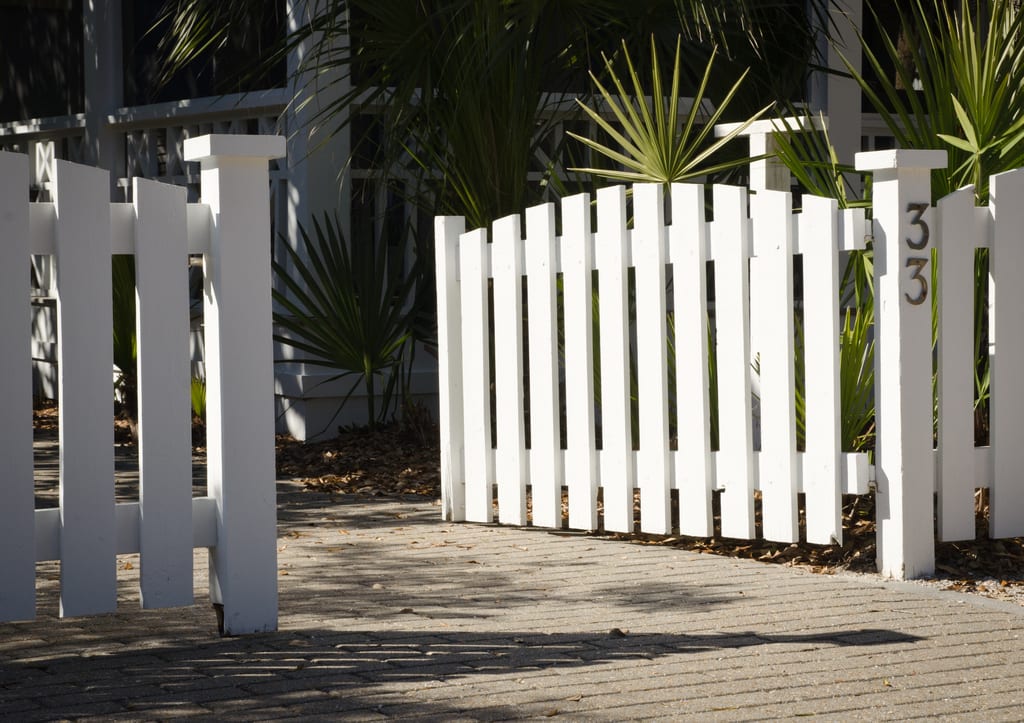 Visit Neighboring Beach Towns
While Seaside has a variety of fun and popular attractions to keep you busy, you can always walk or drive a few miles to visit nearby towns. Here are a few beachside treats to ensure you embark on a beach town trip extravaganza:
Rosemary Beach – A mere 16-minute drive from Seaside, this town is another planned community worth visiting. If you're looking to hit the green, Rosemary Beach has a number of golf courses to practice your swing.
Blue Mountain Beach – An even closer 10-minute drive from Seaside, Blue Mountain Beach is a great place to travel to if you're looking for a slice of solitude. With dazzling sand dunes, this calm beach town makes a lovely side trip.
Panama City Beach – This is the furthest town from Seaside on the list (a 44-min drive), but it's still worth a mention. This town is famous for its man-made coral reefs that budding scuba masters can explore. And if you're looking for nightlife, you've found it!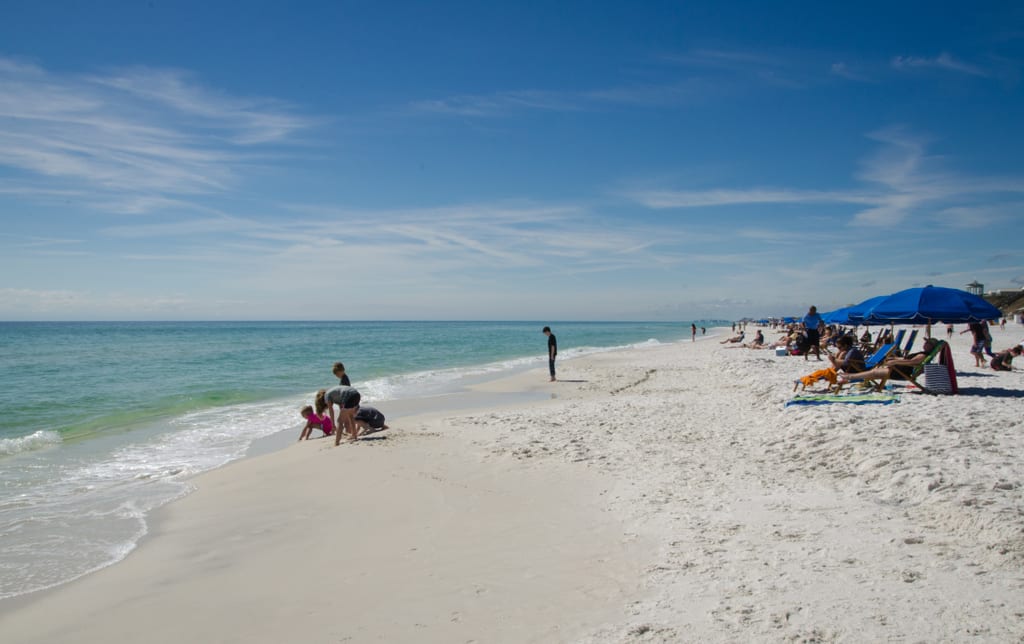 Best Time to Visit Seaside Florida
I love visiting Florida during the spring months, and Seaside is no exception. The season of spring (from March to May) is the perfect time to visit Seaside, before the swell of tourists flock to nearby beaches for the summer vacation. It's a great time of year for both sunbathing and swimming.
With the exception of the rowdy time of spring break, you'll have a blast enjoying the Emerald Coast's top seaside activities in the spring time.
What about other times of year? Winter can be a lovely time to visit Seaside, but temperatures might not be quite warm enough to your liking. Summer can be fun, but get ready for high humidity and daily rain showers.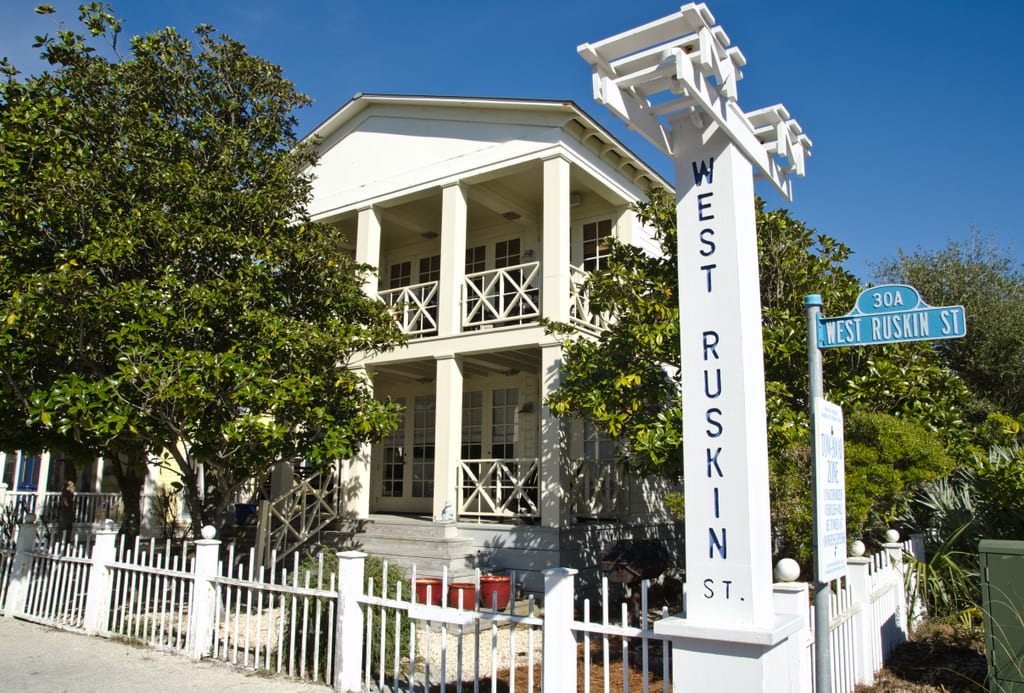 Where to Stay in Seaside Florida
Seaside is all about the pastel bungalows, and one of the lovely things about vacationing in Seaside is staying in one of them. This is a rental town, and most hotels tend to be outside town. Vacation rentals are the way to go. Here are a few notable ones:
I love this little gray bungalow, just a two minute walk from the beach.
This white house with a blue door is across from the beach and so adorable.
This three-bedroom pink house makes a terrific option for a family.
See all Seaside Florida rentals here.
More of a hotel person? The Pearl Hotel is a spectacular luxury option in Rosemary Beach, while the 30-A Inn and Suites in Santa Rosa Beach is a more affordable mid-range option for your Seaside vacation.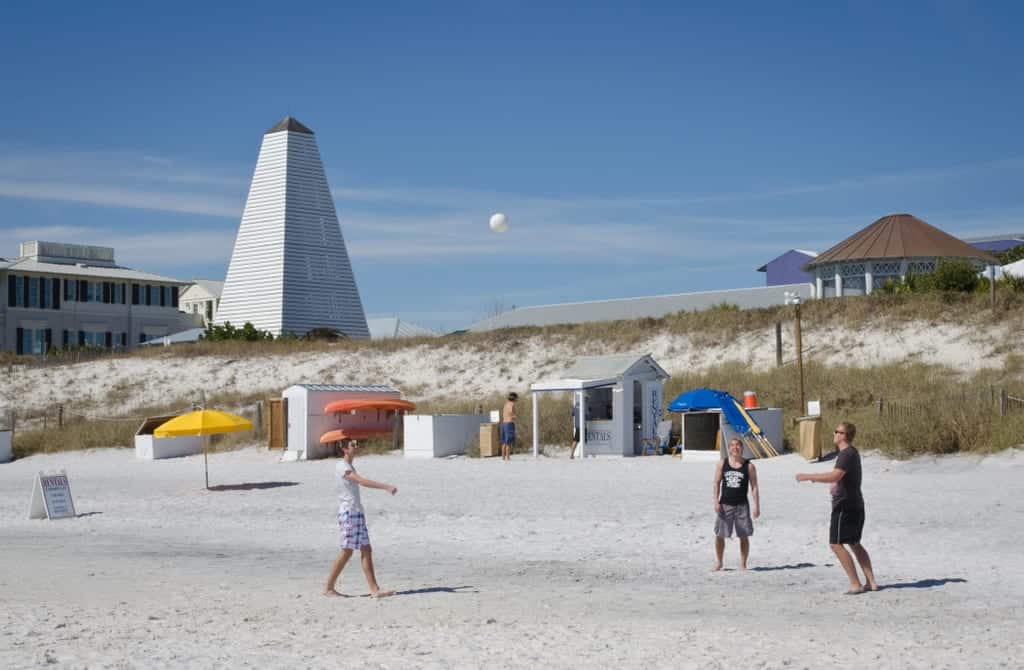 The Takeaway
As I spent more time in Seaside, it struck me that this town was the most immaculate place I had ever seen in Florida. Everything was neat, clean, well-organized, and perfectly designed to a certain aesthetic.
Bicycles dominated the green. While most appeared to be rentals, these weren't rundown rental bicycles, nor were they hardcore mountain bikes. Instead, the bikes here were simple, retro, shining bastions of chrome and burnished teal.
And in the very center of town, believe it or not, were the nicest porta-potties that I've ever seen. Huge porta-potties with multiple stalls inside and running water — the kind of porta-potties you could theoretically provide at a wedding.
You know what wasn't there? Beer t-shirts. Plastic flip-flops. Tribal armband tattoos, or any tattoos, for the most part. Old, worn, or stained clothing. Unkempt hair or facial hair. You'd see any of these in abundance at any beach in America, not just the South.
Soon it became clear that this was a wealthy town filled with wealthy people on vacation. Older couples had perfectly coiffed hair; men wore crisp button-downs and leather boat shoes; women wore jeweled sandals and oversized sunglasses. Kids were clad in polo shirts and designer mini-me dresses.
That said, if lots of money was being spent in this place, lots went into keeping it looking its best. There wasn't a single piece of trash on the ground in Seaside, nor a single drop of paint out of place on the houses. Each building told a story.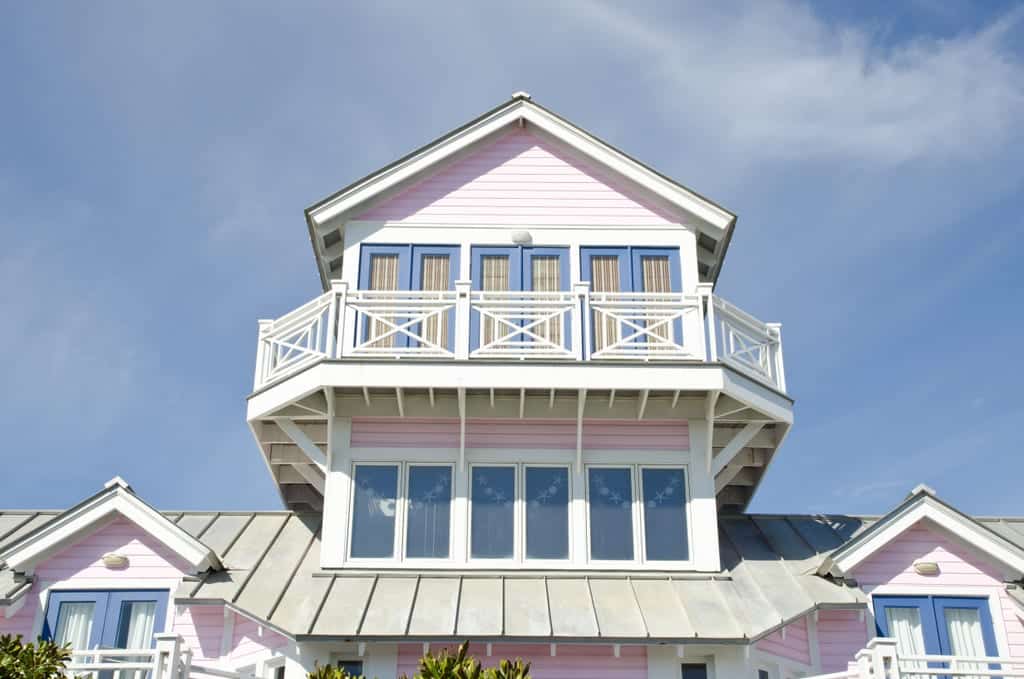 I've spent a lot of my travels in laid-back beach towns around the globe where you can snack on squid on a stick, or get a $5 massage, or dine on fish tacos prepared in front of you, or watch the sunset from a weathered wooden chair with a cheap beer in your hand.
Places that weren't fancy, but were a lot of fun, and friendly. Places where the lines between locals and visitors were deliciously blurred and where you could briefly feel like a part of the local community. Scruffy, lovable beach towns filled with scruffy, lovable people.
Seaside could not be more unlike these places. But Seaside did something very few places have been able to do: it lifted me into an enchanted dream world.
By the time I was feasting on key lime pie topped with whipped cream I had declared myself a Florida person and was plotting how I could return someday, maybe for a week or so.
In Seaside, I would spend the week doing nothing but sitting in the sunshine, taking lazy bike rides, and smiling at the beauty of everything around me. And perhaps it would get a bit boring or redundant after then, but for a week, that would be a welcome sojourn to Pleasantville.
I hope this inspired you to visit Seaside for yourself. And if we cross paths there, I'll greet you as Jim Carrey did: "And in case I don't see you, good afternoon, good evening, and good night!"
More on Florida:
How to Plan Your First Visit to Disney World as an Adult
Ultimate Guide to Solo Female Travel in the Florida Keys
Best of the Florida Keys and Key West in the Summer
Miami is Nice, So I'll Say It Twice
See all Florida posts here.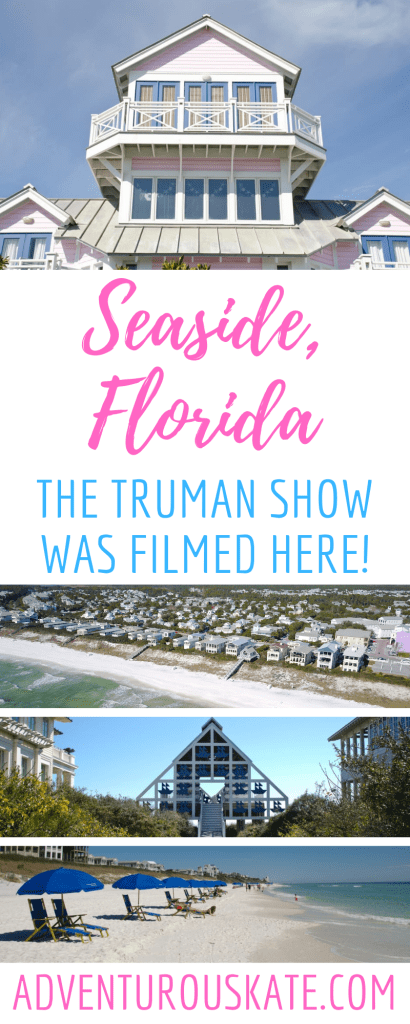 Have you been to Seaside? Does it look like your kind of place? Share away!