Adventurous Kate contains affiliate links. If you make a purchase through these links, I will earn a commission at no extra cost to you. Thanks!
I recently took my first trip to Disney World as an adult — and wow, did I ever enjoy it! I'm not a Disney superfan by any stretch, but an opportunity to visit arose — and I jumped on it right away.
I LOVED Disney when I was a kid. I went once as a baby, once when I was five, and once when I was nine — but I haven't been back since childhood. They were actually building the Tower of Terror on my last visit!
But long after that trip as a nine-year-old, I would pore over Disney books, dreaming of my next Disney vacation. (I would do the same with books about different countries, dreaming of traveling the world someday.)
This past fall, my mom moved to central Florida, just a short drive from Disney World. The timing was perfect! We would go for a day trip.
Disney has changed a LOT since the 90s. It's incredibly crowded, painfully expensive, and just planning a trip requires a ton of research, planning, and extra purchases to make sure you won't be waiting in lines all day. And that's before you add in the COVID factor.
At my heart, I'm a travel writer. I go to places. I tell people how to do it better. So here is a full report on what I learned on my day at Disney, and what you should know before planning a trip as an adult.
This post was last updated in March 2022.
You cannot wing a trip to Disney World.
Are you the kind of person who doesn't like planning much, who likes to show up and take things as they come? Well, if you do that at Disney World, particularly at the Magic Kingdom or Hollywood Studios, you're going to be waiting in lines all day.
If this is your first trip to Disney World as an adult, you've got a lot of research ahead of you. There is so much to learn. But it's fun! I spent so many hours engrossed in different Disney blogs and social media channels.
You'll need to research popular rides, itineraries, and how to book rides strategically using the Genie Plus system. If you have your heart set on any particular character experiences, you should book those, too.
You should also try to get dining reservations as soon as you can (reservations open 60 days before), especially for popular restaurants like Be Our Guest or Space 220.
So how do you research? Start by asking your friends! I knew I had some Disney-loving friends, but when I asked on Facebook, I got so many more responses than I expected! I guarantee you have more Disney friends than you think.
Research-wise, I found Disney Tourist Blog to be my favorite resource — incredibly comprehensive and detailed, and I loved the voice of the writers. I felt like I could trust what they wrote.
My friend Lia used to be a cast member at Disney and she wrote this great guide on how to do Disney.
My friend Victoria has a Disney blog, Disney Trippers, and she got me excited for Disney experiences I had no idea existed, like Disney Villains After Hours and the Disney dessert parties!
Finally, you need to use the app. It's called the My Disney Experience App and you can do everything with it. You link to your tickets on it, you do all your Genie Plus and Lightning Lane reservations on it, you use it for mobile ordering and dining reservations, it has a map and the wait times, and so much more.
Which park is best for your first trip to Disney World as an adult?
Walt Disney World has four main parks — Magic Kingdom, Epcot, Hollywood Studios, and Animal Kingdom. Which one is best? I asked my Disney-loving friends and got a dozen different answers. It depends on what you want to do.
Magic Kingdom is the classic Disney park with the castle and all the nostalgia rides that you may remember from your youth, but it's very young kid-oriented and extremely crowded.
Some famous rides at Magic Kingdom include Space Mountain, the Haunted Mansion, Pirates of the Caribbean, Jungle Cruise, Splash Mountain, Big Thunder Mountain Railroad, Peter Pan's Flight, It's a Small World, Seven Dwarfs Mine Train, Dumbo the Flying Elephant, and Under the Sea.
Epcot has lots of science- and education-focused rides, almost all of them low-key, plus the World Showcase with pavilions from different countries. It's less busy with shorter lines; some people think it's more boring.
Some famous rides at Epcot include Remy's Ratatouille Adventure, Frozen Ever After, Test Track, Spaceship Earth, Soarin' Around the World, Living with the Land, and Journey Into Imagination with Figment.
Hollywood Studios has lots of thrill rides, plus all the Star Wars stuff and Toy Story Land. Lines here are very long as well, though it's more oriented for older kids and adults.
Some famous rides at Hollywood Studios include Slinky Dog Dash, The Twilight Zone Tower of Terror, Millennium Falcon: Smugglers Run, Star Wars: Rise of the Resistance, Mickey and Minnie's Runaway Railway, Star Tours, Toy Story Mania, and the Indiana Jones Stunt Tour Spectacular.
Animal Kingdom is the park I don't know as much about, but from what I've read, its crowds are more on the Epcot level, plus it opens and closes earlier than the other parks.
Some famous rides at Animal Kingdom include Na'vi River Journey, Avatar Flight of Passage, DINOSAUR, Expedition Everest, Kilimanjaro Safaris, and Kali River Rapids.
What I Did
After much consideration, we decided to do a park hopping day, starting at Magic Kingdom and finishing at Epcot. This gave us a chance to have the nostalgia experience in the morning and spend most of the evening exploring the World Showcase.
Was this a good decision? Overall, I'm happy with how our day went, but we could have done it different ways.
Magic Kingdom really is overwhelming in terms of the crowds, and a lot of the long lines are not worth it for more kid-oriented rides if you're an adult. But this is home to the iconic Disney experiences, and letting go and enjoying it is the way to go!
One thing that disappointed me is that the House of Magic on Main Street is now a generic Disney merch shop. Sigh.
Epcot seemed a lot more my speed, and it definitely works better on a day where you just want to hang out and explore. And it just felt so airier, in part because it covers more ground. Only one ride was sold out for Lightning Lanes and had super-long lines (Remy's Ratatouille Adventure).
If you intend to ride as many rides as possible, you should not park hop. Pick a park, stick to it, and rope drop, Genie Plus, and Lightning Lane everything you can, especially if it's Magic Kingdom or Hollywood Studios. You'll need the full day to do all the rides.
If you don't care about doing everything, feel free to park hop, but you might want to put the less busy park later. It definitely felt nicer getting into a less-crowded Epcot after super-crowded Magic Kingdom. (Note that it takes almost an hour to get from Magic Kingdom to Epcot.)
I also read it's popular to park hop with Animal Kingdom in the morning and Epcot later, as in usual times Animal Kingdom opens much earlier and Epcot closes much later, and neither park gets severely overcrowded.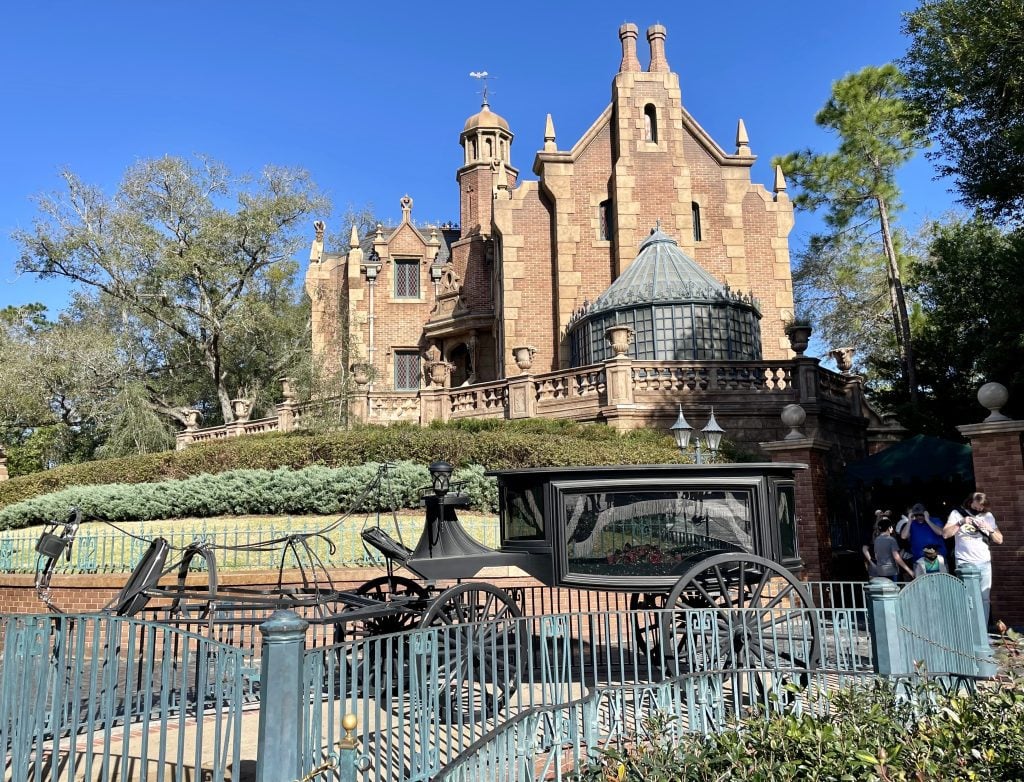 Genie Plus is a Pain — But Essential
Disney got rid of the Fast Pass system in 2021 — instead, you now have Genie Plus, which is complicated at best and a clusterfuck at worst. Genie Plus costs $15 per person per day, and starting at 7:00 AM, you can make your first reservation for the Lightning Lane, where you can skip the line.
You can make new reservations every two hours or after you tap into your next ride, and you can't book any ride more than once. Reservations are an hour-long window, which gives you flexibility.
I did my research on how to maximize Genie Plus, and I chose to book the Jungle Cruise for my first reservation at 7:00 AM. Not because it was my top choice ride, but because it's one of the most popular rides. I was on the app exactly at 7:00 AM and the first reservation I could get was at 11:40! That shows you how competitive it is.
And many Disney guests have complained about Genie Plus being buggy. I was only able to make reservations every two hours, regardless of when I finished a ride, and at one point I was told I couldn't make my next reservation until 5:00 PM even though it was already 5:40 PM. Sigh.
To make things more complicated, there are several rides that have Lightning Lanes but are not on Genie Plus; you need to pay extra for them. You can max two non-Genie Plus Lightning Lane bookings per day. I booked Space Mountain this way for $7.
Do you need Genie Plus? It's essential for the Magic Kingdom and Hollywood Studios, but not as essential for Epcot or Animal Kingdom, which tend to have fewer rides with long lines.
If you don't get it, it's helpful to "rope drop" one of the most popular rides — to be at the gate when the park opens and power-walk your way to the ride.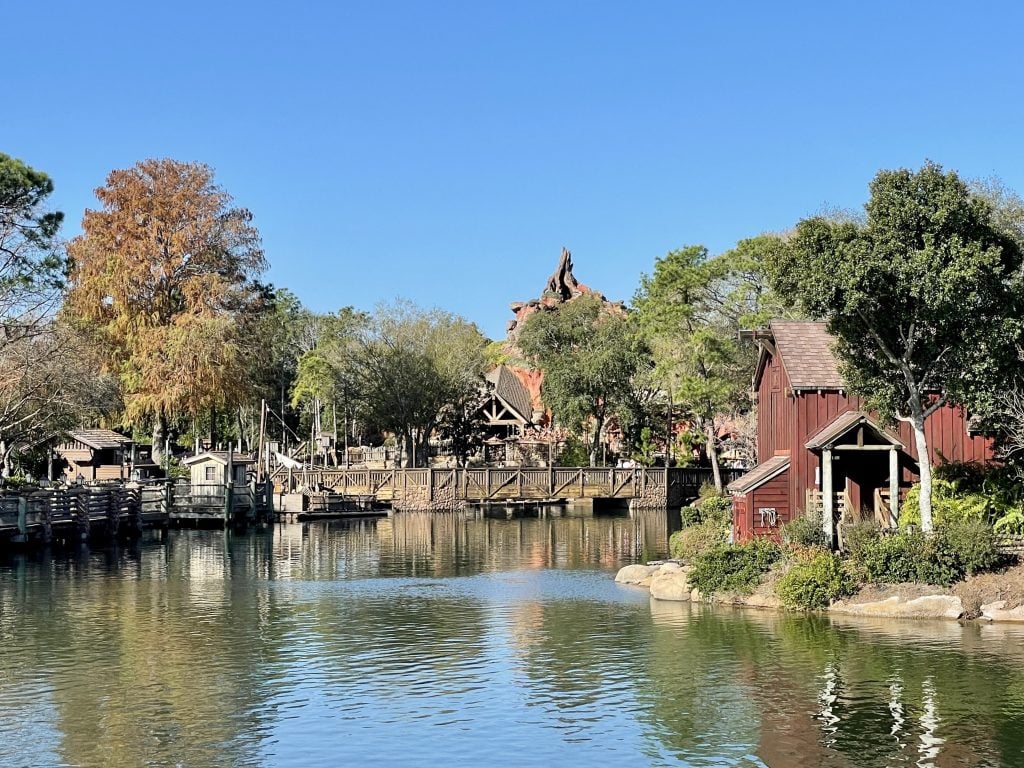 Make peace with the fact that not everything will be open.
When I was nine, my favorite ride was Big Thunder Mountain Railroad. I adored that roller coaster — it was the perfect level of thrill for me, with a cool southwestern theme.
And entire week I was in Florida in 2022, Thunder Mountain was closed for repairs. Awwwwww.
I was sad, but I made peace and planned to have a fun day anyway.
Space Mountain is showing its age.
I remembered Space Mountain as the wildest ride in Disney World — keep in mind this was back in 1994 — and I was eager for a bit of a thrill after several tame rides. We grabbed a paid Lightning Lane reservation for Space Mountain and strapped in.
CLACKITY CLACKITY CLACKITY CLACKITY CLACKITY CLACK.
Granted, it's an indoor roller coaster, but it sounded ancient!! And on several of the turns, it snapped my head back, hard — honestly, this is the kind of thing that you don't see as much these days. I was surprised there wasn't a headrest.
Space Mountain opened in January 1975, and I think it's starting to be a bit long in the tooth. I enjoyed the ride, but not the neck-snapping parts. Not quite the highlight of my Disney trip.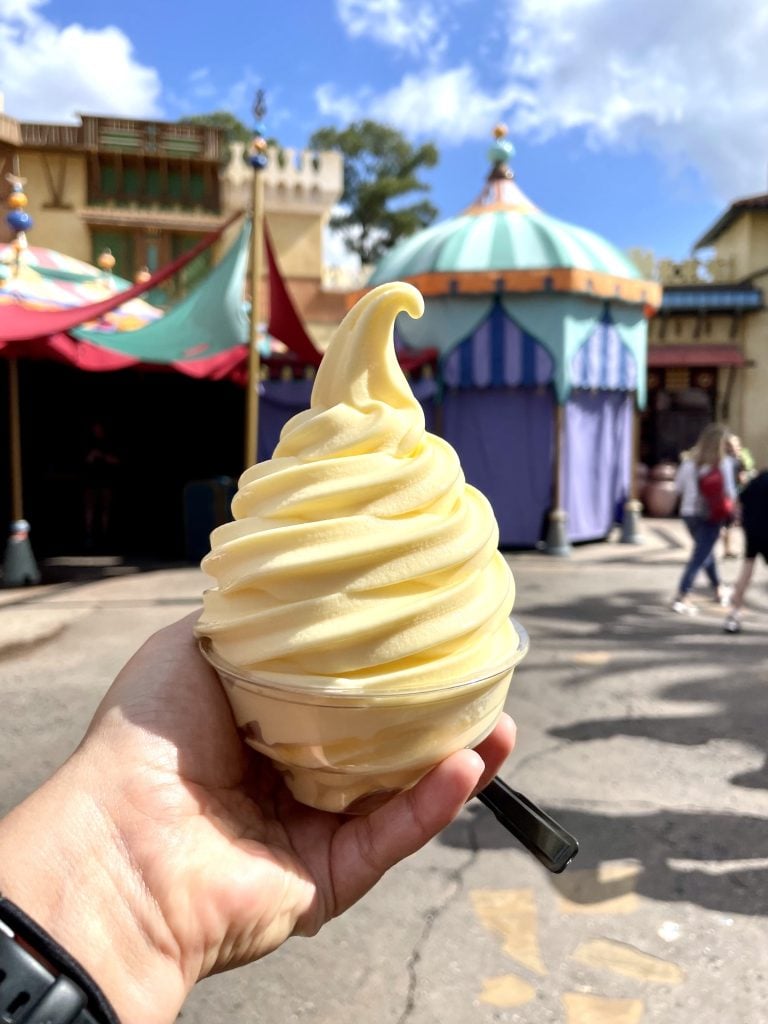 Mobile ordering is fantastic.
Need food? The smart way to get it is mobile ordering ahead of time. I absolutely loved mobile ordering — it saved so much time waiting in line.
We wanted to try Dole Whip, Disney's signature pineapple soft serve, and I know they served it at Aloha Isle in Adventureland. We had a Genie Plus reservation for Jungle Cruise at 11:40. So we ordered two Dole Whips for pickup within 11:10-11:40, paid for them on our phones, and simply went and picked them up.
And those Dole Whips were absolutely delicious — a highlight of the day!
Of course, this is another reminder that YOU NEED TO PLAN YOUR DAY at Disney, especially in the busiest parks like Magic Kingdom and Hollywood Studios.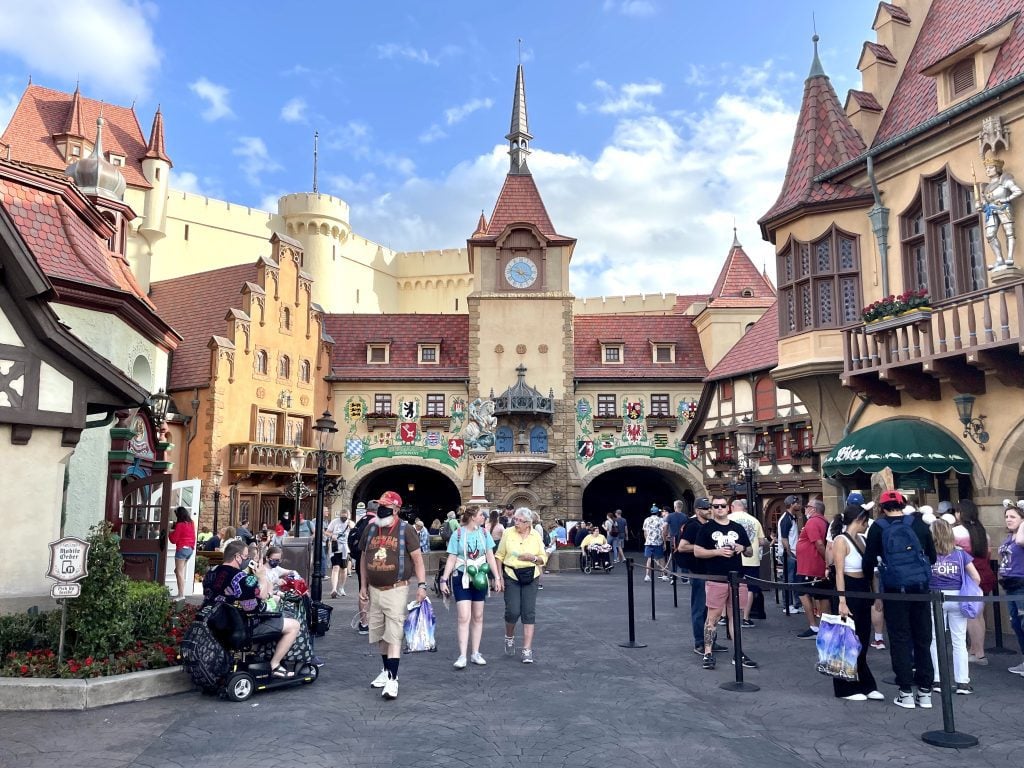 People really get into Disney shirts.
I couldn't believe how many custom Disney shirts I saw! So many with people's names on them, or "Disney Family Vacation 2022" on them (and one with "Disney Vacation 2021" on them…I guess COVID axed that trip).
Lots of kids were dressed up as Disney characters, including a little boy in a gold Belle dress, which made me smile. But adults at Disney are not allowed to dress up in costume. When you think about it, it's obvious why.
Even though you can't wear a full costume, you can still have fun! Put together an outfit based on a character you love (maybe a purple mermaid shirt, teal pants, and fork earrings for Ariel?), or go wild with mouse ears. Etsy is an absolute gold mine for Disney stuff.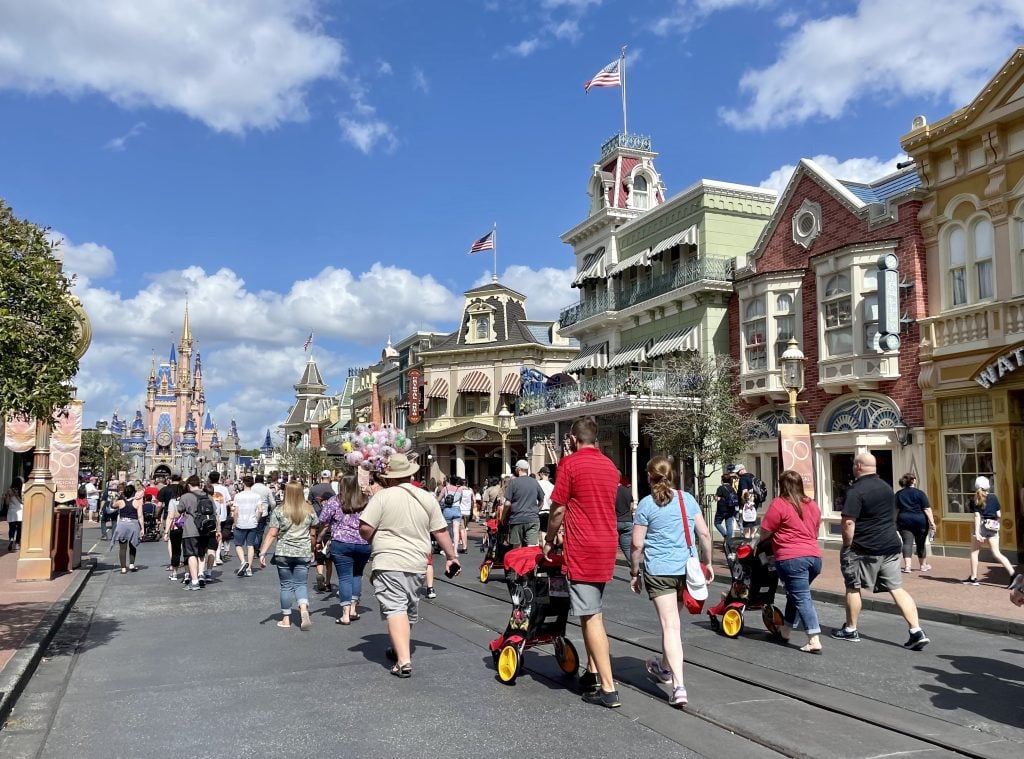 You need really, REALLY good footwear.
Staying on the theme of what to wear at Disney — good shoes are essential. Better shoes than usual. You will be walking a ton and standing a ton. I clocked 26,000 steps on my Disney day.
I ended up wearing my white leather Cole Haan sneakers, plus my usual insoles, and these were a great choice. While I often wear my Teva Tirra sports sandals for active outdoor days, like when hiking or climbing temples in Mexico, I'm glad I went with sneakers instead.
Clothing-wise, I went with comfy skinny jeans and a light blouse. Go with something comfortable that you can move in.
Don't forget to bring sunscreen and a reusable water bottle that you can fill up. The Florida sun can be brutal.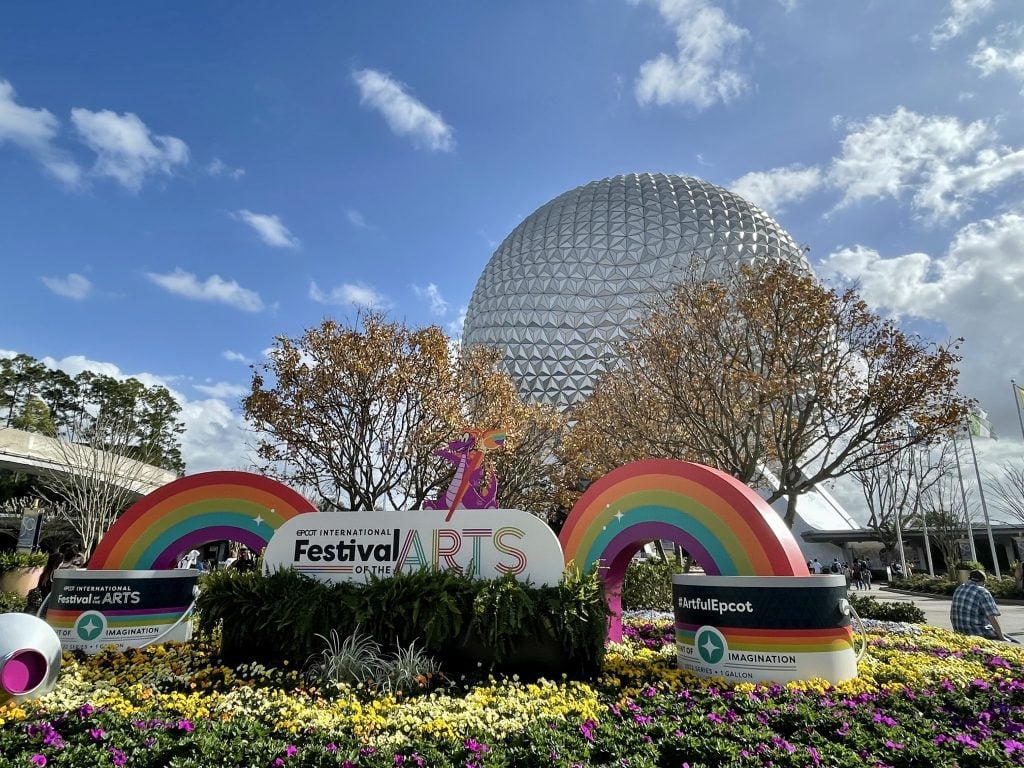 Visiting during a festival is fun!
We booked this trip on a bit of a whim, but it happened to be during Epcot's International Festival of the Arts, which runs from mid-January through mid-February. This ended up being a lot of fun!
The International Festival of the Arts celebrates art in many forms — visual arts, performing arts, culinary arts. There were Disney on Broadway performances, artists selling their wares, and interactive artistic activities.
Best of all, there were pop-up food stands serving special menu items all over Epcot, including international items at the World Showcase. And they were all small servings so you could graze all day. They also had a challenge where if you got stamps for five signature items, you could redeem your passport for a cookie shaped like an artist's palette.
There are so many festivals at Disney! The Disney Food & Wine Festival runs from July through November (wow!) and I'd love to hit that one up in particular.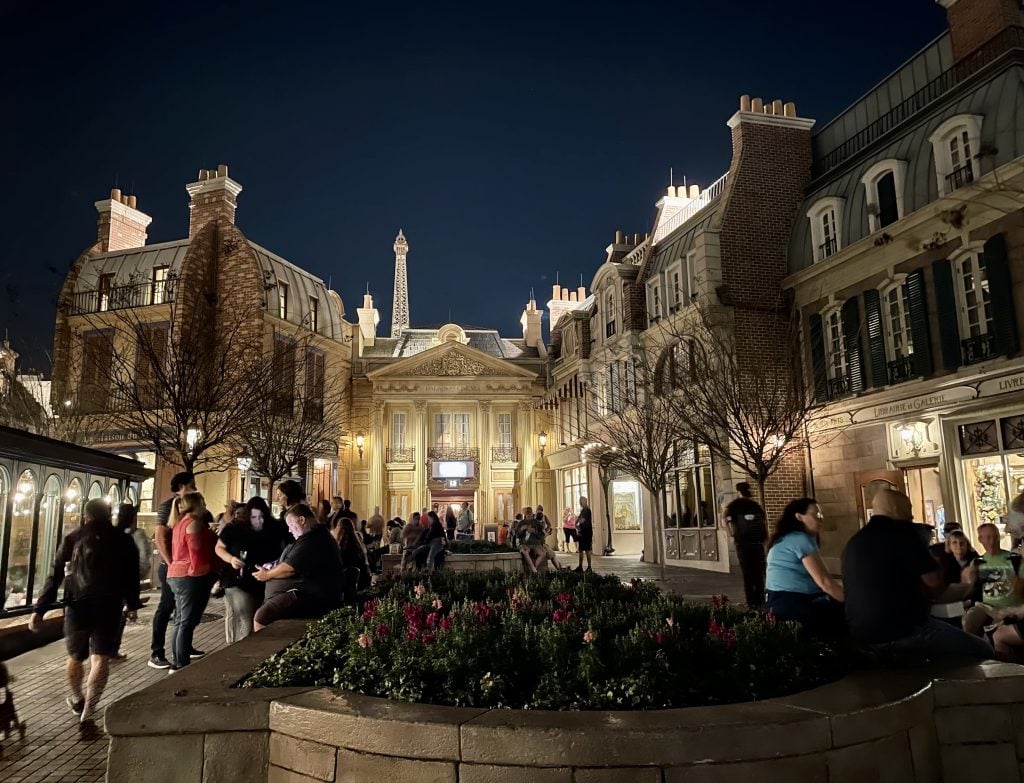 Disney is surprisingly dark.
When I say dark here, I mean poorly lit. Honestly, I was stunned by how poorly lit the Disney parks are — both indoors and outdoors.
Indoors, while waiting in line for rides, I wondered if my eyes were going. Then I realized that lots of other people were in the same position, using their phone flashlight to illuminate the path on the way to Space Mountain.
Outdoors was terrible, too — at Epcot, at least. Lights were so sparse, I could barely see where I was going. I looked over at the campanile in the Italy pavilion and thought about all the bell towers I've seen all over Italy, and how each of them are lit up beautifully, and Disney does such a poor job by comparison.
I am quite puzzled over this, considering that Disney makes big efforts to cater to people with disabilities. Why so dark? Is it a money-saving measure? They blow a ton of money on fireworks every night!
Disney-goers are afraid of "exotic" food.
One common refrain I saw on Disney blogs is that Skipper Canteen in Adventureland is an underrated dining gem. It's also easy to get into, as the menu features some "exotic" items that people from Middle America are afraid to try.
Those dishes? Thai noodles. Falafel. Char siu pork. Vegetable curry. Plus some spiced up chicken and steak dishes. A surprisingly large percentage of Disney visitors steer clear of the restaurant for this reason.
I've also heard that many Disney guests are disappointed by La Hacienda de San Angel in the Mexico pavilion at Epcot. The reason? This is actual Mexican food and they're expecting Americanized Mexican food. They only taco options for adults are shrimp or lobster tacos.
I didn't eat at either of those restaurants, but I saw this in practice at Epcot later. At peak dinnertime, there were long lines everywhere around the World Showcase, but I thought to myself, "I bet Morocco is empty."
We went to Morocco — and it was empty! They served exotic dishes of chicken kabobs and bread with dips like hummus. There was no line.
Does the World Showcase scratch the travel itch?
Many of my friends said to me something along the lines of, "Oh, you'll love Epcot, they have all the countries and you're a traveler." And my response was to smile and say, "Sure!" But I wondered how I would actually feel about it.
I've actually been to all of the countries in the World Showcase except Morocco, and have lived in four of them (USA, Italy, UK, Mexico). Would they be good renditions, or Americanized imitations?
Well. They definitely weren't accurate. But they were fun! It was nice wandering around and exploring the different pavilions, appreciating the Imagineers' attention to detail. It's hard not to be delighted by the miniature train in Germany or the Mayan temple in Mexico.
At one point Charlie and I sat outside with glasses of Prosecco at the Italy pavilion and it just felt NICE to be in an idea of Italy, the country that we visit several times a year, even if it was a fake theme park Italy.
I think of it like this: I love high-end Mexican food, and I also love Taco Bell. I love going to live Shakespeare productions, and I also love bad reality TV. The World Showcase is a long leap from actual international travel, but it's still a lot of fun.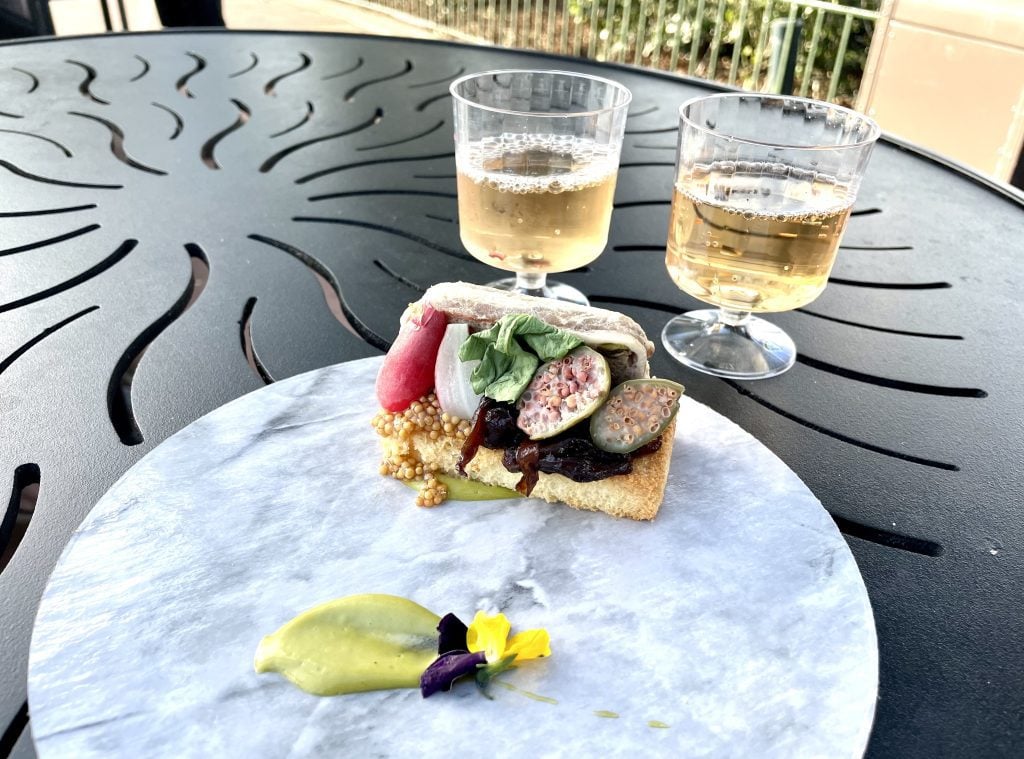 How good was the food, though?
One of the most popular things people were asking me after this trip was, "Didn't you love the food? What was the best thing you ate?"
Well. I didn't have the highest expectations; I mainly wanted to eat ice cream. I didn't expect much from theme park food.
And truthfully, as much as we enjoyed the little plates of food at the International Festival of the Arts at Epcot, it seemed like they had all been pre-prepared and sitting out all day. So our pate de campagne, though well intended, was pretty dry and falling apart. Most of the dishes were cute and fun but fair-to-average in terms of quality.
I think the highlight of Charlie's day was when he found out he could get an iced latte with Lucky Charms on top.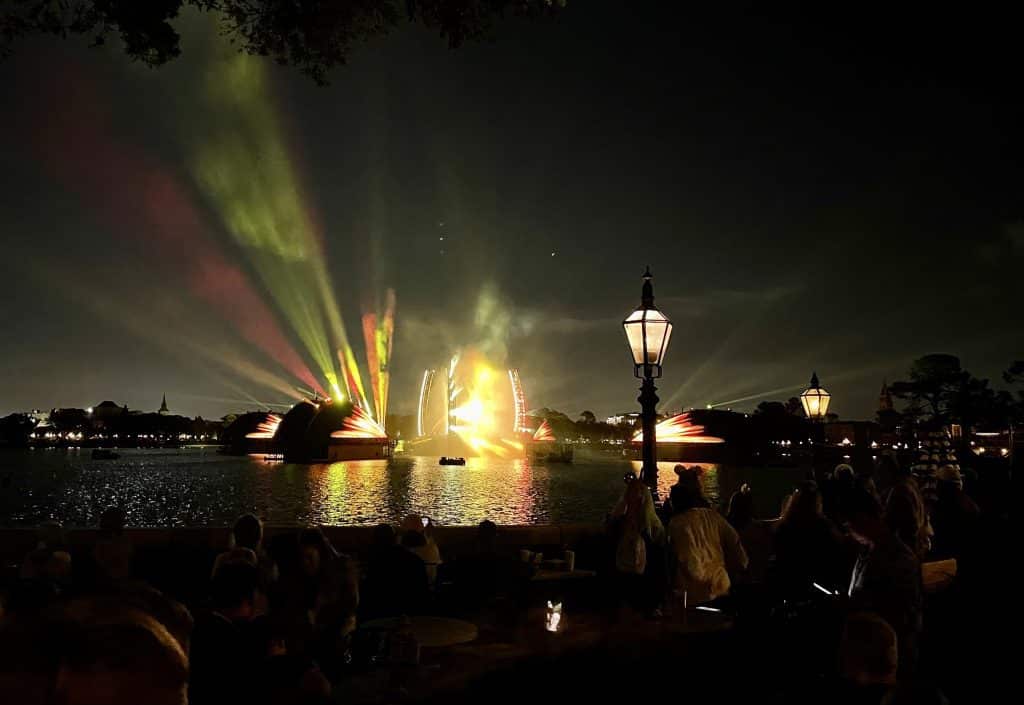 "Harmonious" is incredible.
I knew the Magic Kingdom was famous for its fireworks show every night, but I didn't know that each park has its own show! At Epcot, it's Harmonious, a light, fireworks, and screen show on the lagoon in the middle of the World Showcase.
Enormous, colorful jets of water leap through the air as Disney medleys play. Fireworks explode in the air and screens mounted in the lagoon play scenes from Disney movies.
Was it good? OH, IT WAS GOOD. I could not believe how good it was. It almost made me cry! How do they do that?!
It is absolutely worth staying until closing so you can see Harmonious. The best place to view the show is at the Italy pavilion or Japan pavilion — but keep in mind these are about as far as you can get from the park exit.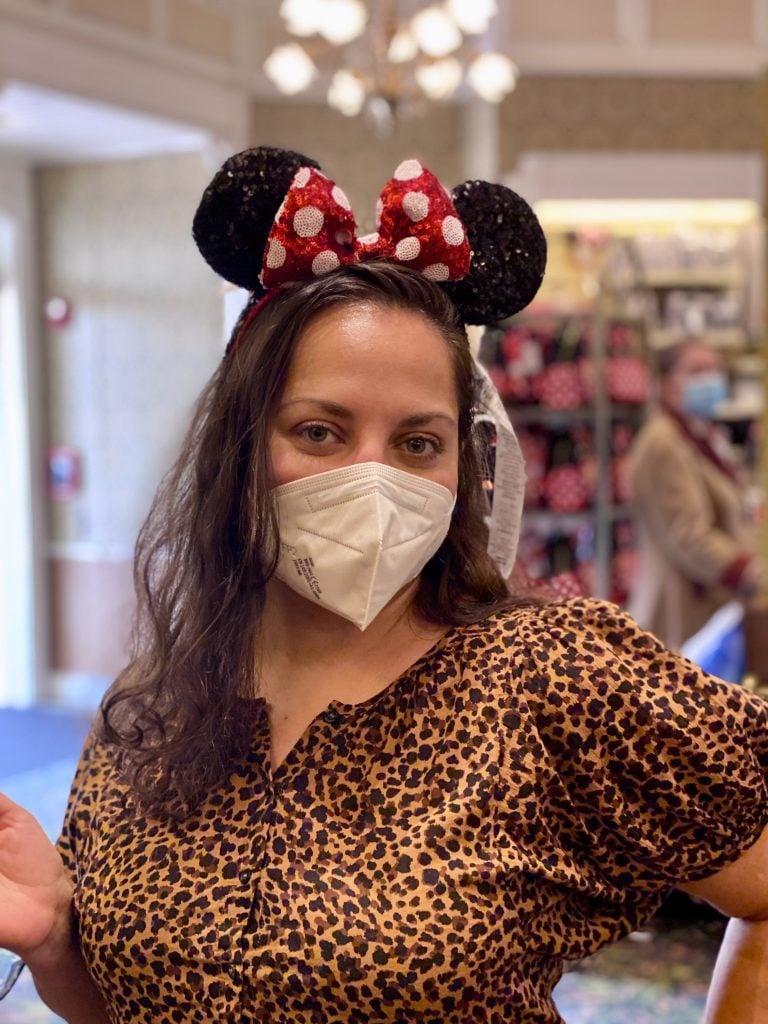 Disney during COVID can be challenging.
Disney World has gone through several iterations of masking: masks required everywhere, masks required inside, and no masks required anywhere. I visited on February 16, 2022, which turned out to be the final day that masks were required inside.
In the early days of the pandemic, more than once I said that Disney World was the last place I wanted to be. But by early 2022, I was okay with visiting. I was fully vaccinated and boosted, the Omicron wave was waning, I was not planning on seeing any immunocompromised people anytime soon, and I was committed to masking indoors and whenever in a packed crowd outdoors. I live in the Czech Republic; we've never stopped masking indoors. It was no big deal.
Were there people who flagrantly disregarded the mask rule? Absofuckinglutely! People who would go into the bathrooms without mask. People who would stand in line for food with the collar of their shirt pulled up around their nose. People who would smirk and wait until two minutes into the monorail ride to put a mask on.
All of these people couldn't resist being an asshole for the sake of being an asshole. And honestly, many anti-maskers have been awful to Disney cast members, hurtling verbal abuse when asked to wear a mask. I suspect that this is why Disney dropped the indoor masking rule: CMs are burned out.
Anything else to know about Disney during COVID? There were no close-up character experiences at the time of my visit. If a mascot appeared, Minnie or Goofy would be on the other side of a hedge, 20 feet away or so, posing for selfies from behind. And there are no parades at this time.
Should you visit Disney during COVID? That's up to you. If you do go, I recommend being fully vaccinated and boosted, and masking indoors, even though it's no longer required.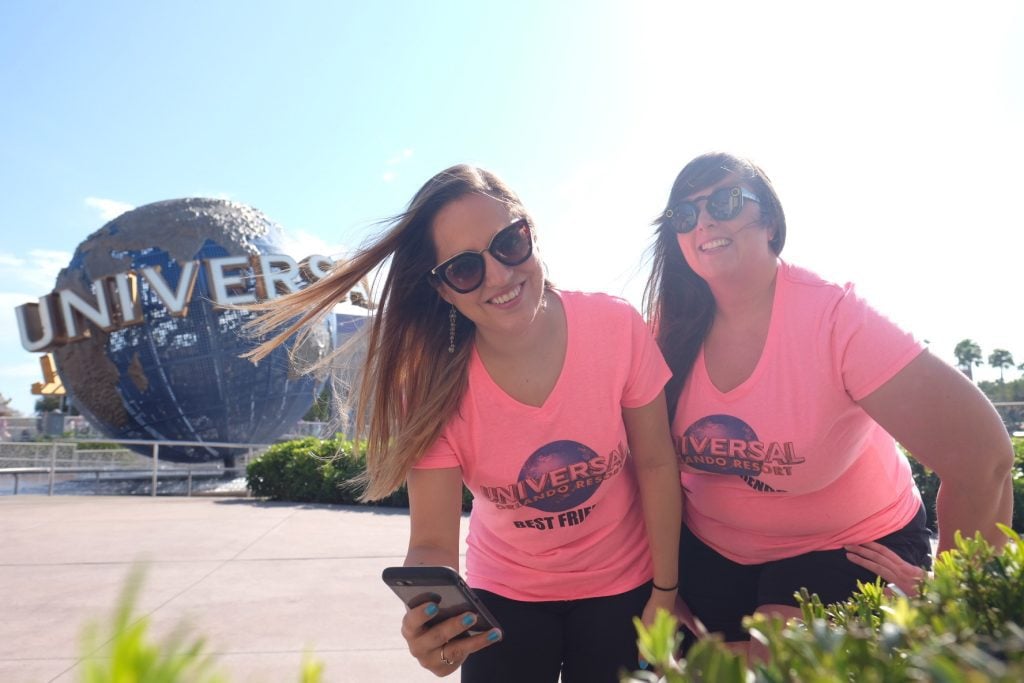 Comparisons to Universal Studios are inevitable.
So, what about Universal Studios, the other major theme park in Orlando? I actually went to Universal with my bud Cailin back in 2017, when she was an ambassador for the theme park and brought me as her guest.
We had a great time, and there are some things that Universal does better than Disney.
Fewer crowds. Universal Studios is less crowded than Disney World, and wait times are much shorter. The only rides where there are significant wait times are the big Harry Potter rides — and you can get around that by rope dropping first thing in the morning, especially if you stay at a Universal resort and can enter early.
Lockers everywhere. Universal has lockers throughout the park, and they are free for the first 30 minutes — so we would frequently stash our things, ride a ride (or in the case of The Mummy, ride it three times), then pick our things up and move on to the next ride. Disney only has lockers at the entrances.
Child swap. If you're two adults with a big kid and a toddler, one adult can ride with the big kid while the other stays with the toddler in a child swap room, then they can switch so the other adult can ride. It's a great idea and one I'm surprised doesn't exist at Disney.
That said…Universal is not a place I could see myself returning to repeatedly. I think I could go back to Disney World a LOT.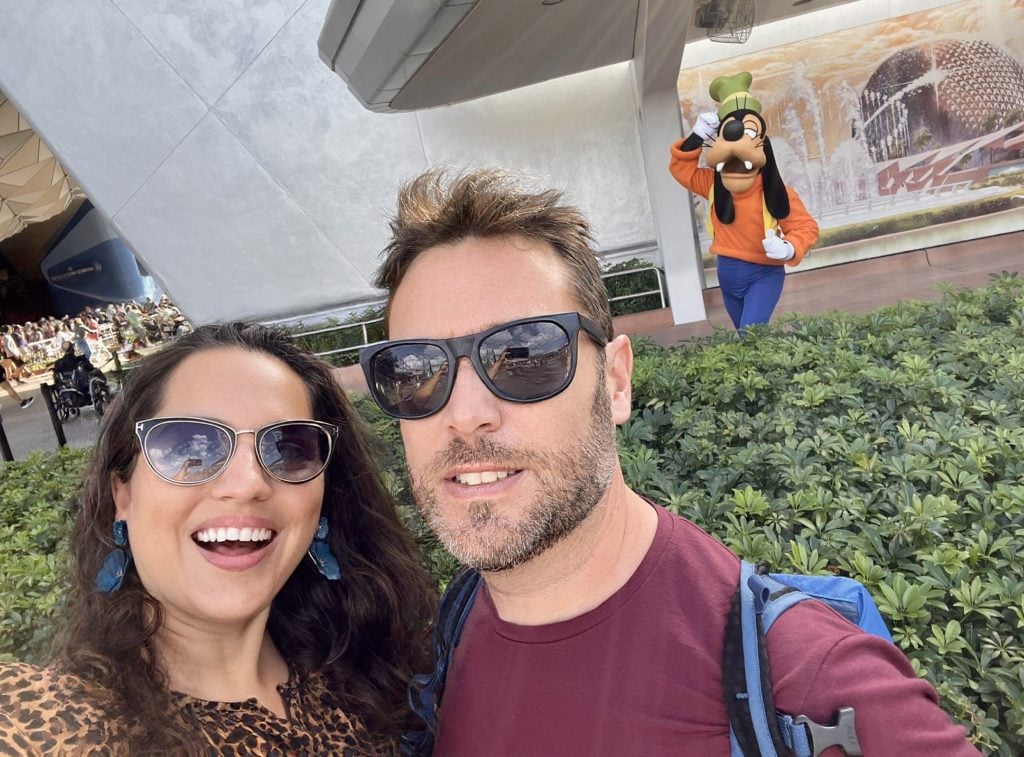 How would I plan a future trip to Disney as an adult?
I would love to go back to Disney! Now that I've done so much research, I can't wait to do more Disney!! Next time I visit my mom in Florida, I'd love to go to Animal Kingdom or Hollywood Studios for the day. My sister is a runner and I'd love to cheer her on in a Disney marathon or half marathon.
But say I were planning a full weeklong trip to Disney for adults. For myself, essentially. What would I recommend?
Disney Springs. This area is not part of the parks, but it's filled with shops and restaurants and bars. If you're an adult planning a trip to Disney, you should prioritize some time here!
Staying at a Disney resort. The benefits are too good — easy transportation, no parking hassles, and getting to enter the park early. I think I'd choose a Disney hotel close to Disney Springs, like Disney Port Orleans French Quarter. (Their hotel rooms are sized for two adults…and they serve Mickey-shaped beignets!)
Hardcore days at Magic Kingdom and Hollywood Studios. Trying to pack in as much as humanly possible, trying to see ALL OF THE RIDES. Spending the money for Genie Plus and Lightning Lanes, optimizing every free minute.
On and off scheduling. The first day, going nonstop from 9:00 AM to 9:00 PM, exhausted me. I couldn't do that multiple days in a row. So I think I'd alternate busy days in the parks and chill days. What to do on chill days? Sit by the pool, do Disney Springs things, maybe hit up one of the water parks (Typhoon Lagoon or Blizzard Bay).
Doing a monorail food crawl. I've learned that some people like to have one course of a meal at one Disney resort, then hop on the monorail and have the next course at the next resort. Disney actually plans some of these dinners with set courses! Fun.
Beaches & Cream Soda Shop. This ice cream shop at Disney's Beach Club Resort serves gargantuan sundaes and I WANT I WANT I WANT. On my next trip, for sure!
More Florida Fun:
Miami is Nice, So I'll Say It Twice
Solo Female Travel in the Florida Keys
Seaside, Florida, the Town of the Truman Show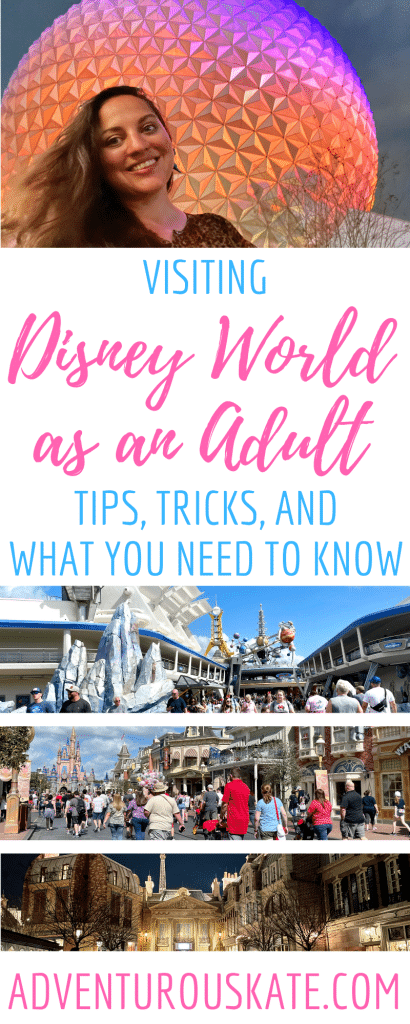 Have you visited Disney as an adult? What would you recommend?