Adventurous Kate contains affiliate links. If you make a purchase through these links, I will earn a commission at no extra cost to you. Thanks!
Whenever I visit a new country, a few things initially jump out at me — whether it's the flat toilet bowls of Austria or the fact that you'll be charged if you don't turn away the bread that arrives on your table in Portugal.
I made my long-overdue first visit to the land of windmills and wooden clogs this past May for the TBU conference in Rotterdam, where I was making my second appearance as a speaker.
The first thing that struck me about the Netherlands?  The Dutch drink a lot of milk.  There were milk dispensers at buffets and a jug of milk was served on the table at almost every meal.  And no Oreos were present!  So subtle, but surprising.
The second?  The Dutch speak amazing English — and English is far more prevalent in the Netherlands than, say, Germany or France.  Lots of stores have their signs in English only.  The hilarious Boom Chicago comedy show in Amsterdam had a lot of jokes about how the "third class" of Dutch are those who don't speak English.
But most notably, the Dutch are amazing when it comes to design and architecture.  This is what captivated me and really gave me an appreciation for the Netherlands.
I didn't have the greatest weather on this visit.  It absolutely poured for all but one day in Rotterdam, and Amsterdam was even worse — but these trips allowed me to take in some of their finest design and architecture.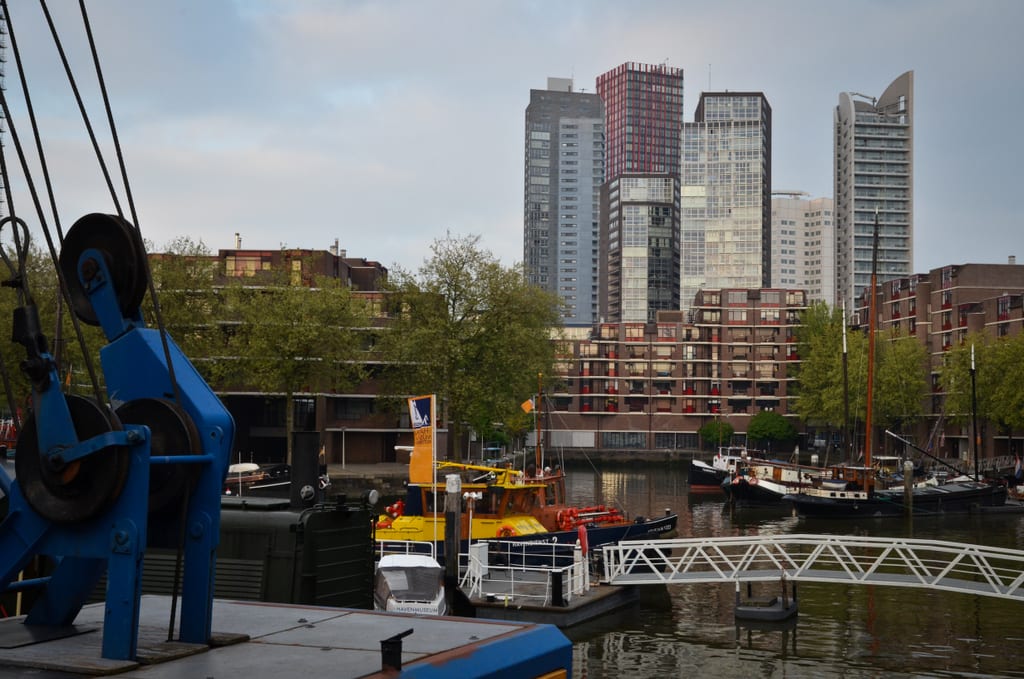 Rotterdam
Rotterdam is known for not looking like any other city in the Netherlands.  While lots of Dutch cities have a very traditional look to them, especially in the old areas, Rotterdam is all modern architecture and skyscrapers and geometry.
Just look all the shapes you can spot in this station alone!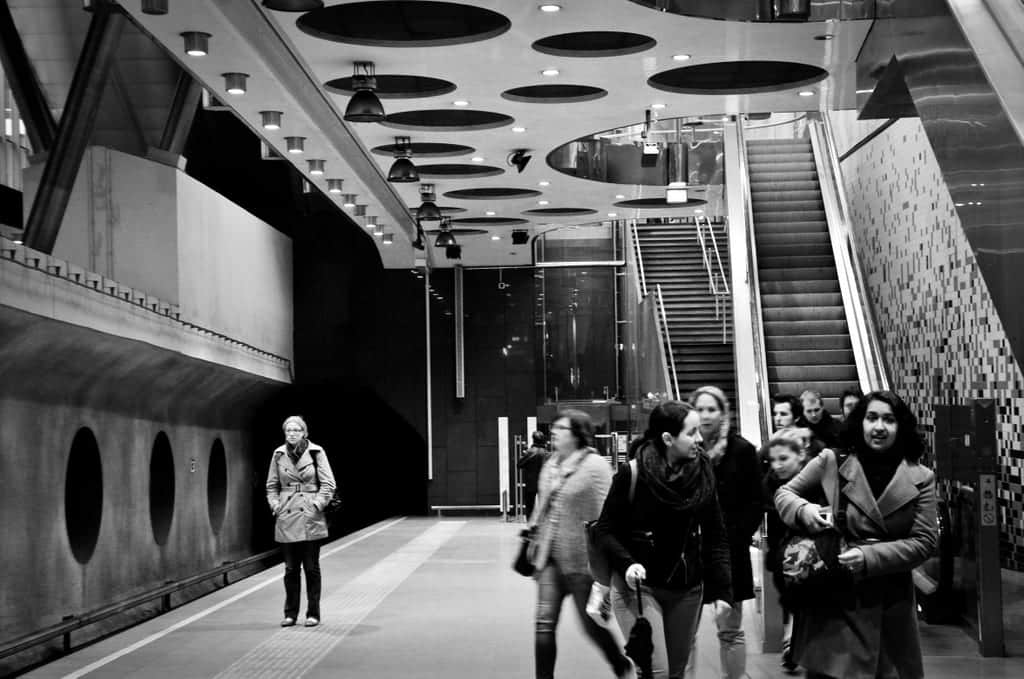 I was supposed to go on a photo tour around the city — but it was raining solid sheets.  Instead,  our tour went to the Hotel New York, which was filled with lots of cool design!
I loved the wrought iron railings.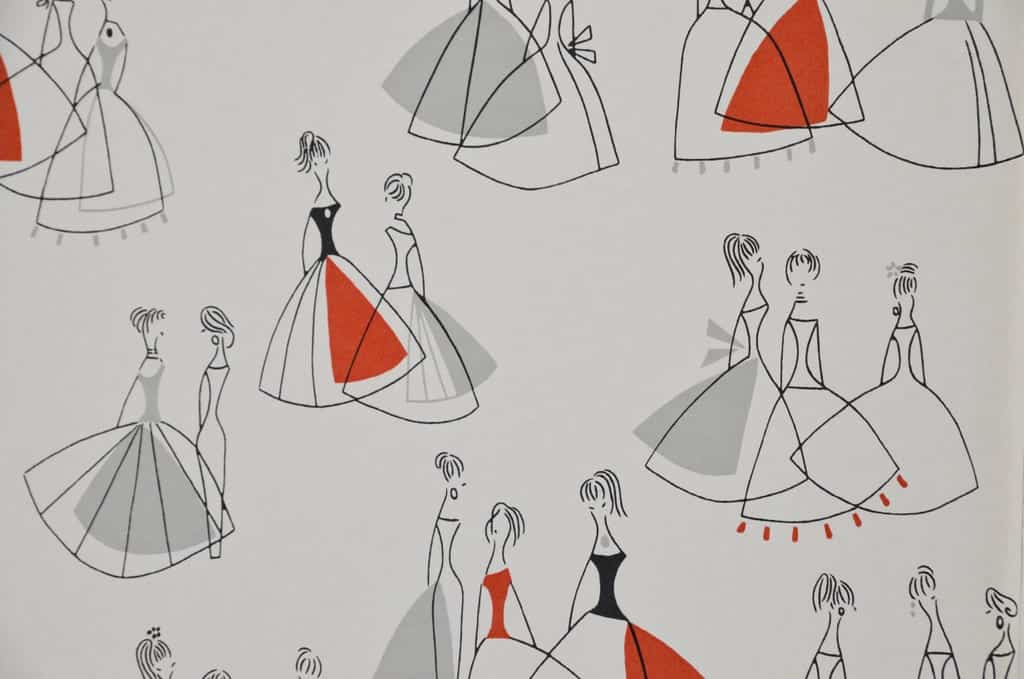 All of the rooms had unusual wallpaper.  This one reminds me of paper dolls.
Most bizarrely — Nadine found a family reunion for Sir Paul!
Nadine has taken her Sir Paul around the world with her (he even posed with Ronnie from Ronnie's Sex Shop in South Africa!).  She found him when looking for a unique vintage wind-up toy she could take around the world with her and use as a recurring motif in her videos.
Never had Nadine ever seen another Sir Paul.  At Hotel New York, there was a whole army of them in the bar!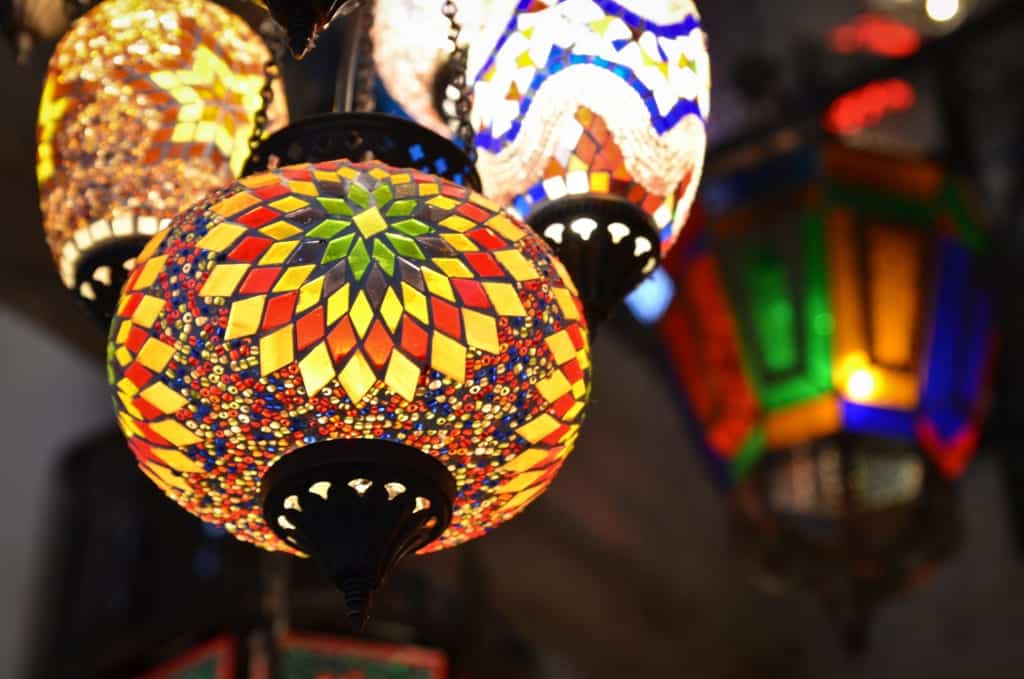 If you ever visit Rotterdam, a great place to go is Bazar, a delicious and well-priced Turkish restaurant.  I ended up eating there three times over the five days I was in Rotterdam!  They also have a great assortment of lamps.
The Mainport Hotel, where the conference took place (and where speakers, myself included, were offered complimentary lodging), had lots of cool design details.  This is a close-up of the chandelier in the lobby.
I found Rotterdam overall to be a small but fun, low-key city.  It's not a city that you go to visit the sights — it's a place to relax, hang out, and experience on a local level.

Amsterdam
How perfect is that image above?  Tulips on a bike set against a canal — it's the ultimate Amsterdam picture!
I listed Amsterdam as one of my most egregious travel oversights in October 2012.  Somehow, it took more than two collective years of living in Europe before I got to this quintessential city.  Several different post-conference tours were available throughout Holland, and I decided to take the Amsterdam trip.
I soon discovered that Amsterdam was filled with just as much amazing design and architecture as Rotterdam.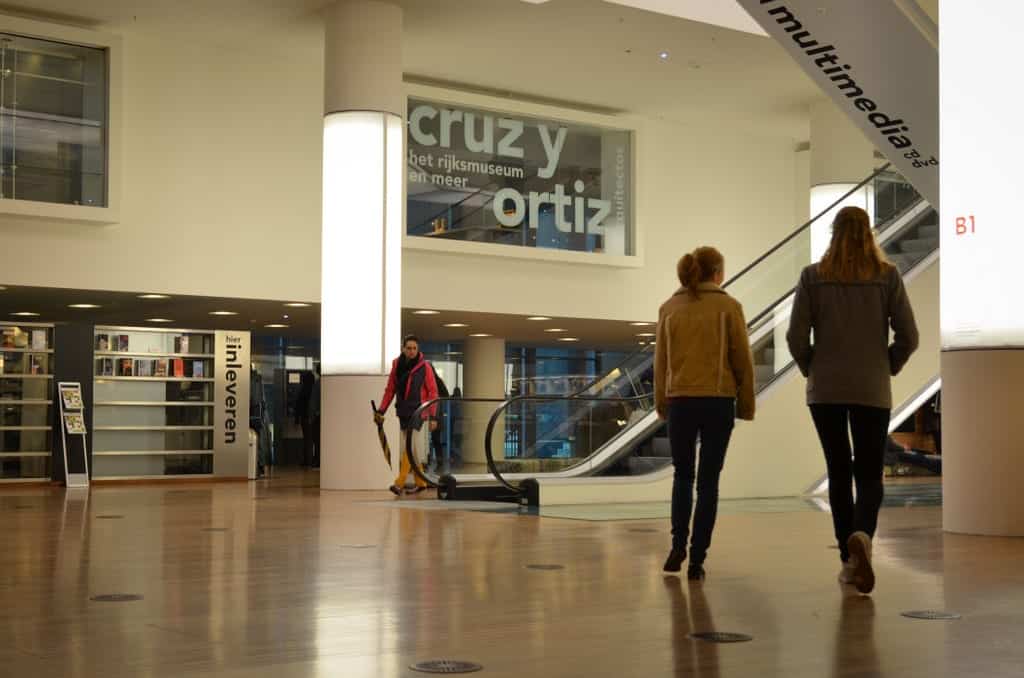 Amsterdam is home to one of the coolest libraries I've ever seen — it's clean, modern, artistic, absolutely enormous, and as conducive to work or studying as it is to just walking around and gaping at it.  If I lived here, this is where I would work.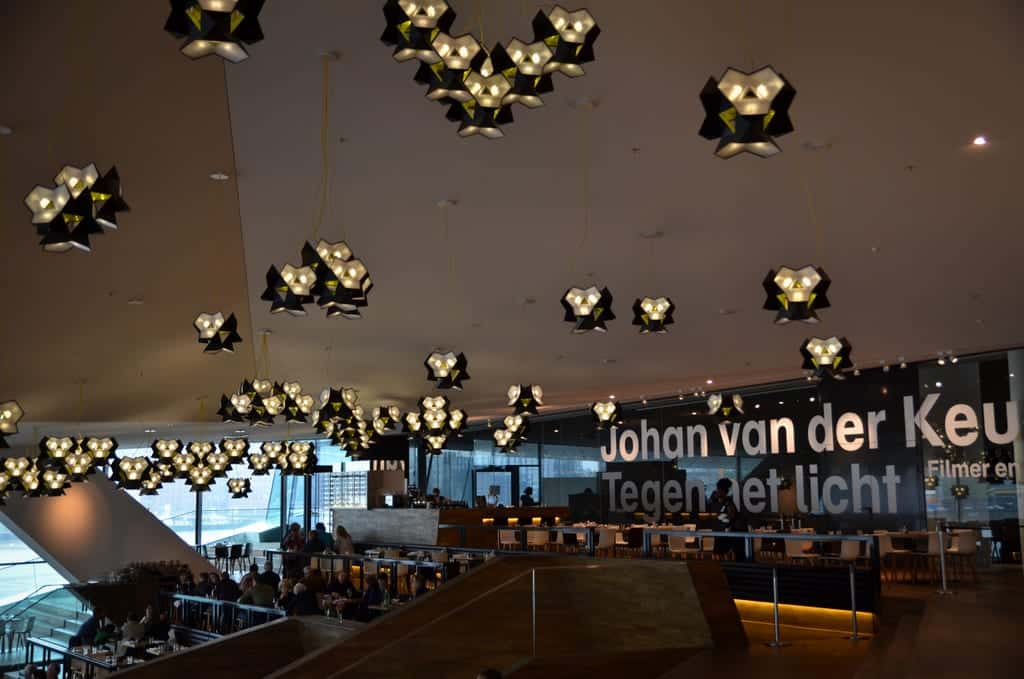 The EYE is another cool place — it's a film institute with a rotating exhibit of cool reels.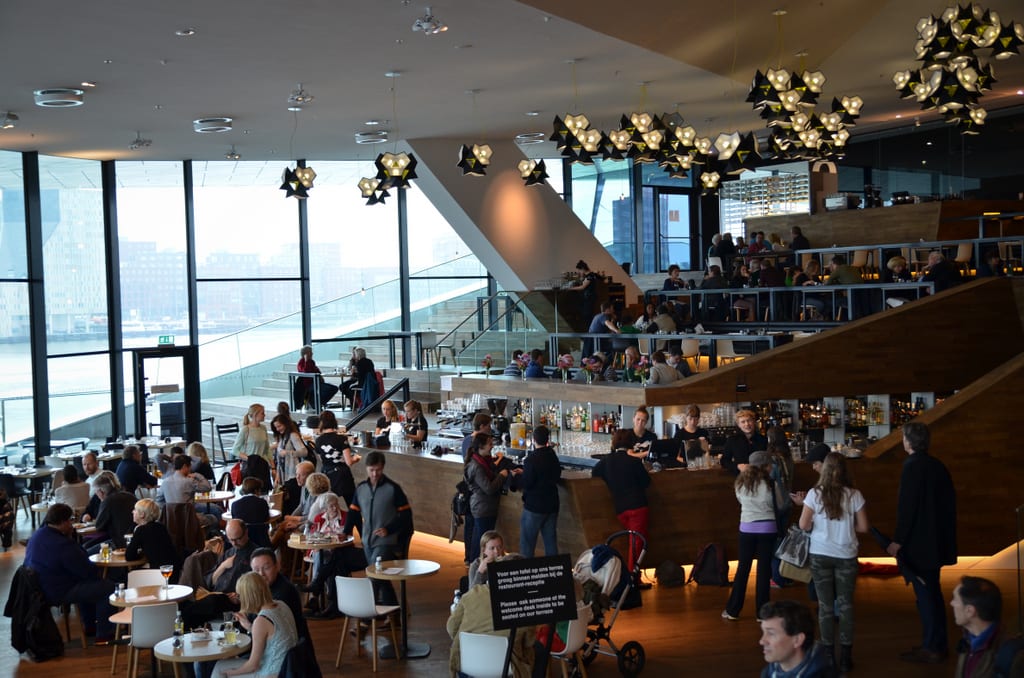 If you're not interested in the exhibits, it's also a very cool place to have a drink or coffee.  Perched on the northern shore of the city, you get great views across the water.
But the coolest design place was this: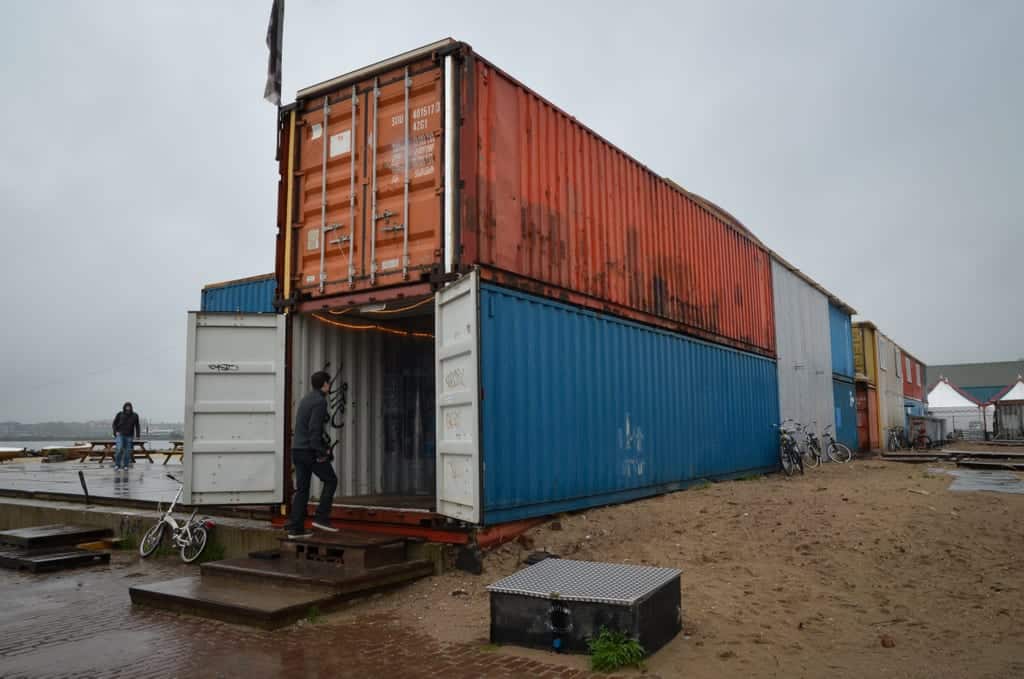 A shipping container?
Oh, yes.  Because this is Pllek — a chic restaurant in disguise.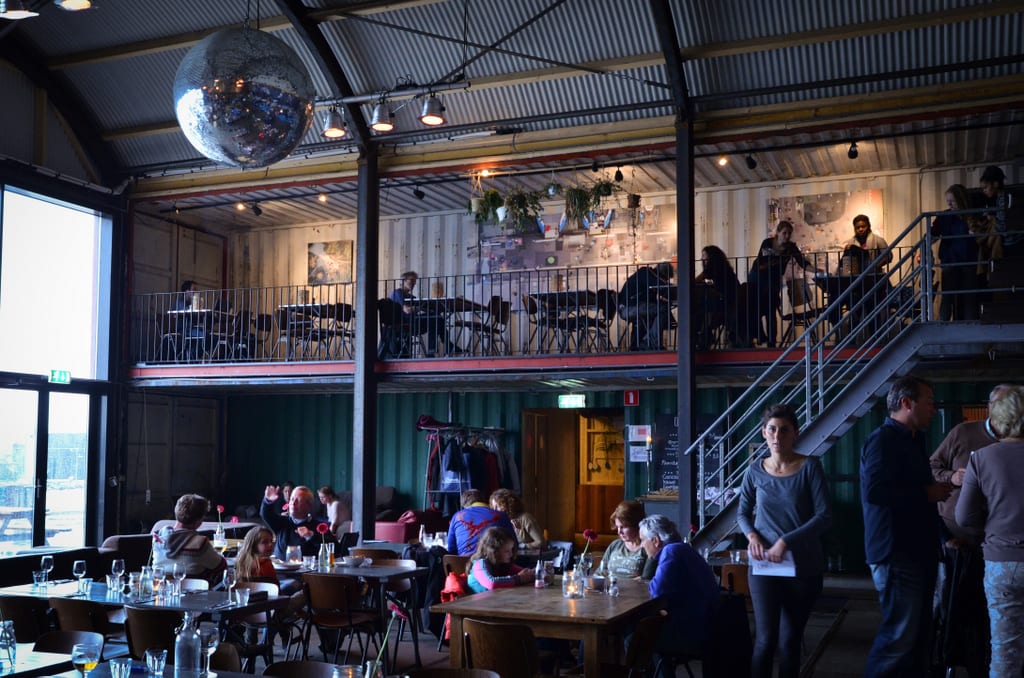 You'd never guess that was on the inside of the container, would you?
Pllek was also where I had my best meal in Amsterdam.  The food here is amazing — especially the strawberries macerated with balsamic vinegar, served with lime-infused whipped cream.
OH MY GOD GIVE ME THOSE STRAWBERRIES FOR DESSERT EVERY NIGHT!
And then there was the architecture along the canals — just as I'd always imagined Amsterdam.  Even with the rain, the greatest pleasure for me was walking the canals.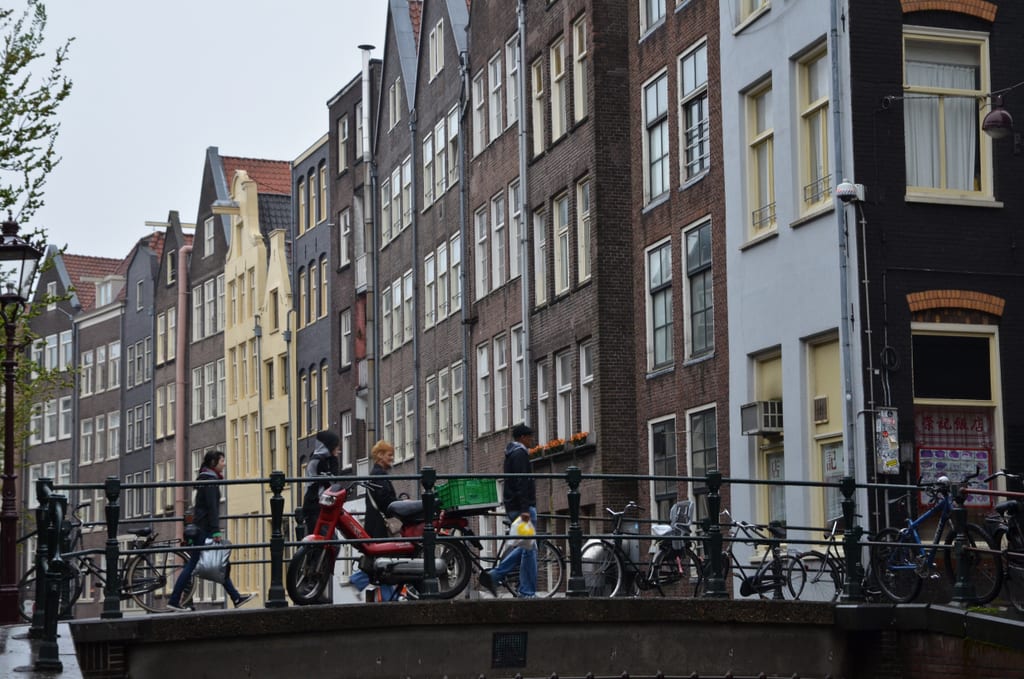 This is the Red Light District during the day!  I wandered there by accident.  (Seriously.)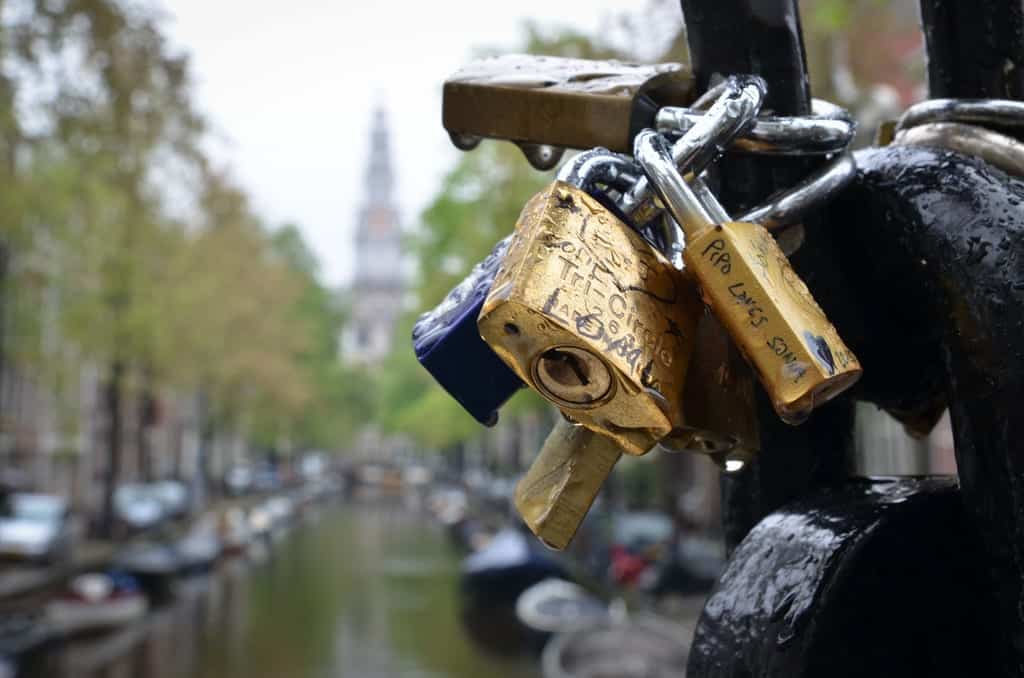 You'll find locks of love on the bridges.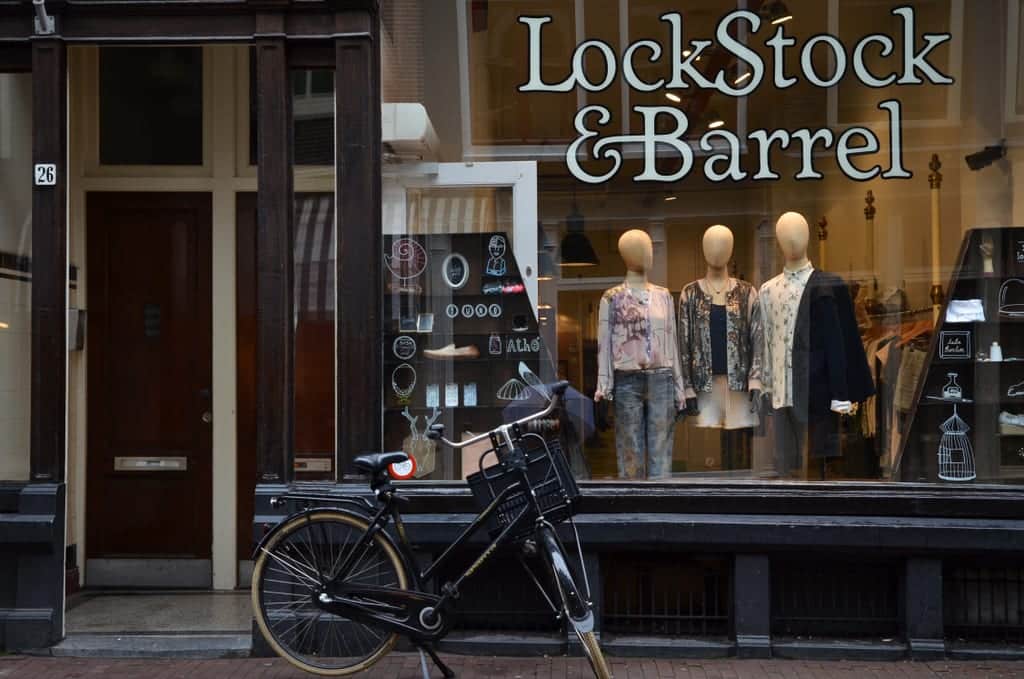 It's not often that a city reminds me of Boston — but Amsterdam did.  That picture above could have easily been taken in the South End.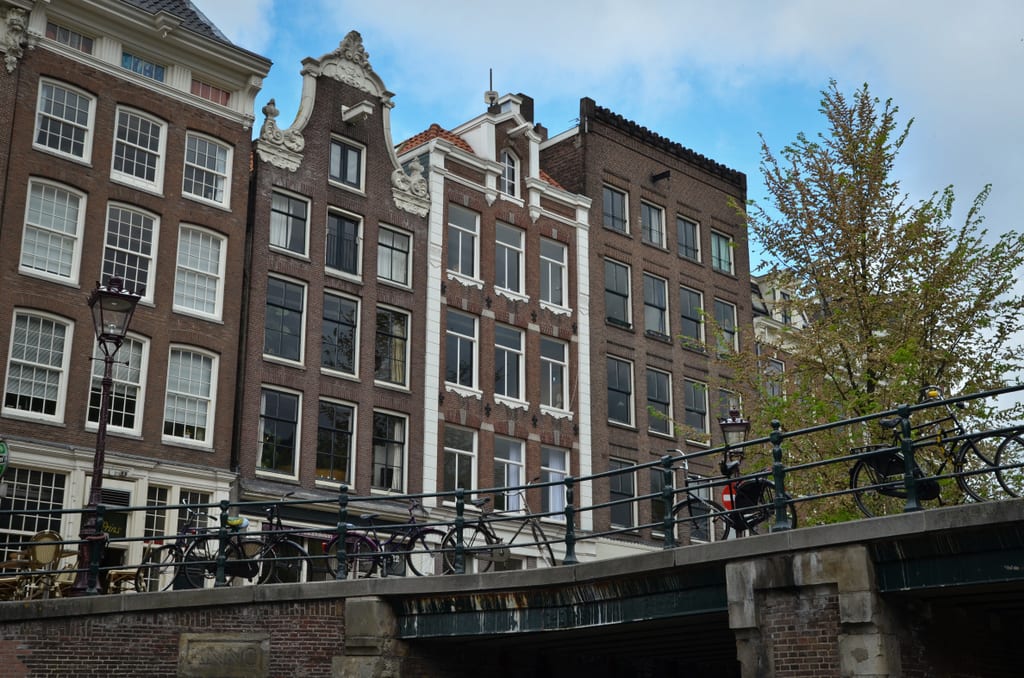 An hour before I was supposed to get on a train to the airport, the slightest bit of blue sky began to poke through the clouds.  And with it I got one canal shot with blue sky!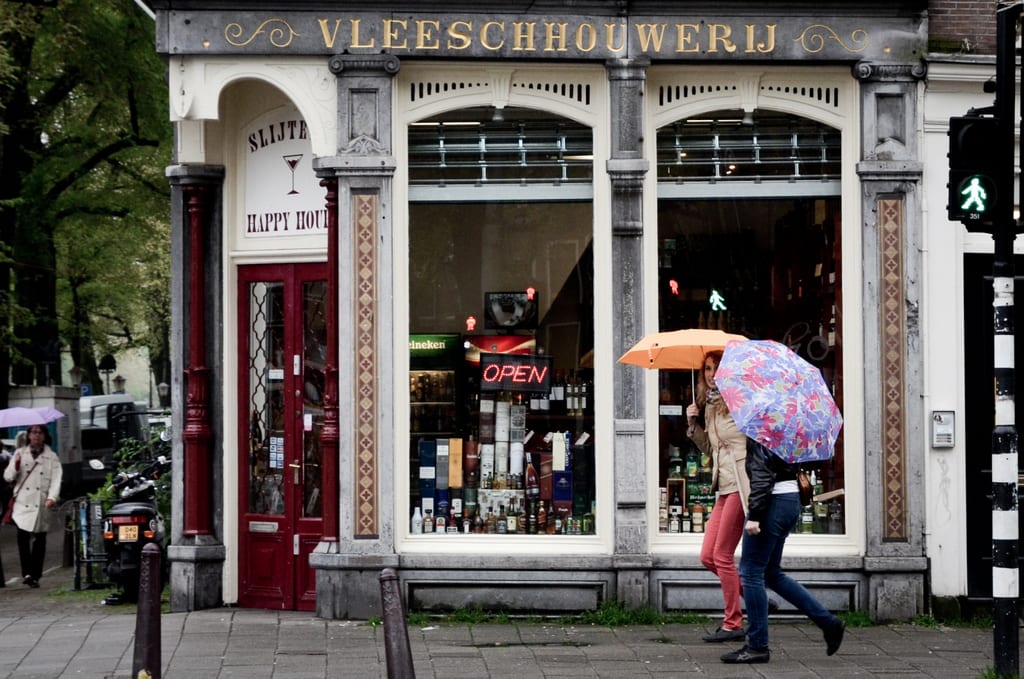 This year, I visited two iconic European cities, Amsterdam and Berlin, for the first time.  Overall, I liked Berlin much better.  Then again, I spent my time in Berlin living in a cool neighborhood, hanging out with my friends who live there, and exploring at my own pace.  Amsterdam was a group press trip, and a large one — 20 attendees.
To be completely honest, this trip was one of the factors that led me to my decision to alter my site focus and cut down on certain kinds of press trips.  Press trips that are tailored to me (and therefore to you!) are great.  Enormous one-size-fits-all group trips are not.
But — I did get a lot of great photos and discover some cool places.  I liked Amsterdam enough that I know I need to return and do it my own way — book a room in a luxury hostel in a cool neighborhood (Cocomama looks awesome!), stay for longer, dive into cheap eats, and connect with the local scene. Hopefully the sun will be shining then!
My visit to Rotterdam and Amsterdam were made possible by TBU Rotterdam and Holland Tourism.  All opinions, as always, are my own.
Get email updates from Kate
Never miss a post. Unsubscribe anytime!