Adventurous Kate contains affiliate links. If you make a purchase through these links, I will earn a commission at no extra cost to you. Thanks!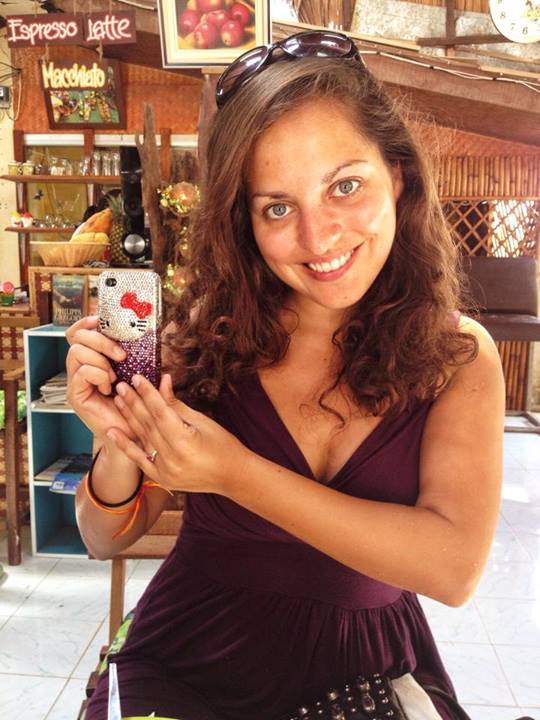 After six months of dashing like mad from place to place, Month Seven was the first month that Mario and I spent entirely in one country: Thailand, thanks to the two-month visas we picked up in Cambodia.
It was also the month that we slowed down — way down. And it was so needed. I had been exhausted and craving a break since July.
We had always planned on staying in one place for a few weeks around Christmas, and Koh Lanta was the ideal place to do it. As soon as we settled down, a constant buzzing of stress left me — suddenly, the pressure to leave and move on was gone.
We spent our days either relaxing on the beach with coconuts or working in cafes. We got into a groove and had a list of our usual restaurants.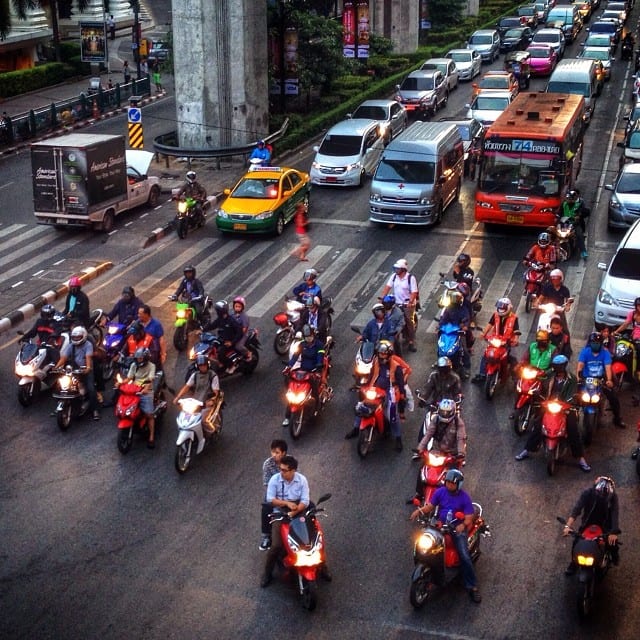 Destinations Visited
Pai, Bangkok, Ranong, Koh Phayam, Khao Sok National Park, and Koh Lanta, Thailand
Favorite Destinations
Koh Lanta. I am so pleased that three years later, the island is still home to fantastic, clean beaches and kind, welcoming people. It's so relaxed and chilled out here.
Khao Sok. I can't believe this national park isn't more well known. It's an incredible setting, with limestone karsts jutting out of the land and the lake, and it's a short drive from the beaches of the southern Gulf coast or the Andaman coast.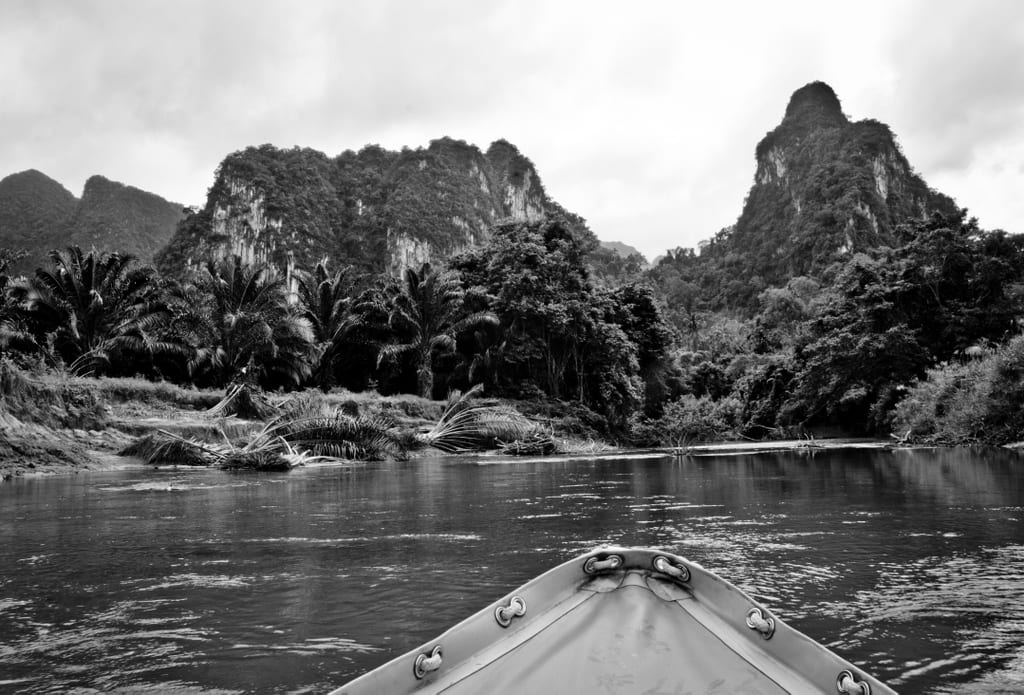 Highlights
Just being on Koh Lanta is enough of a highlight! In addition to our beach and cafe time, we also explored the island by motorbike, played with cats and dogs at Lanta Animal Welfare, met really interesting people, celebrated Mario's birthday with lobster on the beach, celebrated Christmas with coconuts on the beach, celebrated New Year's with fireworks on the beach, and just relaxed.
In Khao Sok, the biggest highlight, believe it or not, was hiking through a water-filled cave for more than a kilometer. At first, I hated it (along with the jungle trekking), but by the time we started swimming through the pitch-black cave and climbing flimsy wooden ladders over rapids, I was hooked! I also enjoyed the scenery of the lake trip and exploring the Sok River by canoe.
And in Bangkok, my biggest highlight was going to see Catching Fire in the luxury theater at Central World. This is my new favorite thing to do in Bangkok! For 700 baht ($21), you get a pre-movie buffet, movie seating in huge cushy recliners with blankets, your choice of popcorn (caramel, cheese, barbecue or salt?) and soft drinks, and waitress service. To have that luxury experience with such a good movie as Catching Fire made it all the better.
Memorable SOTM Pic
In Melbourne, we met up with Mario's friend Kevin and his Kiwi wife Danielle. Mario and Kevin worked together in England more than 20 years ago, lost touch, and reconnected on Facebook. Kevin met his wife in London, and they moved to Melbourne, got married, and now have two little boys, two dogs, and a beautiful house. As soon as Kevin found out that we were coming to Melbourne, he and Danielle invited us over for some delicious homemade pizza.
Kevin and Danielle just celebrated their 10 year anniversary. This was the phrase that initially brought them together in a pub on a cold night in Brixton. Read more about the story here.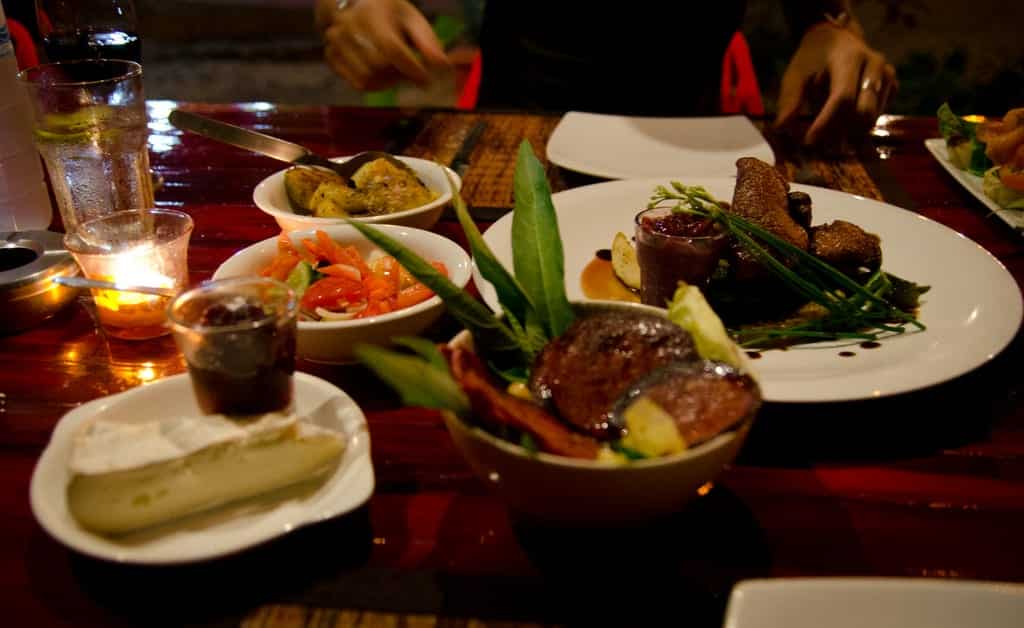 Best Thing I Ate
Red Snapper on Koh Lanta is one of my favorite restaurants in the world, and my favorite dish from last time remained my favorite dish from this time: chorizo fried in garlic and brandy. The dish is served with soft pieces of garlic that fall apart when you spread them on  the meat. Outstanding.
If you're heading to Koh Lanta, I highly recommend having at least one splurge meal at Red Snapper. (And by splurge, I mean we spent about 1500 baht, or $45, for the two of us, including a glass of wine each.) The menu changes periodically, but in addition to the chorizo fried with garlic and brandy, I recommend the roasted duck, Ethiopian lentils with roti, cold strawberry soup with ginger ice cream, and a simple yet astounding salad with goat cheese, shaved almonds, figs, and lemon vinaigrette.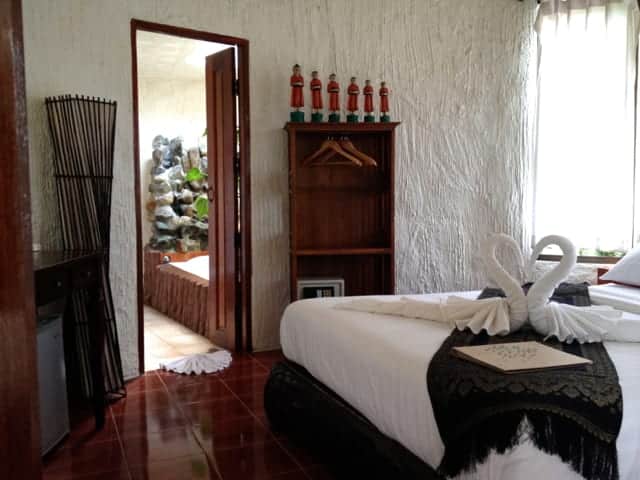 Best Place I Stayed
I really loved Khao Sok Paradise in Khao Sok National Park. We ended up spending more than usual (1300 baht, or $39) because I had no idea how isolated we would be and whether we would have phone signal in the national park. If there were no signal, we would need a place with reliable wifi, since Mario was going to be working while I did outdoorsy things.
It turns out that our worries were for naught — while there was no phone signal in the national park itself, there was signal at our guesthouse, and while the wifi was decent, there were a few nearby restaurants that had faster wifi.
That said, Khao Sok Paradise was a wonderful place to stay. We had a very comfortable round room that looked like it was in a giant tree stump — it was like a home for elves! The guesthouse has a great restaurant serving both Thai and Mediterranean food, and their pasta could past muster in Italy. Seriously.
Plus, they have a freaky fish who looks like he's trying to kill you.
Mario loved him and tried to name him Colin. Turns out his name is actually Dr. Brain. He'll let you stroke his swollen forehead if you do it nicely.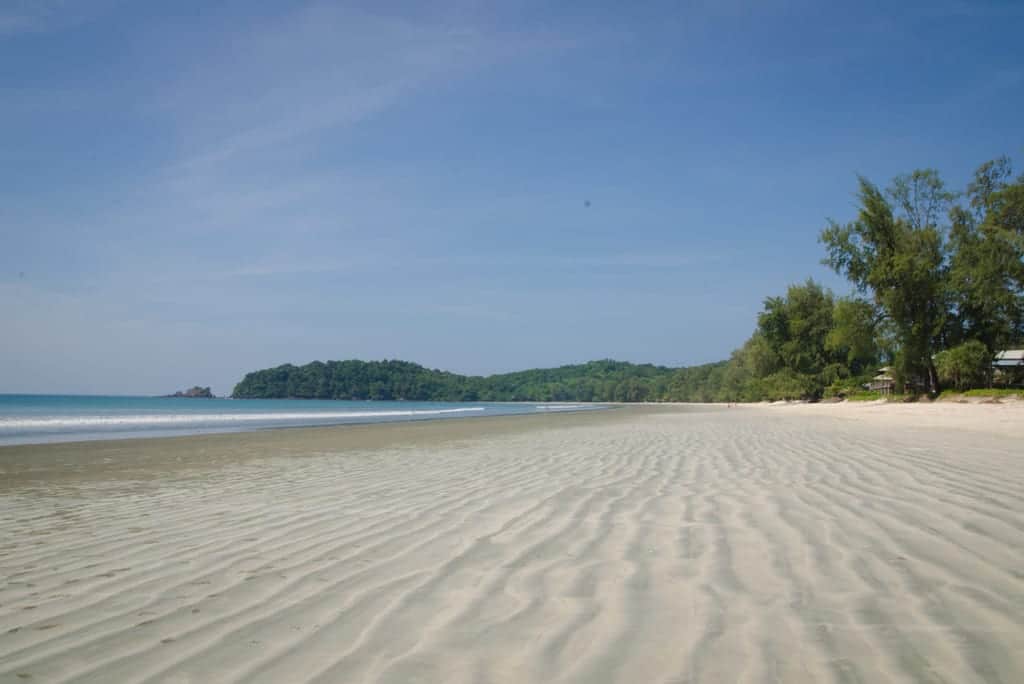 Challenges
If you read about my worst travel moments of 2013, you heard about the illness on Koh Phayam. I had the flu or something else entirely and was so sick I couldn't even sit upright. Thankfully it didn't last for long.
Beyond that, the month was pretty easy. Once a cockroach climbed into my suitcase and I chased him out and thought he had disappeared until I found him hiding in my bra.
Oh, and there was the time a Swedish woman came up to me and asked about the baby while patting my stomach. First time that's ever happened. In her defense, I was sitting in a massage chair with my hands resting on my non-bump, so I don't blame her, but still — that's something that you never want to happen to you.
Most Popular Photo on Instagram
Khao Sok is famous for its lake houses — floating houses where you can stay overnight if you'd like. I didn't stay overnight, but I did spend an afternoon swimming by some of the lake houses.
This photo garnered 209 likes, making it my fourth most liked Instagram photo of all time.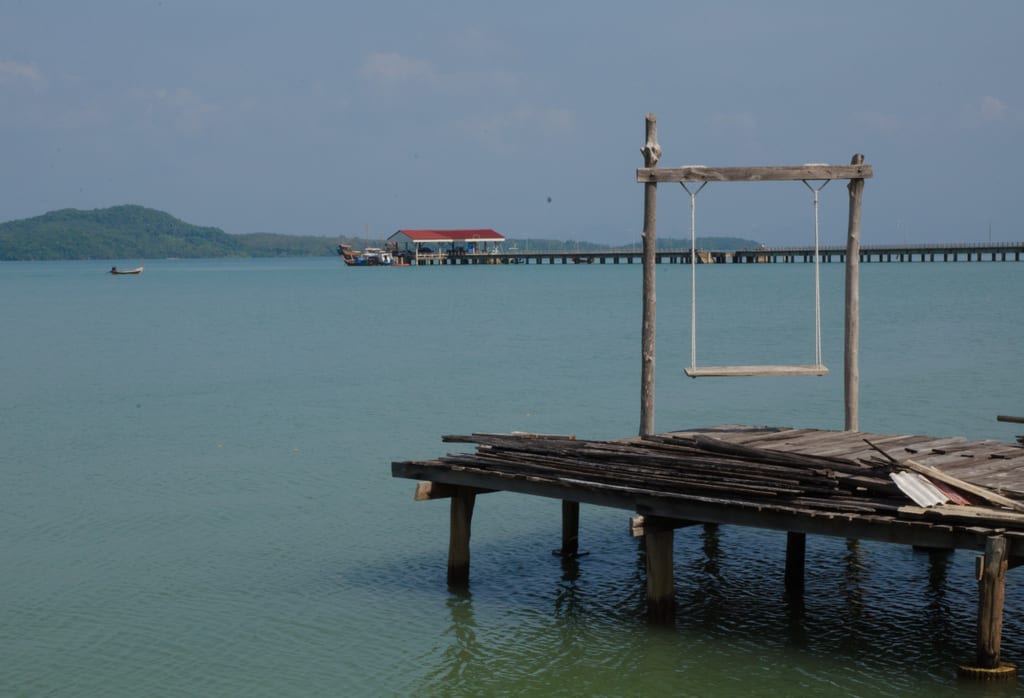 What I Read This Month
Mastering the Art of French Eating by Ann Mah — I loved this book, a light memoir about a woman living and eating her way through Paris after her husband is suddenly sent to work in Iraq for a year. Each chapter gives an introduction to a famous French dish with a trip to the region where it originates, and the story of learning to live alone in Paris ties it all together.
A Time to Be Born by Dawn Powell — This book was on sale and recommended to me on Amazon, so I gave it a whirl. Published in 1942, this novel takes place after the start of World War II but before the US enters the war. It is basically how a Seinfeld cast would act during World War II, along with constant catty gossip — yeah, Hitler's supposedly a bad guy and all, but did you hear that Amanda Keeler's father is common enough to own a haberdashery?
Medium Raw by Anthony Bourdain — God, I love Uncle Tony. He is one of the people I'd like to spend a day hanging out with the most. This book is a collection of delightfully badass essays about food, travel, and the food media. If you're going to read Anthony Bourdain for the first time, don't start with this one — start with Kitchen Confidential, the hilarious, engrossing and shocking memoir of his life as a chef, which provided the basis for this book.
Interestingly, both Mastering the Art of French Eating and Medium Raw both mentioned a French delicacy I've never heard of: ortolan, or tiny birds that are drenched with Armagnac, torched, and eaten whole.
Ann Mah mentions eating ortolan almost in passing, with no details beyond the physical appearance of the birds. Anthony Bourdain, by contrast, writes a detailed, dreamlike, fantastical account of the pleasure of eating these birds, from the crunch of the bones to the sizzling abdominal fat. Oh, and ortolan are a protected species — making eating them ranging from frowned upon to downright illegal, depending on the region.
And, frankly…that's the difference between the authors and the books, right there. Anthony Bourdain is an expert on French cuisine; Ann Mah is an enthusiast looking to learn more. Neither is better than the other; they simply cater to different audiences, and their books reflect that.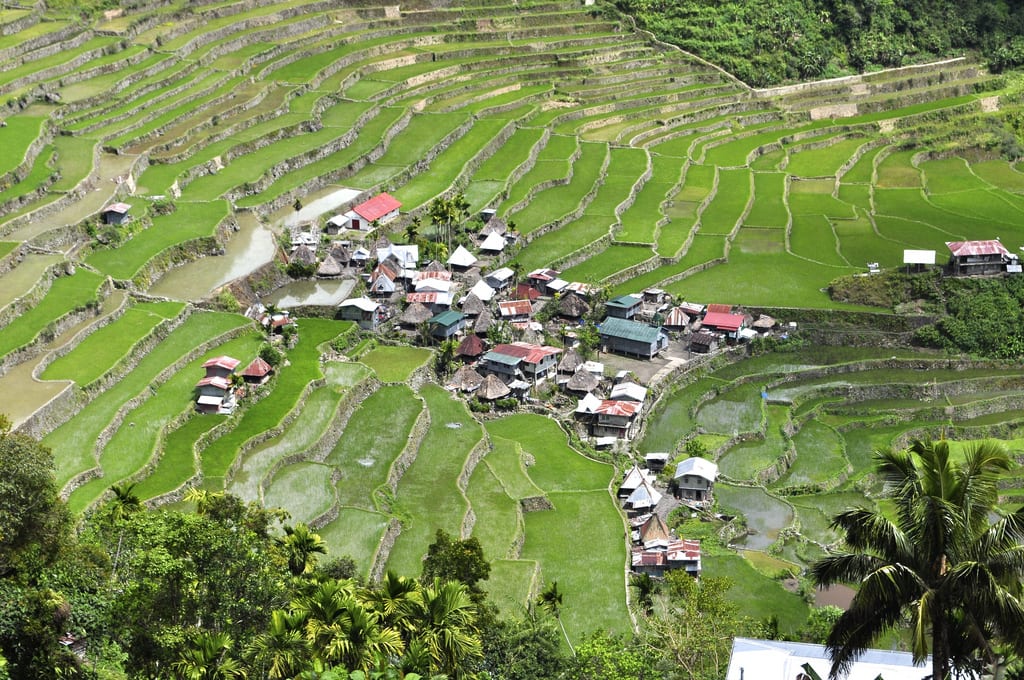 Coming Up in Month Eight
Yesterday Mario and I finally left Koh Lanta and arrived in Ao Nang, a place where I spent a lot of time on my first trip to Asia. It's nice to be back, but being here is also dredging up some of the less-nice memories I have from my time here.
This month we head to Brunei for several days, followed by the Philippines. As much as I'd like to visit the beaches of the Philippines, it looks like our trip is going to be spent entirely on the main island of Luzon — but the good thing is that Luzon is brimming with amazing sights (and I hope to add three new UNESCO World Heritage Sites to my roster).
Month Eight will finish the day we fly to Hong Kong — our final destination in Asia.
Any Suggestions for Month Eight? Let me know!
Get email updates from Kate
Never miss a post. Unsubscribe anytime!