Adventurous Kate contains affiliate links. If you make a purchase through these links, I will earn a commission at no extra cost to you. Thanks!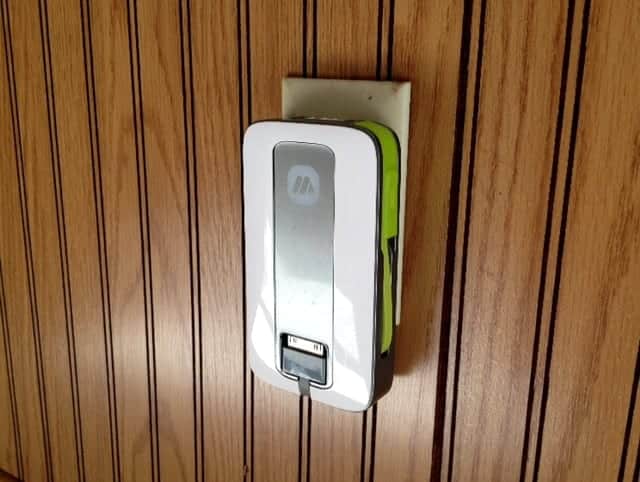 One night at dinner with my friends Matt and Hannes in Koh Phi Phi, Thailand, I found myself buried in my iPhone, unable to pull myself away from the latest tweets. Matt and I were two confirmed iPhone addicts, and with unlimited data plans costing only $30 per month in Thailand, there was no reason not to stay connected to the internet at all times.
Hannes didn't quite get it.  "At least you'll run out of battery sometime," he said with a sigh.
I then pulled out my mini-charger and stuck it into the phone.
"NOOOOOOOO!" Hannes yelled, laughing.
I giggled.  "I'm just kidding," I said, then put my phone away.  With the charger still in it.  Just in case.
My little charger and I had a wonderful time together all over Asia, until I lost it in the shipwreck — and I never ended up replacing it.  I missed it; it was a remarkably handy gadget.
Since that night in Thailand, I've acquired an iPad, a Kindle, and a Flip Mino HD video camera, and traded my iPhone 3GS for a 4S.  I run into charging issues all the time and have been meaning to get a new one.
So when I was offered the chance to try out a MyCharge Portable Power Bank 6000, I readily agreed.
This is my new favorite gadget.  It is a BADASS.
The MyCharge has the ability to charge up to three devices at once and has a USB plug, a mini-USB plug, and an Apple device plug, as well as an electrical plug and a USB socket.  I love how everything is built into the device — there are no cords whatsoever!
Is it powerful?  Yep.  It can charge the average smartphone FOUR TIMES OVER with a single charge.  It also talks to you — telling you how much battery is left when you press the top button.
The big difference from my little charger is that the MyCharge is too big to put in a small purse.  Which is probably a good thing.  It will probably keep me from being antisocial like I was in Thailand.
The device costs $99.99 and you can buy it here.
I keep thinking of places where I could use the MyCharge.  Here are some of them:
Budget cruises.  On my Busabout Croatia cruise, we only had electricity when we were docked in port, and even then, the sockets often didn't charge.  Charging my iPhone was challenging to say the least.
Hostel dorms.  You shouldn't leave your devices out overnight when you can't keep your eye on them.  With the MyCharge, you can charge your devices in bed with you.
Long bus or plane rides without outlets.  I watch a lot of movies on my iPad when I'm on long trips, and I often end up draining the whole thing.
Blog trips and press trips.  On most blog trips, you're go-go-going all day long without a chance to charge anything.  My iPhone always drains on press trips and I need to ration its usage.
Electricity-free resorts and camping.  Having a backup charge is essential when there's no electricity whatsoever, like on my surfing and yoga retreat in Mexico.
Anytime your Kindle is dead.  Kindles take awhile to charge and it can be annoying to read in an awkward position, especially when the story is getting intense.  With the MyCharge, you can charge it while keeping the charger in your lap.
The only problem?  It can't charge my Macbook Air.  It's just not on that power level.  But I can live with that.
I also got a pair of "Redemption Song" Marley earbuds, which are a lot of fun ("Reggae, mon!"), and an HDMX Jam Wireless Portable Speaker, which is a hipstery little wireless Bluetooth speaker (and QUALITY for just $40!).
To everyone who's coming to Portugal and Spain for travel blogger conference month — know that this speaker will DEFINITELY be coming out at the afterparties!
I'm really happy to have the MyCharge Portable PowerBank 6000 in my travel collection, and it will be taking up permanent residence in my little backpack.  I can't believe I went without it for so long!
Many thanks to Blue Wolf Communications for the complimentary items.  All opinions, as always, are my own.
Get email updates from Kate
Never miss a post. Unsubscribe anytime!