Adventurous Kate contains affiliate links. If you make a purchase through these links, I will earn a commission at no extra cost to you. Thanks!
I was visiting my sister in New York last week when I got an urgent call from my dad.  "You better not come back on Friday like you planned," he said.  "We're getting a snowstorm.  And this is going to be a BIG one."
Big was right.  Soon we would be hit by Storm Nemo, one of the fiercest snowstorms to hit the Northeast US in recent memory, and definitely the fiercest one named after everyone's favorite adorable clownfish.
Knowing how bad the roads would get, I elected to stay in New York a few days longer than planned.  By Friday afternoon, the flakes were falling in earnest, and I settled into my sister's Harlem apartment with a cup of tea and a perfect view.  I wouldn't have to move for days!
Until I got a text from Sarah telling me to meet her at Mel's Burger Bar, more than 40 blocks away.
Go out in that snow?  Insane!  Though I did owe her and her boyfriend Zack a meal.  I headed out — and realized the conditions were perfect for getting photos of her neighborhood's beautiful architecture in the snow.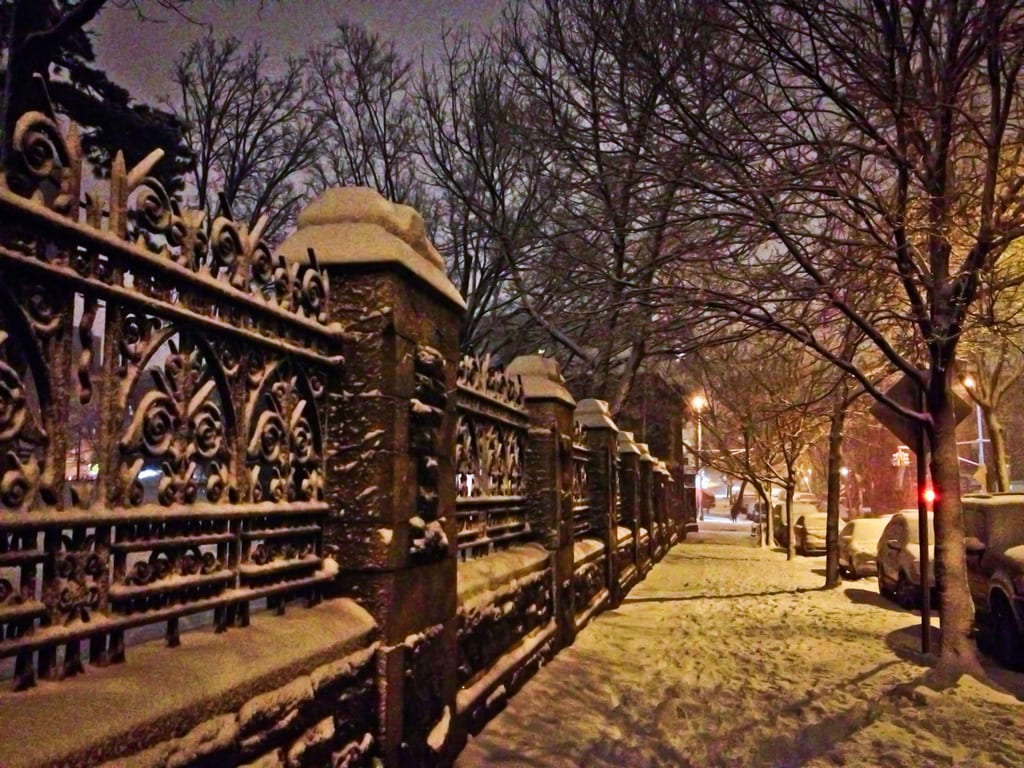 It's actually been a while since I've been in the middle of a proper snowstorm.  Growing up in Massachusetts, we usually faced around four to six major snowstorms most winters, not counting flurries. But last year, there was hardly any snow, and the year before, I was spending the winter in hot and sunny Southeast Asia.
The next morning, the weather in New York couldn't have been more beautiful — there wasn't a cloud in the sky.  There is nothing like a bright blue sky serving as a backdrop for a fresh snowfall!
Most of the streets were already clear, as were the sidewalks.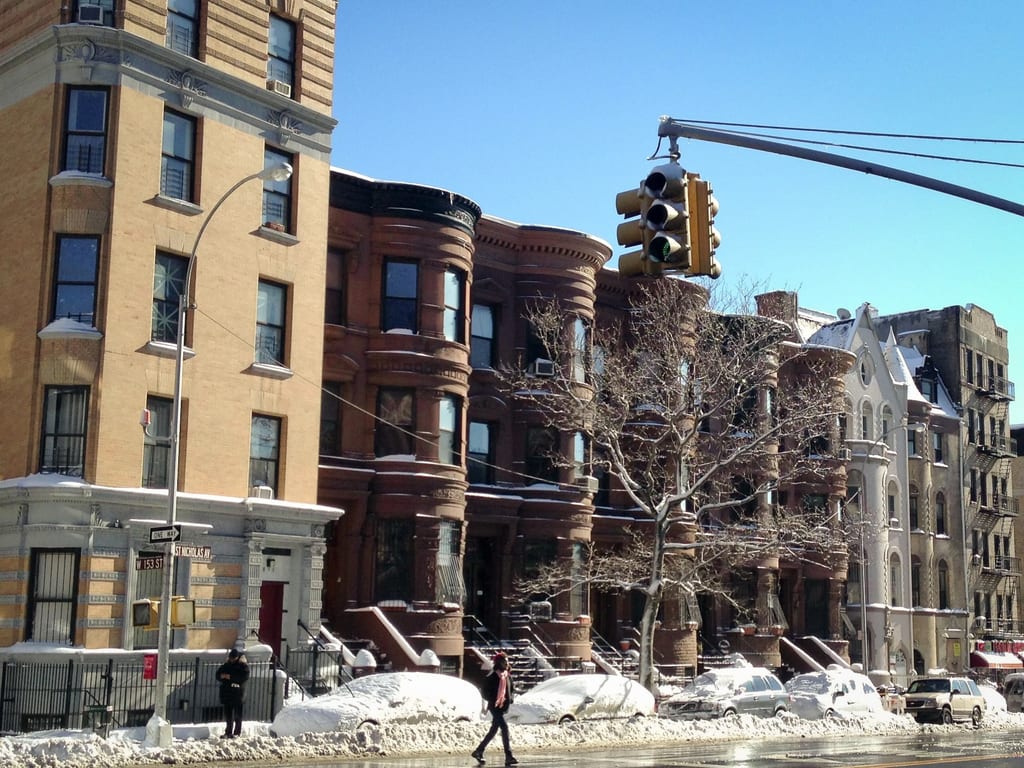 Convent Garden, a pretty Victorian-style enclave between the streets, looked especially nice underneath a fresh coating of snow.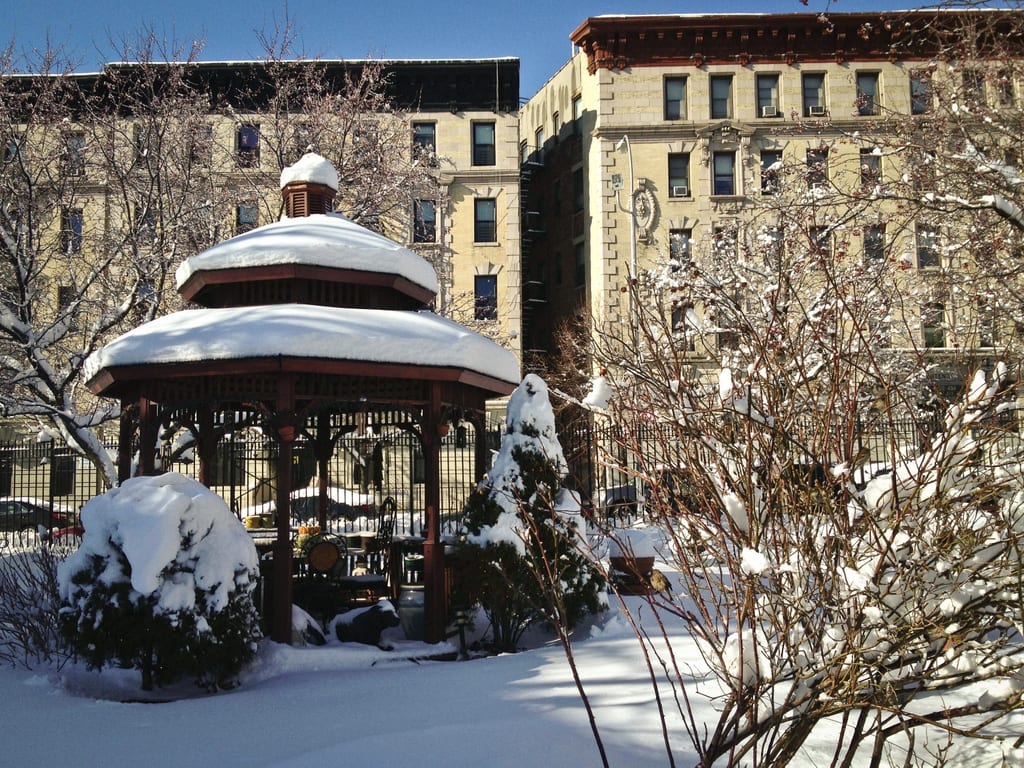 Kids were playing in the parks, snowball fights out in full force!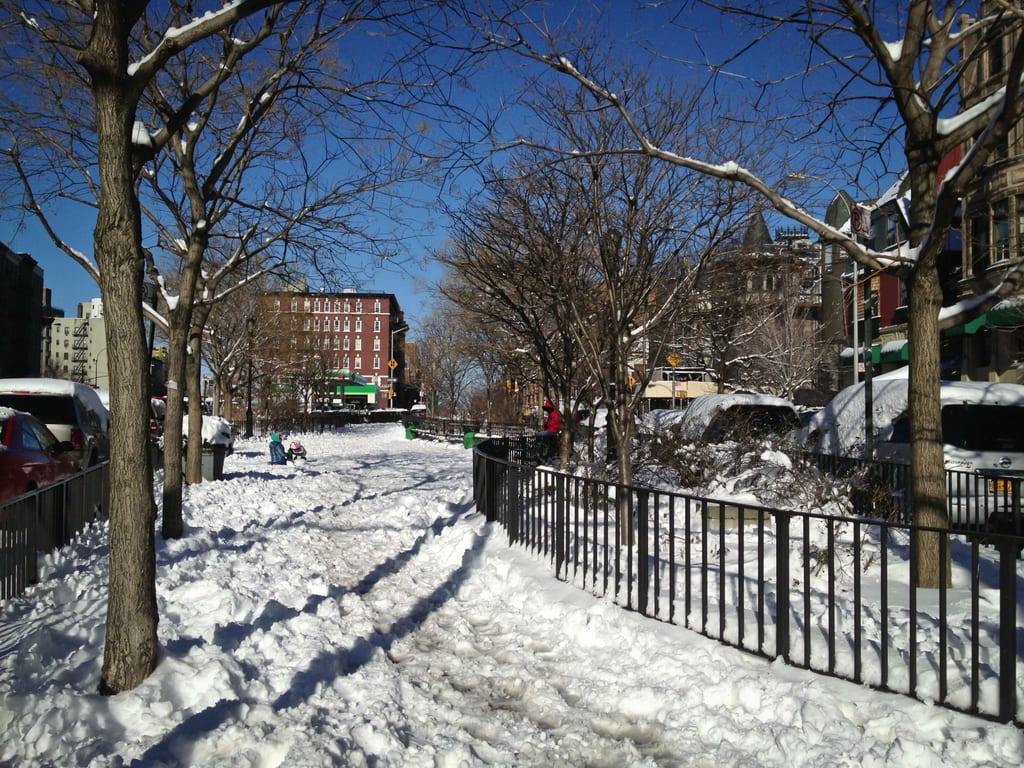 A jaunty snowperson held court outside the Soup & Salad.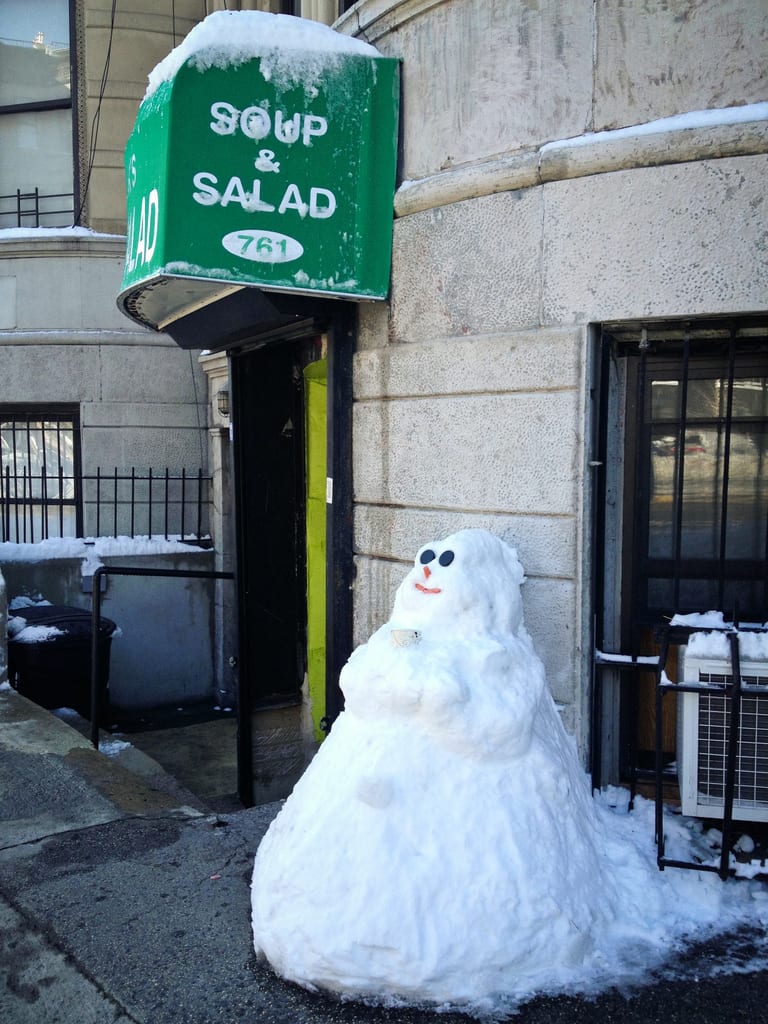 And my favorite picture of all: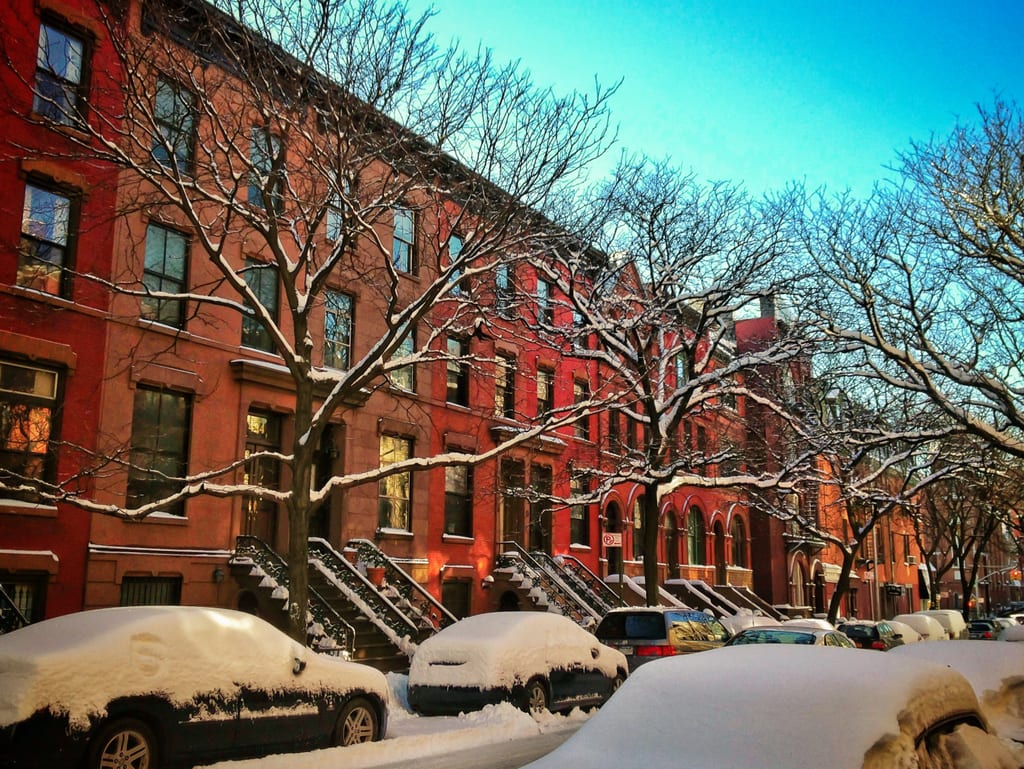 So beautiful.  Red brownstones, blue sky, so much snow — this is Manhattan at its most beautiful!
But still, this snow was nothing compared to what Massachusetts got.  While about 12 inches fell in Manhattan, Boston got well over double that.
What made Nemo especially notable was that Massachusetts Governor Deval Patrick issued an executive order prohibiting travel on the roads.  If you were out driving, and weren't emergency services, road works, or media, you could be fined $500 and face a year in jail.  This is the first time any order like this has been issued in my lifetime.
At first I thought the driving ban was excessive at best, absolutely ridiculous at worst, even though they said they wouldn't actually be fining or arresting anyone.  Predictably, Bay State conservatives and libertarians were even more up in arms about big government than usual.
But you know what?  This driving ban was incredibly smart.  The roads were clear.  Nobody was charged.  And I realized that the people most likely to be driving in a major snowstorm like this are low-wage workers who can't afford to miss work.  Places like Wal-Mart would never dream of closing without an executive order from the governor.
Compare that to New York State, where hundreds of people were stranded on the Long Island Expressway. Cars were buried.  People were trapped in their cars overnight.
No question — this driving ban saved lives, and saved Massachusetts a lot of money.  Well played, Governor.
Take a look at my dad's backyard: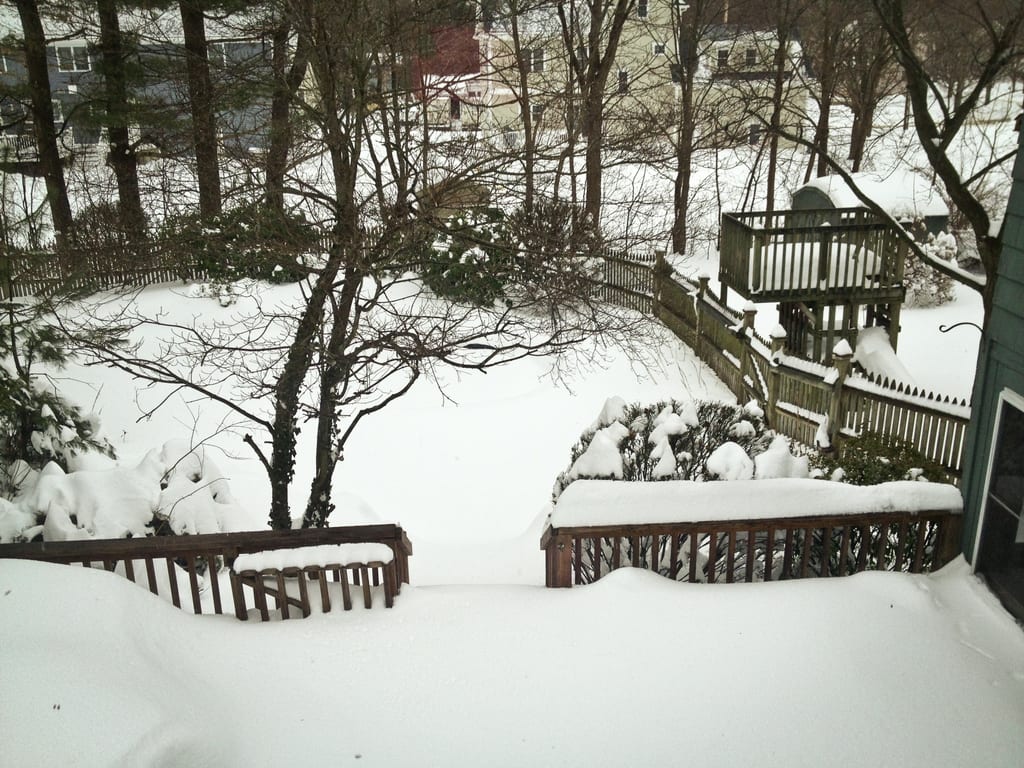 See the treehouse?  That shows you just how much fell.
As for the patio: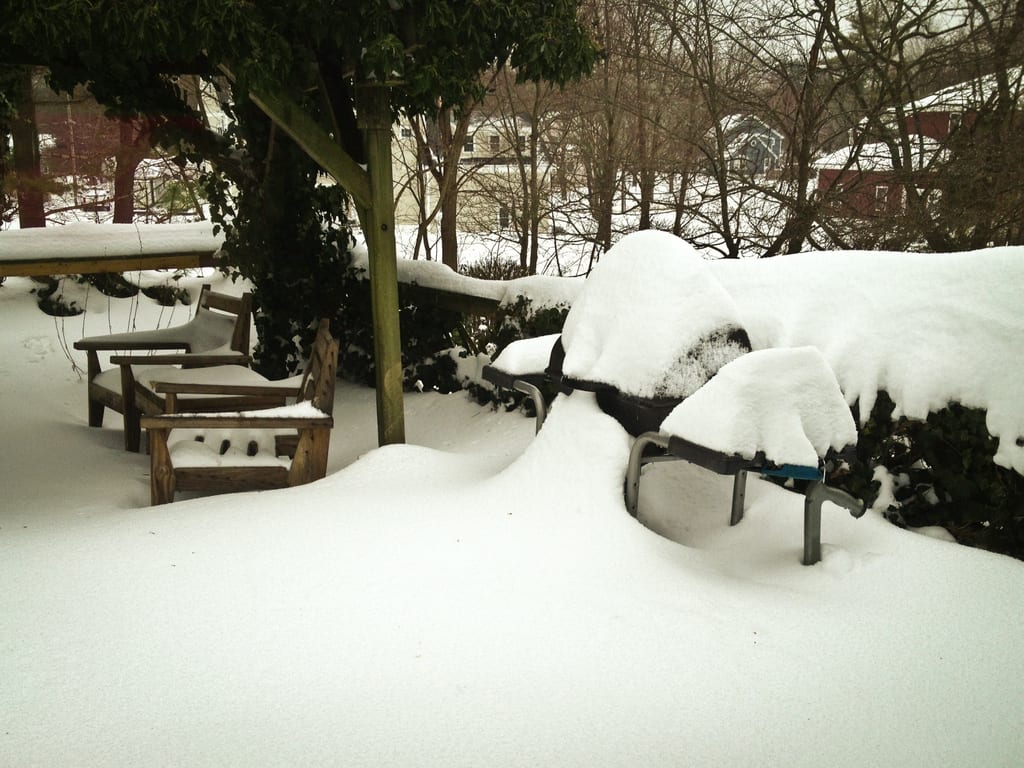 I think it's safe to say my dad won't be grilling anytime soon.
All things considered, this storm wasn't as bad as it could have been.  There had been no snow on the ground, and it's always the worst when new snow piles up on top of old snow.  Temperatures are expected to be above freezing for the rest of the week, so hopefully some of this will melt soon.
---
---
Ever been in a big snowstorm?
Get email updates from Kate
Never miss a post. Unsubscribe anytime!