Adventurous Kate contains affiliate links. If you make a purchase through these links, I will earn a commission at no extra cost to you. Thanks!
Trust me: there are far more things to do in Boston at night than just go to Irish pubs and sports bars, over and over. If you're visiting Boston for the first time, you'll likely be struck by the sports fandom and sheer number of Irish-flavored establishments. But I promise that there is way more to the city than that.
I'm originally from Boston and spent many years living in the city, what I loved is that there are so many interesting things to do at night, especially if you leave downtown. With a little research, you can put together some great nights out. Even if you don't drink. Even if you're not a sports fan.
In fact, not many people know this, but I started my career in travel writing as a Boston nightlife writer in 2009. I saw an ad on Craigslist, answered it, and started writing pieces about nights out at The Estate and Saint for $20 a pop. So this post is very much to my roots!
I asked some of my travel blogger friends to chime in with a few of their favorites, too. Everything without an attribution is written by me; every section with an author listed is written by them.
So by day, visit the Boston Public Garden, ride the swan boats, take a walking tour, visit the tourist attractions. By night, grab your pocketbook, hop on the T, order a Sam Adams, cheer on the Sox, and don't even think about parking the car in Harvard Yard. I promise you a wicked awesome night in Boston that you'll never forget.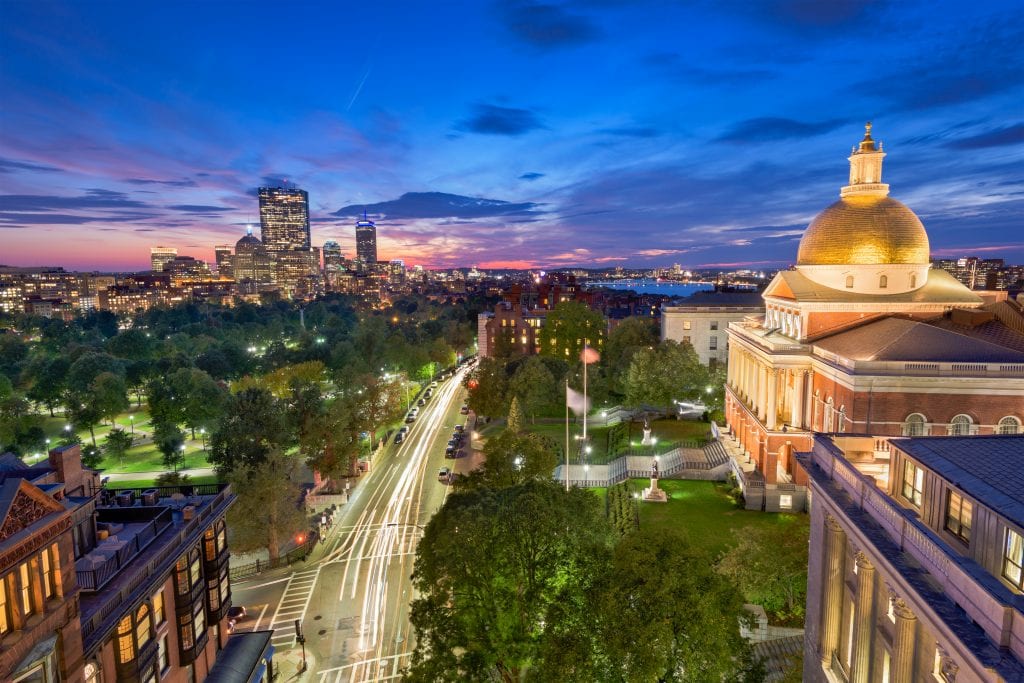 Best Things to Do in Boston at Night
Boston is a city with many personalities — one part sports town, one part intellectual behemoth, one part nightlife hotspot, one part historic gem. There are plenty of things to do in Boston, whether or not you feel like a big night out or a more relaxed evening, whether you want to let loose or learning something new.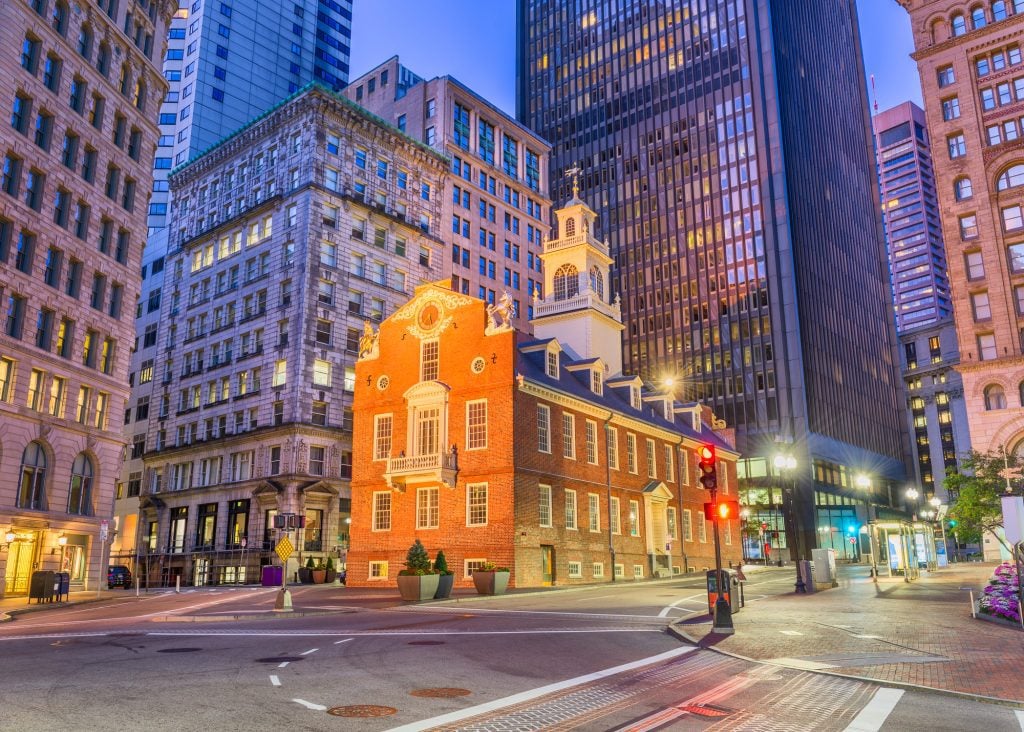 Stroll the Freedom Trail at Night
The Freedom Trail is one of the most popular things to do in Boston, and for good reason. This historic walking trail takes you on a 2.5-mile journey from Boston Common to the Charlestown Navy Yard, telling the story of the American Revolution.
I've loved the Freedom Trail since I was a kid, and it gives you so much important context for what Boston is today (not to mention the United States).
So should you consider doing the Freedom Trail at night? You definitely can! It's easy to find your way as the trail is marked with a line throughout the city. You should know that some of the historic sites will be closed, depending on when you go (freedomtrail.org is a good resource), but the majority of the sites are outside. It's technically one of the free things to do in Boston if you stick to the outdoors.
And the lighting at night is beautiful. I especially love the Old State House lit up at night, an 18th century brick building now surrounded by skyscrapers. The Granary Burying Ground is beautifully haunting at night (and you're right next to a busy street, so it's not THAT scary).
And there's no better people-watching than late night in Faneuil Hill Marketplace, watching the girls dressed up to the nines and teetering like baby deer on their high heels, because nobody told them that historic Boston still has a ton of cobblestones.
If you're walking the Freedom Trail at night, I recommend stopping in the North End, before you end up in Charlestown. Besides, once you get there, you'll never want to leave. And the Charlestown portion, including the USS Constitution, is something you should see by day.
Another option? DRINKING the Freedom Trail! I have to give credit to Dave Attell and Insomniac (man, I loved that show) for having a Samuel Adams with Samuel Adams, a Long Island Iced Tea at the Boston Tea Party ship, and two shots ("one if by land, two if by sea") at the Old North Church. You will find no shortage of bars.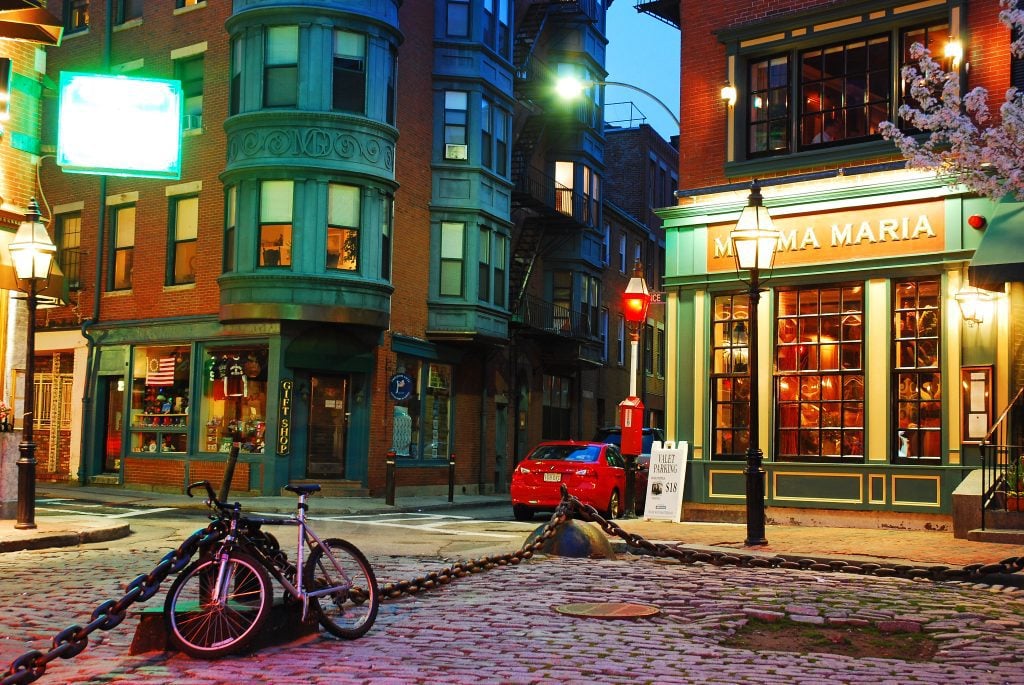 Spend an Evening in the North End
Submitted by Kate Storm of Our Escape Clause
With its winding streets, a dizzying array of restaurants, and several Freedom Trail stops, exploring the North End is undoubtedly one of the most iconic things to do in Boston at night.
Start with a stroll around the neighborhood, stopping at the Paul Revere House, the Old North Church (technically called Christ Church), and Copps Hill Burying Ground, all stops along the Freedom Trail.
When you're at Copps Hill, don't forget to check out the famous Spite House that is right across the street!
For a quirky side stop along your Freedom Trail route in the North End, consider also building in time to visit All Saints Way, a fun photo op located between 4 and 8 Battery Street.
Paul Revere's House closes at 5:15 PM and the Old North Church at 5:00 PM, but whether you arrive early enough to go inside or not, the exterior of these sites still make a great evening stroll during a weekend in Boston.
Sometimes called Boston's "Little Italy" (though you will NEVER hear a local calling it that!), the North End has an enormous array of Italian-American restaurants, ranging from the downright touristy to the delicious, like what you'll find at Ristorante Euno.
Not in the mood for Italian food? Neptune Oyster is extremely popular and offers a chance to explore a different side of Boston cuisine.
After dinner, head to famous Hanover Street to immerse yourself in the heart of nighttime in the North End!
For dessert, the iconic Mike's Pastry and the (slightly) lesser-known Modern Pastry are both open until 10:00 PM — if you're lucky enough to try both, you can join the fierce debate over which shop serves better pastries for yourself.
(Note from Adventurous Kate: Both are good. Modern is much better, especially for cannolis and cheesecake.)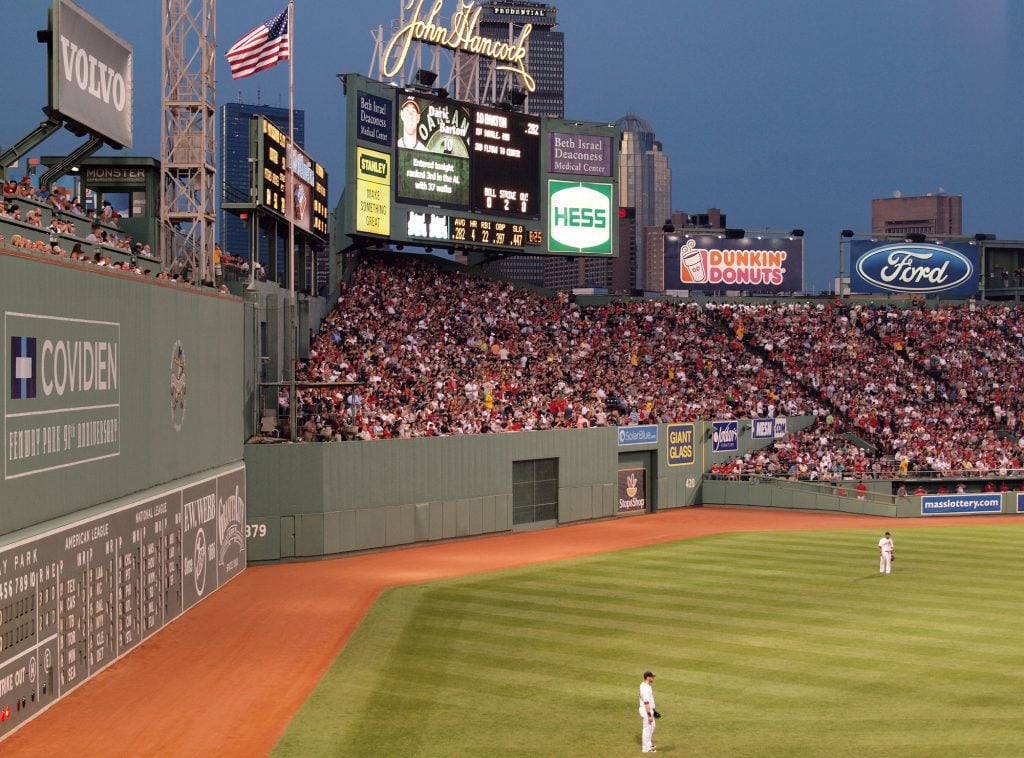 Go to A Sports Game
Submitted by Alanna from Periodic Adventures
Bostonians love sports, and the local teams are a huge source of pride for the city. Often hailed as the best sports city in America, Boston is home to many professional sports teams including the Red Sox (baseball), Celtics (basketball), and Bruins (hockey).
The New England Patriots (football) and New England Revolution (soccer) play in Foxborough, about a 45-minute drive from Boston ordinarily but longer on a game day, and it's much more of a suburban experience.
It's no wonder that one of the best things to do at night in Boston is to go to a sports game.
If you want the most historic, opt for the Red Sox as their home stadium, Fenway Park, is the oldest ball park in the US. Known for the Green Monster, a huge wall out in left field, the atmosphere in Fenway is unparalleled. Sing "Sweet Caroline" with the other fans (a Red Sox game tradition) and cheer on the team! This is one of the best places to feel like part of Boston's sports culture.
Baseball season is March through October, where tickets for the game can range from $31 to $200+ per ticket depending on the seat location, day of the week, and what team they're playing. The highest costing games will typically be against the Yankees, as they are their biggest rival.
Depending on the season, you may need to pick a different sport altogether. Basketball season is from October through April, hockey is October through June, and football is September through January.
Most tickets average $130 per person, but you can find tickets as cheap as $30 depending on the game. Luckily getting there won't cost you much as you can reach the major stadiums in Boston on the T.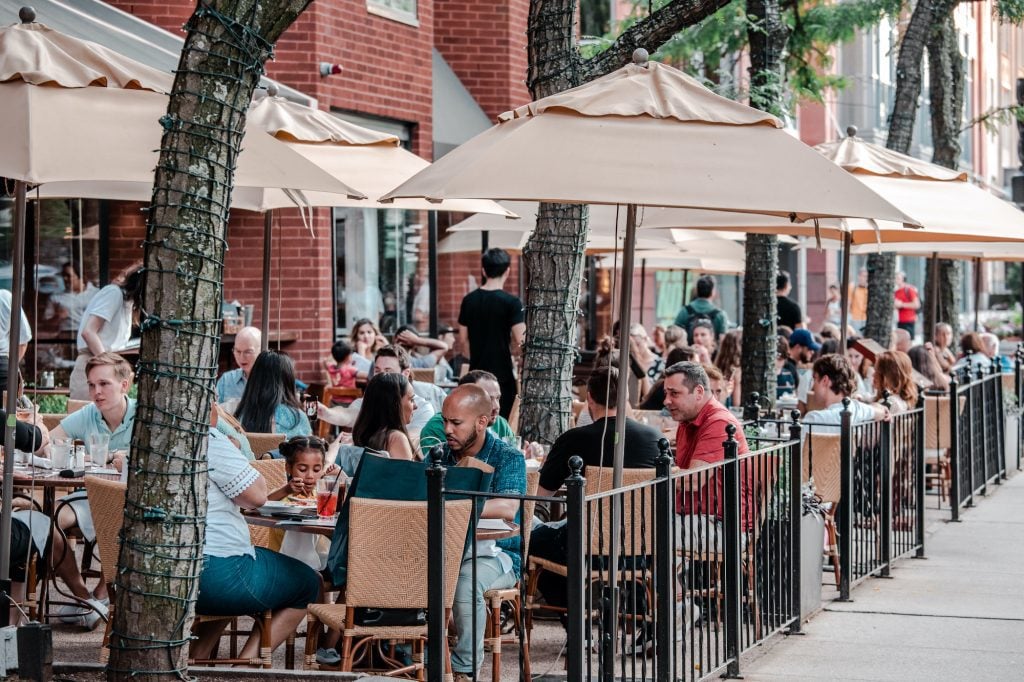 Dine Alfresco on Newbury Street
Newbury Street is in the heart of Back Bay, and one of the loveliest streets in Boston. This thoroughfare is filled with upscale boutiques, stately brownstones, and lots and lots of restaurants with outdoor seating.
If you're visiting Boston on a warm night, there's nothing like eating outdoors. Newbury Street is home to some especially fun people-watching. It feels international, like it's the place for people from around the world to see and be seen. And you'll see the occasional yellow Lamborghini driving down the street, music blasting.
Some great restaurants here are Stephanie's on Newbury, which has something on the menu for absolutely everyone, and La Voile, which does fabulous French seafood. Piattini does nice Italian small plates.
Don't want to commit to a full meal? Enjoy a coffee at the Bittersweet Shoppe on Newbury or an ice cream from local favorite J.P. Licks.
Finish the night at Sonsie if you like your wine bars a bit snobby and want a chance of spotting some pro athletes.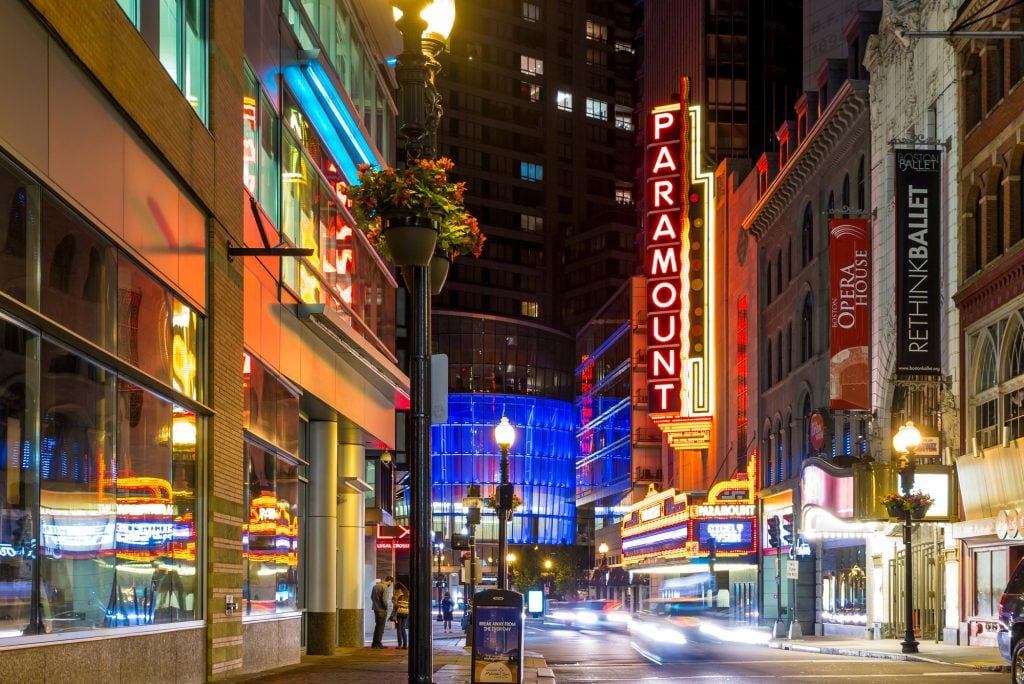 See a Show in the Theater District
Submitted by Allison Green of Eternal Arrival
One of the best things to do in Boston at night is see a show in the Theater District! Since Boston is the largest city in New England, it's a huge cultural hub for the region, and you'll find a wide variety of shows and cultural experiences to enjoy. Be sure to add seeing a show to your Boston itinerary.
There are several venues in Boston's Theater District that offer world-class entertainment. One of the most scenic venues is the Boston Opera House, a stunning building from the 1920s. It features rotating Broadway musicals such as Wicked, Hairspray, and other classics.
You can also find shows at the Cutler Majestic Theatre — another spectacular venue, with Beaux-Arts interior dating back to the turn-of-the-century. Productions there are put on by Emerson College, which also puts on shows at the Paramount Center, which was once a movie theater but has since been converted into a center for all genres of performing arts.
The Theater District is within easy walking distance of most downtown destinations like Boston Common and Copley Square — and there are also a lot of great value accommodations in this area.
If you're coming from another part of Boston and using public transportation, you'll take the T to Downtown Crossing, Chinatown, or Boylston — all are very convenient.
Tickets to a show will vary depending on the performance and venue, but as an example, tickets to see a musical at the Boston Opera House typically range from $70-150. Smaller scale productions at other venues will be cheaper.
Laugh Till You Cry at the Improv Asylum
Submitted by Nicole from Go Far Grow Close
One of the best things to do in Boston is to go see an improv show at the Improv Asylum in Boston, a comedy theater that features improvisation and sketch comedy. Improv is a form of live theatre where the plot, characters and dialogue of a story, scene or game are made up on the spot. Often improvisers will ask for suggestions from the audience, or draw on some other source of inspiration to start.
If you love to laugh, be loud, interact with performers, and be astounded by the cleverness of people, then this is a fantastic option to add to your evening out in Boston. And the atmosphere is friendlier and more collaborative than most other comedy clubs.
The Improv Asylum is centrally located in North End, surrounded by delicious Italian restaurants and cannoli shops. It is easily reached on foot from downtown Boston. Alternatively, if you are taking the train into Boston, it is a 15-minute walk from the North Station or 18-minute walk from South Station.
Tickets to shows are $35 and on weekend nights, there are four shows starting at 5:00 pm. Children are welcome to all shows, however, they do recommend 16 and over as there will definitely be elements of the show that will include foul language or sexually suggestive scenes.
The very last show of the night at 11:59 pm is called Raunch which is a much more adult-oriented show.
Have Dinner At Union Oyster House
Submitted by Sanne Wesselman from Spend Life Traveling
Boston is one of the most beautiful cities in the US, with architecture dating back to the 17th century. And one of those buildings is the Union Oyster House, which is the oldest continuously operating restaurant in the US and a national historic landmark.
The building the restaurant is housed in dates back to pre-revolutionary days and entering the restaurant makes you feel as if you're stepping back in time.
Going here for dinner is surely a special way to spend an evening in Boston. The dark wood interior, dim lighting and the old style booths in the second floor dining room give the restaurant a warm, cozy atmosphere.
The restaurant predominantly serves fish and seafood, as you might have guessed from its name, and the clam chowder comes highly recommended. Or order some oysters at the restaurant's raw bar.
With most entrées costing upwards of $25 it's by no means a cheap place to eat, but the ambiance and history make it well worth a visit.
The restaurant is located on the Freedom Trail, near Faneuil Hall, and we recommend making reservations if you want to dine here.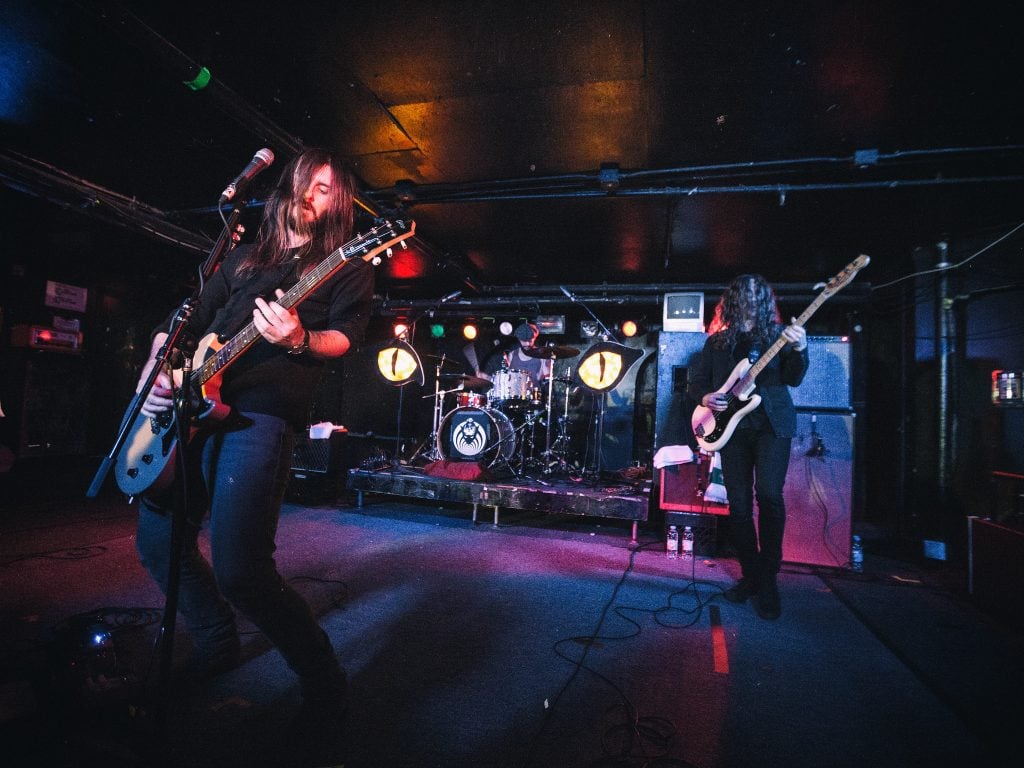 Listen to Live Music
Boston loves music and musicians — after all, it's home to Berklee College of Music and Boston Conservatory, the latter of which I attended as a teenager. No matter what day of the week it is, you can find an excellent show!
While plenty of shows take place downtown, like the House of Blues or Howl at the Moon, some of the coolest venues are further out, like the Paradise Rock Club in Allston.
Live music is also one of the best things to do in Cambridge, right across the river. Here you'll find legendary venues like Club Passim and the Middle East.
Are you into jazz? Hit up the Beehive in the South End. Wally's Jazz Club on Mass Ave. has been closed for COVID and remodeling reasons, and we hope to see it reopen soon.
And if you're up for a classy night of classical music, you can't beat the Boston Symphony Orchestra, and its world-famous offshoot, the Boston Pops, led by Keith Lockhart. Nobody in the world does a better version of Tchaikovsky's 1812 Overture.
Join a Trivia Night
Boston knows it's an intellectual heavyweight — thanks to having some of the best museums in the world, the best hospitals in the world, and Harvard University and MIT right across the river. Ever thought of competing against Bostonians?
Join a trivia night! There are plenty all over the city, primarily on weeknights, and most only cost a few dollars to join in. You could win a big prize!
While you can find trivia nights in downtown Boston, I actually recommend getting out into one of the outer neighborhoods to get the flavor of a new community. This is one of the best ways to feel like a local in Boston. Every neighborhood has a different personality, and Boston is reasonably sized enough that you can get to most places fairly quickly on the T.
Head to The Burren in my former neighborhood of Davis Square, Somerville, on Monday nights for trivia in one of the most charmingly authentic Irish pubs in Boston.
If you want to hear long, drawn-out accents from Good Will Hunting, head to Local 149 in the heart of Southie (South Boston) for its "exceptionally local" trivia night.
The Druid in Inman Square, Cambridge, is renowned throughout the city for its Wednesday night trivia. Come here early to try one of the excellent neighborhood restaurants.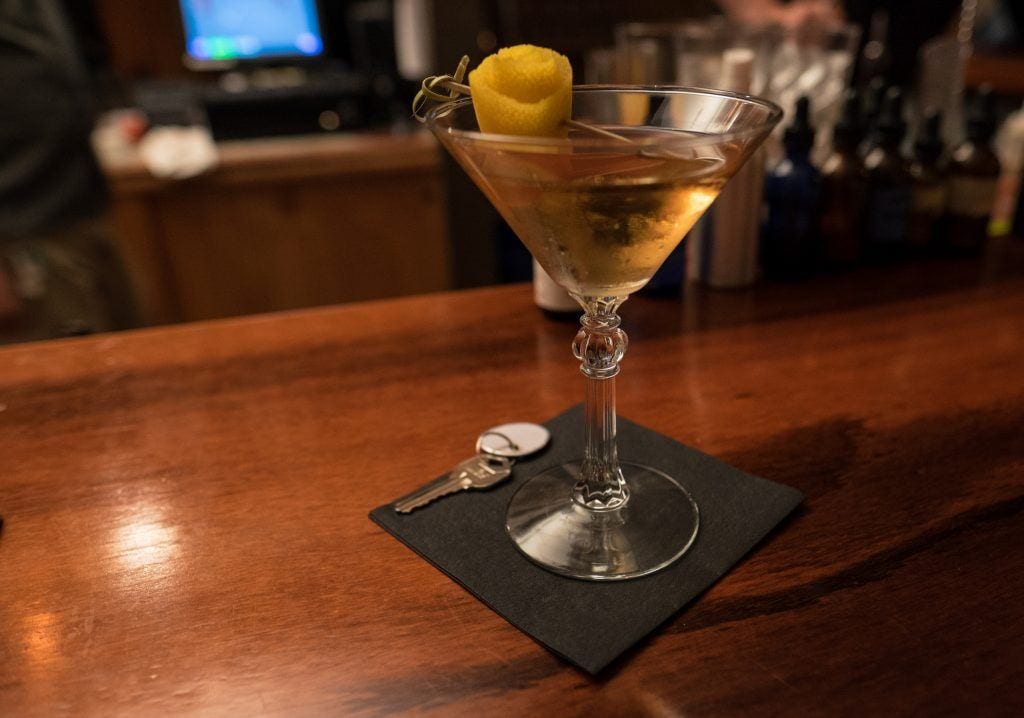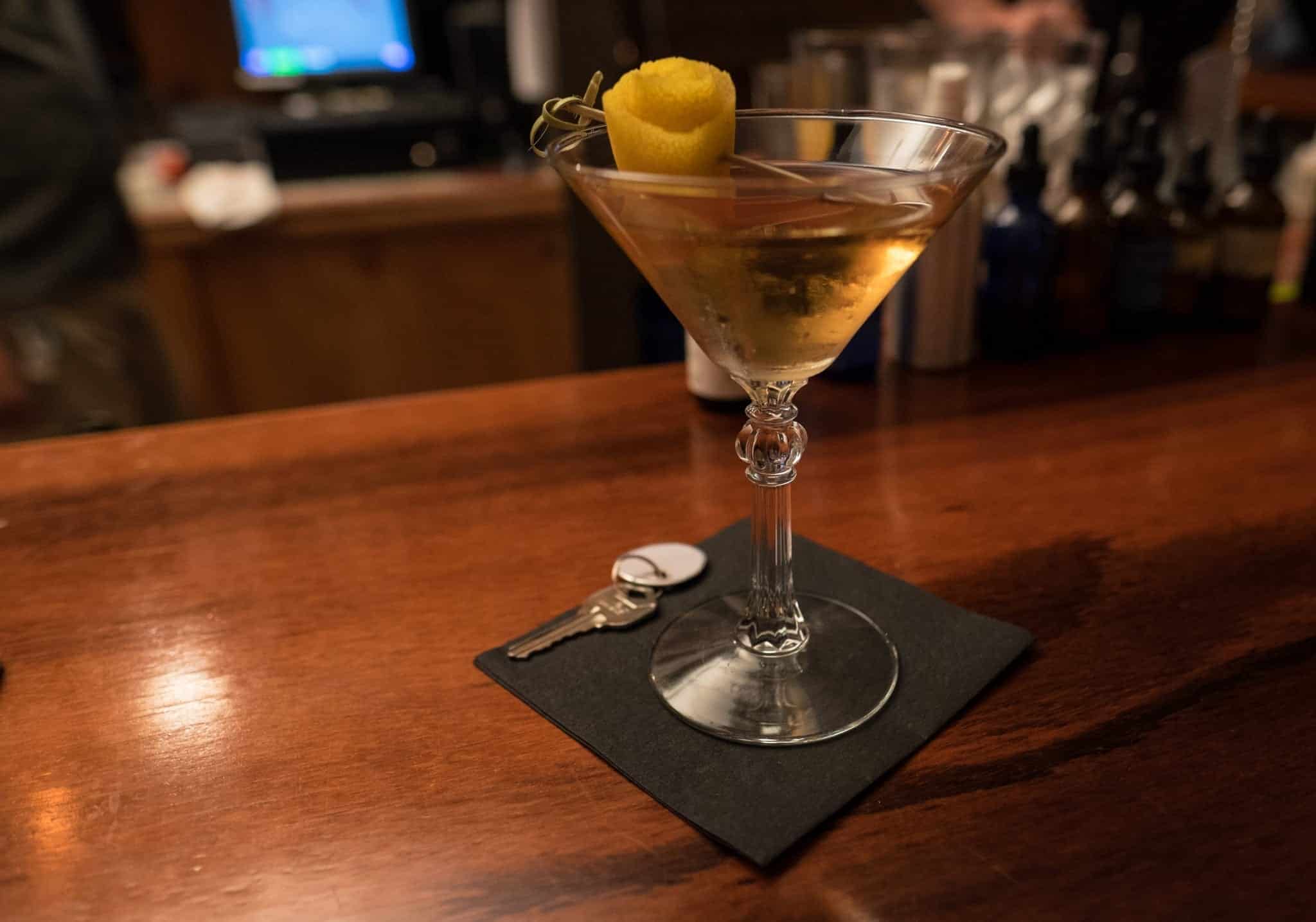 Enjoy Boston's Best Craft Cocktails
Where do you go in Boston when you want an exceptional cocktail? For many Bostonians, Drink comes to mind first.
Drink, located in the Fort Point neighborhood, is a great place for cocktails and has been a Boston icon since it opened in 2008. Here the bartenders don't just make drinks, they almost intuit what you want and create original concoctions perfect for you.
Some other top-notch cocktail bars in Boston are backbar, a local favorite located behind Journeyman in funky Union Square, Somerville; Shore Leave is a funky tiki bar deep in the South End; Yvonne's right by the Common has one of the wildest interiors to match their fantastic libations.
And if you like your drinks served with celebrity mug shots, you can't beat Alibi at the Liberty Hotel, located in the former Charles Street Jail on the edge of Beacon Hill. The entire hotel goes all in on the jail theme and a night out here is one of my favorite things to do in Boston at night.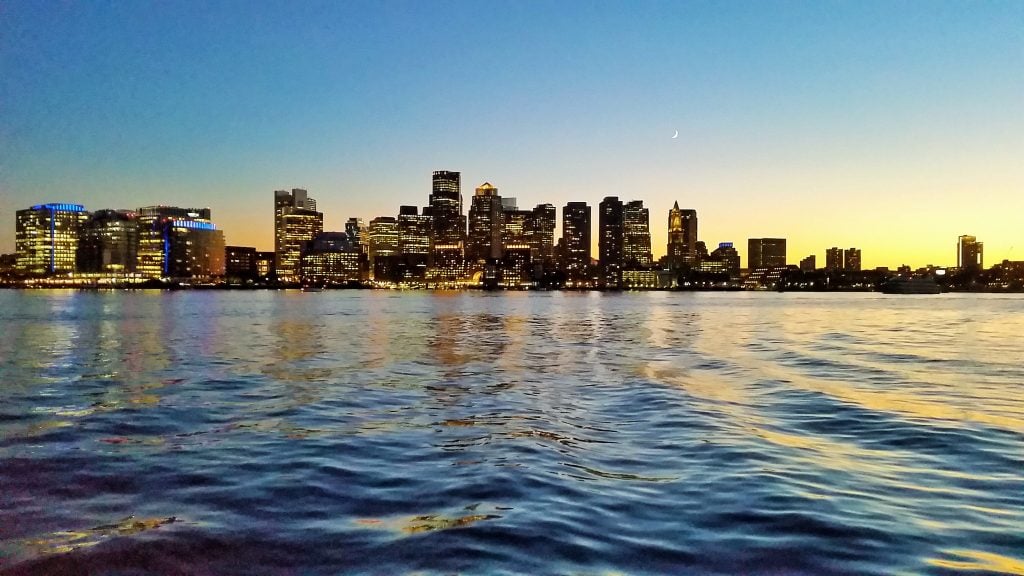 Cruise Boston Harbor on a Tall Ship
Submitted by Emily Cuneo from Emily Embarks
The Boston skyline is one of the most beautiful in the world, but there's nothing like viewing these skyscrapers at sunset from Boston Harbor.
One of the best things to do in Boston at night is taking a sunset sail on one of the famous Liberty Fleet Tall Ships around the harbor. For $49 per adult or $35 per child (guests under age 2 are free), guests can enjoy watching a summer sunset sink behind the Boston skyline before the sky fades to dark blue, the city's beautiful lights shining yellow between the buildings.
This makes for a fantastic group or solo activity, or even a romantic date night!
The cruise boards from Long Wharf, which is close to the North End. You can take the T and walk, or park nearby for closer access.
No matter how you decide to get there, be sure to pack a light jacket. Even in the summer months, temperatures can drop around the city quite rapidly, especially on the water.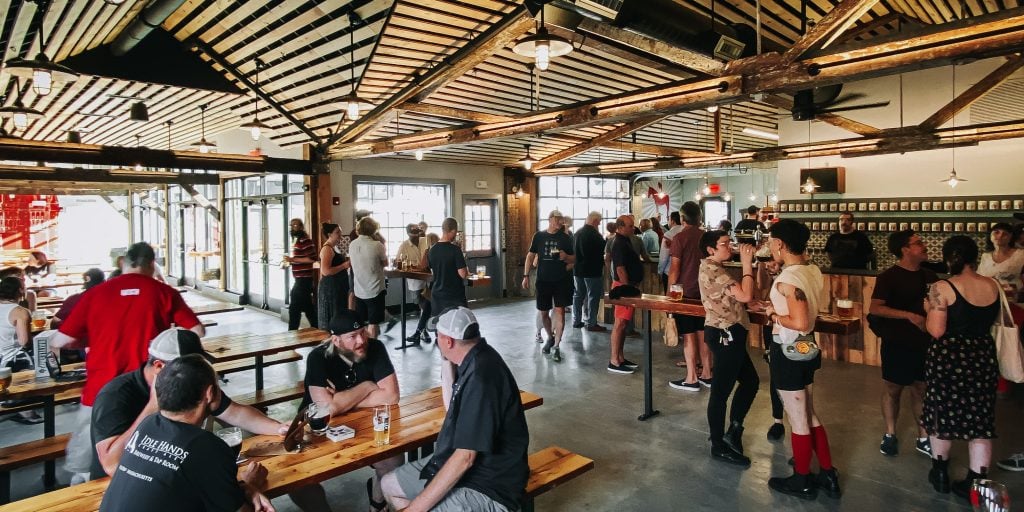 Have a Night Out in Brighton
Submitted by Jenifer of The Evolista
Boston's Brighton neighborhood is often overlooked by visitors but it has so many fun things to do in Boston at night! With bars, restaurants, cool music venues, and outdoor activities, you'll be seeing why Brighton has shed its reputation as a Boston University student stronghold and become popular with Bostonians from all walks of life.
If you love active pursuits, start your evening with a sunset paddle on the Charles River. It's one of the most iconic places to kayak in the US. You can rent a kayak at Paddle Boston for $30. They also offer a 1.5 hour Sunset and City Lights Kayak Tour for $59 that will give you a unique Boston experience you'll never forget.
Finish up your time on the water with a drink at nearby Charles River Speedway, on Western Avenue in Brighton. It's home to some of the coolest bars in the city. Notch Brewery Tap Room has a great biergarten with delicious European-inspired session beers. It's the perfect place to unwind and soak in the local atmosphere. They also have live music on Thursday nights. Or check out The Koji Club, a sake bar that offers a wide variety of traditional and contemporary sake options.
What this area is really known for is the indie alternative music scene. From smaller clubs in neighboring Allston, like Brighton Music Hall and Paradise Rock Club, where you'll find amazing up and coming artists to the newest concert venue, Road Runner, live music is thriving in Boston. So whether you're looking to relax or let loose, Brighton has the perfect spot for you.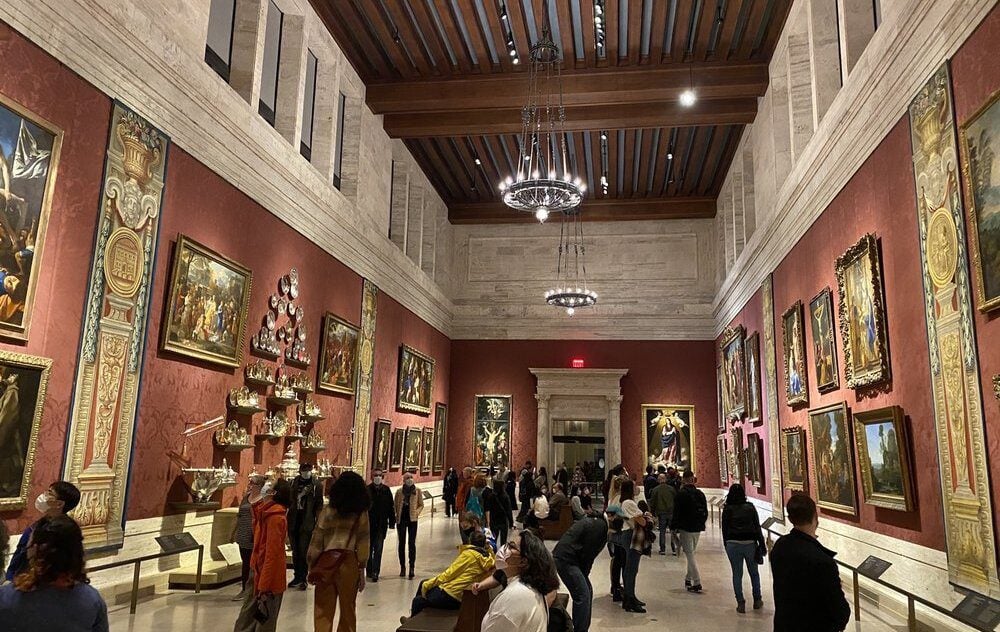 Visit Boston Museums at Night
Boston is home to an outstanding collection of museums, and some of them have opening hours in the evening once a week. Visiting these museums is a great break from the typical nightlife scene in Boston, but keep in mind that these nights can get a bit crowded.
Here are museums in Boston that you can visit at night:
If you love art, gardens, and are fascinated by heists: The Isabella Stewart Gardner Museum is open until 9:00 PM on Thursday nights.
If you love science and want to feel like a kid again: The Museum of Science in Cambridge is open until 9:00 PM on Friday nights.
If you want to see Copley Square's best building: The Boston Public Library is open until 8:00 PM Monday through Thursday.
If you love modern art and thinking about what it all means: The Institute of Contemporary Art (ICA) is open until 9:00 PM on Thursday and Friday nights.
If you want an intellectual hidden gem: The Boston Athenaeum is open until 8:00 PM Monday through Thursday.
If you love sea creatures: The New England Aquarium is open until 8:00 PM on Friday nights.
And if you want the best of the best when it comes to art, the Museum of Fine Arts is open until 10:00 PM on Friday nights.
Museum of Fine Arts
Submitted by Trijit Mallick from Dog Travel Buff
Boston's Museum of Fine Arts is one of the best art museums on the planet. A large art museum with a diverse collection of styles, the Museum of Fine Arts is a must-see for art lovers, and it's open until 10:00 PM every Friday night.
Whether it's Korean pottery, exquisite Chinese bronze containers dating back to the 13th century BCE, American pieces, several Japanese galleries, Impressionist works, or canonical Monet collections, the collections are extraordinary. Their selection is pretty diverse, so no matter what you like, you will most likely find something you like in it.
The MFA is especially known for its art of Ancient Egypt, Nubia, and the Near East, with more than 65,000 pieces in this collection. People come from around the world to experience its Ancient Egypt collection.
To get to the MFA, take the orange line to Ruggles or the green line E train to Museum of Fine Arts.
Regular admission (without exhibitions) is not inexpensive at $27, but it is well worth it and should be on your list of places to visit in Boston.
Open Nights at Coit Observatory
Feel like gazing upon the stars? Boston University opens its Coit Observatory to the public on Wednesday nights throughout the year, where you can peer into different telescopes and learn about astronomy from experts. This has been a beloved Boston tradition since 1967.
Best of all? It's free and open to all!
Keep in mind that stargazing is at its best when the weather is clear. In case of inclement weather, they tend to cancel the open nights at the last minute. Tickets are required, and be sure to dress warmly, as you'll be outside. And don't be late! If you're late, you miss the event.
Tickets to Open Nights are released on Thursday mornings for the following Wednesday, and they tend to go quickly. The event is at 7:30 PM in the fall and winter winter and 8:30 PM in the spring and summer. You can book tickets here.
Dance the Night Away
You want to go out — you REALLY want to go out. Well, Boston can certainly help you out. So where are the best dance clubs?
One of the best spots for LGBTQ nightlife is Club Café in the South End, where the drinks are strong and the bass is deep. They host lots of fun events, from Drag Race watch parties to Broadway singalongs, before it goes full dance club.
If you're in the mood to dance salsa, head to Havana Club in Central Square, Cambridge. Not only does this spot have Latin music six nights of the week, Sundays, Mondays and Tuesdays are alcohol-free and 18+.
Some of the big clubs that have the classic atmosphere are Venu in the Theater District, The Grand in the Seaport, and Royale near Downtown Crossing.
But the absolute best dance party in Boston, in my opinion, is Soulelujah, a Saturday night dance party of funk, soul, and R&B at the Sinclair in Harvard Square, Cambridge. Without a doubt, it's forever on my list of the best things to do in Boston at night.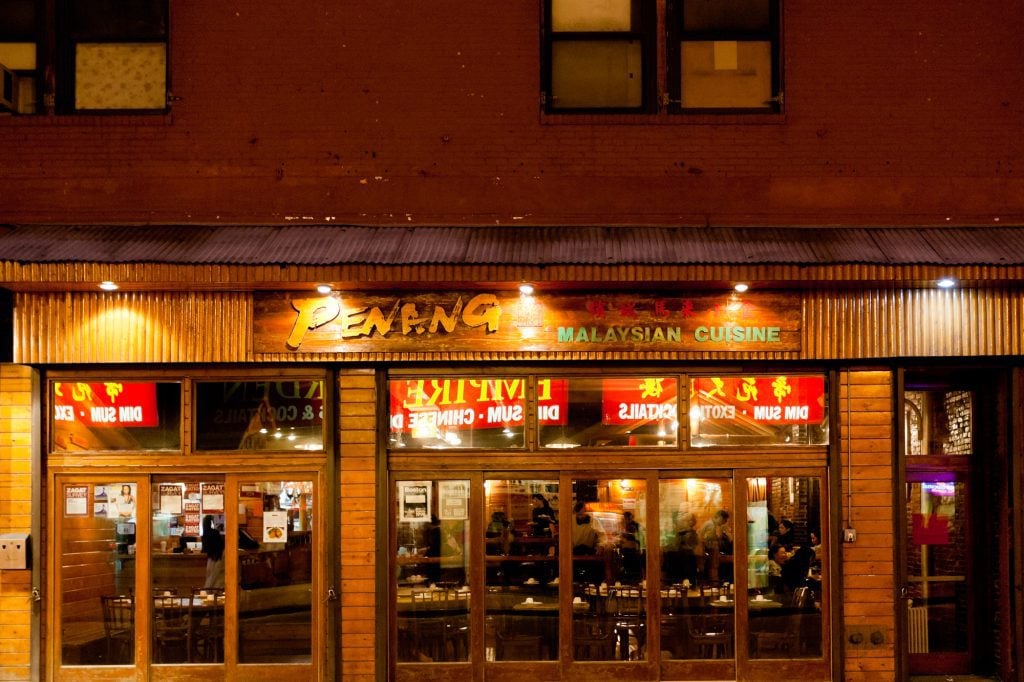 Enjoy Late Night Food in Chinatown
Boston shuts down at 2:00 AM — on the early side for an American city, and egregiously early if you're coming from somewhere like New York or Los Angeles. Bars start calling for last call at 1:45 AM. So what do you do if you're not ready for the night to end?
Head to Chinatown! Boston's Chinatown is full of restaurants — not just Chinese, but Malaysian, Vietnamese, and more — that stay open until 4:00 AM. This is the perfect way to wind down from a night at the clubs, and if you're anything like my friends, you'll order far too many dumplings and lo mein and wonton soup.
But what if you want to keep the party going? Well, you can ask your server for the "cold tea." You might get it. You might not. It depends on how the staff are feeling.
But if it's a relatively quiet night and no cops are hanging out, you might get a teapot filled with beer on your table.
Just remember that 4:00 AM is the absolute limit here. At that point, Boston has gone to sleep, only to welcome another adventure as the sun comes up.
More on Boston:
Where to Stay in Boston: Best Neighborhoods & Accommodation
Best Things to Do in Cambridge, Mass.
Best Time to Visit Boston (and when not to visit)
Things to Do in: Salem, the Berkshires, Provincetown, Rockport
16 Towns of Cape Cod: What Is Best For You?
Which Of The 6 Martha's Vineyard Towns Is Best For You?
See all Massachusetts posts here.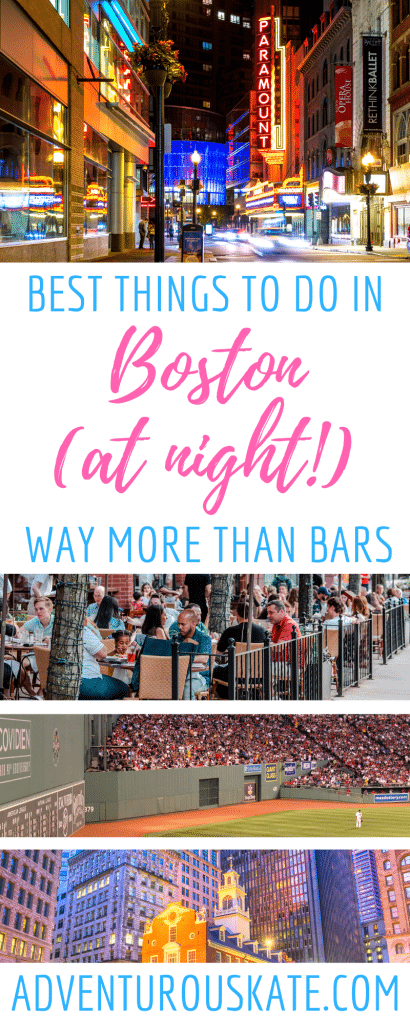 What's your favorite thing to do in Boston at night? Share away!