Adventurous Kate contains affiliate links. If you make a purchase through these links, I will earn a commission at no extra cost to you. Thanks!
Are you trying to figure out where to stay in Boston? I'm here to help! Here is a complete guide to the best neighborhoods, hotels, apartments, and best areas to stay in Boston.I've got you covered! Boston is a fantastic city with rich history, beautiful parks, and some of America's best museums.
I grew up in the Boston area and spent several years living in the city as an adult. I may not live there full-time anymore, but I go back to visit Boston several times a year and I always keep an eye on what's going on in the city.
Boston is a city with many sides, and I feel like most tourists only get to see one or two sides. Boston is home to incredible Revolutionary War history. It's an intellectual city, home to universities like Harvard and MIT, hundreds more colleges, and enough libraries and museums to keep you stimulated.
And Boston is most definitely a sports town, where the city lives and dies by the Red Sox and Patriots and every bar has "the game" on.
The architecture spans a variety of styles that somehow work together (with the exception of city hall). It's cold and snowy in the winter, hot and humid in the summer. And that accent very much exists, though nobody in Hollywood can pull off a passable Boston accent, even after months of coaching.
This post was most recently updated in January 2023.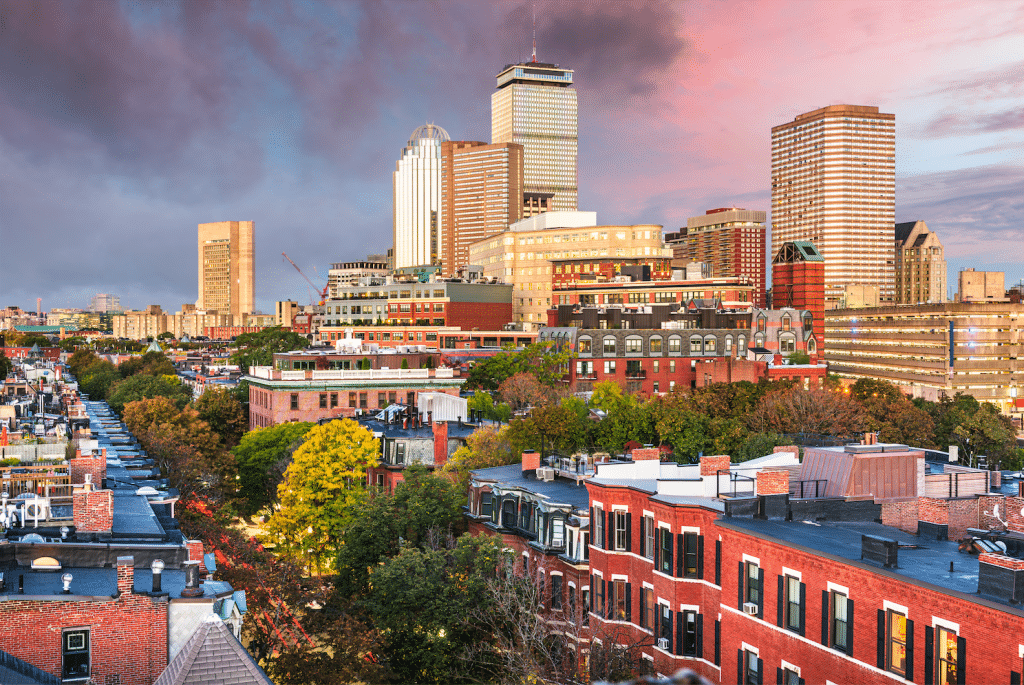 Best Neighborhoods to Stay in Boston
Lots of people visit Boston on business and leave thinking that the city is nothing but gray skyscrapers. Well, that's the feeling you'll get if you don't get out of downtown! You could be staying in a neighborhood lined with Victorian homes, stately brownstones, or tight-packed red brick buildings with fire escapes running up and down them.
My top picks of neighborhoods vary enormously; where you should stay in Boston depends on what you're looking for in a trip. You've got an Italian neighborhood close to historic sites, a suburb on the western edge with cool businesses and Tudor architecture, and a neighborhood that mostly sprouted up in the last decade, where everything feels brand new.
Here are my recommendations for the best neighborhoods to stay in Boston.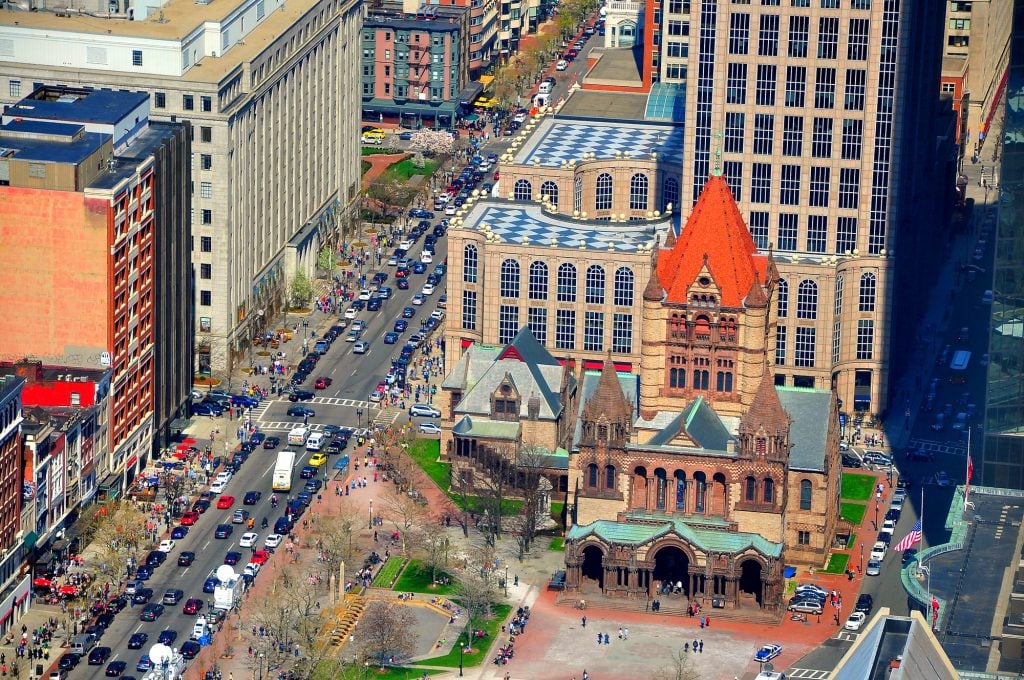 Best Boston Neighborhood Overall: Back Bay
If you can stay in any neighborhood in Boston, my top recommendation is Back Bay. This neighborhood is pretty much the dead center of Boston; you're never far from anything. It also has some of the best hotels.
Back Bay is home to some of the priciest (and most beautiful) real estate in town, as well as some of the best shopping. And you're steps from Boston's top tourist attractions, like the Boston Public Library, Trinity Church, and the Boston Public Garden, as well as the Boston Marathon finish line at Copley Square.
Newbury Street is home to luxury shops and indie boutiques as well as plenty of sidewalk cafes. On a warm day in Boston, this is one of the best places to dine outside. One of my favorite streets in Boston is Back Bay's Marlborough Street, filled with beautiful brownstones (and exactly zero tourists). And if you're set on shopping, Boylston Street, the shops at the Prudential, and Copley Plaza are home to all the big brands.
To the north of Back Bay is the Esplanade, where you can run, picnic, or catch a summer concert at the Hatchshell. And you're still within walking distance of the Theatre District, Boston Common and the State House, the restaurants and bars of Tremont Street, and the art museums of Fenway.
Downsides: Back Bay is full of chains upon chains, including some lowbrow ones, even though there are lovely small businesses sprinkled in. If that's not your thing, you might not like it.
The neighborhood of Back Bay borders the South End, Fenway, the Theatre District, and the Public Garden with easy access to Beacon Hill. The green line has several stops here (Arlington, Copley, Hynes Convention Center, Prudential) and the 1 bus gives you the fastest way to Cambridge.
Best Back Bay Hotels
Best Back Bay Apartments
Sonder the Magnolia — Basically a hotel filled with classy apartments. Very easy to deal with, and you can't pick a better location than right on Copley Square.
Sonder No. 284 Back Bay — Another hotel filled with classy apartments, but this one is on the corner of Gloucester St. and Comm. Ave., a beautiful and quiet part of Back Bay (one of the best areas to stay in Boston).
Stylish Studio on Newbury Street #3 — Yep, it's small, but it's modern, lovely, and in the heart of the best walking street in all of Boston.
Find deals on Back Bay hotels and apartments here.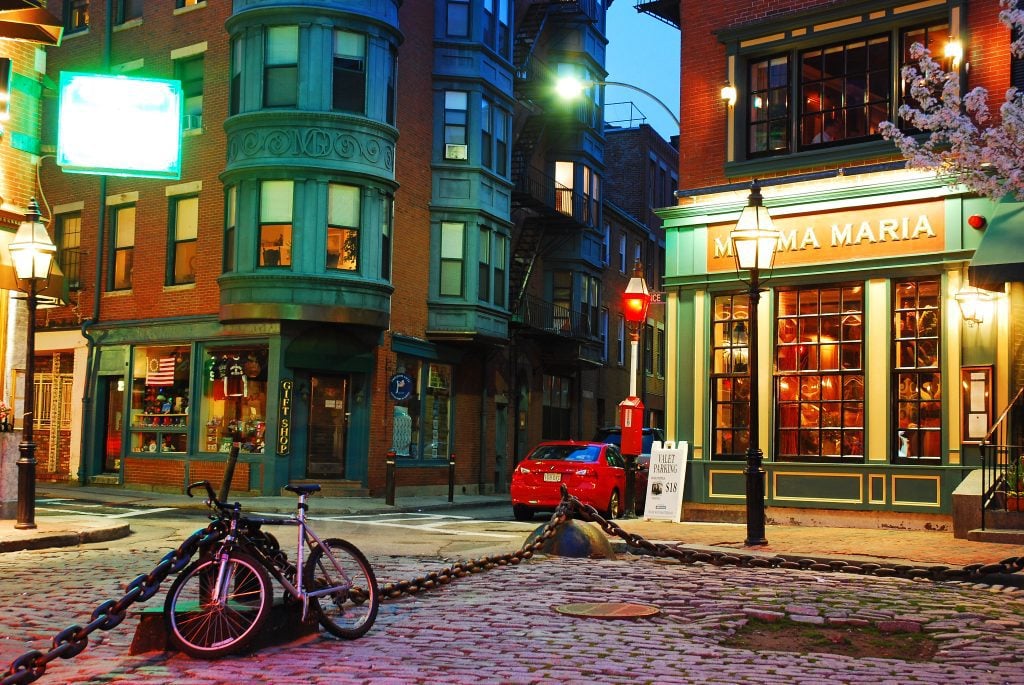 Best Boston Neighborhood for Families and History Lovers: The North End
Boston is filled with history, especially pertaining to the American Revolution. The Freedom Trail is one of America's best historic trails, taking you from Boston Common to the Charlestown Navy Yard, hitting dozens of places of historical importance along the way, like the Boston Massacre Site, Faneuil Hall, and Paul Revere's house.
While lots of neighborhoods are adjacent to the Freedom Trail, I recommend the North End because it's one of the oldest and prettiest residential neighborhoods in Boston. The historic buildings are wonderful, too.
Additionally, you'll be among Boston's best historic sites, from Faneuil Hall and Quincy Market to the Old North Church and the Boston Tea Party Ships! And if you're up for a more energetic walk, you can easily reach the Boston Children's Museum.
The North End is also Boston's traditionally Italian neighborhood. You'll find plenty of Italian shops and restaurants, plus a shrinking population of older residents who speak primarily Italian with each other. (Just don't call it Little Italy. Nobody in Boston does.)
Some of my top food recommendations: Mamma Maria for fancy Italian dining, Giacomo's (be prepared to wait in line) for the best casual Italian dining, Neptune Oyster for outstanding oysters and seafood (a tiny place — go at a really off-peak time like 3:00 PM), Caffe Vittoria for cappuccino, and Modern Pastry (NOT the popular yet inferior Mike's across the street) for cannolis and pastries.
I also think the North End is the best neighborhood in Boston for families with kids because it puts you near lots of kid-friendly attractions like Faneuil Hall, and good restaurants for picky eaters. You can always find someone to make buttered noodles or dish up pizza!
Downsides: This is a very touristy neighborhood, and rooms tend to be very small.
The North End borders downtown Boston, the Financial District, and the West End, putting it fairly close to the historic heart of Boston. Get here via the orange line (North Station, Haymarket), blue line (State St.), or green line (North Station, Haymarket).
Best North End Hotels
Best North End Apartments
Boston Little Italy 2 BA 2 BA — AMAZING, artsy, colorful decor — you'll have to tear yourself away. Great two-bedroom option for friends, couples or a family.
Beautiful 3BA 3BA Duplex — If you have a big group, this has three bedrooms and can sleep up to eight.
Find deals on North End hotels and apartments here.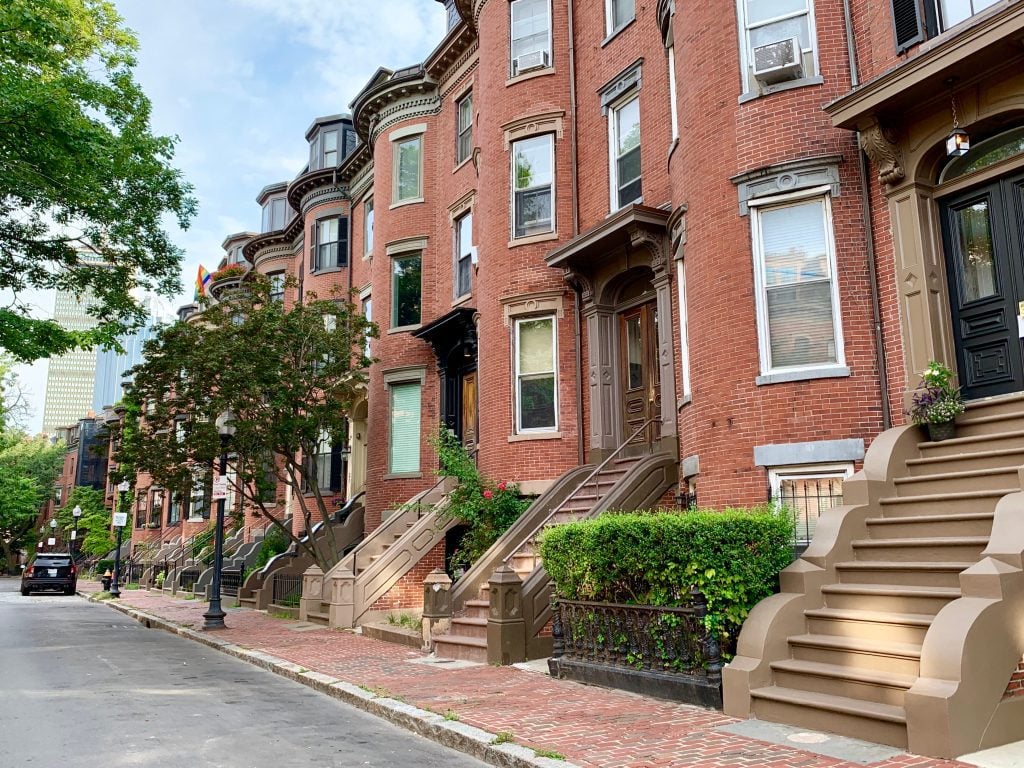 Best Boston Neighborhood for Foodies: The South End
There's no ambiguity on this one — everyone agrees that the South End is the best foodie neighborhood in all of Boston. Located just south of Back Bay, this is one of Boston's best residential neighborhoods with beautiful brownstones, boutique hotels, quirky shops you won't find anywhere else, a thriving LGBT community, and the best restaurants in the city.
One of the pleasures of staying in the South End is feeling like a local. There aren't many obvious tourist destinations here, so most tourists don't even step within its borders. It's a good choice if you want to feel like you're a Bostonian.
If you're a foodie in the least, be sure to visit at least one of Ken Oringer's restaurants. The man IS Boston fine dining. Two of my favorites of his are in the South End: Coppa, an Italian wine bar with a crazy selection of unusual meats, and Toro, a Spanish tapas restaurant with the best corn in existence (order the corn when you arrive just in case it sells out; you'll thank me later).
Other standout South End restaurants include B&G Oysters, Picco (pizza and Guinness milkshakes!, Myers and Chang, and the South End Buttery. Washington Street and Tremont Street each have several. My favorite only-locals-know-about-this-place restaurant is the Franklin Cafe.
Downsides: Depending on where you're located, you could be far from the T, especially if you're close to I-93.
The South End borders Back Bay, the Theatre District, and Roxbury, with a highway running along the bottom of it. Get here via the orange line (Tufts Medical Center, Back Bay/South End) or silver line (many stops along Tremont St.).
Best South End Hotels
Best South End Apartments
The Upton — A brownstone on Tremont St. filled with gorgeously decorated apartments. If you want to try out brownstone life in Boston, this is where to do it.
Charming Studio in Boston Brownstone — A simple but comfortable South End condo right on Columbus Ave., easy access to transit and the best dining in the neighborhood.
Find deals on South End hotels and apartments here.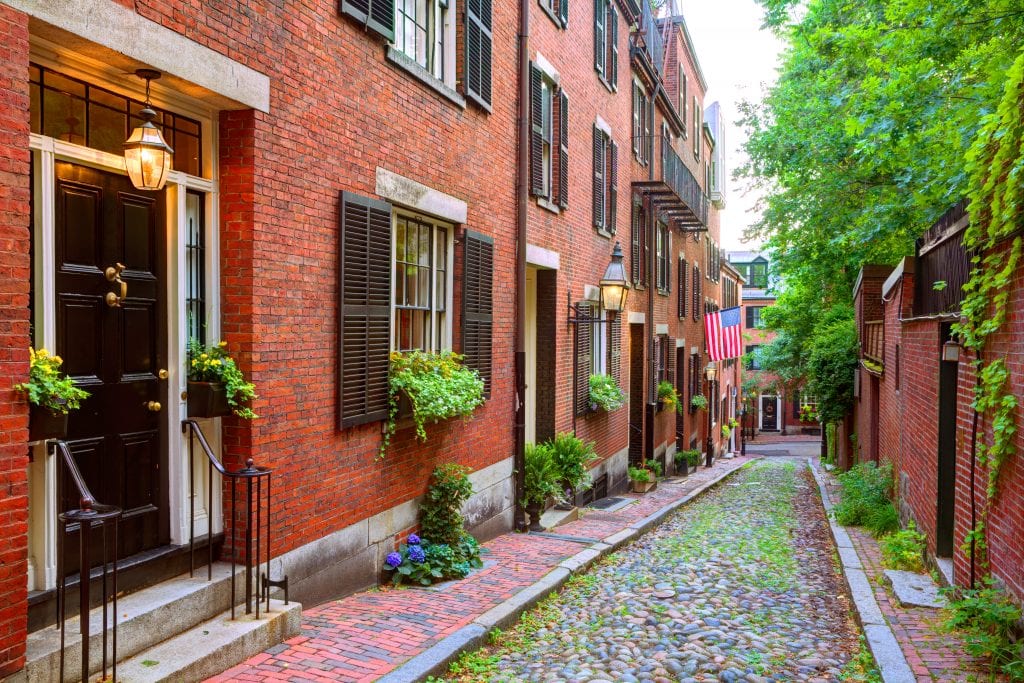 Best Boston Neighborhood for Instagram and TikTok: Beacon Hill
Do you want to stay in the most photogenic neighborhood in the city? Do you want to have the quintessential Boston background for your TikToks and Instagram posts? Pack your bags — you're going to Beacon Hill!
This neighborhood is full of Federalist era brick homes with black shutters, as well as cobblestone streets in some parts. Acorn Street is one of the most famous Instagram spots in the city — you'll want to go early if you want it to be empty.
Beacon Hill is another of the oldest neighborhoods in Boston, and is pushed right up against Boston Common and the Public Garden. It's home to some of the highest priced real estate in the city — like Louisburg Square, home to former Secretary of State John Kerry, among others.
That said, Beacon Hill sometimes feels like two neighborhoods — the half closer to the Public Garden is pricier, and the part closer to Cambridge Street is a bit cheaper.
One of the nicest things about Beacon Hill is charming Charles Street, filled with restaurants like Figs and Bin 26 Enoteca, cafes like Tatte Bakery, and boutiques like Crush and Ouimillie.
Downsides: This is a steep, hilly neighborhood, and I do not recommend it for people with mobility challenges or people who will be using a stroller. I strongly urge everyone not to stay here in winter (late November through late March) — when it snows, much of Beacon Hill turns into a giant ice slick. That's why you see railings on the sidewalks.
Beacon Hill borders Back Bay, the West End, and the Financial District. Get here via the Red Line (Charles MGH), Green Line (Park St.), Blue Line (Bowdoin), or Orange Line (Park St.).
Best Beacon Hill Hotels
Best Beacon Hill Apartments
Sonder the Hancock — Yet another hotel full of apartments that you can book. This is located very close to the State House, giving you easy access to the Freedom Trail, the Financial District, and Faneuil Hall.
94 Charles Street Thatch — This is a collection of apartments in a single building, right in the heart of Charles Street.
Find deals on Beacon Hill hotels and apartments here.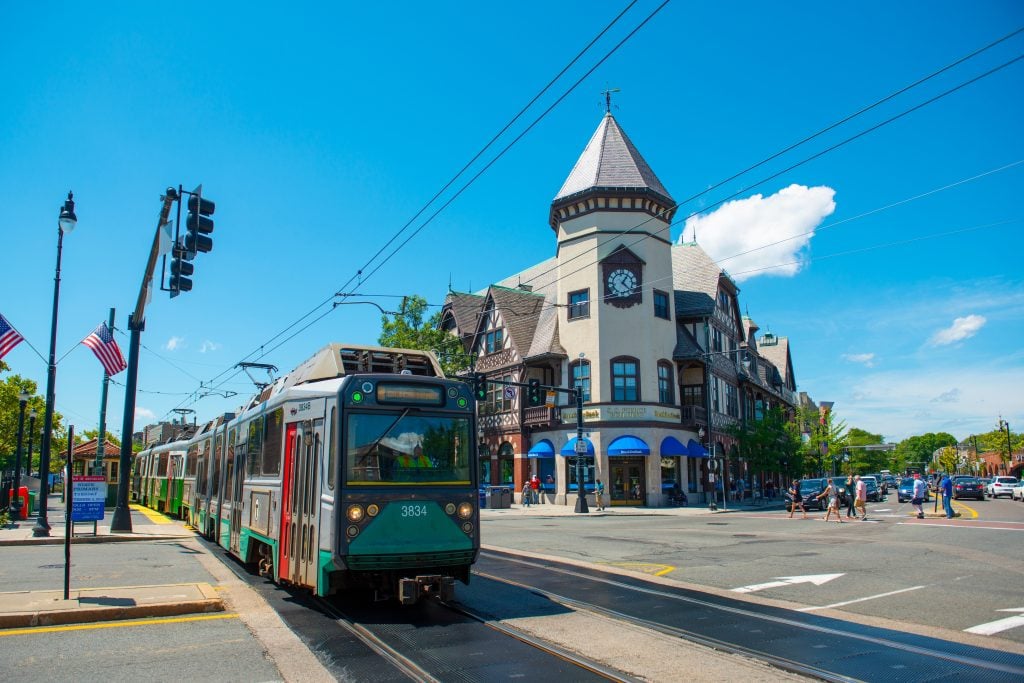 Best Boston Neighborhood for a Small Town Feel: Brookline
If you enjoy small cities or suburbs more than big cities, Brookline is the perfect place for you to stay in Boston. Brookline is technically a different city than Boston, but it's surrounded by Boston on nearly all sides, making it feel like it's part of the city.
Brookline is more of a residential area than a destination for tourists, and accommodation in Brookline can often be cheaper than what you'd pay for a similar hotel in downtown Boston.
Coolidge Corner is one of the best parts of Brookline, home to beloved independent businesses like the Coolidge Corner Theater, Brookline Booksmith, Eureka Puzzles, and When Pigs Fly Bakery. Brookline is also home to a big Jewish community, so if you keep kosher, this is a smart place to base.
Brookline is close to many of Boston's top hospitals, and many people visiting Boston for long-term medical care stay in this neighborhood.
And if you love to take walks, Brookline has lots of curvy streets filled with large, beautiful homes.
Downsides: It has a suburban feel and feels quite separate from Boston. If you prefer feeling like you're in a city, you might rather be in downtown Boston.
Brookline has student-heavy neighborhoods Allston and Brighton to the north, Fenway to the east, Newton to the west, and Jamaica Plain and West Roxbury to the south. Get here on the B, C, or D green lines. The C line goes to Coolidge Corner.
Best Brookline Hotels
Best Brookline Apartments
A Stylish Stay with a Queen Bed and Heated Floors — A quality apartment close to Coolidge Corner and some of Brookline's best parks, shops, and restaurants.
Find deals on Brookline hotels and apartments here.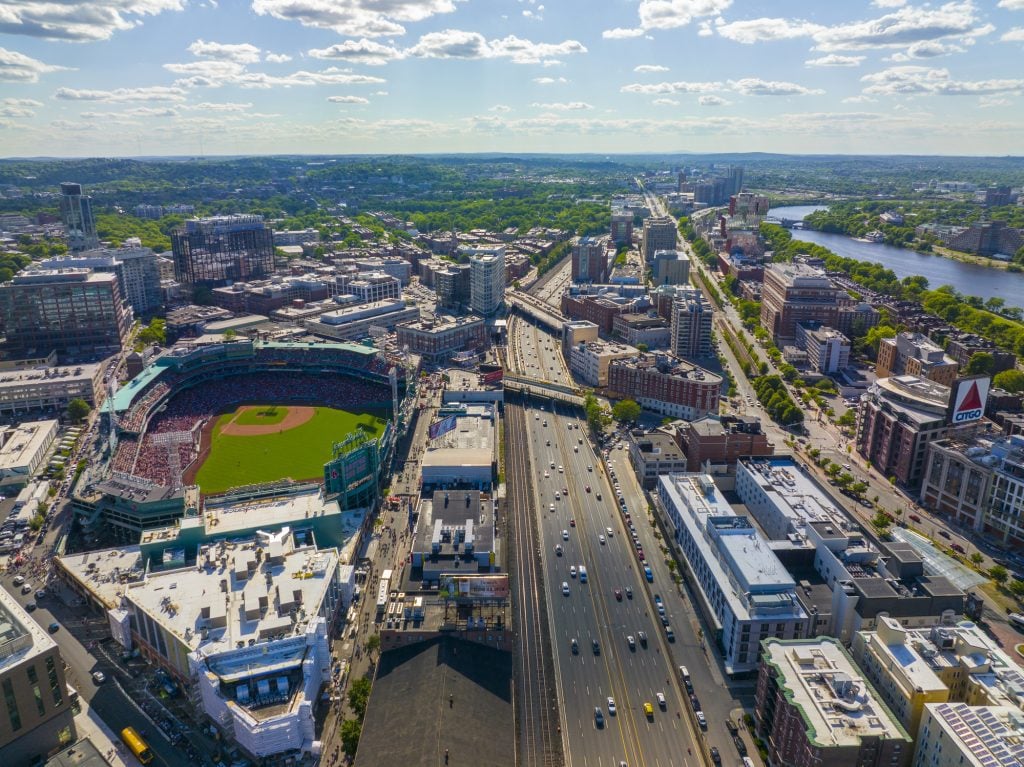 Best Boston Neighborhood for Sports Fans: Fenway/Kenmore
Boston is a city that lives and breathes based on what the Red Sox are doing! Fenway Park is the oldest ballpark in America, and even if you're not a Boston sports fan, it's worth visiting for the cultural experience. Ideally, you should go to a game (and sing along with "Sweet Caroline" during the seventh inning stretch), but there are tours of the park year-round.
Kenmore Square is located adjacent to the Fenway neighborhood and as such, Fenway/Kenmore is often referred to as a single neighborhood.
This is the best neighborhood for sports fans because not only is it home to Fenway, it's home to some of the best sports bars in the city, like Cask 'n Flagon, and fun pubs, like the very Irish The Landsdowne.
Even if you're not going to a Red Sox game, you can always enjoy the festive atmosphere on Landsdowne Street and Yawkey Way or get drinks at the Bleacher Bar, which is practically on the field at Fenway but open to non-ticket-holders.
Fenway is also a cultural neighborhood — it's home to several colleges and universities like Northeastern University, Berklee College of Music, Emmanuel College, Simmons College, and the edge of Boston University. It's a good area to stay in Boston if you're planning a college research trip to Boston.
Some of the best museums are here, like the Museum of Fine Arts and the Isabella Stewart Gardner Museum, and the Boston Symphony Orchestra plays in the neighborhood too. Add the beautiful gardens of the Back Bay Fens, part of the city's Emerald Necklace of parks, and this neighborhood might just have it all.
Downsides: Raucous sports fans. Long after a game is over, there will be drunken fans shouting and partying. More of a noise issue than a safety issue. (This was my least favorite part about living in this neighborhood.)
Fenway and Kenmore border Back Bay, the South End, Roxbury, Mission Hill, and Brookline. The Kenmore stop is where most of the Green Line splits; there's Orange Line access at Mass. Ave. and Ruggles.
Best Fenway/Kenmore Hotels
Best Fenway/Kenmore Apartments
Sonder at Pierce Boston — Another hotel full of apartment-style accommodation, in the heart of a residential part of Fenway by the Emerald Necklace.
Find deals on Fenway/Kenmore hotels and apartments here.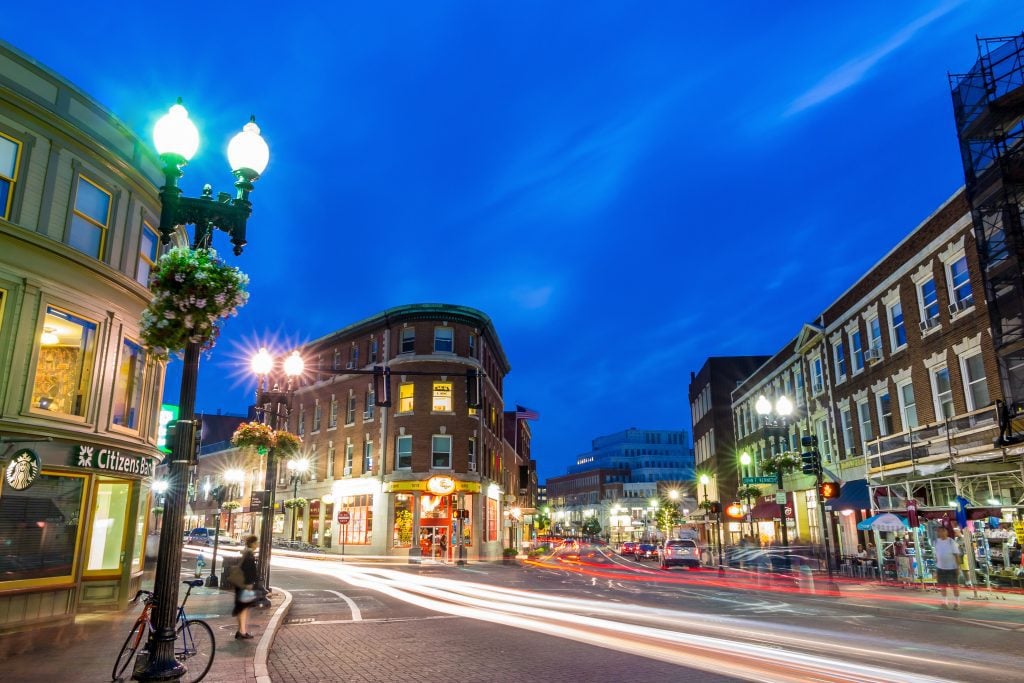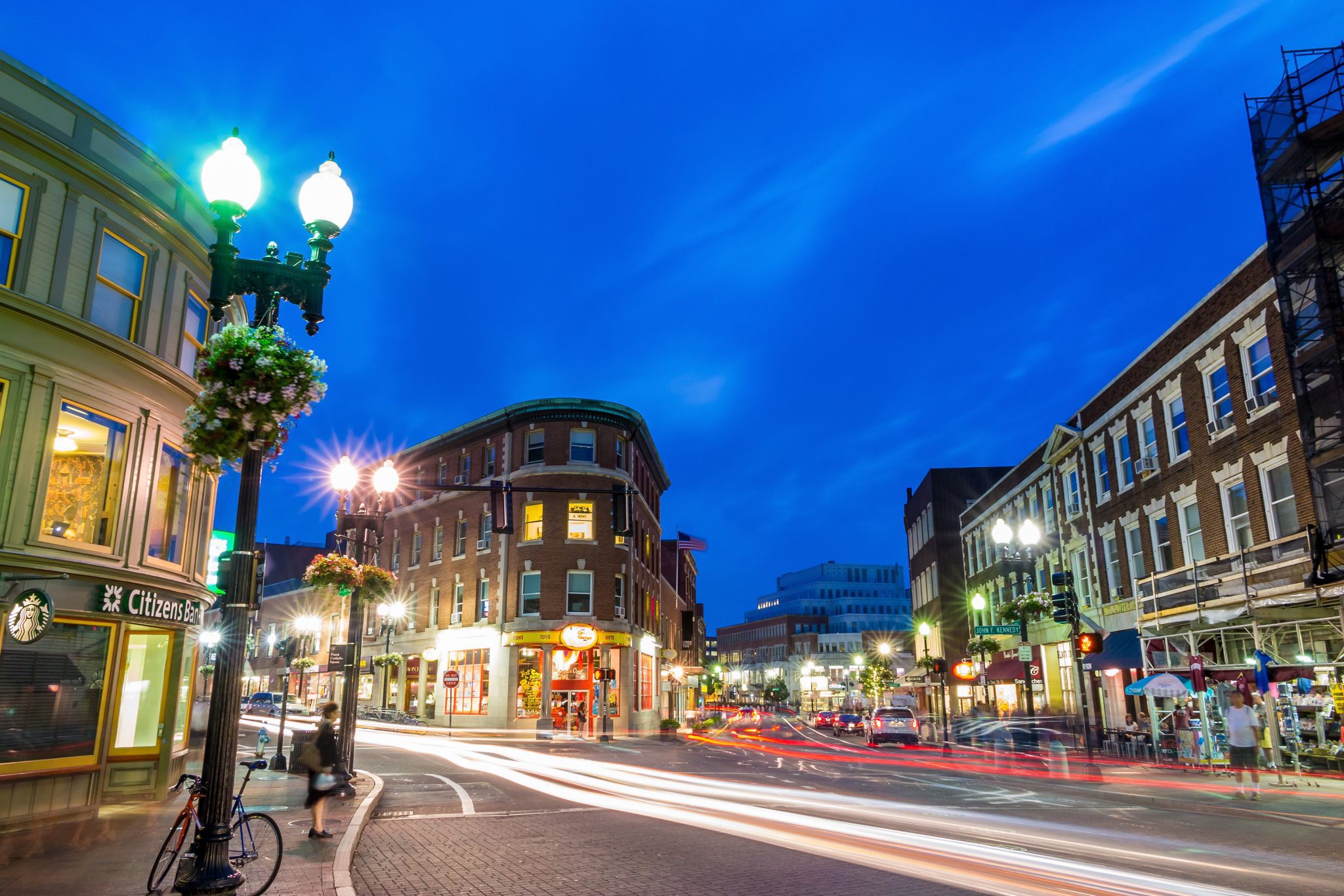 Best Boston Neighborhood for Intellectuals: Harvard Square, Cambridge
Cambridge is technically a separate city from Boston, but you'd never know — it's located right across the river and it's got just as much public transportation. Cambridge neighborhoods vary quite a bit, but I overall recommend Harvard Square.
Not only is it at Harvard's doorstep, but it gives you access to the kinds of businesses that students and faculty love: the enormous Harvard bookstore, interesting museums, theater productions big and small.
You can also find a fun bar and restaurant scene (you can't miss the politically named burgers at Mr. Bartley's Burger Cottage), cool cafes, running and walking trails along the Charles River, and easy access to Boston via the Red Line. And Harvard University is open to the public! Feel free to take a Harvard tour or explore Harvard Yard on your own.
Harvard Square's hipster days have passed, but it's a good choice for accessing the hip local parts of Cambridge and next-door Somerville like Central Square, Inman Square, Union Square, and Davis Square. Away from the most famous Boston attractions, you'll be rewarded by cool shops, excellent coffee, and perhaps Boston's least sporty enclaves.
Downside: It is a bit separate from Boston, despite its transit connections, and if you're doing all touristy stuff in downtown Boston, you might wish you were closer.
Harvard Square is between Central Square and Porter Square with Inman Square close by. Get here on the Red Line at Harvard or take the #1 bus.
Best Harvard Square Hotels
Best Harvard Square Apartments
Cozy Cambridge Apt — This two-bedroom apartment is down the street in Inman Square, which is actually where I would live if I moved back to Boston (shhh!).
Find deals on Harvard Square hotels and apartments here.
READ MORE: Best Things to Do in Cambridge, Mass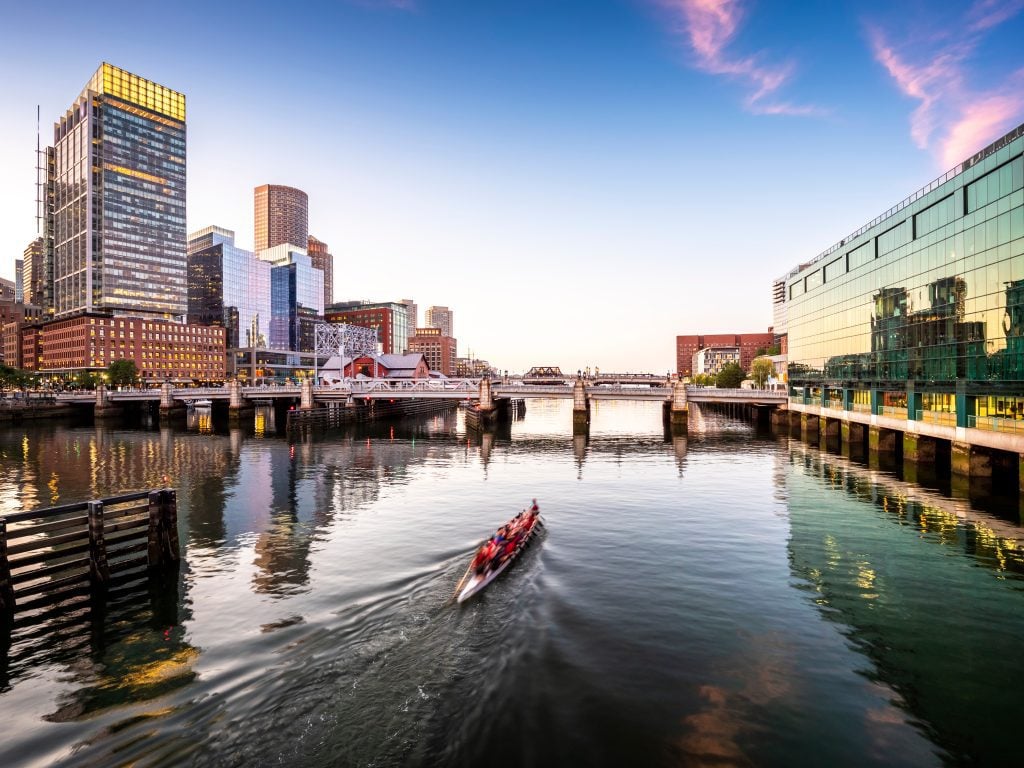 Best Boston Neighborhood for People Who Haven't Been in a While: Seaport
If you haven't been to Boston for awhile — maybe five years or longer — and want to see something new, I suggest the Seaport District, also known as the South Boston waterfront. Over the past decade, this waterfront has gone from mostly offices and parking lots to becoming one of the hottest neighborhoods in town. A great area to stay in Boston these days!
It's completely unrecognizable from when I worked there 14+ years ago! All we had back then was the unmarked (though legitimately awesome) Lucky's Lounge. For that reason, if you've been to Boston before, the Seaport is a chance to experience something completely different.
The Institute of Contemporary Art has always been a hallmark of the neighborhood, but now there are art installations and galleries throughout the neighborhood. You can visit shops like the first L.L. Bean in an urban area, restaurants like Menton, Sportello, and Legal C Bar Harborside, Boston's best cocktail bar, Drink, as well as the Harpoon Brewery, social darts bar Flight Club, and plenty of parks and green spaces with gorgeous views of downtown Boston.
Downside: This neighborhood is extremely expensive. You can find little cheap-ish gems in most Boston neighborhoods, but not here. Be prepared to spend.
Note that the Seaport is very different from both South Boston (a.k.a. Southie) and the South End. (Just go with it.) The Seaport is bordered by the South End, South Boston, and downtown Boston. The Silver Line has several stops here.
Best Boston Seaport Hotels
Find deals on Boston Seaport hotels and apartments here.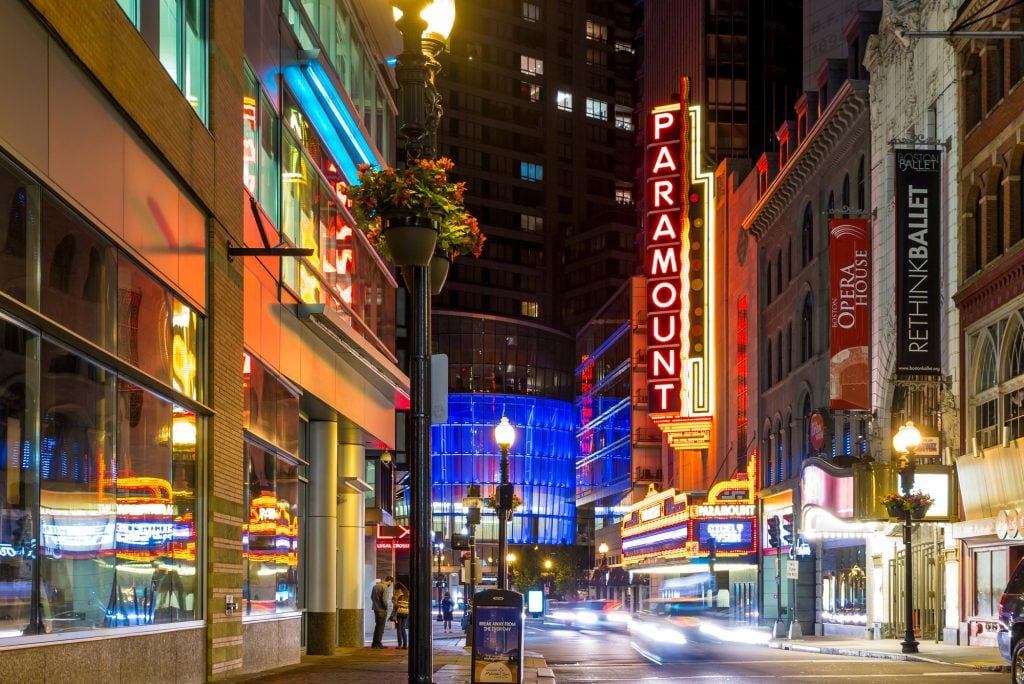 Where Not to Stay in Boston
Boston is a very safe city for the most part, but like any other city, there are some neighborhoods worth avoiding. I recommend new visitors to Boston avoid Mattapan, Roxbury, Hyde Park, and some parts of Dorchester like Savin Hill as well as most of East Somerville and the northwest part of Charlestown.
West Roxbury, Roslindale and Milton are nice neighborhoods, but the T doesn't run there, making transit a bit tougher.
And be careful of hotels that claim to be in Boston but are technically in the suburbs! A lot of hotels include "Boston-Burlington" or "Boston-Woburn" in their name, but as someone who grew up right by Burlington and Woburn, trust me, those are DEEP in the suburbs, nowhere near the T. You'll need to drive in.
Some hotels in towns like Newton, Malden, Quincy, and Revere are close to the T, but most of them are not; you should double-check on a map.
Some places require a bit of extra caution at night. Downtown Crossing and the Financial District tend to be deserted at night, so be extra aware of your surroundings at that time. The Back Bay Fens, a big park, is beautiful during the day but turns into a cruising and drug dealing spot after sunset.
There's no need to stay near the airport. Logan Airport is located in East Boston, but there's a blue line subway stop at the airport and it's easy and fast to get there via public transportation or a cab. While there are some good hotels there, the neighborhood doesn't have a lot of tourist value (other than Santarpio's, the best pizza in Boston).
Most importantly, if you don't stay within a 10-minute walk of a T station (the subway), you're probably not going to get to see as much of the city. Be near the T and the city will be in your hands.
If you want a luxury experience in Boston, look no further than the Fairmont Copley Plaza. Luxury can mean lots of things — and above all, it's about having everything you need immediately in front of you.
The hotel is over 100 years old and U.S. presidents often stay here when they come to town — what's up, Obama! — but it's anything but stuffy. Here the decor is a mix of classic and modern in a way that meshes together beautifully.
The rooms at the Fairmont Copley Plaza are huge; the amenities, like in-room massages and a rooftop fitness center, are fabulous; and checkout isn't until noon. The on-site Oak Long Bar and Kitchen has become one of the best cocktail bars in the neighborhood as well.
The Fairmont Copley Plaza is located right on Copley Square in the heart of Back Bay, by the Boston Public Library and John Hancock Tower. Its location on Dartmouth Street means that the best restaurants of the South End are a short stroll away. All you have to do is step outside and be swept into the best part of the city. Read more and book here.
Three more excellent Boston luxury hotels:
Without a doubt the most interesting hotel in Boston is The Liberty Hotel. Why? It's the former Charles Street Jail and they'll never let you forget it! Everything here has a jail theme, from the hotel rooms that were once cells to the open lobby that was once the jail's gymnasium.
The rugs are covered with patterns of skeleton keys and pocket watches. And the bars and restaurants have witty names — CLINK serves up delicious American fare while Alibi serves up cocktails and is covered with giant framed celebrity mug shots.
The Liberty is always buzzing — few hotels in Boston are able to match the scene on a Friday night. Come here and you'll meet interesting people. If you like having a hotel close to the nightlife, you can't get much closer than this. And hotel guests get extra privileges like getting to have food and drinks from Catwalk, the jail's original catwalk, which now overlooks the lobby scene.
The Liberty is technically located in Boston's blink-and-you'll-miss-it West End neighborhood, right by the Charles MGH red line stop. Walk across the street to enjoy the small-town feel of Beacon Hill, one of the city's most charming neighborhoods, and enjoy the stroll down Charles Street to the Public Garden.
You can also hit up the nearby bars like Harvard Gardens, where you're guaranteed to hobnob with doctors and surgeons who work at nearby MassGeneral. Read more and book here.
Three more excellent Boston boutique hotels:
It might sound like a luxury hotel by its name, but the Boston Park Plaza is actually a fantastic midrange hotel. (Also, fun fact: my senior prom was held here!) In terms of value for money, this place is one of the best in town.
The cheapest rooms are tiny — like, barely enough room to walk around the queen bed — but they're beautifully appointed. There are fitness classes for hotel guests and a Starbucks is conveniently located off the lobby.
The Park Plaza is located in the Theater District, right on the edge of Back Bay with easy access to Boston Common, just a short walk from the South End and Chinatown. You're right in the middle of everything. Read more and book here.
Three more excellent Boston midrange hotels: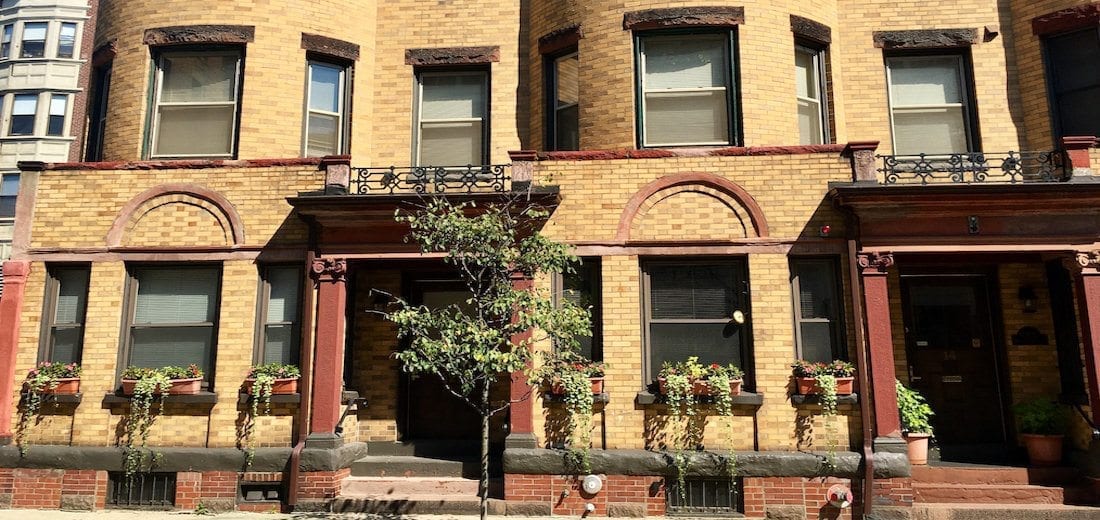 Boston is one of America's most expensive cities — even budget hotels cost a lot. But if you're willing to give up one major amenity — say, a private bathroom — the price ends up tumbling down significantly. Enter Oasis Guest House, easily one of the best value properties in the entire Boston area. And one reason is because the bathrooms are shared.
That said, the rooms are tastefully appointed and they don't scrimp on any other amenities. Wifi is free, central air is included (a must during a Boston summer) and there's even free breakfast. And if you're driving, the hotel has 11 parking spots for only $25 per day, roughly half what you would pay at other downtown hotels.
This location is fantastic, right on the Fenway/Back Bay line. (In fact, I used to live two blocks away!) You're on a quiet street but close to all the cultural and sports offerings of Fenway and all the shopping, dining, and bars of Back Bay! And the South End is just a short stroll away. Read more and book here.
Other recommended Boston budget hotels:
Boston has added a few hostels over the past few years, and the best one I've seen so far is HI Boston Hostel. Here you have single-sex and mixed dorms in addition to some private ensuite rooms. The building was designed for environmental sustainability and they are currently awaiting LEED certification. There is a comfortable common room on the ground floor and there are Bostonian touches everywhere, like shower curtains with the map of the T on them.
If you're looking to meet people, this is a great place because there are so many group activities! Join your fellow travelers for a Harvard campus tour, a day at the Museum of Fine Arts, a walk along the Freedom Trail, a brewery tour, or even Boston Movie Night. There is also an emphasis on community outreach and volunteering.
HI Boston Hostel is located in the Theatre District, very close to Boston Common and Chinatown and a short walk from the South End and Back Bay. Read more and book here.
Other recommended Boston hostels: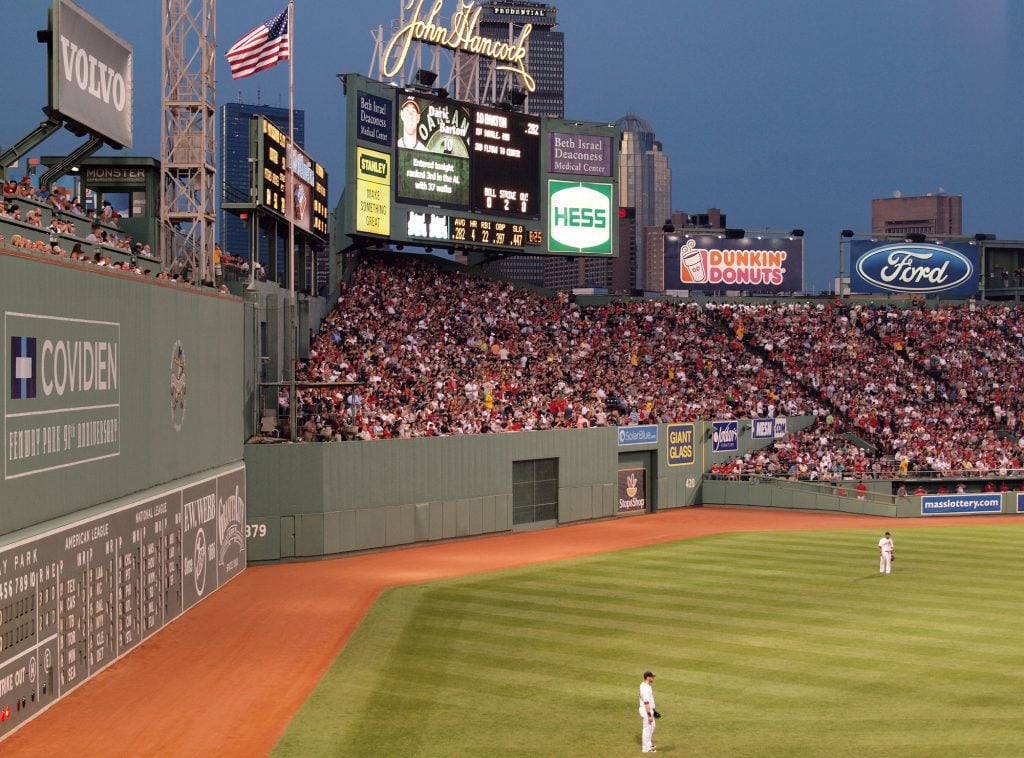 Best Things to Do in Boston
As a Boston girl, I love showing off my city to visitors. Here is what I recommend when my friends visit:
Go to a Red Sox game. Even if you're not a sports fan (and I'm not a sports fan), this is such an iconic sports experience, from singing along with "Sweet Caroline" to joining in the inevitable "Yankees Suck!" chants. If the Red Sox aren't playing during your visit, take a tour of Fenway Park instead — it's lots of fun.
Walk through the Public Garden and take a ride on the swan boats. If you're visiting from late spring through early fall, you'll get to enjoy the beautiful flowers. You'll enjoy views of the gold-topped dome of the Massachusetts State House. The swan boats are a tradition that goes back decades and it's one of the sweetest things you'll do in Boston.
Go on a Boston TV and movie tour. My friend and I had a blast on this tour! So many movies are filmed in Boston nowadays, and this tour shows you the sights from movies like The Departed and The Town and TV shows like Cheers and Boston Legal.
Eat your way through the South End. The South End is home to some of my favorite restaurants on the planet. Be sure to hit up Toro for incredible Spanish tapas (the corn is life-changing), Coppa for unusual Italian cured meats and red wine, Picco for thin-crust pizza and cow tipper frappes (made with Guinness), and Myers and Chang for interesting Asian fusion small plates.
Check out Boston's iconic breweries. If you've got time for one brewery, make it the Samuel Adams Brewery Tour out in Jamaica Plain (it's free!), but if you want a fun day, join a Boston brewery tour. My sister and I took our dad on this for his birthday and they drove us to several breweries that are tougher to get to by public transit.
Get lost in the North End. The North End is one of Boston's oldest neighborhoods and it's home to twisting, tiny streets; historically, it's been home to many marginalized communities in Boston, most recently, the not-so-marginalized-anymore Italian community.
I highly recommend getting a cannoli at Modern Pastry (not Mike's Pastry across the street) or sitting with a cappuccino at Caffe Vittoria. Even better? Go on a North End food tour!
Visit Boston's art museums and learn about the Isabella Stuart Gardner heist. Works of art worth $500 million were stolen from the museum in 1990, and they have never been found. I highly recommend listening to the "Last Seen" podcast before your trip to Boston, then visit the Isabella Stuart Gardner Museum. They still have blank spaces where the artwork was stolen. The Museum of Fine Arts is excellent, too.
Get out on the water — somehow. Everyone loves Boston's Duck Tours — they are brightly painted WWII-era hybrid vehicles that take you on a tour of Boston by both land and water!
Whale watching is excellent in Boston Harbor as well, and Boston's whale watching tours have a near-guarantee of whale sightings. And if it's a hot day, check out CODZILLA!!! for a roller coaster ride on a jet boat!
Browse the books at the Harvard Bookstore. Harvard University, located in Cambridge, is well worth a visit — but for me, the best part of Harvard is its enormous bookstore. It's huge, elegant, and a great place to get cozy with a book. The surrounding neighborhood is fun to explore, too.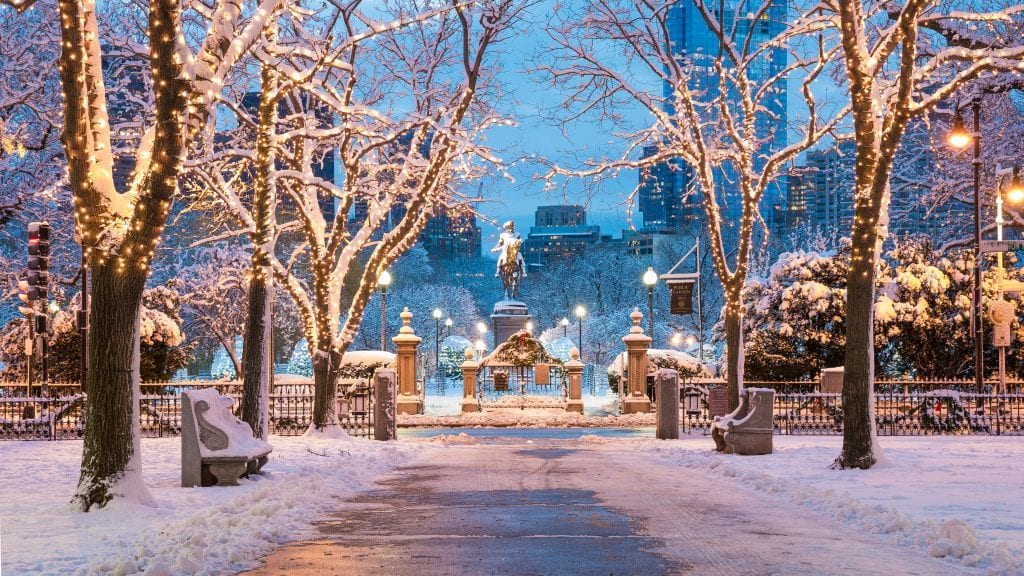 Boston Travel Tips
Check Skyscanner before booking your flights to Boston. I find that Skyscanner tends to have the lowest prices.
Boston is America's Walking City. Boston is arguably the most European city in America in terms of its look, and this means it's far more walkable than most American cities. Plan to get around by walking and the T, Boston's subway, which gives you good access throughout the city. For this reason, make sure your hotel is close to a T stop.
And comfortable shoes are especially important when you're walking all day in Boston! I have poor arches and wear almost exclusively shoes from The Walking Company, which are cute and insanely comfortable. I strongly recommend black ABEO flats, which have fantastic arch support. You might also like a pair of black boots.
Boston is a sports town at heart. If there's any kind of game taking place during your visit, it seems like half the city will be watching it. And if you happen to be a Yankees fan, I suggest leaving your gear at home, or else you'll have to defend your fandom to everyone you meet.
Bring a portable safe to protect your belongings. Leave your valuables locked in this and lock it to something sturdy in your room. Whether you're in a hotel or a shared dorm room, it's a smart idea. I consider my portable safe the most important item I pack.
If you're visiting lots of Boston attractions, consider getting the Boston CityPASS. This pass gives you admission to several of the best sights in town, including the Museum of Science, New England Aquarium and Boston Harbor Cruises.
Consider visiting for the Fourth of July or Boston Marathon. These are two very special occasions. On the Fourth of July, there's a huge concert on the Esplanade (get seats early); later there's fireworks over the Charles River, with views from both Boston and Cambridge. If you go for the marathon, plan your hotel and route carefully as you may end up stranded on one side of the city.
Keep in mind these are also two very busy and expensive times to visit the city.
The best time to visit Boston is in late spring, late summer, or early fall. June and September have beautiful summer weather without the humidity of July and August; the best foliage tends to be around mid-to-late October, but this can vary. Check online before your trip to see what's being forecasted. Summer can be beautiful but very hot and humid; winters are long and brutal.
READ MORE: Best Time to Visit Boston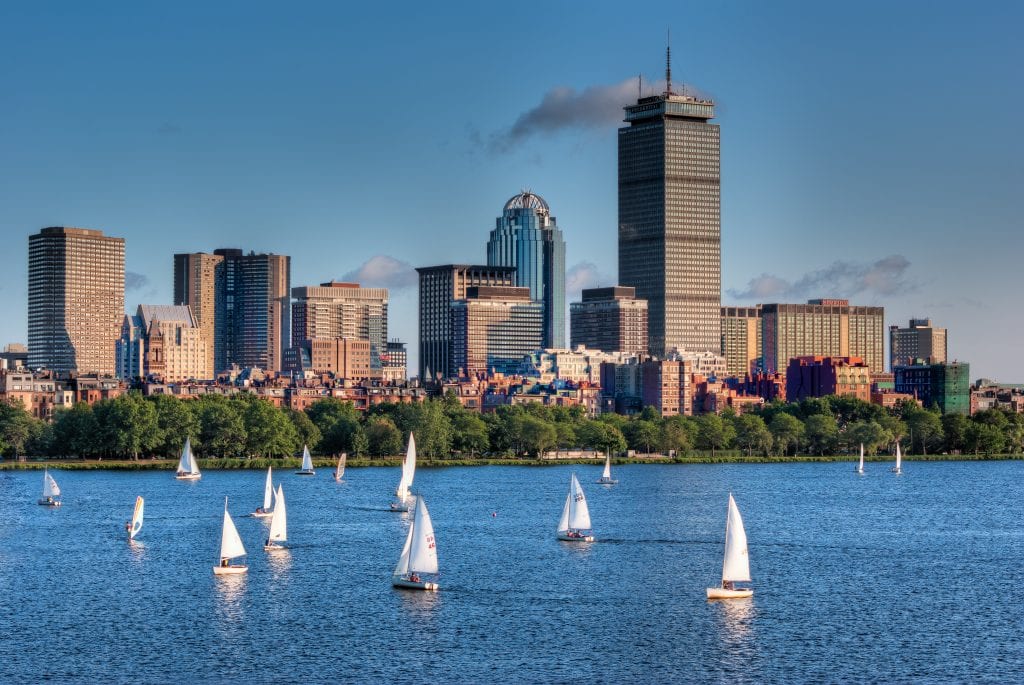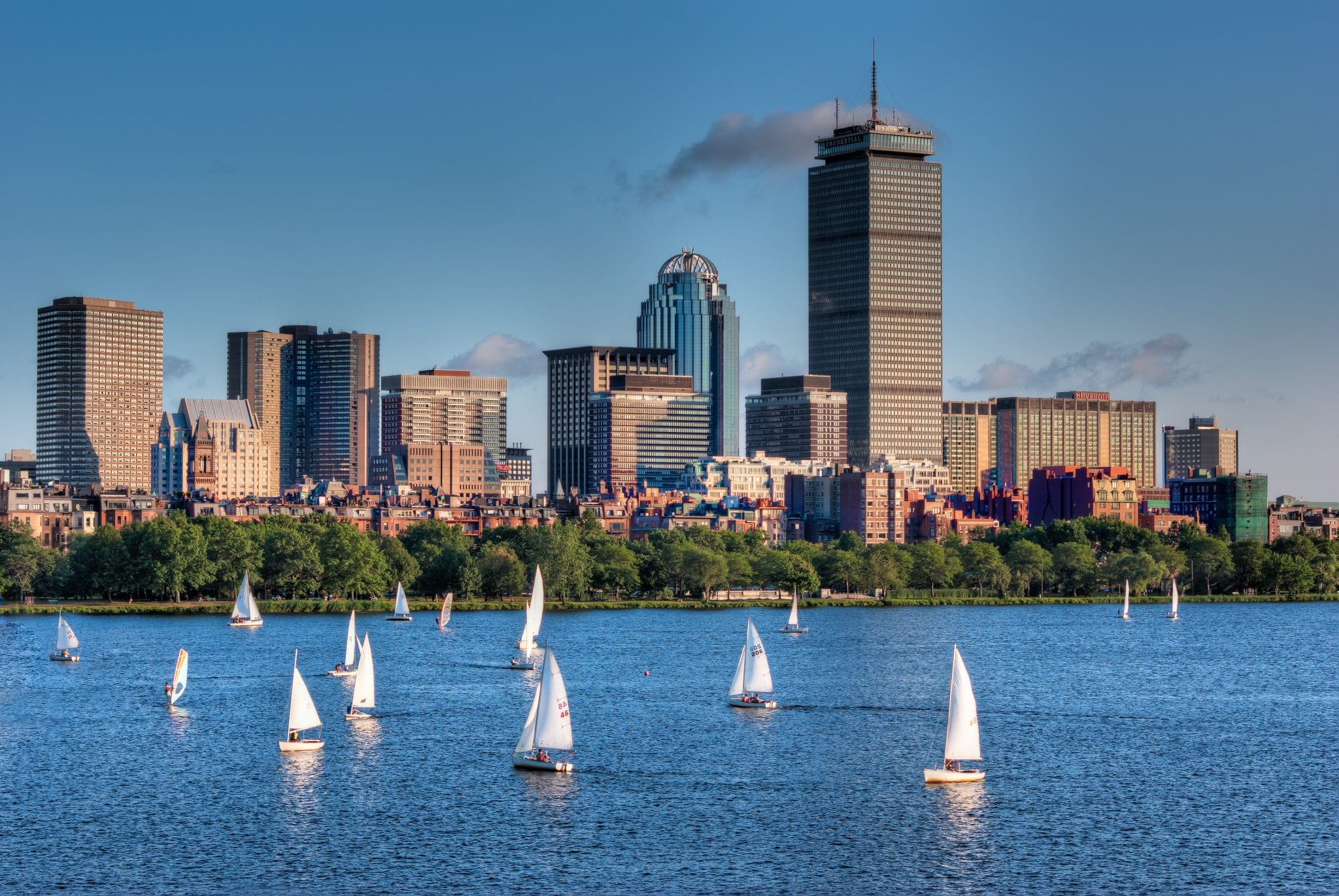 Don't Visit Boston Without Travel Insurance
A lot of people think travel insurance is an unnecessary expense — I couldn't disagree more. Travel insurance is vital. It's saved me hundreds of dollars and for a few of my friends who seriously injured themselves abroad, they've saved hundreds of thousands of dollars.
If your wallet is stolen at a bar, travel insurance will refund you what you lost.
If you slip and break your ankle or get appendicitis while in Boston, travel insurance will cover your medical costs, which could run into the tens of thousands. This is especially vital for people visiting Boston from outside the United States.
If an immediate family member dies while you're halfway across the world, travel insurance will help you get home immediately.
These are unpleasant things to think about, but it's so important to be prepared for the worst.
I use and recommend World Nomads Travel Insurance. They're a great fit for almost every traveler. Take a look at their policies before you buy to make sure they're right for you.
My #1 Boston Travel Tip
Walk as much as humanly possible. Boston is the perfect place to do so. It's America's walking city, America's most European city, and just completely lovely.
I hope you enjoy my home city as much as I do. Boston is a truly special place.
Still looking for a place to stay? Find deals on all Boston hotels and apartments here!
More on Boston:
Best of Massachusetts:
Cape Cod and the Islands: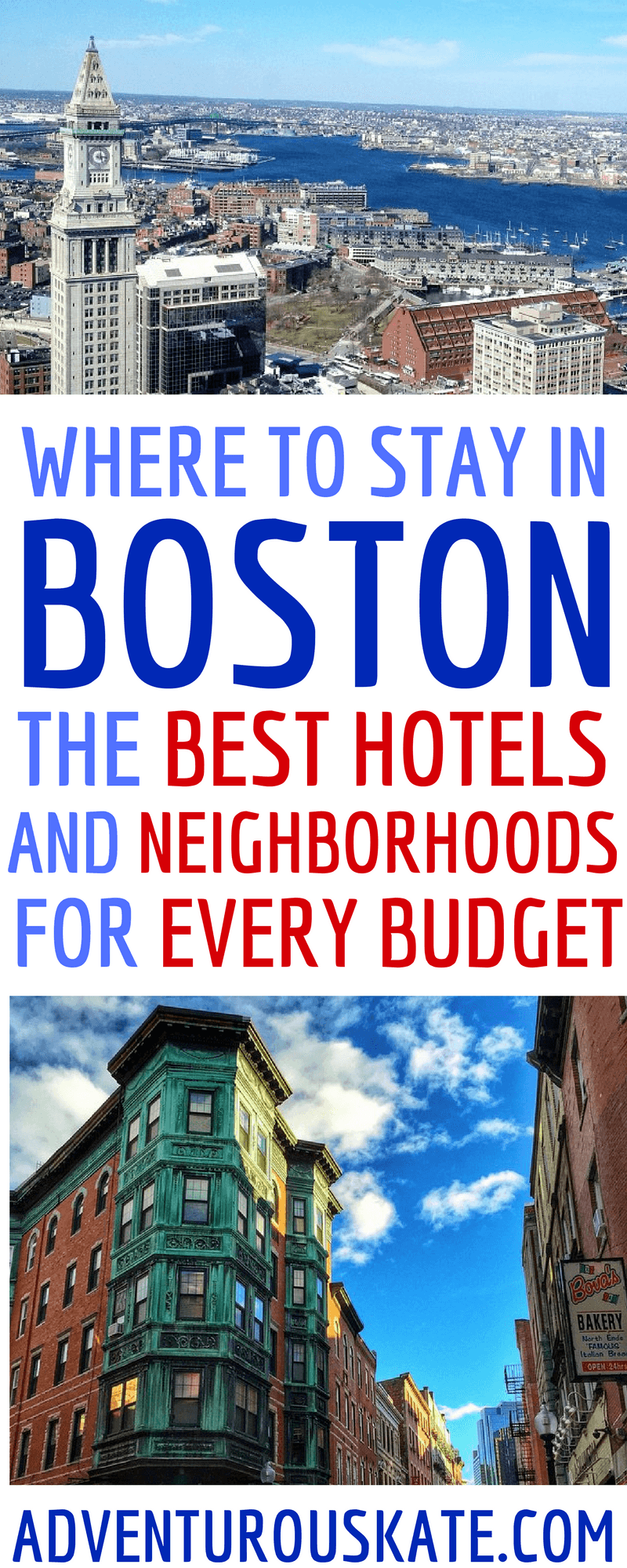 Have you been to Boston? Where do you recommend staying?