Adventurous Kate contains affiliate links. If you make a purchase through these links, I will earn a commission at no extra cost to you. Thanks!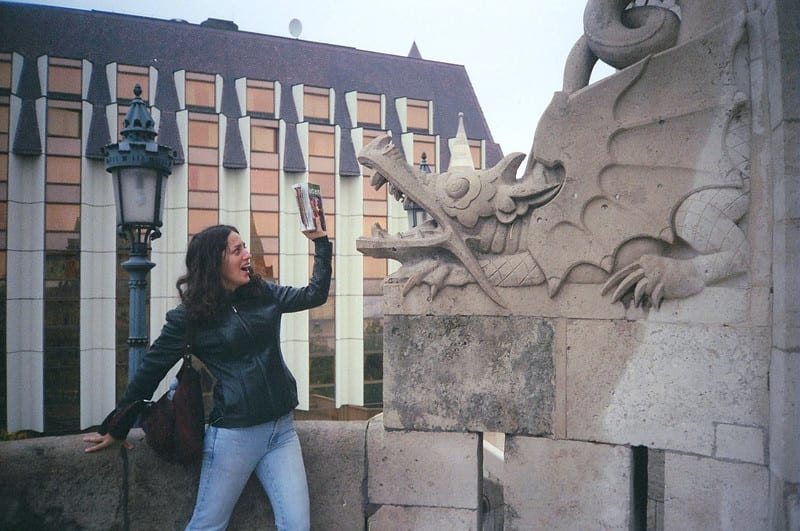 Ten years ago today, I was studying abroad in Florence. For the past several months, I've been thinking that my 10-year study abroadaversary would be a great opportunity to look back at that special time.
Studying abroad is one of the best decisions I ever made and by far the best thing I did in college. It was the catalyst that led me to a life of travel, and I think part of me knew that.
At the same time, I look back and I am appalled by some of the experience. Here's a retrospective of my first long-term travel experience, in a time before smartphones and wifi.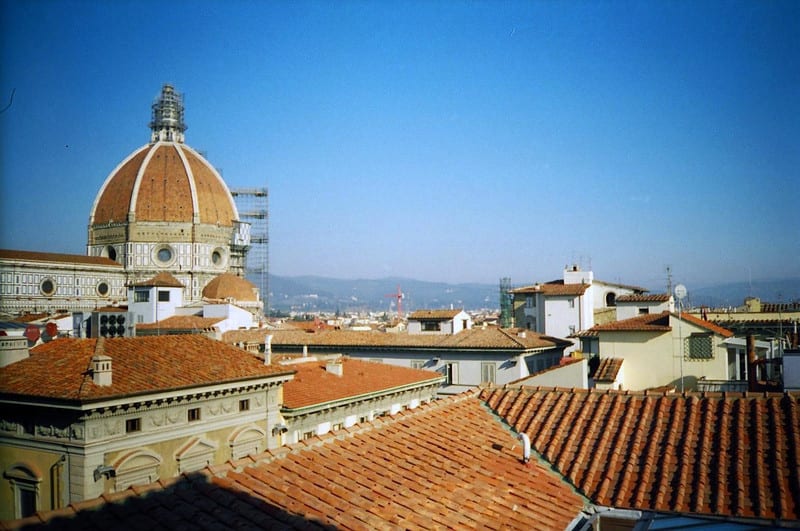 Florence is a study abroad mecca, which is both good and bad.
Florence is a small city, a very popular tourist destination, and home to more than a dozen study abroad programs. There was us (Fairfield University, my alma mater), there was NYU, there was Syracuse, and there was the University of Richmond, whose students wore shirts that read "Va F*ckin' Bene" and had a meal plan that gave them three-course meals in several restaurants.
Being in a study abroad mecca was good in some ways — we met SO many friends from the other schools — and bad in others. A few years ago, I was talking to a guy who studied in Parma — another Italian city I love, but a small place without the same study abroad community, and he only had a few English-speaking classmates. He met so many locals, but felt lonely and starved for interaction with fellow Americans; he also didn't travel outside Italy, as Parma wasn't as well-connected by air.
I reaped the benefits, like weekend packages that brought us direct to backpacking hotspots like Interlaken, Switzerland. But I know I didn't spend the bulk of my time interacting with locals, which is how I thought it would be.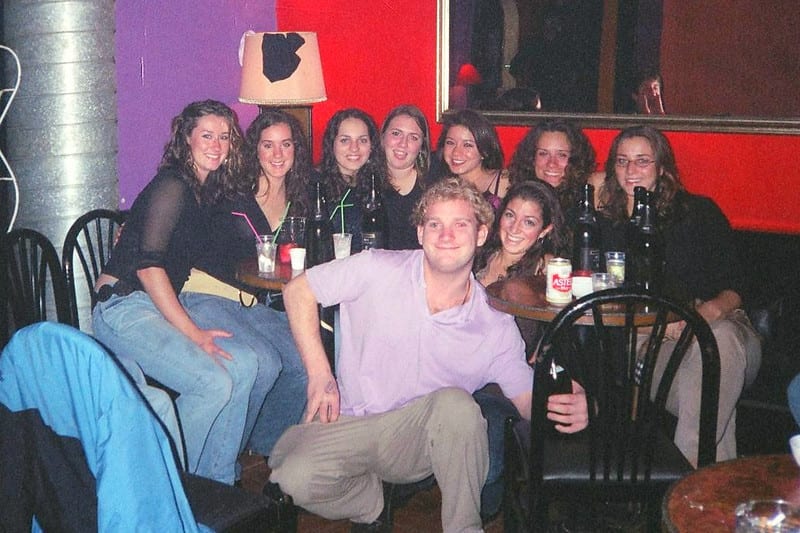 There was a massive gender imbalance.
In our Fairfield program, we had 40 girls and eight guys. That was fairly standard for the other programs throughout the city.
Why? I'm not sure. Women tend to outnumber men at universities in America, and I think the Fairfield breakdown was about 58% women, 42% men, at least when I went there, so that could be one factor.
But is study abroad so much more popular for women than men? Or does Florence appeal to women more? Perhaps it's a bit of both. I knew far more girls who studied abroad than guys, and most of my guy friends at Fairfield who studied abroad went to Galway or London.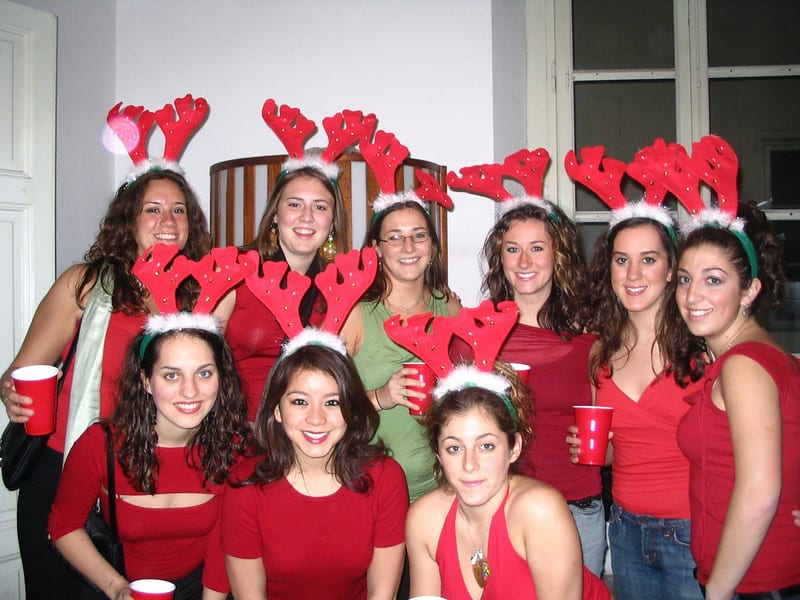 Most of the memories are from my apartment.
When choosing housing, I requested an apartment with lots of roommates rather than few roommates. That was a smart decision and one that affected my whole semester.
I ended up in an apartment of nine girls on Borgo Santa Croce, steps from Basilica Santa Croce in the heart of Florence's historical center. We had the best location by far — most people in our program were several blocks north of Piazza San Lorenzo, much further from the action.
The nine of us spent all our time together. We partied together. We traveled together. We went out for gelato every day. We celebrated our roommate's 21st birthday with great fanfare and a homemade crown. Everyone knew everyone's business — there were few secrets in our house.
That said, I was always the odd one out, which did hurt at times. But as years passed and I grew more mature, I realized that as an introvert, I've always gravitated toward spending time alone, and there's nothing wrong with that. That's how I'm wired. I didn't show up to Florence with built-in friends; I didn't happen to make a lifelong best friend while there.
We were all friends, we all cared about each other, and I treasure the beautiful memories we made, yet there was something that separated me from everyone else. But at the end of the semester, that didn't matter. On the day we moved out, we held each other in the street, sobbing.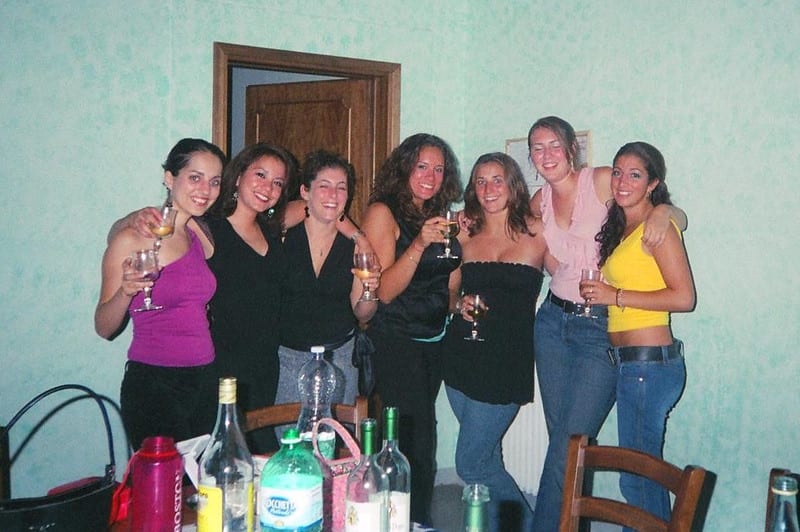 We were hit on by men constantly. CONSTANTLY.
I had no idea how intense male Italian attention was until I got to Italy. It. Never. Stopped.
When walking through a market, every vendor would call out to us. Guys walking past us would hiss, "Ciao, bella," if we were alone. Worst of all was in a club, where we would literally be grabbed every few minutes. I would walk through a club shaking my arms just to keep guys from grabbing me.
Was that because we were 20 years old? Or that we were obviously tourists? Or that "nice Italian girls" don't go out to clubs, so they make up for it by going after the Americans instead?
All I know is that I go to Italy once or twice a year nowadays and I don't get hit on nearly as often as I did back then. I talked about it here — it might be because, well, I'm older and not quite as fresh-faced as I was back then. Or maybe it's that today I know how to blend in better, or I mostly stick to lesser-touristed places where foreigners aren't targets in the same way that they are in Florence.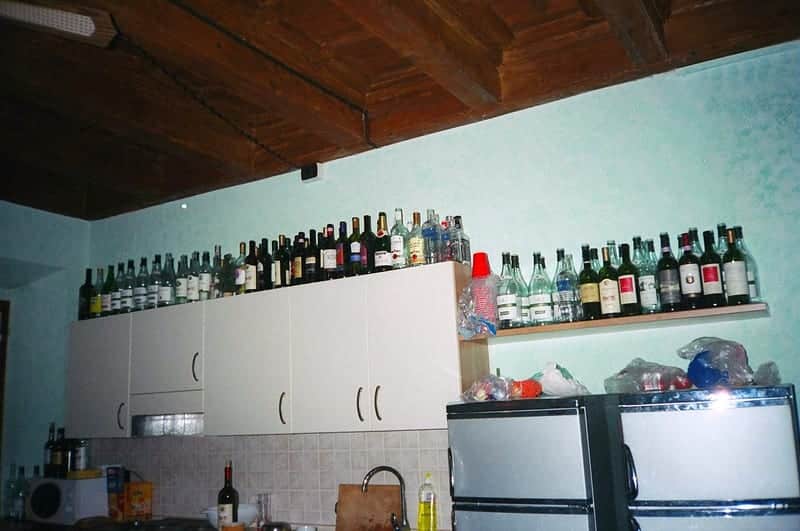 I can't believe we drank as much as we did.
Did we party? NONSTOP. All of us were 20 and as you can't drink in the US until you're 21, we were like kids in a candy store.
There were specific clubs we went out to different nights of the week (Maracana on Wednesdays, YAB on Mondays, Space Electronica and Dolce Zucchero on the weekend). To this day, hearing "Get Busy" by Sean Paul, "Dirt Off Your Shoulder" by Jay-Z, "Get Low" by Lil Jon, "Yeah!" by Usher, "In da Club" by 50 Cent, "Tipsy" by J-Kwon or "Naughty Girl" by Beyonce take me back to the dance floor at Maracana.
Our apartment was pregame central. People came over for Beirut (beer pong) tournaments and "Frizzante Flip-Cup" (flip-cup with our favorite sparkling white Frizzantino wine).
In addition to that, there were backpacker bars that encouraged binge drinking. The worst one was called Faces. It smelled like puke and it was all-you-can-drink for 10 euros. They even gave you your own personal bottle of champagne when you walked in.
In Florence, it was common for us to black out at least once a week and to puke fairly often. We had one night that we later dubbed Sh*t Show Night, during which five out of the nine of us threw up at/outside Faces; four of the nine of us hooked up with guys; one threw up while hooking up, couldn't find her shirt, and walked home with her jacket zipped up over nothing and her bra in her pocket; and a friend of ours had to be dragged home a mile and a half by the hood of his sweatshirt.
(The next morning was hilarious. Our most sober roommate put us to bed, took off our shoes, put trash cans and bottles of water next to our beds, and made us pancakes. Thank you, A.)
At the time, it seemed normal — this is what students did in Florence. But looking back, I'm aghast. It was such a dangerous level of drinking and I'm thankful that none of us ended up in the hospital or worse.
Men took advantage of us.
On more than one occasion, local men took advantage of our youth and inexperience.
On a weekend trip to Nice, our table of six girls decided to order half a liter of red wine and half a liter of white wine at dinner. It was a modest amount and that was all we needed. This wasn't going to be a party night.
Well, we started talking and joking with our waiter, and he brought us a complimentary liter of red wine. Then another. Then the chef came out. The waiter and chef flirted with us, brought us free dessert, and kept the wine flowing.
By the time we left, we had each consumed a liter of wine and I had made out with the chef. Gross, I know.
The aftermath? Several of us puked all over our hotel rooms that night.
I'm not placing 100% of the blame on the men. We should have known when to stop. But we were young and had little experience drinking legally. They should have stopped serving us.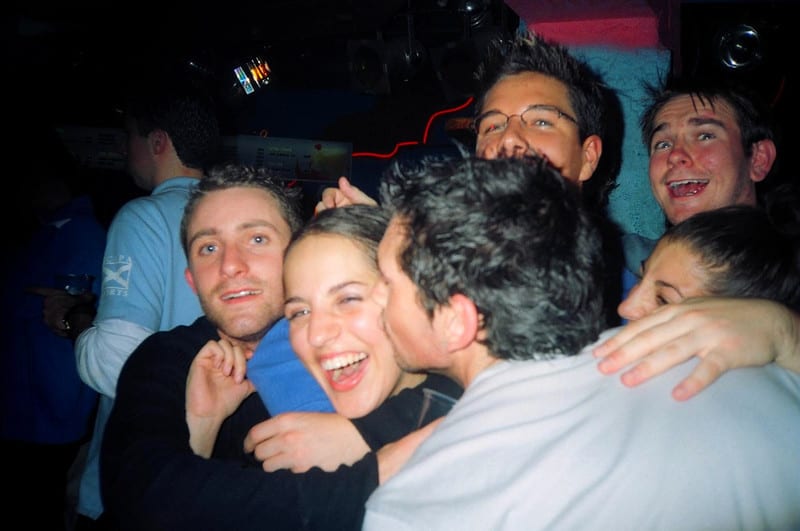 It was a boy-crazy semester.
Almost everybody studying in Florence was single. A few had "taken breaks" from their significant others, intending to resume their relationships when they got home.
The result? It was a free-for-all. With all the different university programs, we had a lot to choose from. Hookups were constant. One of the running jokes was that one of my roommates kept hooking up with guys named Mike, so we privately referred to them as Mike 1, Mike 2, Mike 3, and Mike 4.
My first kiss in Florence was a week into the semester, sitting on a bench in a park on the banks of the Arno. It was so romantic, I nearly died.
Being in that apartment of nine girls made it so much better. There was always a new boy to talk about.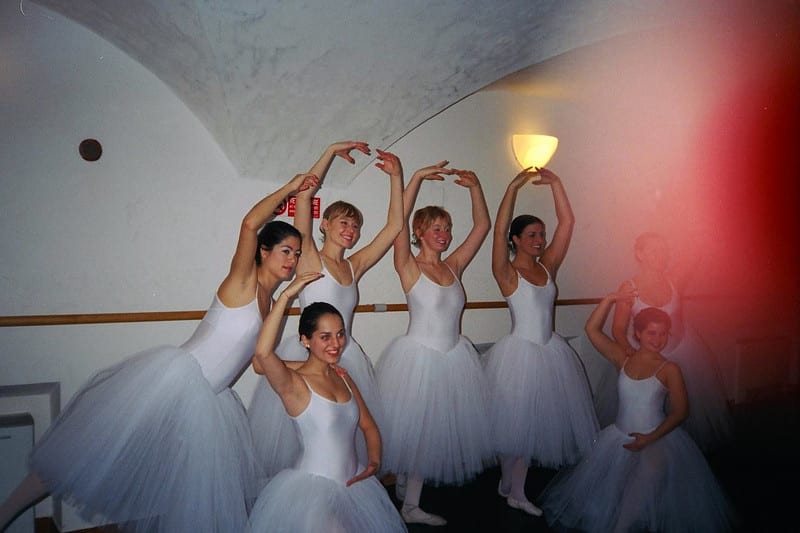 Studying wasn't really a priority.
Are semesters abroad supposed to be easy semesters? At my school (Lorenzo de'Medici Institute), almost every class was a joke. I would do my Italian homework in the few minutes before class and still aced every course I took. I even took ballet!
There were two exceptions, though — art history and studio art. The school had a great reputation for its art program. I took a class on Italian Baroque Art (an offbeat choice, as Florence is the city of the Renaissance) and it required more work than the rest of my classes put together.
A few years later, Fairfield ended their partnership with Lorenzo de'Medici Institute. Courses are now through Florence University of the Arts.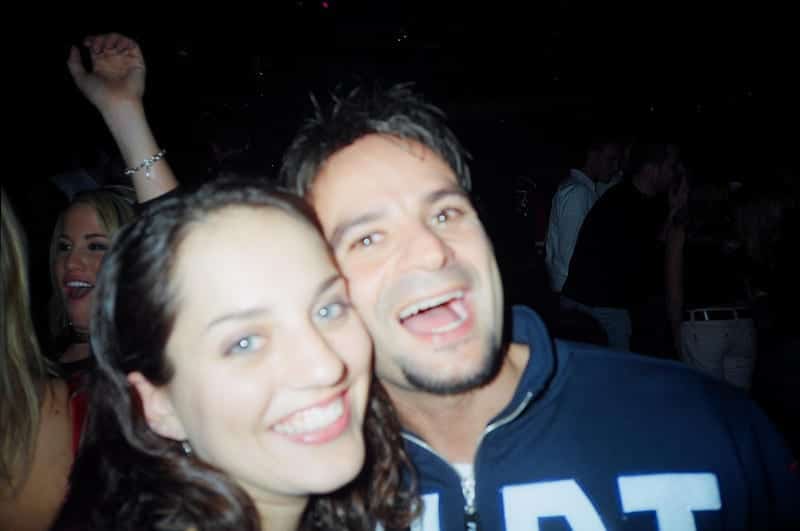 I had that stereotypical hot Italian professor.
On the first day of Italian class, he walked into the room and we were stunned into silence. He was young, dark, impeccably dressed, and devastatingly handsome.
Our class was 16 girls, no boys. We stared at him as he introduced himself as Simone — see-MO-nay — then said he needed to get something and would be right back.
As soon as he left the room, we began SQUEALING. All 16 of us.
Simone became the object of our affection for the whole semester. Every day, he wore a perfectly coordinated, expensive-looking outfit. Even when he wore athletic wear, everything was red and white, down to the "Criminal 84" emblazoned across his shapely backside.
One night shortly before the end of the semester, I was walking through Maracana and shaking off the male hands that grabbed my arms as I walked by. But then one hand grabbed my arm and wouldn't let go. I turned to him, ready to scream at him.
It was Simone, a big grin on his face. "I am no-ot like the-em!" he sang out.
"SIMONE!" I shrieked. This is your chance, I told myself. I kissed him on the cheek, then grabbed my camera and threw my arm around him, taking a selfie of us.
It's one of my favorite souvenirs from Florence.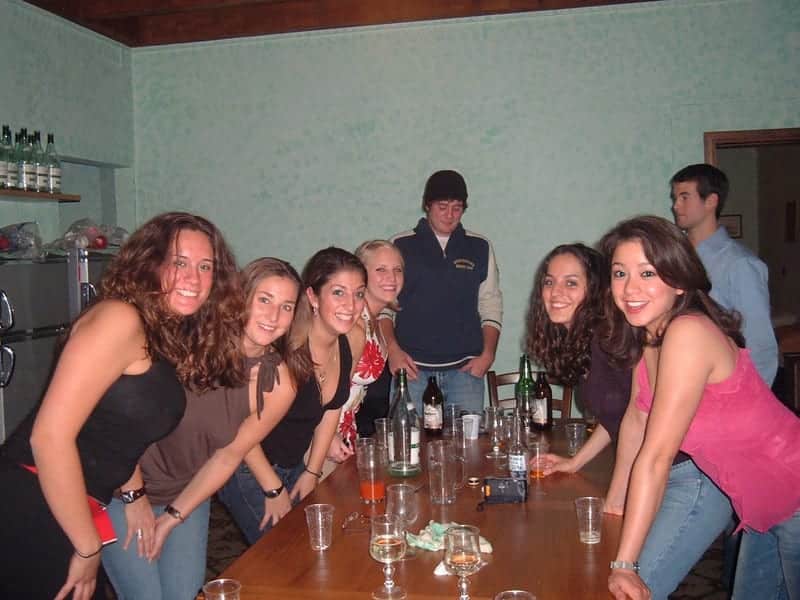 Facebook was introduced during that semester.
Facebook was rolled out to a large group of universities, my university included, in October 2004. We were instantly obsessed!
I remember the first wall comment I ever wrote, to my friend: "I'm still reeling from Prague — I can't believe we drank straight through until 5 AM!!! Those British Boys were HOTT!!!! :-D"
And the first comment ever on my wall, which she wrote in reply: "and ps you missed the british guys when they started getting naked at the hostel."
Some things never change.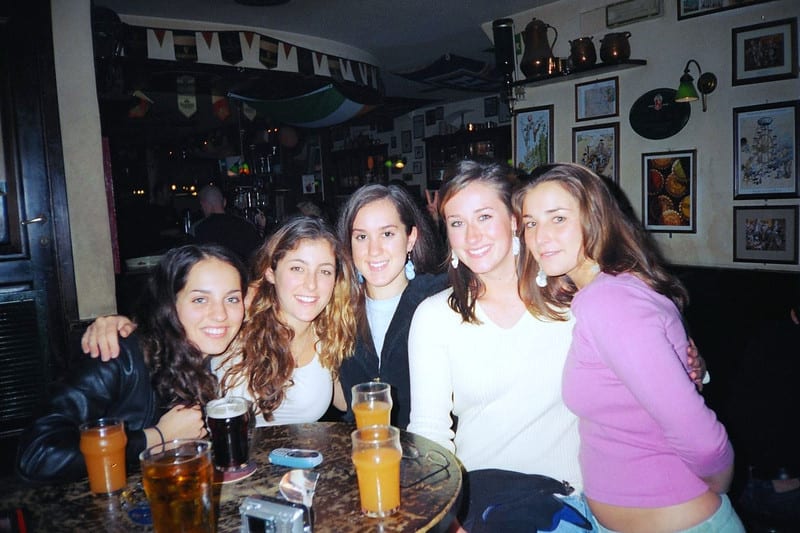 I did not know what a kebab was until I got to Florence.
When I tell my European friends this, they laugh their heads off. But kebab shops aren't nearly as common in the US as they are in Europe. (Though you see them a lot more often today than you did 10 years ago.)
I still remember when I first saw a kebab shop — "Is that a shaved lamb? Shaved lamb sandwiches? That's so weird! Get me some of that shaved lamb!"
Also, there was a kebab shop across the street from our apartment that opened at 1:00 AM. I repeat — it OPENED at 1:00 AM and stayed open until around 4:00 AM or so. Definitely different when you come from Boston, a city that shuts down by 2:00 AM!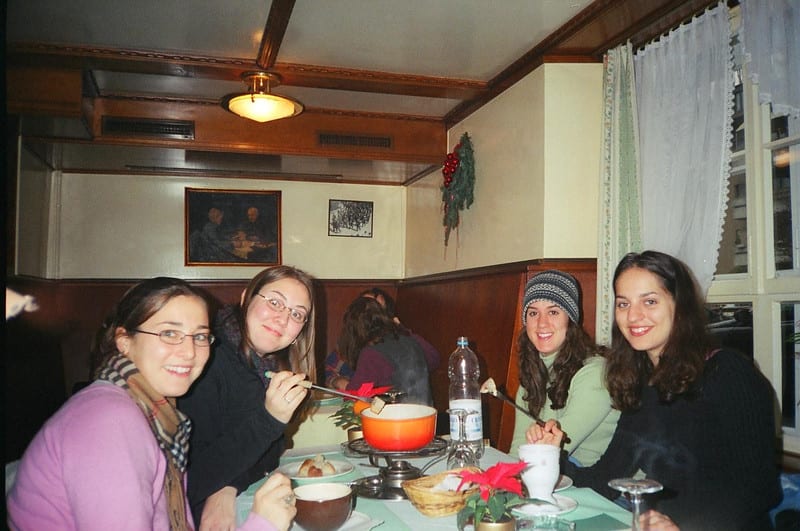 Western Europe is a very expensive place to study abroad.
I worked long hours waitressing at home and banked just over $4,000 over the course of the summer. I ran through all of it. I even had to get a credit card advance to cover my last two weeks.
When you're living in Europe for four months, it's presumably the only time you're going to do this, so you want to take every opportunity you have. In Europe, and especially in Italy, something amazing lurks around every corner. We went out for dinner at nice restaurants all the time, we traveled all over Europe, and of course, we partied.
After coming home, I talked to a friend who had studied in Beijing. He had spent less than $1,000 over the course of his semester. I was instantly jealous.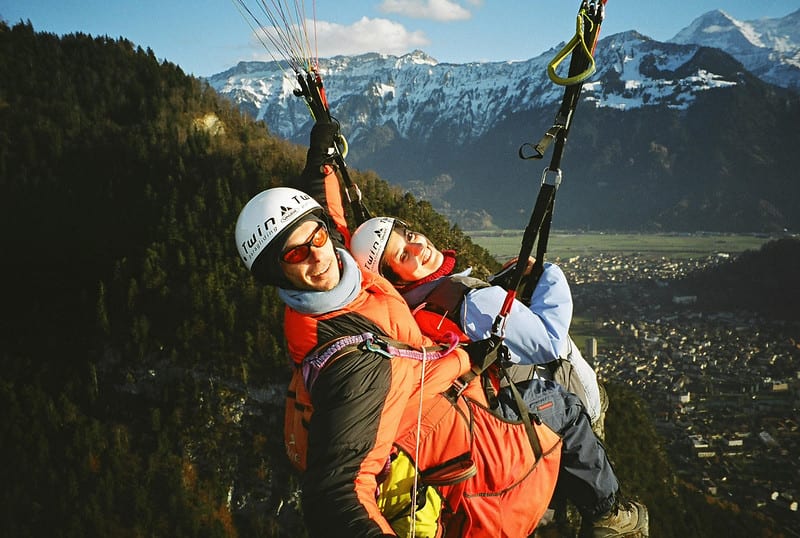 I was adventurous — but not adventurous enough.
I threw myself off cliffs twice in Switzerland. I climbed a ladder in a club and kissed a mannequin on the butt. I went to Budapest for the sole reason of seeing the white chocolate statue of Michael Jackson.
But I didn't travel on my own. In fact, the closest thing I did to a solo trip was to take a train from Pisa to Florence by myself, coming back after my mom and sister left from the airport there.
Out of the nine of us, only one of the girls spent time traveling alone, and I remember thinking how odd it was. "Why would she want to do that when she could travel with her friends?" I thought.
I feel like if I had had the blogs and online resources of today, I would have spent so much time traveling on my own. I didn't even consider traveling alone until I was 22 and out of college.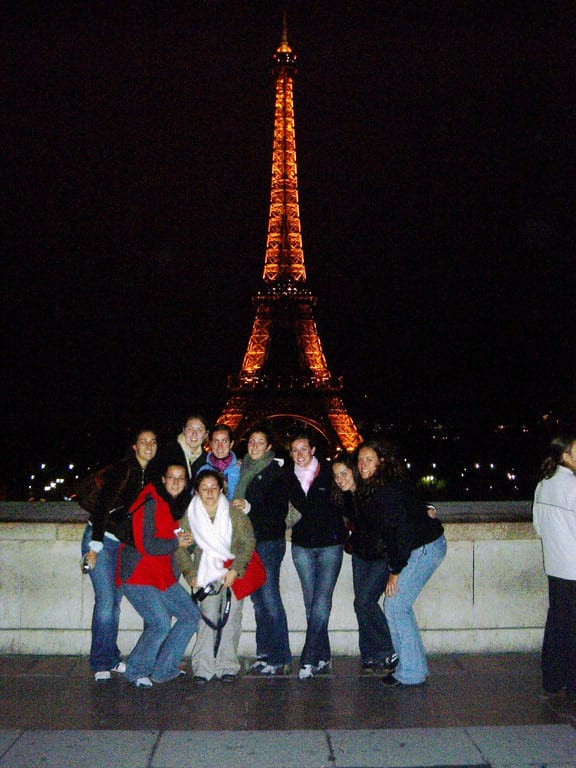 I almost didn't go.
During my sophomore year of college, I decided to apply to be an RA (resident advisor, or someone who manages a floor in a dorm). Being an RA would give me free room and board, but I would have to spend both semesters on campus, so study abroad was an impossibility.
I don't know why I did that. I had been looking forward to study abroad since high school and was desperate to study in Paris.
Then I didn't get hired as an RA. It was a huge shock. Even the ladies who worked in the housing office were flabbergasted.
The minute I got my rejection letter, adrenaline charged through me. I could still study abroad. Fairfield didn't have a direct program in Paris, and applying would take a long time, but they did have a direct program in Florence. If I applied right away, I could make the cutoff for the fall semester. I ran around campus, gathering transcripts and letters of recommendation, and was accepted into the program less than 24 hours later.
And I did get to go to Paris after all! The nine of us planned to meet up there during our continent-hopping fall break. I loved being the group's tour guide, navigator, and translator — though I was dismayed to be speaking what I later dubbed frataliano.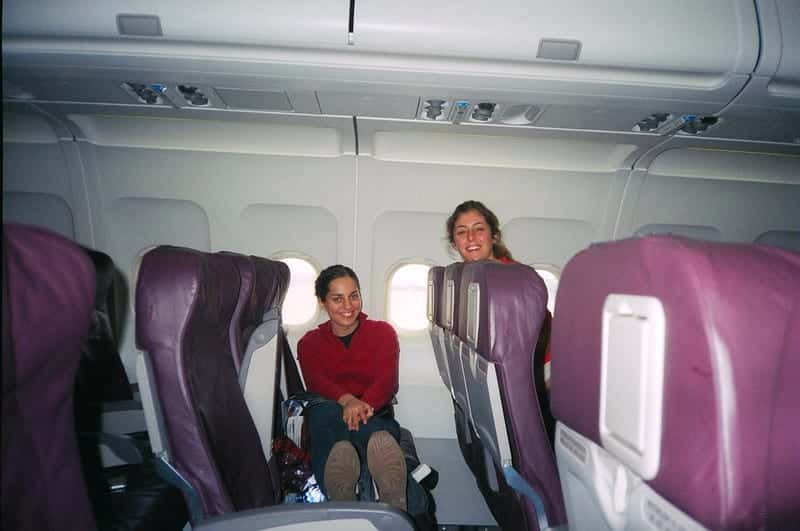 So much has changed in ten years.
Here is what life was like in Florence 10 years ago:
I didn't bring a single device that plugged in. We had no wifi in our apartment. Internet access was only found in internet cafes. The one exception: my Italian cell phone, which I rented once I arrived.
I actually used a film camera. In my apartment, only two of the girls had digital cameras. I went digital shortly after coming home.
The biggest tour groups were Japanese. Every day, I would have to cut across Piazza della Signorina, Piazza della Repubblica, and Piazza Duomo to get to class. Every day, I would fight my way through crowds of Japanese tourists. Ten years later, the Chinese are the new power players in Italy tourism, especially when it comes to luxury.
The exchange rate was worse back then. It was about $1.50 to a euro. Today, it's about $1.25 to a euro. A seemingly small difference, but believe me, it adds up.
I once got a flight from Milan to Budapest for one cent and one from Budapest to Paris totally free. Good luck ever finding a deal like that again! As you can see from the photo above, those flights were empty.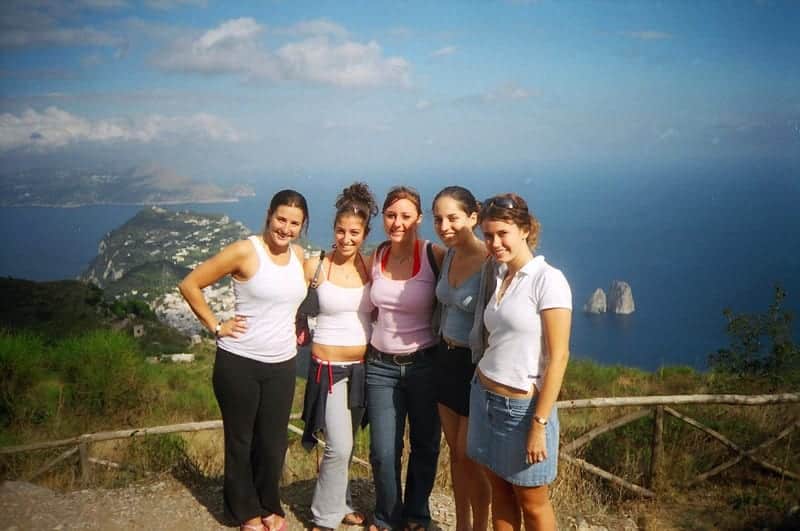 Few of my study abroad classmates travel internationally today.
Let me be clear — I don't regard that as a bad thing, and I don't look down on anyone for not traveling. Everyone has different priorities and everyone quantifies happiness differently. My study abroad friends have amazing lives — they've gotten married, had babies, moved to cool cities, and work fascinating jobs today. I don't expect anyone to travel as much as I do.
But I am surprised at how few of my study abroad classmates have returned to Europe since then. A few of them have returned to Europe, some going to Italy for their honeymoons, but the majority of them stick to the US and the Caribbean.
That semester lit a fire underneath me. I was a creative writing major at Fairfield, and every story and poem that I wrote for the rest of college revolved around travel. I made my first trip back to Florence 15 months later, then returned again three months after that.
From that point, travel was everything to me. And a few of my study abroad classmates are the same way, some of them working in the travel industry today. I'm just surprised that there aren't more of us.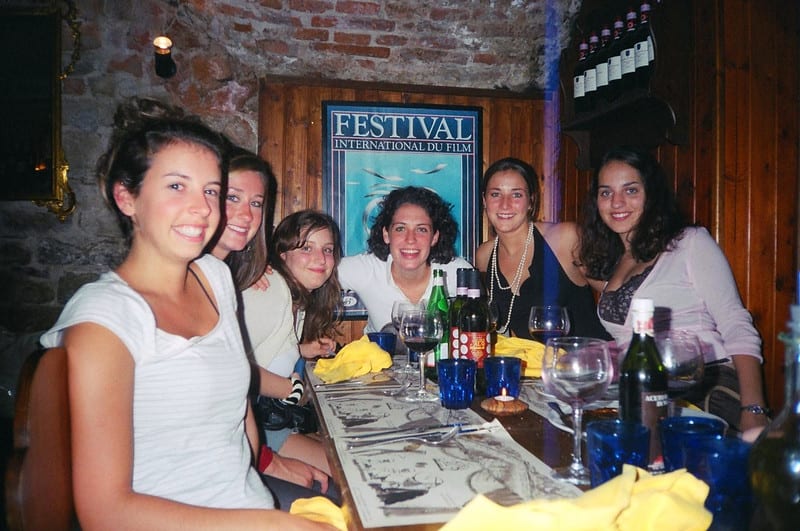 If You Plan to Study Abroad
If you're considering study abroad, or if a loved one of yours is considering it, here's what I recommend:
Know what kind of study abroad experience you want to have. Studying in a popular destination like Florence is very different from studying in a small city with few foreigners or an English-speaking destination where you study alongside locals. There are also big differences between having your own apartment, sharing an apartment with fellow students, living in a dorm-like environment, and staying with a host family, as well as the location of the housing.
Those factors are just as important as the destination you choose. Don't discount them.
Be very cautious about drinking. If you're American and under 21, it's easy to get swept up in the sudden freedom and extensive party opportunities. If everyone around you is partying hard, it's so difficult to avoid it. Please be extra-careful about alcohol. Keep asking yourself, "Do I want to be more out of control than I am now?" and if not, have a water instead of another drink.
Consider taking lighter coursework while abroad. Most of what you learn is going to be outside the classroom. It's worth saving up your electives for when you're abroad. Try to keep Fridays or Mondays free of classes so you can more easily take weekend getaways.
But take courses specific to the destination. Both my class on Italian Baroque Art and my class on the history of Jews in Tuscany were incredibly valuable to learn on-site. My history professor's father was the only Jewish child on the island of Elba during the Holocaust. That added so much to my experience.
Spend time with locals, not just your fellow students. My favorite way to meet locals it to join the local Couchsurfing group and check the calendar for events.
Earn as much money as possible the summer before and be prepared to spend it. For most of you, living abroad will be a once-in-a-lifetime experience, so get ready to enjoy every minute of it.
Did you study abroad? How do you feel about it today?
Get email updates from Kate
Never miss a post. Unsubscribe anytime!