Adventurous Kate contains affiliate links. If you make a purchase through these links, I will earn a commission at no extra cost to you. Thanks!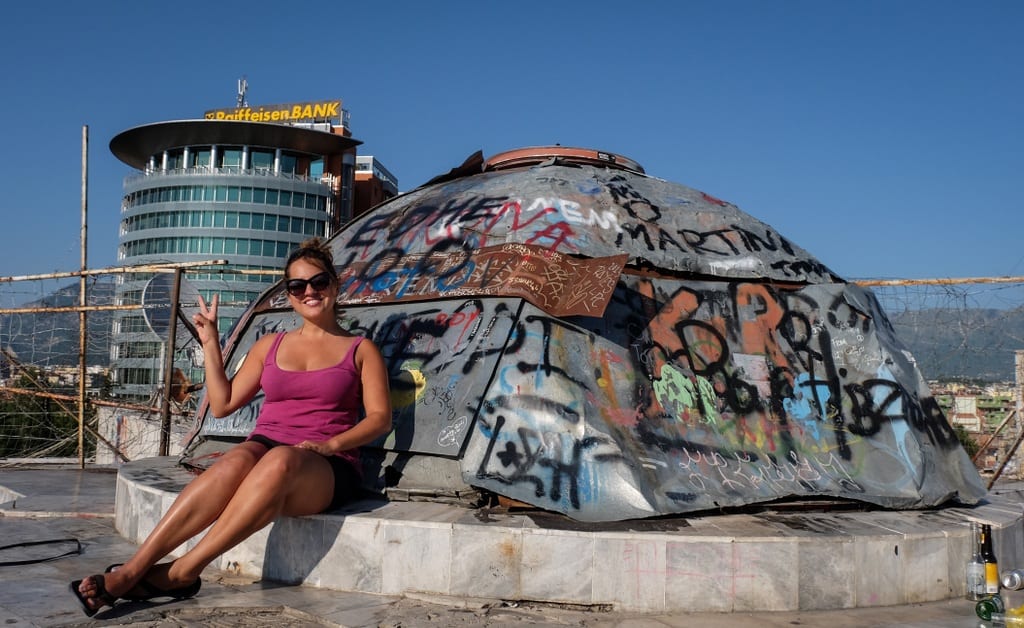 The Balkans are my favorite region in the world. I've now visited four summers in a row: Croatia, Bosnia, and Montenegro in 2012; Macedonia and Kosovo in 2013, Croatia and Slovenia in 2014; and finally Albania, Montenegro, and Serbia in 2015.
Oh, Albania. This country is probably the most interesting place I visited in 2015. And Albania is chock full of my favorite things about the Balkans: astounding natural beauty, a less-developed tourism infrastructure with fewer foreigners, rich UNESCO World Heritage Sites, cheap prices, beautiful mountains, cafe culture, and a wacky capital city.
Tirana was my final destination in Albania, and I wasn't quite as excited for it as I was for Saranda and the Riviera. But that quickly faded away when I realized what a cool place Tirana was! I wouldn't quite call Tirana the weirdest city in the region — that honor belongs to Skopje — but I'll gladly award it second place.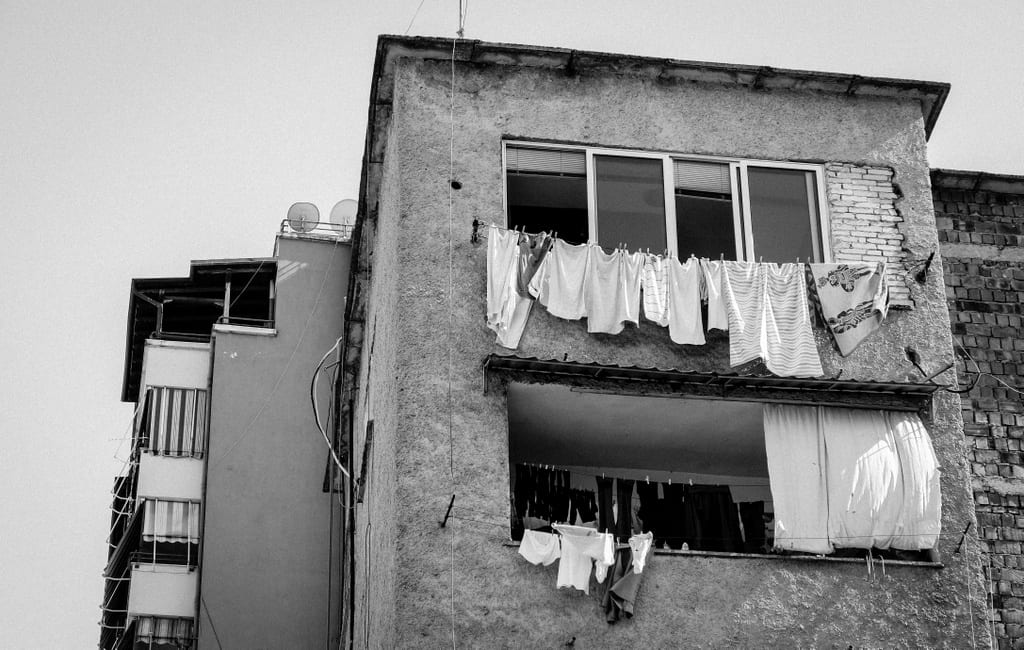 I arrived in Tirana from Berat on an aged bus that seemed to be held together with duct tape and prayers. Dropped off on a random street corner, I hopped into a cab with a driver who spoke about as much English as I spoke Albanian. We communicated entirely in Italian, him pointing out the landmarks as we entered the tree-lined streets of Blloku.
My heart began to beat fast. I had never seen a city like this before — elegant and riotous, drab and rainbow.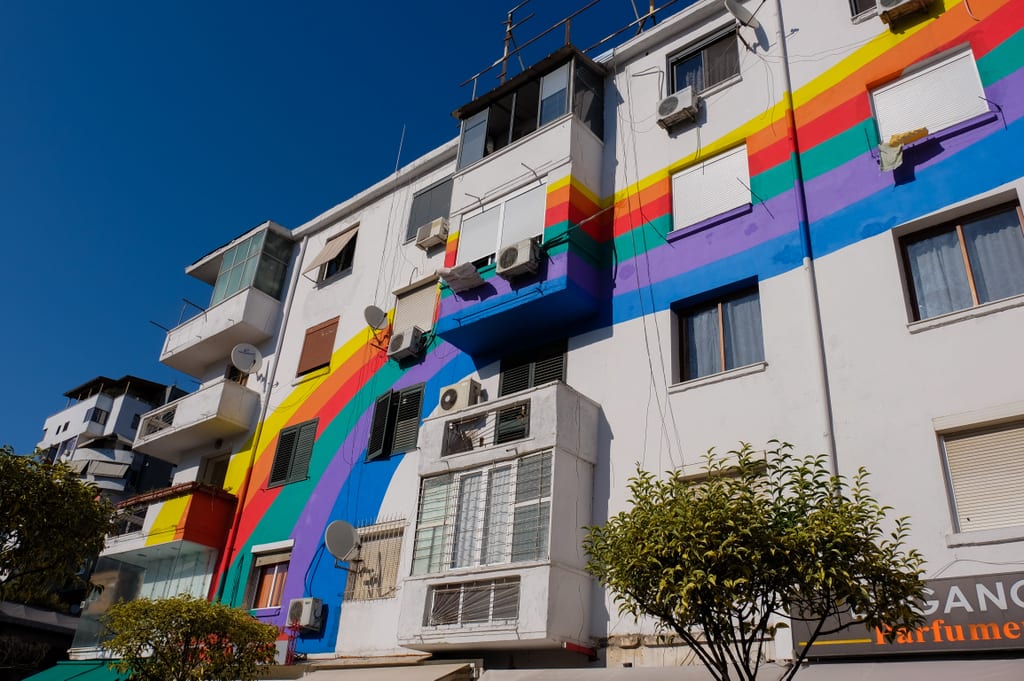 A City in Color
Like many Eastern European cities, Tirana is filled with ugly Communist-era architecture. These buildings are usually eyesores, and while many cities have charming old towns, central Tirana is instead full of cement block structures.
Unlike other Eastern European cities, though, you'll find several of these buildings awash in color. Mayor Edi Rama, who was elected in 2000, began a campaign to bring color to Tirana. Some of the buildings have stripes across them; others are painted bright contrasting colors.
Rama did a TEDx talk about campaign to fill Tirana with color. You can view it here.
For the Love of Blloku
More than anything, it was Tirana's ritziest neighborhood, Blloku, that made me fall in love with the city.
I walked around, whispering to myself, This is Tirana?! Not what I had pictured at all. It looked so…fancy.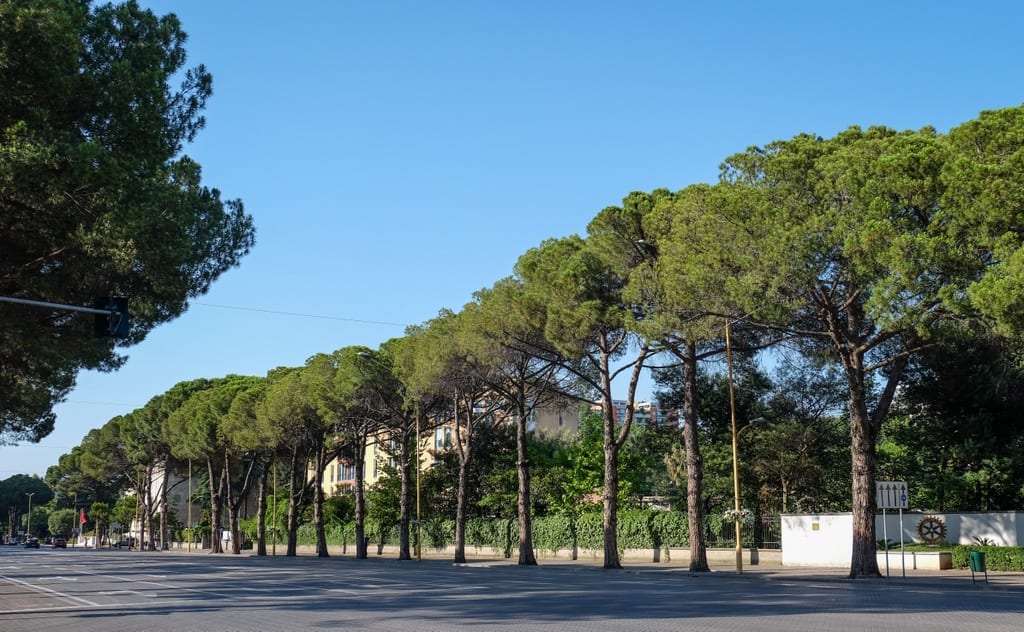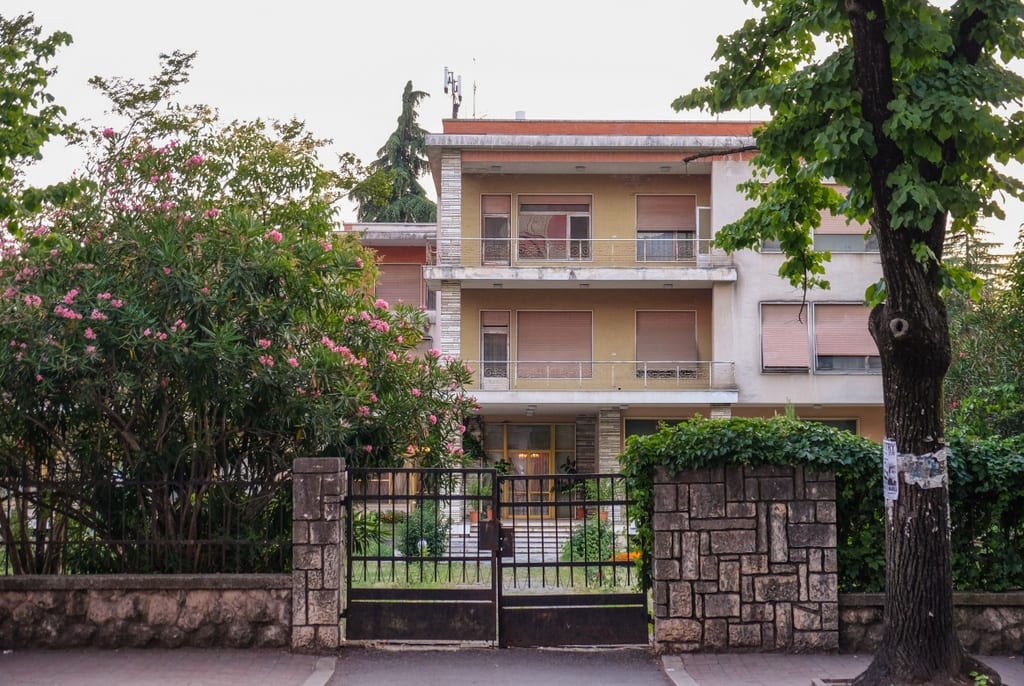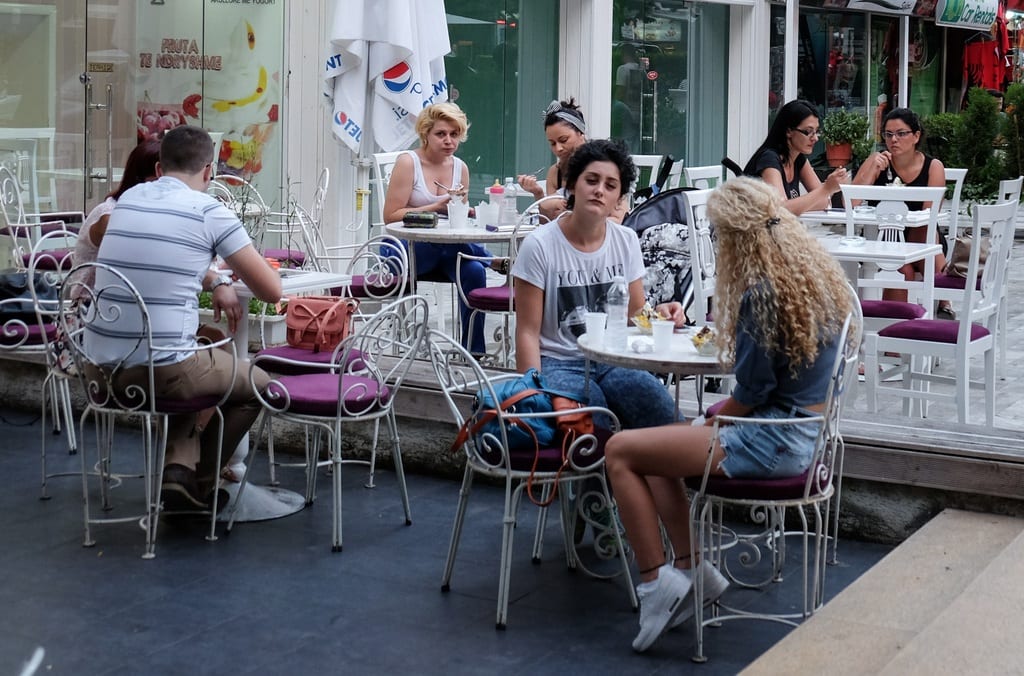 For about 40 years, Blloku was restricted to the political elite of Albania. Ordinary people were not allowed in. When communism fell in 1991, Blloku began its transformation into a neighborhood for all.
Blloku is where you'll find the fanciest bars, restaurants, and cafes in Tirana. And those CAFES! They're piled on top of each other!
You might recall that Albanian food was very hit or miss for me, so I indulged in international food here, especially Italian food. A three-course meal with wine will set you back around $12!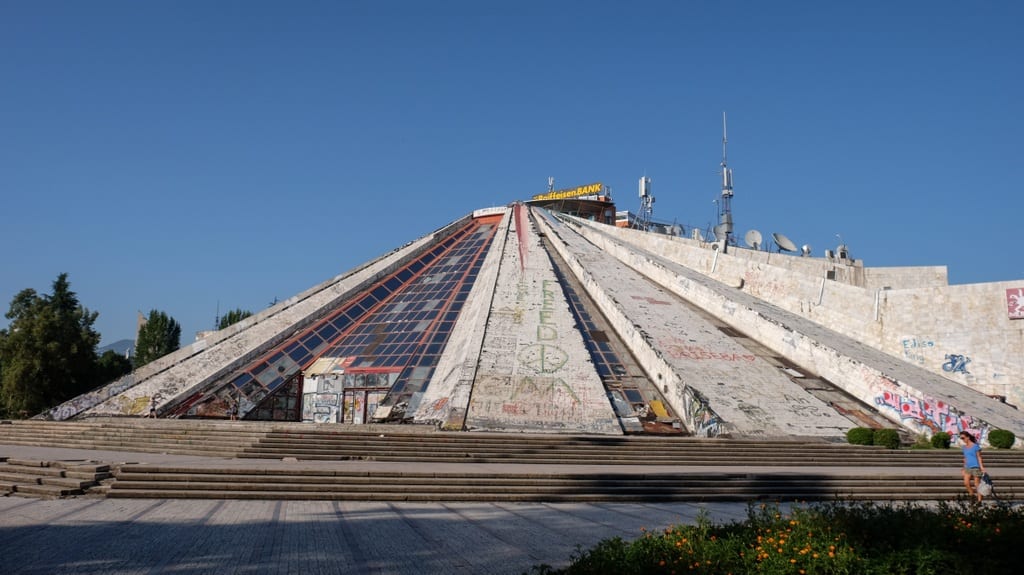 Climbing the Pyramid
In the middle of Tirana sits an enormous derelict pyramid. It was originally constructed in 1988 as a museum to honor dictator Enver Hoxha; by 1991, it had become a conference center, then it became a NATO command center during the war in Kosovo.
Today, it's mostly abandoned, looking like something out of a horror movie.
And it begs to be climbed.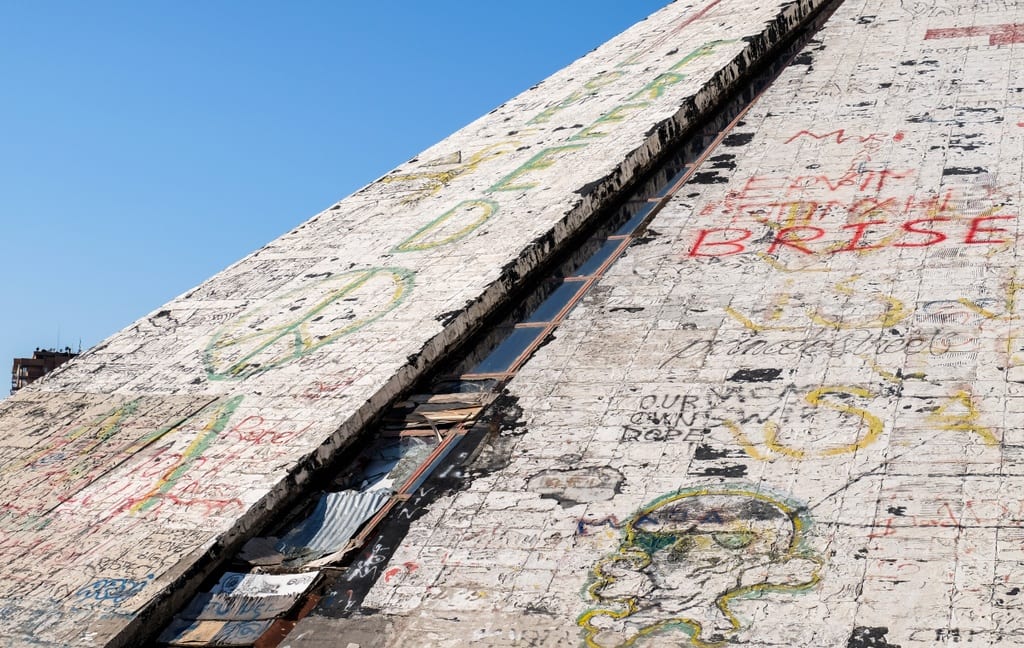 So I did just that.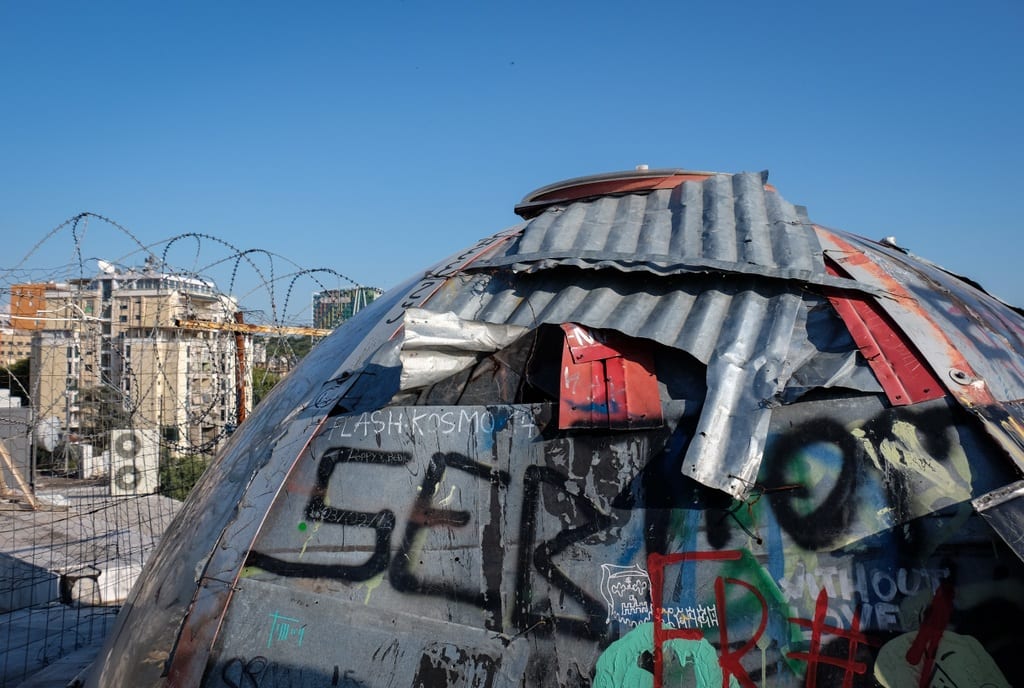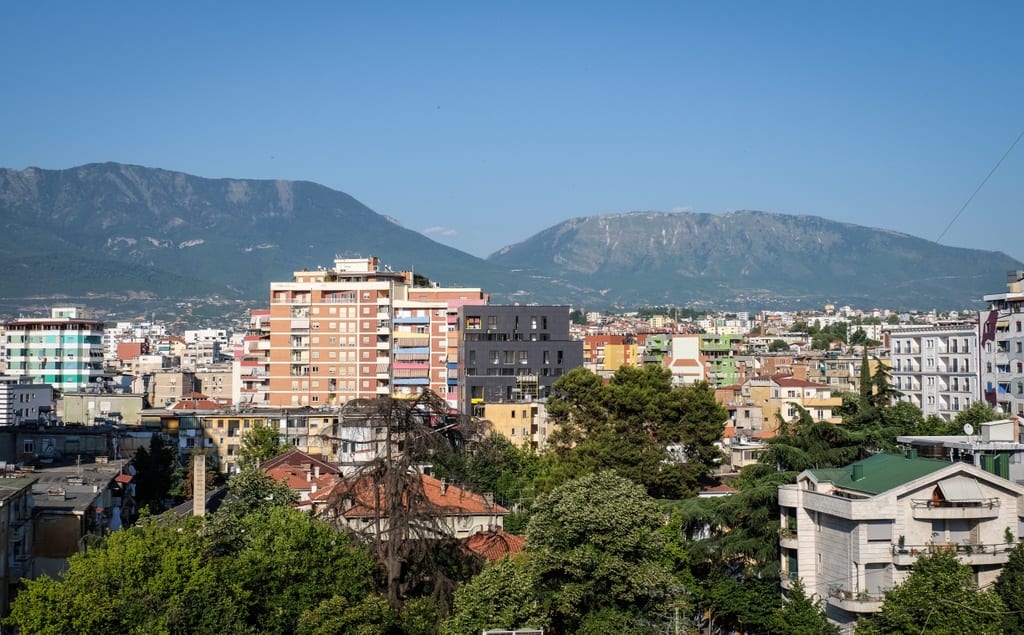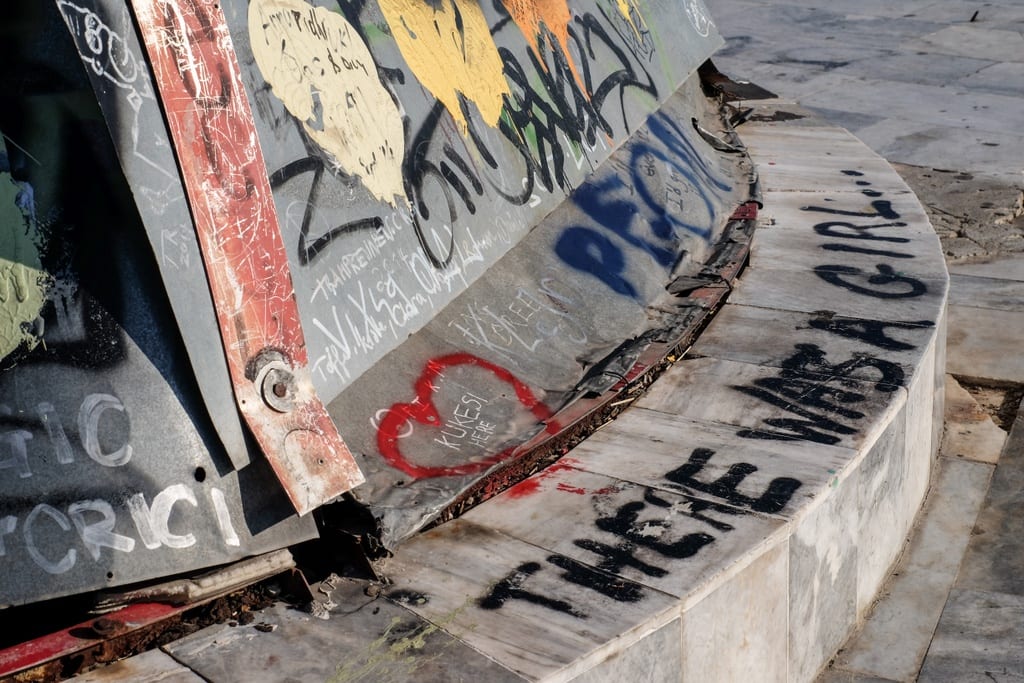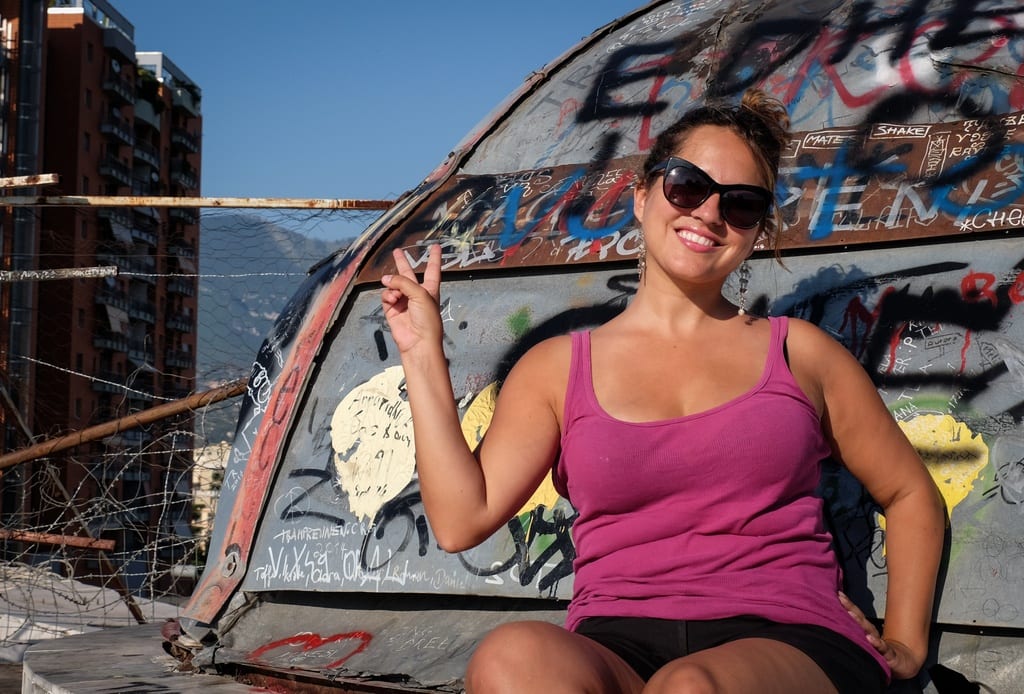 I think climbing the pyramid was my favorite experience in Tirana! More than anything, it represented the city's beauty and weird factor.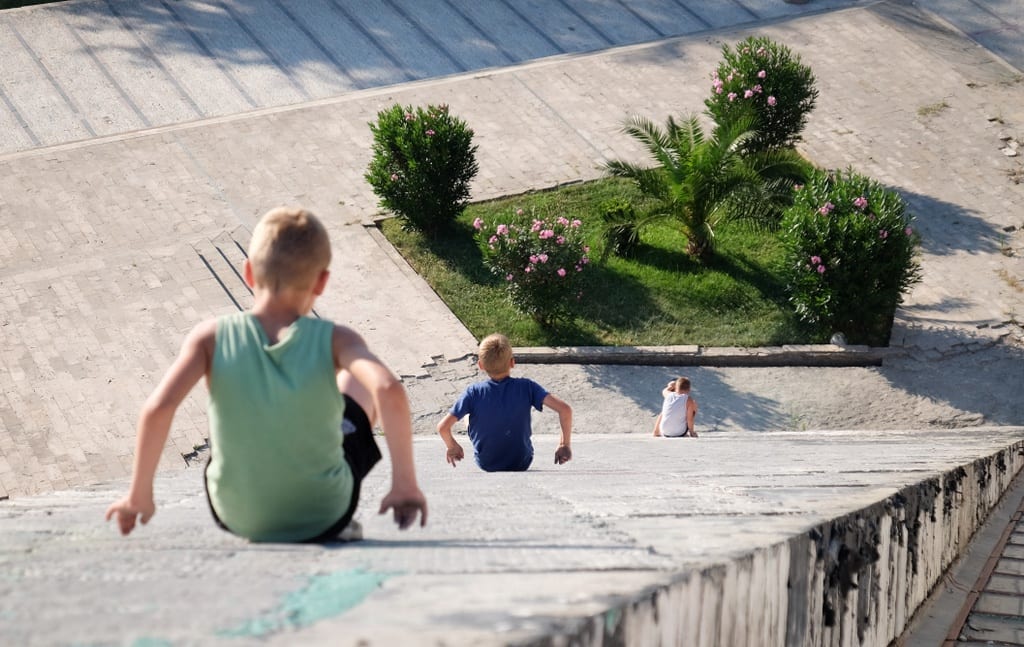 Local kids climbed and slid, climbed and slid. (My friend Erisa, a Tirana native, later told me that she used to do this as a kid as well, sliding down on cardboard!)
If you're interested in climbing the pyramid, I have some advice:
1. Be okay with making a fool of yourself. Locals see this as an activity for kids; only occasional tourists join in.
2. Wear decent shoes. I wore flip flops and was sweating so much my feet kept sliding out of them as I neared the top.
3. Wear sunscreen. There is no protection from the sun up there.
4. Prepare to slide down on your butt. Unlike the kids, it took me about 15 minutes. I could have torn up my shorts if I hadn't been so careful.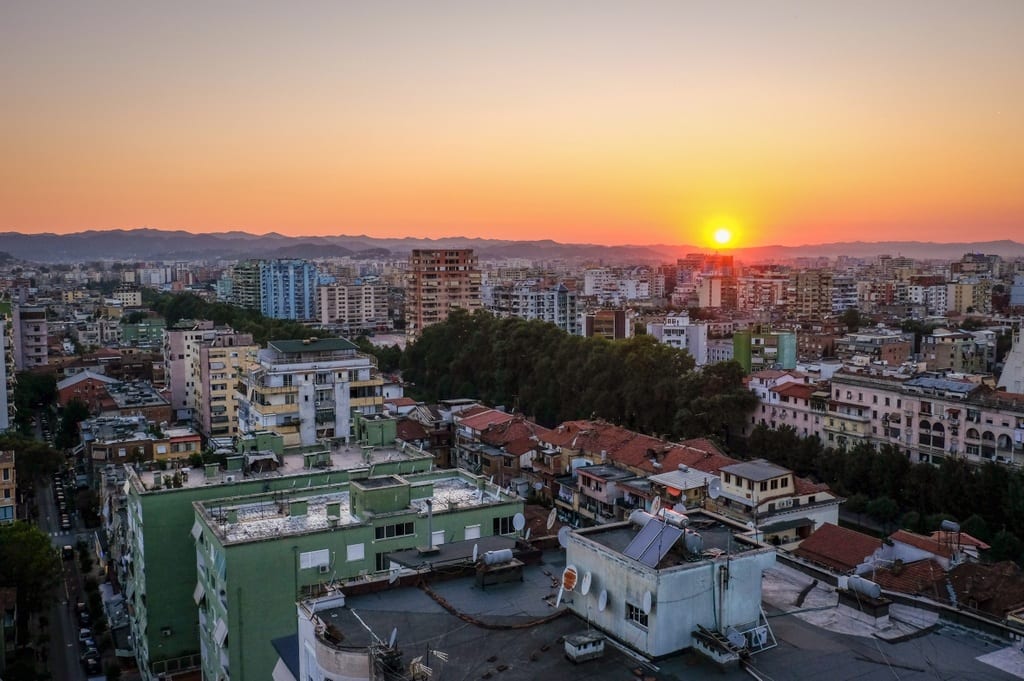 Sunset Cocktails
In most places I visit, I like to climb a tall building to look over the landscape. One of the tallest building in Tirana, the Sky Tower, is home to the Panoramic Bar and Restaurant on top.
I'll let the sunset views speak for themselves.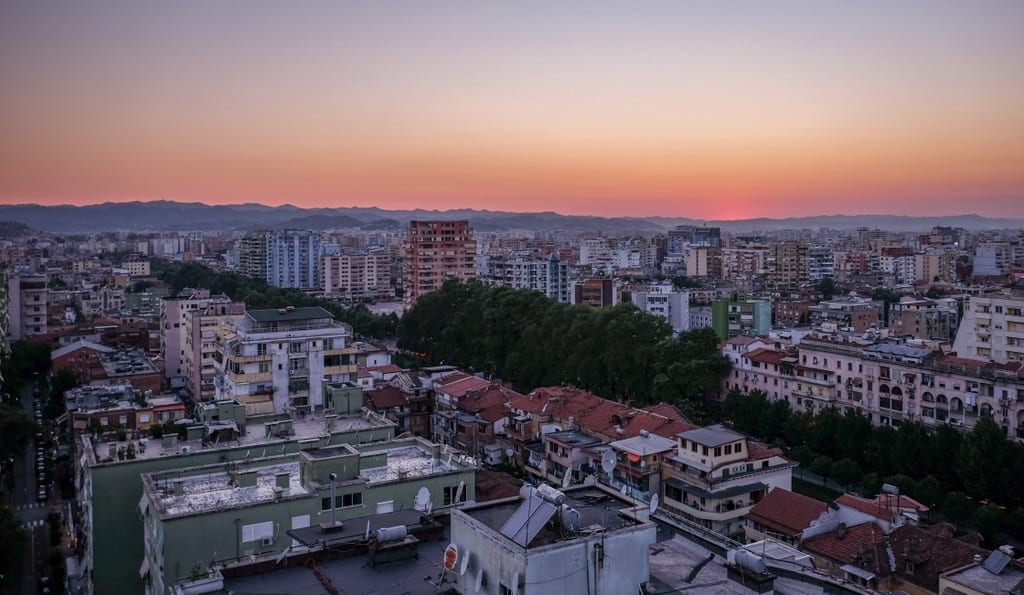 I had a glass of prosecco, of course. You all know why! The cost? 350 lek. That's a mere $2.83.
I so love this country.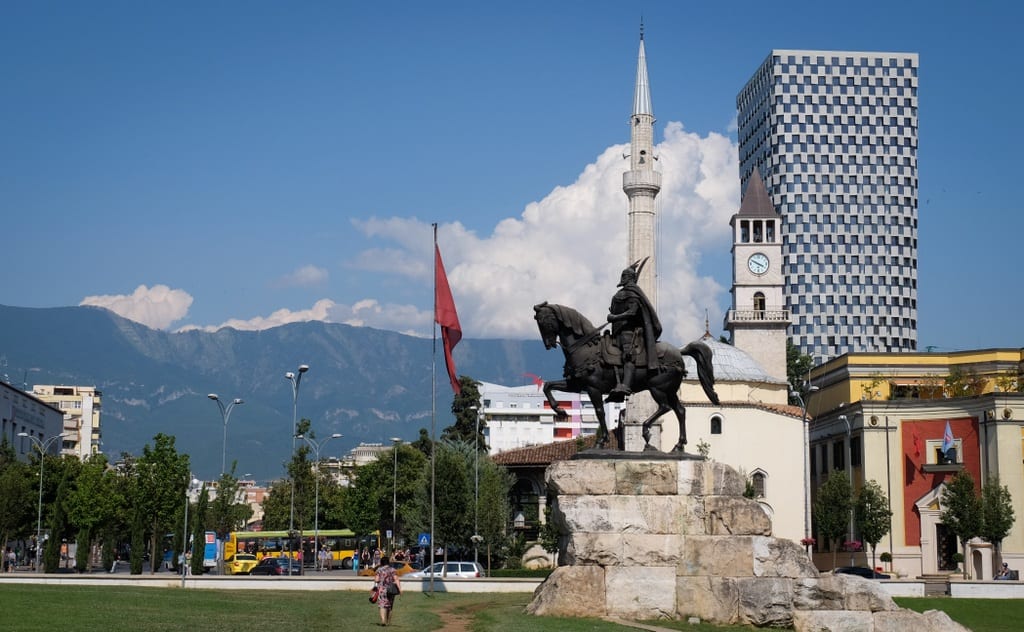 Shopping Galore
I'm usually not much of a shopper, but I went absolutely crazy in Albania. First of all, everything was so cute and cheap and funky. Secondly, I was about to attend a music festival for the first time ever and had NOTHING TO WEAR.
Balkan women tend to be very thin, so keep that in mind while shopping. Sizes above 10 more or less do not exist, and sometimes you'll struggle to find anything larger than an 8.
Some of the items I bought included: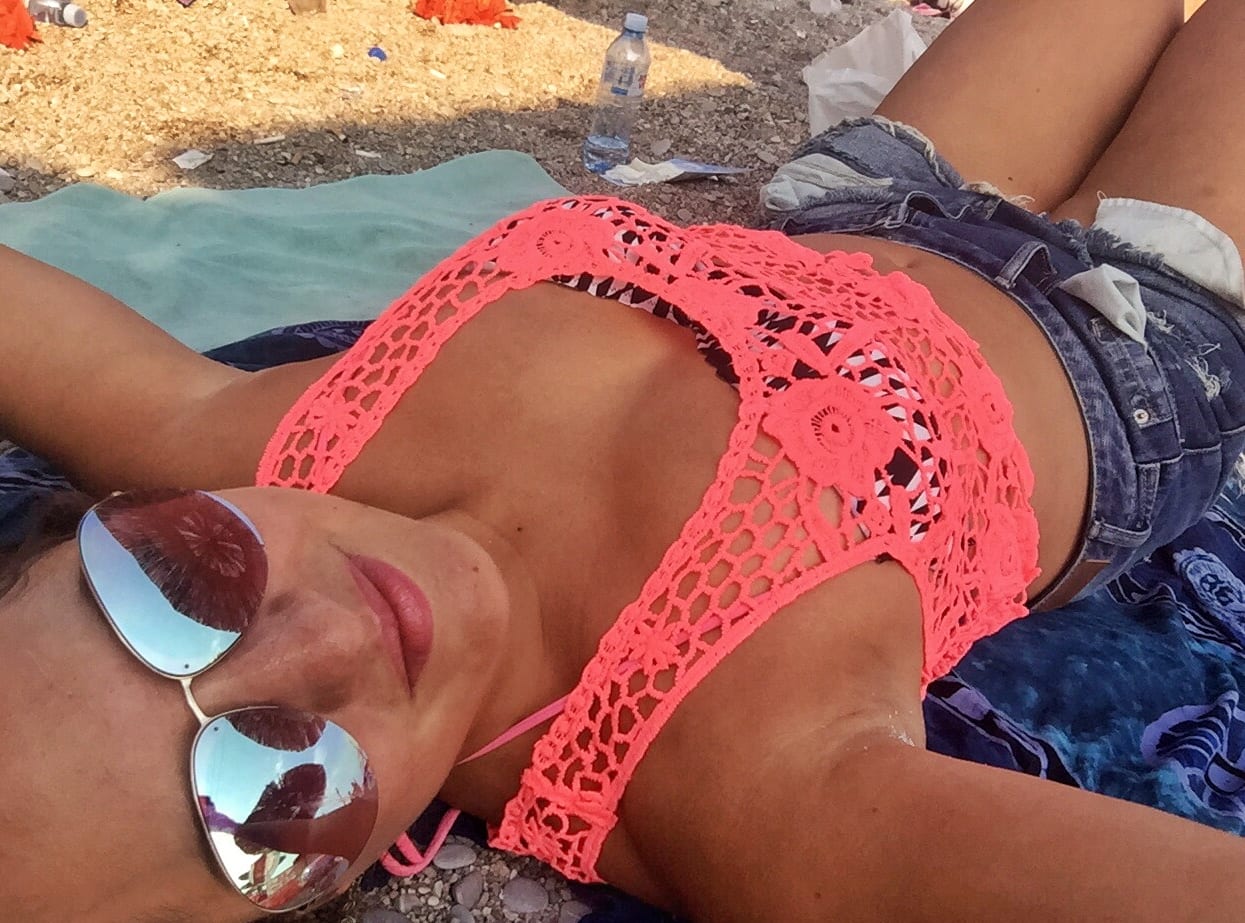 How festival-y is this outfit? I basically lived in this at Sea Dance in Montenegro.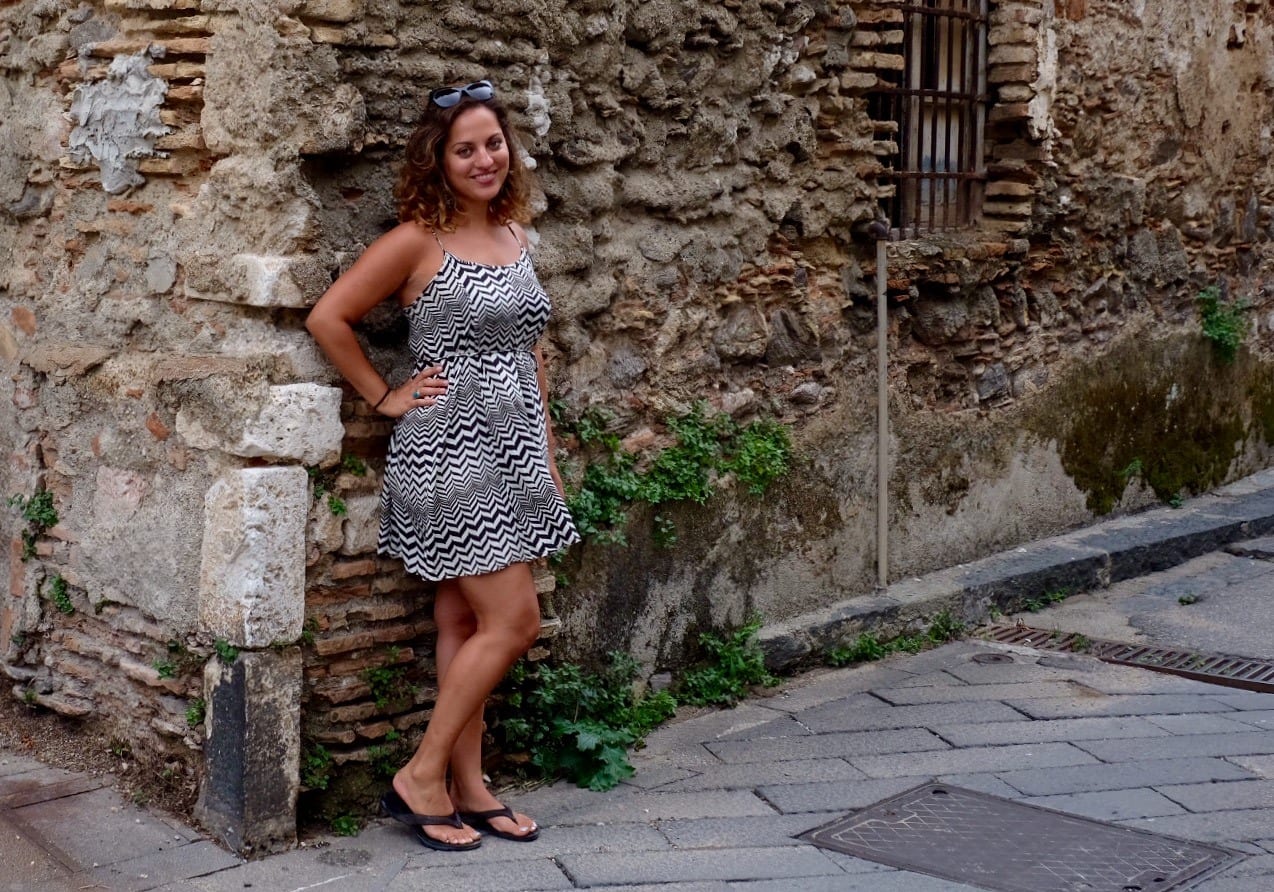 This dress, worn in Sicily, is now referred to as my Albania Dress. It works just as well with leggings, boots, and a blazer as it does with flip-flops.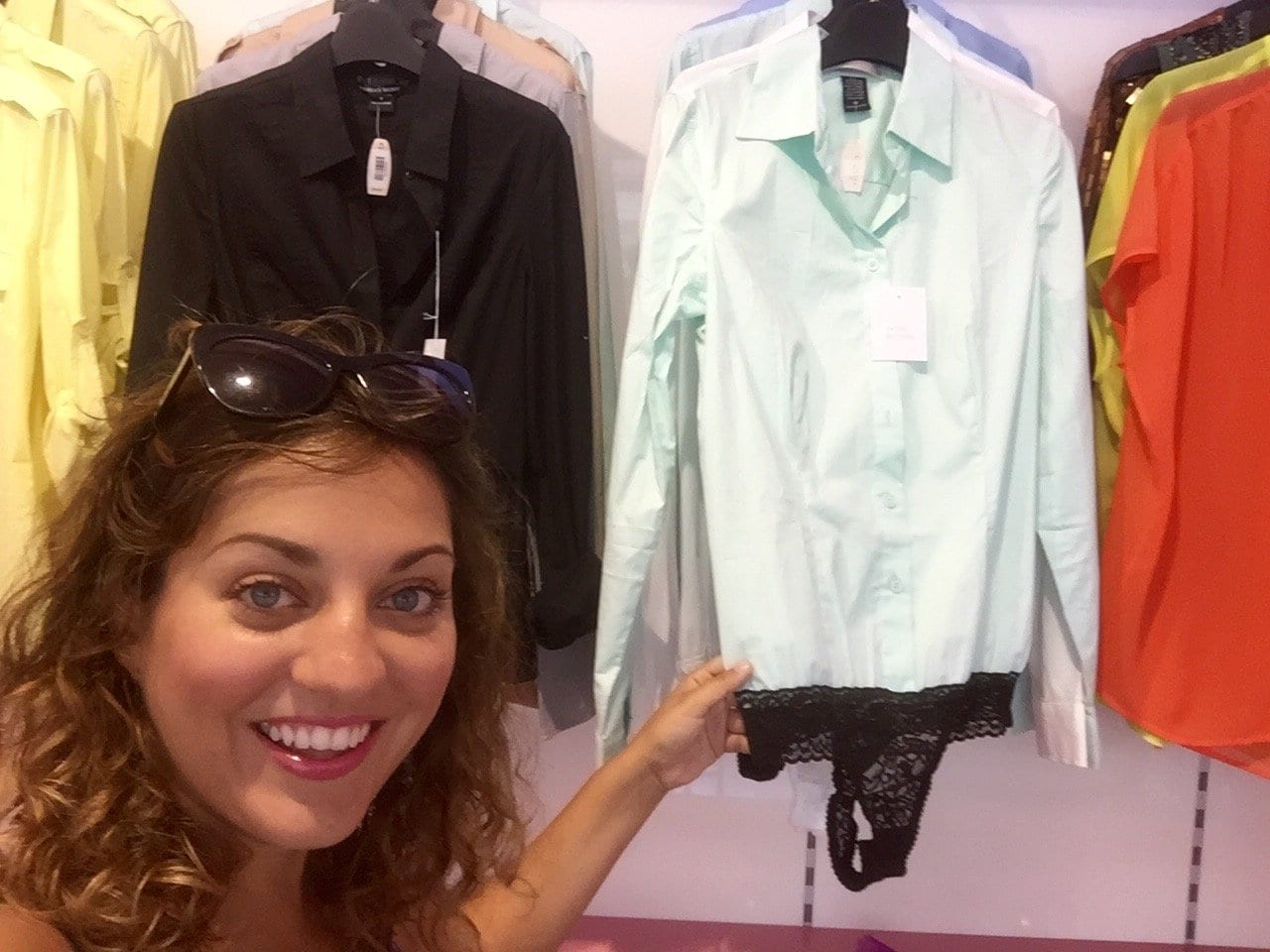 This I definitely did not buy — a business shirt attached to a lacy thong! (I thought this was hilarious. It was one of the most popular photos I shared on Facebook all summer.)
But seriously, the Albanian version of Victoria's Secret is insane. It's basically all of the brightest, wildest, trashiest lingerie that they couldn't sell elsewhere. I had to buy myself a crazy bra — a melange of neon purple satin and black lace, with the power to push your boobs up into the stratosphere.
Best souvenir ever.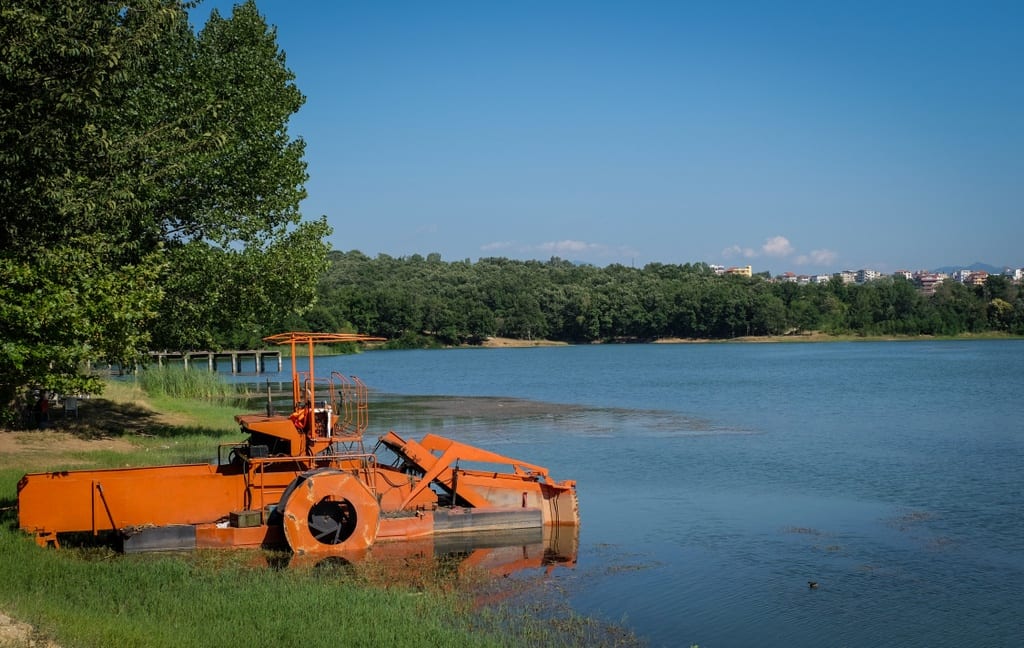 Endless Quirks
It seemed like everywhere I turned in Tirana, I would find something that made me smile.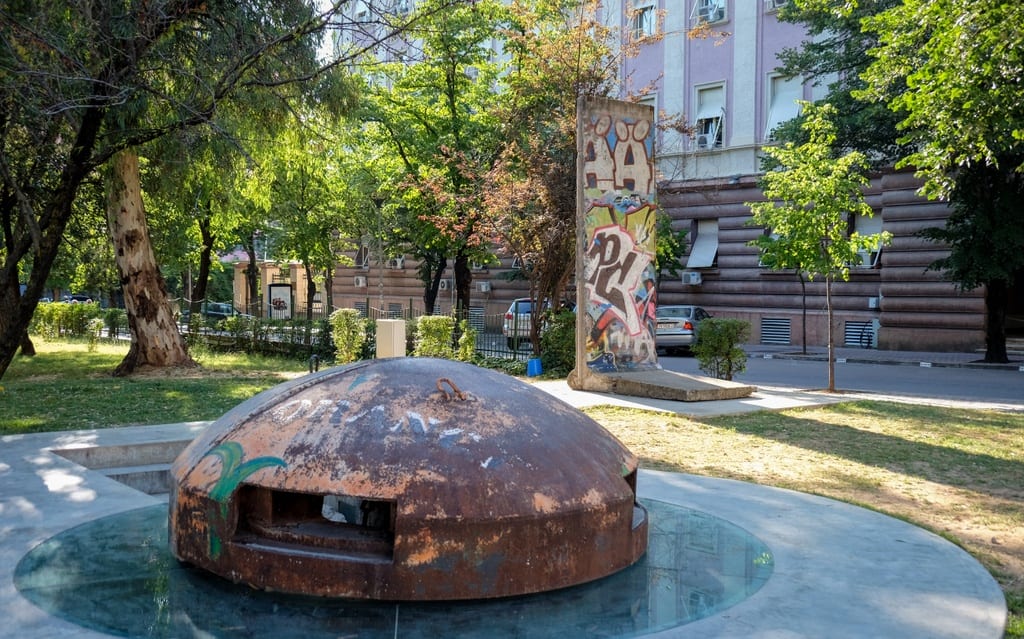 There was a bunker on display in central Blloku. (There are thousands of these spaceship-like structures dotting the Albanian countryside.) Behind it is a chunk of the Berlin Wall.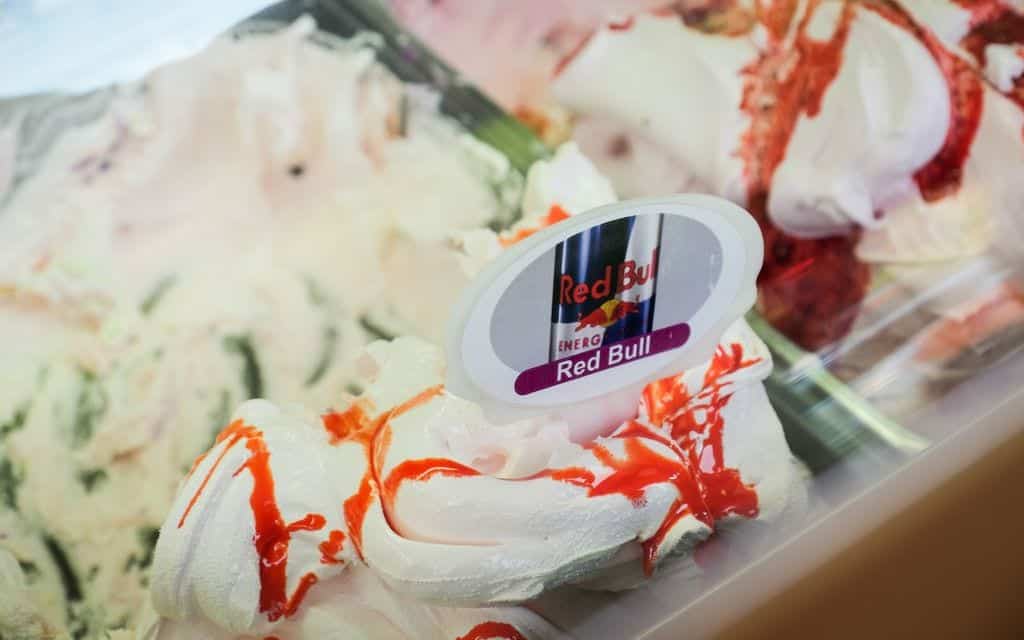 Red Bull-flavored ice cream. Be still, my heart.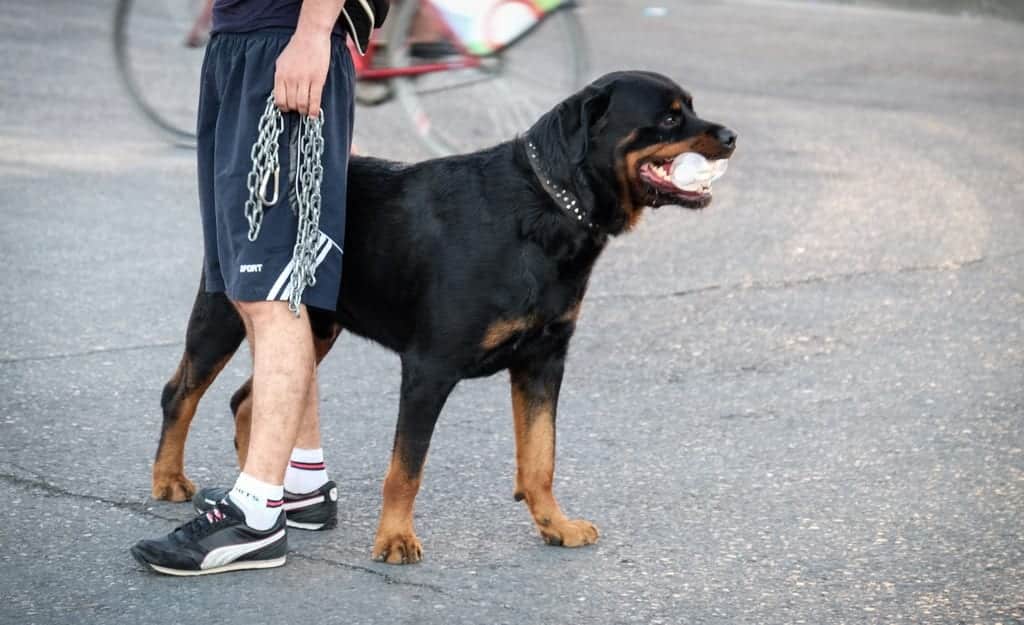 A Rottweiler roughly the size of a horse.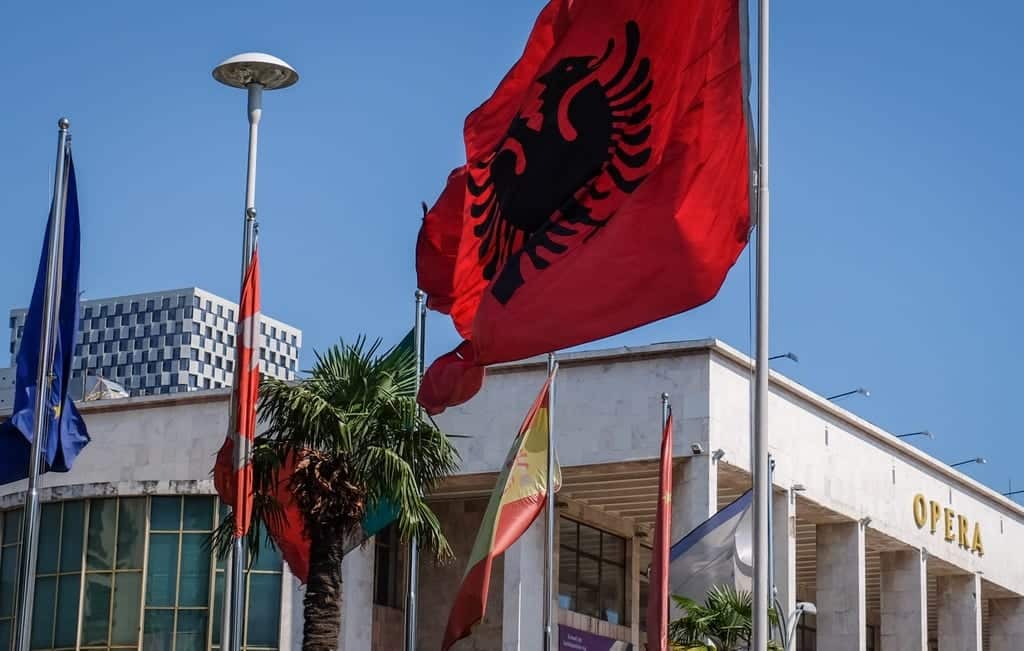 And, of course, the blood-red Albanian flag proudly displayed everywhere.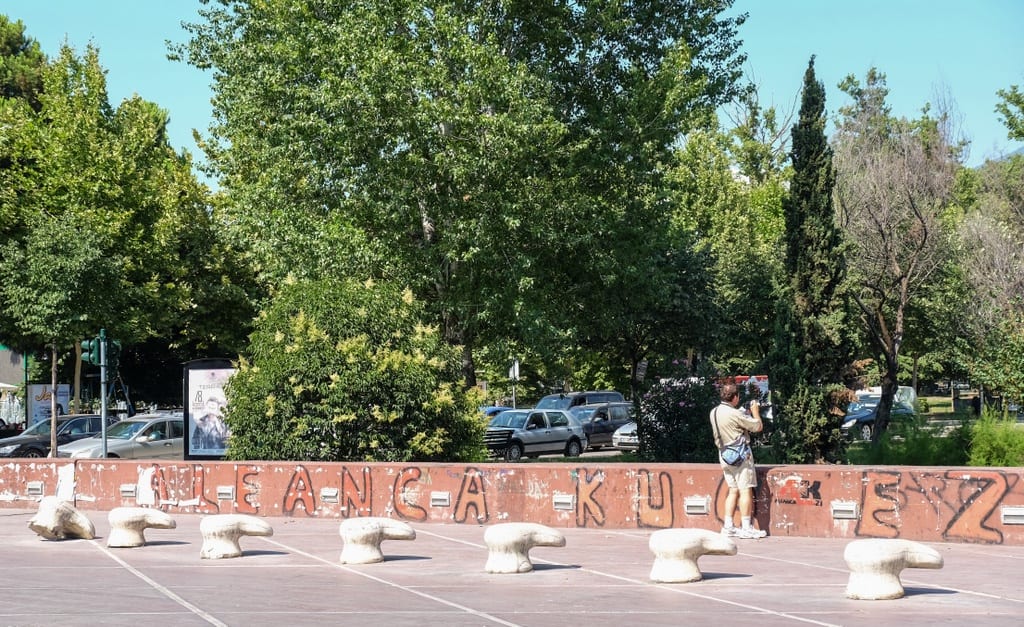 The Takeaway
I really want to return to Tirana! Albania is such a cool emerging country, and still feel like I've only scratched the surface.
While at the rooftop bar, I chatted with a few Swiss girls who were in Tirana for their second trip. Like me, they had come on a whim and had been unexpectedly blown away. I feel that other frequent travelers would feel the same way.
When I return, one other aspect of Tirana that I want to explore more is the nightlife. I only saw a tiny part of the scene, and I can tell there is a lot more to discover.
Essential Info: I stayed at Propaganda Hostel, which is ideally located in the Blloku neighborhood. I had a private ensuite room for 25 euros ($28) per night. (Some places in Albania charge in euros instead of lek, but you can usually pay in lek.) This was a terrific hostel and I recommend it, especially for its location. That weird Victoria's Secret is on the block.

You can find more hotels in Tirana here.

For shopping, I recommend perusing the streets of Blloku and the TEG mall just outside the city. (Take a cab from anywhere or a bus from the Skanderbeg Square, the central square in Tirana.)

Tirana is one of few world capitals without a central bus station. Plan on getting dropped off on a random street corner and grabbing a cab! If departing by bus, ask your accommodation where and when to get a bus to your next destination.

If you're coming to or from Montenegro, I highly recommend the Montenegro Hostel shuttle which runs back and forth between Tirana and Kotor, Budva, and Podgorica. It cost me 40 euros ($45) for a one-way ride to Budva and took five hours. It was a comfortable, air-conditioned journey and I highly recommend it, as the alternative is taking several public buses of dubious quality. They also stop for a photo op at beautiful Sveti Stefan.
What's your favorite weird city?
Get email updates from Kate
Never miss a post. Unsubscribe anytime!