Adventurous Kate contains affiliate links. If you make a purchase through these links, I will earn a commission at no extra cost to you. Thanks!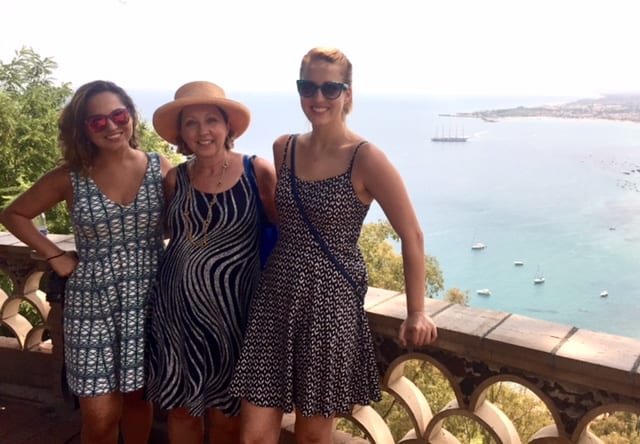 In late July, two special ladies ratlew across the Atlantic to Latvia. For the first time in my nearly five years of travel, family members were coming to travel with me. My mother, Debbie, and my sister, Sarah.
Wait? When did you mention a big family trip?!
I didn't mention it, actually. My mom is conservative when it comes to social media and didn't want to broadcast to the world that she was away from her house, even though she had a house sitter. So I wrote about this trip, but didn't talk about the family aspect until now.
You see, this year, my mom hit a milestone birthday. She is an avid genealogist and she loves to travel, so I suggested that we celebrate with a genealogy trip visiting the places our family comes from: Latvia, Sicily, and Scotland.
She loved the idea. We quickly put it into motion, organizing a trip that would challenge us, entertain us, and move us deeply. We were going to find our roots.
Here's how it went down.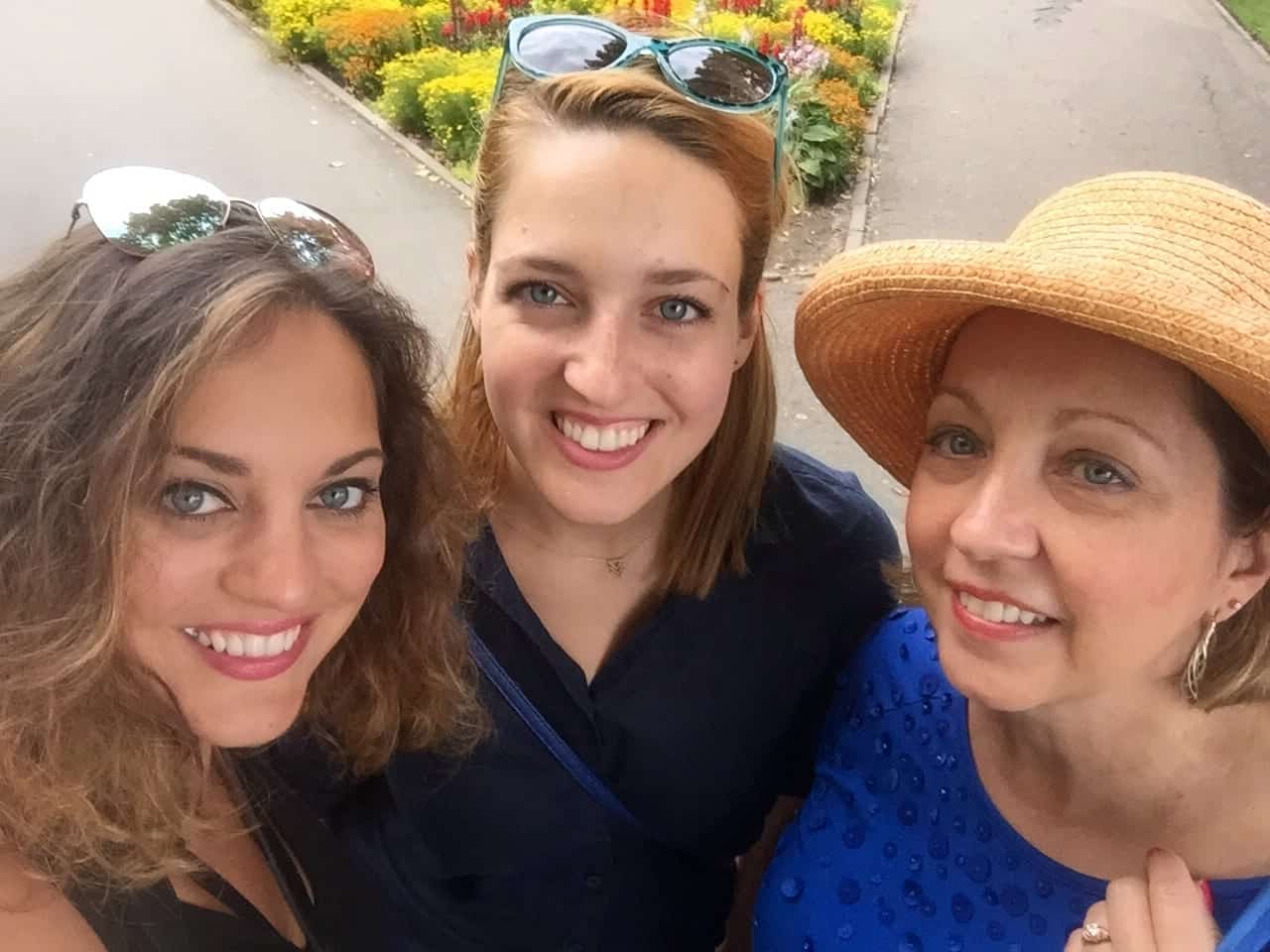 Part One: Latvia
We kicked off our trip with a few days in Riga (Mom having arrived lugging lingonberry jam from Oslo airport). My mother's paternal grandfather immigrated from the city as a child and it's always been one of the more mysterious sides of our ancestry.
While unfortunately my mom couldn't get into the national archives to research on her own (they were closed with summer hours), she did get contacts who would be able to research for her in the future. Instead of researching, we spent our time exploring the city and getting to know Latvian history and culture.
Our first discovery? We knew that our relatives were German Latvians, and we learned that German Latvians were the educated elites of Riga, yet faced a lot of persecution and it was hard for them to find work. Our relatives left in the early 1900s, probably so they could use their education freely; many more left during World War II, for obvious reasons.
Second, we were all surprised to learn how Latvian my blonde sister looks! People would speak Latvian to her first, but they wouldn't to me and my mom. It was nice to know that those Latvian genes presented so strongly in one of us.
Part Two: Sicily
Sicily was where we had the highest stakes. My mother's maternal grandfather immigrated from Sicily in 1899 and though she has a varied ethnic background, Sicilian is the dominant culture in her family (think food, religion, language, etc.).
And Sicily is wild. I'll be going into it in more detail in a later post, but it is the single most challenging destination I've faced in years. Despite spending so much time in Italy and speaking Italian, I struggled to get by, to understand and be understood. We all did! And let's not get started on the driving.
The most moving part was visiting Castanea delle Furie, my great-grandfather's village. It took a long, curving drive up a mountain to get there and we promptly learned how tiny a place is (and how much tinier it must have been in 1899). Exactly one business in town: a cafe. That was it.
We had information on relative names and we tried to follow a trail. Let's just say that involved knocking on a door where a naked dude answered; interrupting the town priest's dinner; me attempting to speak Italian to lots of little old men, them only speaking Sicilian dialect, and neither of us understanding each other; and trying to glean what little information we could.
Our great-grandfather left Sicily for America on his own when he was eleven years old. After seeing Castanea and what a small place it is, we now believe that he ran away. (It especially gives context for the fact that his family eventually came to America to see him, cleaned out his bank account, and went back to Sicily. What awful people. Our great-grandfather stayed in Boston and became a barber.)
After five days in Sicily, Sarah had to fly back to New York and Mom and I moved to Avola, a beach city in southeast Sicily where I'm fairly certain we were the only foreigners. Our Sicilian family research ended there, but we had some fun days exploring Siracusa and Ragusa and relaxing on the beach.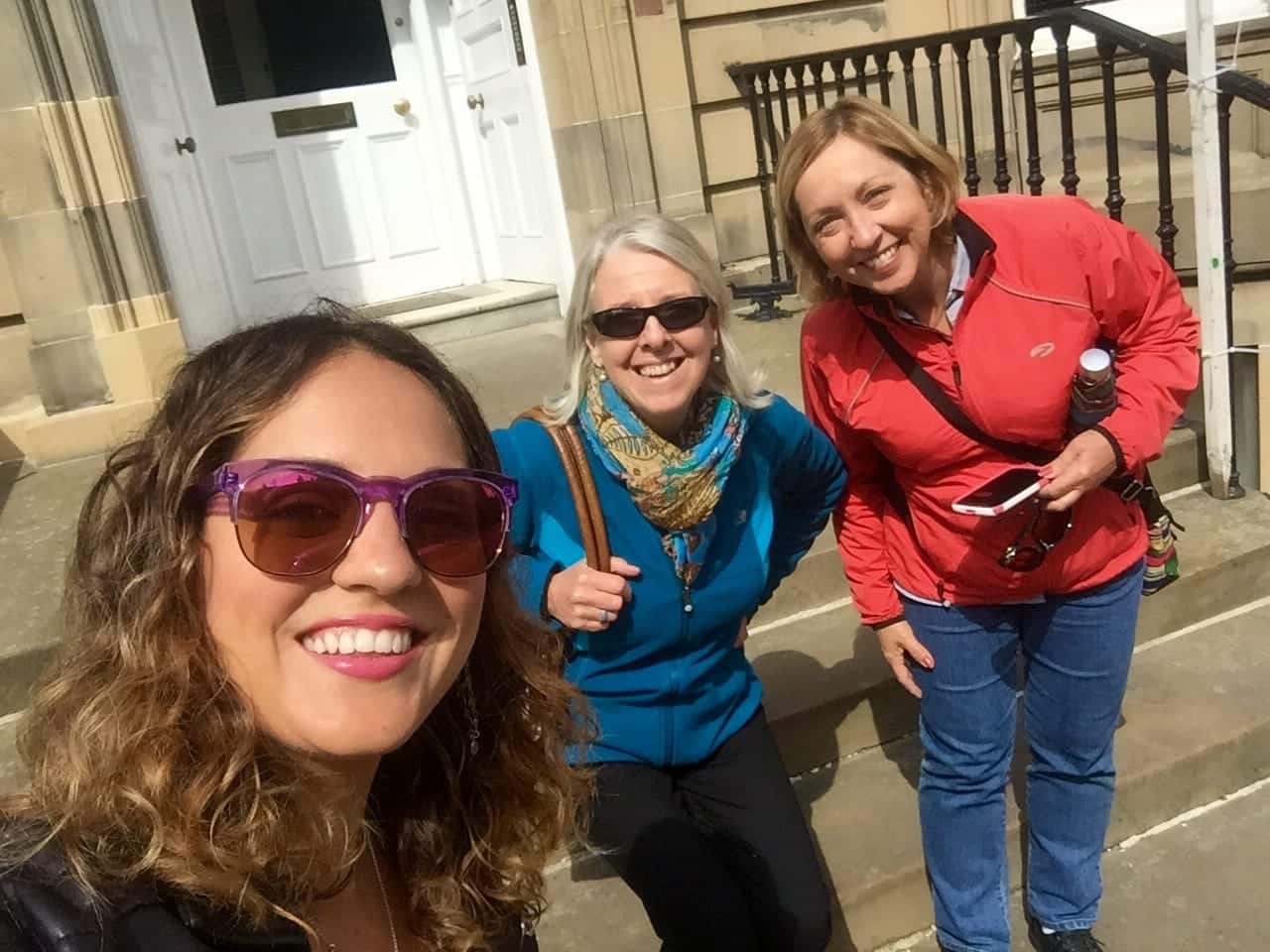 Part Three: Scotland
You may remember a few years ago that I rekindled a travel friendship between my mother and her friend Sandra, who lives in Edinburgh. This time we went to stay with Sandra — it was the first time they had seen each other since they met!
Edinburgh wasn't a major destination for family history — my mom did some research at the National Archives, where she learned that a date had been typed incorrectly into online records. Other than that, it was all about the Fringe Festival. We strolled the city and saw a handful of great shows (and in my case, one godawful show).
I knew my mom would love Edinburgh, and it was clear that this was her favorite place. She can't wait to come back and see more of Scotland!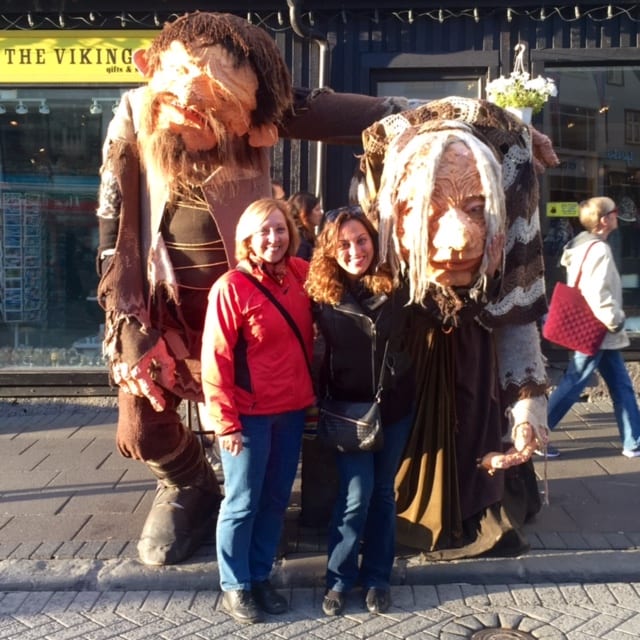 Coda: Iceland
With super-cheap flights from Iceland to Boston on the new-ish airline WOW Air, as well as a cheap Easyjet flight from Edinburgh to Reykjavik, we decided to finish our trip with a few days in Iceland, despite our lack of roots there.
By this point of the trip, both my mom and I were very tired. (Mom: "I don't know how you do this all the time." Me: "Me neither.") We thus spent most of our time in Iceland walking around, shopping, and eating good seafood. We also did a day trip to the Golden Circle, which was new to me as well as her. (And of course we picked the express tour, not the regular tour!)
We finished with a soak in the Blue Lagoon before flying back home.
(Oh, and as soon as we got home, our first stop was Bianchi's pizza on Revere Beach, one of my favorite pizza places on the planet. Perfect way to come home!)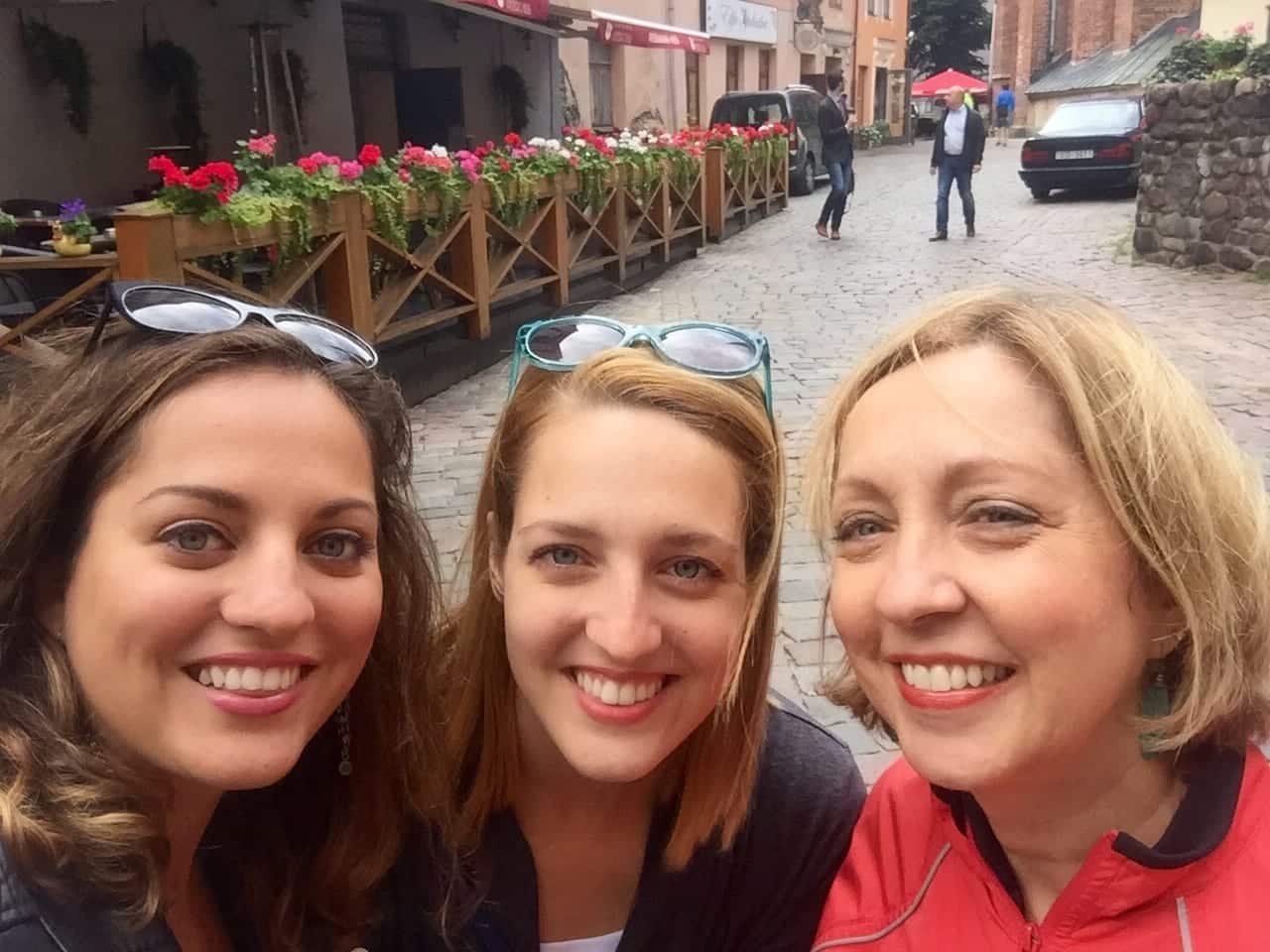 Our Family History Takeaways
Even though we didn't get to meet up with long-lost relatives or solve impossible-seeming mysteries, we got so much out of this trip. Before we arrived in Riga, I feel like we had no idea what it meant to be Latvian, but as we soaked up the history, culture and food, I felt like we got closer.
"I feel bad for my [Latvian] grandfather," my mom said as we dug into our dishes at Folkklubs. "He was used to eating like this…and then he married my grandmother, who was a terrible cook."
Later on, in Sicily, as we sat down to a dish of Siracusa-style tuna with tomatoes and onions: "This tastes just like my [Sicilian] grandfather's cooking!" she exclaimed.
After I shared my Sicilian great-grandfather's story of jumping on a boat to America at age 11, several people said, "So that's where you get it!" I never thought of it like that. He was quite an adventurer.
Moments like that happened throughout our trip.
As for Scotland, no stones were newly unturned for me, though Mom noticed striking similarities between some of her Scottish cousins and the Scottish populations. (I did, however, feel a powerful connection when learning about the dark history of the Scottish Highlands a few years ago. Our family comes from there and the Isle of Skye, not Edinburgh.)
And speaking of stones, Mom brought three stones from her garden in Massachusetts. She traded them for one each from Latvia, Sicily, and Scotland.
Our favorite places that we visited as a family?
Riga was amazing. Riga turned out to be a surprisingly cool city with great people, fun nightlife, and far better food than we imagined.
Aci Trezza was off the beaten path and glorious. This tiny seaside town didn't have much to do except relaxing in a beach club, eating granita, swimming in the Med, gazing at the rock formations, and drinking champagne.
Mount Etna was the coolest tour we did. From the lava tubes to climbing the edge to seeing the most beautiful sunset while drinking wine made from Etna grapes, it gave us so much respect for Sicily's wild landscape.
Siracusa was the visual stunner. I was madly in love with the decaying beauty of Ortigia Island, its old town; Mom was captivated as well.
Edinburgh was pure magic, with or without the Fringe. I have so much love for that city that it's hard to describe it. It's just pure happiness overflowing in every direction.
Quick hits: Riga had the best food (I know, we're shocked too). Iceland had the best fish. Scotland had the best beer. Avola had the best wine (the famed Nero d'Avola). The most special place we stayed was Agriturismo La Rocca della Rosa in Zafferana Etnea. Edinburgh had the best weather (another shock). The Golden Circle had the best scenery. Avola had the best beach but Aci Trezza had the best water. Taormina had the best views.
How to Survive Adult Family Travel
Traveling long-term with your family as an adult? It's a meaningful experience and I highly recommend it, but it also requires extra finesse, particularly if you're traveling with a mix of more-experienced and less-experienced travelers.
Here's what I recommend you do:
Discuss your expectations in advance.
How do you see yourselves spending your days? How much money can you afford to spend? What are your must-do activities? What kind of accommodation do you want? If you're renting a car, who will be doing the driving?
Hash this all out in advance so people don't get disappointed.
Let the more experienced traveler take the lead.
If one of you is a more experienced traveler, that person will probably be the most skilled at booking the flights and accommodation. Not only will that person know how to find the best deals (and quickly), he or she may be able to point out things the less-frequent travelers wouldn't notice, like that you'd need to spend more on a taxi if you got a cheaper but late-arriving flight, or that the cool hotel with the pool would be too far to walk to the city center.
One example: when looking for a second place to stay in Sicily, I suggested someplace modern in a city as a contrast to our agriturismo. My mom was hesitant, as she adored our agriturismo, but after five days of the rustic life, I knew she, like me, would be eager for air conditioning and restaurants within walking distance.
If you're the experienced traveler, don't get too cocky.
Just because you're experienced, it doesn't mean you know everything about everywhere. Pipe down. And yes, this is advice that I would retroactively give myself.
Have each person choose a special event or activity.
For my sister, it was finding cool places to eat and drink in Riga (and she found the best!). For my mom, it was spending time in Castanea delle Furie and talking to the residents. For me, it was having a nice birthday in Riga with a photo walk, cocktails, wine, and Magic Mike XXL.
Get separate rooms.
Trust me on this one. Double up for a few days if it makes sense financially, but have separate rooms for most of your trip. It's nice to have a place where you can have privacy and it's especially important if one of you snores or sleep-screams.
Add downtime to your itinerary.
I know how tempting it is to have something scheduled for every day so that you see as much as possible, but believe me, it's important to have quiet days as well. You'll be tired at times, and if weather or travel plans get messed up, you'll have a backup time.
Some of my favorite days were our downtime days, like the day we spent chilling out at Aci Trezza.
Yes, you will be stressed at times. Prepare for it.
We traveled together for THREE WEEKS. If we had made it through those three weeks without any friction, it would have been a miracle! (In retrospect, my mom and I agree that three weeks was too long. Two would have been better.)
My sister and I are both very much introverts, a contrast from our mother, a teacher and extravert. That made us handle situations differently and it was smart to be sensitive to each other's needs.
Here's an example: driving in Sicily, more than anything else, was extremely stressful for all three of us. My mom was the driver, I was the navigator, and my sister looked out for rogue drivers (of which there are many in Sicily).
After our long, nerve-wracking journey to Castanea delle Furie, my mom was ready to burst out of the car and start talking to people. My sister and I felt like crawling into a hole for the rest of the day and talking to people was the last thing we wanted to do. But this was the most important part of the trip for Mom. And if we launched right into chasing people, Sarah and I would have been in a shitty mood all day.
I explained this to Mom: we just needed 20 minutes to recover. "Let's sit down, let's be quiet, let's decompress, let's have a granita or coffee, and then we'll be ready to go out and talk to people." And that ended up working for all of us. That's something we continued to follow throughout our trip. We would park the car and immediately go to a cafe or restaurant before exploring.
The important part: know your personal needs and communicate them. Be sensitive to what others need. Know when you're getting stressed and be calm.
Alone time is good time.
On a long family trip like this, it's good to have some time to yourself, even if you're not a career solo traveler like me. Alone time is its own form of rejuvenation.
That's why I was happy we visited Edinburgh late in the trip — my mom went off with Sandra and I got to enjoy the city on my own. The first thing I did? I headed straight to one of my favorite pubs: The World's End on the Royal Mile for a dark stout and bowl of cullen skink (smoky chowder)! I had my Kindle with me. It was bliss.
The memories make it all worth it.
More than anything, I wanted us to have good memories from this trip, and I know we will always cherish them. From our night singing karaoke in Latvia to our evening drinking wine while watching the sunset on Mount Etna, I'm so grateful that we had this time together. Every moment was worth it.
Essential Info: In Riga, we stayed at this three-bedroom Airbnb apartment for $81 per night plus Airbnb fees. It couldn't possibly have been better situated, right in the center of the Old Town, and it was very comfortable and homey. Our hosts kindly picked us up and dropped us off at the airport for 15 EUR ($17) each way.

You can find the best prices on hotels in Riga here.

Two of our favorite places in Riga were Folkklubs, an underground pub with live music, and Easy Wine, an amazing restaurant where you get self-served wine pourings of all sizes. We also did the free Riga alternative tour, which was fun (remember to tip your guide!). Also, don't miss trying the Black Balsam liqueur, on its own or in cocktails.

In Zafferana Etnea, Sicily, we stayed in a two-bedroom suite at Agriturismo La Rocca della Rosa, which can also be booked on Airbnb here, for $115 per night plus Airbnb fees. This is a wonderful agriturismo with a pool, great food, and the kindest owners, Maria and Franz. You'll love it here. It's in a perfect location for exploring Mount Etna and northeast Sicily; the town of Zafferana is lovely, too (don't miss Blue Gel gelato!). If you stay there, please tell Maria and Franz that Kate, Deb and Sarah say hi!

You can find other hotels in Zafferana Etnea here.

We did the Etna Summer Sunset Experience excursion from Etna Experience, and it was a wonderful way to see the volcano up close and hike a small part of it, finishing with wine and snacks at a beautiful sunset spot. 54 EUR ($60) in summer, 44 EUR ($49) in other seasons.

While in Zafferana, we made easy day trips to Taormina and Aci Trezza as well as Etna and our great-grandfather's village, Castanea delle Furie (the latter of which has zero tourist value and you should not visit). It's best to have a car in Zafferana and vital if you want to do any day trips.

In Avola, Sicily, we stayed at this two-bedroom Airbnb apartment for $40 per night plus Airbnb fees. The apartment is clean, cool, modern, and located right by the main square downtown. Giovanni, the host, is an osteopath, has his office downstairs, and offers both massages and adjustments for very good prices!

Avola is a bit of an offbeat place, and you'll be the one of very few non-Italians in town, but it has a great beach. Keep in mind that downtown Avola is dead during the day but comes to life at night. There is a wine bar on Piazza Umberto that makes a FABULOUS cheese and salume plate. Spend your days hanging at the beach or exploring cities nearby like Siracusa, Noto, Modica, and Ragusa; I visited Siracusa and Ragusa and recommend them both.

You can find hotels in Avola here.

In Edinburgh, we stayed with our friend Sandra. Edinburgh Fringe Festival takes place during most of August each year. There are other festivals taking place simultaneously, like the Book Festival and International Festival; Edinburgh Festival City is a great resource for planning. Two of my favorite places to eat in Edinburgh are Mums and The World's End. You can find the best prices on hotels in Edinburgh here.

In Reykjavik, we stayed at this two-bedroom Airbnb apartment for $184 per night plus Airbnb fees. Tomas was a lovely Viking of a host and he even carried up our bags for us like they weighed nothing (when each weighed 20 kg!). It was in the heart of the coolest part of Reykjavik, surrounded by bars, restaurants, and shops. You can find the best prices on hotels in Reykjavik here. We had fantastic fish at Fish and I love The Laudromat Cafe.

We did Reykjavik Excursions' Geysir, Gulfoss and Thingviller tour for 8,900 ISK ($68). I definitely recommend it. It was the express tour (six hours rather than eight) but I don't feel like we missed out on anything.

Entry to the Blue Lagoon starts at 45/35 EUR ($50/39) per person in summer/winter. We did the comfort pack, which includes a towel, first drink, and skincare pack, for 60/50 EUR ($67/56) in summer/winter. There are more luxurious packages available as well. Transport to and from downtown Reykjavik or the airport is 23 EUR ($26) per person. I recommend doing this before or after your flight, as it's much closer to the international airport than downtown.

New to Airbnb? Sign up here and get $25 off your first stay!

Make sure you purchase travel insurance before your trip. It will protect you if something goes wrong. I use and recommend World Nomads.
Have you ever done a trip to trace your family roots? Where did you go?
Get email updates from Kate
Never miss a post. Unsubscribe anytime!