Adventurous Kate contains affiliate links. If you make a purchase through these links, I will earn a commission at no extra cost to you. Thanks!
Driving in Italy was a huge fear of mine for far too long. Despite traveling in Italy several times a year, having lived in Italy, and having traveled to most of Italy's regions, I had done all of my exploring by train because driving seemed too hard.
A few years ago, I was hired for a campaign in the Gargano region of Puglia and could only get there by car. I was terrified. Not only was this my first time driving in Italy, this was SOUTHERN Italy. Don't people say the south is the worst for driving?!
Then I actually drove through Italy — and I was shocked by how easy it was. Embarrassingly easy. The autostrada was big, beautiful, and smooth the entire way. Finding my way into the tiny town of Carpino was straightforward with GPS. Later, I drove down to Alberobello and easily found a parking space on the edge of the city center, just a five-minute walk from the famous trulli houses.
I really hadn't expected it to be that easy. It made me realize how much I had been missing by being afraid to rent a car.
Today, a lot of my readers contact me about their Italy trips and want to know two things: if they really have to drive, and how scary it is to drive in Italy. I've done so many of these emails this year that I decided to write out a full guide including everything you need to know so I can just send them the post in the future.
Get ready to learn everything you need to know about driving in Italy!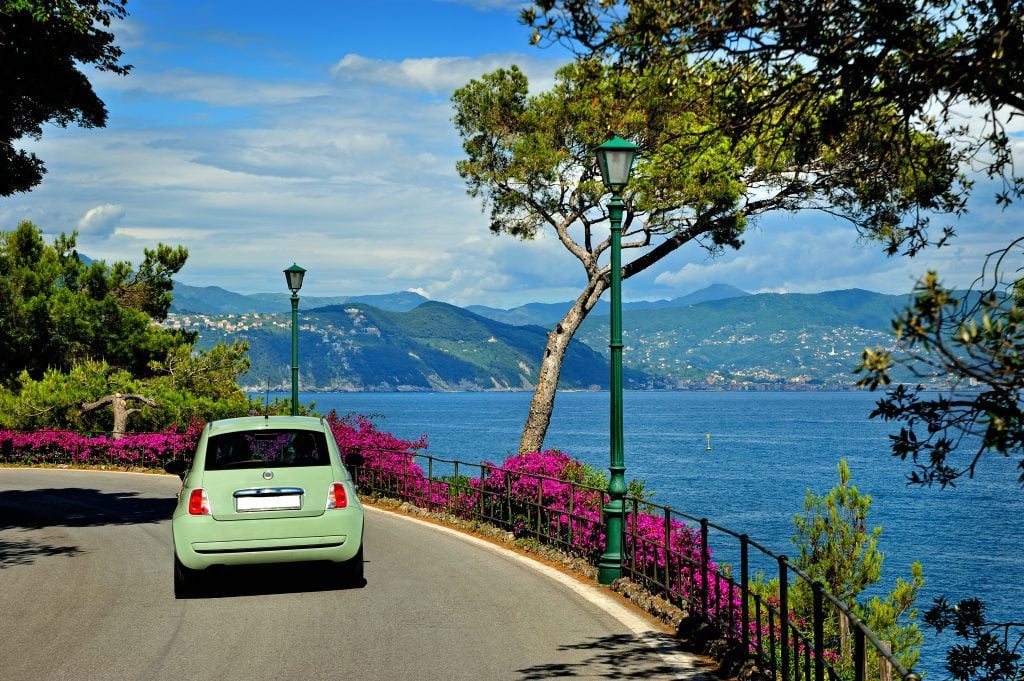 Italian Driving FAQ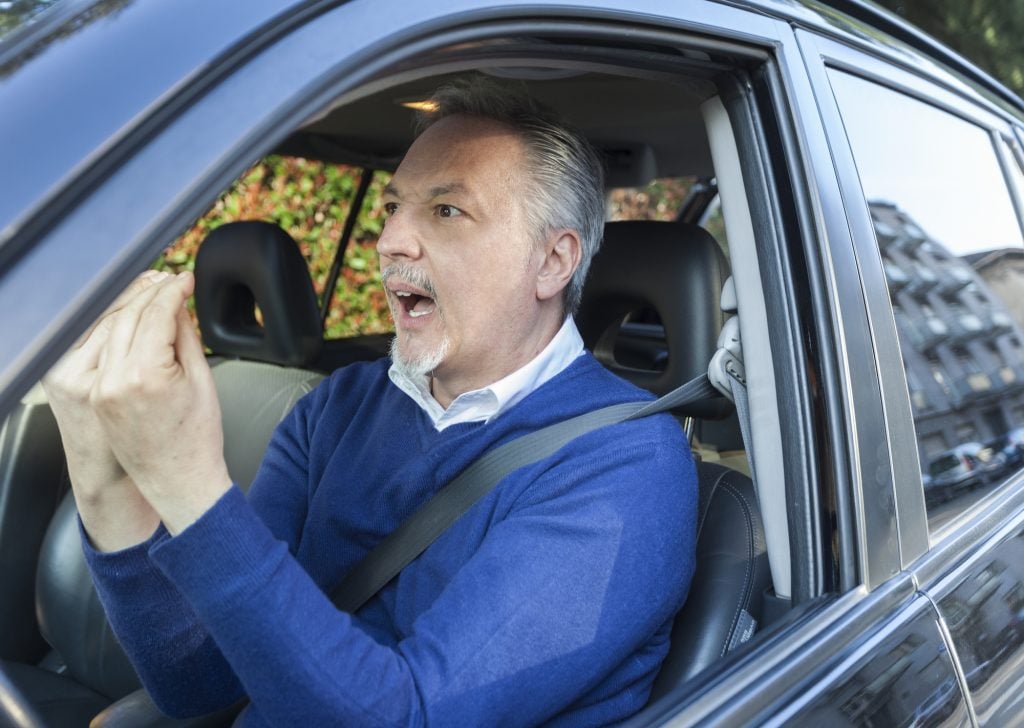 Italian Drivers
Do you really need to worry about Italian drivers? Not as much as movies would have you believe. There's a stereotype of the crazy Italian driver, speeding around corners, ignoring the rules of the road, and making obscene gestures to everyone that displeases him. It's a bit exaggerated.
There are some parts of Italy where the driving is rough: Naples and Palermo are probably the worst, along with other big cities in the south like Catania. Rome can be a bit rough, too. But this is by no means representative of the whole country.
Northern Italy — anything north of Rome — is quite civilized when it comes to driving. Some people say that the further south you go, the worse the driving gets. "The south" is a pretty big place, though, and driving in much of the rural south is more relaxed than in cities.
So what do you actually have to know about driving in Italy?
Italian drivers are impatient. If you don't hit the gas the moment the light turns green, you will get honked at. If you wait too long to pull onto the highway, you'll get a similar reaction.
Safety is the most important thing. Don't let peer pressure lead you into pulling off when you're not ready. But keep a close eye on the traffic lights nonetheless.
Italian drivers are not great about turn signals. There are two kinds of drivers in Italy: drivers that don't use their turn signal ever, and drivers that keep the turn signal on the whole time.
(One of my funniest memories in Italy was seeing two little old men piled onto a motorbike on a narrow street in Florence, huge smiles on their faces, the blinker on the whole time. I laughed so hard!)
Italian drivers value being fluido. If there's an empty space, clearly this is meant to be filled by the driver. For this reason, Italian drivers often get on your butt a little closer than you'd like.
Italian drivers WILL be demonstrative if they don't like your driving. Yeah, the hand gesture thing is true. Don't worry about minor gaffes; they're not going to chase you down or anything.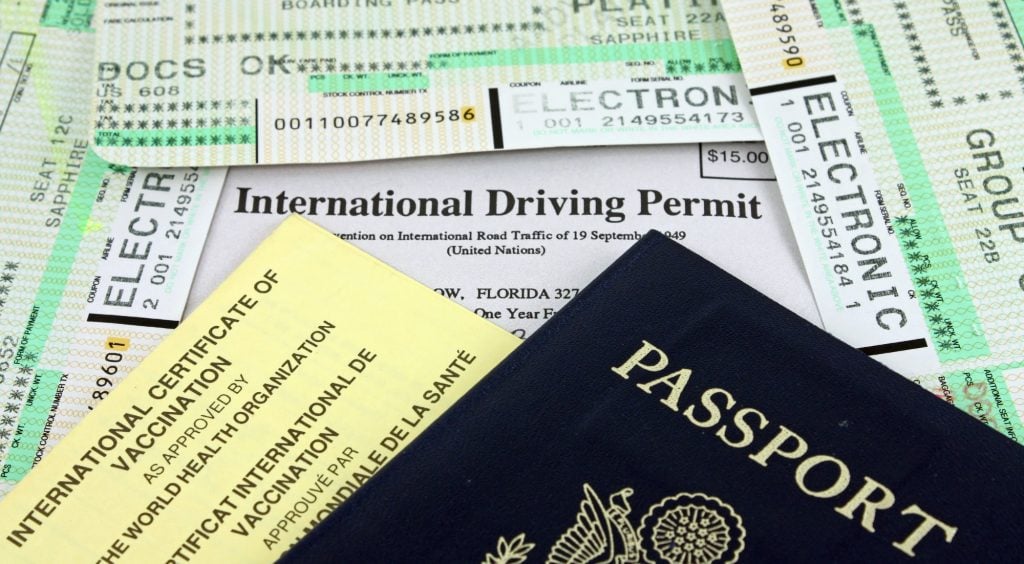 Requirements for Driving in Italy
If you're planning on driving in Italy, you obviously need a driver's license. You must be 18 years old to drive in Italy, and you'll pay extra on your car rental if you're under 25.
Do you need an International Driving Permit? You do if you get pulled over by the police, so it's a good idea to have one no matter what. It's basically a translation of your license. If you're American, you can get one at AAA for about $20. Bring two passport photos.
Some Italian road rules to know: In Italy they drive on the right side of the road. On three-lane roads, the right lane is the slow lane and the left lane is the passing lane. At crossings, vehicles on the right have the right of way. In short, always yield to the right.
Keep in mind that turning right on red is not permitted in Italy. Seat belts are required in Italy and you can be fined if you don't wear one.
Italian car rentals should come with a safety vest and reflective triangles in the trunk, which you are required to use if you need to pull over due to car trouble. It's a good idea to travel with a spare tire as well.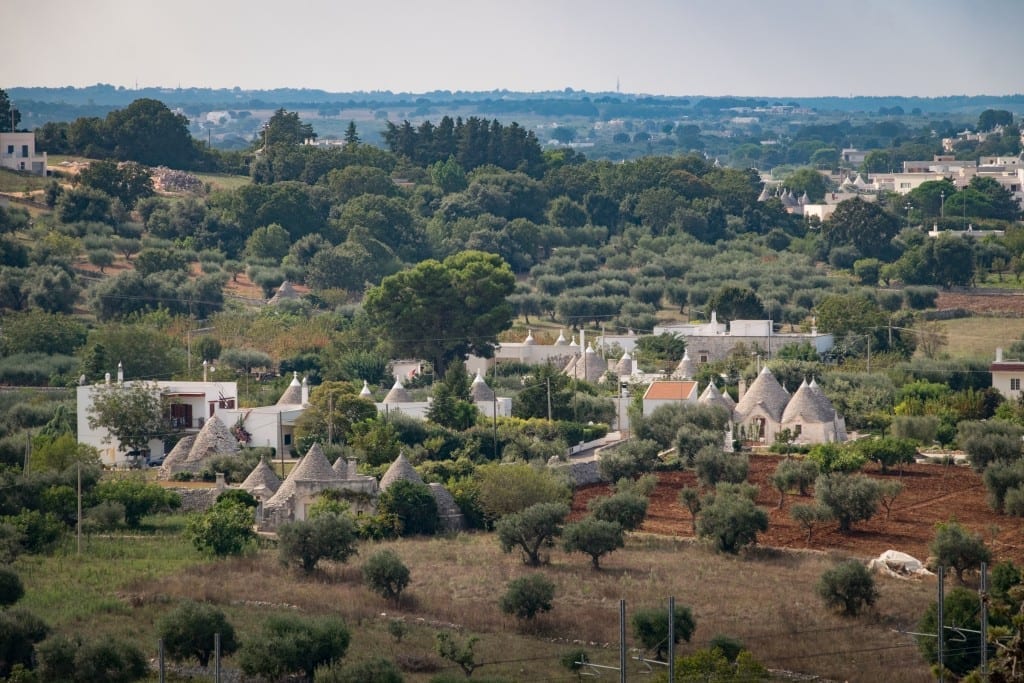 Best Areas for Driving in Italy (and where to take the train instead)
Every trip to Italy is different, and not every trip calls for the same kind of transportation. Some areas are more suited to driving, while others are better done by train.
Northern Italy tends to have more developed public transportation than Southern Italy, with trains that are faster and run more often. Trains in much of the south have fewer routes or run slower and less often. Rural areas are better explored by car, while urban areas are better explored by train.
Even so, destination is not the only factor here. If you're traveling in a group or you have young kids with lots of gear, driving is probably the best option for you. If you're on a low budget, you can cobble together a cheaper trip by slow trains and buses.
And if you want to stay at an agriturismo, an Italian farmstay, in many cases you'll need to have a car. Staying in an agriturismo is an Italian tradition and not to be missed! Though occasionally agriturismi are walking distance from public transportation or the family will pick you up and drop you off in town.
Good Italian Regions to Explore by Driving
Tuscany. If you want to explore lots of different towns in Tuscany, driving is the best way to do it. The scenery is like a painting and you'll constantly want to stop for photos! I particularly love exploring the Val d'Orcia in Southern Tuscany by car. And don't miss out on the regions of Umbria and Le Marche, which have a similar vibe but are cheaper and less touristed.
Puglia. The heel of Italy's boot has some public transit connections, including to Monopoli, Polignano a Mare and Lecce, but the real magic happens when you drive to towns like Alberobello, Locorotondo, Ostuni, and Matera in next-door Basilicata.
The Dolomites, Valle d'Aosta, and anywhere in the mountains. Public transportation is often limited in Italy's mountainous regions, and you need a car to get to the good hiking areas. I did the Dolomites by bus and it was a bit of a pain; I couldn't imagine doing Valle d'Aosta any other way than by car.
Sardinia. Sardinia is the best place for a beach vacation in Italy; these beaches look like they're plucked from the Caribbean. Whether you're exploring the coast or the rugged interior, you'll have a much easier time exploring Sardinia by car.
Sicily. The driving in Sicily can be aggressive, but the public transportation options are a bit limited and it's the best way to see the island in depth. Sicily is one place where I found it helpful to have someone to navigate and keep an eye out for rogue cars.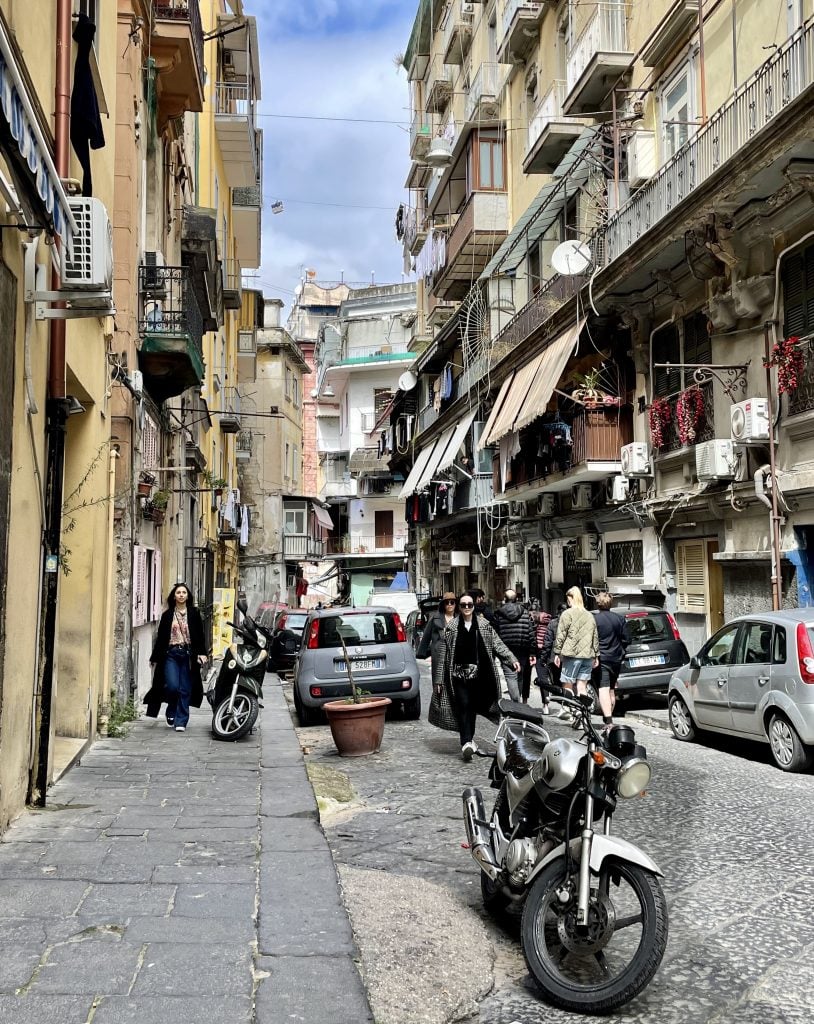 Bad Italian Regions to Explore by Driving
Naples and Palermo. These two cities have the worst, craziest, most aggressive driving in Italy. Do not even think of driving within these cities. But outside is okay! Just grab your rental car from the airport so you can avoid the city center. (One exception: Rome. The airports are far from the city.)
A typical Rome-Florence-Venice route, with or without Milan, Bologna, or Naples. Those cities are well-connected and have frequent train departures, including the pricier fast trains. Trains are a much easier way to travel this route.
Emilia-Romagna's cities. Italy's best food region is home to cities including Piacenza, Parma, Reggio Emilia, Modena, Bologna, Faenza, and Rimini, all in a row on a straight train line. Other train lines lead to Ravenna and Ferrara. For this reason, this region is better explored by train, supplementing with the occasional taxi when you need it.
The Amalfi Coast. The Amalfi Coast is spectacular, but the narrow, cliff-hugging roads are absolutely terrifying, especially when you have to squeeze past giant buses! I only recommend this for expert drivers who thrive on adrenaline. You can get around by a mix of buses and ferries, and trains run a bit further away from the coast.
Venice. Venice's roads are canals. There is no reason to have a car in Venice; it will sit in a parking lot on the mainland. If you're planning a longer trip, start your rental after you leave Venice.
Aeolian Islands. While cars are allowed on a few of the islands, there's no reason to have a car there.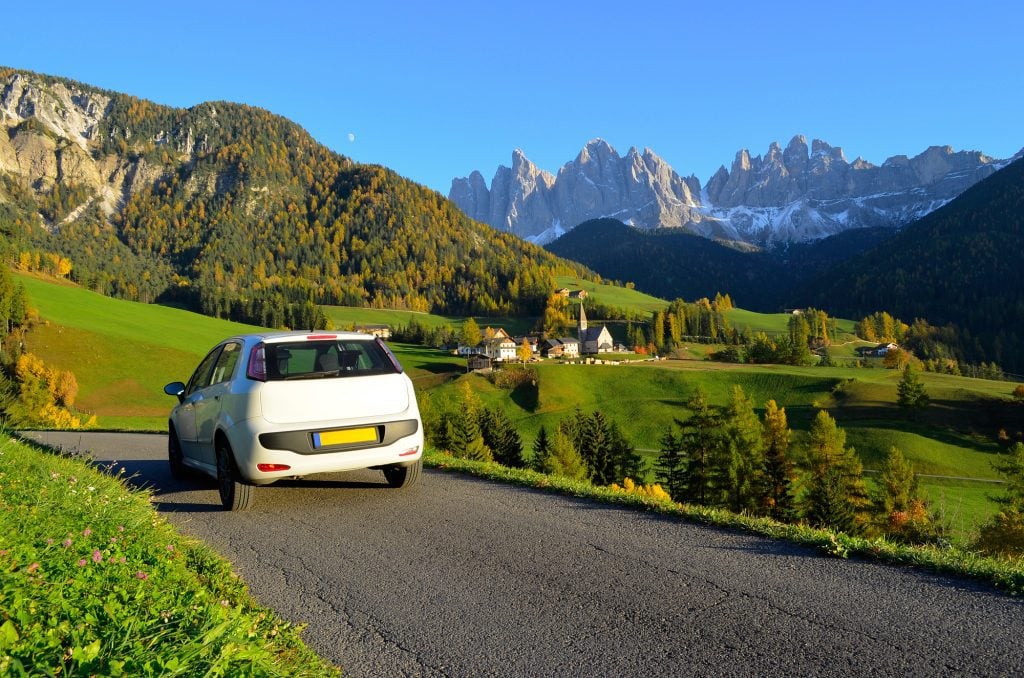 Rent a Car for Part of Your Trip
Lots of people assume it's an either/or situation — but you don't have to have a car for your entire trip! You can just rent a car for a few days of a longer trip. This is something that I recommend often to my readers who want to explore Tuscany on top of their Rome-Florence-Venice route.
Start in Rome, take the train to Florence, spend a few days in Florence, then either rent a car for a few days to explore Tuscany while staying at an agriturismo and return it in Florence, or get a one-way car rental and drop it off in Venice afterward, exploring small towns along the way.
If you're a bit nervous about driving in Italy but want to see the countryside, I think a few days of easy, beautiful driving in Tuscany is a smart choice. You could also rent a car in Milan or Torino and explore the lakes and vineyard of Piemonte.
When my friend Cailin and I did our big northern Italy road trip, we elected to do it by train and bus — but navigating the Dolomites without a car was a bit of a pain. It was mostly by bus, required multiple changes, and they didn't run super often. Next time, I'm definitely renting a car in the Dolomites.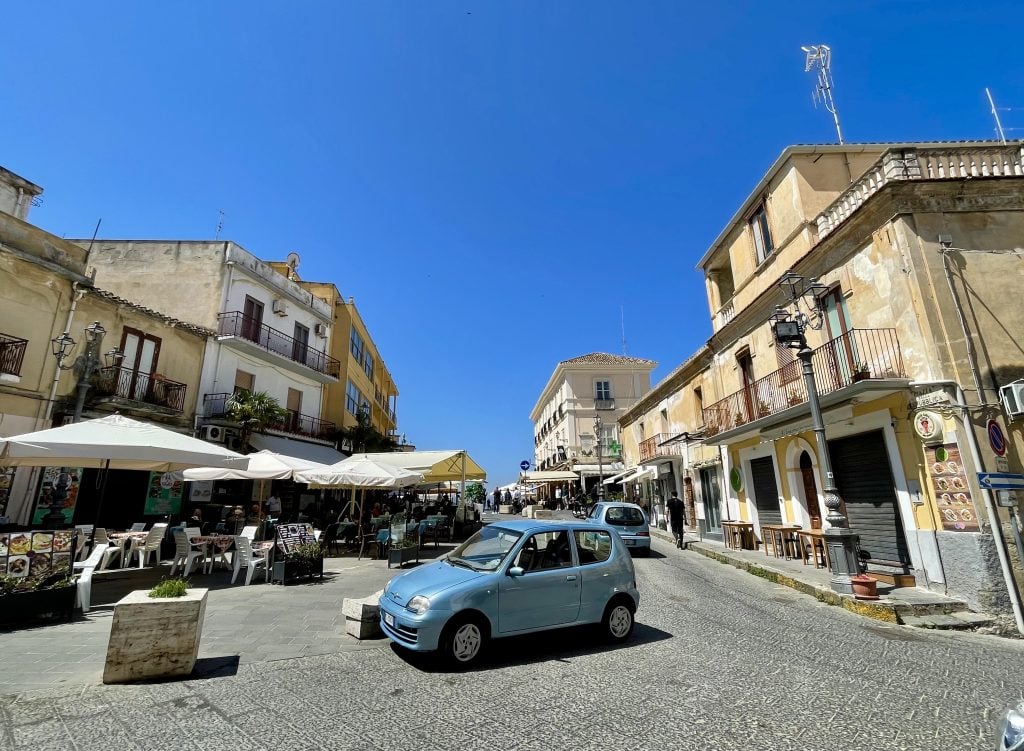 Rent the Right Car
Renting the right car is absolutely critical for your trip to Italy. First off, double-check whether the car is manual (stick-shift) or automatic. Automatic cars tend to be more expensive and less common than manual cars.
Italian cars are on average much smaller than American cars. (Honestly, whenever I go home to the States, I get reverse culture shock seeing the huge SUVs and trucks!) This is handy for driving down narrow roads, but keep in mind you won't have a gigantic truck for your luggage.
Keep in mind that you may be charged a large hold on your credit card while you have the car. Double-check what this hold is in advance because sometimes it can be surprisingly large.
Finally, you should rent your car as early as possible. Since COVID began, there have been rental car shortages all over the world, and Italy is no exception. Rent a car the moment you've finalized your trip dates.
You can check car rates and availability here on RentalCars.com.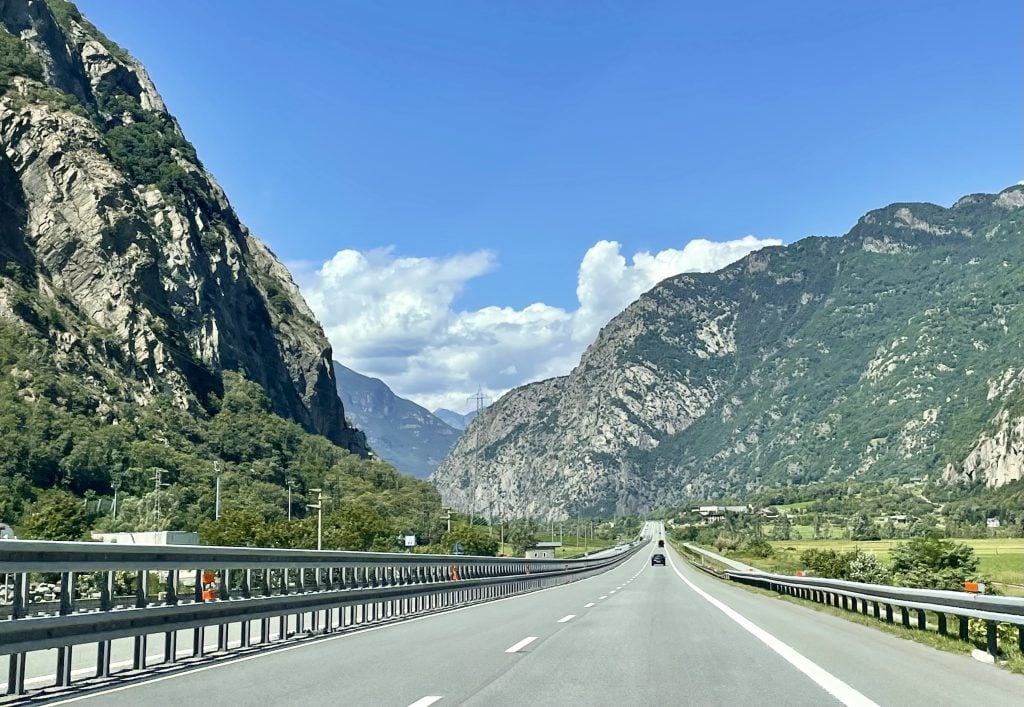 Italian Roads
There are three main kinds of Italian roads that lead through the country. You can learn about them on the Autostrada Website.
Autostrada
Autostrade (the plural form of autostrada) are large toll highways designated by an A before the number. You get a ticket when you get on and pay it when you get off. (See more on how to pay tolls below.) These Italian highways have several lanes and allow cars, trucks, and vans, but not motorbikes.
Is the autostrada worth it if you have to pay tolls? I think so. You'll have a faster, more direct journey with smooth roads and less traffic.
The speed limit on the autostrada is 120 km per hour (about 75 mph) but many people exceed that. Use the left lane for passing only.
Trucks are banned on the autostrada on Sundays, which makes it a nice day for long-distance driving.
Strade Statali
Strade statali (the plural form of strada statale) are Italy's national roads. These can vary enormously in size and quality; you have both major routes and smaller roads in this category.
The speed limit on strade statali us usually 90 km per hour (about 56 mph), but there will be signs in areas where the speed limit is slower for safety reasons.
There are also roads called strade regionali, strade provinciali, and strade comunali, which are the same driving experience as trade statali, only they're managed by regional, provincial, and local governments respectively.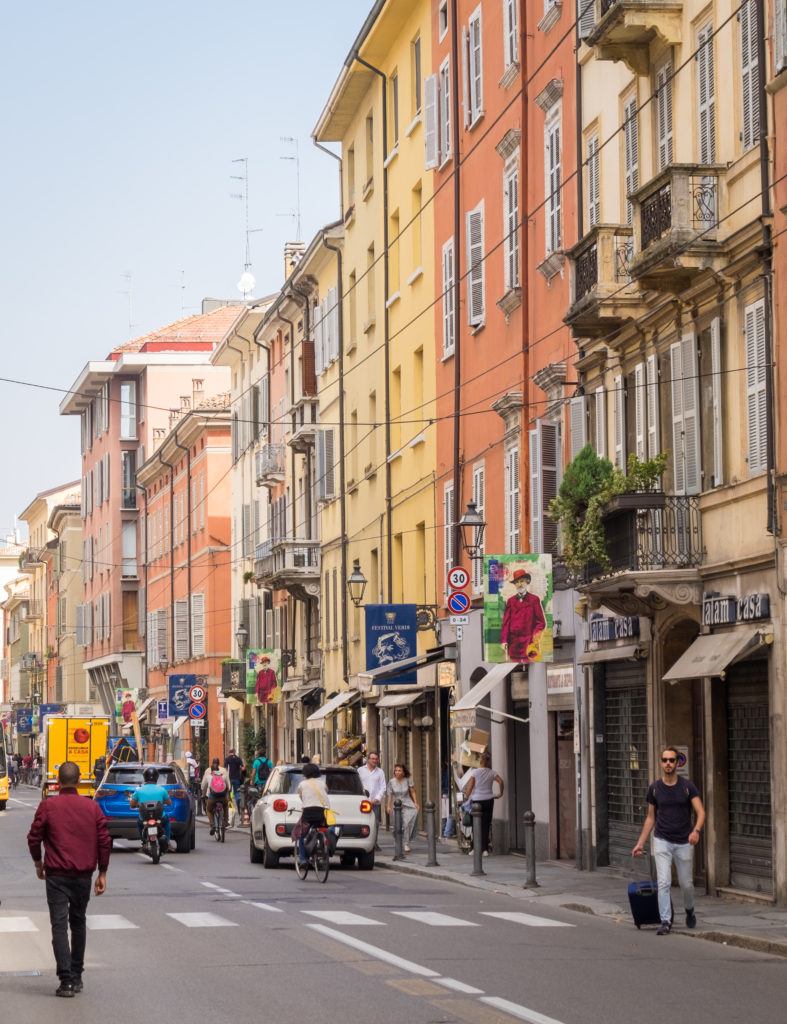 How to Pay Italian Tolls
You will likely have to pay tolls on an Italian road trip at some point. Tolls are on autostrada roads and vary quite a bit regionally — they tend to be more expensive in the north than the south.
When you get on the highway, you pass through a gate to take a ticket, and you pay it when you get off the highway. DO NOT go through the blue or yellow and blue gate marked Telepass — this is only for people who pay for a Telepass subscription, and your rental car does not have it included unless you requested it specifically (most car rental companies do not).
On the way off the highway, you hit a row of toll booths pay either by cash, credit card, or Telepass. Again, avoid the Telepass lane.
Lines are longest in the cash lanes. Speaking anecdotally, I've never had an issue with a credit card, but every Italian I know only pays tolls in cash. Too many of them have been burned on a faulty credit card machine before.
What happens if the credit card machine messes up? You might get a slip telling you to pay at a post office, or online. Or if the machine just doesn't work at all, you'll have to back up and go into a cash lane, which is a harrowing experience.
For that reason, I would recommend having cash ready for tolls — lots of 1 and 2 euro coins, or crisp 5 and 10 euro bills.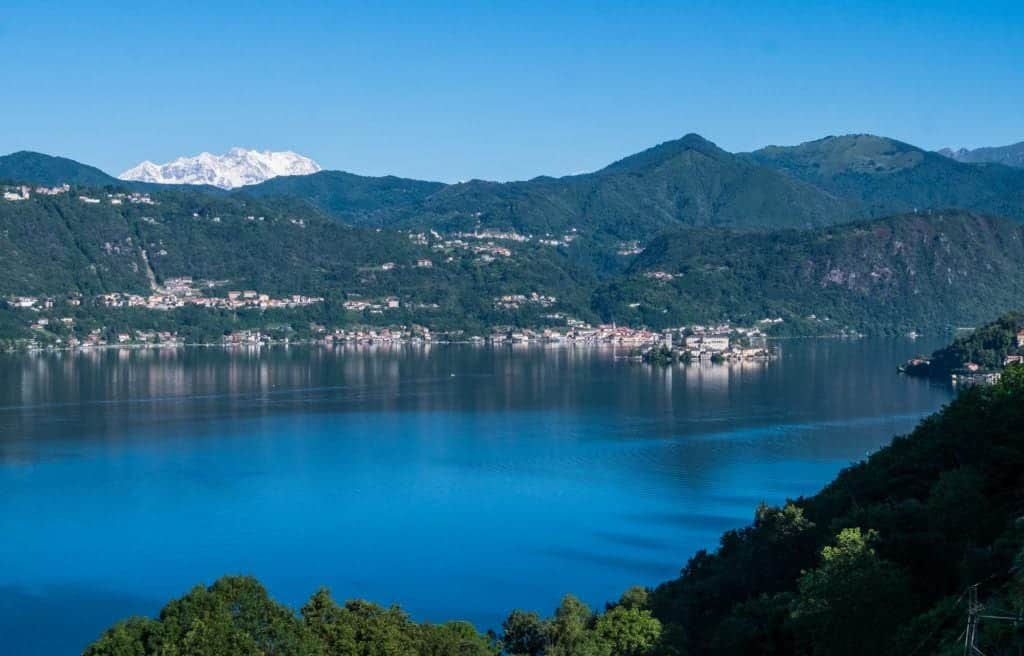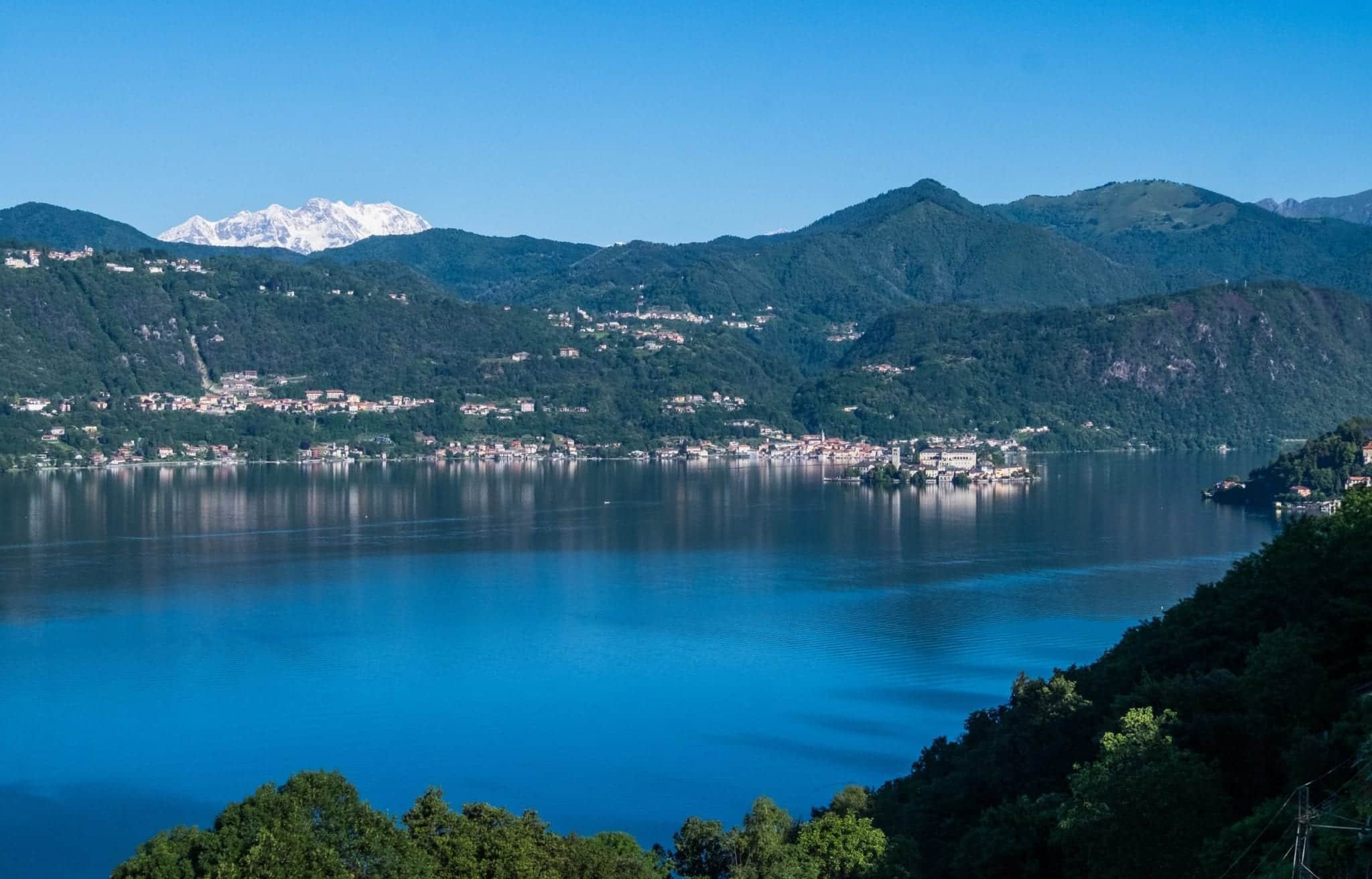 Italian Driving Laws
It's important to know that you don't need to be pulled over by the Italian police to get a fine. There are cameras everywhere in Italy, and they can catch you breaking the law for speeding, running red lights, or entering a ZTL (limited traffic zone).
If that happens, these fines will follow you back to your home country. Your rental company will be alerted and you'll have to pay through them. Sometimes you'll find out months later, or as late as a year later.
For that reason, drive like the cops are watching, even when nobody's around! Keep an eye on those ZTLs and speed limit signs.
If an Italian police officer pulls over a non-EU resident for a driving violation, you must pay the fine on the spot. You can do this with a credit card.
Using your phone while driving is against the law. Do not talk, text, or do anything else while holding your phone. Don't do this anywhere, not just in Italy.
Turning right on red is against the law, even if you stop first. As a Massachusetts native, that was a surprise for me.
Headlights are required on the autostrada. Even if it's the middle of the day. Technically headlights are required outside urban areas, though I rarely see this in practice.
Do not pass school buses that are loading or unloading passengers. This can get you a HUGE fine.
Seat belts are required by law. Again, a smart rule for anywhere.
The legal limit for drunk driving in Italy is 0.05%. This is lower than in most US states. Do not drink and drive — not even a little bit. Save your drinking for after your car is parked for the night.
See below for information on car seats in Italy.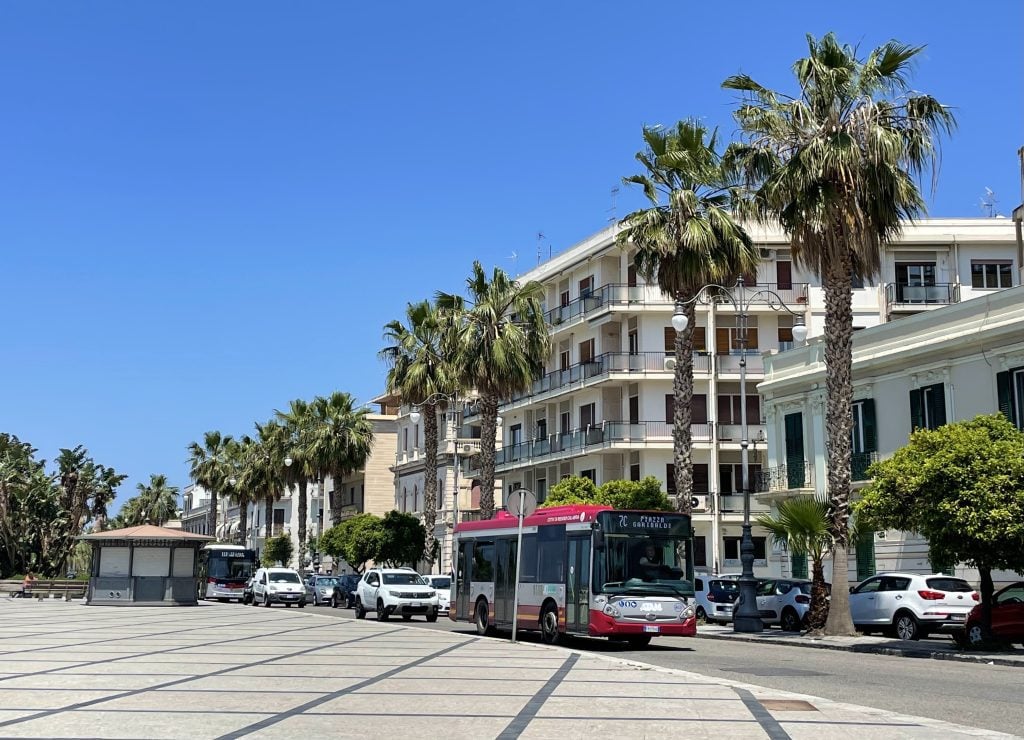 GPS Isn't Always Accurate
As much as we want to believe that Google Maps is all-knowing, that isn't always the case in Italy. Every now and then you'll be guided down a street that doesn't exist, or routed through an off-limits ZTL.
Again, I've found this to be more common in the south than the north. But who knows — maybe GPS will end up working perfectly for you.
Either way, feel free to use GPS, but also familiarize yourself with the route beforehand, keep an eye on road signs, and be prepared if you need to take a slightly different route. Some people like to buy a paper map, but I don't think it's necessary unless you're spending time in very rural areas.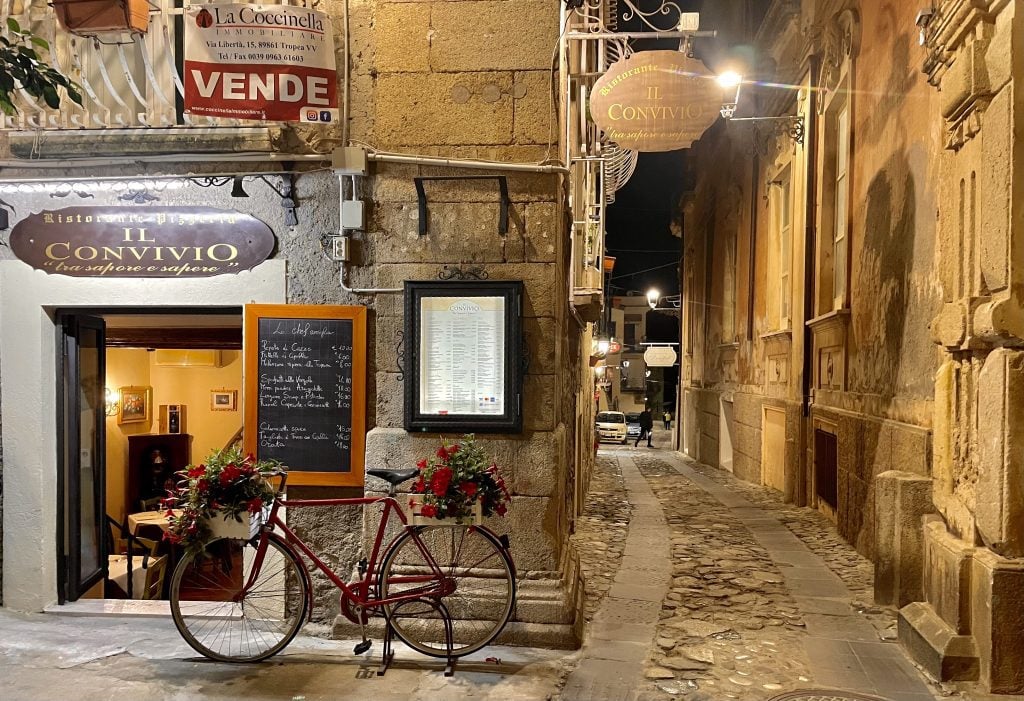 Understanding the ZTL
ZTL stands for Zona Traffico Limitato, or a limited traffic zones. These are areas in cities where driving is limited to residents and people who have permits. Traffic is limited for congestion and pollution reasons.
ZTLs tend to be in old towns or city centers in Italy, wherever the small, pretty, cobblestone-y part is.
Look for signs that say ZTL and do not enter the area! Occasionally ZTLs are only during certain times of day, but usually they're 24/7.
It's important to know that your might have to walk to your accommodation if it's in a ZTL. If you're not sure of the parking situation, talk to your accommodation. Some hotels occasionally give permits for guests to park in ZTLs, but you shouldn't rely upon this.
There are often places to park on the edge of a ZTL.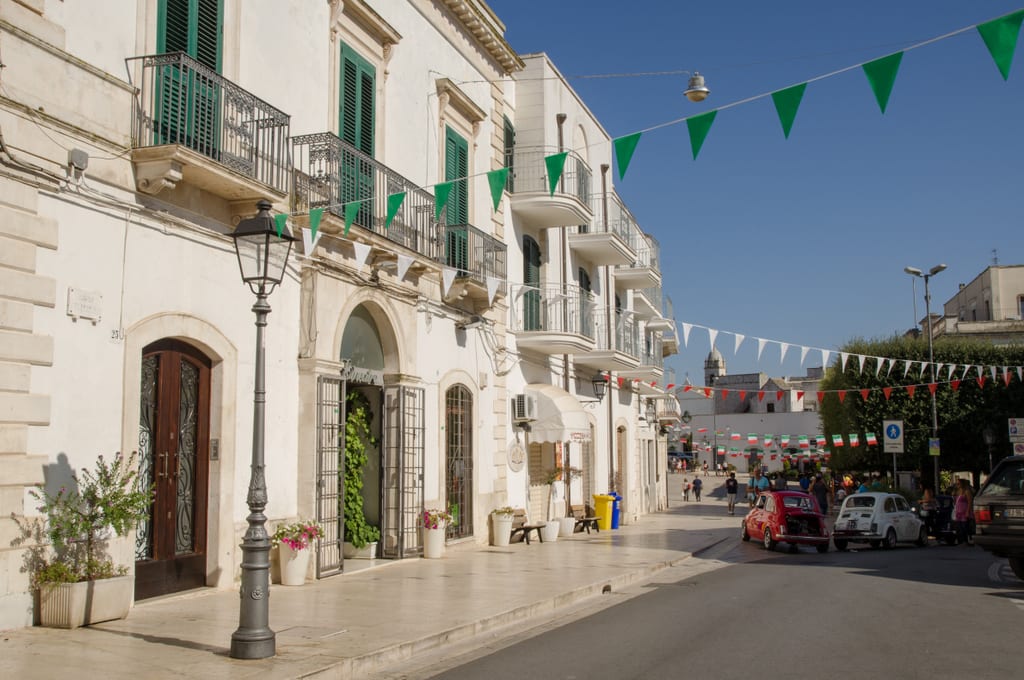 Parking in Italy
Parking is plentiful in Italy, and the whole country seems to abide by the same system. White parking spots are free, blue parking spots are paid, and yellow spots are for disabled parking or residents. 98% of the time, there will be a machine near paid parking spots.
Keep a photo of your rental car's license plate on your phone because you'll often need to enter the number at the parking meter. Print out the receipt and put it on your dashboard.
What if there's no machine? In Reggio Calabria, we couldn't find the parking machine anywhere near our spot. Instead, we paid by app. The MyCicero app and EasyPark Italia apps are ways to pay for parking. (Then again, one app asked us to print the receipt, which was ridiculous.)
Take a look at the signs to see the limits and if there are times when parking is prohibited (like for street parking).
There are also private parking garages and parking lots in various Italian cities. These tend to be most expensive.
Recently, Charlie and I stayed at a guesthouse in Tropea, Italy, in the heart of the ZTL, so we parked our car just outside the ZTL in a white parking spot. We literally left it there for the full 48 hours we were in town.
Gas Stations in Italy
Gas stations in Italy have a few quirks that you should know about.
First off, make sure you get the right gas. The word for unleaded is senza piombo and the word for diesel is just diesel.
Secondly, there are often two different prices for the same unleaded gas. Fai da te is self-service gas you pump yourself for a lower price. Servito is when someone pumps for you for a higher price overall. These prices are listed on the pumps. Don't make the mistake of pumping yourself at the servito pump and paying for the privilege! (I'm speaking to you, New Jersey.)
Gas stations usually take international credit cards, but you can sometimes have issues if it's not a chip and pin card. (A chip and pin card is smart to have before traveling in Europe, and most American credit cards are wising up and adding these. You should get one before your trip either way.)
Some gas stations require prepayment. If you're not able to pump for some reason, it probably requires prepayment.
Occasionally Italian gas stations don't take credit cards, so it's wise to have some cash on you (20 euros should be enough to get you to the next city).
Make sure to fill your tank before you return your rental if that's a condition of your rental (it usually is).
And don't forget that there should be a little arrow on the gas gage telling you which side of the car your gas pump is on.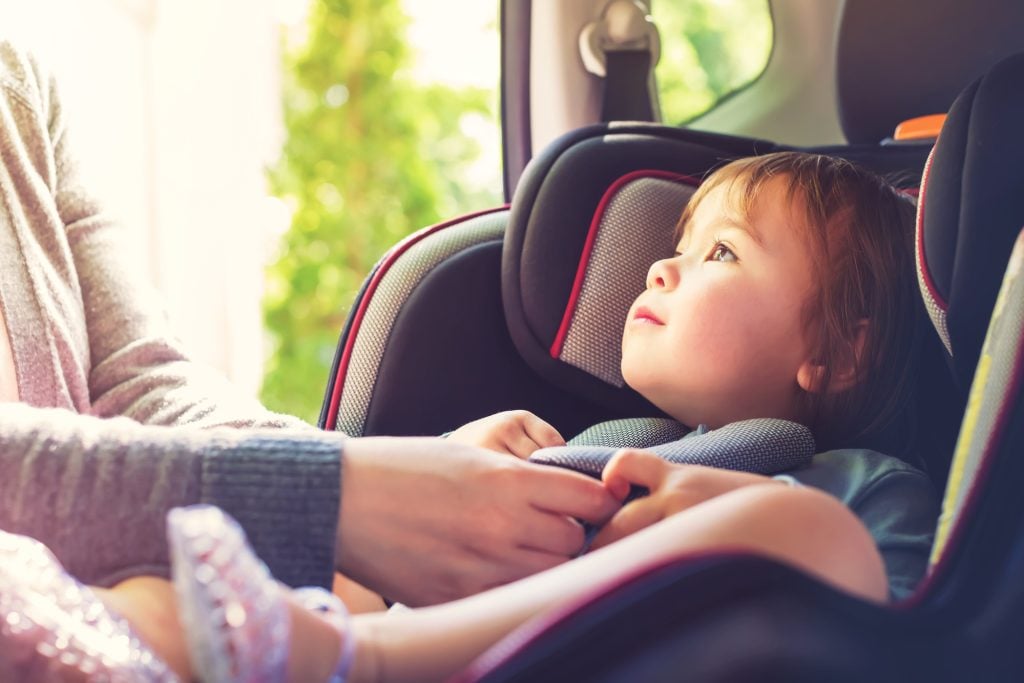 Car Seats in Italy
If you're exploring Italy by car with kids, you'll need to find proper car seats. In Italy, car seat requirements fulfill the requirements of the EU and are determined by size and weight of the child. Children up to 1.5 meters (4'9″) must be in an approved restraint system, either a car seat or booster seat.
The word for car seat in Italian is seggiolone.
So which kind do you need? Take a look at the chart:
Group 0: Up to 10 kg/22 lbs (about 12 months old) — Rear-facing car seat. Must be in the rear of the car.
Group 0+: Up to 13 kg/29 kg (about 24 months old) — Rear-facing car seat. Must be in the rear of the car.
Group 1: 9-18 kg/20-40 lbs (about nine months to four years) — Rear-facing car seat for up to two years old IF indicated by model instructions; forward-facing for all other models. Must be in rear of car.
Group 2: 15-25 kg/33-55 lbs (about three to six years) — Forward-facing booster seat with arm rests, with seatbelts that tie to it, either in the front or the rear of the car.
Group 3: 22-36 kg/49-79 lbs (about five to twelve years) — Forward-facing booster seat without arm rests, either in the front or the rear of the car.
Keep in mind that seat belts are required for all passengers in Italy, and you can be fined if kids aren't wearing one.
Be sure to double-check with your car rental company before you arrive. Some of my parent friends have told me they were given the wrong kind of car seat and had to correct them.
And when it comes to pit stops, you can't beat the Autogrill. These are the best spot for pee breaks and snacks. Some Autogrills have play areas for kids.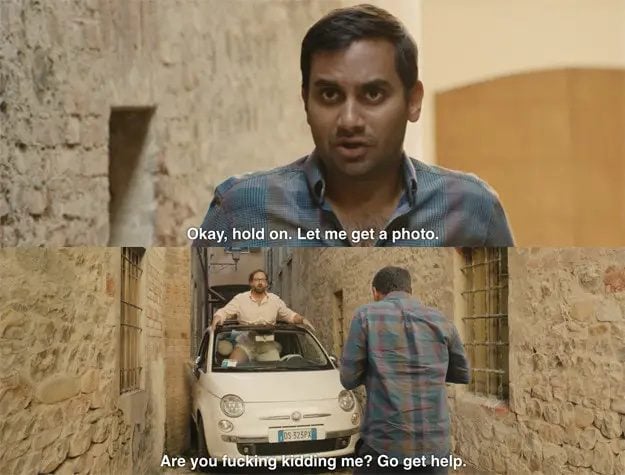 Safety Tips for Italy Driving
The biggest safety tip is not to leave your belongings in your car. Seriously. If you leave your purse, wallet, or something else on the seat, you're pretty much asking someone to break into your car.
Instead, keep your valuables on you, and keep the rest of your luggage locked up in your accommodation when possible.
But what if you're doing a road trip and visiting a few towns along the way and have a car full of luggage? Keep your luggage in the trunk. If possible, backing into a parking space with your trunk against a wall is another layer of safety.
Watch out for cyclists. Italy is a popular destination for cyclists, especially scenic areas like the Dolomites and the Amalfi Coast. Because roads can be narrow, sometimes you might need to wait a while before you can overtake them safely.
Keep an eye out for potholes. Rural areas and especially southern rural areas tend to have a lot of potholes. You could also experience what just happened to us — you drive several miles down a rural road and find it completely blocked by construction, with no option but go all the way back!
Read more: Top 10 Travel Safety Trips for Women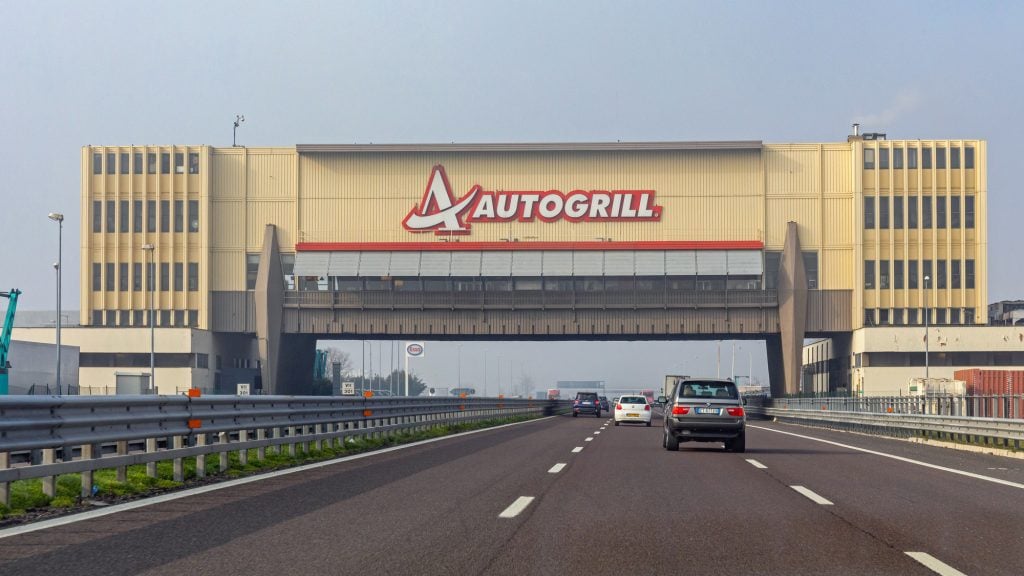 Autogrill
Enjoying the Autogrill is one of the essentials of an Italy road trip! Autogrills are rest stops, and you'll find them throughout the country. Sometimes they're on a bridge over the autostrada, accessible from both sides.
A typical autogrill is home to a bar (a bar in Italy is more like a cafe), with all the caffeinated beverages and light snacks you could want. There is usually a restaurant on site with pizza, pasta, and more. And the food quality is far better than what you'd get at a fast food restaurant.
But the best part is the market. You can find all kinds of high quality groceries here, and this is a great spot to pick up a block of parmigiano reggiano, some nice cured meats, or provisions for a picnic.
I remember in summer 2020, navigating the shutdowns of COVID as I tried to get home to the Czech Republic, when Charlie and I drove from Croatia into locked-off Slovenia and finally Italy. We stopped for a cappuccino at the first Autogrill in Friuli-Venezia Giulia, and it was so good, it nearly brought me to tears.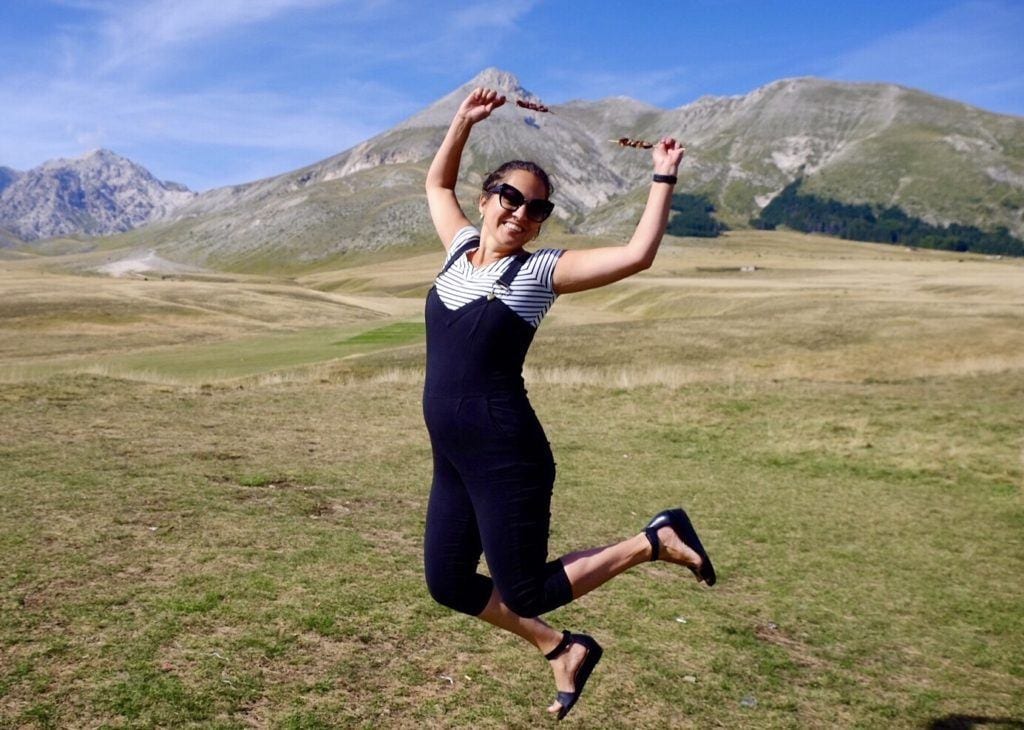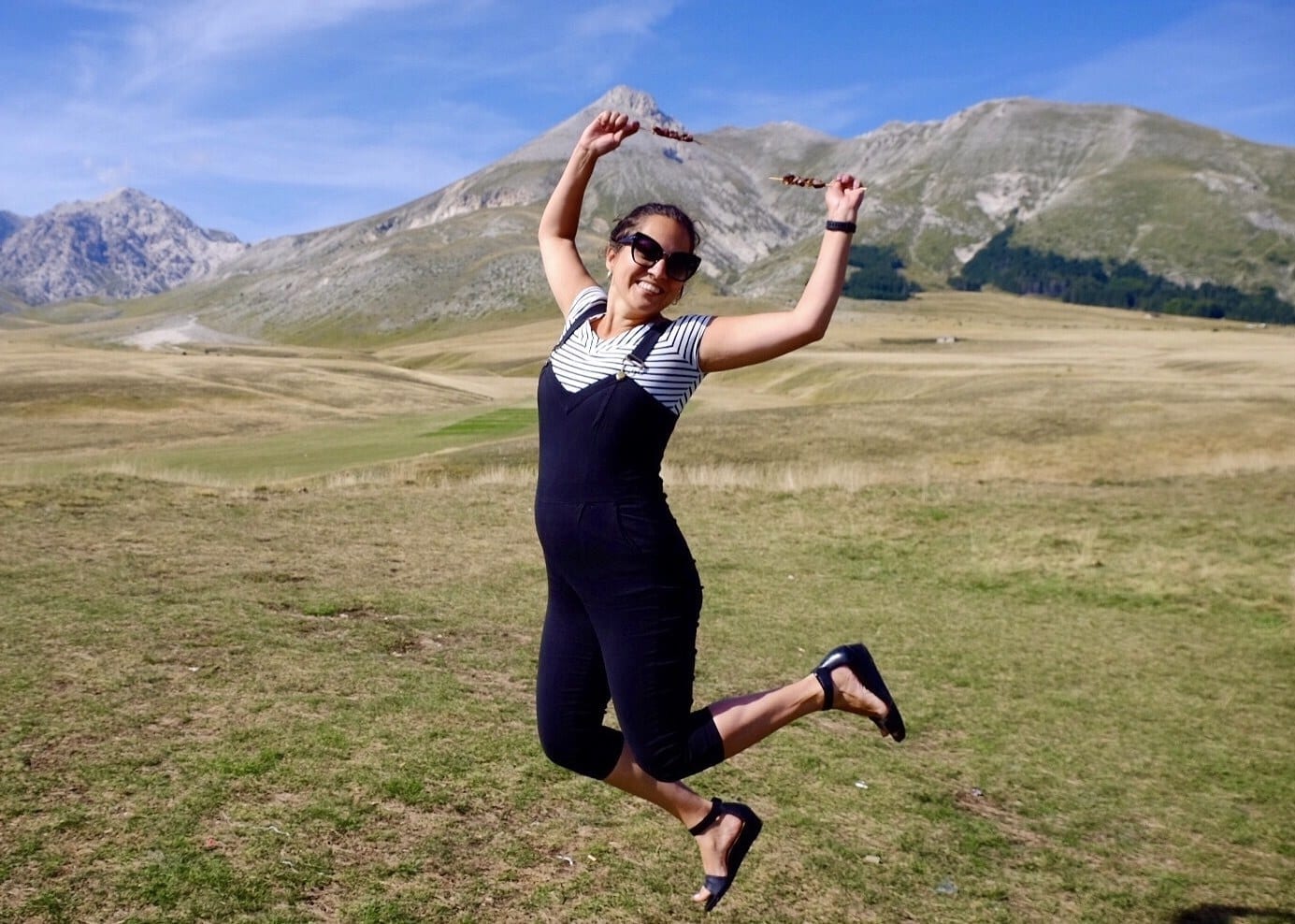 Driving in Italy is not as scary as you think.
If there's anything I want you to take away from this post, it's that you don't need to be scared of driving in Italy. Many of the stereotypes are outdated and inaccurate, and places with challenging driving like Naples are exceptions, not the rule.
And while there might be a lot of rules in this post, don't let that dissuade you. There are a lot of rules in your country, too; it can be overwhelming to see them all in one place.
If you're looking for a gentle introduction to driving in Italy, I recommend renting a car for just part of your trip and exploring the countryside for a few days. Tuscany is a fantastic place to do this if you're on a typical Rome-Florence-Venice itinerary.
And if you're up for a longer road trip in Italy, there are so many great places. Puglia is wonderful in the south. The lakes and mountains are wonderful in the north. Sicily is a bigger challenge, but badass and worth it.
Go enjoy your Italy trip — I think you're going to love it!
Planning a Trip to Italy:
Cool Places in Southern Italy:
Cool Places in Sicily:
Cool Places in Northern Italy: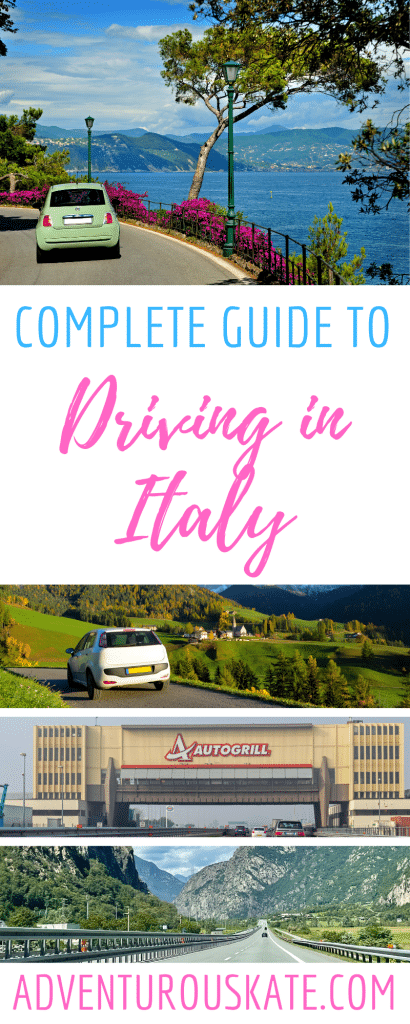 Have you driven in Italy? What did you think? Any tips?