Adventurous Kate contains affiliate links. If you make a purchase through these links, I will earn a commission at no extra cost to you. Thanks!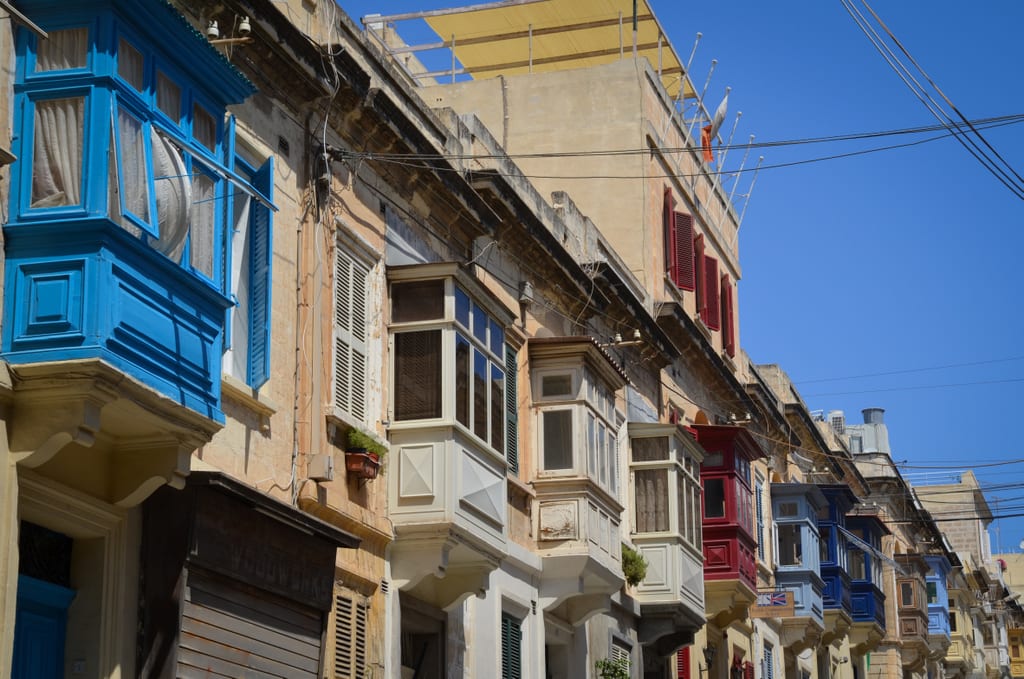 When I first arrived in Sliema, my friend told me to keep my expectations low: "Don't judge Malta until you see Valletta tomorrow."
I could see what he meant — Sliema didn't look overtly appealing during my evening arrival. Traffic raced along the water's edge; the sidewalks were filled with kiosks. Pubs catered to middle-aged British tourists; high-rise condos lined the edge.
It looked fine…but not special by any stretch. If anything, the condos and older population reminded me of the Maltese version of Revere Beach in Massachusetts.
The best places, however, are the ones that take you by surprise — and I never would have guessed that it would only take me a few days for me to fall for Sliema.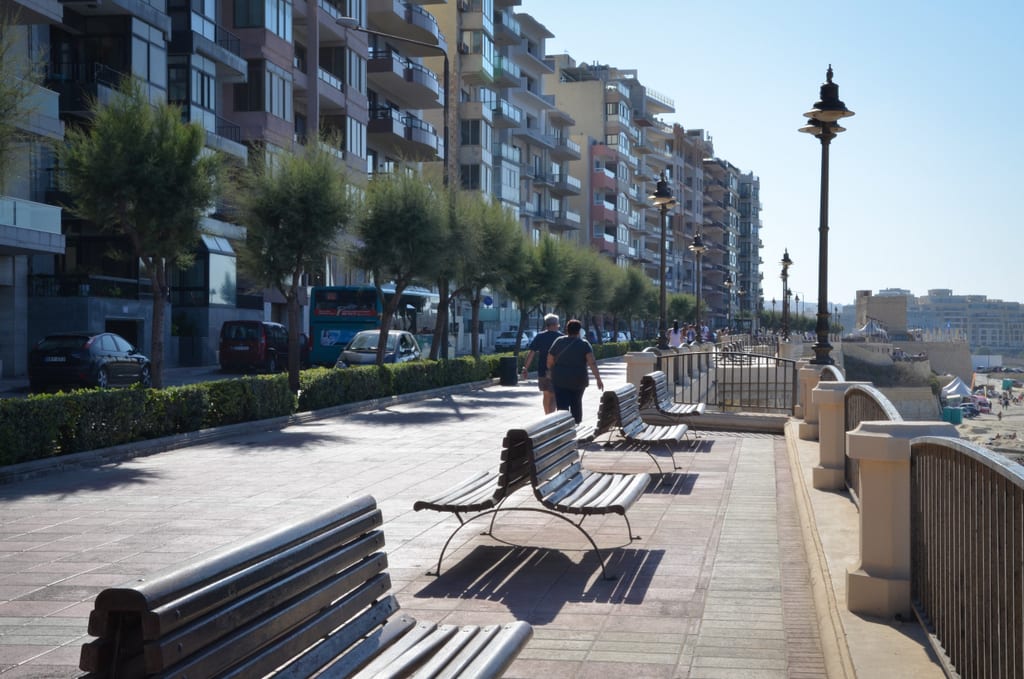 The Perfect Base in Malta
Sliema is actually part of a chain of towns along the water's edge: it starts with Gzira, then Sliema, then St. Julians.
Sliema has the best selection of shopping and easy access to a multitude of buses and the 10-minute ferry to Valletta. St. Julians is prettier and slightly nicer until it turns into Paceville (the unsightly nightlife area that I avoided); Gzira is a bit rougher, especially as you veer further away from Sliema.
If you're driving, you can get to the sandy beaches of Mellieha in 30 minutes, the ancient city of Mdina in 25 minutes, the fishing village of Marsaxlokk in 30 minutes, and the ferry departure for Gozo in 45 minutes.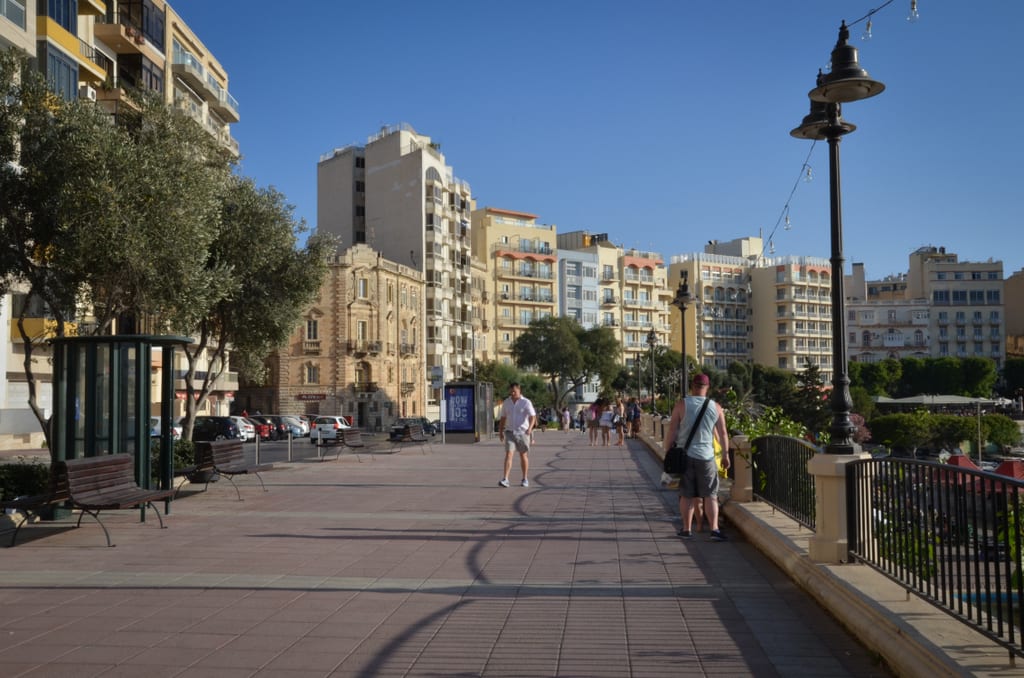 These towns have a boardwalk that runs along the sea, and it's the ultimate place to see and be seen. Like many Europeans, the Maltese take long walks in the early evenings and use it as a time to chat with the neighbors they pass along the way.
This area is also where I found some of the nicer restaurants in Malta: while of course there was Peppino's in St. Julians, some other great ones are Piccolo Padre in St. Julians and L'Aroma in Sliema; I also had a nice lunch at a kiosk called Sir Alex in St. Julians. Most of these places have free wifi, which I LOVED.
Over time,I began to get into a routine in Sliema — I'd wake up, walk to a great cafe called Giorgio's (with fast wifi, terrific pastizzi, and the best coffee on the island), then plan out where I'd be driving for the day. If not, I'd just hang out and enjoy Sliema.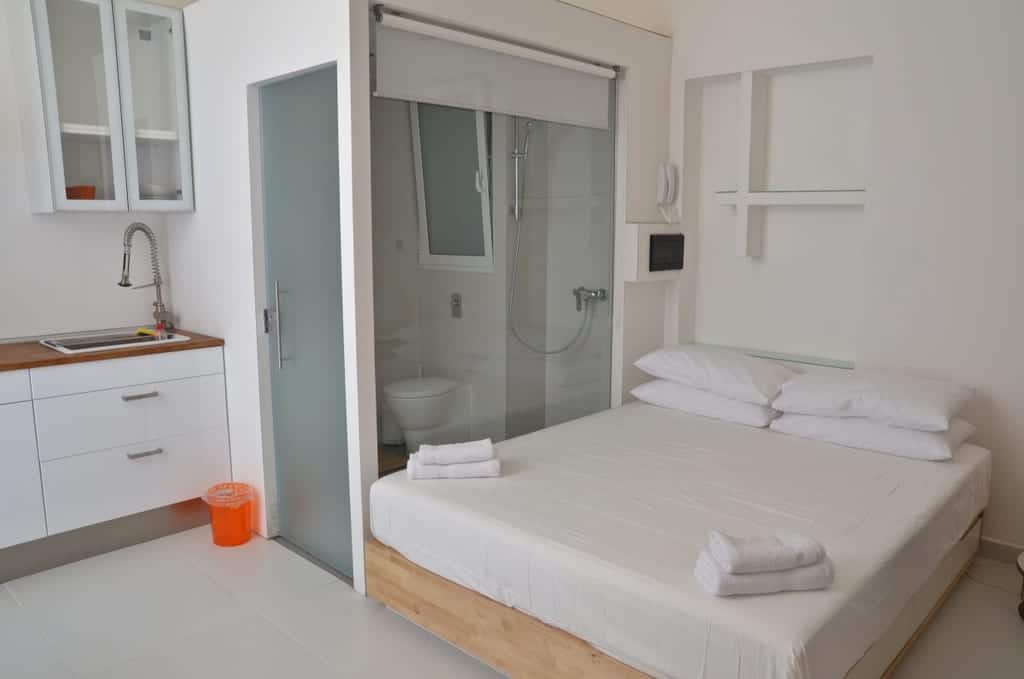 A Perfect Stay at Two Pillows
At the last minute, I booked the final six nights of my stay at Two Pillows, a property that had opened only three days earlier. Was it a good idea to gamble on a brand new property? I'd see.
That was a fantastic decision. I talk now and then of opening a guesthouse someday — and I loved Two Pillows so much, it's exactly the kind of place I'd like to have! It's a traditional Maltese building beautifully restored, including the architectural details, and filled with brand new furniture and appliances.
Over the course of our stay I got to know the owner, Ben, and his lovely mother, and when they heard I was a travel blogger and offered us a free night, we were happy to give them a publicity boost. Comped night or not, this is a place that deserves it.
This is the first place where I've ever stayed that was a genuine hybrid of a boutique hotel and a hostel. I was staying in the "orange room," one of the private suites. My room was bright, modern, and immaculate at a very reasonable price of €29.50 ($39) per person per night.
My suite had a bed (with two pillows each, of course!), table and chairs, two more comfortable chairs, a bathroom with a shower, and a kitchenette with a refrigerator, utensils and stovetop. Great free wifi, too.
I had this fabulous view from my window! I was taught how to do the Maltese thing — to stand on the balcony, watch everyone who walks by, and gossip.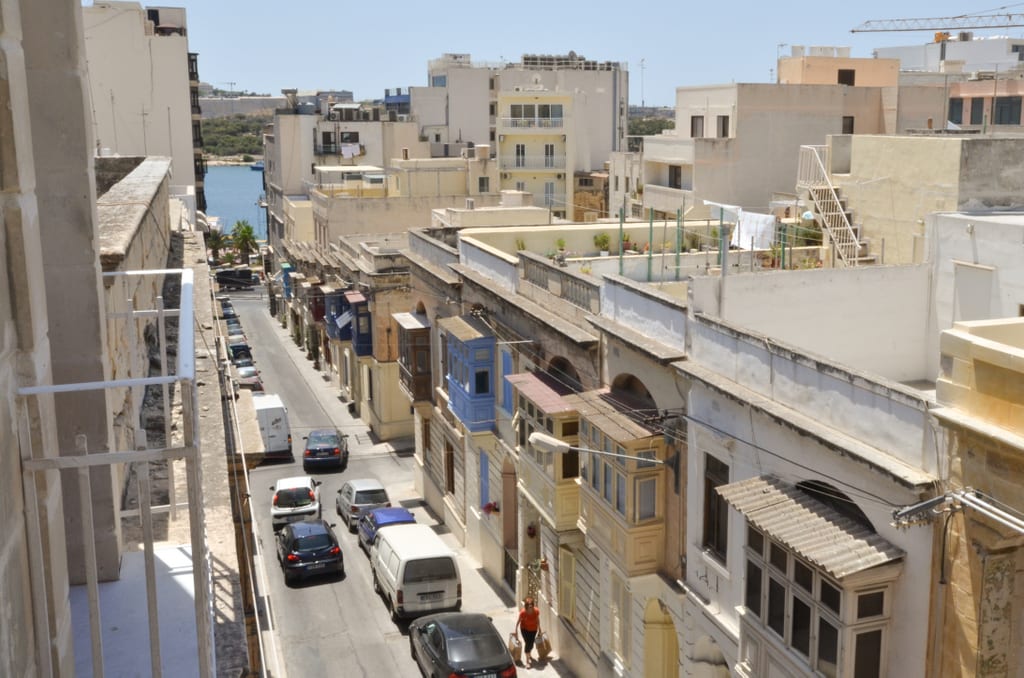 In addition to these outstanding suites, there were dorms in the building as well, plus a brand-new communal kitchen downstairs and a basement with a foosball table.
One flaw in this suite: the bathroom has a glass wall covered with a not-that-opaque curtain, and an automatic light — so when you use the bathroom in the middle of the night, the whole room floods with light for several minutes and you'll likely wake your partner. (Additionally, the lack of opacity means you'll be learning a LOT about your partner's bathroom habits…) I talked to Ben about this and he was understanding — a light switch and a thicker curtain would fix this easily.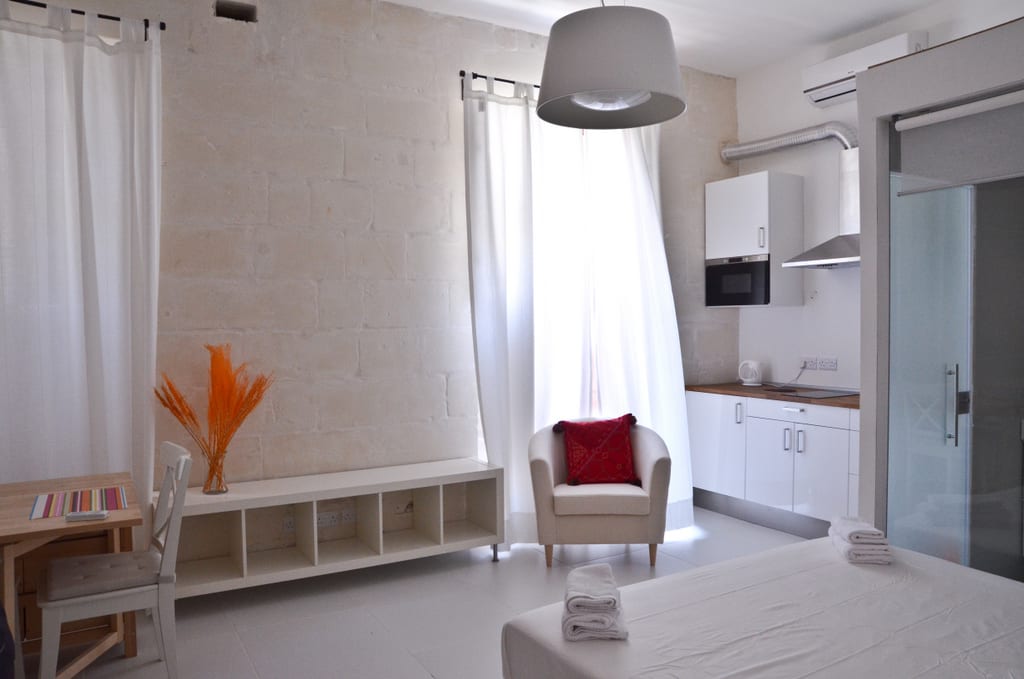 As for the location, it was exactly what I wanted: a quiet side street just a 2-minute walk from the waterfront where you can get the ferry to Valletta.
It's also across the street from the local bakery — there's nothing like delicious bread smells filling the air.
Two Pillows is a wonderful new place, and I wish Ben and his mother years of success with their business. This hotel is unique for Malta and unique for Sliema. I know that when I return to Malta, this is where I'll be staying.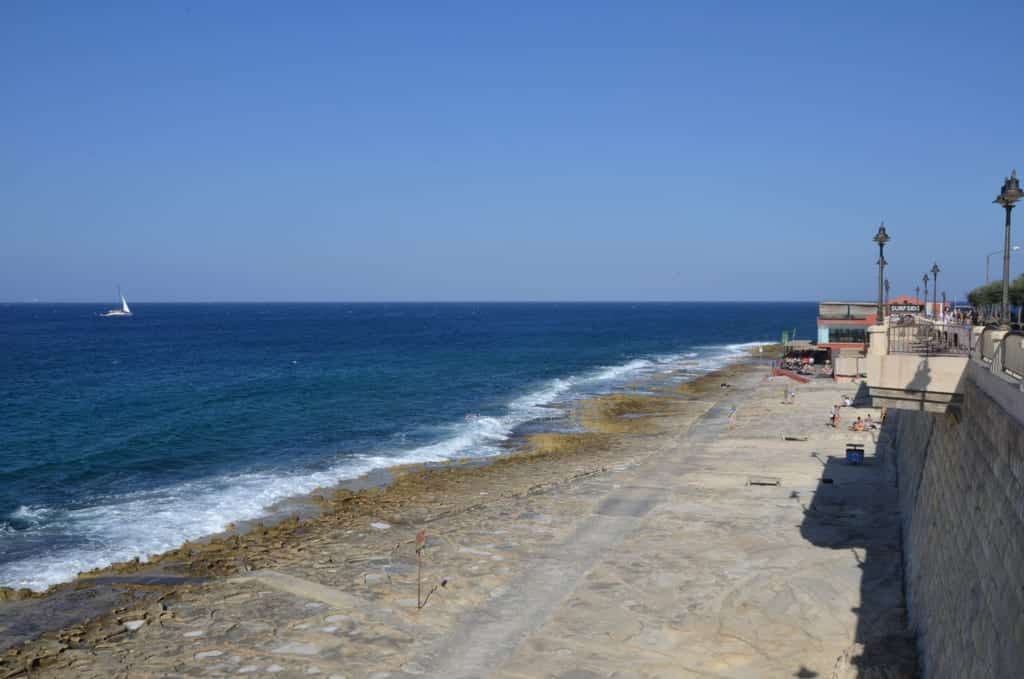 A Place to Just Be
I can see why Sliema might not be everyone's choice — the beaches are rocky slabs, it's not the prettiest place, it's filled with the same shops as at home, and it's devoid of tourist attractions. But Sliema's not the kind of place you go to visit — it's a nice place to just be. You can sit next to the sea and enjoy the sunshine and allow yourself to truly relax.
Whether you choose to stay in Sliema or St. Julians or Gzira, you're in a great place. Enjoy it!
Essential Info: Two Pillows offers four- and six-bed dorms from €18.50-19.50 ($25-26) per person per night and private rooms and suites from €29.50-39 ($39-52) per person per night. Check out all the rooms here.

I used World Nomads travel insurance for this trip. I never travel without it and always recommend purchasing it before a travel, regardless of destination.
Many thanks to Two Pillows for offering us one complimentary night in the orange room. All opinions, as always, are my own.
Get email updates from Kate
Never miss a post. Unsubscribe anytime!