Adventurous Kate contains affiliate links. If you make a purchase through these links, I will earn a commission at no extra cost to you. Thanks!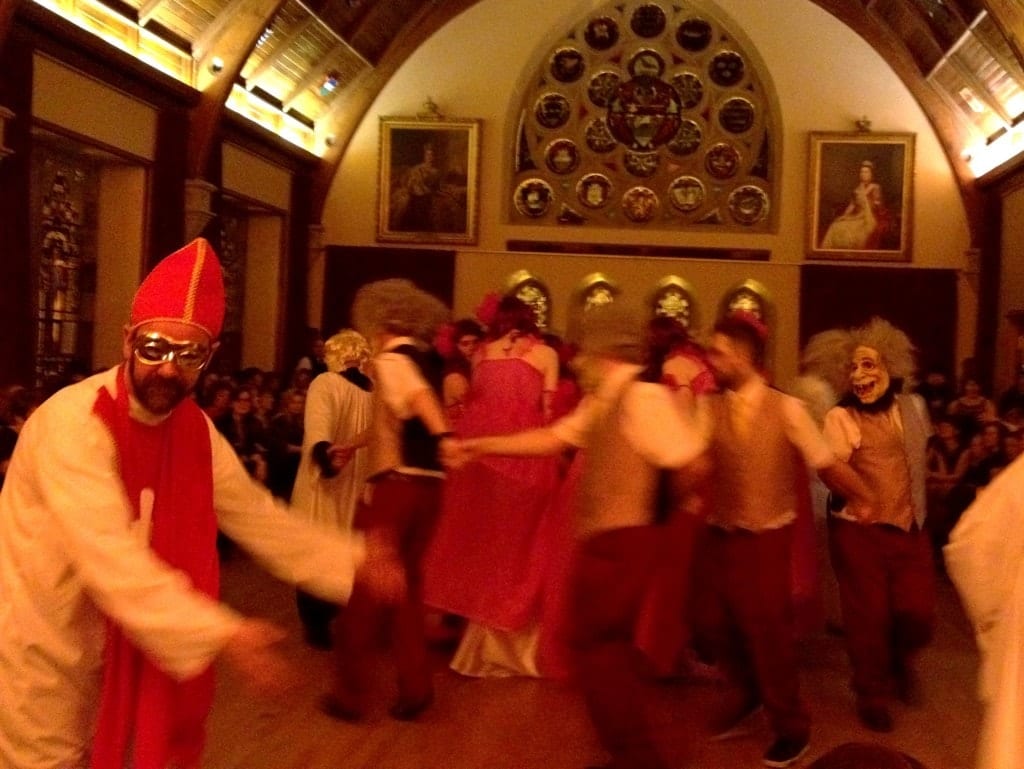 Up Helly Aa is all about the explosions of fire and burning torches, the parades and Viking songs.
What is less known is that it's ALSO about some legendary after-parties.
After the burning of the galley, there are 10 official Up Helly Aa parties around town.  These parties last from 9:00 PM to roughly 9:00 AM, depending on how the squads perform.  Fifty — yes, FIFTY! — squads perform at all ten parties!

Because I went with Haggis Adventures, I had a ticket to the best party: the party at Lerwick Town Hall.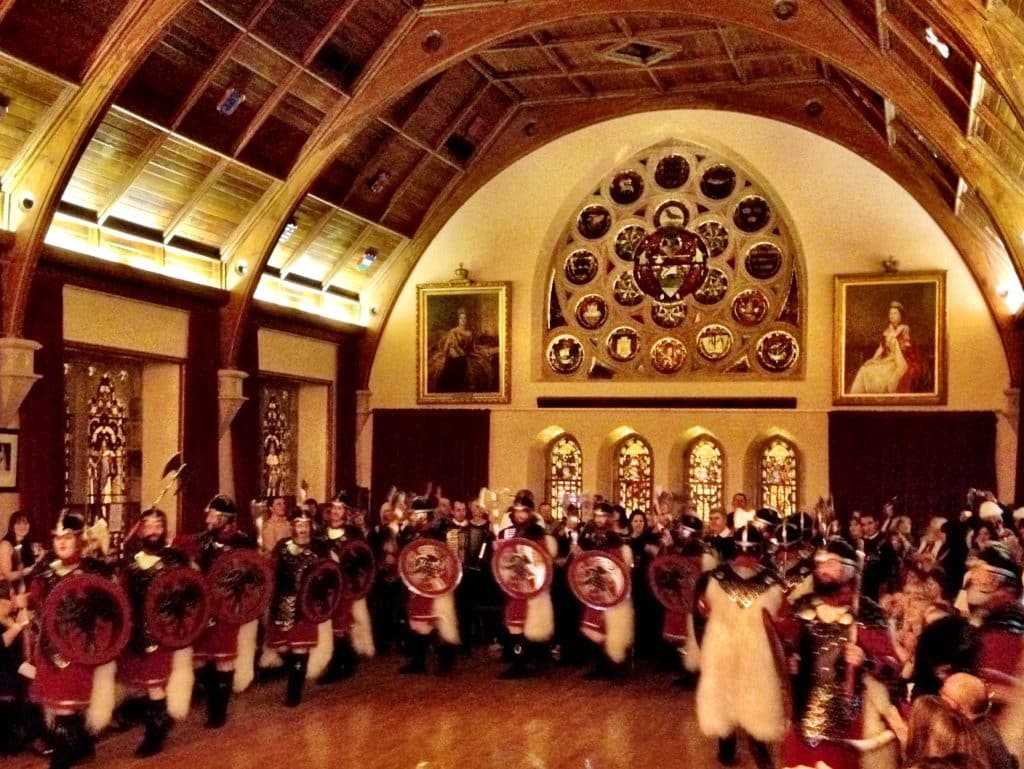 Isn't it a beautiful building?
This party is more formal than the others, with most people dressing up.  It also features a band that plays traditional music all night long — oh, and do I ever mean all night long.
Best of all, it's a BYOB event — so our guides Dougie and Tony took us to Tesco's where we bought cheap booze, which we stored away at the party!  It was a fantastic idea.  (A word to the wise: bring more than just kiwi-strawberry-flavored cider.  You don't want to drink that stuff all night!)
The night began with the Viking procession pictured above, complete with the Baby Vikings and the traditional music.  This was the final display of Viking glory in Shetland for us — the next time I'll see Vikings, it will probably be closer to home in Viking-happy York.  I'll let you know once I book my York hotels.
And then the dancing began!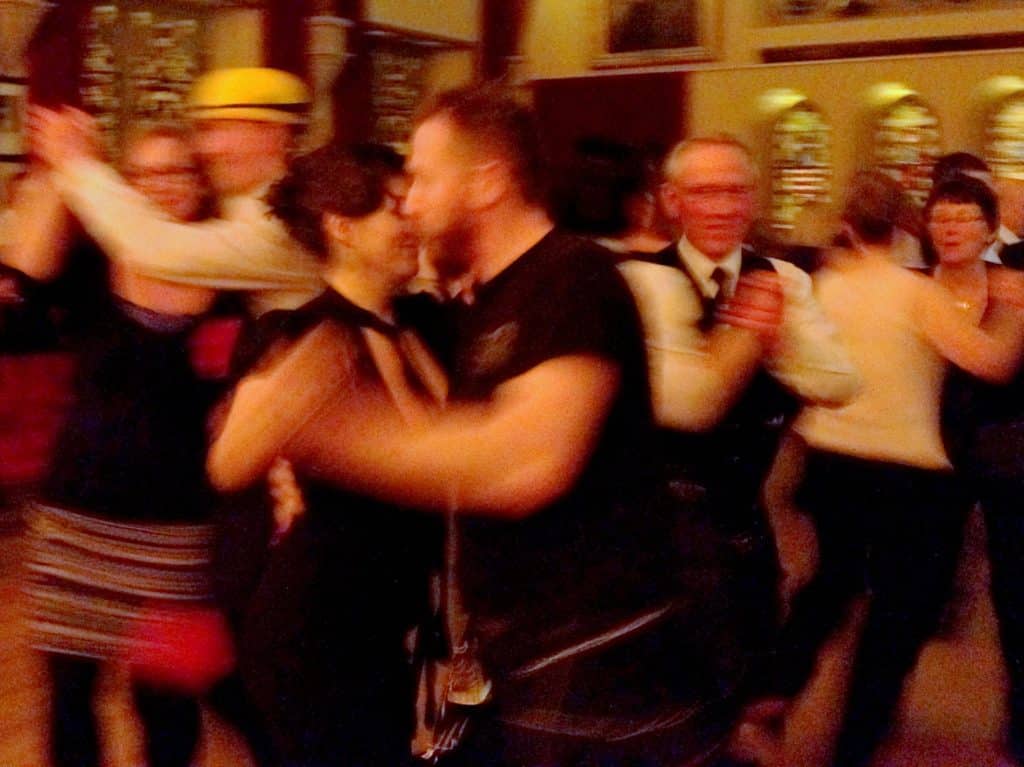 If you're like me, you're incredibly intimidated at the thought of joining in traditional dances that everyone else seems to know by heart.  Thankfully, Tony and Dougie made things easier by grabbing us and teaching us the dances!
Here is a video of Dougie (in the tan vest) and Amy dancing with a group.  FYI: none of us had a clue what we were doing, but nobody danced with as much humor and grace as Amy did here!
And with time, it got easier.  Soon, we were bringing the guys from our group to the dance floor, and I even danced with a few Shetlanders and Scotsmen.  It was loads of fun — some of the most fun I've had in a long time.
Still, the dancing wasn't even the main event at the party.  It was all about the SQUAD PERFORMANCES!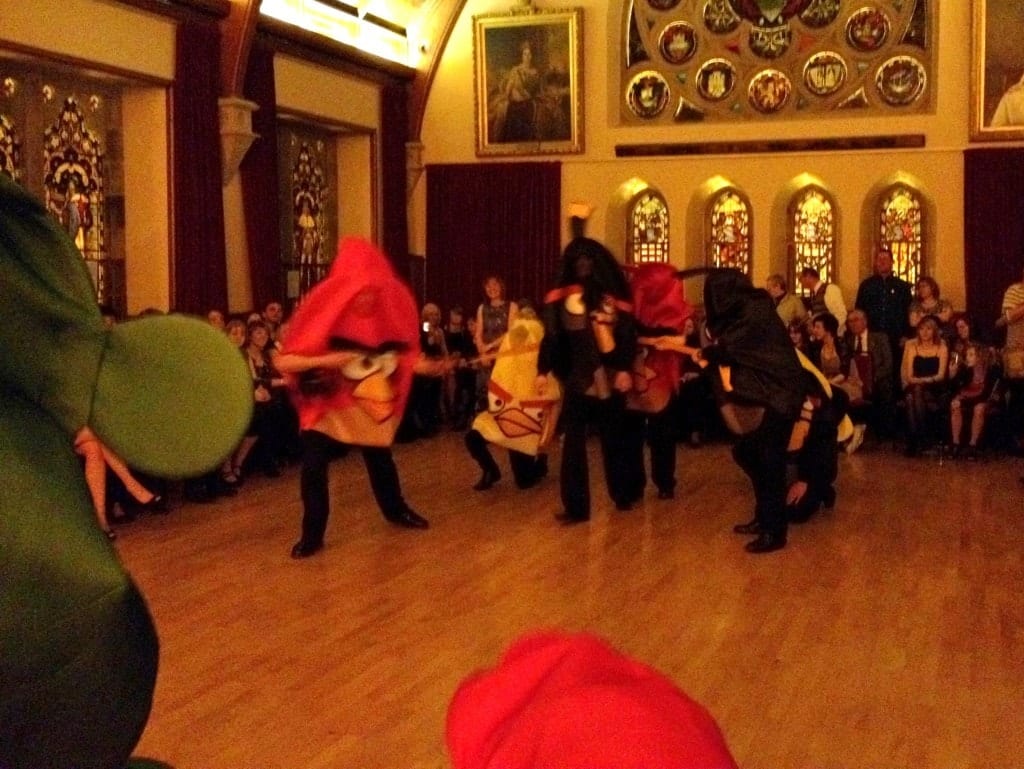 When I heard that fifty squads (again, FIFTY!  FIFTY SQUADS!) would be performing at the party, I figured they would be dressed as Vikings and doing Viking things.
Not so much.  Those crazy costumes from Up Helly Aa actually had a meaning behind them.  Each group had choreographed a song and dance routine to go along with the costumes!
Jazz Arse Cise, anyone?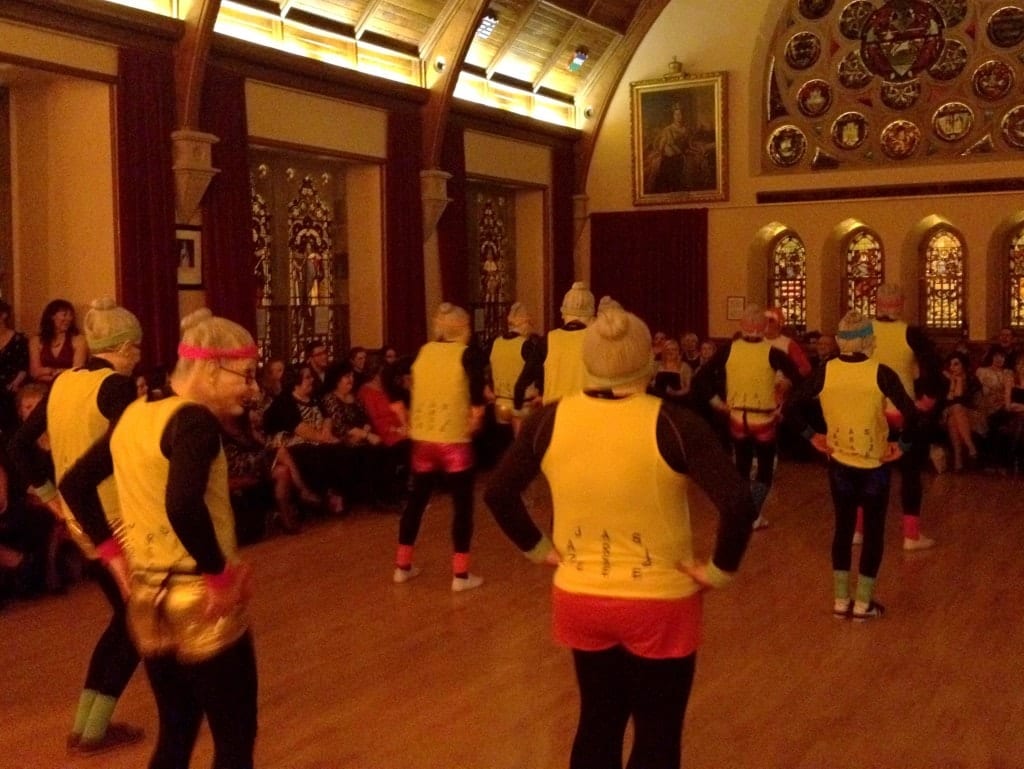 Here are a few videos of my favorite routines:
These guys dressed up in Mick Jagger masks, Rolling Stones t-shirts and British flags and danced to "Moves Like Jagger":
These guys dressed up as the Angry Birds and acted out real-life Angry Birds demolition to Chumbuwamba's "Tubthumping":
And my favorite: these guys acted out LMFAO's "Party Rock Anthem" video — with a Shetland twist — complete with the outfits and the shufflin' dance moves:
While the squads of younger guys tended to pick current pop songs, the squads of older guys tended to pick more random routines (one was giant furry chickens, one danced to "The Bird Is The Word").
This group acted out a popular Shetland legend, telling the story about how there used to be only one outhouse on the islands:
These routines were as hilarious as they were ridiculous, and we loved them.  All night long, two squads would each perform their routine, then the band would play three songs for us to dance to.  And it went like this for hours.
Being an overnight party, the town hall had provisions for us — food, water and juice were available all night, including some delicious tattie soup.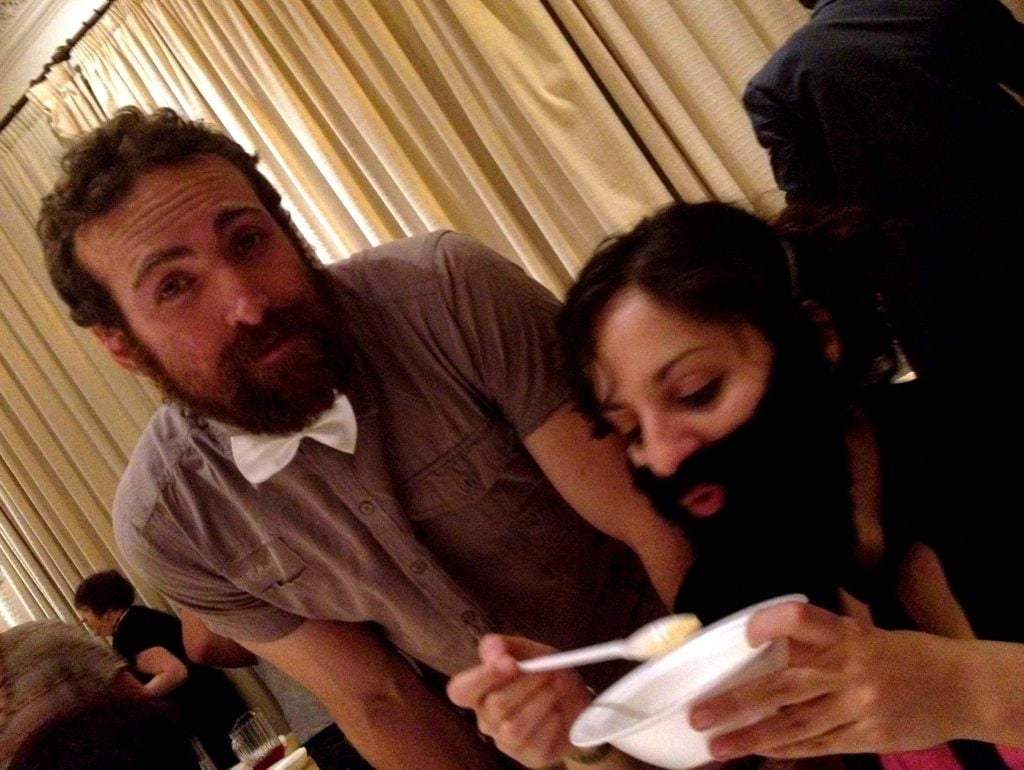 Now, who's rocking the better beard?
The food helped, but late in the night, exhaustion had begun to set in.  We had been going for about 18 hours at that point, and we began to fade away.
At that point, our group members began sharing a silent message:
WE WILL MAKE IT UNTIL THE END OF THE PARTY.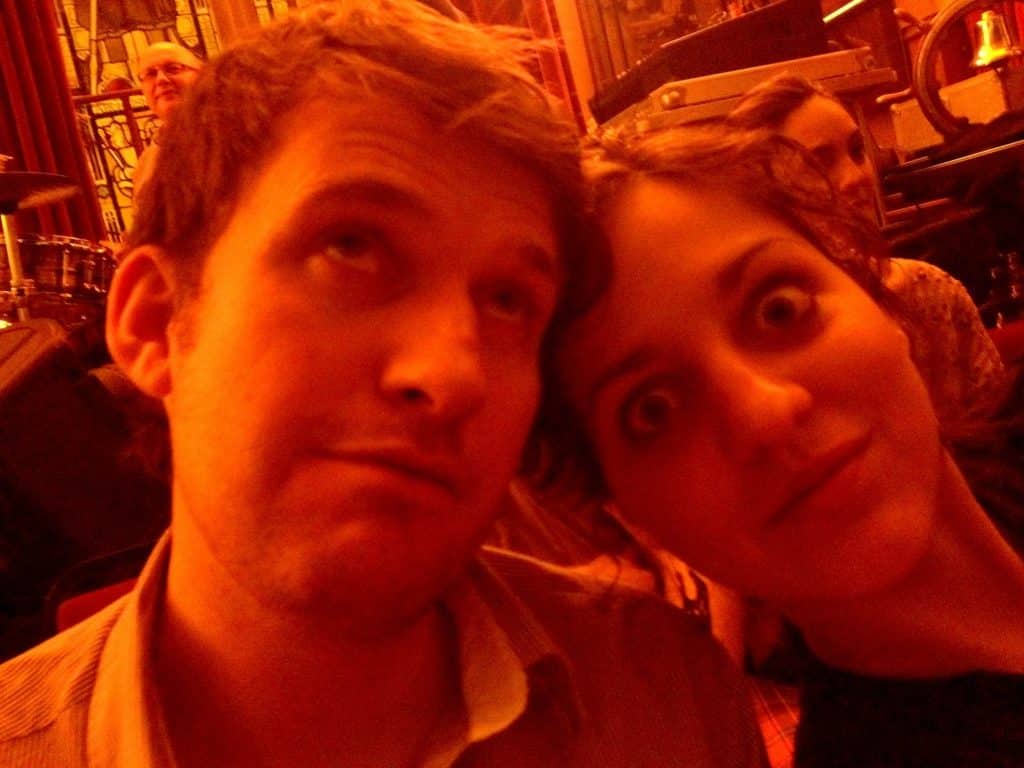 It wasn't easy.  Around 3:00 AM, people from our group started peeling off, claiming exhaustion.  We begged each person to stay, but they would leave us.  Even Tony and Dougie left.
Determined to stay all night, we pressed on.  (If you follow me on Twitter, you probably saw the hourly updates.)  By 6:00 AM, I was nearly falling asleep every time I sat down to watch a squad perform.  I jumped up whenever the music began again to get my heart pumping on the dance floor.
And at 8:13 AM, the final squad finished their performance and the party concluded.  We did it.
It was a fitting conclusion to Up Helly Aa, the insane festival that I've been lucky enough to experience in real life.
Many thanks to Haggis Adventures for a truly fantastic time on the Up Helly Aa trip.  All opinions, as always, are my own.
Get email updates from Kate
Never miss a post. Unsubscribe anytime!