Adventurous Kate contains affiliate links. If you make a purchase through these links, I will earn a commission at no extra cost to you. Thanks!
When you think of capital cities, what comes to mind?
Embassies. Bureaucrats. People in suits. Endless meetings. People so protective of their government-oriented careers that they wouldn't dare rat out an enemy — well, unless they were Frank Underwood. Forget money. Power is the primary currency here.
That may be the case in Washington or London or Singapore or Brasilia…but not in Valletta. It is the single most un-capital-like capital I have ever visited.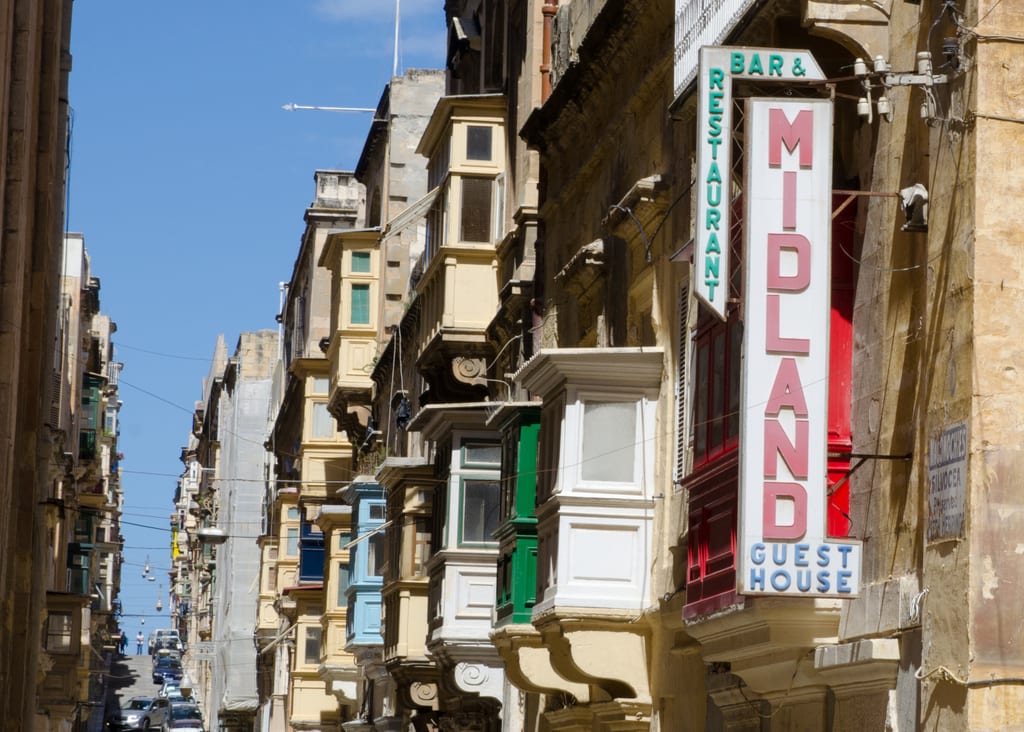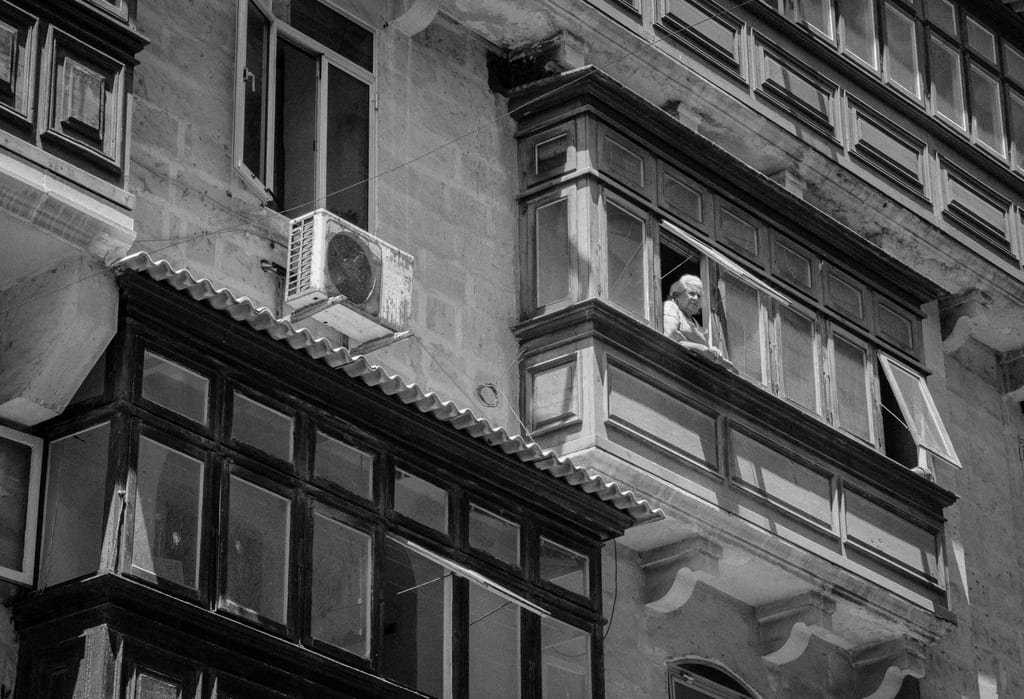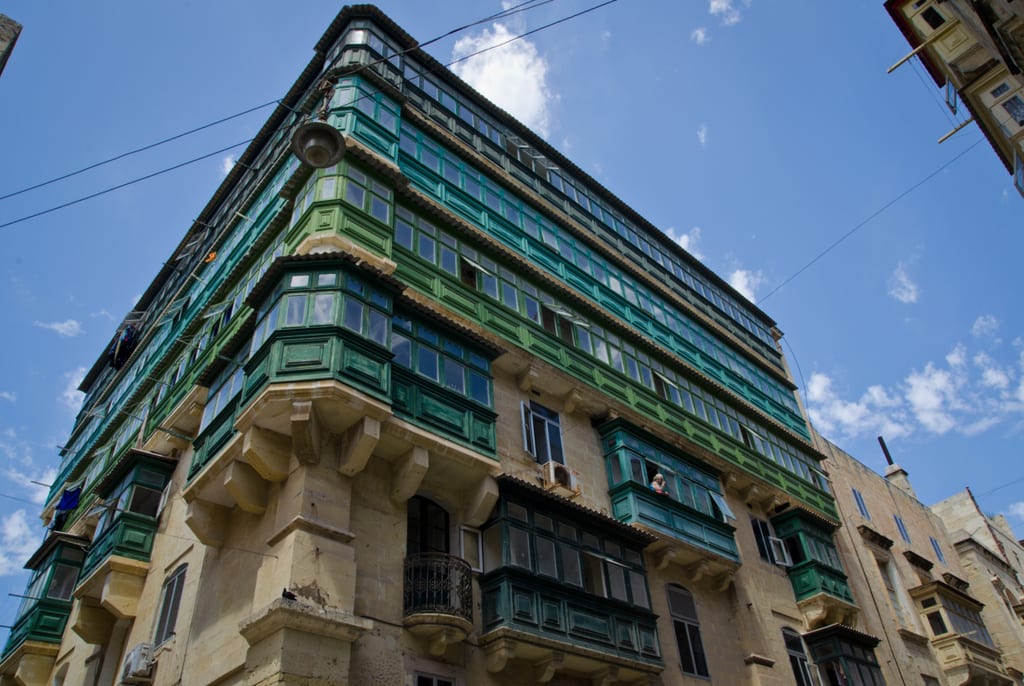 Valletta is an incredibly romantic city, characterized by its brightly colored balconies and religious statues carved into street corners. It was one of the first planned cities in the world, and the gridded streets rise and fall with the hills, far more organized than the rest of the country. The city is one of Malta's three UNESCO World Heritage Sites.
Valletta is tiny — the population is only about 6,000! And there are no embassies or consulates here. Most of them are headquartered in drool-inducing seaside mansions in nearby Ta'Xbiex.
On my first visit to Malta, I stayed in Sliema and took the 10-minute ferry to Valletta for a day trip. At the time, I declared Sliema to be the best place to be based on a trip to Malta, and Valletta lovely, but too small and quiet to be based there the whole time.
It makes sense — Sliema, along with St. Julian's next door, is the center of the world for both the Maltese and tourists. It's got the seafront, the hotels, the restaurants, the nightlife.
But on my second visit, I was based in Valletta, staying at the gorgeous Palazzo Prince d'Orange as part of the Blog Island campaign. Soon I learned that Valletta wasn't as quiet as I had thought it would be — in fact, it was just the right level of noise, except on Sundays, when everything would more or less close down.
And the view of the Grand Harbour? It's the best seafront view in all of Malta.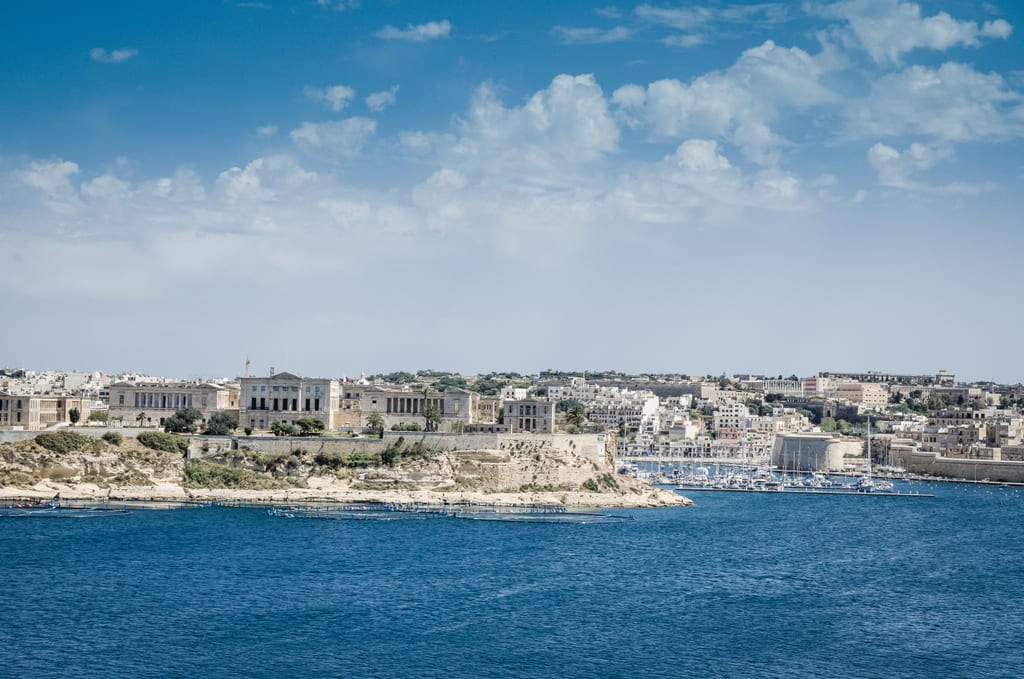 If I wanted to go to Sliema, it would only be a 10-minute ferry ride away from Valletta. I took advantage of that more than once!
But the best part of staying in Valletta? I would wake up in the morning, walk out the front door of the Palazzo, and see this.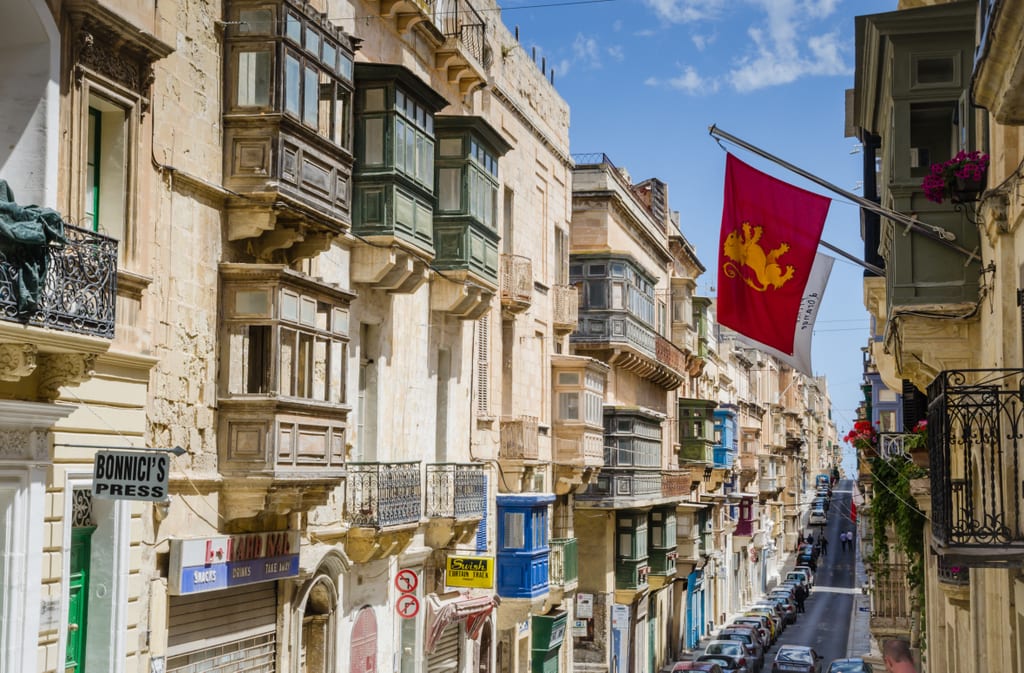 There's a lot of value in being based in a place as beautiful as this.
This time I took advantage of my location and explored Valletta more deeply. Valletta is a peninsula leading off the mainland, and its more glamorous part is the part closest to the mainland. Here you'll find immaculate squares, beautifully painted balconies, and plenty of tourists.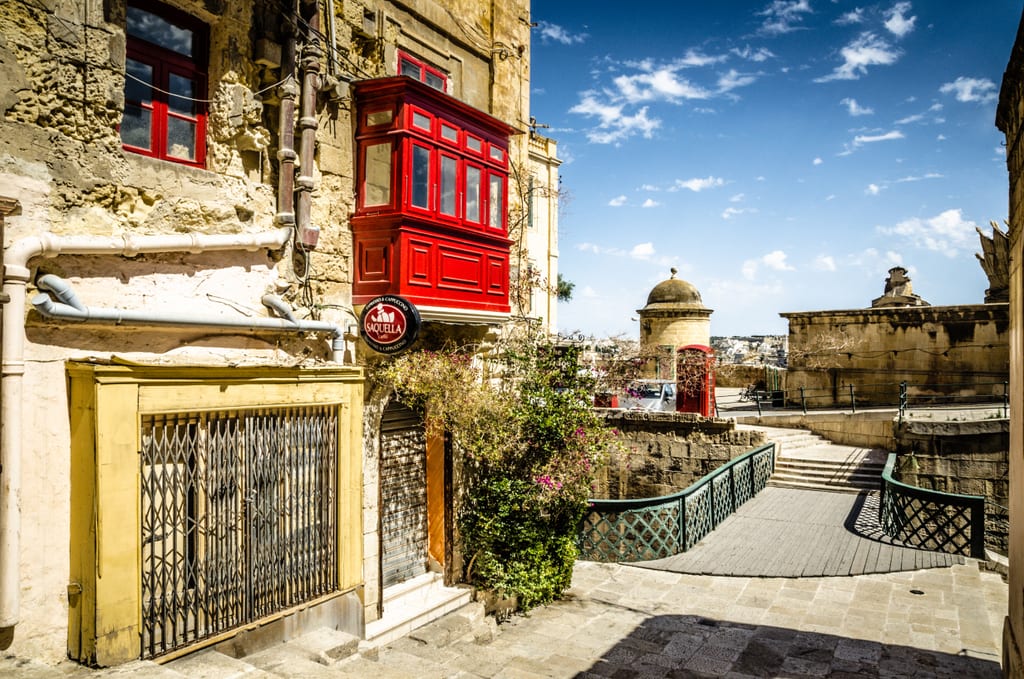 But when you head further down toward the end of the peninsula, the feeling in the air changes. It becomes simpler, blue collar, a bit rougher. (I was told that this part of Valletta used to be one of the roughest neighborhoods on the island back in the day, but it has since improved.)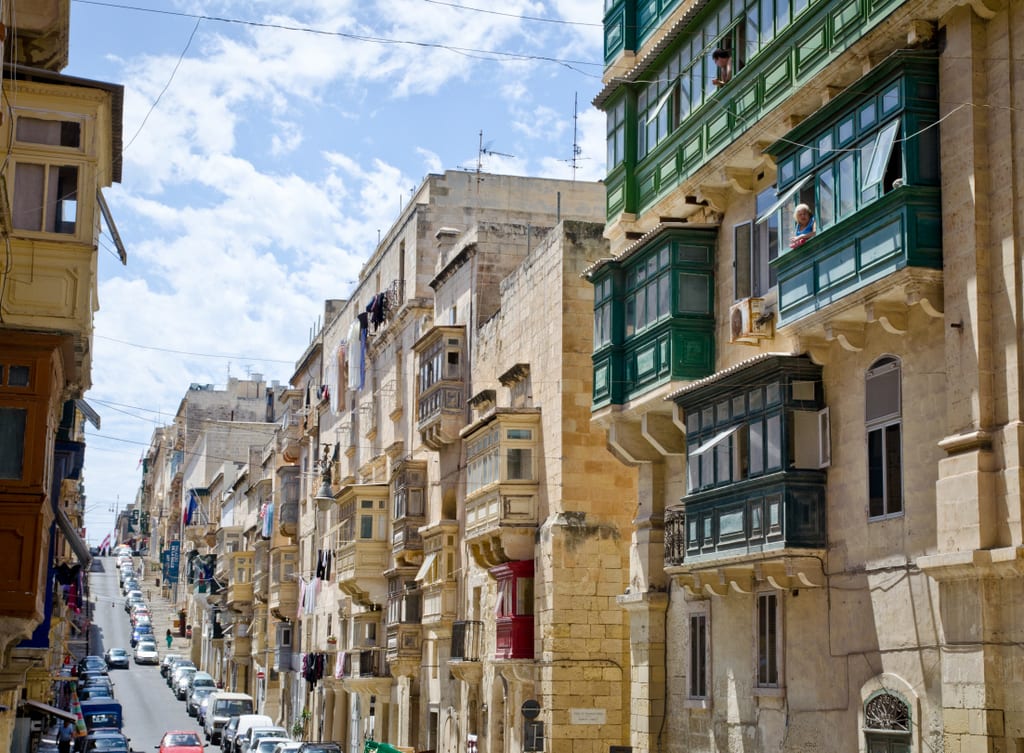 Malta is peculiar in that you feel like you're living in two different decades — the present day and perhaps the sixties or seventies.
The latter manifests itself in elderly ladies who spend their days looking out their balconies and gossiping; in traditional Maltese homes with plastic-covered couches and giant portraits of the Virgin Mary hanging above beds; in the vintage bars where you almost expect to see World War II-era sailors cavorting; in the religious festas that dominate the summer months.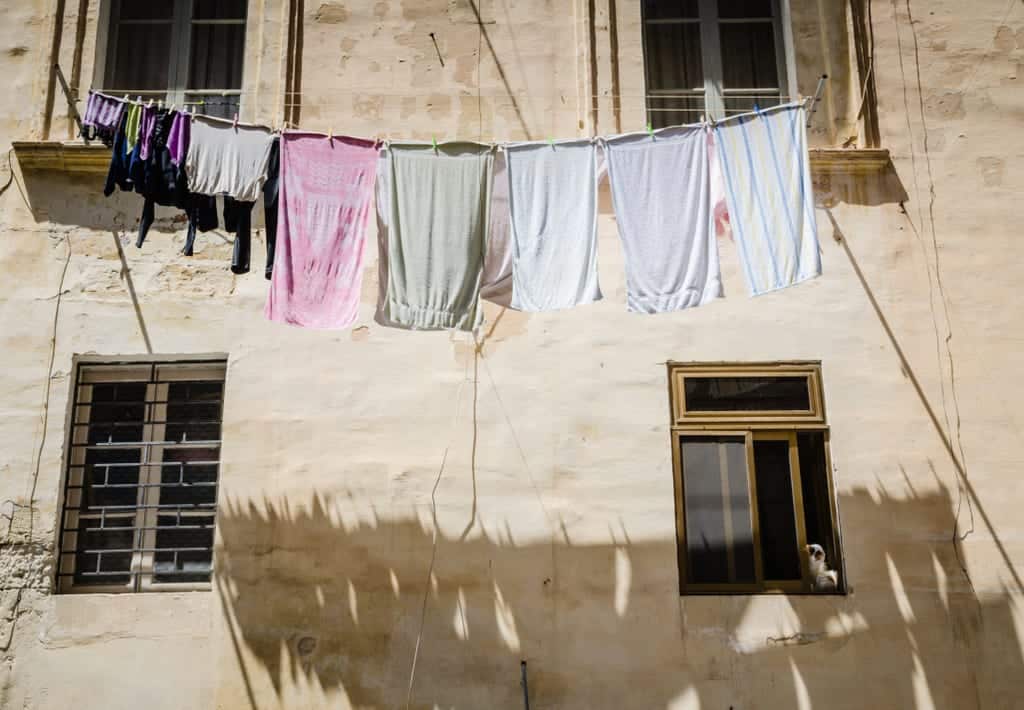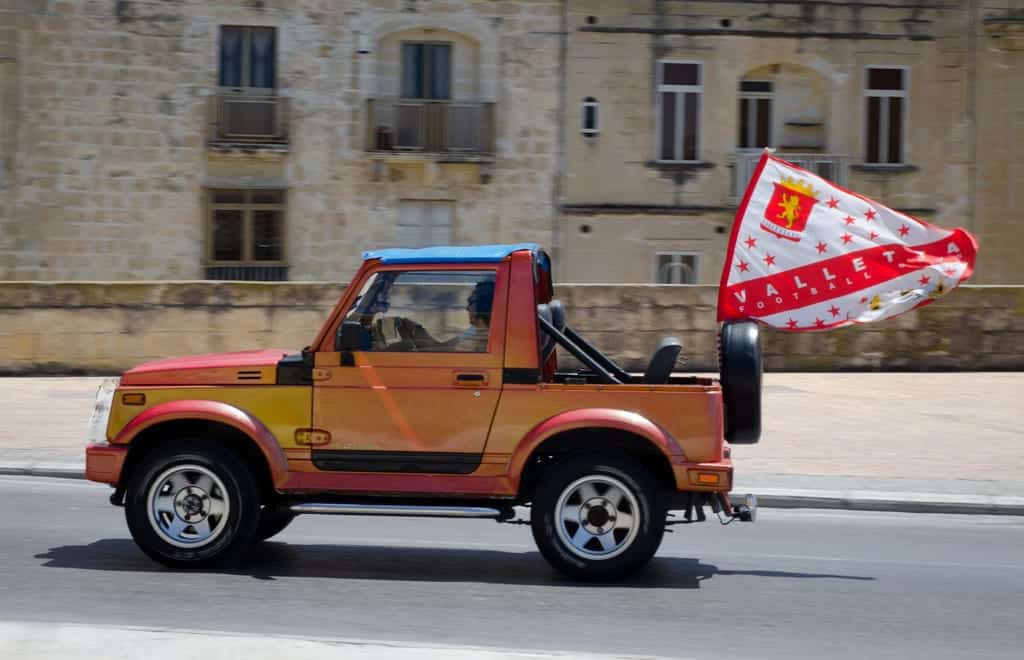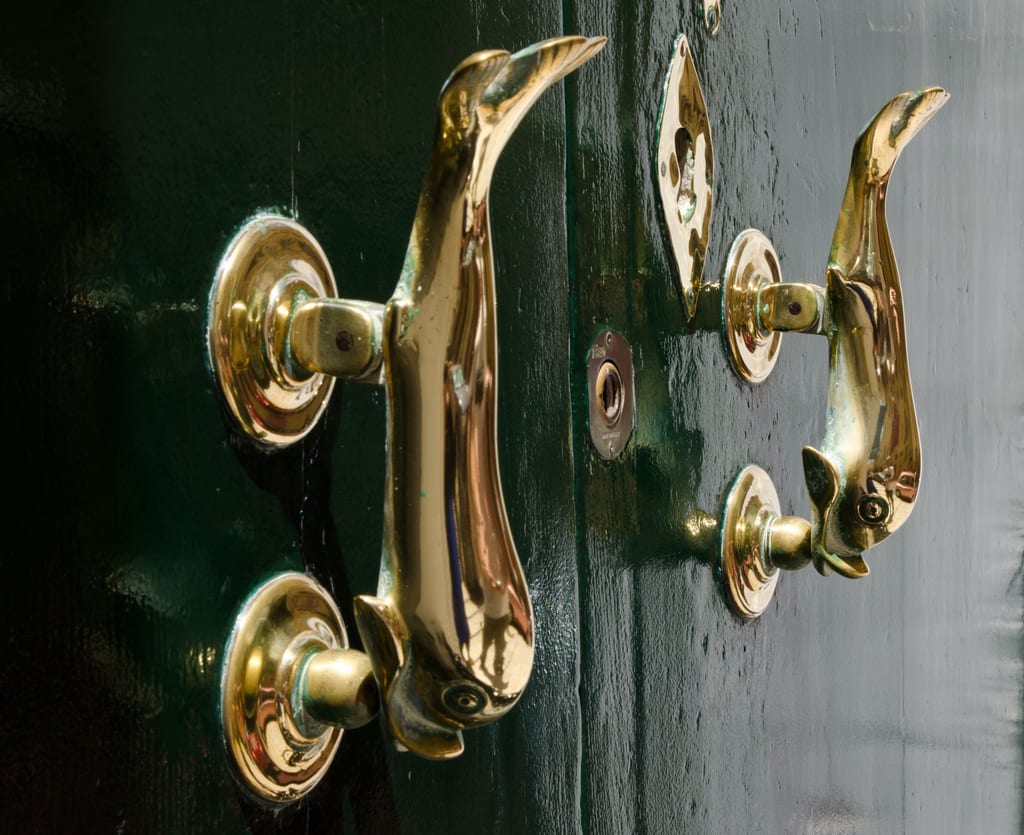 But more than anywhere else on the island, this outer part of Valletta feels even more so like it's from another era. Young boys kiss their uncles on the cheek in greeting. Construction workers blast 80s power ballads as they build. Maltese is the only language you hear. Threats are scrawled on signs in tiny grocery stores.
If it weren't for the occasional smartphone, modern car or reference to Facebook, you could assume that no time had passed at all.
While Valletta is a relic, it's also changing rapidly, especially in the more modern part of the city. New restaurants are moving in and stay open until late. Canny investors are snapping up the older properties and converting them into modern guesthouses.
Valletta is going to be a place to watch over the next few years, and I'll be keeping an eye on it.
By the time my second visit concluded, I had completely changed my mind — I was smitten with Valletta and I only wanted to stay here in the future.
Here's the truth: Mario and I talk about buying property in Malta someday. Somewhere we can rent out most of the time and stay when we visit. All this time, we've been leaning toward Sliema or St. Julian's — but now Valletta has jumped to the top of our list.
After all, being able to walk out and be surrounded by beauty every day is its own reward.
Kate's Favorite Valletta Spots

Gambrinus — My favorite cafe for coffee and pastizzi in the morning. There's no other way to start a day in Malta. You'll probably be the only non-Maltese person in there! Their pastizzi will be gone by 11 AM and possibly before.

Cafe Ranieri — A great alternative if Gambrinus is out of pastizzi. Also has a nice selection of cakes.

Nenu the Artisan Baker — A sexy new subterranean restaurant built out of an old bakery and featuring haute Maltese specialties, including some gorgeous ftira (Maltese-style open sandwiches that are simply masterpieces here).

Luciano Restaurant — Solid Maltese specialties in an interesting space filled with vintage photos. The Maltese pizza, topped with Maltese sausage and Gozitan cheese, is nice here.

Badass Cafe — I can't believe a city like Valletta is home to a place called Badass Cafe, but the food is delicious and the burgers are top notch. The Maltese burger is a combination of Maltese sausage and rabbit! They also have KINNIE MILKSHAKES.

Ting Tong Bar — A vintage spot on Strait Street covered with photos of cavorting sailors from the 1940s and 50s. Great tapas and cocktails.
This post was brought to you as a result of the Blog Island Malta campaign, created and managed by iambassador in partnership with the Malta Tourism Authority and the support of Air Malta. Adventurous Kate maintains full editorial control of the content published on this site.
Get email updates from Kate
Never miss a post. Unsubscribe anytime!