Adventurous Kate contains affiliate links. If you make a purchase through these links, I will earn a commission at no extra cost to you. Thanks!
This was a year for rebuilding. I wrote in last December's post that 2016 was a difficult year in many ways. I had such high hopes for 2016 that I ignored how bad things were going, but by the time the election rolled around, I felt deflated — and admitted that the year had been rough in more ways than I thought possible.
2017 was about picking up the pieces and building them into something better. Business was better this year. My relationships were better this year. My health got so much better this year. My work-life balance (and especially travel/home balance) was a hell of a lot better this year. And while I'm not quite where I want to be, I am on much stronger footing today than I was at the end of 2016.
My health is good; my family is good. There's a lot to be thankful for this year.
Destinations Visited
Las Vegas, Nevada

New York, New York

Reading and Lynn, Massachusetts
Favorite Destination
Vegas, though…
Highlights
A fabulous girls' trip to Las Vegas. I wrote a little bit about it in last month's recap because the trip began on November 30, but the bulk of the trip happened in December.
Some of the best highlights? Hanging out with Ray Romano and David Spade in the green room after their fabulous show! (And successfully not quoting Tommy Boy when talking to David…I quote that movie so often without thinking about it, I was afraid of doing so accidentally and him thinking I did it on purpose!)
We saw a great Cirque du Soleil show — Michael Jackson One at Mandalay Bay — and ate a lot of great food. Brunch at Bouchon, salads at Chica at the Venetian, and the tiny lemon meringue tarts at the Bellagio buffet were highlights. We dipped our toes into nightlife — the Foundation Room at Mandalay Bay, with an awesome view of the Strip, was really cool — and we just walked around, checked out the Christmas decorations, and enjoyed each others' presence.
It was very different from our past trips to Vegas in our early twenties. And in some ways, it was a bit of a last hurrah. A few of us are going through some transitions, so this may be the last girls trip we have that is quite like this.
Getting honored at the Irish America Business 100. This year I was named to Irish America's list of top 100 Irish-American business leaders. What a surprise that was! All those CEOs and me! And an invitation to a dinner at the Metropolitan Club!
We were asked to provide quotes about what our Irish ancestry meant to us. Here's what I wrote:
"At one point the Irish were among the most reviled in America. Today we are seeing history repeat itself as similar scorn is heaped upon Latin American immigrants. As Irish Americans, I believe it is our duty to speak up for the immigrants of today. We must protect the people who came here to create a better life for their families, just as millions of Irish did before them."
The publisher actually read my quote out loud at the dinner. That made me happy.
A great Christmas at home. It was chilled out and relaxed with lots of family time and good food. And far too many Hallmark Christmas movies, though I think my sister and I added a lot to them with our comedic commentary! Also, it's rare to have a white Christmas in the Boston area, but we had the snowiest Christmas of my life! It was like a fairy tale.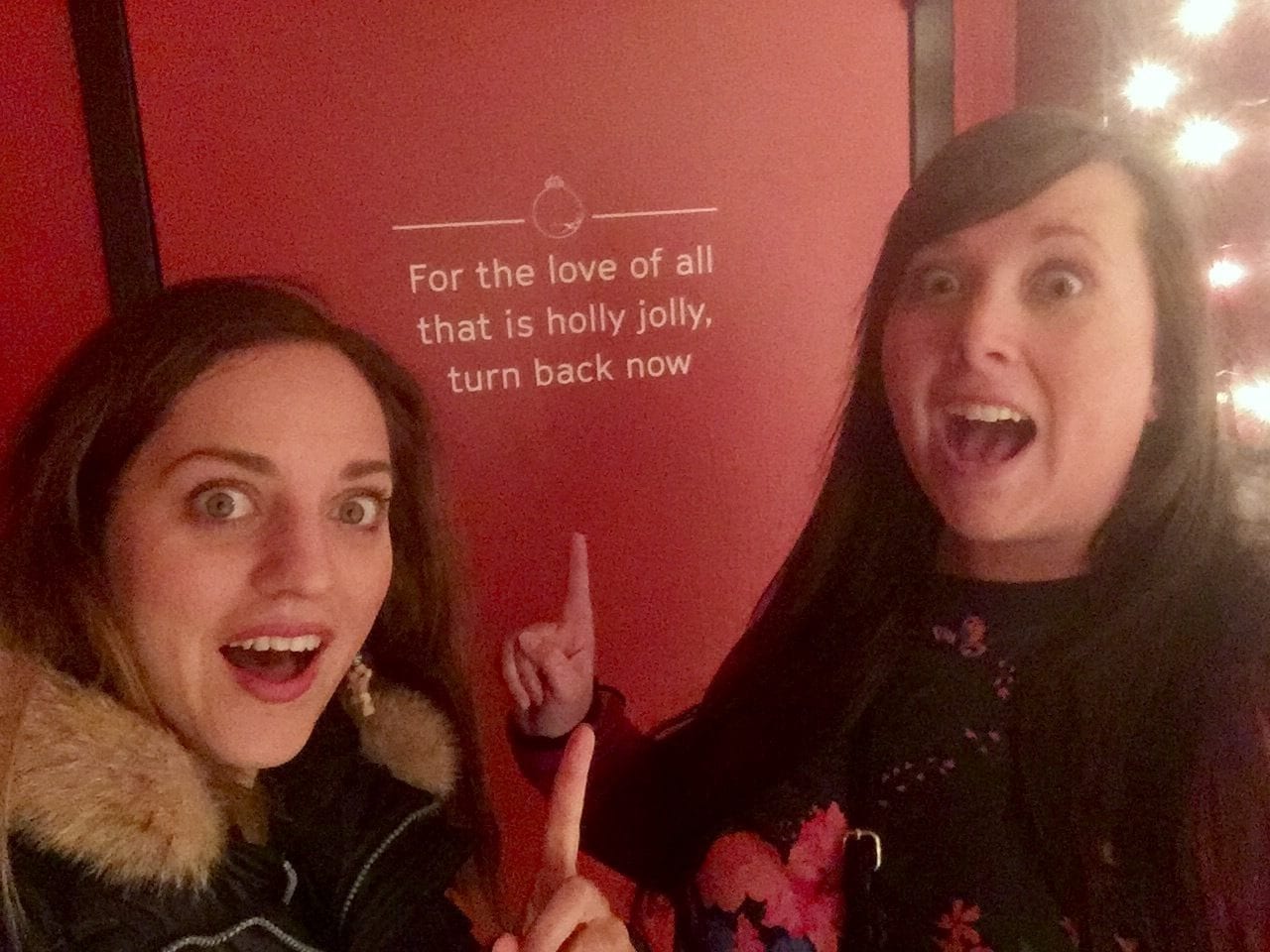 Another visit from Cailin. We always have a great time whenever she visits, and this time we added in a pizza and cheesecake tour through Brooklyn (timed with my lease signing), a visit to an anti-holiday pop-up bar called Jingle Hells, and a visit to Gulliver's Gate, an amazing collection of miniature models of places all over the world.
Some other New York highlights from the month: going to The Hip-Hop Nutcracker in Washington Heights, helping throw a friend's birthday party in a suite at the Benjamin Hotel, a Christmas party at my friend Jessie's, some great barbecue at Blue Smoke, a great book club session in TriBeCa, and lots of time with my loved ones.
A crazy New York moment. Cailin and I were walking through SoHo at midnight on a Sunday and all of a sudden who runs across our path but our friend Dani! "Hi! I'm sorry, I'm late, I'll see you later!" And she took off like the white rabbit. What are the odds?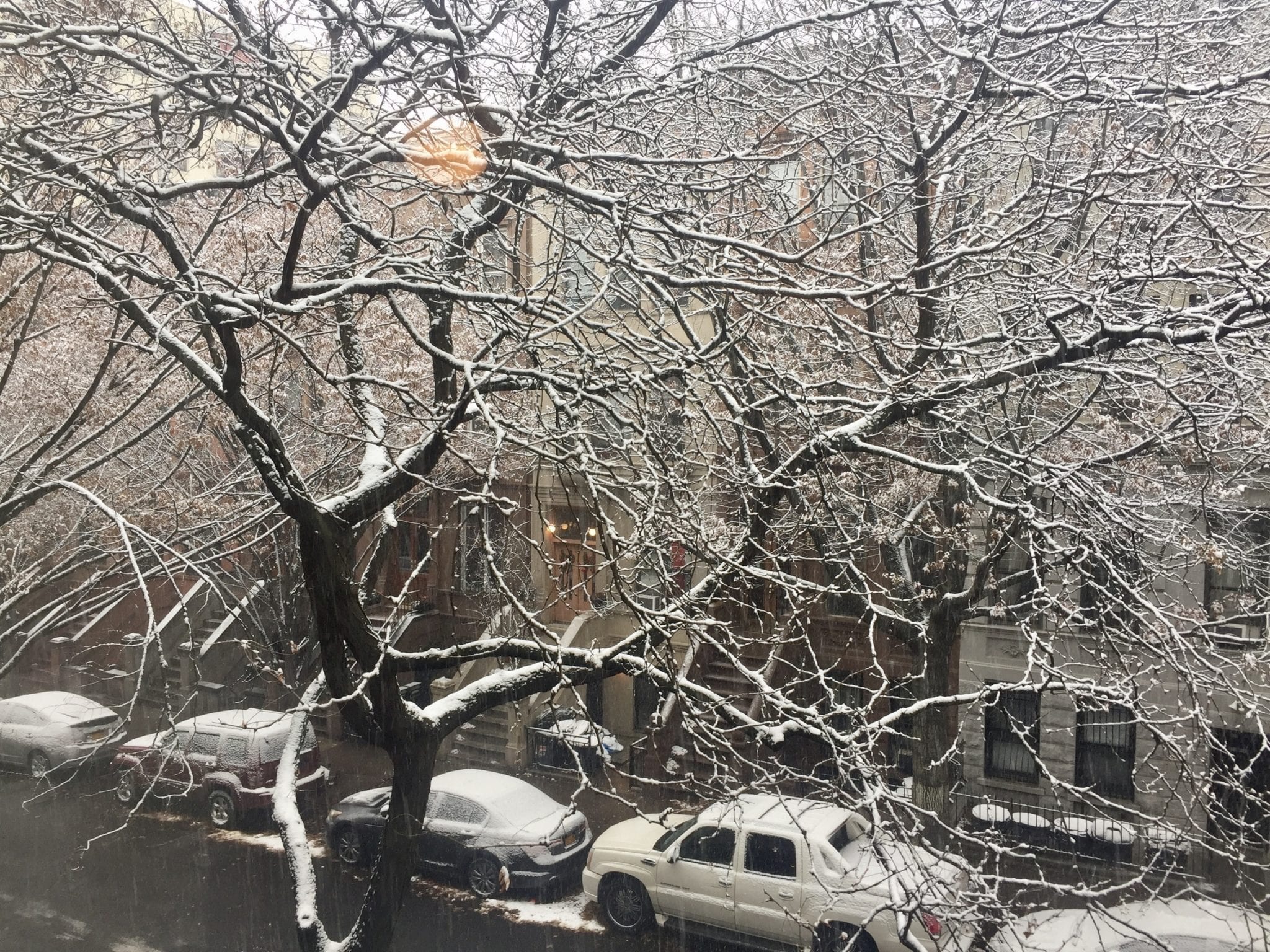 Challenges
Apartment stress. As I wrote in other posts, finding an apartment is difficult enough as is in New York; it's even more difficult when you're self-employed. Many landlords are nervous about renting to self-employed people because their incomes can be irregular.
Back when I looked for apartments in Boston, the landlord called my place of work and checked my credit score and that was it. But in New York, I've had to provide proof upon proof upon proof of my income. Every bank statement, ever, with the income highlighted. Every tax return from the past few years. Receipts from my top income generators from the past year.
I didn't eat or sleep for a week. I was that nervous.
Thankfully, my financial diligence paid off and I was offered the place. Bonus: because the previous tenants broke their lease, I didn't have to pay a broker fee, which is pretty rare in New York!
The awesomely bad lunch that was just bad. As soon as they announced that Guy Fieri's much maligned Times Square restaurant was closing permanently in a few days, my friends and I vowed to finally eat there. One big lunch (with sides of donkey sauce) later, we realized that we had been had. The food wasn't outrageously bad; it was aggressively mediocre, which was even worse. If you haven't read the New York Times review, YOU MUST. (Also, that picture above was taken in Vegas long before we heard the restaurant was closing, so that tells you how deep my Fieri fandom goes.)
COLD COLD COLD COLD COLD. A cold spell hit the Northeast US at the end of December, with Boston and New York temps from 5 to 15 degrees F (-15 to -9 C). Hitting those temperatures isn't that unheard of during the winter, but having them for a week or longer is highly unusual.
Most Popular Post
My Worst Travel Moments of 2017 — Every year, you guys love this one the most!
Other Posts
My Favorite New Destinations of 2017 — Ukraine came out on top!

My Best Travel Moments of 2017 — Air guitar festival vs. Hemingway lookalike contest…

My Favorite Reads of 2017 — The 16 best books I read, most published in 2017.

Most Popular Post on Instagram
Basically, at this point, no destination can compete with Santorini. For more live updates fro my travels, follow me on Instagram at @adventurouskate!
What I Watched This Month
The Crown. I started watching this Netflix series this month and I'm hooked. The series covers the reign of Elizabeth II over the course of six seasons, recasting every two seasons; the second season was released this month. I love it because it's a beautiful historic drama (THOSE COSTUMES!) and because there are a lot of soapy scandals in the Royal Family. Also, I love reading it alongside Wikipedia and checking the facts.
But what I love most is when it focuses on Elizabeth and her view of what the crown should be. What is the monarchy's role in a modernizing nation? And most importantly, how does she carve out a private identity while being a public servant and the world's most famous woman? It's fascinating.
Also, John Lithgow as Winston Churchill! Talk about inspired casting! Who ever would have thought that could work?! He is marvelous and deserves all the acclaim he's received.
My one complaint? Not enough corgis.
What I Listened To This Month
The Baby-Sitters Club Club. I was obsessed with the Baby-Sitters Club books as a kid, so this podcast is an absolute gift. Two thirty-something guys read a different Baby-Sitters Club book each week. One read them as a child; the other is reading them for the first time. And they discuss.
What makes this podcast so great is that they keep trying to find symbolism and deep intellectual meaning in these books. Sometimes, it's outlandish — trying to find the religious subtext in every Dawn book is a bit of a stretch, as is the recurring motif of elephants signifying chaos — but sometimes it makes a lot of sense.
I always thought it was weird that Stacey's New York friends ostracized her when she was diagnosed with diabetes. They refused to touch her, they said she was diseased, and they cut her out of their lives. It seemed extreme to me, even when I was eight. But the guys pointed out that this book was published in 1986, at the peak of the AIDS crisis. Author Ann M. Martin lived in New York City at the time, and she revealed in a 2016 Vulture interview that she once had a female partner, effectively coming out as not straight.
A queer children's book author who was living in New York as people in her community were dying, yet she was forced to stay in the closet for the sake of her career? Writing about Stacey's diabetes in the way people with AIDS were treated was probably as close as she could get.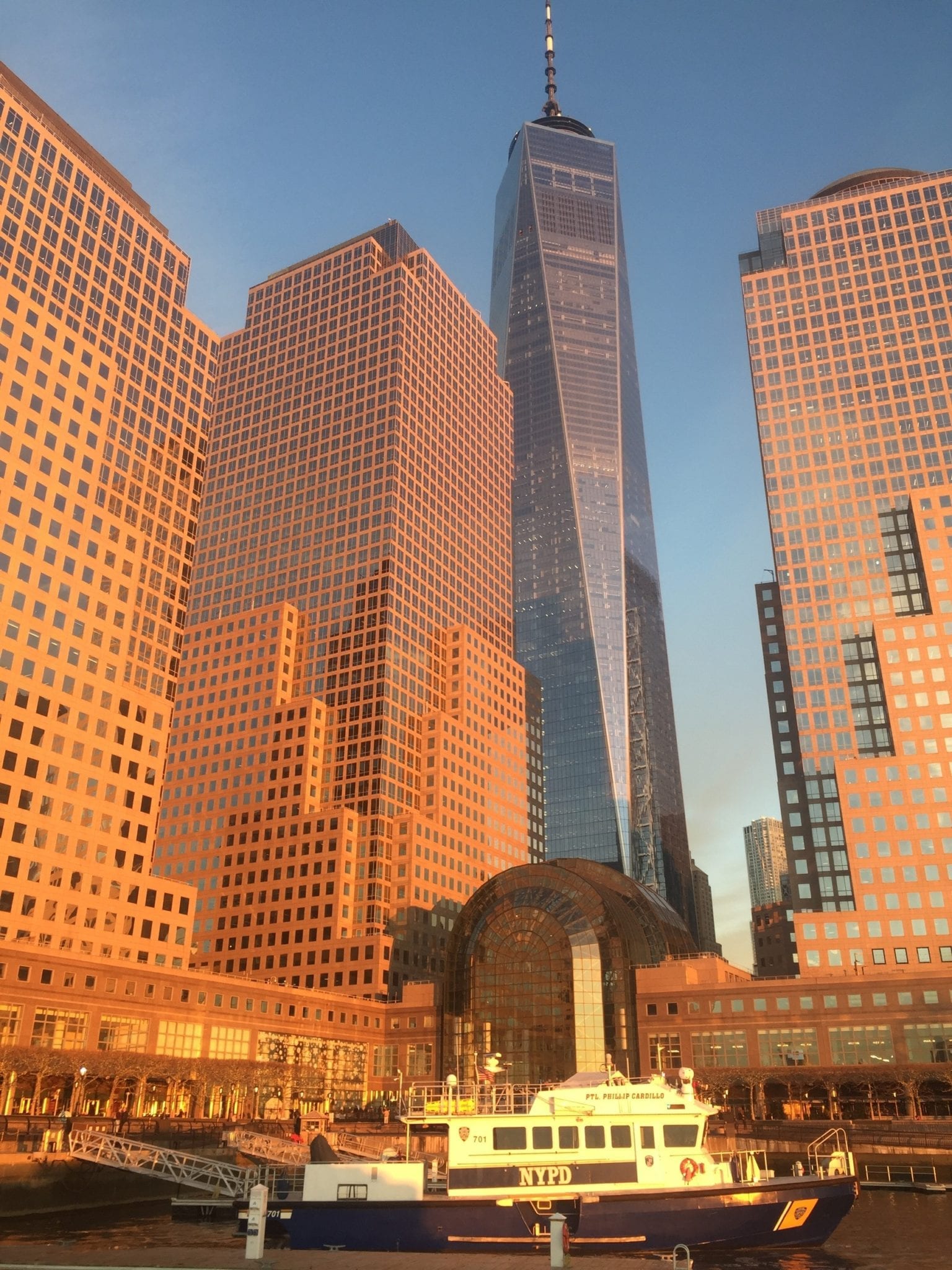 What I Read This Month
I finished 2017 reading 72 books in total. That has to be a record! Be sure to check out my favorite reads of 2017 if you haven't yet. (The first two books I review here have their reviews pulled directly from that list.)
The Power by Naomi Alderman (2017) — In this dystopian novel, young women around the world suddenly realize they have the power to send electrical charges from their fingers, inflicting pain. This results in an upheaval of gender dynamics around the globe. The story follows the world from several points of view, a foster child turned spiritual guru, an American mayor turned Senator, a Nigerian student turned journalist, and a daughter of a British crime gang.
This is one of the best dystopian novel concepts I've read in a long time. It really makes you think critically about gender dynamics. If women had this power, would we really say things like, "Of course women are naturally more violent than men, they had to protect their babies"? On top of that, it's an entertaining novel. I especially liked that it focused on several different points of view, similarly to World War Z.
The Seven Husbands of Evelyn Hugo by Taylor Jenkins Reid (2017) — In the hands of a lesser author, this would have been a forgettable read about a faux movie star's exploits; in the hands of Taylor Jenkins Reid, this novel is a starling examination of humanity behind the celebrity. In the book, Evelyn Hugo, legendary movie star of the 1960s, tells an unknown magazine writer that she's chosen her to write her authorized biography after her death; throughout the book, she chronicles the secrets surrounding her seven husbands and answers the question: who was the love of her life?
I actually read this book in a single day — I could not put it down. I'm not going to give anything away, but this book goes in a very different direction than what you'd expect, especially for a character with many parallels to Elizabeth Taylor. Each husband was unique and had a specific purpose. I finished the book feeling grateful for the world we live in today.
Troublemaker: Surviving Hollywood and Scientology by Leah Remini (2015) — This was my book club's pick for the month. Leah Remini was brought into Scientology as a child; she remained a faithful Scientologist as her acting career began. Eventually, she realized the damage that Scientology was causing in her and her family's lives and she left the church, as they call it, with a scorched trail behind her. She talks about the mind games Scientologists play to convince you that you'll only be whole if you follow L. Ron Hubbard's teachings, the slavery-like conditions of Sea Org, and how Scientology bleeds you dry for cash.
This book was juicy — especially the batshit crazy stuff about Tom Cruise and how he is treated like a God by Scientologists. It's also a quick read. Honestly, most of the really juicy parts, like how Tom and Katie's baby Suri was left on the floor at the wedding, crying uncontrollably, as the Scientologists tried to reason with her like an adult (they treat kids and adults as equals), were revealed in the interviews Remini did to promote the book. I'm glad I read it, though, she she has such a distinctive voice. It was nice to step into her head for a few hours.
Trail of Broken Wings by Sejal Badani (2015) — I have some Kindle reads that I only read a little bit of at the time — I turn to them when I'm on the subway, or getting my nails done. This was one of those books. This novel tells the story of three sisters in an Indian-American family. As their father lies in a coma, the sisters and their mother come to terms with his lifelong abuse and the reverberating effects on their extended family.
I have mixed feelings about this book. On one hand, I appreciated how it documented the myriad was abuse can affect the rest of people's lives. On the other, I couldn't stand these characters and their bizarre motivations that made their lives as difficult as humanly possible. It was like a sitcom plot line of "Don't tell this person this thing" stretched out into the length of a novel.
No Impact Man by Colin Beavan (2009) — This may be one of the most thought-provoking books I've read recently. Colin Beavan was always an environmentalist, but realized that he wasn't putting his money where his mouth was. He decided to spend a year reducing his environmental impact while living in New York City with his wife and baby daughter, from creating zero trash to eating locally to traveling only by self-powered transportation to even living without electricity. And it changed his family's lives in ways they never imagined.
If you're a fan of A.J. Jacobs's crazy books, you'll love this one. It has really made me think about everything that I could be doing better but am not. This year I plan to majorly reduce my waste, starting with no buying bottled drinks ever, using a travel coffee mug at cafes, and using reusable produce and grocery bags. At the same time, I appreciated that Beavan and his wife weren't all-or-nothing — they agreed to relax the local food rule when spending time with friends, his wife took the elevator to her 43rd floor office, and after his daughter threw up twice in a single night he threw the sheets in the washer because every person has his breaking point. You don't have to be militant to make major impact.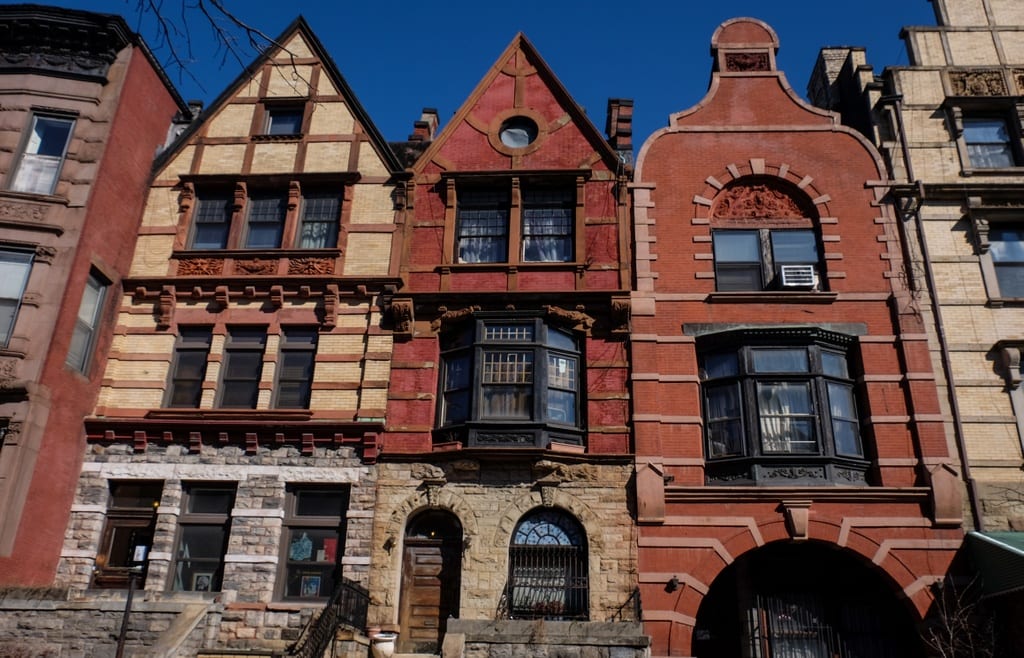 Coming Up in January 2018
This month is all about MOVING. Moving day is January 15, so my month is going to be consumed by it — the packing, the trashing, the caulking, the giving away of stuff I don't need, the hiring of movers for the heavy stuff, the recruitment of friends for the lighter stuff, the actual process of moving, the unpacking, and the settling, shopping, organizing, and decorating.
I'm looking forward to getting into my new place, but at the same time, I feel like I can't relax until the move is complete. I'm ready to get it over with.
I might try to squeeze a weekend out somewhere…no, let's not kid ourselves, that's not happening this month. There's also International Media Marketplace and the New York Times Travel Show at the end of the month, and my friend Amanda will be coming to visit just like she did for the show last January. ("Are you sure? My new place is going to be in shambles," I warned her. She assured me she didn't mind at all!)
It's been a quiet few months, but don't worry — I've got lots more travel posts to publish here, and I'll be on the road again in February!
Any tips for moving? Share away!
Get email updates from Kate
Never miss a post. Unsubscribe anytime!