Adventurous Kate contains affiliate links. If you make a purchase through these links, I will earn a commission at no extra cost to you. Thanks!
And with December 2021, we have the month of Omicron. Good times, huh? Sometimes I wonder if I'll ever go back into old monthly recaps to see how I reacted to events.
And I do. I've gone back to March 2020 a few times.
We had our flights booked long before Omicron was identified: Prague to London to Boston to Puerto Vallarta. And soon our goal became making all of those flights without being infected with COVID.
We pulled it off.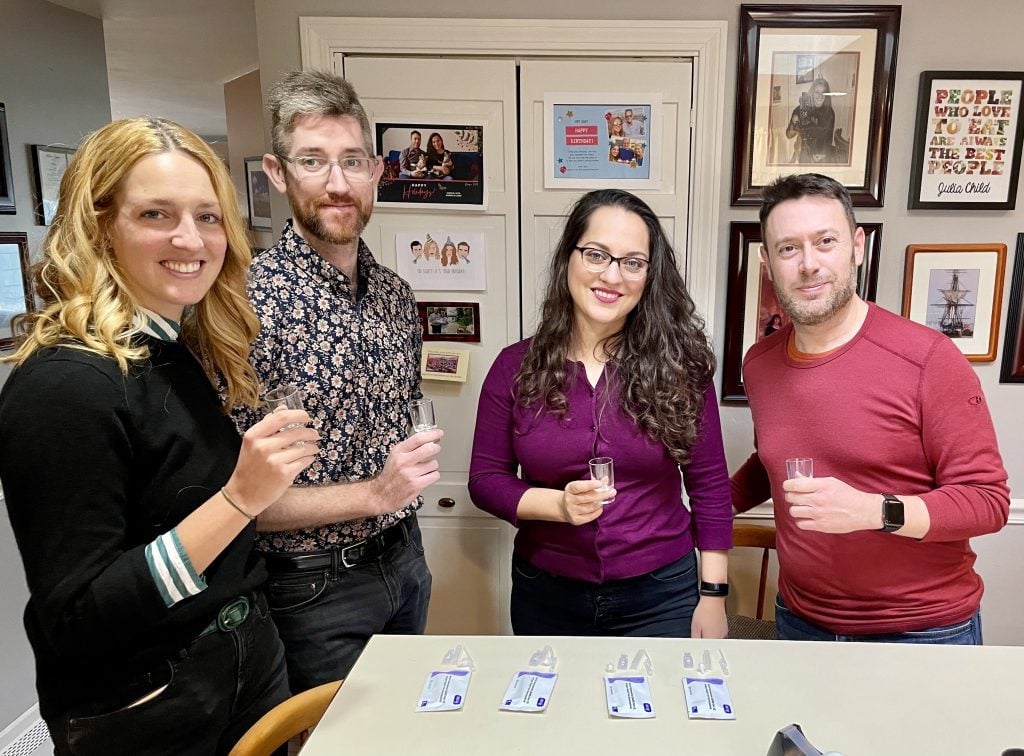 Destinations Visited
Prague, Czech Republic
London, England
Reading and Revere, Massachusetts
Nashua, New Hampshire
Wells and Kennebunk, Maine
Puerto Vallarta, Mexico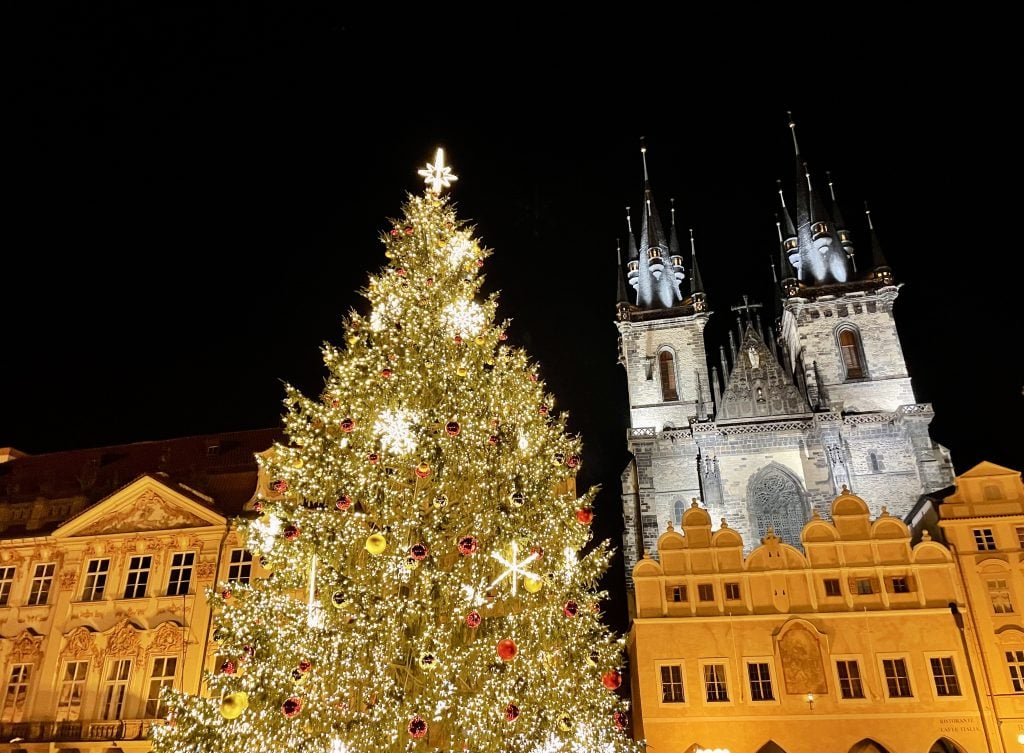 Highlights
Traveling a complicated journey through Omicron-heavy areas and managing to avoid COVID. I was extremely worried about pulling off this journey and making it to Mexico — but we did it successfully.
So what worked? We were super vigilant. We stopped going out and stopped seeing other people unless they did a same-day antigen test. We majorly scaled back our holiday gatherings (more on that below). We turned down every friend who asked to hang out in London or Boston, other than the few we knew would be testing beforehand.
We were also more protective on planes. We did not remove our masks AT ALL except for a few bites of one meal on the eight-hour flight, and that wasn't until everyone else was done eating and had their masks back on. Airplane air is filtered quickly, and we did this on recommendation of nurse friends.
(Flights have started advising passengers to only take your mask off to take a bite, then put it back on again until your next bite, but of course most people aren't doing this.)
At the same time, I want you to know that there is ZERO shame in getting COVID if you've done everything right through this pandemic and managed to get infected anyway. Omicron is a tricky bastard.
You did your best, which is a hell of a lot more than any anti-vaxxer did.
Now that Charlie and I are in Mexico, we've gone back to our usual level of COVID vigilance. Masking indoors, always (Czechs never stopped masking indoors, and neither did I). Doing as much as we can outdoors. Eating out again, but sticking to outdoor places as much as possible. Practicing precautions, but not walling ourselves off from the world.
Seeing my family — and Charlie's — for Christmas. It was really nice to spend time with our loved ones after missing it last year. I also got to see the Brood, my three best friends from high school.
Charlie got boosted! Yay. I feel so better now that he has the full level of protection. I got boosted in November.
Josh Duggar was convicted. Some of you know about my morbid fascination with the Duggars, and I've been following his CSAM case closely since he was arrested in April. Even though he was SO obviously guilty, it was a huge relief to see the jury convict him. I'm relieved he's going somewhere he can't hurt anyone anymore. He will be sentenced in April and will be receiving between 5 and 20 years per federal guidelines; most legal experts expect him to get 7-10.
I'm also proud to share that we of the r/DuggarsSnark subreddit raised more than $24,000 for the Children's Safety Center of Washington County, Arkansas, helping child victims of abuse in the area where the Duggars live.
A new Mexican restaurant opened up in our Prague neighborhood. And it's legit! Mexican food in Europe is usually terrible (don't ask me about the authentic-looking place in Prague that surprised us with BEETS in our tacos), but this place is decent!
Lewis and Murray had their first live-in cat sitter. A friend of a friend who works as a flight attendant came to take care of them over Christmas, and it went so well! She and Murray bonded in particular. It's so hard leaving the cats, but it's good to know they're being cared for.
I took Charlie to Trader Joe's, his first visit ever. HE LOVED IT.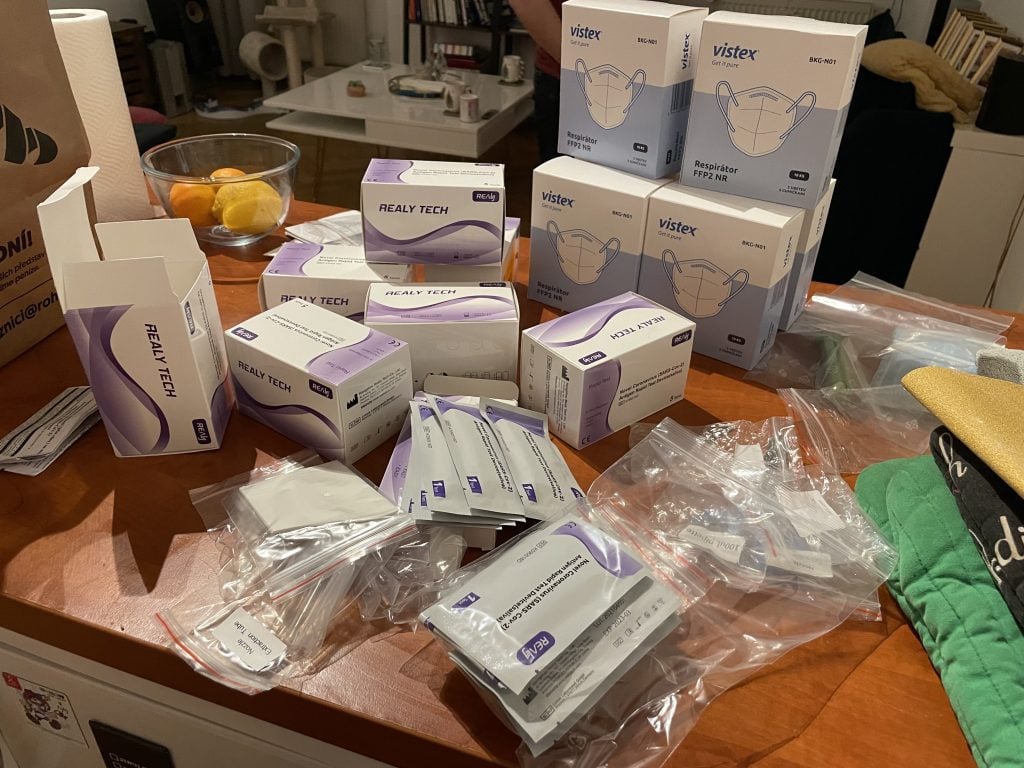 Challenges
Lots of people close to me got COVID or were exposed. As a result, our plans changed. Our London Christmas shrank down just to me, Charlie, and his dad. Christmas with my dad's side of the family was canceled. And we tried to make up the difference with three outdoors, masked, distanced meetups with loved ones. Everyone is doing fine now.
Additionally, one of our upcoming cat-sitters, a good friend of mine, got COVID and had to cancel. She's doing well now and I'm sure we'll be welcoming her to cat-sit sometime in 2022! We had our local friends take care of the cats in the meantime, and our long-term cat-sitter is arriving imminently.
No Christmas markets in Prague. COVID shut them down for the second year in a row — though they reopened on December 26 as the Delta wave subsided. The Czech Republic has not had an Omicron wave, but they are anticipating one soon.
The New York Public Library kicked me out! Well, not really — they told me I could come in person to any branch, bring a utility bill, and they'd renew my card. I was kind of hoping I could keep that membership forever. I use it SO much.
But I did rejoin my hometown library in Reading, Massachusetts! I couldn't imagine not having a library membership.
Losing Betty White. Of course this day had to come sometime. It's impossible not to feel sad, but it was so heartwarming seeing all the stories people shared about her.
If you want to honor her, I suggest making a donation to an animal charity. Animals were her cause.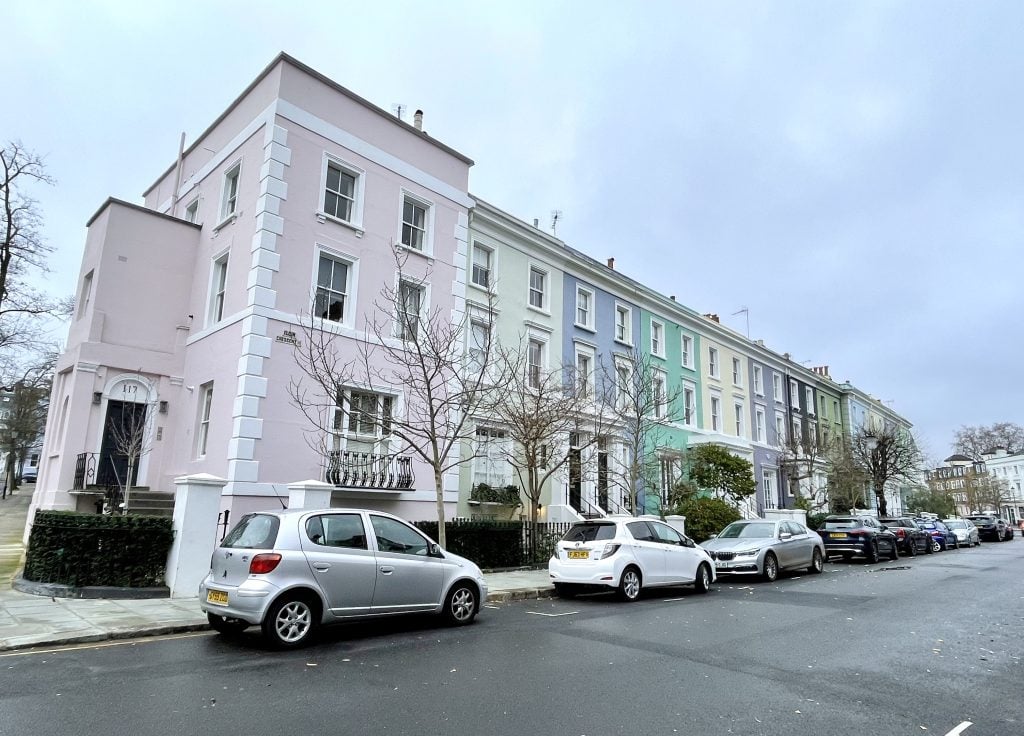 Blog Posts of the Month
December is all about the end-of-year posts. Here are mine:
My Favorite New Destinations of 2021 — Including the Aeolian Islands, Valle d'Aosta, and the Berkshires.
My Best Travel Moments of 2021 — Including having dinner while watching a volcano explode!
My Favorite Reads of 2021 — Including my favorite novels and nonfiction works of 2021 and prior.
My Worst Travel Moments of 2021 — Including some real doozies!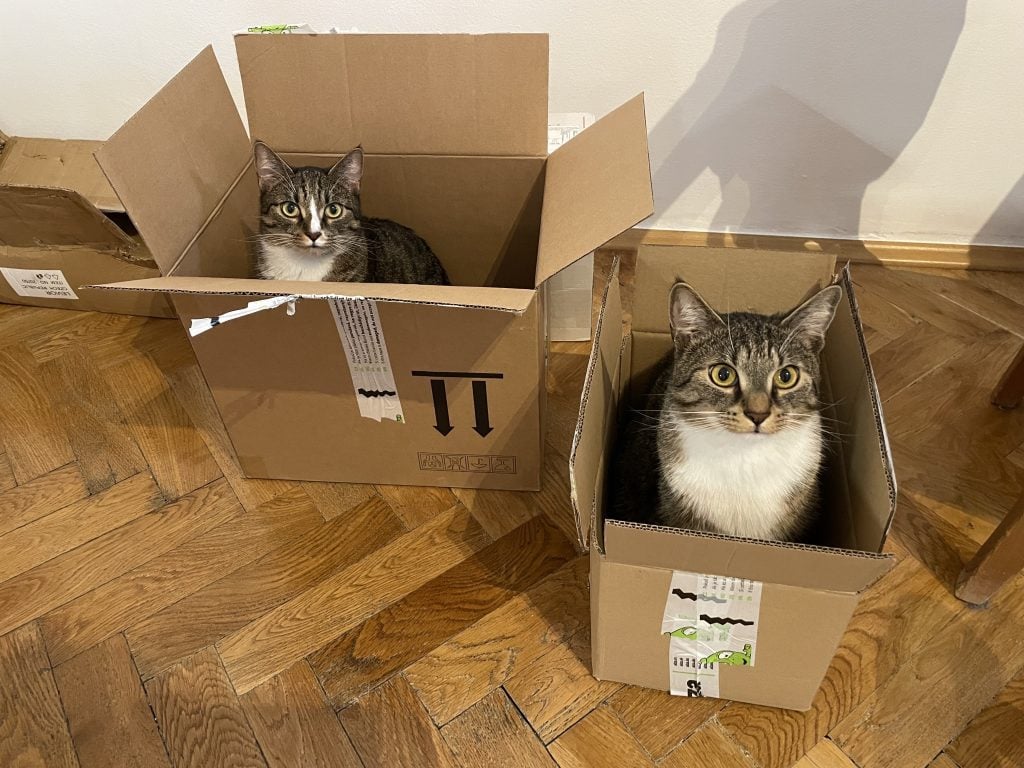 This Month on Patreon
On the Adventurous Kate Patreon, I publish exclusive content and never-told stories that you can access from $6 per month. We also have a private Facebook group and members get free access to the Book Club each month.
I occasionally veer into entertainment writing on the Patreon, and this month's long-form post is called The Emancipation of Jillymuffin. A long essay about Jill Duggar, who went from being the most devout Duggar child to defecting from the family and being banned from her family home.
HOW did this happen, when Jim Bob specifically chose a husband for Jill who would never challenge his own authority? And why is it that the most devout members of religious cults are likelier to defect than those who don't believe as strongly?
I know the Duggars are not everyone's cup of tea, but I'm really happy about how that essay turned out. Some Patreon readers told me they knew nothing about the Duggars but enjoyed learning about them through that essay.
I also shared some of the humor writing from my Let's Go Italy guidebook from 2004.
This month, I'll be writing about planning my and Charlie's big trip of 2022 — and how we're planning a trip to a destination we know so little about.
Book Club This Month
Can I start by reiterating how AMAZING last month's meeting was with Lola Akinmade Akerstrom of In Every Mirror She's Black? SO GREAT! I'd love to host more meetings with authors, so if you know any women authors of color from around the world with books coming out in 2022, please let me know.
This month we will be reading Intimacies by Katie Kitamura, one of the most lauded novels of 2021.
"An interpreter has come to The Hague to escape New York and work at the International Court. A woman of many languages and identities, she is looking for a place to finally call home.
She's drawn into simmering personal dramas: her lover, Adriaan, is separated from his wife but still entangled in his marriage. Her friend Jana witnesses a seemingly random act of violence, a crime the interpreter becomes increasingly obsessed with as she befriends the victim's sister. And she's pulled into an explosive political controversy when she's asked to interpret for a former president accused of war crimes.
A woman of quiet passion, she confronts power, love, and violence, both in her personal intimacies and in her work at the Court. She is soon pushed to the precipice, where betrayal and heartbreak threaten to overwhelm her, forcing her to decide what she wants from her life."
You can buy the book at Bookshop.org here.
Our meeting will take place on Sunday, January 30, at 1:00 PM Eastern Time. You can sign up here. Patreon-specific tickets have their own link in the Patreon.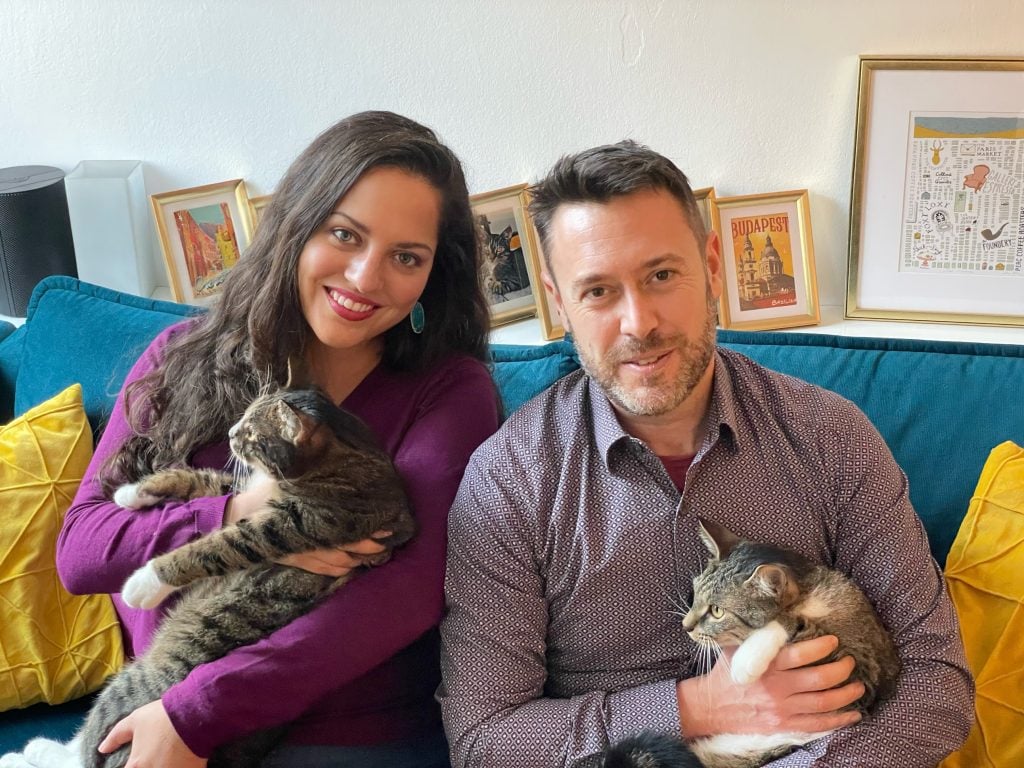 Most Popular Photo on Instagram
Our holiday card photo for 2021! We tried our hardest, but the cats refused to look at the camera. I'm holding Lewis and Charlie is holding Murray.
For more updates from my travels (and now that I'm on the road again, I'm posting far more of them), follow me on Instagram at @adventurouskate.
What I Listened To This Month
On Facebook, I asked my friends to share their most played song of the year on Spotify or Apple Music, and I put them all into a playlist — a truly awesome playlist called Toonbudz! I embedded it above if you want to listen to them.
Some new favorites from my friends: "Clap Your Hands" by Whilk & Misky (thank you Lia), "Catholic Country" by Kings of Convenience and Feist (thank you Natalie), "Feel Special" by Twice (thank you Jodie), "Willow" by Taylor Swift (thank you Becky AND Steph), "Sayonara Wild Heart" by Daniel Olsén (thank you Dave) and "Love You For a Long Time" by Maggie Rogers (thank you Beth).
My own most listened to song of the year was "Cooper Lake" by Kyle McEvoy. I listen to Spotify's Chill Lofi Study Beats playlist all day and that's where I found it!
What I Watched This Month
Can we talk about And Just Like That, the Sex and the City reboot? Yikes, guys. I mean, obviously I'm devouring every episode the moment it comes out, and it's so nice to revisit the characters — but YIKES.
You might have heard that much of the series revolves around the three women feeling out of touch now that they're in their fifties. They are also diversifying the series by adding four new recurring characters of color. And I get it — but it is so awkward it's painful to watch.
You know what I would love in this series? Two things. I would love for Charlotte to carve out an identity for herself outside her family. And I would love for Carrie to start dating Seema's cousin the orthopedist.
And if you want something GREAT to watch, let me plug Yellowjackets once again. It's on Showtime. Just watch one episode — I think you'll be hooked! I AM SO OBSESSED!!!!!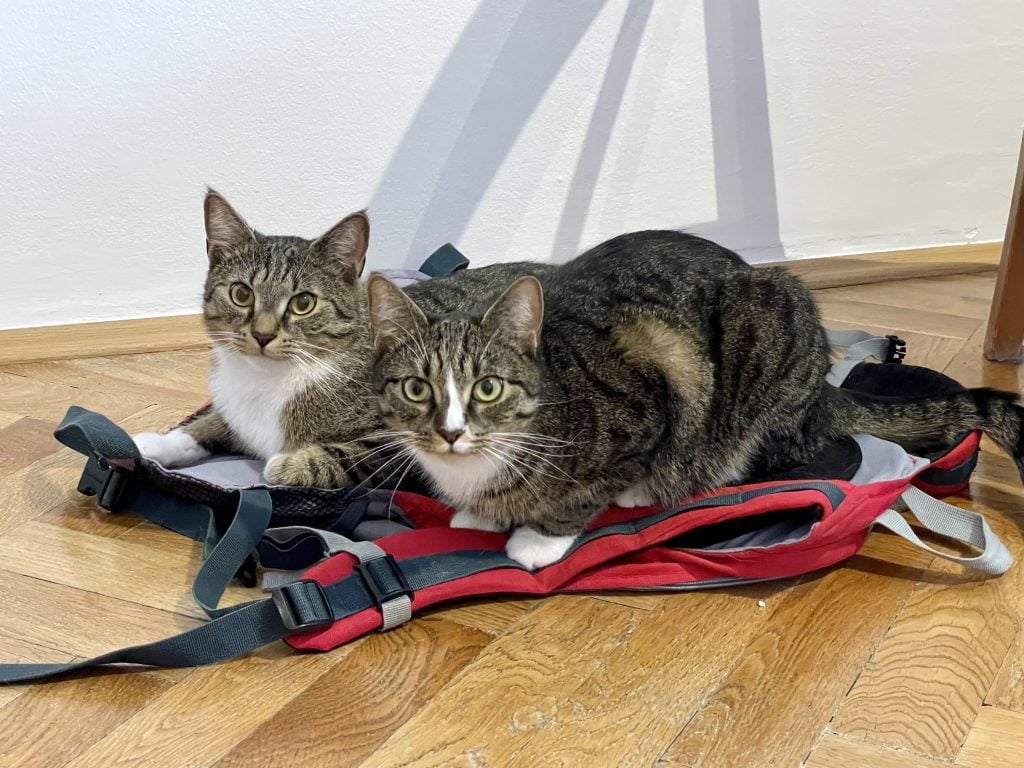 What I Read This Month
Nothing. Eek. I worked on one book but didn't finish it. Other Project is eating up so much of my time, but I hope to ease myself back into reading some great stuff in 2022!
Until then, I will be judged by my cats.
Coming Up in January 2022
It's all about Puerto Vallarta, baby! We arrived on New Year's Eve (asleep by 9:00 PM? Check!) and are spending the entire month here. I have a lot of goals for this time. Exploring the city, of course, but also doing day trips by boat, hiking, and road. Yelapa, Quimixto, San Sebastián del Oeste, maybe the famous hidden beach of Islas Marietas, now that measures to reduce overtourism are in place.
Charlie and I will be spending a weekend in Sayulita in mid-January, probably with a side trip to San Pancho. I was last in Sayulita 10.5 years ago (!!) and I'm eager to revisit this fun, colorful surf town.
We came to Puerto Vallarta to spend the COVID-heavy months in a destination where we can be outdoors all the time, and because so many of our friends are here. Eager for lots of fun times!
What are your plans for January? Share away!
Get email updates from Kate
Never miss a post. Unsubscribe anytime!