Adventurous Kate contains affiliate links. If you make a purchase through these links, I will earn a commission at no extra cost to you. Thanks!
It's impossible to write anything this month without first talking about Ukraine. Like many of you, I've been devastated while watching Russia invade Ukraine, and deeply worried for the Ukrainians in danger.
Ukraine means a lot to me, as many of you know. I visited Ukraine in 2017 and was bowled over by the elegance and grandeur of Odessa, the dynamic and chic city of Kyiv, and the unforgettable landscape of Chernobyl. I ate my way through piles of vareniki and bowls of borscht, and gawked at the women's fashion and high heels. To this day, Ukraine is my favorite country in Eastern Europe.
The Ukrainians deserve to live their lives in peace. As does everyone, regardless of where they live. I desperately hope that there is an end to this war soon.
In the meantime, we can all step up to help Ukrainians. I've made donations to Nova Ukraine, which provides humanitarian aid in Ukraine, and Come Back Alive, a long-established organization that supports the Ukrainian army (their main page didn't accept my credit card but you can also donate here via Fondy) and I've begun supporting the Kyiv Independent on Patreon.
We have a big Ukrainian community in Prague, and the city is expecting many Ukrainian refugees to be arriving soon. Charlie and I put together a care package of sheets, towels, and duvets that we're dropping off at a donation center in our neighborhood this afternoon.
Other options: this page has a good list of places to donate. Doctors Without Borders, an organization I've supported for years, is still on the ground in Ukraine but doesn't have a specific Ukraine fund. A Ukrainian embroidery artist I support, Embroidery Art by Nat, suggested helping artists by going on Etsy, searching for Ukraine-based artists, and buying digital products like patterns from them.
Finally, there is the Ukrainian military fund — an newly established fund that goes straight to the military. You can learn about that here.
Please do what you can. If money is tight, just make an effort to follow what's happening so you can bear witness.
I want you to know that I will be continuing my travel writing and sharing this month. This is how I earn my full-time living, and while it may seem frivolous to write about travel at a time like this, these posts are designed to help people plan their travels months and even years from now. (It takes on average nine months for a post to rank on Google, so what I am posting now will help people in November onwards.)
Know that even though I may be posting about happier times, I'm continuing to hold Ukraine in my heart and helping however I can.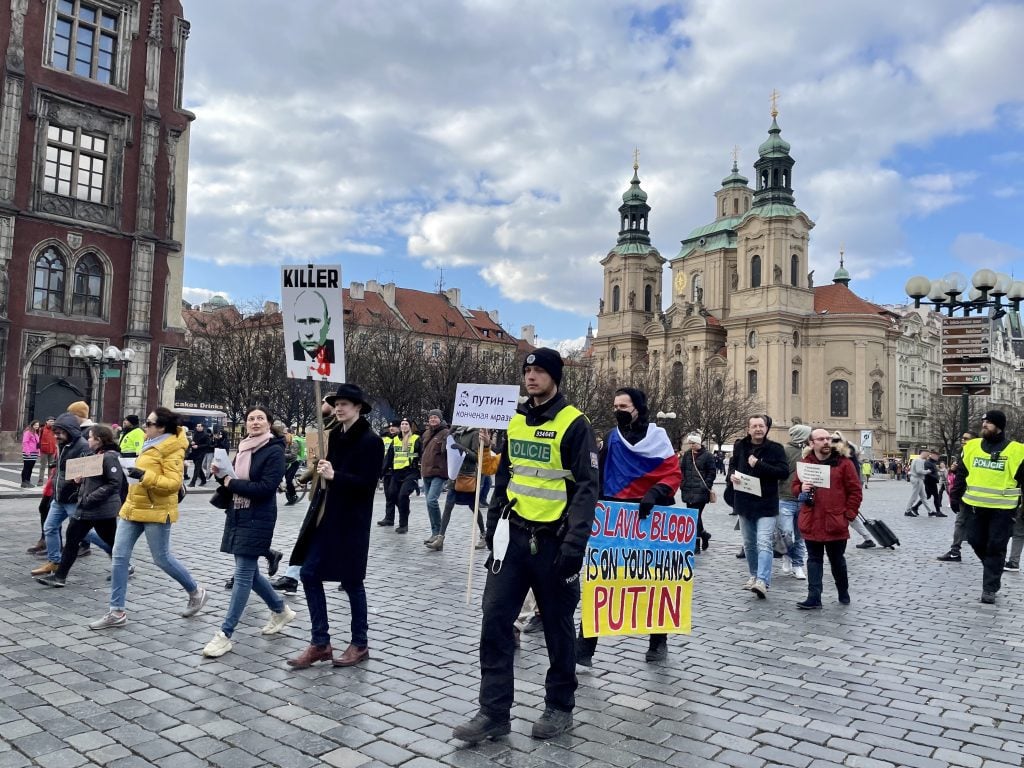 Destinations Visited
Puerto Vallarta, San Miguel de Allende, Guanajuato, and Mexico City, Mexico
The Villages, Lake Buena Vista, Lady Lake, and Fruitland, Florida
London, UK
Prague, Czech Republic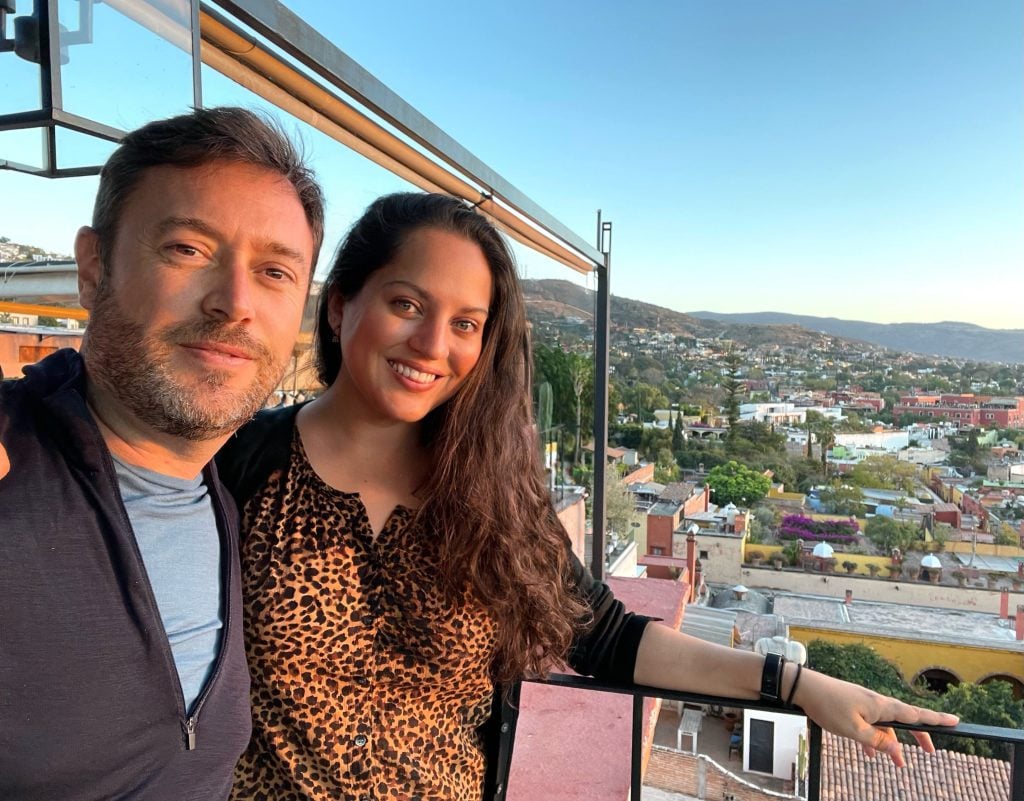 Highlights
Getting to experience lovely San Miguel de Allende. This was my first visit to San Miguel, and it lined up with my expectations: a beautiful city absolutely gentrified beyond belief by wealthy North Americans. Beyond that, it's a very sleepy place.
I enjoyed my time there, and the rooftop bars were very nice, but it's definitely nowhere near my list of favorite places in Mexico.
I fell in love with Guanajuato instantly! Wow! Guanajuato is fantastic. It's spectacularly beautiful, with colorful buildings on surrounding mountainsides. And it's a very popular destination for Mexico travelers, but not foreign travelers so much. I enjoyed that.
One of the highlights in Guanajuato were joining the callejeonada, a fun and energetic walk through the streets with musicians as you join in with singing and dancing. I didn't understand a word of the stories, but loved it! I also did a lovely one-on-one history and food tour, visited Diego Rivera's childhood home, and drooled over the view from the mirador.
A triumphant return to Mexico City. After experiencing Mexico City right when COVID hit Mexico in 2020, I was eager to experience a non-shut-down version of the city. Oh man, we made up for that SO hard.
Some of the highlights: this food, history, and culture tour was a blast and THE best way to introduce yourself to Mexico City. We finally got to Xochimilco, where you jump on a boat for a party day out. And we did a night of Lucha Libre, Mexican pro wrestling, and even met a Luchador performing that night!
One of the most special experiences was learning to cook tacos al pastor with a wonderful chef and instructor and his lovely food stylist wife. Such a fun day.
And there was finally making it to the Casa Azul, Frida Kahlo's house (they actually honored our tickets from 2020 they never refunded!), finally eating at much-celebrated restaurant Quintonil, also eating at up-and-coming Migrante, hitting up our favorite breakfast spot, Freims, three times, and taking many, many walks around Avenida Amsterdam.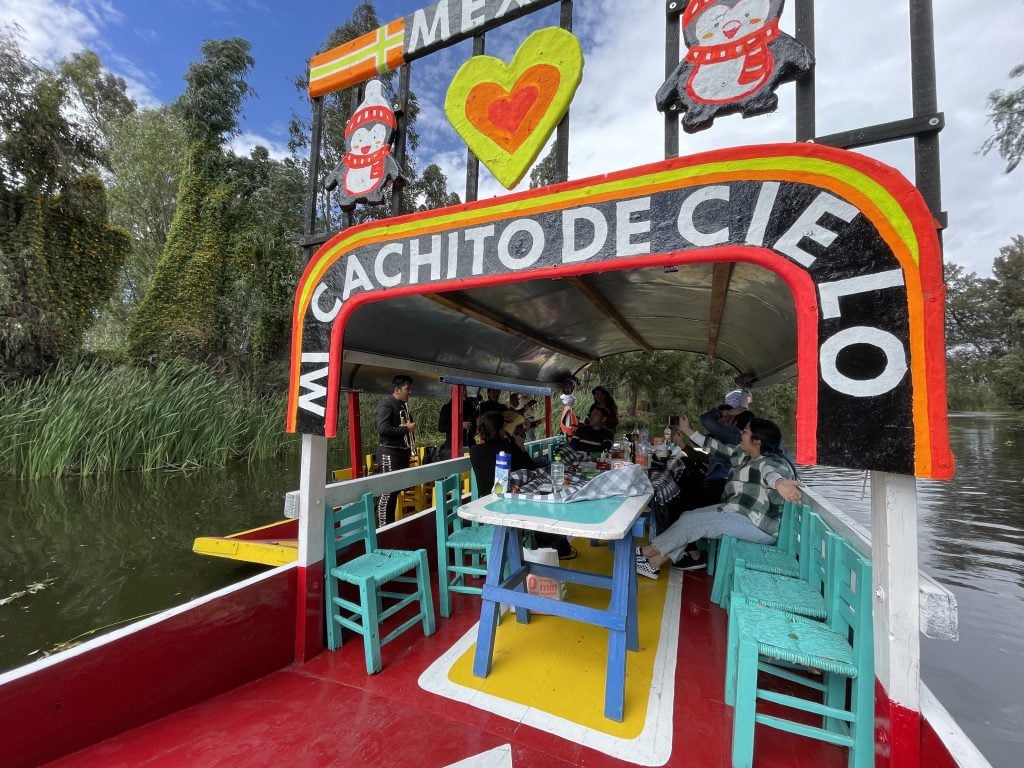 Spending time with my mom in The Villages. My mom recently moved to The Villages in Florida, and we dropped in on our way back to Europe. The Villages is a notorious retirement community, and in some ways it's like summer camp for boomers. Live music with dancing every night! Putting greens just hanging out by the houses!
I get the point of the Villages, and it's a lot of fun — it made me wonder how we'd design a retirement community for my generation. But I still can't believe you have to drive everywhere. I would have thought a retirement paradise would be walkable at least.
The Super Bowl halftime show. You guys know how much I hate the NFL and American football, but I LOVED THAT HALFTIME SHOW! Those were hits I danced to in middle school, high school, and college! The closest a halftime show has been made for me.
Disney!!! We squeezed in a full-day trip to Disney World — my first visit since I was nine years old! We visited the Magic Kingdom and Epcot and had a blast. Full post on that day is pretty much written; I'm saving it for a better time.
Getting to see Charlie's family in London. Most of the family had COVID over Christmas, so we had a long-delayed Christmas dinner! So good to see them (even if we were sleep-deprived zombies the whole time!).
Reuniting with my kitties. It's been the BEST. They really are the best cats in the world. I'm grateful that their cat sitters took care of them so well while we were away!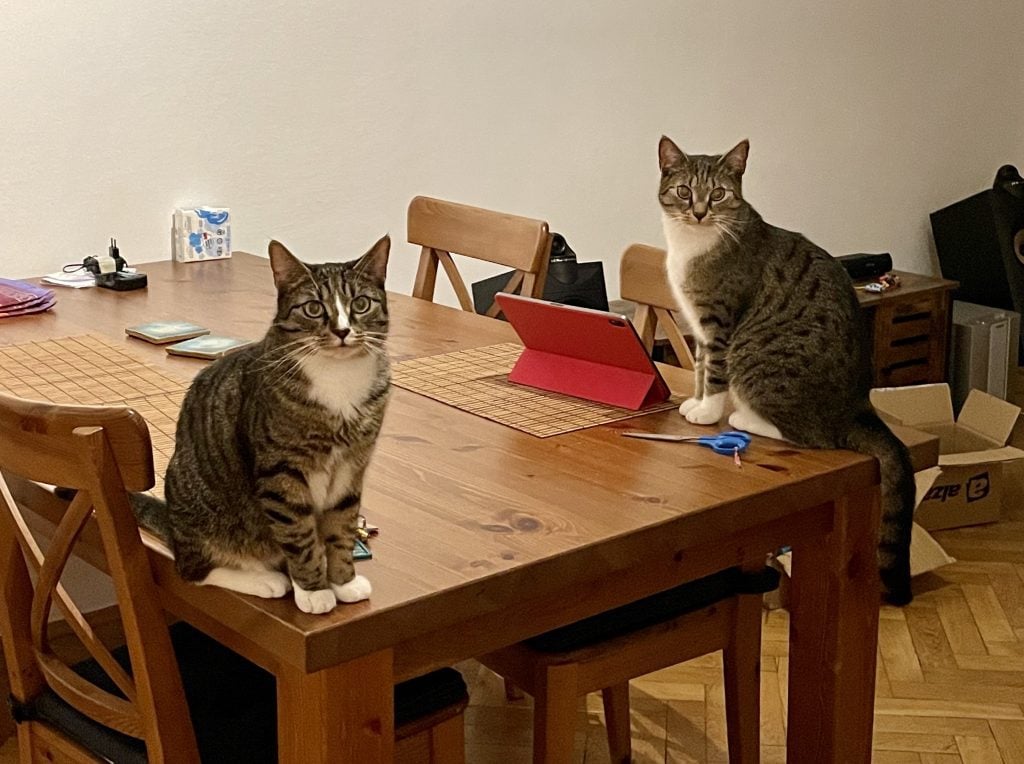 Challenges
My first dental emergency while abroad. I've had a few medical issues while abroad, but never dental until now. When I was in Mexico City, I started feeling worse and worse pain in one of the back gums in my mouth. It got so bad that it was throbbing as I tried to sleep.
I found a nearby dentist and got an appointment for the next morning. It was a harried process — I spoke my mangled Spanish over the phone, he spoke no English, I showed up on time, he got stuck in traffic and was 40 minutes late, I ended up using Google Translate to translate his voice and I would reply in Spanish.
It was a gum infection — painful but not serious — and he removed an occlusion and had me rinse with hydrogen peroxide for a week. (Also, finding hydrogen peroxide in Mexico was a hassle! I went to three pharmacies that didn't have peroxido hidrogena before I learned that Mexicans call it agua oxigenada.)
One of the all-time worst travel days. I'll keep it short: there were severe storms in London before we arrived. This led to many canceled flights and a luggage disaster, and thousands of people lost their luggage. We had already checked in our luggage for our evening flight to London; shortly before the flight, it was canceled. The BA agent told us we could collect our luggage; we were not allowed to retrieve our luggage.
Also in the mix of that day: it took 30 minutes for the Uber to arrive, 30 minutes to get out of the parking garage, an hour to get to Gatwick, and an additional 20 minutes of driving around, trying to find our poorly marked hotel. The only open restaurant was in the other terminal at Gatwick, a shuttle ride away.
And afterward, British Airways told us they refused to cover the EasyJet flight we had booked, despite being told by the BA agent that they would cover the cost of the flight on any airline, and our luggage took FIVE DAYS to show up and was listed as "not found" until the moment it arrived at our home.
The big lesson? Get AirTags and put them in your checked luggage. This gave us ENORMOUS relief to know exactly where our bags were at all times when BA claimed they had no idea where they are.
Next step: I'm filing a claim with my travel insurance to cover the flight; BA covered the Uber, hotel, and dinner.
Blog Posts of the Month
Ultimate Guide to 50+ Cenotes in Mexico — My first collab post ever, and WOW, this one is a doozy!! I wanted to create the most extensive guide to cenotes on the web yet, and my blogger friends helped me by writing about their favorite cenotes all over Mexico. If you're planning a trip to Mexico, this post is one to save!
13 Best Mexico City Neighborhoods to Stay In (All Safe!) — Even some veteran travelers often feel apprehension about Mexico City, but you shouldn't. This is a fabulous city to visit, and very safe if you know the good areas to stay in. An overview of seven neighborhoods, plus some alternatives to each one.
This Month on Patreon
On the Adventurous Kate Patreon, I publish exclusive content and never-told stories that you can access for $6 per month. We also have a private Facebook group and members get free access to the Book Club each month.
This month on the Patreon, I did a long-form post about the big summer trip that Charlie and I are planning — to a destination that we know very little about. How do you plan a trip to a destination you barely know? I'm sharing how I've researched, what I've found, and how the trip is starting to take shape.
I also shared a piece on the 16 best things I ate in Mexico City — arguably one of the best food cities in the world!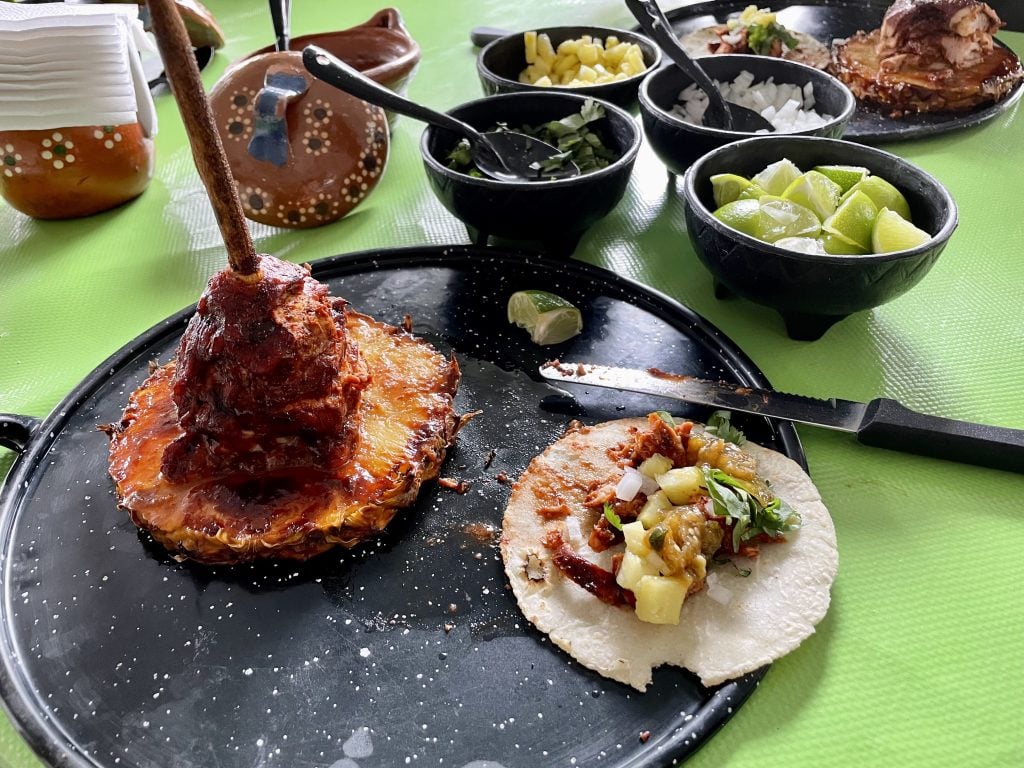 Book Club This Month
Our next book club will take place on Sunday, March 6, at 1:00 PM Eastern Time. This month we are reading Lost Children Archive, a novel Valeria Luiselli, a Mexican author who grew up in South Africa, South Korea, and India. Love that global perspective!
"In Valeria Luiselli's fiercely imaginative follow-up to the American Book Award-winning Tell Me How It Ends, an artist couple set out with their two children on a road trip from New York to Arizona in the heat of summer. As the family travels west, the bonds between them begin to fray: a fracture is growing between the parents, one the children can almost feel beneath their feet.
Through ephemera such as songs, maps and a Polaroid camera, the children try to make sense of both their family's crisis and the larger one engulfing the news: the stories of thousands of kids trying to cross the southwestern border into the United States but getting detained–or lost in the desert along the way.
A breath-taking feat of literary virtuosity, Lost Children Archive is timely, compassionate, subtly hilarious, and formally inventive–a powerful, urgent story about what it is to be human in an inhuman world."
You can buy the book at Bookshop.org here.
There will be an optional add-on for this month — Luiselli's nonfiction book Tell Me How It Ends, a nonfiction book telling the stories of child migrants and their harrowing journeys to the United States. It's shorter and a fast read, and it's not necessary, but it will give you additional context.
You can sign up here. Hope to see you there!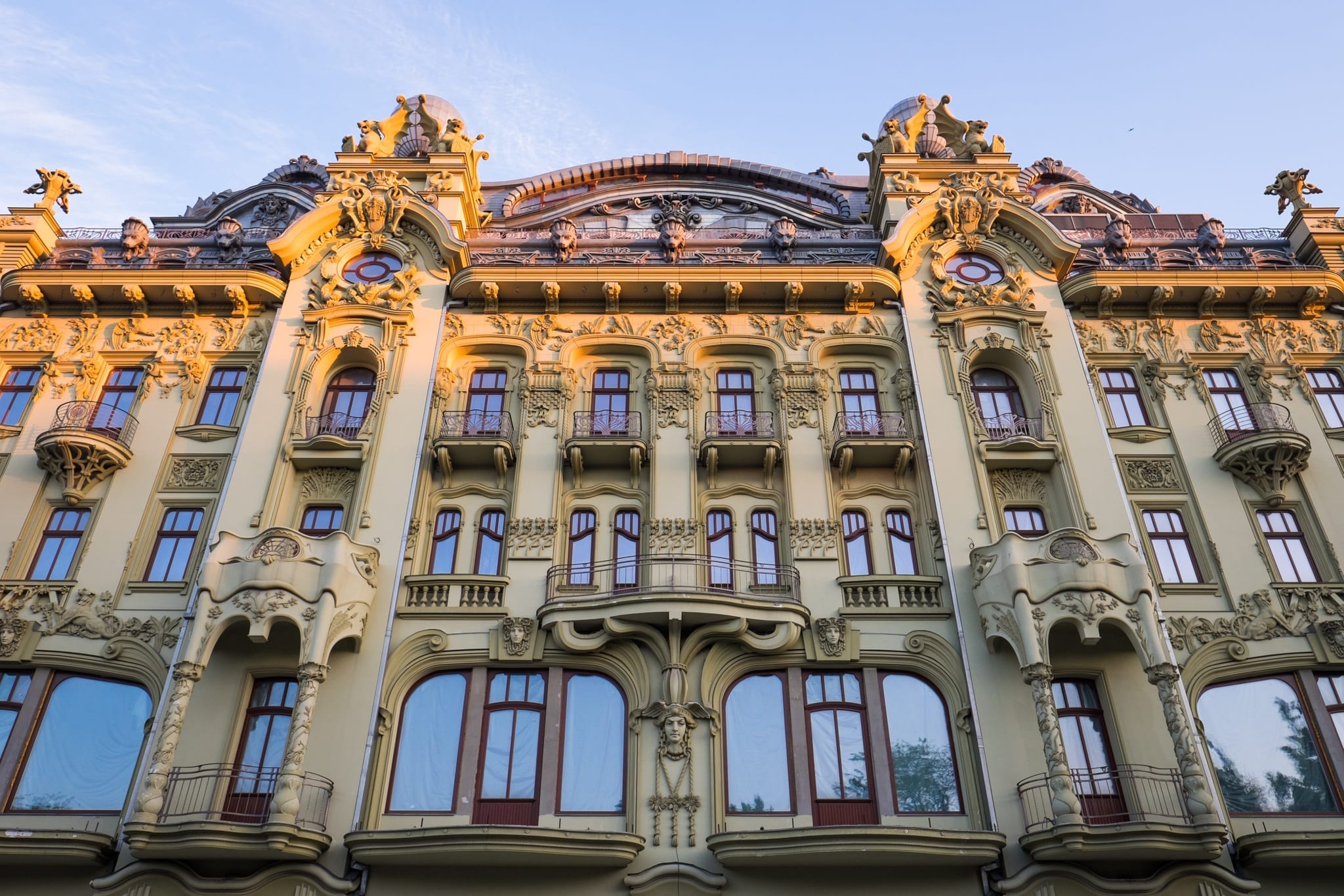 Most Popular Photo on Instagram
It was a post about Ukraine, with this photo from Odessa as the anchor.
For more photos and stories from my travels, follow me on Instagram at @adventurouskate.
What I Watched This Month
Ugh, Love is Blind is a Netflix show I love to hate. The premise is ridiculous (fall in love and get engaged without ever seeing their face!) and the show is SO DAMN SLOW, with poor editing. But I inevitably get sucked in.
I don't think this season was as good as season 1, but if you're looking for some reality junk food TV to watch, this is pretty good. Watch on 1.25 times speed to move it along. The reunion is this Friday and I am EXCITED.
I also started a critically acclaimed HBO show for the first time — and WOW. This show is like a whole world cracking open, with so many things that are common but I've never seen on TV before. Any guesses? Not The Wire, think more recent. I'll write more about it next month once I finish it.
What I Read This Month
This month my New York Public Library account was officially closed, sadly, but they had given me a two-month heads up and I was able to open account with my hometown library, the Reading Public Library in Massachusetts. So now I'm borrowing my books from the Libby app using the NOBLE system (several cities north of Boston).
One nice benefit? They have magazines to borrow on Libby! The NYPL didn't! That's really cool.
Dopesick: Dealers, Doctors, and the Drug Company that Addicted America by Beth Macy (2019) — This book dives in deep to examine the genesis of the opioid epidemic, from the drug company that pushed Oxycontin, to the doctors that massively over-prescribed it, to the growth of addiction in Appalachia spiraling throughout the United States.
What a monumental book. I wanted to read this because I feel like my knowledge of the opioid epidemic has lots of gaps, and this filled them in more than I ever could have imagined. It's chilling once you know what's going to happen, and you go back to the beginning and see it grow in real time.
A tough book to read at times. If you're getting bored with Purdue Pharma and the Sackler family, keep going, because later in the book it focuses more on the stories of individuals. That I found to be the most compelling part of the book.
Badass Habits: Cultivate the Confidence, Boundaries, and Know-How to Upgrade Your Life by Jen Sincero (2021) — Jen Sincero is famous for her badass book empire, and this is the latest release. As far as a habit book goes, nothing is ground-breaking here: Identity comes first. Imagine you're already the person you want to embody, and live your life that way. Do it for 21 days to make it stick.
But I enjoy Sincero's voice, and that is what made it an entertaining read. Maybe this is the one that will make the difference for you.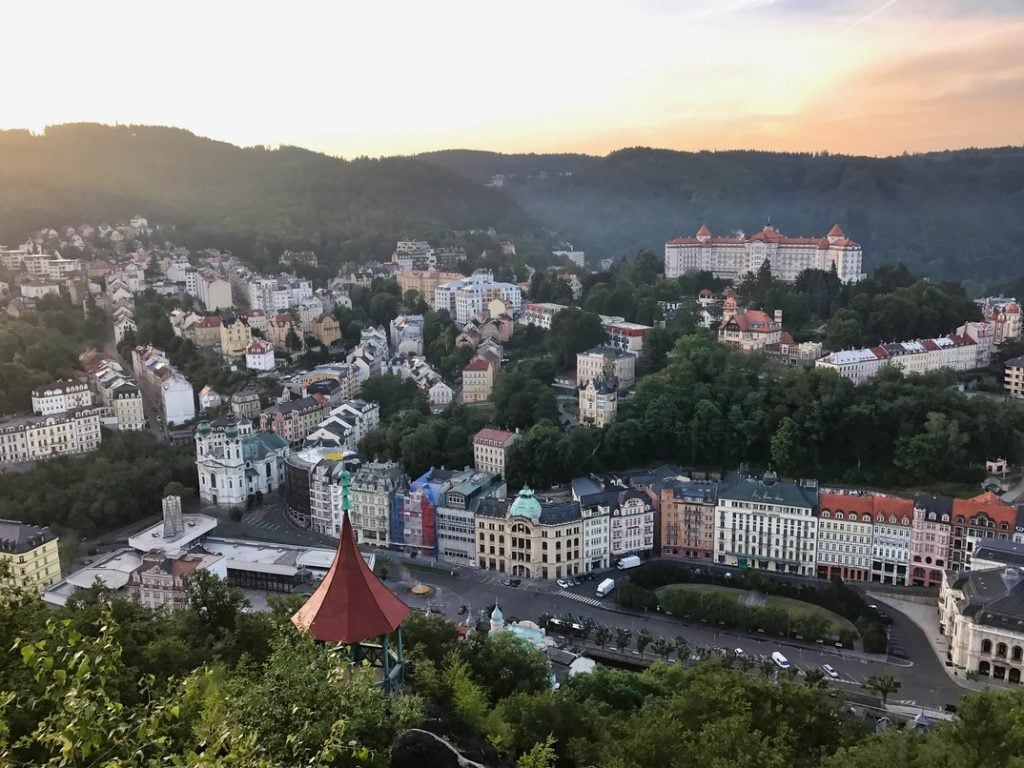 Coming Up in March 2022
March is going to be a low-key month, and that's okay. After so much time away, I've been relishing being at home.
Charlie's birthday is toward the end of the month, and after two birthdays in lockdown, he's ready to have a real celebration. So we're going to Karlovy Vary overnight!
This elegant Czech spa town is a lovely place to visit year-round, and I'm excited to finally visit. (It's also a very popular destination for Russian travelers, and I'm curious how it's faring since Russian airlines have been banned from Czech airspace.)
In the meantime, we're currently planning our year of travels, with three trips to Italy in the works so far. Things kick off in April, and I'm excited to share more with you when the time comes!
What did you get up to this month?
Get email updates from Kate
Never miss a post. Unsubscribe anytime!