Adventurous Kate contains affiliate links. If you make a purchase through these links, I will earn a commission at no extra cost to you. Thanks!
January 2019 wasn't my first trip to Mexico — but it was my first time escaping winter in Mexico. I went to Isla Holbox and Mérida and loved it so much, I came back to Mérida to live for two months in winter 2020, followed by a month of more Mexico travels.
Mexico forever, I thought. Every winter, I'm going to come here.
Then came 2021. COVID cases were sky-high; vaccines were only available to medical workers, and Lewis the cat was very sick with FIP and in need of daily injections. There was no question that Charlie and I were staying put.
Which made winter 2022 all the more special. Triple vaxxed, committed to masking indoors and spending as much time outside as possible, we landed in a new part of Mexico: Puerto Vallarta, Jalisco.
And it was SO DAMN GOOD. The music! The food! The beaches! Even the noisy advertisement trucks made me so happy.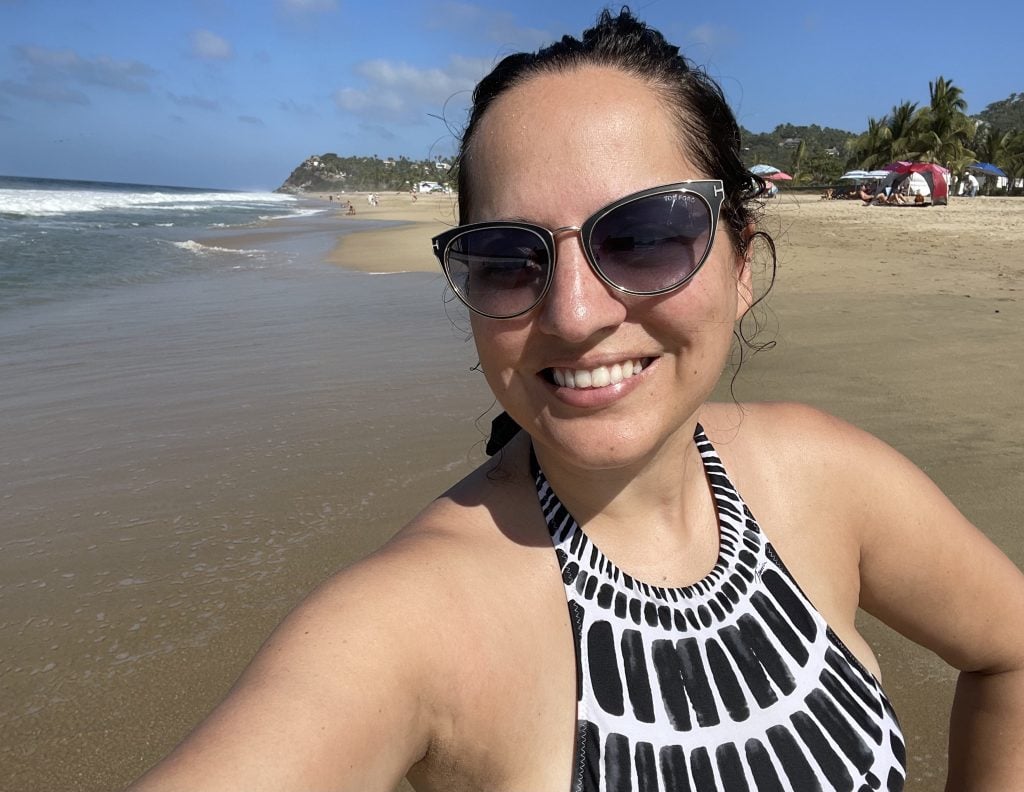 Destinations Visited
Puerto Vallarta, Las Pintadas, Quimixto, Yelapa, Sayulita, San Pancho, Corral del Risco (Punta de Mita), Boca de Tomatlan, Bucerías, and the Islas Marietas, Mexico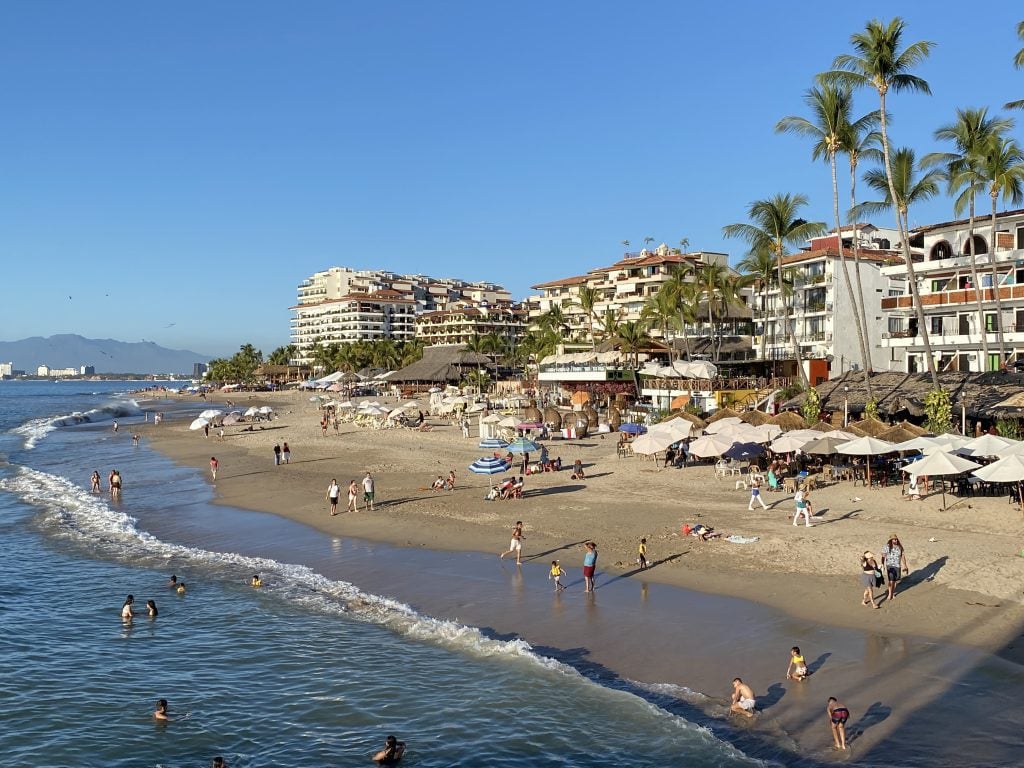 Highlights
Getting to know and love Puerto Vallarta in depth. A month seems like a long trip — but it really isn't once you get there and time starts flying! Especially if you're working throughout. Because of this, I did a ton of research beforehand and figured out my priorities and the posts I wanted to write about the region, and I knocked out everything on my list.
Puerto Vallarta was a really great base — though I honestly went back and forth on how much I liked it! I was a bit taken aback upon arrival when I realized that this was, essentially, a resort town, but after New Year's the crowds thinned out and it felt more livable.
Part of it was living in the back part of the Zona Romantica — I think it's technically considered Altavisa — an area that is much more local and away from the crazy nightlife, yet just a 10-minute walk from the beach.
I'll be writing much more about Puerto Vallarta soon, but I'll say that some of the top highlights were hiking along the beaches south of the city, visiting the Vallarta Botanical Gardens, walking the malecon, having a private trip to Yelapa and Quimixto, seeing whales ALL THE TIME with no effort, and getting to experience the Hidden Beach in the Islas Marietas, where you swim through a narrow opening into a beach in a cave with an open roof.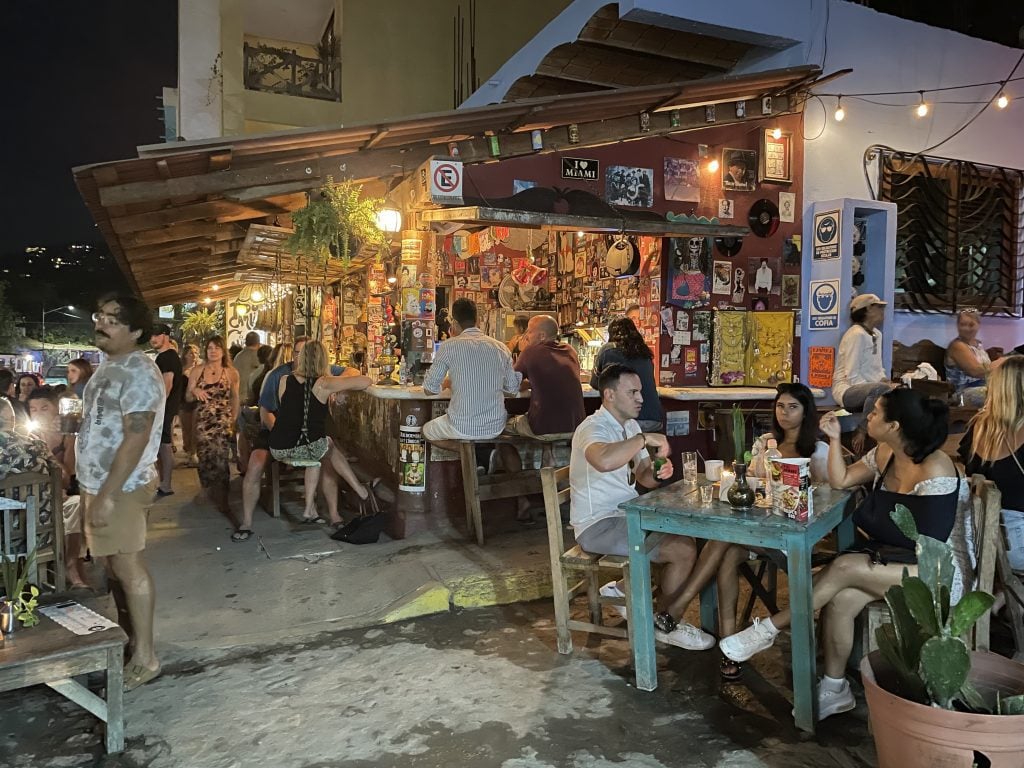 A weekend trip to Sayulita and San Pancho. I visited Sayulita 10 years ago and was eager to see how it changed. Honestly, it's such a millennial party zone now! I say millennial because it was mostly late-twenties through early-forty-somethings, and the bars played the hits of our middle school, high school, and college years. I heard more hip-hop in Sayulita than anywhere else in Mexico, ever.
San Pancho, just 10 minutes away from Sayulita, is so chilled out, artsy and quirky. And the beach is much better for swimming than Sayulita, where surfers dominate. We did a fun history and biking tour.
Getting to spend time with friends. A big reason why we headed to Puerto Vallarta in the first place. And it was so nice to do so in the summery weather!
Challenges
I am quite literally knocking wood as I write this, but this was an exceptionally smooth month. Nothing seriously bad happened.
I did take a dramatic slow-motion spill on the muddy cobblestones in Sayulita, falling flat on my ass in front of a crowd. And one day we had a rain storm so bad that it knocked out the transformer on our street, and our power, for hours.
And I miss my kitties enormously and feel guilty for leaving them behind. But they are loving their long-term cat-sitter, our friend John, and are cuddling up to him constantly! (I hope they didn't forget about us.)
That's about it for challenges. I'm counting my blessings.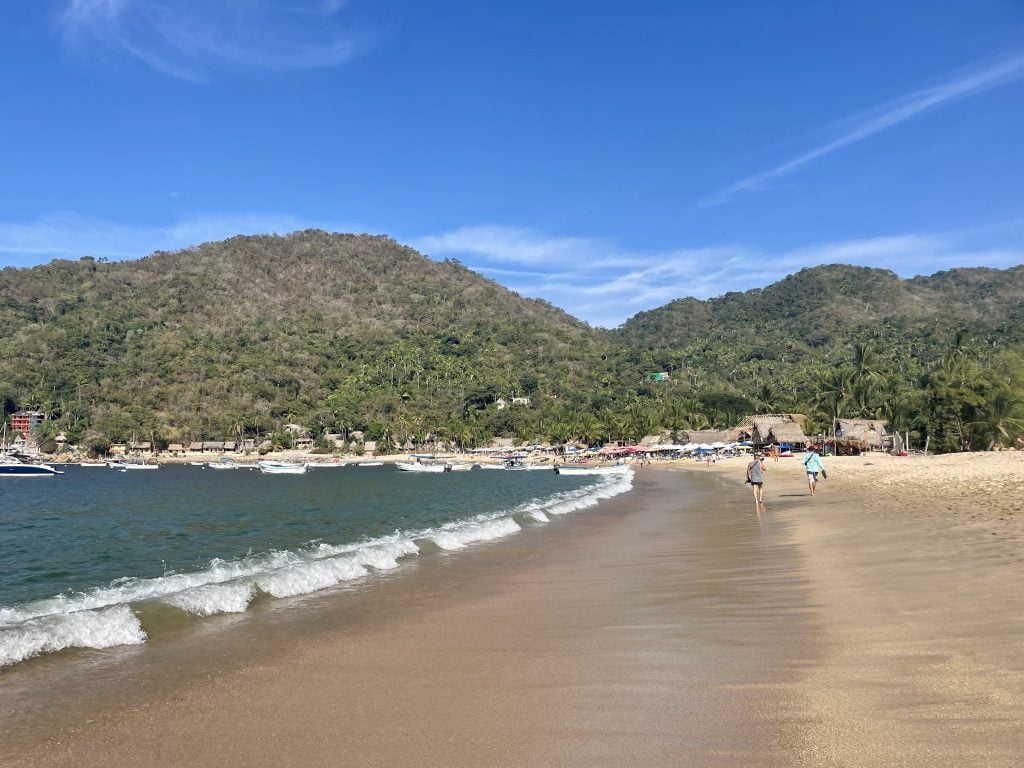 Blog Posts of the Month
14 Best Destinations for First-Time Solo Female Travelers — Thinking of traveling solo for the first time ever? Start gently. Here are my recommendations on destinations for first-timers.
The Very Best Time to Visit New York — I took all my experience from my time as a New Yorker, distilled into one post. Don't visit at a bad time!
22 Fabulous Things to Do in Provincetown, Mass — Thinking of heading to P-town? This town at the end of Cape Cod wears many hats, and has something for everyone.
This Month on Patreon
On the Adventurous Kate Patreon, I publish exclusive content and never-told stories that you can access for $6 per month. We also have a private Facebook group and members get free access to the Book Club each month.
This month I made a change on Patreon — I am changing it so that there's only one $6 tier. This will be simple, and everyone in it gets the same thing!
(You can always choose to pledge however much you want per month, including amounts in GBP or EUR, but it needs to be at least $6 to receive the exclusive content.)
This month, I did a long-form post on how I spend a typical day in Puerto Vallarta — and if you're new to remote working and considering working from somewhere abroad, the things you need to keep in mind as you try it out.
This month, I have a few plans for the writing: a longer-form piece about how I'm planning a trip to a new destination I know little about this summer (yeah, last month I said I was going to do that in January, but I ended up doing the PV post instead), and I'm currently rolling around a mini-essay in my mind about…pancakes.
Book Club This Month
Our next book club will take place on Sunday, March 6, at 1:00 PM Eastern Time. This month we are reading Lost Children Archive, a novel Valeria Luiselli, a Mexican author who grew up in South Africa, South Korea, and India. Love that global perspective!
"In Valeria Luiselli's fiercely imaginative follow-up to the American Book Award-winning Tell Me How It Ends, an artist couple set out with their two children on a road trip from New York to Arizona in the heat of summer. As the family travels west, the bonds between them begin to fray: a fracture is growing between the parents, one the children can almost feel beneath their feet.
Through ephemera such as songs, maps and a Polaroid camera, the children try to make sense of both their family's crisis and the larger one engulfing the news: the stories of thousands of kids trying to cross the southwestern border into the United States but getting detained–or lost in the desert along the way.
A breath-taking feat of literary virtuosity, Lost Children Archive is timely, compassionate, subtly hilarious, and formally inventive–a powerful, urgent story about what it is to be human in an inhuman world."
You can buy the book at Bookshop.org here.
There will be an optional add-on for this month — Luiselli's nonfiction book Tell Me How It Ends, a nonfiction book telling the stories of child migrants and their harrowing journeys to the United States. It's shorter and a fast read, and it's not necessary, but it will give you additional context.
You can sign up here. Hope to see you there!
Most Popular Photo on Instagram
How about this mermaid photo?! When we went to the Islas Marietas, two pro photographers joined us and took lots of great shots in the Hidden Beach. I've never done a shot like this before!
The photo fee was insane ($100 for every photo taken of the five of us), but I was happy to pay for it for business purposes. That, and it's more reasonable if you're splitting it with a group.
For more photos and stories from my travels, follow me on Instagram at @adventurouskate.
What I Watched This Month
My new favorite comedy on TV is Abbott Elementary! This new sitcom created by Quinta Brunson is a mockumentary about teachers at an underfunded elementary school in Philadelphia. The characters are so well-drawn, it's wickedly funny, and if you have a teacher in your life, you will relate to it!
If you love Ted Lasso and miss Parks & Rec, this show is for you.
I also got back into Ozark, which returned with the first half of its 14-episode final season. It's been two years since the last episodes came out and this show is complicated — I keep having to pause it and ask Charlie who everyone is and what happened.
It's good, yes, but I was trying to put my finger on what bothers me about it. I think it's that it tries so hard to be like Breaking Bad, but it's missing a crucial element: humor. There was so much humor in Breaking Bad! SCIENCE, BITCH!
What I Read This Month
This month started slowly — just two books read — but I'm looking forward to devouring many more good reads in the times ahead!
Intimacies by Katie Kitamura (2021) — This book tells the story of an interpreter for the International Court in The Hague, a woman of many languages and identities who wonders if she'll feel more at home in this international place. When she becomes the interpreter for an accused war criminal, the book examines the intimacies between the narrator and the people she meets in The Hague.
WHAT A BOOK. I need to immediately dive into everything else Katie Kitamura has written, because I fell in love with her style of writing — her words were like a gently flowing brook. This is one of the better books I've read about place recently, and I love how she depicts The Hague and Dutch people.
But more than anything, this book felt so intimate — like you were in a close, direct confessional with the narrator. I loved it and didn't want it to end.
Malibu Rising by Taylor Jenkins Reid (2021) — It's August 1983, and the four famous Riva siblings are throwing their annual blowout bash at oldest sister Nina's mansion in Malibu. A model, a pro surfer, a photographer, and an adored kid sister, the four siblings are grappling with the lifelong absence of their father, Mick Riva — and by morning, Malibu and Nina's home will be up in flames.
I'm a bit divided in how I feel about this book — I liked it, but I didn't love it (nothing Reid has written since The Seven Husbands of Evelyn Hugo has been quite as good, in my opinion). I do enjoy the world-building she does in her Hollywood-set books, and especially how she casually adds some real celebrities into the mix amongst the fictional characters.
But I had a hard time caring about any of these characters in particular. Plus, I find that her straight male characters are almost always grossly unrealistic. But I have some friends who truly loved this book, so if it sounds like your thing, give it a whirl!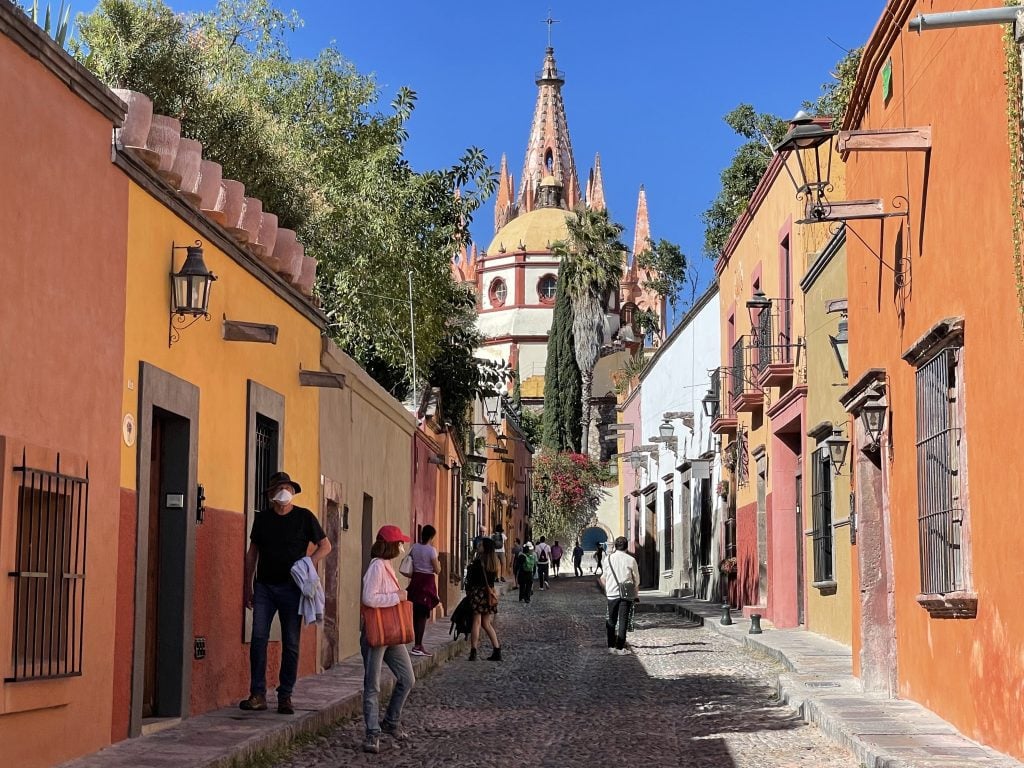 Coming Up in February 2022
As I write this, I'm in San Miguel de Allende for the first time ever! This city in Guanajuato state, north of Mexico City, is known for its beauty, its incredible restored homes, its rooftop restaurants, and its huge population of American and Canadian retirees.
After San Miguel, we will be visiting the city of Guanajuato for a few days, then a full week in Mexico City.
Then we return to the US — to Florida! This past fall, my mom finally sold her Massachusetts home and moved to Florida: specifically, The Villages, which is basically summer camp for boomers. We will be spending a week there.
We return to Prague later in the month, with a 12-hour layover in London on the way (now that the UK got rid of its test-and-isolate-on-arrival requirement, Charlie is insisting we go to Notting Hill for his favorite lamb kebab). And I can't wait to squeeze my kitties again!
What are you getting up to this month? Share away!
Get email updates from Kate
Never miss a post. Unsubscribe anytime!