Adventurous Kate contains affiliate links. If you make a purchase through these links, I will earn a commission at no extra cost to you. Thanks!
January is going to be a month of work, I vowed. I am not going to waste my motivation this year.
I don't know about you, but I feel SO MUCH MOTIVATION at the beginning of the year. New Year's resolutions, goal-setting, taking your business to the next level.
January is a month when I want to buckle down, work hard, and do little else. And I didn't realize that until last year, when Charlie and I spent January in Puerto Vallarta and realized that we were spending our big work month in a country that's all about play.
So this year we decided to stay put — and it worked. We stayed in Prague, leaving only to pick up our new vintage table in Olomouc. We cuddled with the cats, tried out axe throwing, went out for some good Georgian food, went on a walk in a snowstorm.
And with that month of work behind us, we're ready to hit the road again. And the timing is perfect. By the time February hits, you're ready to get out of the cold!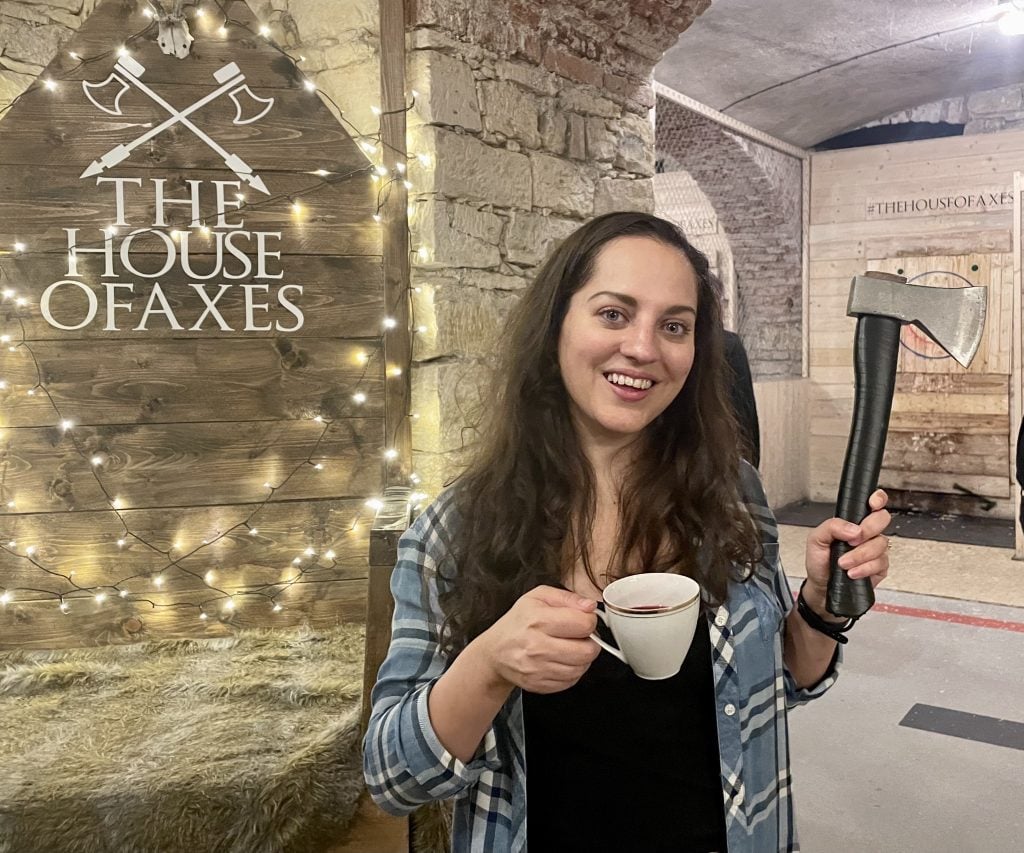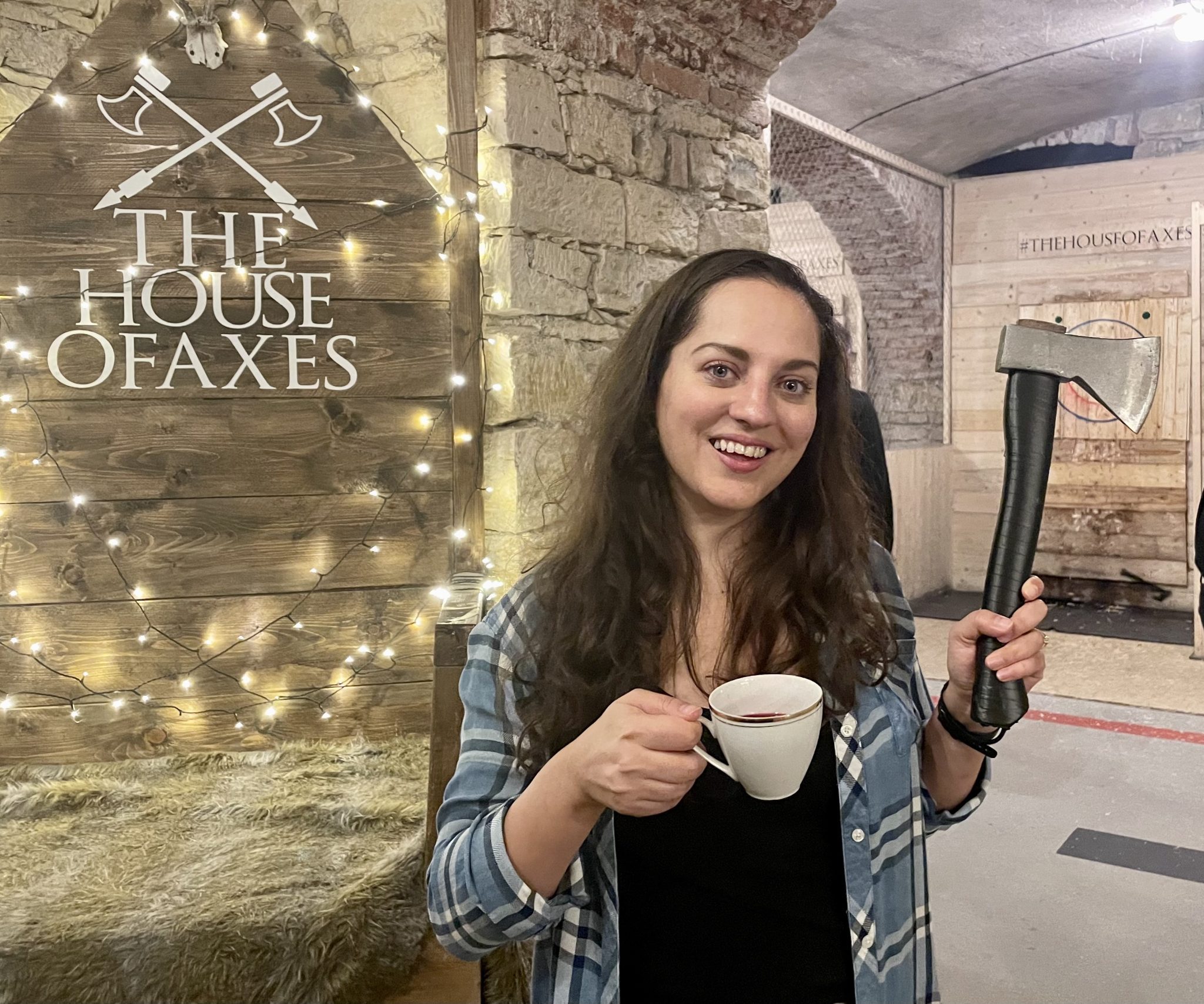 Destinations Visited
Prague and Olomouc, Czech Republic
Highlights
I have a brand new baby niece! One of my best friends welcomed a new baby this month, and she is BEYOND perfect! I'm so glad she arrived safely and can't wait to get her a flower headband for my wedding.
Bringing home a really cool vintage dining table. Last month I talked about the vintage chairs we found, and this month we brought home an awesome mid-century modern table, also designed for the 1958 Brussels Expo.
Getting the table was a bit of an ordeal. It was located in Olomouc in the Moravia region of the Czech Republic. So we rented a van, drove three hours to pick it up, loaded it up with bungee cords, drove three hours back, brought it upstairs, disassembled our existing table that weighed a million pounds, brought down to the van, delivered it in pieces to a friend of a friend, then returned the van.
But the table is SUCH a cool piece, it was a steal of a price, and we love it!! And the cats love laying on top of it.
We rented an elliptical machine for the winter. Did you know you can rent cardio machines? I had no idea that was a thing until recently.
From spring through fall, I take a LOT of walks in Prague, but it's hard finding the motivation to exercise outdoors when it's miserably cold outside. This has been an awesome way of getting low-impact cardio in five times a week.
If you're missing cardio but don't want to go to a gym, you should consider renting one for yourself.
Axe-throwing and Georgian food. One of our most fun nights this month was going out axe-throwing at a new spot in Prague, The House of Axes, plus Georgian dinner beforehand at SUN.DAY terrace.
I brought my axe-throwing skills from my lumberjack day in Nova Scotia, but in no time, my friends were amazing at it. And the Georgian food was SO GOOD. It was so nice to eat real khinkali again.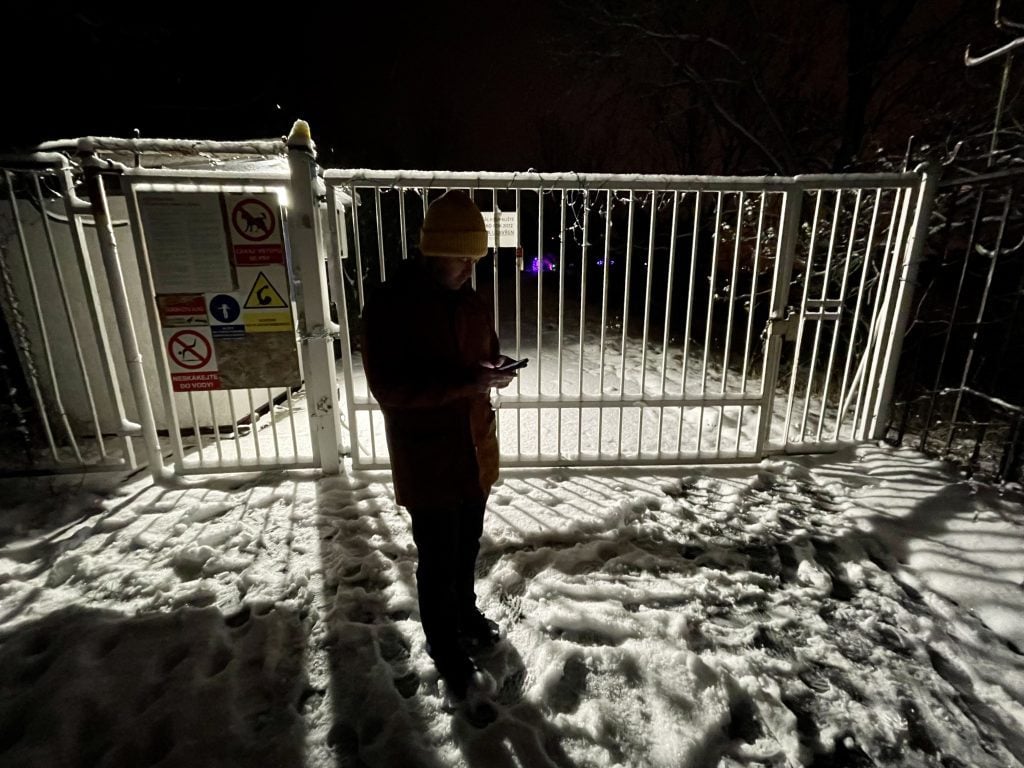 Challenges
Getting trapped in the snow. We had a big snowstorm in Prague this month — one that I had hoped for! — and that night, Charlie and I had plans to go to this outdoor Alice in Wonderland-themed light show in Prague with our friends and their kids.
Well, the show was located between two tram stops. Our friends got off at stop 1. We were there early, so we decided to get off at stop 2, have a bite to eat at a pub, and then walk from stop 2 to meet them.
Charlie and I walked into the woods, down a long, steep staircase covered in snow, holding hands and yelping, trying not to fall. Finally when we got to the bottom and walked another 10 minutes to the light show's entrance…THERE WAS A FENCE AND A LOCK ON IT.
Turns out the "entrance" wasn't an entrance — and you couldn't get there from stop 2.
So the show was a bust. The good news was that we found another way back without having to climb the stairs, and the kids had a blast and didn't miss us. LOL.
Blog Posts of the Month
This month I focused on updating tons and tons of posts rather than creating new ones. Not the most exciting stuff, but much better for the site long-term!
But here are a few new ones:
This Month on Patreon
On the Adventurous Kate Patreon, I publish exclusive content and never-told stories that you can access for $6 per month. We also have a private Facebook group and members get free access to the Book Club each month.
This month, I shared with my patrons the plan for my brand new site — which I talk about further down in this post. It's gone live this month and already has 13 posts up!
I also shared a preview of a new free product I'm introducing (and are partly through creating). It's a bit of an ebook-like product, but will be free, and about one of my favorite destinations.
Finally, the bigger post was about our big change in honeymoon plans — Charlie and I were planning on honeymooning in Chile and Peru in December, but the political unrest in Peru caused us to reevaluate things. How much did we really want to go to Peru?
The answer? Not that much. The new plan: Chile and Argentina! More hiking, more wine.
Book Club This Month
Our next Book Club will take place on Sunday, March 5, 2023 at 1:00 PM ET. We will be reading the new novel Scatterlings by South African author Resoketswe Manenzhe.
"In 1927, South Africa passes the Immorality Act, prohibiting sexual intercourse between "Europeans" (white people) and "natives" (Black people). Those who break the draconian new law face imprisonment—for men of up to five years; for women, four years.
Abram and his wife Alisa have their share of marital problems, but they also have a comfortable life in South Africa with their two young girls. But then the Act is passed. Alisa is black, and their two children are now evidence of their involvement in a union that has been criminalized by the state.
At first, Alisa and Abram question how they'll be affected by the Act, but then officials start asking questions at the girls' school, and their estate is catalogued for potential disbursement. Abram is at a loss as to how to protect his young family from the grinding machinery of the law, whose worst discriminations have until now been kept at bay by the family's economic privilege. And with this, his hesitation, the couple's bond is tattered.
Alisa, who is Jamaican and the descendant of slaves, was adopted by a wealthy white British couple, who raised her as their child. But as she grew older and realized that the prejudices of British society made no allowance for her, she journeyed to South Africa where she met Abram. In the aftermath of the Immorality Act, she comes to a heartbreaking conclusion based on her past and collective history – and she commits her own devastating act, one that will reverberate through their entire family's lives.
Intertwining her storytelling with ritual, myth, and the heart-wrenching question of who stays and who leaves, Scatterlings marks the debut of a gifted storyteller who has become a sensation in her native South Africa—and promises to take the Western literary world by storm as well."
You can sign up for the book club here. Hope to see you there!
Side Projects Update
This section used to be called "New Hampshire Way Update," but it's time for a change. Adventurous Kate might have started as a side hustle in 2010, but it's my full-time job now, and new side projects have come into play!
On my New Hampshire site, New Hampshire Way, I published a few new posts this month that you might like:
30 Unforgettable Things to Do in the White Mountains — This is the post I was afraid to write for the longest. I've been traveling to the White Mountains my whole life. But I am VERY pleased at how this came out and how personal it is!
28 Fun-Filled Things to Do in Nashua, NH — Nashua isn't a big travel destination, but a place where a lot of people live, and is getting cooler by the day! Since my friend moved there I've gotten to do some cool things in Nashua.
New Hampshire Winter Festivals — Just like my Christmas in NH post, this post comes with a calendar that you can get for free when you sign up for the mailing list!
But it's not just about New Hampshire. This month I started publishing on a brand new site.
Why another site? I'm thrilled (and still in disbelief) at how fast New Hampshire Way has grown, but honestly, New Hampshire is a small, mostly rural state, and its affiliate potential is especially small. There's only so much it can grow until it hits a wall.
I think I can reasonably triple what New Hampshire Way is earning now with Mediavine and affiliates, and that doesn't include the income potential of products (which I want to do!), but New Hampshire is not Paris, or Hawaii, or New York. I can't grow it at this rate forever.
So I've decided to create another destination-based site. A destination that I know well and is under-represented in the travel content creation world (so…not Mexico), but has much greater long-term growth potential than New Hampshire.
My Patreon people already know all about the destination.
So this month I started publishing, and MAN, it's been humbling! Its first 13 posts are up, and at first most of them weren't even ranking on page 10 of Google. YIKES.
But I did get it from a DA of 0 to a DA of 4! Yay! (For comparison, Adventurous Kate is 74 and New Hampshire Way is 25.) Baby steps. Let's keep it up.
What I Watched This Month
Station Eleven — After reading the book, I had to watch the critically acclaimed HBO series. And it is FANTASTIC. They took a gorgeous book and turned it into an even better series, fixing so many parts of the novel that didn't work and building the world into something beautiful.
It's not perfect — the plot around the Prophet is odd and doesn't make sense — but everything else is wonderful.
What I love about this series is how uplifting and hopeful it is, even after the world falls apart. I love thinking that a place like the Severn City Airport could exist after a pandemic kills off most of the world.
Highly recommended.
The Bear. I heard so much buzz about this show taking place in a Chicago restaurant, but it took me some time before I got into it.
And I'm glad I did — because episode 8 of The Bear, the penultimate episode of the season, is one of the best episodes of TV I have ever seen. Yes, it's up there with Ozymandias. It's astounding.
And you won't realize what's different about this episode right away — until you're several minutes in and it hits you. "Wait, is this episode…are they actually doing this…WHAT?!?!"
Watch it for that reason. Though if you've worked in restaurants, as I have, you might have trouble watching it. It's SO stressful!!!
What I Read This Month
This year, I'd at least like to get back to finishing one book per week. 52 books in 2023 seems like a reasonable goal to hit!
Spare by Prince Harry (2023) — Well, I don't have to give this one an introduction — you've heard so much from Prince Harry over the last few months. This is the memoir that covers his life from the death of his mother to the birth of his daughter.
I liked it. And I like Harry and Meghan very much. I've followed them in the news for awhile, but I thought this book especially illuminated how the Royal Family in general and Charles specifically have stepped on everyone they can, including Harry, for the sake of good headlines. Even when they're aware of the stories being false.
I also mentioned to the book club that this book shows how a quality ghostwriter can be transformative. Harry's ghostwriter, J.R. Moehringer, is the highest paid ghostwriter in the world and wrote Andre Agassi's Open, among other books. He made it fantastic and brought the perfect amount of Harry's sense of humor into the book.
And it made me realize that this book could have easily gone the route of Matthew Perry's memoir and become a bitter, immature mess. This book was so well done by comparison.
Son of Elsewhere: A Memoir in Pieces by Elamin Abdelmahmoud (2022) — Elamin Abdelmahmoud immigrated from Sudan to a very white town in Canada when he was a teenager. This memoir is about his family, his struggles to fit in two different cultures and never quite fitting into either, and some fantastic pop culture tangents.
I love Abdelmahmoud's voice — my favorite new writer for sure! He actually works for Buzzfeed, which makes so much sense — he is so fun and vibrant and funny, and I love the way he sprinkles humor and pop culture into everything. He has more books coming, including a memoir, and I can't wait to read them.
How High We Go in the Dark by Sequoia Nagamatsu (2022) — This book is about everything that happens after a climate change-induced pandemic hits the planet. It's one part Station Eleven, one part Interstellar, and one part World War Z, telling varied, creative stories about pandemic survivors in the centuries that follow.
Some of my friends adored this book. I didn't go quite that far. As a dystopian novel, it was nowhere as uplifting or peaceful as Station Eleven. But it was so incredibly original, and again, creative. Who else dreams up an amusement park where terminally ill children are sent to die joyfully while riding a roller coaster?
Financial Feminist: Overcome the Patriarchy's Bullshit to Master Your Money and Build a Life You Love by Tori Dunlap (2022) — I've read a lot of finance books and listen to lots of money podcasts, including Tori's. A lot of the information is the same in all these books (How to get out of debt! How to invest! How to negotiate a higher salary!).
But what I appreciated about this book is how political it is, constantly showing concrete examples of how the financial world is built for white men, how women and people of color are constantly put at a disadvantage, and how we can fight back.
One thing, though — this is going to sound prudish, but I didn't love how often she swore in this book. I love profanity. I use profanity. But I feel like the point of profanity is to make a well-timed impact — and when you use it constantly, well, it loses that power.
Coming Up in February 2023
Greetings from Palermo, Sicily! As I write this, I've been here for a few days and have really been enjoying it. My biggest takeaway so far is that Palermo isn't as wild and hectic as I expected. Naples is the pinnacle; Palermo isn't more extreme than Naples.
It's not quite the warmer getaway we had in mind (turns out places can feel much colder when buildings aren't built for chilly weather!), but there has been a lot of nice sunshine, I bought a cool Italian coat for a steep discount, the food is amazing, and I'm looking forward to our agriturismo stay and mini road trip around the west.
After that, it's back to Prague for the rest of February.
What are your plans for February? Share away!
Get email updates from Kate
Never miss a post. Unsubscribe anytime!