Adventurous Kate contains affiliate links. If you make a purchase through these links, I will earn a commission at no extra cost to you. Thanks!
Have you heard of Ogunquit, Maine? This seaside getaway is one of the nicest towns to visit in southern Maine. Just past the New Hampshire border is a colorful, artsy town set on a marvelous stretch of beach.
Ogunquit (pronounced oh-GUN-quit) is the Abenaki word for "beautiful place by the sea." And once you get here, you'll see how true that is!
Ogunquit is the rare destination that actually has something for everyone. It's a popular family getaway and good for kids of all ages. It's an evergreen LGBTQ travel hotspot that almost feels like a mini Provincetown. It's a center for the arts with excellent museums, galleries, and a wonderful local theater.
Ogunquit is magnificently photogenic, especially Perkins Cove, and there are lots of ways to be active outdoors. And if all you want is to lie on the beach? It's great for that, too!
I've been to Ogunquit many times over the years, having grown up about 90 minutes away. It's about time I share this place with all of you.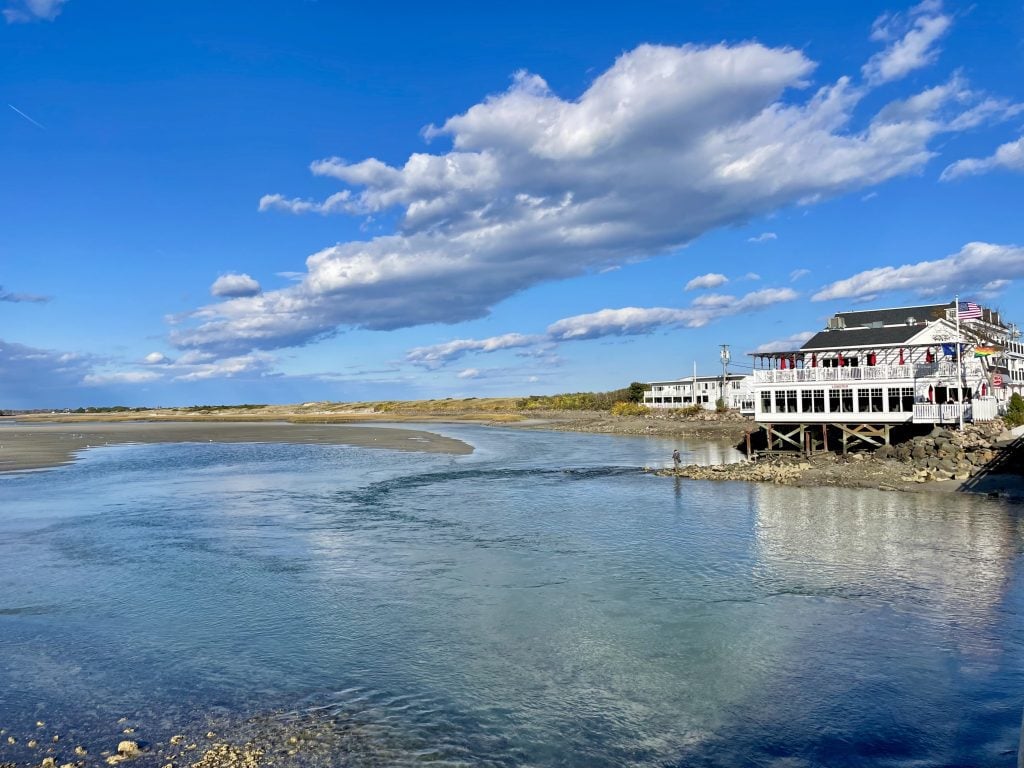 The Best Things To Do in Ogunquit, Maine
What are the best things to do in Ogunquit with kids?
Kids in Ogunquit will love riding on the Ogunquit Trolley and building sandcastles on the beach. Sailing trips are always fun for the whole family, too.
What are the best day trips from Ogunquit, Maine?
The best day trips from Ogunquit include visiting the nearby towns of Wells, York, and Kennebunkport. You can also take an easy day trip across the border to Portsmouth, NH.
How do you pronounce Ogunquit?
Ogunquit is pronounced oh-GUN-quit.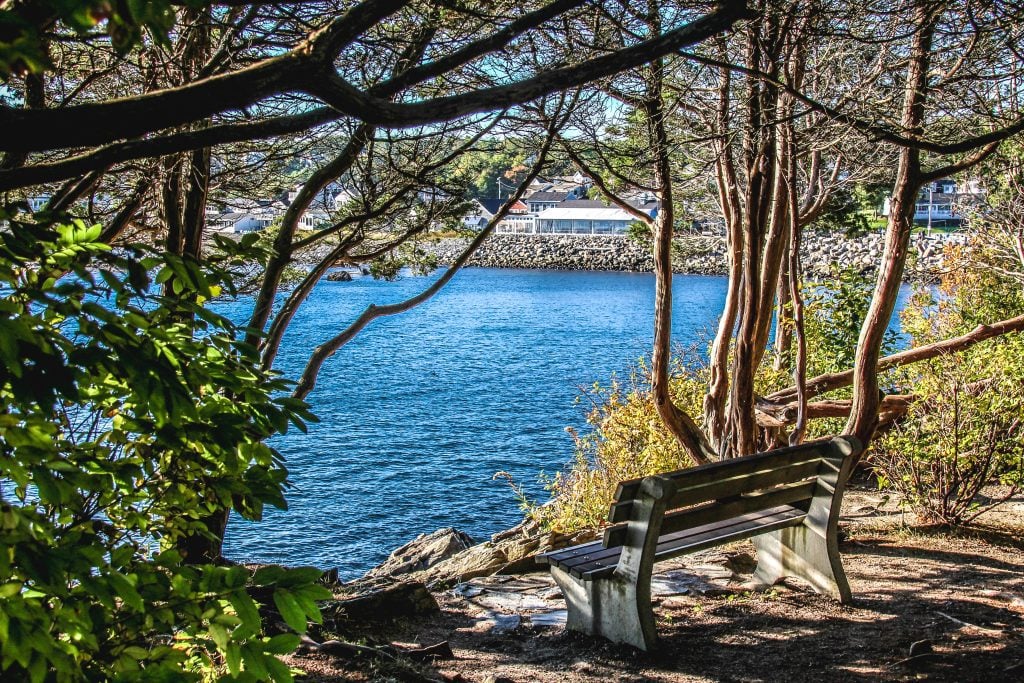 Walk the Marginal Way
There's no better place to acquaint yourself with the beautiful seaside scenery of Ogunquit, Maine, than along the Marginal Way. This walking trail stretches across a cliff overlooking the Atlantic Ocean and provides stunning views throughout its entire length.
The clifftop path is paved, which helps ensure that this is an accessible stroll, rather than a strenuous hike. It's not a particularly long journey, measuring only 1.25 miles, which makes it a doable activity for most people. There are even 39 benches to rest at along the Marginal Way, placed at key points on front of some of the best views.
When the weather is nice, the Marginal Way offers a truly idyllic beach walk, complete with its own little lighthouse. You'll often find sailboats decorating the sea on one side, with the other side dotted with inns and resorts. It's a perfect introduction to the charm of Ogunquit village and is a definite must for visitors to this New England town.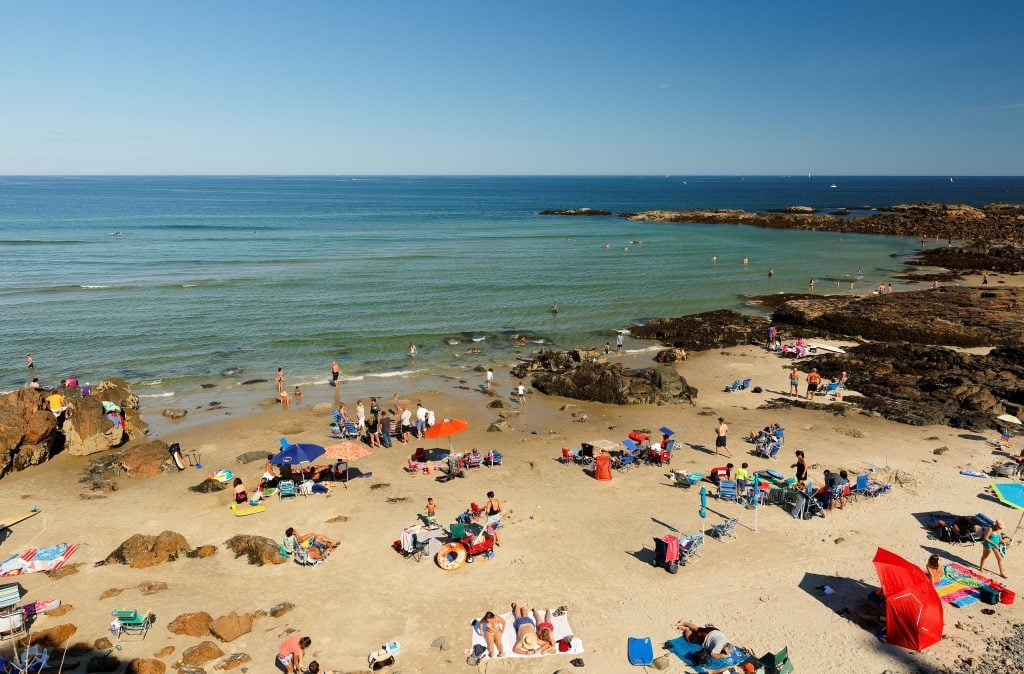 Stretch Out on Ogunquit Beach
It wouldn't be an Ogunquit trip without a beach day! You can enjoy the crashing of the waves and the smooth sands the area is known for when you plunk your chair down at Ogunquit Beach. Just take Beach Street from the center of town and go straight until you hit the sand and surf.
Ogunquit Beach is long and expansive with soft sand, and frequently finds a spot on "best beaches in the US" lists. It's a great place to just lay out and catch some rays, build a sandcastle, or wade in the surf. You'll find the occasional surfer, too.
If you want to avoid the crowds of the main beach, Footbridge Beach is a great alternative. It's just as lovely as Ogunquit, with the same waves and white sands, but is much quieter.
Dogs are permitted at Ogunquit and Footbridge Beach from Labor Day until the end of March every year. Both beautiful beaches offer public restrooms, and Ogunquit has rentals for umbrellas and other equipment to help you relax in the sunshine.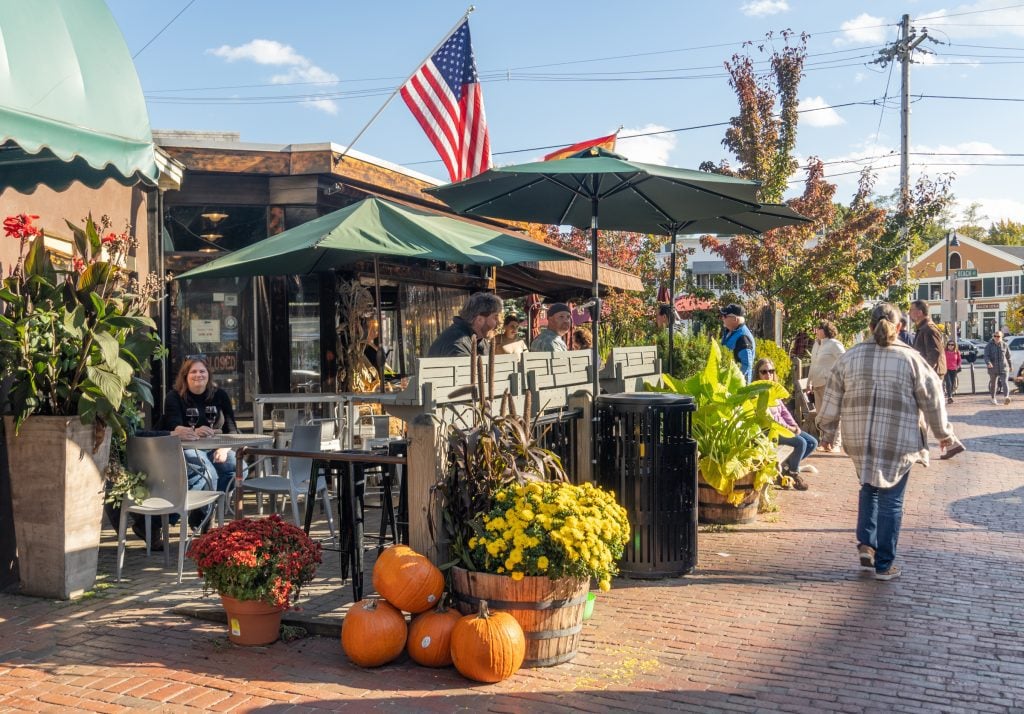 Stroll Through Downtown Ogunquit
The picture-perfect downtown area is one of the best parts of Ogunquit, Maine. Grab an ice cream and check out the amazing shops and galleries. There are also many delicious restaurants, bars, and cafes. If you're a foodie, interested in antiquing, or just looking to take a walk, this is the place for you.
There are tons of great shops that you won't want to miss. Some of these are niche spots for specialty items, such as the Tea Space. Here you can find a variety of loose-leaf teas, as well as tea accessories, for the perfect brew. There's also Mainely Quilts, which sells quilts that are both new and antique, along with quilting supplies. If you're in the market for ceramic goods, the Pottery Shop is a great stop as well.
If you're in the market for a keepsake or gift, be sure to check out Spoiled Rotten. They have an eclectic selection of candles, jewelry, home goods, and more, so you can find just about any kind of souvenir.
Alternatively, if you want something truly unique or with history, Blacksmiths Mall Antiques can help. The store features more than 70 dealers, and it is one of the most popular places for antiquing in the entire state of Maine.
See a Show at the Ogunquit Playhouse
Calling all Broadway fans and theater geeks! The Ogunquit Playhouse, set in a barn, was established in 1933 and has continued to put on amazing plays and musicals for almost 100 years. It has even featured shows with nationally-acclaimed performers, such as Bette Davis and Sally Struthers.
Ogunquit Playhouse is known around the country for its production quality and amazing performances. As one of the only remaining original off-Broadway summer theaters, it currently is known as America's foremost summer theater, and offering a glimpse into the history of Maine and the theater in general.
(Also, fun fact: my aunt and uncle once saw George and Barbara Bush at a show here.)
If you're visiting Ogunquit anytime between the end of spring and the middle of fall, you should be sure to catch a show. Past seasons have featured productions such as The Sound of Music, and Grease, and Beautiful: the Carole King Musical, but there are also matinee performances like Elf: The Musical that are just as fun for kids.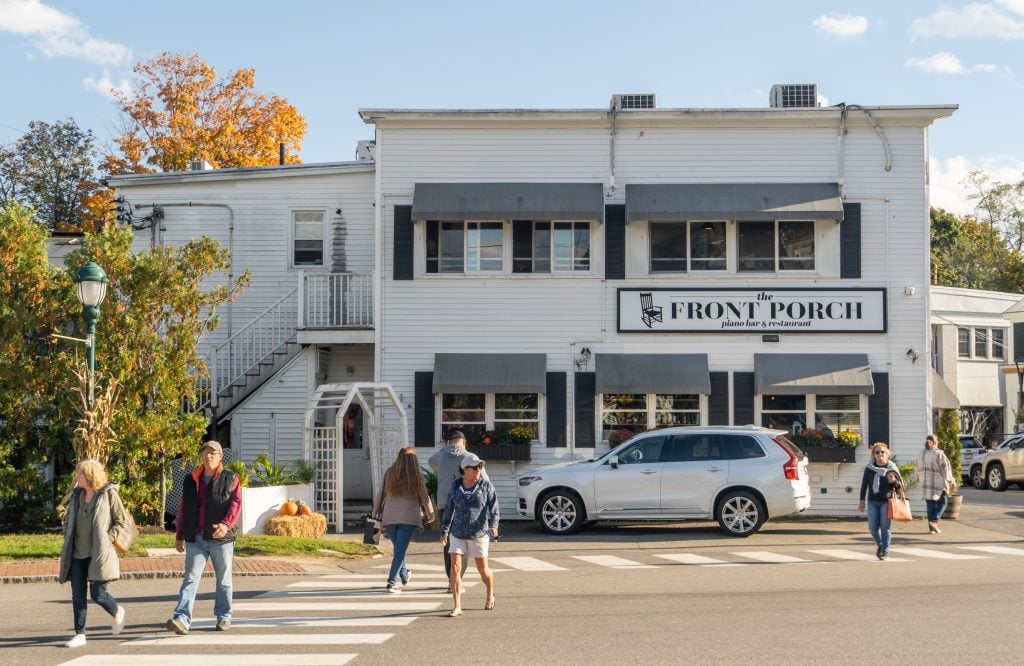 Sing Your Heart Out at The Front Porch Piano Bar
The Front Porch Piano Bar has been an Ogunquit staple for more than 35 years. This establishment offers an incredible entertainment experience that is perfect for a date night or celebration. It's located right downtown and features performances every night of the week, with two different musicians playing on weekends.
One of the best things about the Piano Bar is that it offers a complete experience for a night out. There's amazing live music, but it's more than just a venue. There is also a bar and lounge for pre-show drinks, and a restaurant for fine dining.
The restaurant portion's award-winning food is served in all parts of the Front Porch, including the Piano Bar. The cuisine features elevated New American dishes with many influences for a varied, and exciting menu. There's also a craft cocktail menu as well. But no matter which part of the Front Porch you visit, you'll make lifelong memories.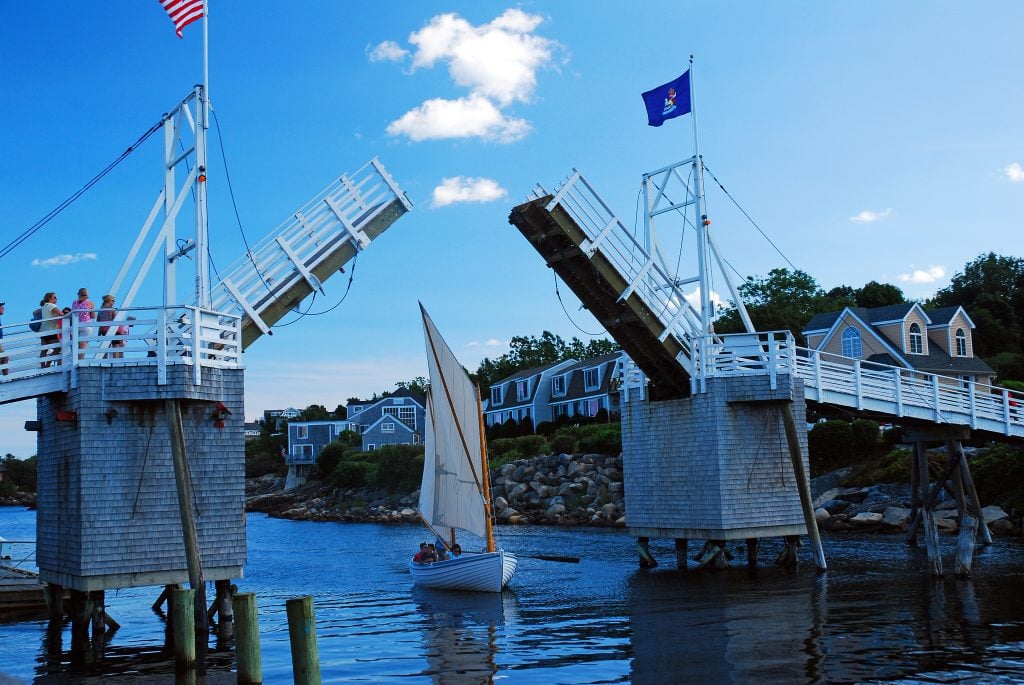 Take a Sailing Trip
Why not explore Ogunquit's coast the fun way? Sailing is the best way to feel the wind in your hair and the ocean spray on your cheeks. You can sit back and relax while you take in the spectacular views, or take a tour that offers some education and insight into local history or marine life.
There are several companies that offer great sailing excursions. Finestkind Scenic Cruises offers quite a few options. You can witness wildlife like harbor seals, drink cocktails, or learn about lobstering, depending on the option you choose.
Silverlining Sailing offers some classic and traditional sailing experiences. Their tours can only accommodate six people per journey and will take you along the southern Maine coast for beautiful snapshot opportunities. These boat trips let you try your hand at sailing yourself.
Other companies to look into include Sail Me and Sail the Gift. The former offers three different cruise types, including a popular sunset trip. The latter can accommodate larger parties of up to 12 people for a memorable experience for your whole group.
Visit Ogunquit Heritage Museum
If you're in search of a local educational experience to enrich the entire family, look no further than the Ogunquit Heritage Museum. It's situated in the 18th-century Captain James Winn House and offers insight into the history of the area. The building, which was erected in 1780, still consists of a largely original structure.
This museum is also situated in a really nice park, called the Dorothea Jacob Grant Common. The grounds are great to just walk through and wander around, as there are a variety of woods, open areas, and paths to explore.
The exhibits inside the museum focus on the history of the town, including topics surrounding the trades that have supported it, like lobstering and fishing. It also offers insight into the cultural and societal heritage and the prominent art and theater communities that have developed in Ogunquit.
The best part? This museum is free to visit!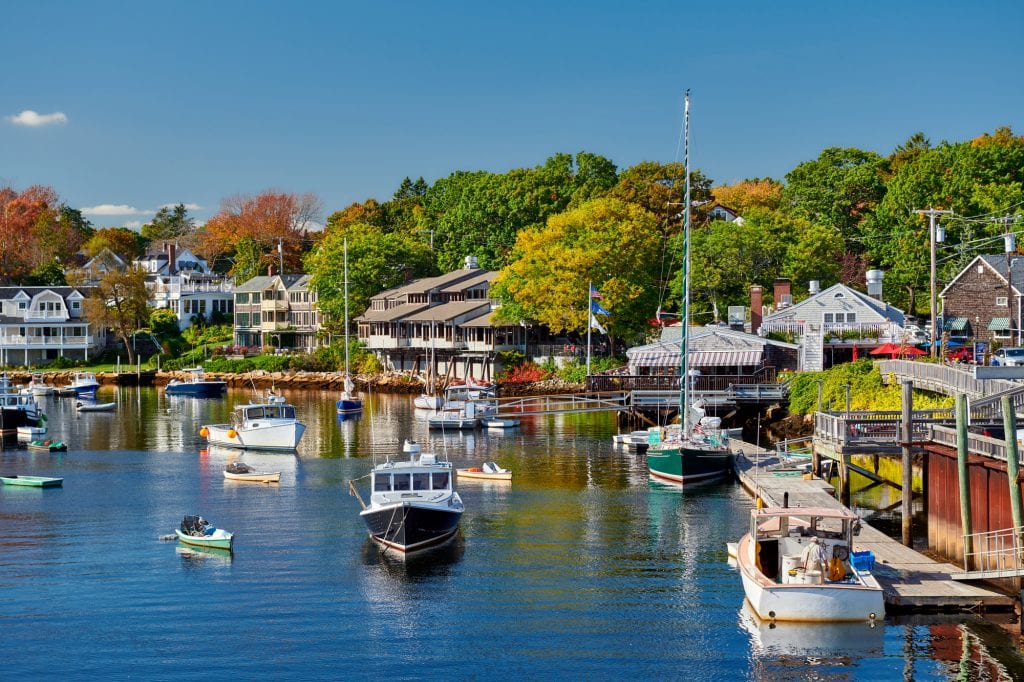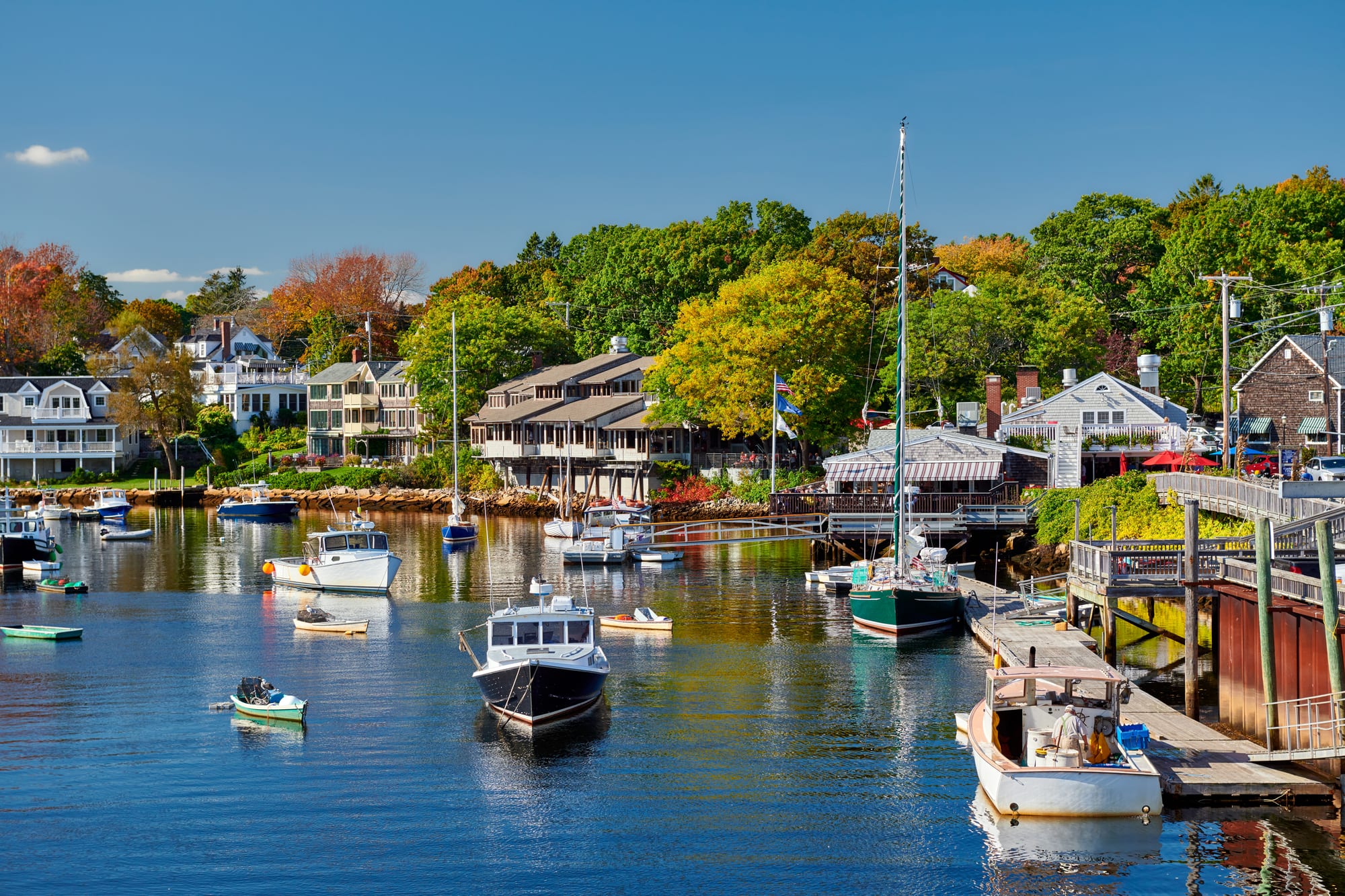 Visit Perkins Cove
Once a sleepy fishing village and cozy local artists colony, charming Perkins Cove is now an area that begs you to photograph it from every angle. There's even an iconic pedestrian bridge that you can cross and manually operate and draw!
This neighborhood also offers great shopping opportunities. There are tons of neat boutiques, gift shops, jewelry stores, and art galleries. It's a perfect place to pick up a souvenir or just take a stroll and browse.
There are also numerous restaurants worth visiting around here, especially if you're a seafood lover. Chow down on some freshly caught fish at Barnacle Billy, then after lunch or dinner stop in for some locally made salt water taffy at the candy shop.
Visit the Ogunquit Museum of American Art
Just off Shore Road, the Ogunquit Museum of American Art is inspired by the art colonies that have flourished in Ogunquit throughout the town's history. There are more than 3,000 works on display at OMAA, making it an invigorating place to visit (not to mention one of the best things to do in Ogunquit Maine on a rainy day).
The collection contains a variety of art in many different media, including drawings, paintings, sculptures, photographs, and even film. There are many different exhibitions that are hosted at any given time. These are regularly updated and changed, so if you visit Ogunquit again in the future, you'll be able to have a new experience at OMAA.
Admission to the museum is $12 for adults, $10 for students and seniors, and free for kids under 12. Visit any day from 10:00 AM-5:00 PM from May through October.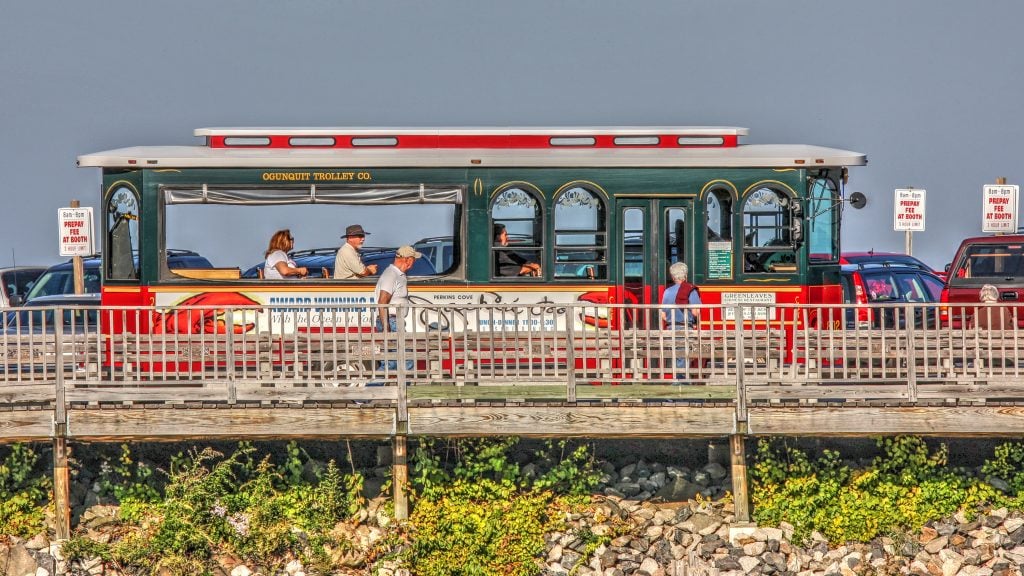 Ride the Ogunquit Trolley
If you need to get around town, the Ogunquit Trolley is a fun way to ride! These trolleys are charming and fun and offer a cute way to explore the city, especially if you don't have a car.
The Ogunquit Trolley can take you to most of the key places that you'll want to visit, anyway. Perkins Cove, the famous Marginal Way, and Ogunquit Beach are all stops. Plus, they run along the downtown and will let you off at the restaurants, bars, and shops that are next on your agenda.
I recommend hopping on the trolley when you first arrive in the coastal town of Ogunquit to give yourself the lay of the land.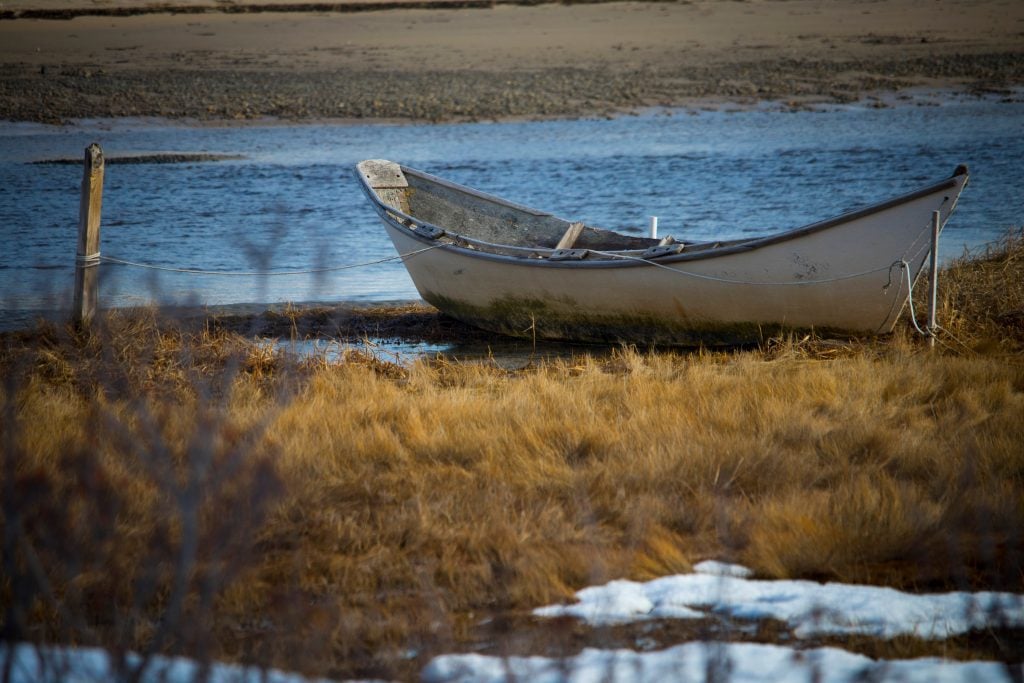 Visit Beach Plum Farm
If you want to enjoy nature and go for a leisurely stroll, this is a great spot. Beach Plum Farm offers stunning landscapes over its 22 acres, and lets you see dunes, the ocean, gardens, and many beach plums.
There's a trail that loops around the gardens and fields offering a short walk of just 0.5 miles. There are many benches that decorate this path, so it's very easy and manageable to journey across. Plus it's a great place to sit and think, read a book, or draw the scenery in front of you.
Beach Plum Farm is home to more than 50 plots for community gardens, many different species of flowers and plants, and some wildlife. It's a particularly great place to go birdwatching. The best part is that admission is free.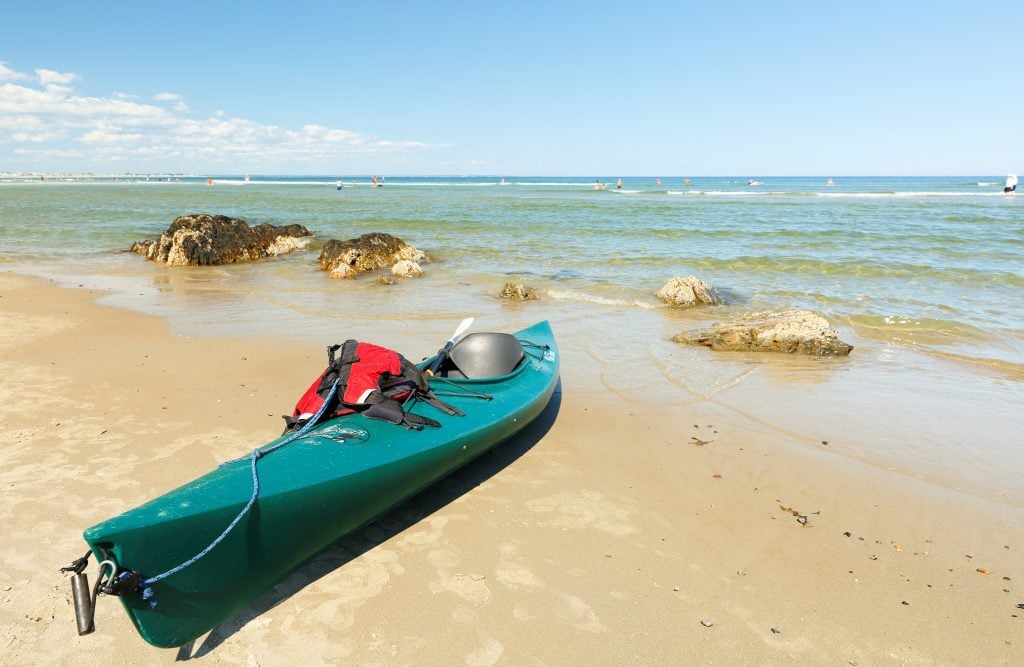 Go Kayaking
If you want to have some fun on the water, kayaking is always a great choice. Sea kayaking requires a bit of skill, but if you already have kayaking experience in still water, you should be able to adjust to Ogunquit's small waves.
World Within Sea Kayaking offers rentals for use along the Ogunquit River. They offer stand-up paddleboards as well.
World Within is also positioned optimally within the Rachel Carson Wildlife Refuge. You'll be situated to see a lot of wildlife as you paddle along the water. Some of the local animals include fish, foxes, local birds, and if you're REALLY lucky (like 1-in-1000 lucky), a moose!
If you aren't familiar with kayaking, you can take private lessons. Learning how to do a wet exit is a skill that will serve you well no matter where you go!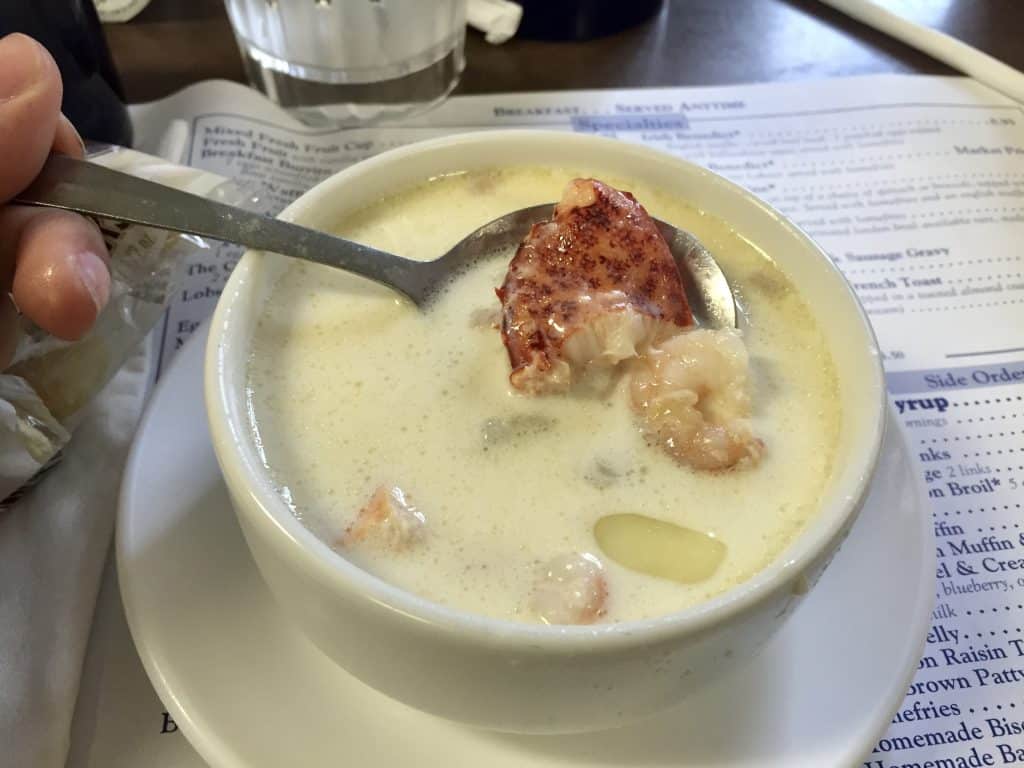 Visit the Maine Diner in Wells
Just a 12-minute drive from Ogunquit is the town of Wells, which happens to be home to one of my favorite restaurants on the planet: the Maine Diner. I have no words for how much I adore the Maine Diner — so much that I regularly drive 90 minutes to eat there.
The Maine Diner's seafood chowder is the most delicious chowder on the planet. It's full of giant pieces of lobster, scallops, clams, shrimp, and fish, and it's so far beyond what anyone else in New England makes. Seriously.
Every time I go to the Maine Diner, I order the Jim Nantz: a cup of seafood chowder and a hot lobster roll with butter. Though I upgrade from a cup to a bowl! They also have a sampler plate inspired by their appearance on Diners, Drive-Ins, and Dives.
(Just be sure to check their schedule online before you go. Since COVID hit, they've had staffing issues and have reduced their opening hours.)
As for Wells beyond the diner, there's a lot to do in this old shipbuilding and fishing town. It's a great place to go shopping, especially for antiques. There are lots of lovely stores all around the downtown area. There are also gorgeous beaches, which are definitely worth going to for some coastal walks across the sand.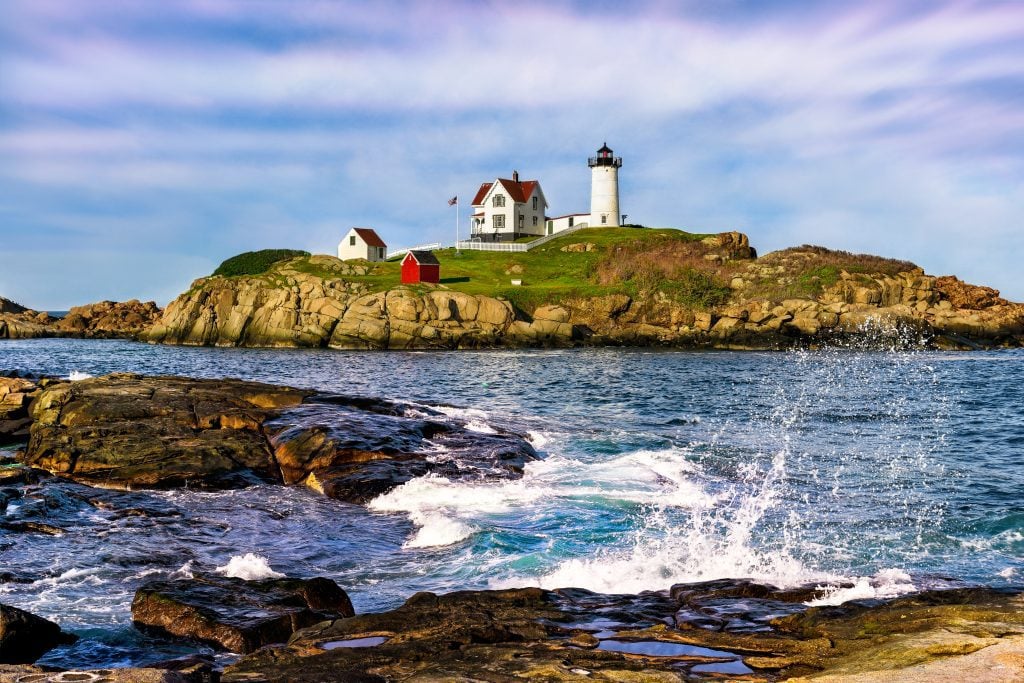 Visit York
Another cool stop, just 11 minutes away, is York. In fact, Ogunquit and York are often paired together as a day trip from Boston or Portland, and I recommend doing the same.
I think York is an especially good place to visit if you're traveling with kids, as it's a very family-friendly small town with a very calm beach, an amusement park, and a fantastic candy store with hypnotizing taffy pullers.
Short Sands Beach isn't as big or wide as Ogunquit Beach, but it's still a nice place to soak up the sun. Fun-O-Rama Arcade is located right off the beach, has tons of games to play, and even features a fortune teller!
You should also go see the Nubble Lighthouse if you're in York. This is an iconic spot with scenic views that makes it a great backdrop for that quintessential Maine photo. There's a lighthouse museum and gift shop on site.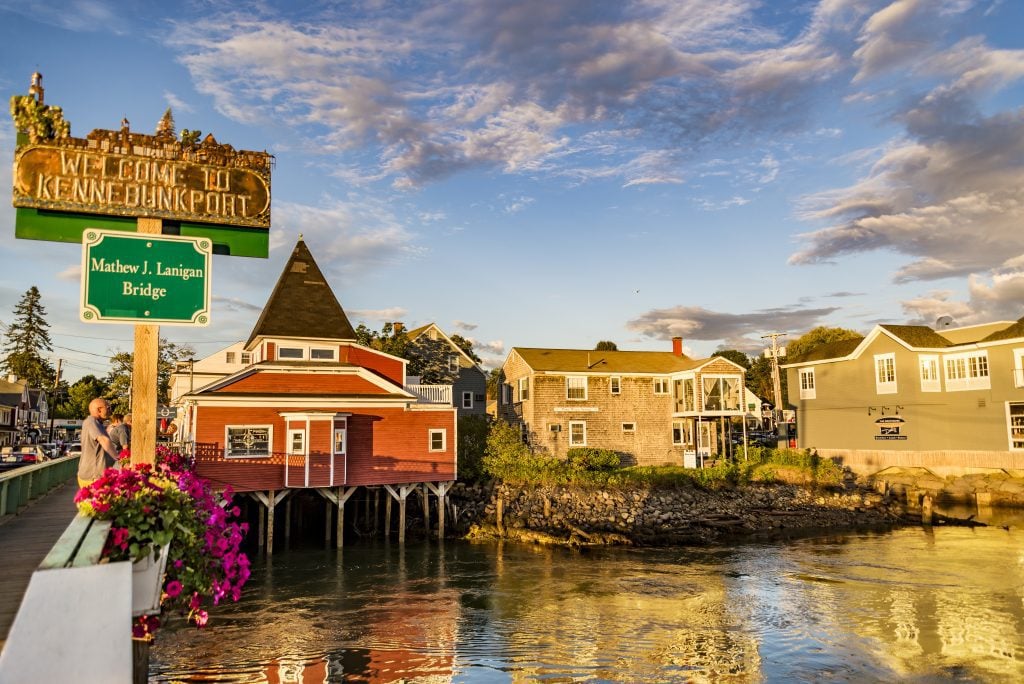 Visit Kennebunkport
If you drive just a bit further north, you can check out the beautiful place that is Kennebunkport. This upscale Maine town is only 24 minutes from Ogunquit and is most well-known for its association with the Bush family. The Bush summer compound has been here for generations, and both Presidents Bush took their families here often.
To learn more about the relationship that the town has with American presidents, you should visit the First Families Kennebunkport Museum. There are also a number of other museums to spend a lazy (or rainy) afternoon learning. The Brick Store and Seashore Trolley museums are excellent stops to make as well.
While you're in town, you should also visit iconic spots like the Wedding Cake House, the most photographed home in the entire state. Other cool activities include taking a food tour or a lobster tour as well! You'll find that there's no shortage of fun in Kennebunkport!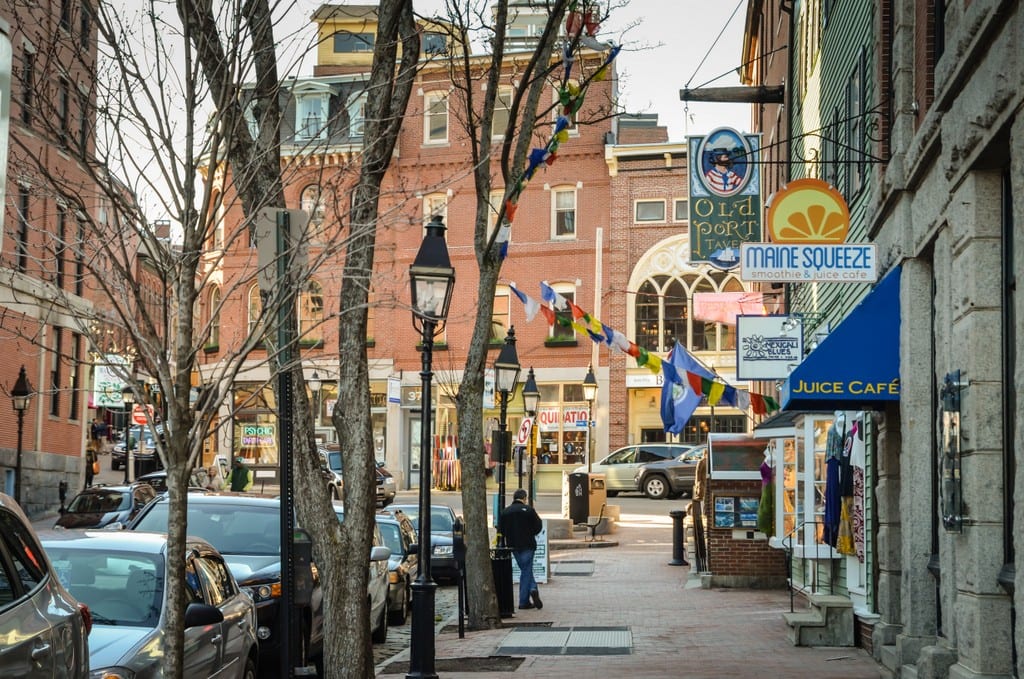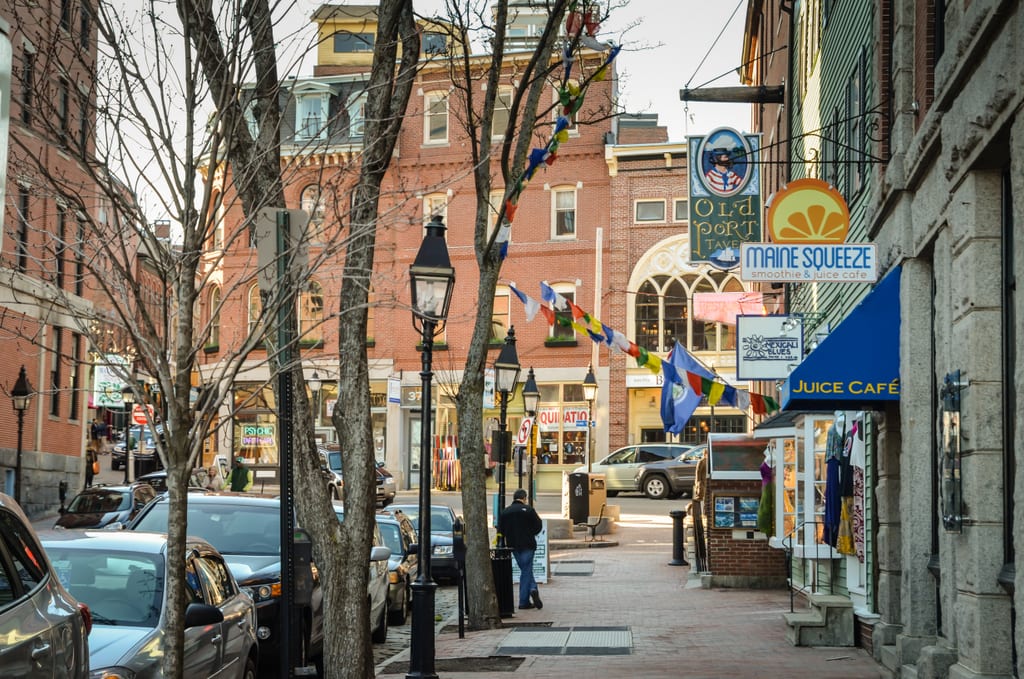 Visit Portland
Portland, Maine, is a fantastic city, just a a 45-minute drive from Ogunquit. It seems like everyone keeps putting Portland on its list of up-and-coming cities to visit in the US — while we New Englanders have known for quite some time how awesome it is!
Portland is especially known as a foodie city. There are lots of excellent restaurants here, serving both high-end and casual fare.
A few years ago my friends and I planned a bachelorette party in Portland, Maine. It was a blast — we ate great food, did spirit tasting, kombucha tasting, wine tasting, gin tasting, and hit up the bars at night!
If you need a dose of urban life during your vacation in Ogunquit, this is a great option.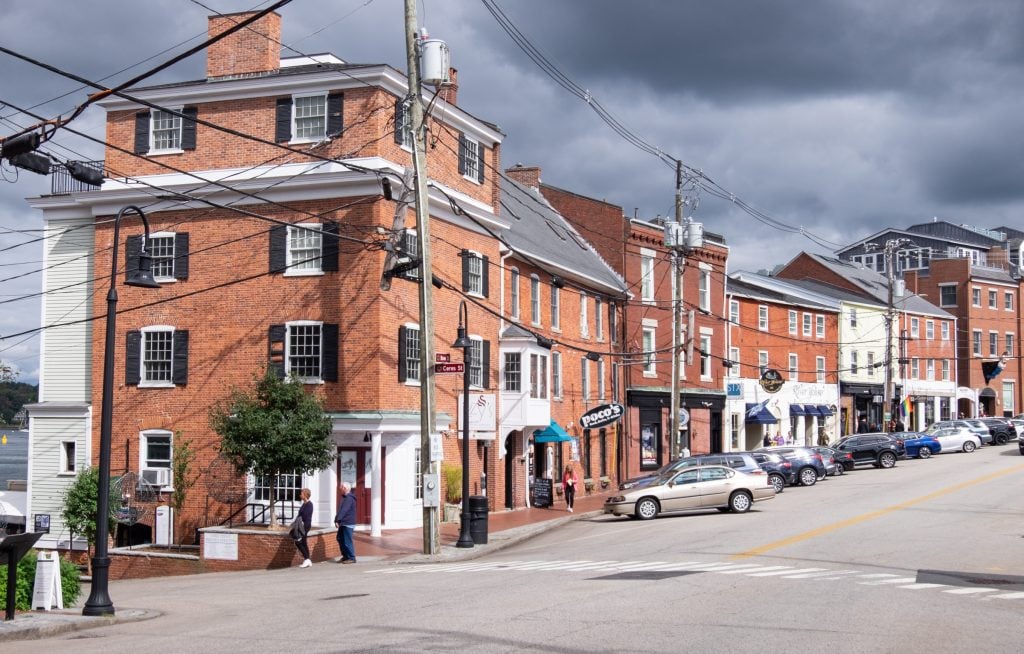 Visit Portsmouth, NH
Just over the state line is the cool little city of Portsmouth, New Hampshire, just 25 minutes from Ogunquit. This is another spot for a day trip if you're planning to be on the Maine coast for a while. I am a huge fan of Portsmouth and love bringing out of towers to visit.
To start off, there are so many cool independent shops and restaurants in Portsmouth. Portsmouth is without a doubt the culinary capital of New Hampshire, with great restaurants like Black Trumpet Bistro and Durbar Square. There are lots of excellent bars and bakeries, too.
There's also a lot of history in this area. Strawbery Banke Museum is a re-created historical village, complete guides who act in character. There's also the African Burying Ground, which memorializes and honors the enslaved and free blacks that died in this town. The USS Albacore Museum, which is set in a retired submarine, offers a cool opportunity to learn as well.
There's also great hiking and biking in the region, plus lots of boat-based activities and great things to do on the water. Oh, and did we mention the breweries here?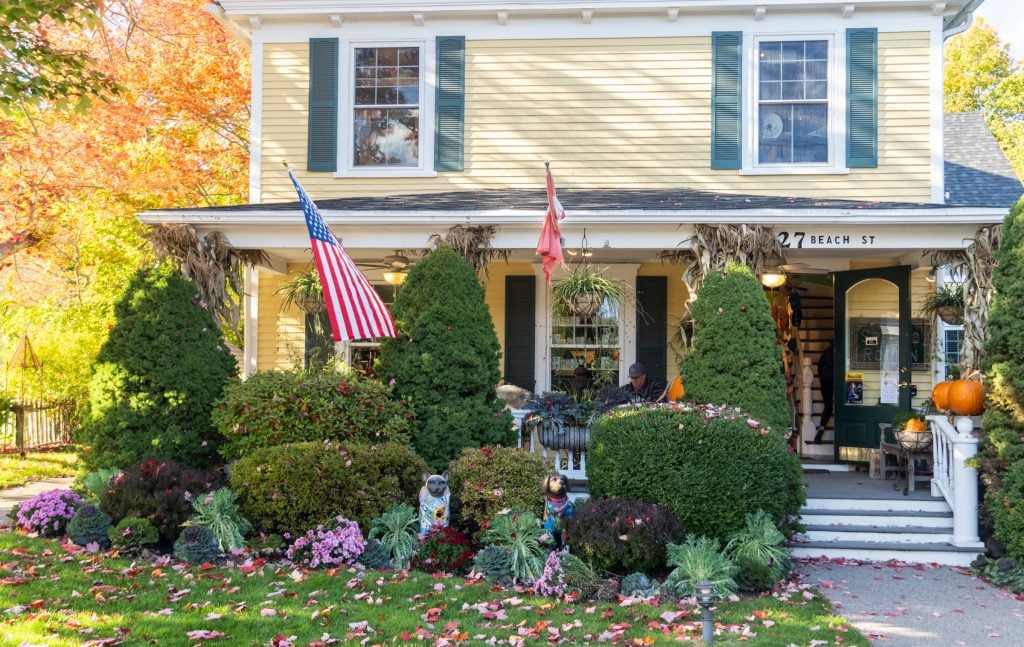 How Much Time to Spend in Ogunquit, Maine
Ogunquit is a very popular day trip destination for people in the Boston area (indeed, I chose Ogunquit as one of the best day trips from Boston). You could certainly day trip from other parts of Maine or New Hampshire.
Is a day trip enough? You could do a lot in a single day, so I think one day could be enough for some people. But staying for a few days will allow you to really soak up Ogunquit and explore the surrounding area as well.
Then again, there are folks who have their summer home in Ogunquit and spend the entire summer here! It's easy to get hooked on this town.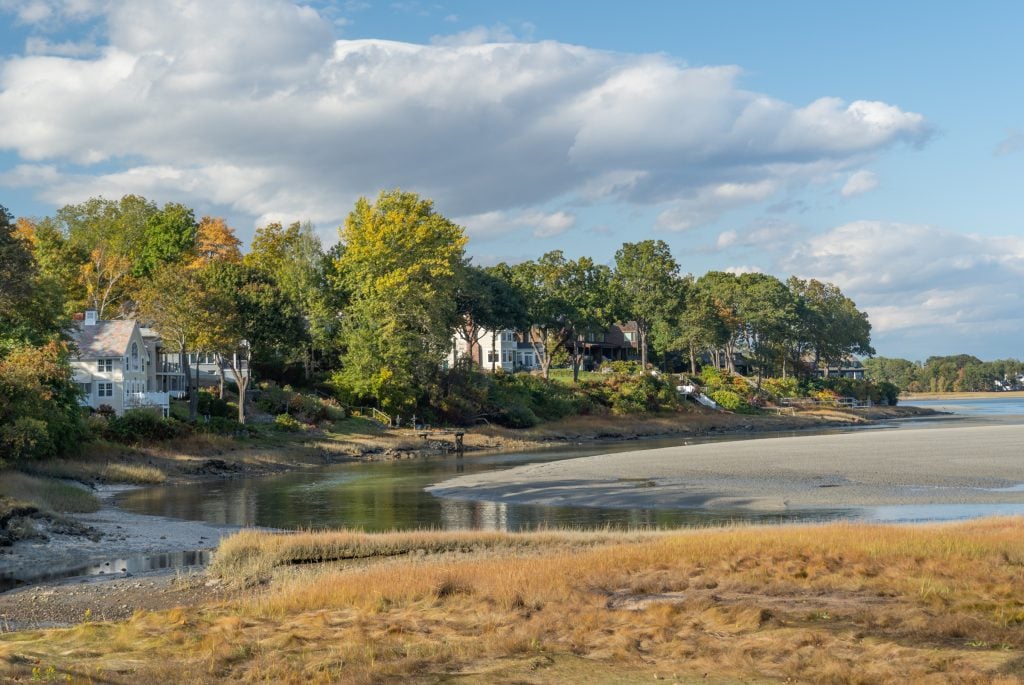 How to Get To Ogunquit, Maine
The two closest airports to Ogunquit are Portland, Maine (40 minutes) and Boston, Massachusetts (1 hour 15 minutes). You'll find many more flight options to Boston than Portland, but check them both to see if you can find any deals.
Ogunquit is located along Route 1 in Maine, just a short drive from I-95.
The Amtrak Downeaster train, which runs from Boston to Portland, has a stop close to Ogunquit in Wells. (Keep in mind that the Downeaster leaves from North Station in Boston, while other Amtrak trains leave from South Station. If you're coming from New York or elsewhere, you'll need to get from South Station to North Station.)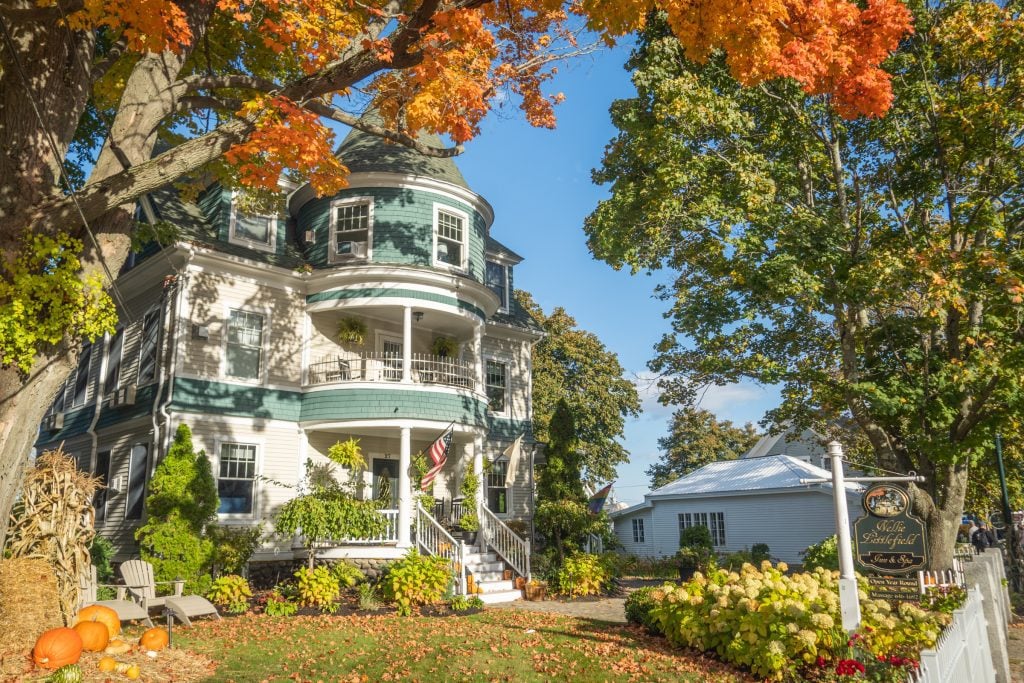 Where to Stay in Ogunquit, Maine
There are plenty of accommodation options in a resort town like Ogunquit. Here are a few of the nicer Ogunquit hotels:
Waterfront option: Terrace by the Sea has beautiful rooms, but the real draw is the spectacular views off Ogunquit Beach.
Nice B&B: Trellis House might be the nicest B&B in town, set in a gorgeous house with immaculate rooms (with a high price tag to match). The Inn on Shore Road is a cheaper, pet-friendly bed and breakfast in Ogunquit.
Value for money: Sea View Motel is a bit further from the action, but these are decent rooms here for a low price.
Find deals on places to stay in Ogunquit here.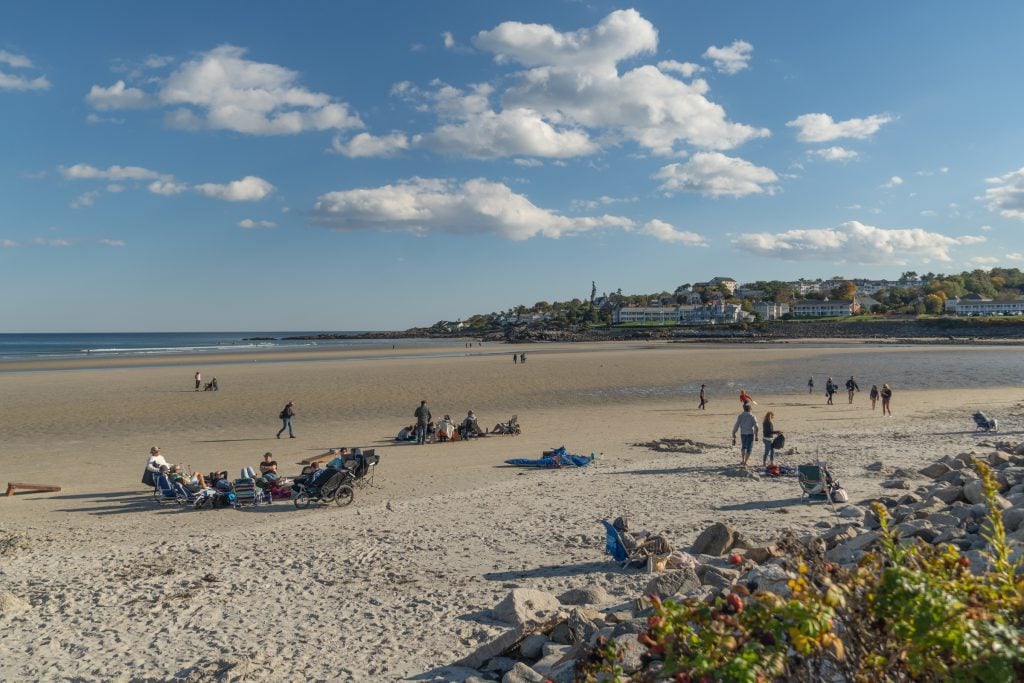 Best Time to Visit Ogunquit, Maine
Ogunquit is a quintessential summer destination, like most beach resort towns. There's nothing like stretching out on the beach, strolling the Marginal Way, stopping for an ice cream.
But don't overlook visiting Ogunquit in the fall! New England fall foliage is absolutely spectacular, and Ogunquit holds its own with gorgeous trees exploding in shades of red, orange, and yellow.
Summer is the busiest and most expensive time of year. Fall weekends can be very busy, too. I most recently visited on Columbus Day weekend in early October, and it was just as busy as a summer weekend.
Winter in Ogunquit is very quiet and local with many businesses shut down for the season. Spring in this part of Maine doesn't kick in until late April or so, but May and June are lovely off-peak times to visit if the weather isn't too rainy!
Is Ogunquit Worth It?
Of course Ogunquit is worth it! Whether you come for a day trip or a longer getaway, you're going to enjoy your time in this lovely town.
Just make sure to take advantage of all that Ogunquit has to offer. Make sure to soak up the arts. Find your loved ones some nice souvenirs. Eat all of the seafood.
And don't forget to enjoy that spectacular beach.
More on Maine:
More on Coastal New England: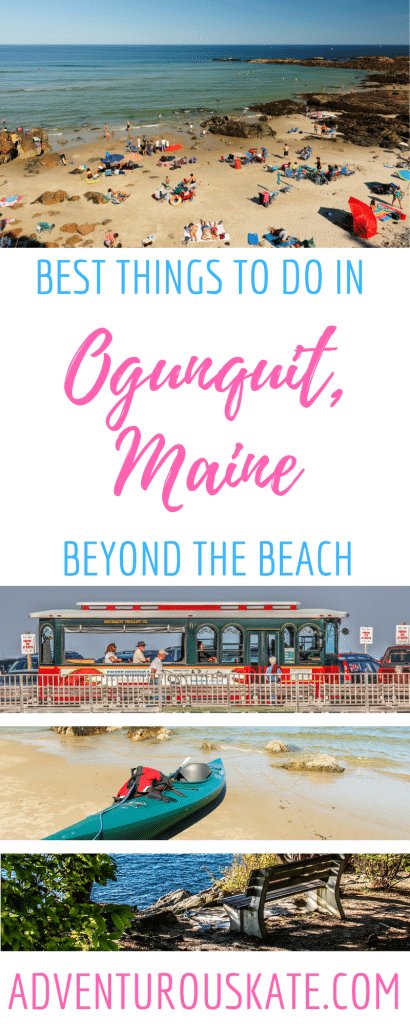 Have you been to Ogunquit? What are your recommendations?