Adventurous Kate contains affiliate links. If you make a purchase through these links, I will earn a commission at no extra cost to you. Thanks!
It's crazy how different October 1 looked from October 31.
At the beginning of the month, life in Prague was almost normal. Restaurants and bars closed at 10:00 PM, and masks were required indoors, but other than that, it was Prague as usual, operating in full.
Then the Czech Republic's COVID infection rate became the highest in the world.
New restrictions were added every few days: first, restaurants closed at 8:00 PM, then they closed altogether (takeout and delivery are still okay), then all nonessential shops closed, then we could only be outside for essential or exercise reasons (this does not seem to be enforced whatsoever), then there was a 9:00 PM curfew, where you could only go outside if you had a dog and stayed within 500 meters of your home.
The good news is that while the infection rate in the Czech Republic is still quite serious, the city of Prague has improved significantly. Our transmission rate has fallen and we are now one of the lesser-hit regions. And this time around, people are hospitalized and in intensive care at a lower rate. The current restrictions last until November 20.
I'm very glad that we are not facing a lockdown like France's, where people are kept indoors for nearly the whole day.
And now you understand why I didn't leave the city limits this month.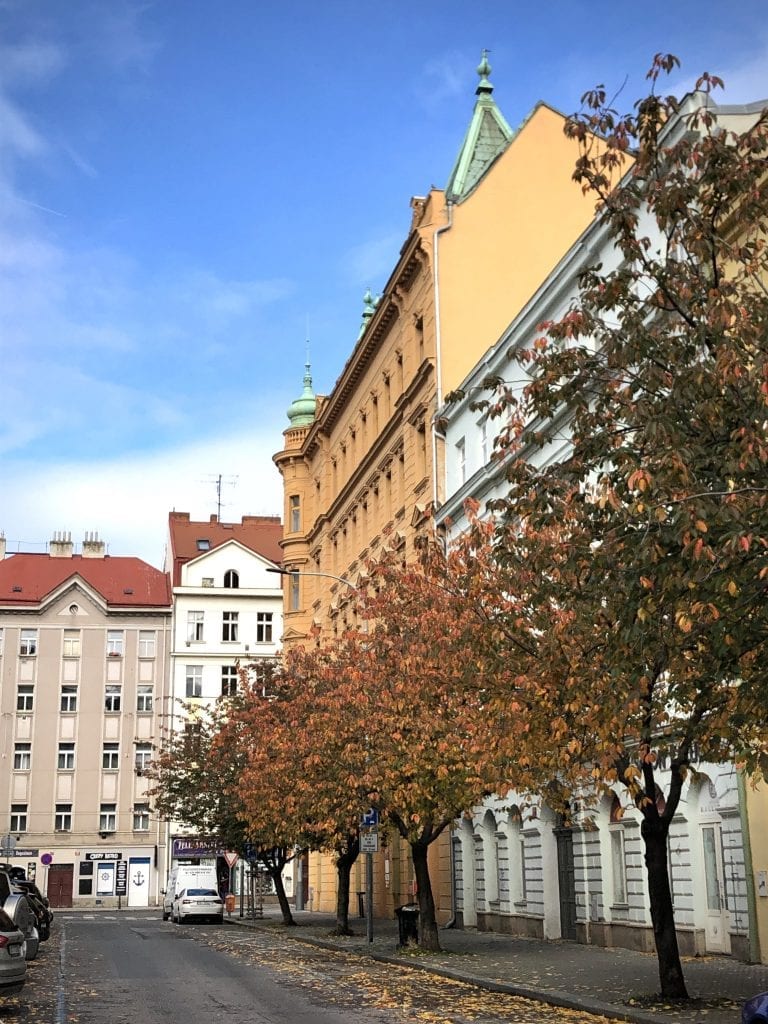 Destinations Visited
Prague, Czech Republic
Highlights
I got my Czech bridge visa! Originally, I was planning to get the freelance business visa, but my agency and I decided to change gears and go for family reunification visa instead (yes, unmarried partners count as family). Though I wanted to get a visa on my own business merit, we couldn't ignore the advantages: family reunification is faster and cheaper to get, it lasts for longer, and most importantly, I could do it all in Prague without having to make two trips to Berlin, at a time when travel is significantly restricted.
We're still in the process of getting the main visa done — but I can stay in the country! I have a four-month bridge visa for now; my official visa should finalize in that time period (and if it doesn't, I can just get another bridge visa). Best of all, once I get my official visa, it's good for FIVE YEARS!
Even better? I'm now considered an EU resident, and most of the COVID restrictions in Europe are based on residency, not citizenship. That means that I can visit most European countries with a negative COVID test; Americans can't visit most European countries at all.
My next step is getting my živno, my Czech trade license, which will allow me to run my business from here and pay Czech taxes.
Do you need a Czech visa? You need an agency to help you navigate the process; it's impossible to do on your own if you don't speak Czech. I recommend my agency: ExpatZone.cz. Tell them Adventurous Kate sent you and they'll take especially good care of you.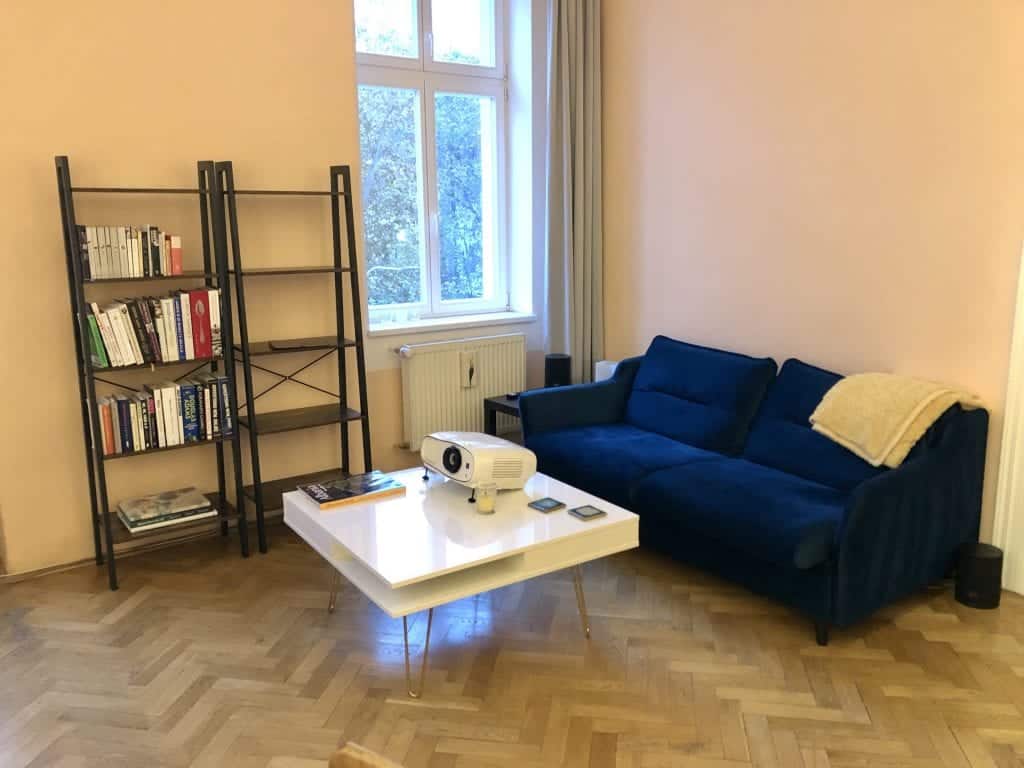 Redecorating! I talked about redecorating in a post this month, but we made three major changes: the futon from 2001 was replaced with a modern teal sofa; the IKEA BILLY bookcase was replaced by two modern industrial oak-and-steel shelves, and the IKEA wood-and-plastic frankentable was replaced by a glossy white IKEA TOFTERYD coffee table, on which we added mid-century brass hairpin legs!
It will look more put together when we add more books and decor, but it's well on its way.
Voting from abroad! I cast my vote from Prague this month, and though it didn't have the same feeling as voting in person, I was happy and grateful to do so.
Lots of Prague exploration. I love taking long walks, and walking around Prague on my own has helped me get to know the city better. I got to see more of the "cool" neighborhoods of Žižkov and Vinohrady, and we enjoyed a cool beer garden in Vyšehrad, overlooking the treetops.
Getting my first haircut in 15 months. Yes, you read that right — 15 months. My last cut was in July 2019, before I flew to the Caucasus! I had waited a long time, but then the pandemic hit and it didn't feel safe to get a haircut.
Long curly hair gets kind of mermaid-like when you keep it going for that long, and not in a good way. My stylist, a lovely Brazilian guy named Gil Claire, told me that I had waited WAY too long and made me promise to come in SOONER next time. Oh well. I got it done a week before we found out about the new lockdown.
Challenges
Watching the city shut down little by little. The worst was when our Saturday farmer's market shut down. At least we still have our smaller Friday market.
Canceling our chalupa. In Czech, chalupa means cottage (and it's pronounced ha-LU-pa, not like the Taco Bell way!); we had plans to go away to a cottage with a few friends in our bubble. New restrictions canceled that; you can't book a rental with more than two people if you're coming from multiple households.
A scary accidental detour through the woods. Walking back to my place in Karlín from the neighborhood of Žižkov, you usually take the tunnel, but I had never been in the tunnel and was uneasy about taking it at night. Instead, I followed a route that Google suggested, and looked normal. It was NOT normal. It took me on a COMPLETELY UNLIT path through the woods on an incredibly steep downhill path and several flights of stairs!
If you're a woman who has walked through an unexpectedly isolated place at night, especially from places that could potentially host encampments of people who don't want to be disturbed by outsiders, you know how scary that can be.
Construction in our building. One of the units in our building has been under construction, making it profoundly annoying to work through all the noise (including knocking down a whole chimney — I didn't even know our building HAD chimneys!). Ordinarily, I would go work in a coffeeshop, but PANDEMIC — there's nowhere else to go!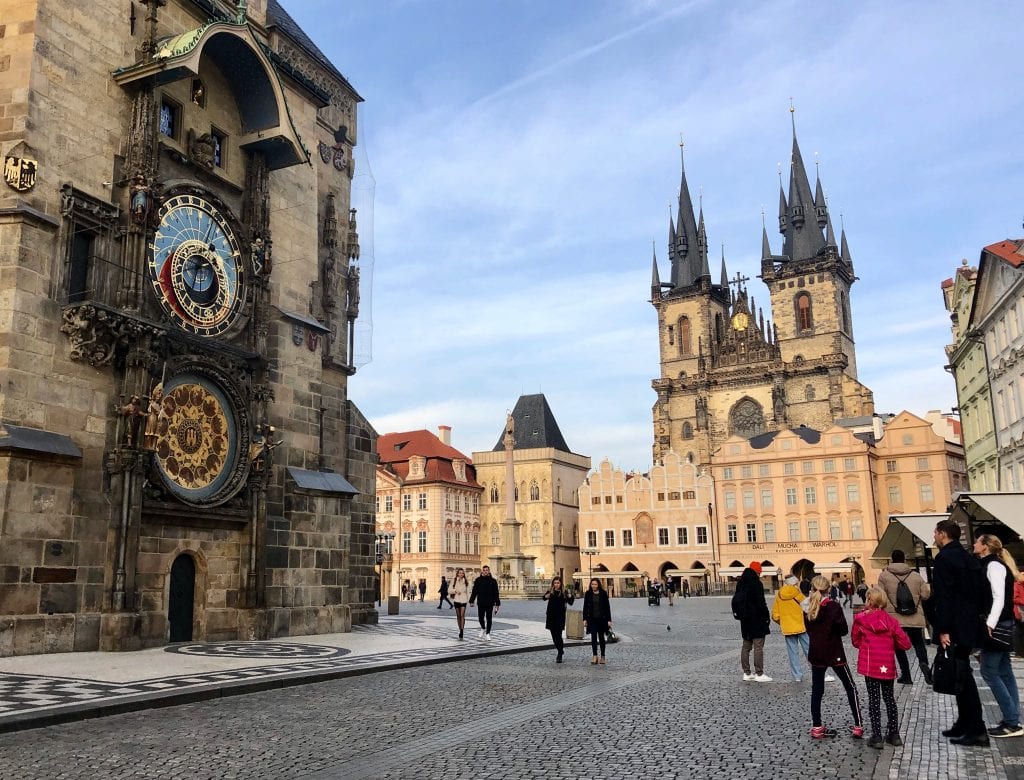 Most Popular Blog Post
The Biggest Mistakes Travelers Make in Italy — The best part were the Italians who told me that I was actually right! Italians are not generous with praise ordinarily, so that meant a lot!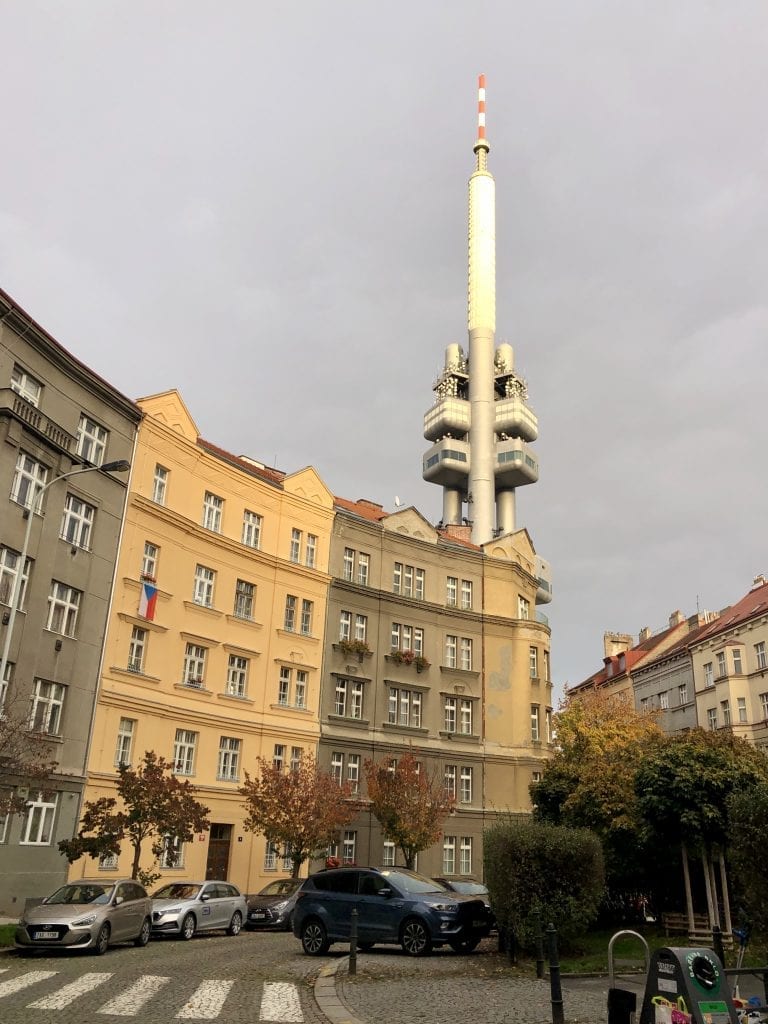 Other Blog Posts
Redecorating a Prague Apartment: These Are the BEFORE Photos! — A preview of how we are going to be redoing our apartment.
How to Spend Three Days in Dubrovnik: The Best itinerary — Three days is the perfect amount of time to explore Dubrovnik! This is how I would plan three perfect days, down to the best beaches and restaurants.
On Sustainability, Travel During a Pandemic: A Look at Maslina Resort — A fascinating interview about how to do sustainability in 2020, how to open a hotel during a pandemic, and what everyone else in the hotel industry is getting wrong.
This Month on Patreon
This month on the Adventurous Kate Patreon my long-form post was an essay about the island of Vis, Croatia, and the frozen-in-time town of Seaside, Florida. What did those two destinations have in common? They attracted wealthy people — not in a flashy way, but discreetly wealthy people. And what does it mean to enjoy a place that caters to the wealthy? How do you balance your personal beliefs in a place like this?
I also published a few mini posts — a post on my favorite foods I've discovered while on the road (and had no idea they existed before I got there), and also an inside look at how I'm turning a crappy little post I wrote in 2011 into a long-term moneymaker that earns good money.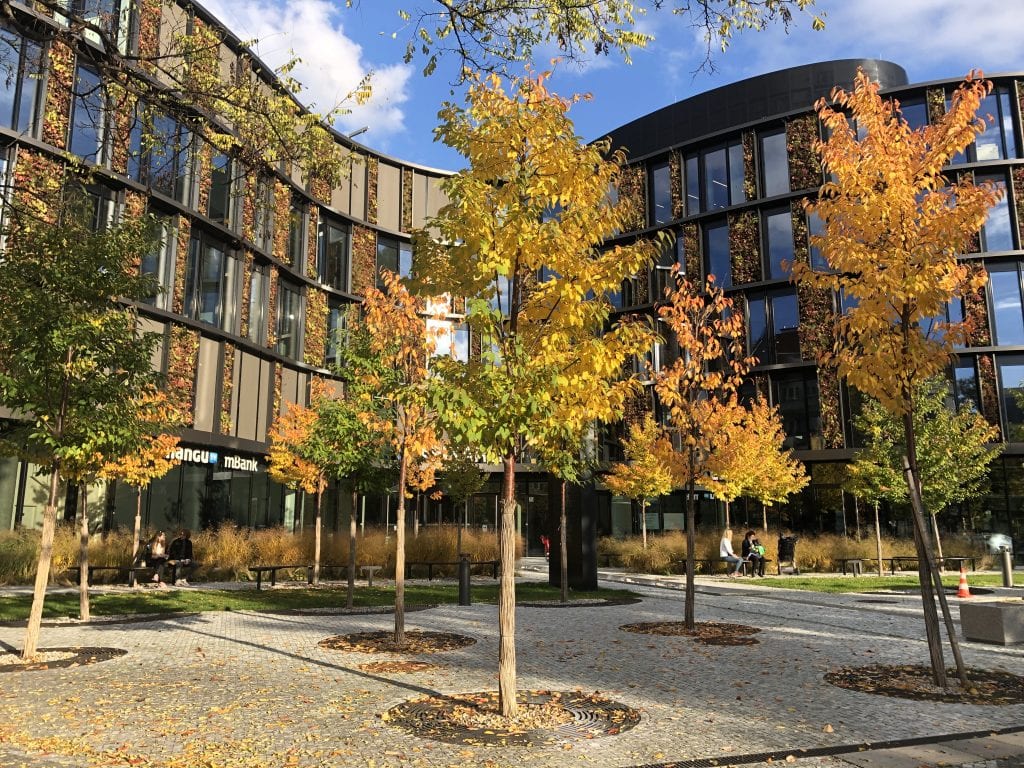 Book Club This Month
Our next Book Club is going to be on Sunday, December 6, at 1:00 PM EST. Our book club features books by women of color from around the world, and so far our reads have taken us from the high-rises of Seoul to the pristine beaches of Haiti to the dark bars of Johannesburg.
This month, we're reading our first book by a Southeast Asian author: The Night Tiger by Malaysian author Yangszee Choo.
You can get your ticket here. It's pay-what-you-wish and I suggest $5; Patreon members get in for free.
If you haven't come to a Book Club meeting yet, why make this the month? They're fun! We've got an awesome core group of regulars each month, but it's always nice to add some new faces!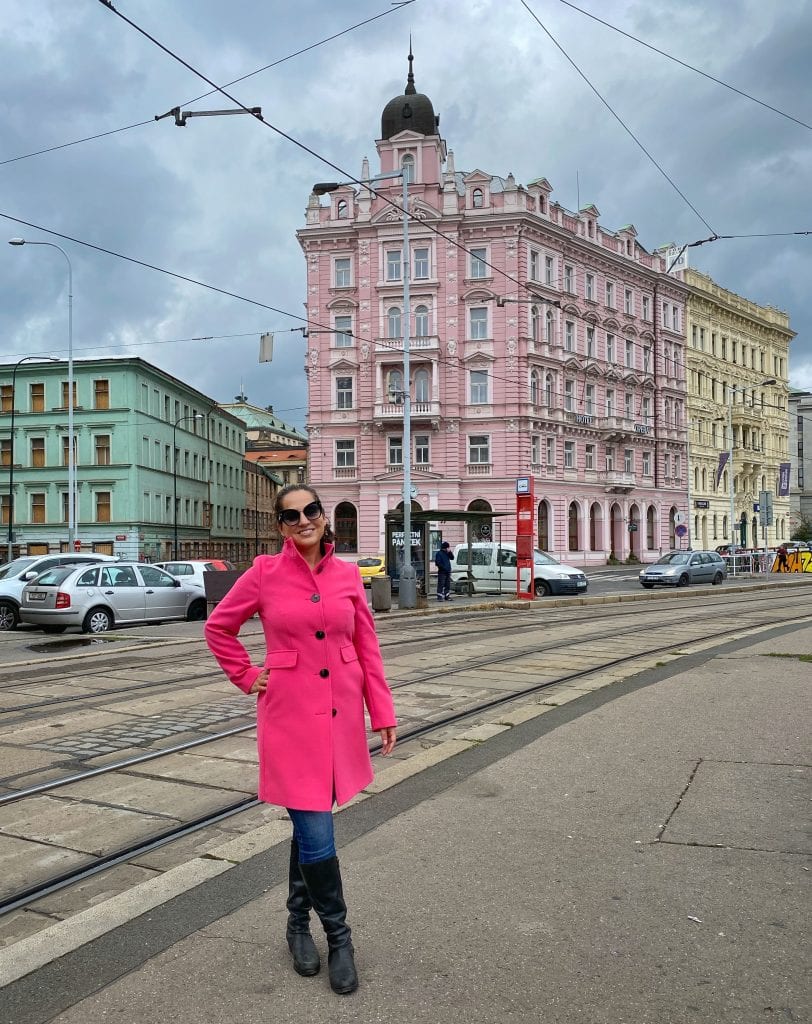 Most Popular Photo on Instagram
I needed to get a medium-weight coat, something more formal than my puffer jacket, and I assumed I was going to get one of the ubiquitous black and white tweed coats everyone is wearing at the moment. Then I tried this one on at Marks & Spencer and it just transformed me. If a piece of clothing makes you feel like that, you should get it!
A short walk from the mall is my favorite pink building in Prague. I had to pose in front of it! You can follow me on Instagram at @adventurouskate.
What I Watched This Month
The Queen's Gambit is a lovely miniseries on Netflix! It's about a teenage girl who is a chess prodigy in the 1960s. It's a beautiful period piece and I'm in love with all the costumes and styling!
Another great show is World's Toughest Race: Fiji Ecochallenge on Amazon. It's one of the world's top adventure races around Fiji, with insane athletes from around the world, all of them people you can't help but root for. Bear Grylls hosts it. (Yeah, it's made by Amazon and Mark Burnett, both of whom I can't stand…still, this show is worth it.)
Other than that, we got in a bunch of movies. Borat — OH MY GOD. I had no idea if they could pull it off a second time, but they did.
Spy was a hilarious and wonderfully feminist comedy starring Melissa McCarthy.
BlacKkKlansman and Goodfellas were both worth a rewatch. And I finally introduced Charlie to Mean Girls. (He laughed hard at "Oh Danny DeVito, I love your work!")
Super excited for The Crown to come out this month. Finally, the arrival of Diana is here!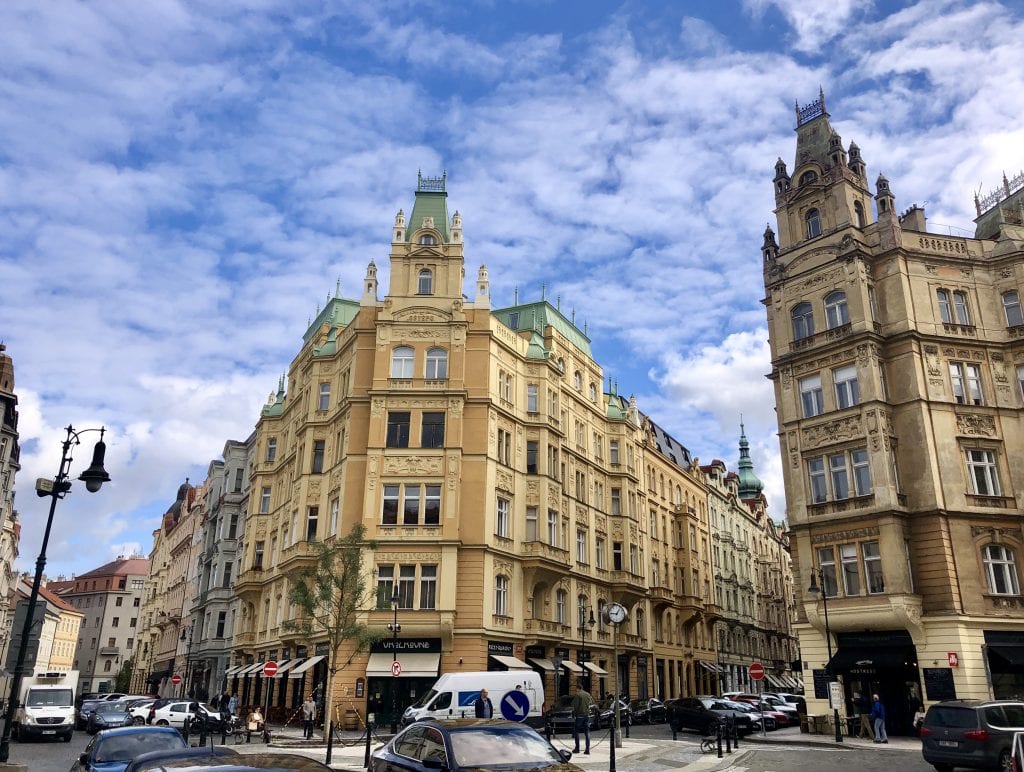 What I Read This Month
This was a very good month for reading and a few of these will make my "Best Reads of 2020" post at the end of the year.
Luster by Raven Leilani (2020) — Edie is a directionless twenty-something woman: she's living in an infested apartment in Brooklyn and working a dead-end job with no opportunity for advancement due to some poor choices she's made. She becomes romantically involved with a forty-something man in an open marriage, and soon she becomes pulled into his and his wife's orbit, filled with mind games and deception.
This is the best novel I've read this year. It made my skin crawl; it felt like I myself was living through Edie, coming face to face with my worst choices. And Raven Leilani's writing is sensual in every way. Like Kiley Reid's Such a Fun Age, which I read a few months ago it's another story of a young Black woman existing and observing in the lives of Good White Liberals who fall short in their actions, though not quite in the same way. A book that I'll be remembering for a long time.
Transcendent Kingdom by Yaa Gyasi (2020) — Gifty, a neuroscience researcher and daughter of Ghanian immigrants, is studying the effects of addiction and reflecting on her brother, who died of opioid addiction as a teenager. As her suicidal mother, a devout evangelical Christian, comes to see her, Gifty reflects on the nature of addiction, race and the African immigrant experience, and how science and faith can coexist in the same world.
What an absolutely beautiful book. Gyasi's first novel Homegoing blew me away, and Transcendent Kingdom has that same quality — you hold on to the book, read each paragraph carefully, and marvel at just how good it is. What impressed me the most is how she layered so many different topics in the book, and there wasn't a single weak link. It was perfectly balanced and incredibly captivating. Very, very much worth the read.
Know My Name: A Memoir by Chanel Miller (2019) — For years, the world only knew Miller as Emily Doe — the rape victim of Brock Turner. In this book, Miller takes back control of her story, telling the complete account of what happened, and the exhausting and disappointing aftermath.
Miller is a fantastic writer. This is what she was born to do. (Also, her mother is a celebrated novelist in China.) Everything was written in a painstakingly beautiful way. But as for the content of the book, it was shocking. When Miller woke up, she didn't even know she had been sexually assaulted because NOBODY TOLD HER. Stanford's behavior toward her was reprehensible. And the way Brock Turner's lawyers treated her was horrifying. Even when her original letter was published, people who were supposed to be on her side claimed there was no way she could have written a letter that good.
But it's hopeful. It shows how she leaned on her art, how she coped with her boyfriend and family, and how she wasn't the only victim — they all suffered in different ways. Especially her sister, who felt responsible for what had happened.
There is so much that needs to change in America about helping victims of sexual assault and changing rape culture. This book clearly illustrates so many of the things that we need to change. I'm so grateful that she wrote this beautiful and sad book.
I Have Something to Tell You: A Memoir by Chasten Buttigieg (2020) — When Chasten Buttigieg's husband ran for president, he became the first same-sex spouse of a presidential candidate. Within weeks, the world learned that Chasten was incredibly witty and a joy to be around. This book tells the story of his life, from growing up queer in a conservative part of Michigan to navigating college as a first-time college student in his family to finding what he was meant to do in theatre and education. And, of course, meeting Pete and the whole campaign.
Chasten is just lovely, and he seems like a great person to hang out with. More than anything, this book encapsulates the vulnerabilities of first-generation college students navigating a system that can financially cripple them for decades. Even so, I felt like this book was a bit…political spouse-y. It's obvious that Pete has a long political career ahead of him, and when that's your future, you need to hold yourself back. I would love to see a more unleashed Chasten!
Designing Your Life: How to Build a Well-Lived, Joyful Life by Dave Evans and Bill Burnett (2016) — How can you build your life in the same way that designers design things? You isolate for variables, build prototypes, test, and find out what works. This book, based on a popular course at Stanford, teaches you how to build prototypes of your own that build a work and career life that works for you.
I found this to be a very thoughtful book that shows you how to build a life that works for your personal needs. I loved the examples from the book — some people end up in careers that are poorly suited for them, and some think they need a new career, but end up much happier after making some specific tweaks to what they're doing. And honestly, by reading this, I've realized that I've been designing my own life for a long time, and ended up in something that actually works quite well!
If you know anyone in your life who is a new fully remote worker, or is the kind of person who keep going around in circles, saying they're going to change but keeps ending in doing the same thing over and over, you should get them this book.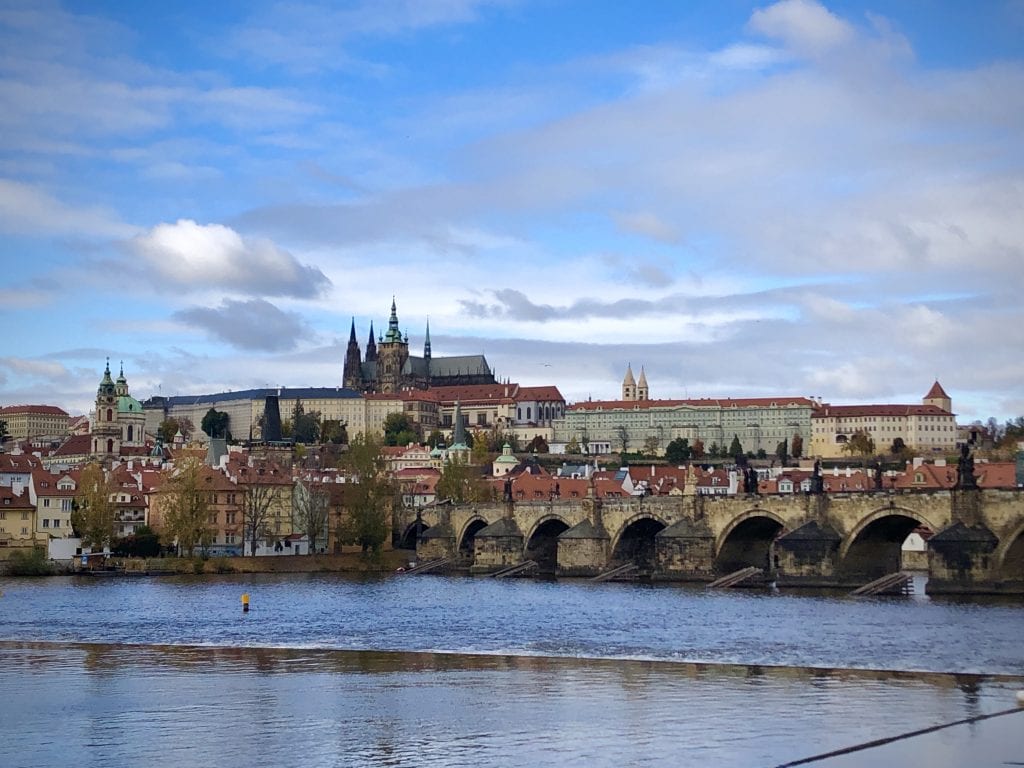 Coming Up in November 2020
Yes, this post is a bit on the late side — honestly, election week was so insane. I originally planned on taking off just Tuesday and Wednesday, but I was so preoccupied with refreshing Twitter that I didn't work all week. (The best thing about being self-employed is getting to take time off for things that mean a lot to you!)
I'm thrilled that Biden was elected, and fired up for the Georgia run-offs on January 5.
(Do you know any Georgians turning 18 before January 5? They can register to vote now! Do you know any college students in Georgia? THEY CAN REGISTER FOR THE RUN-OFF WITH THEIR COLLEGE ADDRESS! Register here by December 7! Please spread this to any Georgia high school or college student you know!)
Beyond that, Prague is scheduled to be under the current restrictions until November 20. I doubt I'll be going anywhere else this month; if I do, it might be some nature exploration near the city.
Work-wise, I know I have to get in the posts I want before the end of the year, as December is for my "best of the year" posts. I've got some more Croatia posts in development and I'm excited to share them with you.
What are you looking forward to in November? Share away!
Get email updates from Kate
Never miss a post. Unsubscribe anytime!