Adventurous Kate contains affiliate links. If you make a purchase through these links, I will earn a commission at no extra cost to you. Thanks!
It's pretty rare that I get to share my favorite conversation of the summer with you, word for word — but here we are, and I think you guys are REALLY going to enjoy it. Sustainability and responsibility are two essential parts of travel — but how do those play into economic survival during a pandemic when the travel industry has slowed to a crawl?
I spent two months in Croatia this summer, island-hopping along the Dalmatian Coast and road-tripping through Istria. The effect of COVID on visitors varied enormously. While Dubrovnik was jaw-droppingly empty, Rovinj and Hvar Town were pulsating. While resorts were half-empty, campgrounds were filled to bursting with cars from Poland, Austria, Italy, and the Czech Republic.
I've had a relationship with Croatia's tourism board for years, though 2020 brought the most unusual of circumstances: I was effectively stuck in Croatia as I awaited my visa to the Czech Republic. Croatia's tourism team and I decided to work together and highlight several interesting destinations and hotels throughout Croatia, from top to bottom.
But the most special place I visited was Maslina Resort in Hvar, which just opened. This may be the most thoughtful, inspirational resort I've ever visited. And after speaking with GM Zoran Pejovic, the excerpts of which are included below, I think you're going to be dreaming of a trip to Maslina as well.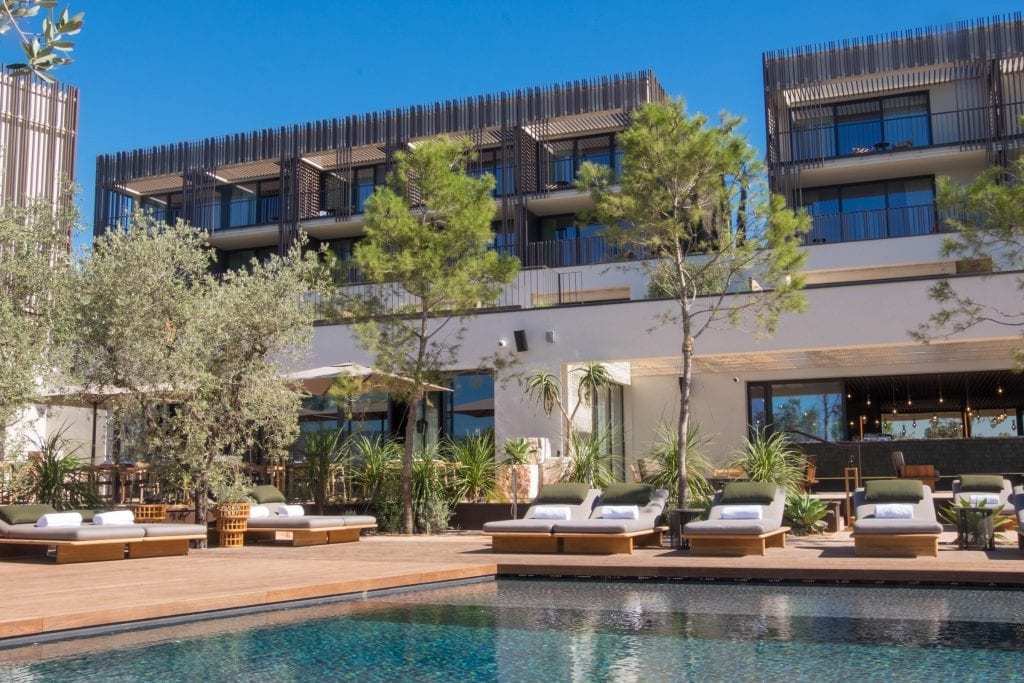 Maslina Resort
Maslina Resort on the island of Hvar opened in August 2020 — an opening pushed back three months by COVID. I was one of their first guests, hosted as media.
What struck me from the moment of arrival was the resort's attention to texture. You want to touch everything in sight (I know, pandemic). Brač stone appears as an enormous slab for the reception desks; in the rooms, it's carved into sinks. Natural wooden furniture surrounds the pool, surrounded by deep greens and taupes. The plates, heavy and organically shaped, are covered with tiny raised dots like goosebumps. Even the floor of the elevator is made from stone tiles!
Maslina Resort is the kind of place you visit to enjoy Hvar away from the party scene of Hvar Town, a place clogged with visitors, even during the summer of COVID. By contrast, here you're on the edge of Stari Grad in a quiet area.
But more than anything, the staff makes Maslina a magical place. Croatia isn't an overly friendly country like Ireland or Jordan — people here tend to be a bit reserved. But the staff at Maslina are friendly and engaging, witty and full of stories.
I found out they always take a mindful minute before their staff meetings — one minute to be mindful, be present, briefly meditate or pray or express gratitude. Mindfulness is an integral part of the culture at Maslina Resort, and it's just as high a priority for their staff.
This is the kind of place where you hop on a wooden bike and pedal down to the garden, where they not only grow food for the restaurant but herbs for the spa as well, and take some time to do a guided meditation on the seashore before returning.
I sat down with Zoran Pejovic, General Manager of Maslina Resort and Founder of Paradox Hospitality. Zoran knows luxury, and his heart beats to the waves of the Adriatic. It all came together in this dream project: responsible, mindful luxury on the island of Hvar.
This interview, conducted on August 20 and 22, 2020, has been condensed and edited for clarity.
When did you realize that COVID was going to derail the travel industry?
In January, with some of the deliveries delayed, because traffic was disrupted because of China. And I remember clearly on the 24th of February, I sent an email to everybody: We might not have a season this year. They said, Oh, you are alarmist.
I'm not talking about the virus. I have no clue about the virus! I'm not religious. I'm not a scientist. But I understand a bit about psychology, sociology — actually, some of my studies were in those segments. Indeed it is going to be a mass kind of disruption.
Sometimes I get a little bit irritated when people start saying, Oh, we need to stop all nonessential businesses, and then they say travel and tourism is not essential.
Is it really? 10% of the world's GDP is travel and tourism. 11% of all the people working in the world are in travel and tourism.
And that doesn't even bring in the downstream effects in other industries.
This would be called multiplication factor of what it does to other industries. The domino effect is way more than that 10% of the global GDP.
It's not essential? Maybe it wasn't necessarily in the 18th century. But clearly, it's very essential.
We continued working on [building the hotel] the entire time. There was always construction going on, at least 10%. We said to the contractor, we need something in order to come to keep the game alive. It's almost like if you close the construction site, and say, Okay, now we are closed, and we're going to reopen one day, you might never reopen.
As long as you have 10 people on the site doing something three times a day, you're keeping it alive. It's alive, and we kept it alive. And we opened a few days ago [August 16, 2020].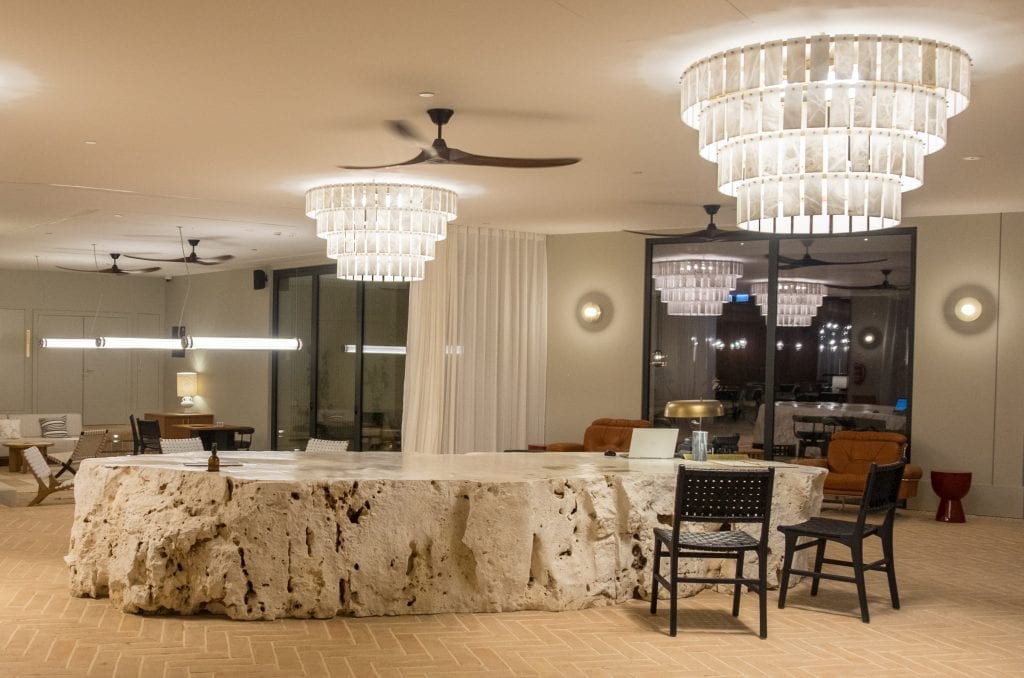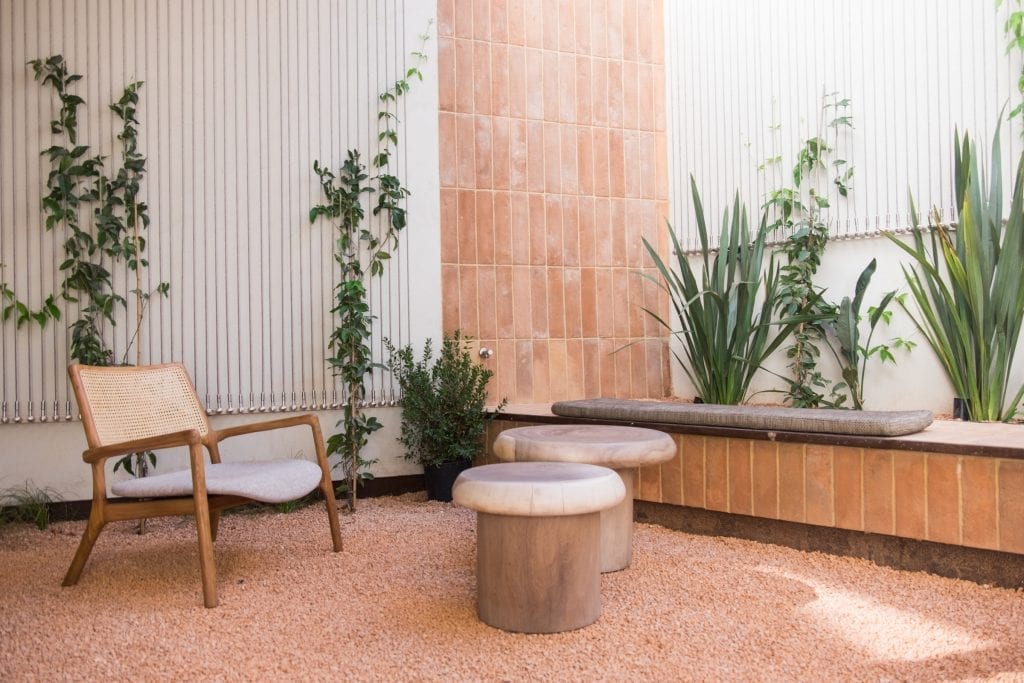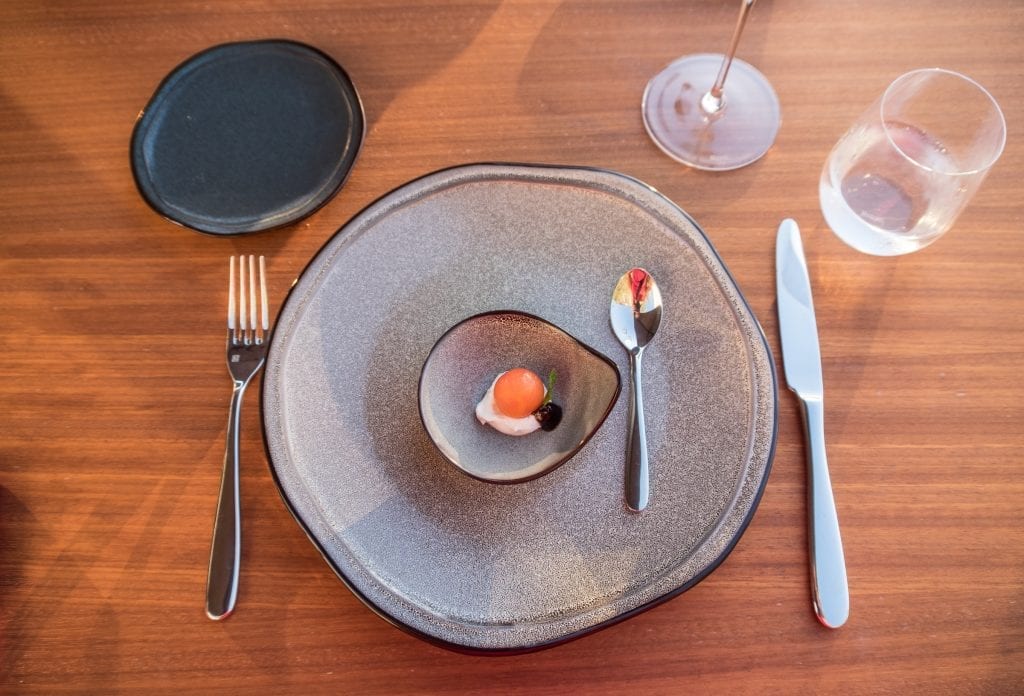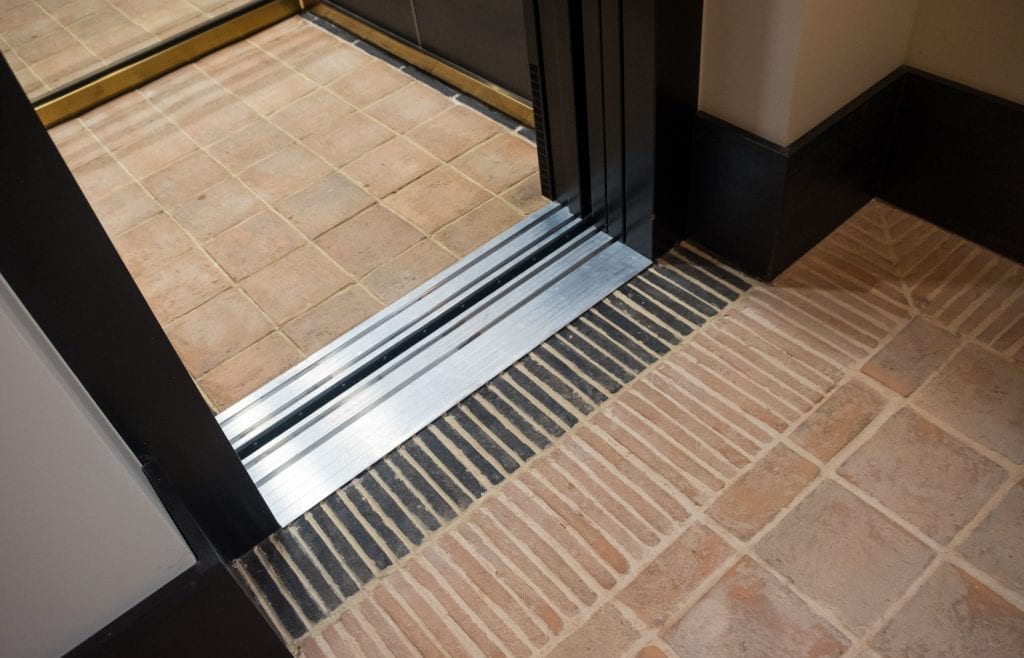 What are you doing to keep your guests and your staff safe during this time?
So, first of all, we have a doctor on the team. We have employed her back in May. And her official title is Health and Safety Leader.
I announced the job vacancy for Health and Safety Leader — and actually, it caught the eye of some of the journalists and I was even called by the Boston Globe!
This was our first step because — who is going to be the one to decide what to do? Right now, do you follow the WHO? The CDC? The Croatian Institute for Public Health? Do you follow different hospitality norms that are being put out there?
Things like, oh, you should leave the room vacant for…15 minutes? 72 hours?
All of these things are a big mess. There is no agreement on what we should do. You have entire countries that are saying to wear masks and some serious countries — Sweden and Holland, for example — very serious countries are saying masks are more of a problem than a benefit. You know, because you keep touching your face much more, so masks are only good if you wear them perfectly.
Four hours, don't touch your face, dispose in a biohazard? Who's gonna do that?
So we said, Okay, we need to understand what it is. And we need to have somebody who's going to guide us confidently through, whether it's 100% proven or not. I don't want to be the one making those rules.
This is the problem: suddenly, everyone's an epidemiologist.
Exactly. Exactly! So we have a Health and Safety Leader who is a medical doctor, somebody who comes and says, "Okay, listen. I've looked at all of these things and for us, in this given context, with the space we have, with the outdoor air, this is what we do."
I mean, we looked at Marriott's, for example, list of things that they're doing. It makes zero sense to us.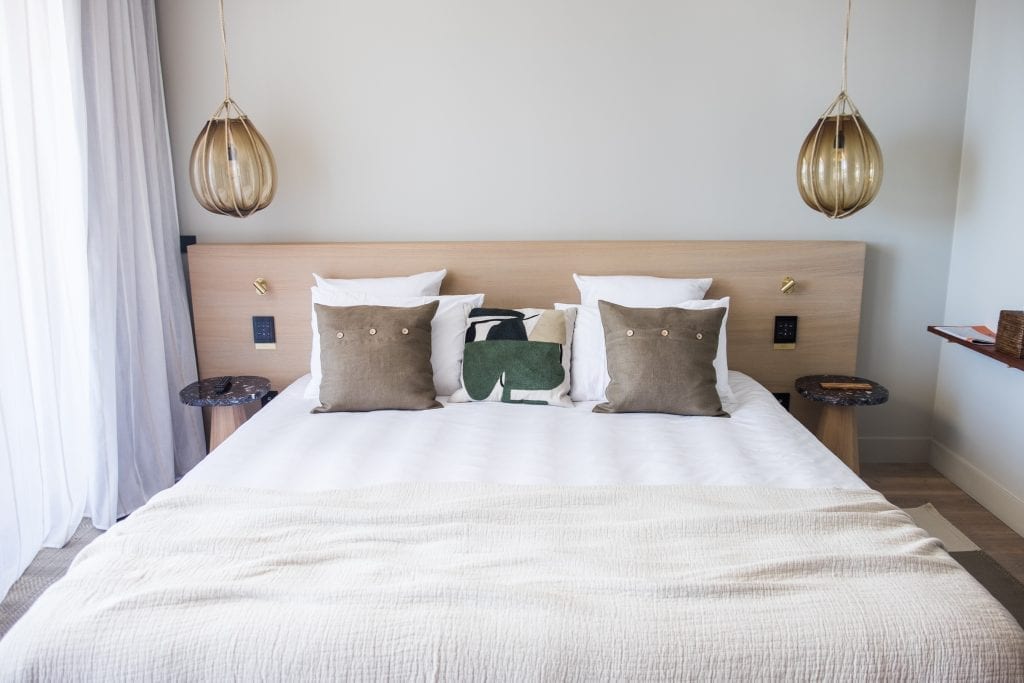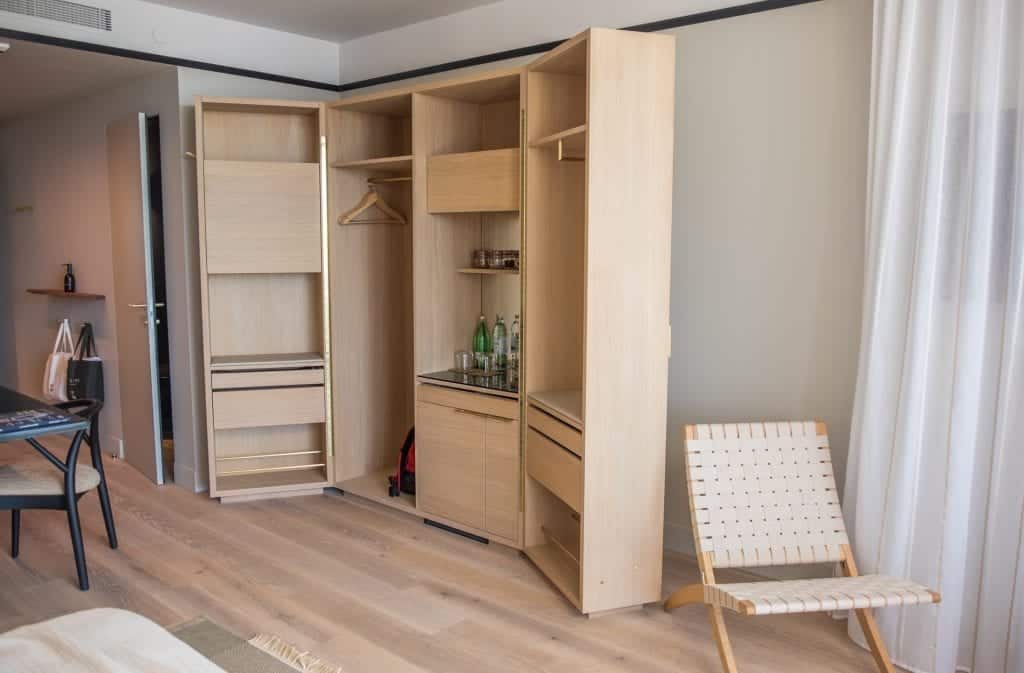 Do you feel like people are playing at health and safety right now? Like they think they know better?
I think so. And we said, "Okay, let's do things that we can easily understand." Again, make sense? Hire a person that can guide us through this, a doctor.
All right, let's practice social distancing. Let's put on a mask. Let's put the sanitizers across.
We do a lot of [medical] training. She literally on a daily basis teaches our staff how to recognize the signs [of COVID-19] first in themselves — and then, the guest. We will figure it out because there's more of us and we can recognize the signs.
If a staff member has something, they will call her and say, "Oh, I'm sneezing." And she says, "Oh, don't worry, it's fine, it's just an allergy." Or "It's a cold. Take two, three days at home and evaluate." Or she will call their physician and say, "Listen, maybe this person should self-isolate."
We also have UV lamps for the rooms. We don't advertise them. I don't want to become a place where people feel like they're coming with the white gloves and medical. We have, for example, a COVID room, so that we can isolate someone until the local epidemiologists decide what to do. But these are not things that we want to advertise.
We are trying to do nothing for the PR. We're trying, first of all, to keep our staff healthy. And if our staff is healthy, there's a very good chance that also our guests will be healthy.
We tell [our staff] more what to do in their homes. Because if social distancing is here, but then they go party? Guys, we have a short season. How about trying to stay away from really crowded party places?
You can't prevent people doing stupid things. But if you inform them properly, most of the people are sensitive to that.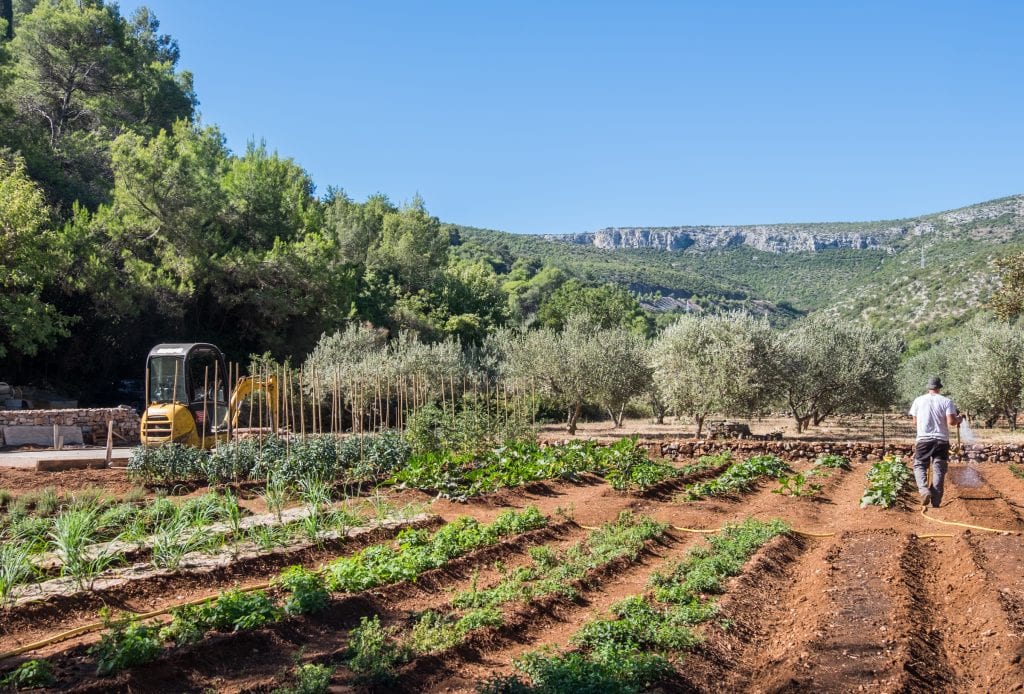 Where do you think sustainable travel is going these days? How are people getting it wrong?
People often say, oh, you're into sustainability. And I say, no, really, we are into responsibility. We didn't know what sustainable practices were thought to be sustainable in the 60s or 70s, or the 80s or the 90s.
But so, I know I'm a big fan of the concept of sustainability and really try to promote responsibility, which is really being responsible to the nature. You know, sustainability often focuses very much on the nature, almost disregarding humanity. You know, like, humanity is a disease of the planet.
I disagree with that completely. The responsibility is being responsible to the local community. It means more to pick up a piece of plastic from the road sometimes than to do some big things that nobody understands because they're conceptually so complex.
So if we bring things out as very simple, basic, responsible, we could all of a sudden see a major change in the world. And the responsibility has to make sense to everybody: to shareholders, staff, guests, partners, suppliers.
We wanted to do our own organic, in-room guest amenities, you know, shampoos, conditioner, all these things. And I called the supplier and I said, "I would like 100% organic." He said, "Oh, no problem, it's going to have two weeks' shelf life." Like, okay, that's not a response.
But he says, "If you do 99% organic, it's going to have a two-year shelf life." Okay! I mean, we are still a business!
You could almost say that sometimes 100% organic goes too far.
But 99% organic is a great message!
So, single-use plastic is not good, and then we took a look — there's still not a really good replacement for the plastic film in the kitchen. So we banned all of the other single-use plastic, but we still have the plastic film. So I don't want to say, are we 100% plastic, single-use plastic free? We are almost there.
And if we kill ourselves as the business, who benefits from this? There has to be this common sense.
Not to mention how difficult it is for small family producers to hit 100% organic standards.
Exactly. Because, you know, 100%! Some people say if you're not 100%, you're doing nothing. It's ridiculous. 90% should mean, "Oh, you're doing so much. You're actually doing almost everything."
The problem is if you live in a world where it's either nothing or everything. And then the problem with all of these good ideas become ideology. And this is what I don't want.
In our industry, for example, there's good practices like leave no trace. That's a great practice. Obviously, you're traveling somewhere, you're not dropping garbage. Fantastic. Let's promote that. Fabulous. There are so many good practices.
For example, we don't have chlorine levels. We have electrolysis, you know, which produces its own chlorine. So you don't have this chlorine smell. We have our own biofilters to ensure. But we don't have the solar panels, because we looked at it and we said, Okay, so most of the power in Croatia comes from hydro, which is already green. And it's not expensive.
It's almost like we are learning as we go about, because the easiest thing is to copy, paste, call the people who just built a hotel down the road, and use all of their schematics, all of their suppliers. It's okay, I want it as they've done!
But no, we've put so many different ideas and concepts in place. And we need to see how it plays out in actual life. This is exciting times.
And you're all about distinguishing yourself in this environment.
I'll give you an example from the food and beverage offering. For example, I don't see the point for us serving salmon. Why fly something from Norway?
This is where it comes: the whole concept of low footprint, or zero kilometer, however you want to call it, which I think makes sense. I'm not sure about the need for food to travel around the world three times.
So, again, what do you do with that food? I don't mind — if the produce is local. If we cook Vietnamese, Laotian, Aboriginal, Mexican, why not? It's about the produce and what you do it.
People often end up trying to pretend. "Oh, this is authentic." All right. So when it became authentic in 1832, and then in 1874, it already was not authentic anymore because then they came up with some red pepper, because somebody brought it from over from India. How do we define authenticity in some arbitrary period in time?
Calling things "authentic" is a huge problem in travel writing.
It's completely misused. I think only people can be authentic. And authentic people means honest, sincere people. Everything other than that is really a misuse.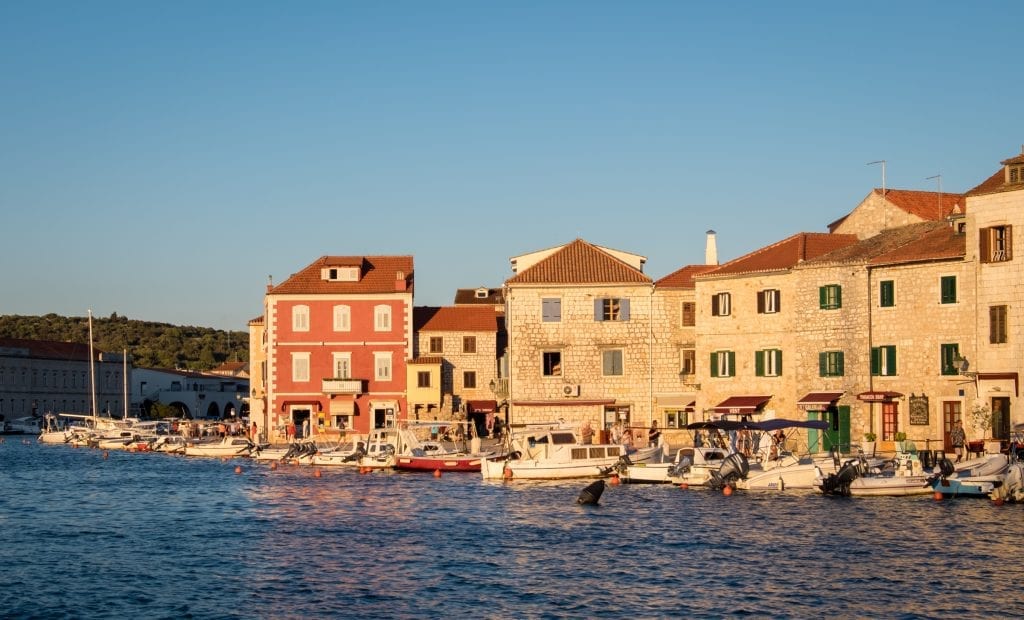 A lot of people think Hvar is nothing but a party island. How do you recommend visitors spend their time here?
So I'm generally inclined to go first with wine. Because the island itself, not just that it has 2400 years of history of winemaking. You have this amazing history that kind of comes to the families.
And the number of grape varieties, indigenous grape varieties, the number of styles of wine! And these amazing terraced vineyards, that kind of slope down to the sea very steeply on the south side. So there is the natural aspect of it, which is great — the way the vineyards look, and then the winemaking. It's really the marriage between nature and the people.
If people are feeling more adventurous, mountain biking is beautiful on the island. There are great diving spots.
We are putting together a concept that's going to marry again this diving and wining. Yes, it's gonna be called "Dive and wine." You're going to have a whole day diving tour. And at the end of the day, then you will dive down to an underwater cellar where you will pick up a bottle that will be served at your dinner.
An underwater wine cellar?!
Yeah, but this is actually like 20 meters. You have to go dive and pick up a bottle that will be served with dinner. I don't think there's anybody who does this.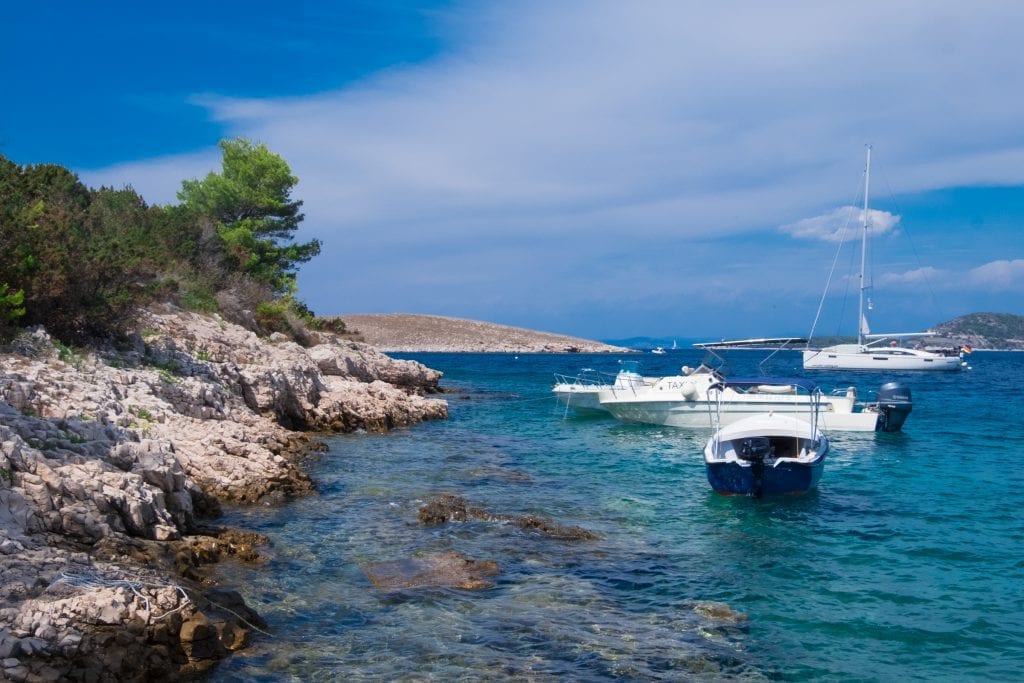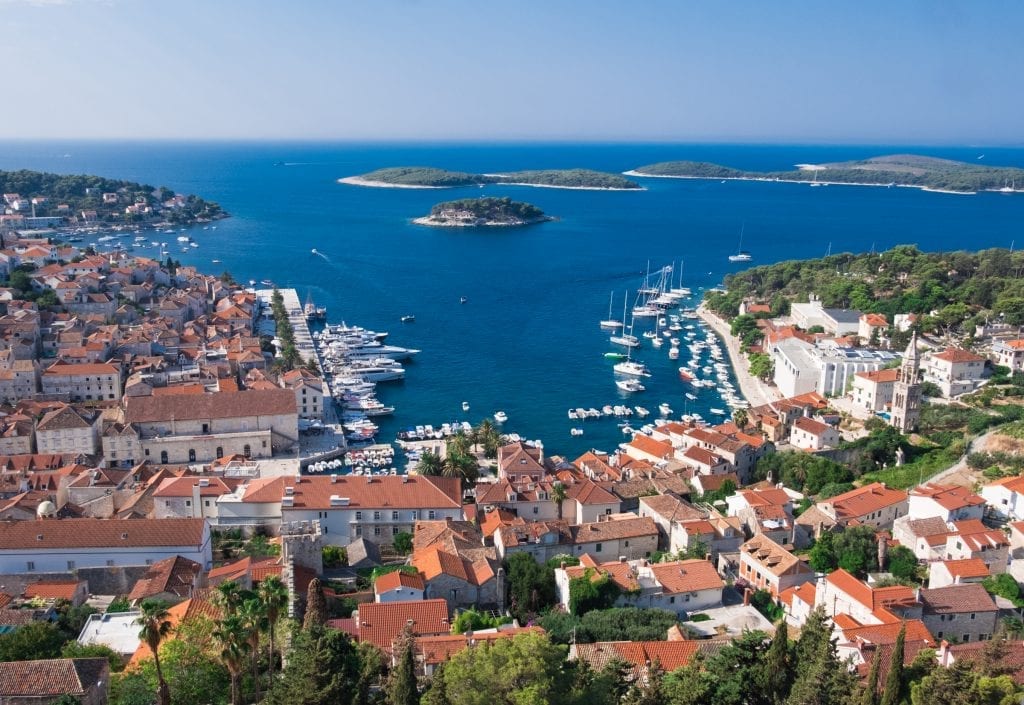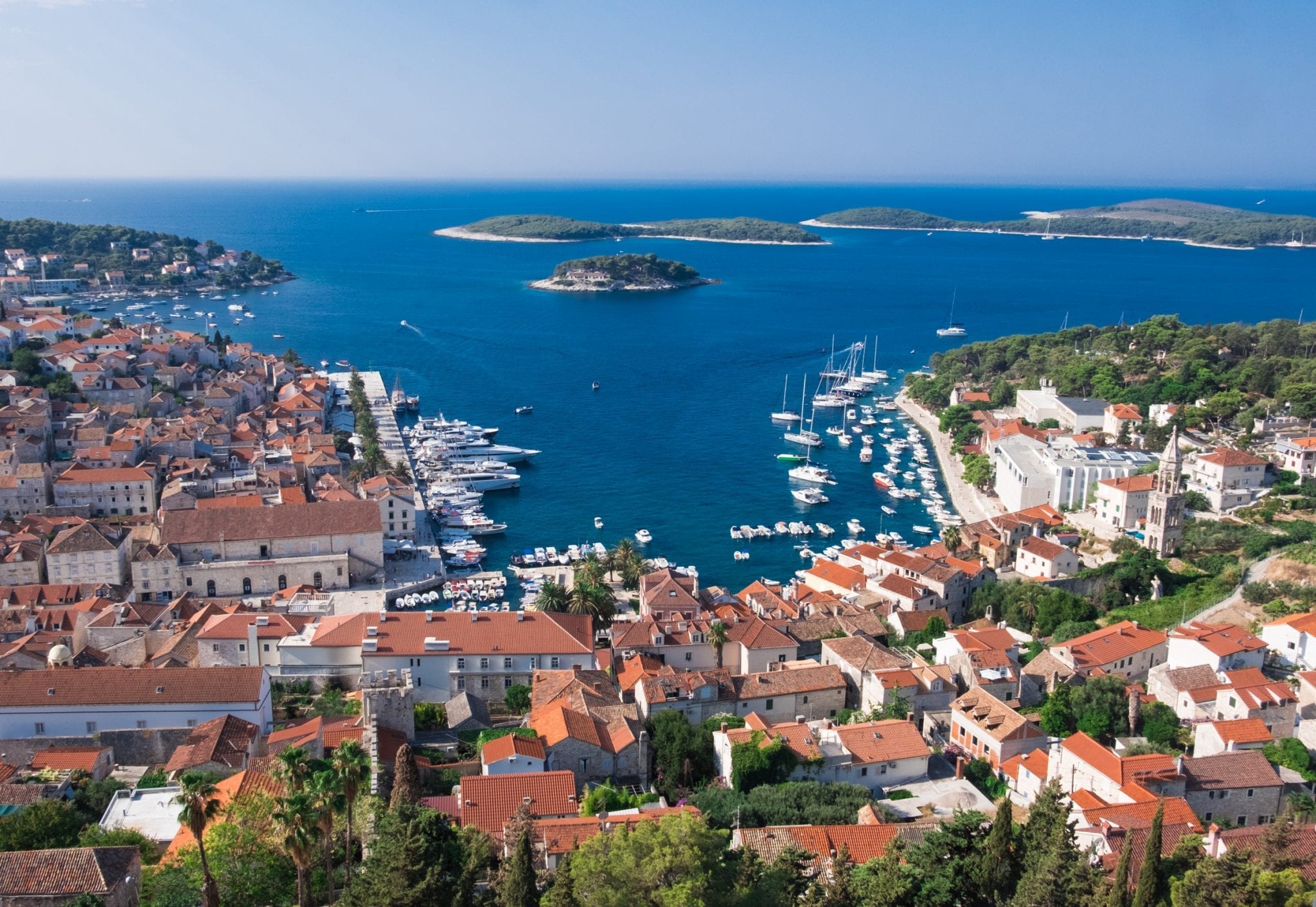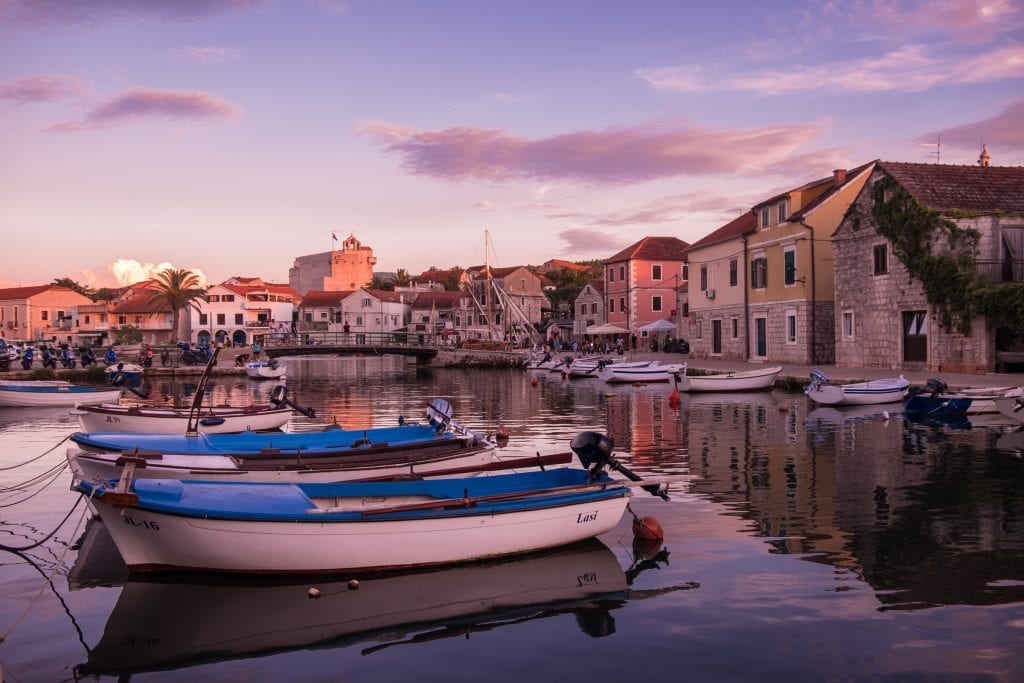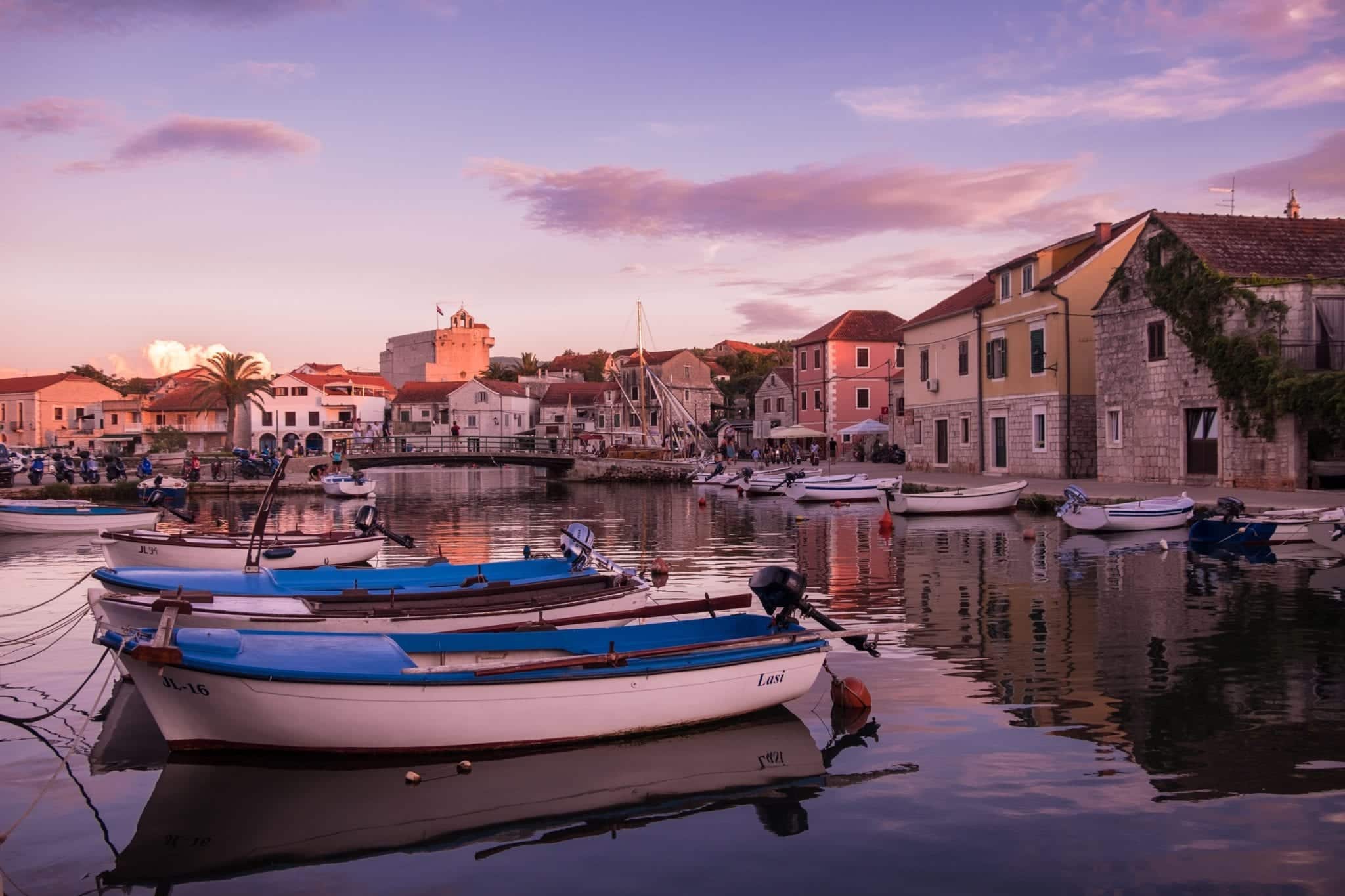 How does Hvar distinguish itself from other Croatian islands?
Hvar is considered our most important diamond for a number of reasons. First, we have six different UNESCO protections, more than any other island in the world. Secondly, we like to say we are the sunniest island in Europe, with 300 days of sunshine a year.
I don't know if you knew, but 150-something years ago, under the Austro-Hungarian Empire, smart people in Vienna thought, Hvar is really an amazing place for medical tourism. This is an island where the number of herbs, medical herbs, is immense. The cleanliness of the air, the cleanliness of the water, it's all there to experience.
Do you think there will be more competition once more high-end resorts move in?
I don't really see it as competition. I mean, I welcome it. I hope we have 10 five-star hotels.
My desire is for Hvar to have a branding or its own importance like some other islands in Europe. Where you don't even say you're going to Spain, you just go say, "I go to Mallorca." You don't go say you go to Greece, you just say that you go to Santorini.
I don't want people to say they go to Croatia, not because of not associating ourselves with Croatia, but just elevating Hvar as its own destination. And then within this destination, there is plenty. I mean, we are only 11,000 people living on the island. The island is just slightly smaller than Malta, which is, I don't know, half a million people.
It's a long island. Across from east to west, there's plenty of beautiful bays in areas for properties to string up and develop their own vision of hospitality. This is just our version. Would I want to have more than one? Yes, absolutely. Absolutely.
What are your hopes for this year, next year, and beyond?
There is no hope — I mean, I don't think that hope is a good business strategy. What we are doing is building our presence in different types of markets. And building awareness in different types of markets, promoting different USPs for different markets.
And then, observing what we are allowed to do and what we are not allowed to do for next year.
Now, this is my opinion: I think the world can't continue like this. If we keep going in and out of lockdowns, I think people are just going to rebel against it. Because the damage of it is immense. I mean, we will only learn the damage in years to come. Economical damage, psychological, educational.
And to be very clear, I am not saying that there is no danger of Coronavirus, or that it's a hoax or anything like this, you know, I'm not a denier of anything. There is a clear science; it's a problem.
But, you know, it's one problem. And there's so many other problems. I also sometimes feel like — can it be that in 2020, we are taking these such drastic measures, we can't come up with something a bit more nuanced, something a bit more understanding?
10% of the entire world's GDP is travel and tourism, 11% of all the people in the world employed are in travel and tourism. This is not a nonessential industry. This is very, very important. Both as an industry that generates money, but it's psychologically very important for people to travel.
More About Maslina Resort
If you're looking for a truly memorable place to stay in Croatia, I highly recommend Maslina Resort. I recommend spending at least three nights there so you have the chance to fully relax and enjoy the property.
Maslina Resort is located outside the town of Stari Grad on the island of Hvar. Stari Grad is about a 30-minute drive from Hvar Town.
The best way to get to Hvar is to fly to Split and take a ferry. Two-hour car ferries go direct to Stari Grad, a one-minute drive from the resort. There are also passenger-only catamarans from Split to Hvar Town, as well as ferries to other Croatian islands and the mainland.
Rates start at 240 EUR ($282 USD).
Planning a Trip to Croatia:
Croatian Islands and the Dalmatian Coast:
Istria and the North:
---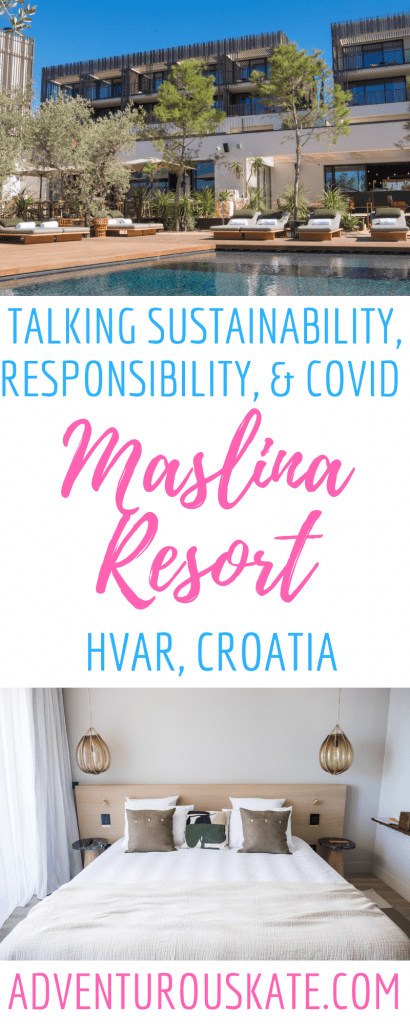 Does Maslina Resort look like your kind of place? Share away!
Get email updates from Kate
Never miss a post. Unsubscribe anytime!