Adventurous Kate contains affiliate links. If you make a purchase through these links, I will earn a commission at no extra cost to you. Thanks!
Italy is a dream destination — and one of the countries that I know best. It is a country that I have lived in, visited dozens of times, and am actually in right now as I write this. (Well, when I started it, at least. Started in Ferrara, finishing up in Prague.) And I've eaten more delicious Italian specialties than I can count!
After all these years of visiting Italy in depth (17 regions visited, only three remain!), I've noticed that lots of visitors tend to make the same kind of mistakes over and over. And while these aren't dealbreaker mistakes (you're in Italy, after all!), knowing what to avoid will help you plan an even better trip.
I want you to have the best trip to Italy ever — so before you arrive in Italy, these are the biggest mistakes travelers make, along with tips on how to have a better trip.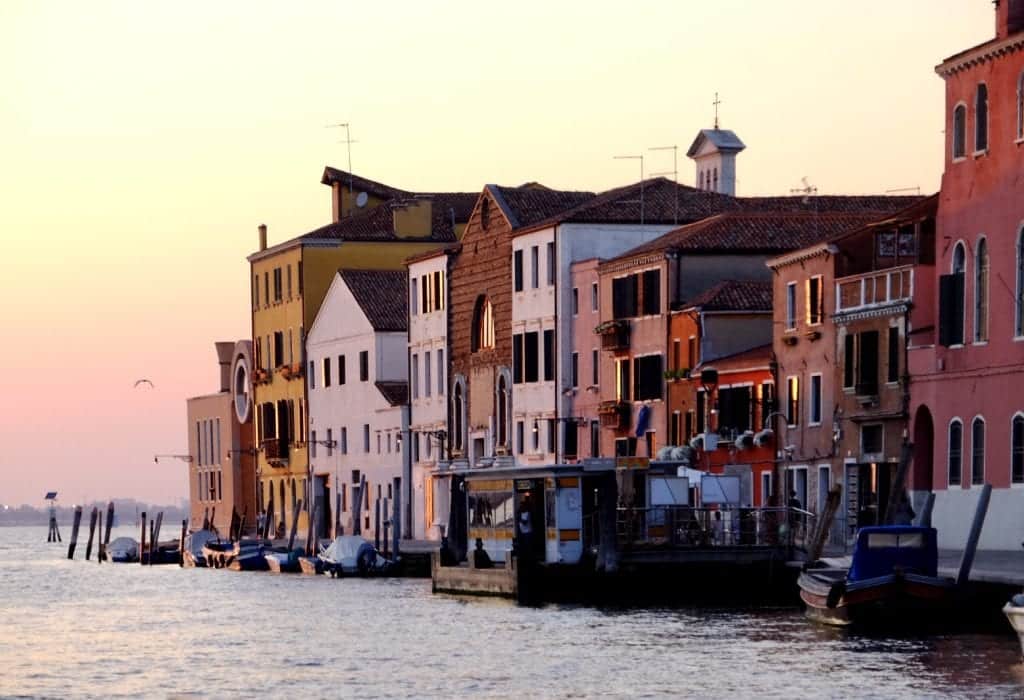 Trying to do too much in too little time.
This is the case for most travelers in most destinations — but I've noticed that American travelers in Europe tend to be the worst offenders. Two days in Rome followed by a day in Florence, a day in Venice, and trying to cram in everything along the way.
I get it. Italy is a dream trip and you want to see as much as possible. And you don't have the time or money to keep coming back.
But when you try to pack too much in, you end up spending lots of your time in Italy doing things you can't stand: lugging your bags, getting stuck in traffic, finding a place to chill out before your accommodation opens. You barely see the destinations you visit and you leave all of them wishing you had more time.
The first two times I went to Venice, it was just for a day trip. Which was nice. The third time, I stayed for more than a week, and it was INFINITELY better. Venice at night is absolutely magical. Venice is full of interesting places to discover, and one of the pleasures of visiting Venice is finally figuring out your way through the maze-like streets. If you go to Venice, I recommend staying for at least three full days.
Instead of visiting too many places, plan at least a few days in major cities, and see if you can incorporate day trips to keep from changing accommodation too frequently. You'll have a deeper understanding of the places you visit and you'll spend more of your trip doing things you love.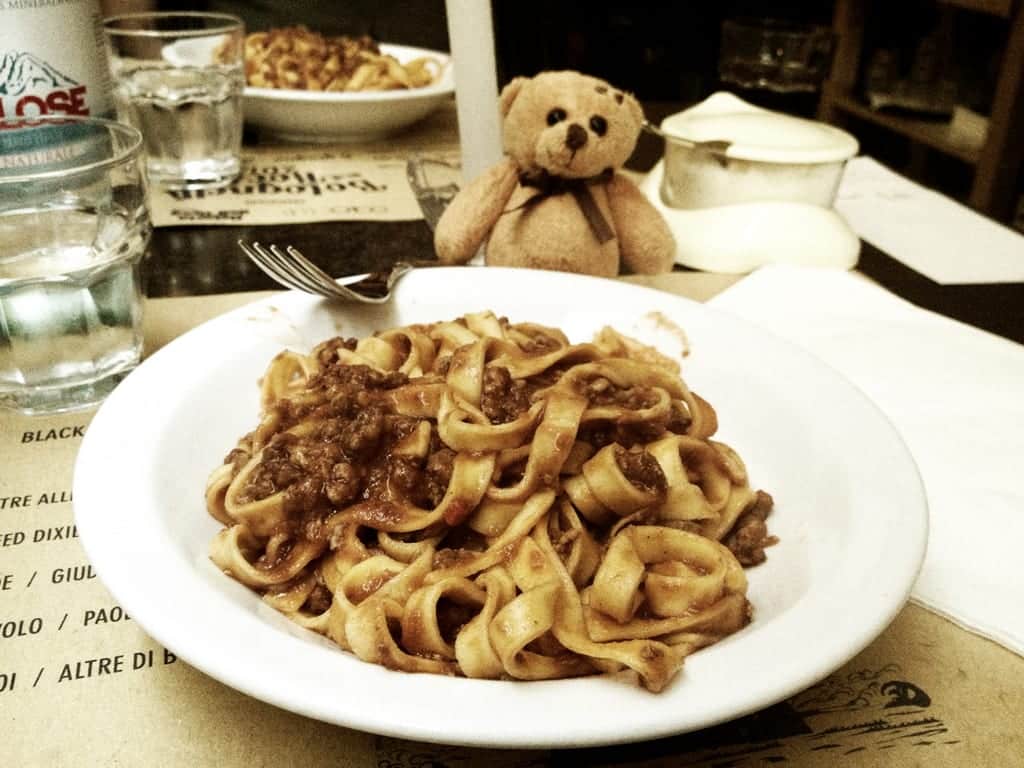 Eating food from the wrong regions.
You might think that you know Italian cuisine — get ready to have your world broken open! Italian cuisine is incredibly diverse, but more than that, it's hyper-regional. Even tiny towns have their own signature dishes that you can't find elsewhere.
Italian food is not the same in every city in Italy. It often differs enormously. A lot of the foods that you consider standard Italian foods are significantly more delicious in their regions of origin.
You can eat a carbonara in Venice, but it's going to be much better in Rome.
You can eat tagliatelle ragu in Rome, but it's going to be much better in Bologna.
You can eat pizza in Bologna, but it's going to be much better in Naples.
You can eat spaghetti alle vongole in Naples, but it's going to be much better in Venice.
Take time to do research on the foods of each region you're planning to visit — or even better, do research on all the regions of Italy and plan your trip around what you want to eat!
And always ask what is hyper-local! You'd be surprised how many towns in Italy have signature dishes. One that I enjoyed recently was passatelli, a dish local to the town of Urbino in Le Marche, a pasta made out of bread crumbs, parmesan, and eggs, sometimes served in broth. Last year we planned a lunch stop in Gran Sasso National Park in Abruzzo just to eat arrosticini, small skewers of roasted lamb.
There is only one food that should be avoided outright, and it's pizza in Venice. Venice does not have wood-burning ovens due to the nature of the city, and wood-burning ovens are what make pizza special. Enjoy your pizza anywhere else in the country.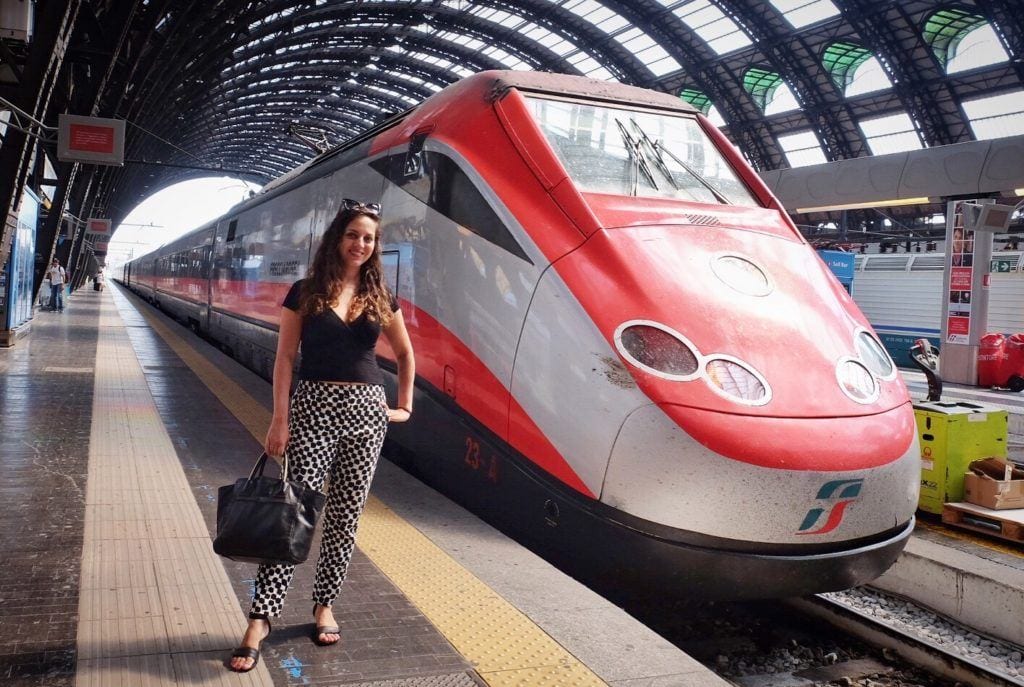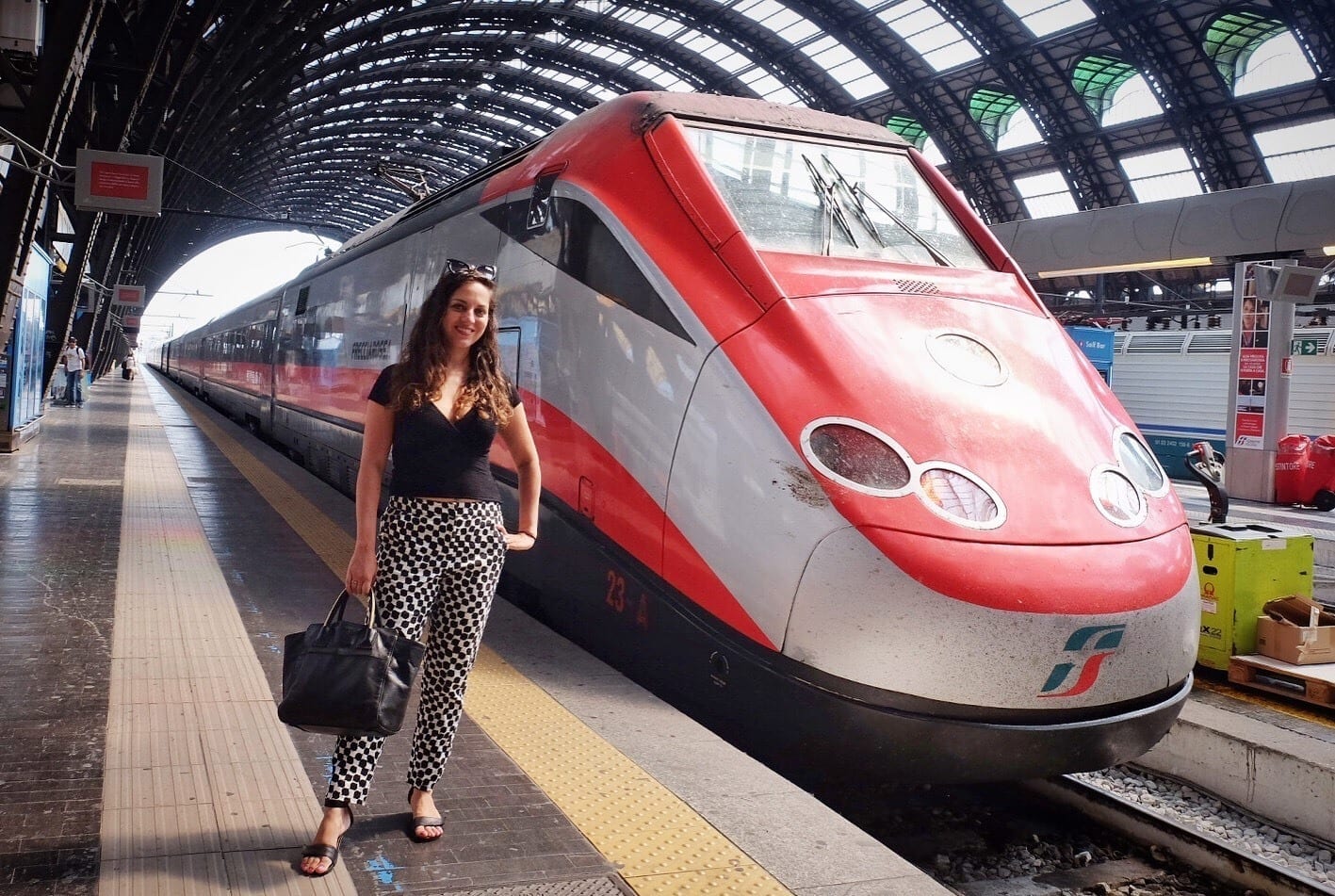 Forgetting to validate your train ticket.
This is a big one — but tourists do this often because it just isn't done in the United States. If you buy a train ticket at a station, you need to validate it before you get on the train. There are little boxes around the station and you just stick the tip in (hehe) and it stamps it.
This is an absolutely necessary step. Sometimes they'll throw you off the train if your ticket isn't validated.
That said, if you buy a ticket in advance online, you don't need to validate it. Just show the conductor your ticket when they walk by you. You can show it on your phone; that's what everyone does nowadays. But if you buy a ticket from a machine or the ticket window, you need to validate it.
Train travel in Italy could be a whole post! I will add one other tidbit — the machines in the stations are often marked Trenitalia or Italo. These are two different train companies and two different train systems, and each one will only show tickets for their company. The vast majority of tickets you want are on Trenitalia.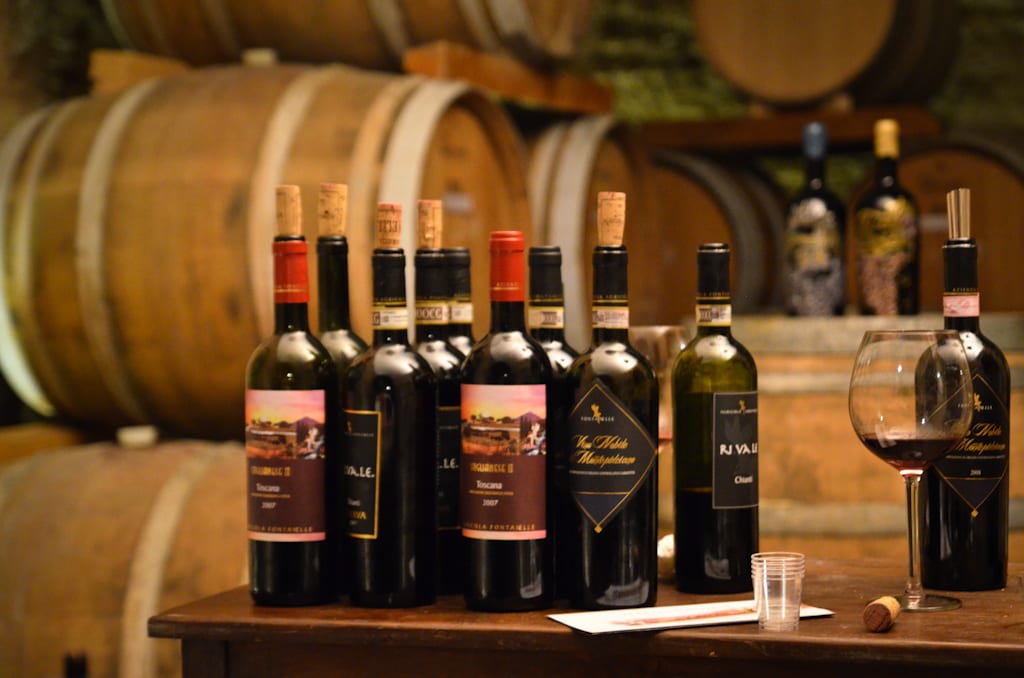 Always ordering Chianti in restaurants.
A lot of travelers freeze up when they see wine lists in Italy because the names of the wines are so unfamiliar. You won't find a collection of Chardonnays and Merlots on an Italian wine list. Instead, Italian wines are named for the regions, often micro-regions.
As a result, many foreign travelers keep asking for Chianti because it's the one Italian wine they've heard of. Thanks for that, Hannibal Lecter.
Chianti is good if you're in Tuscany. Chianti is great with a bistecca fiorentina (Florentine-style steak, cooked to a perfect medium rare) or ribollita (a Tuscan bread and vegetable stew). But it is by no means a goes-with-everything wine.
So what do you do? Two options! First, you can ask your server for a recommendation. I find that Italian servers tend to be much more knowledgeable about wine than servers in the US, especially when it comes to local options.
Another option is to ask for the house wine, the vino della casa. (Keep in mind that casa is pronounced caza in Italian, not cassa like in Spanish.) Most restaurants have vino della casa in both bianco (white) and rosso (red), and it's always the cheapest wine on the menu — yet still good quality.
Vino della casa is usually served by the glass or by the liter, half liter, or quarter liter. How much is best? I usually split a half liter when dining with one other person; a wine bottle contains 750 milliliters, so a half liter is the equivalent of 2/3 of a bottle of wine.
I love trying new wines, but the majority of time I'm drinking the vino della casa because it's delicious and well-priced.
Even so, the regular bottles of wine tend to be much cheaper than in the US. You can get a great bottle of wine in an Italian restaurant for around 25 EUR ($29 USD).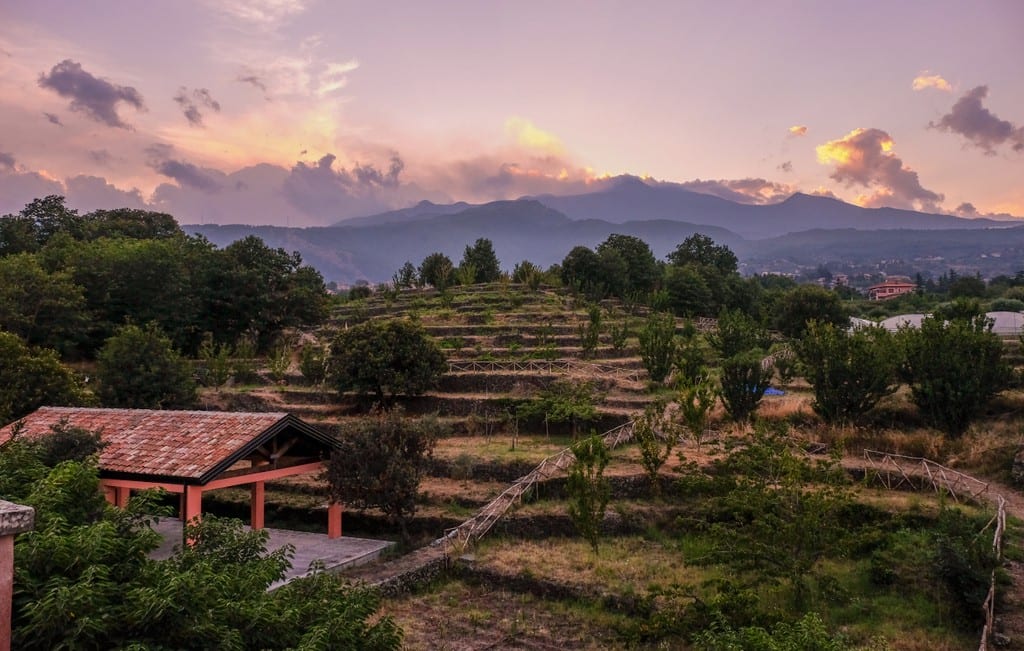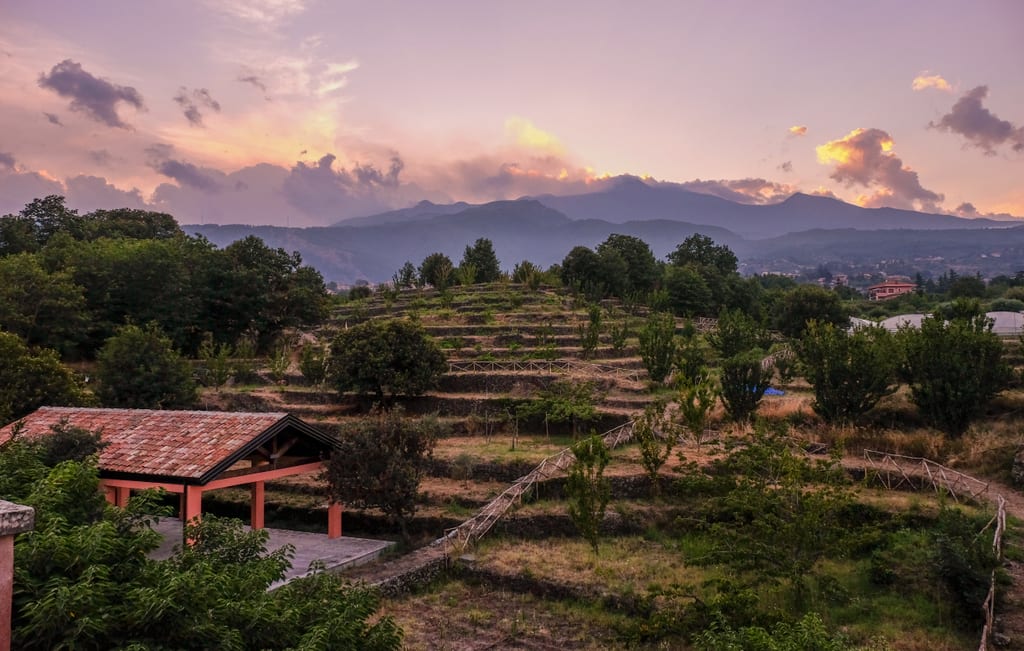 Staying away from the countryside.
Milan, Venice, Florence, Rome, Naples. That's what you do in Italy, isn't it? Well, that's what a LOT of people do in Italy. But they're missing out.
The countryside in Italy is special, and too often it's ignored by foreign visitors. It shows you a truly different side of Italy, away from the tourist hordes, that sometimes feels like going back in time.
A common way for Italians to travel is to stay at an agriturismo in the countryside — essentially, a farmstay or rural inn. You have your own private accommodation on the property, and some meals are almost always included (though check on the food details before you book).
Agriturismi are located all over Italy, and at all price points, from super-basic to super-luxurious.
They vary so much! I've stayed at a high-end agriturismo outside Bologna that served a three-hour meal with endless courses and wine, a cozy agriturismo in the shade of Mount Etna in Sicily that served pasta alla norma and had a pool to enjoy, and a small suburban agriturismo in Friuli that was basic but provided a hearty breakfast each day. And that's just scraping the surface.
How do you find agriturismi? You can do a search on Airbnb and check the "farmstay" option.
Of course, if you're going rural, you'll need a car to get around. Don't be scared! I was afraid of driving in Italy for far too long. The driving is pretty bonkers in Naples and Sicily, and parking in cities is a huge pain; other than that, the driving conditions in Italy are surprisingly normal.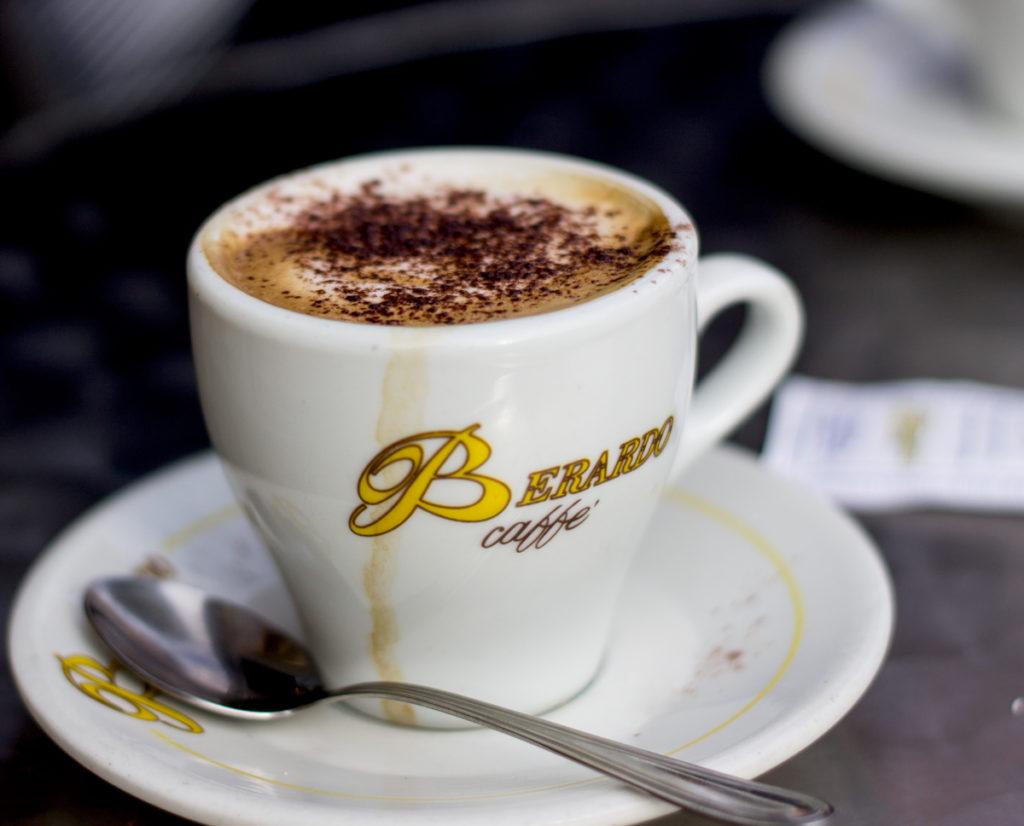 Having cappuccino after 11:00 AM.
You see this travel tip very often, and it's true! Cappuccino is a morning-only drink in Italy. Italians tend to think that drinking milk gives you digestive issues after a meal, and it's something that just isn't done.
So what do you get instead? If you want to be as Italian as possible, stand at the bar and order an espresso whenever you're in need of a pick-me-up. It should cost about a euro. You always pay more for table service.
I often get a macchiato after a meal — it's espresso with just a tiny bit of milk. This is an acceptable coffee to have at all times of day in Italy. You might find that you prefer to have a little coffee with milk like this instead of your usual cappuccino or latte.
And if you want a traditional filter coffee, ask for an americano. Sometimes Italians serve you a cup of espresso and a cup of hot water to add to it.
Choosing Tuscany by default.
You dream of road tripping around Italy, stopping in charming hill towns, getting to know the whole region in depth rather than careening across the country and back. That's awesome! I'm thrilled! That's exactly the kind of trip I want you to take!
And then you tell me you're going to Tuscany. Ah.
Tuscany is magical. I'll give you that. There's a reason why everyone loves it.
But Tuscany also extremely crowded and expensive. Tuscany is filled with tour buses, tourist-geared restaurants, and cheesy souvenir shops, and though some parts of Tuscany are much nicer than others, there are regions that give you a similar experience for a much lower price.
(Remember Under the Tuscan Sun? Frances Mayes bought her villa in Cortona in 1990. 30 years ago! Tourism has changed many of the smaller towns of Tuscany since then.)
Do you want to enjoy a region in depth? If you want a region similar to Tuscany, including rolling hills, cypress trees, and charming mountain towns, I recommend the next door region of Umbria — you could even add a little Le Marche, the region next door to there, which has coastline as well.
For something completely different, consider Puglia, the heel of the boot. Though it's getting very popular now, Puglia is a sun-drenched region home to conical trulli homes, stunning coastline, burrata and orecchiette, Baroque cities, and it's one of the easiest places in Italy to be a vegetarian.
Another great choice is Piedmont, in the northwest, home to the most cutting-edge cuisine in the country. Piedmont is about shimmering blue lakes, chocolate and hazelnuts, stately towns with a hint of the Swiss, and meals you'll remember forever.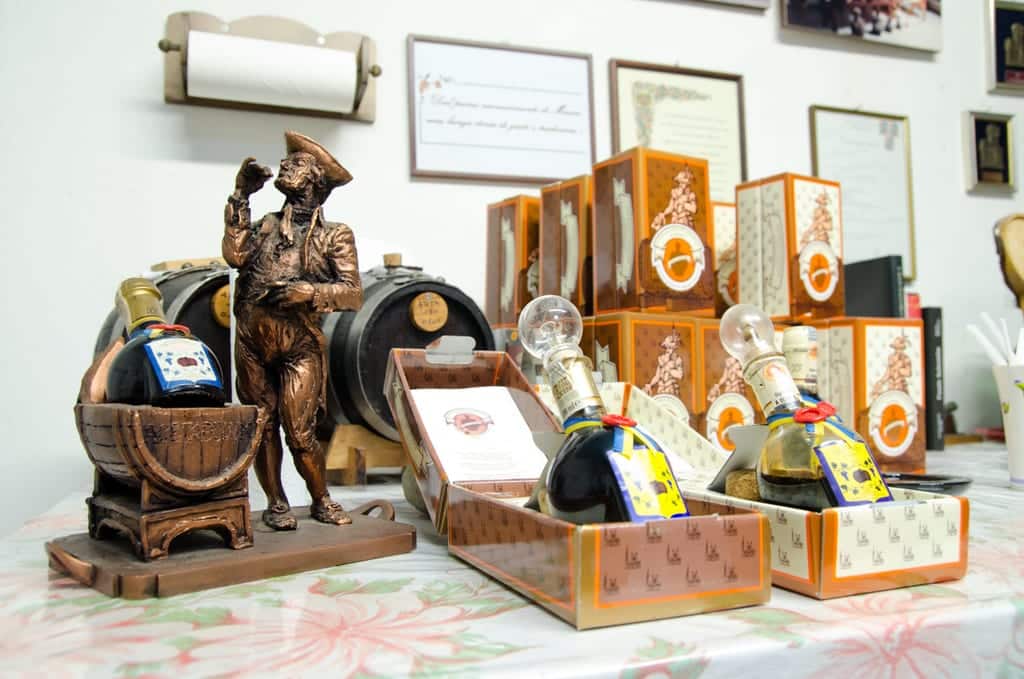 Buying fake souvenirs.
You want to bring something home from Italy…but you want it to be good. And yet so many travelers in Italy buy keychains, shot glasses, replicas of the Colosseum that they plan to stick on their desk or coffee table. Guess what: these are all made in China.
You'll see university sweatshirts sold all over the place. Università di Roma, di Firenze, etc. Tourists buy them up. But you know what? Most of those universities don't even exist, and nobody in Italy wears those sweatshirts. They sell them because Americans wear and love college sweatshirts.
But there are better things to bring home with you.
If you want to bring back a special food souvenir, I recommend traditional balsamic vinegar from Modena. Now, this isn't the stuff you can find in the grocery store. This must have the word "tradizionale" on it and it comes in a bottle shaped like in the image above, set in a box. A bottle will start at around 100 EUR ($120), but this is truly special stuff.
Cheaper foodie souvenirs include artisanal pasta, truffles, olive oil, or a bottle of Limoncello from Campania.
I also love the selection of ceramics and crockery available in Italy. It's often handmade and very high quality. Don't be afraid to ask about it!
A small stovetop Moka coffeemaker is an excellent item to bring home from Italy. It's the way I make coffee at home now!
Venice is home to world-famous Murano glass, and there are plenty of Murano souvenirs on Murano island. The island of Burano is home to handmade lace and linen.
If you want something very special from Italy, consider buying gold or leather in Florence. Both are prized in this city — Florentines don't even consider something to be made of gold unless it's at least 18k!
As for leather, the good stuff is VERY expensive — you'll pay several hundred euros for a nice jacket. Local boutiques are a great place to find pieces you won't find in your home country. (Ignore the markets that sell leather goods outdoors. These are poor quality products from China.)
Finally, if you or someone you love is Catholic, you can't beat rosary beads or religious items from Italy — especially if they're from the Vatican, and especially especially if you get a priest to bless them.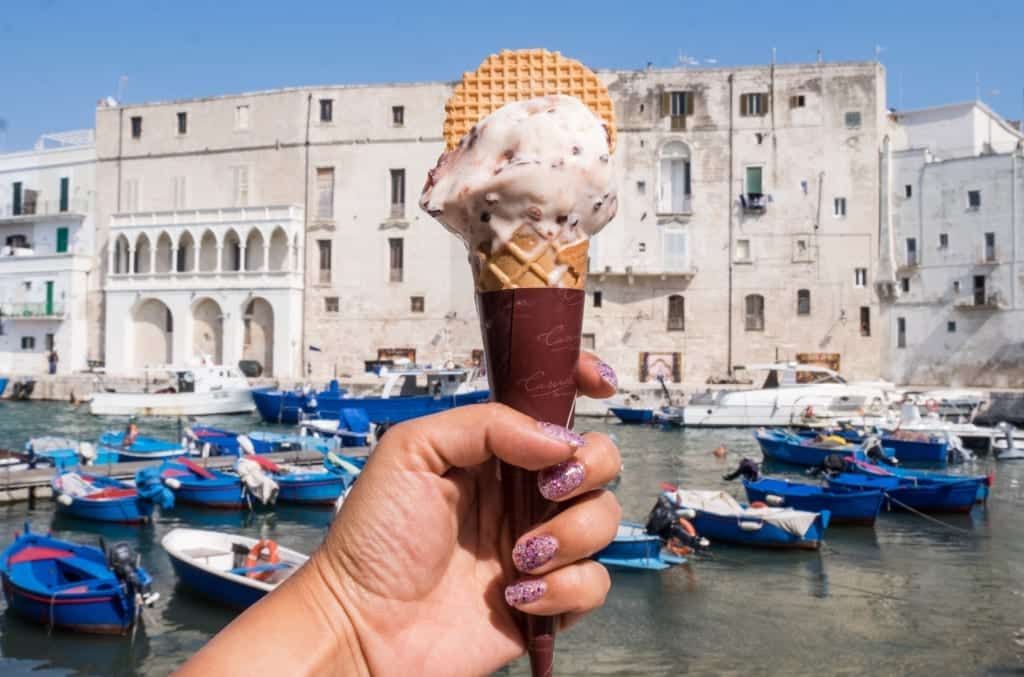 Eating bad gelato.
This pains me when I see it! You'll see gelato shops and stands all over the place in Italy, but they are NOT equal. Not by a long shot.
The ones you should make efforts to avoid are gelato shops with plastic tubs filled with highly stacked piles of brightly colored gelato. If they have a blue flavor — especially a blue flavor named "Smurf" or "Facebook" — that's your cue to back away.
Instead, aim for places that have metal tubs, smooth gelato, and muted colors. Occasionally, you'll find places with covered metal tubs where you can't even see the gelato until they dig it up.
A good indication? Look at the banana flavor if they have it. It should look gray, not bright yellow. And the pistachio should be a faded greenish brown, not bright green.
My favorite gelato shop in the world is Caruso, with locations in Monopoli, Polignano a Mare, and Bari, all in Puglia. I'm also a huge fan of Gelateria Dei Neri in Florence (it was my apartment's favorite spot when studying abroad, and it still exists!) and Murano Artisan Gelato on the island of Murano in Venice (get the salty pistachio!).
Best of all, gelato is pretty cheap, even at the really nice places. Not like you need another reason to eat it every day!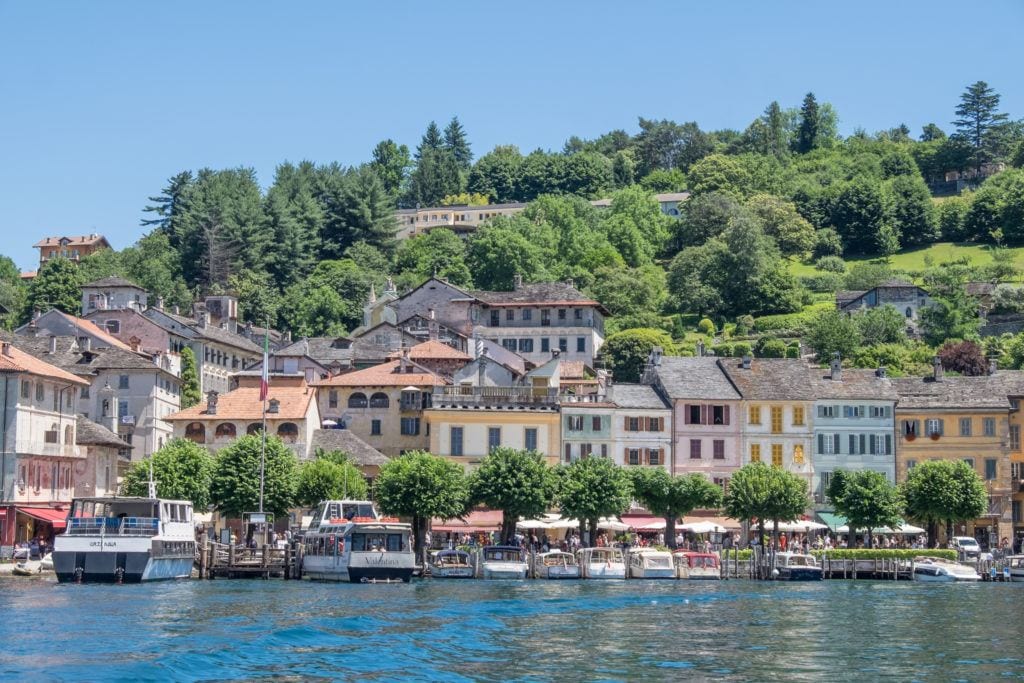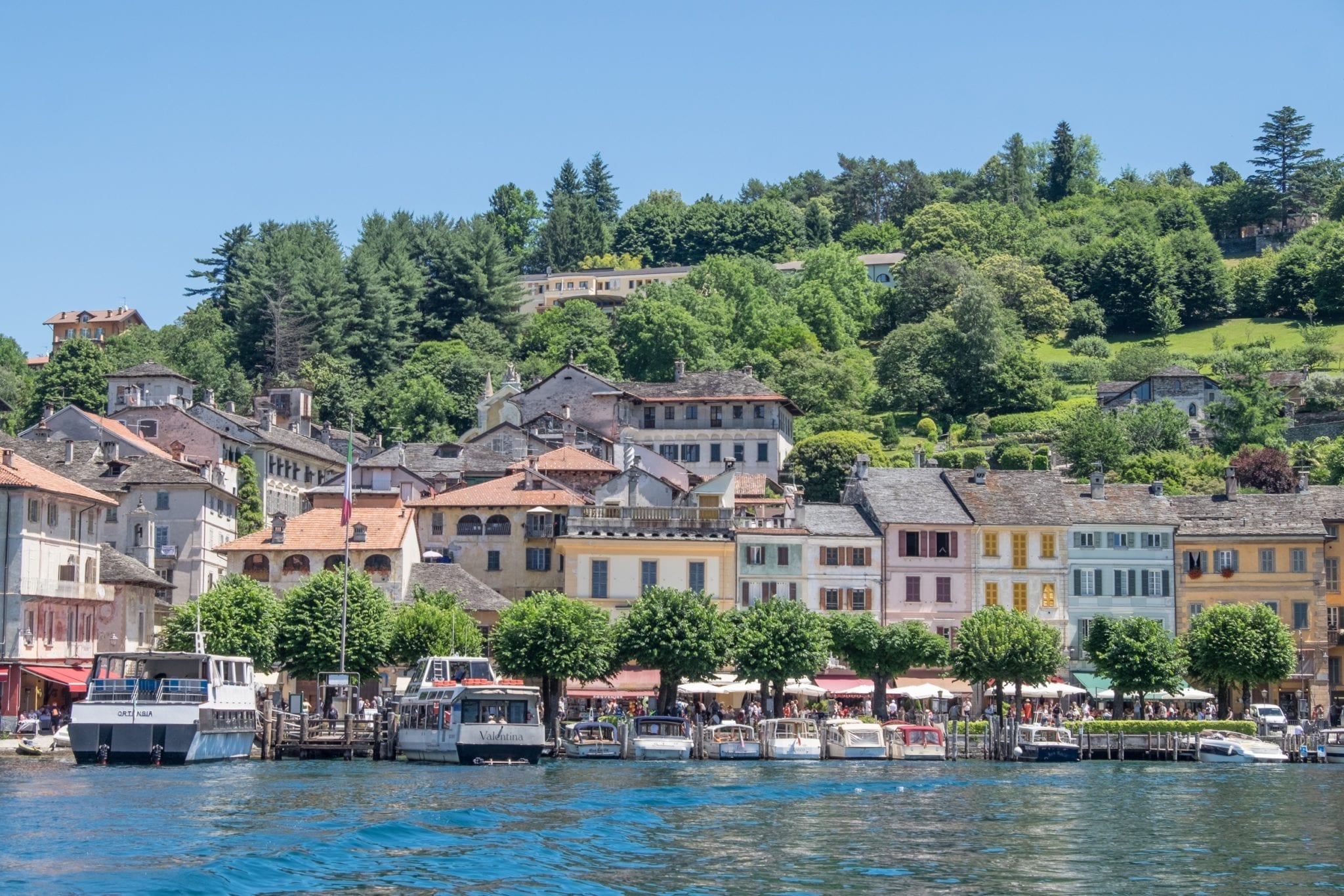 Visiting in the summer.
If summer is the only time you can go — like if you're a teacher, or you're traveling with kids — that's totally fine. You can go to Italy in the summer, guilt-free. But if you have flexibility in your schedule, I urge you to rethink a summer trip.
Italy gets HOT during the summer — brutally, intolerably hot. Everywhere but the mountains is searingly hot. Sweat through all your clothes hot. Having to go home to nap in the AC hot. Not enjoying yourself because it's miserably hot.
The first time I visited Ferrara, I didn't enjoy it because it was 98 F outside (37 C) and it was deserted, everyone staying in their cool homes. On my second visit, which took place in October, I was stunned by how lovely the city was, with vibrant street life!
Also, keep in mind that the month of August in Italy is Ferragosto, or a time when many businesses close and Italians head to the beach. If you visit Italy's hotspots in August, it will mainly be you, tourists, hospitality employees, and scam artists.
I strongly recommend visiting in the shoulder season — April, May, and October are lovely months in most of Italy. September is a bit quieter than July and August, though it still gets hot in much of the country.
And keep in mind the further south you go, the warmer it is — late October can still be decent for swimming in the ocean in Puglia and Sicily. Winter can be a pleasant time to visit these regions if you're looking to avoid snow.
There is one exception to this rule, though — the Dolomites, if you're planning to hike. The Dolomites have three seasons: snow, mud, and summer. If you want to see the mountains in their glory, July and August are your best bet.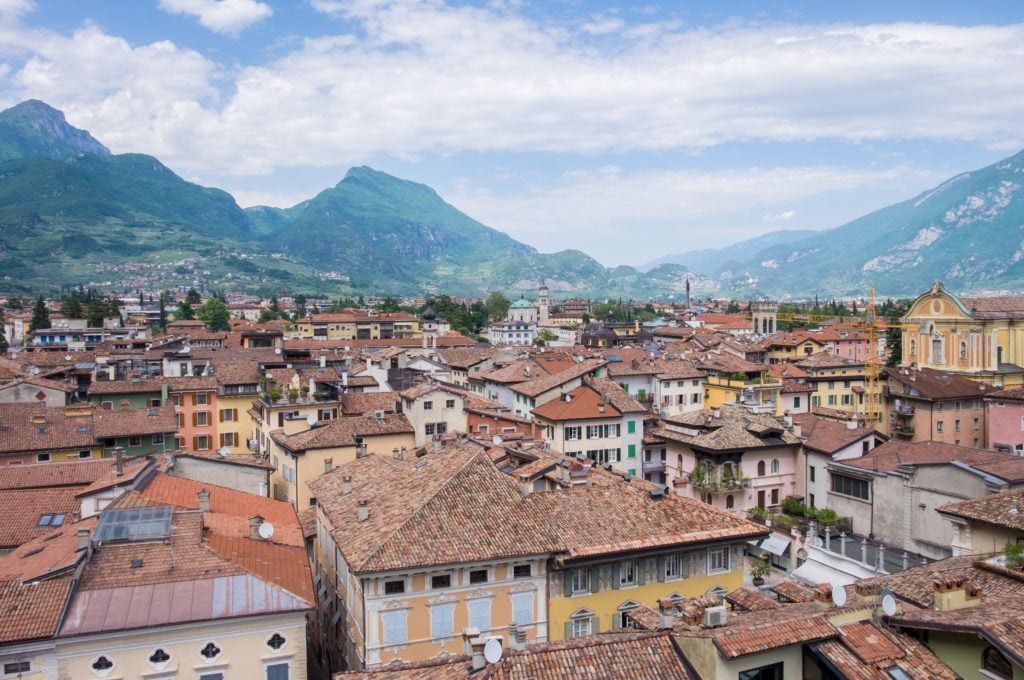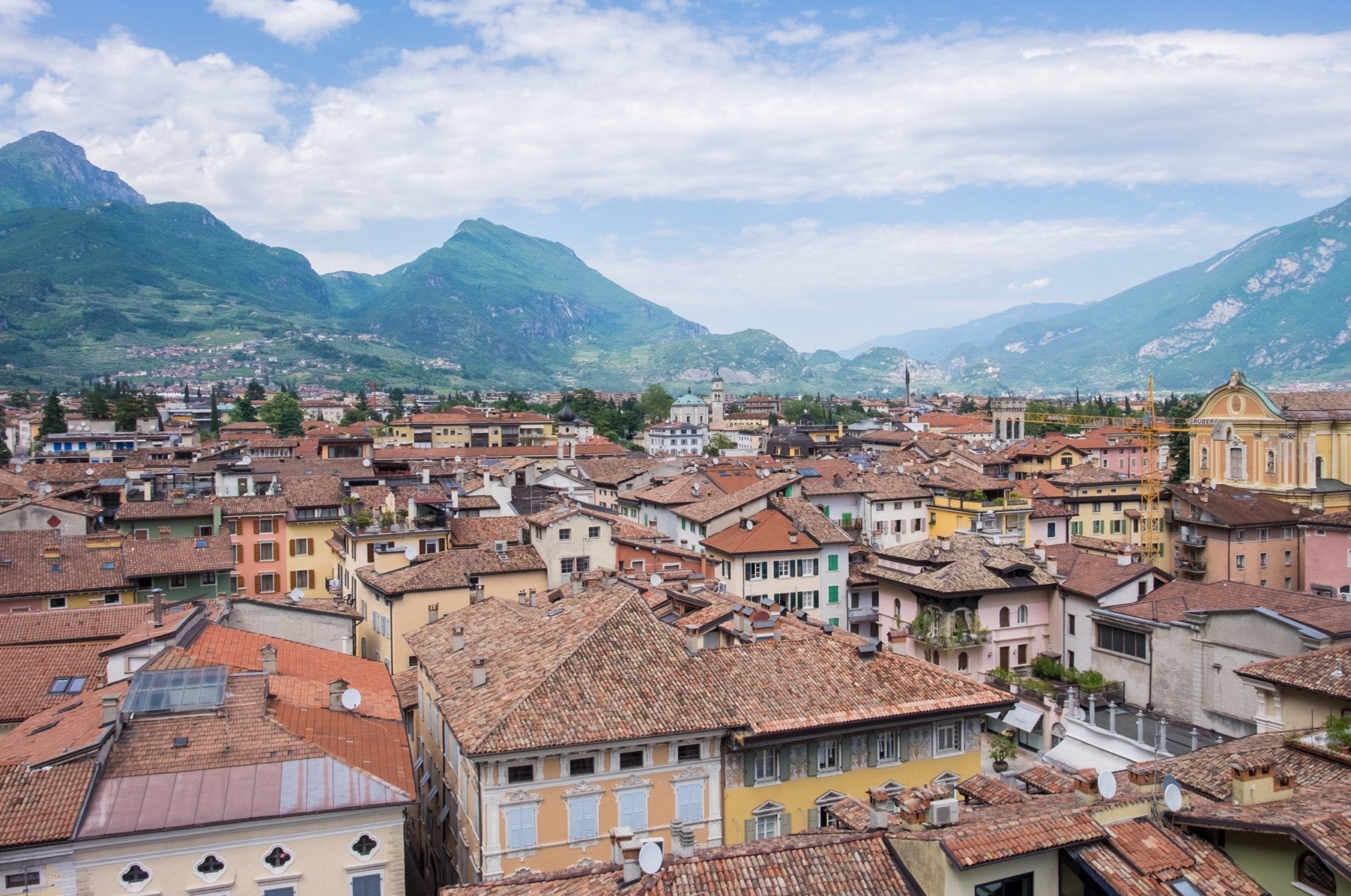 Staying firmly on the beaten path.
Many people planning their first trip to Italy do some combination of Rome, Florence, and Venice. Maybe Cinque Terre or the Amalfi Coast or Milan. And those are all fabulous places — but I think you might get more out of your trip if you add some not-so-popular spots.
Looking for suggestions? Because I have a TON!
The Emilia-Romagna region is strategically located between Florence and Venice, and I think Bologna is a great place to spend a few days. From there you can easily day trip to cool spots like Parma, Brisighella, Ferrara, Modena, and Ravenna, or even hop into a new country — San Marino!
Trentino, pictured above, has Lake Garda and the Dolomites, but doesn't draw the visitors of Trentino Alto Adige or the southern edge of the lake. Trento is a pretty, fresco-covered town to base as you explore the surrounding mountains, and Riva del Garda is a pretty town on the edge of the lake.
Lake Como gets all the attention, thanks in part to George Clooney, but I'm a big fan of Lake Orta, which is smaller, cleaner, and much more local. Lake Maggiore and Lake Iseo are two other good options.
Lecce is sometimes called the Florence of the South and it has one of the most bewildering mixes of architecture.
And Sicily…well, Sicily is its own animal, that's for sure! You think you know Italy, and then you get Sicily. I'm a big fan of Siracusa in particular.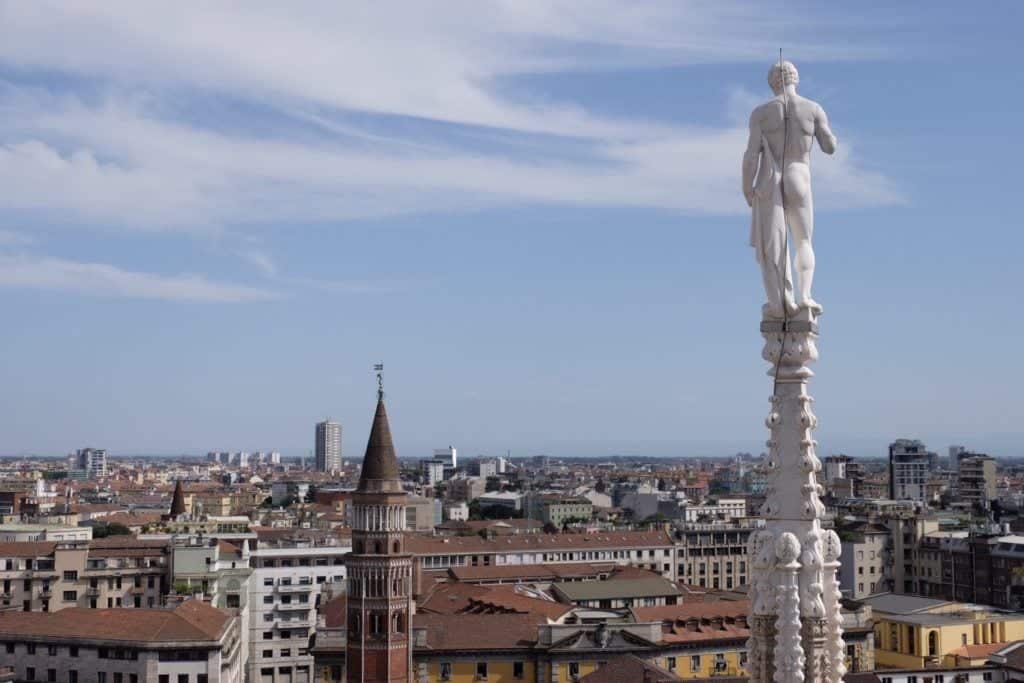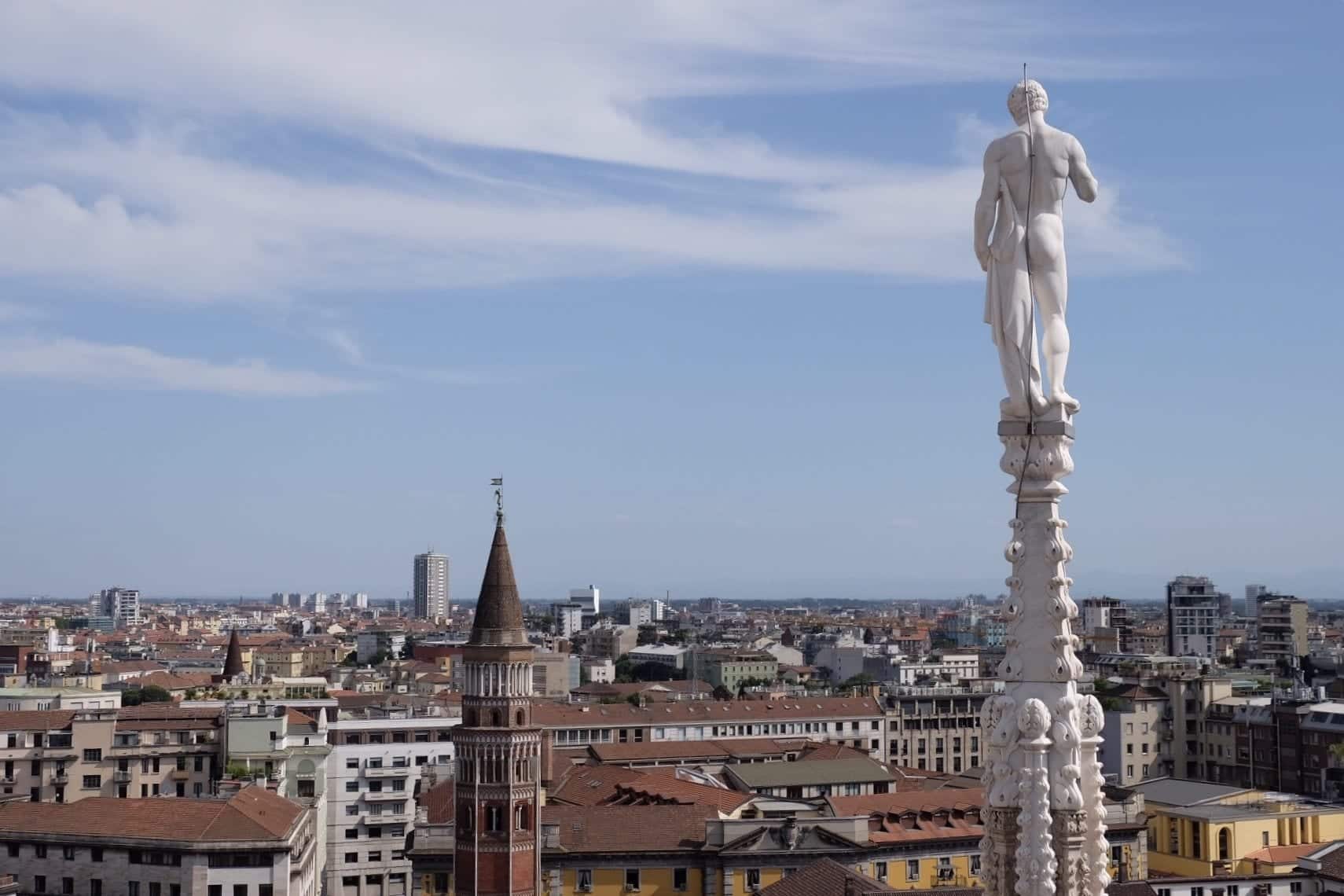 It's okay if you make a mistake or two!
Don't worry if you just have to have a cappuccino in the afternoon, or if you're spending the bulk of your trip in Tuscany, or if you want to buy shot glasses for souvenirs. It's okay. This post is not meant to put you down in any way as a traveler; it's just to make sure that you know a little bit more about Italy before you get there.
Do make sure to validate your train ticket, though. I don't want you getting thrown off the train in the middle of nowhere!
One of the best things about traveling in Italy is getting to carve out your personal version of Italy — the places that make your heart race, the moments at which you're most content. Go get your Italy!
Planning a Trip to Italy:
Cool Places in Southern Italy:
Cool Places in Sicily:
Cool Places in Northern Italy:
More on What NOT to Do: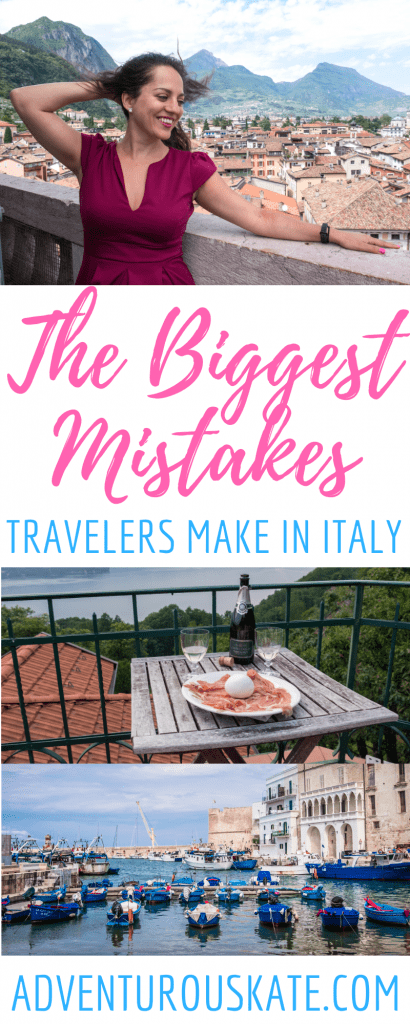 Are you an Italy fan? What mistakes do you see people making?