Adventurous Kate contains affiliate links. If you make a purchase through these links, I will earn a commission at no extra cost to you. Thanks!
Looking for the warmest place in Europe in the winter? Aren't we all! Now that I'm based in Prague full-time, I'm eager for. warm weather European break each winter.
You won't find balmy beach temperatures in Europe during the winter, but there are certainly several places that have milder weather. Let's look at some of the warmest places in Europe in winter: Portugal, Crete, Andalusia, Balearic Islands, Sicily, Malta, Southern Turkey, and the Canary Islands.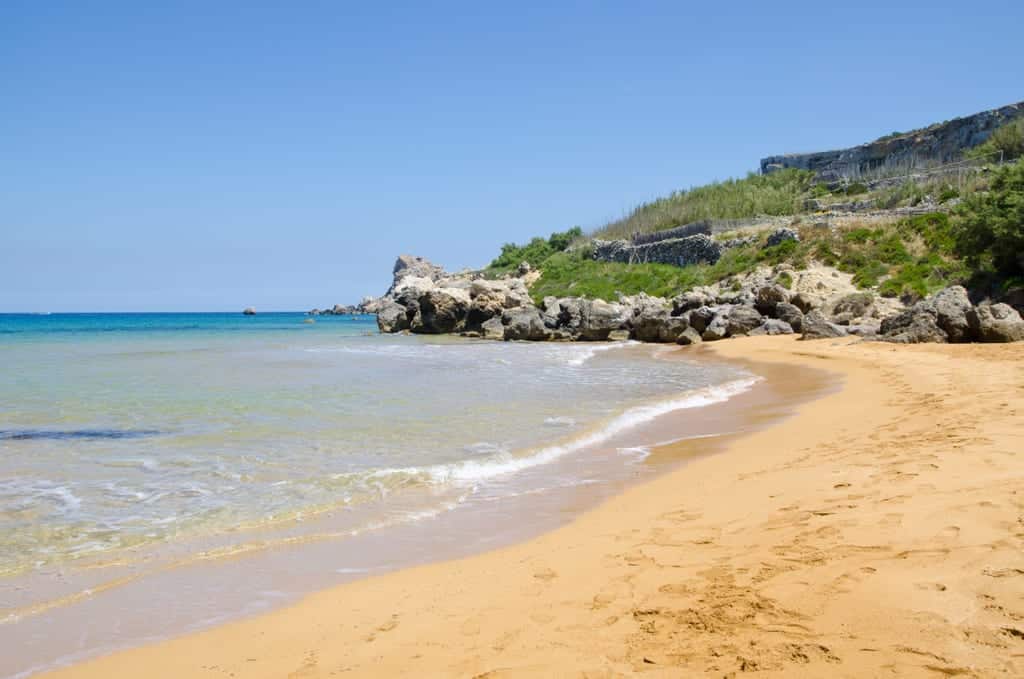 Where is the Warmest Place in Europe in December and January?
Today a reader is wondering where to find the warmest winter temperature in Europe.
Hey Kate,

In the next few weeks I'm planning on leaving the UK but I can't decide where to go first. January is a bit cold and dreary in Europe, I'm aware, but I was wondering if you had any suggestions on where to go in Europe for winter sun?
First, it's important to have realistic expectations. Winter temperatures in mainland Europe will not be tropical. The Canary Islands are the warmest place in Europe, with a January average temperature of roughly 12-18 C (55-65 F). February temperatures are fairly similar.
So don't look for sultry summer weather – look for gentle spring weather. One year I spent February and March in Portugal and Spain, and even though it wasn't beach weather, it was so nice to be walking around in a long-sleeved shirt instead of a winter coat!
The warmest places in Europe in winter are:
Now that you know what to expect from the weather in Europe in winter, here are more details about my favorite places to travel.
Canary Islands
Do the Canary Islands count as Europe? Absolutely. They're far down off the coast of West Africa, but they're technically part of Spain.
Winter temperatures in the Canary Islands tend to range from a low of 14-15 C (57-59 F) to a high of 21-23 C (70-73 F), making it the warmest place in Europe in the winter. Precipitation tends to be higher in the winter months (and highest in December) but it's still a relatively dry destination.
The islands are surrounded by the Atlantic Ocean, so water temperatures aren't as high as the Mediterranean. In January, you'll likely find water temps hovering around 19 C (66 F) – maybe too cold for a full swim, but definitely warm enough to walk along the surf.
Gran Canaria is often called the "Continent in Miniature" because it has everything – forests, mountains, sandy beaches, and Las Palmas, one of Spain's largest cities. Find deals on Gran Canaria hotels here.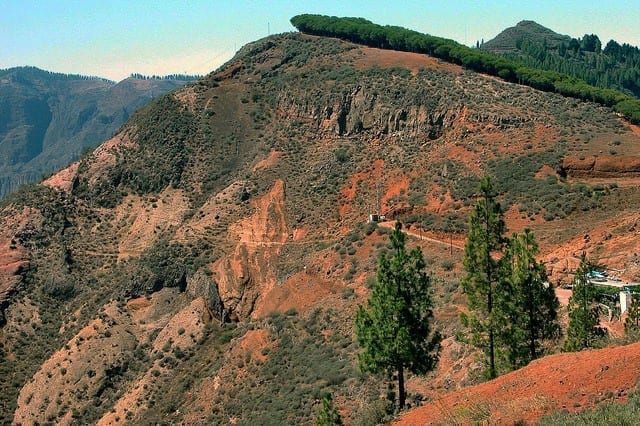 Tenerife is one of the most popular islands with tourists to the Canaries. The beaches are the biggest draw, but further inland are beautiful hiking trails and a volcano-filled national park. If you come in February, be prepared for the Santa Cruz de Tenerife Carnival, which lasts three weeks. Find deals on Tenerife hotels here.
The volcanic island of Lanzarote is home to the most unusual landscapes in the Canaries. Some areas look like they could be Mars! Of course, there are plenty of classic beaches, and there is a surprisingly robust local wine and food scene here. Find deals on Lanzarote hotels here.
La Gomera is another excellent winter sun destination. Here you'll find amazing beaches and gorgeous tropical rainforests offering hiking trails and stunning mountain scenery. Garajonay National Park is one of the best places to enjoy the winter season.
This sunny island paradise is the perfect escape from cold winter weather. It might be a bit chilly for a bathing suit, but you can still relax on the beautiful beaches and enjoy hiking, parks, and food.
January is the low season in the Canary Islands, so it will be less expensive to visit, too.
Portugal
Portugal is a wonderful country to visit in the winter. Temperatures are warm throughout the country (though the north will be a bit chillier), the food is fresh and delicious, and it's one of the cheapest countries in Western Europe.
The daytime temperature in Lisbon tends to range from a low of 8-11 C (46-52 F) to a high of 15-19 C (59-66 F). It tends to rain a bit on half the days. Expect slightly cooler temperatures up north and slightly warmer temperatures further south.
Lisbon
Lisbon is one of the most beautiful cities in Europe. It also makes a great base for exploring neighboring cities like the castle-filled town of Sintra, the seaside town of Cascais, and my favorite spot: the yellow-and-white town of Évora.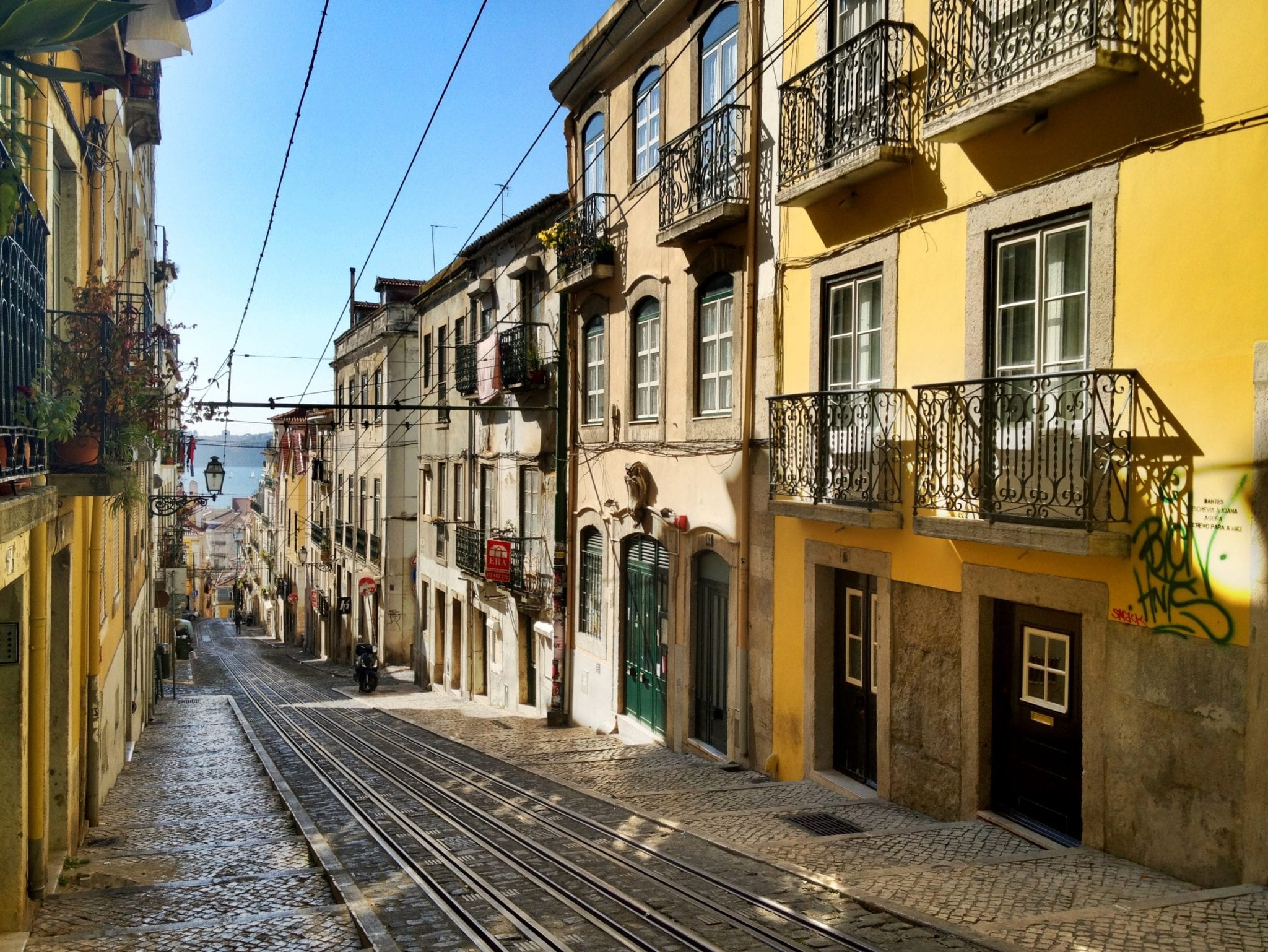 In Lisbon, you can walk the hills of the city or take incredibly photogenic cable cars. You can listen to the beautiful fado music or join the merrymakers in Bairro Alto.
There are direct flights to Lisbon from all over Europe and it's one of the best value-for-money capitals around.
Find deals on Lisbon hotels here and see all Lisbon Airbnbs here.
Northern Portugal
Northern Portugal is a bit under the radar, but it's one of the most phenomenally beautiful parts of the country. Porto is a gorgeous river-hugging city that gets all the hype, and serves delicious port at every opportunity, but even more beautiful is the Douro Valley, famous for its vineyards and quintas. This is a wonderful place to take a road trip or even go on a river cruise.
Find deals on Porto hotels here and see all Porto Airbnbs here.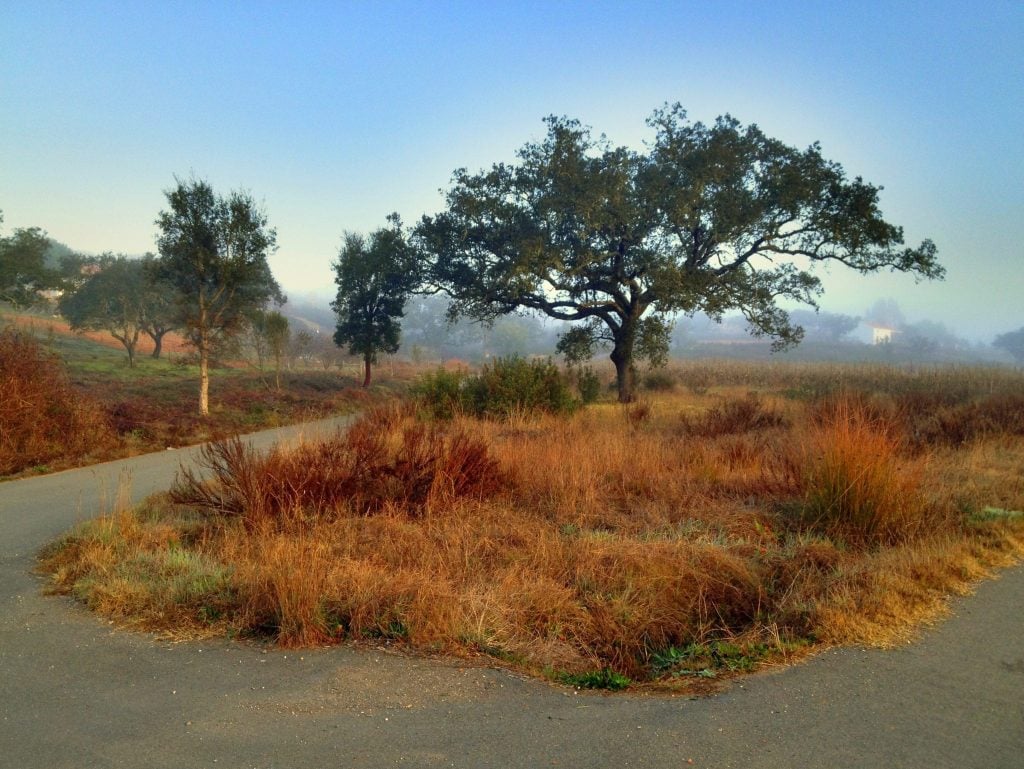 The Algarve
The Algarve is the warmest and southernmost region in Portugal. It's easily the most beach-friendly getaway year-round. Whether you actually get into the sea in the winter months depends on how much you can take!
The Algarve is famous for its stunning cliffs overlooking the beaches, which will be even emptier in the winter without the huge summer crowds. There is excellent surfing and in the winter you often get better waves. If you're looking to golf, there's plenty of golfing in the Algarve, too!
The Algarve is an entire region in southern Portugal. Some towns I would recommend for bases include the cliff-strewn beach town of Albufeira, the sun and fun town of Lagos (especially if you're into nightlife), and the stunning village of Portimão. If you want something more urban, the city of Faro is pleasant no matter what time of year.
But that's just the beginning – there is plenty to explore in the Algarve.
Find deals on Algarve hotels here and see all Algarve Airbnbs here.
If you're looking for the warmest place in Portugal in the winter, I recommend focusing on the South. The north can be chilly and rainy – but it's beautiful and might still be much warmer than where you're coming from!
Andalusia, Spain
Andalusia, a region in the southwest of Spain, is the warmest part of mainland Spain in the winter. It's filled with flamenco, orange trees, and whitewashed buildings.
When people think of the iconic part of Spain, they're likely thinking of Andalusia, which evokes romance in every direction. Summers here are unbearably hot, but winters are absolutely beautiful.
The hottest place in Andalusia tends to be Malaga, a port city on the Mediterranean Sea. Temperatures range from a low of 7-10 C (44-50 F) to a high of 17-20 C (63-68 F) and the sun shines almost every day.
Malaga is a thriving Spanish city that combines the best of a beach getaway with European history and culture. As the birthplace of Pablo Picasso, Malaga is home to the Museo Picasso – a museum dedicated to Picasso's life in Málaga and early career as a painter.
You can also check out Alcazaba, an incredible fortress and example of Moorish architecture.
Malaga is also one of the most affordable cities for quality hotels. Find deals on Malaga hotels here.
You might also choose to visit Sevilla or Granada. Temperatures tend to range from a low of 6-9 C (43-48) to a high of 15-20 C (59-68 F) with only a little bit of rainfall.
Sevilla might be one of the most spectacular cities in Europe. Its colorful architecture by day is matched by its delightful tapas at night. Sevilla is home to around 3,000 tapas bars!
Sevilla also makes a great base to visit the charming town of Cordoba. Visit the Mezquita, a mosque, cathedral, and UNESCO World Heritage Site, or enjoy a day of shopping! Find deals on Sevilla hotels here.
Granada is a truly special and unique Spanish city. The Alhambra, another UNESCO World Heritage Site, is one of the most unusual palaces you'll ever visit. The city also has a culture of complimentary tapas served with drinks. An added bonus – Granada is close enough to the Sierra Mountains to do a bit of skiing then hit the beach in the same day! Find deals on Granada hotels here.
Whatever adventure you choose, winter is the absolute best time to visit Andalusia, Spain. It's one of the warmest places in Europe in December and January.
Balearic Islands
If you're looking for an island getaway, check out the Balearic Islands off the coast of Spain.
Millions of almond trees on the Balearic Islands begin to blossom in late December and explode in beautiful white blooms from then until March.
In Majorca you'll find plentiful sunshine and a beautiful beach with hidden coves. Formentera is a tiny island with a chill vibe and lots to do for nature-lovers.
Menorca offers a lush countryside with hiking trails, as well as amazing beaches with Caribbean-like sands and turquoise waters. This is a great choice for families.
Or maybe you want to dance the night away in Ibiza, the most famous party island in Europe.
You could also explore all four islands with a relaxing boat trip around the Mediterranean Sea.
Balearic Island winter weather is influenced by the Mediterranean climate. Winters are mild with lots of bright sunshine, and temperatures range from a low of 7-9 C (45-48 F) to a high of 15-17 C (59 – 62 F).
Malta
Imagine Britain if it were set on a tiny island in the Mediterranean, home to warm weather, colorful streets, centuries-old ruins, and friendly locals. That's Malta. Its far-south location makes it a perfect choice for a warmer winter getaway in Europe.
Winter temperatures in Malta tend to range from a low of 13-15 C (55-59 F) to a high of 16-18 C (61-64 F). January tends to be one of the island's rainiest months, but February and especially March have far less rain.
Learn more about the vibrant island of Malta.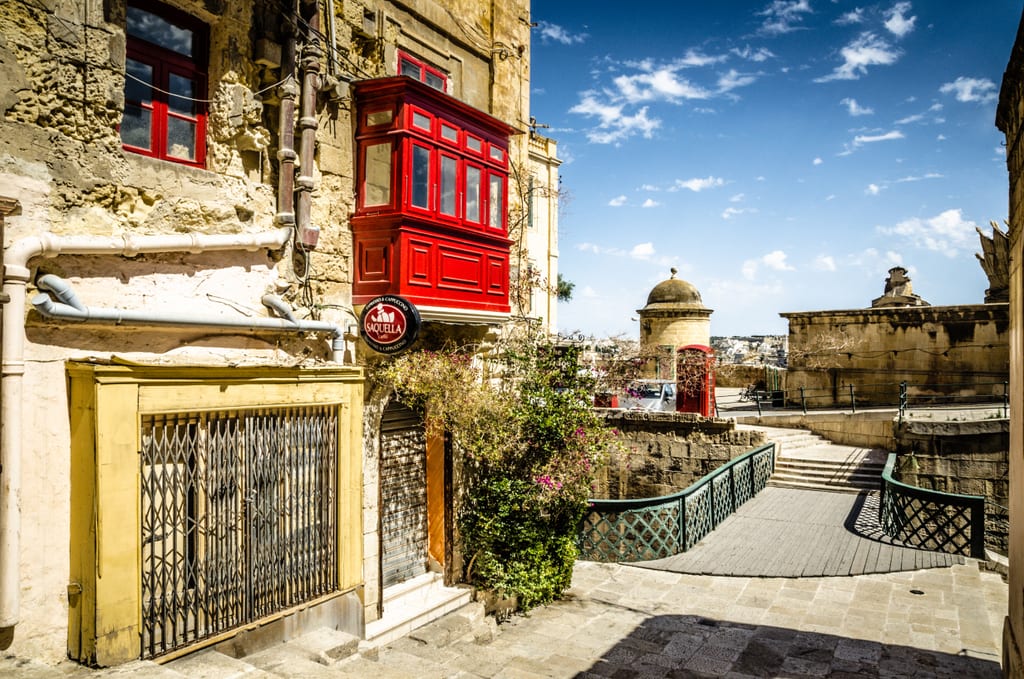 Sliema or St. Julians are where I recommend travelers to Malta stay. These cities are in the heart of the island and less isolated than Valletta. Find deals on Sliema hotels here; find deals on St. Julians hotels here.
Valletta, Malta's capital, is a good choice if you don't mind trading active nightlife for a far more beautiful and traditional Maltese setting. It's far more serene after the sun goes down. Find deals on Valletta hotels here.
Gozo, a short ferry ride from the mainland, is a place for an even quieter, more rural getaway. The famed Azure Window may have collapsed, but Gozo is home to red beaches, ancient cities, megalithic temples, and tiny fishing villages. It's so much like the larger island and yet completely different. Find deals on Gozo hotels here.
Southern Turkey
It's easy to forget just how large a country Turkey is until you compare its regions in the winter. The balmy Mediterranean beach towns are a world away from chilly Istanbul and snowy Cappadocia. While many of the party towns shut down during the winter, two are wonderful to visit year-round: Fethiye and Antalya.
Winter temperatures along Turkey's southern coast tend to range from a low of 6-7 C (43-45 F) to a high of 15-18 F (59-64 F). While January tends to be the coldest and rainiest month, February and March are progressively drier.
Fethiye is a beautiful beach area that also has a nice, calm town filled with friendly locals. It's also home to some of the most stunning scenery around southern Turkey, including the Butterfly Valley. Find deals on Fethiye hotels here.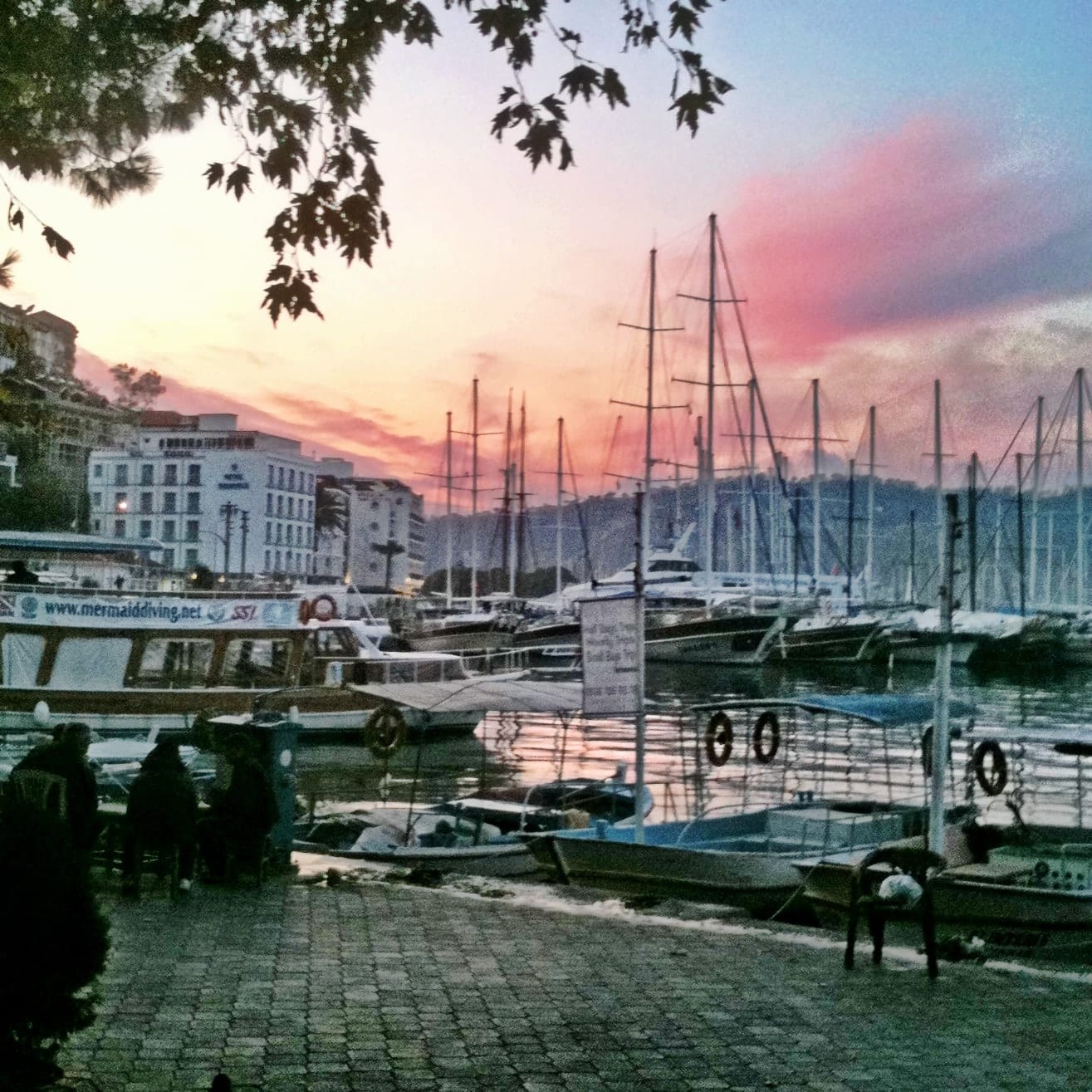 Antalya is the largest city on Turkey's southern coast, which makes it a great choice for mingling with locals during your getaway. There is a long stretch of beach and easy access to ruins throughout the region. Find deals on Antalya hotels here.
Crete
Not every Greek island is the same. Many of Greece's popular islands like Santorini are rainy or shut down completely during the winter months. Instead, head to Crete, the long southern island of Greece famous for its sun-drenched days and healthy diet.
Winter temperatures in Crete range from a low of 9-10 C (48-50 F) to 15-16 C (59-61 F). There isn't a ton of rainfall in Crete but it tends to be heavier in January and February before tapering off in March.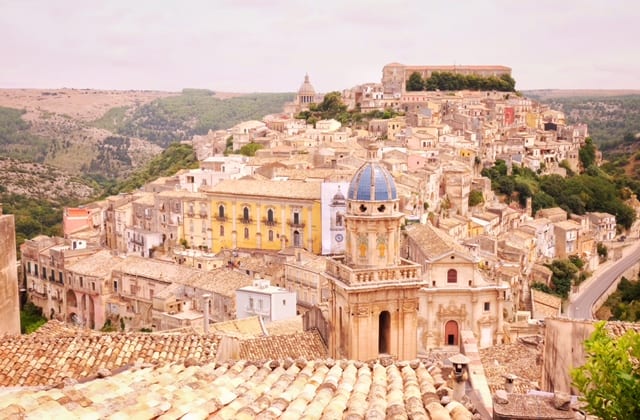 There are some amazing sights to see in Crete in winter. Walk the cobblestone alleys of Rethymno Old Town. Visit the Heraklion Archaeological Museum, home to the largest collection of Minoan artifacts.
And while it might be a bit chilly for swimming, you'll definitely want to see Elafonisi Beach, often cited as one of the world's most beautiful beaches.
Chania is a lovely small city with much of the Venetian architecture intact, including a beautiful harbor. Do note that nearby Samaria Gorge is closed during the winter. Find deals on Chania hotels here.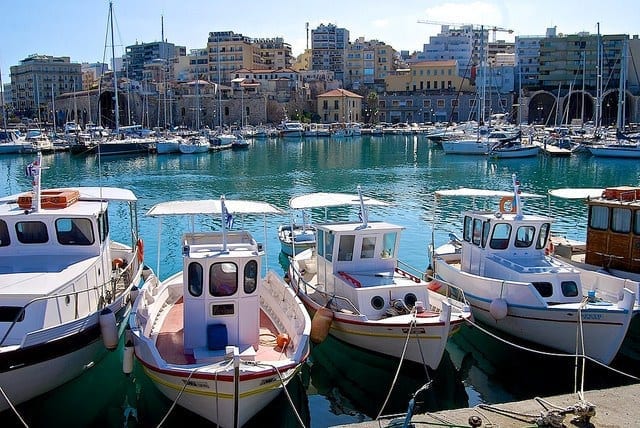 Agios Nikolaos was once a popular party town, but today it's much calmer and charming, a great spot for a relaxing getaway. Find deals on Agios Nikolaos hotels here.
Sicily
Sicily may feel like the hottest place on Earth during the summer – which makes it pleasantly warm in the winter. The largest Mediterranean island, Sicily is just off the "toe" of Italy's "boot."
Sicily is a wilder, often rougher version of Italy with ancient cities, natural wonders, and fantastic food and wine. This European destination can be a challenging place to travel, but if you're up for an adventure, it's so worth it.
I wrote a whole guide to visiting Sicily in the winter. Be sure to take a look at it, because I talk about the bad things as well as the good.
Winter temperatures in Sicily tend to range from a low of 6-7 C (43-45 F) to a high of 15-18 C (59-64 F). Expect higher temperatures inland.
The capital city of Palermo is rich in history, churches and palaces – all excellent things to do in Europe in the winter.
Taormina is a popular town on the northeast coast. It's world-famous for its outstanding cliffside views and picture-perfect shopping streets. Its location makes an ideal point for a day trip to Mount Etna. Find deals on Taormina hotels here.
Siracusa may be most famous for its ancient ruins, but even more spellbinding is the old town of Ortigia, a crumbling beauty in many pastel colors. It's peaceful and mysterious and it happens to be my favorite place in Sicily. Find deals on Siracusa hotels here.
Trapani is a popular option for a small town atmosphere on the west coast. Enjoy fresh seafood and take day trips to the Egadi islands. Find deals on Trapani hotels here.
Learn more about The Joys and Challenges of Traveling in Sicily.
Tips for Warm Winter Travel
Now that you have an idea of where to find winter sunshine in Europe, you'll want to make the most of your trip with these winter travel tips.
Traveling to Europe in the winter can save you money. During the off-season, you can get the best deal on flights. I find that Skyscanner tends to have the cheapest fares.
Just because it's winter, don't think you can't get sunburned! The sun is often stronger than at home. Bring appropriate sun protection and use sunscreen whenever you go outside.
Invest in a lightweight Speakeasy Travel Supply Scarf. These scarves have a secret pocket for your passport or valuables, and the lightweight styles are perfect for exploring Europe in the winter. They also make adorable face masks!
Before you plan a winter trip, be sure to buy travel insurance. Even if your trip is only for a few days, you need to protect yourself against the unexpected. If you injure yourself and need to go to a hospital, if someone steals your wallet, or if disaster hits and you're unable to travel as planned, travel insurance will save you in your time of financial need. I use and recommend World Nomads for trips to Europe.
Where's your favorite warm winter spot in Europe?
Get email updates from Kate
Never miss a post. Unsubscribe anytime!