Adventurous Kate contains affiliate links. If you make a purchase through these links, I will earn a commission at no extra cost to you. Thanks!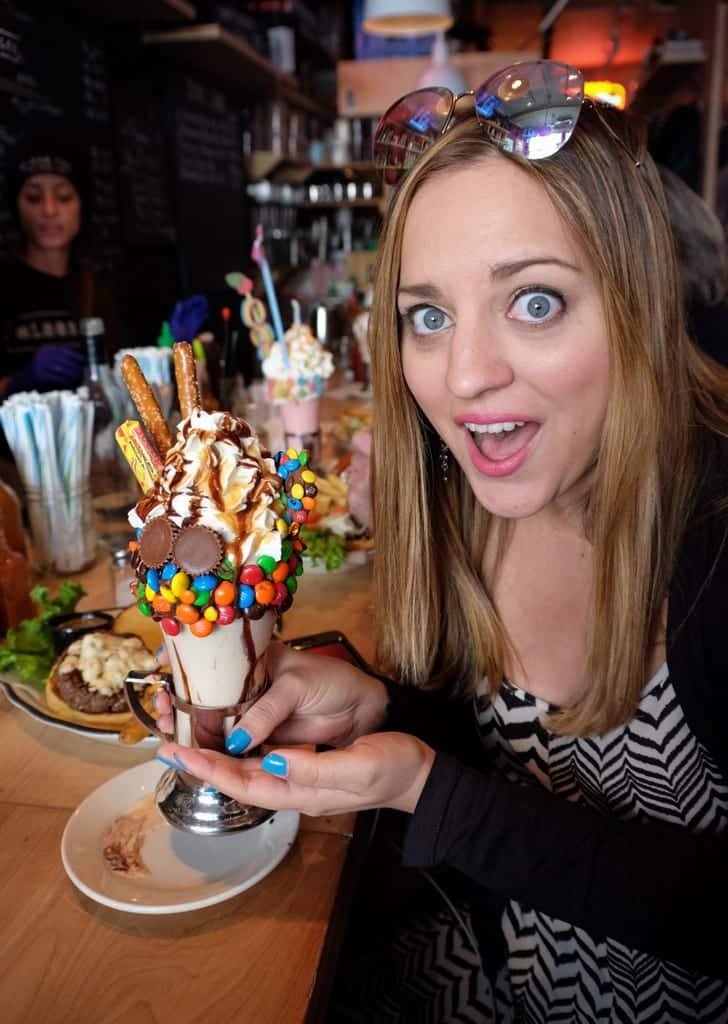 A few months ago, a new breed of milkshakes exploded across the internet. Monsters covered in piles of candy. Layers of candy and frosting upon whipped cream and chocolate, eagerly waiting to be slurped through a straw.
They were crazy, they were impractical, and they seemed largely designed for Instagram. Surely no normal person could eat one of those in a sitting, right? Well, that didn't stop people from waiting for hours just to get a taste.
I had to try them.
So when my bud Cailin came to visit New York for a few days, this was our first order of business: try those epic milkshakes for ourselves!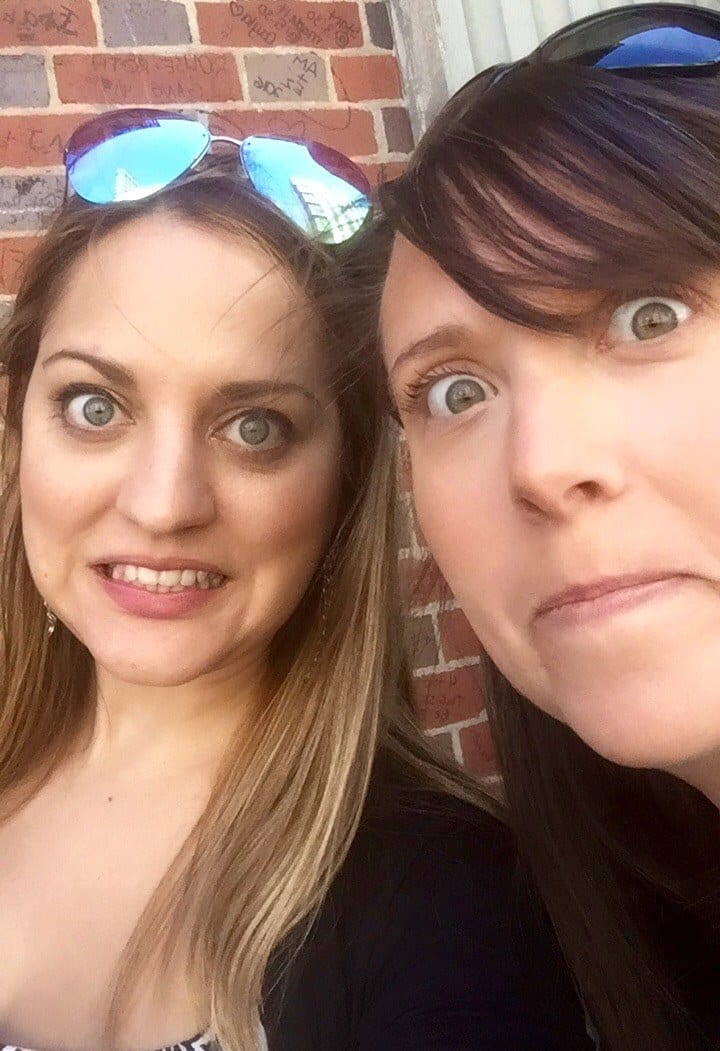 Waiting in Line to Get In
Black Tap used to be a simple burger, beer, and milkshake bar in SoHo. Then they started doing these crazy milkshakes and their popularity exploded — profiles abounded on sites like Eater and Maxim, and Black Tap's Instagram skyrocketed in followers.
As a result, there's an intense line every day, usually snaking around the block.
There are two Black Tap locations in Manhattan: the original in SoHo and one in the Meatpacking District. We originally planned to go to the larger Meatpacking District location, then realized they opened 30 minutes later than SoHo, then decided to chance it and walk down to SoHo, a mile and a half away.
We arrived at the SoHo location five minutes before opening and were ferried to the back of the line. It looked like we would make the second seating.
As Cailin and I waited, we heard the hostess taking calls: "Sir, I can't tell you how long the wait will be. Sir, the wait could be as long as six hours."
SIX HOURS! I think we blanched when we heard that. At least we had been told it would be about an hour.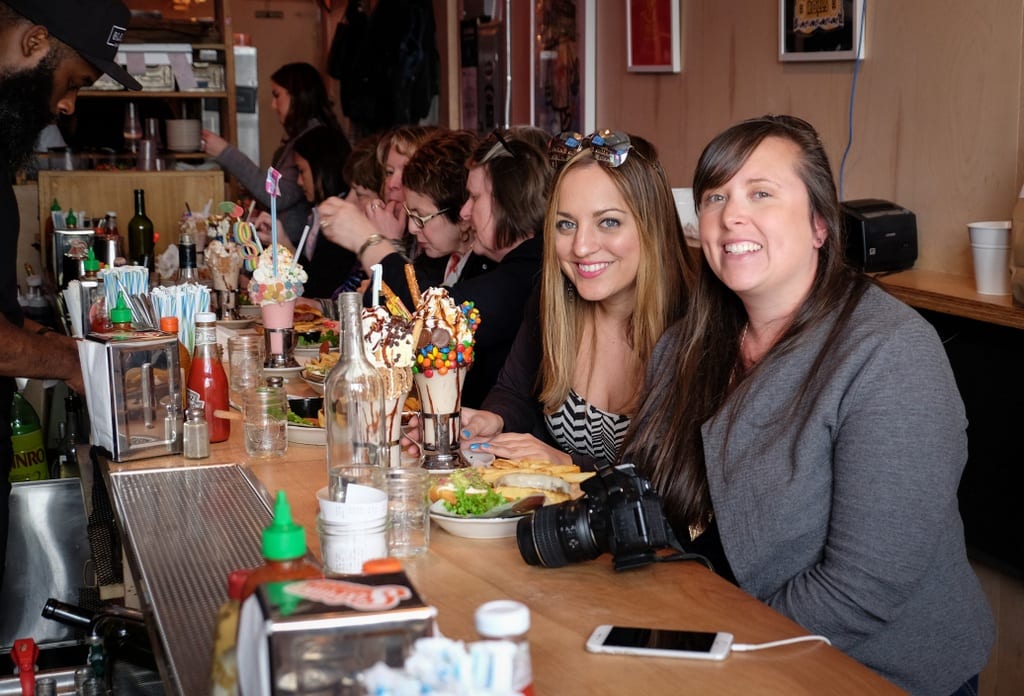 After reading amusing graffiti on the wall ("WAITING THREE HOURS" "WAITING FOUR HOURS" "WAITING ONE YEAR!!!"), we made it inside. The wait had taken 90 minutes after showing up at 11:25 AM.
I was shocked at how small a place Black Tap is — it seats around 14 people, with room for a few to stand.
But what shocked me further was how slow and terrible the service was. Honestly, we were sitting for 15 minutes before our bartender even acknowledged us. And he had been standing right in front of us and didn't appear too busy. I felt like I was intruding when I finally asked for a glass of water.
As a former server, I always give restaurant employees the benefit of the doubt (you never know what's going on behind the scenes) — so if I say the service is bad, it's bad. Maybe someone called out and the restaurant was having a rough day, but if this is how their service usually is, they are squandering an unbelievable amount of potential revenue.
The burgers, however, were great.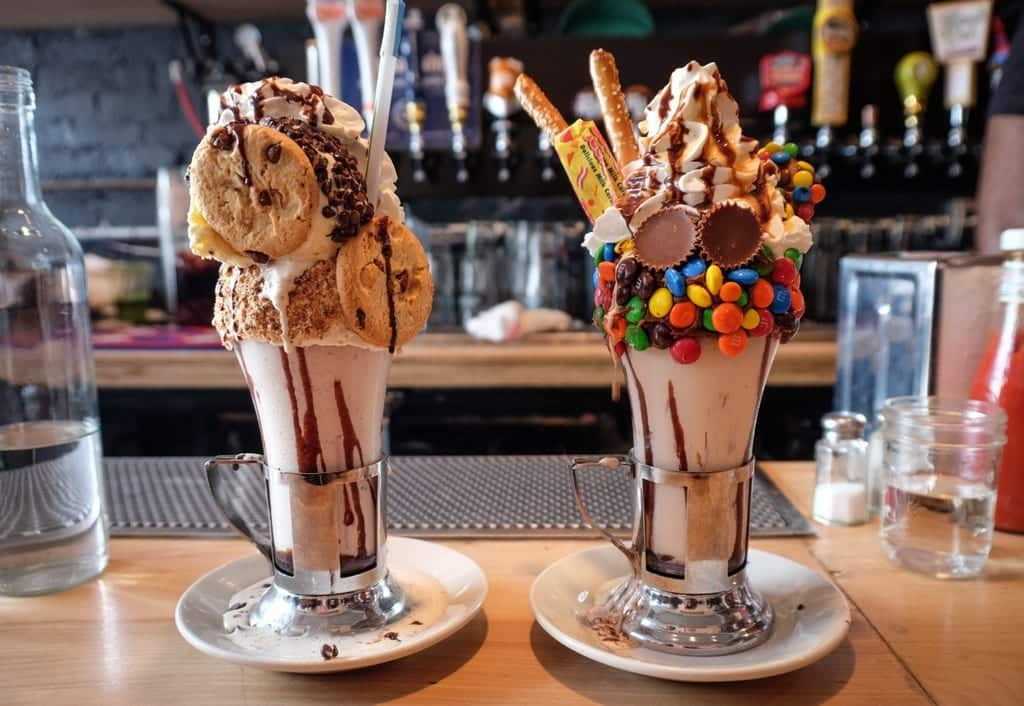 Black Tap Milkshakes
There are currently four milkshakes from which to choose and they each cost $15.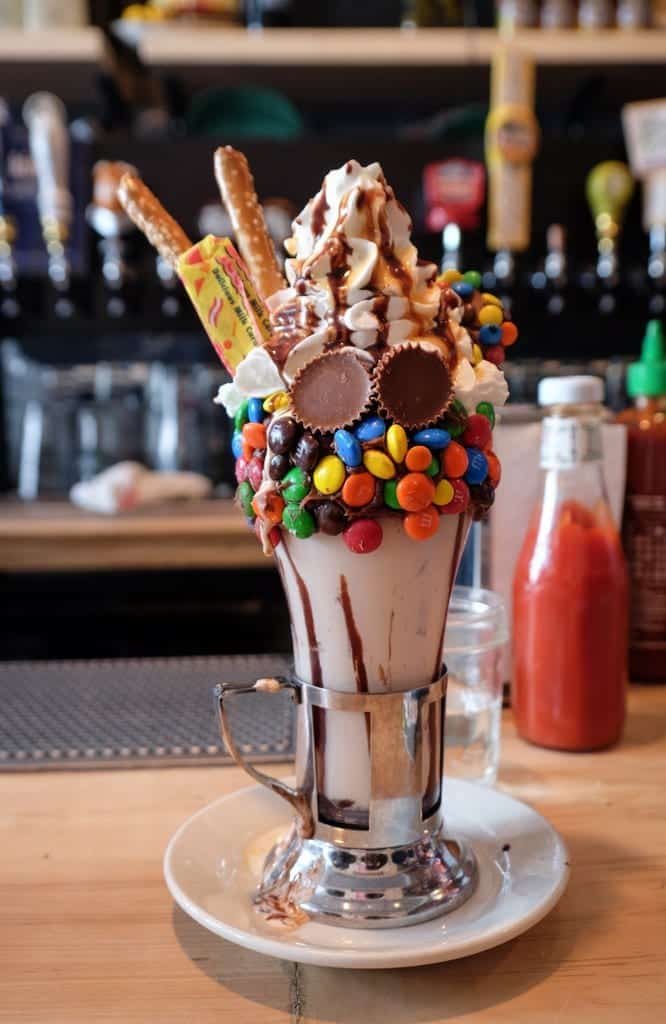 Sweet N' Salty: Peanut butter shake with a chocolate frosted rim with chocolate gems (a.k.a. M&Ms) and peanut butter cups, topped with a Sugar Daddy, pretzel rods, chocolate-covered pretzel, whipped cream, and chocolate drizzle.
I chose this one.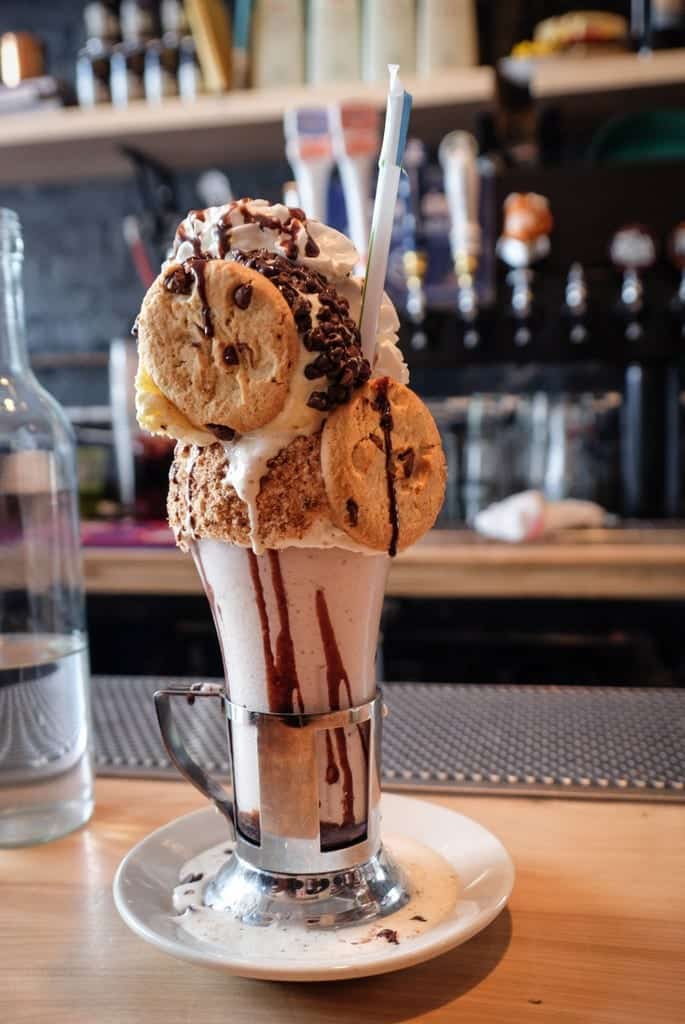 The Cookie Shake: Vanilla cookie shake with a vanilla frosted rim with cookie crumbles, topped with a "cookiewich," crumbled cookies, chocolate chips, whipped cream, and chocolate drizzle.
Cailin chose this one.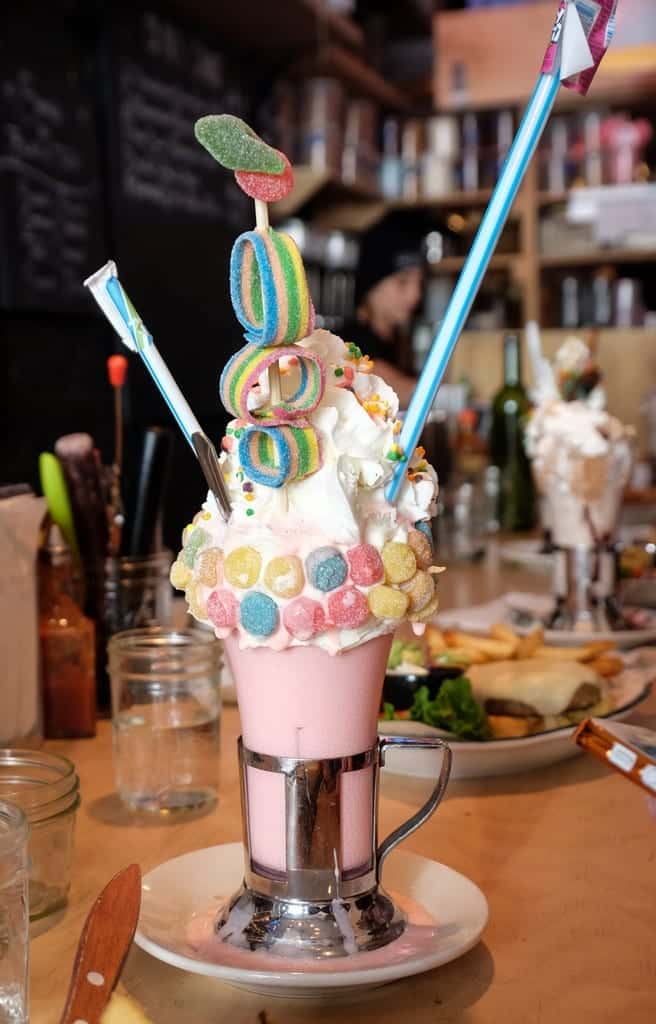 Sour Power: Black cherry shake with a vanilla frosted rim with sour gummy poppers (a.k.a. gumdrops), topped with a giant Pixy Stix, rainbow pop, sour skewer, whipped cream, and Nerds.
I have no idea how anyone could drink that, but the older ladies sitting next to us seemed very excited.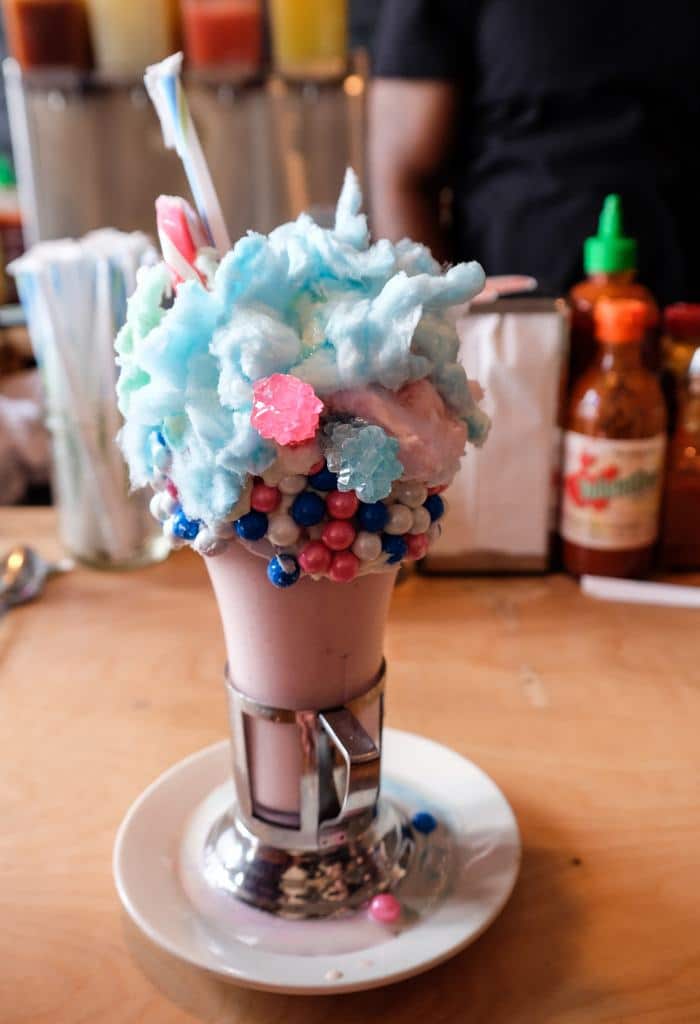 Cotton Candy: Strawberry shake with a vanilla-frosted rim with blue, pink, and pearl chocolates, topped with a pink lollipop, rock candy, whipped cream, and cotton candy.
A little girl next to us was very excited when this was delivered to her.
So How Were the Milkshakes?
Oh my God. They were delicious.
I think peanut butter and chocolate is one of the most sacred flavor combinations of the world, and this shake was a beautiful melding of sweet and savory. If only there were more peanut butter cups! Could you imagine a rim of peanut butter cups instead of M&Ms?
I consumed as much of it as I could, reveling in its sweetness. And it was fine, at first…but as we left the bar, I was hit with the ugly aftermath.
Do you remember that episode of Dinosaurs when the baby goes crazy on sugar?
That was basically me. As soon as we left, I was hopped up, vibrating, and couldn't focus on anything as my stomach churned! And then it ran its course and I just felt sick to my stomach.
I don't consume much refined sugar to begin with (I literally haven't touched my sugar bowl once since I moved here three months ago) so it was a big shock to the system!
The Verdict
I'm glad I went — but I don't think I'll be returning. For me this falls under the category of "one and done." Still, I'm very happy to have had the experience.
Cailin: "If the lines went away and they suddenly became cheaper, hell yeah I'd have them again! But we all know that won't be happening anytime soon."
Were they good?
Yes, they were delicious, though it was definitely too much sugar and I felt ill afterwards.
Cailin: "They could have been a tad less messy. I don't like being sticky. These made me sticky. I tried Kate's and hers was peanut butter and sweetness overload, no wonder she felt ill. The vanilla chocolate chip was way less intense, but still tasty."
Were they worth the wait?
Well, that's highly subjective. For us, two travelers who are used to having our patience tested in various developing countries, waiting 90 minutes wasn't that bad. We had our phones and were able to amuse ourselves, even calling our friend Steph while waiting. Your mileage may vary depending on your patience level.
But if the wait were three, four, six hours? No way. I wouldn't wait that long.
Cailin: "Definitely. It was a fun experience, we got to catch up with each other, we of course had our phones to distract us and the time flew by. It also helped knowing about how long we would have to wait as the girl managing the line was quite good at her job and kept us updated. However my feet were killing me from standing on the sidewalk that long. If the wait would have been more than two hours I'd pass."
See Essential Info below for tips on getting a shorter wait.
Were they worth the price?
$15 for crazy novelty shakes and $15 for burgers are fairly standard prices for Manhattan, so I thought it was reasonable.
Cailin: "I'm from Canada so no. There wasn't even any gold leaf on them! I think $8 max would have been more reasonable. The burger price was standard."
Were they worth the Instagram shots?
Hell yes! (Though I have yet to post any milkshake shots on Instagram. Soon.) This is where I thought the value was the highest. Cailin and I both love taking photos, goofing off on Snapchat, and making our friends and followers laugh so for us, it was a ton of fun.
If you're a couple — and Cailin and I are not, though we're often mistaken for one — this is a great place for couples in NYC. The photos you'll get are a great mix of retro yet modern!
Cailin: "Mine was melting so quickly and it's a tight place and it was busy. I got some great snaps for my Snapchat. Some good video. However Instagram-worthy pics for me? Debatable. There was too much excitement for me to be crafty! It was definitely worth it for the Snapchat and amusing pictures of the two of us with them."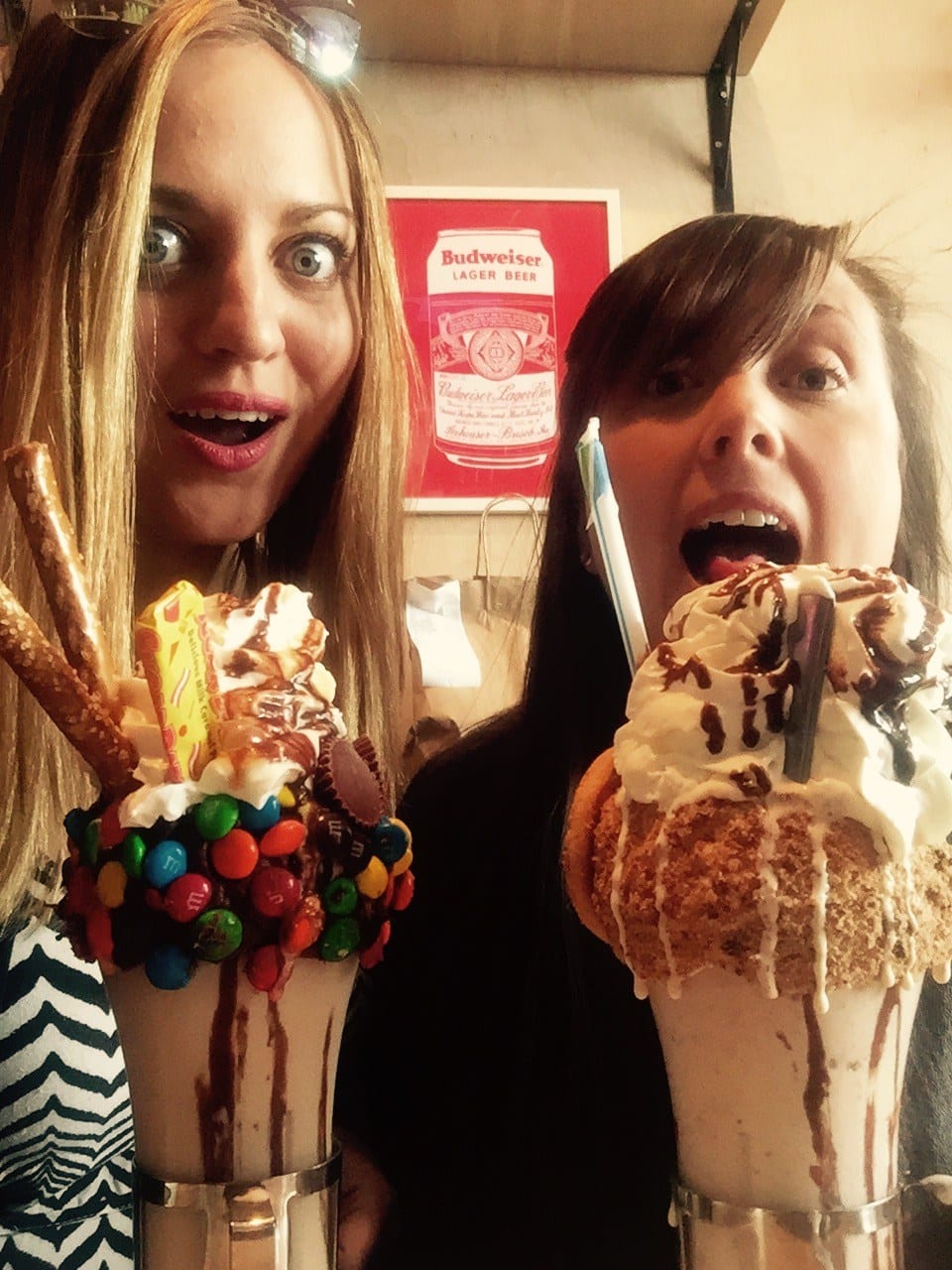 Looking for More Foodie Fun?
If these milkshakes aren't your thing, there are plenty of other wacky, colorful foodie adventures to go on in New York City. Here are three places I like: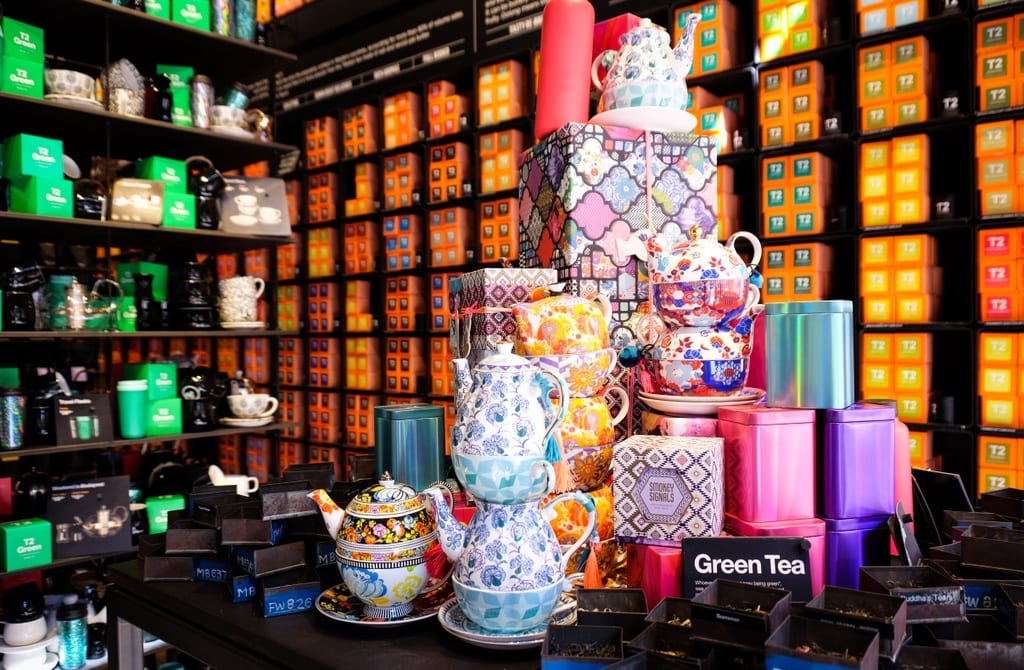 Whimsical teaware at T2 in SoHo. T2 is a short walk from Black Tap's SoHo location and I recommend dropping in if you're in the neighborhood. Like Black Tap, I think this place was designed for Instagram.
They've got lots of tea to try and the teapots are SO beautiful. There's one with red poppies on it that I would love to have if only I had room for it in my apartment…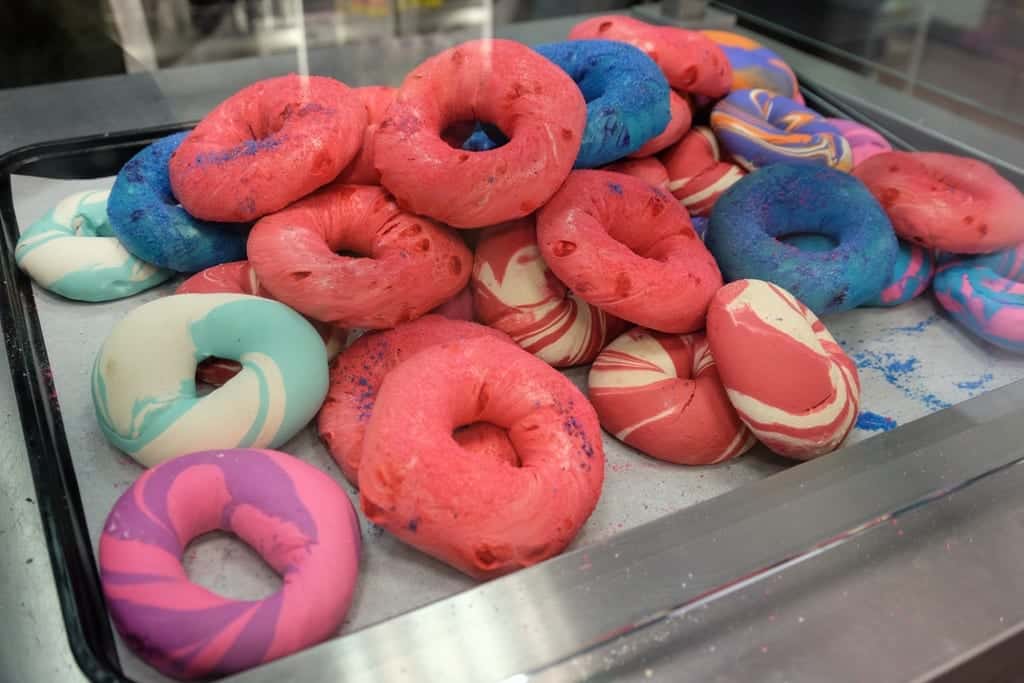 Rainbow bagels at The Bagel Store in Williamsburg. This was the top thing Cailin's list for her time in New York!
When we got there, they were sadly out of rainbow bagels, but Cailin chose a purple-orange-white swirly bagel and I chose a pink and purple bagel.
We toasted them at my place the next morning. They were both on the small side and tasted vaguely fruity — Cailin's had a coconut taste and mine almost had a berry-like essence.
If you're looking for an authentic New York bagel, this is NOT the place (you'd be better off at H&H, Ess-a-Bagel, Russ & Daughters, Absolute Bagels, oh god New Yorkers please don't kill me, I'm just rattling off the popular names). But in terms of the fun factor, they're awesome!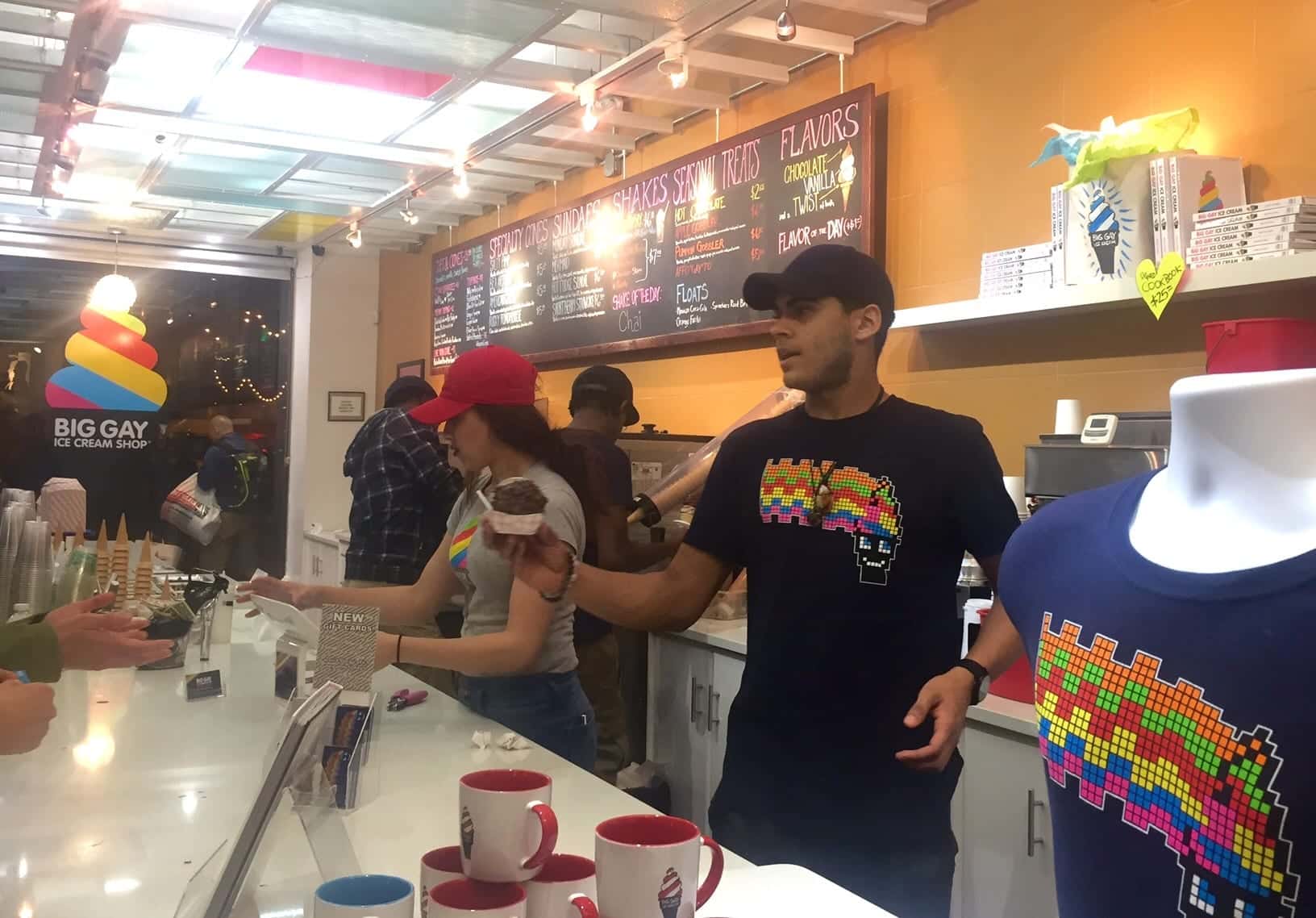 Big Gay Ice Cream in Greenwich Village. This place is awesome. Fun and unpretentious ice cream concoctions, most of them with soft serve, with names like the Bea Arthur and the Mermaid. If I'm in the Village and craving something sweet, this is where I come. And my sister has been known to go more than once in a single day…
My favorite: the Salty Pimp. Vanilla soft serve dipped in chocolate shell, topped with dulce de leche and sea salt. (And while the line can stretch around the block on hot summer days, Big Gay is a million times more efficient than Black Tap and the line moves quickly.)
---
READ NEXT:
Ultimate Guide to Solo Female Travel in New York City
The Best Time to Visit New York
100+ Cool Things to Do in Harlem
---
Essential Info: Black Tap has two locations: the original in SoHo and a second in the Meatpacking District. See their website for opening hours and information.

There are always lines at Black Tap. If you want to minimize your wait, I recommend going on a weekday if you can, on a rainy or cold day if possible, and getting in line an hour before opening. I'd recommend the Meatpacking location because it's larger and doesn't have the fame of the original.

Remember — you don't have to finish the whole thing!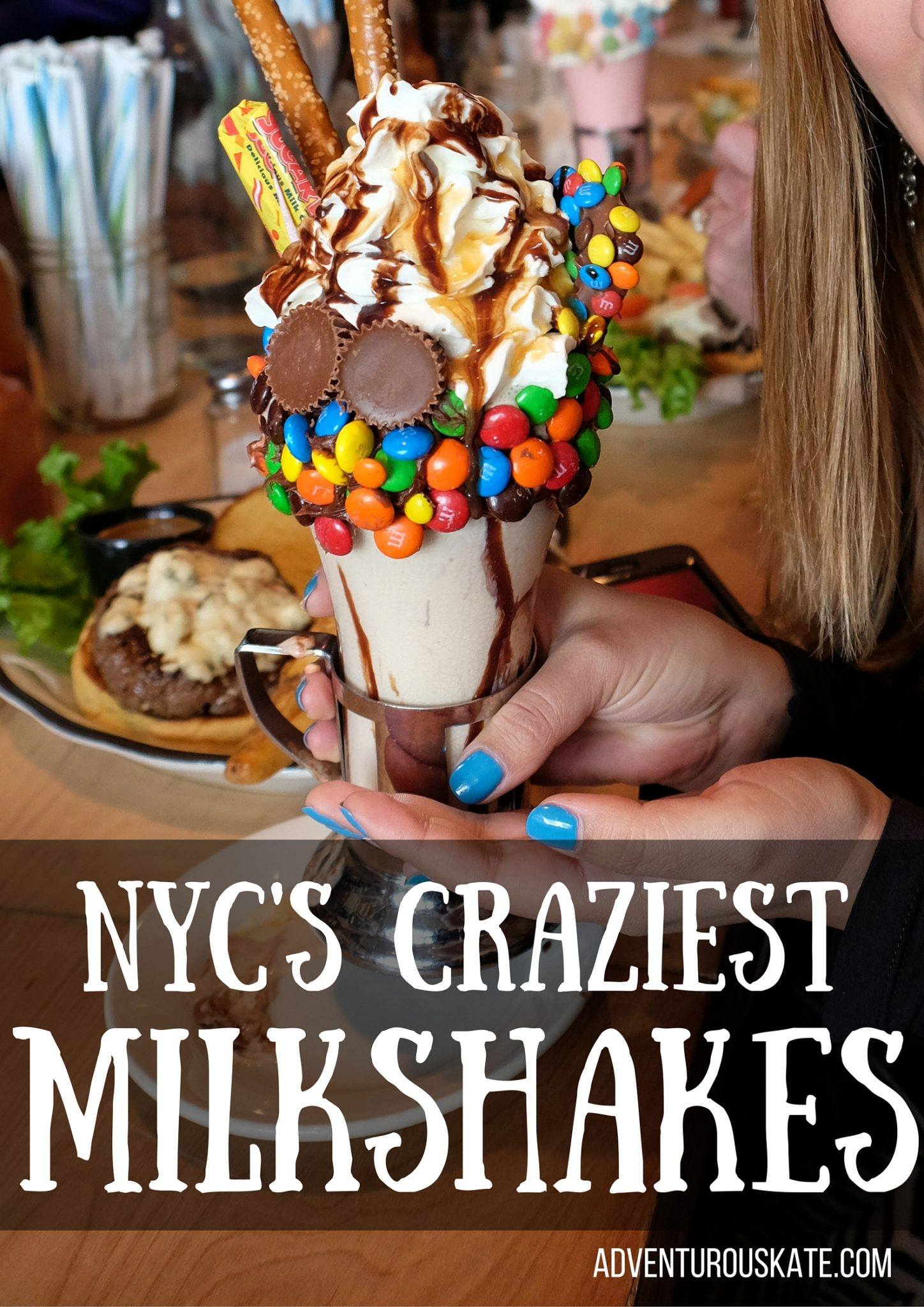 What do you think? Would you wait in line for these milkshakes?
Get email updates from Kate
Never miss a post. Unsubscribe anytime!