Adventurous Kate contains affiliate links. If you make a purchase through these links, I will earn a commission at no extra cost to you. Thanks!
Harlem is one of the most exciting neighborhoods in New York City. It's the center of black America and has been for well over a century. It's beautiful and endlessly interesting and the music seems to spring out of everywhere. And no visit to New York is complete until you get a taste of Harlem.
Lots of people want to visit Harlem — but they have no idea what to do once they get there. They want to experience the neighborhood, and maybe walk around and get some soul food, but they're not sure what to do specifically. And that's where I come in.
I am a Harlem resident and have lived here for three years. I love this neighborhood fiercely. That's the difference between this guide and every other "things to do in Harlem" guide that dominates the search results. Those ones are written by overworked and underpaid writers who rely on Google. I live here. I actually go to these places.
Harlem is a huge and diverse neighborhood — much more than most people anticipate. It's way too big to fully cover on foot. And while Harlem is the epicenter of urban African-American life, it's also home to communities from the Dominican Republic (Hamilton Heights), Puerto Rico (East Harlem) and West Africa (116th St.).
Come to Harlem for jazz, gospel, and blues. Come to Harlem for braised oxtails and chicken and waffles. Come for the history. Come for the art. Come to support as many black-owned businesses as possible. And don't just reserve one afternoon for Harlem — once you get here, you'll wish you had a few days to see it all.
Read More: The Best Time to Visit New York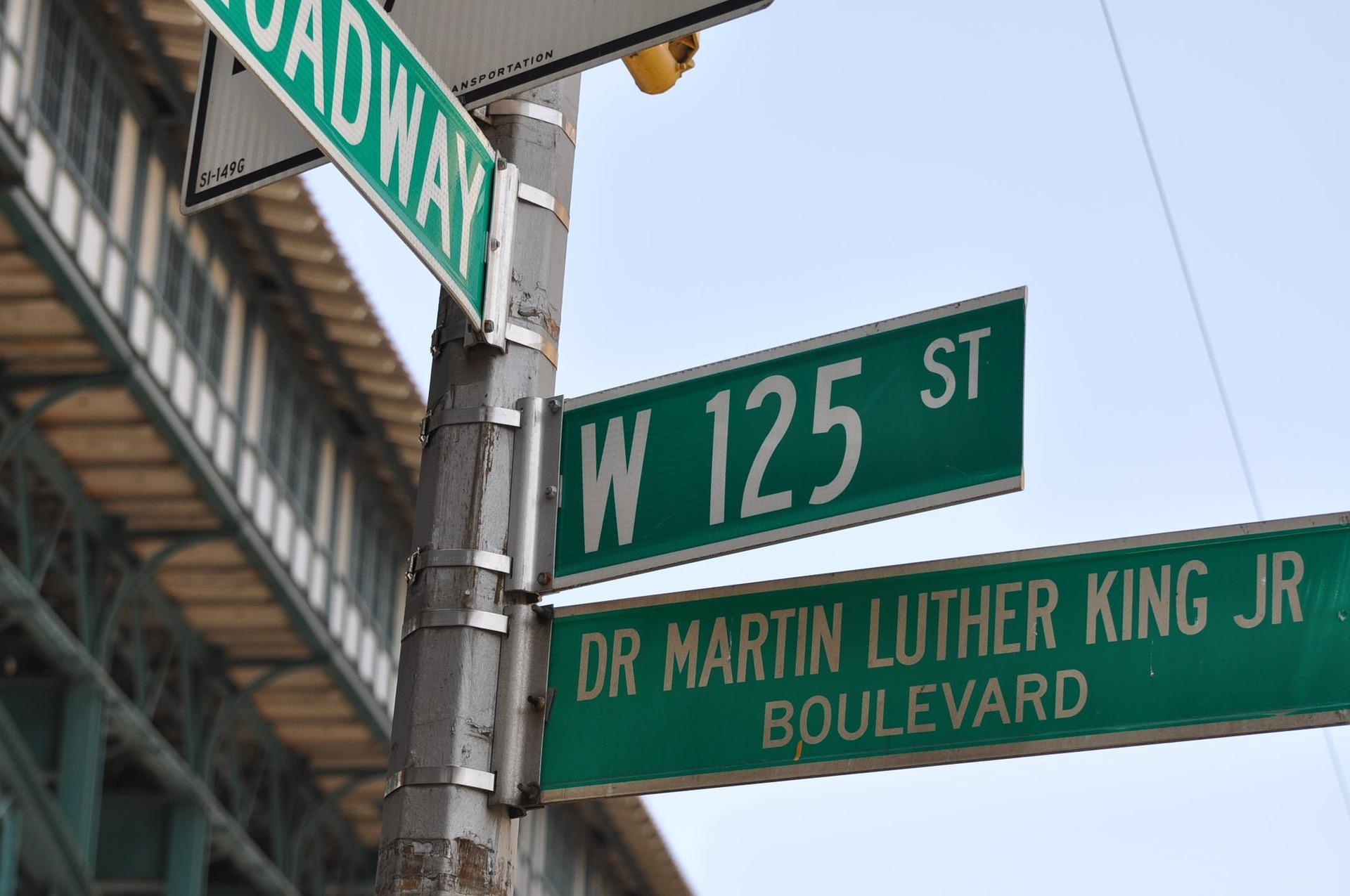 How to Get to Harlem
Harlem is part of Manhattan. While it's not its own borough, like some tourists think, Harlem is enormous and broken into several different neighborhoods.
In the simplest terms, Harlem runs roughly from 110th St. to 155th St. It starts a bit lower on the east side (96th St.) and a bit higher on the west side (about 125th St.), but overall those are the approximate borders.
Many of the streets have different names in Harlem than further downtown. For example, 8th Ave. is Frederick Douglas Blvd. in Harlem. 7th Ave. is Adam Clayton Powell Blvd. in Harlem. 6th Ave. is called Lenox Ave. or Malcolm X Blvd. in Harlem (either name works).
Central Harlem is the core of Harlem and generally runs north from 110th St. to 155th St., between Amsterdam Ave. and Fifth Ave.
South Harlem, which is within Central Harlem, generally refers to the area north of Central Park to 125th St. (Do not call it SoHa. Real estate developers have been trying to rebrand this popular area as SoHa and locals have been fighting against it.)
Manhattanville runs from 125th St. to 135th St. on the west side, west of Amsterdam.
Hamilton Heights runs from 135th St. to 155th St. on the west side, from Riverside to Edgecombe.
Sugar Hill is an official historic district. It runs from 145th St. to 155th St. and from Amsterdam to Edgecombe, all of which is part of Hamilton Heights.
East Harlem, also known as Spanish Harlem, runs north from 96th Street and east from Fifth Ave. As a Latinx neighborhood rather than a black neighborhood, East Harlem has a different feel from the rest of Harlem.
And then there are the Harlem-adjacent associated neighborhoods that some call uptown or Upper Manhattan. Morningside Heights, from 110th St. to 125th St. on the west side, is dominated by Columbia University; Washington Heights, a largely Dominican enclave, runs north of Harlem from 155th St. to 181st St.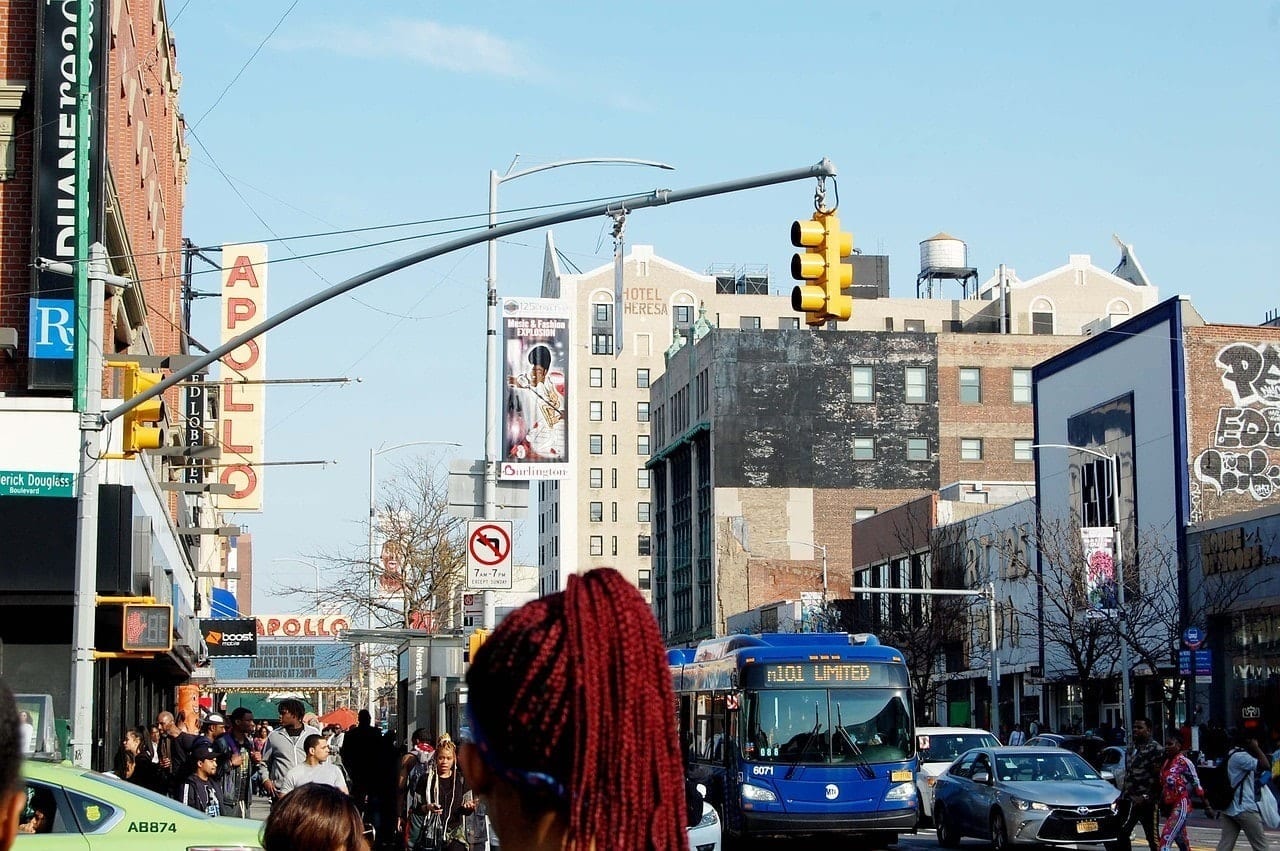 Is Harlem safe?
Yes, Harlem is very safe. All of Manhattan is safe to visit. You simply need to take the precautions you would take in any other neighborhood: Don't walk around with an open purse behind your back. Don't get blackout drunk. Don't buy drugs.
Additionally, it's important to be respectful — more so than in other neighborhoods. Harlem has historically been an oppressed and economically disadvantaged community of color. People who live in SoHo expect that you're going to photograph everything in sight, but many Harlemites are not happy that their neighborhood has become a tourist destination. Remember that this is a place where people live and work; Harlem does not exist for the entertainment of tourists.
If you want to photograph someone in Harlem, ask him or her for permission. Do not photograph children at all.
Do not call it "the hood" or "the ghetto." These are racist insults.
If you're not street smart or used to spending time in cities, there are parts of Harlem where I would exercise more caution. I would especially be cautious around 125th St. around Park and Lexington Aves, which is on the east side, and around the public housing developments in the lower 100s on the east side. These areas tend to have crowds of homeless people and addicts, and if you have to commute through there regularly, it can be difficult to witness their pain first-hand.
If you're already used to city life, you'll be fine in any part of Harlem at any time of day.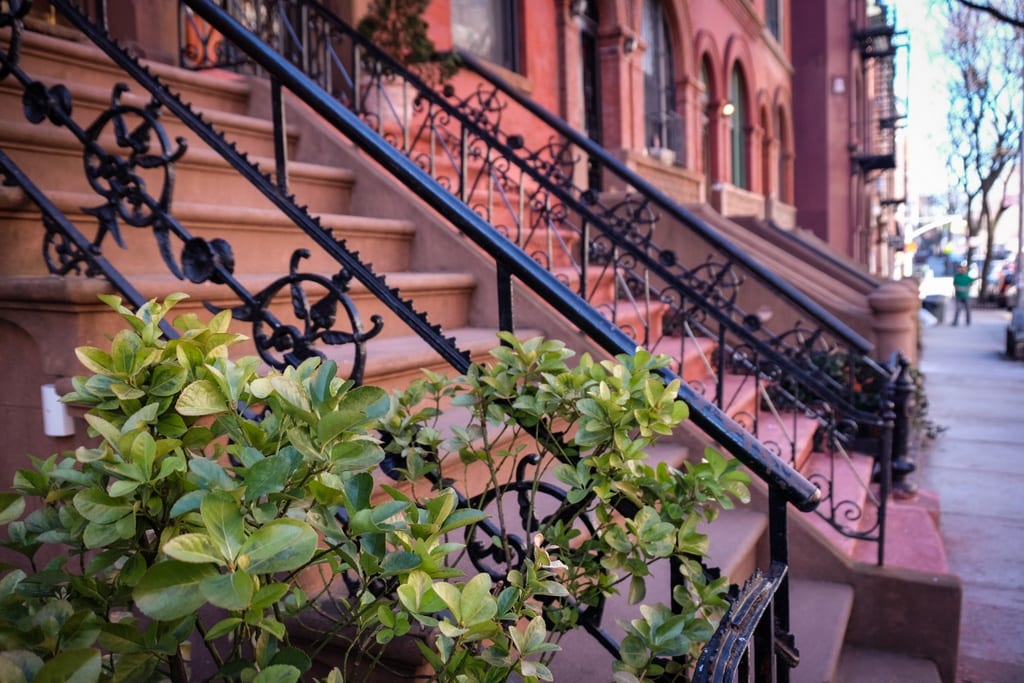 How to Be a Good Visitor to Harlem
The best way to give back to Harlem is to peruse its small businesses — particularly black-owned and POC-owned businesses. This is especially important as Harlem continues its rapid gentrification.
Why? Because for decades, the city divested in Harlem and it was nearly impossible for black people to get business loans. Combine this with the economic hardships of generational poverty and Harlem's business growth was stagnant.
In the past decade, Harlem has gentrified rapidly — some neighborhoods much faster than others. As a result, rents have risen sharply, longtime businesses can't afford to stay, and high-end coffeeshops and bars are moving in to target an increasingly white and wealthy clientele.
While these businesses have shuttered, longtime Harlem residents who can't afford their rent have been forced to move further out — to cheaper neighborhoods that are less safe and where public transportation is less prevalent, making their lives harder. Others have found themselves homeless or unable to get mental healthcare, making them susceptible to substance abuse and addiction.
So what can you do about this? You can be mindful about the businesses you visit in Harlem. This guide contains 50 black-owned businesses and 7 POC-owned businesses, each labeled clearly. Please make an effort to visit them and businesses that don't exclusively target the wealthy.
So yes, feel free to go to dinner at a fancy restaurant like Red Rooster or Clay — but also make time to grab a book at Sisters Bookstore, try a ginger turmeric tea at Serengeti Tea, write poems at Langston Hughes's brownstone with the I, Too Arts Collective, and buy a shirt or cap at Harlem Underground.
Now that you have an understanding of the neighborhood, it's time to figure out what to do in Harlem!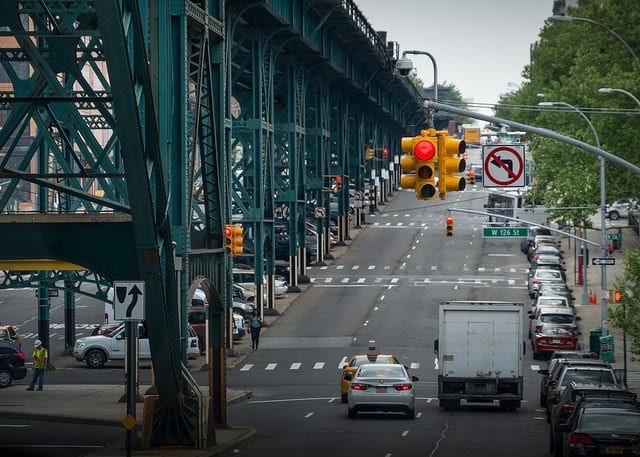 The Best Things to Do in Harlem
Top Ten Things to Do in Harlem
If your time in Harlem is limited, I recommend you concentrate on the top ten things on this list. Beyond that, the neighborhood is your oyster!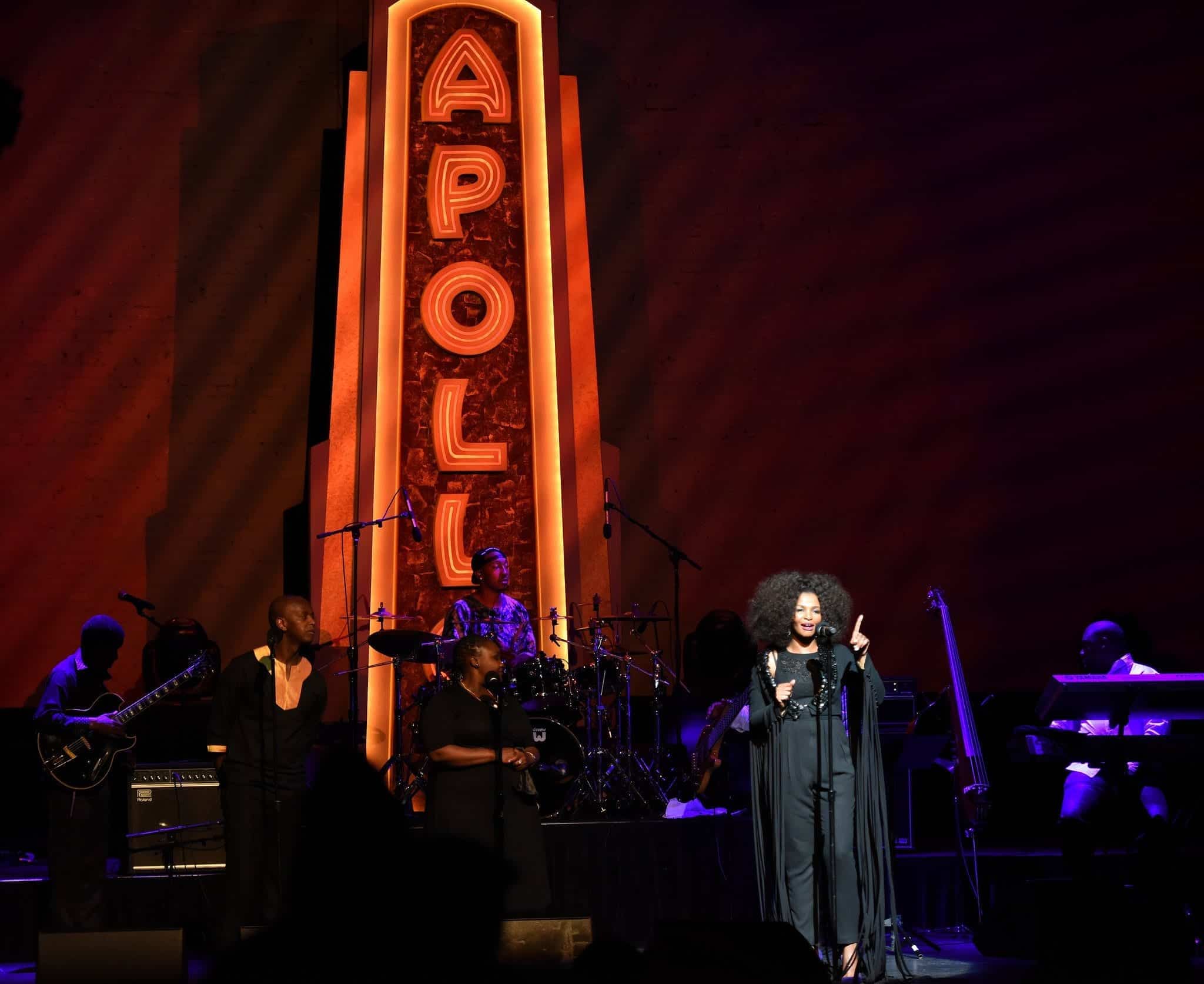 1. See a Show at the Apollo Theater
There is nothing more iconic in Harlem than catching a show at the Apollo. This theater on 125th St. has been the center of African-American musical culture since its opening in 1914. If you're a famous black musician, you have played here.
If there's any one show you should see, it's Amateur Night. People from all over the US compete to be the next big star — and are cheered or booed by the audience. James Brown, Billie Holiday, Jimi Hendrix, and D'Angelo launched their careers at Amateur Night. Who knows who you'll see? (Don't discount the losers — Lauryn Hill got booed at Amateur Night when she was just 13!)
Check out the Apollo Theater here and see the latest schedule. Amateur night takes place on Wednesdays at 7:30 PM.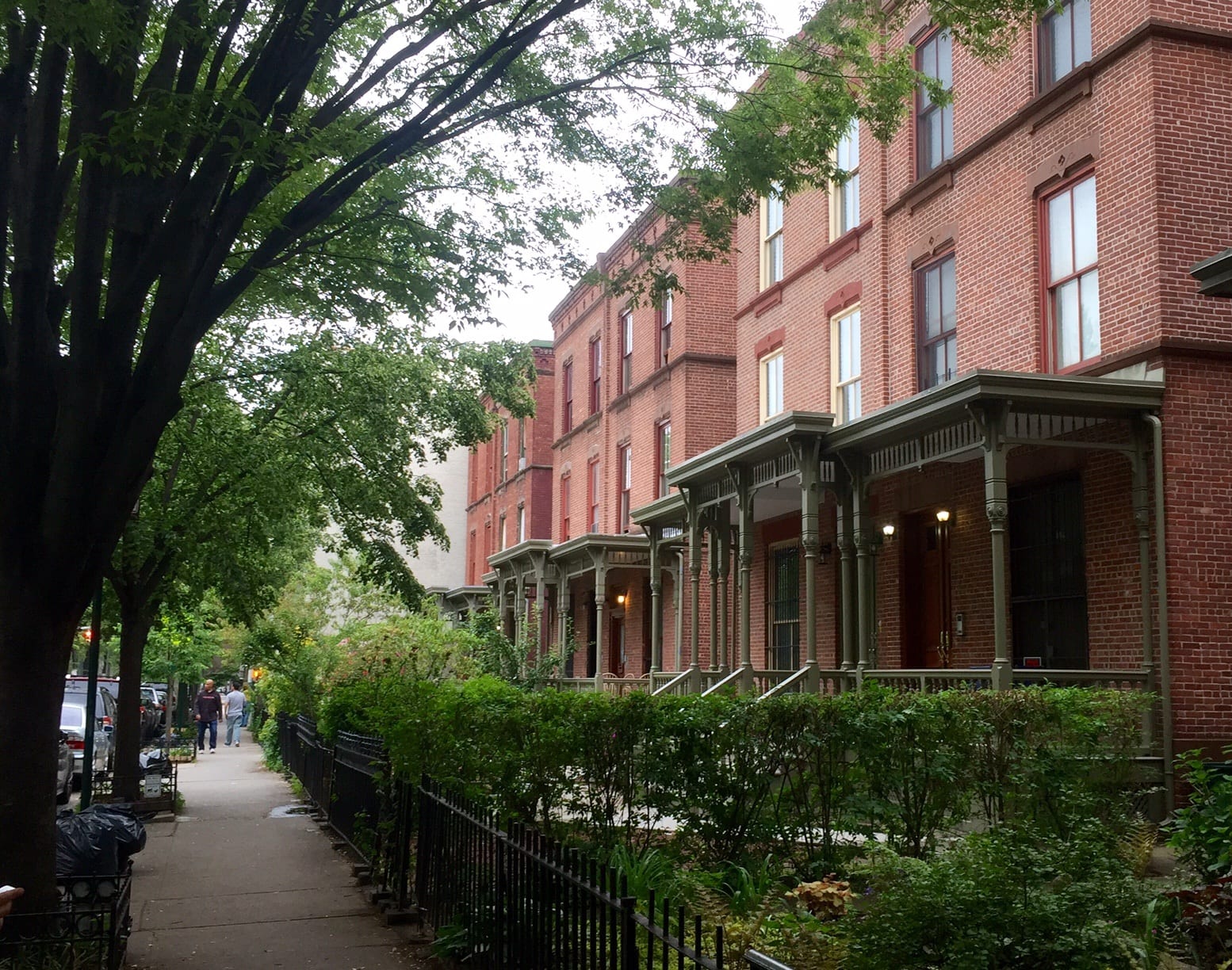 2. Go on a Food and Culture Tour of Harlem
If you're new to Harlem, this food and culture tour is the first thing you should do. When my family comes to New York, my sister and I take them on this tour to introduce them to the history and culture of Harlem while enjoying yummy bites along the way!
This tour takes you to several of the best restaurants and historic sites along the way. Try African teas, Senegalese food, and see some murals no other guide will point out to you. If you're lucky, you might get to sample the sweet and spicy chicken and waffles at Red Rooster, which are so delicious it should be criminal.
Check out the food and culture tour here (black-owned).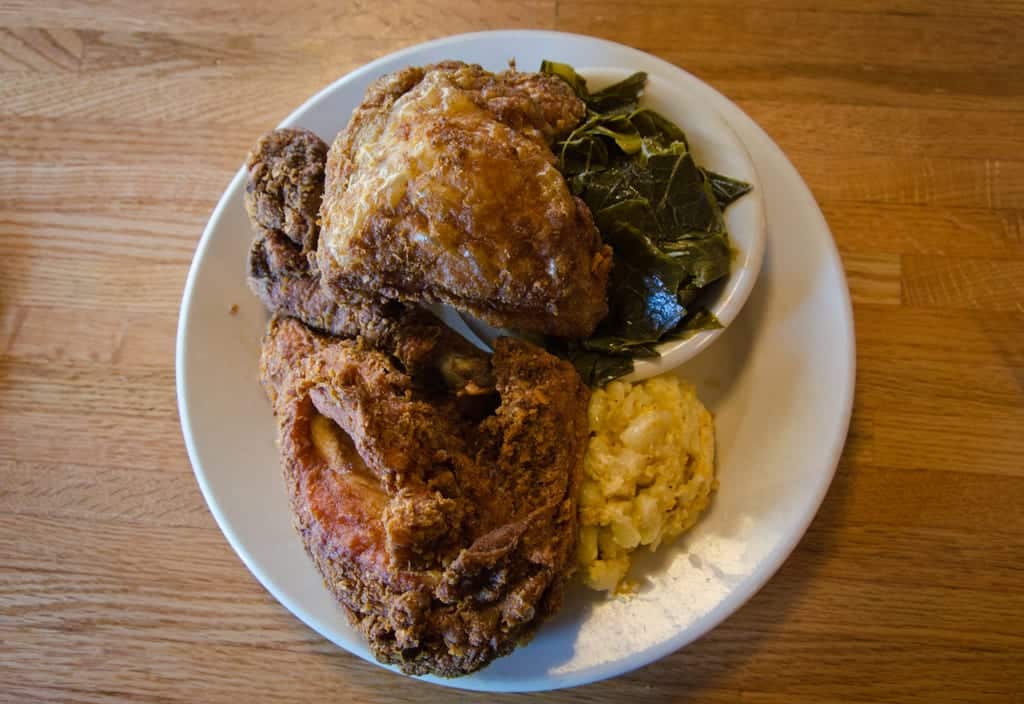 3. Try the Best Local Soul Food
If you're coming to Harlem, you absolutely must try some soul food. Soul food is the African-American cuisine that originated in the South and spread across the country when blacks migrated to cities during the Great Migration. It's more than fried chicken and collard greens — try braised oxtails, short ribs, grilled catfish, barbecue ribs, and more.
Sylvia's Restaurant (black-owned) is perhaps the most iconic soul food restaurant in New York City, if not the world, operating since 1962. That said, it's definitely the most touristy restaurant in Harlem, so be prepared for crowds. They do a gospel brunch on Sundays.
Amy Ruth's (black-owned) is another popular soul food restaurant in Harlem. They're famous for their chicken and waffles in particular, and their dishes are named after celebrities, from President Obama to Ruby Dee to Ludacris.
Melba's (black-owned) is my personal favorite soul food restaurant in Harlem — in part because it's got all of the quality without the tourist crowds. Melba was raised in the soul food restaurants of Harlem and threw everything she learned into this restaurant. I like the salmon here.
Manna's (POC-owned) is a good spot for soul food on the cheap. Opened by a Korean immigrant who promptly and deeply integrated herself deeply in the Harlem community, Manna's now has three Harlem locations where you serve yourself from the buffet and pay by the pound.
Seasoned Vegan (black-owned) fulfills an important role — it provides soul food dishes that vegetarians and vegans can actually eat! It's not a soul food restaurant, but they have veganized versions of soul food dishes like smothered "chicken", barbecue "riblets," and mac and "cheese."
4. Attend a Service at Abyssinian Baptist Church
Have you always wanted to go to church in Harlem? This is where you want to do it. Abyssinian has its roots in rebelling against racial inequality and striving for social justice. Worship services are a celebration of God's creation, complete with passionate sermons and a gospel choir.
Abyssinian has a very strict policy for tourists. This is not a gospel performance; it is a religious service that happens to include gospel music. Abyssinian welcomes visitors, but asks that you only attend the 11:30 AM service on Sundays, major holidays and August excluded. Tourists must stay for the full 2.5-hour service. Dress modestly: both women and men should cover shoulders, and flip-flops, tank tops, shorts, and leggings are not allowed. No backpacks are permitted. All tourists must enter at the Tourist Entry Point.
If you can't commit to Abyssinian's parameters, consider going to a gospel brunch at Ginny's Supper Club (black-owned) or going on a gospel tour instead.
See more on visiting Abyssinian Baptist Church here. It is free to attend as a worshiper.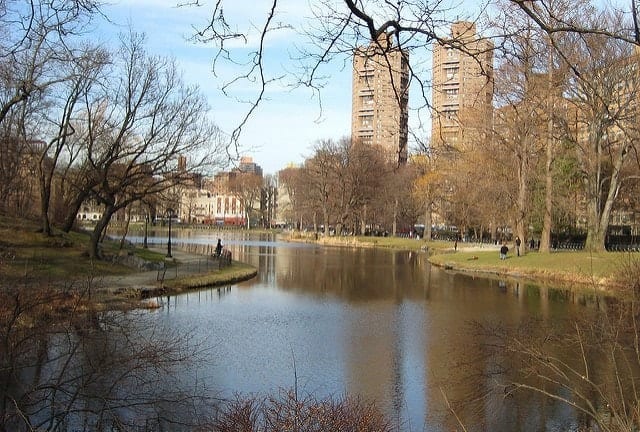 5. Have a Picnic in the Northern Part of Central Park
Here's a secret: the northern edge of Central Park gets almost no tourists. Most of the tourists are concentrated in the southern part of the park. The northern part is blissfully open and filled with locals.
One of the nicest parts is the Harlem Meer — meer is a Dutch word for "small sea." This little lake is surrounded by willow trees and benches. The North Woods is another nice part of this part of Central Park, and the vegetation is so dense that you'll feel like you're out in the countryside!
But what makes Central Park even better? A picnic — Harlem-style. Go to Best Market, a local supermarket on Frederick Douglas Blvd. at 118th St., and order some barbecue brisket and mac and cheese at the counter. Grab a drink and head eight blocks down to Central Park, enjoying your magnificent meal outside in the sunshine.
6. Hit Up Red Rooster and Feel the Celebration
Chef Marcus Samuelsson already had Food Network fame as the chef who was born in Ethiopia, adopted and raised in Sweden, and moved on to the United States, melding his three home cuisines together. But he truly made his mark with Red Rooster (black-owned), a restaurant that simultaneously elevated him to new heights and brought him deeper into the community in Harlem.
Red Rooster's goal was to be an integral part of the Harlem community. In the evenings you'll hear local musicians performing as locals fill and staff the restaurant. On the menu you'll find a mix of soul food classics, Ethiopian-influenced flavors, and even some Swedish fare (Marcus makes great meatballs). And they give back to the community as well. Come on a Saturday night and you'll be swept up in music, cocktails, and feeling like you're in the middle of a throwback — but something very modern, too.
Fact: I decided to move to Harlem after dining at Red Rooster (the sweet potato donuts put me over the edge). I was so inspired by its joy and diversity and thought to myself, "I want to be part of this neighborhood."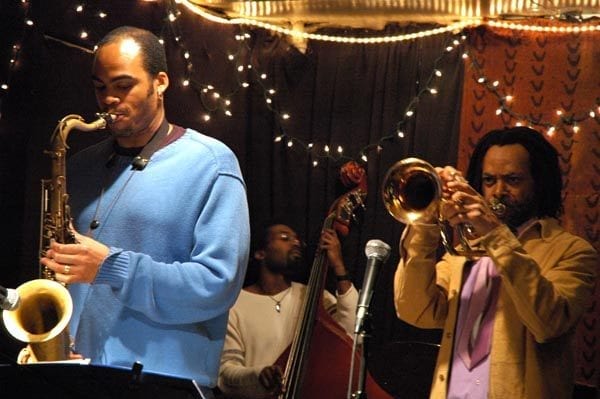 7. Go Out and Listen to Some Jazz
Most people who want to visit Harlem dream of going to a smoky jazz club and hearing the next big singer. Well, the smoke is a thing of the past, but jazz in Harlem is just as vibrant as ever.
Here are some of the standout clubs:
Minton's (black-owned) is a Harlem jazz icon — it's also where bebop was invented! Today Minton's has reinvented itself as an upscale supper club. They do evening performances as well as a jazz brunch on Sundays. Dress up here — jackets are required for men.
Bill's Place (black-owned) is where you go for a throwback — it feels like one of those quasi-legal places in someone's brownstone! Saxophone player Bill Saxton, known as Harlem's Jazz King, leads the Harlem All-Stars on Friday and Saturday nights. Note that no alcohol is served here.
Ginny's Supper Club (black-owned) is in the basement of Red Rooster (with its excellent food!) and features jazz performances on the evenings, Tuesday Bluesday blues performances, and a gospel brunch on Sundays.
Paris Blues (black-owned) is where you go for great music at a lower price point — you can listen to jazz with no cover charge and the food and drinks are reasonably priced. A neighborhood dive in the best way possible.
Charlie Parker Jazz Festival takes place every August, split between Marcus Garvey Park in Harlem and Tompkins Square Park in the East Village. All the shows are free! Check the link for more information closer to August.
Shrine World Music Venue (black-owned) features jazz performers from around the world, with a lot of great acts from Africa in particular. See below for much more on Shrine.
Plenty of other bars and restaurants in Harlem feature live jazz on some evenings. Check out Londel's (black-owned), Harlem Nights, Tsion Cafe (black-owned), Home Sweet Harlem (black-owned), and BLVD Bistro (black-owned).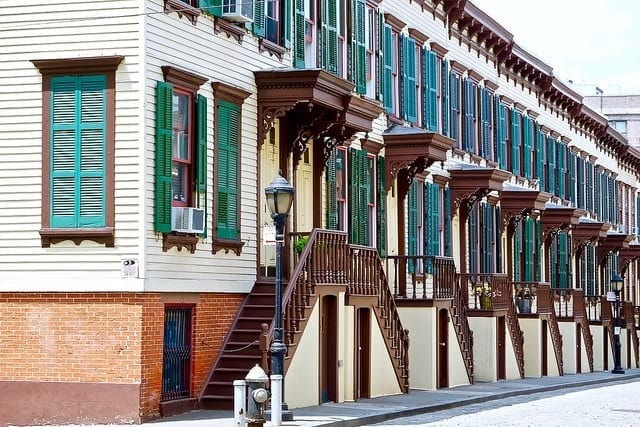 8. Check Out the Best Architecture in Harlem
Not only is Harlem home to stunning churches and brownstones — it's also home to what I consider the most beautiful street in New York City. The Hamilton Heights Historic District is home to unusual, creative, one-of-a-kind brownstones. The most spectacular stretch is on Convent Ave. between 143nd St. and 145th St., as well as the surrounding side streets.
The house from The Royal Tenenbaums is part of this area — it's on the southeast corner of Convent Ave. and 144th St. Nearby is the City College campus, with its entrance on Amsterdam Ave. at 140th St., is home to giant gothic buildings springing out of the middle of nowhere.
Another notable area is Astor Row, on 130th St. between 5th Ave. and Lenox Ave. These unique houses are set back from the street with both front and side yards and they have green painted porches. There's nothing else like them in Manhattan.
And while it's just north of Harlem in Washington Heights, check out the unique yellow-brown-and-green homes of Sylvan Terrace, which look like they're straight out of the 19th Century. At the end of the street is the Morris-Jumel Mansion, the oldest house in Manhattan.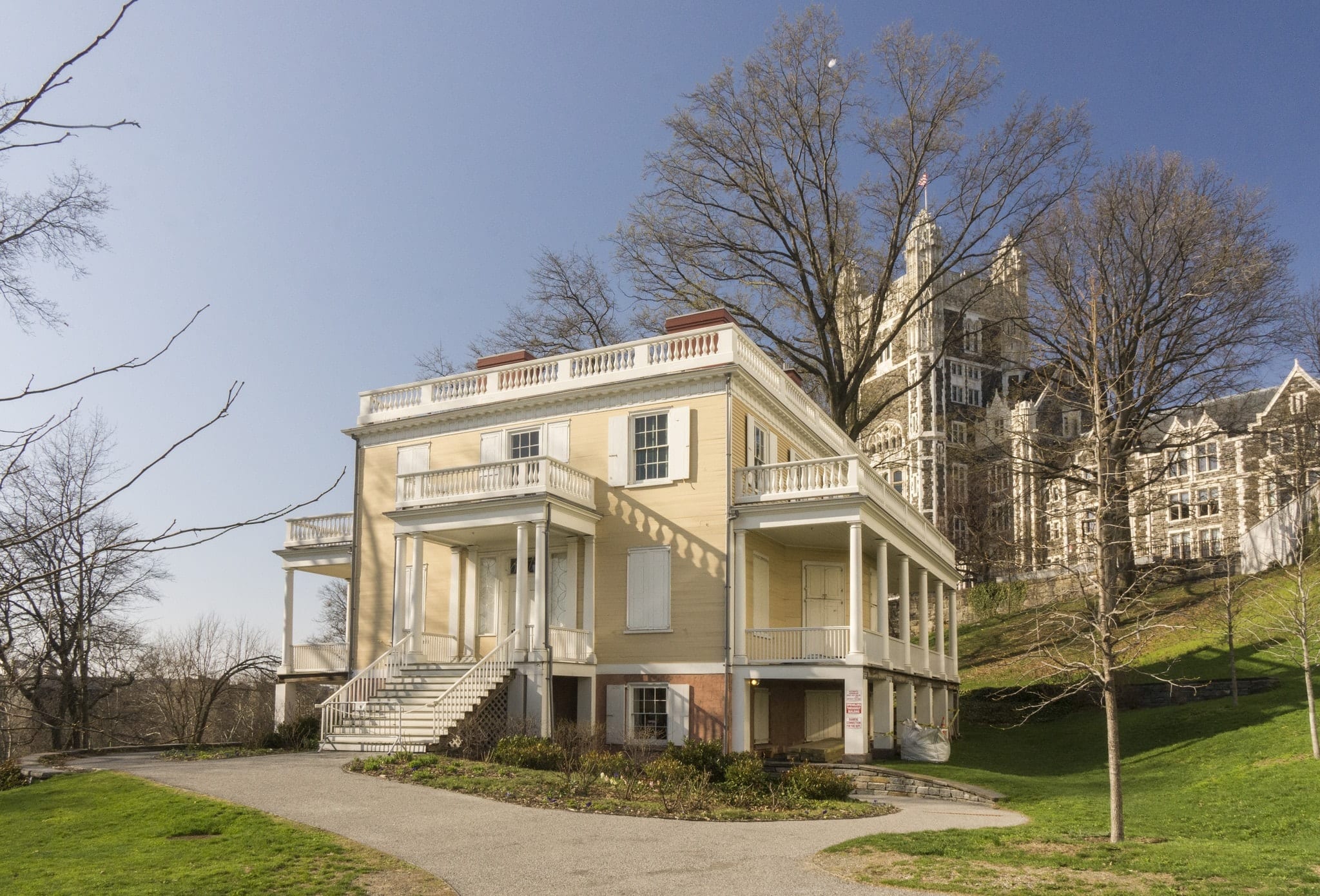 9. Visit the Hamilton Grange, the Home of Alexander Hamilton
"We'll get a little place in Harlem and we'll figure it out." That line from Hamilton wasn't a lie — Alexander Hamilton and his wife Eliza built a house in what is now Harlem back when the whole region was countryside. It was quiet uptown.
The house was moved twice within Harlem before getting to its permanent location in St. Nicholas Park. Hamilton, though famed, wasn't the cultural figure that he is today post-musical, and many of the rooms were decorated as best historians could guess. The ground floor is a historic center telling the story of Hamilton's life. A movie about his life and legacy plays as well.
The Hamilton Grange is located at 141st St. between Convent Ave. and St. Nicholas Ave. It's free to visit the Hamilton Grange. Guided tours, the only way to go upstairs, are at 10:00 AM, 11:00 AM, and 2:00 PM.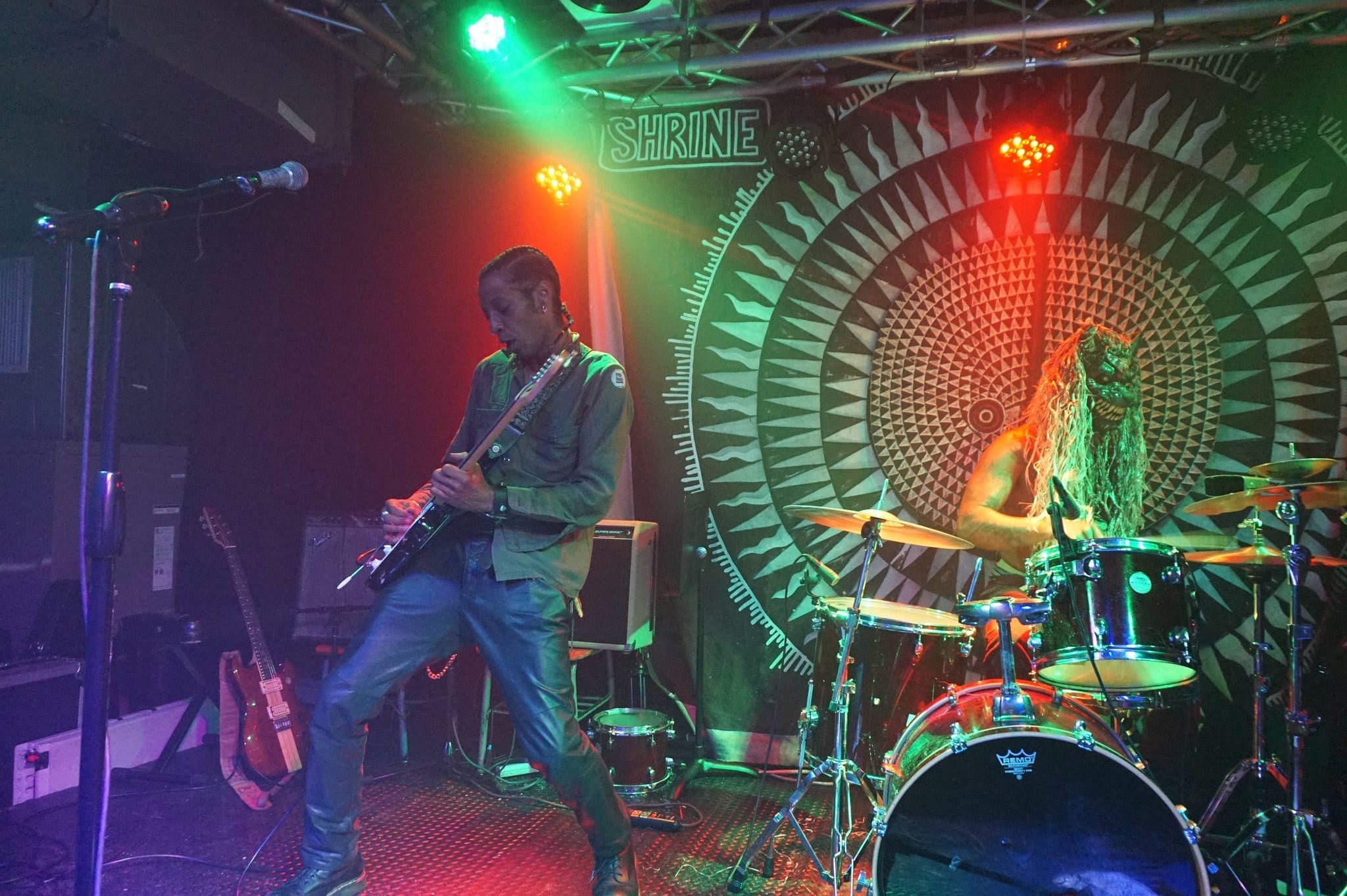 10. Have an Unforgettable Night Out at Shrine World Music Venue
There is no other place like Shrine (black-owned) in New York City. Shrine features live music seven nights a week with a lot of performers from Africa. Their bands play jazz, funk, R&B and hip-hop from all over the world. There are reggae Sundays. There's even a Japanese DJ on some nights. It seems like every performer draws influence from all over the world, a mixture of African and Latin and Caribbean beats, leading to a worldly night of music like no other.
At 10:00 PM, the music switches over to a DJ and the crowd gets pumping. But instead of dancing to top 40, you could be dancing to West African music from Ivorian, Nigerian, or Senegalese DJs. Trust me — it's an EXPERIENCE.
Check out Shrine here and see who's on the schedule.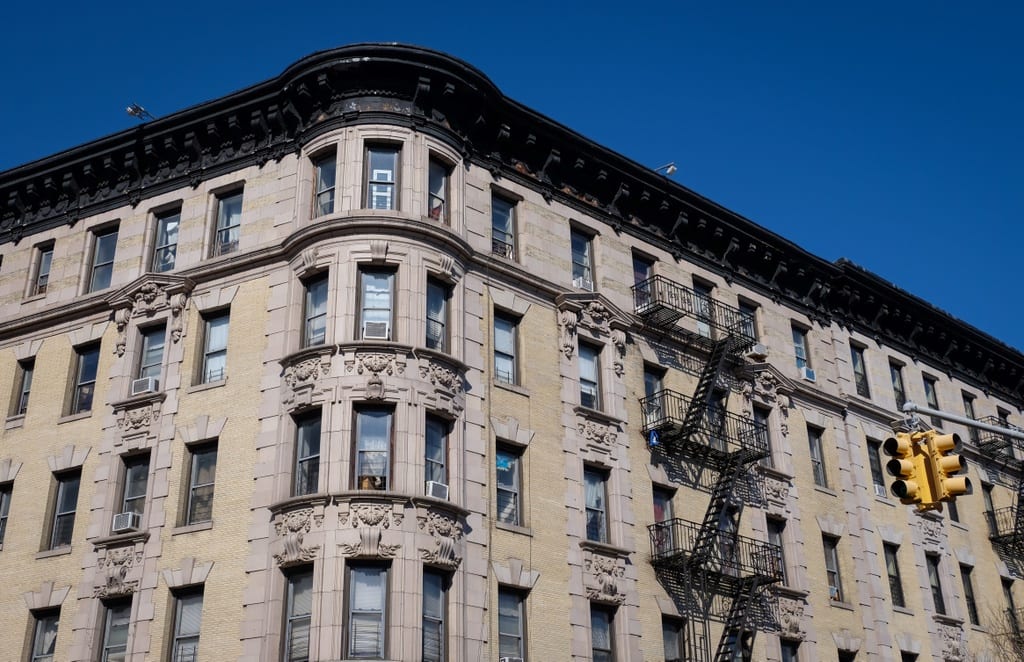 History and Culture in Harlem
In addition to my previously listed recommendations of attending a service at Abyssinian Baptist Church, checking out the best architecture in Harlem, and visiting the home of Alexander Hamilton, here are some of the best history and culture activities in Harlem.
Go on a Harlem Renaissance walking tour. The Harlem Renaissance, which lasted from roughly 1918 to the early 1930s, was a peak period of artistic creativity in the neighborhood and included artists like James Baldwin, Billie Holliday, Duke Ellington, Zora Neale Hurston, Langston Hughes, and more. Book the tour here.
Go to a lecture or explore the offerings at the Schomberg Center for Research in Black Culture. This institution is a division of the New York Public Library, and they put on interesting events about black history and culture. Check the schedule here — it could be anything from lectures on transgender equality in the black community to never-before-seen letters and photographs from Malcolm X or poetry readings by contemporary black poets.
Dive into all things New York at the Museum of the City of New York. Located in East Harlem right off Central Park, this is one of my favorite museums in New York City. The exhibitions could be anything from the history of activism in New York to a collection of Yiddish Theatre costumes to a photography gallery of teens in the Bronx in the late 1970s. It's always changing and always interesting.
Learn about Harlem's role in the Civil Rights Movement. When you think about the Civil Rights Movement, you think about the South — but Harlemites like Malcolm X and Adam Clayton Powell were instrumental in organizing for change. The Harlem Civil Rights Movement Tour takes you on a historical walking tour in their footsteps.
Explore the Trinity Church Cemetery and Mausoleum. Not the Trinity Church in lower Manhattan where Hamilton is buried — this one is in the northwest corner of Harlem. This is the only active mausoleum in Manhattan! Conservationist James Audubon is buried here and has the largest grave site of all. Take yourself on a self-guided walking tour.
Explore the Mount Morris Park Historic District. This neighborhood was home to Doctor's Row, home to the most privileged residents in Harlem. Their gorgeous brownstones stand to this day — and the park is Harlem's favorite spot for watching the New York Marathon! There is a walking tour that shows you the history of this Harlem neighborhood.
See who's buried in Grant's tomb. I mean, obviously it's Ulysses S. Grant! The General Grant National Memorial is the largest mausoleum in North America and you can learn about Grant's leadership during the Civil War. The memorial is close to Columbia in Morningside Heights. Keep in mind the mausoleum's hours are on-and-off; see a schedule here.
Get immersed in the history of Puerto Ricans in America at El Museo del Barrio. This museum in East Harlem is a celebration of Puerto Rican, Caribbean, and Latin American culture in the United States. Come for the outstanding art; stay for the history.
Tour the Cathedral of St. John the Divine. Harlem has its share of epic churches, but St. John the Divine in Morningside Heights is one of the most architecturally impressive houses of worship in New York City. Several tours are available and the behind-the-scenes Vertical Tour gives you access to the roof, giving you sweeping views of Harlem and all of Manhattan. Learn about touring the church here.
Enjoy a short historical walking tour of Harlem. If you don't have a ton of time and want a straight history tour, this is a good one.
Check out the Sugar Hill Children's Museum. If you're visiting Harlem with kids, be sure to make a stop here! They've got art exhibits, a reading nook, storytelling, and all kinds of fun events.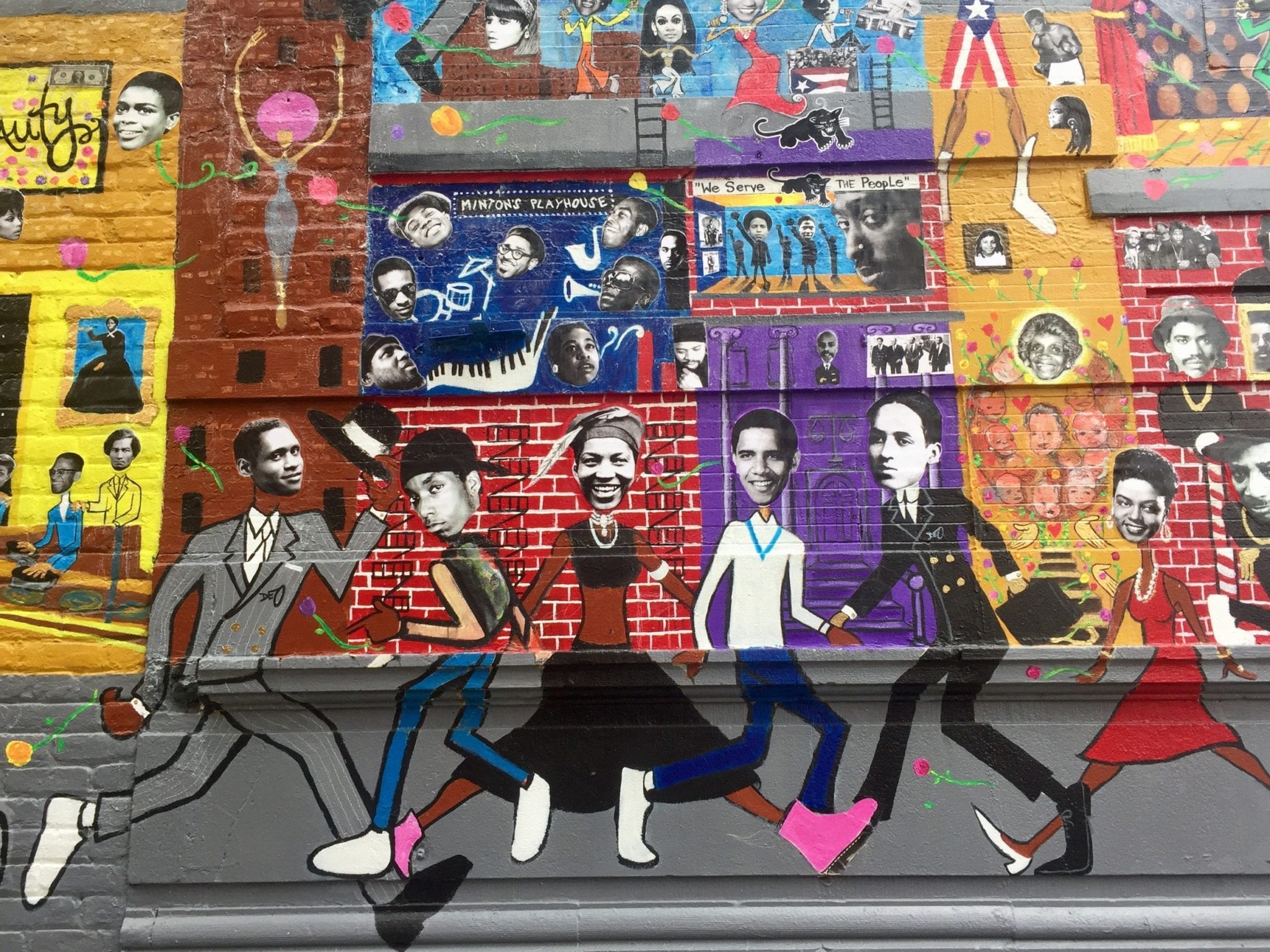 Arts, Entertainment, and Performances in Harlem
In addition to my previously listed recommendations of seeing a show at the Apollo Theater, listening to live jazz, and having a night out at Shrine, here are more options:
Check out the Audubon Mural Project. Bird conservationist John James Audubon lived in what is now Hamilton Heights during the 19th century. To honor his memory and draw attention to the urgency of now, the Audubon Society and Harlem gallery Gitler & ____ are commissioning murals of 300 bird species threatened by climate change. More than 100 have been painted so far in Hamilton Heights. Join a tour here or get a map for a self-guided tour here.
See works of art at the Studio Museum of Harlem. This museum features works of art by African-Americans and people of the African diaspora. The museum is currently closed for renovations through 2021, but a temporary programming space is open Thursday through Sunday.
See a poetry performance at I, Too Arts Collective (black-owned). Located in the brownstone that was home to Langston Hughes, I, Too Arts Collective is dedicated to nurturing emerging writers from underrepresented communities. You can also join a poetry writing class.
Learn how to swing dance and Lindy Hop! Lindy Hop was invented in Harlem and it became one of the hottest dance crazes in America! Learn about the history of dance in Harlem, then take a one-hour swing and Lindy Hop lesson.
See a performance by the Dance Theatre of Harlem. This dance company pioneered inclusive dance at a time when the big companies wouldn't take black performers — and to this day they're creating gorgeous performances. While they spend much of the year touring, you can check out their New York performance schedule here.
Check out the National Jazz Museum in Harlem. If you're a fan of jazz, be sure to check out this excellent museum, an affiliate of the Smithsonian. They put on a lot of musical events as well.
See a show at the United Palace. While technically further north in Washington Heights, this theater draws a big Harlem crowd. It's got an insane interior, covered in more gold than you thought possible! I saw The Hip-Hop Nutcracker here once.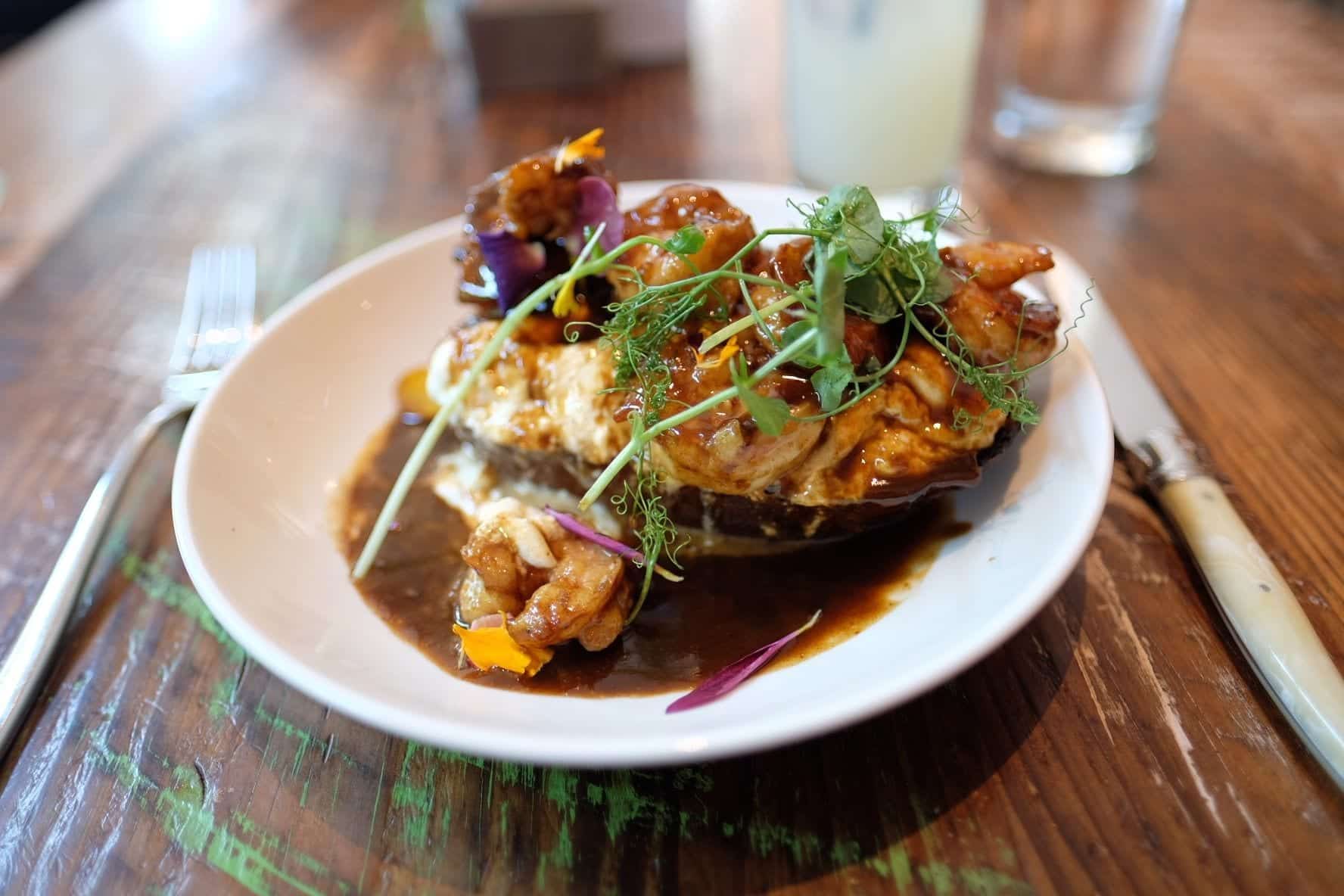 The Best Food in Harlem
Harlem is one of the best food neighborhoods in New York. Soul food is only the beginning — Harlem is home to excellent African cuisine, as well as Latin American food, American comfort food, and a surprising amount of French-influenced eateries. In addition to my previously listed recommendations of going on a food and culture tour of Harlem, trying the best soul food in Harlem, and experiencing a meal at Red Rooster, here are my recommendations:
Try the best high-end restaurants in Harlem. New spots are continuously opening up. Here are some of the best special occasion restaurants:
Red Rooster (black-owned) — A mix of Harlem, Sweden, and Ethiopia, as well as inventive world cuisine and delicious cocktails. Probably the only restaurant that is an experience from start to finish.
BLVD Bistro (black-owned) — BLVD is a family-owned eatery with modern, refined Southern food and one of the best decadent brunches in town (don't miss the biscuits).
Clay — One of the best farm-to-table restaurants in Harlem, Clay sources its constantly changing menu from small, local producers.
Ponty Bistro (black-owned) — Leading the Afro-French fusion movement in Harlem, Ponty Bistro has a mix of adventurous and less outlandish dishes, from roast chicken to Senegalese marinated steak, all chic and refined.
Corner Social — Here on one of the trendier blocks in Harlem you'll fine a selection of modern American dishes, including shrimp mac and cheese and lamb chops with mango salsa.
BSquared (black-owned) — This high-end seafood restaurant features inventive dishes like lobster tagliatelle with squid ink, octopus cooked in red wine, and New Zealand baby lamb chops.
Explore Harlem's many African cuisines. Le Petit Sénégal, around 116th St., is the epicenter of New York's African community. Many of the restaurants cater to Harlem's Africa-born taxi drivers, others are more high-end.
Ethiopian is the best-known of African cuisines in America, and some of Harlem's best Ethiopian restaurants are Tsion Cafe (black-owned), with an Ethiopian-Mediterranean hybrid menu and outdoor patio; Zoma (black-owned), with a large selection of meat, fish, and vegetarian dishes; and Benyam (black-owned), which earns rave reviews across the board.
As good as Ethiopian food is, if you want to push yourself, try a different African cuisine.
For Somali food, head to Safari (black-owned). It's the only Somali restaurant in New York City and one of few East African spots. Try the beef or chicken suqaar (a traditional stew) and be sure to try some sambuzas (beef patties).
For Ivorian food, head to New Ivoire (black-owned). This casual restaurant has a host of Ivorian dishes and is open 24 hours a day. They're known for their grilled fish.
For Ghanaian food, head to Accra (black-owned). This cafeteria-style restaurant looks simple at first glance but the food is renowned by Ghanaians and West Africans in search of stews and jollof rice.
For Senegalese food, you've got lots of options. Pikine (black-owned) usually ranks as one of the best, but others my friends recommend are Keur Sokhna (black-owned) and La Savane (black-owned).
Alternatively, learn all about African cuisine (black-owned) with a meal prepared by Congolese-American chef living in Harlem.
Have some excellent mid-range meals. All of these restaurants will serve you an excellent meal without breaking the bank:
The Edge (black-owned) has a beautiful, art-filled interior and splits their menu into three sections: Jamaica, New York, and England. I love their jerk chicken kale salad.
Tsion Cafe (black-owned) features a mix of Ethiopian and Mediterranean dishes — you'll be surprised when you see how their tiny-looking entrance opens into an expansive interior! The patio is nice in summer.
Lolo's Seafood Shack (black-owned) serves Caribbean seafood in a fun, colorful atmosphere. Their sandwiches are served on johnny cakes and their pom pom shrimp is addictive.
Bono serves fantastic Italian food. They've got a huge oven in the room and every dish on the menu is outstanding, especially their pizzas, pastas, and foccacias.
Yatenga (black-owned) has an upscale French-meets-American menu. Don't miss their roasted chicken in Roquefort sauce.
Lenox Saphire (black-owned) serves a mix of Senegalese and American dishes, including several curries that will light you on fire.
Malecon (POC-owned) is a legendary restaurant in the Dominican community. Their two locations are technically just north and south of Harlem, but traveling is worth it for their rotisserie chicken and mofongo.
Enjoy some cheap eats from around the world. If you're looking for a great menu on the cheap, here are some spots:
Wat's On Your Plate (black-owned) does delicious, huge and cheap Jamaican food with super-cheap lunch specials.
Taqueria San Pedro (POC-owned) has fantastic tacos beyond any other place in the neighborhood.
The Handpulled Noodle (POC-owned) does authentic northwest Chinese noodle dishes that you can customize.
The best tamales in the neighborhood are sold by Yolanda on the northeast corner of 145th St. and Broadway.
Cuchifritos (POC-owned) serves Puerto Rican food cafeteria-style in East Harlem.
Enjoy the vegan side of Harlem. Seasoned Vegan (black-owned) serves a mix of veganized soul food classics (Smothered chicken! Riblets! Mac and cheese!) and dishes from around the world. Also, if you're vegan, consider trying one of Harlem's Ethiopian restaurants listed above, as vegetarian Ethiopian food also happens to be vegan.
Get an original slice at Patsy's in East Harlem. One of the original pizza institutions in New York City, dating back to 1933, this is one of the slices you absolutely must try while visiting New York. Take-out only during lunch; restaurant open at dinner.
Try the "rugelach by a brother" at Lee Lee's Baked Goods (black-owned). In a city with so much Jewish food, the most famous rugelach comes from Alvin Smalls in Harlem. He's perfected his dish and has had tons of features written about him — check him out in the New York Times!
Enjoy the best cupcakes ever at Make My Cake (black-owned). These cupcakes are enormous, moist, and SO sinfully delicious. Fun fact: Liz Lemon chose Make My Cake cupcakes for the team's final lunch on 30 Rock.
Get a cookie the size of your skull at Levain Bakery. Levain's cookies are infamous throughout the city — they are enormous, more akin to cakes than cookies. An experience.
Take a sweet southern-style pie from Sweet Chef (black-owned). Sweet Chef makes a variety of Southern-style pies, including tiny pies that are perfect single servings. Their tagline is literally "Google 'best sweet potato pie in New York.'" My favorite is the coconut cream.
Enjoy a bottomless brunch in Harlem. Bottomless brunches include unlimited booze — usually mimosas or Bloody Marys, either for a timed period or your entire meal. Restaurants with bottomless brunches include Yatenga (black-owned), with a French flair; Lido, for Italian and American food; Hamilton's Eatery, for a casual and cozy meal.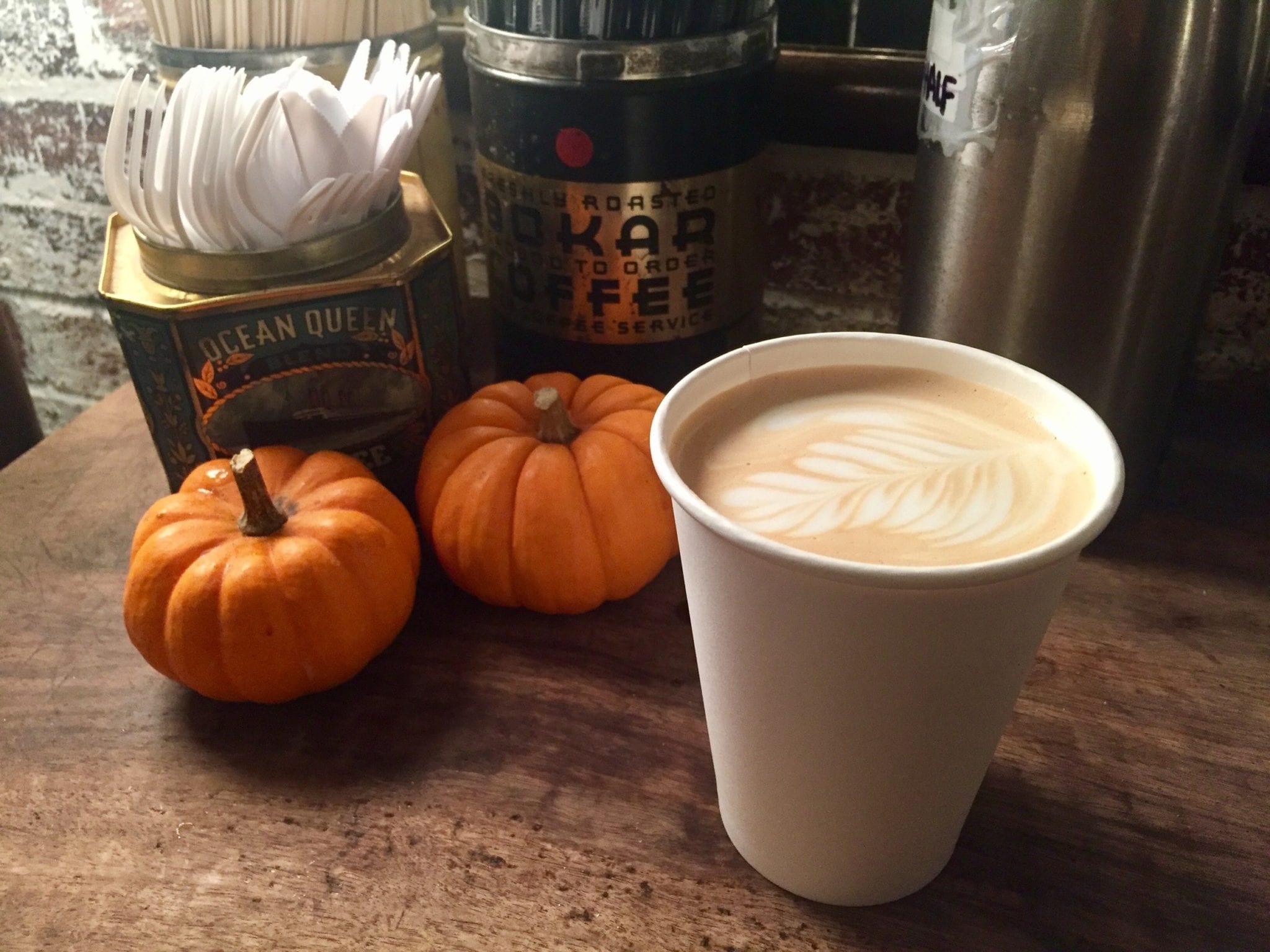 The Best Tea and Coffee Shops in Harlem
Serengeti Tea and Spices (black-owned) is one of the most special cafes in Harlem and one that I highly recommend. They feature a selection of African teas, coffees, cocoa, and several ready-brewed libations. If you're feeling under the weather, try their hot ginger tumeric tea with honey and lemon — it will clear out your congestion!
The Monkey Cup is my pick for the best-tasting coffee in Harlem. Their pint-sized shops, covered with leaves and monkey motifs, are in two locations: one in Hamilton Heights, one in South Harlem.
Lenox Coffee (POC-owned) features a collection of single-origin coffees. Located in Central Harlem, the shop is a popular gathering place for Harlem artists and creatives.
Da Capo is the closest thing to a real Italian bar that I've found in Manhattan. Located in East Harlem, just north of 96th St., they feature espresso drinks and pastries as well as cocktails and wine.
Manhattanville Coffee offers delicious coffee in a spacious, light-filled atmosphere. On the edge of Hamilton Heights and Central Harlem, it's a great working environment, but know that it fills up early.
Double Dutch Espresso does excellent coffee in a hip environment. One is in South Harlem and one is by City College in Hamilton Heights.
The Chipped Cup is an adorable, Instagram-ready coffeeshop in Hamilton Heights. Their coffee is some of the best in Harlem. If it's warm out, head out to the courtyard in the back.
Caféine is a European-style coffee bar in the heart of South Harlem. They feature a selection of French pastries in addition to their espresso-based drinks.
Espresso Matto is a casual cafe with a great concept: everything costs $2. Cappuccino? $2. Chocolate chip cookie? $2. Gluten-free donut? $2. This chain is all over New York and the Harlem location is on Broadway at 143rd St.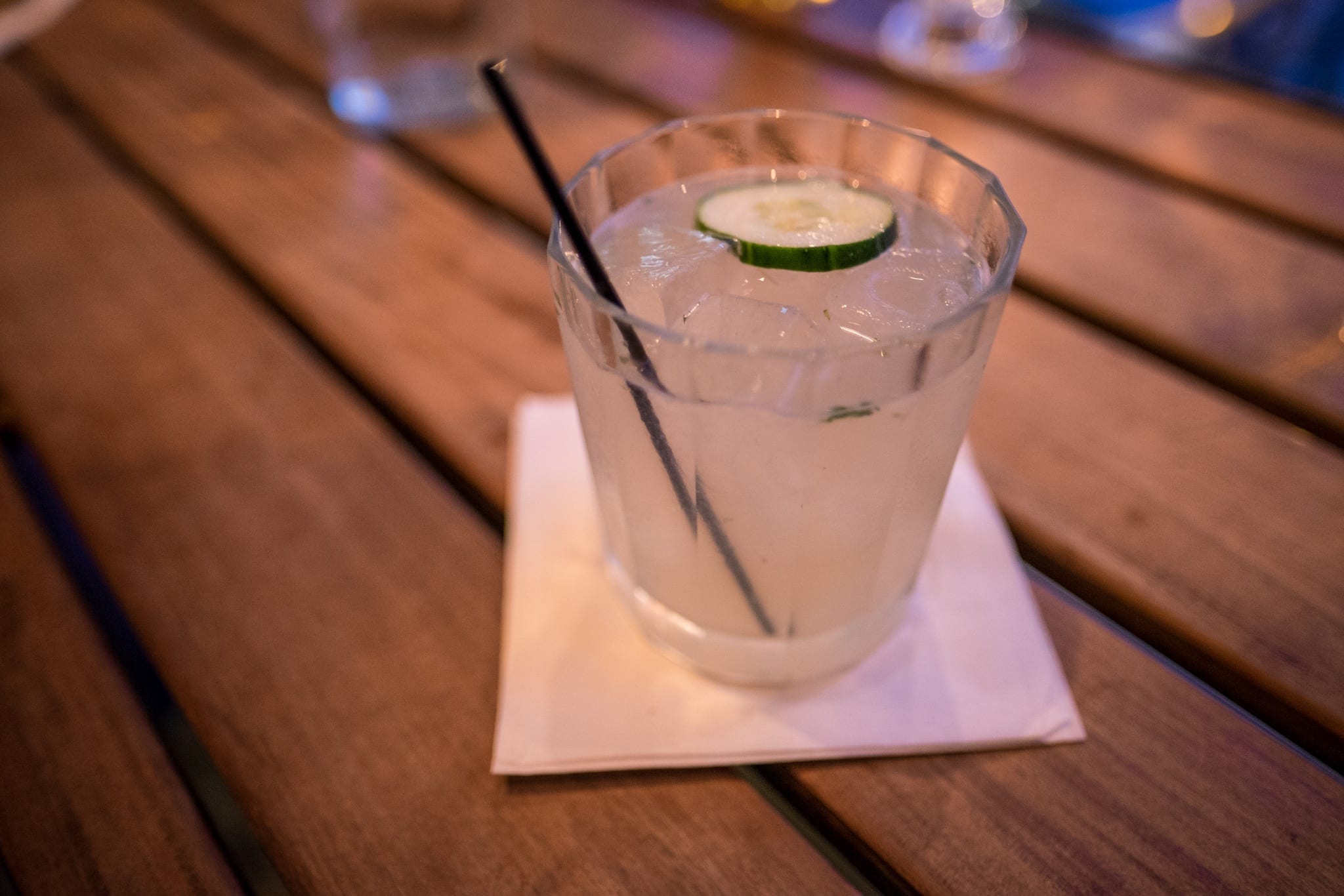 The Best Nightlife in Harlem
My absolute thing to do for Harlem nightlife is a night out at Shrine, which I mentioned above. In addition to that, here are my favorites:
Grab some disco cocktails at The Honeywell. This cocktail bar takes the 1970s theme seriously, down to the sunken bar, saloon doors, and mosaic of Tom Selleck. The cocktail list is extensive, including a decent mocktails list, and if you sit at the bar, they'll light them on fire. Reserve in advance.
Get some cheap drinks and play some games at At the Wallace. This quirky bar has some of the cheapest beers in the neighborhood; a menu of hot dogs, dinosaur chicken nuggets, and waffle fries; and giant Jenga and arcades in the back. Never a dull night out.
Drink delicious cocktails at Cove Lounge (black-owned). This Caribbean lounge in Central Harlem is good for dinner or just drinks, featuring high-end cocktails and small plates. Try the chicken and red velvet waffles! Dress up here in the evenings.
Check out an event at MIST Harlem (black-owned). This event space is always putting on interesting shows — from uptown comedy Thursdays and late night jazz Fridays to R&B day parties and 90s brunches on the weekend!
Enjoy craft beers and burgers at Harlem Public. This Hamilton Heights bar features a rotating selection of interesting craft beers from all over the US. The burgers are great and the peanut butter burger is notorious.
Catch the game at Harlem Tavern. If you're looking for a good spot to watch a big game, Harlem Tavern should be your top pick — it's huge, there are tons of TVs, and the crowd is enthusiastic. Some other good sports bars are Solace and Grill on the Hill.
Sip wine at Harlem's best wine bars. Three that stand out are Anchor Wine Bar in Hamilton Heights, Barawine Harlem in Central Harlem, and D'Amore Wine Bar in East Harlem.
Explore Harlem's queer nightlife. Hamilton Heights is quickly becoming the epicenter of queer Harlem, but there are welcoming bars all over the neighborhood. The best RuPaul's Drag Race watch parties are at At the Wallace; Hogshead Tavern attracts a fun queer crowd; The Honeywell has drag brunches once a month. Alibi Lounge (black-owned) is further east in Central Harlem, close to Striver's Row. While it's technically a bit further uptown in Washington Heights, Boxer's is a popular gay sports bar.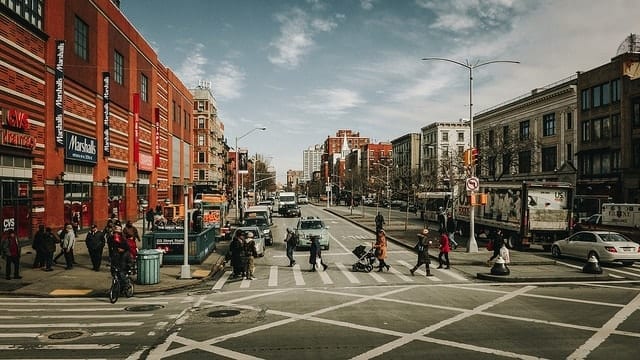 Shopping in Harlem
Check out the street vendors on 125th St. 125th St. has been synonymous with Harlem since the very beginning, though today chain stores are largely taking over. But the street sellers are where it's at. Check out the vendors selling oils, music, accessories and more.
Go on a Harlem style tour with a fashion anthropologist. Seriously! Harlem has always been the epicenter of black style in America. An Ivy-league educated anthropologist will take you on a tour of the best boutiques and teach you about the history of Harlem fashion. See the tour here (black-owned).
Check out Sisters Uptown Bookstore (black-owned). This independent bookstore, run by two sisters, features the work of African-American authors and puts on lots of interesting readings and events.
Browse stylish African wares at Calabar Imports (black-owned). This shop, with outposts in Brooklyn as well, features gorgeous African clothing and accessories, including stunning head wraps, as well as some Asian and South American accessories.
Shop for high-end clothing at Harlem Haberdashery (black-owned). One of the best shops in the neighborhood, Harlem Haberdashery features the 5001 Flavors clothing line. They make custom outfits for celebrities and sell a variety of clothing and accessories.
Find the perfect gift for the kids in your life at Grandma's Place (black-owned). This family-owned children's toy store is filled with passionate employees who will help you find the perfect gift. Even better? The store is chock full of black and brown dolls and toys and books that feature people of color.
Browse West African skincare products at Sade Skincare (black-owned). At this shop, find all kinds of homemade skincare products made with organic ingredients and cosmetics tailored to black women's skin tones. They do facials and skincare treatments too.
Check out local designs at Harlem Underground (black-owned). This store, with locations on Frederick Douglas Blvd. and 125th St., features its own designs on a variety of apparel. If you're looking for a high quality Harlem t-shirt, this is the place to go.
Explore Malcolm Shabazz Harlem Market. This market, at 116th St. and Malcolm X Blvd., is in the heart of Le Petit Sénégal and Harlem's West African community. Here you'll find all kinds of African textiles, clothing, jewelry, accessories, and more.
Shop for hats at Harlem's best hat shops. If you want the ultimate Harlem souvenir, head to Flamekeepers Hat Club (black-owned) for a fancy, high-end hat the likes of which you couldn't find at home. They have a whole section of their merchandise called "conversation pieces." Want more? Check out Hats by Bunn (black-owned) with signature styles for every occasion.
Support local small businesses at the Sugar Hill Market. While the Sugar Hill Market seems to be on hiatus at the moment, only updating occasionally on social media, this rotating market is a nice spot to find handcrafted clothing, jewelry, art, and housewares by Harlem residents.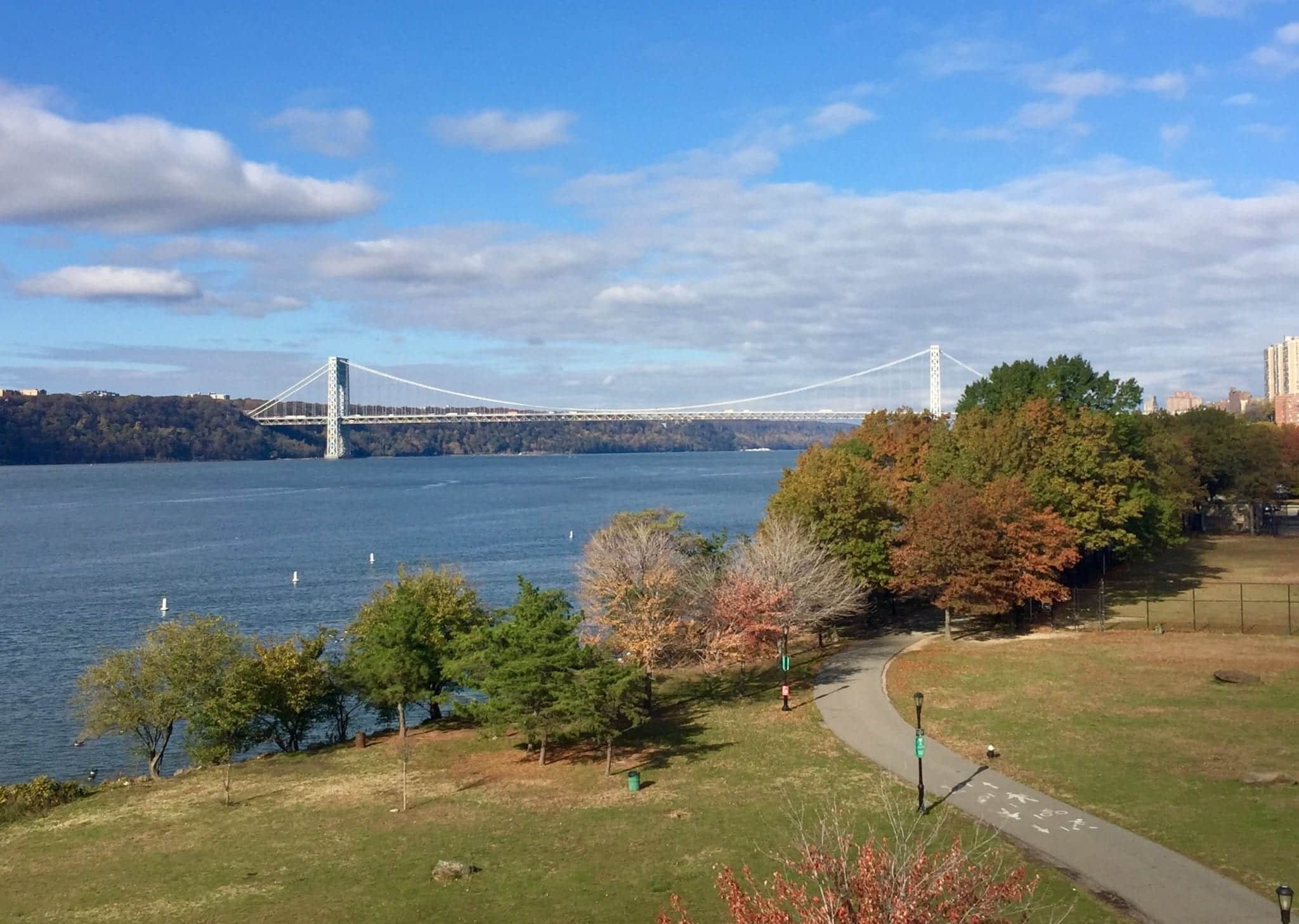 Fitness, Outdoors, and Parks in Harlem
In addition to my previously listed recommendation of visiting the northern part of Central Park, here are some outdoors and fitness activities to do in Harlem:
Go on a bike tour with I Bike Harlem (black-owned). Harlem is such a big neighborhood that you can't cover it in a day by foot — but you can see a ton of it if you bike! Go on a 10-mile tour along 125th St., along the Hudson River, Sugar Hill, the Morris-Jumel Mansion, and so many of the prettiest streets in Harlem along the way. (September 2023 note: Unfortunately, I Bike Harlem is permanently closed.)
Take a walk or bike ride along Riverside Park. Riverside Park runs all the way along the west side of Manhattan. It's great for working and ideal if you're not comfortable biking in a city. One of the nice spots just north of the Harlem portion is the Little Red Lighthouse perched beneath the George Washington Bridge.
Take a soulful spin class at Harlem Cycle (black-owned). Harlem has a boutique spin studio of its own — and some signature classes. I love the Soulful Sunday gospel ride; they also have reggae and hip-hop rides during the week.
Check out Riverbank State Park. Yes, there's a 28-acre state park in the middle of Manhattan! Here you can enjoy swimming, a skating rink and ice skating rink, a gym, and all kinds of athletic facilities. It's cheap, too — the adult rate for swimming is just $2. Fabulous views over the Hudson.
Drop into a Harlem yoga class. Both Harlem Yoga in Central Harlem and Brahman Yoga Harlem in Hamilton Heights offer drop-in classes, including some donation-based classes.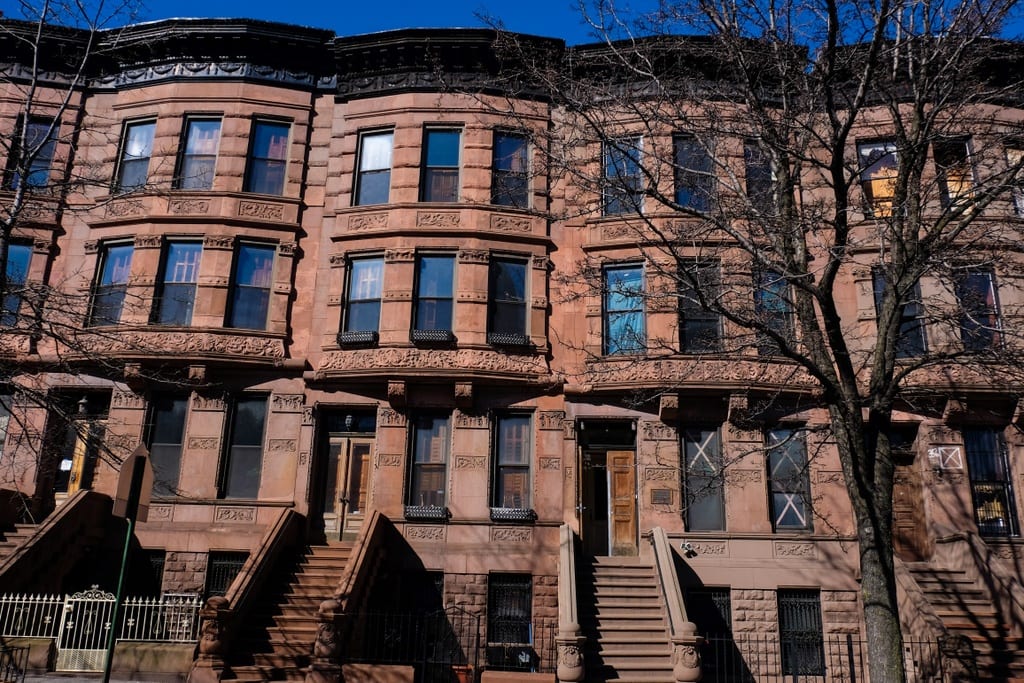 Books to Read in Harlem
I'm a huge advocate of reading literature set in the place you're visiting. It adds so much value when you're feeling the destination around you as you're reading it.
Most of the reading lists for Harlem literature focus solely on the Harlem Renaissance, from roughly 1918 to the 1930s, but those lists overlook so much good literature about Harlem from different times. Here are some of my recommendations that fall outside the Harlem Renaissance:
The Autobiography of Malcolm X as told to Alex Haley — One of the best memoirs I have ever read, and a searing account of Harlem during one of its most exciting time periods by one of its most famous residents.
Homegoing by Yaa Gyasi — This novel tells the story of generation upon generation of the descendants of two sisters: one in Ghana and one in America. The American side of the family moves to Harlem for a few of those generations, and it so beautifully and sadly illustrates generational trauma and poverty dating back to slavery.
The Poet X by Elizabeth Acevedo — this recent award-winning novel in verse tells the story of a teenage Dominican-American poet living in Harlem and her struggles to tell her story.
Yes, Chef by Marcus Samuelsson — Marcus's sweet memoir about growing up in Sweden, returning to his birthplace of Ethiopia, and finding a purpose in Harlem. He has a cookbook based on the restaurant, too.
Islandborn by Junot Díaz — While the neighborhood in this children's book isn't specified, it looks a lot like my Dominican corner of Harlem. Young Lola is assigned to write about the place where she was born — but she left the Dominican Republic when she was a baby and can't remember. But her neighbors tell her such wonderful stories, she creates a story of her island and her people. I love this book and gift it to all my friends with kids.
Dapper Dan: Made in Harlem by Daniel R. Day — Dapper Dan is a fashion legend — the Harlemite who invented high-end street fashion and ended up creating Harlem style, dressing celebrities, and more. This memoir is coming out in July 2019 — the time to preorder it is now!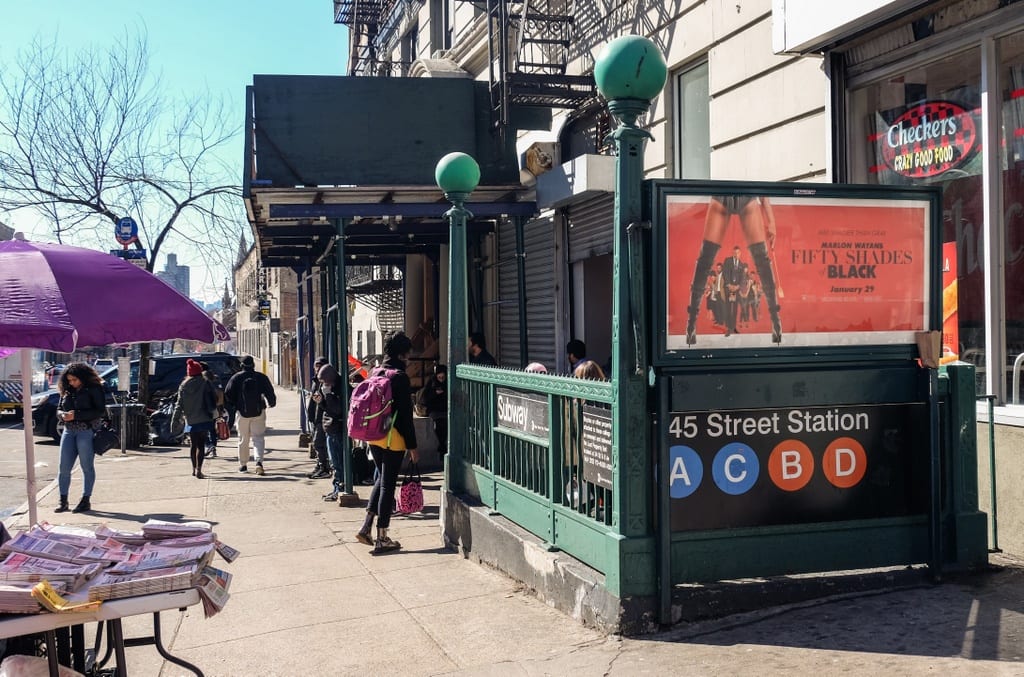 Where to Stay in Harlem: The Best Hotels
Harlem is a great neighborhood to stay in. Prices are much cheaper than downtown, there are lots of excellent hotels, and depending on the location, you could have easy access to express trains or Central Park.
Not to mention, as you now know, easy access to Senegalese food, hat shops, and some of the most gorgeous architecture in New York!
Top Recommended Harlem Hotels
Best All-Around: Aloft Harlem
Highly Rated on TripAdvisor: The Harlem Getaway
Great Value Option: The Central Park North Hotel
Hostel: HI NYC Hostel (not technically Harlem but close)
Check out more Harlem hotels here.

What about Airbnbs in Harlem?
Only book an Airbnb in Harlem if 1) you are only booking a room in an apartment where the host is present or 2) you are booking a stay for 30+ days. Otherwise, it's an illegal rental.
Booking an entire apartment to yourself for less than 30 days is against the law in New York City. However, Airbnb doesn't enforce this law, so illegal listings appear throughout the site. Booking an illegal rental could result in it being shut down before or during your stay with no chance for a refund.
Why are these listings illegal? Because they hurt the housing market for locals. Landlords can make a lot more money in short-term rentals than long-term rentals, so many of them choose to rent out their place on Airbnb so they can make more money. But when more landlords do this, housing becomes more scarce and prices are driven up, making things worse in a city that is already expensive. That's why New York City made it illegal.
Airbnb chooses not to follow the law. I hope you choose to follow the law for the sake of Harlemites and New Yorkers.
However, it's perfectly legal to rent a room while the host is present, rather than the whole place. If you're set on staying in an Airbnb in Harlem, I encourage you to consider this option. Before I moved to New York, I used Airbnb to rent out rooms in several neighborhoods here, and my hosts always gave me space and privacy.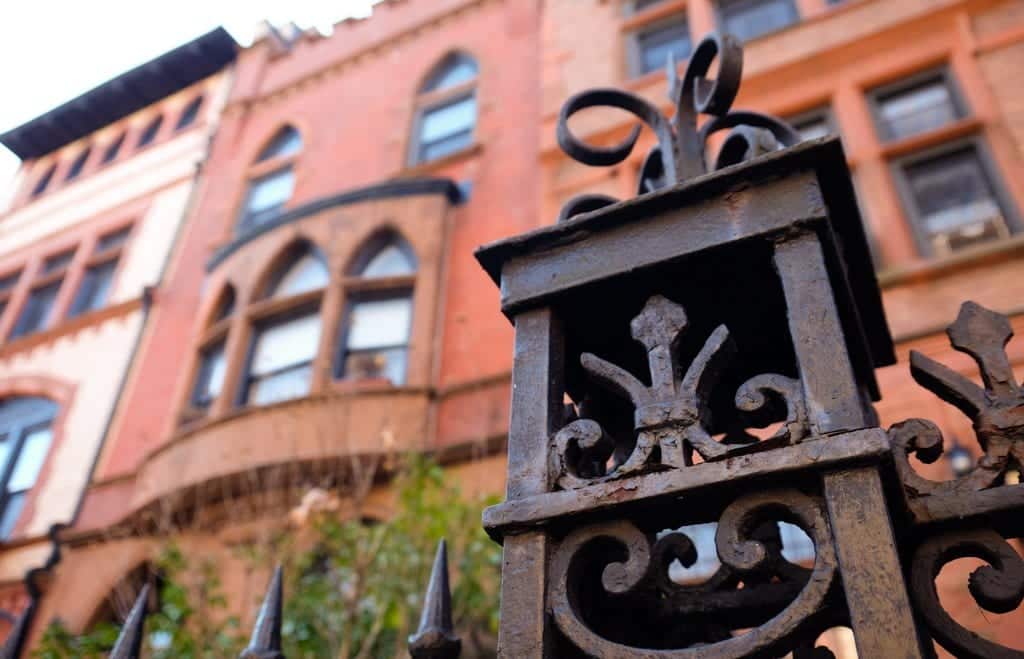 Harlem is waiting for you!
I hope this post has convinced you to spend a long, extended time in Harlem. This neighborhood has so much to offer, no matter what you're into, and I hope your time in Harlem is the highlight of your visit to New York City.
---
READ NEXT:
Solo Female Travel in New York City
---
Have you been to Harlem? What was your favorite thing to do? Share away!
Get email updates from Kate
Never miss a post. Unsubscribe anytime!