Adventurous Kate contains affiliate links. If you make a purchase through these links, I will earn a commission at no extra cost to you. Thanks!
(Note: this post was originally written in 2011, a time when Chiang Mai was the most popular digital nomad enclave in the world. I've since updated it for January 2018.)
I can't tell you how many times I've heard someone say in passing, "Everyone loves Chiang Mai." They're talking about the bloggers, entrepreneurs, and job-quitters who flock to this city to start a life lived on their own terms. Each time, it makes me wince — because it's not true.
Not everyone loves Chiang Mai.
YIKES! Someone finally said it.
I can understand why people would think that everyone loves it. Chiang Mai is home to a sizable travel blogger community, and as a result, receives almost universal praise. Those who love it are very vocal about loving it.
Do you think many bloggers, especially new bloggers, want to challenge that? I didn't. In 2010, I wrote truthfully about my experience in Chiang Mai, but steered clear of critical commentary. I still felt like a newbie blogger and I didn't want to lose the support of more established, Chiang Mai-loving bloggers. In 2011, I wrote the first version of this post, feeling confident enough to speak my true feelings.
Now it's 2018. This site has been my full-time income for more than seven years now. I succeeded long-term because I wrote content that I believed in. And I don't let anyone stop me from telling hard truths, whether it's publicly calling out a racist colleague or revealing that the biggest industry conference was taking money from a dictator's government.
To start, let me tell you all the wonderful things about Chiang Mai.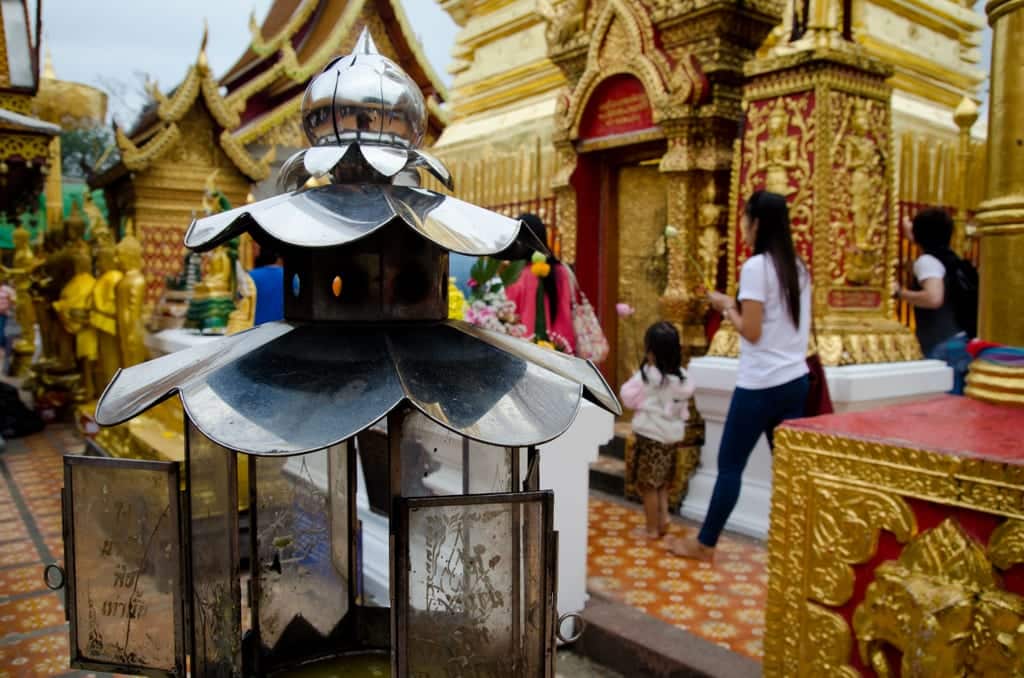 Good Reasons to Live in Chiang Mai
It's cheap. While Thailand is cheap to begin with, northern Thailand is the cheapest part. You can live in a modern apartment with internet and cable TV for less than $200 USD per month.
There are lots of Western amenities. The internet is great, the hospitals are quite good, you can find many Western products, and there are many Western and ethnic food options, including the elusive Mexican food.
The local food is fantastic. Chiang Mai is one of Southeast Asia's best food cities (and a personal favorite of mine). Not only do you have a fantastic street food scene, you also have access to superb northern Thai dishes and several restaurants with Burmese food.
There are wonderful cultural events and opportunities. If you love festivals, this is a great city. Songkran is reportedly better here than anywhere else in the country (though I can't imagine anything better than Songkran in Bangkok!), and Loy Krathong festival is capped off by the Yee Ping lantern release. Plus, Chiang Mai is an ideal environment for taking Thai cooking classes, Thai massage courses, or going on short or long treks in the surrounding mountains.
The weather is cooler. If the Bangkok heat is too much for you, Chiang Mai is in the mountains, where the weather is much more bearable.
There are tons of expats. You won't have to look far for an expat community, particularly in the Nimmanhaeman neighborhood, and the travel bloggers in town have a special community.
And still…I didn't quite get it.
On paper, Chiang Mai looks pretty damn perfect. But paper wasn't enough — I wasn't feeling the magnetic pull that so many travel bloggers before me had felt.
Every now and then I see a traveler about to leave on a trip and say, "I might stay in Chiang Mai, Thailand, for a while." For no reason other than the fact that lots of travel bloggers stop there.
So many bloggers have waxed poetic about Chiang Mai that I think it's time to get some alternate views out there. Here are the things not to love about Chiang Mai.
Chiang Mai is isolated.
Want to go somewhere different? You'll have to fly via Bangkok. It's either that or spending twelve hours on a bus or train to get to Bangkok. You can fly to some international cities, like Kuala Lumpur and Kunming, but these are quite limited.
Flights from Chiang Mai can be very affordable, — but not everyone has the money to spend. Lots of people are living in Chiang Mai because they can live well on less than $1000 per month, but that's if you don't fly anywhere.
There are some nice northern towns throughout the north, like Pai and Chiang Rai, as well as the undervisited ruins of Sukhothai, but to go elsewhere overland, you'll be traveling for several hours. Overland visa runs more or less demand Laos visits, and it takes just as long to get to Vientiane as it does to get to Bangkok.
Chiang Mai is far from beaches.
If you moved to Thailand because you love beaches, Chiang Mai is one of the worst locations to choose. If you want to get from Chiang Mai to a beach, you'll have to fly to Phuket, Krabi, or Koh Samui.
If you're going by bus or train, though, it will take you one 12-hour bus or train to Bangkok, followed by another 12-hour bus or train to the Andaman Coast or the Southern Gulf Coast. The beaches on the Eastern Gulf Coast are slightly closer — 18 hours or so by bus as opposed to 24.
Chiang Mai has a burning season.
From March 1 through early April, farmers in northern Thailand burn their land to prepare for the upcoming season. Due to Chiang Mai's location between mountains, clouds of smoke get trapped in the valley. This is also high season for tourism and the increased vehicles and motorbikes contribute to additional air pollution.
Lots of Chiang Mai expats tolerate burning season without complaint, spending more time indoors and wearing face masks whenever outside. But if you have asthma or allergies, this could be debilitating for you.
Chiang Mai is FILLED with creepy old men.
All over Chiang Mai — from visiting the temples to strolling the markets to sitting in restaurants — you see older Western men with young Thai women. While there's nothing wrong with relationships between two consenting adults, I DO mind them when the women are young enough to be their grandchildren and the men speak to them like they're babies.
Is seeing these relationships just a part of visiting Thailand? Absolutely. You see this throughout the country — but for a city branded as "the nice city," you'd be surprised to see just how prevalent it is.
At least in Bangkok it's mostly confined to certain neighborhoods. In Chiang Mai, it's everywhere — not just its designated neighborhood east of Tha Pae Gate — and the girls seem to be far younger. It was Chiang Mai that inspired me to write my post, Young Thai Women and the Western Men Who Love Them.
The strange thing? Though I've talked about this with some of my Chiang Mai friends (some of these men are their neighbors), I haven't read one blog post that references this facet of the city.
Chiang Mai doesn't have much of an edge.
This last part is the most significant factor to me, yet the most difficult one to articulate. When I visited, I kept thinking to myself that Chiang Mai was nice, Chiang Mai was pleasant, Chiang Mai was peaceful. And it bored me out of my mind.
I tried to see more of Chiang Mai. I explored different neighborhoods. I tried all the markets. I had a memorable night out at some wacky bars.
Could I have done a better job of filling my time in Chiang Mai? Could I have scheduled more activities and spent less time working? Of course. But I don't think my opinion is irrelevant.
The thing is that the extreme nice-ness of Chiang Mai made me realize that I need to live in a place with an edge — somewhere a bit more difficult, somewhere a bit less forgiving. Somewhere with a bit of drama, somewhere that pulsates.
I started to explain to one like-minded travel blogger. "I think I'd be happier complaining about the traffic in Bangkok–" "YES!" he cut me off. He knew exactly what I meant before I even said it. (That's yet another secret — some of the travel bloggers who have lived in Chiang Mai feel the same way I do!)
Some — though not all — of the people I know who live in Chiang Mai like to put down Bangkok on a regular basis, citing its pollution, traffic, and heat. Sure, Bangkok is a big city, and God knows Bangkok has its problems.
But Bangkok is one of the most fascinating, electrifying cities I've ever visited. Every day is starkly different than the one before. There's something charging through the air that you would never be able to find in Chiang Mai.
Before You Move to Chiang Mai:
Come for a visit before you decide to move here. Spend some time doing the tourist thing; spend some time doing the work thing. Hang out in neighborhoods like Nimmanhaeman. Connect with local entrepreneurs and go to meetups. Go to dinner with them; new friends are always welcomed!
Keep an open mind. Don't think that because so many travel bloggers love Chiang Mai, you need to love it as well. It wasn't for me and it's not for everyone. And you don't need a reason.
There are plenty of other places. You could argue that as of 2018, Bali and Bangkok have matched Chiang Mai's expat community, if not exceeded it.
Listen to your heart and not just your mind. Sure, Chiang Mai is cheap, and easy, and home to tons of expats. But does it make your pulse race?
Think about it.
Southeast Asia is a wonderful region for digital nomads, and there are so many great places to live. Explore and you'll find the place that's right for you.
---
READ NEXT:
Solo Female Travel in Thailand: Is it Safe?
---
Essential Info: For your first trip to Chiang Mai, I recommend booking a hotel in the Old City (see Old City hotels here), but if you're considering moving to Chiang Mai for a longer period, I recommend staying in the expat-friendly Nimmanhaeman neighborhood (see Nimmanhaeman hotels here).

Don't book a trip to Thailand without health insurance. It can save you if you injure yourself and need to be hospitalized, and it will also protect you if you get robbed or if your flights or hotels are canceled. I use and recommend World Nomads for trips to Thailand.
Have you been to Chiang Mai? What did you think?