Adventurous Kate contains affiliate links. If you make a purchase through these links, I will earn a commission at no extra cost to you. Thanks!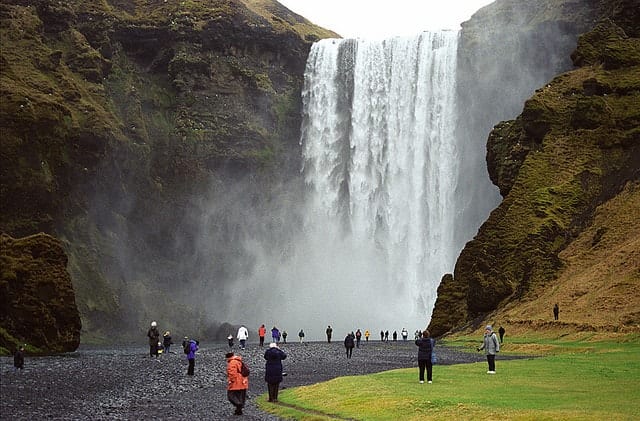 As you read this post, I've arrived in my latest adventurous destination, the Land of Ice and Fire — Iceland!
I'm visiting Iceland in partnership with the Iceland Tourist Board and Arctic Adventures.  Our mission?  To promote Iceland as an adventure-filled destination for solo female travelers and more.
In terms of adventurous activities, Iceland is one of the best places in the world.  I'll be here for five full days, and they are jam-packed with activities.  Here's what I'll be doing:
Snorkeling Silfra in Thingvillir National Park — some of the world's clearest waters are here, between the American and European techtonic plates!  And it's cold, so I'll be snorkeling in a full puffy wetsuit.
Lava caving — descending into a hole in the ground and climbing through lava-laced caves is probably the best way to understand Iceland's volcanic geology!
Glacier hiking and ice climbing — hiking on a glacier in south Iceland, and then actually climbing a the glacier wall, jamming my pointy boots into the ice!
Horseback riding through the countryside — getting to know Iceland's trademark furry horses on a trot through the lava fields.
Eating unusual delicacies, including puffin, (sustainably caught) minke whale, and perhaps even hakarl (rotten shark meat!).  Tapas Barinn, an Icelandic tapas restaurant, has invited me to taste many local dishes in their famous Icelandic Gourmet Feast.
Luxuriating in the milky turquoise waters of the Blue Lagoon, Iceland's most famous attraction.
Exploring Iceland's capital of Reykjavik, which seems to be a cool, laid-back, and nightlife-loving city.
Enjoying luxury on a budget at Kex Hostel in Reykjavik, a hostel filled with endless perks like a gym, a gastropub, and a library!  I've never stayed at a hostel this nice before, and I'm excited to check out the luxury hostels phenomenon.
Other activities?  Plenty.  I have a few in the works right now, and I'll probably decide on other things as soon as I get there!  Stay tuned for details.
I will be documenting this trip with the #akiceland tag on Twitter and Instagram.  Follow along for all my updates in real time.  As always, the big posts will come out after the trip, but I'll try to see if I can squeeze one or two out live from Iceland.  You'll have plenty of Spain and Umbria posts in the meantime.
I always love hearing what you have to say — so if there's something you'd like me to do in Iceland, please let me know now!  Any suggestions?
More on Iceland:
My Favorite Places in Iceland:
Image credit: Allan Roston
Get email updates from Kate
Never miss a post. Unsubscribe anytime!