Adventurous Kate contains affiliate links. If you make a purchase through these links, I will earn a commission at no extra cost to you. Thanks!
"No matter what, you need to get out of the city at least once a month," my friends warned me.
Of course I'll get out of the city, I thought to myself. I travel for a living!
Then April came and to my great shock, I went a full month without leaving New York City. Hell, I didn't believe it until I looked back over the month and double-checked my photos! It was officially time to plan a trip to Hudson, New York.
It's so easy to get sucked into New York City — but this city is such an intense place, it can drain you if you don't get proper R&R. And sitting on your couch watching Netflix is only R&R up to a certain point. You need to get into places that are quiet, avoid the subway for a few days. And cheaper prices are always a good thing.
I started researching getaways from New York after moving to the city earlier this year. One that consistently piqued my interest was Hudson, New York, and within a few clicks of the mouse, I booked myself a three-night solo getaway in June.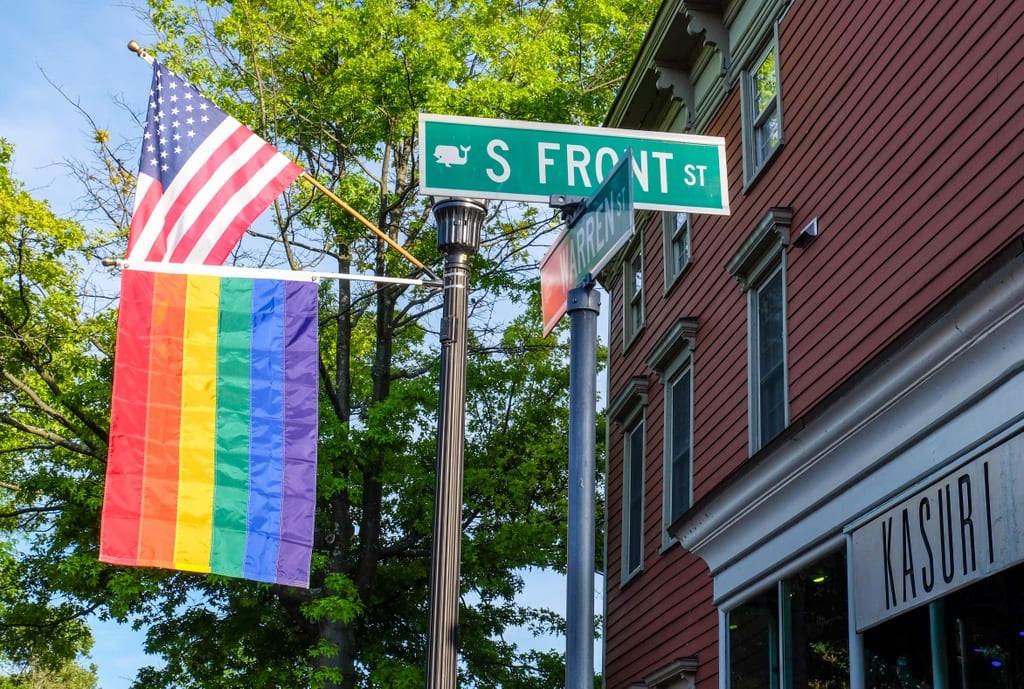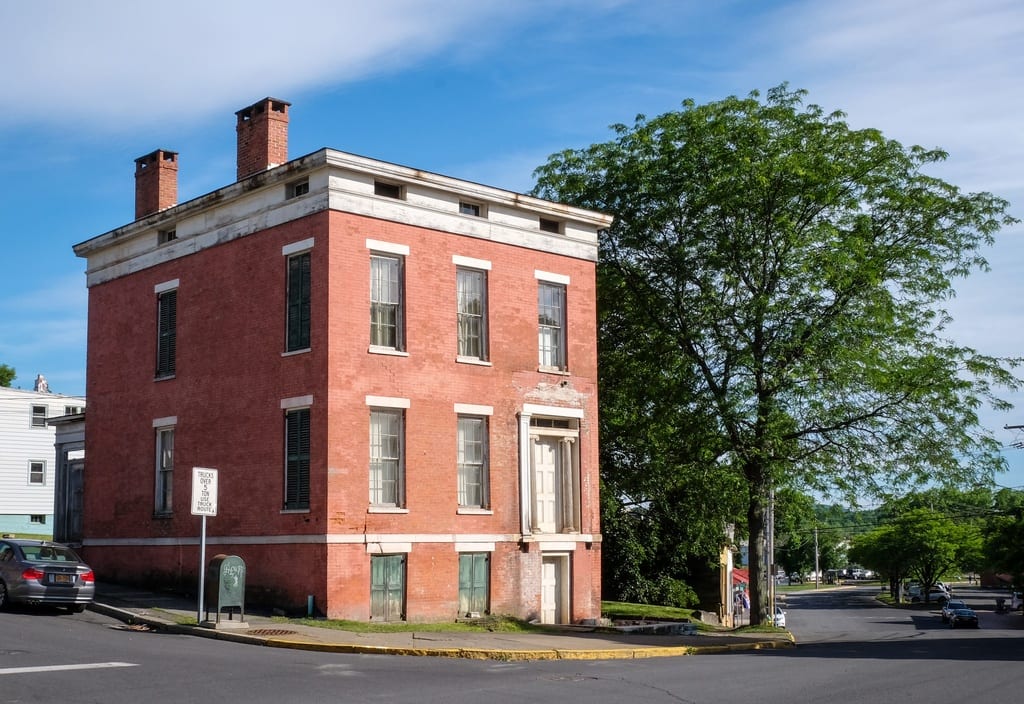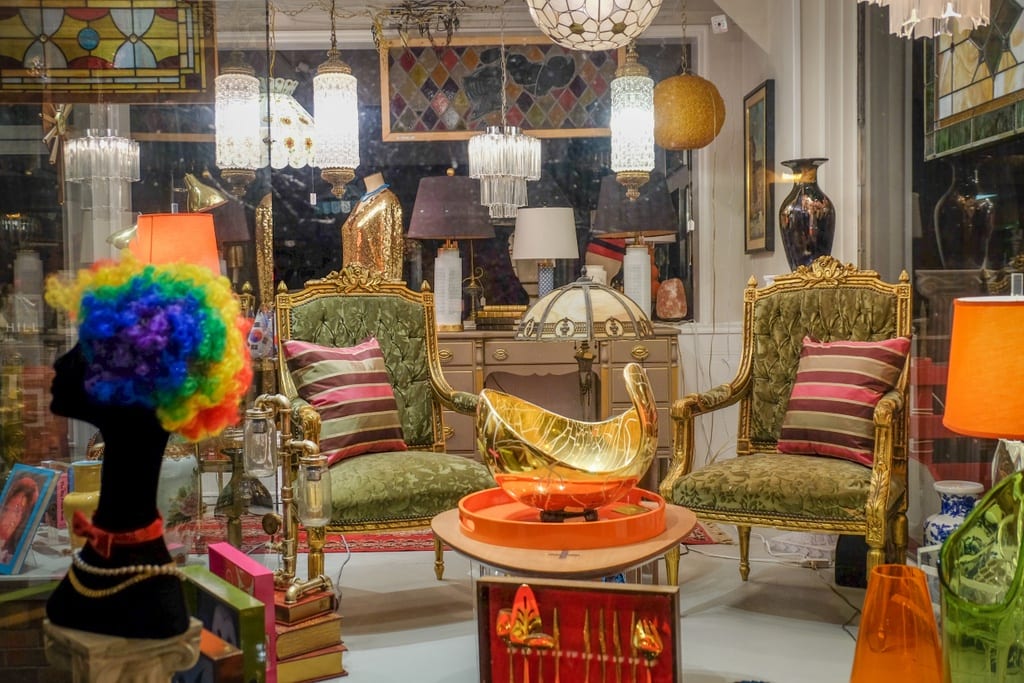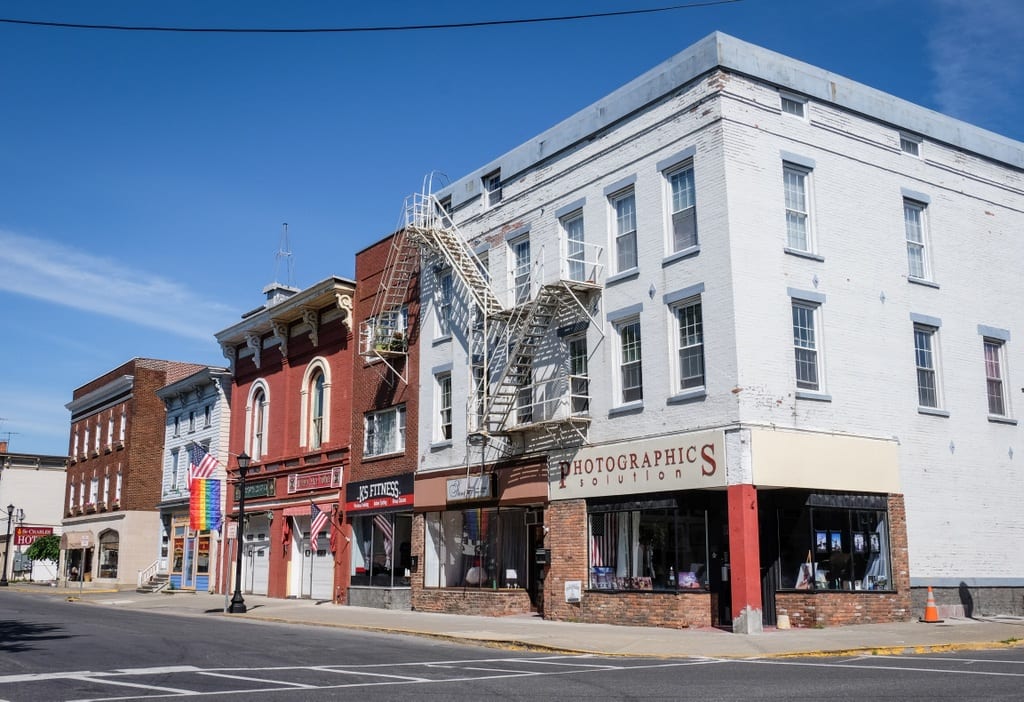 Meet Hudson, New York
Hudson is a beautiful town on the Hudson River, just two hours from Manhattan by train. The vast majority of downtown Hudson's businesses are on Warren Street, which is about a mile long.
Despite having a population of just under 7,000, it's home to a quirky assortment of shops, galleries, and businesses.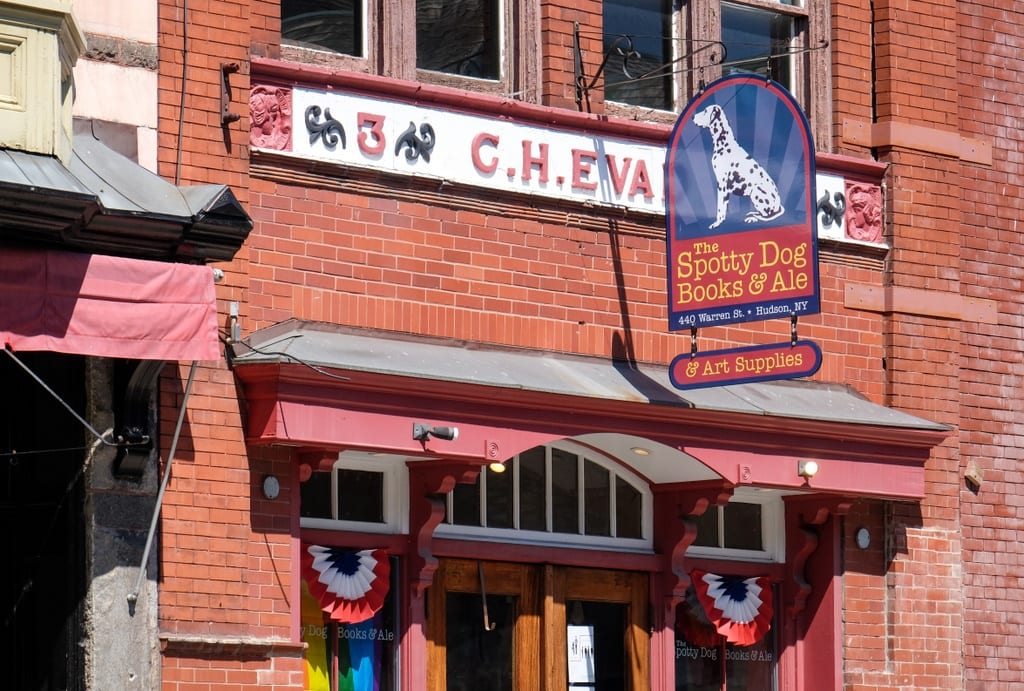 Like The Spotty Dog, a bookstore that doubles as a bar. Pick out any book you'd like and read it at the bar, a local craft beer by your side.
Or Savor the Taste, specializing in food products like an orange and vanilla balsamic vinegar that you dream of pouring over the best vanilla ice cream you can find.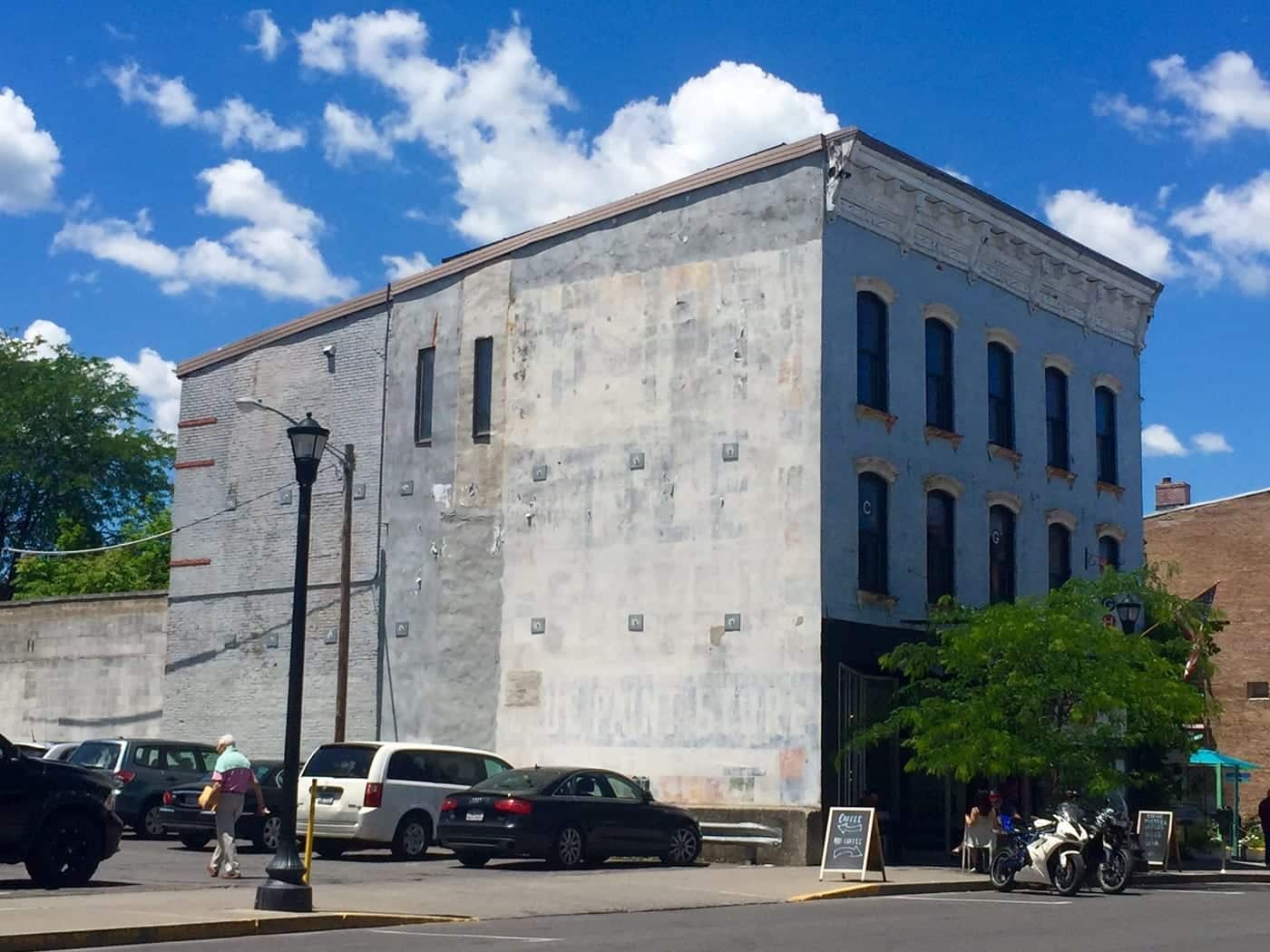 Then there was Moto Coffee Machine, a coffee shop in the front and a motorcycle shop in the back. Because why not?
Best Restaurants in Hudson, New York
But where Hudson truly shines is its food scene. Thanks to their location in the Hudson Valley, Hudson chefs make use of local ingredients from throughout the region. Many plan their menus around what's current and local; some, like Grazin', plan entirely around the local produce!
Here are some of the foodie highlights: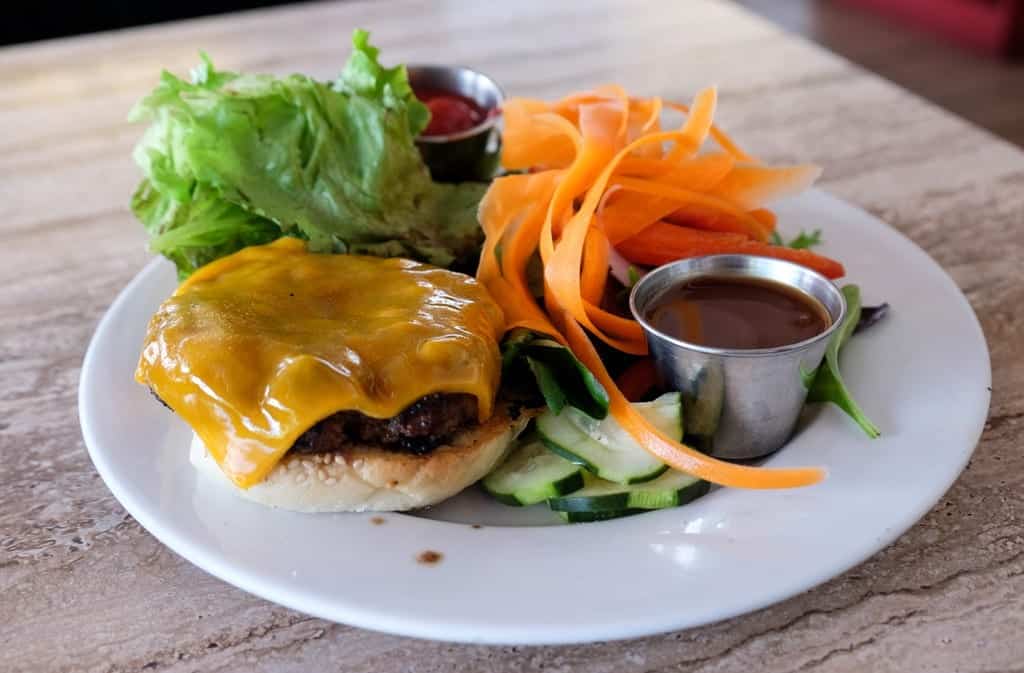 Grazin'
Grazin', a fifties-style diner, is the world's first certified Animal Welfare Approved restaurant. Now, that doesn't mean it's a vegan place — plenty of meat and dairy products are served. But the animals are treated well in life. Everything is free-range and organic, beef is grass-fed, and just about everything on the menu is fresh and local.
I mean, the menu says stuff like this:
ALL OF OUR EGGS ARE FROM GRAZIN' ANGUS ACRES (GAA) OR TICKETY-BOO FARM, WHERE LAYING HENS ROAM ACRES OF FRESH PASTURE FOLLOWING THE CATTLE HERD. AT NIGHT, THE FLOCK IS SAFE FROM PREDATORS AS ROOSTS ARE PROVIDED IN PORTABLE EGG MOBILES THAT MOVE TO FRESH GRASS EVERY DAY!
At this place I had THE BEST BURGER OF MY LIFE. And I do not say that lightly. I ordered the Suzi burger, with onions, pepper and ketchup cooked into the patty and topped with a slice of whatever raw cheese was local and available. It was so good, I nearly cried.
I think I actually whispered, "In-&-Out can go to hell," at one point.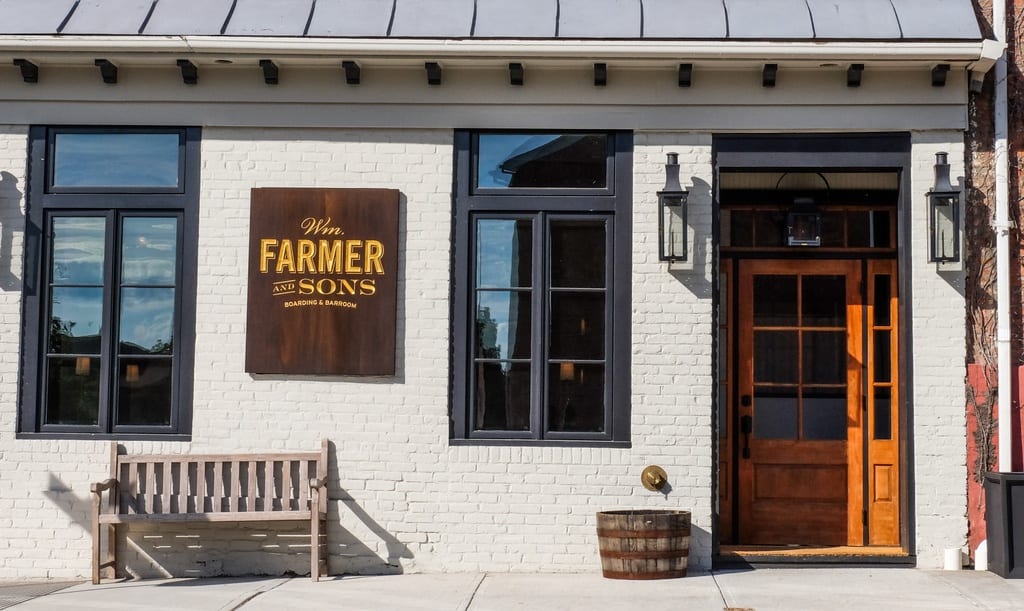 Wm. Farmer and Sons
Most Hudson businesses keep odd hours and shut down for one or two weekdays, most often Wednesdays. To be truthful, I ended up at Wm. Farmer and Sons because they were one of few places actually open on a Wednesday night.
Turns out that was actually a great thing. The restaurant was quiet and slow, and I got to chat with both the bartenders and the resident oyster dude.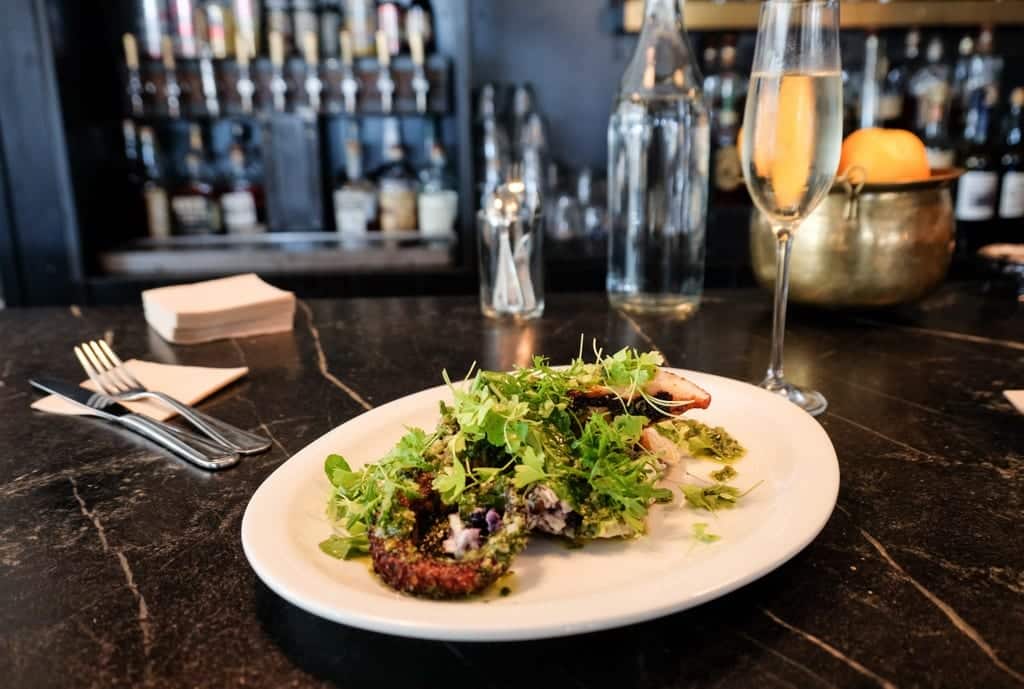 I grabbed some fresh dollar oysters (from my home state of Massachusetts, of course) with a glass of prosecco for happy hour (you know how I do!) and tried their famed octopus appetizer as well. The octopus was terrific, but what really blew me away was the green sauce on the side!
This place is so good that I went back the next day for some steak tartare.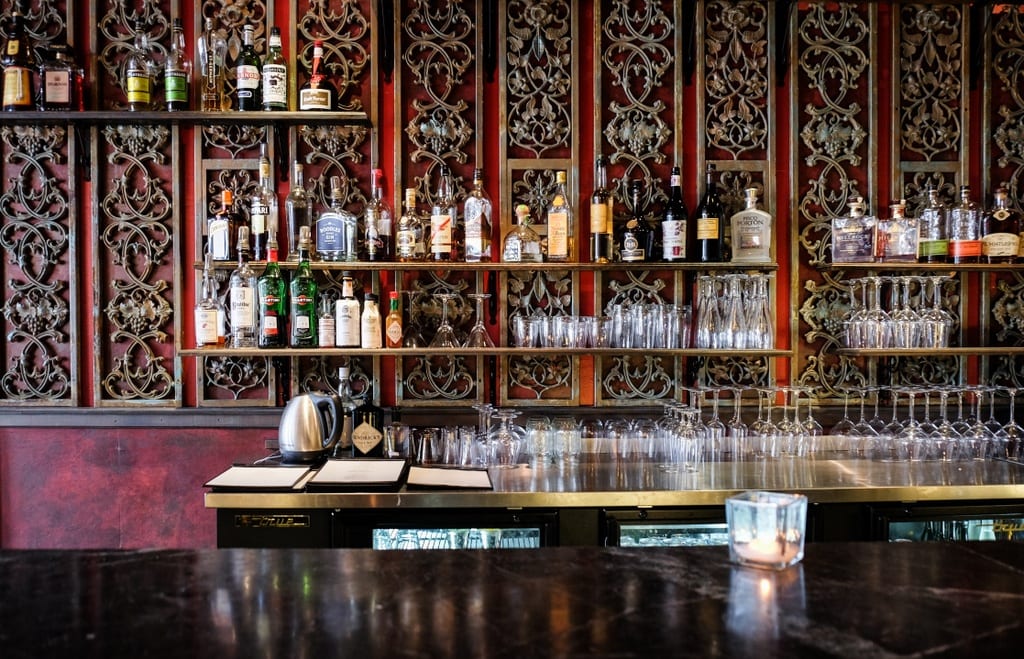 The Crimson Sparrow
One of Hudson's fine dining restaurants (a.k.a. one of the most expensive options) is The Crimson Sparrow. Featuring local ingredients with French techniques and Asian flavors, this is one of the boldest restaurants in town.
The Crimson Sparrow's specialty is their tasting menu; not wanting to eat that much or spend that much, I decided instead to hang out at the bar and get a few dishes while chatting with the lovely bartender.
First up was a plate of kimchi and pickles. Then the chef came out and told me, "The vegetables aren't really representative of what we can do here," and suggested I try the izakaya fried chicken instead. Sold!
The boneless chicken was flavorful and tender in all the right ways, reminding me of the night in Seoul I spent eating Korean fried chicken while watching K-Pop videos on TV.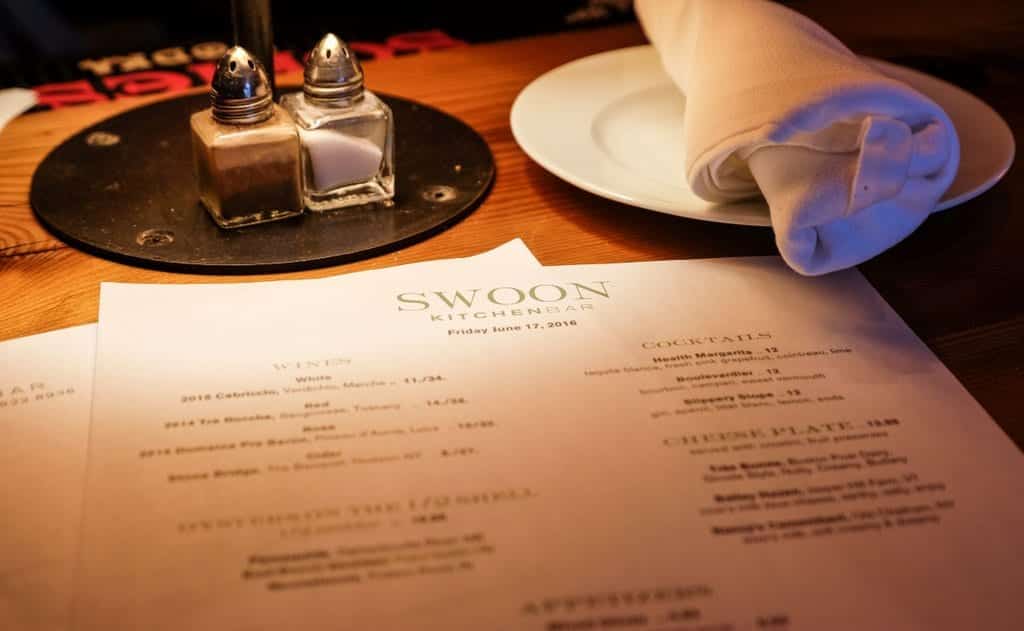 Swoon Kitchenbar
If you're a vegetarian, you'll want to hit up Swoon Kitchenbar — the menu, though not exclusively plant-based, is chock full of delicious vegetarian and vegan dishes.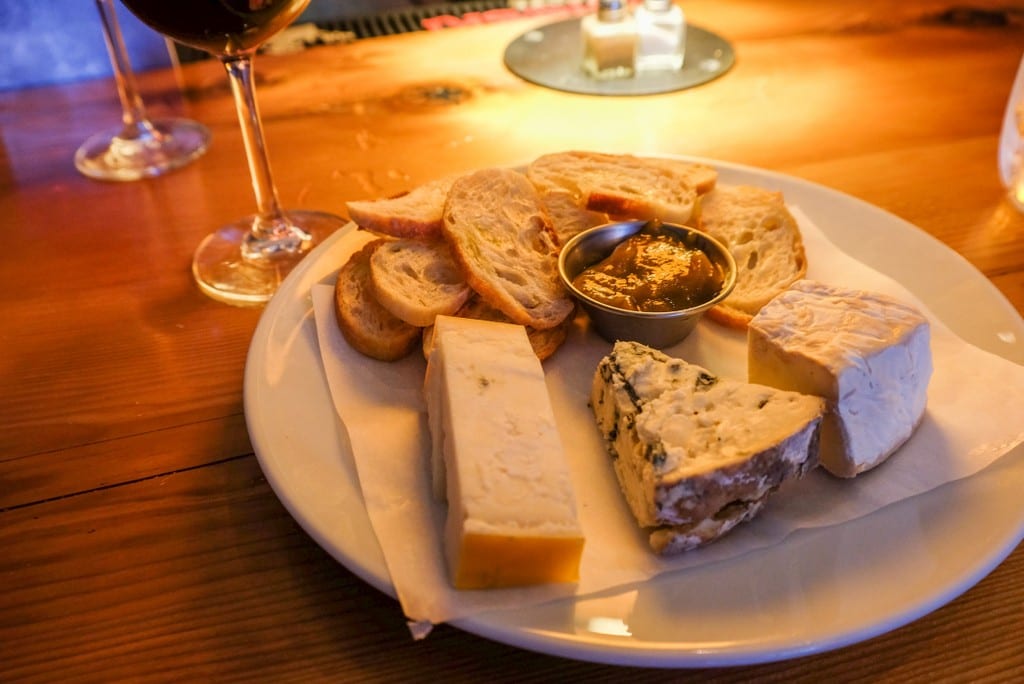 My favorite dish was the astoundingly fresh beet salad, though it wasn't the prettiest thing to photograph (the top was just various greens and the beets were hidden underneath). And I also tried some local Hudson Valley cheeses. They really know what they're doing in this part of the world.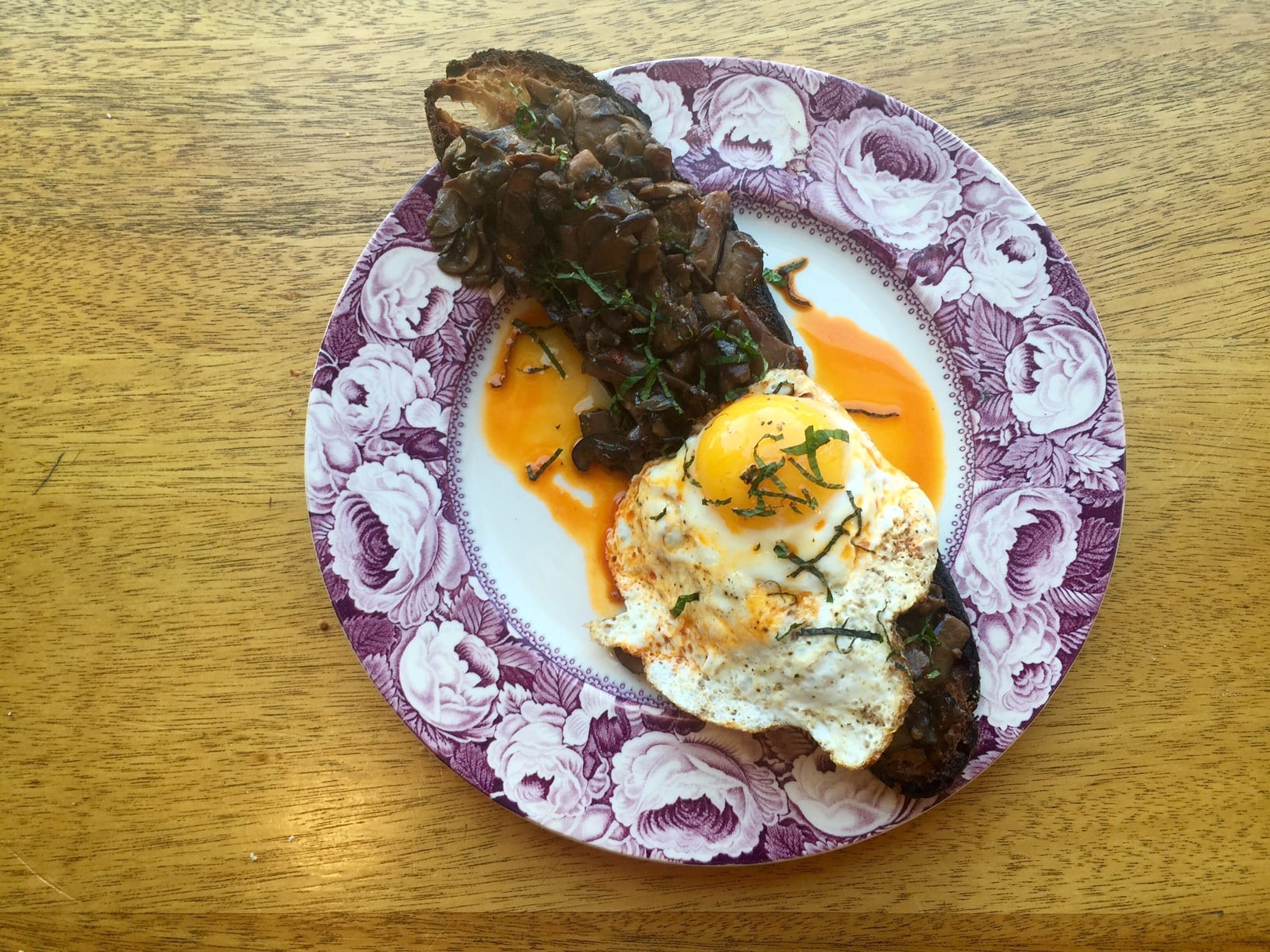 Bonfiglio & Bread
If anywhere should go on your list for breakfast, it's Bonfiglio & Bread. This bakery features lots of delicious breakfast dishes and delicious-smelling pizzas for lunch. Predictably, the menu is heavy on the bread, so celiacs and paleos may want to eat elsewhere.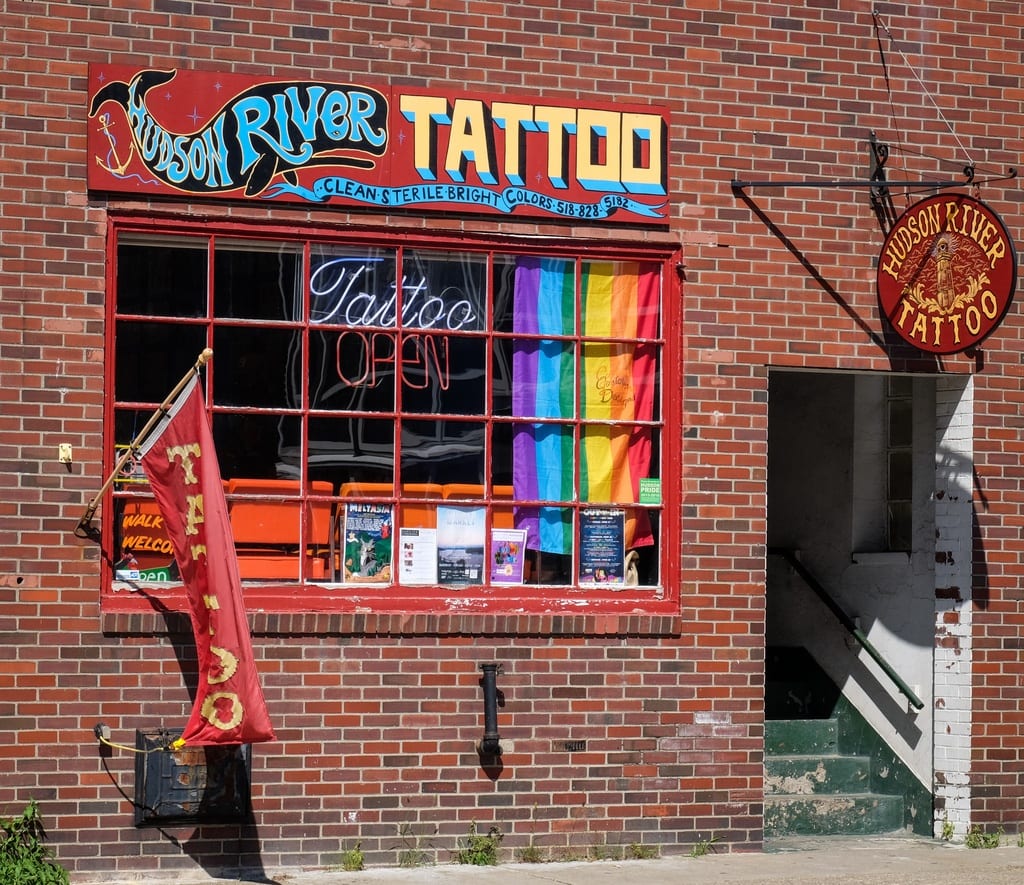 Italian Market
You guys know how much I live for cured meats — so you won't be surprised how dangerous Italian sandwich shops are to me. I stopped at Italian Market for something to eat on the train back home, and they made me a terrific sandwich with eggplant, cheese, and various delicious Italian meats.
I made sure to order just a half sandwich because nothing could have stopped me from annihilating a whole one.
I hear they do a great eggplant parmesan, too.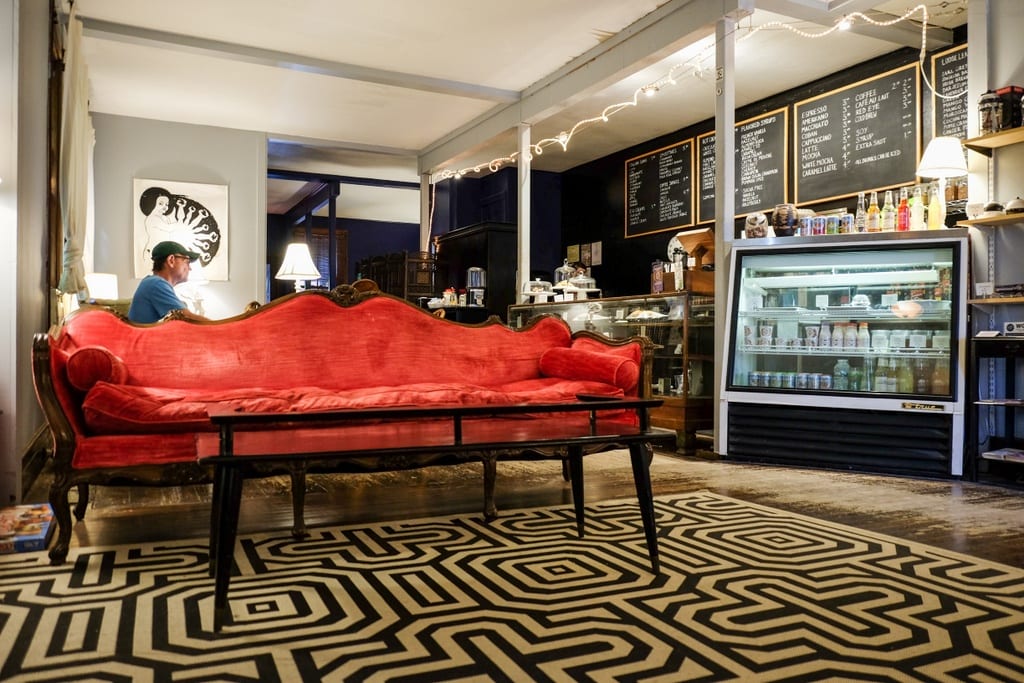 Coffee shops in Hudson, New York
My afternoon coffee break is the most important moment of my day — both while traveling and when at home! I made sure to hit up several of Hudson's best coffee shops.
Rev Coffee, pictured above, has a cool setting with vintage furniture.
Verdigris Tea and Coffee Bar has an incredible selection of coffees, teas, and hot chocolates, with lots of sweet treats for sale as well. I loved their iced coconut cream herbal tea.
Moto Coffee Machine is a cool place, and I wish I had time to try their gourmet sandwiches, but I wasn't a fan of the smell of the motorcycle shop. Perhaps it was extra motorcycle-y that day?
Cafe le Perche is a lovely little cafe and a nice stop for breakfast as well.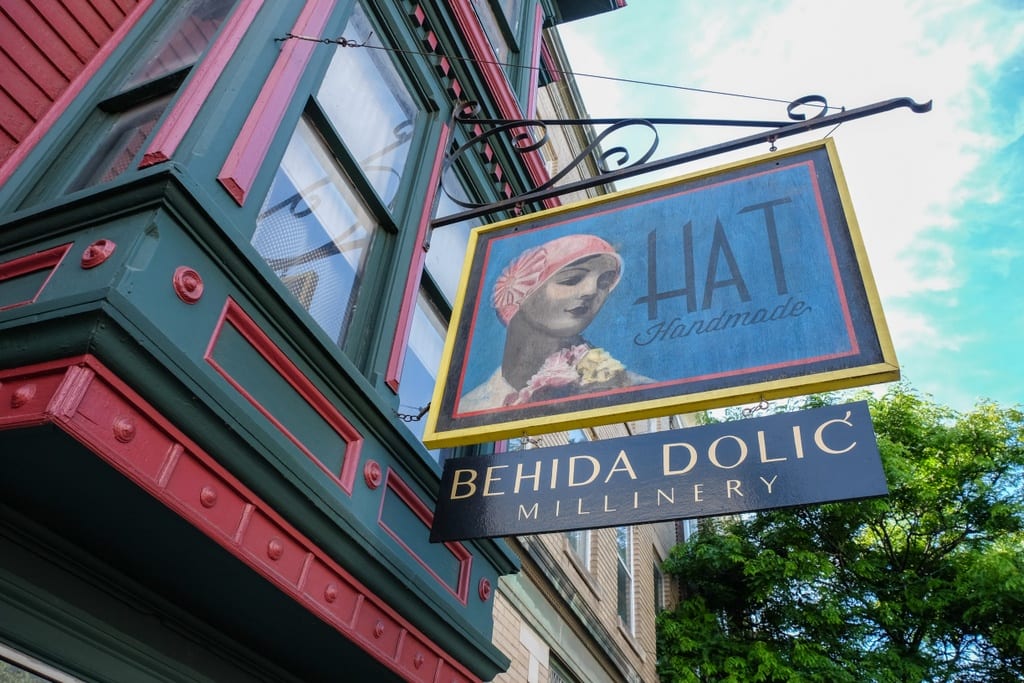 More Restaurants in Hudson
Hudson's most famous fine dining restaurant is Fish and Game — it was one of the restaurants that started Hudson's culinary revolution. But after reading this scathing GQ review and seeing that the entire first page of Yelp was full of lackluster reviews, I decided to skip it.
If you're craving pasta, check out Ca'mea — they're one of the few restaurants open on Wednesdays!
Mexican Radio got recommended to me by a few readers, but I decided to skip it as they have an outpost in New York as well.
Hudson Food Studio has a Vietnamese fusion menu and I'd love to try them out next time.
And new places are opening all the time.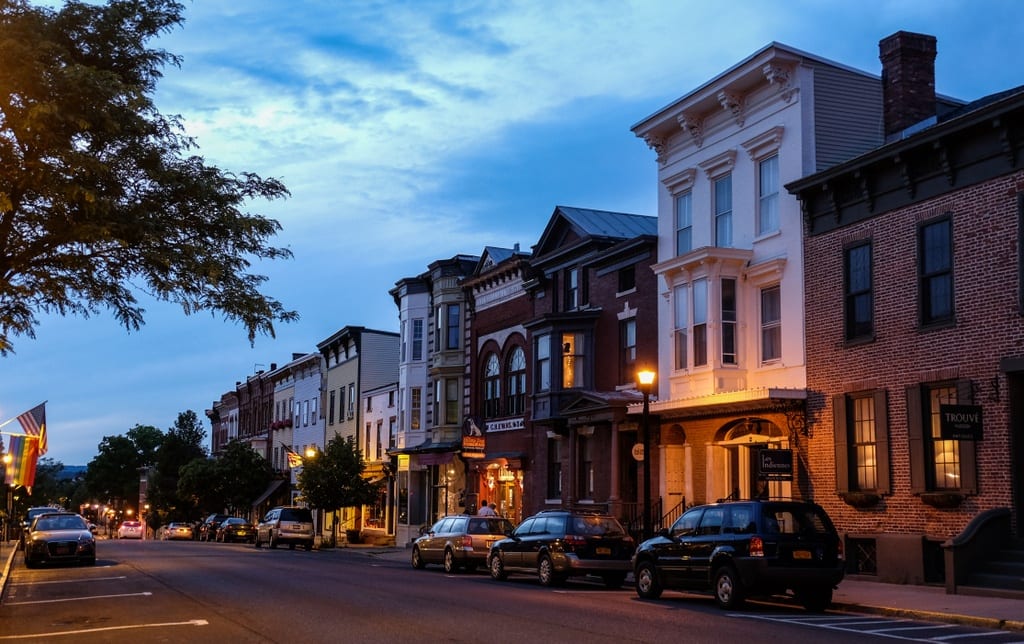 Where to Stay in Hudson, New York
I had a bit of credit to burn so I stayed at this wonderful Airbnb rental for an average of $115 per night (Weds-Sat). A private two-bedroom apartment right on the 200 block of Warren Street, this house has everything you could need: a full kitchen, a comfy bed, a clawfoot tub, and best of all, keypad entry — so I could get in on my own without having to pick up keys.
I knew I was at home when The Neapolitan Novels by Elena Ferrante, my favorite reads of 2015, were stacked on the coffee table! It turns out that my host, Julie, and I have very similar taste in books: she had plenty of my favorites on the shelf, including The Poisonwood Bible, Euphoria, Disgrace, The Kite Runner, Othello, and my favorite Boston-set children's book, The Trumpet of the Swan.
This apartment was very comfortable and very central — I could easily walk from the train station with luggage, and I was just a few minutes' walk away from all of the best restaurants downtown.
While it's technically a two-bedroom, it's not the most private two-bedroom: the second bedroom opens off the first and the first has open slots that open over the lower floor. For that reason, while you could sleep four people here, I think it would be more comfortable for a couple or two friends.
See more Airbnbs in Hudson here.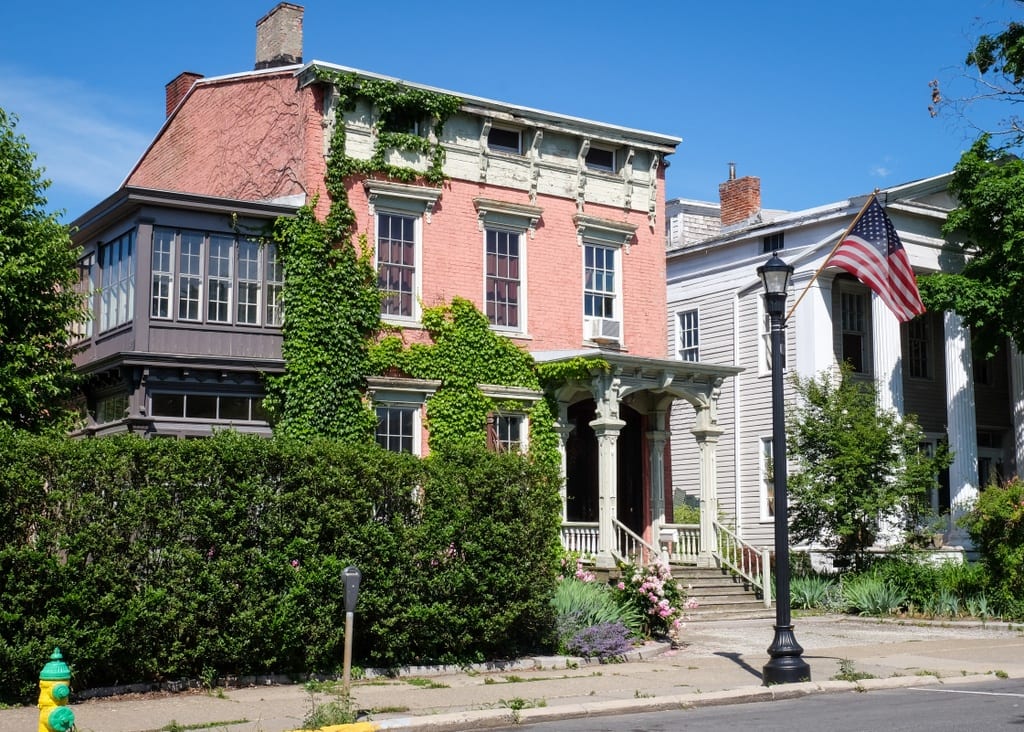 Is Hudson worth it?
This definitely won't be my last trip to Hudson! I know I'll be returning again and again. Hudson could end up being my default "escape New York before the city consumes you" getaway. And since my three best friends and I are living in New York, Boston, and upstate New York, it could be a perfect meeting point for us.
I feel like Hudson is a good destination for people who want to chill out and relax, not people who are set on ticking off a sightseeing list. There's not a lot to do here beyond eating, shopping, and hanging out — and that's what I love about it.
When I need to get away from the city, Hudson is the place!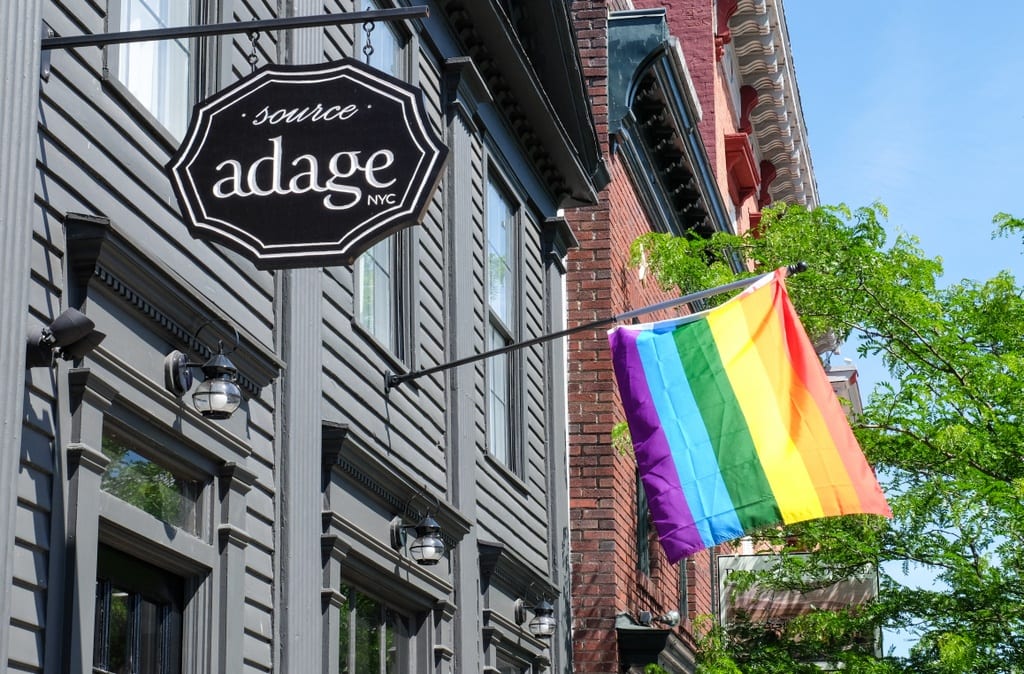 I was also impressed by how gay-friendly Hudson was. I visited during Pride Month and sadly had to leave hours before Hudson's own Pride Parade took place. But the town was absolutely covered with rainbow flags! They hung from nearly every flagpole down Warren Street, alongside the American flags, and nearly every business had its own rainbow flag or sign out front as well.
Hudson hasn't been a historical getaway for LGBT travelers like Provincetown or Key West, the kind of place you'd expect to be covered with rainbow flags. Because of that, the message was clear: Hudson was saying, "LGBT travelers, you're very welcome and we're so glad you're here." I love this. More destinations should follow Hudson's lead.
I will say one other thing — I enjoyed Hudson the most during the week. I preferred when it was much less crowded and I could be the only person at the bar, even though far fewer places were open. Even if you only have the weekend, see if you can tack on a Thursday or Monday to get the feeling of the town outside peak time.
---
More Easy Trips from New York:
Exploring the North Fork of Long Island
Revisiting Philadelphia, And Doing It Better
A Weekend on Maryland's Eastern Shore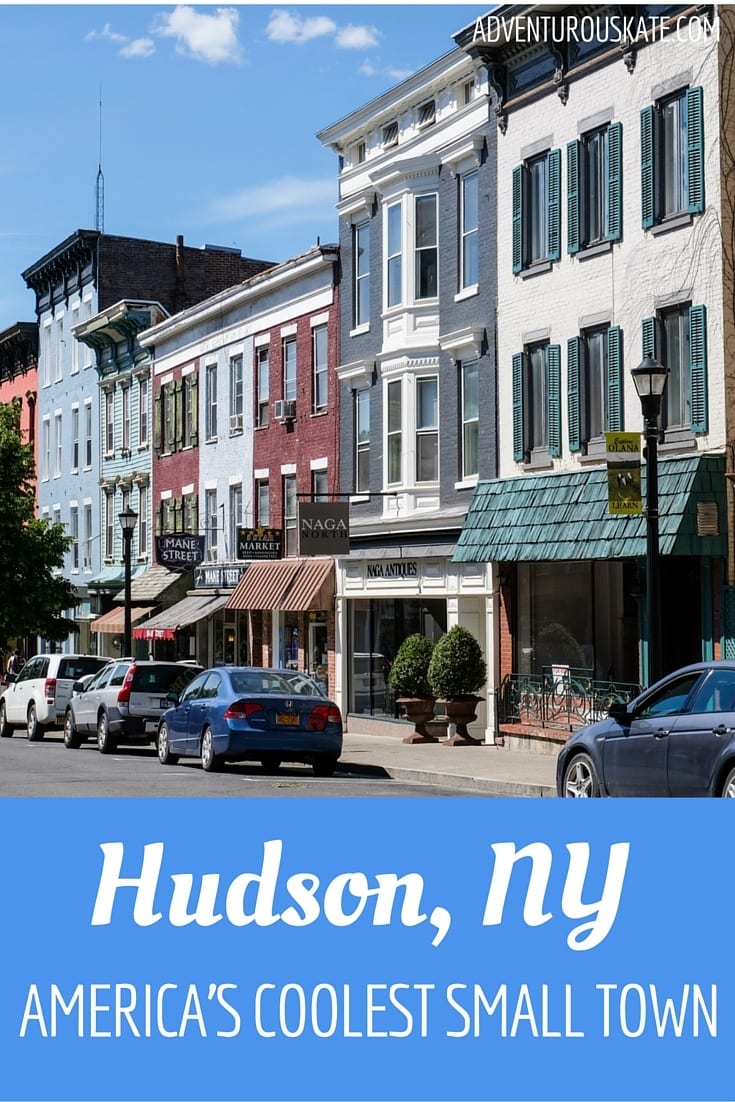 Essential Info: To get to Hudson, take Amtrak from Penn Station in New York. The journey is two hours and I paid $72 for a round-trip ticket; book early for the lowest fares.

Hudson is a stop on several Amtrak lines including the Empire Express, which I took (New York to Niagara Falls), Ethan Allen Express (New York to Rutland, Vermont), Maple Leaf (New York to Toronto) and Adirondack (New York to Montreal), so it's easily accessible from lots of places!

Hudson is a great place to book an apartment rental. My Airbnb rental, a private two-bedroom apartment, costs $100-155 per night plus Airbnb fees, depending on the day of the week and season. See more Airbnbs in Hudson here.

There are a few hotels in Hudson, you can find them here.

Because Hudson's businesses keep such odd hours, I recommend double-checking the hours before going anywhere. I found the Foursquare app's "open now" option very helpful for this.

If you've got more time, consider renting a car and driving around the Hudson Valley. There are plenty more interesting towns to visit, but they're not as easy to get to by train as Hudson!
Does Hudson look like your kind of place? Share away!
Get email updates from Kate
Never miss a post. Unsubscribe anytime!