Adventurous Kate contains affiliate links. If you make a purchase through these links, I will earn a commission at no extra cost to you. Thanks!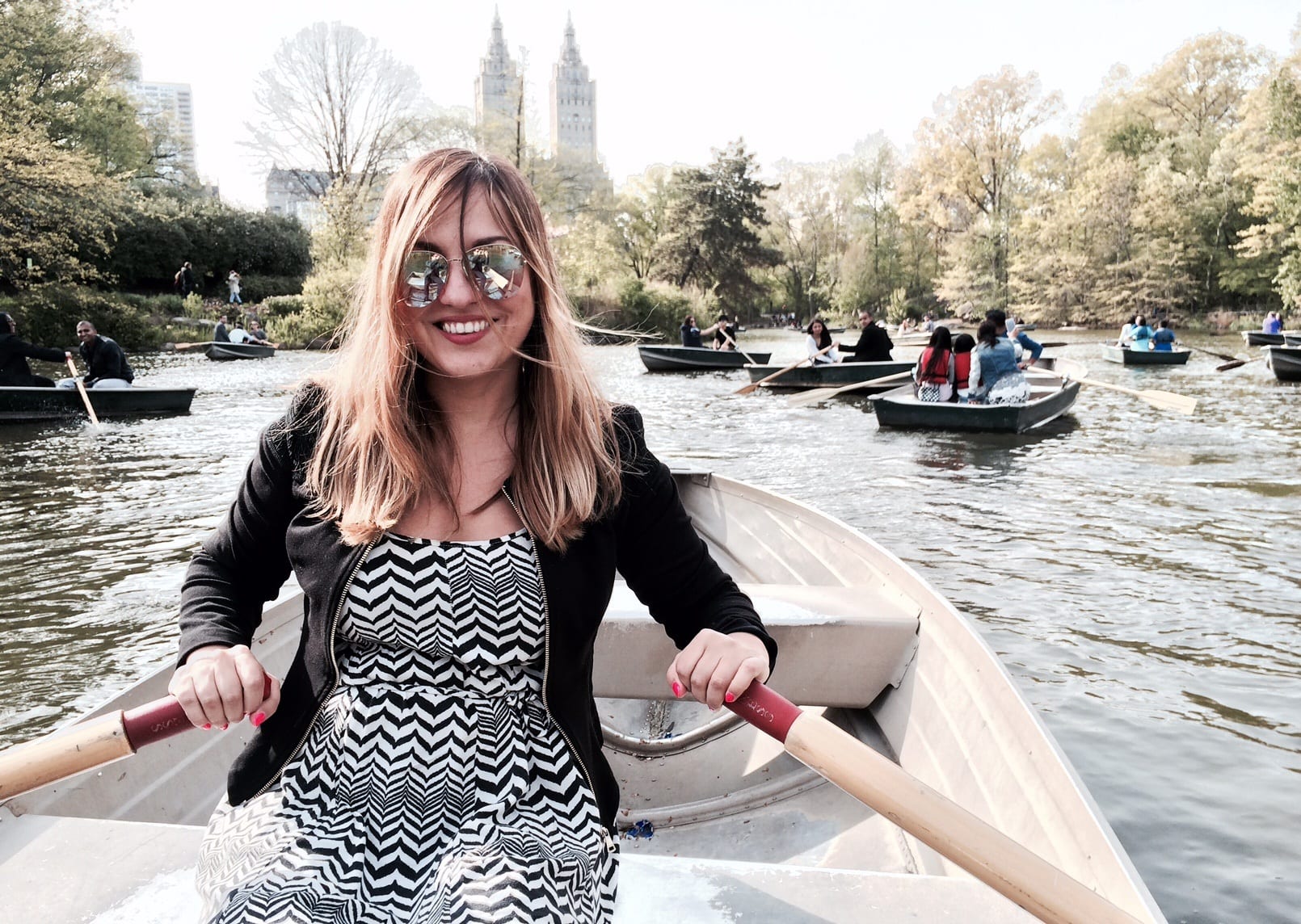 Guys, I'm a bit embarrassed at what I'm about to tell you. For the first time in the six years that I've been writing this blog, I went a full month without leaving a single city.
I couldn't believe it until I went back through my photos and realized it was true. I never left New York this month. And not only that, I only existed within the boroughs of Manhattan and Brooklyn.
I mean, there were reasons. I spent half the month hosting out-of-town friends. That dominated my schedule. And there were events — concerts, my sister's birthday party…it just wasn't a month for travel.
But that's okay. I've needed this break, and I'll be hopping on a plane in just a few days. For now, here's an overview of my very New York month!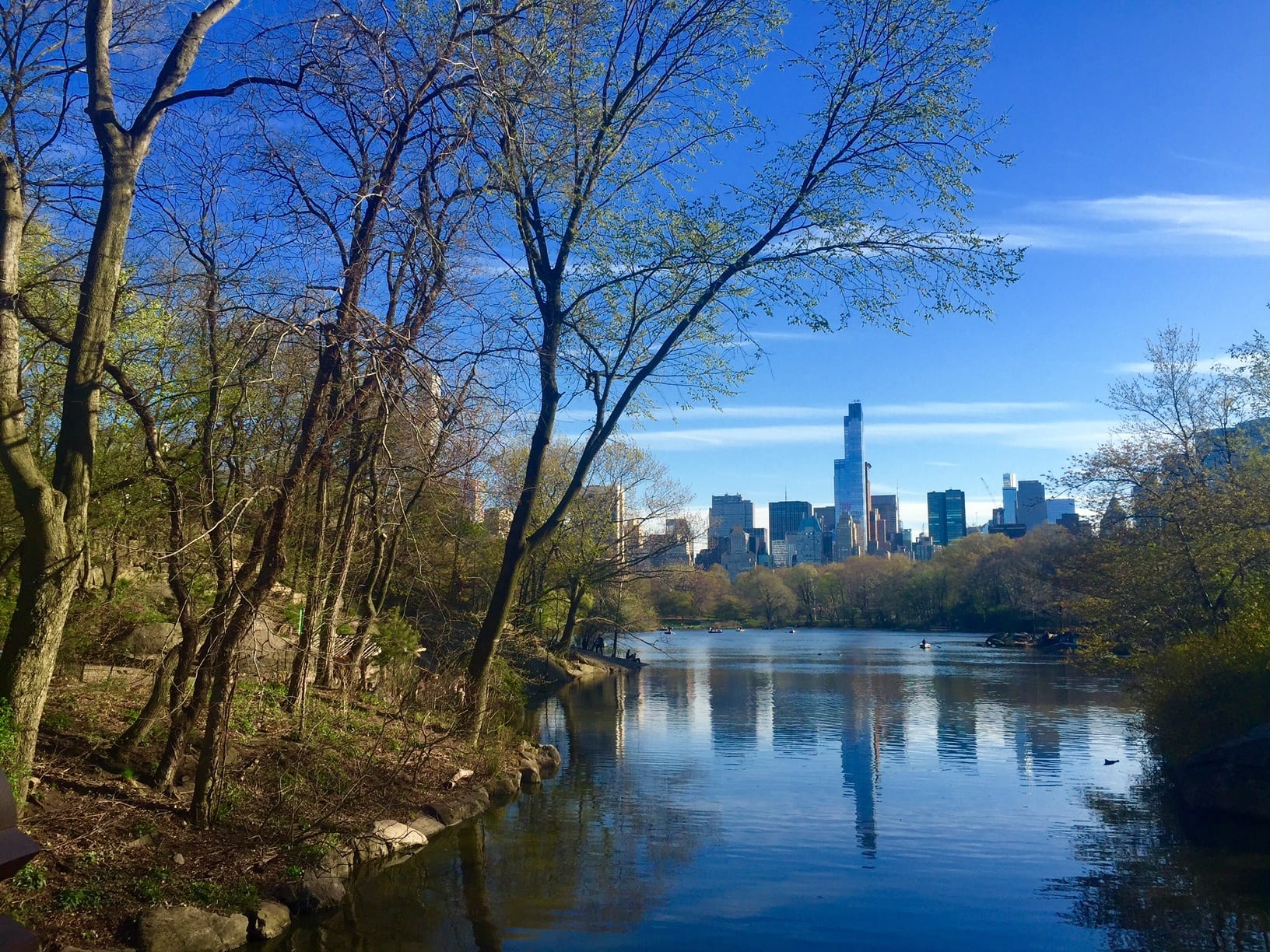 Destinations Visited
New York, New York
Favorite Destinations
Um…I really like Harlem. And Brooklyn Heights. And the Village. And Bushwick. And the Lower East Side. And Chelsea….
Highlights
Hosting friends at my apartment. There were three waves: first Dylan for a week, then Cailin for a few days, then a Brood reunion trip: Lisa and Alexa came from Massachusetts, while Beth came up from Brooklyn. I loved opening my house to my friends, showing them my favorite spots in my neighborhood, and especially working on restoring my couch-crashing karma.
Speaking at NY Trav Fest. I spoke on two topics: Snapchat and privilege. Two very different subjects. It was so nice getting to know so many New Yorkers who work in the travel industry or are just avid travelers. And I loved that the festival was in Brooklyn Heights, one of my favorite and most-frequented neighborhoods, so that everyone could get to see how great it is there.
Blogger reunions! If there's a travel event, my travel blogger friends leap out of the woodwork. I love when we get to spend time together.
Trying the crazy milkshakes at Black Tap. I had been wanting to try these forever, and the experience did not disappoint! The full experience is here.
Falling in love with Central Park. Before this month, I hadn't spent much time in Central Park — just a few visits on chilly, gray days, as I tended to visit New York in the colder months. But this month, I finally got to experience Central Park on a hot sunny day — and then another. And another. And another. Central Park is nothing short of DIVINE when the weather is beautiful! I especially loved renting a boat.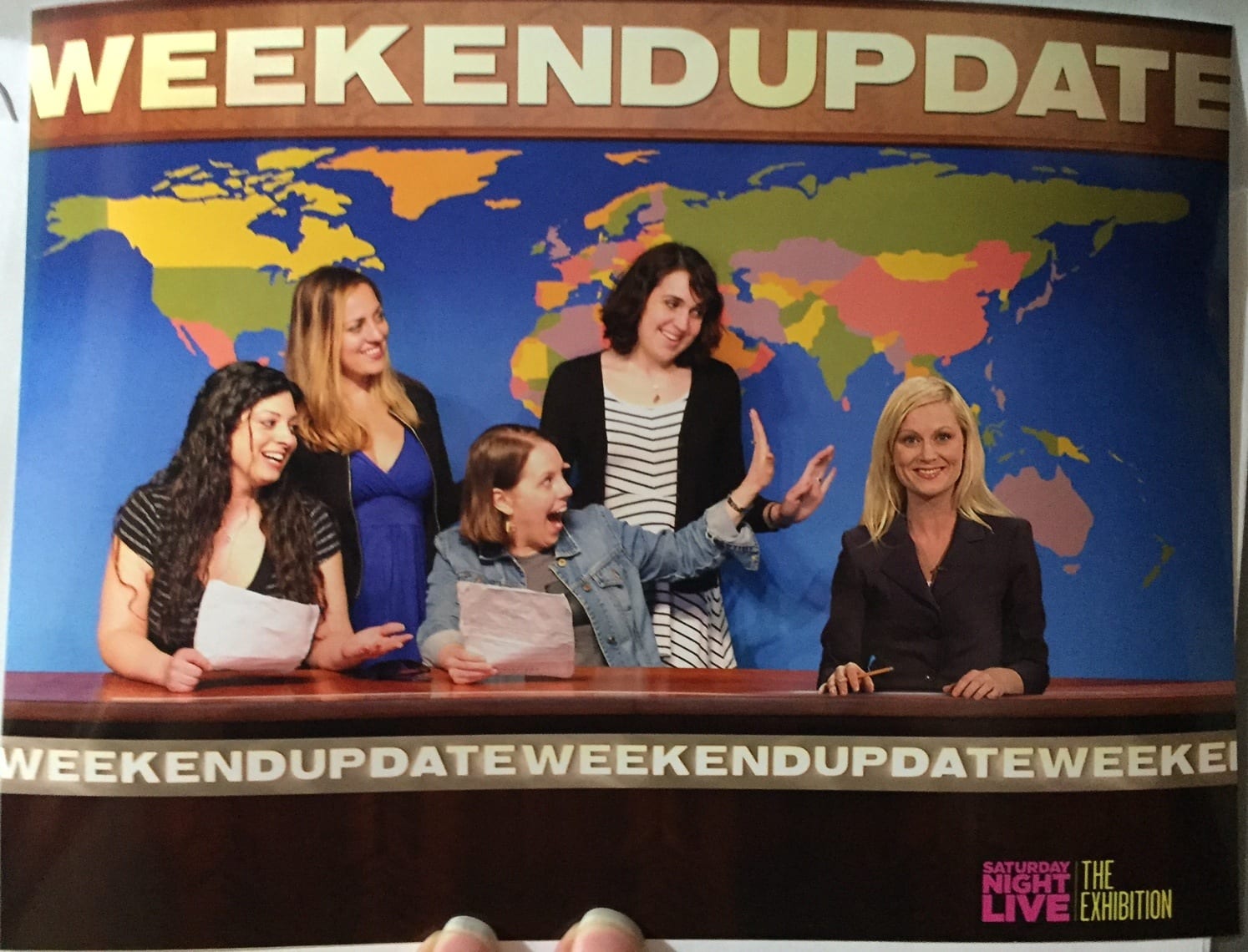 Going to Saturday Night Live: The Exhibition. My best friends from home, the Brood, and I have been huge SNL fans since high school, so it was fitting that we checked this out! It's a well done, comprehensive collection of SNL lore, from costumes to set pieces to information on how they put together the show each week.
At $29 I think it's overpriced, but if you're a big SNL fan, go for it! (That Weekend Update photo was $20 extra, but you can also pose on the Wayne's World couch and at Turd Ferguson's Celebrity Jeopardy podium and a Black Jeopardy podium for free.)
Checking out tons of new restaurants. I eventually want to write more about New York restaurants that I love, but here are some teasers for now: Totto Ramen in Hell's Kitchen does a ramen that is FILLED with giant chunks of pork belly. Melba's in Harlem does outstanding soul food, especially the mac and cheese and collard greens. Lido in Harlem does a nice bottomless mimosa brunch.
Hill Country in Flatiron serves up crazy amounts of Texas-style barbecue (go for all you can eat on Mondays and get the moist brisket). Ivan Ramen on the Lower East Side does some of the best ramen I've ever had. Forrest Point in Bushwick is as kooky as the rest of the neighborhood and has nice casual eats and cocktails.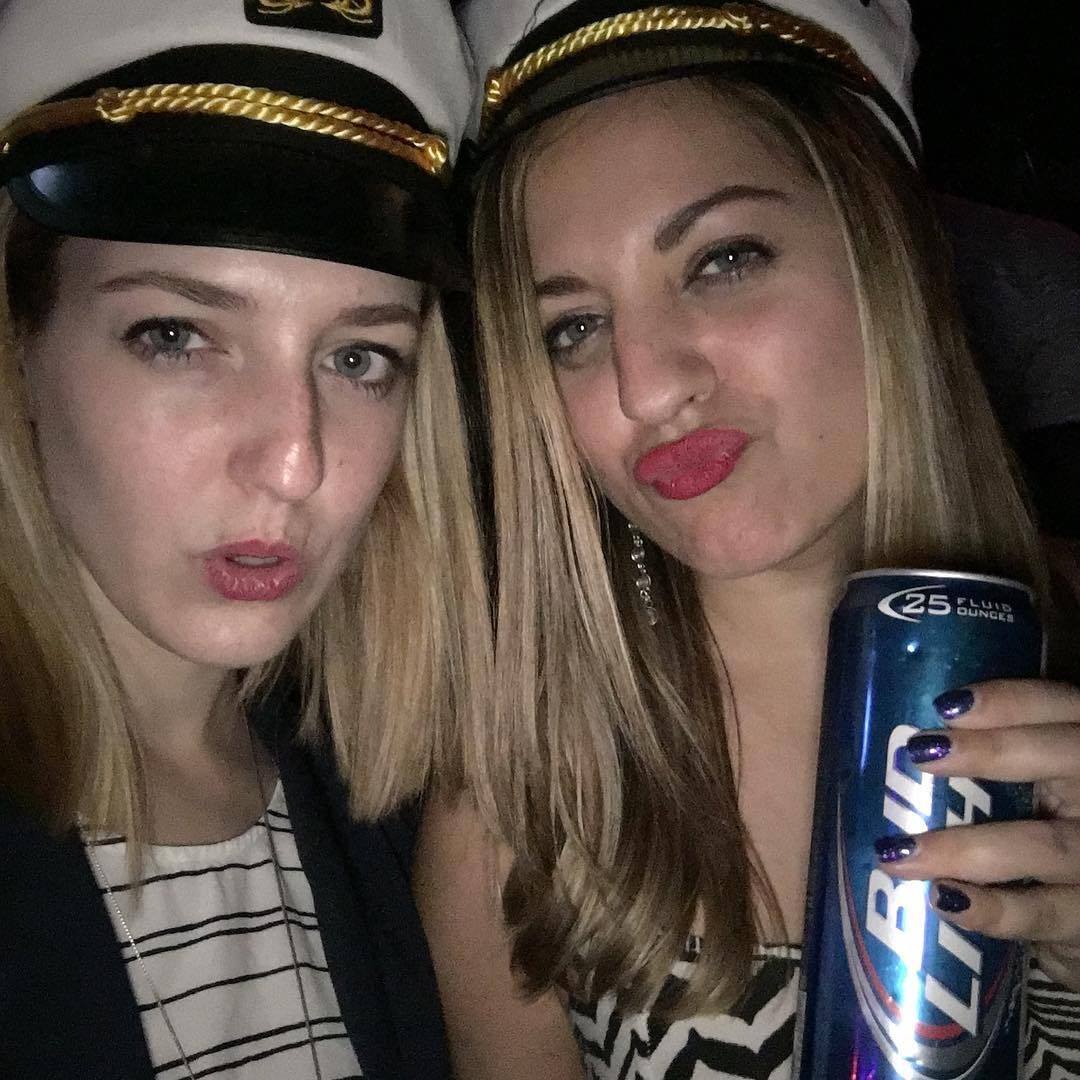 YACHT ROCK. My sister Sarah and I went to Yacht Rock, an amazing concert where the band dresses in 70s gear and mustaches and captain's hats and they play covers of 70s soft rock songs by Hall & Oates, Fleetwood Mac, Toto, Journey, the Bee Gees, and more.
I've never been a big concert-goer, but this was RIDICULOUSLY FUN. You haven't lived until you sung "Rosanna" and "Rich Girl" with thousands of people simultaneously. Check out Yacht Rock here — they tour!
One truly strange night out. Last Sunday, I went out for what was supposed to be a cup of coffee and a walk in the park…a few hours later I was in a club that was bumping by 8:00 PM and Ja Rule was there (yes, as in the soundtrack to my high school years Ja Rule) and he was taking selfies with everyone! Now I'm wishing I asked him for one.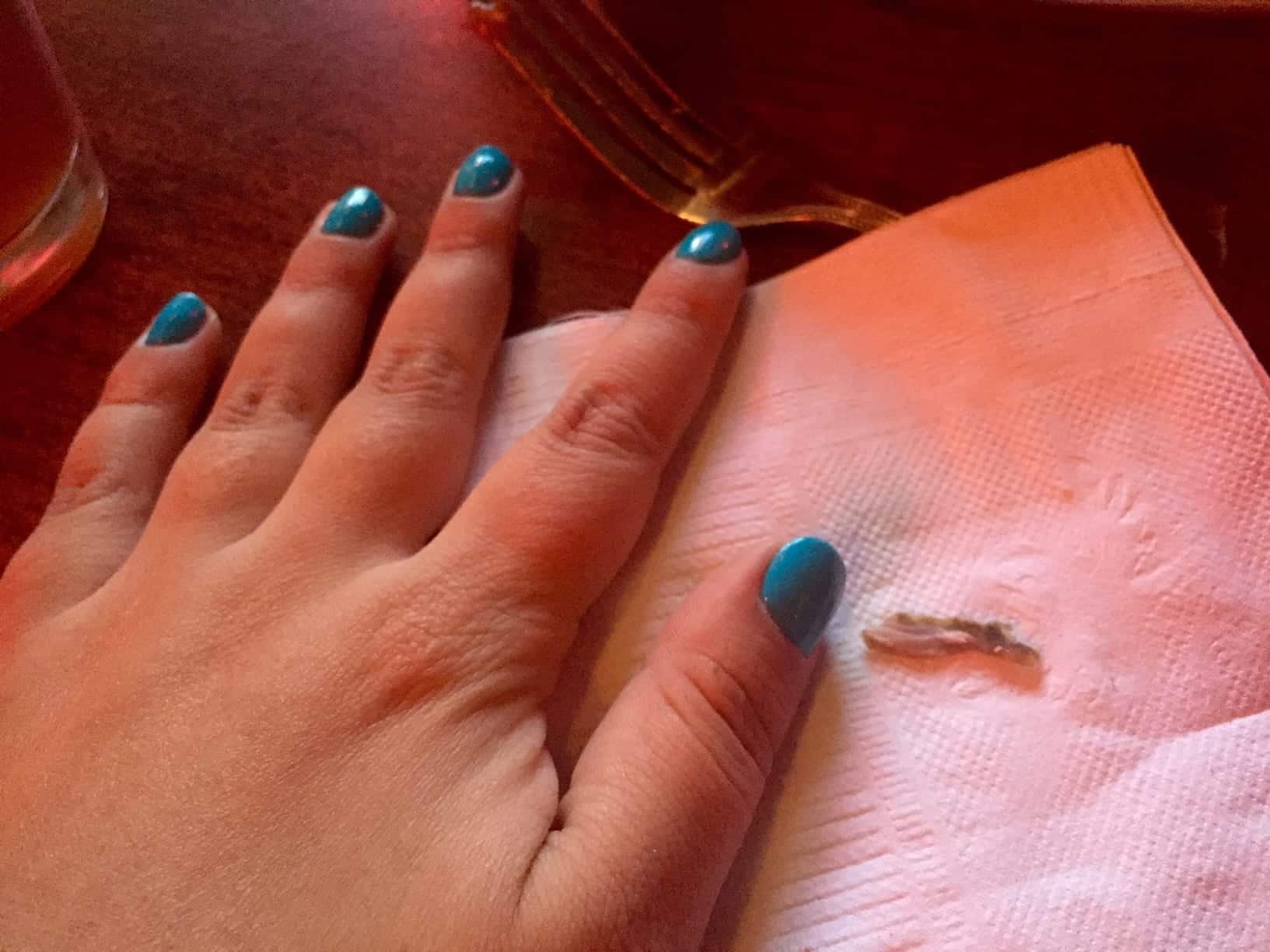 Challenges
Choking on a giant shard of oyster shell. Far and away the worst moment of the month. I was at Live Bait in Flatiron with Dylan and Tess and we ordered dollar oysters. Well, I got a huge shard — nearly a centimeter long — trapped in my throat. I sat in horror, not knowing whether to attempt to swallow it or bring it back up.
I gagged it up. (That's it in the photo above with my hand for scale.) Then I realized with horror that these oysters were FULL of shards. As a native New Englander, let me tell you that shard-filled oysters are not normal, safe, or okay by any stretch. I also informed two different bartenders and the two actual oyster shuckers and everyone seemed indifferent to it. "Oh. Okay." Any decent place would at least offer to take them off your bill or bring you a round of drinks…not that it would have mattered. I am done with that place for good, $3 happy hour beers be damned.
For that reason, if you value your health and/or esophagus, I urge you to avoid the oysters at Live Bait. Head to Brooklyn Heights and get dollar oysters at Chez Moi or Colonie instead. They know what they're doing and their cocktails are fabulous.
And then there was the night I cried my eyes out while listening to Prince. Not even the night he died — days later, when they revealed his painkiller addiction. I was just so angry. Dammit, Prince. You were supposed to be the one who had his shit together, and now the world has been denied so much incredible music because of it.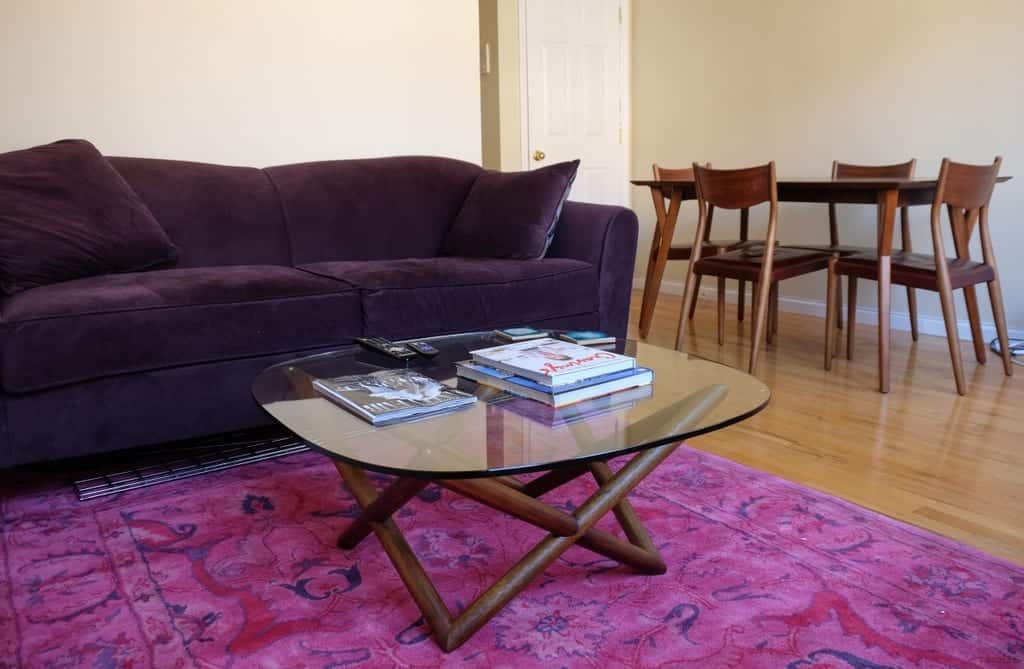 Most Popular Post
Introducing My New Apartment! — Thanks for all the kind comments and helpful design ideas!
Other Posts
When the Photography Gods Don't Smile Upon You — Sometimes you have no choice but to work with the worst photography conditions, like I did in San Juan.
In Oakland, a Different Narrative — Not only is Oakland so different from San Francisco, it has a vibe unlike any other American city I've visited.
Black Tap and the Craziest Milkshakes in New York City — OM NOM NOM NOM NOM.
News and Announcements
New York magazine named me one of the top 101 people to follow on Snapchat! Normally I tend to ignore lists that big…except this is one crammed with celebrities. Also on this list? Arnold Schwarzenegger. Rihanna. DJ Khaled. All of the Kardashians. And they put me on that list. WHAT IS GOING ON?!
You can follow me on Snapchat at adventurouskate! I'm either out and about doing interesting things…or at home making jokes.
Also, this month I decided to finally book my dream trip. I mentioned on Facebook that New Zealand has always been my ultimate dream trip, and fares were currently cheap for November and December — the ideal time to visit, and I had no plans for then yet. Should I book it?
Well, you guys responded with a resounding yes. But it was this comment from a reader named Sophia that put me over the top:
"While I travelled prior to finding your blog, it was your blog that inspired me to actively prioritize travel and pursue my dream destination(s). Last summer, I finally realized a long-held dream of visiting Ireland. Now, I'm telling you to do the same! Go for this trip 😀."
THANK YOU, Sophia. You're right. I always tell people to go to the destination that moves them — why shouldn't I do it myself?
I booked the ticket — just $790 round-trip from San Francisco on Qantas! (I'll keep an eye on flight sales or use miles to get myself from NYC to SFO.)
I'll be traveling in New Zealand this November and December. Booking so far in advance means that I'll be able to save up and give this trip the attention it deserves. I want to see as much as possible and I want to rent a car for most if not all of the trip.
After last summer's Barcelona experience, I want to avoid hostel dorms if possible, which will require saving up a lot more money. I've also received kind offers from three dear friends to crash with them in Wanaka, Wellington, and Christchurch. If I play my cards right, I can make it all the way from Cape Reinga (the far north) to Stewart Island (the far south).
So, I guess this means I have to finally watch Lord of the Rings, right? (I know, I know, I'm the last person on Earth to see them.)
Most Popular Photo on Instagram
Norway always does great on Instagram. This is a shot of the Bryggen, the old wooden wharf, in the city of Bergen. Bergen is one of the rainiest cities in Europe and I still feel so fortunate to have seen blue sky during my visit in 2014.
For more travel shots, follow me on Instagram at adventurouskate!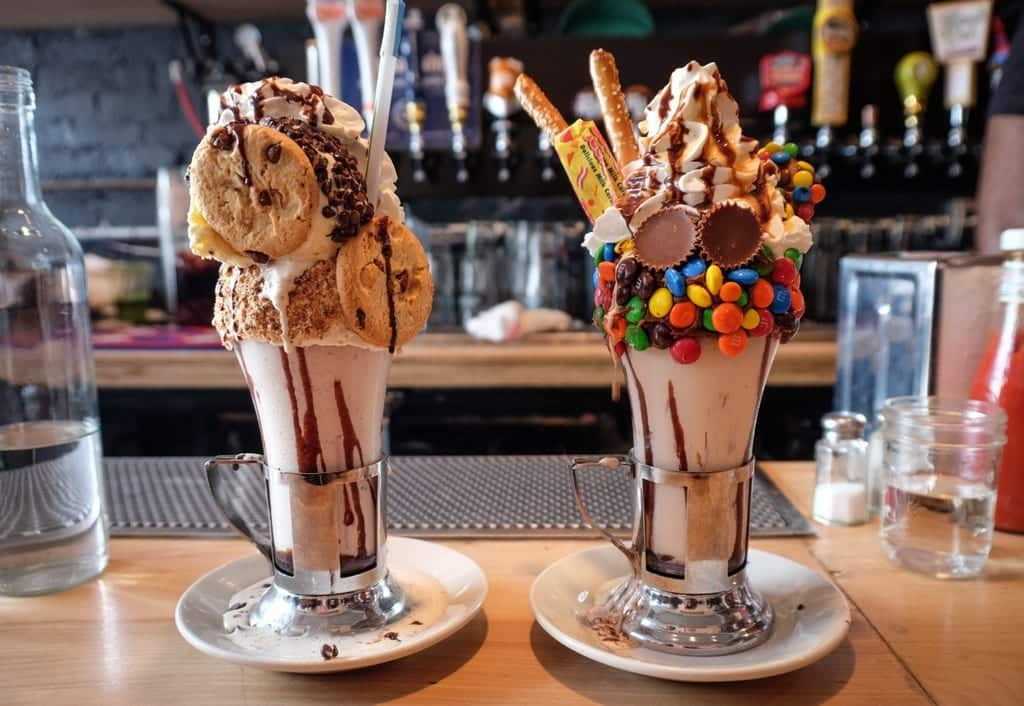 What I Read This Month
The Nest by Cynthia D'Aprix Sweeney — This is one of the hottest novels of the moment, and it was my book club's pick for the month. It tells the story of four distant New York siblings who are eagerly awaiting their inheritance — only to have the money nearly disappear just before their payout is due.
This book is incredibly readable; I couldn't put it down. I loved how it told the stories of lots of different characters, and I especially loved reading a story where New York City was a character. I feel like the ending wasn't resolved as well as it could have been, but that's forgivable — endings are hard and so few authors get them right.
If you're looking for a book with a similar premise, taking place in the South and with a far more satisfying ending, I highly recommend A Perfectly Good Family by my favorite author, Lionel Shriver.
What I Watched This Month
Parks and Recreation. I had watched Parks and Rec on and off during its run, but starting in February, I decided to marathon the whole series on Netflix. I finished it this month and honestly, I think Parks and Rec is one of the best TV comedies of all time.
It just grows. Not only does it have a fantastic and perfect cast, I think it's the best TV comedy at creating a fictional universe. There are so many kooky peripheral characters in Pawnee who keep showing up again and again — it's basically like The Simpsons or Family Guy, only with real people, which is impressive. (My all-time favorite: Jean-Ralphio. God, I love that man.)
So if you're looking for something new to binge on Netflix, I can't recommend Parks and Rec enough!
Unbreakable Kimmy Schmidt, Season 2! One of my favorite comedies of the now (I own a Pinot Noir mug with Titus on it), and it sure didn't disappoint in its sophomore season.
What I Listened To This Month
Prince. Over and over. He was so protective of his music, so I can't embed anything on Spotify for you. Go buy his albums. It's what he would have wanted.
If you're looking for a great overview, I recommend The Hits/The B-Sides, which gives you more than 50 of his songs, both his biggest hits and lesser-known songs. Some of my all-time faves: "Little Red Corvette," "Pope," "If I Was Your Girlfriend," and "Sexy Motherfucker" (obvious reasons on the latter). Also, fun fact: "When Doves Cry" was the #1 song in America when I was born.
Prince only streams on Tidal (haha, people are still trying to make Tidal happen) but you can buy his early and compilation albums on iTunes. For his later albums, you have to order them in the form of CDs (yes, I'm serious).
But besides Prince, I discovered some new music, including Kendrick Lamar's new untitled unmastered album. I particularly love "untitled 06" (it features Cee-Lo, who I would listen to if he were singing the phone book) and "untitled 08."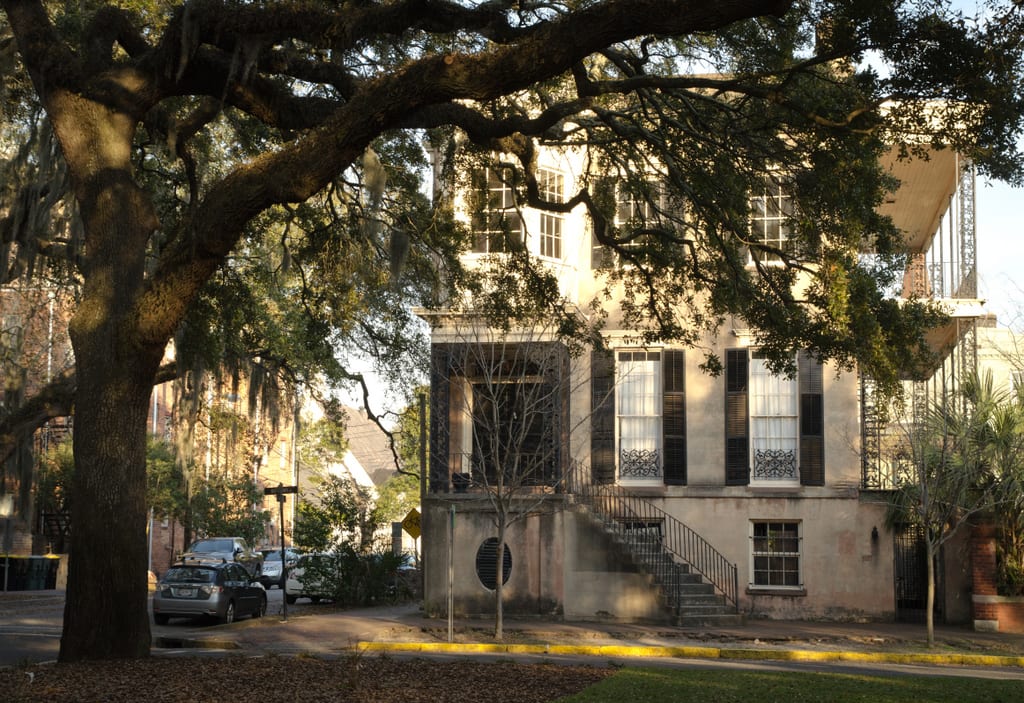 Coming Up in May 2016
I'm going back to Savannah, Georgia! Savannah is one of my favorite cities in America and I could not be more delighted to be returning. It's a short trip, but packed with a lot of activities. I especially can't wait to take better photos and explore Savannah's fabulous food scene.
Will you be in Savannah? Come meet me! I will be sampling cocktails at Jen's & Friends in the Historic District on Friday, May 5 starting at around 8:30 PM or so. If you're in town, please drop by — I'd love to meet you!
Any plans for May? Share away!
Get email updates from Kate
Never miss a post. Unsubscribe anytime!