Adventurous Kate contains affiliate links. If you make a purchase through these links, I will earn a commission at no extra cost to you. Thanks!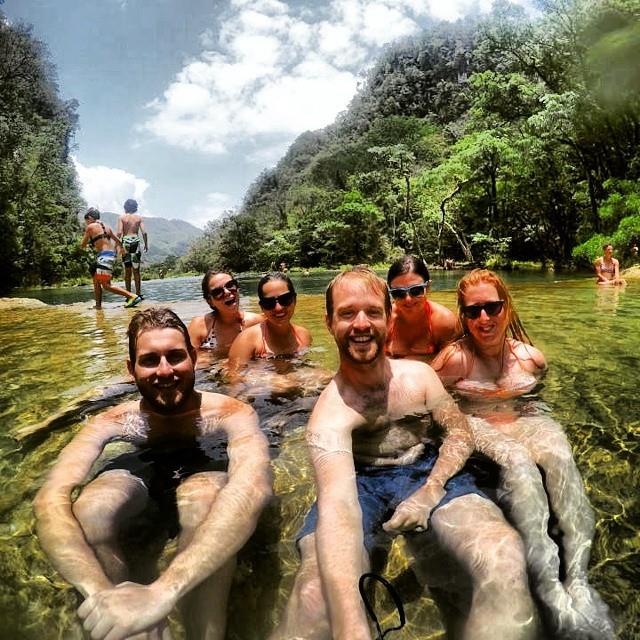 I traveled to Semuc Champey, Guatemala, and it was one of the best days of my life. But what makes a perfect day, anyway?
I'm not talking about one of the days I had a water fight in Bangkok, or the day I danced with Vikings in Shetland, or the day I went croc cage diving (in South Africa or Australia), or the day in high school my friends and I saw our classmate's dad next to us at a stoplight, then challenged him to a drag race. (He agreed. We actually raced.)
In my mind, perfect days aren't about the most extreme activities. Just the perfect combination of good times and good people.
There was a time just after I turned 21 when a few friends and I went to the Mohegan Sun casino in Connecticut for the day, randomly did a trip to Providence, Rhode Island, tried our first scorpion bowl at Fire & Ice, and finished with seeing The 40-Year-Old Virgin at the movies. Nothing extraordinary. Just fun, friends, road tripping, and singing along to "Mr. Brightside" at the top of our lungs.
More recently? My day at Laguna de Apoyo with Grace and Skye. Nothing extraordinary or life-changing, just a really fun day in a beautiful place with two great new friends.
And here was another memorable day. A day spent swimming in green pools, swimming through caves with a candle for light, and tubing down the river, beer in hand. A day with beautiful friends. A day full of joy.
Welcome to Semuc Champey, Guatemala.
Note: almost all the photos in this post were taken by my friend Shaun on his waterproof camera or GoPro. I took a few with my Nikon. All are edited by me. Thank you for taking so many photos and letting me use them, Shaun!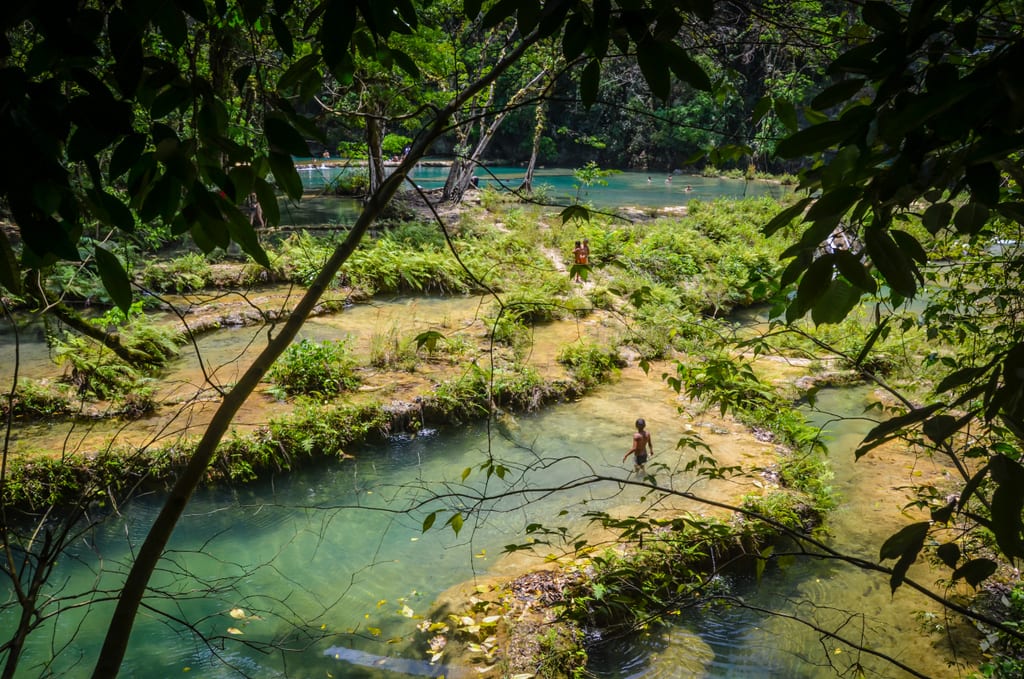 Travel to Semuc Champey
Semuc Champey is a series of limestone bridges and caves that snakes through part of central Guatemala, tying in with the Cabahón River. When you combine the limestone and the river, you have a series of tiered pools that look like something out of a fairy tale.
Semuc Champey struck me, as places often do, as an "I Can't Believe It's Not UNESCO" destination. It's not even on the tentative list!
Semuc Champey is not an easy place to get to — it's isolated and the closest village, Lanquín, is an eight-hour drive from either of the two commercial airports in the country (Guatemala City and Flores/Santa Elena). But if you're backpacking long-term through Central America, it's a natural pit stop in between Flores and Antigua.
Your best bet is taking a direct shuttle from one of the popular tourist hotspots; otherwise, it's a looooong journey by chicken bus.
For our day exploring Semuc Champey, my friends and I did the one-day tour offered by several different hostels in town. It included a hike to the viewpoint, time swimming in the pools, cave exploration, and river tubing. Here's how it went!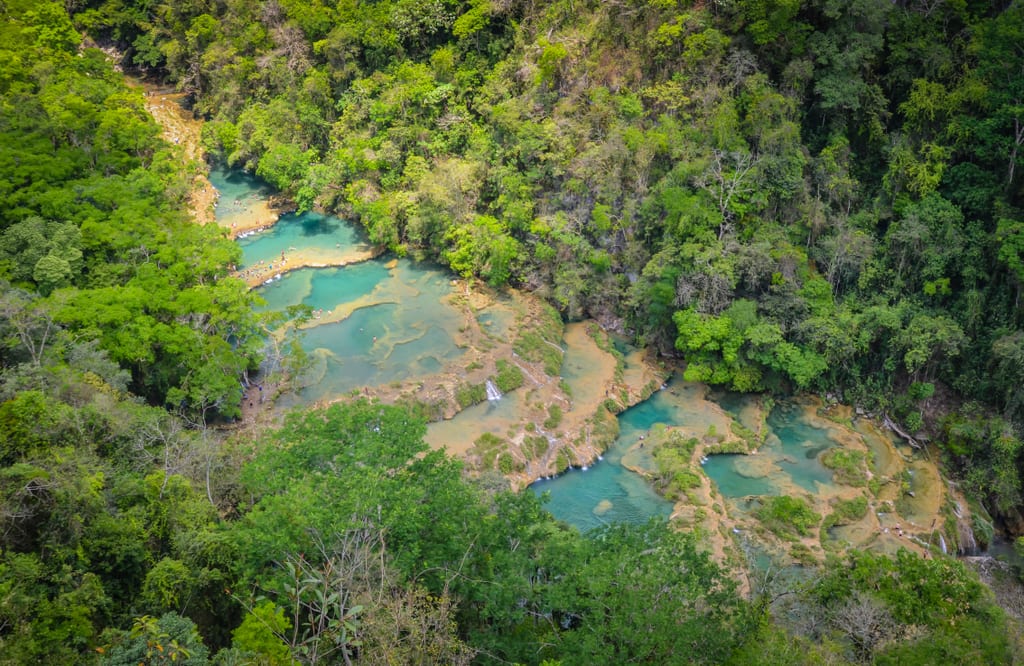 Hiking to the Viewpoint
After a 40-minute ride standing in the back of a pickup truck, we arrived at Semuc Champey. Our first activity? Climbing to the famous viewpoint.
I'll be honest — I did not enjoy this part. The walk is approximately one kilometer of stair-climbing, which isn't bad ordinarily, but it was about 95 degrees (35 C) and very humid, the stairs were huge and often just crumbled into rocks, and it had rained the day before, so everything was slippery and you had to be extra slow and cautious.
I was so drained by the time I got to the top, I barely mustered the energy to take a photo. One DSLR pic (pictured above). One iPhone pic for Instagram. One iPhone selfie. And done. I promptly bought a giant slab of watermelon, devoured it, then hiked the way down.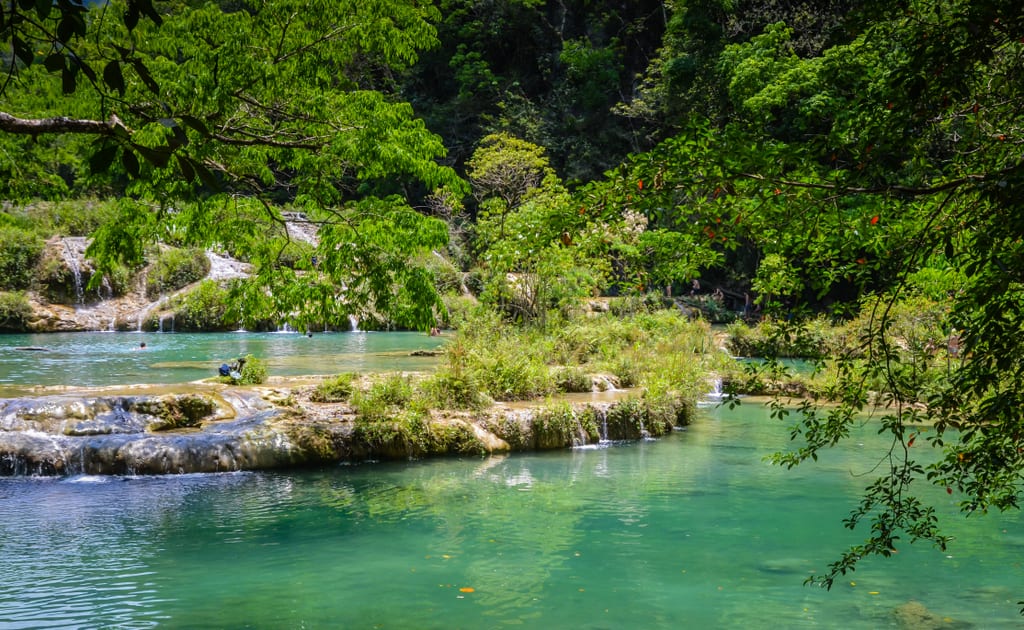 Swimming in the Pools
Now we're talking! We stripped down to our swimsuits and jumped into the cool water. (Or everyone else jumped in, I tried to walk in slowly, and promptly fell on my ass, the universe deciding that I'd get in quickly after all.) I can't tell you what a relief it was to cool down after that incredibly sweaty hike.
We swam, we played, we debated the ethics of peeing in water as beautiful as this.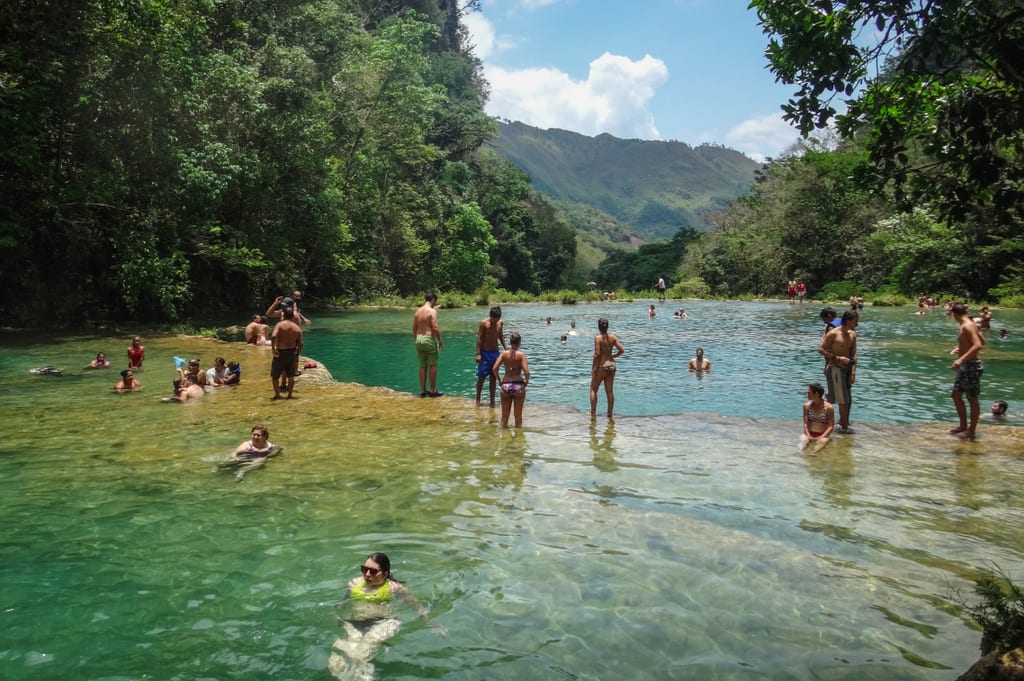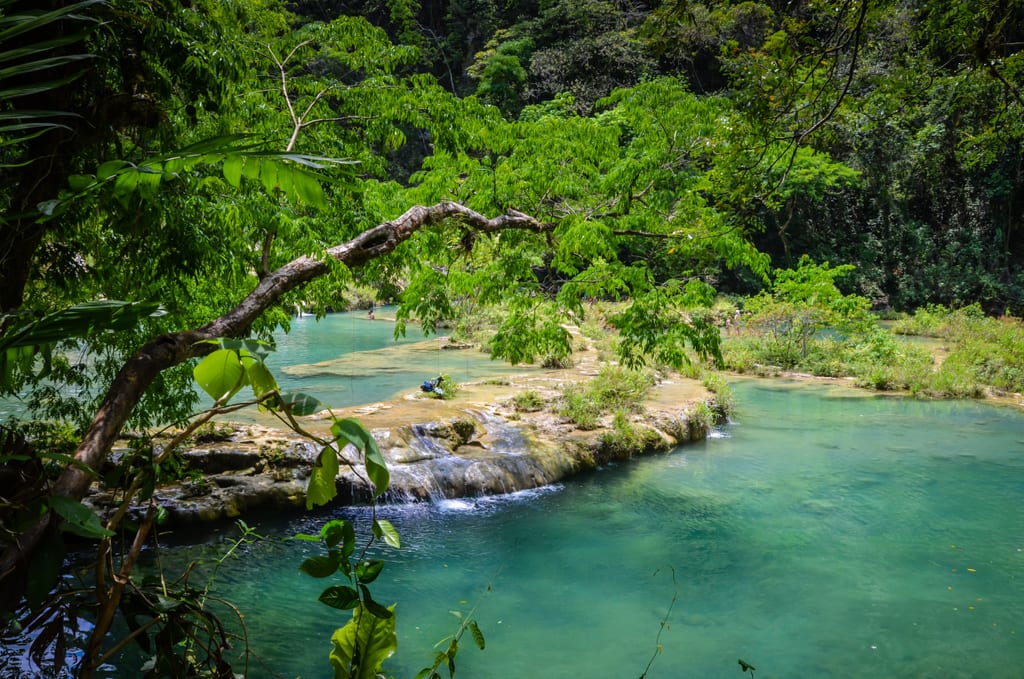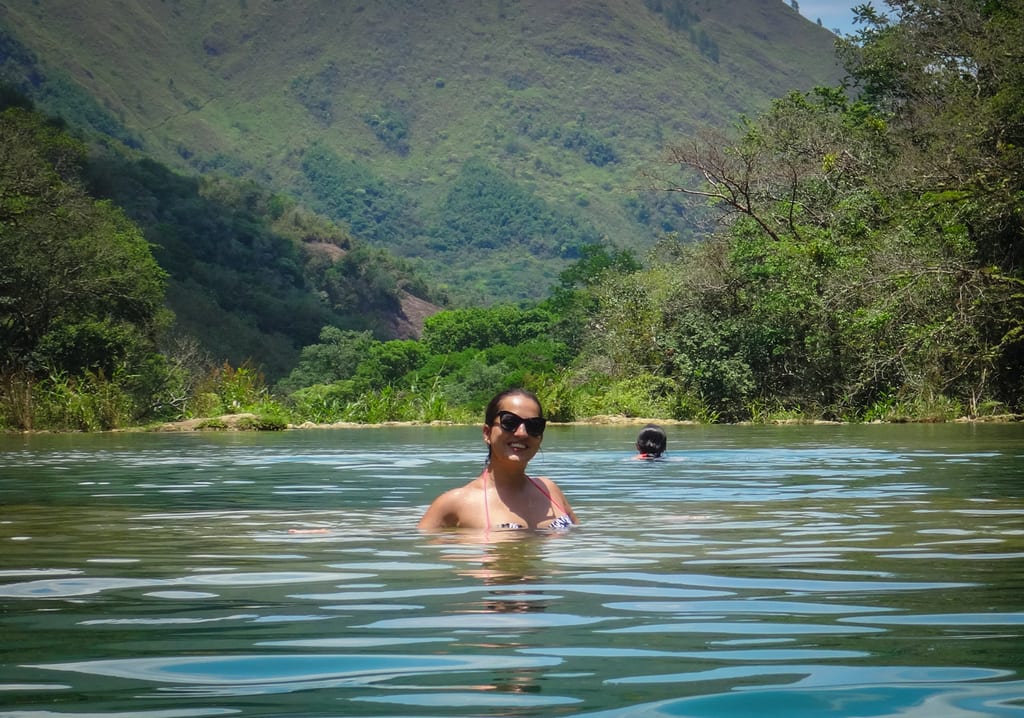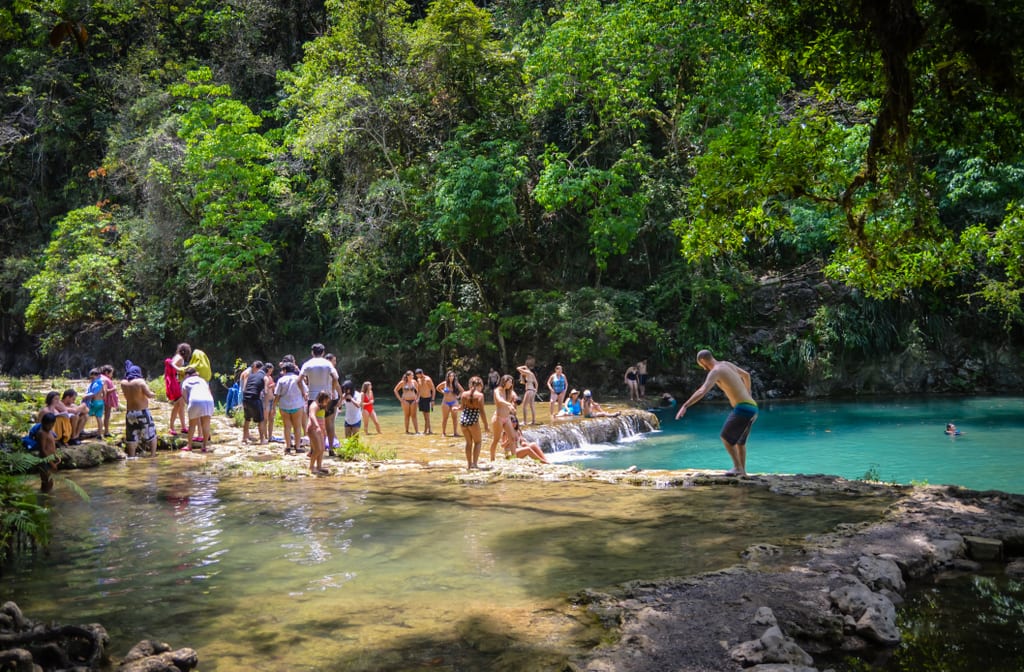 Hours passed as we climbed and jumped our way from pool to pool. Eventually it was time to meet up with our group and go to the next part of the trip.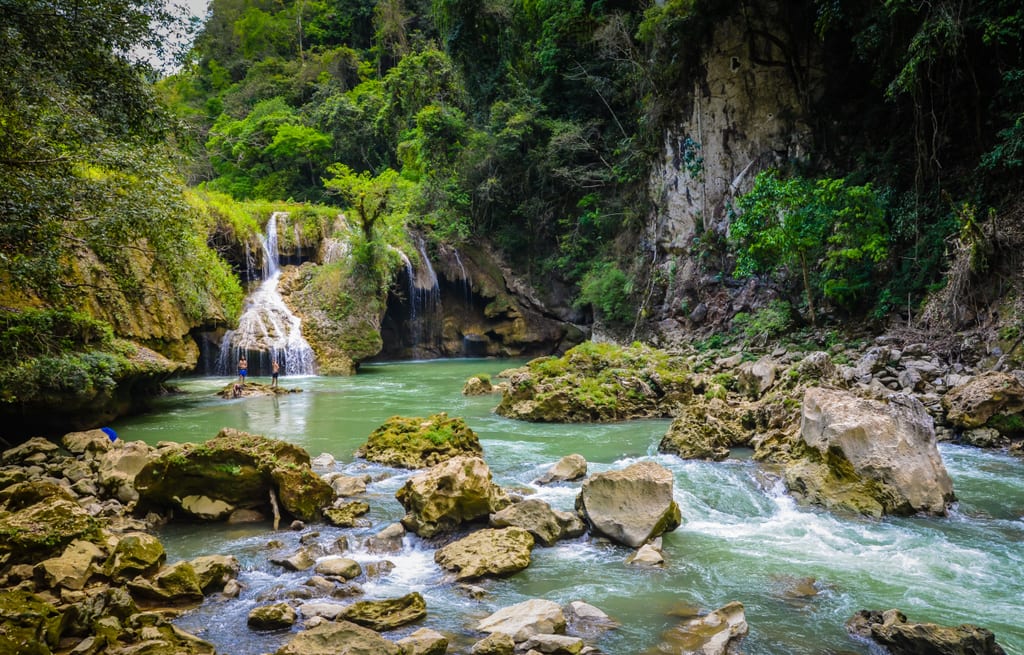 Next up was an option to swim to this waterfall, scale it, and jump off the top. I passed on this part (I honestly didn't think I had the upper body strength to climb that wall), as did most of the group.
A quick lunch later (packed sandwiches from the hostel that we bought the night before), we began the most exciting part of the trip.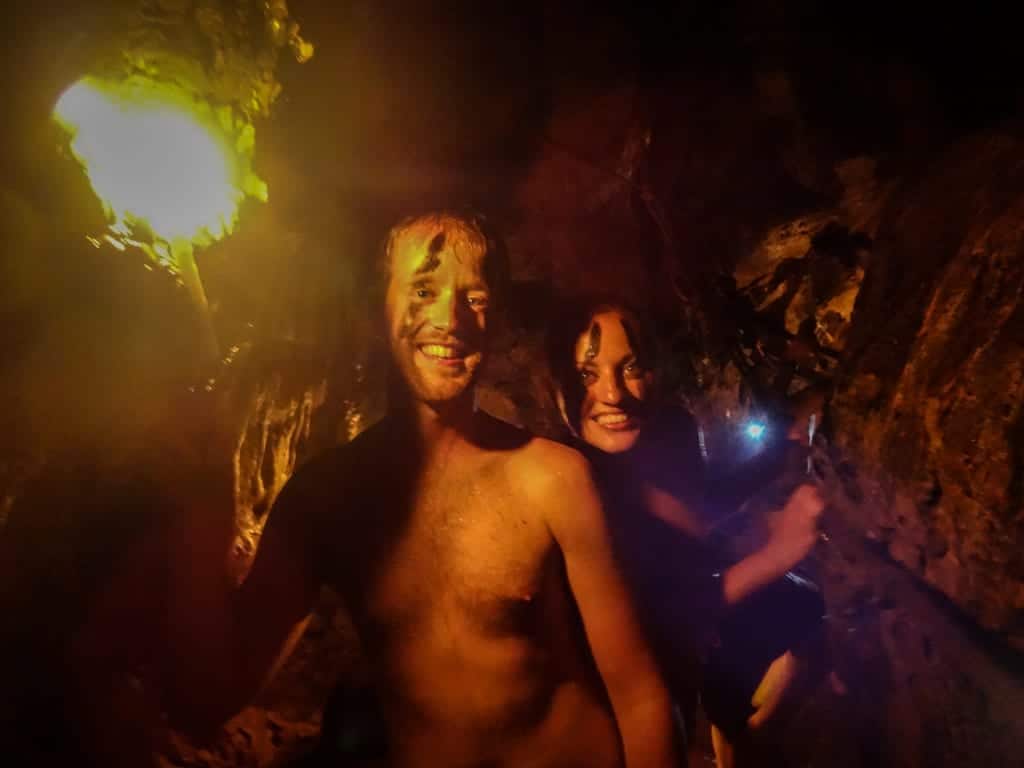 Exploring the Caves
Now, this was the best part of the day. I knew that cave exploration would be fun, but I had no idea it would be this good!
We climbed up into a cave and were each given a candle. We would hold it in our hand throughout the trip for light, even swimming one-handed with one arm up like the Statue of Liberty. This is Guatemala! I thought to myself with a laugh. No helmets, a candle instead of headlamps, jumping off ledges, led by a bunch of crazy wildmen!
We would be swimming quite a bit. I did some cave swimming at Khao Sok National Park in Thailand, loving every minute of it, but that was only brief. Here, we were frequently swimming through water so deep we couldn't touch the ground. (Lifejackets were provided for the non-swimmers.)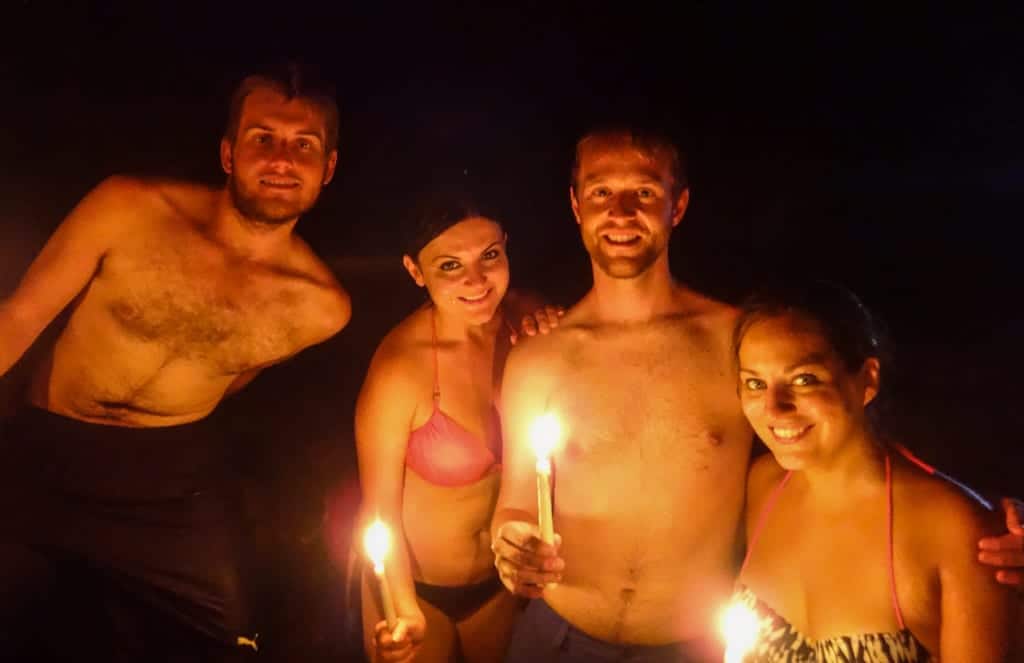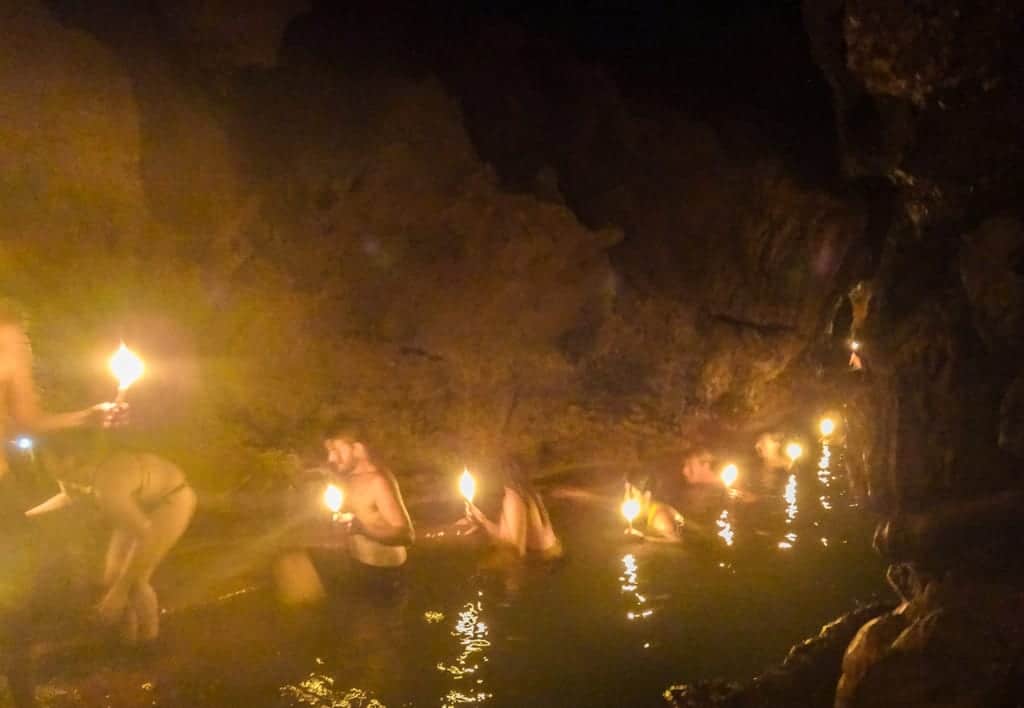 This girl insisted on twerking in the cave. She was my hero.
At one point, I was confronted with a rope leading up a vertical wall. Ordinarily, I could never climb something like that. But there was something about the happiness of the day and the war paint our guide José painted on my face ("What's that?" I asked. "Bat shit!" he replied with a grin). I had the confidence.
I climbed that vertical wall. With no assistance. I did it!
As we swam through the caves, my friends and I kept exclaiming to each other that this was the coolest thing we had ever done. And I meant it. I wish I could bottle that feeling and take it with me.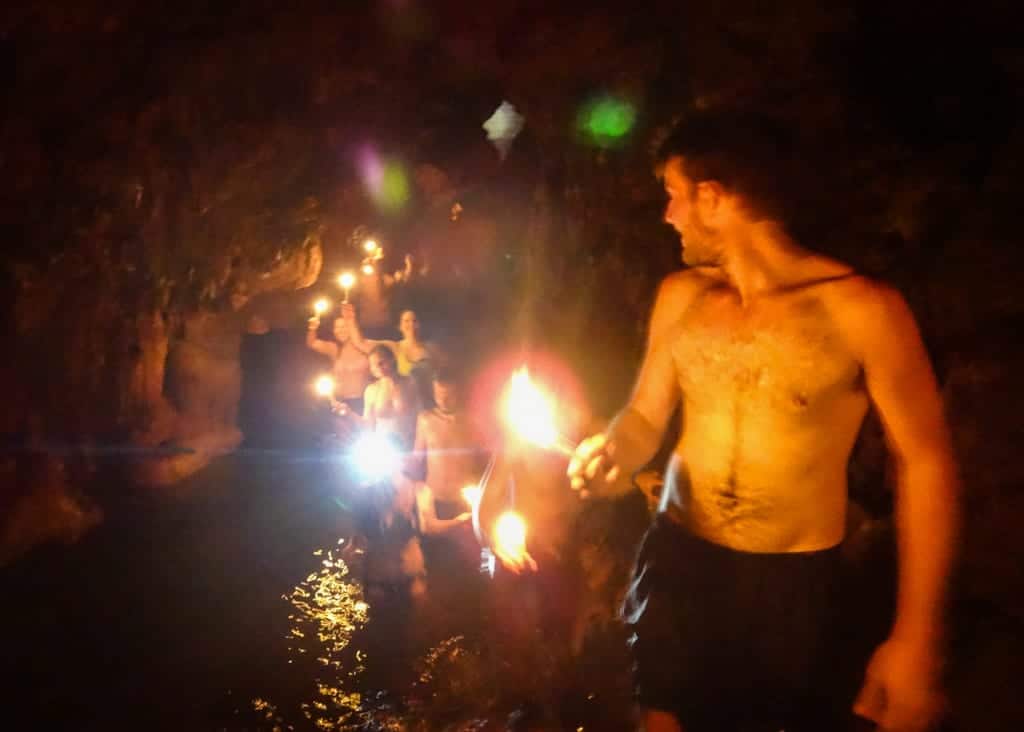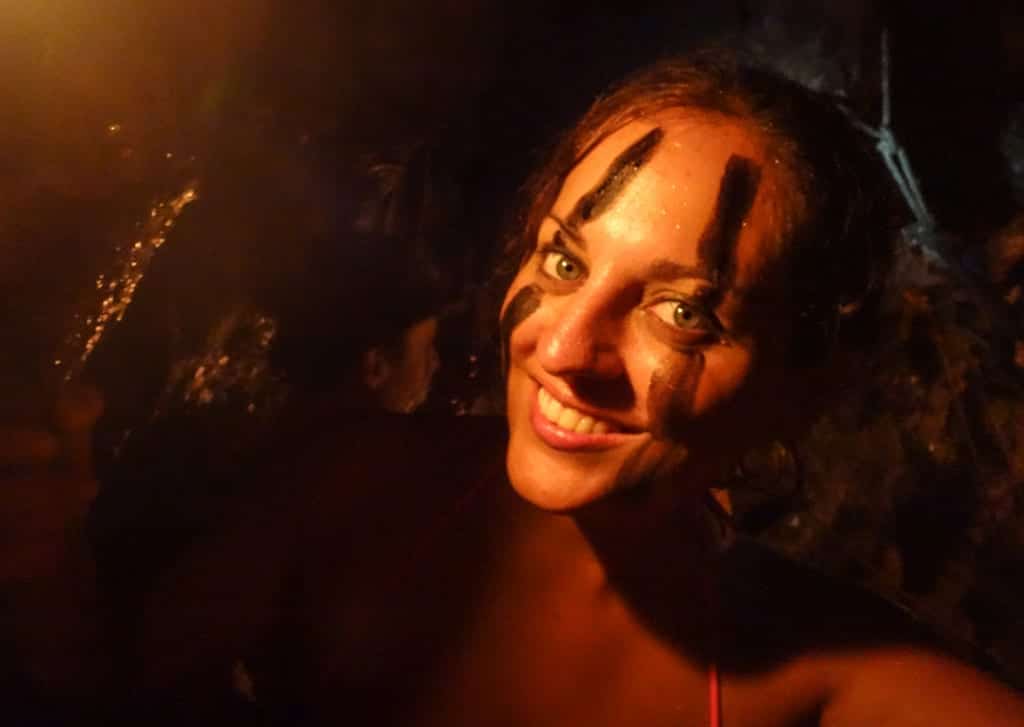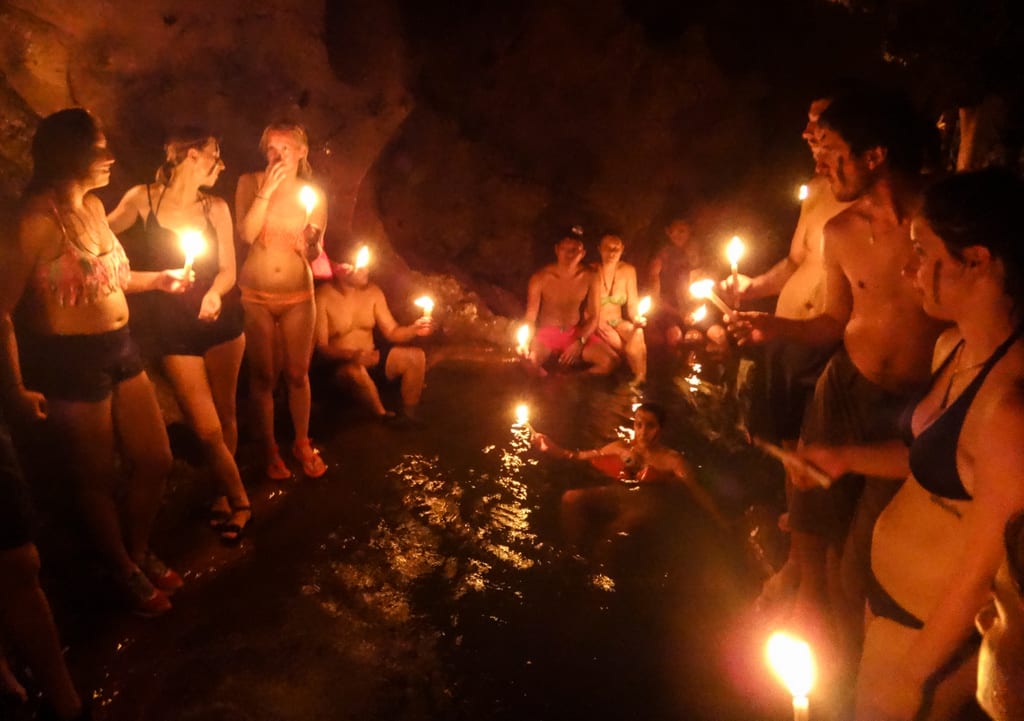 Even though we'd been traveling together all day, the cave is where our group really bonded. We went into that cave strangers and emerged as friends.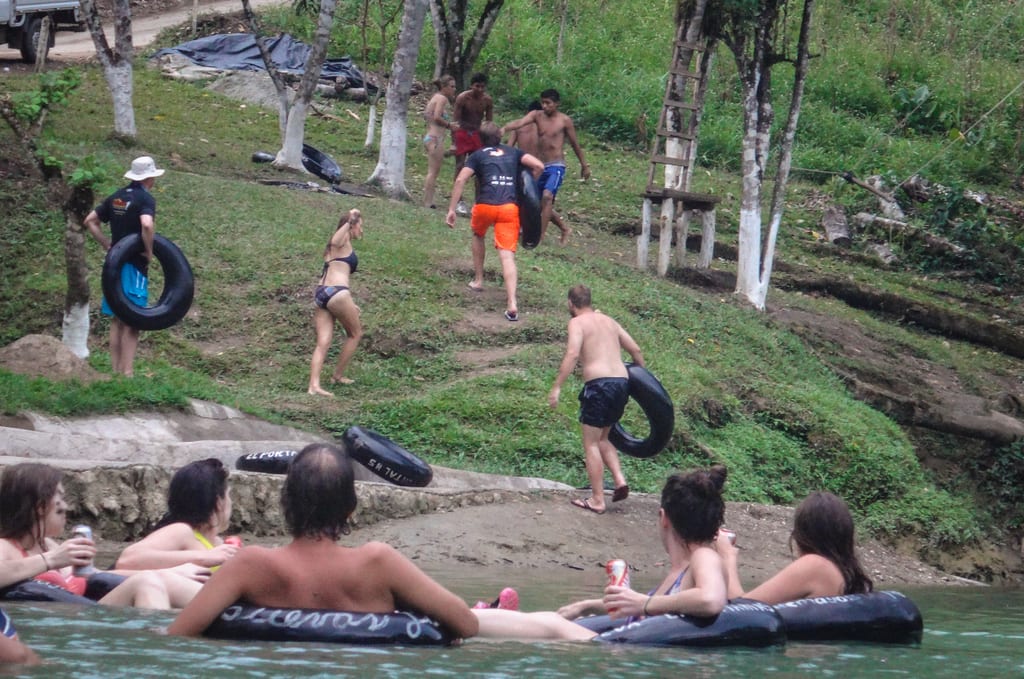 Tubing in the River
After the caves, it was time to jump into a tube and float down the river. We nestled ourselves into our tubes — and then a group of kids jumped into the water, throwing cans of beers at our heads!
"You buy from me! My name is Ronaldo!" one chanted. They had a system — each beer had a letter on the bottom of the can and they used that to figure out who would pay whom after the tubing ended.
You might remember that I don't buy things from children while traveling, unless it's clear that they're using the money for themselves and not supporting their families (i.e. the kids in Jaibalito who spend their luggage-carrying tips on Coca-Cola). It wasn't clear here, so I bought a beer from the lone adult instead.
Afterward, I learned that the kids and the adult were all working together. Sigh. Had I known that, I wouldn't have bought from them at all.
Despite that, floating down the river for about 30 minutes, beer in hand, was the perfect ending to a high-energy day.
The day concluded with a rope swing into the river. Make sure you lift your legs!
Oh, and that wasn't all. There were jumps from a rickety bridge into the river.
Yeah, there was no way in hell I was going to jump from there!
With that, it was time to head back to Lanquín in the back of a pickup truck.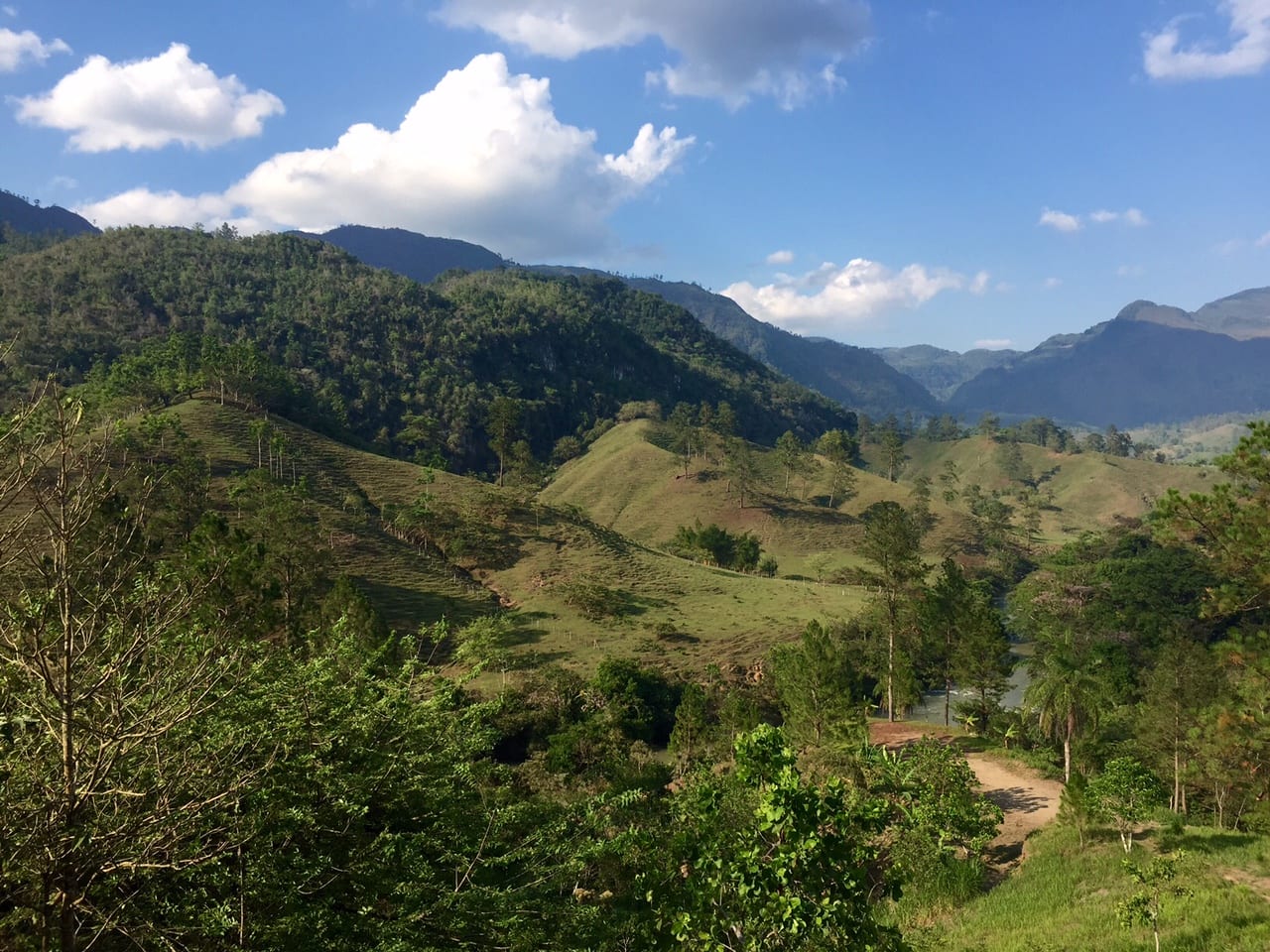 Lanquín
Lanquín is a tiny town without too many amenities — you basically eat, sleep, and socialize at your guesthouse. I stayed at El Retiro Lodge, which I really liked for the most part (see Essential Info below for more details). It felt like an off-the-grid nature getaway, right on the river.
I also visited another popular hostel, Zephyr. Zephyr is definitely a hardcore party hostel with amazing views over the mountains (pictured above). Their pool was huge, modern, and even had a swim-up bar — but it was closed for construction, sadly.
Still, I'm glad I stayed at El Retiro — it had a homey feel and it was a lot of fun without the crazy party scene.
The Takeaway
My day at Semuc Champey was pure joy. I'm so glad my friends and I added it to our itinerary. Even our friends who had to double back to Antigua (and in Candice and Shaun's case, on to El Salvador again) said that it was well worth the long journey.
How much did I enjoy it?
1) I kept laughing randomly for no reason at all.
2) I barely took photos and didn't even care.
3) Pitbull's song "Fireball" came on the radio on the way back and I actually sang along and danced in my seat. (Dude, I HATE Fireball. I love most of Pitbull's music, but I think Fireball is the laziest songwriting since Old Time Rock and Roll. Seriously, did it take him more than 10 minutes to write that song? Is he pranking America? Was this a bet with Enrique Iglesias? First, he supports Chris Brown, and now this? But I digress…)
Overall, Semuc Champey is one of my favorite memories of Central America and catalyzed Guatemala into becoming one of my favorite countries in the world. I highly recommend you make it a priority.
Essential Info: The town of Lanquín is the base for visiting Semuc Champey, and it's a 40-minute ride away via pickup truck, though there are a few hotels and hostels close to the entry. Getting to Lanquín, your best option is to take a tourist shuttle (eight hours from Flores or Antigua, twelve hours from San Pedro, five hours from Rio Dulce). Otherwise you'd be taking a million chicken buses. Cobán is the nearest city to Lanquín, about two hours away.

I stayed at El Retiro Lodge, which felt like a paradise getaway on a hill by the river. My four friends and I shared a private room with three twin beds and one double bed, and a shared bathroom for 250q, or $32.50, total. Semi-private rooms from 100q ($13), private cabanas from 150q ($19.50). You can find the best prices on other accommodation here.

They serve food and have really nice nightly buffets: we had Guatemalan, Thai, and Mexican nights with plenty of vegetarian options. Dinner is 50q ($6.50) for vegetarians and 60q ($7.80) for carnivores. Great staff, too.

One big drawback — despite what their website says, the internet is awful. Plan on being off the grid for a few days, and don't come here if you need to get work done.

The tour to Semuc Champey includes a hike to the waterfall, swimming in the pools, the cave tour, and river tubing. It costs 200q ($26) per person. I was there in May and El Retiro was having a special for both April and May: book the Semuc Champey tour and get your third night free. So I paid about $40 for three nights' accommodation AND that tour!

All hostels seem to offer the same tour, though they offer the activities in a different order. I thought the order the El Retiro tour went in was perfect.

One last thing — I was very happy to have sports sandals for this day. They were perfect for everything from climbing to cave swimming. My other friends were stuck swimming in their sneakers. Trust me — sports sandals a good thing to have! I recommend the Teva Tirra Sandals, which are super-light and have excellent arch support.

Don't travel to Semuc Champey without travel insurance. It could save your life — or your finances. I use and recommend World Nomads for trips to Guatemala.
Is Semuc Champey your kind of destination?
Get email updates from Kate
Never miss a post. Unsubscribe anytime!