Adventurous Kate contains affiliate links. If you make a purchase through these links, I will earn a commission at no extra cost to you. Thanks!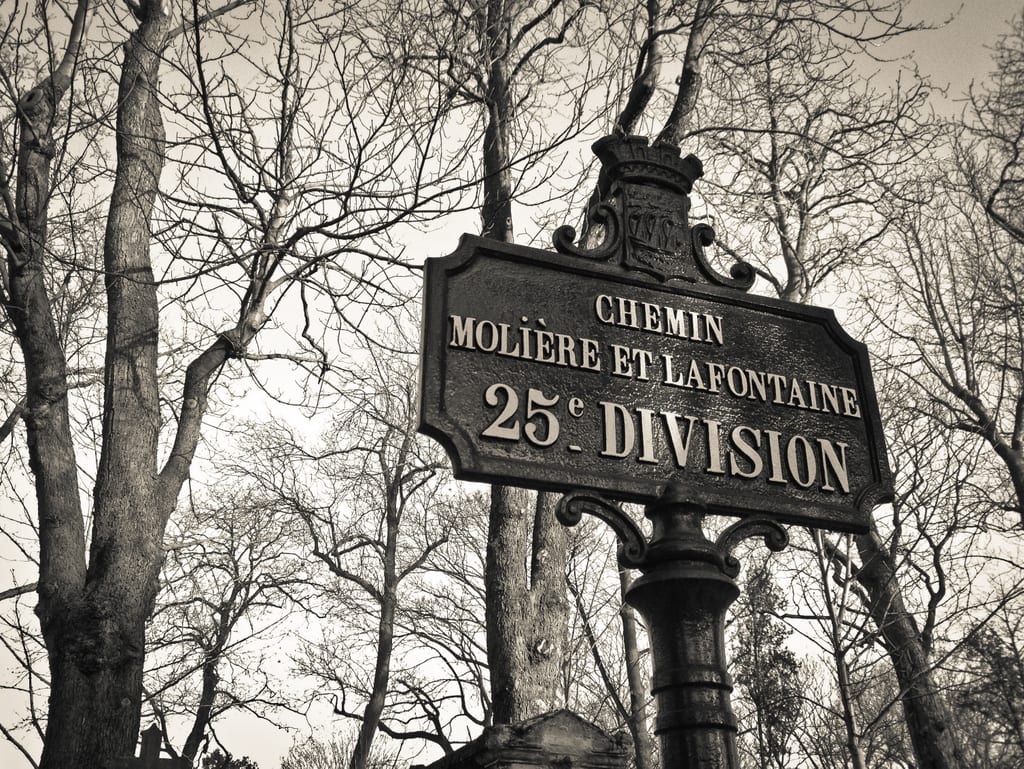 It took six trips to Paris, but I finally made it to the world's most visited cemetery: Père Lachaise.
What took me so long?  Years ago, I remember hearing that it wasn't located in the best neighborhood. And like we so often do, I carried that unverified nugget of knowledge in the back of my head for years.  It didn't actively keep me away from visiting, but it did keep me from prioritizing a visit. The truth?  
The neighborhood, the 20th arrondissement, is fine.
 It's not the most famous or gorgeous neighborhood in Paris, but it's a perfectly good neighborhood where Parisians live, work, relax, buy baguettes, and sip red wine at cafes.  If there's anything to watch out for, it's the tourists — specifically, the intoxicated Jim Morrison groupies.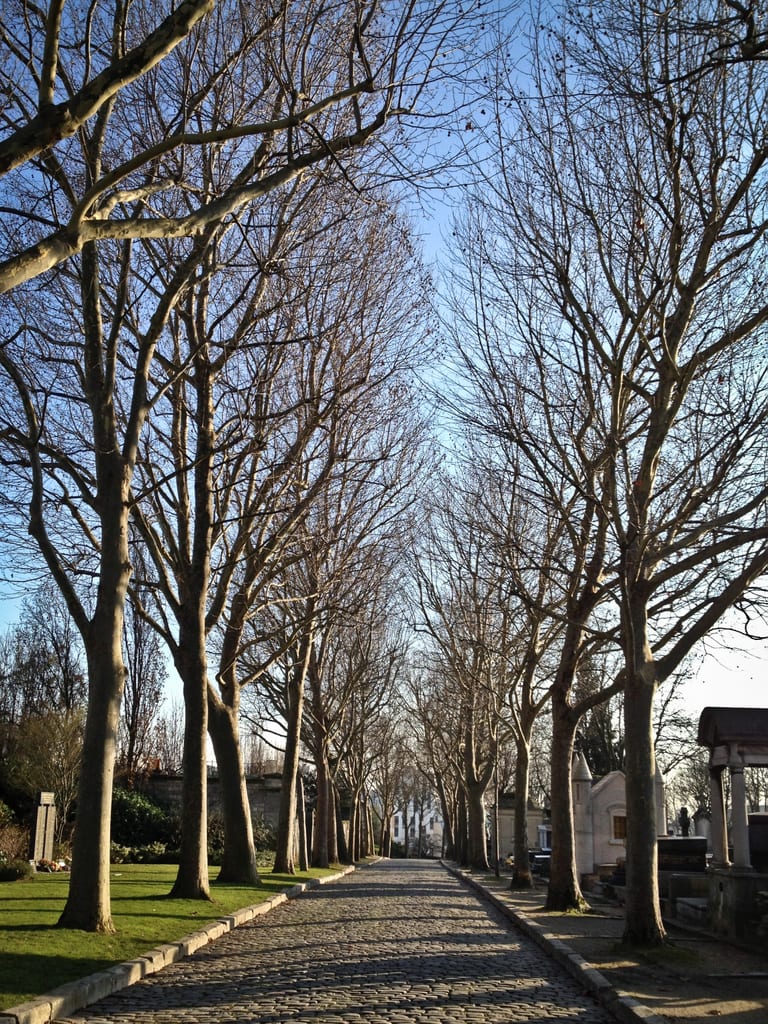 While Père Lachaise is one of the most coveted cemeteries in the world, it wasn't always that way.  
It opened in 1804 and was declared too far from central Paris, and it wasn't blessed by the Catholic Church, which kept lots of people away.  However, the bodies of Molière and Jean de la Fontaine were soon exhumed and transferred here, and from that point on, Père Lachaise became the "it destination" for the recently departed. Hundreds of celebrities, writers, artists, and musicians are buried in this cemetery, and I knew that I didn't want to miss any of the major ones — so I found an
free online guide to Père Lachaise from Rick Steves
.  This route would start from the rear entrance, near Gambetta station, and hit up some of the greatest hits.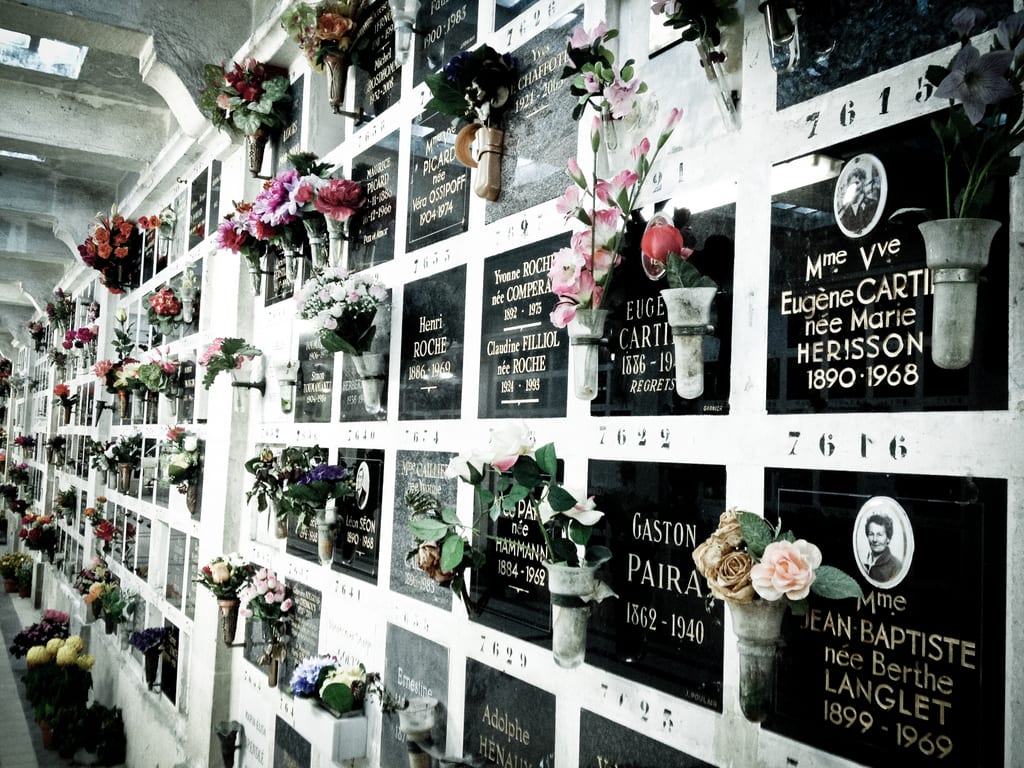 After walking past World War I and II memorials and discreetly dodging a funeral procession, I found myself in the Columbarium, next to the Crematourium.  Each cabinet, festooned with bright flowers, is filled with cremated remains.  Opera singer Maria Callas is among those entombed here.
The Famous Graves
If all the spirits of those residing in the cemetery decided to get together and have a cocktail party, it would be the event of the century.  You won't believe the sheer number of artists buried here! There are several popular graves located throughout the cemetery.  First up was the second most popular grave of all: that of Oscar Wilde.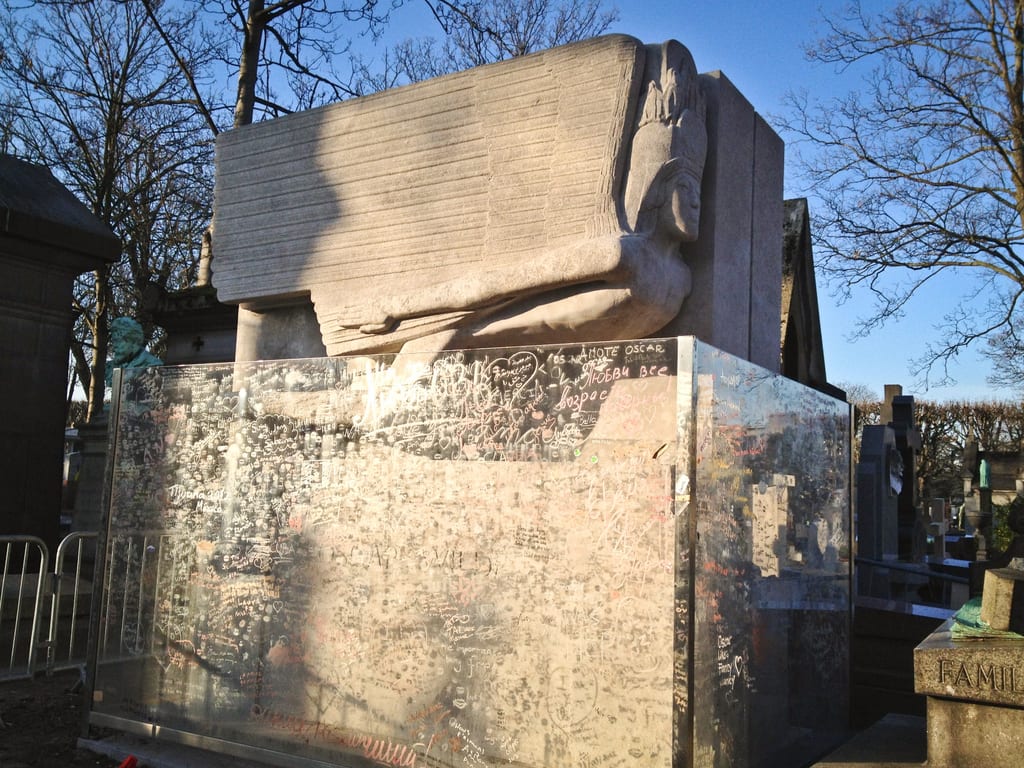 Oh, Oscar — a savior of outcasts, a romantic realist, and perhaps the world's wittiest men. It's long been tradition to cover Wilde's grave with lipstick kisses — particularly on the angel's nether regions — but the recent addition of the glass wall keeps people from getting that close.  As you can see, there's an additional fence around the glass wall! My walk continued along the cobbled lanes in the faint winter sunlight.  I passed Gertrude Stein's grave and the Holocaust memorial.  Next up was Edith Piaf.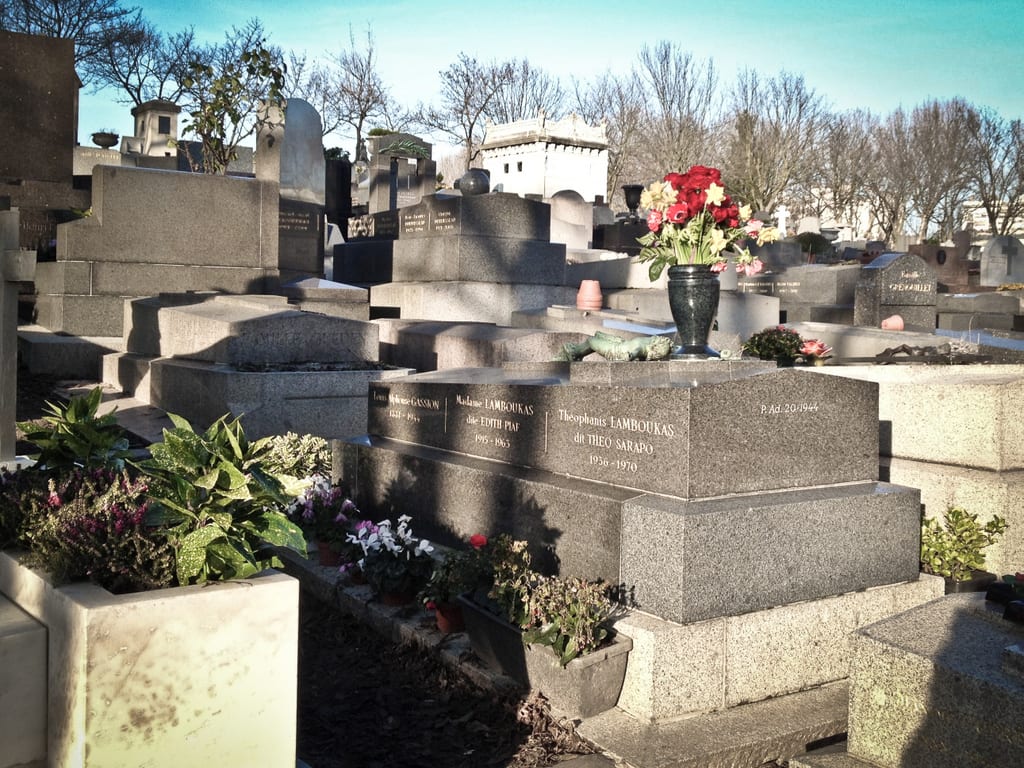 The most famous French singer of all time — La Môme, or the Little Sparrow — had a very difficult life, from growing up in a brothel and singing on the street for money to the death of her longtime lover and a spiral into alcoholism that led to an early death.  Her grave is quite modest compared to the others. From Piaf's grave, I climbed a hill and then descended into the oldest part of the cemetery.  Rather than the easily navigable rows of graves among immaculate streets, the cemetery turned into an overgrown forest that wouldn't look out of place in Hansel and Gretel.  At this point, the graves stood higher; statues were more commonplace.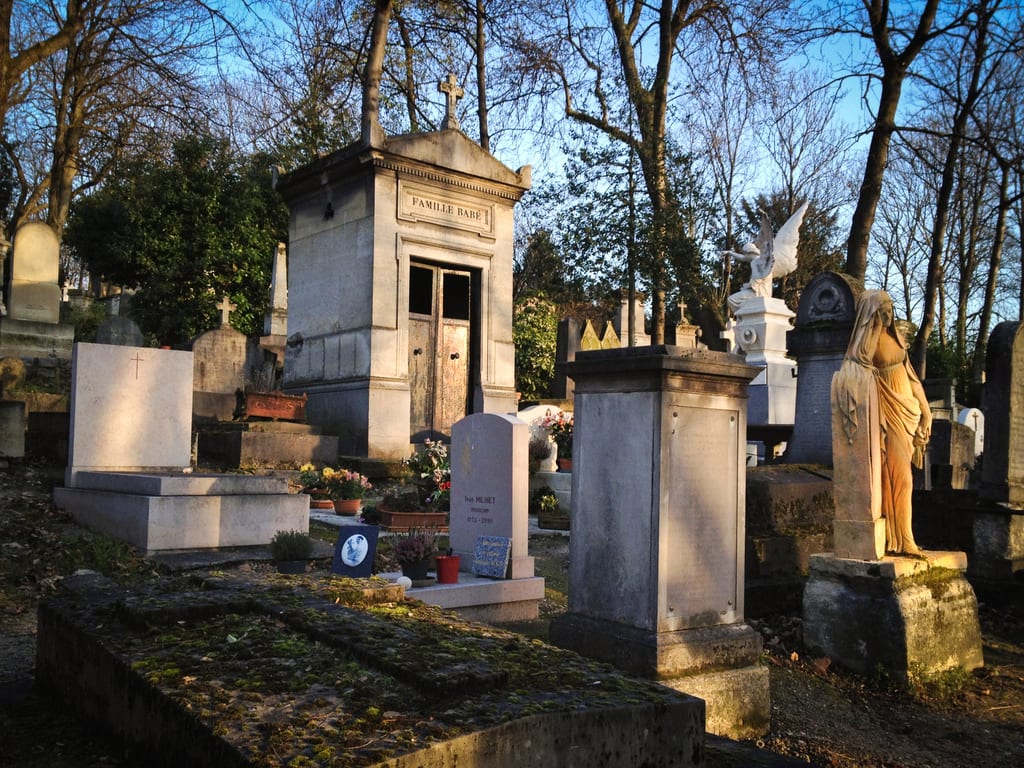 Twists and turns led me past the graves of artists old and new — from Molière, who died in the 17th century, to contemporary musicians who died just a few years ago.
Molière, by the way, has one of the most entertaining death stories I've ever heard.
 He was suffering from tuberculosis when he appeared in his play,
The Imaginary Invalid
, about a healthy man pretending to be sick to get attention.  Soon his fake coughs onstage turned to real coughing fits — and the harder he coughed, the more the audience roared with laughter. Soon Molière's coughs turned bloody, and he died in a coughing fit moments after giving his final line. The audience was hysterical with laughter. Chopin is also buried in this section: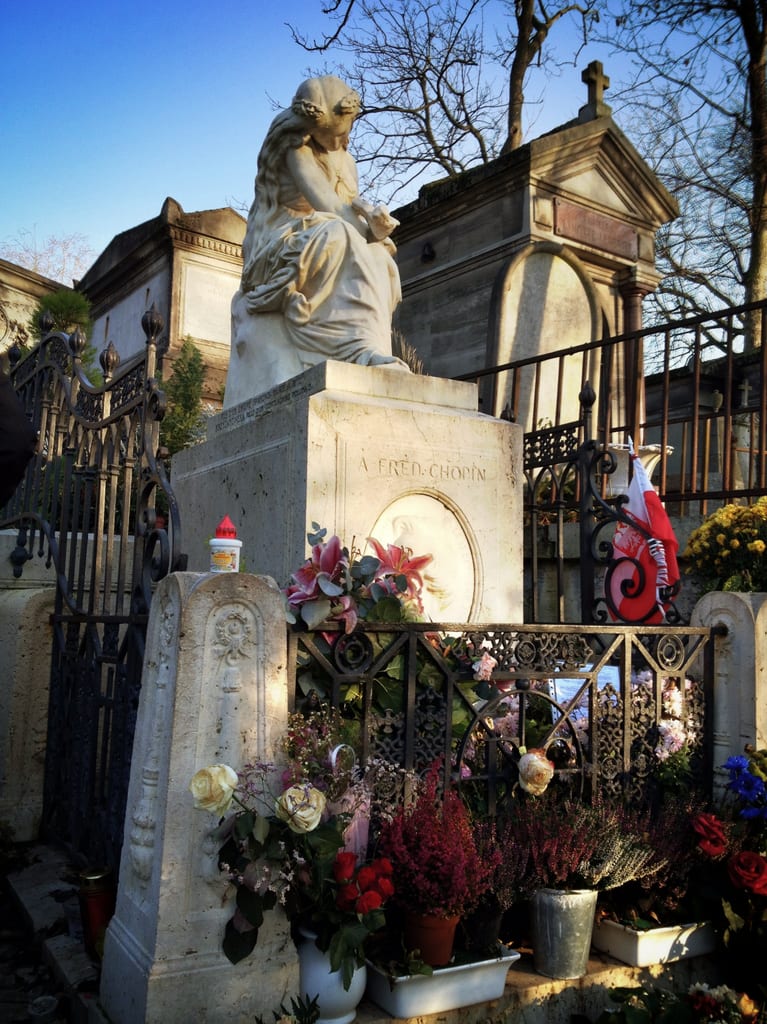 Chopin's grave was my favorite of the ones I saw that day.  And after spending years learning how to play so many of his pieces on the piano, it was nice to pay tribute at his final resting place. After winding through these dark, fairy tale-like recesses of the cemetery, I burst out into a modern section and quickly found my way to the single most visited grave of all: that of Jim Morrison.
Now, how did an American rock star end up in the Parisian cemetery?  
In 1971, Morrison moved to Paris with the intention of drying out, staying sober, and getting serious about his writing.  Paris in the 70s was great for writing — not so much for sobriety.  After several months of living under a pseudonym and doing copious amounts of drugs, he died of a heart attack — most likely caused by an overdose — at age 27. Morrison's wish was to be buried in Père Lachaise.  While his musical legacy wasn't enough to get him in, his writing was.
This grave is the busiest spot in the cemetery and I hear it's an absolute madhouse in the summer.
 I visited in December and there were only a few people there at once.  You'll find a guard stationed at this grave at all times, mostly to prevent groupies from doing things to (or on!) his grave. These are just a small portion of the famed citizens buried here — stick around and you can see the graves of Héloïse and Abélard (dating back to the 11th century!), Marcel Proust, Sarah Bernhardt, Georges Seurat, Marcel Marceau, and more.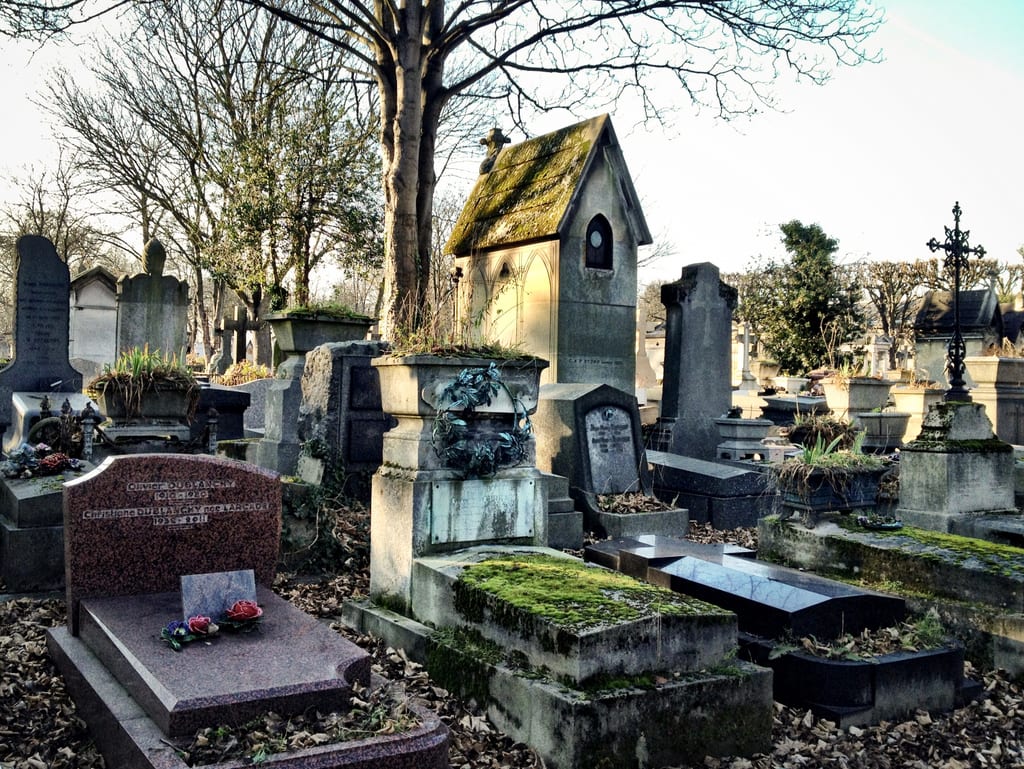 The Ultimate Waiting List
People are still being buried in Père Lachaise to this day, but as you can imagine, it's a challenge getting in.
 You may only be buried here if you lived or died in Paris, and the waiting list is long.  Bizarrely, plots are often leased for periods of 30 or 50 years.  If the lease isn't renewed, the remains are exhumed, the grave is removed, and the space is made for the next person. But jumping through those hoops could be well worth it.  To be entombed among so much prestige and creativity would be an incredible final honor.
More on Paris:
Essential Info: Père Lachaise is free to visit and easily accessible by metro.  Take Line 2 to Père Lachaise for the main entrance; alternatively, take Line 3 to Gambetta for the rear entrance. I used this Rick Steves guide to navigate my way through the cemetery, which led from the rear entrance to the front.  As always, remember that a cemetery is a place of mourning and be respectful of those around you.
Get email updates from Kate
Never miss a post. Unsubscribe anytime!