Adventurous Kate contains affiliate links. If you make a purchase through these links, I will earn a commission at no extra cost to you. Thanks!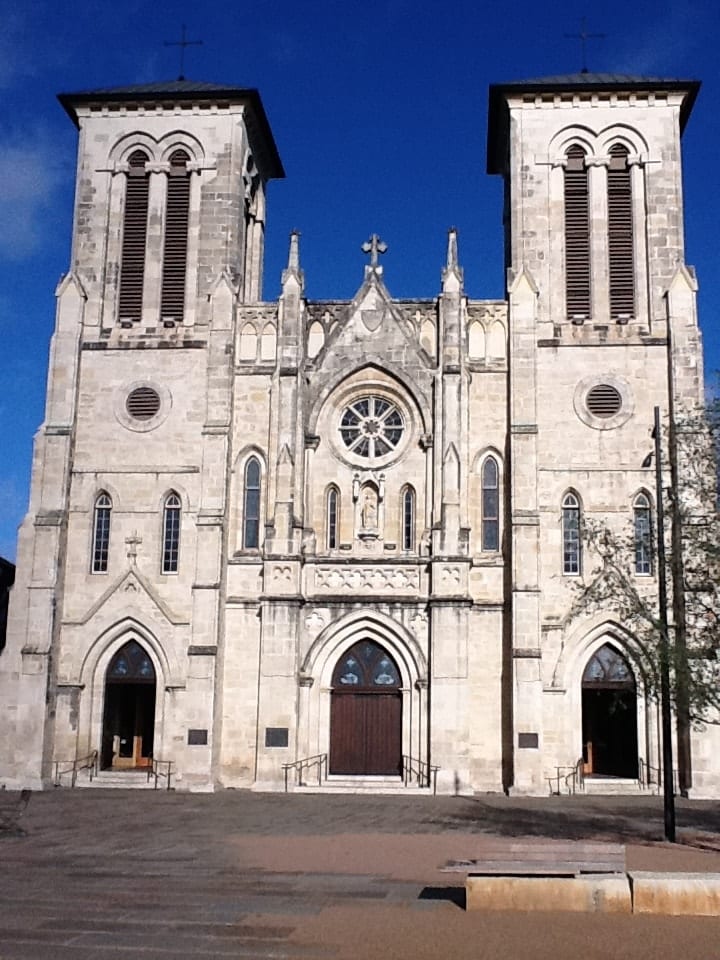 Saturday was the final day of the Race to the Alamo, presented by the San Antonio Convention and Visitors Bureau.  The race came to a wild conclusion, that's for sure!
(Note: as time goes on, I'll be posting more detailed content.  This is just the daily recap of the race.)
Saturday was the final day of a three-day competition between three teams of bloggers: me and my sister Sarah, Carolyn and Dan of The Healthy Voyager, and Sharlene and Michelle of Trekaroo.  Click here to read the first day's recap.  Click here to read the second day's recap.
We began our day at the beautiful Cathedral of San Fernando (pictured above), one of San Antonio's most beautiful buildings.
Next, we made our way to Mission San Jose.  San Antonio is home to five missions, which were constructed by the Spanish, starting in the late 1600s with the Alamo.
These missions were built to both house travelers and convert the Native American population, using religion as a tool to manipulate them into letting the Spanish control the land.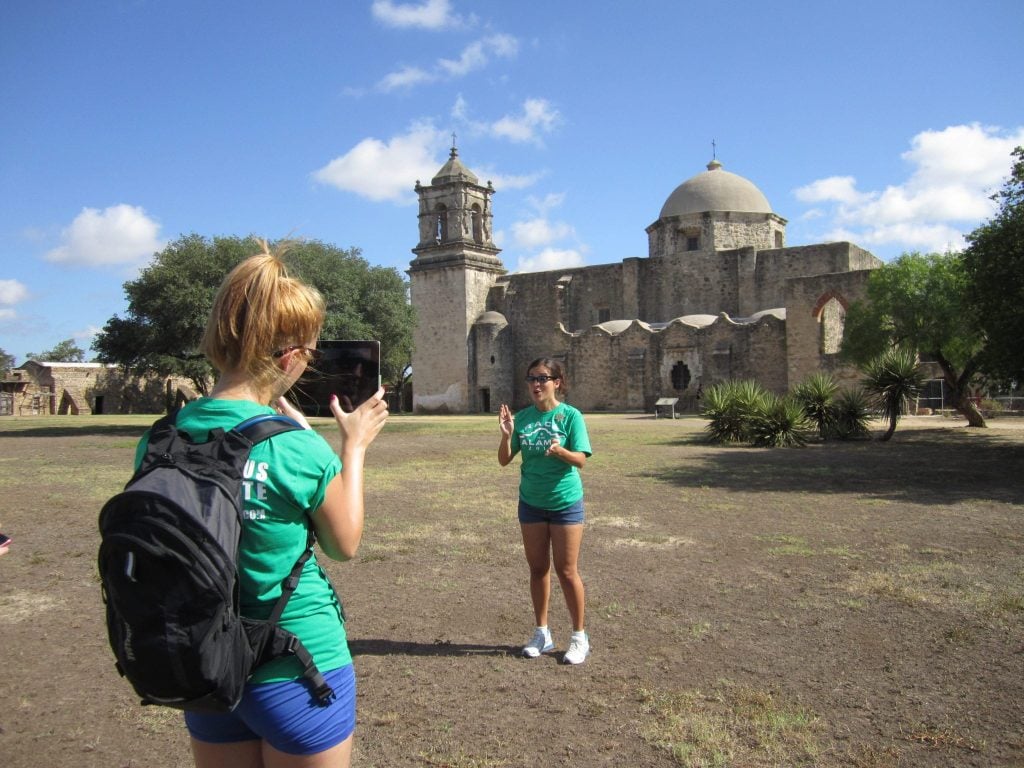 Challenge #1: Mission San Jose Video
Our first challenge was to create a one-minute YouTube video about Mission San Jose and get the most views in five hours.  Right away, I was stoked.
Thanks to our wonderful tour guide, Sissie, I had so much information to fill the video, and it came out great.
After 20 minutes, I was up to 129 views, while the other teams had fewer than 20.  Sarah and I were giddy with excitement.
Then, 90 minutes into the contest, I got a text message from my friend Erica:
hey youtube stopped tabulating votes. i've refreshed 25 times & it still says 301 views.
NO.
We talked to our PR team and found out that YouTube stops tabulating views when you quickly hit 300 to prevent gaming of the results.  Because of this, our view count would not change — and we would miss 3.5 hours worth of views.
We were first to hit 300 views sometime before 11:57 AM.  Trekaroo hit 300 just before 3:00 PM, and Healthy Voyager did not hit 300.
We were awarded co-first place with Trekaroo, and Healthy Voyager placed second.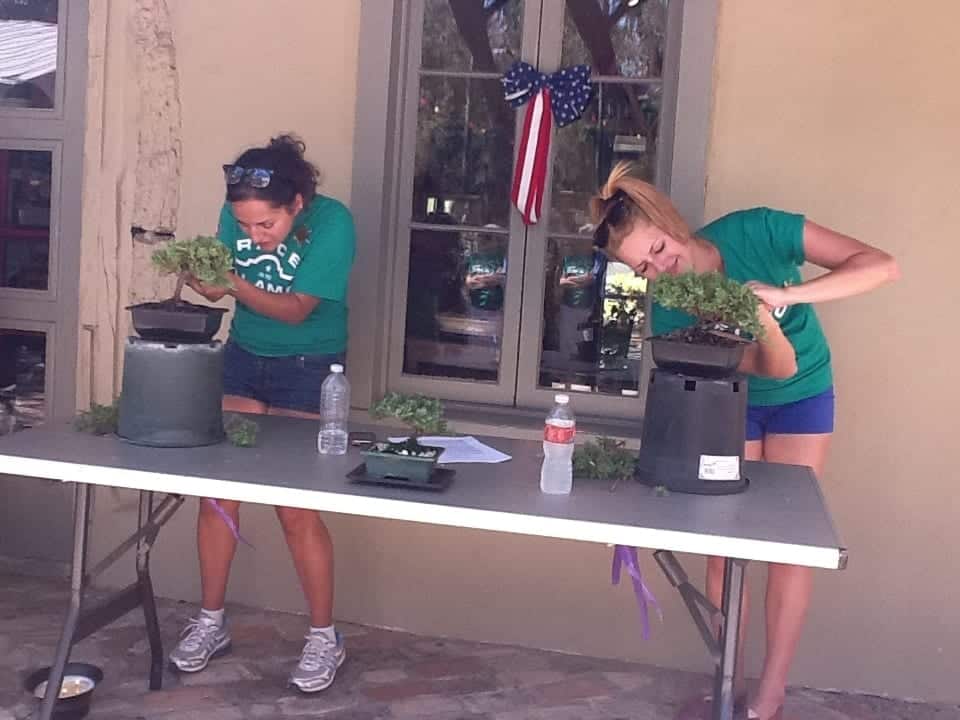 Challenge #2: Bonsai Sculpture
Next, we went to La Villita, a village of art galleries and boutiques in San Antonio.  Our challenge took place at Bonsai Arbor, a Bonsai store and educational center in La Villita.
Horticulturalist and owner Sherry gave us a tutorial on bonsai sculpture, and then we were off — we had 15 minutes to trim our juniper bushes into a beautiful little bonsai!  (Not a euphemism.)
(Let it be known that bonsai sculpture is NOT meant to be a speed activity!)
This was one of the most enjoyable challenges so far!  I loved sculpting my cute little bonsai, and I would love to spend time doing it in my free time.
After 15 minutes and a judging by local merchants, Healthy Voyager finished first, we finished second, and Trekaroo finished third.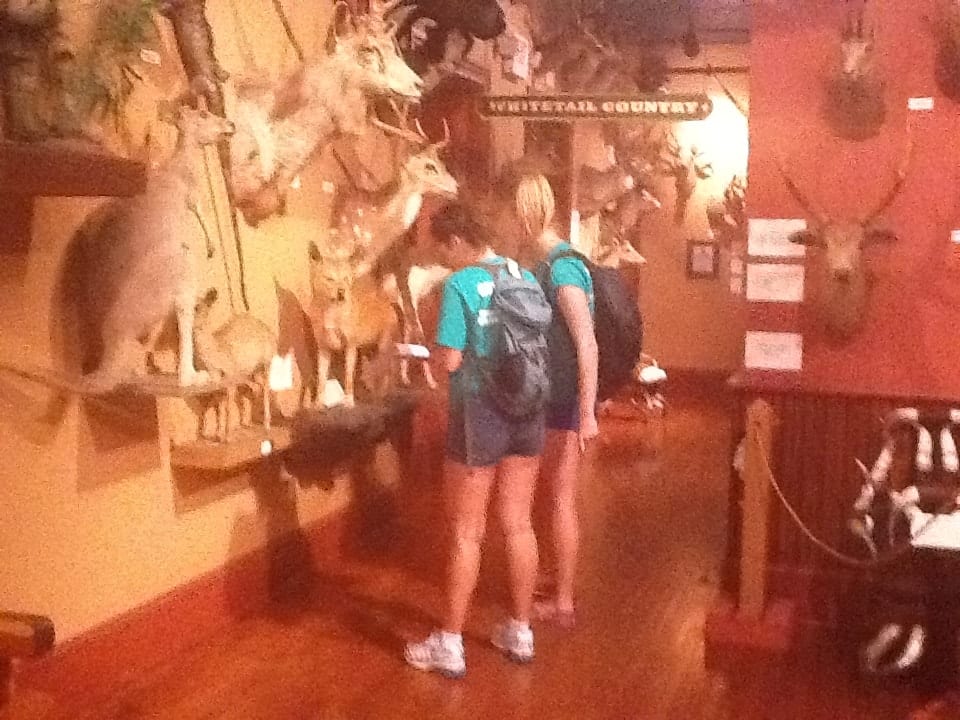 Challenge #3: Buckhorn Museum Search
The Buckhorn Museum was our next stop, filled with animal busts and various Texas memorabilia.  Our task was to run around and finish a questionnaire as quickly as possible.  All of the answers could be found on the various placards filling the museum.
However, some of the placards were no longer up.  We spent a lot of wasted time combing the museum, looking for information that didn't exist.  Our judges (and in this case, it was our PR crew) didn't send anyone to tell us as soon as they found out — and they easily could have, as it's a tiny museum.
Sarah and I only found out when we returned to the judges, insisting that these questions could not be answered — and they agreed.
That would have been fine…if we hadn't been racing each other!
Eventually, though, the placard issue didn't affect our placement.  We came in third, due to getting one question wrong.  The issue did, however, affect the two first teams: Trekaroo came in first and Healthy Voyager came in second.
Challenge #4: Race at the Tower of the Americas
The Tower of Americas is easily recognizable, featuring a wide observation deck on top of a skinny building!  Our challenge was to take the elevator up, find one of the three clues, make our way to the bottom, jump into the car, and get to the gazebo at the Alamo first.
We ran around like crazy, and soon I heard a shrieking, "KATELYN KATELYN KELE COME ON! KELE COME ON!  KELE COME ON!"  I recognized Sarah's call immediately, and jumped into the elevator.  She had found the clue, as had Healthy Voyager, and we sped to the bottom as Trekaroo was stuck searching.
After some crazy sprinting out of the building, we jumped into the car and sped to the Alamo.  Sarah and I were the first ones to the gazebo!  Healthy Voyager arrived moments behind us, and Trekaroo arrived several minutes after them.
We later found out that despite reiterating over and over that this was the fourth challenge of a five-challenge day, the judges weren't going to count it toward our score.
Challenge #5: Samba Into the Alamo
At the gazebo, Sarah and I grabbed feathered headdresses and instruments and try to put together the longest conga line possible, ending at the Alamo!  We had 17.5 minutes to do this, as 2011 is the 175th anniversary of the Battle at the Alamo.
Though we arrived first, we had a lot of challenges here.  Sarah and I have watched The Amazing Race enough to know that challenges involving other people can make or break a team.  In fact, they're often the downfall of teams who have been coasting by so far on their athletic ability, travel smarts or pure evil ingenuity.
And that was the case for us.  This was a tough challenge for us, as people would join in the conga line, then leave 30 seconds later.  But we dealt with what we had, which was an outdoor family destination on a 108-degree day, and not Hooters.
After 17.5 minutes, Healthy Voyager finished first, Trekaroo finished second, and we finished third.
Overall, while we were disappointed in all that went wrong on Day Three (including a number of things I haven't mentioned), Sarah and I were very happy with our performance — happy with our running, our bonsai-sculpting, our video promotion, everything. We truly rock as a team.
Race to the Alamo: the Score

Day One

First: Healthy Voyager
Second: Adventurous Kate
Third: Trekaroo

Day Two

First: Adventurous Kate
Second: Trekaroo
Third: Healthy Voyager

Day Three

First: Healthy Voyager and Trekaroo (tie)
Second: Adventurous Kate
Translation: WE NEED YOUR VOTES IN ORDER TO WIN!
40% of the win is determined by your votes — so please vote for me and Sarah to win the race!  You can vote once per day through August 31, and each time you vote, you are entered to win a fabulous trip to San Antonio!  You'll get lots of free stuff and you'll stay at the Grand Hyatt, the fanciest hotel in town (the Dallas Cowboys are staying there right now!).
I want one of my readers to win this trip — so make sure you do all you can!  Vote for us!
And now: a GIVEAWAY!
Today I'll be giving away a cherry red Camelbak Blowfish pack, worth $79, just like we used on the race.  This is an excellent backpack, it's impossibly comfortable, and the Camelbak makes it ideal for hiking, outdoor activities or spending time in a 108-degree city like San Antonio!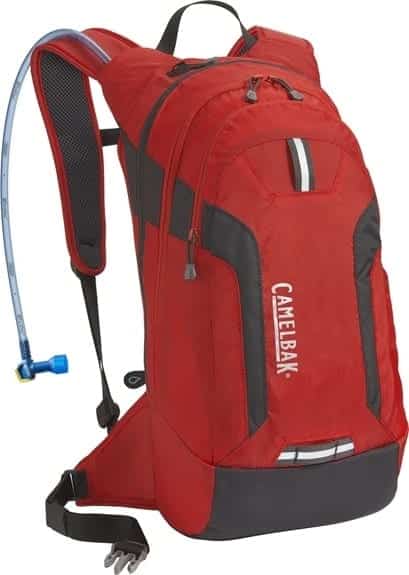 To enter the giveaway, you must do the following:
Leave a comment on this post.
Have a mailing address in the US, Canada or the UK, or you can pick it up in person in Munich or Innsbruck August 23-31.  (My apologies to my other readers — this is a bulky item and I don't want to spend a fortune mailing it.)
Deadline: August 14, 2011, at 5:00 PM ET.
I hope you enter — and I especially hope you vote for Team Adventurous Kate!  Remember, you can vote once per day through August 31, and each vote gets you closer to that dream trip to San Antonio!
My trip to San Antonio was sponsored by the San Antonio Convention and Visitors Board.  All opinions, as always, are my own.
Get email updates from Kate
Never miss a post. Unsubscribe anytime!